FALL2020! Comics and Magazine Sale - City of Denver Seizes Chuck's Donations To The Poor
Howdy!
I am going to let Will Moulton provide most of the content for today's newsletter, as I have to fill my cargo van with non-perishable food, and then head to the Five Points park in lower downtown. The Community of elderly, homeless, and economically-challenged people whom I have been helping is suffering severely right now, due to some egregiously nasty actions by the staff of the city of Denver.
To explain, Denver sent a team of health department goons unannounced yesterday morning to seize all of the extra clothing, blankets, and tarps of the indigent people who were sleeping on the sidewalk outside of the abandoned church that is located next door to the Five Points public library, and then threw everything that they confiscated away in a giant trash truck. Many of those tarps and blankets that they destroyed were brand new, as I just purchased them for my friends out of my personal savings on Sunday, so that they could survive Monday and Tuesday's bitter cold and snow.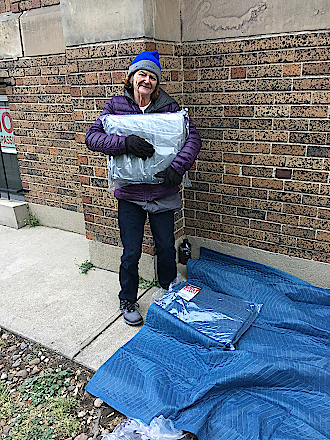 Karen with her replacement tarp and blankets

To say that I am outraged is beyond an understatement. Most of the people for whom I toil are addicts, and/or are seriously mentally ill. The city officials have the misguided notion that they can force these poorest of Denver's poor into the giant shelter that they have set up in the Denver Coliseum, but they fail to take into account that almost all of these people have already been ejected from all of the existing shelters for not being able to maintain sobriety, or a minimum level of social decorum. Robbing these desperate people of their bare necessities required for survival outdoors is profoundly cruel, and may well lead directly to some of the more fragile dying. I am disgusted beyond all words.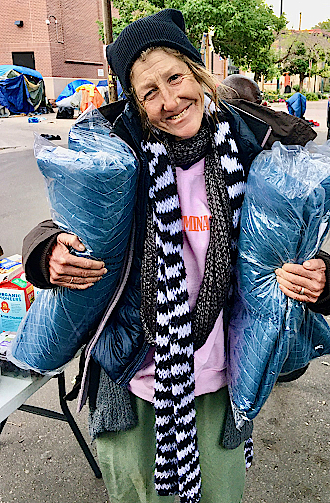 Shanna with her two replacement blankets

Rather than let my rage consume me, I went out yesterday afternoon and used even more of my savings to replace my friends' stolen blankets. Sadly, there were only a couple of tarps to be found, as the storm prompted a huge rush on them. People bought them all to cover their gardens from the frost... Tarps are not such a big deal right now, however, as there is no anticipated precipitation. As soon as Harbor Freight restocks their shelves, I will buy replacement tarps for everyone. Truthfully, it is the only thing that I can do.
In the meantime, I do also have to take as much extra food to the park as I can, as the city staff even took away people's stashes of stored snacks. I passed out over 2,000 lbs of replacement food supplies yesterday, and can probably distribute a similar amount today. Above all else, I have to give my clients hope, which is in very short supply after what happened yesterday. Truthfully, I despair for our nation when such malice is directed against the truly defenseless. We should be a better society than that kind of malicious behavior reflects.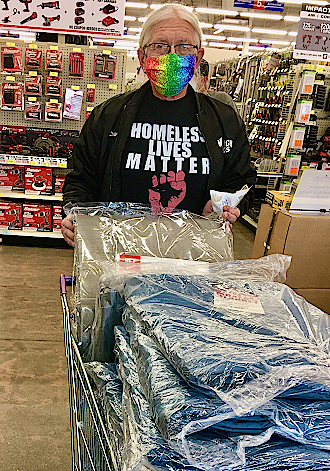 Chuck buying replacement blankets and tarps at Harbor Freight

As regards comics, we are continuing to buy collections with a passion, having added at least another 5,000 back issues into our inventory since Monday. Not all of those new acquisitions are yet graded, but Will Moulton created an awesome listing for you of some of the nicer ones, which is attached for you at the end of this newsletter. All are available to you today at 40% off via our new FALL2020! codeword sale. Only new issues, a few variants, and our professionally-graded comics are excluded. Enjoy!
Happy collecting!
Chuck Rozanski/Bettie Pages,
President - Mile High Comics, Inc.
September 11, 2020
MARVEL

AMAZING SPIDER-MAN (2015) (#1-32) (MARVEL) #12 CAMPBELL

AMAZING SPIDER-MAN (2015) (#1-32) (MARVEL) #12 CAMPBELL Near Mint/Mint

AMAZING SPIDER-MAN (2017) (#789-801) (MARVEL LEGACY) #792 Near Mint/Mint
AMAZING SPIDER-MAN (2017) (#789-801) (MARVEL LEGACY) #793 Near Mint/Mint
AMAZING SPIDER-MAN (2017) (#789-801) (MARVEL LEGACY) #797 RAMOS Near Mint/Mint

AMAZING SPIDER-MAN ANNUAL (2017) #1 MCGUINNESS Near Mint/Mint

AMERICAN DREAM (MARVEL) (2008) #1 Near Mint/Mint
AMERICAN DREAM (MARVEL) (2008) #2 Near Mint/Mint
AMERICAN DREAM (MARVEL) (2008) #3 Near Mint/Mint
AMERICAN DREAM (MARVEL) (2008) #4 Near Mint/Mint
AMERICAN DREAM (MARVEL) (2008) #5 Near Mint/Mint

ANNIHILATION CONQUEST (MARVEL) (2007) #2 Near Mint/Mint
ANNIHILATION CONQUEST (MARVEL) (2007) #3 Near Mint/Mint
ANNIHILATION CONQUEST (MARVEL) (2007) #4 Near Mint/Mint
ANNIHILATION CONQUEST (MARVEL) (2007) #5 Very Fine
ANNIHILATION CONQUEST (MARVEL) (2007) #6 Near Mint/Mint

AVENGERS (2010) (#1-34) (MARVEL) #1 Near Mint/Mint
AVENGERS (2010) (#1-34) (MARVEL) #3 Near Mint/Mint
AVENGERS (2010) (#1-34) (MARVEL) #4 Very Fine
AVENGERS (2010) (#1-34) (MARVEL) #5 Near Mint/Mint
AVENGERS (2010) (#1-34) (MARVEL) #6 Very Fine

AVENGERS & THE INFINITY GAUNTLET (2010) #1 Near Mint/Mint
AVENGERS & THE INFINITY GAUNTLET (2010) #2 Near Mint/Mint
AVENGERS & THE INFINITY GAUNTLET (2010) #3 Near Mint/Mint

AVENGERS ACADEMY (2010) #1 Near Mint/Mint
AVENGERS ACADEMY (2010) #2 Near Mint/Mint
AVENGERS ACADEMY (2010) #3 Near Mint/Mint
AVENGERS ACADEMY (2010) #4 Near Mint/Mint
AVENGERS ACADEMY (2010) #5 Near Mint/Mint

AVENGERS CLASSIC (REPRINTS AVENGERS #1-12) (2007) #12 Near Mint/Mint


AVENGERS FREE COMIC BOOK DAY (FCBD) (2009) #2009

AVENGERS FREE COMIC BOOK DAY (FCBD) (2009) #2009 Very Fine

AVENGERS PRIME (2010) #1 Near Mint/Mint
AVENGERS PRIME (2010) #2 Near Mint/Mint
AVENGERS PRIME (2010) #3 Near Mint/Mint

AVENGERS VS. AGENTS OF ATLAS (2010) #2 Near Mint/Mint
AVENGERS VS. AGENTS OF ATLAS (2010) #3 Near Mint/Mint
AVENGERS VS. AGENTS OF ATLAS (2010) #4 Near Mint/Mint

AVENGERS/INVADERS (2008) #8 Near Mint/Mint
AVENGERS/INVADERS (2008) #9 Near Mint/Mint
AVENGERS/INVADERS (2008) #10 Near Mint/Mint
AVENGERS/INVADERS (2008) #11 Near Mint/Mint
AVENGERS/INVADERS (2008) #12 Very Fine

AVENGERS: CHILDREN'S CRUSADE (2010) #1 Near Mint/Mint
AVENGERS: CHILDREN'S CRUSADE (2010) #2 Near Mint/Mint

AVENGERS: EMPEROR DOOM GN (1987) #1 Near Mint/Mint

AVENGERS: INITIATIVE (2007) #8 Near Mint/Mint
AVENGERS: INITIATIVE (2007) #12 Near Mint/Mint
AVENGERS: INITIATIVE (2007) #21 Near Mint/Mint
AVENGERS: INITIATIVE (2007) #22 Near Mint/Mint
AVENGERS: INITIATIVE (2007) #25 Near Mint/Mint
AVENGERS: INITIATIVE (2007) #30 Near Mint/Mint
AVENGERS: INITIATIVE (2007) #31 Near Mint/Mint
AVENGERS: INITIATIVE (2007) #32 Near Mint/Mint
AVENGERS: INITIATIVE (2007) #35 Near Mint/Mint

AVENGERS: ORIGIN (THE ORIGIN) (2010) #2 Near Mint/Mint
AVENGERS: ORIGIN (THE ORIGIN) (2010) #5 Near Mint/Mint

BIG HERO 6 (2008) #1 Near Mint/Mint
BIG HERO 6 (2008) #2 Near Mint/Mint

BLACK PANTHER (2005) (#1-41) (MARVEL) #34 Near Mint/Mint
BLACK PANTHER (2005) (#1-41) (MARVEL) #35 Very Fine
BLACK PANTHER (2005) (#1-41) (MARVEL) #36 Near Mint/Mint
BLACK PANTHER (2005) (#1-41) (MARVEL) #37 Fine
BLACK PANTHER (2005) (#1-41) (MARVEL) #38 Near Mint/Mint
BLACK PANTHER (2005) (#1-41) (MARVEL) #39 Near Mint/Mint
BLACK PANTHER (2005) (#1-41) (MARVEL) #40 Near Mint/Mint
BLACK PANTHER (2005) (#1-41) (MARVEL) #41 Near Mint/Mint

BLACK PANTHER ANNUAL (2008) #1 Near Mint/Mint

BLACK WIDOW (2020) (#1-UP) (MARVEL) #1 MCGUINNB&W Near Mint/Mint

BLACK WIDOW: THE COLDEST WAR GN (1990) #1 Very Good

CAPTAIN AMERICA (2004) (#1-50, 600-619) (MARVEL) #32 Near Mint/Mint
CAPTAIN AMERICA (2004) (#1-50, 600-619) (MARVEL) #33 Near Mint/Mint
CAPTAIN AMERICA (2004) (#1-50, 600-619) (MARVEL) #34 VARIANT Near Mint/Mint
CAPTAIN AMERICA (2004) (#1-50, 600-619) (MARVEL) #38 Near Mint/Mint

CAPTAIN BRITAIN AND MI 13 (2008) #1 Near Mint/Mint

CAPTAIN MARVEL: FIRST CONTACT TPB (2001) #1 Very Good

DAREDEVIL (1998) (#1-119, 500-512) (MARVEL) #104 Near Mint/Mint
DAREDEVIL (1998) (#1-119, 500-512) (MARVEL) #105 Near Mint/Mint
DAREDEVIL (1998) (#1-119, 500-512) (MARVEL) #107 Near Mint/Mint
DAREDEVIL (1998) (#1-119, 500-512) (MARVEL) #109 Near Mint/Mint
DAREDEVIL (1998) (#1-119, 500-512) (MARVEL) #112 Very Fine

DAREDEVIL & CAPTAIN AMERICA: DEAD ON ARRIVAL (2008) #1 Near Mint/Mint


DAREDEVIL: LOVE & WAR GN (1986) #1 4TH PRINT

DAREDEVIL: LOVE & WAR GN (1986) #1 4TH PRINT Near Mint/Mint

DARK AVENGERS (2009) #1 Near Mint/Mint
DARK AVENGERS (2009) #2 Near Mint/Mint
DARK AVENGERS (2009) #11 Near Mint/Mint
DARK AVENGERS (2009) #13 Near Mint/Mint
DARK AVENGERS (2009) #14 Near Mint/Mint
DARK AVENGERS (2009) #15 Near Mint/Mint

DARK AVENGERS: ARES (2009) #2 Near Mint/Mint
DARK AVENGERS: ARES (2009) #3 Near Mint/Mint

DAZZLER: THE MOVIE GN (1984) #1 Near Mint/Mint

DEADPOOL (2008) (#1-63, 900, 1000) (MARVEL) #1 Very Fine
DEADPOOL (2008) (#1-63, 900, 1000) (MARVEL) #2 Near Mint/Mint
DEADPOOL (2008) (#1-63, 900, 1000) (MARVEL) #3 Very Fine
DEADPOOL (2008) (#1-63, 900, 1000) (MARVEL) #4 Near Mint/Mint

DEATH OF CAPTAIN MARVEL GN (1982) #1 Near Mint/Mint

ELEKTRA MOVIE TPB (2005) #1 Fine

EMPYRE AFTERMATH: AVENGERS (2020) #1 ROSS VIRGN Near Mint/Mint

ETERNALS (2008) (#1-9) (MARVEL) #1 VARIANT B Near Mint/Mint
ETERNALS (2008) (#1-9) (MARVEL) #5 Very Fine

EXCALIBUR: WEIRD WAR III GN (1990) #1 Near Mint/Mint

FANTASTIC FOUR (1961) (#1-416) (MARVEL) #22 Fair
FANTASTIC FOUR (1961) (#1-416) (MARVEL) #23 Good
FANTASTIC FOUR (1961) (#1-416) (MARVEL) #30 Good
FANTASTIC FOUR (1961) (#1-416) (MARVEL) #31 Fair
FANTASTIC FOUR (1961) (#1-416) (MARVEL) #33 Very Good
FANTASTIC FOUR (1961) (#1-416) (MARVEL) #34 Good


FANTASTIC FOUR (1961) (#1-416) (MARVEL) #35

FANTASTIC FOUR (1961) (#1-416) (MARVEL) #35 Good
FANTASTIC FOUR (1961) (#1-416) (MARVEL) #37 Fair
FANTASTIC FOUR (1961) (#1-416) (MARVEL) #39 Fine
FANTASTIC FOUR (1961) (#1-416) (MARVEL) #41 Good
FANTASTIC FOUR (1961) (#1-416) (MARVEL) #42 Very Good
FANTASTIC FOUR (1961) (#1-416) (MARVEL) #43 Good
FANTASTIC FOUR (1961) (#1-416) (MARVEL) #44 Fair
FANTASTIC FOUR (1961) (#1-416) (MARVEL) #46 Very Good
FANTASTIC FOUR (1961) (#1-416) (MARVEL) #47 Fine
FANTASTIC FOUR (1961) (#1-416) (MARVEL) #50 Fair
FANTASTIC FOUR (1961) (#1-416) (MARVEL) #51 Good
FANTASTIC FOUR (1961) (#1-416) (MARVEL) #53 Very Good
FANTASTIC FOUR (1961) (#1-416) (MARVEL) #54 Very Good
FANTASTIC FOUR (1961) (#1-416) (MARVEL) #55 Good
FANTASTIC FOUR (1961) (#1-416) (MARVEL) #56 Very Good
FANTASTIC FOUR (1961) (#1-416) (MARVEL) #57 Very Good
FANTASTIC FOUR (1961) (#1-416) (MARVEL) #58 Fair
FANTASTIC FOUR (1961) (#1-416) (MARVEL) #59 Good
FANTASTIC FOUR (1961) (#1-416) (MARVEL) #60 Good
FANTASTIC FOUR (1961) (#1-416) (MARVEL) #61 Very Good
FANTASTIC FOUR (1961) (#1-416) (MARVEL) #62 Very Good
FANTASTIC FOUR (1961) (#1-416) (MARVEL) #63 Fair
FANTASTIC FOUR (1961) (#1-416) (MARVEL) #64 Fine
FANTASTIC FOUR (1961) (#1-416) (MARVEL) #65 Fair
FANTASTIC FOUR (1961) (#1-416) (MARVEL) #66 Good
FANTASTIC FOUR (1961) (#1-416) (MARVEL) #67 Fair
FANTASTIC FOUR (1961) (#1-416) (MARVEL) #68 Good
FANTASTIC FOUR (1961) (#1-416) (MARVEL) #69 Fine
FANTASTIC FOUR (1961) (#1-416) (MARVEL) #70 Fair
FANTASTIC FOUR (1961) (#1-416) (MARVEL) #71 Good
FANTASTIC FOUR (1961) (#1-416) (MARVEL) #72 Very Good
FANTASTIC FOUR (1961) (#1-416) (MARVEL) #73 Fine
FANTASTIC FOUR (1961) (#1-416) (MARVEL) #74 Good
FANTASTIC FOUR (1961) (#1-416) (MARVEL) #75 Good
FANTASTIC FOUR (1961) (#1-416) (MARVEL) #76 Good
FANTASTIC FOUR (1961) (#1-416) (MARVEL) #77 Fair


FANTASTIC FOUR (1961) (#1-416) (MARVEL) #78

FANTASTIC FOUR (1961) (#1-416) (MARVEL) #78 Good
FANTASTIC FOUR (1961) (#1-416) (MARVEL) #79 Good
FANTASTIC FOUR (1961) (#1-416) (MARVEL) #80 Good
FANTASTIC FOUR (1961) (#1-416) (MARVEL) #81 Very Good
FANTASTIC FOUR (1961) (#1-416) (MARVEL) #82 Fine
FANTASTIC FOUR (1961) (#1-416) (MARVEL) #83 Very Good
FANTASTIC FOUR (1961) (#1-416) (MARVEL) #84 Very Good
FANTASTIC FOUR (1961) (#1-416) (MARVEL) #85 Very Good
FANTASTIC FOUR (1961) (#1-416) (MARVEL) #86 Very Good
FANTASTIC FOUR (1961) (#1-416) (MARVEL) #87 Very Good
FANTASTIC FOUR (1961) (#1-416) (MARVEL) #88 Fine
FANTASTIC FOUR (1961) (#1-416) (MARVEL) #89 Fine
FANTASTIC FOUR (1961) (#1-416) (MARVEL) #90 Fair
FANTASTIC FOUR (1961) (#1-416) (MARVEL) #91 Very Good
FANTASTIC FOUR (1961) (#1-416) (MARVEL) #92 Fine
FANTASTIC FOUR (1961) (#1-416) (MARVEL) #93 Very Good
FANTASTIC FOUR (1961) (#1-416) (MARVEL) #94 Very Good
FANTASTIC FOUR (1961) (#1-416) (MARVEL) #95 Very Good
FANTASTIC FOUR (1961) (#1-416) (MARVEL) #96 Fine
FANTASTIC FOUR (1961) (#1-416) (MARVEL) #97 Fine
FANTASTIC FOUR (1961) (#1-416) (MARVEL) #98 Good
FANTASTIC FOUR (1961) (#1-416) (MARVEL) #99 Very Good
FANTASTIC FOUR (1961) (#1-416) (MARVEL) #100 Good
FANTASTIC FOUR (1961) (#1-416) (MARVEL) #101 Good
FANTASTIC FOUR (1961) (#1-416) (MARVEL) #102 Very Good
FANTASTIC FOUR (1961) (#1-416) (MARVEL) #103 Good
FANTASTIC FOUR (1961) (#1-416) (MARVEL) #104 Fair
FANTASTIC FOUR (1961) (#1-416) (MARVEL) #105 Good
FANTASTIC FOUR (1961) (#1-416) (MARVEL) #106 Very Good
FANTASTIC FOUR (1961) (#1-416) (MARVEL) #107 Good
FANTASTIC FOUR (1961) (#1-416) (MARVEL) #108 Good
FANTASTIC FOUR (1961) (#1-416) (MARVEL) #109 Good
FANTASTIC FOUR (1961) (#1-416) (MARVEL) #110 Good
FANTASTIC FOUR (1961) (#1-416) (MARVEL) #111 Good
FANTASTIC FOUR (1961) (#1-416) (MARVEL) #112 Good


FANTASTIC FOUR (1961) (#1-416) (MARVEL) #113

FANTASTIC FOUR (1961) (#1-416) (MARVEL) #113 Good
FANTASTIC FOUR (1961) (#1-416) (MARVEL) #114 Good
FANTASTIC FOUR (1961) (#1-416) (MARVEL) #115 Very Good
FANTASTIC FOUR (1961) (#1-416) (MARVEL) #116 Very Good
FANTASTIC FOUR (1961) (#1-416) (MARVEL) #117 Good
FANTASTIC FOUR (1961) (#1-416) (MARVEL) #118 Fair
FANTASTIC FOUR (1961) (#1-416) (MARVEL) #119 Fair
FANTASTIC FOUR (1961) (#1-416) (MARVEL) #120 Fair
FANTASTIC FOUR (1961) (#1-416) (MARVEL) #121 Good
FANTASTIC FOUR (1961) (#1-416) (MARVEL) #122 Very Good
FANTASTIC FOUR (1961) (#1-416) (MARVEL) #123 Good
FANTASTIC FOUR (1961) (#1-416) (MARVEL) #124 Good
FANTASTIC FOUR (1961) (#1-416) (MARVEL) #125 Good
FANTASTIC FOUR (1961) (#1-416) (MARVEL) #126 Fine
FANTASTIC FOUR (1961) (#1-416) (MARVEL) #127 Fine
FANTASTIC FOUR (1961) (#1-416) (MARVEL) #128 Fine
FANTASTIC FOUR (1961) (#1-416) (MARVEL) #129 Very Good
FANTASTIC FOUR (1961) (#1-416) (MARVEL) #130 Good
FANTASTIC FOUR (1961) (#1-416) (MARVEL) #131 Fine
FANTASTIC FOUR (1961) (#1-416) (MARVEL) #133 Very Good
FANTASTIC FOUR (1961) (#1-416) (MARVEL) #134 Very Good
FANTASTIC FOUR (1961) (#1-416) (MARVEL) #135 Very Fine
FANTASTIC FOUR (1961) (#1-416) (MARVEL) #136 Good
FANTASTIC FOUR (1961) (#1-416) (MARVEL) #137 Very Good
FANTASTIC FOUR (1961) (#1-416) (MARVEL) #138 Good
FANTASTIC FOUR (1961) (#1-416) (MARVEL) #139 Good
FANTASTIC FOUR (1961) (#1-416) (MARVEL) #140 Good
FANTASTIC FOUR (1961) (#1-416) (MARVEL) #141 Good
FANTASTIC FOUR (1961) (#1-416) (MARVEL) #146 Very Good
FANTASTIC FOUR (1961) (#1-416) (MARVEL) #147 Good
FANTASTIC FOUR (1961) (#1-416) (MARVEL) #148 Very Good
FANTASTIC FOUR (1961) (#1-416) (MARVEL) #149 Good
FANTASTIC FOUR (1961) (#1-416) (MARVEL) #150 Very Good
FANTASTIC FOUR (1961) (#1-416) (MARVEL) #152 Very Good
FANTASTIC FOUR (1961) (#1-416) (MARVEL) #153 Fine
FANTASTIC FOUR (1961) (#1-416) (MARVEL) #155 Fine


FANTASTIC FOUR (1961) (#1-416) (MARVEL) #156

FANTASTIC FOUR (1961) (#1-416) (MARVEL) #156 Very Good
FANTASTIC FOUR (1961) (#1-416) (MARVEL) #157 Very Good
FANTASTIC FOUR (1961) (#1-416) (MARVEL) #158 Fine
FANTASTIC FOUR (1961) (#1-416) (MARVEL) #159 Very Good
FANTASTIC FOUR (1961) (#1-416) (MARVEL) #160 Fine
FANTASTIC FOUR (1961) (#1-416) (MARVEL) #161 Fine
FANTASTIC FOUR (1961) (#1-416) (MARVEL) #162 Very Good
FANTASTIC FOUR (1961) (#1-416) (MARVEL) #163 Fine
FANTASTIC FOUR (1961) (#1-416) (MARVEL) #164 Fine
FANTASTIC FOUR (1961) (#1-416) (MARVEL) #165 Fine
FANTASTIC FOUR (1961) (#1-416) (MARVEL) #166 Very Good
FANTASTIC FOUR (1961) (#1-416) (MARVEL) #167 Very Good
FANTASTIC FOUR (1961) (#1-416) (MARVEL) #170 Very Good
FANTASTIC FOUR (1961) (#1-416) (MARVEL) #171 Very Fine
FANTASTIC FOUR (1961) (#1-416) (MARVEL) #173 Fine
FANTASTIC FOUR (1961) (#1-416) (MARVEL) #174 Very Good
FANTASTIC FOUR (1961) (#1-416) (MARVEL) #175 Fine

FUTURIANS GN (MARVEL GRAPHIC NOVEL VOL. 9) (1983) #1 Good

I AM AN AVENGER (2010) #2 Near Mint/Mint

LAST AVENGERS STORY (1995) #2 Fine

MARVEL SUPER-HEROES (1967) #41 Fine

MARVEL TRIPLE ACTION GIANT-SIZE (1975) #1 Very Good

MARVEL TWO-IN-ONE (1974) (#1-100) (MARVEL) #2 Very Good
MARVEL TWO-IN-ONE (1974) (#1-100) (MARVEL) #3 Good
MARVEL TWO-IN-ONE (1974) (#1-100) (MARVEL) #5 Good
MARVEL TWO-IN-ONE (1974) (#1-100) (MARVEL) #6 Very Good
MARVEL TWO-IN-ONE (1974) (#1-100) (MARVEL) #7 Very Good
MARVEL TWO-IN-ONE (1974) (#1-100) (MARVEL) #9 Very Good
MARVEL TWO-IN-ONE (1974) (#1-100) (MARVEL) #30 Very Good
MARVEL TWO-IN-ONE (1974) (#1-100) (MARVEL) #46 Fine
MARVEL TWO-IN-ONE (1974) (#1-100) (MARVEL) #46 Very Good


MARVEL TWO-IN-ONE ANNUAL (1976) #7

MARVEL TWO-IN-ONE ANNUAL (1976) #7 Very Fine

MASTER OF KUNG FU (1974) (#15-125) (MARVEL) (SHANG-CHI) #27 Very Good
MASTER OF KUNG FU (1974) (#15-125) (MARVEL) (SHANG-CHI) #30 Fine

MIGHTY AVENGERS (2007) (#1-36) #8 Near Mint/Mint
MIGHTY AVENGERS (2007) (#1-36) #13 Very Fine
MIGHTY AVENGERS (2007) (#1-36) #35 Near Mint/Mint
MIGHTY AVENGERS (2007) (#1-36) #36 Near Mint/Mint

MILES MORALES: SPIDER-MAN (2019) #18 LIM Near Mint/Mint

NEW AVENGERS (2004) (#1-64) (MARVEL) #40 Very Fine
NEW AVENGERS (2004) (#1-64) (MARVEL) #49 Very Fine
NEW AVENGERS (2004) (#1-64) (MARVEL) #59 Near Mint/Mint
NEW AVENGERS (2004) (#1-64) (MARVEL) #63 Near Mint/Mint

NEW AVENGERS ANNUAL (2006) #3 Near Mint/Mint

NEW AVENGERS: FINALE (2010) #1 Near Mint/Mint

NEW AVENGERS: LUKE CAGE (2010) #2 Near Mint/Mint
NEW AVENGERS: LUKE CAGE (2010) #3 Near Mint/Mint

NEW AVENGERS: REUNION (2009) #1 VARIANT Near Mint/Mint

NEW MUTANTS (1983) (#1-100) (MARVEL) #87 Near Mint/Mint
NEW MUTANTS (1983) (#1-100) (MARVEL) #87 NEWSSTAND Very Good
NEW MUTANTS (1983) (#1-100) (MARVEL) #98 Near Mint/Mint

PETER PARKER (1976) (#1-263) (SPECTACULAR SPIDER-MAN) #7 Very Good
PETER PARKER (1976) (#1-263) (SPECTACULAR SPIDER-MAN) #90 NEWSSTAND Fine
PETER PARKER (1976) (#1-263) (SPECTACULAR SPIDER-MAN) #107 NEWSSTAND Fine


PETER PARKER (1976) (#1-263) (SPECTACULAR SPIDER-MAN) #116 NEWSSTAND

PETER PARKER (1976) (#1-263) (SPECTACULAR SPIDER-MAN) #116 NEWSSTAND Very Good
PETER PARKER (1976) (#1-263) (SPECTACULAR SPIDER-MAN) #119 NEWSSTAND Fine
PETER PARKER (1976) (#1-263) (SPECTACULAR SPIDER-MAN) #125 NEWSSTAND Fine
PETER PARKER (1976) (#1-263) (SPECTACULAR SPIDER-MAN) #126 NEWSSTAND Very Good
PETER PARKER (1976) (#1-263) (SPECTACULAR SPIDER-MAN) #127 NEWSSTAND Very Good
PETER PARKER (1976) (#1-263) (SPECTACULAR SPIDER-MAN) #131 NEWSSTAND Very Good
PETER PARKER (1976) (#1-263) (SPECTACULAR SPIDER-MAN) #132 NEWSSTAND Fine

POWER MAN/IRON FIST (LUKE CAGE, POWER MAN #1-49) (1972) #24 Very Good

PUNISHER (1987) (#1-104) (MARVEL) #1 Fine

PUNISHER (2016) (#1-17) (MARVEL) #13 WILLIAMS Very Fine

PUNISHER MAX: KITCHEN IRISH TPB (VOL. 2) (2004) #1 Fine

PUNISHER: BORN COLLECTION (2003) #1 SC Fine

SAVAGE AVENGERS (2019) #1 Near Mint/Mint

SCARLET WITCH (2015) #5 Near Mint/Mint
SCARLET WITCH (2015) #9 Near Mint/Mint

SECRET AVENGERS (2010) (#1-37) (MARVEL) #2 Near Mint/Mint

SECRET EMPIRE: BRAVE NEW WORLD (2017) #2 Near Mint/Mint

SECRET WARS (1984) (#1-12) (LIMTED SERIES) (MARVEL) #1 Fine
SECRET WARS (1984) (#1-12) (LIMTED SERIES) (MARVEL) #1 2ND PRINT Fine

SILVER SURFER: THE ENSLAVERS #1 HB Near Mint/Mint

SPIDER-MAN (1963) (AMAZING SPIDER-MAN) (#1-441) #116 Good
SPIDER-MAN (1963) (AMAZING SPIDER-MAN) (#1-441) #131 Very Good


SPIDER-MAN (1963) (AMAZING SPIDER-MAN) (#1-441) #181

SPIDER-MAN (1963) (AMAZING SPIDER-MAN) (#1-441) #181 Fine
SPIDER-MAN (1963) (AMAZING SPIDER-MAN) (#1-441) #344 Near Mint/Mint
SPIDER-MAN (1963) (AMAZING SPIDER-MAN) (#1-441) #375 NEWSSTAND Good

SPIDER-MAN (MILES MORALES) (#1-21) (MARVEL) (2016) #2 Near Mint/Mint

SPIDER-MAN UNLIMITED (1993) (#1-22) #1 NEWSSTAND Very Good

SPIDER-MAN: FEAR ITSELF GN (1992) #1 Near Mint/Mint

SPIDER-MAN: HOOKY GN (1986) #1 2ND PRINT Fine

STAR WARS (2015) (#1-75) (MARVEL) #56 Near Mint/Mint
STAR WARS (2015) (#1-75) (MARVEL) #61 Near Mint/Mint

THANOS (2003) (#1-12) (MARVEL) #3 Fine
THANOS (2003) (#1-12) (MARVEL) #4 Fine
THANOS (2003) (#1-12) (MARVEL) #8 Near Mint/Mint

THANOS VS. HULK (2014) #2 Near Mint/Mint
THANOS VS. HULK (2014) #3 Near Mint/Mint

THING (1983) (#1-36) (MARVEL) (FANTASTIC FOUR) #28 NEWSSTAND Very Good
THING (1983) (#1-36) (MARVEL) (FANTASTIC FOUR) #29 NEWSSTAND Very Good
THING (1983) (#1-36) (MARVEL) (FANTASTIC FOUR) #31 NEWSSTAND Fine
THING (1983) (#1-36) (MARVEL) (FANTASTIC FOUR) #32 NEWSSTAND Fine
THING (1983) (#1-36) (MARVEL) (FANTASTIC FOUR) #33 NEWSSTAND Very Good
THING (1983) (#1-36) (MARVEL) (FANTASTIC FOUR) #34 NEWSSTAND Fine
THING (1983) (#1-36) (MARVEL) (FANTASTIC FOUR) #36 NEWSSTAND Very Good

THOR (1962) (#83-125 JOURNEY INTO MYSTERY, 126-502) #269 Fine
THOR (1962) (#83-125 JOURNEY INTO MYSTERY, 126-502) #276 Fine
THOR (1962) (#83-125 JOURNEY INTO MYSTERY, 126-502) #278 Fine
THOR (1962) (#83-125 JOURNEY INTO MYSTERY, 126-502) #284 NEWSSTAND Fine


THOR (1962) (#83-125 JOURNEY INTO MYSTERY, 126-502) #285 NEWSSTAND

THOR (1962) (#83-125 JOURNEY INTO MYSTERY, 126-502) #285 NEWSSTAND Very Good
THOR (1962) (#83-125 JOURNEY INTO MYSTERY, 126-502) #286 NEWSSTAND Very Good
THOR (1962) (#83-125 JOURNEY INTO MYSTERY, 126-502) #288 NEWSSTAND Very Good
THOR (1962) (#83-125 JOURNEY INTO MYSTERY, 126-502) #289 NEWSSTAND Very Good
THOR (1962) (#83-125 JOURNEY INTO MYSTERY, 126-502) #316 NEWSSTAND Fine
THOR (1962) (#83-125 JOURNEY INTO MYSTERY, 126-502) #326 NEWSSTAND Fine
THOR (1962) (#83-125 JOURNEY INTO MYSTERY, 126-502) #327 NEWSSTAND Fine
THOR (1962) (#83-125 JOURNEY INTO MYSTERY, 126-502) #329 NEWSTATTOO Very Good
THOR (1962) (#83-125 JOURNEY INTO MYSTERY, 126-502) #330 NEWSSTAND Fine
THOR (1962) (#83-125 JOURNEY INTO MYSTERY, 126-502) #331 NEWSSTAND Fine
THOR (1962) (#83-125 JOURNEY INTO MYSTERY, 126-502) #336 NEWSSTAND Very Good
THOR (1962) (#83-125 JOURNEY INTO MYSTERY, 126-502) #347 NEWSSTAND Very Good
THOR (1962) (#83-125 JOURNEY INTO MYSTERY, 126-502) #351 NEWSSTAND Fine
THOR (1962) (#83-125 JOURNEY INTO MYSTERY, 126-502) #352 NEWSSTAND Very Good
THOR (1962) (#83-125 JOURNEY INTO MYSTERY, 126-502) #353 NEWSSTAND Fine
THOR (1962) (#83-125 JOURNEY INTO MYSTERY, 126-502) #362 NEWSSTAND Fine
THOR (1962) (#83-125 JOURNEY INTO MYSTERY, 126-502) #363 NEWSSTAND Fine
THOR (1962) (#83-125 JOURNEY INTO MYSTERY, 126-502) #368 NEWSSTAND Fine
THOR (1962) (#83-125 JOURNEY INTO MYSTERY, 126-502) #371 NEWSSTAND Very Good
THOR (1962) (#83-125 JOURNEY INTO MYSTERY, 126-502) #372 NEWSSTAND Good
THOR (1962) (#83-125 JOURNEY INTO MYSTERY, 126-502) #373 NEWSSTAND Very Good
THOR (1962) (#83-125 JOURNEY INTO MYSTERY, 126-502) #374 NEWSSTAND Very Good
THOR (1962) (#83-125 JOURNEY INTO MYSTERY, 126-502) #378 NEWSSTAND Fine
THOR (1962) (#83-125 JOURNEY INTO MYSTERY, 126-502) #379 NEWSSTAND Fine
THOR (1962) (#83-125 JOURNEY INTO MYSTERY, 126-502) #380 NEWSSTAND Fine
THOR (1962) (#83-125 JOURNEY INTO MYSTERY, 126-502) #381 NEWSSTAND Fine
THOR (1962) (#83-125 JOURNEY INTO MYSTERY, 126-502) #383 NEWSSTAND Fine
THOR (1962) (#83-125 JOURNEY INTO MYSTERY, 126-502) #385 NEWSSTAND Very Good
THOR (1962) (#83-125 JOURNEY INTO MYSTERY, 126-502) #385 Very Fine
THOR (1962) (#83-125 JOURNEY INTO MYSTERY, 126-502) #388 NEWSSTAND Fine
THOR (1962) (#83-125 JOURNEY INTO MYSTERY, 126-502) #392 NEWSSTAND Fine
THOR (1962) (#83-125 JOURNEY INTO MYSTERY, 126-502) #399 NEWSSTAND Fine


THOR (1962) (#83-125 JOURNEY INTO MYSTERY, 126-502) #400 NEWSSTAND

THOR (1962) (#83-125 JOURNEY INTO MYSTERY, 126-502) #400 NEWSSTAND Fine
THOR (1962) (#83-125 JOURNEY INTO MYSTERY, 126-502) #400 NEWSSTAND Very Good
THOR (1962) (#83-125 JOURNEY INTO MYSTERY, 126-502) #409 NEWSSTAND Fine
THOR (1962) (#83-125 JOURNEY INTO MYSTERY, 126-502) #410 NEWSSTAND Very Good
THOR (1962) (#83-125 JOURNEY INTO MYSTERY, 126-502) #413 NEWSSTAND Fine
THOR (1962) (#83-125 JOURNEY INTO MYSTERY, 126-502) #421 NEWSSTAND Fine
THOR (1962) (#83-125 JOURNEY INTO MYSTERY, 126-502) #423 NEWSSTAND Fine
THOR (1962) (#83-125 JOURNEY INTO MYSTERY, 126-502) #432 Near Mint/Mint

THOR (1998) (#1-85) (MARVEL) #17 Fine
THOR (1998) (#1-85) (MARVEL) #22 Near Mint/Mint
THOR (1998) (#1-85) (MARVEL) #23 Near Mint/Mint
THOR (1998) (#1-85) (MARVEL) #33 Very Fine
THOR (1998) (#1-85) (MARVEL) #34 Near Mint/Mint
THOR (1998) (#1-85) (MARVEL) #35 Near Mint/Mint
THOR (1998) (#1-85) (MARVEL) #41 Near Mint/Mint
THOR (1998) (#1-85) (MARVEL) #50 Near Mint/Mint
THOR (1998) (#1-85) (MARVEL) #80 Very Fine

THOR (2007) (#1-12, 600-621) (MARVEL) #2 DELL OTTO Near Mint/Mint
THOR (2007) (#1-12, 600-621) (MARVEL) #8 Near Mint/Mint

THOR 2000 ANNUAL #1 Near Mint/Mint

THOR 2001 ANNUAL #1 Near Mint/Mint

THOR ANNUAL (1965) #1999 Near Mint/Mint

THOR: GOD OF THUNDER (2012) #3 2ND PRINT Near Mint/Mint
THOR: GOD OF THUNDER (2012) #11 Near Mint/Mint
THOR: GOD OF THUNDER (2012) #22 Near Mint/Mint
THOR: GOD OF THUNDER (2012) #23 Very Fine

THOR: I, WHOM THE GODS WOULD DESTROY GN (1987) #1 Very Good

ULTIMATES (2015) #1 Fine


ULTIMATUM (2008) (#1-5) (MARVEL) #1 2ND PRINT

ULTIMATUM (2008) (#1-5) (MARVEL) #1 2ND PRINT Very Fine

VENOM (2017) (#1-6, #150-165) (MARVEL) #3 CAMPBELLSN Near Mint/Mint

VISION (2015) (#1-12) #1 Near Mint/Mint

WEB OF SPIDER-MAN (1985) (#1-129) (MARVEL) #117 FOIL COVER Near Mint/Mint

WESTERN TEAM-UP (1973) #1 Good

WHAT IF... (1977) (#1-47) (MARVEL) #43 Fine
WHAT IF... (1989) (#1-114, & 200) (MARVEL) #85 Fine

WOLVERINE (1982) (#1-4) (MARVEL LIMITED SERIES) #1 NEWSSTAND Fine
WOLVERINE (1982) (#1-4) (MARVEL LIMITED SERIES) #1 NEWSSTAND Very Good
WOLVERINE (1982) (#1-4) (MARVEL LIMITED SERIES) #2 NEWSSTAND Very Good
WOLVERINE (1982) (#1-4) (MARVEL LIMITED SERIES) #2 Very Good
WOLVERINE (1982) (#1-4) (MARVEL LIMITED SERIES) #3 Fine
WOLVERINE (1982) (#1-4) (MARVEL LIMITED SERIES) #4 Very Fine

WOLVERINE (1988) (#1/2-189) (MARVEL) #1 Very Good
WOLVERINE (1988) (#1/2-189) (MARVEL) #2 Near Mint/Mint
WOLVERINE (1988) (#1/2-189) (MARVEL) #3 Near Mint/Mint

WOLVERINE: THE ORIGIN (2001) #1 Near Mint/Mint
WOLVERINE: THE ORIGIN (2001) #2 Fine
WOLVERINE: THE ORIGIN (2001) #4 Near Mint/Mint
WOLVERINE: THE ORIGIN (2001) #5 Near Mint/Mint
WOLVERINE: THE ORIGIN (2001) #6 Near Mint/Mint

WOLVERINE: THE ORIGIN COLLECTION (2002) #1 TPB 2NDPRT Good

X-MEN (1963) (#1-113, UNCANNY X-MEN #114-544) (MARVEL) #51 Very Good
X-MEN (1963) (#1-113, UNCANNY X-MEN #114-544) (MARVEL) #139 NEWSSTAND Good


X-MEN (1963) (#1-113, UNCANNY X-MEN #114-544) (MARVEL) #140 NEWSSTAND

X-MEN (1963) (#1-113, UNCANNY X-MEN #114-544) (MARVEL) #140 NEWSSTAND Good
X-MEN (1963) (#1-113, UNCANNY X-MEN #114-544) (MARVEL) #141 NEWSSTAND Good
X-MEN (1963) (#1-113, UNCANNY X-MEN #114-544) (MARVEL) #142 NEWSSTAND Good
X-MEN (1963) (#1-113, UNCANNY X-MEN #114-544) (MARVEL) #143 NEWSSTAND Good
X-MEN (1963) (#1-113, UNCANNY X-MEN #114-544) (MARVEL) #144 NEWSSTAND Very Good
X-MEN (1963) (#1-113, UNCANNY X-MEN #114-544) (MARVEL) #145 NEWSSTAND Fine
X-MEN (1963) (#1-113, UNCANNY X-MEN #114-544) (MARVEL) #146 NEWSSTAND Very Good
X-MEN (1963) (#1-113, UNCANNY X-MEN #114-544) (MARVEL) #147 NEWSSTAND Good
X-MEN (1963) (#1-113, UNCANNY X-MEN #114-544) (MARVEL) #148 NEWSSTAND Good
X-MEN (1963) (#1-113, UNCANNY X-MEN #114-544) (MARVEL) #149 NEWSSTAND Good
X-MEN (1963) (#1-113, UNCANNY X-MEN #114-544) (MARVEL) #150 NEWSSTAND Good
X-MEN (1963) (#1-113, UNCANNY X-MEN #114-544) (MARVEL) #151 NEWSSTAND Very Good
X-MEN (1963) (#1-113, UNCANNY X-MEN #114-544) (MARVEL) #152 NEWSSTAND Fine
X-MEN (1963) (#1-113, UNCANNY X-MEN #114-544) (MARVEL) #152 NEWSSTAND Very Good
X-MEN (1963) (#1-113, UNCANNY X-MEN #114-544) (MARVEL) #153 NEWSSTAND Very Good
X-MEN (1963) (#1-113, UNCANNY X-MEN #114-544) (MARVEL) #155 NEWSSTAND Very Good
X-MEN (1963) (#1-113, UNCANNY X-MEN #114-544) (MARVEL) #156 NEWSSTAND Good
X-MEN (1963) (#1-113, UNCANNY X-MEN #114-544) (MARVEL) #157 NEWSSTAND Very Good
X-MEN (1963) (#1-113, UNCANNY X-MEN #114-544) (MARVEL) #158 NEWSSTAND Very Good
X-MEN (1963) (#1-113, UNCANNY X-MEN #114-544) (MARVEL) #159 NEWSSTAND Good
X-MEN (1963) (#1-113, UNCANNY X-MEN #114-544) (MARVEL) #160 NEWSSTAND Fine
X-MEN (1963) (#1-113, UNCANNY X-MEN #114-544) (MARVEL) #162 NEWSSTAND Very Fine
X-MEN (1963) (#1-113, UNCANNY X-MEN #114-544) (MARVEL) #164 NEWSSTAND Very Good
X-MEN (1963) (#1-113, UNCANNY X-MEN #114-544) (MARVEL) #165 NEWSSTAND Near Mint/Mint
X-MEN (1963) (#1-113, UNCANNY X-MEN #114-544) (MARVEL) #166 NEWSSTAND Good
X-MEN (1963) (#1-113, UNCANNY X-MEN #114-544) (MARVEL) #168 NEWSSTAND Good
X-MEN (1963) (#1-113, UNCANNY X-MEN #114-544) (MARVEL) #169 NEWSSTAND Good
X-MEN (1963) (#1-113, UNCANNY X-MEN #114-544) (MARVEL) #171 NEWSSTAND Very Good
X-MEN (1963) (#1-113, UNCANNY X-MEN #114-544) (MARVEL) #172 NEWSSTAND Very Good
X-MEN (1963) (#1-113, UNCANNY X-MEN #114-544) (MARVEL) #177 Fine
X-MEN (1963) (#1-113, UNCANNY X-MEN #114-544) (MARVEL) #177 NEWSSTAND Very Good
X-MEN (1963) (#1-113, UNCANNY X-MEN #114-544) (MARVEL) #182 NEWSSTAND Good
X-MEN (1963) (#1-113, UNCANNY X-MEN #114-544) (MARVEL) #183 NEWSSTAND Very Good


X-MEN (1963) (#1-113, UNCANNY X-MEN #114-544) (MARVEL) #191 NEWSSTAND

X-MEN (1963) (#1-113, UNCANNY X-MEN #114-544) (MARVEL) #191 NEWSSTAND Good
X-MEN (1963) (#1-113, UNCANNY X-MEN #114-544) (MARVEL) #193 NEWSSTAND Very Good
X-MEN (1963) (#1-113, UNCANNY X-MEN #114-544) (MARVEL) #193 Very Good
X-MEN (1963) (#1-113, UNCANNY X-MEN #114-544) (MARVEL) #195 NEWSSTAND Fine
X-MEN (1963) (#1-113, UNCANNY X-MEN #114-544) (MARVEL) #196 NEWSSTAND Very Good
X-MEN (1963) (#1-113, UNCANNY X-MEN #114-544) (MARVEL) #199 NEWSSTAND Fine
X-MEN (1963) (#1-113, UNCANNY X-MEN #114-544) (MARVEL) #199 NEWSSTAND Very Good
X-MEN (1963) (#1-113, UNCANNY X-MEN #114-544) (MARVEL) #200 NEWSSTAND Very Good
X-MEN (1963) (#1-113, UNCANNY X-MEN #114-544) (MARVEL) #201 NEWSSTAND Fine
X-MEN (1963) (#1-113, UNCANNY X-MEN #114-544) (MARVEL) #201 NEWSSTAND Very Good
X-MEN (1963) (#1-113, UNCANNY X-MEN #114-544) (MARVEL) #205 NEWSSTAND Very Good
X-MEN (1963) (#1-113, UNCANNY X-MEN #114-544) (MARVEL) #205 NEWSSTAND Good
X-MEN (1963) (#1-113, UNCANNY X-MEN #114-544) (MARVEL) #207 NEWSSTAND Fine
X-MEN (1963) (#1-113, UNCANNY X-MEN #114-544) (MARVEL) #207 NEWSSTAND Good
X-MEN (1963) (#1-113, UNCANNY X-MEN #114-544) (MARVEL) #208 NEWSSTAND Very Good
X-MEN (1963) (#1-113, UNCANNY X-MEN #114-544) (MARVEL) #210 NEWSSTAND Good
X-MEN (1963) (#1-113, UNCANNY X-MEN #114-544) (MARVEL) #211 NEWSSTAND Fine
X-MEN (1963) (#1-113, UNCANNY X-MEN #114-544) (MARVEL) #212 NEWSSTAND Fine
X-MEN (1963) (#1-113, UNCANNY X-MEN #114-544) (MARVEL) #212 NEWSSTAND Very Good
X-MEN (1963) (#1-113, UNCANNY X-MEN #114-544) (MARVEL) #213 NEWSSTAND Good
X-MEN (1963) (#1-113, UNCANNY X-MEN #114-544) (MARVEL) #219 NEWSSTAND Fine
X-MEN (1963) (#1-113, UNCANNY X-MEN #114-544) (MARVEL) #221 NEWSSTAND Very Good
X-MEN (1963) (#1-113, UNCANNY X-MEN #114-544) (MARVEL) #222 Very Good
X-MEN (1963) (#1-113, UNCANNY X-MEN #114-544) (MARVEL) #226 NEWSSTAND Fine
X-MEN (1963) (#1-113, UNCANNY X-MEN #114-544) (MARVEL) #234 NEWSSTAND Good
X-MEN (1963) (#1-113, UNCANNY X-MEN #114-544) (MARVEL) #235 NEWSSTAND Very Good
X-MEN (1963) (#1-113, UNCANNY X-MEN #114-544) (MARVEL) #236 Near Mint/Mint
X-MEN (1963) (#1-113, UNCANNY X-MEN #114-544) (MARVEL) #237 NEWSSTAND Very Good
X-MEN (1963) (#1-113, UNCANNY X-MEN #114-544) (MARVEL) #238 NEWSSTAND Fine
X-MEN (1963) (#1-113, UNCANNY X-MEN #114-544) (MARVEL) #239 Near Mint/Mint
X-MEN (1963) (#1-113, UNCANNY X-MEN #114-544) (MARVEL) #239 NEWSSTAND Good
X-MEN (1963) (#1-113, UNCANNY X-MEN #114-544) (MARVEL) #240 NEWSSTAND Near Mint/Mint
X-MEN (1963) (#1-113, UNCANNY X-MEN #114-544) (MARVEL) #241 Fine
X-MEN (1963) (#1-113, UNCANNY X-MEN #114-544) (MARVEL) #241 NEWSSTAND Very Good


X-MEN (1963) (#1-113, UNCANNY X-MEN #114-544) (MARVEL) #243 NEWSSTAND

X-MEN (1963) (#1-113, UNCANNY X-MEN #114-544) (MARVEL) #243 NEWSSTAND Good
X-MEN (1963) (#1-113, UNCANNY X-MEN #114-544) (MARVEL) #244 NEWSSTAND Very Fine
X-MEN (1963) (#1-113, UNCANNY X-MEN #114-544) (MARVEL) #244 Very Fine
X-MEN (1963) (#1-113, UNCANNY X-MEN #114-544) (MARVEL) #245 NEWSSTAND Very Fine
X-MEN (1963) (#1-113, UNCANNY X-MEN #114-544) (MARVEL) #246 Near Mint/Mint
X-MEN (1963) (#1-113, UNCANNY X-MEN #114-544) (MARVEL) #246 NEWSSTAND Very Good
X-MEN (1963) (#1-113, UNCANNY X-MEN #114-544) (MARVEL) #247 NEWSSTAND Fine
X-MEN (1963) (#1-113, UNCANNY X-MEN #114-544) (MARVEL) #248 NEWSSTAND Fine
X-MEN (1963) (#1-113, UNCANNY X-MEN #114-544) (MARVEL) #249 Near Mint/Mint
X-MEN (1963) (#1-113, UNCANNY X-MEN #114-544) (MARVEL) #249 NEWSSTAND Very Good
X-MEN (1963) (#1-113, UNCANNY X-MEN #114-544) (MARVEL) #250 NEWSSTAND Fine
X-MEN (1963) (#1-113, UNCANNY X-MEN #114-544) (MARVEL) #251 NEWSSTAND Fine
X-MEN (1963) (#1-113, UNCANNY X-MEN #114-544) (MARVEL) #252 NEWSSTAND Very Good
X-MEN (1963) (#1-113, UNCANNY X-MEN #114-544) (MARVEL) #253 NEWSSTAND Fine
X-MEN (1963) (#1-113, UNCANNY X-MEN #114-544) (MARVEL) #254 Near Mint/Mint
X-MEN (1963) (#1-113, UNCANNY X-MEN #114-544) (MARVEL) #255 NEWSSTAND Fine
X-MEN (1963) (#1-113, UNCANNY X-MEN #114-544) (MARVEL) #256 NEWSSTAND Fine
X-MEN (1963) (#1-113, UNCANNY X-MEN #114-544) (MARVEL) #256 Very Fine
X-MEN (1963) (#1-113, UNCANNY X-MEN #114-544) (MARVEL) #257 Fine
X-MEN (1963) (#1-113, UNCANNY X-MEN #114-544) (MARVEL) #257 NEWSSTAND Fine
X-MEN (1963) (#1-113, UNCANNY X-MEN #114-544) (MARVEL) #258 Near Mint/Mint
X-MEN (1963) (#1-113, UNCANNY X-MEN #114-544) (MARVEL) #258 NEWSSTAND Very Good
X-MEN (1963) (#1-113, UNCANNY X-MEN #114-544) (MARVEL) #258 Very Fine
X-MEN (1963) (#1-113, UNCANNY X-MEN #114-544) (MARVEL) #259 NEWSSTAND Very Good
X-MEN (1963) (#1-113, UNCANNY X-MEN #114-544) (MARVEL) #260 Near Mint/Mint
X-MEN (1963) (#1-113, UNCANNY X-MEN #114-544) (MARVEL) #260 NEWSSTAND Very Good
X-MEN (1963) (#1-113, UNCANNY X-MEN #114-544) (MARVEL) #266 Near Mint/Mint
X-MEN (1963) (#1-113, UNCANNY X-MEN #114-544) (MARVEL) #267 Near Mint/Mint
X-MEN (1963) (#1-113, UNCANNY X-MEN #114-544) (MARVEL) #268 Near Mint/Mint
X-MEN (1963) (#1-113, UNCANNY X-MEN #114-544) (MARVEL) #282 NEWSSTAND Good

X-MEN '92 (2016) (#1-10) #10 Near Mint/Mint

X-MEN: GOD LOVES, MAN KILLS GN (1982) #1 Fine

YOUNG X-MEN: BOOK OF REVELATIONS TPB (VOL. 2) (2009) #1 Very Fine

DC

BATMAN & DRACULA: RED RAIN TPB (1992) #1 VARIANT

BATMAN & DRACULA: RED RAIN TPB (1992) #1 VARIANT Near Mint/Mint

BATMAN VOL. 3: DEATH OF THE FAMILY TPB (2014) #1 3RD PRINT Fine

BATMAN VOL. 4: ZERO YEAR - SECRET CITY TPB (2014) #1 3RD PRINT Very Fine

BATMAN VOL. 5: ZERO YEAR - DARK CITY TPB (2015) #1 Very Fine

BATMAN VOL. 8: SUPERHEAVY HC (2016) #1 Very Fine

BATMAN VOL. 9: BLOOM HC (2016) #1 Near Mint/Mint

BATMAN: 3-D GN (JOHN BYRNE) #1 Near Mint/Mint

BATMAN: DIGITAL JUSTICE GN (1990) #1 Very Fine

EIGHTY-PAGE GIANT (1964) #7 Very Fine

INJUSTICE: YEAR THREE - COMPLETE COLLECTION TPB (2018) #1 Near Mint/Mint

JONAH HEX: NO WAY BACK HC (2010) #1 Very Good

JUSTICE LEAGUE OF AMERICA OMNIBUS HC (2014) #1 Near Mint/Mint

MISTER MIRACLE HC (2019) #1 Near Mint/Mint

PREACHER: ALAMO TPB (VOL. 9) (2001) #1 (DC: Vertigo Press) Fine

PREACHER: ALL HELL'S A COMING TPB (VOL. 8) #1 (DC: Vertigo Press) Fine

PREACHER: ANCIENT HISTORY TPB (VOL. 4) #1 5TH PRINT (DC: Vertigo Press) Very Good


PREACHER: DIXIE FRIED TPB (VOL. 5) (1998) #1 4TH PRINT

PREACHER: DIXIE FRIED TPB (VOL. 5) (1998) #1 4TH PRINT (DC: Vertigo Press) Fine

PREACHER: GONE TO TEXAS TPB (VOL. 1) (1996) #1 6TH PRINT (DC: Vertigo Press) Very Good

PREACHER: PROUD AMERICANS TPB (VOL. 3) (1997) #1 6TH PRINT (DC: Vertigo Press) Very Good

PREACHER: SALVATION TPB (VOL. 7) (1999) #1 4TH PRINT (DC: Vertigo Press) Fine

PREACHER: UNTIL THE END OF THE WORLD TPB (VOL. 2) (1996) #1 5TH PRINT (DC: Vertigo Press) Very Good

PREACHER: WAR IN THE SUN TPB (VOL. 6) (1999) #1 2ND PRINT (DC: Vertigo Press) Very Good

RWBY (2019) #1 VARIANT Near Mint/Mint

SANDMAN: OVERTURE HC (2015) #1 Very Fine

SEVEN SOLDIERS OF VICTORY TPB (2006) #1 Very Fine
SEVEN SOLDIERS OF VICTORY TPB (2006) #2 Near Mint/Mint
SEVEN SOLDIERS OF VICTORY TPB (2006) #3 Near Mint/Mint

SUPERMAN: MAN OF STEEL (1991) #18 NEWSSTAND Good
SUPERMAN: MAN OF STEEL (1991) #19 3RD PRINT Fine

TEEN TITANS GO! (2014) #1 NEWSSTAND Near Mint/Mint

WONDER WOMAN: WAR OF THE GODS OMNIBUS HC (2020) #1 Near Mint/Mint

DARK HORSE COMICS
CLASSIC STAR WARS VOLUME ONE (1994) #1 Very Good

CLASSIC STAR WARS VOLUME TWO: REBEL STORM TPB #1 Good

STAR WARS BOBA FETT: DEATH LIES & TREACHERY TPB (1998) #1 2ND PRINT Very Fine

STAR WARS BOBA FETT: DEATH LIES & TREACHERY TPB (1998) #1 2ND PRINT Fine


STAR WARS BOUNTY HUNTERS: KENIX KIL #1

STAR WARS BOUNTY HUNTERS: KENIX KIL #1 Fine

STAR WARS CLONE WARS: DEFENSE OF KAMINO TPB (VOL. 1) (2003) #1 3RD PRINT Good

STAR WARS CLONE WARS: LAST STAND ON JABIIM TPB (VOL. 3) (2004) #1 5TH PRINT Good

STAR WARS CLONE WARS: VICTORIES & SACRIFICES TPB (VOL.2 (2003) #1 Very Good

STAR WARS HANDBOOK #2 Fine
STAR WARS HANDBOOK #2 NEWSSTAND Very Good

STAR WARS INFINITIES: EMPIRE STRIKES BACK TPB (2003) #1 3RD PRINT Fine

STAR WARS INFINITIES: RETURN OF THE JEDI TPB (2004) #1 Good

STAR WARS JEDI ACADEMY: LEVIATHAN #2 NEWSSTAND Very Good

STAR WARS TALES (1999) #2 NEWSSTAND Good
STAR WARS TALES (1999) #10 PHOTO Fine
STAR WARS TALES (1999) #12 PHOTO Very Good
STAR WARS TALES (1999) #14 Good
STAR WARS TALES (1999) #15 Good
STAR WARS TALES (1999) #20 Very Good
STAR WARS TALES (1999) #21 Very Good

STAR WARS TALES O/T JEDI: GOLDEN AGE OF SITH TPB #1 4TH PRINT Fine

STAR WARS TALES OF THE JEDI: SITH WAR TPB #1 Fine
STAR WARS TALES OF THE JEDI: SITH WAR TPB #1 Very Good

STAR WARS TALES TPB (2001) #1 Fine
STAR WARS TALES TPB (2001) #2 4TH PRINT Fine
STAR WARS TALES TPB (2001) #4 3RD PRINT Fine


STAR WARS VISIONARIES TPB (2005) #1

STAR WARS VISIONARIES TPB (2005) #1 Very Good

STAR WARS VOL. 1: IN THE SHADOW OF YAVIN TPB (2013) #1 Very Fine

STAR WARS VOL. 3: REBEL GIRL TPB (2014) #1 Near Mint/Mint

STAR WARS X-WING ROGUE SQUADRON: PHANTOM AFFAIR TPB (1997) #1 Fine

STAR WARS X-WING: WARRIOR PRINCESS TPB (1997) #1 Good

STAR WARS: A LONG TIME AGO TPB (2002) #1 2ND PRINT Very Good
STAR WARS: A LONG TIME AGO TPB (2002) #2 Fine

STAR WARS: A NEW HOPE SPECIAL EDITION TPB (1997) #1 2ND PRINT Good

STAR WARS: CHEWBACCA (2000) #2 Fine
STAR WARS: CHEWBACCA (2000) #3 NEWSSTAND Very Good
STAR WARS: CHEWBACCA (2000) #4 Fine

STAR WARS: CHEWBACCA TPB (2001) #1 Fine

STAR WARS: CRIMSON EMPIRE (1997) #3 Fine
STAR WARS: CRIMSON EMPIRE (1997) #4 Fine
STAR WARS: CRIMSON EMPIRE (1997) #5 Fine

STAR WARS: CRIMSON EMPIRE II (1998) #2 Fine
STAR WARS: CRIMSON EMPIRE II (1998) #4 Fine
STAR WARS: CRIMSON EMPIRE II (1998) #5 Near Mint/Mint
STAR WARS: CRIMSON EMPIRE II (1998) #6 Near Mint/Mint

STAR WARS: CRIMSON EMPIRE II TPB (1999) #1 4TH PRINT Fine

STAR WARS: CRIMSON EMPIRE III - EMPIRE LOST (2011) #1 DORMAN Near Mint/Mint
STAR WARS: CRIMSON EMPIRE III - EMPIRE LOST (2011) #2 Near Mint/Mint


STAR WARS: CRIMSON EMPIRE III - EMPIRE LOST (2011) #3

STAR WARS: CRIMSON EMPIRE III - EMPIRE LOST (2011) #3 Fine
STAR WARS: CRIMSON EMPIRE III - EMPIRE LOST (2011) #4 Near Mint/Mint
STAR WARS: CRIMSON EMPIRE III - EMPIRE LOST (2011) #5 Very Fine
STAR WARS: CRIMSON EMPIRE III - EMPIRE LOST (2011) #6 Fine

STAR WARS: CRIMSON EMPIRE TPB (1998) #1 2ND PRINT Very Good

STAR WARS: DARK EMPIRE COLLECTION TPB (1995) #1 4TH PRINT Fine

STAR WARS: DARK EMPIRE I TPB (2002) #1 3RD PRINT Near Mint/Mint

STAR WARS: DARK EMPIRE II (1994) #2 Fine
STAR WARS: DARK EMPIRE II (1994) #4 Fine
STAR WARS: DARK EMPIRE II (1994) #5 Very Good

STAR WARS: DARK EMPIRE II TPB (1995) #1 3RD PRINT Good

STAR WARS: DARK FORCE RISING (1997) #2 NEWSSTAND Very Good

STAR WARS: DARK TIMES TPB (2007) #1 Fine
STAR WARS: DARK TIMES TPB (2007) #2 Good

STAR WARS: DARTH MAUL TPB (2001) #1 2ND PRINT Fine

STAR WARS: DAWN OF THE JEDI VOL. 3 - FORCE WAR TPB (2014) #1 Near Mint/Mint

STAR WARS: DROIDS-KALARBA ADVENTURES TPB (1995) #1 Fine

STAR WARS: EMPIRE STRIKES BACK SPECIAL EDITION TPB (1997) #1 2ND PRINT Good

STAR WARS: EMPIRES END (1995) #2 Fine
STAR WARS: EMPIRES END (1995) #2 NEWSSTAND Good

STAR WARS: FORCE UNLEASHED GN (2008) #1 Near Mint/Mint
STAR WARS: FORCE UNLEASHED GN (2008) #2 Very Good


STAR WARS: HEIR TO THE EMPIRE (1995) #1

STAR WARS: HEIR TO THE EMPIRE (1995) #1 Fine
STAR WARS: HEIR TO THE EMPIRE (1995) #4 Very Fine

STAR WARS: HUNT FOR AURRA SING TPB (2002) #1 Fine

STAR WARS: INFINITIES-A NEW HOPE TPB (2002) #1 5TH PRINT Very Good

STAR WARS: INVASION (2009) #1 Near Mint/Mint
STAR WARS: INVASION (2009) #2 Near Mint/Mint
STAR WARS: INVASION (2009) #3 Near Mint/Mint
STAR WARS: INVASION (2009) #5 Fine

STAR WARS: INVASION - RESCUES (2010) #2 Fine
STAR WARS: INVASION - RESCUES (2010) #3 Fine
STAR WARS: INVASION - RESCUES (2010) #4 Fine
STAR WARS: INVASION - RESCUES (2010) #5 Fine

STAR WARS: JABBA THE HUTT THE ART OF THE DEAL TPB (1998) #1 Fair

STAR WARS: KNIGHTS OF THE OLD REPUBLIC (2005) #36 Near Mint/Mint
STAR WARS: KNIGHTS OF THE OLD REPUBLIC (2005) #37 Near Mint/Mint
STAR WARS: KNIGHTS OF THE OLD REPUBLIC (2005) #38 Near Mint/Mint
STAR WARS: KNIGHTS OF THE OLD REPUBLIC (2005) #39 Near Mint/Mint
STAR WARS: KNIGHTS OF THE OLD REPUBLIC (2005) #40 Very Fine
STAR WARS: KNIGHTS OF THE OLD REPUBLIC (2005) #41 Near Mint/Mint
STAR WARS: KNIGHTS OF THE OLD REPUBLIC (2005) #43 Very Fine
STAR WARS: KNIGHTS OF THE OLD REPUBLIC (2005) #45 Near Mint/Mint

STAR WARS: KNIGHTS OF THE OLD REPUBLIC TPB (2006) #1 7TH PRINT Fine
STAR WARS: KNIGHTS OF THE OLD REPUBLIC TPB (2006) #3 2ND PRINT Fine
STAR WARS: KNIGHTS OF THE OLD REPUBLIC TPB (2006) #6 Fine

STAR WARS: LAST COMMAND (1997) #1 Fine
STAR WARS: LAST COMMAND (1997) #2 Near Mint/Mint


STAR WARS: LAST COMMAND (1997) #3

STAR WARS: LAST COMMAND (1997) #3 Near Mint/Mint
STAR WARS: LAST COMMAND (1997) #4 Near Mint/Mint
STAR WARS: LAST COMMAND (1997) #5 Near Mint/Mint

STAR WARS: LEGACY (2006) #30 Fine
STAR WARS: LEGACY (2006) #31 Near Mint/Mint
STAR WARS: LEGACY (2006) #32 Very Fine
STAR WARS: LEGACY (2006) #33 Near Mint/Mint
STAR WARS: LEGACY (2006) #34 Near Mint/Mint
STAR WARS: LEGACY (2006) #35 Near Mint/Mint
STAR WARS: LEGACY (2006) #36 Near Mint/Mint
STAR WARS: LEGACY (2006) #37 Near Mint/Mint
STAR WARS: LEGACY (2006) #38 Near Mint/Mint
STAR WARS: LEGACY (2006) #39 Near Mint/Mint

STAR WARS: LEGACY (VOL. 2) (2013) #1 Fine
STAR WARS: LEGACY (VOL. 2) (2013) #2 Fine
STAR WARS: LEGACY (VOL. 2) (2013) #3 Fine
STAR WARS: LEGACY (VOL. 2) (2013) #4 Fine
STAR WARS: LEGACY (VOL. 2) (2013) #5 Fine
STAR WARS: LEGACY (VOL. 2) (2013) #6 Fine
STAR WARS: LEGACY (VOL. 2) (2013) #7 Fine
STAR WARS: LEGACY (VOL. 2) (2013) #8 Fine
STAR WARS: LEGACY (VOL. 2) (2013) #9 Very Fine
STAR WARS: LEGACY (VOL. 2) (2013) #10 Fine
STAR WARS: LEGACY (VOL. 2) (2013) #12 Very Fine
STAR WARS: LEGACY (VOL. 2) (2013) #13 Very Fine
STAR WARS: LEGACY (VOL. 2) (2013) #14 Fine
STAR WARS: LEGACY (VOL. 2) (2013) #15 Fine
STAR WARS: LEGACY (VOL. 2) (2013) #17 Near Mint/Mint
STAR WARS: LEGACY (VOL. 2) (2013) #18 Very Fine

STAR WARS: OLD REPUBLIC VOL. 1: BLOOD OF EMPIRE TPB (2011) #1 3RD PRINT Fine


STAR WARS: PRELUDE TO REBELLION TPB #1

STAR WARS: PRELUDE TO REBELLION TPB #1 Good

STAR WARS: REBELLION TPB (2007) #1 Very Good
STAR WARS: REBELLION TPB (2007) #2 Very Good
STAR WARS: REBELLION TPB (2007) #3 Very Good

STAR WARS: RITE OF PASSAGE TPB (2004) #1 2ND PRINT Near Mint/Mint

STAR WARS: SHADOWS OF THE EMPIRE TPB (1997) #1 Good

STAR WARS: SHADOWS OF THE EMPIRE: EVOLUTION TPB (2000) #1 Good

STAR WARS: STARK HYPERSPACE WAR TPB (2003) #1 Very Fine

STAR WARS: TALES OF THE JEDI TPB (1994) #1 2ND PRINT Fine

STAR WARS: UNION (1999) #1 Very Fine
STAR WARS: UNION (1999) #2 Fine
STAR WARS: UNION (1999) #3 Fine

STAR WARS: VECTOR TPB (2008) #2 Fine

UMBRELLA ACADEMY: DALLAS (2008) #4 Near Mint/Mint
UMBRELLA ACADEMY: DALLAS (2008) #5 Near Mint/Mint
UMBRELLA ACADEMY: DALLAS (2008) #6 Near Mint/Mint

IMAGE COMICS
CHEW: WARRIOR CHICKEN POYO (2014) #1 Near Mint/Mint

IMAGE COMICS HOLIDAY SPECIAL (2005) #1 Near Mint/Mint

REVIVAL (2012) (#1-47) (IMAGE) #1 PHANTOM Near Mint/Mint

SPAWN (1992) #15 NEWSSTAND Very Good
SPAWN (1992) #33 NEWSSTAND Very Fine

SPAWN (1992) #201 Fine
SPAWN (1992) #223 Near Mint/Mint
SPAWN (1992) #231 Near Mint/Mint

SPAWN BIBLE (1996) #1 3RD PRINT Fine

SPAWN FAN EDITION (1996) #2 VARIANT Very Fine

SAVAGE DRAGON: TERMINATED TPB (VOL. 8) (2003) #1 Very Fine

TEAM 7 (1994) #1 Near Mint/Mint

WALKING DEAD (2003) (#1-193) (IMAGE) #72 Very Fine

WITCHBLADE (1995) (#1-185, #500) (IMAGE) #7 NEWSSTAND (Image Top Cow) Fine
WITCHBLADE (1995) (#1-185, #500) (IMAGE) #10 (Image Top Cow) Very Fine

WITCHBLADE TPB (2008) #1 DIRECT (Image Top Cow) Near Mint/Mint

INDEPENDENTS
24: COLD WARRIORS (2008) #1 (IDW Publishing) Near Mint/Mint

24: NIGHTFALL (2006) #2 A (IDW Publishing) Near Mint/Mint
24: NIGHTFALL (2006) #3 A (IDW Publishing) Near Mint/Mint
24: NIGHTFALL (2006) #4 A (IDW Publishing) Near Mint/Mint
24: NIGHTFALL (2006) #5 A (IDW Publishing) Near Mint/Mint

A.D.: AFTER DEATH TPB (2016) #1 Near Mint/Mint
A.D.: AFTER DEATH TPB (2016) #2 Near Mint/Mint
A.D.: AFTER DEATH TPB (2016) #3 Near Mint/Mint
A.D.: AFTER DEATH TPB (2016) #3 Very Fine

ASTERIX IN SWITZERLAND GN (1980) #1 2ND PRINT (DARGAUD INTERNATIONAL PUBLISHING) Very Good


BART SIMPSON'S HEEBIE-JEEBIE HULLABALOO TPB (HARPER) (1999) #1 6TH PRINT

BART SIMPSON'S HEEBIE-JEEBIE HULLABALOO TPB (HARPER) (1999) #1 6TH PRINT (Harper Entertainment) Very Good

BETTY AND VERONICA (1950) #323 (Archie Comics) Good
BETTY AND VERONICA (1950) #324 (Archie Comics) Very Good
BETTY AND VERONICA (1950) #341 (Archie Comics) Very Good

BETTY AND VERONICA (1987) #17 NEWSSTAND (Archie Comics) Good
BETTY AND VERONICA (1987) #67 NEWSSTAND (Archie Comics) Good

BOYS VOL. 8: HIGHLAND LADDIE TPB (2011) #1 (DYNAMITE Entertainment) Near Mint/Mint

BOYS VOL. 9: BIG RIDE TPB (2011) #1 (DYNAMITE Entertainment) Near Mint/Mint

BUFFY THE VAMPIRE SLAYER: WILLOW (2020) #3 E ANDOLFO (Boom Studios Publishing) Near Mint/Mint

CREEPSHOW GN (1982) #1 (Plume Book) Fine

DOCTOR WHO (2008) (#1-6) (IDW Publishing) #1 (IDW Publishing) Near Mint/Mint

FROM HELL TPB (TOP SHELF) (1999) #1 2ND PRINT (Eddie Campbell Comics) Very Good

KATY KEENE SPECIAL (1983) #14 (Archie Comics) Very Good
KATY KEENE SPECIAL (1983) #17 (Archie Comics) Very Good
KATY KEENE SPECIAL (1983) #22 (Archie Comics) Very Good

KRAZY & IGNATZ 1916-1918 TPB (2010) #1 (Fantagraphics) Fine

KRAZY & IGNATZ KOMPLETE KAT KOMICS 1925-26 TPB (2002) #1 3RD PRINT (Fantagraphics) Near Mint/Mint

KRAZY & IGNATZ: COMPLETE COMIC STRIPS 1927-1928 GN (2002) #1 SC (Fantagraphics) Fine

OCTOBER FACTION (2014) #1 (IDW Publishing) Fine

RAIDERS OF THE LOST ARK: ILLUSTRATED SCREENPLAY TPB (1981) #1 (Ballantine Books) Fair

RIDDLER'S RIDDLE BOOK (BATMAN) (1988) #1 (Tom Doherty Associates Inc.) Fine

SIMPSONS HOLIDAY HUMDINGER TPB (2004) #1 (Trade Items) Fine


SON OF SHERLOCK HOLMES: WOMAN IN RED GN (VOL.4) (1977) #1

SON OF SHERLOCK HOLMES: WOMAN IN RED GN (VOL.4) (1977) #1 (Pyramid Productions) Very Good

STAR TREK ALIENS SPOTLIGHT: ANDORIANS (2007) #1 B (IDW Publishing) Very Fine

STAR TREK ALIENS SPOTLIGHT: BORG (2008) #1 A (IDW Publishing) Near Mint/Mint

STAR TREK ALIENS SPOTLIGHT: GORN (2007) #1 (IDW Publishing) Near Mint/Mint

STAR TREK ALIENS SPOTLIGHT: ORIONS (2007) #1 A (IDW Publishing) Near Mint/Mint

STAR TREK ALIENS SPOTLIGHT: ROMULANS (2008) #1 A (IDW Publishing) Near Mint/Mint

STAR TREK ALIENS SPOTLIGHT: VULCANS (2007) #1 B (IDW Publishing) Near Mint/Mint

STAR TREK ROMULANS: HOLLOW CROWN (2008) #1 (IDW Publishing) Near Mint/Mint
STAR TREK ROMULANS: HOLLOW CROWN (2008) #2 (IDW Publishing) Near Mint/Mint

STAR TREK: ASSIGNMENT EARTH (2008) #4 (IDW Publishing) Near Mint/Mint
STAR TREK: ASSIGNMENT EARTH (2008) #5 (IDW Publishing) Near Mint/Mint

STAR TREK: MIRROR IMAGES (2008) #1 B (IDW Publishing) Near Mint/Mint
STAR TREK: MIRROR IMAGES (2008) #2 A (IDW Publishing) Near Mint/Mint
STAR TREK: MIRROR IMAGES (2008) #3 (IDW Publishing) Near Mint/Mint
STAR TREK: MIRROR IMAGES (2008) #4 (IDW Publishing) Near Mint/Mint
STAR TREK: MIRROR IMAGES (2008) #5 (IDW Publishing) Near Mint/Mint

STAR TREK: STARFLEET TECHNICAL MANUAL (1975) #1 W/SLIPCOVR (Ballantine Books) Very Fine

STAR TREK: YEAR FOUR (2007) #1 A (IDW Publishing) Near Mint/Mint
STAR TREK: YEAR FOUR (2007) #2 B (IDW Publishing) Near Mint/Mint
STAR TREK: YEAR FOUR (2007) #3 B (IDW Publishing) Near Mint/Mint
STAR TREK: YEAR FOUR (2007) #4 A (IDW Publishing) Near Mint/Mint
STAR TREK: YEAR FOUR (2007) #5 A (IDW Publishing) Near Mint/Mint


STAR TREK: YEAR FOUR (2007) #6 B

STAR TREK: YEAR FOUR (2007) #6 B (IDW Publishing) Near Mint/Mint

STAR TREK: YEAR FOUR-THE ENTERPRISE EXPERIMENT (2008) #1 A (IDW Publishing) Near Mint/Mint

STAR TREK: YEAR FOUR-THE ENTERPRISE EXPERIMENT (2008) #2 (IDW Publishing) Near Mint/Mint
STAR TREK: YEAR FOUR-THE ENTERPRISE EXPERIMENT (2008) #3 (IDW Publishing) Near Mint/Mint
STAR TREK: YEAR FOUR-THE ENTERPRISE EXPERIMENT (2008) #4 (IDW Publishing) Near Mint/Mint
STAR TREK: YEAR FOUR-THE ENTERPRISE EXPERIMENT (2008) #5 (IDW Publishing) Near Mint/Mint

TOM AND JERRY (1991) (#1-18) (HARVEY) #7 NEWSSTAND (Harvey Comics) Very Good

TRUE BLOOD (2010) #2 B (IDW Publishing) Near Mint/Mint

UNCLE SCROOGE (1990) (DISNEY) (#243-280) #270 NEWSSTAND (Walt Disney Company) Good

WALT DISNEY'S COMICS AND STORIES (1990) (#548-585) (DISNEY) #548 NEWSSTAND (Walt Disney Company) Good