Back Issue Comics Boom Explodes
Howdy!
Will Moulton, Pam Brandle, and I, have been struggling of late to keep up with the rapidly escalating appreciation of back issue comics values. To explain our dilemma, we review all of our online orders from the previous 24 hours every morning, carefully seeking guidance on how to move forward from the patterns that emerge. This is a reasonably accurate technique that has served us well for over a decade in allowing us to keep ahead of new trends in our client's preferences for back issues.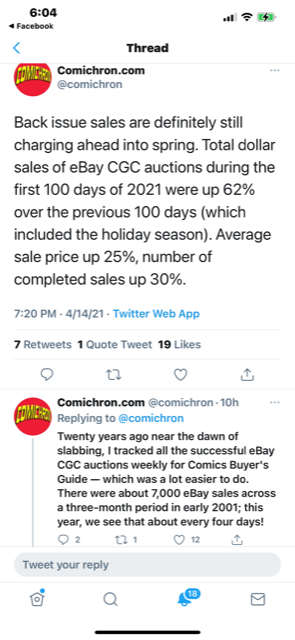 Message thread about back issues

Over the past 90 days, however, all of our careful analysis has proven to be too little, too late. The back issue comics market has suddenly accelerated ahead of us so rapidly that our prices on many desirable issues (which we initially thought were on the upper end of the range) are now already hopelessly behind. That creates a real problem for us, as our database contains well over 400,000 individual listings. Trying to adjust all those prices to reflect the current robust market for back issue comics of all kinds is darn near impossible. Both Will and Pam raise a few prices each day (as they enter new arrivals), but they cannot adjust everything, as there is just not enough time. In effect, that means that we are actually becoming less in tune with today's market changes every day.

GREEN LANTERN (1960) (#1-224) (DC) #2

So what is fueling this remarkable expansion in back issue comics demand? Truthfully, I cannot explain precisely what is happening. I have a whole bunch of theories centered around the pandemic and how retail stores have been forced to adapt to changes in new comics publishing, but my personal explanation remains that comics (especially from prior to 20 years ago) are becoming much scarcer due to destruction caused by environmental hazards, such as fires, floods, hurricanes, etc. As crazy as it may seem to those of us who lived through the mass overprintings of the late-1980's and early 1990's, many titles from that era are now in high demand, especially by the legion of young collectors who are suddenly buying up everything in sight. For most of them (many of whom were born after 2000...), comics from 1993 are OLD!
At the same time, comics from the most recent 20 years were scarce to begin with, as print runs on most comic books dropped precipitously as the number of retail comic book stores declined from the estimated 10,000+ in business in 1993, to fewer than 3,000 today. Comics from the past 5 years are especially scarce, as many had fewer than 40,000 copies printed, some fewer than 10,000. With that few copies printed, any surge in demand totally blows up prices. SPAWN #150-#300 is a classic case in point, as we raised those to what we thought were ridiculously high pricing a year ago, and have since seen absolutely no slowdown in demand.
That mania for recent SPAWN issues has now seemingly spread to almost all other recent titles, with darn near everything from the past 20 years selling briskly. As I mentioned earlier, Will, Pam, and myself are struggling to keep up, but failing on many fronts. We just list too many items, and there is not enough time. How crazy is that?
The good news for you is that our very active buying of collections has helped to mitigate what would otherwise be mass shortages in supply on many back issue comics. Will and Pam are still purchasing 3-5 collections per day in the Jason St. Mega-Store, and Pam has a couple of collections arrive per day from people who have requested free prepaid shipping labels from her. Their efforts supplement my own very active purchasing of collections during my nationwide road trips. The sum of all of our efforts is that we are actually increasing our overall selection on our website every day, even though many of our prices are hopelessly low in light of current demand.

FLASH (1959) (#105-350) (DC) #225

It is important to note, however, that our seemingly abundant website is somewhat of an illusion. While we can currently offer you a vast range of back issue comics and magazines choices, in a great many instances we only have but a single copy of a listed item in stock. With our sales currently running more than double this same time last year, we are bound to run out of many issues soon, especially if our purchasing were to slow down for any reason. If nothing else, that should provide you with some food for thought.

SHE-HULK (1980) (#1-25) (SAVAGE SHE-HULK) (MARVEL) #1

Well, that's it for today. We had a significant amount of fresh snow overnight, so I do need to allow some extra time to make it into Denver. This time of year the roads are just wet, however, so it should be no big deal. I will continue today in helping Will and Pam as best I can by sorting issues from my recent buys that help to replace issues that have just sold via the website. Truthfully, I'm working as hard as I can, but I still can't keep up! This is a truly amazing moment in time in the comics collecting world...
Happy collecting!
Chuck Rozanski/Bettie Pages,
President - Mile High Comics, Inc.
April 16, 2021
P.S. Our 50% off SPRINGBREAK! codeword sale is ending at midnight on Monday. That leaves you less than 72 hours left to take advantage of our last-chance half price savings. Truthfully, given our current surge in demand, I would have already stopped this 50% off sale last week, but my beloved wife, Nanette, insisted that I leave it in effect. Since she pays our company bills, I have no choice but to listen to her. It causes me great distress, however, to see back issue comics and magazines that are already priced below market selling at 50% off, so I am DONE. No more 50% off after Monday, so get your order together now.
As per usual, the half price sale applies to all ten million+ of the back issues that we offer on our website, excepting only new issues, a few variants, and our professionally-graded comics. Most of the newly-arrived back issue comics listed below do qualify for the SPRINGBREAK! discount. Enjoy!
MARVEL

2001 (JACK KIRBY) (1976) #1 CRACKED CASE 9.4

2001 (JACK KIRBY) (1976) #1 BROKEN 9.4 Near Mint/Mint

ADVENTURES ON THE PLANET OF THE APES (1975) #1 CGC 8.5 Very Fine

ALPHA FLIGHT (1983) (#1-130) #106 Near Mint/Mint

AMAZING ADVENTURES (1979) (#1-14) (MARVEL) #1 NEWSSTAND Very Good

ASTONISHING TALES (MARVEL) (1970) #2 Good
ASTONISHING TALES (MARVEL) (1970) #3 Fine
ASTONISHING TALES (MARVEL) (1970) #4 Fine
ASTONISHING TALES (MARVEL) (1970) #5 Fine
ASTONISHING TALES (MARVEL) (1970) #6 Fine
ASTONISHING TALES (MARVEL) (1970) #7 Fine
ASTONISHING TALES (MARVEL) (1970) #8 Fine
ASTONISHING TALES (MARVEL) (1970) #9 Very Good
ASTONISHING TALES (MARVEL) (1970) #10 Fine
ASTONISHING TALES (MARVEL) (1970) #11 Fine
ASTONISHING TALES (MARVEL) (1970) #12 Very Good
ASTONISHING TALES (MARVEL) (1970) #13 Fine
ASTONISHING TALES (MARVEL) (1970) #14 Very Good
ASTONISHING TALES (MARVEL) (1970) #15 Very Good
ASTONISHING TALES (MARVEL) (1970) #16 Very Good
ASTONISHING TALES (MARVEL) (1970) #17 Very Good
ASTONISHING TALES (MARVEL) (1970) #18 Fine
ASTONISHING TALES (MARVEL) (1970) #19 Fine
ASTONISHING TALES (MARVEL) (1970) #20 Fine
ASTONISHING TALES (MARVEL) (1970) #23 Fine
ASTONISHING TALES (MARVEL) (1970) #24 Fine
ASTONISHING TALES (MARVEL) (1970) #25 Fine
ASTONISHING TALES (MARVEL) (1970) #26 Fine
ASTONISHING TALES (MARVEL) (1970) #27 Fine
ASTONISHING TALES (MARVEL) (1970) #28 Fine
ASTONISHING TALES (MARVEL) (1970) #29 Fine
ASTONISHING TALES (MARVEL) (1970) #30 Fine
ASTONISHING TALES (MARVEL) (1970) #31 Very Good


ASTONISHING TALES (MARVEL) (1970) #32

ASTONISHING TALES (MARVEL) (1970) #32 Fine
ASTONISHING TALES (MARVEL) (1970) #33 Fine
ASTONISHING TALES (MARVEL) (1970) #34 Very Fine
ASTONISHING TALES (MARVEL) (1970) #35 Fine
ASTONISHING TALES (MARVEL) (1970) #36 Very Good

AVENGERS (1963) (#1-402) (MARVEL) #69 CGC 3.5 Very Good
AVENGERS (1963) (#1-402) (MARVEL) #93 CGC 3.5 Very Good
AVENGERS (1963) (#1-402) (MARVEL) #100 CGC 4.0 Very Good
AVENGERS (1963) (#1-402) (MARVEL) #124 CGC 7.0 Fine
AVENGERS (1963) (#1-402) (MARVEL) #141 CBCS 8.5 Very Fine
AVENGERS (1963) (#1-402) (MARVEL) #181 Very Fine
AVENGERS (1963) (#1-402) (MARVEL) #182 Near Mint/Mint
AVENGERS (1963) (#1-402) (MARVEL) #183 Near Mint/Mint
AVENGERS (1963) (#1-402) (MARVEL) #184 NEWSSTAND Very Fine
AVENGERS (1963) (#1-402) (MARVEL) #185 NEWSSTAND Fine
AVENGERS (1963) (#1-402) (MARVEL) #186 Fine
AVENGERS (1963) (#1-402) (MARVEL) #187 Near Mint/Mint
AVENGERS (1963) (#1-402) (MARVEL) #188 Near Mint/Mint
AVENGERS (1963) (#1-402) (MARVEL) #188 NEWSSTAND Very Good
AVENGERS (1963) (#1-402) (MARVEL) #189 Near Mint/Mint
AVENGERS (1963) (#1-402) (MARVEL) #190 Very Fine
AVENGERS (1963) (#1-402) (MARVEL) #191 Near Mint/Mint
AVENGERS (1963) (#1-402) (MARVEL) #195 Near Mint/Mint
AVENGERS (1963) (#1-402) (MARVEL) #196 Very Fine
AVENGERS (1963) (#1-402) (MARVEL) #200 Very Fine
AVENGERS (1963) (#1-402) (MARVEL) #215 NEWSSTAND Fine
AVENGERS (1963) (#1-402) (MARVEL) #354 Near Mint/Mint

AVENGERS ANNUAL (1967) #2 CGC 6.5 Fine
AVENGERS ANNUAL (1967) #11 Near Mint/Mint

AVENGERS GIANT-SIZE (GIANT SIZE) (1974) #1 CBCS 7.5 Very Fine
AVENGERS GIANT-SIZE (GIANT SIZE) (1974) #2 CGC 7.5 Very Fine

CAPTAIN AMERICA (1968) (#100-454) (MARVEL) #100 Very Fine
CAPTAIN AMERICA (1968) (#100-454) (MARVEL) #236 NEWSSTAND Very Good


CAPTAIN AMERICA (1968) (#100-454) (MARVEL) #239 NEWSSTAND

CAPTAIN AMERICA (1968) (#100-454) (MARVEL) #239 NEWSSTAND Fine
CAPTAIN AMERICA (1968) (#100-454) (MARVEL) #241 NEWSSTAND Very Good
CAPTAIN AMERICA (1968) (#100-454) (MARVEL) #265 NEWSSTAND Very Good

CHAMPIONS (1975) (#1-17) (MARVEL) #1 CGC 8.0 Very Fine
CHAMPIONS (1975) (#1-17) (MARVEL) #2 Very Good
CHAMPIONS (1975) (#1-17) (MARVEL) #3 Fine
CHAMPIONS (1975) (#1-17) (MARVEL) #4 Very Good
CHAMPIONS (1975) (#1-17) (MARVEL) #5 Very Good
CHAMPIONS (1975) (#1-17) (MARVEL) #6 Very Good
CHAMPIONS (1975) (#1-17) (MARVEL) #7 Very Good
CHAMPIONS (1975) (#1-17) (MARVEL) #8 Very Good
CHAMPIONS (1975) (#1-17) (MARVEL) #9 Fine
CHAMPIONS (1975) (#1-17) (MARVEL) #10 Fine
CHAMPIONS (1975) (#1-17) (MARVEL) #11 Very Good
CHAMPIONS (1975) (#1-17) (MARVEL) #12 Very Good
CHAMPIONS (1975) (#1-17) (MARVEL) #13 Fine
CHAMPIONS (1975) (#1-17) (MARVEL) #14 Fine
CHAMPIONS (1975) (#1-17) (MARVEL) #15 Very Good
CHAMPIONS (1975) (#1-17) (MARVEL) #16 Very Good
CHAMPIONS (1975) (#1-17) (MARVEL) #17 Very Good

CHILLERS GIANT-SIZE (1974) #1 Fine

CLOAK AND DAGGER (1988) (#1-19) (MARVEL) #5 NEWSSTAND Near Mint/Mint

CONAN (1970) (#1-275) (CONAN THE BARBARIAN) (MARVEL) #2 Fair
CONAN (1970) (#1-275) (CONAN THE BARBARIAN) (MARVEL) #3 Fair

CONAN ANNUAL (1973) #1 CGC 8.5 Very Fine

CONAN THE KING (KING CONAN #1-19) (1980) #9 Fine

DAREDEVIL (1964) (#1-380) (MAN WITHOUT FEAR) (MARVEL) #62 Very Good
DAREDEVIL (1964) (#1-380) (MAN WITHOUT FEAR) (MARVEL) #257 Near Mint/Mint


DAREDEVIL (1998) (#1-119, 500-512) (MARVEL) #10

DAREDEVIL (1998) (#1-119, 500-512) (MARVEL) #10 Fine
DAREDEVIL (1998) (#1-119, 500-512) (MARVEL) #111 Near Mint/Mint
DAREDEVIL (1998) (#1-119, 500-512) (MARVEL) #111 Very Fine
DAREDEVIL (1998) (#1-119, 500-512) (MARVEL) #112 Very Fine

DAREDEVIL ANNUAL (1967) #1 Near Mint/Mint

DAZZLER (1981) #12 NEWSSTAND Fine
DAZZLER (1981) #14 NEWSSTAND Very Good
DAZZLER (1981) #15 NEWSSTAND Very Good

DEFENDERS (1972) (#1-152) (MARVEL) #2 Fine
DEFENDERS (1972) (#1-152) (MARVEL) #3 Very Good
DEFENDERS (1972) (#1-152) (MARVEL) #9 Good
DEFENDERS (1972) (#1-152) (MARVEL) #13 CBCS 9.4 Near Mint/Mint
DEFENDERS (1972) (#1-152) (MARVEL) #74 NEWSSTAND Fine
DEFENDERS (1972) (#1-152) (MARVEL) #76 NEWSSTAND Very Good
DEFENDERS (1972) (#1-152) (MARVEL) #103 NEWSSTAND Fine
DEFENDERS (1972) (#1-152) (MARVEL) #111 NEWSSTAND Fine

DOCTOR STRANGE (1968) (#169-183) (MARVEL)(DR. STRANGE) #177 CGC 6.0 Fine
DOCTOR STRANGE (1968) (#169-183) (MARVEL)(DR. STRANGE) #183 CGC 6.5 Fine
DOCTOR STRANGE (1974) (#1-81) (MARVEL) (DR. STRANGE) #38 NEWSSTAND Very Good
DOCTOR STRANGE (1974) (#1-81) (MARVEL) (DR. STRANGE) #52 NEWSSTAND Fine
DOCTOR STRANGE (1974) (#1-81) (MARVEL) (DR. STRANGE) #53 NEWSSTAND Very Good
DOCTOR STRANGE (1974) (#1-81) (MARVEL) (DR. STRANGE) #56 NEWSSTAND Very Good
DOCTOR STRANGE (1988) (#1-90) (MARVEL) (DR. STRANGE) #60 PGX 9.4 Near Mint/Mint
DOCTOR STRANGE (1988) (#1-90) (MARVEL) (DR. STRANGE) #61 PGX 9.4 Near Mint/Mint

FANTASTIC FOUR (1961) (#1-416) (MARVEL) #45 Near Mint/Mint
FANTASTIC FOUR (1961) (#1-416) (MARVEL) #48 Fine
FANTASTIC FOUR (1961) (#1-416) (MARVEL) #75 Very Fine
FANTASTIC FOUR (1961) (#1-416) (MARVEL) #148 Fine
FANTASTIC FOUR (1961) (#1-416) (MARVEL) #149 Very Good
FANTASTIC FOUR (1961) (#1-416) (MARVEL) #150 Very Good
FANTASTIC FOUR (1961) (#1-416) (MARVEL) #150 CGC 7.5 Very Fine
FANTASTIC FOUR (1961) (#1-416) (MARVEL) #171 Fine
FANTASTIC FOUR (1961) (#1-416) (MARVEL) #172 Fine


FANTASTIC FOUR (1961) (#1-416) (MARVEL) #173

FANTASTIC FOUR (1961) (#1-416) (MARVEL) #173 Fine
FANTASTIC FOUR (1961) (#1-416) (MARVEL) #175 Very Good
FANTASTIC FOUR (1961) (#1-416) (MARVEL) #209 NEWSSTAND Fine
FANTASTIC FOUR (1961) (#1-416) (MARVEL) #210 NEWSSTAND Very Good
FANTASTIC FOUR (1961) (#1-416) (MARVEL) #211 NEWSSTAND Very Good

FANTASTIC FOUR ANNUAL (1963) #10 CBCS 5.5 Fine

FANTASTIC FOUR ASHCAN (1994) #1 Very Fine

FANTASY MASTERPIECES (1979) #2 NEWSSTAND Fine

GHOST RIDER (1973) (#1-81) (MARVEL) #39 NEWSSTAND Fine
GHOST RIDER (1973) (#1-81) (MARVEL) #50 Near Mint/Mint

GI JOE #5 NEWSSTAND Very Good
GI JOE #5 Very Good

GODZILLA (1977) (#1-24) (MARVEL) #12 Fine
GODZILLA (1977) (#1-24) (MARVEL) #14 Very Good
GODZILLA (1977) (#1-24) (MARVEL) #16 Fine
GODZILLA (1977) (#1-24) (MARVEL) #17 Very Good
GODZILLA (1977) (#1-24) (MARVEL) #18 Very Good
GODZILLA (1977) (#1-24) (MARVEL) #19 Fine

HOWARD THE DUCK (1976) (#1-33) #1 CBCS 7.0 Fine

HULK (1962) (#1-6, #102-474, #600-635)(INCREDIBLE)(MV) #240 NEWSSTAND Good
HULK (1962) (#1-6, #102-474, #600-635)(INCREDIBLE)(MV) #277 Near Mint/Mint

HULK VS. SUPERMAN (1999) #1 Near Mint/Mint

IMMORTAL SHE-HULK (2020) #1 ROSS Very Fine

INDIANA JONES AND THE TEMPLE OF DOOM (1984) #3 Near Mint/Mint

INVADERS (1975) (#1-41) (MARVEL) #1 CGC 8.0 Very Fine


INVADERS GIANT-SIZE (1975) #1 CGC 7.0

INVADERS GIANT-SIZE (1975) #1 CGC 7.0 Fine

IRON MAN (1968) (#1-332) (INVINCIBLE IRON MAN)(MARVEL) #48 Very Good
IRON MAN (1968) (#1-332) (INVINCIBLE IRON MAN)(MARVEL) #129 Fine
IRON MAN (1968) (#1-332) (INVINCIBLE IRON MAN)(MARVEL) #130 Near Mint/Mint
IRON MAN (1968) (#1-332) (INVINCIBLE IRON MAN)(MARVEL) #131 Fine
IRON MAN (1968) (#1-332) (INVINCIBLE IRON MAN)(MARVEL) #132 Very Fine
IRON MAN (1968) (#1-332) (INVINCIBLE IRON MAN)(MARVEL) #133 Near Mint/Mint
IRON MAN (1968) (#1-332) (INVINCIBLE IRON MAN)(MARVEL) #134 Very Fine
IRON MAN (1968) (#1-332) (INVINCIBLE IRON MAN)(MARVEL) #135 Very Fine
IRON MAN (1968) (#1-332) (INVINCIBLE IRON MAN)(MARVEL) #136 Near Mint/Mint
IRON MAN (1968) (#1-332) (INVINCIBLE IRON MAN)(MARVEL) #137 Near Mint/Mint
IRON MAN (1968) (#1-332) (INVINCIBLE IRON MAN)(MARVEL) #138 Near Mint/Mint
IRON MAN (1968) (#1-332) (INVINCIBLE IRON MAN)(MARVEL) #139 Near Mint/Mint
IRON MAN (1968) (#1-332) (INVINCIBLE IRON MAN)(MARVEL) #139 NEWSSTAND Good
IRON MAN (1968) (#1-332) (INVINCIBLE IRON MAN)(MARVEL) #140 Near Mint/Mint
IRON MAN (1968) (#1-332) (INVINCIBLE IRON MAN)(MARVEL) #140 NEWSSTAND Very Good
IRON MAN (1968) (#1-332) (INVINCIBLE IRON MAN)(MARVEL) #141 NEWSSTAND Very Good
IRON MAN (1968) (#1-332) (INVINCIBLE IRON MAN)(MARVEL) #141 Very Fine
IRON MAN (1968) (#1-332) (INVINCIBLE IRON MAN)(MARVEL) #142 NEWSSTAND Very Good
IRON MAN (1968) (#1-332) (INVINCIBLE IRON MAN)(MARVEL) #142 Very Fine
IRON MAN (1968) (#1-332) (INVINCIBLE IRON MAN)(MARVEL) #143 NEWSSTAND Fine
IRON MAN (1968) (#1-332) (INVINCIBLE IRON MAN)(MARVEL) #144 NEWSSTAND Very Good
IRON MAN (1968) (#1-332) (INVINCIBLE IRON MAN)(MARVEL) #145 NEWSSTAND Very Good
IRON MAN (1968) (#1-332) (INVINCIBLE IRON MAN)(MARVEL) #146 NEWSSTAND Good
IRON MAN (1968) (#1-332) (INVINCIBLE IRON MAN)(MARVEL) #147 NEWSSTAND Good
IRON MAN (1968) (#1-332) (INVINCIBLE IRON MAN)(MARVEL) #148 NEWSSTAND Good
IRON MAN (1968) (#1-332) (INVINCIBLE IRON MAN)(MARVEL) #153 NEWSSTAND Good
IRON MAN (1968) (#1-332) (INVINCIBLE IRON MAN)(MARVEL) #158 NEWSSTAND Fine

JESSICA JONES (#1-UP) (MARVEL) (2016) #2 2ND PRINT Near Mint/Mint

JOHN CARTER (1977) (#1-28) (WARLORD OF MARS) (MARVEL) #11 PGX 8.0 Very Fine

JUNGLE ACTION (1972) (#1-24) (MARVEL) #24 PGX 9.4 Near Mint/Mint

KULL THE CONQUEROR (1971) (#1-29) (MARVEL) #1 Very Fine
KULL THE CONQUEROR (1971) (#1-29) (MARVEL) #2 Fine


KULL THE CONQUEROR (1971) (#1-29) (MARVEL) #3

KULL THE CONQUEROR (1971) (#1-29) (MARVEL) #3 Near Mint/Mint
KULL THE CONQUEROR (1971) (#1-29) (MARVEL) #4 Very Fine
KULL THE CONQUEROR (1971) (#1-29) (MARVEL) #5 Near Mint/Mint
KULL THE CONQUEROR (1971) (#1-29) (MARVEL) #6 Very Fine
KULL THE CONQUEROR (1971) (#1-29) (MARVEL) #7 Near Mint/Mint
KULL THE CONQUEROR (1971) (#1-29) (MARVEL) #8 Very Fine
KULL THE CONQUEROR (1971) (#1-29) (MARVEL) #9 Near Mint/Mint
KULL THE CONQUEROR (1971) (#1-29) (MARVEL) #10 Near Mint/Mint

LOGAN'S RUN (1977) (#1-7) (MARVEL) #1 CBCS 8.5 Very Fine
LOGAN'S RUN (1977) (#1-7) (MARVEL) #2 CBCS 8.5 Very Fine
LOGAN'S RUN (1977) (#1-7) (MARVEL) #3 CBCS 7.5 Very Fine
LOGAN'S RUN (1977) (#1-7) (MARVEL) #4 CBCS 9.2 Near Mint/Mint
LOGAN'S RUN (1977) (#1-7) (MARVEL) #5 CBCS 9.0 Near Mint/Mint
LOGAN'S RUN (1977) (#1-7) (MARVEL) #6 CBCS 9.2 Near Mint/Mint
LOGAN'S RUN (1977) (#1-7) (MARVEL) #7 CBCS 8.5 Very Fine

MACHINE MAN (1978) (#1-19) (MARVEL) #18 Near Mint/Mint

MAN-THING (1979) (#1-11) (MARVEL) #1 NEWSSTAND Fine

MARVEL ADVENTURE (1975) #1 Fine

MARVEL AGE (1983) #24 Near Mint/Mint

MARVEL PREMIERE (1972) #40 Fine
MARVEL PREMIERE (1972) #42 Very Fine
MARVEL PREMIERE (1972) #43 Very Fine
MARVEL PREMIERE (1972) #45 Very Fine
MARVEL PREMIERE (1972) #47 Very Fine
MARVEL PREMIERE (1972) #48 NEWSSTAND Very Fine
MARVEL PREMIERE (1972) #49 Near Mint/Mint
MARVEL PREMIERE (1972) #50 Near Mint/Mint
MARVEL PREMIERE (1972) #51 Near Mint/Mint
MARVEL PREMIERE (1972) #52 Near Mint/Mint
MARVEL PREMIERE (1972) #53 Near Mint/Mint

MARVEL PREMIERE (1972) #54 Near Mint/Mint
MARVEL PREMIERE (1972) #55 Near Mint/Mint
MARVEL PREMIERE (1972) #56 Near Mint/Mint

MARVEL PRESENTS (1975) #1 Good
MARVEL PRESENTS (1975) #3 Very Good
MARVEL PRESENTS (1975) #5 Fine
MARVEL PRESENTS (1975) #6 Very Good
MARVEL PRESENTS (1975) #7 Fine
MARVEL PRESENTS (1975) #8 Very Good

MARVEL SPOTLIGHT (1979) (#1-11) (MARVEL) #6 Near Mint/Mint
MARVEL SPOTLIGHT (1979) (#1-11) (MARVEL) #7 NEWSSTAND Very Fine
MARVEL SPOTLIGHT (1979) (#1-11) (MARVEL) #8 Fine

MARVEL SUPER-HEROES (1967) #25 Very Good
MARVEL SUPER-HEROES (1967) #26 Fine
MARVEL SUPER-HEROES (1967) #27 Very Good
MARVEL SUPER-HEROES (1967) #29 Fine
MARVEL SUPER-HEROES (1967) #30 Fine
MARVEL SUPER-HEROES (1967) #31 Fine
MARVEL SUPER-HEROES (1967) #33 Fine
MARVEL SUPER-HEROES (1967) #35 Fine
MARVEL SUPER-HEROES (1967) #39 Fine
MARVEL SUPER-HEROES (1967) #40 Fine
MARVEL SUPER-HEROES (1967) #44 Fine
MARVEL SUPER-HEROES (1967) #45 Fine
MARVEL SUPER-HEROES (1967) #46 Fine
MARVEL SUPER-HEROES (1967) #47 Fine
MARVEL SUPER-HEROES (1967) #48 Fine
MARVEL SUPER-HEROES (1967) #52 Fine
MARVEL SUPER-HEROES (1967) #55 Fine
MARVEL SUPER-HEROES (1967) #56 Fine
MARVEL SUPER-HEROES (1967) #58 Fine
MARVEL SUPER-HEROES (1967) #59 Fine
MARVEL SUPER-HEROES (1967) #60 Fine
MARVEL SUPER-HEROES (1967) #61 Fine
MARVEL SUPER-HEROES (1967) #61 Very Fine


MARVEL SUPER-HEROES (1967) #62

MARVEL SUPER-HEROES (1967) #62 Fine
MARVEL SUPER-HEROES (1967) #66 Fine
MARVEL SUPER-HEROES (1967) #68 Fine
MARVEL SUPER-HEROES (1967) #69 Fine
MARVEL SUPER-HEROES (1967) #70 Fine

MARVEL TEAM-UP (1972) (#1-150) (MARVEL) #23 CGC 7.0 Fine
MARVEL TEAM-UP (1972) (#1-150) (MARVEL) #53 Very Good
MARVEL TEAM-UP (1972) (#1-150) (MARVEL) #59 Fine
MARVEL TEAM-UP (1972) (#1-150) (MARVEL) #60 Fine
MARVEL TEAM-UP (1972) (#1-150) (MARVEL) #66 Fine
MARVEL TEAM-UP (1972) (#1-150) (MARVEL) #69 Fine
MARVEL TEAM-UP (1972) (#1-150) (MARVEL) #70 Very Good
MARVEL TEAM-UP (1972) (#1-150) (MARVEL) #74 Very Fine

MARVEL TEAM-UP ANNUAL (1976) #1 Good
MARVEL TEAM-UP ANNUAL (1976) #2 Fine

MARVEL TWO-IN-ONE (1974) (#1-100) (MARVEL) #46 Very Fine
MARVEL TWO-IN-ONE (1974) (#1-100) (MARVEL) #69 NEWSSTAND Very Good
MARVEL TWO-IN-ONE (1974) (#1-100) (MARVEL) #70 NEWSSTAND Good
MARVEL TWO-IN-ONE (1974) (#1-100) (MARVEL) #71 NEWSSTAND Good
MARVEL TWO-IN-ONE (1974) (#1-100) (MARVEL) #72 NEWSSTAND Good
MARVEL TWO-IN-ONE (1974) (#1-100) (MARVEL) #73 NEWSSTAND Good
MARVEL TWO-IN-ONE (1974) (#1-100) (MARVEL) #74 NEWSSTAND Good
MARVEL TWO-IN-ONE (1974) (#1-100) (MARVEL) #75 NEWSSTAND Good
MARVEL TWO-IN-ONE (1974) (#1-100) (MARVEL) #76 NEWSSTAND Good
MARVEL TWO-IN-ONE (1974) (#1-100) (MARVEL) #77 NEWSSTAND Good

MARVEL TWO-IN-ONE ANNUAL (1976) #2 Very Good

MASTER OF KUNG FU (1974) (#15-125) (MARVEL) (SHANG-CHI) #59 Fine
MASTER OF KUNG FU (1974) (#15-125) (MARVEL) (SHANG-CHI) #60 Very Good
MASTER OF KUNG FU (1974) (#15-125) (MARVEL) (SHANG-CHI) #61 Very Good
MASTER OF KUNG FU (1974) (#15-125) (MARVEL) (SHANG-CHI) #62 Very Good
MASTER OF KUNG FU (1974) (#15-125) (MARVEL) (SHANG-CHI) #63 Fine
MASTER OF KUNG FU (1974) (#15-125) (MARVEL) (SHANG-CHI) #65 Good


MASTER OF KUNG FU (1974) (#15-125) (MARVEL) (SHANG-CHI) #66

MASTER OF KUNG FU (1974) (#15-125) (MARVEL) (SHANG-CHI) #66 Near Mint/Mint
MASTER OF KUNG FU (1974) (#15-125) (MARVEL) (SHANG-CHI) #67 Very Good
MASTER OF KUNG FU (1974) (#15-125) (MARVEL) (SHANG-CHI) #68 Fine
MASTER OF KUNG FU (1974) (#15-125) (MARVEL) (SHANG-CHI) #69 Very Fine
MASTER OF KUNG FU (1974) (#15-125) (MARVEL) (SHANG-CHI) #70 Fine
MASTER OF KUNG FU (1974) (#15-125) (MARVEL) (SHANG-CHI) #71 Fine
MASTER OF KUNG FU (1974) (#15-125) (MARVEL) (SHANG-CHI) #72 Very Good
MASTER OF KUNG FU (1974) (#15-125) (MARVEL) (SHANG-CHI) #73 Very Fine
MASTER OF KUNG FU (1974) (#15-125) (MARVEL) (SHANG-CHI) #74 Very Fine
MASTER OF KUNG FU (1974) (#15-125) (MARVEL) (SHANG-CHI) #75 Fine
MASTER OF KUNG FU (1974) (#15-125) (MARVEL) (SHANG-CHI) #76 Very Good
MASTER OF KUNG FU (1974) (#15-125) (MARVEL) (SHANG-CHI) #77 Very Good
MASTER OF KUNG FU (1974) (#15-125) (MARVEL) (SHANG-CHI) #78 NEWSSTAND Fine
MASTER OF KUNG FU (1974) (#15-125) (MARVEL) (SHANG-CHI) #79 Very Fine
MASTER OF KUNG FU (1974) (#15-125) (MARVEL) (SHANG-CHI) #80 Very Fine
MASTER OF KUNG FU (1974) (#15-125) (MARVEL) (SHANG-CHI) #81 Very Fine
MASTER OF KUNG FU (1974) (#15-125) (MARVEL) (SHANG-CHI) #82 Near Mint/Mint
MASTER OF KUNG FU (1974) (#15-125) (MARVEL) (SHANG-CHI) #83 Near Mint/Mint
MASTER OF KUNG FU (1974) (#15-125) (MARVEL) (SHANG-CHI) #84 Near Mint/Mint
MASTER OF KUNG FU (1974) (#15-125) (MARVEL) (SHANG-CHI) #85 Very Fine
MASTER OF KUNG FU (1974) (#15-125) (MARVEL) (SHANG-CHI) #86 Very Fine
MASTER OF KUNG FU (1974) (#15-125) (MARVEL) (SHANG-CHI) #87 Near Mint/Mint
MASTER OF KUNG FU (1974) (#15-125) (MARVEL) (SHANG-CHI) #88 Near Mint/Mint
MASTER OF KUNG FU (1974) (#15-125) (MARVEL) (SHANG-CHI) #89 Fine
MASTER OF KUNG FU (1974) (#15-125) (MARVEL) (SHANG-CHI) #90 Near Mint/Mint
MASTER OF KUNG FU (1974) (#15-125) (MARVEL) (SHANG-CHI) #91 Very Fine
MASTER OF KUNG FU (1974) (#15-125) (MARVEL) (SHANG-CHI) #92 Near Mint/Mint
MASTER OF KUNG FU (1974) (#15-125) (MARVEL) (SHANG-CHI) #93 Near Mint/Mint
MASTER OF KUNG FU (1974) (#15-125) (MARVEL) (SHANG-CHI) #94 Fine
MASTER OF KUNG FU (1974) (#15-125) (MARVEL) (SHANG-CHI) #95 Near Mint/Mint
MASTER OF KUNG FU (1974) (#15-125) (MARVEL) (SHANG-CHI) #96 Fine

MIGHTY MOUSE (1990) (#1-10) (MARVEL) #5 Very Fine
MIGHTY MOUSE (1990) (#1-10) (MARVEL) #10 Very Fine

MIGHTY THOR (2015) (#1-23) (FEMALE THOR) (JANE FOSTER) #8 Near Mint/Mint


MOON KNIGHT (1980) (#1-38) (MARVEL) #35

MOON KNIGHT (1980) (#1-38) (MARVEL) #35 Near Mint/Mint

MS. MARVEL (1977) (#1-23) (MARVEL) (CAROL DANVERS) #20 Fine

OMEGA (1976) (#1-10) (OMEGA THE UNKNOWN) (MARVEL) #1 Good
OMEGA (1976) (#1-10) (OMEGA THE UNKNOWN) (MARVEL) #7 Very Fine
OMEGA (1976) (#1-10) (OMEGA THE UNKNOWN) (MARVEL) #9 Very Good

PETER PARKER (1976) (#1-263) (SPECTACULAR SPIDER-MAN) #1 CGC 7.5 Very Fine
PETER PARKER (1976) (#1-263) (SPECTACULAR SPIDER-MAN) #4 Fine
PETER PARKER (1976) (#1-263) (SPECTACULAR SPIDER-MAN) #5 Very Good
PETER PARKER (1976) (#1-263) (SPECTACULAR SPIDER-MAN) #58 Fine
PETER PARKER (1976) (#1-263) (SPECTACULAR SPIDER-MAN) #64 NEWSSTAND Very Good

PETER PARKER ANNUAL (1979) #1 NEWSSTAND Very Good

QUICKSILVER: NO SURRENDER (2018) #1 Near Mint/Mint

RED SONJA (1983) (#1-2) (MARVEL) #1 Very Fine
RED SONJA (1983) (#1-2) (MARVEL) #2 Very Fine

SAVAGE AVENGERS (2019) #3 Near Mint/Mint

SERGIO ARAGONES MASSACRES MARVEL #1 Very Good

SHE-HULK (1980) (#1-25) (SAVAGE SHE-HULK) (MARVEL) #1 Near Mint/Mint
SHE-HULK (1980) (#1-25) (SAVAGE SHE-HULK) (MARVEL) #2 Near Mint/Mint
SHE-HULK (1980) (#1-25) (SAVAGE SHE-HULK) (MARVEL) #3 Fine
SHE-HULK (1980) (#1-25) (SAVAGE SHE-HULK) (MARVEL) #4 NEWSSTAND Near Mint/Mint
SHE-HULK (1980) (#1-25) (SAVAGE SHE-HULK) (MARVEL) #5 Near Mint/Mint
SHE-HULK (1980) (#1-25) (SAVAGE SHE-HULK) (MARVEL) #6 Near Mint/Mint
SHE-HULK (1980) (#1-25) (SAVAGE SHE-HULK) (MARVEL) #7 Near Mint/Mint
SHE-HULK (1980) (#1-25) (SAVAGE SHE-HULK) (MARVEL) #8 Very Fine
SHE-HULK (1980) (#1-25) (SAVAGE SHE-HULK) (MARVEL) #9 Near Mint/Mint
SHE-HULK (1980) (#1-25) (SAVAGE SHE-HULK) (MARVEL) #10 Near Mint/Mint
SHE-HULK (1980) (#1-25) (SAVAGE SHE-HULK) (MARVEL) #11 Near Mint/Mint
SHE-HULK (1980) (#1-25) (SAVAGE SHE-HULK) (MARVEL) #12 Fine
SHE-HULK (1980) (#1-25) (SAVAGE SHE-HULK) (MARVEL) #22 Near Mint/Mint


SHE-HULK (1989) (#1-60) (SENSATIONAL SHE-HULK)(MARVEL) #18

SHE-HULK (1989) (#1-60) (SENSATIONAL SHE-HULK)(MARVEL) #18 Near Mint/Mint
SHE-HULK (1989) (#1-60) (SENSATIONAL SHE-HULK)(MARVEL) #23 Near Mint/Mint
SHE-HULK (1989) (#1-60) (SENSATIONAL SHE-HULK)(MARVEL) #24 Very Fine
SHE-HULK (1989) (#1-60) (SENSATIONAL SHE-HULK)(MARVEL) #26 Very Fine
SHE-HULK (1989) (#1-60) (SENSATIONAL SHE-HULK)(MARVEL) #28 Very Fine
SHE-HULK (1989) (#1-60) (SENSATIONAL SHE-HULK)(MARVEL) #29 Near Mint/Mint
SHE-HULK (1989) (#1-60) (SENSATIONAL SHE-HULK)(MARVEL) #30 Near Mint/Mint
SHE-HULK (1989) (#1-60) (SENSATIONAL SHE-HULK)(MARVEL) #34 Near Mint/Mint
SHE-HULK (1989) (#1-60) (SENSATIONAL SHE-HULK)(MARVEL) #37 Near Mint/Mint
SHE-HULK (1989) (#1-60) (SENSATIONAL SHE-HULK)(MARVEL) #38 Near Mint/Mint
SHE-HULK (1989) (#1-60) (SENSATIONAL SHE-HULK)(MARVEL) #39 Near Mint/Mint
SHE-HULK (1989) (#1-60) (SENSATIONAL SHE-HULK)(MARVEL) #43 Near Mint/Mint
SHE-HULK (1989) (#1-60) (SENSATIONAL SHE-HULK)(MARVEL) #57 Near Mint/Mint

SHOGUN WARRIORS (1979) #1 CGC 9.6 Near Mint/Mint
SHOGUN WARRIORS (1979) #3 Fine
SHOGUN WARRIORS (1979) #4 NEWSSTAND Fine
SHOGUN WARRIORS (1979) #14 NEWSSTAND Fine

SILVER SURFER (1987) (#1-146) (MARVEL) #45 Near Mint/Mint

SPIDER-MAN (1963) (AMAZING SPIDER-MAN) (#1-441) #136 Fair
SPIDER-MAN (1963) (AMAZING SPIDER-MAN) (#1-441) #139 Very Good
SPIDER-MAN (1963) (AMAZING SPIDER-MAN) (#1-441) #140 Good
SPIDER-MAN (1963) (AMAZING SPIDER-MAN) (#1-441) #144 Very Good
SPIDER-MAN (1963) (AMAZING SPIDER-MAN) (#1-441) #145 Very Good
SPIDER-MAN (1963) (AMAZING SPIDER-MAN) (#1-441) #146 Fine
SPIDER-MAN (1963) (AMAZING SPIDER-MAN) (#1-441) #147 Very Good
SPIDER-MAN (1963) (AMAZING SPIDER-MAN) (#1-441) #148 Very Good
SPIDER-MAN (1963) (AMAZING SPIDER-MAN) (#1-441) #150 Very Good
SPIDER-MAN (1963) (AMAZING SPIDER-MAN) (#1-441) #151 Very Good
SPIDER-MAN (1963) (AMAZING SPIDER-MAN) (#1-441) #183 Good
SPIDER-MAN (1963) (AMAZING SPIDER-MAN) (#1-441) #185 Very Fine
SPIDER-MAN (1963) (AMAZING SPIDER-MAN) (#1-441) #186 Very Fine
SPIDER-MAN (1963) (AMAZING SPIDER-MAN) (#1-441) #187 Near Mint/Mint
SPIDER-MAN (1963) (AMAZING SPIDER-MAN) (#1-441) #188 Fine
SPIDER-MAN (1963) (AMAZING SPIDER-MAN) (#1-441) #189 Very Fine


SPIDER-MAN (1963) (AMAZING SPIDER-MAN) (#1-441) #190

SPIDER-MAN (1963) (AMAZING SPIDER-MAN) (#1-441) #190 Very Fine
SPIDER-MAN (1963) (AMAZING SPIDER-MAN) (#1-441) #191 Very Fine
SPIDER-MAN (1963) (AMAZING SPIDER-MAN) (#1-441) #203 Very Fine
SPIDER-MAN (1963) (AMAZING SPIDER-MAN) (#1-441) #204 Near Mint/Mint
SPIDER-MAN (1963) (AMAZING SPIDER-MAN) (#1-441) #205 Near Mint/Mint
SPIDER-MAN (1963) (AMAZING SPIDER-MAN) (#1-441) #206 Near Mint/Mint
SPIDER-MAN (1963) (AMAZING SPIDER-MAN) (#1-441) #207 Near Mint/Mint
SPIDER-MAN (1963) (AMAZING SPIDER-MAN) (#1-441) #208 Near Mint/Mint
SPIDER-MAN (1963) (AMAZING SPIDER-MAN) (#1-441) #209 Near Mint/Mint
SPIDER-MAN (1963) (AMAZING SPIDER-MAN) (#1-441) #210 Near Mint/Mint
SPIDER-MAN (1963) (AMAZING SPIDER-MAN) (#1-441) #211 Near Mint/Mint
SPIDER-MAN (1963) (AMAZING SPIDER-MAN) (#1-441) #212 Near Mint/Mint
SPIDER-MAN (1963) (AMAZING SPIDER-MAN) (#1-441) #220 NEWSSTAND Good
SPIDER-MAN (1963) (AMAZING SPIDER-MAN) (#1-441) #225 NEWSSTAND Very Good
SPIDER-MAN (1963) (AMAZING SPIDER-MAN) (#1-441) #312 Fine
SPIDER-MAN (1963) (AMAZING SPIDER-MAN) (#1-441) #346 Near Mint/Mint

SPIDER-MAN ANNUAL (1964) (#1-28) (MARVEL) #9 CBCS 8.0 Very Fine
SPIDER-MAN ANNUAL (1964) (#1-28) (MARVEL) #12 Fine
SPIDER-MAN ANNUAL (1964) (#1-28) (MARVEL) #13 Near Mint/Mint
SPIDER-MAN ANNUAL (1964) (#1-28) (MARVEL) #13 NEWSSTAND Fine
SPIDER-MAN ANNUAL (1964) (#1-28) (MARVEL) #14 Near Mint/Mint

SPIDER-WOMAN (1978) (#1-50) (JESSICA DREW) (MARVEL) #1 Very Fine
SPIDER-WOMAN (1978) (#1-50) (JESSICA DREW) (MARVEL) #2 Fine
SPIDER-WOMAN (1978) (#1-50) (JESSICA DREW) (MARVEL) #3 Very Good
SPIDER-WOMAN (1978) (#1-50) (JESSICA DREW) (MARVEL) #4 Very Fine
SPIDER-WOMAN (1978) (#1-50) (JESSICA DREW) (MARVEL) #5 Very Fine
SPIDER-WOMAN (1978) (#1-50) (JESSICA DREW) (MARVEL) #6 Fine
SPIDER-WOMAN (1978) (#1-50) (JESSICA DREW) (MARVEL) #7 Very Good
SPIDER-WOMAN (1978) (#1-50) (JESSICA DREW) (MARVEL) #8 Very Fine
SPIDER-WOMAN (1978) (#1-50) (JESSICA DREW) (MARVEL) #9 Very Fine
SPIDER-WOMAN (1978) (#1-50) (JESSICA DREW) (MARVEL) #10 Very Fine
SPIDER-WOMAN (1978) (#1-50) (JESSICA DREW) (MARVEL) #11 Fine

STAR TEAM ASHCAN (1977) #1 CGC 7.5 Very Fine


STAR WARS (1977) (#1-107) (MARVEL) #29 NEWSSTAND

STAR WARS (1977) (#1-107) (MARVEL) #29 NEWSSTAND Fine
STAR WARS (1977) (#1-107) (MARVEL) #33 NEWSSTAND Very Good
STAR WARS (1977) (#1-107) (MARVEL) #91 Near Mint/Mint

STAR WARS (2015) (#1-75) (MARVEL) #47 Near Mint/Mint
STAR WARS (2015) (#1-75) (MARVEL) #56 Near Mint/Mint
STAR WARS (2015) (#1-75) (MARVEL) #57 Very Fine
STAR WARS (2015) (#1-75) (MARVEL) #58 Near Mint/Mint

STAR WARS: AGE OF REPUBLIC - DARTH MAUL (2018) #1 Very Fine

STAR WARS: DARTH VADER (2017) #24 Very Fine
STAR WARS: DARTH VADER (2017) #25 Near Mint/Mint

SUPER-HEROES GIANT-SIZE (1974) #1 CGC 7.0 Fine

SUPER-VILLAIN TEAM-UP (1975) #1 Fine
SUPER-VILLAIN TEAM-UP (1975) #2 Fine
SUPER-VILLAIN TEAM-UP (1975) #3 Fine
SUPER-VILLAIN TEAM-UP (1975) #4 Fine
SUPER-VILLAIN TEAM-UP (1975) #5 Fine
SUPER-VILLAIN TEAM-UP (1975) #6 Fine
SUPER-VILLAIN TEAM-UP (1975) #7 Fine
SUPER-VILLAIN TEAM-UP (1975) #8 Fine
SUPER-VILLAIN TEAM-UP (1975) #9 Fine
SUPER-VILLAIN TEAM-UP (1975) #10 Fine
SUPER-VILLAIN TEAM-UP (1975) #11 Fine
SUPER-VILLAIN TEAM-UP (1975) #12 Very Good
SUPER-VILLAIN TEAM-UP (1975) #13 Fine
SUPER-VILLAIN TEAM-UP (1975) #14 Fine
SUPER-VILLAIN TEAM-UP (1975) #15 Fine
SUPER-VILLAIN TEAM-UP (1975) #16 Very Good

SUPER-VILLAIN TEAM-UP GIANT SIZE (1975) #1 Very Good
SUPER-VILLAIN TEAM-UP GIANT SIZE (1975) #2 Very Good

TOMB OF DRACULA (1972) (#1-70) (MARVEL) #67 Fine
TOMB OF DRACULA (1972) (#1-70) (MARVEL) #68 Fine


TOMB OF DRACULA (1972) (#1-70) (MARVEL) #69

TOMB OF DRACULA (1972) (#1-70) (MARVEL) #69 Fine
TOMB OF DRACULA (1972) (#1-70) (MARVEL) #70 Near Mint/Mint

VENOM: SINNER TAKES ALL (1995) #2 Fine
VENOM: SINNER TAKES ALL (1995) #3 Very Fine

VISION/SCARLET WITCH (1982) #3 Near Mint/Mint

WAR OF REALMS (2019) #2 GARRON Near Mint/Mint
WAR OF REALMS (2019) #4 TAN Near Mint/Mint
WAR OF REALMS (2019) #6 Near Mint/Mint

WAR OF REALMS: JOURNEY INTO MYSTERY (2019) #3 Near Mint/Mint

WHAT IF... (1977) (#1-47) (MARVEL) #1 CGC 8.5 Very Fine
WHAT IF... (1977) (#1-47) (MARVEL) #9 Very Fine
WHAT IF... (1977) (#1-47) (MARVEL) #10 Very Fine
WHAT IF... (1977) (#1-47) (MARVEL) #11 Very Fine
WHAT IF... (1977) (#1-47) (MARVEL) #12 Fine
WHAT IF... (1977) (#1-47) (MARVEL) #13 Very Fine
WHAT IF... (1977) (#1-47) (MARVEL) #15 NEWSSTAND Very Fine
WHAT IF... (1977) (#1-47) (MARVEL) #15 NEWSSTAND Fine
WHAT IF... (1977) (#1-47) (MARVEL) #16 Near Mint/Mint
WHAT IF... (1977) (#1-47) (MARVEL) #17 Near Mint/Mint
WHAT IF... (1977) (#1-47) (MARVEL) #22 Near Mint/Mint
WHAT IF... (1977) (#1-47) (MARVEL) #23 Very Fine
WHAT IF... (1977) (#1-47) (MARVEL) #24 Near Mint/Mint
WHAT IF... (1977) (#1-47) (MARVEL) #32 NEWSSTAND Very Good

WHAT IF... (1989) (#1-114, & 200) (MARVEL) #5 Near Mint/Mint
WHAT IF... (1989) (#1-114, & 200) (MARVEL) #13 Near Mint/Mint
WHAT IF... (1989) (#1-114, & 200) (MARVEL) #18 Near Mint/Mint
WHAT IF... (1989) (#1-114, & 200) (MARVEL) #21 Near Mint/Mint
WHAT IF... (1989) (#1-114, & 200) (MARVEL) #24 Near Mint/Mint
WHAT IF... (1989) (#1-114, & 200) (MARVEL) #25 Very Fine
WHAT IF... (1989) (#1-114, & 200) (MARVEL) #28 Very Fine


WHAT IF... (1989) (#1-114, & 200) (MARVEL) #36

WHAT IF... (1989) (#1-114, & 200) (MARVEL) #36 Very Fine
WHAT IF... (1989) (#1-114, & 200) (MARVEL) #40 Very Fine
WHAT IF... (1989) (#1-114, & 200) (MARVEL) #76 NEWSSTAND Fair

WOLVERINE (1982) (#1-4) (MARVEL LIMITED SERIES) #1 Near Mint/Mint
WOLVERINE (1982) (#1-4) (MARVEL LIMITED SERIES) #2 Very Fine
WOLVERINE (1982) (#1-4) (MARVEL LIMITED SERIES) #3 Near Mint/Mint
WOLVERINE (1982) (#1-4) (MARVEL LIMITED SERIES) #4 Near Mint/Mint

WORLDS UNKNOWN (1973) #7 CGC 8.5 Very Fine
WORLDS UNKNOWN (1973) #8 PGX 8.5 Very Fine

X-FORCE (1991) (#1-129) (MARVEL) #4 Near Mint/Mint

X-MEN (1963) (#1-113, UNCANNY X-MEN #114-544) (MARVEL) #133 Very Good
X-MEN (1963) (#1-113, UNCANNY X-MEN #114-544) (MARVEL) #134 NEWSSTAND Very Good
X-MEN (1963) (#1-113, UNCANNY X-MEN #114-544) (MARVEL) #134 Very Good
X-MEN (1963) (#1-113, UNCANNY X-MEN #114-544) (MARVEL) #135 NEWSSTAND Very Good
X-MEN (1963) (#1-113, UNCANNY X-MEN #114-544) (MARVEL) #136 NEWSSTAND Very Good
X-MEN (1963) (#1-113, UNCANNY X-MEN #114-544) (MARVEL) #145 NEWSCBC8.0 Very Fine
X-MEN (1963) (#1-113, UNCANNY X-MEN #114-544) (MARVEL) #154 NEWSCBC9.2 Near Mint/Mint
X-MEN (1963) (#1-113, UNCANNY X-MEN #114-544) (MARVEL) #156 Near Mint/Mint
X-MEN (1963) (#1-113, UNCANNY X-MEN #114-544) (MARVEL) #156 NEWSCBC9.0 Very Fine
X-MEN (1963) (#1-113, UNCANNY X-MEN #114-544) (MARVEL) #241 Near Mint/Mint
X-MEN (1963) (#1-113, UNCANNY X-MEN #114-544) (MARVEL) #283 Near Mint/Mint

X-MEN GIANT-SIZE (1975) #1 FACSCGC9.8 Near Mint/Mint

X-MEN INDEX (1987) #6 Near Mint/Mint

YOU ARE DEADPOOL (2018) #2 Near Mint/Mint
YOU ARE DEADPOOL (2018) #2 Very Fine

DC
ACTION COMICS (1938) (#0-600, 643-904) (DC) #498 Very Fine
ACTION COMICS (1938) (#0-600, 643-904) (DC) #506 Fine


ACTION COMICS (1938) (#0-600, 643-904) (DC) #507 NEWSSTAND

ACTION COMICS (1938) (#0-600, 643-904) (DC) #507 NEWSSTAND Fine
ACTION COMICS (1938) (#0-600, 643-904) (DC) #508 NEWSSTAND Fine
ACTION COMICS (1938) (#0-600, 643-904) (DC) #510 NEWSSTAND Fine
ACTION COMICS (1938) (#0-600, 643-904) (DC) #511 NEWSSTAND Fine
ACTION COMICS (1938) (#0-600, 643-904) (DC) #527 Very Fine
ACTION COMICS (1938) (#0-600, 643-904) (DC) #530 Near Mint/Mint
ACTION COMICS (1938) (#0-600, 643-904) (DC) #531 Very Fine
ACTION COMICS (1938) (#0-600, 643-904) (DC) #532 Very Good
ACTION COMICS (1938) (#0-600, 643-904) (DC) #894 Near Mint/Mint
ACTION COMICS (1938) (#0-600, 643-904) (DC) #894 Very Fine

ALL-STAR SQUADRON (1981) #4 HOSTESS Fine

BATMAN (1940) (#0-713) (DC) #217 CGC 4.5 Very Good
BATMAN (1940) (#0-713) (DC) #322 Fine
BATMAN (1940) (#0-713) (DC) #323 Fine
BATMAN (1940) (#0-713) (DC) #324 Fine
BATMAN (1940) (#0-713) (DC) #325 Fine
BATMAN (1940) (#0-713) (DC) #326 Fine
BATMAN (1940) (#0-713) (DC) #327 NEWSSTAND Fine
BATMAN (1940) (#0-713) (DC) #354 Fine
BATMAN (1940) (#0-713) (DC) #428 Very Good
BATMAN (1940) (#0-713) (DC) #429 Fine
BATMAN (1940) (#0-713) (DC) #700 Very Fine

BATMAN/CAPTAIN AMERICA (BATMAN AND CAPTAIN AMERICA) (1996) #1 Near Mint/Mint

BATMAN/DAREDEVIL (DC) (MARVEL) (BATMAN AND DAREDEVIL) #1 Near Mint/Mint

BOOSTER GOLD (2007) (#0-47) (DC) #5 Very Fine

BRAVE AND THE BOLD (1955) #112 CGC 6.0 Fine
BRAVE AND THE BOLD (1955) #152 Fine
BRAVE AND THE BOLD (1955) #156 NEWSSTAND Fine
BRAVE AND THE BOLD (1955) #161 NEWSSTAND Very Fine
BRAVE AND THE BOLD (1955) #162 NEWSSTAND Fine
BRAVE AND THE BOLD (1955) #163 Fine
BRAVE AND THE BOLD (1955) #164 Fine


BRAVE AND THE BOLD (1955) #165

BRAVE AND THE BOLD (1955) #165 Fine
BRAVE AND THE BOLD (1955) #166 Fine
BRAVE AND THE BOLD (1955) #183 Fine
BRAVE AND THE BOLD (1955) #189 NEWSSTAND Fine

CAPTAIN CARROT & HIS AMAZING ZOO CREW (1982) #3 Very Fine
CAPTAIN CARROT & HIS AMAZING ZOO CREW (1982) #9 Fine

CRISIS ON INFINITE EARTHS (1985) #7 Near Mint/Mint

DARK MANSION OF FORBIDDEN LOVE (1971) #1 Fine

DC 100 PAGE SUPER SPECTACULAR (1971) #19 Fair

DC COMICS PRESENTS (1978) #13 Very Good
DC COMICS PRESENTS (1978) #24 NEWSSTAND Fine
DC COMICS PRESENTS (1978) #24 NEWSSTAND Very Good
DC COMICS PRESENTS (1978) #25 NEWSSTAND Very Good
DC COMICS PRESENTS (1978) #41 Very Good
DC COMICS PRESENTS (1978) #42 Very Fine

DC COMICS PRESENTS ANNUAL (1982) #1 Fine

DC SPECIAL SERIES (1977) #2 Fine
DC SPECIAL SERIES (1977) #17 NEWSSTAND Fine

DC SUPER-STARS (1976) #1 Good
DC SUPER-STARS (1976) #10 Fine
DC SUPER-STARS (1976) #14 Very Good
DC SUPER-STARS (1976) #17 Very Good

DETECTIVE COMICS (1937) (#0-881) (DC) #395 CGC 4.5 Very Good
DETECTIVE COMICS (1937) (#0-881) (DC) #475 Fine
DETECTIVE COMICS (1937) (#0-881) (DC) #489 Very Fine
DETECTIVE COMICS (1937) (#0-881) (DC) #490 Fine


DETECTIVE COMICS (1937) (#0-881) (DC) #491

DETECTIVE COMICS (1937) (#0-881) (DC) #491 Very Fine
DETECTIVE COMICS (1937) (#0-881) (DC) #492 Fine
DETECTIVE COMICS (1937) (#0-881) (DC) #493 NEWSSTAND Fine
DETECTIVE COMICS (1937) (#0-881) (DC) #494 Fine
DETECTIVE COMICS (1937) (#0-881) (DC) #495 Fine
DETECTIVE COMICS (1937) (#0-881) (DC) #510 Very Fine
DETECTIVE COMICS (1937) (#0-881) (DC) #519 Good
DETECTIVE COMICS (1937) (#0-881) (DC) #520 Fine

FALL & RISE OF CAPTAIN ATOM (2017) #4 Near Mint/Mint
FALL & RISE OF CAPTAIN ATOM (2017) #5 Near Mint/Mint

FLASH (1959) (#105-350) (DC) #216 Good
FLASH (1959) (#105-350) (DC) #217 Very Good
FLASH (1959) (#105-350) (DC) #218 Very Good
FLASH (1959) (#105-350) (DC) #219 Fine
FLASH (1959) (#105-350) (DC) #220 Fine
FLASH (1959) (#105-350) (DC) #222 Fine
FLASH (1959) (#105-350) (DC) #222 Very Good
FLASH (1959) (#105-350) (DC) #223 Good
FLASH (1959) (#105-350) (DC) #224 Fine
FLASH (1959) (#105-350) (DC) #225 Good
FLASH (1959) (#105-350) (DC) #225 Very Good
FLASH (1959) (#105-350) (DC) #226 Fine
FLASH (1959) (#105-350) (DC) #227 Very Good
FLASH (1959) (#105-350) (DC) #228 Very Good
FLASH (1959) (#105-350) (DC) #229 Fine
FLASH (1959) (#105-350) (DC) #230 Very Good
FLASH (1959) (#105-350) (DC) #231 Very Good
FLASH (1959) (#105-350) (DC) #232 Good
FLASH (1959) (#105-350) (DC) #233 Very Good
FLASH (1959) (#105-350) (DC) #235 Very Good
FLASH (1959) (#105-350) (DC) #236 Fine
FLASH (1959) (#105-350) (DC) #237 Very Good
FLASH (1959) (#105-350) (DC) #239 Fine
FLASH (1959) (#105-350) (DC) #240 Fine
FLASH (1959) (#105-350) (DC) #241 Very Good


FLASH (1959) (#105-350) (DC) #242

FLASH (1959) (#105-350) (DC) #242 Very Good
FLASH (1959) (#105-350) (DC) #243 Fine
FLASH (1959) (#105-350) (DC) #280 Fine
FLASH (1959) (#105-350) (DC) #309 Very Fine
FLASH (1959) (#105-350) (DC) #313 Fine
FLASH (1959) (#105-350) (DC) #316 Very Fine

GREEN ARROW (2016) (#1-UP) (DC REBIRTH) #33 VARIANT Very Fine

GREEN LANTERN (1960) (#1-224) (DC) #2 Good
GREEN LANTERN (1960) (#1-224) (DC) #4 Good
GREEN LANTERN (1960) (#1-224) (DC) #5 Good
GREEN LANTERN (1960) (#1-224) (DC) #6 Good
GREEN LANTERN (1960) (#1-224) (DC) #7 Fair
GREEN LANTERN (1960) (#1-224) (DC) #8 Good
GREEN LANTERN (1960) (#1-224) (DC) #9 Good
GREEN LANTERN (1960) (#1-224) (DC) #10 Good
GREEN LANTERN (1960) (#1-224) (DC) #11 Good
GREEN LANTERN (1960) (#1-224) (DC) #12 Very Good
GREEN LANTERN (1960) (#1-224) (DC) #13 Fair
GREEN LANTERN (1960) (#1-224) (DC) #14 Fine
GREEN LANTERN (1960) (#1-224) (DC) #15 Good
GREEN LANTERN (1960) (#1-224) (DC) #16 Good
GREEN LANTERN (1960) (#1-224) (DC) #17 Fair
GREEN LANTERN (1960) (#1-224) (DC) #18 Good
GREEN LANTERN (1960) (#1-224) (DC) #19 Very Good
GREEN LANTERN (1960) (#1-224) (DC) #20 Good
GREEN LANTERN (1960) (#1-224) (DC) #21 Good
GREEN LANTERN (1960) (#1-224) (DC) #22 Good
GREEN LANTERN (1960) (#1-224) (DC) #23 Very Good
GREEN LANTERN (1960) (#1-224) (DC) #24 Very Good
GREEN LANTERN (1960) (#1-224) (DC) #25 Very Good
GREEN LANTERN (1960) (#1-224) (DC) #26 Good
GREEN LANTERN (1960) (#1-224) (DC) #27 Very Good
GREEN LANTERN (1960) (#1-224) (DC) #28 Good
GREEN LANTERN (1960) (#1-224) (DC) #29 Very Good
GREEN LANTERN (1960) (#1-224) (DC) #30 Good
GREEN LANTERN (1960) (#1-224) (DC) #31 Good


GREEN LANTERN (1960) (#1-224) (DC) #32

GREEN LANTERN (1960) (#1-224) (DC) #32 Very Good
GREEN LANTERN (1960) (#1-224) (DC) #33 Very Good
GREEN LANTERN (1960) (#1-224) (DC) #34 Fine
GREEN LANTERN (1960) (#1-224) (DC) #35 Very Good
GREEN LANTERN (1960) (#1-224) (DC) #36 Good
GREEN LANTERN (1960) (#1-224) (DC) #37 Very Good
GREEN LANTERN (1960) (#1-224) (DC) #38 Very Good
GREEN LANTERN (1960) (#1-224) (DC) #39 Fine
GREEN LANTERN (1960) (#1-224) (DC) #40 Good
GREEN LANTERN (1960) (#1-224) (DC) #41 Very Good
GREEN LANTERN (1960) (#1-224) (DC) #42 Very Good
GREEN LANTERN (1960) (#1-224) (DC) #43 Fair
GREEN LANTERN (1960) (#1-224) (DC) #44 Good
GREEN LANTERN (1960) (#1-224) (DC) #45 Very Fine
GREEN LANTERN (1960) (#1-224) (DC) #46 Fine
GREEN LANTERN (1960) (#1-224) (DC) #47 Very Good
GREEN LANTERN (1960) (#1-224) (DC) #48 Good
GREEN LANTERN (1960) (#1-224) (DC) #49 Good
GREEN LANTERN (1960) (#1-224) (DC) #50 Fine
GREEN LANTERN (1960) (#1-224) (DC) #51 Very Good
GREEN LANTERN (1960) (#1-224) (DC) #52 Fine
GREEN LANTERN (1960) (#1-224) (DC) #53 Very Good
GREEN LANTERN (1960) (#1-224) (DC) #54 Good
GREEN LANTERN (1960) (#1-224) (DC) #55 Fine
GREEN LANTERN (1960) (#1-224) (DC) #56 Fine
GREEN LANTERN (1960) (#1-224) (DC) #57 Very Good
GREEN LANTERN (1960) (#1-224) (DC) #58 Very Good
GREEN LANTERN (1960) (#1-224) (DC) #59 Good
GREEN LANTERN (1960) (#1-224) (DC) #60 Good
GREEN LANTERN (1960) (#1-224) (DC) #61 Near Mint/Mint
GREEN LANTERN (1960) (#1-224) (DC) #62 Fine
GREEN LANTERN (1960) (#1-224) (DC) #63 Fine
GREEN LANTERN (1960) (#1-224) (DC) #64 Fine
GREEN LANTERN (1960) (#1-224) (DC) #65 Very Good
GREEN LANTERN (1960) (#1-224) (DC) #66 Very Good
GREEN LANTERN (1960) (#1-224) (DC) #67 Very Fine
GREEN LANTERN (1960) (#1-224) (DC) #68 Very Fine
GREEN LANTERN (1960) (#1-224) (DC) #69 Very Good


GREEN LANTERN (1960) (#1-224) (DC) #70

GREEN LANTERN (1960) (#1-224) (DC) #70 Fine
GREEN LANTERN (1960) (#1-224) (DC) #71 Good
GREEN LANTERN (1960) (#1-224) (DC) #72 Very Fine
GREEN LANTERN (1960) (#1-224) (DC) #73 Fair
GREEN LANTERN (1960) (#1-224) (DC) #74 Fine
GREEN LANTERN (1960) (#1-224) (DC) #75 Near Mint/Mint
GREEN LANTERN (1960) (#1-224) (DC) #76 Fine
GREEN LANTERN (1960) (#1-224) (DC) #77 Fine
GREEN LANTERN (1960) (#1-224) (DC) #78 Fine
GREEN LANTERN (1960) (#1-224) (DC) #79 Fine
GREEN LANTERN (1960) (#1-224) (DC) #80 Fine
GREEN LANTERN (1960) (#1-224) (DC) #81 Fine
GREEN LANTERN (1960) (#1-224) (DC) #82 Fine
GREEN LANTERN (1960) (#1-224) (DC) #83 Fine
GREEN LANTERN (1960) (#1-224) (DC) #84 Fine
GREEN LANTERN (1960) (#1-224) (DC) #85 Fine
GREEN LANTERN (1960) (#1-224) (DC) #86 Fine
GREEN LANTERN (1960) (#1-224) (DC) #87 Fine
GREEN LANTERN (1960) (#1-224) (DC) #88 Fine
GREEN LANTERN (1960) (#1-224) (DC) #89 Fine
GREEN LANTERN (1960) (#1-224) (DC) #121 Very Good
GREEN LANTERN (1960) (#1-224) (DC) #122 Very Good
GREEN LANTERN (1960) (#1-224) (DC) #152 Very Fine

GREEN LANTERNS (DC REBIRTH) (2016) #32 Near Mint/Mint
GREEN LANTERNS (DC REBIRTH) (2016) #32 VARIANT Near Mint/Mint
GREEN LANTERNS (DC REBIRTH) (2016) #34 Near Mint/Mint
GREEN LANTERNS (DC REBIRTH) (2016) #36 Near Mint/Mint
GREEN LANTERNS (DC REBIRTH) (2016) #37 Near Mint/Mint
GREEN LANTERNS (DC REBIRTH) (2016) #40 Near Mint/Mint
GREEN LANTERNS (DC REBIRTH) (2016) #41 Near Mint/Mint
GREEN LANTERNS (DC REBIRTH) (2016) #42 Very Fine
GREEN LANTERNS (DC REBIRTH) (2016) #48 Near Mint/Mint
GREEN LANTERNS (DC REBIRTH) (2016) #53 Near Mint/Mint

HARLEY QUINN (2000) (#1-38) (DC) #1 Fine


HARLEY QUINN (2016) (#1-75) (DC REBIRTH) #37

HARLEY QUINN (2016) (#1-75) (DC REBIRTH) #37 Very Fine
HARLEY QUINN (2016) (#1-75) (DC REBIRTH) #44 Very Fine
HARLEY QUINN (2016) (#1-75) (DC REBIRTH) #50 Near Mint/Mint
HARLEY QUINN (2016) (#1-75) (DC REBIRTH) #51 Near Mint/Mint

HOUSE OF WHISPERS (2018) (#1-UP) (DC SANDMAN UNIVERSE) #1 VARIANT Near Mint/Mint

JIMMY OLSEN (1954) #133 Fair
JIMMY OLSEN (1954) #135 Good

JUSTICE LEAGUE (2018) (#1-UP) (DC UNIVERSE) #31 VARIANT Very Fine
JUSTICE LEAGUE (2018) (#1-UP) (DC UNIVERSE) #34 Very Fine
JUSTICE LEAGUE (2018) (#1-UP) (DC UNIVERSE) #35 Near Mint/Mint
JUSTICE LEAGUE (2018) (#1-UP) (DC UNIVERSE) #37 Near Mint/Mint
JUSTICE LEAGUE (2018) (#1-UP) (DC UNIVERSE) #38 Near Mint/Mint
JUSTICE LEAGUE (2018) (#1-UP) (DC UNIVERSE) #38 Very Fine
JUSTICE LEAGUE (2018) (#1-UP) (DC UNIVERSE) #40 Very Fine

JUSTICE LEAGUE DARK (2018) (#1-UP) (DC UNIVERSE) #8 VARIANT Near Mint/Mint

JUSTICE LEAGUE OF AMERICA (1960) (#1-261) (DC) #110 CBCS 8.5 Very Fine
JUSTICE LEAGUE OF AMERICA (1960) (#1-261) (DC) #112 CGC 7.0 Fine
JUSTICE LEAGUE OF AMERICA (1960) (#1-261) (DC) #198 Fine
JUSTICE LEAGUE OF AMERICA (1960) (#1-261) (DC) #203 Fine

JUSTICE LEAGUE OF AMERICA (2017) (#1-UP) (DC REBIRTH) #22 VARIANT Near Mint/Mint
JUSTICE LEAGUE OF AMERICA (2017) (#1-UP) (DC REBIRTH) #28 VARIANT Near Mint/Mint

LEGION OF SUPER-HEROES (1980) (#259-354) (DC) #264 Fine

MISTER MIRACLE (1971) (#1-25) (DC) #19 PGX 8.5 Very Fine

MOTHER PANIC (2016) #12 VARIANT Very Fine

MYSTERY IN SPACE (1951) (#1-117) (DC) #111 PGX 9.0 Very Fine

NIGHTWING (2016) (#1-UP) (DC REBIRTH) #35 VARIANT Near Mint/Mint


NIGHTWING (2016) (#1-UP) (DC REBIRTH) #36 VARIANT

NIGHTWING (2016) (#1-UP) (DC REBIRTH) #36 VARIANT Near Mint/Mint
NIGHTWING (2016) (#1-UP) (DC REBIRTH) #39 VARIANT Very Fine
NIGHTWING (2016) (#1-UP) (DC REBIRTH) #40 VARIANT Near Mint/Mint
NIGHTWING (2016) (#1-UP) (DC REBIRTH) #41 VARIANT Near Mint/Mint
NIGHTWING (2016) (#1-UP) (DC REBIRTH) #42 VARIANT Near Mint/Mint
NIGHTWING (2016) (#1-UP) (DC REBIRTH) #46 Very Fine
NIGHTWING (2016) (#1-UP) (DC REBIRTH) #53 Near Mint/Mint
NIGHTWING (2016) (#1-UP) (DC REBIRTH) #54 Near Mint/Mint
NIGHTWING (2016) (#1-UP) (DC REBIRTH) #54 Very Fine

PEARL (2018) #9 VARIANT Near Mint/Mint

PHANTOM STRANGER (1969) (#1-42) #14 CGC 8.5 Very Fine

PLOP (1973) #1 Fine

ROBIN: SON OF BATMAN (2015) #13 Near Mint/Mint

SECRET ORIGINS (1973) (#1-7) (DC) #1 Very Good
SECRET ORIGINS (1973) (#1-7) (DC) #2 Fine
SECRET ORIGINS (1973) (#1-7) (DC) #3 Very Good
SECRET ORIGINS (1973) (#1-7) (DC) #4 Very Good
SECRET ORIGINS (1973) (#1-7) (DC) #5 Fine
SECRET ORIGINS (1973) (#1-7) (DC) #6 Very Good
SECRET ORIGINS (1973) (#1-7) (DC) #7 Fine

SECRET ORIGINS (1986) (#1-50) (DC) #33 Fine

SERGIO ARAGONES DESTROYS DC (1996) #1 Fine

SHAZAM! (1973) (#1-35) (WITH ONE MAGIC WORD...) #12 CGC 8.5 Very Fine

STRANGE SPORTS STORIES (1973) (#1-6) (DC) #1 Fine

SUICIDE SQUAD (2016) (#1-50) (DC REBIRTH) #49 Near Mint/Mint

SUPERBOY (1949) (#1-258) (DC) #208 CGC 8.0 Very Fine


SUPERGIRL (2016) (#1-UP) (DC REBIRTH) #27 VARIANT

SUPERGIRL (2016) (#1-UP) (DC REBIRTH) #27 VARIANT Near Mint/Mint

SUPERMAN (1939) (#1-423) (DC) #261 CGC 8.0 Very Fine

SUPERMAN (2018) (#1-UP) (DC UNIVERSE) #8 VARIANT Near Mint/Mint

SWAMP THING (1972) (#1-24) #6 CGC 8.0 Very Fine

SWAMP THING, SAGA OF (1982) #21 (DC: Vertigo Press) Near Mint/Mint
SWAMP THING, SAGA OF (1982) #23 (DC: Vertigo Press) Near Mint/Mint
SWAMP THING, SAGA OF (1982) #24 (DC: Vertigo Press) Near Mint/Mint
SWAMP THING, SAGA OF (1982) #25 NEWSSTAND (DC: Vertigo Press) Near Mint/Mint
SWAMP THING, SAGA OF (1982) #26 (DC: Vertigo Press) Near Mint/Mint
SWAMP THING, SAGA OF (1982) #27 (DC: Vertigo Press) Near Mint/Mint
SWAMP THING, SAGA OF (1982) #28 (DC: Vertigo Press) Very Fine
SWAMP THING, SAGA OF (1982) #32 (DC: Vertigo Press) Very Fine
SWAMP THING, SAGA OF (1982) #33 (DC: Vertigo Press) Near Mint/Mint
SWAMP THING, SAGA OF (1982) #34 (DC: Vertigo Press) Near Mint/Mint
SWAMP THING, SAGA OF (1982) #35 (DC: Vertigo Press) Near Mint/Mint
SWAMP THING, SAGA OF (1982) #36 (DC: Vertigo Press) Near Mint/Mint
SWAMP THING, SAGA OF (1982) #37 (DC: Vertigo Press) Very Fine
SWAMP THING, SAGA OF (1982) #38 (DC: Vertigo Press) Near Mint/Mint
SWAMP THING, SAGA OF (1982) #39 (DC: Vertigo Press) Near Mint/Mint
SWAMP THING, SAGA OF (1982) #40 (DC: Vertigo Press) Very Fine

TALOS OF THE WILDERNESS SEA SPECIAL (1985) #1 Near Mint/Mint

TEEN TITANS (1966) (#1-53) (DC) #23 CGC 3.5 Very Good

UNEXPECTED (1956) (TALES OF THE UNEXPECTED #1-104) #157 CGC 8.0 Very Fine

UNTOLD LEGEND OF BATMAN (1980) #2 NEWSSTAND Fine
UNTOLD LEGEND OF BATMAN (1980) #3 NEWSSTAND Fine

WONDER WOMAN (1942) (#1-329) (DC) #291 Near Mint/Mint
WONDER WOMAN (1942) (#1-329) (DC) #292 Near Mint/Mint

WONDER WOMAN (1987) (#0-226) (DC) #1 Near Mint/Mint


WONDER WOMAN (1987) (#0-226) (DC) #24

WONDER WOMAN (1987) (#0-226) (DC) #24 Near Mint/Mint
WONDER WOMAN (1987) (#0-226) (DC) #53 Near Mint/Mint
WONDER WOMAN (1987) (#0-226) (DC) #60 Near Mint/Mint

WONDER WOMAN (2016) (#1-83, #750-UP) (DC REBIRTH) #48 Near Mint/Mint

WONDER WOMAN ANNUAL (1988) #3 Near Mint/Mint

WORLDS FINEST (1941) (#2-323) (DC) (WORLD'S FINEST) #215 CGC 6.0 Fine
WORLDS FINEST (1941) (#2-323) (DC) (WORLD'S FINEST) #218 CGC 6.5 Fine
WORLDS FINEST (1941) (#2-323) (DC) (WORLD'S FINEST) #226 CGC 8.5 Very Fine
WORLDS FINEST (1941) (#2-323) (DC) (WORLD'S FINEST) #258 Fine

ZATANNA SPECIAL (1987) #1 Near Mint/Mint

DARK HORSE COMICS
FROZEN: BREAKING BOUNDRIES (2018) #2 A Very Fine

GROO: PLAY OF THE GODS (2017) #2 Near Mint/Mint

INCREDIBLES 2 (2018) #3 A GURIHIRU Near Mint/Mint

JOE GOLEM: DROWNING CITY (2018) #2 Near Mint/Mint

SEEDS (2018) #2 Near Mint/Mint

STAR WARS: LUCAS DRAFT (2013) #2 MCQUCGC9.8 Near Mint/Mint

IMAGE COMICS
GASOLINA (2017) #12 Very Fine
GASOLINA (2017) #13 Very Fine
GASOLINA (2017) #14 Near Mint/Mint

GENERATION GONE (2017) #2 A ARAUJO Near Mint/Mint

GRAVEDIGGERS UNION (2017) #3 Near Mint/Mint
GRAVEDIGGERS UNION (2017) #3 Very Fine

GRAVEDIGGERS UNION (2017) #5 Very Fine
GRAVEDIGGERS UNION (2017) #7 A CRAIG Very Fine

LAST SIEGE (2018) #5 B HESTER Near Mint/Mint

NEW WORLD (2018) #4 A MOORE Near Mint/Mint
NEW WORLD (2018) #5 A MOORE Near Mint/Mint

REGRESSION (2017) #13 Near Mint/Mint
REGRESSION (2017) #15 Near Mint/Mint

SAGA (2012) #52 Near Mint/Mint
SAGA (2012) #53 Near Mint/Mint
SAGA (2012) #54 Near Mint/Mint

SAVAGE DRAGON/MARSHAL LAW (1997) #1 Near Mint/Mint
SAVAGE DRAGON/MARSHAL LAW (1997) #1 Very Fine

SPAWN (1992) #76 Fine
SPAWN (1992) #275 A HABCHI Very Fine
SPAWN (1992) #275 A HABCHI Fine

INDEPENDENTS
BLACK HOLE (1980) (#1-4) (WHITMAN) #1 CBCS 9.6 (Whitman Publishing) Near Mint/Mint
BLACK HOLE (1980) (#1-4) (WHITMAN) #2 CBCS 9.2 (Whitman Publishing) Near Mint/Mint
BLACK HOLE (1980) (#1-4) (WHITMAN) #3 CBCS 9.2 (Whitman Publishing) Near Mint/Mint
BLACK HOLE (1980) (#1-4) (WHITMAN) #4 CGC 4.5 (Whitman Publishing) Very Good

CRISIS ON INFINITE EARTHS INDEX (OFFICIAL) (1986) #1 (Independents, All) Near Mint/Mint

EVIL EMPIRE (2014) #7 (Boom Studios Publishing) Very Fine

FAITH: DREAMSIDE (2018) #3 C FRISON (Valiant Comics) Very Fine

GEARS OF WAR: HIVEBUSTERS (2019) #1 (IDW Publishing) Very Fine

GHOST MONEY (2017) #1 (Lion Forge) Very Fine

GHOST TREE (2019) #4 (IDW Publishing) Very Fine

GHOSTBUSTERS: ANSWER THE CALL (2017) #2 A HOWELL (IDW Publishing) Near Mint/Mint
GHOSTBUSTERS: ANSWER THE CALL (2017) #2 B VIGONTE (IDW Publishing) Near Mint/Mint

GHOSTBUSTERS: CROSSING OVER (2018) #6 A SCHOENIN (IDW Publishing) Very Fine
GHOSTBUSTERS: CROSSING OVER (2018) #8 B LATTIE (IDW Publishing) Very Fine

GI JOE (#155-UP) (2010) #256 A JOSEPH (IDW Publishing) Near Mint/Mint

GREEN HORNET '66 MEETS THE SPIRIT (2017) #1 A ALLRED (DYNAMITE Entertainment) Near Mint/Mint
GREEN HORNET '66 MEETS THE SPIRIT (2017) #5 B TEMPLB&W (DYNAMITE Entertainment) Near Mint/Mint

JAMES BOND (2017) (#1-6) (DYNAMITE) (BLACK BOX) #3 A REARDON (DYNAMITE Entertainment) Near Mint/Mint
JAMES BOND (2017) (#1-6) (DYNAMITE) (BLACK BOX) #5 B MASTERS (DYNAMITE Entertainment) Very Fine
JAMES BOND (2017) (#1-6) (DYNAMITE) (BLACK BOX) #6 B MASTERS (DYNAMITE Entertainment) Near Mint/Mint

JAMES BOND: KILL CHAIN (2017) #2 A SMALLWOO (DYNAMITE Entertainment) Near Mint/Mint
JAMES BOND: KILL CHAIN (2017) #4 A SMALLWOO (DYNAMITE Entertainment) Near Mint/Mint

JAMES BOND: ORIGIN (2018) #1 A CASSADAY (DYNAMITE Entertainment) Near Mint/Mint
JAMES BOND: ORIGIN (2018) #1 B MACK (DYNAMITE Entertainment) Near Mint/Mint
JAMES BOND: ORIGIN (2018) #1 C WALKER (DYNAMITE Entertainment) Near Mint/Mint
JAMES BOND: ORIGIN (2018) #1 F Q (DYNAMITE Entertainment) Near Mint/Mint
JAMES BOND: ORIGIN (2018) #11 E Q (DYNAMITE Entertainment) Near Mint/Mint
JAMES BOND: ORIGIN (2018) #11 D MOUSTAFA (DYNAMITE Entertainment) Near Mint/Mint
JAMES BOND: ORIGIN (2018) #11 E Q (DYNAMITE Entertainment) Very Fine

JEM & THE HOLOGRAMS (2015) #26 (IDW Publishing) Near Mint/Mint
JEM & THE HOLOGRAMS (2015) #26 SUBSCRIPT (IDW Publishing) Very Fine

JEM & THE HOLOGRAMS: DIMENSIONS (2017) #1 A FORD (IDW Publishing) Very Fine

JEM & THE HOLOGRAMS: MISFITS - INFINITE (2017) #3 A HICKMAN (IDW Publishing) Near Mint/Mint


JOHN WICK (2017) #3 A VALLETTA

JOHN WICK (2017) #3 A VALLETTA (DYNAMITE Entertainment) Near Mint/Mint
JOHN WICK (2017) #3 B GARRIGA (DYNAMITE Entertainment) Near Mint/Mint
JOHN WICK (2017) #3 C PHOTO (DYNAMITE Entertainment) Near Mint/Mint

JUDGE DREDD: TOXIC (2018) #3 B GALLAGHE (IDW Publishing) Near Mint/Mint

KISS: BLOOD & STARDUST (2018) #2 A SAYGER (DYNAMITE Entertainment) Near Mint/Mint

LONE RANGER (2012) #1 FRANCAVILL (DYNAMITE Entertainment) Near Mint/Mint

LOW ROAD WEST (2018) #1 (Boom Studios Publishing) Near Mint/Mint

MIRACLEMAN (1985) (#1-24) (ECLIPSE) #20 (Eclipse Enterprises) Near Mint/Mint
MIRACLEMAN (1985) (#1-24) (ECLIPSE) #22 (Eclipse Enterprises) Near Mint/Mint
MIRACLEMAN (1985) (#1-24) (ECLIPSE) #24 (Eclipse Enterprises) Fine

MIRACLEMAN: APOCRYPHA (1991) #1 (Eclipse Enterprises) Very Good
MIRACLEMAN: APOCRYPHA (1991) #2 (Eclipse Enterprises) Fine

MOON MAID (2018) #1 REARTE (American Mythology) Very Fine

MY LITTLE PONY: NIGHTMARE KNIGHTS (2018) #2 A FLEECS (IDW Publishing) Near Mint/Mint

OVER THE GARDEN WALL: HOLLOW TOWN (2018) #3 A LOWENTHA (Boom Studios Publishing) Near Mint/Mint

REGULAR SHOW: 25 YEARS LATER (2018) #6 A CHUA (Boom Studios Publishing) Near Mint/Mint
REGULAR SHOW: 25 YEARS LATER (2018) #6 B AYOUB (Boom Studios Publishing) Near Mint/Mint

RICK & MORTY (2015) #44 (Oni Press Inc.) Near Mint/Mint

ROLLED & TOLD (2018) #3 (Lion Forge) Near Mint/Mint

RUSE (2001) (#1-26) (CROSSGEN) #20 (Crossgen Comics) Near Mint/Mint
RUSE (2001) (#1-26) (CROSSGEN) #20 (Crossgen Comics) Fine
RUSE (2001) (#1-26) (CROSSGEN) #20 (Crossgen Comics) Very Fine


SOLAR, MAN OF THE ATOM (1991) #50

SOLAR, MAN OF THE ATOM (1991) #50 (Acclaim/Valiant) Very Fine

STAR TREK VS. TRANSFORMERS (2018) #4 B TRAMONTA (IDW Publishing) Very Fine

STAR WARS ADVENTURES (2017) (#1-32) (IDW Publishing) #19 A MAURICET (IDW Publishing) Near Mint/Mint
STAR WARS ADVENTURES (2017) (#1-32) (IDW Publishing) #21 B BALDARI (IDW Publishing) Very Fine

TANGLED: HAIR RAISING ADVENTURES (2018) #3 A PETROVIC (IDW Publishing) Near Mint/Mint

TEENAGE MUTANT NINJA TURTLES (2011) (#1-UP) (IDW Publishing) #93 A WACHTER (IDW Publishing) Near Mint/Mint

TEENAGE MUTANT NINJA TURTLES: MACRO-SERIES (2018) #3 A PETERSON (IDW Publishing) Near Mint/Mint
TEENAGE MUTANT NINJA TURTLES: MACRO-SERIES (2018) #3 B CAMPBELL (IDW Publishing) Near Mint/Mint

TEENAGE MUTANT NINJA TURTLES: SHREDDER IN HELL (2019) #3 B EASTMAN (IDW Publishing) Near Mint/Mint

TEENAGE MUTANT NINJA TURTLES: URBAN LEGENDS (2018) #7 A FOSCO (IDW Publishing) Very Fine

WE ONLY FIND THEM WHEN THEY'RE DEAD (2020) #1 3RD PRINT (Boom Studios Publishing) Near Mint/Mint

WWE (2017) (#1-UP) (BOOM) #22 (Boom Studios Publishing) Near Mint/Mint

Past eMail NewsLetters:

April 16, 2021 - Back Issue Comics Boom Explodes
April 14, 2021 - 1,000 Silver & Bronze Age Comics
April 12, 2021 - New List of Silver and Bronze Comics
April 9, 2021 - Chuck's Back In CO With 150,000 Comics
April 7, 2021 - Chuck buys 150,000 comics!
April 5, 2021 - Comic Books Are On Fire!
March 31, 2021 - Chuck Buys Another Awesome Collection
March 29, 2021 - The buying doesn't stop + 50% off comics and magazines!
March 26, 2021 - 7,000 lbs of Comic Books
March 22, 2021 - 50% off Back Issues + Chuck buys even more!
March 19, 2021 - Buying Trip starts off with a Bang + 50% off Back Issues!
March 17, 2021 - Ten Million Comics 50% Off
March 15, 2021 - 50% Off SPRINGBREAK! Codeword Begins
March 12, 2021 - 50% Off Nanette Codeword Ending
March 10, 2021 - Chuck Buys Golden Age Comics in KC
March 8, 2021 - Chuck off to Kansas City to pick up more collections!
March 5, 2021 - Chuck's Grand-daughter comes to the Mega Store for a visit!
March 4, 2021 - Puppies, Kitties, and Comic Books - Oh My!
March 2, 2021 - More Great Comics From Arlington!
February 26, 2021 - 400 More Nice Comics From Arlington, TX.
February 25, 2021 - Great Comics From Arlington, Texas Arrive
February 23, 2021 - Chuck buys two more collections in Texas!
February 19, 2021 - A Story From Chucks Teenage Years
February 15, 2021 - February 40% Off All Comics Sale
February 12, 2021 - 50% Off All Comics Sale Ends Monday
February 10, 2021 - 50% Off SWEETHEART! Comics Sale
February 8, 2021 - New Lighting At Mile High Comics!
February 5, 2021 - 17,500+ MORE Comic Books Arrive
February 3, 2021 - Comic Book Sells for $3,000 in 3 Hours!
February 1, 2021 - 50% Off Comics Sale Ends Wednesday