Great Silver Age Arrives - All 50% Off!
Howdy!
Once again, I want to begin today by sincerely thanking everyone who has been sending me kind best wishes for a speedy recovery from my 4th presentation of West Nile Encephalitis. The good news is that I am feeling quite a bit better today, quite likely because I enjoyed my first night of good sleep last evening in over a week. I am already tapering down on the steroids, and that is making me feel better, too.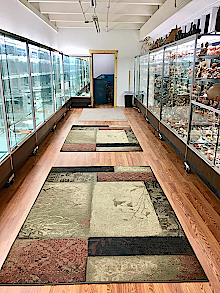 Chuck's hallway to his office.

While I have been taking it easy this week, I have not been idle. My efforts have been focused on pulling together my long-anticipated Pueblo Indian pottery gallery on the second floor of Jason St. I have been guiding the efforts of several people who are helping me with the physical layout and decorative elements, while spending my own time cleaning the glass in my showcases (some of which are now over 20 years old...), and creating new displays out of the 3,000 pieces that we had to move in order to install the new laminate flooring in my office, and out on the mezzanine. Believe me, just rebuilding what was there before the flooring was installed is a huge undertaking...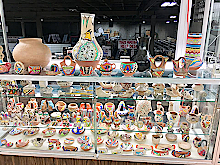 Some of the Pueblo Indian pottery

Once the existing areas have been rebuilt, we can then start on the main 2,400 square foot gallery area. There are 50 showcases in there already, but I think that I have room for at least another 40, maybe more. That may sound excessive, but with approximately 6,000 pieces still waiting to be unpacked, I am going to need every inch of showcase space that I can find. None of that effort can begin, however, until John C. works his magic, and installs my new flooring. That is why I am telling people that my gallery will not be done until next summer, at the earliest. And even that cautious projection presumes that I don't run out of money in the meantime. I am pinching pennies as hard as I can, but to make the gallery look nice I can't cut too deeply.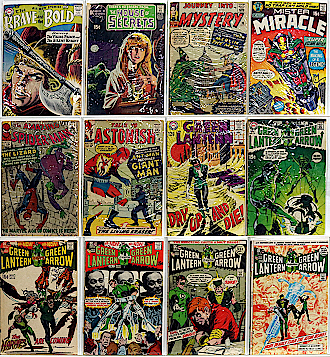 Some comics from the estate lot that came in today.

Speaking of running out of money, Will Moulton had a gentleman come into Jason St. today with an estate lot of older comics for which he was asking $800. Will flipped through the boxes and then wrote the man a check for $2,000, instead. While that may sound foolish, it is just the way that we roll here at Mile High Comics. We do always have to live within the constraints of our sometimes oppressive overhead, but whenever we possible, we go out of our way to give everyone the very best deal that we can, both in terms of cash payments when we're buying, and via great discounts when we are selling. Simply put, that's the philosophy that has kept us in business for 50 years, while so many thousands of other comics retailers have failed. 'Nuff said.
OK, I now have 100 Zuni pottery owls to move into their new showcase, so I am going to stop writing except to mention that we have our huge annual Christmas Gifts auction at Jason St. this Saturday morning, starting at 11:30 AM, and our annual Christmas Texas Hold'em Poker Tournament starting at 11:00 AM. Both a benefits to help the homeless during the Holidays, so if you live in Colorado or will be visiting the Denver area, your participation would be much appreciated.
Happy collecting!
Chuck Rozanski/Bettie Pages,
President - Mile High Comics, Inc.
December 11, 2019
P.S. Below are just a few of the great comics from Will's bigger deal (he bought two more collections, right after!). All will be available tomorrow after our upload at half of listed price when you utilize our ongoing 50% HOLIDAY! codeword. Only new issues, few variants, and our professionally-graded comics are exempt. Enjoy!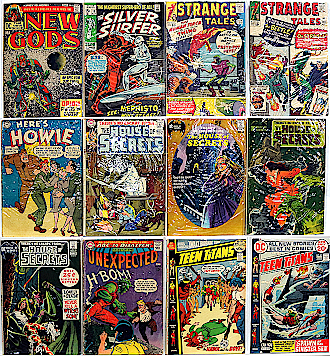 Here are a few of the comics that will be uploaded Thursday.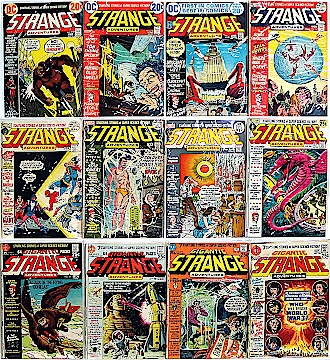 Here are a few of the comics that will be uploaded Thursday.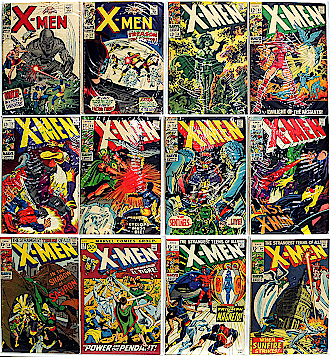 Here are a few of the comics that will be uploaded Thursday.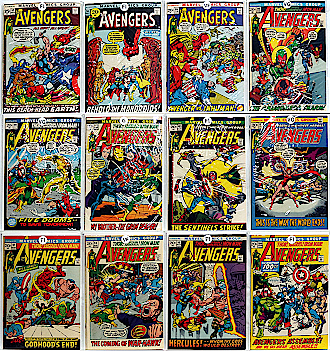 Here are a few of the comics that will be uploaded Thursday.

Past eMail NewsLetters:

December 11, 2019 - Great Silver Age Arrives - All 50% Off!...
December 11, 2019 - Local News - This Saturday Annual Stocking Stuffers and Toys No Minimum bid Auction and Poker!...
December 9, 2019 - 300,000 Graphic Novels Half Price...
December 5, 2019 - 50% Off Holiday Sale Begins Today...
December 3, 2019 - 60% Off All Comics Sale Extended...
November 29, 2019 - 60% Off All Comics Sale Ends Tuesday Night...
November 27, 2019 - Local News - BLACK FRIDAY Sale running now and FOREVER CON starts Friday!...
November 26, 2019 - Huge BLACKFRIDAY Comics and Books Sale...
November 22, 2019 - 50% Off Comics, Free Shipping, No Tax!...
November 21, 2019 - Local News - This Weekend 3 Big Events at Mile High Comics Mega Store
November 20, 2019 - Three Great Events This Weekend Plus 50% Off Comics...
November 20, 2019 - Local News - This Saturday No Minimum bid Auction and Poker
November 18, 2019 - Free Shipping & 50% off BLACKNOVEMBER codeword!...
November 15, 2019 - 50% off BLACKNOVEMBER codeword this weekend!...
November 14, 2019 - Local News - Save the Date! Next Weekened 3 Big Events at Mile High Comics Mega Store
November 13, 2019 - Half Price Comics Sale - BLACKNOVEMBER...
November 11, 2019 - We're Buying Comics, Books, Toys, Statues, More!...
November 8, 2019 - 50% Off DC War Comics by Joe Kubert, much more...
November 6, 2019 - 50% Off BLACKNOVEMBER All Back Issue Comics and Magazines
November 4, 2019 - New Codeword Sale Begins on Ten Million Comic Books
November 1, 2019 - 60% Off All ComIcs Sale Ends in Four Days
October 31, 2019 - Local News - New Era Wrestling Bird Brawl this Saturday!
October 30, 2019 - 60% Off HALLOWEEN Comic Books Sale Ending!
October 28, 2019 - Near Mint Bronze And Copper Age Comics - CAPTAIN AMERICA, AVENGERS, HULK, More!
October 25, 2019 - Huge New Arrivals Comics and Books List
October 24, 2019 - Local News - This Sunday Family-Friendly All-Ages Halloween Drag Show!
October 22, 2019 - Local News - Family-Friendly All-Ages Halloween Drag Show this Sunday!
October 21, 2019 - Annual Comics Sale Benefitting The Homeless Begins
October 18, 2019 - Local News - Huge Weekend Comics and Toys Sale + Poker & Auction on Saturday!
October 16, 2019 - 60% Off All Comics HALLOWEEN! Sale Begins
October 15, 2019 - Local News - This Saturday No Minimum bid Auction and Poker
October 14, 2019 - Huge Half Price Sale On Ten Million Comic Books
October 10, 2019 - Tour Chuck's Pueblo Pottery Gallery, Benefit Auction, Texas Hold'em Poker All On 19th
October 7, 2019 - New Video Link to Jason St.
October 4, 2019 - FBI visits Mile High Comics - 50% Off Sale On All Back Issues
October 1, 2019 - Chuck Visits Washington, D.C. + 50% Off Ten Million Comics
September 27, 2019 - 50% Off NANETTE codeword this weekend!
September 26, 2019 - Local News - Family-Friendly All-Ages Drag Show this Sunday!
September 25, 2019 - 50% off NANETTE codeword on back issue comics and magazine
September 23, 2019 - Ten Million Comic Books 50% Off
September 20, 2019 - Huge 26,000+ Comics Collection Arrives
September 20, 2019 - Local News - 26,000+ book single owner comic collection just in!
September 19, 2019 - Local News - 4 Big Events this Saturday at Mile High Comics Mega Store
September 18, 2019 - 50% off NANETTE codeword on Back Issue Comics & Magazines
September 16, 2019 - New Arrivals - Silver Age, Variant Editions, Books, much more...
September 13, 2019 - More Comics Trade Paperbacks and Hardbacks + Pueblo Pottery Photos
September 11, 2019 - 50% off over Ten Million comics
September 9, 2019 - 50% Off All Comics and Magazines
September 6, 2019 - 50% off NANETTE Codeword Sale
September 4, 2019 - New Collection - Comics Trade Paperbacks and Comics Hardbacks
September 2, 2019 - 60% Off LABORDAY! Comics Sale ends Tuesday
August 30, 2019 - 1,500 More Silver Age Comics Just Arrived - 60% Off
August 29, 2019 - Local News - Huge 5-Day Labor Day Sale Begins today!
August 26, 2019 - 60% Off LABORDAY! Comics Sale - 7 Days Only
August 23, 2019 - Local News - Family-Friendly All-Ages Drag Show this Sunday!
August 21, 2019 - Back Issue Comics Now Half Off!
August 19, 2019 - Ten Million Comic Books - Half Price
August 15, 2019 - Half Price Comics Sale - Codeword GERMANY!
August 13, 2019 - 50% Off GERMANY! codeword on Back Issue Comics & Magazines
August 10, 2019 - 60% Off SUMMER Sale Ends Soon!
August 8, 2019 - Great Collection Of Old Comics Arrives - 60% Off Through Tuesday, Only
August 5, 2019 - 60% Off Sale Ending - Chuck's Story Part Five
August 2, 2019 - Another Huge Comics List + Chuck's Near Death Part Four