5 lb "Mystery Boxes" of Comic Books
Howdy!
We paid our weekly Diamond Distributing new comics bill for this week! Under normal circumstances paying our weekly bill would not be any sort of a big deal, but with our Jason St. Mega-Store closed indefinitely under the City of Denver Coronavirus "shelter in place" order, and a goodly number of our new comics from this week sitting unsold, it was a very pleasant surprise for me to learn that we had the funds on hand to cover 100% of that invoice. Woo!
Our next major payment that is coming due is next week's payroll. That should not be a problem, as we already have enough of an order backlog to cover that cost, presuming that we are able to simply keep invoicing orders at our present pace. Covering our (large) warehouse mortgage payment is yet another upcoming issue, but that may be mitigated somewhat by some relief from our lender. Fingers crossed...
I am providing you with this update on our present financial condition because I have received numerous kind messages of support from fans living all around the world. Everyone is universally expressing that they very much hope that we are doing OK, and that we are going to survive this economic meltdown. Blessedly, at least as of this moment, our survival seems somewhat assured. Things can certainly take a turn for the worse, but for the time being we are receiving enough online support to keep the lights on.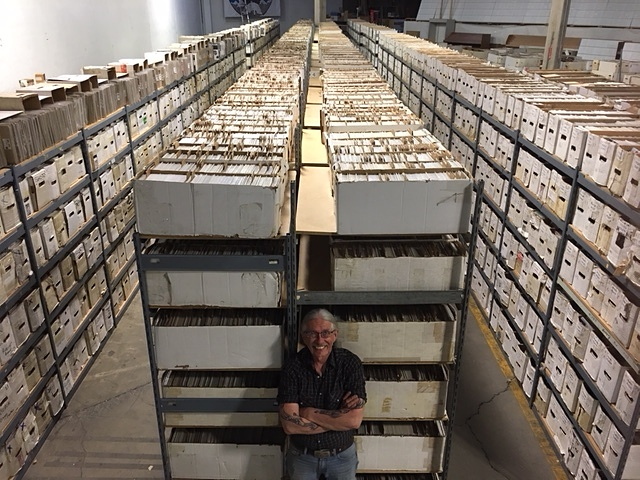 Chuck in front of our back issue racks

What helps the most in my efforts to keep us viable is that I am able to tap into the hidden resource of our immense selection of 10 million+ back issue comics and magazines, via our extremely generous 65% off VIRUS! codeword sale. It is disconcerting to me to be liquidating so many of our most desirable back issues at (or sometimes even below) cost, but I also count myself fortunate to have accumulated so many great comics over my 50 years in the business that I can now sell a few during these times of economic gridlock. At some moments in time (such as this one...) maintaining our critical life-supporting cash flow is way more important than generating earnings,
All of the above having been said, my efforts to keep us in business during these extraordinary times would be completely futile were it not for the kindness and support of our fans from around Colorado, America, and throughout the entire world. Simply put, it is the sum of your orders that is allowing us to keep our critical bills paid, and most of our staff employed. We all sincerely thank you for being here for us in this hour of need.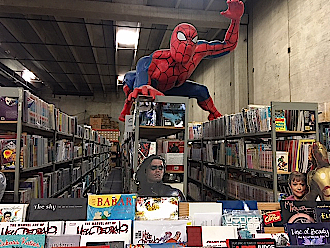 Some of our back issue graphic novels, trade paperbacks, and comics-related hardbacks

I want to also extend my thanks to everyone who has been ordering graphic novels, trade paperbacks, and comics-related hardbacks from us at 50% off. Accumulating my immense library of 300,000+ comics-related books has been one of my most gratifying achievements, but if I have to pause my efforts for a while in order to stay in business, then so be it. Really and truly, it is an amazing blessing to have so many resources at hand that we can tap in moments of crisis. Above all else, that is why I think that we will ultimately make it through the upcoming economic storm just fine.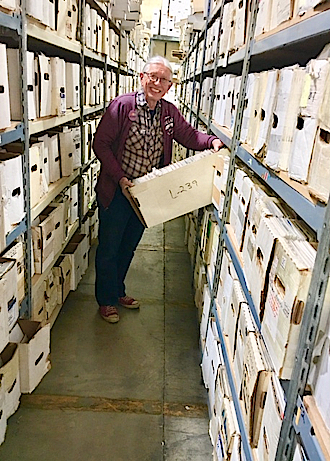 Chuck going through the 800+ long boxes

My final comment for today is about our incredibly popular comic book "5 lb Mystery Boxes." I was here at Jason St. last night until well after 8 PM, working on selecting thousands of comics for inclusion in our various genres of "Mystery Boxes." As a direct result, a significant number of those boxes will ship today, with even more being shipped on Monday. So you know, I am creating these awesome boxes from 800+ long boxes filled with 250,000 comics that constituted a "strategic reserve" for our master online inventory. Some of the comics in our reserve are relatively mundane, but many others are quite desirable. Boxes consist of a mix of all those comics, carefully selected by us to provide you with as broad a spectrum of reading material as is possible. Initial feedback from our earliest boxes are extremely positive reviews, which makes us all very happy!
Happy collecting!
Chuck Rozanski/Bettie Pages,
President - Mile High Comics, Inc.
March 27, 2020
P.S. Please note that we will cover the cost of shipping to anywhere in the USA of all of our 5 lb "Mystery Boxes" during the Coronavirus pandemic. If you add a "Mystery Box" into an order for other comics that is just fine, but please note that shipping charges (if applicable) will still need to apply to the standard portion of your order. Thank you!
5 lb mixed lot Mystery Boxes - $29.95

5 Lb mixed lot of only #'s and Letter A - $29.95

5 Lb mixed lot of only Letter B - $29.95

5 Lb mixed lot of only Letter C - $29.95

5 Lb mixed lot of only Letter D - $29.95

5 Lb mixed lot of only Marvel Comics - $39.95

5 Lb mixed lot of only DC Comics - $39.95

5 Lb mixed lot of only Vertigo Comics - $39.95

5 Lb mixed lot of only Dark Horse Comics - $39.95

5 Lb mixed lot of only Image Comics - $29.95

5 Lb mixed lot of only Independent Comics - $29.95

5 Lb mixed lot of Comics Code Approved Hero Titles - $39.95
Past eMail NewsLetters:

March 27, 2020 - 5 lb "Mystery Boxes" of Comic Books...
March 25, 2020 - New 5 lb Mystery Boxes - Marvel, DC, more!...
March 24, 2020 - New Comics Distribution Ends...
March 23, 2020 - Mile High Comics Is Still Open!...
March 20, 2020 - We're Still Open And Shipping Comics And Book Orders!...
March 18, 2020 - Mile High Comics 65% Off Sale Continues...
March 17, 2020 - Local News - Mile High Comics is still OPEN! But, no Poker or Auction...
March 16, 2020 - 65% Off Comics - 50% Off Books - FCBD News...
March 13, 2020 - Comics and Books Giveaway Sale - 50%-65% Discounts...
March 11, 2020 - All Back Issue Comics 65% Off - VIRUS Codeword...
March 10, 2020 - Local News - New Releases on March 11, 2020...
March 9, 2020 - New Computer Installed + Rare Back Issue Comics...
March 6, 2020 - Newly Arrived Comics and Magazines Half Price...
March 5, 2020 - Local News - Last Weekend 50% Off Comics and Toys Anniversary Sale...
March 4, 2020 - Will Redevelopment Crush Mile High Comics?...
March 3, 2020 - Local News - New Releases on March 4, 2020...
March 2, 2020 - 5 lb "Mystery Boxes" Filled with Comics Back In Stock...
February 28, 2020 - Mile High Comics 50th Anniversary Party Tomorrow...
February 27, 2020 - Local News - 50th Anniversary Party this Saturday!...
February 27, 2020 - 50th Anniversary Party This Weekend!...
February 25, 2020 - Local News - New Releases on February 26, 2020...
February 24, 2020 - More 5 lb Comics Mystery Boxes Added Into Inventory...
February 22, 2020 - 5 lb Comics Assortments Setting Sales Records...
February 19, 2020 - Mystery Boxes of Comics - 5 Pounds of Mixed Titles only $29.95 + Shipping...
February 18, 2020 - Local News - New Releases on February 19, 2020...
February 17, 2020 - Comics Sale - Five Pounds only $29.95 + Shipping...
February 14, 2020 - 60% Off Comics - Golden Age, Silver Age, Bronze Age, more!...
February 13, 2020 - Local News - SWEETHEART sale in the store this weekend plus Two big Events!...
February 12, 2020 - Five Days Only! Annual 60% Off All Comics SWEETHEART Codeword Sale...
February 11, 2020 - Local News - Two big Events this weekend and new book delayed...
February 10, 2020 - 15,000+ Comics-related Trade Paperbacks and Comics Hardbacks...
February 7, 2020 - Happy 50 Years! All 10,000,000+ of our Comic Books Half Price...
February 6, 2020 - Local News - New Era Heart Break this Saturday!...
February 5, 2020 - Half Price - 50Years! - Sale on Ten Million Comic Books and Comics Magazines...
February 4, 2020 - Local News - New Releases on February 5, 2020...
February 3, 2020 - New 50% Off 50YEARS! codeword On Ten Million Comics and Magazines...
January 31, 2020 - 60% Off On Ten Million Comics and Magazines Ends Monday...
January 31, 2020 - Local News - This Saturday No Minimum bid Auction, GROUNDHOG sale, and new Comics by the Pound Sale at the Mega Store!...
January 29, 2020 - 60% Off GROUNDHOG Sale ends Monday!...
January 28, 2020 - Local News - This Saturday Impromptu No Minimum bid Auction and New Books delay because of weather...
January 27, 2020 - 60% Off GROUNDHOG Comics Sale Begins Today - Six Days Only...
January 24, 2020 - Rare Stan Lee Photo + $20 Bargain Sets...
January 23, 2020 - Local News - This Sunday our 11th Family-Friendly All-Ages Drag Show!...
January 22, 2020 - Sign Up Today For New Mile High Comics Facebook Postings...
January 21, 2020 - Local News - New Releases on January 22, 2020...
January 20, 2020 - Jim Shooter Returning to Mile High Comics...
January 17, 2020 - 1990's Enhanced Covers Spike in Value...
January 16, 2020 - Local News - This Saturday No Minimum bid Auction and Poker...
January 15, 2020 - How Chuck Once Walked Away From An $18,000,000.00 Windfall...
January 13, 2020 - Half Price WINTER! Codeword Sale All Comics and Magazines...
January 10, 2020 - Chuck's Origin Story + Half Price On All Back Issue Comics...
January 9, 2020 - Local News - New Era New Years Bash this Saturday!...
January 8, 2020 - How Chuck Lost Action Comics #1 and Marvel Comics #1...
January 6, 2020 - New Codeword + Link to Edgar Church Collection Story...
January 3, 2020 - Half Price Graphic Novels Sale Ends Monday...
January 1, 2020 - 60% off New Year's Comics Sale Ending...
December 31, 2019 - Local News - Mile High Comics Open New Year's Day!...
December 30, 2019 - Ten Million Comic Books 60% Off...
December 27, 2019 - 60% Off Comics - 50% Off Books End-Of-Year Special...
December 23, 2019 - 60% Off All Back Issue Comics and Magazines...
December 20, 2019 - 50% Off Back Issue Comics and Magazines...
December 19, 2019 - Local News - 50% off Storewide Sale this Weekend!...
December 18, 2019 - Actor Don Cheadle Visits Mile High Comics...
December 17, 2019 - Local News - This Sunday our 10th Family-Friendly All-Ages Drag Show!...
December 16, 2019 - More Silver Age Comics at 50% Off...
December 13, 2019 - Back Issue Comics 50% Off this weekend!...
December 12, 2019 - Local News - Monthly Poker Tournament and Annual Stocking Stuffers and Toys No Minimum bid Auction this Saturday!...
December 11, 2019 - Great Silver Age Arrives - All 50% Off!...
December 11, 2019 - Local News - This Saturday Annual Stocking Stuffers and Toys No Minimum bid Auction and Poker!...
December 9, 2019 - 300,000 Graphic Novels Half Price...
December 5, 2019 - 50% Off Holiday Sale Begins Today...
December 3, 2019 - 60% Off All Comics Sale Extended...
November 29, 2019 - 60% Off All Comics Sale Ends Tuesday Night...
November 27, 2019 - Local News - BLACK FRIDAY Sale running now and FOREVER CON starts Friday!...
November 26, 2019 - Huge BLACKFRIDAY Comics and Books Sale...
November 22, 2019 - 50% Off Comics, Free Shipping, No Tax!...
November 21, 2019 - Local News - This Weekend 3 Big Events at Mile High Comics Mega Store
November 20, 2019 - Three Great Events This Weekend Plus 50% Off Comics...
November 20, 2019 - Local News - This Saturday No Minimum bid Auction and Poker
November 18, 2019 - Free Shipping & 50% off BLACKNOVEMBER codeword!...
November 15, 2019 - 50% off BLACKNOVEMBER codeword this weekend!...
November 14, 2019 - Local News - Save the Date! Next Weekened 3 Big Events at Mile High Comics Mega Store
November 13, 2019 - Half Price Comics Sale - BLACKNOVEMBER...
November 11, 2019 - We're Buying Comics, Books, Toys, Statues, More!...
November 8, 2019 - 50% Off DC War Comics by Joe Kubert, much more...
November 6, 2019 - 50% Off BLACKNOVEMBER All Back Issue Comics and Magazines
November 4, 2019 - New Codeword Sale Begins on Ten Million Comic Books
November 1, 2019 - 60% Off All ComIcs Sale Ends in Four Days
October 31, 2019 - Local News - New Era Wrestling Bird Brawl this Saturday!
October 30, 2019 - 60% Off HALLOWEEN Comic Books Sale Ending!
October 28, 2019 - Near Mint Bronze And Copper Age Comics - CAPTAIN AMERICA, AVENGERS, HULK, More!
October 25, 2019 - Huge New Arrivals Comics and Books List
October 24, 2019 - Local News - This Sunday Family-Friendly All-Ages Halloween Drag Show!
October 22, 2019 - Local News - Family-Friendly All-Ages Halloween Drag Show this Sunday!
October 21, 2019 - Annual Comics Sale Benefitting The Homeless Begins
October 18, 2019 - Local News - Huge Weekend Comics and Toys Sale + Poker & Auction on Saturday!
October 16, 2019 - 60% Off All Comics HALLOWEEN! Sale Begins
October 15, 2019 - Local News - This Saturday No Minimum bid Auction and Poker
October 14, 2019 - Huge Half Price Sale On Ten Million Comic Books
October 10, 2019 - Tour Chuck's Pueblo Pottery Gallery, Benefit Auction, Texas Hold'em Poker All On 19th
October 7, 2019 - New Video Link to Jason St.
October 4, 2019 - FBI visits Mile High Comics - 50% Off Sale On All Back Issues
October 1, 2019 - Chuck Visits Washington, D.C. + 50% Off Ten Million Comics