Just Arrived! 800+ Silver Age and Bronze Age Comics
Howdy!
Today's newsletter will be very brief, as I need to leave room for the copious listing of really nice older comics that Will Moulton just purchased for you in Denver. All of these comics are available to you at 60% off of the listed price when you utilize our JULY4TH! codeword. Only new issues, a few variants, and our professionally-graded items are exempt from this huge back issues sale.
On a personal front, I want to sincerely thank everyone who wrote to me in support of my coming out as gender fluid/non-binary in my last newsletter. Bettie truly appreciates your kindness beyond the power of all words to convey. Love is love...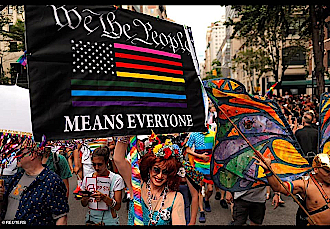 Bettie's London Daily Mail - NY Pride Photo

Finally, Bettie proudly marched in Sunday's New York/Stonewall 50 Pride Parade. To her complete surprise, the London Daily Mail published her photo in the UK!
Happy collecting!
Chuck Rozanski/Bettie Pages,
President - Mile High Comics, Inc.
July 3, 2019
MARVEL

AMAZING ADVENTURES (1970) (#1-39) (MARVEL) #18

AMAZING ADVENTURES (1970) (#1-39) (MARVEL) #18 Very Good
AMAZING ADVENTURES (1970) (#1-39) (MARVEL) #22 Near Mint/Mint
AMAZING ADVENTURES (1970) (#1-39) (MARVEL) #35 Very Fine
AMAZING ADVENTURES (1970) (#1-39) (MARVEL) #36 Near Mint/Mint
AMAZING ADVENTURES (1970) (#1-39) (MARVEL) #37 Near Mint/Mint
AMAZING ADVENTURES (1970) (#1-39) (MARVEL) #38 Very Fine
AMAZING ADVENTURES (1970) (#1-39) (MARVEL) #39 Very Fine

ASTONISHING TALES (MARVEL) (1970) #25 Very Fine
ASTONISHING TALES (MARVEL) (1970) #26 Very Fine
ASTONISHING TALES (MARVEL) (1970) #27 Very Fine
ASTONISHING TALES (MARVEL) (1970) #28 Fine
ASTONISHING TALES (MARVEL) (1970) #30 Fine
ASTONISHING TALES (MARVEL) (1970) #31 Very Fine
ASTONISHING TALES (MARVEL) (1970) #32 Near Mint/Mint
ASTONISHING TALES (MARVEL) (1970) #33 Near Mint/Mint
ASTONISHING TALES (MARVEL) (1970) #33 Very Fine
ASTONISHING TALES (MARVEL) (1970) #34 Very Fine
ASTONISHING TALES (MARVEL) (1970) #35 Very Fine
ASTONISHING TALES (MARVEL) (1970) #36 Near Mint/Mint

AVENGERS (1963) (#1-402) (MARVEL) #148 Near Mint/Mint
AVENGERS (1963) (#1-402) (MARVEL) #167 Very Fine

AVENGERS ANNUAL (1967) #7 Near Mint/Mint

AVENGERS GIANT-SIZE (GIANT SIZE) (1974) #4 Fine
AVENGERS GIANT-SIZE (GIANT SIZE) (1974) #5 Very Fine

BATTLESTAR GALACTICA (1979) #1 Near Mint/Mint

CAPTAIN AMERICA (1968) (#100-454) (MARVEL) #109 Very Fine
CAPTAIN AMERICA (1968) (#100-454) (MARVEL) #180 Fine
CAPTAIN AMERICA (1968) (#100-454) (MARVEL) #182 Fine
CAPTAIN AMERICA (1968) (#100-454) (MARVEL) #183 Very Fine
CAPTAIN AMERICA (1968) (#100-454) (MARVEL) #185 Very Fine
CAPTAIN AMERICA (1968) (#100-454) (MARVEL) #186 Near Mint/Mint
CAPTAIN AMERICA (1968) (#100-454) (MARVEL) #187 Near Mint/Mint
CAPTAIN AMERICA (1968) (#100-454) (MARVEL) #188 Very Fine
CAPTAIN AMERICA (1968) (#100-454) (MARVEL) #189 Very Fine


CAPTAIN AMERICA (1968) (#100-454) (MARVEL) #190

CAPTAIN AMERICA (1968) (#100-454) (MARVEL) #190 Very Fine
CAPTAIN AMERICA (1968) (#100-454) (MARVEL) #191 Very Fine
CAPTAIN AMERICA (1968) (#100-454) (MARVEL) #192 Near Mint/Mint
CAPTAIN AMERICA (1968) (#100-454) (MARVEL) #193 Near Mint/Mint
CAPTAIN AMERICA (1968) (#100-454) (MARVEL) #194 Near Mint/Mint
CAPTAIN AMERICA (1968) (#100-454) (MARVEL) #195 Very Fine
CAPTAIN AMERICA (1968) (#100-454) (MARVEL) #196 Fine
CAPTAIN AMERICA (1968) (#100-454) (MARVEL) #198 Near Mint/Mint
CAPTAIN AMERICA (1968) (#100-454) (MARVEL) #199 Very Fine
CAPTAIN AMERICA (1968) (#100-454) (MARVEL) #200 Very Fine
CAPTAIN AMERICA (1968) (#100-454) (MARVEL) #201 Very Fine
CAPTAIN AMERICA (1968) (#100-454) (MARVEL) #202 Near Mint/Mint
CAPTAIN AMERICA (1968) (#100-454) (MARVEL) #203 Fine
CAPTAIN AMERICA (1968) (#100-454) (MARVEL) #205 Very Fine
CAPTAIN AMERICA (1968) (#100-454) (MARVEL) #206 Near Mint/Mint
CAPTAIN AMERICA (1968) (#100-454) (MARVEL) #207 Very Fine
CAPTAIN AMERICA (1968) (#100-454) (MARVEL) #208 Very Fine
CAPTAIN AMERICA (1968) (#100-454) (MARVEL) #209 Near Mint/Mint
CAPTAIN AMERICA (1968) (#100-454) (MARVEL) #210 Near Mint/Mint
CAPTAIN AMERICA (1968) (#100-454) (MARVEL) #211 Near Mint/Mint
CAPTAIN AMERICA (1968) (#100-454) (MARVEL) #217 Near Mint/Mint
CAPTAIN AMERICA (1968) (#100-454) (MARVEL) #218 Near Mint/Mint
CAPTAIN AMERICA (1968) (#100-454) (MARVEL) #220 Very Fine
CAPTAIN AMERICA (1968) (#100-454) (MARVEL) #221 Very Fine
CAPTAIN AMERICA (1968) (#100-454) (MARVEL) #222 Near Mint/Mint
CAPTAIN AMERICA (1968) (#100-454) (MARVEL) #224 Near Mint/Mint
CAPTAIN AMERICA (1968) (#100-454) (MARVEL) #228 Near Mint/Mint
CAPTAIN AMERICA (1968) (#100-454) (MARVEL) #230 Very Fine

CAPTAIN AMERICA GIANT-SIZE (1975) #1 Very Fine

CAPTAIN MARVEL (1968) (#1-62) (MARVEL) #37 Very Fine

CAPTAIN MARVEL GIANT-SIZE (1975) #1 Very Fine

CHAMPIONS (1975) (#1-17) (MARVEL) #1 Near Mint/Mint
CHAMPIONS (1975) (#1-17) (MARVEL) #2 Very Fine
CHAMPIONS (1975) (#1-17) (MARVEL) #3 Near Mint/Mint
CHAMPIONS (1975) (#1-17) (MARVEL) #4 Fine
CHAMPIONS (1975) (#1-17) (MARVEL) #5 Very Fine
CHAMPIONS (1975) (#1-17) (MARVEL) #6 Near Mint/Mint
CHAMPIONS (1975) (#1-17) (MARVEL) #7 Near Mint/Mint


CHAMPIONS (1975) (#1-17) (MARVEL) #8

CHAMPIONS (1975) (#1-17) (MARVEL) #8 Very Fine
CHAMPIONS (1975) (#1-17) (MARVEL) #9 Very Fine
CHAMPIONS (1975) (#1-17) (MARVEL) #10 Near Mint/Mint
CHAMPIONS (1975) (#1-17) (MARVEL) #11 Near Mint/Mint
CHAMPIONS (1975) (#1-17) (MARVEL) #13 Very Fine
CHAMPIONS (1975) (#1-17) (MARVEL) #14 Near Mint/Mint
CHAMPIONS (1975) (#1-17) (MARVEL) #15 Near Mint/Mint
CHAMPIONS (1975) (#1-17) (MARVEL) #16 Very Fine
CHAMPIONS (1975) (#1-17) (MARVEL) #17 Fine

CHILLERS GIANT-SIZE (1975) #1 Fine
CHILLERS GIANT-SIZE (1975) #2 Very Good

CONAN (1970) (#1-275) (CONAN THE BARBARIAN) (MARVEL) #21 Very Fine
CONAN (1970) (#1-275) (CONAN THE BARBARIAN) (MARVEL) #22 Very Fine
CONAN (1970) (#1-275) (CONAN THE BARBARIAN) (MARVEL) #23 Fine
CONAN (1970) (#1-275) (CONAN THE BARBARIAN) (MARVEL) #24 Fine
CONAN (1970) (#1-275) (CONAN THE BARBARIAN) (MARVEL) #25 Fine
CONAN (1970) (#1-275) (CONAN THE BARBARIAN) (MARVEL) #26 Very Good
CONAN (1970) (#1-275) (CONAN THE BARBARIAN) (MARVEL) #27 Very Good
CONAN (1970) (#1-275) (CONAN THE BARBARIAN) (MARVEL) #28 Fine
CONAN (1970) (#1-275) (CONAN THE BARBARIAN) (MARVEL) #37 Fine
CONAN (1970) (#1-275) (CONAN THE BARBARIAN) (MARVEL) #38 Very Fine

CONAN ANNUAL (1973) #6 NEWSSTAND Very Fine

CONAN GIANT-SIZE (1974) #3 Good

CONAN THE KING (KING CONAN #1-19) (1980) #1 Near Mint/Mint
CONAN THE KING (KING CONAN #1-19) (1980) #6 Near Mint/Mint
CONAN THE KING (KING CONAN #1-19) (1980) #7 Near Mint/Mint
CONAN THE KING (KING CONAN #1-19) (1980) #9 NEWSSTAND Very Fine
CONAN THE KING (KING CONAN #1-19) (1980) #10 Near Mint/Mint

DAREDEVIL (1964) (#1-380) (MAN WITHOUT FEAR) (MARVEL) #114 Very Fine
DAREDEVIL (1964) (#1-380) (MAN WITHOUT FEAR) (MARVEL) #130 Fine

DAREDEVIL GIANT-SIZE (1975) #1 Fine

DEFENDERS (1972) (#1-152) (MARVEL) #26 Fine
DEFENDERS (1972) (#1-152) (MARVEL) #27 Near Mint/Mint
DEFENDERS (1972) (#1-152) (MARVEL) #28 Near Mint/Mint


DEFENDERS (1972) (#1-152) (MARVEL) #29

DEFENDERS (1972) (#1-152) (MARVEL) #29 Near Mint/Mint
DEFENDERS (1972) (#1-152) (MARVEL) #30 Near Mint/Mint
DEFENDERS (1972) (#1-152) (MARVEL) #31 Near Mint/Mint
DEFENDERS (1972) (#1-152) (MARVEL) #32 Fine
DEFENDERS (1972) (#1-152) (MARVEL) #33 Near Mint/Mint
DEFENDERS (1972) (#1-152) (MARVEL) #34 Very Fine
DEFENDERS (1972) (#1-152) (MARVEL) #36 Very Fine
DEFENDERS (1972) (#1-152) (MARVEL) #37 Very Fine
DEFENDERS (1972) (#1-152) (MARVEL) #39 Very Fine
DEFENDERS (1972) (#1-152) (MARVEL) #40 Near Mint/Mint
DEFENDERS (1972) (#1-152) (MARVEL) #41 Very Fine
DEFENDERS (1972) (#1-152) (MARVEL) #42 Near Mint/Mint
DEFENDERS (1972) (#1-152) (MARVEL) #43 Near Mint/Mint
DEFENDERS (1972) (#1-152) (MARVEL) #44 Near Mint/Mint
DEFENDERS (1972) (#1-152) (MARVEL) #45 Near Mint/Mint
DEFENDERS (1972) (#1-152) (MARVEL) #46 Very Fine
DEFENDERS (1972) (#1-152) (MARVEL) #47 Very Fine
DEFENDERS (1972) (#1-152) (MARVEL) #48 Very Fine
DEFENDERS (1972) (#1-152) (MARVEL) #49 Near Mint/Mint
DEFENDERS (1972) (#1-152) (MARVEL) #50 Very Fine
DEFENDERS (1972) (#1-152) (MARVEL) #51 Near Mint/Mint
DEFENDERS (1972) (#1-152) (MARVEL) #52 Fine
DEFENDERS (1972) (#1-152) (MARVEL) #55 Near Mint/Mint
DEFENDERS (1972) (#1-152) (MARVEL) #56 Very Fine
DEFENDERS (1972) (#1-152) (MARVEL) #57 Near Mint/Mint
DEFENDERS (1972) (#1-152) (MARVEL) #58 Very Fine
DEFENDERS (1972) (#1-152) (MARVEL) #59 Fine
DEFENDERS (1972) (#1-152) (MARVEL) #61 Fine
DEFENDERS (1972) (#1-152) (MARVEL) #63 Near Mint/Mint
DEFENDERS (1972) (#1-152) (MARVEL) #65 Near Mint/Mint
DEFENDERS (1972) (#1-152) (MARVEL) #66 Very Fine
DEFENDERS (1972) (#1-152) (MARVEL) #67 Near Mint/Mint
DEFENDERS (1972) (#1-152) (MARVEL) #68 Very Fine
DEFENDERS (1972) (#1-152) (MARVEL) #70 Near Mint/Mint
DEFENDERS (1972) (#1-152) (MARVEL) #71 Very Fine
DEFENDERS (1972) (#1-152) (MARVEL) #72 Near Mint/Mint
DEFENDERS (1972) (#1-152) (MARVEL) #74 Near Mint/Mint
DEFENDERS (1972) (#1-152) (MARVEL) #75 Very Fine
DEFENDERS (1972) (#1-152) (MARVEL) #80 Near Mint/Mint

DEFENDERS ANNUAL (1976) #1 Fine


DEFENDERS GIANT-SIZE (1974) #5

DEFENDERS GIANT-SIZE (1974) #5 Fine

DEVIL DINOSAUR (1978) #1 Very Fine
DEVIL DINOSAUR (1978) #2 Fine

DOC SAVAGE GIANT-SIZE (1975) #1 Very Fine

DOCTOR STRANGE (1974) (#1-81) (MARVEL) (DR. STRANGE) #1 Fine
DOCTOR STRANGE (1974) (#1-81) (MARVEL) (DR. STRANGE) #2 Very Good
DOCTOR STRANGE (1974) (#1-81) (MARVEL) (DR. STRANGE) #3 Fine
DOCTOR STRANGE (1974) (#1-81) (MARVEL) (DR. STRANGE) #4 Very Fine
DOCTOR STRANGE (1974) (#1-81) (MARVEL) (DR. STRANGE) #5 Fine
DOCTOR STRANGE (1974) (#1-81) (MARVEL) (DR. STRANGE) #6 Very Fine
DOCTOR STRANGE (1974) (#1-81) (MARVEL) (DR. STRANGE) #7 Near Mint/Mint
DOCTOR STRANGE (1974) (#1-81) (MARVEL) (DR. STRANGE) #8 Near Mint/Mint
DOCTOR STRANGE (1974) (#1-81) (MARVEL) (DR. STRANGE) #9 Very Fine
DOCTOR STRANGE (1974) (#1-81) (MARVEL) (DR. STRANGE) #10 Fine
DOCTOR STRANGE (1974) (#1-81) (MARVEL) (DR. STRANGE) #11 Near Mint/Mint
DOCTOR STRANGE (1974) (#1-81) (MARVEL) (DR. STRANGE) #12 Near Mint/Mint
DOCTOR STRANGE (1974) (#1-81) (MARVEL) (DR. STRANGE) #13 Near Mint/Mint
DOCTOR STRANGE (1974) (#1-81) (MARVEL) (DR. STRANGE) #14 Near Mint/Mint
DOCTOR STRANGE (1974) (#1-81) (MARVEL) (DR. STRANGE) #15 Very Fine
DOCTOR STRANGE (1974) (#1-81) (MARVEL) (DR. STRANGE) #16 Near Mint/Mint
DOCTOR STRANGE (1974) (#1-81) (MARVEL) (DR. STRANGE) #17 Fine
DOCTOR STRANGE (1974) (#1-81) (MARVEL) (DR. STRANGE) #19 Very Fine
DOCTOR STRANGE (1974) (#1-81) (MARVEL) (DR. STRANGE) #21 Very Fine
DOCTOR STRANGE (1974) (#1-81) (MARVEL) (DR. STRANGE) #41 NEWSSTAND Near Mint/Mint

DOCTOR STRANGE ANNUAL (1976) #1 Near Mint/Mint

DOCTOR STRANGE GIANT-SIZE (1975) #1 Near Mint/Mint

ETERNALS (1976) (#1-19) (MARVEL) (JACK KIRBY) #2 Very Fine

FANTASTIC FOUR (1961) (#1-416) (MARVEL) #164 Fine
FANTASTIC FOUR (1961) (#1-416) (MARVEL) #165 Very Fine
FANTASTIC FOUR (1961) (#1-416) (MARVEL) #166 Fine
FANTASTIC FOUR (1961) (#1-416) (MARVEL) #167 Very Fine
FANTASTIC FOUR (1961) (#1-416) (MARVEL) #168 Very Fine
FANTASTIC FOUR (1961) (#1-416) (MARVEL) #169 Fine


FANTASTIC FOUR (1961) (#1-416) (MARVEL) #170

FANTASTIC FOUR (1961) (#1-416) (MARVEL) #170 Fine
FANTASTIC FOUR (1961) (#1-416) (MARVEL) #171 Very Fine
FANTASTIC FOUR (1961) (#1-416) (MARVEL) #172 Near Mint/Mint
FANTASTIC FOUR (1961) (#1-416) (MARVEL) #174 Very Fine
FANTASTIC FOUR (1961) (#1-416) (MARVEL) #177 Very Fine
FANTASTIC FOUR (1961) (#1-416) (MARVEL) #179 Near Mint/Mint
FANTASTIC FOUR (1961) (#1-416) (MARVEL) #181 Near Mint/Mint
FANTASTIC FOUR (1961) (#1-416) (MARVEL) #182 Near Mint/Mint
FANTASTIC FOUR (1961) (#1-416) (MARVEL) #183 Near Mint/Mint
FANTASTIC FOUR (1961) (#1-416) (MARVEL) #184 Very Fine
FANTASTIC FOUR (1961) (#1-416) (MARVEL) #185 Very Fine
FANTASTIC FOUR (1961) (#1-416) (MARVEL) #187 Very Fine
FANTASTIC FOUR (1961) (#1-416) (MARVEL) #191 Near Mint/Mint
FANTASTIC FOUR (1961) (#1-416) (MARVEL) #192 Near Mint/Mint
FANTASTIC FOUR (1961) (#1-416) (MARVEL) #193 Near Mint/Mint
FANTASTIC FOUR (1961) (#1-416) (MARVEL) #195 Near Mint/Mint
FANTASTIC FOUR (1961) (#1-416) (MARVEL) #195 Very Fine
FANTASTIC FOUR (1961) (#1-416) (MARVEL) #196 Very Fine
FANTASTIC FOUR (1961) (#1-416) (MARVEL) #198 Near Mint/Mint
FANTASTIC FOUR (1961) (#1-416) (MARVEL) #199 Very Fine
FANTASTIC FOUR (1961) (#1-416) (MARVEL) #200 Near Mint/Mint
FANTASTIC FOUR (1961) (#1-416) (MARVEL) #202 Near Mint/Mint

FANTASY MASTERPIECES (1979) #3 Very Fine

FEAR (ADVENTURE INTO...) (1970) #10 Fine
FEAR (ADVENTURE INTO...) (1970) #11 Fine
FEAR (ADVENTURE INTO...) (1970) #12 Fine
FEAR (ADVENTURE INTO...) (1970) #13 Fine
FEAR (ADVENTURE INTO...) (1970) #15 Very Good
FEAR (ADVENTURE INTO...) (1970) #16 Fine
FEAR (ADVENTURE INTO...) (1970) #17 Very Fine
FEAR (ADVENTURE INTO...) (1970) #19 Very Good
FEAR (ADVENTURE INTO...) (1970) #20 Fine
FEAR (ADVENTURE INTO...) (1970) #21 Fine
FEAR (ADVENTURE INTO...) (1970) #22 Fine
FEAR (ADVENTURE INTO...) (1970) #23 Fine
FEAR (ADVENTURE INTO...) (1970) #24 Very Good
FEAR (ADVENTURE INTO...) (1970) #25 Fine


FEAR (ADVENTURE INTO...) (1970) #27

FEAR (ADVENTURE INTO...) (1970) #27 Fine
FEAR (ADVENTURE INTO...) (1970) #28 Fine
FEAR (ADVENTURE INTO...) (1970) #29 Fine
FEAR (ADVENTURE INTO...) (1970) #30 Fine
FEAR (ADVENTURE INTO...) (1970) #31 Fine

GHOST RIDER (1973) (#1-81) (MARVEL) #9 Very Good
GHOST RIDER (1973) (#1-81) (MARVEL) #12 Fine
GHOST RIDER (1973) (#1-81) (MARVEL) #13 Very Fine

HOWARD THE DUCK (1976) (#1-33) #1 Fine
HOWARD THE DUCK (1976) (#1-33) #2 Near Mint/Mint
HOWARD THE DUCK (1976) (#1-33) #3 Near Mint/Mint
HOWARD THE DUCK (1976) (#1-33) #4 Near Mint/Mint
HOWARD THE DUCK (1976) (#1-33) #6 Near Mint/Mint
HOWARD THE DUCK (1976) (#1-33) #7 Near Mint/Mint
HOWARD THE DUCK (1976) (#1-33) #11 Near Mint/Mint
HOWARD THE DUCK (1976) (#1-33) #12 Near Mint/Mint
HOWARD THE DUCK (1976) (#1-33) #13 Very Fine

HULK (1962) (#1-6, #102-474, #600-635)(INCREDIBLE)(MV) #197 Fine
HULK (1962) (#1-6, #102-474, #600-635)(INCREDIBLE)(MV) #198 Fine
HULK (1962) (#1-6, #102-474, #600-635)(INCREDIBLE)(MV) #200 Very Fine

HULK GIANT-SIZE (1975) #1 Very Fine

INHUMANS (1975) (#1-12) (MARVEL) #1 Very Fine
INHUMANS (1975) (#1-12) (MARVEL) #2 Very Good
INHUMANS (1975) (#1-12) (MARVEL) #3 Fine
INHUMANS (1975) (#1-12) (MARVEL) #4 Very Fine
INHUMANS (1975) (#1-12) (MARVEL) #5 Very Fine
INHUMANS (1975) (#1-12) (MARVEL) #6 Fine
INHUMANS (1975) (#1-12) (MARVEL) #8 Very Fine
INHUMANS (1975) (#1-12) (MARVEL) #9 Near Mint/Mint
INHUMANS (1975) (#1-12) (MARVEL) #10 Very Fine

INVADERS (1975) (#1-41) (MARVEL) #1 Fine
INVADERS (1975) (#1-41) (MARVEL) #2 Fine
INVADERS (1975) (#1-41) (MARVEL) #3 Fine


INVADERS (1975) (#1-41) (MARVEL) #4

INVADERS (1975) (#1-41) (MARVEL) #4 Fine
INVADERS (1975) (#1-41) (MARVEL) #5 Fine
INVADERS (1975) (#1-41) (MARVEL) #6 Very Fine
INVADERS (1975) (#1-41) (MARVEL) #7 Fine
INVADERS (1975) (#1-41) (MARVEL) #9 Fine
INVADERS (1975) (#1-41) (MARVEL) #10 Very Fine
INVADERS (1975) (#1-41) (MARVEL) #11 Very Fine
INVADERS (1975) (#1-41) (MARVEL) #12 Fine
INVADERS (1975) (#1-41) (MARVEL) #13 Fine
INVADERS (1975) (#1-41) (MARVEL) #14 Very Fine
INVADERS (1975) (#1-41) (MARVEL) #15 Near Mint/Mint
INVADERS (1975) (#1-41) (MARVEL) #16 Fine
INVADERS (1975) (#1-41) (MARVEL) #17 Near Mint/Mint
INVADERS (1975) (#1-41) (MARVEL) #18 Fine
INVADERS (1975) (#1-41) (MARVEL) #20 Very Fine
INVADERS (1975) (#1-41) (MARVEL) #21 Fine
INVADERS (1975) (#1-41) (MARVEL) #24 Near Mint/Mint
INVADERS (1975) (#1-41) (MARVEL) #25 Very Fine
INVADERS (1975) (#1-41) (MARVEL) #26 Near Mint/Mint
INVADERS (1975) (#1-41) (MARVEL) #26 Very Fine
INVADERS (1975) (#1-41) (MARVEL) #27 Very Fine
INVADERS (1975) (#1-41) (MARVEL) #28 Near Mint/Mint
INVADERS (1975) (#1-41) (MARVEL) #29 Near Mint/Mint
INVADERS (1975) (#1-41) (MARVEL) #30 Very Fine
INVADERS (1975) (#1-41) (MARVEL) #36 Very Fine
INVADERS (1975) (#1-41) (MARVEL) #37 Very Fine

INVADERS ANNUAL (1977) #1 Fine

INVADERS GIANT-SIZE (1975) #1 Very Fine

IRON FIST (1975) (#1-15) (MARVEL) #1 Fine
IRON FIST (1975) (#1-15) (MARVEL) #2 Near Mint/Mint
IRON FIST (1975) (#1-15) (MARVEL) #3 Fine
IRON FIST (1975) (#1-15) (MARVEL) #5 Fine
IRON FIST (1975) (#1-15) (MARVEL) #6 Near Mint/Mint
IRON FIST (1975) (#1-15) (MARVEL) #9 Fine
IRON FIST (1975) (#1-15) (MARVEL) #10 Fine
IRON FIST (1975) (#1-15) (MARVEL) #12 Fine

IRON MAN ANNUAL (1970) #3 Fine

IRON MAN GIANT-SIZE (1975) #1 Very Fine

KA-ZAR (1974) (#1-20) (MARVEL) #6 Very Fine
KA-ZAR (1974) (#1-20) (MARVEL) #13 Very Fine
KA-ZAR (1974) (#1-20) (MARVEL) #16 Very Fine

KULL THE CONQUEROR (1971) (#1-29) (MARVEL) #17 Near Mint/Mint
KULL THE CONQUEROR (1971) (#1-29) (MARVEL) #21 Near Mint/Mint
KULL THE CONQUEROR (1971) (#1-29) (MARVEL) #28 Near Mint/Mint
KULL THE CONQUEROR (1971) (#1-29) (MARVEL) #29 Near Mint/Mint

MACHINE MAN (1978) (#1-19) (MARVEL) #1 Very Fine

MAN-THING (1974) (#1-22) (MARVEL) #1 Fine
MAN-THING (1974) (#1-22) (MARVEL) #2 Fine
MAN-THING (1974) (#1-22) (MARVEL) #3 Very Good
MAN-THING (1974) (#1-22) (MARVEL) #4 Fine
MAN-THING (1974) (#1-22) (MARVEL) #5 Very Good
MAN-THING (1974) (#1-22) (MARVEL) #7 Fine
MAN-THING (1974) (#1-22) (MARVEL) #8 Fine
MAN-THING (1974) (#1-22) (MARVEL) #9 Fine
MAN-THING (1974) (#1-22) (MARVEL) #11 Fine
MAN-THING (1974) (#1-22) (MARVEL) #12 Very Good
MAN-THING (1974) (#1-22) (MARVEL) #14 Very Fine
MAN-THING (1974) (#1-22) (MARVEL) #15 Very Good
MAN-THING (1974) (#1-22) (MARVEL) #17 Fine
MAN-THING (1974) (#1-22) (MARVEL) #18 Near Mint/Mint
MAN-THING (1974) (#1-22) (MARVEL) #19 Fine
MAN-THING (1974) (#1-22) (MARVEL) #20 Fine
MAN-THING (1974) (#1-22) (MARVEL) #21 Fine
MAN-THING (1974) (#1-22) (MARVEL) #22 Very Fine
MAN-THING (1979) (#1-11) (MARVEL) #1 Very Fine

MAN-THING GIANT-SIZE (1974) #1 Fine
MAN-THING GIANT-SIZE (1974) #2 Very Good
MAN-THING GIANT-SIZE (1974) #3 Fine
MAN-THING GIANT-SIZE (1974) #4 Fine
MAN-THING GIANT-SIZE (1974) #5 Near Mint/Mint

MARVEL CHILLERS (1975) #1 Fine
MARVEL CHILLERS (1975) #2 Very Fine
MARVEL CHILLERS (1975) #3 Fine
MARVEL CLASSICS (1976) #1 Fine
MARVEL CLASSICS (1976) #4 Fine

MARVEL FEATURE (1975) (#1-7) (RED SONJA) #4 Very Fine
MARVEL FEATURE (1975) (#1-7) (RED SONJA) #5 Very Fine
MARVEL FEATURE (1975) (#1-7) (RED SONJA) #7 Very Fine

MARVEL PREMIERE (1972) #2 Very Good
MARVEL PREMIERE (1972) #3 Fine
MARVEL PREMIERE (1972) #28 Fine
MARVEL PREMIERE (1972) #29 Very Fine
MARVEL PREMIERE (1972) #41 Near Mint/Mint
MARVEL PREMIERE (1972) #45 Very Fine
MARVEL PREMIERE (1972) #46 Very Fine
MARVEL PREMIERE (1972) #61 Near Mint/Mint

MARVEL PRESENTS (1975) #2 Very Fine
MARVEL PRESENTS (1975) #3 Very Fine
MARVEL PRESENTS (1975) #4 Near Mint/Mint
MARVEL PRESENTS (1975) #5 Near Mint/Mint
MARVEL PRESENTS (1975) #7 Fine
MARVEL PRESENTS (1975) #8 Very Fine
MARVEL PRESENTS (1975) #9 Fine
MARVEL PRESENTS (1975) #10 Very Fine
MARVEL PRESENTS (1975) #11 Fine
MARVEL PRESENTS (1975) #12 Very Fine

MARVEL SPOTLIGHT (1971) (#1-33) (MARVEL) #12 Fine
MARVEL SPOTLIGHT (1971) (#1-33) (MARVEL) #26 Near Mint/Mint
MARVEL SPOTLIGHT (1971) (#1-33) (MARVEL) #28 Very Fine
MARVEL SPOTLIGHT (1971) (#1-33) (MARVEL) #32 Fine
MARVEL SPOTLIGHT (1971) (#1-33) (MARVEL) #33 Very Fine

MARVEL SPOTLIGHT (1979) (#1-11) (MARVEL) #6 Fine
MARVEL SPOTLIGHT (1979) (#1-11) (MARVEL) #7 NEWSSTAND Very Good

MARVEL TEAM-UP (1972) (#1-150) (MARVEL) #43 Very Fine
MARVEL TEAM-UP (1972) (#1-150) (MARVEL) #44 Very Fine


MARVEL TEAM-UP (1972) (#1-150) (MARVEL) #46

MARVEL TEAM-UP (1972) (#1-150) (MARVEL) #46 Very Fine
MARVEL TEAM-UP (1972) (#1-150) (MARVEL) #47 Near Mint/Mint
MARVEL TEAM-UP (1972) (#1-150) (MARVEL) #53 Very Fine
MARVEL TEAM-UP (1972) (#1-150) (MARVEL) #54 Near Mint/Mint
MARVEL TEAM-UP (1972) (#1-150) (MARVEL) #55 Fine
MARVEL TEAM-UP (1972) (#1-150) (MARVEL) #57 Near Mint/Mint
MARVEL TEAM-UP (1972) (#1-150) (MARVEL) #61 Very Fine
MARVEL TEAM-UP (1972) (#1-150) (MARVEL) #62 Fine
MARVEL TEAM-UP (1972) (#1-150) (MARVEL) #66 Very Fine
MARVEL TEAM-UP (1972) (#1-150) (MARVEL) #67 Very Fine
MARVEL TEAM-UP (1972) (#1-150) (MARVEL) #68 Near Mint/Mint
MARVEL TEAM-UP (1972) (#1-150) (MARVEL) #71 Near Mint/Mint
MARVEL TEAM-UP (1972) (#1-150) (MARVEL) #72 Near Mint/Mint
MARVEL TEAM-UP (1972) (#1-150) (MARVEL) #73 Very Fine
MARVEL TEAM-UP (1972) (#1-150) (MARVEL) #74 Fine
MARVEL TEAM-UP (1972) (#1-150) (MARVEL) #75 Very Fine
MARVEL TEAM-UP (1972) (#1-150) (MARVEL) #76 Very Fine
MARVEL TEAM-UP (1972) (#1-150) (MARVEL) #78 Near Mint/Mint
MARVEL TEAM-UP (1972) (#1-150) (MARVEL) #79 Very Fine
MARVEL TEAM-UP (1972) (#1-150) (MARVEL) #83 Near Mint/Mint
MARVEL TEAM-UP (1972) (#1-150) (MARVEL) #85 Very Fine

MARVEL TEAM-UP ANNUAL (1976) #1 Very Fine

MARVEL TRIPLE ACTION GIANT-SIZE (1975) #1 Very Fine

MARVEL TWO-IN-ONE (1974) (#1-100) (MARVEL) #7 Very Good
MARVEL TWO-IN-ONE (1974) (#1-100) (MARVEL) #16 Near Mint/Mint
MARVEL TWO-IN-ONE (1974) (#1-100) (MARVEL) #18 Very Fine
MARVEL TWO-IN-ONE (1974) (#1-100) (MARVEL) #26 WHITMAN Near Mint/Mint
MARVEL TWO-IN-ONE (1974) (#1-100) (MARVEL) #27 Near Mint/Mint
MARVEL TWO-IN-ONE (1974) (#1-100) (MARVEL) #29 Near Mint/Mint
MARVEL TWO-IN-ONE (1974) (#1-100) (MARVEL) #30 Very Fine
MARVEL TWO-IN-ONE (1974) (#1-100) (MARVEL) #32 Very Fine
MARVEL TWO-IN-ONE (1974) (#1-100) (MARVEL) #36 Near Mint/Mint
MARVEL TWO-IN-ONE (1974) (#1-100) (MARVEL) #46 Fine
MARVEL TWO-IN-ONE (1974) (#1-100) (MARVEL) #50 Near Mint/Mint
MARVEL TWO-IN-ONE (1974) (#1-100) (MARVEL) #52 NEWSSTAND Fine
MARVEL TWO-IN-ONE (1974) (#1-100) (MARVEL) #54 Very Fine
MARVEL TWO-IN-ONE (1974) (#1-100) (MARVEL) #55 Near Mint/Mint


MARVEL TWO-IN-ONE ANNUAL (1976) #2

MARVEL TWO-IN-ONE ANNUAL (1976) #2 Fine

MASTER OF KUNG FU (1974) (#15-125) (MARVEL) (SHANG-CHI) #16 Very Good
MASTER OF KUNG FU (1974) (#15-125) (MARVEL) (SHANG-CHI) #17 Very Good
MASTER OF KUNG FU (1974) (#15-125) (MARVEL) (SHANG-CHI) #18 Fine
MASTER OF KUNG FU (1974) (#15-125) (MARVEL) (SHANG-CHI) #20 Fine
MASTER OF KUNG FU (1974) (#15-125) (MARVEL) (SHANG-CHI) #21 Fine
MASTER OF KUNG FU (1974) (#15-125) (MARVEL) (SHANG-CHI) #23 Fine
MASTER OF KUNG FU (1974) (#15-125) (MARVEL) (SHANG-CHI) #25 Fine
MASTER OF KUNG FU (1974) (#15-125) (MARVEL) (SHANG-CHI) #26 Fine
MASTER OF KUNG FU (1974) (#15-125) (MARVEL) (SHANG-CHI) #27 Fine
MASTER OF KUNG FU (1974) (#15-125) (MARVEL) (SHANG-CHI) #28 Fine
MASTER OF KUNG FU (1974) (#15-125) (MARVEL) (SHANG-CHI) #29 Fine
MASTER OF KUNG FU (1974) (#15-125) (MARVEL) (SHANG-CHI) #30 Fine
MASTER OF KUNG FU (1974) (#15-125) (MARVEL) (SHANG-CHI) #34 Very Fine
MASTER OF KUNG FU (1974) (#15-125) (MARVEL) (SHANG-CHI) #35 Very Fine
MASTER OF KUNG FU (1974) (#15-125) (MARVEL) (SHANG-CHI) #37 Very Fine
MASTER OF KUNG FU (1974) (#15-125) (MARVEL) (SHANG-CHI) #38 Near Mint/Mint
MASTER OF KUNG FU (1974) (#15-125) (MARVEL) (SHANG-CHI) #39 Very Fine
MASTER OF KUNG FU (1974) (#15-125) (MARVEL) (SHANG-CHI) #40 Very Fine
MASTER OF KUNG FU (1974) (#15-125) (MARVEL) (SHANG-CHI) #43 Very Fine
MASTER OF KUNG FU (1974) (#15-125) (MARVEL) (SHANG-CHI) #50 Very Fine
MASTER OF KUNG FU (1974) (#15-125) (MARVEL) (SHANG-CHI) #55 Very Fine
MASTER OF KUNG FU (1974) (#15-125) (MARVEL) (SHANG-CHI) #57 Very Fine
MASTER OF KUNG FU (1974) (#15-125) (MARVEL) (SHANG-CHI) #58 Very Fine
MASTER OF KUNG FU (1974) (#15-125) (MARVEL) (SHANG-CHI) #59 Near Mint/Mint
MASTER OF KUNG FU (1974) (#15-125) (MARVEL) (SHANG-CHI) #60 Near Mint/Mint
MASTER OF KUNG FU (1974) (#15-125) (MARVEL) (SHANG-CHI) #62 Very Fine
MASTER OF KUNG FU (1974) (#15-125) (MARVEL) (SHANG-CHI) #63 Near Mint/Mint
MASTER OF KUNG FU (1974) (#15-125) (MARVEL) (SHANG-CHI) #64 Very Fine
MASTER OF KUNG FU (1974) (#15-125) (MARVEL) (SHANG-CHI) #66 Near Mint/Mint
MASTER OF KUNG FU (1974) (#15-125) (MARVEL) (SHANG-CHI) #68 Very Fine
MASTER OF KUNG FU (1974) (#15-125) (MARVEL) (SHANG-CHI) #72 Near Mint/Mint
MASTER OF KUNG FU (1974) (#15-125) (MARVEL) (SHANG-CHI) #73 Near Mint/Mint
MASTER OF KUNG FU (1974) (#15-125) (MARVEL) (SHANG-CHI) #74 Near Mint/Mint
MASTER OF KUNG FU (1974) (#15-125) (MARVEL) (SHANG-CHI) #75 Near Mint/Mint
MASTER OF KUNG FU (1974) (#15-125) (MARVEL) (SHANG-CHI) #76 Very Fine
MASTER OF KUNG FU (1974) (#15-125) (MARVEL) (SHANG-CHI) #82 Very Fine
MASTER OF KUNG FU (1974) (#15-125) (MARVEL) (SHANG-CHI) #84 Very Fine
MASTER OF KUNG FU (1974) (#15-125) (MARVEL) (SHANG-CHI) #85 Very Fine
MASTER OF KUNG FU (1974) (#15-125) (MARVEL) (SHANG-CHI) #86 Very Fine


MASTER OF KUNG FU (1974) (#15-125) (MARVEL) (SHANG-CHI) #88

MASTER OF KUNG FU (1974) (#15-125) (MARVEL) (SHANG-CHI) #88 Near Mint/Mint
MASTER OF KUNG FU (1974) (#15-125) (MARVEL) (SHANG-CHI) #89 Very Fine
MASTER OF KUNG FU (1974) (#15-125) (MARVEL) (SHANG-CHI) #90 Very Fine
MASTER OF KUNG FU (1974) (#15-125) (MARVEL) (SHANG-CHI) #91 Near Mint/Mint
MASTER OF KUNG FU (1974) (#15-125) (MARVEL) (SHANG-CHI) #92 Very Fine
MASTER OF KUNG FU (1974) (#15-125) (MARVEL) (SHANG-CHI) #93 Very Fine
MASTER OF KUNG FU (1974) (#15-125) (MARVEL) (SHANG-CHI) #95 Near Mint/Mint
MASTER OF KUNG FU (1974) (#15-125) (MARVEL) (SHANG-CHI) #98 Near Mint/Mint
MASTER OF KUNG FU (1974) (#15-125) (MARVEL) (SHANG-CHI) #103 Near Mint/Mint
MASTER OF KUNG FU (1974) (#15-125) (MARVEL) (SHANG-CHI) #118 NEWSSTAND Fine

MASTER OF KUNG FU ANNUAL (1976) #1 Fine

MASTER OF KUNG FU GIANT-SIZE (1974) #1 Fine
MASTER OF KUNG FU GIANT-SIZE (1974) #2 Fine
MASTER OF KUNG FU GIANT-SIZE (1974) #3 Very Fine
MASTER OF KUNG FU GIANT-SIZE (1974) #4 Very Fine

MS. MARVEL (1977) (#1-23) (MARVEL) (CAROL DANVERS) #2 Fine
MS. MARVEL (1977) (#1-23) (MARVEL) (CAROL DANVERS) #3 Fine
MS. MARVEL (1977) (#1-23) (MARVEL) (CAROL DANVERS) #4 Very Fine
MS. MARVEL (1977) (#1-23) (MARVEL) (CAROL DANVERS) #5 Very Fine
MS. MARVEL (1977) (#1-23) (MARVEL) (CAROL DANVERS) #6 Very Fine
MS. MARVEL (1977) (#1-23) (MARVEL) (CAROL DANVERS) #7 Fine
MS. MARVEL (1977) (#1-23) (MARVEL) (CAROL DANVERS) #9 Fine
MS. MARVEL (1977) (#1-23) (MARVEL) (CAROL DANVERS) #10 Fine
MS. MARVEL (1977) (#1-23) (MARVEL) (CAROL DANVERS) #11 Fine
MS. MARVEL (1977) (#1-23) (MARVEL) (CAROL DANVERS) #12 Very Fine
MS. MARVEL (1977) (#1-23) (MARVEL) (CAROL DANVERS) #15 Very Fine
MS. MARVEL (1977) (#1-23) (MARVEL) (CAROL DANVERS) #16 Very Fine
MS. MARVEL (1977) (#1-23) (MARVEL) (CAROL DANVERS) #17 Fine
MS. MARVEL (1977) (#1-23) (MARVEL) (CAROL DANVERS) #18 Near Mint/Mint
MS. MARVEL (1977) (#1-23) (MARVEL) (CAROL DANVERS) #19 Very Fine
MS. MARVEL (1977) (#1-23) (MARVEL) (CAROL DANVERS) #20 Fine
MS. MARVEL (1977) (#1-23) (MARVEL) (CAROL DANVERS) #21 Fine
MS. MARVEL (1977) (#1-23) (MARVEL) (CAROL DANVERS) #21 Very Fine
MS. MARVEL (1977) (#1-23) (MARVEL) (CAROL DANVERS) #22 Very Fine
MS. MARVEL (1977) (#1-23) (MARVEL) (CAROL DANVERS) #23 Very Fine

OMEGA (1976) (#1-10) (OMEGA THE UNKNOWN) (MARVEL) #1 Fine


OMEGA (1976) (#1-10) (OMEGA THE UNKNOWN) (MARVEL) #9

OMEGA (1976) (#1-10) (OMEGA THE UNKNOWN) (MARVEL) #9 Very Good

RED SONJA (1977) (#1-15) (MARVEL) #2 Near Mint/Mint
RED SONJA (1977) (#1-15) (MARVEL) #3 Very Fine
RED SONJA (1977) (#1-15) (MARVEL) #4 Very Fine
RED SONJA (1977) (#1-15) (MARVEL) #5 Near Mint/Mint
RED SONJA (1977) (#1-15) (MARVEL) #6 Very Fine
RED SONJA (1977) (#1-15) (MARVEL) #7 Very Fine
RED SONJA (1977) (#1-15) (MARVEL) #8 Near Mint/Mint
RED SONJA (1977) (#1-15) (MARVEL) #10 Very Fine
RED SONJA (1977) (#1-15) (MARVEL) #12 Very Fine
RED SONJA (1977) (#1-15) (MARVEL) #13 Near Mint/Mint
RED SONJA (1977) (#1-15) (MARVEL) #14 Near Mint/Mint
RED SONJA (1977) (#1-15) (MARVEL) #15 Near Mint/Mint

SHE-HULK (1980) (#1-25) (SAVAGE SHE-HULK) (MARVEL) #3 NEWSSTAND Near Mint/Mint

SKULL THE SLAYER (1975) #1 Very Fine
SKULL THE SLAYER (1975) #2 Near Mint/Mint
SKULL THE SLAYER (1975) #3 Near Mint/Mint
SKULL THE SLAYER (1975) #4 Near Mint/Mint
SKULL THE SLAYER (1975) #5 Near Mint/Mint
SKULL THE SLAYER (1975) #8 Near Mint/Mint

SON OF SATAN (1975) #1 Very Fine
SON OF SATAN (1975) #2 Near Mint/Mint
SON OF SATAN (1975) #3 Very Fine
SON OF SATAN (1975) #4 Very Fine

SPIDER-MAN (1963) (AMAZING SPIDER-MAN) (#1-441) #136 Fine
SPIDER-MAN (1963) (AMAZING SPIDER-MAN) (#1-441) #137 Near Mint/Mint
SPIDER-MAN (1963) (AMAZING SPIDER-MAN) (#1-441) #138 Fine
SPIDER-MAN (1963) (AMAZING SPIDER-MAN) (#1-441) #142 Very Fine
SPIDER-MAN (1963) (AMAZING SPIDER-MAN) (#1-441) #144 Very Fine
SPIDER-MAN (1963) (AMAZING SPIDER-MAN) (#1-441) #145 Near Mint/Mint
SPIDER-MAN (1963) (AMAZING SPIDER-MAN) (#1-441) #146 Fine
SPIDER-MAN (1963) (AMAZING SPIDER-MAN) (#1-441) #147 Near Mint/Mint
SPIDER-MAN (1963) (AMAZING SPIDER-MAN) (#1-441) #150 Very Fine
SPIDER-MAN (1963) (AMAZING SPIDER-MAN) (#1-441) #151 Near Mint/Mint
SPIDER-MAN (1963) (AMAZING SPIDER-MAN) (#1-441) #152 Near Mint/Mint
SPIDER-MAN (1963) (AMAZING SPIDER-MAN) (#1-441) #153 Very Fine


SPIDER-MAN (1963) (AMAZING SPIDER-MAN) (#1-441) #154

SPIDER-MAN (1963) (AMAZING SPIDER-MAN) (#1-441) #154 Near Mint/Mint
SPIDER-MAN (1963) (AMAZING SPIDER-MAN) (#1-441) #155 Very Fine
SPIDER-MAN (1963) (AMAZING SPIDER-MAN) (#1-441) #156 Very Good
SPIDER-MAN (1963) (AMAZING SPIDER-MAN) (#1-441) #157 Near Mint/Mint
SPIDER-MAN (1963) (AMAZING SPIDER-MAN) (#1-441) #158 Very Fine
SPIDER-MAN (1963) (AMAZING SPIDER-MAN) (#1-441) #159 Near Mint/Mint
SPIDER-MAN (1963) (AMAZING SPIDER-MAN) (#1-441) #160 Fine
SPIDER-MAN (1963) (AMAZING SPIDER-MAN) (#1-441) #161 Very Fine
SPIDER-MAN (1963) (AMAZING SPIDER-MAN) (#1-441) #162 Fine
SPIDER-MAN (1963) (AMAZING SPIDER-MAN) (#1-441) #163 Near Mint/Mint
SPIDER-MAN (1963) (AMAZING SPIDER-MAN) (#1-441) #164 Very Fine
SPIDER-MAN (1963) (AMAZING SPIDER-MAN) (#1-441) #165 Very Fine
SPIDER-MAN (1963) (AMAZING SPIDER-MAN) (#1-441) #167 Near Mint/Mint
SPIDER-MAN (1963) (AMAZING SPIDER-MAN) (#1-441) #168 Near Mint/Mint
SPIDER-MAN (1963) (AMAZING SPIDER-MAN) (#1-441) #169 Near Mint/Mint
SPIDER-MAN (1963) (AMAZING SPIDER-MAN) (#1-441) #170 Near Mint/Mint
SPIDER-MAN (1963) (AMAZING SPIDER-MAN) (#1-441) #171 Very Fine
SPIDER-MAN (1963) (AMAZING SPIDER-MAN) (#1-441) #173 Very Fine
SPIDER-MAN (1963) (AMAZING SPIDER-MAN) (#1-441) #174 Near Mint/Mint
SPIDER-MAN (1963) (AMAZING SPIDER-MAN) (#1-441) #175 Very Fine
SPIDER-MAN (1963) (AMAZING SPIDER-MAN) (#1-441) #176 Near Mint/Mint
SPIDER-MAN (1963) (AMAZING SPIDER-MAN) (#1-441) #177 Very Fine
SPIDER-MAN (1963) (AMAZING SPIDER-MAN) (#1-441) #178 Very Fine
SPIDER-MAN (1963) (AMAZING SPIDER-MAN) (#1-441) #179 Near Mint/Mint
SPIDER-MAN (1963) (AMAZING SPIDER-MAN) (#1-441) #180 Near Mint/Mint
SPIDER-MAN (1963) (AMAZING SPIDER-MAN) (#1-441) #181 Very Fine
SPIDER-MAN (1963) (AMAZING SPIDER-MAN) (#1-441) #183 Near Mint/Mint
SPIDER-MAN (1963) (AMAZING SPIDER-MAN) (#1-441) #185 Near Mint/Mint
SPIDER-MAN (1963) (AMAZING SPIDER-MAN) (#1-441) #186 Very Fine
SPIDER-MAN (1963) (AMAZING SPIDER-MAN) (#1-441) #187 Very Fine
SPIDER-MAN (1963) (AMAZING SPIDER-MAN) (#1-441) #188 Near Mint/Mint
SPIDER-MAN (1963) (AMAZING SPIDER-MAN) (#1-441) #189 Near Mint/Mint
SPIDER-MAN (1963) (AMAZING SPIDER-MAN) (#1-441) #190 Near Mint/Mint
SPIDER-MAN (1963) (AMAZING SPIDER-MAN) (#1-441) #191 Near Mint/Mint
SPIDER-MAN (1963) (AMAZING SPIDER-MAN) (#1-441) #192 Near Mint/Mint
SPIDER-MAN (1963) (AMAZING SPIDER-MAN) (#1-441) #193 NEWSSTAND Near Mint/Mint
SPIDER-MAN (1963) (AMAZING SPIDER-MAN) (#1-441) #199 NEWSSTAND Very Fine
SPIDER-MAN (1963) (AMAZING SPIDER-MAN) (#1-441) #200 NEWSSTAND Very Fine
SPIDER-MAN (1963) (AMAZING SPIDER-MAN) (#1-441) #201 Very Fine
SPIDER-MAN (1963) (AMAZING SPIDER-MAN) (#1-441) #203 NEWSSTAND Very Good
SPIDER-MAN (1963) (AMAZING SPIDER-MAN) (#1-441) #205 NEWSSTAND Very Good


SPIDER-MAN (1963) (AMAZING SPIDER-MAN) (#1-441) #207 NEWSSTAND

SPIDER-MAN (1963) (AMAZING SPIDER-MAN) (#1-441) #207 NEWSSTAND Fine

SPIDER-MAN ANNUAL (1964) (#1-28) (MARVEL) #10 Near Mint/Mint
SPIDER-MAN ANNUAL (1964) (#1-28) (MARVEL) #11 Very Fine

SPIDER-MAN GIANT-SIZE (1974) #1 Good
SPIDER-MAN GIANT-SIZE (1974) #2 Very Good
SPIDER-MAN GIANT-SIZE (1974) #3 Very Good
SPIDER-MAN GIANT-SIZE (1974) #4 Very Good
SPIDER-MAN GIANT-SIZE (1974) #5 Very Fine
SPIDER-MAN GIANT-SIZE (1974) #6 Very Fine

SPIDER-WOMAN (1978) (#1-50) (JESSICA DREW) (MARVEL) #1 Very Fine
SPIDER-WOMAN (1978) (#1-50) (JESSICA DREW) (MARVEL) #2 Near Mint/Mint
SPIDER-WOMAN (1978) (#1-50) (JESSICA DREW) (MARVEL) #3 Very Fine
SPIDER-WOMAN (1978) (#1-50) (JESSICA DREW) (MARVEL) #4 Near Mint/Mint
SPIDER-WOMAN (1978) (#1-50) (JESSICA DREW) (MARVEL) #5 Very Fine
SPIDER-WOMAN (1978) (#1-50) (JESSICA DREW) (MARVEL) #6 Near Mint/Mint
SPIDER-WOMAN (1978) (#1-50) (JESSICA DREW) (MARVEL) #7 Near Mint/Mint
SPIDER-WOMAN (1978) (#1-50) (JESSICA DREW) (MARVEL) #8 Very Fine
SPIDER-WOMAN (1978) (#1-50) (JESSICA DREW) (MARVEL) #10 Near Mint/Mint
SPIDER-WOMAN (1978) (#1-50) (JESSICA DREW) (MARVEL) #11 Near Mint/Mint
SPIDER-WOMAN (1978) (#1-50) (JESSICA DREW) (MARVEL) #11 Very Fine
SPIDER-WOMAN (1978) (#1-50) (JESSICA DREW) (MARVEL) #12 Near Mint/Mint
SPIDER-WOMAN (1978) (#1-50) (JESSICA DREW) (MARVEL) #13 Near Mint/Mint
SPIDER-WOMAN (1978) (#1-50) (JESSICA DREW) (MARVEL) #14 Near Mint/Mint
SPIDER-WOMAN (1978) (#1-50) (JESSICA DREW) (MARVEL) #16 Near Mint/Mint
SPIDER-WOMAN (1978) (#1-50) (JESSICA DREW) (MARVEL) #18 Near Mint/Mint
SPIDER-WOMAN (1978) (#1-50) (JESSICA DREW) (MARVEL) #26 Very Fine

STAR WARS (1977) (#1-107) (MARVEL) #10 Very Fine
STAR WARS (1977) (#1-107) (MARVEL) #13 Near Mint/Mint

STRANGE TALES (1951) (#1-85 ATLAS, #86-188 MARVEL) #178 Fine
STRANGE TALES (1951) (#1-85 ATLAS, #86-188 MARVEL) #179 Very Fine
STRANGE TALES (1951) (#1-85 ATLAS, #86-188 MARVEL) #180 Very Fine
STRANGE TALES (1951) (#1-85 ATLAS, #86-188 MARVEL) #181 Fine

SUPER-HEROES GIANT-SIZE (1974) #1 Fine


SUPER-VILLAIN TEAM-UP (1975) #1

SUPER-VILLAIN TEAM-UP (1975) #1 Very Fine
SUPER-VILLAIN TEAM-UP (1975) #2 Very Fine
SUPER-VILLAIN TEAM-UP (1975) #3 Very Fine
SUPER-VILLAIN TEAM-UP (1975) #4 Fine
SUPER-VILLAIN TEAM-UP (1975) #5 Very Fine
SUPER-VILLAIN TEAM-UP (1975) #6 Near Mint/Mint

SUPER-VILLAIN TEAM-UP GIANT SIZE (1975) #1 Very Fine
SUPER-VILLAIN TEAM-UP GIANT SIZE (1975) #2 Very Fine

THOR ANNUAL (1965) #6 Very Fine

THOR GIANT-SIZE (1975) #1 Very Fine

TOMB OF DRACULA (1972) (#1-70) (MARVEL) #44 Very Fine
TOMB OF DRACULA (1972) (#1-70) (MARVEL) #50 Very Fine

WARLOCK (1972) (#1-15) (MARVEL) #1 Fine
WARLOCK (1972) (#1-15) (MARVEL) #2 Good
WARLOCK (1972) (#1-15) (MARVEL) #3 Fine
WARLOCK (1972) (#1-15) (MARVEL) #4 Very Fine
WARLOCK (1972) (#1-15) (MARVEL) #5 Very Good
WARLOCK (1972) (#1-15) (MARVEL) #6 Fine
WARLOCK (1972) (#1-15) (MARVEL) #7 Very Good
WARLOCK (1972) (#1-15) (MARVEL) #8 Fine
WARLOCK (1972) (#1-15) (MARVEL) #9 Very Fine
WARLOCK (1972) (#1-15) (MARVEL) #10 Very Fine
WARLOCK (1972) (#1-15) (MARVEL) #11 Very Fine
WARLOCK (1972) (#1-15) (MARVEL) #12 Near Mint/Mint
WARLOCK (1972) (#1-15) (MARVEL) #13 Near Mint/Mint
WARLOCK (1972) (#1-15) (MARVEL) #14 Near Mint/Mint
WARLOCK (1972) (#1-15) (MARVEL) #15 Very Fine

WHAT IF... (1977) (#1-47) (MARVEL) #1 Fine
WHAT IF... (1977) (#1-47) (MARVEL) #2 Near Mint/Mint
WHAT IF... (1977) (#1-47) (MARVEL) #3 Very Fine
WHAT IF... (1977) (#1-47) (MARVEL) #4 Near Mint/Mint
WHAT IF... (1977) (#1-47) (MARVEL) #6 Near Mint/Mint


WHAT IF... (1977) (#1-47) (MARVEL) #7

WHAT IF... (1977) (#1-47) (MARVEL) #7 Near Mint/Mint
WHAT IF... (1977) (#1-47) (MARVEL) #8 Near Mint/Mint
WHAT IF... (1977) (#1-47) (MARVEL) #9 Near Mint/Mint
WHAT IF... (1977) (#1-47) (MARVEL) #10 Very Fine
WHAT IF... (1977) (#1-47) (MARVEL) #12 Near Mint/Mint

DC
ADVENTURE COMICS (1938) (#32-503) (DC) #440 Fine

BATMAN (1940) (#0-713) (DC) #259 Very Good

BEOWULF (1975) (#1-6) (DRAGON SLAYER) (DC) #1 Near Mint/Mint
BEOWULF (1975) (#1-6) (DRAGON SLAYER) (DC) #2 Near Mint/Mint

BLACKHAWK (1957) (#108-273) (DC) #244 Near Mint/Mint

BLITZKRIEG (1976) #1 Very Fine
BLITZKRIEG (1976) #2 Near Mint/Mint
BLITZKRIEG (1976) #3 Fine
BLITZKRIEG (1976) #5 Very Fine

BRAVE AND THE BOLD (1955) #124 Near Mint/Mint

CHALLENGERS OF THE UNKNOWN (1958) (#1-87) (DC) #87 Very Fine

CLAW (1975) #1 Very Fine
CLAW (1975) #2 Near Mint/Mint
CLAW (1975) #3 Near Mint/Mint
CLAW (1975) #4 Near Mint/Mint

DC SPECIAL (1968) #20 Fine
DC SPECIAL (1968) #23 Very Good

DC SUPER-STARS (1976) #18 Near Mint/Mint

FIRST ISSUE SPECIAL (1975) #3 Very Fine
FIRST ISSUE SPECIAL (1975) #8 Fine

GHOST CASTLE (1975) #1 Very Fine

HERCULES UNBOUND (1975) #3 Very Fine

HOUSE OF MYSTERY (1951) #247 Very Fine

JOKER (1975) #1 Very Fine

KUNG-FU FIGHTER #1 Very Fine

MAN-BAT (1975) (#1-2) #2 Very Fine

METAL MEN (1963) #27 Good
METAL MEN (1963) #28 Very Good
METAL MEN (1963) #31 Very Good
METAL MEN (1963) #33 Very Good
METAL MEN (1963) #34 Very Good

SECRET SOCIETY OF SUPER-VILLAINS (1976) #1 Very Fine

SECRETS OF HAUNTED HOUSE (1975) #1 Fine
SECRETS OF HAUNTED HOUSE (1975) #2 Very Fine

SHADOW (1973) (#1-12) (DC) #1 Very Good
SHADOW (1973) (#1-12) (DC) #2 Fine
SHADOW (1973) (#1-12) (DC) #6 Very Good
SHADOW (1973) (#1-12) (DC) #7 Fine
SHADOW (1973) (#1-12) (DC) #8 Very Fine
SHADOW (1973) (#1-12) (DC) #9 Fine
SHADOW (1973) (#1-12) (DC) #10 Very Fine
SHADOW (1973) (#1-12) (DC) #11 Very Fine
SHADOW (1973) (#1-12) (DC) #12 Fine

SHERLOCK HOLMES ( 1975) #1 Fine

STALKER (1975) #1 Very Fine
STALKER (1975) #2 Near Mint/Mint
STALKER (1975) #3 Near Mint/Mint

STALKER (1975) #4 Near Mint/Mint

STAR HUNTERS (1977) #3 Near Mint/Mint

SUPER-TEAM FAMILY (1975) #2 Very Fine

SUPERMAN (1939) (#1-423) (DC) #300 Near Mint/Mint

WARLORD (1976) #1 Very Fine
WARLORD (1976) #2 Near Mint/Mint
WARLORD (1976) #3 Very Fine
WARLORD (1976) #4 Near Mint/Mint
WARLORD (1976) #6 Near Mint/Mint
WARLORD (1976) #8 Very Fine
WARLORD (1976) #10 Very Fine
WARLORD (1976) #14 Near Mint/Mint
WARLORD (1976) #16 Near Mint/Mint
WARLORD (1976) #17 Near Mint/Mint
WARLORD (1976) #32 NEWSSTAND Near Mint/Mint
WARLORD (1976) #42 NEWSSTAND Near Mint/Mint
WARLORD (1976) #55 NEWSSTAND Near Mint/Mint

INDEPENDENTS
BARBARIANS (ATLAS SEABOARD) (1975) #1 (Atlas/Seaboard) Very Fine

BLAZING BATTLE TALES (1975) #1 (Atlas/Seaboard) Very Fine

BRUTE (1975) #1 (Atlas/Seaboard) Fine
BRUTE (1975) #2 (Atlas/Seaboard) Near Mint/Mint
BRUTE (1975) #3 (Atlas/Seaboard) Near Mint/Mint

COUGAR (1975) #1 (Atlas/Seaboard) Fine
COUGAR (1975) #2 (Atlas/Seaboard) Fine

DEMON HUNTER (ATLAS) #1 (Atlas/Seaboard) Very Fine

DESTRUCTOR (1975) #1 (Atlas/Seaboard) Fine
DESTRUCTOR (1975) #3 (Atlas/Seaboard) Very Fine

DESTRUCTOR (1975) #4 (Atlas/Seaboard) Very Fine

FRIGHT (1975) #1 (Atlas/Seaboard) Very Fine

GRIM GHOST (1975) #1 (Atlas/Seaboard) Fine
GRIM GHOST (1975) #2 (Atlas/Seaboard) Fine
GRIM GHOST (1975) #3 (Atlas/Seaboard) Fine

IRON JAW (1975) #1 (Atlas/Seaboard) Very Fine
IRON JAW (1975) #2 (Atlas/Seaboard) Fine
IRON JAW (1975) #3 (Atlas/Seaboard) Fine
IRON JAW (1975) #4 (Atlas/Seaboard) Very Good

SAVAGE COMBAT TALES (1975) #1 (Atlas/Seaboard) Near Mint/Mint
SAVAGE COMBAT TALES (1975) #2 (Atlas/Seaboard) Very Fine
SAVAGE COMBAT TALES (1975) #3 (Atlas/Seaboard) Very Good

SCORPION (1975) #1 (Atlas/Seaboard) Very Fine
SCORPION (1975) #2 (Atlas/Seaboard) Fine
SCORPION (1975) #3 (Atlas/Seaboard) Very Fine

TALES OF EVIL (1975) #1 (Atlas/Seaboard) Fine
TALES OF EVIL (1975) #3 (Atlas/Seaboard) Near Mint/Mint

TUROK, SON OF STONE (1962) (#30-125) (GOLD KEY) #95 (Gold Key) Very Good
TUROK, SON OF STONE (1962) (#30-125) (GOLD KEY) #96 (Gold Key) Fine

WEIRD SUSPENSE (1975) #1 (Atlas/Seaboard) Fine
WEIRD SUSPENSE (1975) #2 (Atlas/Seaboard) Very Fine
WEIRD SUSPENSE (1975) #3 (Atlas/Seaboard) Near Mint/Mint

WESTERN ACTION (1975) #1 (Atlas/Seaboard) Very Fine

WULF (1975) (#1-4) (ATLAS COMICS) (THE BARBARIAN) #1 (Atlas/Seaboard) Very Fine
WULF (1975) (#1-4) (ATLAS COMICS) (THE BARBARIAN) #2 (Atlas/Seaboard) Near Mint/Mint
WULF (1975) (#1-4) (ATLAS COMICS) (THE BARBARIAN) #3 (Atlas/Seaboard) Very Fine


WULF (1975) (#1-4) (ATLAS COMICS) (THE BARBARIAN) #4

WULF (1975) (#1-4) (ATLAS COMICS) (THE BARBARIAN) #4 (Atlas/Seaboard) Fine