Local News - New Collections Coming in Every Day!
Hi,
this is William with Mile High Comics. Chuck asked me to write a local email letting everyone know about all the cool and incredible stuff we have been getting into our Jason Street Mega Store.
Just to let everyone know, I have worked for Chuck and Mile High Comics for over 25 years and have never seen a store front that brings in more collections of comics and other awesome collectibles than this one. There is not a day that goes by that we don't get at least 3 collections walking through the door. (Most days it is like 5-10) Every week we get in comics, trade paperbacks, hardcover, statues, action figure, life size props, and everything you can imagine. It is just incredible!
If you haven't visited our Jason Street Mega Store lately come on by and take a look at what we added to our inventory. It changes every day. There is always something new to take a look at.
Here are just a few more pictures of some of the stuff that just came in. And I will include a list of comics at the end of this newsletter of just some of the comics that just came in.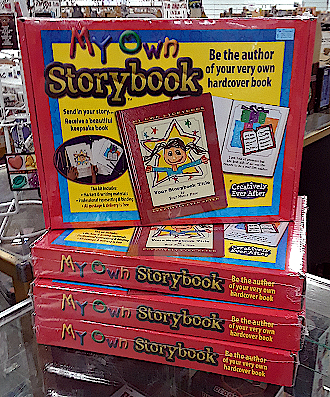 My Own Storybook set (This is a very cool item for kids!)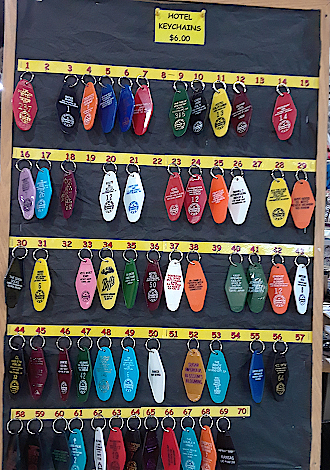 Just got restocked on Hotel Keychains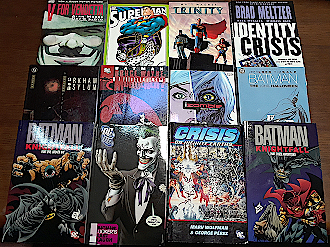 Some of DC Trades that just came in.

I will close with a quick reminder that our annual 60% off HALLOWEEN! Codeword sale is in effect for you on all ten million of our back issue comics and magazines listed for sale on our website. This back issue comics and magazines sale is so huge that it only excludes new issues, a few variants, and our professionally-graded comics. Please do enjoy this great annual comics sale with our sincere thanks for all your kindness, and for your supporting Mile High Comics.
Have a Great Weekend!
William Moulton,
Operations Manager - Mile High Comics, Inc.
October 19, 2018

P.S. Here is just a few comics added today:
MARVEL

00265627736%201">2001 (1976) #1

2001 (1976) #1 Good
2001 (1976) #6 Very Fine

AVENGERS (1963) (#1-402) (MARVEL) #92 Fair
AVENGERS (1963) (#1-402) (MARVEL) #93 BRITISH Good
AVENGERS (1963) (#1-402) (MARVEL) #95 Good
AVENGERS (1963) (#1-402) (MARVEL) #96 Good

AVENGERS GIANT-SIZE (GIANT SIZE) (1974) #2 Fair

BATTLESTAR GALACTICA (1979) #23 Very Fine

DEADPOOL (1994) (#1-4) (MARVEL) #1 Good

DOCTOR STRANGE (1974) (#1-81) (MARVEL) (DR. STRANGE) #1 Very Good
DOCTOR STRANGE (1974) (#1-81) (MARVEL) (DR. STRANGE) #2 Good
DOCTOR STRANGE (1974) (#1-81) (MARVEL) (DR. STRANGE) #4 Very Good
DOCTOR STRANGE (1974) (#1-81) (MARVEL) (DR. STRANGE) #7 Very Good
DOCTOR STRANGE (1974) (#1-81) (MARVEL) (DR. STRANGE) #9 Very Good

DOCTOR STRANGE: BEARDS THROUGH THE YEARS(MARVEL CUSTOM) (2015) #1 Fine

FANTASTIC FOUR (1961) (#1-416) (MARVEL) #47 Fair
FANTASTIC FOUR (1961) (#1-416) (MARVEL) #272 NEWSSTAND Very Fine

GIANT-SIZE SPIDER-WOMAN (2005) #1 Very Fine

GLA (2005) (#1-4) (GREAT LAKES AVENGERS) #4 Near Mint/Mint

GUARDIANS OF THE GALAXY (2008) (#1-25) (MARVEL) #4 Fine
GUARDIANS OF THE GALAXY (2008) (#1-25) (MARVEL) #5 Very Good

HOUSE OF M (2005) (#1-8) #4 2ND VAR. Very Fine
HOUSE OF M (2005) (#1-8) #5 Good
HOUSE OF M (2005) (#1-8) #7 Fine

HULK (1962) (#1-6, #102-474, #600-635)(INCREDIBLE)(MV) #324 NEWSSTAND Fine
HULK (1962) (#1-6, #102-474, #600-635)(INCREDIBLE)(MV) #418 SPECIAL Near Mint/Mint


IMMORTAL IRON FIST: ORIGIN OF DANNY RAND (2008) #1

IMMORTAL IRON FIST: ORIGIN OF DANNY RAND (2008) #1 Very Fine

INFINITY GAUNTLET (1991) #1 Fine
INFINITY GAUNTLET (1991) #2 Near Mint/Mint
INFINITY GAUNTLET (1991) #2 Very Good
INFINITY GAUNTLET (1991) #3 Fine
INFINITY GAUNTLET (1991) #3 Near Mint/Mint
INFINITY GAUNTLET (1991) #4 Very Fine
INFINITY GAUNTLET (1991) #5 Fine
INFINITY GAUNTLET (1991) #5 Very Fine
INFINITY GAUNTLET (1991) #6 Very Good

IRON MAN (2005) (#1-35) (MARVEL) #2 Very Fine
IRON MAN (2005) (#1-35) (MARVEL) #4 Near Mint/Mint

IRON MAN: COMING OF THE MELTER (REPRINTS IRON MAN #72) (2013) #1 VARIANT Near Mint/Mint

KICK ASS (2008) #4 Near Mint/Mint

LOGAN'S RUN (1977) (#1-7) (MARVEL) #6 CGC 9.2 Near Mint/Mint

MARVEL FUMETTI BOOK (1984) #1 Very Fine

MARVEL PREMIERE (1972) #8 Good
MARVEL PREMIERE (1972) #19 Good
MARVEL PREMIERE (1972) #20 Good

MARVEL TEAM-UP (2004) (#1-25) (MARVEL) #14 Very Fine

MIGHTY AVENGERS (2007) (#1-36) #7 Very Fine
MIGHTY AVENGERS (2007) (#1-36) #8 Near Mint/Mint

MOON KNIGHT (1980) (#1-38) (MARVEL) #27 Very Good
MOON KNIGHT (1980) (#1-38) (MARVEL) #35 NEWSSTAND Very Fine
MOON KNIGHT (1980) (#1-38) (MARVEL) #35 Very Fine

MS. MARVEL (2006) (#1-50) (MARVEL) (CAROL DANVERS) #13 Near Mint/Mint
MS. MARVEL (2006) (#1-50) (MARVEL) (CAROL DANVERS) #14 Near Mint/Mint
MS. MARVEL (2006) (#1-50) (MARVEL) (CAROL DANVERS) #25 Near Mint/Mint

NAMOR THE SUB-MARINER (1990) #2 Near Mint/Mint
NAMOR THE SUB-MARINER (1990) #3 Near Mint/Mint


NEW AVENGERS (2004) (#1-64) (MARVEL) #1 VARIANT

NEW AVENGERS (2004) (#1-64) (MARVEL) #1 VARIANT Near Mint/Mint
NEW AVENGERS (2004) (#1-64) (MARVEL) #11 Near Mint/Mint

NEW MUTANTS (1983) (#1-100) (MARVEL) #87 CGC 8.5 Very Fine

NEW X-MEN: ACADEMY X (2004) #20 VARIANT Near Mint/Mint
NEW X-MEN: ACADEMY X (2004) #28 Near Mint/Mint
NEW X-MEN: ACADEMY X (2004) #29 Near Mint/Mint
NEW X-MEN: ACADEMY X (2004) #30 Near Mint/Mint
NEW X-MEN: ACADEMY X (2004) #31 Near Mint/Mint
NEW X-MEN: ACADEMY X (2004) #32 Near Mint/Mint
NEW X-MEN: ACADEMY X (2004) #33 Near Mint/Mint
NEW X-MEN: ACADEMY X (2004) #34 Near Mint/Mint
NEW X-MEN: ACADEMY X (2004) #36 Near Mint/Mint
NEW X-MEN: ACADEMY X (2004) #39 Near Mint/Mint
NEW X-MEN: ACADEMY X (2004) #40 Near Mint/Mint
NEW X-MEN: ACADEMY X (2004) #41 Near Mint/Mint

NIGHTCRAWLER (2004) (#1-12) #10 Near Mint/Mint

NYX (2003) #7 Near Mint/Mint

PETER PARKER: SPIDER-MAN (1999) (#1-57, & 156.1) #9 NEWSSTAND Near Mint/Mint

ROGUE (2004) (#1-12) (MARVEL) #6 Very Fine
ROGUE (2004) (#1-12) (MARVEL) #10 Very Fine

SECRET INVASION: INHUMANS (2008) #2 Very Fine

SECRET WAR (2004) #4 Near Mint/Mint

SHANNA THE SHE-DEVIL (2005) (#1-7) (MARVEL KNIGHTS) #7 Very Fine

SHE-HULK (2005) (#1-38) (MARVEL) #1 Near Mint/Mint

SILVER SURFER (1987) (#1-146) (MARVEL) #14 Fine
SILVER SURFER (1987) (#1-146) (MARVEL) #20 NEWSSTAND Fine

SPIDER-MAN FAMILY (2005) #1 Very Fine

STAR WARS (1977) (#1-107) (MARVEL) #2 Very Good

TALES OF THE THING (2005) (#1-3) (MARVEL) #3 Near Mint/Mint

TOXIN (2005) #5 Fine
TOXIN (2005) #6 Near Mint/Mint

ULTIMATE SPIDER-MAN ULTIMATE COLLECTION TPB (2007) #2 Near Mint/Mint

ULTIMATE X-MEN: ULTIMATE COLLECTION TPB (SPANISH) (2008) #1 Near Mint/Mint

ULTIMATES 3 (2007) #1 VILLAINS Near Mint/Mint

WEB OF SPIDER-MAN (1985) (#1-129) (MARVEL) #1 Fine
WEB OF SPIDER-MAN (1985) (#1-129) (MARVEL) #119 Very Fine

WOLVERINE (1982) (#1-4) (MARVEL LIMITED SERIES) #2 NEWSSTAND Good
WOLVERINE (1982) (#1-4) (MARVEL LIMITED SERIES) #3 Good
WOLVERINE (1982) (#1-4) (MARVEL LIMITED SERIES) #4 Fine

X-FORCE (1991) (#1-129) (MARVEL) #2 Near Mint/Mint

X-FORCE (2008) (#1-28) (MARVEL) #9 Very Fine

X-MEN (1963) (#1-113, UNCANNY X-MEN #114-544) (MARVEL) #362 Near Mint/Mint
X-MEN (1963) (#1-113, UNCANNY X-MEN #114-544) (MARVEL) #363 Near Mint/Mint
X-MEN (1963) (#1-113, UNCANNY X-MEN #114-544) (MARVEL) #364 Near Mint/Mint
X-MEN (1963) (#1-113, UNCANNY X-MEN #114-544) (MARVEL) #488 Near Mint/Mint
X-MEN (1963) (#1-113, UNCANNY X-MEN #114-544) (MARVEL) #489 Very Fine
X-MEN (1963) (#1-113, UNCANNY X-MEN #114-544) (MARVEL) #491 Very Fine
X-MEN (1963) (#1-113, UNCANNY X-MEN #114-544) (MARVEL) #504 Near Mint/Mint

X-MEN (1991) (#1-275) (MARVEL) #82 Near Mint/Mint
X-MEN (1991) (#1-275) (MARVEL) #83 Near Mint/Mint
X-MEN (1991) (#1-275) (MARVEL) #84 Near Mint/Mint
X-MEN (1991) (#1-275) (MARVEL) #200 Near Mint/Mint
X-MEN (1991) (#1-275) (MARVEL) #201 Near Mint/Mint
X-MEN (1991) (#1-275) (MARVEL) #202 Very Fine
X-MEN (1991) (#1-275) (MARVEL) #218 Fine

X-MEN: EMPEROR VULCAN (2007) #3 Fine

DC
BATMAN (1940) (#0-713) (DC) #21 Fair


BATMAN: BRAVE AND THE BOLD (2009) #18

BATMAN: BRAVE AND THE BOLD (2009) #18 Fine
BATMAN: BRAVE AND THE BOLD (2009) #19 Fine
BATMAN: BRAVE AND THE BOLD (2009) #20 Fine

DETECTIVE COMICS (1937) (#0-881) (DC) #607 Near Mint/Mint

DOOMSDAY CLOCK (2017) #1 FRANK B&W Near Mint/Mint

GEN-ACTIVE (2000) #1 (DC/Wildstorm) Near Mint/Mint

GREEN LANTERN: REBIRTH (2004) #3 Near Mint/Mint

GREYSHIRT: INDIGO SUNSET (2001) #6 (DC/America's Best) Near Mint/Mint

HELLBLAZER (1988) (#1-300) (DC VERTIGO) #246 (DC: Vertigo Press) Near Mint/Mint
HELLBLAZER (1988) (#1-300) (DC VERTIGO) #247 (DC: Vertigo Press) Near Mint/Mint

IDENTITY CRISIS (2004) #7 Near Mint/Mint

JOKER: LAST LAUGH (2001) #5 Very Fine

JUST IMAGINE: SANDMAN (2002) #1 Very Fine

LEGENDS OF THE DARK KNIGHT (BATMAN) (1989) #181 Near Mint/Mint

LITTLE ENDLESS STORYBOOK (2001) #1 (DC: Vertigo Press) Very Fine

LOBO (1990) (#1-4) (DC) #1 Near Mint/Mint

MIDNIGHTER (2006) #15 NEWSSTAND (DC/Wildstorm) Very Fine

SANDMAN PRESENTS LUCIFER (1999) #2 (DC: Vertigo Press) Fine
SANDMAN PRESENTS LUCIFER (1999) #2 (DC: Vertigo Press) Near Mint/Mint

SCALPED (2006) #19 Near Mint/Mint
SCALPED (2006) #20 Very Good
SCALPED (2006) #21 Near Mint/Mint

SHADOW OF THE BATMAN (1985) #4 Near Mint/Mint

SPACE GHOST (DC) (2004) #2 Near Mint/Mint

SUPERMAN: MAN OF TOMORROW (1995) #13 Near Mint/Mint

TRANSMETROPOLITAN (1997) #3 (DC: Vertigo Press) Very Fine
TRANSMETROPOLITAN (1997) #4 (DC: Vertigo Press) Near Mint/Mint
TRANSMETROPOLITAN (1997) #5 (DC: Vertigo Press) Fine
TRANSMETROPOLITAN (1997) #6 (DC: Vertigo Press) Near Mint/Mint
TRANSMETROPOLITAN (1997) #7 (DC: Vertigo Press) Fine
TRANSMETROPOLITAN (1997) #8 (DC: Vertigo Press) Near Mint/Mint
TRANSMETROPOLITAN (1997) #9 (DC: Vertigo Press) Very Fine
TRANSMETROPOLITAN (1997) #10 (DC: Vertigo Press) Near Mint/Mint
TRANSMETROPOLITAN (1997) #20 (DC: Vertigo Press) Near Mint/Mint

WANTED (1972) #6 Near Mint/Mint

WONDER WOMAN (1987) (#0-226) (DC) #143 Near Mint/Mint

Y-THE LAST MAN (2002) #48 (DC: Vertigo Press) Near Mint/Mint

DARK HORSE COMICS
DARK HORSE PRESENTS (1986) #100 COVER #0 Near Mint/Mint

GHOST IN THE SHELL 2: MAN/MACHINE INTERFACE (2002) #2 Fine
GHOST IN THE SHELL 2: MAN/MACHINE INTERFACE (2002) #2 Near Mint/Mint
GHOST IN THE SHELL 2: MAN/MACHINE INTERFACE (2002) #5 Very Fine
GHOST IN THE SHELL 2: MAN/MACHINE INTERFACE (2002) #8 Very Fine

GOON (2003) (#1-44) (DARK HORSE) (ERIC POWELL) #11 Near Mint/Mint
GOON (2003) (#1-44) (DARK HORSE) (ERIC POWELL) #27 Near Mint/Mint

IMAGE COMICS
GEN-13 MAGICAL DRAMA QUEEN ROXY #1 DFEALTGOLD Near Mint/Mint

INVINCIBLE (2003) #18 Very Fine
INVINCIBLE (2003) #53 Very Fine

LABMAN SOURCEBOOK (1996) #1 SANDIEGOSN Very Fine

PAX ROMANA (2007) #3 Fine

SAVAGE DRAGON-THE SERIES (1993) (#1-UP) #128 Near Mint/Mint
SAVAGE DRAGON-THE SERIES (1993) (#1-UP) #139 Near Mint/Mint
SAVAGE DRAGON-THE SERIES (1993) (#1-UP) #140 Near Mint/Mint

SPAWN (1992) #77 Near Mint/Mint
SPAWN (1992) #80 Fine
SPAWN (1992) #120 Near Mint/Mint
SPAWN (1992) #135 Fine
SPAWN (1992) #141 Near Mint/Mint
SPAWN (1992) #142 Near Mint/Mint
SPAWN (1992) #181 Near Mint/Mint
SPAWN (1992) #183 Very Fine
SPAWN (1992) #186 Near Mint/Mint

STORMWATCH (1997) (#1-11) (IMAGE) #1 Near Mint/Mint

STRYKE FORCE #3 Near Mint/Mint

TOMB RAIDER (1999) (#0-50) (IMAGE TOP COW) #42 (Image Top Cow) Near Mint/Mint
TOMB RAIDER (1999) (#0-50) (IMAGE TOP COW) #43 (Image Top Cow) Near Mint/Mint
TOMB RAIDER (1999) (#0-50) (IMAGE TOP COW) #48 COVER A (Image Top Cow) Near Mint/Mint
TOMB RAIDER (1999) (#0-50) (IMAGE TOP COW) #49 (Image Top Cow) Near Mint/Mint
TOMB RAIDER (1999) (#0-50) (IMAGE TOP COW) #50 (Image Top Cow) Near Mint/Mint

WALKING DEAD (#1-UP) (IMAGE) (2003) #8 Near Mint/Mint
WALKING DEAD (#1-UP) (IMAGE) (2003) #15 Near Mint/Mint
WALKING DEAD (#1-UP) (IMAGE) (2003) #16 Near Mint/Mint

WITCHBLADE (1995) #76 (Image Top Cow) Very Fine
WITCHBLADE (1995) #82 (Image Top Cow) Near Mint/Mint
WITCHBLADE (1995) #85 (Image Top Cow) Near Mint/Mint
WITCHBLADE (1995) #101 (Image Top Cow) Near Mint/Mint

INDEPENDENTS
BLACK DIAMOND EFFECT (1991) #3 (BLACK DIAMOND EFFECT INC) Near Mint/Mint
BLACK DIAMOND EFFECT (1991) #5 (BLACK DIAMOND EFFECT INC) Very Fine

CAVEWOMAN: MARSHVILLE'S BEAUTIES (2018) #1 D ROOTNUDE (Amryl Entertainment) Near Mint/Mint

CROW/RAZOR: KILL THE PAIN #0 MINISTRY (London Night Studios) Fine
CROW/RAZOR: KILL THE PAIN #3 MINISTRY (London Night Studios) Fine
CROW/RAZOR: KILL THE PAIN #3 (London Night Studios) Very Fine
CROW/RAZOR: KILL THE PAIN #4 MINISTRY (London Night Studios) Very Fine
CROW/RAZOR: KILL THE PAIN FINALE (1999) #1 MINISTRY (London Night Studios) Fine

CROW/RAZOR: KILL THE PAIN FINALE (1999) #1 (London Night Studios) Very Fine

CROW/RAZOR: KILL THE PAIN LOST CHAPTER (1999) #1 ELITE ED. (London Night Studios) Very Fine


CROW/RAZOR: KILL THE PAIN LOST CHAPTER (1999) #1

CROW/RAZOR: KILL THE PAIN LOST CHAPTER (1999) #1 (London Night Studios) Very Fine

CROW/RAZOR: KILL THE PAIN TOUR BOOK #1 (London Night Studios) Fine
CROW/RAZOR: KILL THE PAIN TOUR BOOK #1 COVER B (London Night Studios) Very Fine

CRYSTAL BREEZE UNLEASHED #1 (High Impact) Very Fine

DARE (1992) (#1-4) (DAN DARE) (GRANT MORRISON) #4 (Monster Comics (Fantagraphics)) Fine

DARQUE RAZOR (1997) #1 1/2 (London Night Studios) Near Mint/Mint
DARQUE RAZOR (1997) #1 NUDE PHOTO (London Night Studios) Near Mint/Mint
DARQUE RAZOR (1997) #1 (London Night Studios) Very Fine

FEMFORCE SPECIAL: RAYDA CYBERIAN (1999) #1 VARIANT (Americomics) Very Fine

HACK SLASH COMIC BOOK CARNAGE (2005) #1 (Devil's Due) Near Mint/Mint

JACK STAFF (2000) (#1-12) (DANCING ELEPHANT) #9 (Dancing Elephant Press) Very Fine

LADY DEATH: CRUCIBLE (1996) #1 (Chaos Comics) Very Fine

LOVE AND ROCKETS VOL. 2 (2001) #5 (Fantagraphics) Near Mint/Mint

MEDIEVAL LADY DEATH (2005) #8 (Avatar Comics) Near Mint/Mint

MERIDIAN (2000) #1 (Crossgen Comics) Near Mint/Mint

METAL GEAR SOLID (2004) #4 (IDW Publishing) Near Mint/Mint

METAL HURLANT (2002) #4 (Humanoids Publishing) Very Fine
METAL HURLANT (2002) #14 (Humanoids Publishing) Near Mint/Mint

MONSTER HUNTERS (1975) #1 MODERN (Charlton) Very Fine

MY FRIEND DAHMER (2002) #1 (Derfcity Comics) Very Fine

NIGHT MARY (2005) #5 (IDW Publishing) Very Fine

NIGHTMARES AND FAIRY TALES (2002) #14 (Amaze Ink) Near Mint/Mint

PANDORA/RAZOR #1 NUDE WHITE (Avatar Comics) Fine

PANDORA/RAZOR #1 (Avatar Comics) Very Fine

PANZER 1946 (FAMILIES OF ALTERED WARS #131-135) (2004) #2 (Antarctic Press) Near Mint/Mint

RAZOR (1992) (#0-12) (RAZOR UNCUT #13-51) (LONDON) #37 (London Night Studios) Very Fine
RAZOR (1992) (#0-12) (RAZOR UNCUT #13-51) (LONDON) #49 (London Night Studios) Near Mint/Mint
RAZOR (1992) (#0-12) (RAZOR UNCUT #13-51) (LONDON) #50 DANIEL (London Night Studios) Fine
RAZOR (1992) (#0-12) (RAZOR UNCUT #13-51) (LONDON) #50 MONROE (London Night Studios) Very Fine
RAZOR (1992) (#0-12) (RAZOR UNCUT #13-51) (LONDON) #50 SANDOVAL (London Night Studios) Fine
RAZOR (1992) (#0-12) (RAZOR UNCUT #13-51) (LONDON) #51 NUDE (London Night Studios) Fine
RAZOR (1992) (#0-12) (RAZOR UNCUT #13-51) (LONDON) #51 (London Night Studios) Very Fine

RAZOR ARCHIVES #1 (London Night Studios) Near Mint/Mint
RAZOR ARCHIVES #2 (London Night Studios) Very Fine
RAZOR ARCHIVES #3 (London Night Studios) Very Fine
RAZOR ARCHIVES #4 (London Night Studios) Very Fine
RAZOR ARCHIVES #5 (London Night Studios) Near Mint/Mint

RAZOR GOTHIC #1 (London Night Studios) Near Mint/Mint
RAZOR GOTHIC #1 NUDE (London Night Studios) Very Fine
RAZOR GOTHIC #2 (London Night Studios) Near Mint/Mint
RAZOR GOTHIC #3 ELITE FAN (London Night Studios) Near Mint/Mint
RAZOR GOTHIC #3 (London Night Studios) Very Fine
RAZOR GOTHIC #4 (London Night Studios) Near Mint/Mint
RAZOR GOTHIC #4 ELITE FAN (London Night Studios) Very Fine

RAZOR THE RAVENING #1 NUDE (Avatar Comics) Very Good
RAZOR THE RAVENING #1 VARIANT (Avatar Comics) Very Fine

RAZOR VOL. 2 (1996) #1 (London Night Studios) Near Mint/Mint
RAZOR VOL. 2 (1996) #1 PHOTO (London Night Studios) Near Mint/Mint

RAZOR'S DEEP CUTS #1 NUDE (London Night Studios) Very Fine

RAZOR'S EDGE #0 NUDE PHOTO (London Night Studios) Very Fine
RAZOR'S EDGE #0 NUDE (London Night Studios) Very Fine
RAZOR'S EDGE #0 PHOTO NUDE (London Night Studios) Fine
RAZOR'S EDGE #1 ARIZONA (London Night Studios) Very Fine
RAZOR'S EDGE #1 DORIANNUDE (London Night Studios) Very Fine
RAZOR'S EDGE #1 NUDECHRISY (London Night Studios) Very Fine
RAZOR'S EDGE #2 NIGHTVIXEN (London Night Studios) Fine
RAZOR'S EDGE #2 NUDE (London Night Studios) Fine

RAZOR'S EDGE #3 DORIAN (London Night Studios) Fine
RAZOR'S EDGE #3 PHOTO NUDE (London Night Studios) Very Good
RAZOR'S EDGE #3 (London Night Studios) Very Fine
RAZOR'S EDGE #3 WHITE COV (London Night Studios) Fine

RAZOR/WARRIOR NUN/POIZON: LITTLE BAD ANGELS #1 POIZON (London Night Studios) Very Fine
RAZOR/WARRIOR NUN/POIZON: LITTLE BAD ANGELS #1 RAZOR (London Night Studios) Very Fine
RAZOR/WARRIOR NUN/POIZON: LITTLE BAD ANGELS #1 (London Night Studios) Very Fine

RAZOR: BURN (1995) #4 SIGNED (London Night Studios) Very Fine

RAZOR: CRY NO MORE #1 CAVALCADE (London Night Studios) Fine

RAZOR: DARKEST NIGHT #3 ELITE ED. (London Night Studios) Very Fine

RAZOR: TORTURE #0 LTD UNBAGD (London Night Studios) Near Mint/Mint
RAZOR: TORTURE #1 COMM. ED (London Night Studios) Very Fine

ROBOCOP (2003) (#1-9) (AVATAR) (FRANK MILLER) #6 MILLER (Avatar Comics) Near Mint/Mint

ROBOCOP: WILD CHILD (2005) #1 PHOTO (Avatar Comics) Near Mint/Mint

SCARY TALES (1975) #1 MODERN (Charlton) Near Mint/Mint

SHAOLIN COWBOY (2004) #1 (Burlyman Entertainment) Near Mint/Mint
SHAOLIN COWBOY (2004) #2 (Burlyman Entertainment) Near Mint/Mint

STRANGERS IN PARADISE (1998) (#9-90) (ABSTRACT) #70 (Abstract Studio) Near Mint/Mint

STREISAND: THROUGH THE LENS TPB (BARBRA STREISAND) (1982) #1 (Putnam Publishing Group) Near Mint/Mint

TALES OF TEENAGE MUTANT NINJA TURTLES (#1-70) (MIRAGE) (2004) #7 (Mirage Studios) Near Mint/Mint
TALES OF TEENAGE MUTANT NINJA TURTLES (#1-70) (MIRAGE) (2004) #8 (Mirage Studios) Near Mint/Mint
TALES OF TEENAGE MUTANT NINJA TURTLES (#1-70) (MIRAGE) (2004) #9 (Mirage Studios) Fine

TAROT: WITCH OF THE BLACK ROSE (2000) #30 VARIANT (Broadsword Comics) Near Mint/Mint
TAROT: WITCH OF THE BLACK ROSE (2000) #53 VARIANT (Broadsword Comics) Near Mint/Mint

TEENAGE MUTANT NINJA TURTLES (2001) (#1-28) (MIRAGE) #19 (Mirage Studios) Very Fine

TIGERS OF TERRA TECHNICAL MANUAL #1 (Antarctic Press) Very Fine

TIGERS OF TERRA: FAMILIES OF ALTERED WARS (1986) #10 (Antarctic Press) Very Good


TIGERS OF THE LUFTWAFFE (2001) #9

TIGERS OF THE LUFTWAFFE (2001) #9 (Antarctic Press) Very Fine

UNHOLY (2004) (#1-4) (AVATAR) (BRIAN PULIDO'S) #1 WRAPAROUND (Avatar Comics) Near Mint/Mint
UNHOLY (2004) (#1-4) (AVATAR) (BRIAN PULIDO'S) #2 (Avatar Comics) Near Mint/Mint
UNHOLY (2004) (#1-4) (AVATAR) (BRIAN PULIDO'S) #2 ADRIAN (Avatar Comics) Near Mint/Mint
UNHOLY (2004) (#1-4) (AVATAR) (BRIAN PULIDO'S) #2 WRAPAROUND (Avatar Comics) Near Mint/Mint

VAMPI VICIOUS CIRCLE (2004) #1 (Anarchy Press) Near Mint/Mint

VAMPI VS. XIN (2004) #2 (Harris Comics) Near Mint/Mint

WARRIOR NUN AREALA/RAZOR: DARK PROPHECY #1 (London Night Studios) Very Fine

WASTELAND (ONI PRESS) (2006) #3 (Oni Press Inc.) Near Mint/Mint