All Comics Prices Slashed 50%-70% Off
Howdy!
I want to alert you today to a major change in our pricing of comics on our website. Effective immediately we have no codeword in effect, with all of our prices of comics and books on our website having been adjusted across-the-board to much lower levels. I cannot provide you with the exact differentials, as the algorithm we employed to make these adjustments slashed our base prices by 50%-70% off, depending entirely on our quantities on hand of any given issue. Suffice it to say, however, that our listed prices for ALL of our are now radically lower than they were just this morning.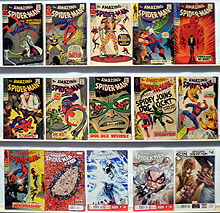 Some Spider-Man comics from the Wisconsin collection

In case you are wondering, our adjustment may or may not be a permanent change to our pricing policies. What we are going to be monitoring over the next couple of weeks is the response to these lower base prices from completely new visitors to our website. I am well aware that our discount codewords program has been quite popular with many of our most devoted fans, but at the same time I worry about attracting new fans. I will keep you informed as to the results of this experiment...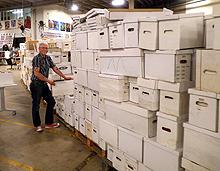 Chuck going through the 300,000 comics

In other news, I will be spending most of this afternoon sorting some of the 300,000 comics from my huge purchases of earlier this week. Will and Pam are also both quite busy right now, grading some of the 10,000+ Silver Age and Bronze Age comics from those two deals. As a result, you can expect that both New-In-Stock and Premium New-In-Stock will contain many thousands of additional entries this week. Please note that our Premium New-In-Stock will appear to be smaller while is experiment is in place, as a great many comics that used to meet the criteria of "Premium" now have base prices below the minimum for that category. They will now appear in the overall New-In-Stock link. FYI, we especially lowered prices on older comics in Fair, Good, and Very Good.
Happy Collecting!
Chuck Rozanski,
President - Mile High Comics, Inc.
October 22, 2016

P.S. Below are the comics that qualified for Premium New-In-Stock today. I think it is quite a nice list...
MARVEL
CAPTAIN MARVEL (1968) (#1-62) (MARVEL) #3 Fine

CAPTAIN MARVEL (1968) (#1-62) (MARVEL) #3 Very Good
CAPTAIN MARVEL (1968) (#1-62) (MARVEL) #4 Fine

CHAMBER OF CHILLS (1972) #2 Fine
CHAMBER OF CHILLS (1972) #3 Fine

CHAMBER OF DARKNESS (1969) #4 Very Good

CONAN (1970) #19 Fine
CONAN (1970) #19 Very Good
CONAN (1970) #20 Fine
CONAN (1970) #25 Very Good
CONAN (1970) #30 Fine
CONAN (1970) #37 Fine
CONAN (1970) #37 Very Fine
CONAN (1970) #40 Very Fine
CONAN (1970) #100 NEWSSTAND Near Mint/Mint

CONAN: CRAWLER IN THE MIST BOOK AND RECORD SET #1 Very Fine

CREATURES ON THE LOOSE (1971) #10 Very Good
CREATURES ON THE LOOSE (1971) #21 Fine
CREATURES ON THE LOOSE (1971) #22 Very Fine
CREATURES ON THE LOOSE (1971) #30 Fine

DAREDEVIL (1964) (#1-380) (MAN WITHOUT FEAR) (MARVEL) #19 Good
DAREDEVIL (1964) (#1-380) (MAN WITHOUT FEAR) (MARVEL) #22 Very Good
DAREDEVIL (1964) (#1-380) (MAN WITHOUT FEAR) (MARVEL) #28 Very Good
DAREDEVIL (1964) (#1-380) (MAN WITHOUT FEAR) (MARVEL) #29 Very Good
DAREDEVIL (1964) (#1-380) (MAN WITHOUT FEAR) (MARVEL) #31 Fine
DAREDEVIL (1964) (#1-380) (MAN WITHOUT FEAR) (MARVEL) #32 Fine
DAREDEVIL (1964) (#1-380) (MAN WITHOUT FEAR) (MARVEL) #32 Very Good
DAREDEVIL (1964) (#1-380) (MAN WITHOUT FEAR) (MARVEL) #34 Fine
DAREDEVIL (1964) (#1-380) (MAN WITHOUT FEAR) (MARVEL) #34 Very Fine
DAREDEVIL (1964) (#1-380) (MAN WITHOUT FEAR) (MARVEL) #35 Fine

DAREDEVIL (1964) (#1-380) (MAN WITHOUT FEAR) (MARVEL) #36 Very Good
DAREDEVIL (1964) (#1-380) (MAN WITHOUT FEAR) (MARVEL) #39 Very Good
DAREDEVIL (1964) (#1-380) (MAN WITHOUT FEAR) (MARVEL) #41 Fine
DAREDEVIL (1964) (#1-380) (MAN WITHOUT FEAR) (MARVEL) #41 Very Fine

DARTH VADER (STAR WARS) (2015) #25 PICHELLI Fine

DOCTOR STRANGE (1968) (#169-183) (MARVEL) #169 Very Good
DOCTOR STRANGE (1968) (#169-183) (MARVEL) #171 Very Good
DOCTOR STRANGE (1968) (#169-183) (MARVEL) #176 Very Good

DOCTOR STRANGE (1974) (#1-81) (MARVEL) #4 Fine

DOCTOR STRANGE: SORCERERS SUPREME (MARVEL NOW) (2016) #1 DESIGN Near Mint/Mint
DOCTOR STRANGE: SORCERERS SUPREME (MARVEL NOW) (2016) #1 RODRIGUEZ Near Mint/Mint

MARVEL SUPER-HEROES (1967) #15 Fine

PETER PARKER (SPECTACULAR SPIDER-MAN) (1976) #8 Very Fine

SILVER SURFER (1968) (#1-18) (MARVEL) #17 Very Good

STAR WARS (1977) #3 Fine
STAR WARS (1977) #3 Very Fine
STAR WARS (1977) #9 Fine

STAR WARS (2015) #19 SKETCH CV Fine

STAR WARS: FORCE AWAKENS ADAPTATION (2016) #2 SKETCH CV Fine

STAR WARS: POE DAMERON (2016) #7 DODSON Near Mint/Mint

STRANGE TALES (1951) #154 Very Good

TALES OF SUSPENSE (1959) #47 Good
TALES OF SUSPENSE (1959) #54 Good
TALES OF SUSPENSE (1959) #62 Good

TALES OF SUSPENSE (1959) #66 Good
TALES OF SUSPENSE (1959) #68 Good
TALES OF SUSPENSE (1959) #73 Fine
TALES OF SUSPENSE (1959) #80 Very Good
TALES OF SUSPENSE (1959) #93 Fine
TALES OF SUSPENSE (1959) #94 Very Good
TALES OF SUSPENSE (1959) #97 Fine
TALES OF SUSPENSE (1959) #97 Very Good
TALES OF SUSPENSE (1959) #98 Good
TALES OF SUSPENSE (1959) #99 Fine

TALES TO ASTONISH (1959) #84 Very Good
TALES TO ASTONISH (1959) #101 Very Good

THOR (1962) #129 Good
THOR (1962) #141 Good
THOR (1962) #159 Very Good

TOMB OF DRACULA (1972) #60 Fine

X-MEN (1963) (#1-113, UNCANNY X-MEN #114-544) (MARVEL) #29 Fair
X-MEN (1963) (#1-113, UNCANNY X-MEN #114-544) (MARVEL) #30 Good
X-MEN (1963) (#1-113, UNCANNY X-MEN #114-544) (MARVEL) #34 Good
X-MEN (1963) (#1-113, UNCANNY X-MEN #114-544) (MARVEL) #36 Good
X-MEN (1963) (#1-113, UNCANNY X-MEN #114-544) (MARVEL) #37 Good
X-MEN (1963) (#1-113, UNCANNY X-MEN #114-544) (MARVEL) #40 Good
X-MEN (1963) (#1-113, UNCANNY X-MEN #114-544) (MARVEL) #47 Good
X-MEN (1963) (#1-113, UNCANNY X-MEN #114-544) (MARVEL) #48 Good

DC
ADVENTURE COMICS (1938) #361 Very Good
ADVENTURE COMICS (1938) #365 Very Good

BEWARE THE CREEPER (1968) #4 Fine

BOMBA, THE JUNGLE BOY (1967) #1 Fine

DC COMICS PRESENTS (1978) #1 Very Good

DC SPECIAL (1968) #5 Fine
DC SPECIAL (1968) #5 Very Good
DC SPECIAL (1968) #7 Very Good
DC SPECIAL (1968) #10 Very Good

LOIS LANE (1958) #103 Very Fine

NEW GODS (1971) #3 Very Fine

OUR ARMY AT WAR (1952) #63 Good

PHANTOM STRANGER (1969) #18 Very Fine

SUPERMAN (1939) (#1-423) (DC) #206 Very Fine

TARZAN (1972) (#207-258) (DC) #209 Near Mint/Mint
TARZAN (1972) (#207-258) (DC) #230 Very Fine

TEEN TITANS (1966) (#1-53) (DC) #20 Fine
TEEN TITANS (1966) (#1-53) (DC) #38 Very Fine

TOMAHAWK (1950) #130 Very Good

UNEXPECTED (TALES OF THE UNEXPECTED #1-104) (1956) #102 Fine

WARLORD (1976) #1 Very Fine
WARLORD (1976) #2 Near Mint/Mint

WORLDS FINEST (1941) #91 Fair
WORLDS FINEST (1941) #109 Good
WORLDS FINEST (1941) #110 Good
WORLDS FINEST (1941) #113 Good
WORLDS FINEST (1941) #119 Good
WORLDS FINEST (1941) #156 Very Good
WORLDS FINEST (1941) #168 Very Fine

WORLDS FINEST (1941) #187 Fine
WORLDS FINEST (1941) #206 Fine
WORLDS FINEST (1941) #207 Very Fine

IMAGE COMICS
SNOTGIRL (2016) #1 A HUNG Very Fine

INDEPENDENTS
BETTY AND VERONICA (1950) #100 (Archie Comics) Fine
BETTY AND VERONICA (1950) #120 (Archie Comics) Fine

BOY MEETS GIRL (1950) #1 (LEV GLEASON PUBLISHING) Very Good
BOY MEETS GIRL (1950) #2 (LEV GLEASON PUBLISHING) Fair

BUFFALO BEE (1958) #1 FC #1061 (Dell Publishing) Very Good

BUGS BUNNY'S CHRISTMAS FUNNIES (DELL GIANT) (1950) #3 (Dell Publishing) Very Good
BUGS BUNNY'S CHRISTMAS FUNNIES (DELL GIANT) (1950) #7 (Dell Publishing) Good

BUGS BUNNY'S HALLOWEEN PARADE (DELL GIANT) (1953) #1 (Dell Publishing) Good

BUGS BUNNY'S VACATION FUNNIES (DELL GIANT) (1951) #2 (Dell Publishing) Very Good

COO-COO COMICS (1942) #6 (Standard Comics) Good

DARING ADVENTURES (1963) (#10-18) (SUPER COMICS) #17 (Super Comics) Good

DARLING LOVE (1949) #2 (CLOSE-UP) Good
DARLING LOVE (1949) #4 (CLOSE-UP) Very Good

DENNIS THE MENACE (1956) (#15-31) (PINES) #19 (PINES COMICS) Good

DIARY LOVES (1949) #7 (Quality Comics) Very Good

DREAM OF LOVE (1958) #8 (I.W. ENTERPRISES) Fine


DYNAMO (T.H.U.N.D.E.R. AGENT) #1

DYNAMO (T.H.U.N.D.E.R. AGENT) #1 (Tower Comics) Very Good

SPACE ADVENTURES (1952) #14 (Charlton) Good

TAROT: WITCH OF THE BLACK ROSE #100 BRIDEPHOTO (Broadsword Comics) Near Mint/Mint

TEEN-AGE LOVE (VOL. 2) (1958) #24 (Charlton) Fine

THUNDER AGENTS (1966) #7 (Tower Comics) Very Good

THUNDER AGENTS (1966) #8 (Tower Comics) Very Good