Half Price Comics Sale
Codeword GERMANY!
Howdy!
Nanette and I are packing our suitcases tonight, as we are returning home to Boulder from Santa Fe in the morning. We both dearly wish that we could stay for this year's annual Santa Fe Indian Market, but I committed long ago to conducting a huge charity auction of comics and toys on Saturday morning in our Jason St. Mega-Store.
Simply put, we very much need powerful new speakers for the sound system that powers our family-friendly All-Ages Drag Shows, as our attendance at those fun monthly events has grown to over 300 kids and their parents. The happy chatter from all those people in our cavernous performance area overwhelmed our traditional sound system, so we have no choice but to upgrade. Our next All-Ages show will take place a week from Sunday, August 25th, starting at 6 PM, so we need to secure those new speakers right away...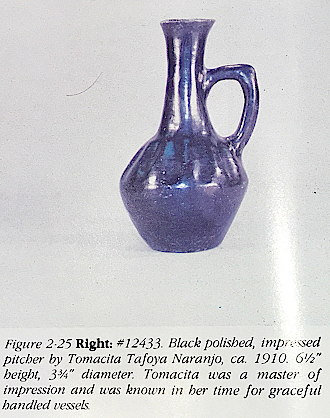 Circa-1910 Tomacita Naranjo Black polished, Impressed Pitcher

Moving on, the good news is that (despite the sad news if my uncle Christoph's passing) Nanette and I have managed to have reasonably good time in our annual vacation. I continued to buy rare Pueblo pottery all of this week, and was especially pleased by my lucky discovery of this amazing jar by Tomacita Naranjo, Margaret Tafoya's oldest sister. Tomacita was born in 1884, and produced a limited number of stunningly beautiful long-necked jars and pitchers prior to her untimely death from the Spanish flu in 1918. I bought this gorgeous 100+ year-old pitcher in a private transaction at a local Starbucks this morning...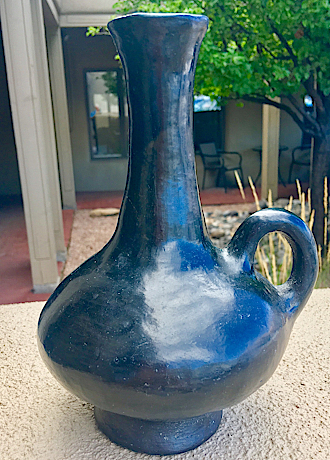 Circa-1905 Tomacita Naranjo long-neck pitcher from Santa Clara Pueblo in New Mexico

Nanette and I were also thrilled to be able to attend our dear friend, Cara Romero's, opening night gala at her famous photography studio. Her newest 6-foot tall image "Arla Lucia" perfectly melds the worlds of popular culture and Native American imagery with an incredibly powerful feminist statement meant to uplift young women of all cultures and backgrounds. I love it! A 6' door poster may soon be printed...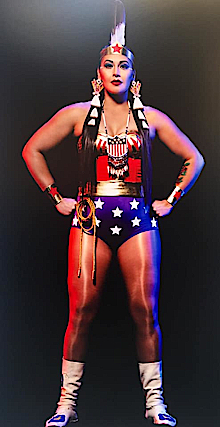 6-foot tall image "Arla Lucia"

That's it for today. My weekend will be crazy busy, and then I leave for Germany on Tuesday morning in order to attend my uncle's funereal in Aschaffenburg, on Wednesday. While I am gone, Nanette and Will Moulton will be covering the bills, so if you could use some comics right now, please send them an order. All ten million of our back issue comics and magazines are on sale for you at half price right now when you utilize our new 50% off GERMANY! codeword. Only new issues, a few variants, and our professionally-graded comics are excluded.

Happy collecting!
Chuck Rozanski/Bettie Pages,
President - Mile High Comics, Inc.
August 15, 2019

P.S. Here are some more amazing comics that just arrived!

MARVEL
AVENGERS ANNUAL (1967) #1 Very Good
AVENGERS ANNUAL (1967) #6 Fine

CAPTAIN AMERICA (1968) (#100-454) (MARVEL) #112 Fine

CHAMPIONS (1975) (#1-17) (MARVEL) #2 Very Fine

DAREDEVIL (1964) (#1-380) (MAN WITHOUT FEAR) (MARVEL) #33 Very Good

DEADPOOL (1993) (#1-4) (CIRCLE CHASE) (MARVEL) #1 Near Mint/Mint
DEADPOOL (1993) (#1-4) (CIRCLE CHASE) (MARVEL) #1 Very Fine

DEADPOOL (1994) (#1-4) (MARVEL) #1 Very Fine

DEFENDERS (1972) (#1-152) (MARVEL) #3 Fine

ELEKTRA: ASSASSIN (1986) #7 Fine
ELEKTRA: ASSASSIN (1986) #8 Fine
ELEKTRA: ASSASSIN (1986) #8 Very Good

EXTRAORDINARY X-MEN (2015) #8 LASHLEY A Very Fine
EXTRAORDINARY X-MEN (2015) #8 NAUCK Near Mint/Mint
EXTRAORDINARY X-MEN (2015) #8 STROMAN Very Fine

FIRESTAR (2010) (#1) (WOMEN OF MARVEL ONE-SHOT) #1 Near Mint/Mint
FIRESTAR (2010) (#1) (WOMEN OF MARVEL ONE-SHOT) #1 Very Fine

FLINTSTONES (1977) (#1-9) (MARVEL) (HANNA BARBERA) #9 Fine

FOOLKILLER (1990) (#1-10) (MARVEL) #10 Very Fine

FOOLKILLER (2007) (#1-5) (MARVEL MAX) #5 Near Mint/Mint

FOOLKILLER (2016) (#1-UP) (MARVEL NOW) #2 DEODATO Very Fine

FREEX (1993) #1 HOLOGRAM (Marvel Malibu/Ultraverse) Very Fine

FRIENDLY NEIGHBORHOOD SPIDER-MAN (2005) (#1-24) #1 VARIANT Near Mint/Mint

HULK (1962) (#1-6, #102-474, #600-635)(INCREDIBLE)(MV) #103 Very Fine
HULK (1962) (#1-6, #102-474, #600-635)(INCREDIBLE)(MV) #105 Good
HULK (1962) (#1-6, #102-474, #600-635)(INCREDIBLE)(MV) #105 Fine
HULK (1962) (#1-6, #102-474, #600-635)(INCREDIBLE)(MV) #105 Very Fine
HULK (1962) (#1-6, #102-474, #600-635)(INCREDIBLE)(MV) #106 Fine


HULK (1962) (#1-6, #102-474, #600-635)(INCREDIBLE)(MV) #106

HULK (1962) (#1-6, #102-474, #600-635)(INCREDIBLE)(MV) #106 Good
HULK (1962) (#1-6, #102-474, #600-635)(INCREDIBLE)(MV) #106 Very Fine
HULK (1962) (#1-6, #102-474, #600-635)(INCREDIBLE)(MV) #107 Fine
HULK (1962) (#1-6, #102-474, #600-635)(INCREDIBLE)(MV) #107 Very Good
HULK (1962) (#1-6, #102-474, #600-635)(INCREDIBLE)(MV) #108 Fine
HULK (1962) (#1-6, #102-474, #600-635)(INCREDIBLE)(MV) #109 Very Fine
HULK (1962) (#1-6, #102-474, #600-635)(INCREDIBLE)(MV) #110 Fine
HULK (1962) (#1-6, #102-474, #600-635)(INCREDIBLE)(MV) #113 Good
HULK (1962) (#1-6, #102-474, #600-635)(INCREDIBLE)(MV) #114 Very Good
HULK (1962) (#1-6, #102-474, #600-635)(INCREDIBLE)(MV) #116 Fine
HULK (1962) (#1-6, #102-474, #600-635)(INCREDIBLE)(MV) #119 Very Good
HULK (1962) (#1-6, #102-474, #600-635)(INCREDIBLE)(MV) #120 Very Good
HULK (1962) (#1-6, #102-474, #600-635)(INCREDIBLE)(MV) #122 Good
HULK (1962) (#1-6, #102-474, #600-635)(INCREDIBLE)(MV) #123 Fine
HULK (1962) (#1-6, #102-474, #600-635)(INCREDIBLE)(MV) #123 Good
HULK (1962) (#1-6, #102-474, #600-635)(INCREDIBLE)(MV) #123 Very Fine
HULK (1962) (#1-6, #102-474, #600-635)(INCREDIBLE)(MV) #124 Good
HULK (1962) (#1-6, #102-474, #600-635)(INCREDIBLE)(MV) #124 Very Fine
HULK (1962) (#1-6, #102-474, #600-635)(INCREDIBLE)(MV) #125 Fine
HULK (1962) (#1-6, #102-474, #600-635)(INCREDIBLE)(MV) #125 Very Good
HULK (1962) (#1-6, #102-474, #600-635)(INCREDIBLE)(MV) #126 Fine
HULK (1962) (#1-6, #102-474, #600-635)(INCREDIBLE)(MV) #126 Very Fine
HULK (1962) (#1-6, #102-474, #600-635)(INCREDIBLE)(MV) #127 Fine
HULK (1962) (#1-6, #102-474, #600-635)(INCREDIBLE)(MV) #127 Very Good
HULK (1962) (#1-6, #102-474, #600-635)(INCREDIBLE)(MV) #128 Good
HULK (1962) (#1-6, #102-474, #600-635)(INCREDIBLE)(MV) #128 Very Good
HULK (1962) (#1-6, #102-474, #600-635)(INCREDIBLE)(MV) #128 Very Fine
HULK (1962) (#1-6, #102-474, #600-635)(INCREDIBLE)(MV) #129 Fine
HULK (1962) (#1-6, #102-474, #600-635)(INCREDIBLE)(MV) #130 Fine
HULK (1962) (#1-6, #102-474, #600-635)(INCREDIBLE)(MV) #131 Fine
HULK (1962) (#1-6, #102-474, #600-635)(INCREDIBLE)(MV) #131 Good
HULK (1962) (#1-6, #102-474, #600-635)(INCREDIBLE)(MV) #131 Very Good
HULK (1962) (#1-6, #102-474, #600-635)(INCREDIBLE)(MV) #132 Fine
HULK (1962) (#1-6, #102-474, #600-635)(INCREDIBLE)(MV) #132 Very Fine
HULK (1962) (#1-6, #102-474, #600-635)(INCREDIBLE)(MV) #133 Fine
HULK (1962) (#1-6, #102-474, #600-635)(INCREDIBLE)(MV) #133 Very Good
HULK (1962) (#1-6, #102-474, #600-635)(INCREDIBLE)(MV) #134 Very Good
HULK (1962) (#1-6, #102-474, #600-635)(INCREDIBLE)(MV) #135 Fine
HULK (1962) (#1-6, #102-474, #600-635)(INCREDIBLE)(MV) #135 Very Good
HULK (1962) (#1-6, #102-474, #600-635)(INCREDIBLE)(MV) #136 Fine
HULK (1962) (#1-6, #102-474, #600-635)(INCREDIBLE)(MV) #137 Fine
HULK (1962) (#1-6, #102-474, #600-635)(INCREDIBLE)(MV) #137 Very Good
HULK (1962) (#1-6, #102-474, #600-635)(INCREDIBLE)(MV) #137 Very Fine


HULK (1962) (#1-6, #102-474, #600-635)(INCREDIBLE)(MV) #138

HULK (1962) (#1-6, #102-474, #600-635)(INCREDIBLE)(MV) #138 Fine
HULK (1962) (#1-6, #102-474, #600-635)(INCREDIBLE)(MV) #138 Very Good
HULK (1962) (#1-6, #102-474, #600-635)(INCREDIBLE)(MV) #139 Fine
HULK (1962) (#1-6, #102-474, #600-635)(INCREDIBLE)(MV) #139 Very Good
HULK (1962) (#1-6, #102-474, #600-635)(INCREDIBLE)(MV) #141 Good
HULK (1962) (#1-6, #102-474, #600-635)(INCREDIBLE)(MV) #142 Fine
HULK (1962) (#1-6, #102-474, #600-635)(INCREDIBLE)(MV) #142 Very Good
HULK (1962) (#1-6, #102-474, #600-635)(INCREDIBLE)(MV) #143 Good
HULK (1962) (#1-6, #102-474, #600-635)(INCREDIBLE)(MV) #143 Very Good
HULK (1962) (#1-6, #102-474, #600-635)(INCREDIBLE)(MV) #144 Very Good
HULK (1962) (#1-6, #102-474, #600-635)(INCREDIBLE)(MV) #145 Fine
HULK (1962) (#1-6, #102-474, #600-635)(INCREDIBLE)(MV) #145 Very Good
HULK (1962) (#1-6, #102-474, #600-635)(INCREDIBLE)(MV) #146 Very Fine
HULK (1962) (#1-6, #102-474, #600-635)(INCREDIBLE)(MV) #147 Fine
HULK (1962) (#1-6, #102-474, #600-635)(INCREDIBLE)(MV) #147 Very Good
HULK (1962) (#1-6, #102-474, #600-635)(INCREDIBLE)(MV) #148 Fine
HULK (1962) (#1-6, #102-474, #600-635)(INCREDIBLE)(MV) #148 Very Fine
HULK (1962) (#1-6, #102-474, #600-635)(INCREDIBLE)(MV) #149 Fine
HULK (1962) (#1-6, #102-474, #600-635)(INCREDIBLE)(MV) #149 Very Fine
HULK (1962) (#1-6, #102-474, #600-635)(INCREDIBLE)(MV) #151 Fine
HULK (1962) (#1-6, #102-474, #600-635)(INCREDIBLE)(MV) #151 Very Fine
HULK (1962) (#1-6, #102-474, #600-635)(INCREDIBLE)(MV) #152 Very Fine
HULK (1962) (#1-6, #102-474, #600-635)(INCREDIBLE)(MV) #154 Fine
HULK (1962) (#1-6, #102-474, #600-635)(INCREDIBLE)(MV) #154 Very Fine
HULK (1962) (#1-6, #102-474, #600-635)(INCREDIBLE)(MV) #155 Fine
HULK (1962) (#1-6, #102-474, #600-635)(INCREDIBLE)(MV) #155 Very Good
HULK (1962) (#1-6, #102-474, #600-635)(INCREDIBLE)(MV) #156 Fine
HULK (1962) (#1-6, #102-474, #600-635)(INCREDIBLE)(MV) #160 Fine
HULK (1962) (#1-6, #102-474, #600-635)(INCREDIBLE)(MV) #160 Very Fine
HULK (1962) (#1-6, #102-474, #600-635)(INCREDIBLE)(MV) #161 Fine
HULK (1962) (#1-6, #102-474, #600-635)(INCREDIBLE)(MV) #163 Fine
HULK (1962) (#1-6, #102-474, #600-635)(INCREDIBLE)(MV) #163 Very Fine
HULK (1962) (#1-6, #102-474, #600-635)(INCREDIBLE)(MV) #164 Fine
HULK (1962) (#1-6, #102-474, #600-635)(INCREDIBLE)(MV) #167 Very Good
HULK (1962) (#1-6, #102-474, #600-635)(INCREDIBLE)(MV) #168 Very Fine
HULK (1962) (#1-6, #102-474, #600-635)(INCREDIBLE)(MV) #169 Very Good
HULK (1962) (#1-6, #102-474, #600-635)(INCREDIBLE)(MV) #173 Fine
HULK (1962) (#1-6, #102-474, #600-635)(INCREDIBLE)(MV) #175 Very Fine
HULK (1962) (#1-6, #102-474, #600-635)(INCREDIBLE)(MV) #183 Fine
HULK (1962) (#1-6, #102-474, #600-635)(INCREDIBLE)(MV) #184 Very Good
HULK (1962) (#1-6, #102-474, #600-635)(INCREDIBLE)(MV) #184 Very Fine
HULK (1962) (#1-6, #102-474, #600-635)(INCREDIBLE)(MV) #186 Very Fine
HULK (1962) (#1-6, #102-474, #600-635)(INCREDIBLE)(MV) #187 Fine


HULK (1962) (#1-6, #102-474, #600-635)(INCREDIBLE)(MV) #188

HULK (1962) (#1-6, #102-474, #600-635)(INCREDIBLE)(MV) #188 Fine
HULK (1962) (#1-6, #102-474, #600-635)(INCREDIBLE)(MV) #189 Very Good
HULK (1962) (#1-6, #102-474, #600-635)(INCREDIBLE)(MV) #190 Very Fine
HULK (1962) (#1-6, #102-474, #600-635)(INCREDIBLE)(MV) #191 Fine
HULK (1962) (#1-6, #102-474, #600-635)(INCREDIBLE)(MV) #192 Very Good
HULK (1962) (#1-6, #102-474, #600-635)(INCREDIBLE)(MV) #193 Very Good
HULK (1962) (#1-6, #102-474, #600-635)(INCREDIBLE)(MV) #194 Fine
HULK (1962) (#1-6, #102-474, #600-635)(INCREDIBLE)(MV) #195 Fine
HULK (1962) (#1-6, #102-474, #600-635)(INCREDIBLE)(MV) #196 Fine
HULK (1962) (#1-6, #102-474, #600-635)(INCREDIBLE)(MV) #198 Very Good
HULK (1962) (#1-6, #102-474, #600-635)(INCREDIBLE)(MV) #199 Fine
HULK (1962) (#1-6, #102-474, #600-635)(INCREDIBLE)(MV) #200 Good
HULK (1962) (#1-6, #102-474, #600-635)(INCREDIBLE)(MV) #228 Very Fine
HULK (1962) (#1-6, #102-474, #600-635)(INCREDIBLE)(MV) #300 Very Fine
HULK (1962) (#1-6, #102-474, #600-635)(INCREDIBLE)(MV) #324 Very Fine
HULK (1962) (#1-6, #102-474, #600-635)(INCREDIBLE)(MV) #330 NEWSSTAND Very Good
HULK (1962) (#1-6, #102-474, #600-635)(INCREDIBLE)(MV) #330 Very Fine
HULK (1962) (#1-6, #102-474, #600-635)(INCREDIBLE)(MV) #331 NEWSSTAND Fine
HULK (1962) (#1-6, #102-474, #600-635)(INCREDIBLE)(MV) #331 Very Fine
HULK (1962) (#1-6, #102-474, #600-635)(INCREDIBLE)(MV) #332 Very Fine
HULK (1962) (#1-6, #102-474, #600-635)(INCREDIBLE)(MV) #334 Near Mint/Mint
HULK (1962) (#1-6, #102-474, #600-635)(INCREDIBLE)(MV) #336 Near Mint/Mint
HULK (1962) (#1-6, #102-474, #600-635)(INCREDIBLE)(MV) #337 Near Mint/Mint
HULK (1962) (#1-6, #102-474, #600-635)(INCREDIBLE)(MV) #338 Very Fine
HULK (1962) (#1-6, #102-474, #600-635)(INCREDIBLE)(MV) #340 Very Fine
HULK (1962) (#1-6, #102-474, #600-635)(INCREDIBLE)(MV) #341 Very Fine
HULK (1962) (#1-6, #102-474, #600-635)(INCREDIBLE)(MV) #342 Very Fine
HULK (1962) (#1-6, #102-474, #600-635)(INCREDIBLE)(MV) #343 Near Mint/Mint
HULK (1962) (#1-6, #102-474, #600-635)(INCREDIBLE)(MV) #367 Very Fine
HULK (1962) (#1-6, #102-474, #600-635)(INCREDIBLE)(MV) #377 Very Fine

HULK ANNUAL (1968) #6 Very Fine

HULK GIANT-SIZE (1975) #1 Good

HULK VS. WOLVERINE (INCREDIBLE HULK AND WOLVERINE) (1986) #1 Very Fine

PUNISHER MEETS ARCHIE: WHEN WORLDS COLLIDE #1 DIRECT Very Fine

SECRET WARS (1984) (#1-12) (LIMTED SERIES) (MARVEL) #8 Very Good

SPIDER-MAN (1963) (AMAZING SPIDER-MAN) (#1-441) #200 NEWSSTAND Near Mint/Mint
SPIDER-MAN (1963) (AMAZING SPIDER-MAN) (#1-441) #252 NEWSSTAND Very Fine


SPIDER-MAN (1963) (AMAZING SPIDER-MAN) (#1-441) #258

SPIDER-MAN (1963) (AMAZING SPIDER-MAN) (#1-441) #258 Very Fine
SPIDER-MAN (1963) (AMAZING SPIDER-MAN) (#1-441) #298 NEWSSTAND Very Fine

TALES OF SUSPENSE (1959) (#1-99) (ATLAS/MARVEL) #56 Fair
TALES OF SUSPENSE (1959) (#1-99) (ATLAS/MARVEL) #60 Fair
TALES OF SUSPENSE (1959) (#1-99) (ATLAS/MARVEL) #63 Fair
TALES OF SUSPENSE (1959) (#1-99) (ATLAS/MARVEL) #64 Fair
TALES OF SUSPENSE (1959) (#1-99) (ATLAS/MARVEL) #64 Good
TALES OF SUSPENSE (1959) (#1-99) (ATLAS/MARVEL) #70 Fair
TALES OF SUSPENSE (1959) (#1-99) (ATLAS/MARVEL) #71 Good
TALES OF SUSPENSE (1959) (#1-99) (ATLAS/MARVEL) #75 Fair
TALES OF SUSPENSE (1959) (#1-99) (ATLAS/MARVEL) #76 Fair
TALES OF SUSPENSE (1959) (#1-99) (ATLAS/MARVEL) #76 Good
TALES OF SUSPENSE (1959) (#1-99) (ATLAS/MARVEL) #79 Good
TALES OF SUSPENSE (1959) (#1-99) (ATLAS/MARVEL) #81 Good
TALES OF SUSPENSE (1959) (#1-99) (ATLAS/MARVEL) #81 Very Good
TALES OF SUSPENSE (1959) (#1-99) (ATLAS/MARVEL) #82 Good
TALES OF SUSPENSE (1959) (#1-99) (ATLAS/MARVEL) #82 Very Good
TALES OF SUSPENSE (1959) (#1-99) (ATLAS/MARVEL) #83 Good
TALES OF SUSPENSE (1959) (#1-99) (ATLAS/MARVEL) #84 Good
TALES OF SUSPENSE (1959) (#1-99) (ATLAS/MARVEL) #84 Very Good
TALES OF SUSPENSE (1959) (#1-99) (ATLAS/MARVEL) #85 Good
TALES OF SUSPENSE (1959) (#1-99) (ATLAS/MARVEL) #85 Very Good
TALES OF SUSPENSE (1959) (#1-99) (ATLAS/MARVEL) #86 Fine
TALES OF SUSPENSE (1959) (#1-99) (ATLAS/MARVEL) #86 Very Good
TALES OF SUSPENSE (1959) (#1-99) (ATLAS/MARVEL) #87 Fine
TALES OF SUSPENSE (1959) (#1-99) (ATLAS/MARVEL) #87 Very Good
TALES OF SUSPENSE (1959) (#1-99) (ATLAS/MARVEL) #87 Very Fine
TALES OF SUSPENSE (1959) (#1-99) (ATLAS/MARVEL) #88 Fine
TALES OF SUSPENSE (1959) (#1-99) (ATLAS/MARVEL) #88 Very Good
TALES OF SUSPENSE (1959) (#1-99) (ATLAS/MARVEL) #89 Good
TALES OF SUSPENSE (1959) (#1-99) (ATLAS/MARVEL) #89 Fine
TALES OF SUSPENSE (1959) (#1-99) (ATLAS/MARVEL) #89 Very Good
TALES OF SUSPENSE (1959) (#1-99) (ATLAS/MARVEL) #90 Good
TALES OF SUSPENSE (1959) (#1-99) (ATLAS/MARVEL) #91 Fine
TALES OF SUSPENSE (1959) (#1-99) (ATLAS/MARVEL) #91 Good
TALES OF SUSPENSE (1959) (#1-99) (ATLAS/MARVEL) #91 Very Good
TALES OF SUSPENSE (1959) (#1-99) (ATLAS/MARVEL) #92 Good
TALES OF SUSPENSE (1959) (#1-99) (ATLAS/MARVEL) #92 Very Good
TALES OF SUSPENSE (1959) (#1-99) (ATLAS/MARVEL) #92 Very Fine
TALES OF SUSPENSE (1959) (#1-99) (ATLAS/MARVEL) #93 Good
TALES OF SUSPENSE (1959) (#1-99) (ATLAS/MARVEL) #93 Very Good
TALES OF SUSPENSE (1959) (#1-99) (ATLAS/MARVEL) #94 Fine


TALES OF SUSPENSE (1959) (#1-99) (ATLAS/MARVEL) #94

TALES OF SUSPENSE (1959) (#1-99) (ATLAS/MARVEL) #94 Good
TALES OF SUSPENSE (1959) (#1-99) (ATLAS/MARVEL) #94 Very Good
TALES OF SUSPENSE (1959) (#1-99) (ATLAS/MARVEL) #95 Fine
TALES OF SUSPENSE (1959) (#1-99) (ATLAS/MARVEL) #95 Good
TALES OF SUSPENSE (1959) (#1-99) (ATLAS/MARVEL) #95 Very Good
TALES OF SUSPENSE (1959) (#1-99) (ATLAS/MARVEL) #96 Good
TALES OF SUSPENSE (1959) (#1-99) (ATLAS/MARVEL) #98 Good
TALES OF SUSPENSE (1959) (#1-99) (ATLAS/MARVEL) #98 Very Good
TALES OF SUSPENSE (1959) (#1-99) (ATLAS/MARVEL) #99 Fair
TALES OF SUSPENSE (1959) (#1-99) (ATLAS/MARVEL) #99 Good
TALES OF SUSPENSE (1959) (#1-99) (ATLAS/MARVEL) #99 Fine
TALES OF SUSPENSE (1959) (#1-99) (ATLAS/MARVEL) #99 Very Good

THOR (1962) (#83-125 JOURNEY INTO MYSTERY, 126-502) #100 Fair
THOR (1962) (#83-125 JOURNEY INTO MYSTERY, 126-502) #124 Very Fine
THOR (1962) (#83-125 JOURNEY INTO MYSTERY, 126-502) #172 Fine
THOR (1962) (#83-125 JOURNEY INTO MYSTERY, 126-502) #173 Good
THOR (1962) (#83-125 JOURNEY INTO MYSTERY, 126-502) #175 Good
THOR (1962) (#83-125 JOURNEY INTO MYSTERY, 126-502) #200 Very Good
THOR (1962) (#83-125 JOURNEY INTO MYSTERY, 126-502) #337 Very Fine

TOMB OF DARKNESS (1974) #14 Very Good

TOMB OF DRACULA (1972) (#1-70) (MARVEL) #1 Fair
TOMB OF DRACULA (1972) (#1-70) (MARVEL) #3 Fine
TOMB OF DRACULA (1972) (#1-70) (MARVEL) #3 Good
TOMB OF DRACULA (1972) (#1-70) (MARVEL) #4 Fine
TOMB OF DRACULA (1972) (#1-70) (MARVEL) #7 Fine
TOMB OF DRACULA (1972) (#1-70) (MARVEL) #9 Fine
TOMB OF DRACULA (1972) (#1-70) (MARVEL) #10 Very Good
TOMB OF DRACULA (1972) (#1-70) (MARVEL) #11 Fine
TOMB OF DRACULA (1972) (#1-70) (MARVEL) #12 Fine
TOMB OF DRACULA (1972) (#1-70) (MARVEL) #12 Very Fine
TOMB OF DRACULA (1972) (#1-70) (MARVEL) #14 Good
TOMB OF DRACULA (1972) (#1-70) (MARVEL) #14 Very Fine
TOMB OF DRACULA (1972) (#1-70) (MARVEL) #15 Fine
TOMB OF DRACULA (1972) (#1-70) (MARVEL) #15 Very Fine
TOMB OF DRACULA (1972) (#1-70) (MARVEL) #16 Very Good
TOMB OF DRACULA (1972) (#1-70) (MARVEL) #16 Very Fine
TOMB OF DRACULA (1972) (#1-70) (MARVEL) #17 Very Good
TOMB OF DRACULA (1972) (#1-70) (MARVEL) #17 Very Fine
TOMB OF DRACULA (1972) (#1-70) (MARVEL) #18 Fine
TOMB OF DRACULA (1972) (#1-70) (MARVEL) #19 Fine


TOMB OF DRACULA (1972) (#1-70) (MARVEL) #20

TOMB OF DRACULA (1972) (#1-70) (MARVEL) #20 Near Mint/Mint
TOMB OF DRACULA (1972) (#1-70) (MARVEL) #20 Very Fine
TOMB OF DRACULA (1972) (#1-70) (MARVEL) #21 Fine
TOMB OF DRACULA (1972) (#1-70) (MARVEL) #21 Very Fine
TOMB OF DRACULA (1972) (#1-70) (MARVEL) #22 Fine
TOMB OF DRACULA (1972) (#1-70) (MARVEL) #22 Very Good
TOMB OF DRACULA (1972) (#1-70) (MARVEL) #23 Fine
TOMB OF DRACULA (1972) (#1-70) (MARVEL) #24 Very Fine
TOMB OF DRACULA (1972) (#1-70) (MARVEL) #25 Fine
TOMB OF DRACULA (1972) (#1-70) (MARVEL) #26 Fine
TOMB OF DRACULA (1972) (#1-70) (MARVEL) #26 Very Good
TOMB OF DRACULA (1972) (#1-70) (MARVEL) #27 Fine
TOMB OF DRACULA (1972) (#1-70) (MARVEL) #28 Fine
TOMB OF DRACULA (1972) (#1-70) (MARVEL) #29 Fine
TOMB OF DRACULA (1972) (#1-70) (MARVEL) #30 Very Good
TOMB OF DRACULA (1972) (#1-70) (MARVEL) #32 Fine
TOMB OF DRACULA (1972) (#1-70) (MARVEL) #33 Very Fine
TOMB OF DRACULA (1972) (#1-70) (MARVEL) #34 Very Good
TOMB OF DRACULA (1972) (#1-70) (MARVEL) #35 Very Fine
TOMB OF DRACULA (1972) (#1-70) (MARVEL) #36 Fine
TOMB OF DRACULA (1972) (#1-70) (MARVEL) #36 Very Fine
TOMB OF DRACULA (1972) (#1-70) (MARVEL) #37 Very Good
TOMB OF DRACULA (1972) (#1-70) (MARVEL) #38 Very Fine
TOMB OF DRACULA (1972) (#1-70) (MARVEL) #40 Fine
TOMB OF DRACULA (1972) (#1-70) (MARVEL) #41 Very Good
TOMB OF DRACULA (1972) (#1-70) (MARVEL) #42 Fine
TOMB OF DRACULA (1972) (#1-70) (MARVEL) #43 Fine
TOMB OF DRACULA (1972) (#1-70) (MARVEL) #44 Very Good
TOMB OF DRACULA (1972) (#1-70) (MARVEL) #45 Fine
TOMB OF DRACULA (1972) (#1-70) (MARVEL) #46 Fine
TOMB OF DRACULA (1972) (#1-70) (MARVEL) #47 Very Fine
TOMB OF DRACULA (1972) (#1-70) (MARVEL) #48 Fine
TOMB OF DRACULA (1972) (#1-70) (MARVEL) #49 Fine
TOMB OF DRACULA (1972) (#1-70) (MARVEL) #53 Fine
TOMB OF DRACULA (1972) (#1-70) (MARVEL) #54 Fine
TOMB OF DRACULA (1972) (#1-70) (MARVEL) #55 Fine
TOMB OF DRACULA (1972) (#1-70) (MARVEL) #56 Fine
TOMB OF DRACULA (1972) (#1-70) (MARVEL) #57 Fine
TOMB OF DRACULA (1972) (#1-70) (MARVEL) #57 Very Fine
TOMB OF DRACULA (1972) (#1-70) (MARVEL) #58 Very Good
TOMB OF DRACULA (1972) (#1-70) (MARVEL) #59 Fine
TOMB OF DRACULA (1972) (#1-70) (MARVEL) #59 Very Fine
TOMB OF DRACULA (1972) (#1-70) (MARVEL) #60 Fine


TOMB OF DRACULA (1972) (#1-70) (MARVEL) #61

TOMB OF DRACULA (1972) (#1-70) (MARVEL) #61 Fine
TOMB OF DRACULA (1972) (#1-70) (MARVEL) #62 Very Fine
TOMB OF DRACULA (1972) (#1-70) (MARVEL) #63 Very Fine
TOMB OF DRACULA (1972) (#1-70) (MARVEL) #65 Fine
TOMB OF DRACULA (1972) (#1-70) (MARVEL) #68 Fine
TOMB OF DRACULA (1972) (#1-70) (MARVEL) #69 Fine

X-MEN (1963) (#1-113, UNCANNY X-MEN #114-544) (MARVEL) #142 Very Good

DC
BATMAN: THE DARK KNIGHT (2011) (#0-29) (DC NEW52) #3 Near Mint/Mint

BRAVE AND THE BOLD (1955) #80 Fine

DETECTIVE COMICS (1937) (#0-881) (DC) #569 NEWSSTAND Fine
DETECTIVE COMICS (1937) (#0-881) (DC) #570 NEWSSTAND Fine

ELVIRA'S HOUSE OF MYSTERY (1986) #1 NEWSSTAND Fine
ELVIRA'S HOUSE OF MYSTERY (1986) #6 Fine
ELVIRA'S HOUSE OF MYSTERY (1986) #8 Very Fine

FINAL CRISIS: SUPERMAN BEYOND 3-D (2008) #2 VARIANT Very Fine

FINAL NIGHT (1996) #3 Near Mint/Mint
FINAL NIGHT (1996) #4 Fine

FIRESTORM (1982) (#1-100) #5 Near Mint/Mint
FIRESTORM (1982) (#1-100) #6 Near Mint/Mint
FIRESTORM (1982) (#1-100) #10 Near Mint/Mint
FIRESTORM (1982) (#1-100) #13 Near Mint/Mint
FIRESTORM (1982) (#1-100) #18 Near Mint/Mint
FIRESTORM (1982) (#1-100) #24 Fine
FIRESTORM (1982) (#1-100) #26 Near Mint/Mint
FIRESTORM (1982) (#1-100) #28 Fine

FLASH (1987) (#0-247) (DC) #183 Very Fine

FLASH/GREEN LANTERN: FASTER FRIENDS #2 Very Fine

FLASH: SEASON ZERO (2014) #3 Near Mint/Mint
FLASH: SEASON ZERO (2014) #5 Near Mint/Mint

FLASH: SEASON ZERO (2014) #6 Near Mint/Mint
FLASH: SEASON ZERO (2014) #7 Near Mint/Mint

FLEX MENTALLO (1996) #2 (DC: Vertigo Press) Fine
FLEX MENTALLO (1996) #4 (DC: Vertigo Press) Very Fine

FLY (1991) (#1-17) (DC/IMPACT) #17 (DC: Impact Comics) Very Fine

FOREVER EVIL (2013) #7 Near Mint/Mint

FOREVER EVIL AFTERMATH: BATMAN VS. BANE (2014) #1 Near Mint/Mint

FRANKENSTEIN, AGENT OF SHADE (2011) #1 Near Mint/Mint

FREDDY VS. JASON VS. ASH: NIGHTMARE WARRIORS (2009) #1 B Near Mint/Mint
FREDDY VS. JASON VS. ASH: NIGHTMARE WARRIORS (2009) #2 A Near Mint/Mint
FREDDY VS. JASON VS. ASH: NIGHTMARE WARRIORS (2009) #3 Near Mint/Mint
FREDDY VS. JASON VS. ASH: NIGHTMARE WARRIORS (2009) #4 Near Mint/Mint
FREDDY VS. JASON VS. ASH: NIGHTMARE WARRIORS (2009) #5 Near Mint/Mint
FREDDY VS. JASON VS. ASH: NIGHTMARE WARRIORS (2009) #6 Near Mint/Mint

FREE REALMS (2009) #11 Near Mint/Mint

FREEDOM FIGHTERS (1976) (#1-15) (DC) #5 Very Fine
FREEDOM FIGHTERS (1976) (#1-15) (DC) #8 Very Fine

FRINGE (2008) #5 Very Fine

FROM BEYOND THE UNKNOWN (1969) #16 Fine

GOTHAM CITY SIRENS (2009) #20 Fine

HARLEY QUINN (2000) (#1-38) (DC) #5 Very Fine
HARLEY QUINN (2000) (#1-38) (DC) #6 Very Fine
HARLEY QUINN (2000) (#1-38) (DC) #8 Very Fine
HARLEY QUINN (2000) (#1-38) (DC) #9 Near Mint/Mint
HARLEY QUINN (2000) (#1-38) (DC) #10 Very Fine

HUNTRESS (1989) (#1-19) (DC) #14 Very Fine
HUNTRESS (1989) (#1-19) (DC) #16 Very Fine


JUSTICE LEAGUE OF AMERICA (1960) (#1-261) (DC) #231

JUSTICE LEAGUE OF AMERICA (1960) (#1-261) (DC) #231 Very Fine

PREACHER (1995) #3 (DC: Vertigo Press) Very Fine

SANDMAN (1974) (#1-6) (DC) #1 Very Good
SANDMAN (1974) (#1-6) (DC) #2 Very Good

SANDMAN (1988) (#1-75) (DC/VERTIGO) #2 (DC: Vertigo Press) Fine
SANDMAN (1988) (#1-75) (DC/VERTIGO) #3 (DC: Vertigo Press) Very Fine
SANDMAN (1988) (#1-75) (DC/VERTIGO) #4 (DC: Vertigo Press) Near Mint/Mint
SANDMAN (1988) (#1-75) (DC/VERTIGO) #5 (DC: Vertigo Press) Very Fine
SANDMAN (1988) (#1-75) (DC/VERTIGO) #6 (DC: Vertigo Press) Very Fine
SANDMAN (1988) (#1-75) (DC/VERTIGO) #7 (DC: Vertigo Press) Fine
SANDMAN (1988) (#1-75) (DC/VERTIGO) #8 (DC: Vertigo Press) Very Fine
SANDMAN (1988) (#1-75) (DC/VERTIGO) #9 (DC: Vertigo Press) Fine
SANDMAN (1988) (#1-75) (DC/VERTIGO) #10 (DC: Vertigo Press) Very Good

WE 3 (2004) #1 (DC: Vertigo Press) Good
WE 3 (2004) #2 (DC: Vertigo Press) Very Fine
WE 3 (2004) #3 (DC: Vertigo Press) Very Fine

DARK HORSE COMICS
FLAMING CARROT ANNUAL (1997) #1 Very Fine

FRANKENSTEIN UNDERGROUND (2015) #2 Near Mint/Mint

FRAY (2001) #1 Near Mint/Mint

IMAGE COMICS
BOMB QUEEN VS. HACK SLASH (2011) #1 Near Mint/Mint

CHEW (2009) #6 Near Mint/Mint
CHEW (2009) #7 Very Fine
CHEW (2009) #8 Very Fine
CHEW (2009) #9 Near Mint/Mint
CHEW (2009) #10 Near Mint/Mint
CHEW (2009) #11 Near Mint/Mint
CHEW (2009) #12 Fine
CHEW (2009) #14 Very Fine
CHEW (2009) #16 Very Fine
CHEW (2009) #17 Near Mint/Mint

CHEW (2009) #19 Very Fine
CHEW (2009) #20 Fine
CHEW (2009) #21 Near Mint/Mint
CHEW (2009) #22 Very Fine
CHEW (2009) #23 Near Mint/Mint
CHEW (2009) #24 Near Mint/Mint
CHEW (2009) #25 Near Mint/Mint
CHEW (2009) #26 Very Fine
CHEW (2009) #27 Very Fine
CHEW (2009) #29 Near Mint/Mint
CHEW (2009) #44 Near Mint/Mint
CHEW (2009) #45 Near Mint/Mint
CHEW (2009) #46 Near Mint/Mint
CHEW (2009) #47 Near Mint/Mint
CHEW (2009) #48 Near Mint/Mint
CHEW (2009) #50 Near Mint/Mint
CHEW (2009) #60 Near Mint/Mint

CHEW: WARRIOR CHICKEN POYO (2014) #1 Very Fine

FIVE GHOSTS SPECIAL (2015) #1 Near Mint/Mint

FIVE GHOSTS: HAUNTING OF FABIAN GRAY (2013) #1 2ND PRINT Fine
FIVE GHOSTS: HAUNTING OF FABIAN GRAY (2013) #2 2ND PRINT Very Fine
FIVE GHOSTS: HAUNTING OF FABIAN GRAY (2013) #4 Near Mint/Mint
FIVE GHOSTS: HAUNTING OF FABIAN GRAY (2013) #5 Near Mint/Mint
FIVE GHOSTS: HAUNTING OF FABIAN GRAY (2013) #6 Fine
FIVE GHOSTS: HAUNTING OF FABIAN GRAY (2013) #14 Near Mint/Mint

FIVE WEAPONS (2013) #1 Near Mint/Mint

FIX (2016) (#1-12) (IMAGE) #1 5TH PRINT Near Mint/Mint
FIX (2016) (#1-12) (IMAGE) #4 2ND PRINT Near Mint/Mint

JOOK JOINT (2018) #1 A MARTINEZ Near Mint/Mint

LAST SIEGE (2018) #5 A GREENWOO Near Mint/Mint

MAGIC ORDER (2018) #4 A COIPEL Near Mint/Mint
MAGIC ORDER (2018) #4 B COIPEB&W Near Mint/Mint

WALKING DEAD WEEKLY (2011) #2 Near Mint/Mint
WALKING DEAD WEEKLY (2011) #3 Near Mint/Mint

INDEPENDENTS
DOCTOR SOLAR, MAN OF THE ATOM (1962) (#1-27) (GOLD KEY) #6 (Gold Key) Very Good

DOG MAN HC (2016) #7 (Scholastic Inc) Near Mint/Mint

ELVIRA: MISTRESS OF THE DARK TPB (2019) #1 (DYNAMITE Entertainment) Near Mint/Mint

FAITH (JANUARY) (2016) #3 COOVER (Valiant Comics) Near Mint/Mint

FINAL PLAGUE (2013) #1 (Danger Zone) Near Mint/Mint

FIRE SALE (1989) #1 (Rip Off Press) Fine

FIRKIN (1989) #5 (Knockabout) Fine

FISTFUL OF BLOOD (2015) #4 (IDW Publishing) Near Mint/Mint

FISTFUL OF BLOOD (2015) #4 SUBSCRIPT (IDW Publishing) Near Mint/Mint

FLAMING CARROT (1985) (#6-17) (RENEGADE) #17 (Renegade Press) Fine

FLASH GORDON (2014) (#1-8) (DYNAMITE) #2 LAMING (DYNAMITE Entertainment) Near Mint/Mint
FLASH GORDON (2014) (#1-8) (DYNAMITE) #3 LAMING (DYNAMITE Entertainment) Near Mint/Mint
FLASH GORDON (2014) (#1-8) (DYNAMITE) #4 LAMING (DYNAMITE Entertainment) Near Mint/Mint
FLASH GORDON (2014) (#1-8) (DYNAMITE) #5 LAMING (DYNAMITE Entertainment) Near Mint/Mint

FLASH GORDON HOLIDAY SPECIAL (2014) #1 HAESER (DYNAMITE Entertainment) Near Mint/Mint
FLASH GORDON HOLIDAY SPECIAL (2014) #1 SHANER (DYNAMITE Entertainment) Very Fine

FLINTSTONES (1995) (#1-22) (ARCHIE) (HANNA BARBERA) #6 (Archie Comics) Very Fine

FLOWERS ON THE RAZOR WIRE (1993) #1 SIGNED (Boneyard Press) Fine
FLOWERS ON THE RAZOR WIRE (1993) #9 (Boneyard Press) Very Fine
FLOWERS ON THE RAZOR WIRE (1993) #10 (Boneyard Press) Very Fine

FLOWERS ON THE RAZOR WIRE: BIBLICAL SPECIAL #1 (Boneyard Press) Fine

FORCE OF BUDDHA'S PALM (1988) #5 (Jademan Comic) Near Mint/Mint
FORCE OF BUDDHA'S PALM (1988) #6 (Jademan Comic) Near Mint/Mint


FORCE OF BUDDHA'S PALM (1988) #12

FORCE OF BUDDHA'S PALM (1988) #12 (Jademan Comic) Near Mint/Mint
FORCE OF BUDDHA'S PALM (1988) #16 (Jademan Comic) Near Mint/Mint
FORCE OF BUDDHA'S PALM (1988) #31 (Jademan Comic) Near Mint/Mint
FORCE OF BUDDHA'S PALM (1988) #33 (Jademan Comic) Near Mint/Mint
FORCE OF BUDDHA'S PALM (1988) #36 (Jademan Comic) Near Mint/Mint
FORCE OF BUDDHA'S PALM (1988) #44 (Jademan Comic) Very Fine
FORCE OF BUDDHA'S PALM (1988) #45 (Jademan Comic) Near Mint/Mint
FORCE OF BUDDHA'S PALM (1988) #46 (Jademan Comic) Very Fine
FORCE OF BUDDHA'S PALM (1988) #47 (Jademan Comic) Very Fine
FORCE OF BUDDHA'S PALM (1988) #50 (Jademan Comic) Very Fine
FORCE OF BUDDHA'S PALM (1988) #51 (Jademan Comic) Very Fine
FORCE OF BUDDHA'S PALM (1988) #54 (Jademan Comic) Very Fine
FORCE OF BUDDHA'S PALM (1988) #55 (Jademan Comic) Fine

FORGOTTEN REALMS: CRYSTAL SHARD (2006) #1 B (Devil's Due) Near Mint/Mint
FORGOTTEN REALMS: CRYSTAL SHARD (2006) #3 B (Devil's Due) Near Mint/Mint

FORLORN FUNNIES (2002) #1 (Absence Of Ink Comic Press) Near Mint/Mint
FORLORN FUNNIES (2002) #2 (Absence Of Ink Comic Press) Near Mint/Mint
FORLORN FUNNIES (2002) #3 (Absence Of Ink Comic Press) Near Mint/Mint
FORLORN FUNNIES (2002) #4 (Absence Of Ink Comic Press) Near Mint/Mint

FOUNDATION (2007) #1 (Boom Studios Publishing) Very Fine
FOUNDATION (2007) #2 (Boom Studios Publishing) Very Fine
FOUNDATION (2007) #4 (Boom Studios Publishing) Very Fine

FOUR POINTS (2015) #1 A (Aspen) Near Mint/Mint

FRAGGLE ROCK: JOURNEY TO THE EVERSPRING (2014) #3 (Boom Studios Publishing) Near Mint/Mint
FRAGGLE ROCK: JOURNEY TO THE EVERSPRING (2014) #4 (Boom Studios Publishing) Near Mint/Mint

FREAKED (1993) #1 (Bruce Hamilton Company) Near Mint/Mint

FREAKS #1 (Monster Comics (Fantagraphics)) Very Fine
FREAKS #2 (Monster Comics (Fantagraphics)) Fine
FREAKS #3 (Monster Comics (Fantagraphics)) Very Fine
FREAKS #4 (Monster Comics (Fantagraphics)) Fine

FREEDOM COLLECTIVE ONE-SHOT (2009) #1 (Rough Cut Productions) Very Fine

FRIGHT (Eternity Comics (World/Imperial)) (1988) #3 (Eternity Comics (World/Imperial)) Very Fine

FRIGHT NIGHT 3-D FALL SPECIAL (DRACULA SPECIAL) (1992) #1 (Now Comics) Fine


FRIGHT NIGHT 3-D HALLOWEEN SPECIAL #1

FRIGHT NIGHT 3-D HALLOWEEN SPECIAL #1 (Now Comics) Very Fine

FROZEN (DISNEY) (2016) #7 (Joe Books) Near Mint/Mint

FULL CIRKLE PREVIEW BOOK (2004) #1 (FULL CIRCLE) Near Mint/Mint

FURRLOUGH (1992) #2 (Radio Comix) Fine
FURRLOUGH (1992) #3 (Radio Comix) Fine
FURRLOUGH (1992) #12 (Radio Comix) Very Fine
FURRLOUGH (1992) #15 (Radio Comix) Near Mint/Mint
FURRLOUGH (1992) #16 (Radio Comix) Near Mint/Mint
FURRLOUGH (1992) #17 (Radio Comix) Very Fine
FURRLOUGH (1992) #19 (Radio Comix) Very Fine
FURRLOUGH (1992) #20 (Radio Comix) Very Good
FURRLOUGH (1992) #22 (Radio Comix) Very Fine
FURRLOUGH (1992) #24 (Radio Comix) Near Mint/Mint
FURRLOUGH (1992) #25 (Radio Comix) Near Mint/Mint
FURRLOUGH (1992) #26 (Radio Comix) Near Mint/Mint
FURRLOUGH (1992) #28 (Radio Comix) Fine
FURRLOUGH (1992) #29 (Radio Comix) Near Mint/Mint
FURRLOUGH (1992) #30 (Radio Comix) Very Fine
FURRLOUGH (1992) #31 (Radio Comix) Near Mint/Mint
FURRLOUGH (1992) #32 (Radio Comix) Very Fine
FURRLOUGH (1992) #33 (Radio Comix) Very Good
FURRLOUGH (1992) #34 (Radio Comix) Fine
FURRLOUGH (1992) #35 (Radio Comix) Very Fine
FURRLOUGH (1992) #36 (Radio Comix) Fine
FURRLOUGH (1992) #37 (Radio Comix) Very Fine
FURRLOUGH (1992) #38 (Radio Comix) Very Fine
FURRLOUGH (1992) #39 (Radio Comix) Fine
FURRLOUGH (1992) #40 (Radio Comix) Fine
FURRLOUGH (1992) #41 (Radio Comix) Fine
FURRLOUGH (1992) #42 (Radio Comix) Very Fine
FURRLOUGH (1992) #43 (Radio Comix) Very Fine
FURRLOUGH (1992) #44 (Radio Comix) Fine
FURRLOUGH (1992) #45 (Radio Comix) Very Fine
FURRLOUGH (1992) #46 (Radio Comix) Very Good
FURRLOUGH (1992) #53 (Radio Comix) Very Good
FURRLOUGH (1992) #54 (Radio Comix) Near Mint/Mint
FURRLOUGH (1992) #54 (Radio Comix) Very Good
FURRLOUGH (1992) #55 (Radio Comix) Very Good
FURRLOUGH (1992) #56 (Radio Comix) Very Fine
FURRLOUGH (1992) #57 (Radio Comix) Fine

FURRLOUGH (1992) #58 (Radio Comix) Very Fine
FURRLOUGH (1992) #59 (Radio Comix) Near Mint/Mint
FURRLOUGH (1992) #60 (Radio Comix) Fine
FURRLOUGH (1992) #61 (Radio Comix) Fine
FURRLOUGH (1992) #62 (Radio Comix) Near Mint/Mint
FURRLOUGH (1992) #63 (Radio Comix) Very Fine
FURRLOUGH (1992) #64 (Radio Comix) Fine
FURRLOUGH (1992) #66 (Radio Comix) Fine
FURRLOUGH (1992) #67 (Radio Comix) Fine
FURRLOUGH (1992) #68 (Radio Comix) Very Good
FURRLOUGH (1992) #69 (Radio Comix) Very Good
FURRLOUGH (1992) #70 (Radio Comix) Fine
FURRLOUGH (1992) #71 (Radio Comix) Fine
FURRLOUGH (1992) #72 (Radio Comix) Fine
FURRLOUGH (1992) #73 (Radio Comix) Fine
FURRLOUGH (1992) #74 (Radio Comix) Very Good
FURRLOUGH (1992) #76 (Radio Comix) Very Fine
FURRLOUGH (1992) #77 (Radio Comix) Very Fine
FURRLOUGH (1992) #78 (Radio Comix) Near Mint/Mint
FURRLOUGH (1992) #79 (Radio Comix) Near Mint/Mint
FURRLOUGH (1992) #80 (Radio Comix) Very Fine
FURRLOUGH (1992) #81 (Radio Comix) Very Fine
FURRLOUGH (1992) #83 (Radio Comix) Near Mint/Mint
FURRLOUGH (1992) #85 (Radio Comix) Fine
FURRLOUGH (1992) #86 (Radio Comix) Very Fine
FURRLOUGH (1992) #87 (Radio Comix) Fine
FURRLOUGH (1992) #88 (Radio Comix) Fine
FURRLOUGH (1992) #90 (Radio Comix) Near Mint/Mint
FURRLOUGH (1992) #91 (Radio Comix) Very Fine
FURRLOUGH (1992) #92 (Radio Comix) Fine
FURRLOUGH (1992) #92 (Radio Comix) Very Fine
FURRLOUGH (1992) #93 (Radio Comix) Fine
FURRLOUGH (1992) #94 (Radio Comix) Very Fine
FURRLOUGH (1992) #95 (Radio Comix) Very Fine
FURRLOUGH (1992) #96 (Radio Comix) Very Fine
FURRLOUGH (1992) #98 (Radio Comix) Fine
FURRLOUGH (1992) #100 (Radio Comix) Fine

INVADER ZIM (2015) #1 INCENTIVE (Oni Press Inc.) Near Mint/Mint
INVADER ZIM (2015) #2 VARIANT (Oni Press Inc.) Near Mint/Mint
INVADER ZIM (2015) #3 VARIANT (Oni Press Inc.) Near Mint/Mint
INVADER ZIM (2015) #17 VARIANT (Oni Press Inc.) Near Mint/Mint


INVADER ZIM (2015) #18 VARIANT

INVADER ZIM (2015) #18 VARIANT (Oni Press Inc.) Near Mint/Mint
INVADER ZIM (2015) #19 VARIANT (Oni Press Inc.) Near Mint/Mint

JAMES BOND: ORIGIN (2018) #2 A CASSADAY (DYNAMITE Entertainment) Near Mint/Mint
JAMES BOND: ORIGIN (2018) #2 D MOUSTAFA (DYNAMITE Entertainment) Near Mint/Mint

JASON GOES TO HELL MOVIE ADAPTATION #1 W/O CARD (Topps Publishing) Very Fine

JASON GOES TO HELL MOVIE ADAPTATION #2 (Topps Publishing) Near Mint/Mint
JASON GOES TO HELL MOVIE ADAPTATION #3 (Topps Publishing) Near Mint/Mint

JASON VS. LEATHERFACE (1995) #1 (Topps Publishing) Very Fine
JASON VS. LEATHERFACE (1995) #2 (Topps Publishing) Very Fine
JASON VS. LEATHERFACE (1995) #3 (Topps Publishing) Very Fine

KID LOBOTOMY (2017) #5 A FOWLER (IDW Publishing) Near Mint/Mint

KIM REAPER: VAMPIRE ISLAND (2018) #1 B FARINA (Oni Press Inc.) Near Mint/Mint

LEGEND OF ZELDA (VOL. 2) (1990) #4 (Acclaim/Valiant) Fine

LONE RANGER (VOL. 3) (2018) #1 A CASSADAY (DYNAMITE Entertainment) Near Mint/Mint
LONE RANGER (VOL. 3) (2018) #1 B ALLRED (DYNAMITE Entertainment) Near Mint/Mint

LOWLIFES (2018) #4 A BUCCELLA (IDW Publishing) Near Mint/Mint

MICHAEL TURNER LEGACY (2018) #1 (Aspen) Near Mint/Mint