Half Price JULY4TH Comics Sale Begins
Howdy!
This is my first newsletter in a couple of weeks, as I have been totally preoccupied. Not only have I been working diligently on efforts for Mile High Comics (such as attending Denver Comic-Con), but I have also been expending extraordinary efforts in renovating our family farm. Simply put, it has been nearly a decade since I walked away from our farm to concentrate all my efforts on Mile High Comics during the most difficult travails of the Great Recession. Now that Mile High is finally back on its feet and doing quite well, I am determined to go back and to restore a part of my life that brings me great joy. Thank you for your understanding.
As regards Mile High Comics, all is continuing to go quite well. The gigantic backlog in unshipped orders created by our last big sale is finally melting away, and we should be back to 24-hour shipping very soon. We also have been having remarkable good fortune in purchasing great collections, such as the beautiful run of early IRON MAN comics that Pam purchased yesterday. In point of fact, after working on our farm this morning from 6 AM - 8 AM, I am now on a flight to New York, where I will be making an offer on a very nice private collection this evening. Life is good.
As regards the situation with codewords, since we have now passed the Summer Solstice, I am going to ask Will Moulton to begin our annual 50% off JULY4TH! codeword sale for you today. Please be advised, however, that we do still have a small shipping backlog to resolve, so the first JULY4TH! orders cannot begin shipping until toward the end of next week. If you place your JULY4TH! order over this upcoming weekend, however, it will put you first in line for shipment during what is typically one of our biggest promotions of the year. The JULY4TH! codeword applies to all ten million of our back issue comics and magazines, excepting only new issues a few variants, and our professionally-graded comics.
So you know, I am so grateful for all the support that we have been receiving this year that I have also asked Will Moulton to immediately reset all of our trade paperback and hardback prices on our website for you to reflect a full 40% discount on all trades and graphic novels, and a 30% discount on all of our comics hardback editions. The only exceptions are a few oversize books that require extra packing and shipping costs. Please accept these great price reductions as my "thank you!" for all your kindness, and your continuing support of our company.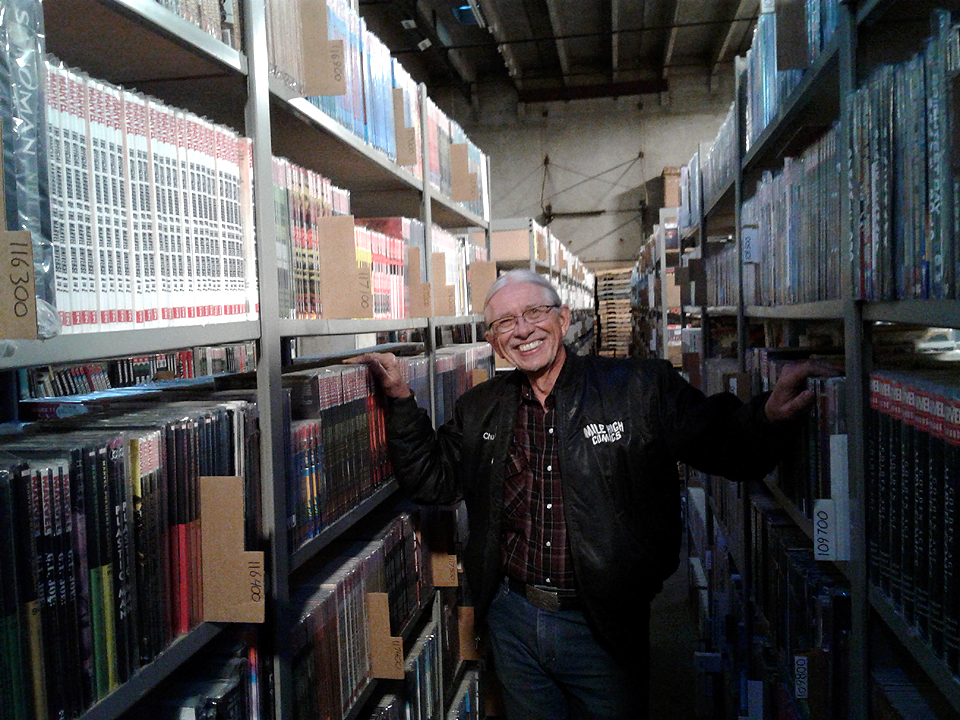 Chuck standing in on of our Trade Racks

That's really all I have for you today. I do believe that I will have some rather interesting information for you next week, especially as regards my travel plans, but I am going to hold off until I have some final confirmations in hand. Suffice it to say, however, that I am viewing our prospects as a company to be brighter right now than they have been in many, many years. I simply could not be more thankful.
Happy collecting!
Chuck Rozanski,
President - Mile High Comics, Inc.
June 22, 2018

P.S. Most of our inventory team has been helping to work down our shipping backlog, but Will Moulton and Pam did manage to find the time add a few nice comics from recent acquisitions into our Premium New-In-Stock link over the past week. A great many more desirable issues are soon to be added into the overall New-In-Stock link, so keep an eye out for our daily updates!
MARVEL
AMAZING ADVENTURES (MARVEL) (1970) #3 Very Fine


AMAZING SPIDER-MAN (1999) (#1-700.5) (MARVEL) #528

AMAZING SPIDER-MAN (1999) (#1-700.5) (MARVEL) #528 Very Fine
AMAZING SPIDER-MAN (1999) (#1-700.5) (MARVEL) #531 Very Fine
AMAZING SPIDER-MAN (1999) (#1-700.5) (MARVEL) #532 Very Fine
AMAZING SPIDER-MAN (1999) (#1-700.5) (MARVEL) #533 Fine
AMAZING SPIDER-MAN (1999) (#1-700.5) (MARVEL) #535 Very Fine
AMAZING SPIDER-MAN (1999) (#1-700.5) (MARVEL) #539 Very Fine
AMAZING SPIDER-MAN (1999) (#1-700.5) (MARVEL) #569 Fine
AMAZING SPIDER-MAN (1999) (#1-700.5) (MARVEL) #570 Very Fine
AMAZING SPIDER-MAN (1999) (#1-700.5) (MARVEL) #571 Very Fine
AMAZING SPIDER-MAN (1999) (#1-700.5) (MARVEL) #572 VARIANT Fine
AMAZING SPIDER-MAN (1999) (#1-700.5) (MARVEL) #573 VARIANT Near Mint/Mint
AMAZING SPIDER-MAN (1999) (#1-700.5) (MARVEL) #583 Very Fine
AMAZING SPIDER-MAN (1999) (#1-700.5) (MARVEL) #584 Near Mint/Mint
AMAZING SPIDER-MAN (1999) (#1-700.5) (MARVEL) #586 Near Mint/Mint
AMAZING SPIDER-MAN (1999) (#1-700.5) (MARVEL) #587 Near Mint/Mint
AMAZING SPIDER-MAN (1999) (#1-700.5) (MARVEL) #590 Near Mint/Mint
AMAZING SPIDER-MAN (1999) (#1-700.5) (MARVEL) #591 Near Mint/Mint
AMAZING SPIDER-MAN (1999) (#1-700.5) (MARVEL) #592 Near Mint/Mint
AMAZING SPIDER-MAN (1999) (#1-700.5) (MARVEL) #596 Very Fine
AMAZING SPIDER-MAN (1999) (#1-700.5) (MARVEL) #597 Very Fine
AMAZING SPIDER-MAN (1999) (#1-700.5) (MARVEL) #598 Very Fine
AMAZING SPIDER-MAN (1999) (#1-700.5) (MARVEL) #600 ROMITA JR. Fine
AMAZING SPIDER-MAN (1999) (#1-700.5) (MARVEL) #601 Fine
AMAZING SPIDER-MAN (1999) (#1-700.5) (MARVEL) #602 Very Fine
AMAZING SPIDER-MAN (1999) (#1-700.5) (MARVEL) #606 Very Fine
AMAZING SPIDER-MAN (1999) (#1-700.5) (MARVEL) #611 Very Fine
AMAZING SPIDER-MAN (1999) (#1-700.5) (MARVEL) #614 Very Fine
AMAZING SPIDER-MAN (1999) (#1-700.5) (MARVEL) #615 Very Fine
AMAZING SPIDER-MAN (1999) (#1-700.5) (MARVEL) #616 Near Mint/Mint
AMAZING SPIDER-MAN (1999) (#1-700.5) (MARVEL) #617 Near Mint/Mint
AMAZING SPIDER-MAN (1999) (#1-700.5) (MARVEL) #619 Near Mint/Mint
AMAZING SPIDER-MAN (1999) (#1-700.5) (MARVEL) #630 Very Fine
AMAZING SPIDER-MAN (1999) (#1-700.5) (MARVEL) #631 Very Fine
AMAZING SPIDER-MAN (1999) (#1-700.5) (MARVEL) #632 Very Fine
AMAZING SPIDER-MAN (1999) (#1-700.5) (MARVEL) #634 Very Fine
AMAZING SPIDER-MAN (1999) (#1-700.5) (MARVEL) #646 Near Mint/Mint
AMAZING SPIDER-MAN (1999) (#1-700.5) (MARVEL) #680 Very Fine
AMAZING SPIDER-MAN (1999) (#1-700.5) (MARVEL) #681 Very Fine
AMAZING SPIDER-MAN (1999) (#1-700.5) (MARVEL) #682 Near Mint/Mint
AMAZING SPIDER-MAN (1999) (#1-700.5) (MARVEL) #683 Very Fine
AMAZING SPIDER-MAN (1999) (#1-700.5) (MARVEL) #684 Fine
AMAZING SPIDER-MAN (1999) (#1-700.5) (MARVEL) #685 Fine
AMAZING SPIDER-MAN (1999) (#1-700.5) (MARVEL) #686 Near Mint/Mint
AMAZING SPIDER-MAN (1999) (#1-700.5) (MARVEL) #687 Near Mint/Mint
AMAZING SPIDER-MAN (1999) (#1-700.5) (MARVEL) #690 Very Fine
AMAZING SPIDER-MAN (1999) (#1-700.5) (MARVEL) #695 Very Fine
AMAZING SPIDER-MAN (1999) (#1-700.5) (MARVEL) #698 Very Fine

AMAZING SPIDER-MAN (2014) (#1-20.1) (MARVEL) #4 Near Mint/Mint

AMAZING SPIDER-MAN (2017) (#789-UP) (MARVEL LEGACY) (2017) #797 RAMOS Near Mint/Mint
AMAZING SPIDER-MAN (2017) (#789-UP) (MARVEL LEGACY) (2017) #797 Very Good


ASTONISHING X-MEN (2004) (#1-68) (MARVEL)(JOSS WHENDON) #23 VARIANT

ASTONISHING X-MEN (2004) (#1-68) (MARVEL)(JOSS WHENDON) #23 VARIANT Near Mint/Mint
ASTONISHING X-MEN (2004) (#1-68) (MARVEL)(JOSS WHENDON) #23 VARIANT Very Fine

AVENGERS (1963) (#1-402) (MARVEL) #88 Very Fine
AVENGERS (1963) (#1-402) (MARVEL) #91 Fine
AVENGERS (1963) (#1-402) (MARVEL) #107 Fine
AVENGERS (1963) (#1-402) (MARVEL) #108 Very Fine
AVENGERS (1963) (#1-402) (MARVEL) #112 Very Fine
AVENGERS (1963) (#1-402) (MARVEL) #113 Very Fine
AVENGERS (1963) (#1-402) (MARVEL) #114 Very Fine
AVENGERS (1963) (#1-402) (MARVEL) #117 Fine
AVENGERS (1963) (#1-402) (MARVEL) #119 Very Fine
AVENGERS (1963) (#1-402) (MARVEL) #121 Very Fine
AVENGERS (1963) (#1-402) (MARVEL) #131 Very Fine

AVENGERS ASSEMBLE BY BRIAN MICHAEL BENDIS TPB (2013) #1 Fine

AVENGERS DISASSEMBLED: THOR TPB (2004) #1 Very Fine

AVENGERS GIANT-SIZE (GIANT SIZE) (1974) #1 Very Fine

AVENGERS VS. X-MEN: VERSUS TPB (2013) #1 Very Good

AVENGING SPIDER-MAN: MY FRIENDS BEAT UP YOUR FRIEND TPB (2012) #1 Fine

BEWARE (1973) #6 Fine
BEWARE (1973) #7 Very Fine

CAPTAIN AMERICA (1968) (#100-454) (MARVEL) #110 Fair
CAPTAIN AMERICA (1968) (#100-454) (MARVEL) #113 Very Good
CAPTAIN AMERICA (1968) (#100-454) (MARVEL) #117 Good
CAPTAIN AMERICA (1968) (#100-454) (MARVEL) #118 Very Good
CAPTAIN AMERICA (1968) (#100-454) (MARVEL) #135 Very Fine
CAPTAIN AMERICA (1968) (#100-454) (MARVEL) #136 Very Fine
CAPTAIN AMERICA (1968) (#100-454) (MARVEL) #146 Very Fine
CAPTAIN AMERICA (1968) (#100-454) (MARVEL) #147 Very Fine
CAPTAIN AMERICA (1968) (#100-454) (MARVEL) #150 Fine
CAPTAIN AMERICA (1968) (#100-454) (MARVEL) #151 Very Fine
CAPTAIN AMERICA (1968) (#100-454) (MARVEL) #152 Fine
CAPTAIN AMERICA (1968) (#100-454) (MARVEL) #156 Very Fine
CAPTAIN AMERICA (1968) (#100-454) (MARVEL) #164 Very Fine
CAPTAIN AMERICA (1968) (#100-454) (MARVEL) #165 Fine
CAPTAIN AMERICA (1968) (#100-454) (MARVEL) #166 Very Fine
CAPTAIN AMERICA (1968) (#100-454) (MARVEL) #169 Very Fine
CAPTAIN AMERICA (1968) (#100-454) (MARVEL) #170 Very Fine
CAPTAIN AMERICA (1968) (#100-454) (MARVEL) #175 Fine
CAPTAIN AMERICA (1968) (#100-454) (MARVEL) #177 Very Fine
CAPTAIN AMERICA (1968) (#100-454) (MARVEL) #179 Very Fine
CAPTAIN AMERICA (1968) (#100-454) (MARVEL) #180 Very Fine
CAPTAIN AMERICA (1968) (#100-454) (MARVEL) #181 Very Fine
CAPTAIN AMERICA (1968) (#100-454) (MARVEL) #182 Fine
CAPTAIN AMERICA (1968) (#100-454) (MARVEL) #187 Very Fine
CAPTAIN AMERICA (1968) (#100-454) (MARVEL) #189 Very Fine


CAPTAIN AMERICA (1968) (#100-454) (MARVEL) #191

CAPTAIN AMERICA (1968) (#100-454) (MARVEL) #191 Very Fine
CAPTAIN AMERICA (1968) (#100-454) (MARVEL) #192 Fine
CAPTAIN AMERICA (1968) (#100-454) (MARVEL) #195 Very Fine
CAPTAIN AMERICA (1968) (#100-454) (MARVEL) #199 Very Fine
CAPTAIN AMERICA (1968) (#100-454) (MARVEL) #200 Fine
CAPTAIN AMERICA (1968) (#100-454) (MARVEL) #203 Very Fine
CAPTAIN AMERICA (1968) (#100-454) (MARVEL) #204 Very Fine
CAPTAIN AMERICA (1968) (#100-454) (MARVEL) #205 Very Fine
CAPTAIN AMERICA (1968) (#100-454) (MARVEL) #214 Fine
CAPTAIN AMERICA (1968) (#100-454) (MARVEL) #215 Very Fine
CAPTAIN AMERICA (1968) (#100-454) (MARVEL) #217 Very Fine
CAPTAIN AMERICA (1968) (#100-454) (MARVEL) #219 Very Fine

CHAMBER OF CHILLS (1972) #7 Very Fine
CHAMBER OF CHILLS (1972) #9 Very Fine
CHAMBER OF CHILLS (1972) #10 Very Fine

CHAMBER OF DARKNESS (1969) #4 Very Fine
CHAMBER OF DARKNESS (1969) #8 Very Fine

CLASSIC X-MEN (1986) #1 NEWSSTAND Very Good

COMBAT KELLY (1972) #3 Very Fine
COMBAT KELLY (1972) #6 Very Fine

CREATURES ON THE LOOSE (1971) #12 Very Fine
CREATURES ON THE LOOSE (1971) #13 Very Fine
CREATURES ON THE LOOSE (1971) #18 Very Fine
CREATURES ON THE LOOSE (1971) #20 Very Fine

CRYPT OF SHADOWS (1973) #2 Fine
CRYPT OF SHADOWS (1973) #3 Very Fine
CRYPT OF SHADOWS (1973) #4 Very Fine
CRYPT OF SHADOWS (1973) #6 Very Fine
CRYPT OF SHADOWS (1973) #7 Very Good
CRYPT OF SHADOWS (1973) #8 Very Fine

DEADPOOL (2008) (#1-63, 900) (MARVEL) #26 Fine

DEADPOOL (2016) (#1-36) (MARVEL) #1 COOK Near Mint/Mint
DEADPOOL (2016) (#1-36) (MARVEL) #1 HASTINGS Near Mint/Mint
DEADPOOL (2016) (#1-36) (MARVEL) #1 MARVEL BOX Near Mint/Mint
DEADPOOL (2016) (#1-36) (MARVEL) #1 MILE HIGH Near Mint/Mint
DEADPOOL (2016) (#1-36) (MARVEL) #2 MILE HIGH Near Mint/Mint
DEADPOOL (2016) (#1-36) (MARVEL) #3 Near Mint/Mint
DEADPOOL (2016) (#1-36) (MARVEL) #21 LEE Near Mint/Mint
DEADPOOL (2016) (#1-36) (MARVEL) #25 FERRY Near Mint/Mint

DEADPOOL CORPS (2010) #6 Very Fine
DEADPOOL CORPS (2010) #12 Fine

DEADPOOL MAX: HISTORY OF VIOLENCE (2011) #1 Fine

DEADPOOL VOL. 6: I RULE, YOU SUCK TPB (2011) #1 3RD PRINT Fine


DEADPOOL VS. CARNAGE (2014) #2

DEADPOOL VS. CARNAGE (2014) #2 Near Mint/Mint

DEADPOOL VS. GAMBIT (2016) #1 FRIED PIE Near Mint/Mint

DEADPOOL VS. PUNISHER (2017) #2 CHAYKIN Near Mint/Mint
DEADPOOL VS. PUNISHER (2017) #2 ESPIN Near Mint/Mint

DOC SAVAGE (1972) (#1-8) (MARVEL) #8 Very Fine

DRACULA GIANT-SIZE (1974) #2 Very Fine
DRACULA GIANT-SIZE (1974) #3 Very Fine

EWOKS (STAR WARS) (1985) #6 NEWSSTAND Very Good
EWOKS (STAR WARS) (1985) #8 NEWSSTAND Good
EWOKS (STAR WARS) (1985) #12 Very Fine

EXCALIBUR (1988) (#1-125) (MARVEL) #86 DELUXE Very Fine

EXCALIBUR EPIC COLLECTION: SWORD IS DRAWN TPB (2017) #1 Very Good

EXILES ULTIMATE COLLECTION TPB (2009) #2 Very Good

EXILES: POINT OF NO RETURN TPB (2009) #1 Very Good

FANTASTIC FOUR (1961) (#1-416) (MARVEL) #125 Very Fine
FANTASTIC FOUR (1961) (#1-416) (MARVEL) #127 Very Fine
FANTASTIC FOUR (1961) (#1-416) (MARVEL) #128 Very Fine
FANTASTIC FOUR (1961) (#1-416) (MARVEL) #130 Very Fine
FANTASTIC FOUR (1961) (#1-416) (MARVEL) #132 Very Fine
FANTASTIC FOUR (1961) (#1-416) (MARVEL) #139 Very Fine
FANTASTIC FOUR (1961) (#1-416) (MARVEL) #141 Very Fine
FANTASTIC FOUR (1961) (#1-416) (MARVEL) #144 Very Fine
FANTASTIC FOUR (1961) (#1-416) (MARVEL) #145 Very Fine
FANTASTIC FOUR (1961) (#1-416) (MARVEL) #146 Very Fine
FANTASTIC FOUR (1961) (#1-416) (MARVEL) #147 Very Fine
FANTASTIC FOUR (1961) (#1-416) (MARVEL) #148 Very Fine
FANTASTIC FOUR (1961) (#1-416) (MARVEL) #150 Fine
FANTASTIC FOUR (1961) (#1-416) (MARVEL) #151 Very Fine

FANTASTIC FOUR GIANT-SIZE (GIANT-SIZE SUPER-STARS) (1974) #2 Very Fine
FANTASTIC FOUR GIANT-SIZE (GIANT-SIZE SUPER-STARS) (1974) #4 Fine

FEAR (ADVENTURE INTO...) (1970) #5 Very Fine
FEAR (ADVENTURE INTO...) (1970) #9 Very Fine
FEAR (ADVENTURE INTO...) (1970) #10 Very Fine
FEAR (ADVENTURE INTO...) (1970) #13 Very Fine
FEAR (ADVENTURE INTO...) (1970) #14 Very Fine
FEAR (ADVENTURE INTO...) (1970) #17 Very Fine
FEAR (ADVENTURE INTO...) (1970) #23 Very Fine

FRANKENSTEIN (1973) #4 Very Fine
FRANKENSTEIN (1973) #5 Very Fine
FRANKENSTEIN (1973) #6 Very Fine
FRANKENSTEIN (1973) #9 Very Fine
FRANKENSTEIN (1973) #10 Very Fine
FRANKENSTEIN (1973) #13 Very Fine
FRANKENSTEIN (1973) #17 Fine

GI JOE #21 Fair
GI JOE #33 NEWSSTAND Very Good
GI JOE #35 NEWSSTAND Fine
GI JOE #38 NEWSSTAND Very Good
GI JOE #39 NEWSSTAND Very Good
GI JOE #41 NEWSSTAND Very Good
GI JOE #42 NEWSSTAND Very Good
GI JOE #43 NEWSSTAND Very Good
GI JOE #46 NEWSSTAND Very Good
GI JOE #56 NEWSSTAND Very Fine
GI JOE #62 NEWSSTAND Very Fine
GI JOE #75 NEWSSTAND Fine
GI JOE #76 NEWSSTAND Very Good
GI JOE #77 NEWSSTAND Very Good

GUARDIANS OF THE GALAXY (1990) (#1-62) (MARVEL) #13 Near Mint/Mint
GUARDIANS OF THE GALAXY (1990) (#1-62) (MARVEL) #14 Near Mint/Mint
GUARDIANS OF THE GALAXY (1990) (#1-62) (MARVEL) #14 NEWSSTAND Very Fine

INFINITY WAR: AFTERMATH TPB (2015) #1 Good

IRON FIST (1975) (#1-15) (MARVEL) #5 Very Fine
IRON FIST (1975) (#1-15) (MARVEL) #6 Very Fine
IRON FIST (1975) (#1-15) (MARVEL) #8 Very Fine
IRON FIST (1975) (#1-15) (MARVEL) #13 Very Fine

IRON MAN (1968) (#1-332) (INVINCIBLE IRON MAN)(MARVEL) #19 Very Fine
IRON MAN (1968) (#1-332) (INVINCIBLE IRON MAN)(MARVEL) #22 Very Fine
IRON MAN (1968) (#1-332) (INVINCIBLE IRON MAN)(MARVEL) #28 Fine
IRON MAN (1968) (#1-332) (INVINCIBLE IRON MAN)(MARVEL) #29 Fine
IRON MAN (1968) (#1-332) (INVINCIBLE IRON MAN)(MARVEL) #30 Very Fine
IRON MAN (1968) (#1-332) (INVINCIBLE IRON MAN)(MARVEL) #32 Very Fine
IRON MAN (1968) (#1-332) (INVINCIBLE IRON MAN)(MARVEL) #34 Very Fine
IRON MAN (1968) (#1-332) (INVINCIBLE IRON MAN)(MARVEL) #38 Very Fine
IRON MAN (1968) (#1-332) (INVINCIBLE IRON MAN)(MARVEL) #42 Very Fine
IRON MAN (1968) (#1-332) (INVINCIBLE IRON MAN)(MARVEL) #49 Very Fine
IRON MAN (1968) (#1-332) (INVINCIBLE IRON MAN)(MARVEL) #64 Very Fine
IRON MAN (1968) (#1-332) (INVINCIBLE IRON MAN)(MARVEL) #68 Fine
IRON MAN (1968) (#1-332) (INVINCIBLE IRON MAN)(MARVEL) #69 Very Fine
IRON MAN (1968) (#1-332) (INVINCIBLE IRON MAN)(MARVEL) #71 Very Fine
IRON MAN (1968) (#1-332) (INVINCIBLE IRON MAN)(MARVEL) #84 Very Fine


IRON MAN (1968) (#1-332) (INVINCIBLE IRON MAN)(MARVEL) #86

IRON MAN (1968) (#1-332) (INVINCIBLE IRON MAN)(MARVEL) #86 Very Fine
IRON MAN (1968) (#1-332) (INVINCIBLE IRON MAN)(MARVEL) #103 Very Fine
IRON MAN (1968) (#1-332) (INVINCIBLE IRON MAN)(MARVEL) #106 Very Fine
IRON MAN (1968) (#1-332) (INVINCIBLE IRON MAN)(MARVEL) #107 Fine

JOURNEY INTO MYSTERY (1972) #3 Fine
JOURNEY INTO MYSTERY (1972) #4 Very Fine
JOURNEY INTO MYSTERY (1972) #6 Very Fine
JOURNEY INTO MYSTERY (1972) #7 Fine
JOURNEY INTO MYSTERY (1972) #8 Very Fine
JOURNEY INTO MYSTERY (1972) #11 Very Fine

KA-ZAR (1974) (#1-20) (MARVEL) #1 Very Fine
KA-ZAR (1974) (#1-20) (MARVEL) #7 Very Fine

KENT BLAKE OF THE SECRET SERVICE (MARVEL/ATLAS) (1951) #11 Very Good

KILLRAVEN PREMIERE HC (2007) #1 Near Mint/Mint

MAN-THING (1974) (#1-22) (MARVEL) #11 Very Fine

MARVEL DOUBLE FEATURE (1973) #4 Very Fine
MARVEL DOUBLE FEATURE (1973) #5 Very Fine

MARVEL PREMIERE (1972) #18 Very Fine

MARVEL PRESENTS (1975) #3 Very Fine
MARVEL PRESENTS (1975) #4 Fine

MARVEL SPOTLIGHT (1971) (#1-33) (MARVEL) #1 Very Fine
MARVEL SPOTLIGHT (1971) (#1-33) (MARVEL) #7 Very Fine
MARVEL SPOTLIGHT (1971) (#1-33) (MARVEL) #8 Very Fine
MARVEL SPOTLIGHT (1971) (#1-33) (MARVEL) #14 Very Fine
MARVEL SPOTLIGHT (1971) (#1-33) (MARVEL) #15 Very Fine
MARVEL SPOTLIGHT (1971) (#1-33) (MARVEL) #16 Very Fine
MARVEL SPOTLIGHT (1971) (#1-33) (MARVEL) #17 Very Fine

MARVEL SUPER ACTION (1977) #1 Fine

MARVEL ZOMBIES TPB (2008) #2 2ND PRINT Very Fine

MASTER OF KUNG FU (1974) (#15-125) (MARVEL) (SHANG-CHI) #16 Fine

MONSTERS ON THE PROWL (1971) #15 Very Good
MONSTERS ON THE PROWL (1971) #18 Fine
MONSTERS ON THE PROWL (1971) #20 Very Fine
MONSTERS ON THE PROWL (1971) #25 Very Fine
MONSTERS ON THE PROWL (1971) #26 Very Fine

NEW MUTANTS (1983) (#1-100) (MARVEL) #98 NEWSSTAND Fine


POWER MAN/IRON FIST (LUKE CAGE, POWER MAN #1-49) (1972) #11

POWER MAN/IRON FIST (LUKE CAGE, POWER MAN #1-49) (1972) #11 Very Fine
POWER MAN/IRON FIST (LUKE CAGE, POWER MAN #1-49) (1972) #12 Fine
POWER MAN/IRON FIST (LUKE CAGE, POWER MAN #1-49) (1972) #13 Fine
POWER MAN/IRON FIST (LUKE CAGE, POWER MAN #1-49) (1972) #14 Fine
POWER MAN/IRON FIST (LUKE CAGE, POWER MAN #1-49) (1972) #16 Very Good
POWER MAN/IRON FIST (LUKE CAGE, POWER MAN #1-49) (1972) #50 Very Fine

PRINCESS LEIA (STAR WARS) (2015) #3 MILE HIGH Near Mint/Mint

PUNISHER (1987) (#1-104) (MARVEL) #4 Near Mint/Mint

SHIELD (1968) (#1-18) (MARVEL) #8 Very Fine
SHIELD (1968) (#1-18) (MARVEL) #11 Very Fine
SHIELD (1968) (#1-18) (MARVEL) #12 Very Fine
SHIELD (1968) (#1-18) (MARVEL) #14 Very Fine

SIEGE (MARVEL) (BATTLEWORLD) (2015) #1 HASTINGS Very Fine

SPIDER-MAN & FANTASTIC FOUR IN HARD CHOICES (SAMHSA) (2009) #1 Good

SPIDER-MAN CLASSICS (1993) #9 NEWSSTAND Fine

SPIDER-MAN GIANT-SIZE (1974) #2 Very Fine
SPIDER-MAN GIANT-SIZE (1974) #3 Fine

SPIDER-MAN: DIED IN YOUR ARMS TONIGHT TPB (2010) #1 Very Good

SPIDER-WOMAN (1978) (#1-50) (JESSICA DREW) (MARVEL) #8 Very Fine

STAR WARS (2015) (#1-UP) (MARVEL) #33 MILE HIGH Near Mint/Mint

STRANGE TALES (1951) (#1-85 ATLAS, #86-188 MARVEL) #146 Very Good
STRANGE TALES (1951) (#1-85 ATLAS, #86-188 MARVEL) #169 Very Fine
STRANGE TALES (1951) (#1-85 ATLAS, #86-188 MARVEL) #171 Fine
STRANGE TALES (1951) (#1-85 ATLAS, #86-188 MARVEL) #173 Very Fine

SUPERIOR SPIDER-MAN (2013) #1 Fine
SUPERIOR SPIDER-MAN (2013) #17 Very Fine

TALES OF SUSPENSE (1959) (#1-99) (ATLAS/MARVEL) #58 Good

THOR (1962) (#83-125 JOURNEY INTO MYSTERY, 126-502) #191 Very Fine
THOR (1962) (#83-125 JOURNEY INTO MYSTERY, 126-502) #215 Fine
THOR (1962) (#83-125 JOURNEY INTO MYSTERY, 126-502) #216 Fine
THOR (1962) (#83-125 JOURNEY INTO MYSTERY, 126-502) #217 Very Fine
THOR (1962) (#83-125 JOURNEY INTO MYSTERY, 126-502) #220 Very Fine
THOR (1998) (#1-85) (MARVEL) #41 IMMONENSGN Near Mint/Mint


TOMB OF DRACULA (1972) (#1-70) (MARVEL) #25

TOMB OF DRACULA (1972) (#1-70) (MARVEL) #25 Very Fine
TOMB OF DRACULA (1972) (#1-70) (MARVEL) #27 Fine
TOMB OF DRACULA (1972) (#1-70) (MARVEL) #29 Very Fine
TOMB OF DRACULA (1972) (#1-70) (MARVEL) #31 Very Good
TOMB OF DRACULA (1972) (#1-70) (MARVEL) #33 Very Fine
TOMB OF DRACULA (1972) (#1-70) (MARVEL) #70 Fine

TONY STARK: IRON MAN (2018) #1 PREMIERE Near Mint/Mint

TOWER OF SHADOWS (1969) #7 Fine
TOWER OF SHADOWS (1969) #8 Very Fine

ULTIMATE COMICS: SPIDER-MAN - DEATH FALLOUT TPB (2012) #1 Fine

ULTIMATE SPIDER-MAN TPB #16 Fine

ULTIMATE X-MEN (2000) #75 Near Mint/Mint

UNCANNY TALES (UNCANNY TALES FROM THE GRAVE #3-12) (1973) #1 Very Fine

VAULT OF EVIL #3 Fine
VAULT OF EVIL #5 Fine
VAULT OF EVIL #8 Fine
VAULT OF EVIL #9 Very Fine
VAULT OF EVIL #10 Very Fine

WEIRD WONDER TALES (1973) #2 Very Fine
WEIRD WONDER TALES (1973) #3 Fine

WEREWOLF BY NIGHT (1972) #13 Very Fine
WEREWOLF BY NIGHT (1972) #14 Very Fine
WEREWOLF BY NIGHT (1972) #15 Fine
WEREWOLF BY NIGHT (1972) #17 Very Fine
WEREWOLF BY NIGHT (1972) #18 Very Fine
WEREWOLF BY NIGHT (1972) #19 Fine
WEREWOLF BY NIGHT (1972) #20 Fine
WEREWOLF BY NIGHT (1972) #22 Fine
WEREWOLF BY NIGHT (1972) #24 Very Fine
WEREWOLF BY NIGHT (1972) #26 Very Fine
WEREWOLF BY NIGHT (1972) #27 Fine
WEREWOLF BY NIGHT (1972) #29 Fine
WEREWOLF BY NIGHT (1972) #30 Very Fine
WEREWOLF BY NIGHT (1972) #37 Fine
WEREWOLF BY NIGHT (1972) #38 Fine
WEREWOLF BY NIGHT (1972) #40 Fine

WHERE CREATURES ROAM (1970) #2 Very Fine
WHERE CREATURES ROAM (1970) #3 Fine
WHERE CREATURES ROAM (1970) #4 Fine
WHERE CREATURES ROAM (1970) #7 Very Fine


WHERE MONSTERS DWELL (1970) #1

WHERE MONSTERS DWELL (1970) #1 Very Fine
WHERE MONSTERS DWELL (1970) #5 Very Fine
WHERE MONSTERS DWELL (1970) #7 Very Fine
WHERE MONSTERS DWELL (1970) #11 Very Good
WHERE MONSTERS DWELL (1970) #17 Very Fine
WHERE MONSTERS DWELL (1970) #23 Very Fine

WOLVERINE & BLACK CAT: CLAWS TPB (2010) #1 Good

WORLDS UNKNOWN (1973) #4 Fine
WORLDS UNKNOWN (1973) #6 Very Fine

X-FACTOR ANNUAL (1986) #6 Near Mint/Mint
X-FACTOR ANNUAL (1986) #6 Very Fine

X-FORCE (2008) (#1-28) (MARVEL) #21 2ND PRINT Very Fine
X-FORCE (2008) (#1-28) (MARVEL) #21 2ND PRINT Fine

X-MEN (1963) (#1-113, UNCANNY X-MEN #114-544) (MARVEL) #350 Very Fine

DC
AQUAMAN (1962) (#1-63) (DC) #20 Fair
BATMAN (1940) (#0-713) (DC) #421 Very Fine
BATMAN (1940) (#0-713) (DC) #422 Very Fine
BATMAN (1940) (#0-713) (DC) #423 Very Fine
BATMAN (1940) (#0-713) (DC) #442 Near Mint/Mint

BATMAN (2011) (#0-52) (DC NEW52) #1 Very Fine

BATMAN: ARKHAM UNHINGED TPB (2013) #1 Fine

BATMAN: BRUCE WAYNE - FUGITIVE TPB (2002) #3 3RD PRINT Good

BATMAN: BRUCE WAYNE - THE ROAD HOME HC (2011) #1 Very Fine

BATMAN: NIGHT OF THE MONSTER MEN (WAL-MART EDITION) (2017) #1 Very Fine

BLACKEST NIGHT (2009) #1 2ND PRINT Very Fine
BLACKEST NIGHT (2009) #5 2ND PRINT Near Mint/Mint

BLACKEST NIGHT: TALES OF THE CORPS (2009) #1 VARIANT Very Fine

BRAVE AND THE BOLD (1955) #42 Good

DMZ: ON THE GROUND TPB (VOL. 1) (2006) #1 2ND PRINT (DC: Vertigo Press) Good

DMZ: PUBLIC WORKS TPB (VOL. 3) (2007) #1 Very Good

EX MACHINA: FIRST HUNDRED DAYS TPB (2005) #1 2ND PRINT (DC/Wildstorm) Fine

FABLES: LEGENDS IN EXILE TPB (2002) #1 5TH PRINT (DC: Vertigo Press) Good


FABLES VOL.17: INHERIT THE WIND TPB (2012) #1

FABLES VOL.17: INHERIT THE WIND TPB (2012) #1 Near Mint/Mint

FALLING IN LOVE (1955) #15 Very Good

FLASH (1959) (#105-350) (DC) #156 Fair

FRINGE TPB (2009) #1 (DC/Wildstorm) Fine

GOLDEN AGE TPB (1995) #1 2ND PRINT Fine

GOTHAM CITY SIRENS TPB (2014) #2 Fine
GOTHAM CITY SIRENS TPB (2014) #2 Very Good

GREEN LANTERN (1960) (#1-224) (DC) #41 Good
GREEN LANTERN (1960) (#1-224) (DC) #73 Very Good
GREEN LANTERN (1960) (#1-224) (DC) #74 Very Good
GREEN LANTERN (1960) (#1-224) (DC) #197 NEWSSTAND Very Good
GREEN LANTERN (1960) (#1-224) (DC) #198 NEWSSTAND Very Good
GREEN LANTERN (1960) (#1-224) (DC) #199 NEWSSTAND Very Good

JLA: STRENGTH IN NUMBERS TPB (VOL. 4) (1998) #1 Very Good

JUSTICE LEAGUE (2018) (#1-UP) (DC UNIVERSE) #1 CHEUNG VIR Near Mint/Mint
JUSTICE LEAGUE (2018) (#1-UP) (DC UNIVERSE) #1 CHEUNGPENC Near Mint/Mint

JUSTICE LEAGUE OF AMERICA (1960) (#1-261) (DC) #254 NEWSSTAND Fine

LEAVE IT TO CHANCE TPB #1 (DC/Wildstorm) Very Good

OUR ARMY AT WAR (1952) #125 Good

OUR FIGHTING FORCES (1954) #99 Very Good

PLANETARY: FOURTH MAN TPB (VOL. 2) (2001) #1 3RD PRINT (DC/Wildstorm) Very Good

SANDMAN: DUST COVERS COLLECTION #1 TPB 2NDPRT (DC: Vertigo Press) Very Good

SECRET SOCIETY OF SUPER-VILLAINS HC (2011) #1 Very Good

SUICIDE SQUAD (1987) (#1-67) (DC) #1 LOC Near Mint/Mint

SUPERBOY (1994) (#0-100) (DC) #13 DCUNIVERSE Fine
SUPERBOY (1994) (#0-100) (DC) #14 DCUNIVERSE Good

SUPERGIRL (2005) (#0-67) (DC) #23 VARIANT Near Mint/Mint

SUPERMAN (1939) (#1-423) (DC) #126 Fair

SUPERMAN (1986) (#0-226, #650-714) (DC) #16 Near Mint/Mint
SUPERMAN (1986) (#0-226, #650-714) (DC) #50 Very Fine
SUPERMAN (1986) (#0-226, #650-714) (DC) #675 VARIANT Near Mint/Mint

SUPERMAN (2011) (#0-52) (DC NEW52) #50 HASTINGB&W Near Mint/Mint


TEEN TITANS (1966) (#1-53) (DC) #34

TEEN TITANS (1966) (#1-53) (DC) #34 Fine

TEEN TITANS (2011) (#0-30) (DC NEW52) #1 2ND PRINT Very Fine

TEEN TITANS, BAXTER (NEW TEEN TITANS) (1984) #50 PEREZ SGN Fine
TEEN TITANS, BAXTER (NEW TEEN TITANS) (1984) #60 PEREZ SGN Very Fine

Y-THE LAST MAN (2002) #28 (DC: Vertigo Press) Near Mint/Mint
Y-THE LAST MAN (2002) #41 (DC: Vertigo Press) Near Mint/Mint

DARK HORSE COMICS
ABE SAPIEN (2013) #31 MACK Near Mint/Mint

GHOST OMNIBUS TPB (2008) #3 Good
GHOST OMNIBUS TPB (2008) #4 Good

GHOST/BATGIRL: RESURRECTION ENGINE TPB (2001) #1 Fine

GOON: MY MURDEROUS CHILDHOOD TPB (VOL. 2) (2004) #1 3RD PRINT Very Fine

SIN CITY: A DAME TO KILL FOR HC (2014) #1 Near Mint/Mint

STAR WARS: CLONE WARS ADVENTURES TPB (2004) #2 Fine

STAR WARS: CLONE WARS ADVENTURES TPB (2004) #4 5TH PRINT Fine
STAR WARS: CLONE WARS ADVENTURES TPB (2004) #6 4TH PRINT Fine
STAR WARS: CLONE WARS ADVENTURES TPB (2004) #10 Good

STAR WARS: KNIGHTS OF THE OLD REPUBLIC (2005) #28 Near Mint/Mint
STAR WARS: KNIGHTS OF THE OLD REPUBLIC (2005) #28 Fine
STAR WARS: KNIGHTS OF THE OLD REPUBLIC (2005) #28 Very Fine

IMAGE COMICS
FALLOUT TOYWORKS VOL. 1: TIFFANY BLUES TPB (2011) #1 Very Good

JACK STAFF: SOLDIERS TPB (VOL. 2) (2004) #1 Fine

MORNING GLORIES VOL. 1: FOR A BETTER FUTURE TPB (2011) #1 2ND PRINT Very Fine
MORNING GLORIES VOL. 1: FOR A BETTER FUTURE TPB (2011) #1 2ND PRINT Fine
MORNING GLORIES VOL. 1: FOR A BETTER FUTURE TPB (2011) #1 3RD PRINT Very Good

SPAWN (1992) #13 Near Mint/Mint
SPAWN (1992) #237 TRADESMART Very Fine
SPAWN (1992) #283 B ALEXAB&W Near Mint/Mint

SWORD TPB (2008) #1 Fine

INDEPENDENTS
BAREFOOT SERPENT GN (TOP SHELF) (2003) #1 SC (Top Shelf Productions) Fine

BIG TROUBLE IN LITTLE CHINA/ESCAPE FROM NEW YORK (2016) #1 WEST COAST (Boom Studios Publishing) Near Mint/Mint

BLUE BEETLE (1965) (VOL. 3) (#50-54) (CHARLTON) #52 (Charlton) Very Good

BUZ SAWYER (1948) #3 (Standard Comics) Good

DEATH RATTLE (1995) #5 (Kitchen Sink Publishing) Fine

FANTASTIC ADVENTURES (SUPER COMICS) (1963) #15 (SUPER COMICS. INC.) Good

FUBAR: BY THE SWORD TPB (2015) #1 (Alterna Comics) Very Fine

GANGSTERS CAN'T WIN (1948) #3 (D.S. Publishing Co) Good

GARFIELD (2012) #1 C (Boom Studios Publishing) Near Mint/Mint

GIRASOL PULP DOUBLES: THE SPIDER (2007) #7 (GIRASOL COLLECTABLES INC.) Very Fine

GRIMM FAIRY TALES: PIPER TPB (2008) #1 (Zenescope Entertainment Inc) Good

GRIMM FAIRY TALES: RETURN TO WONDERLAND (2007) #4 LARRYS VAR (Zenescope Entertainment Inc) Near Mint/Mint

INTIMATE CONFESSIONS (1951) #18 SUPERREPRT (Realistic) Good

KONG OF SKULL ISLAND (2016) #1 CON SIGNED (Boom Studios Publishing) Fine

LADY DEATH: DEATH GODDESS (2005) #1 (Avatar Comics) Near Mint/Mint

LADY DEATH: SACRILEGE (2006) #0 (Avatar Comics) Near Mint/Mint

LOVE AND ROCKETS VOL. 2 (2001) #5 (Fantagraphics) Near Mint/Mint

LUMBERJANES SPECIAL: FAIRE & SQUARE (2017) #1 DCC 2017 (Boom Studios Publishing) Near Mint/Mint

MY FAVORITE MARTIAN: COMPLETE SERIES HC (2011) #1 (HERMES PRESS) Near Mint/Mint
MY FAVORITE MARTIAN: COMPLETE SERIES HC (2011) #1 (HERMES PRESS) Very Fine

PERCY JACKSON & OLYMPIANS VOL. 1: LIGHTNING THIEF TPB (2010) #1 (Hyperion) Fine

QUICK DRAW MCGRAW (1970) #3 (Charlton) Very Good

REGULAR SHOW (2013) #13 D (Boom Studios Publishing) Near Mint/Mint

RICK & MORTY PRESENTS THE VINDICATORS (2018) #1 BRAINTRUST (Oni Press Inc.) Near Mint/Mint

SABRINA (2014) #1 IWANTMORE (Archie Comics) Near Mint/Mint

SAILOR MOON COMIC (Mixx Publications LLC) #1 2ND PRINT (Mixx Publications LLC) Very Fine
SAILOR MOON COMIC (Mixx Publications LLC) #2 2ND PRINT (Mixx Publications LLC) Fine
SAILOR MOON COMIC (Mixx Publications LLC) #3 2ND PRINT (Mixx Publications LLC) Very Fine
SAILOR MOON COMIC (Mixx Publications LLC) #4 2ND PRINT (Mixx Publications LLC) Very Fine
SAILOR MOON COMIC (Mixx Publications LLC) #5 (Mixx Publications LLC) Very Fine
SAILOR MOON COMIC (Mixx Publications LLC) #7 (Mixx Publications LLC) Very Fine
SAILOR MOON COMIC (Mixx Publications LLC) #8 (Mixx Publications LLC) Near Mint/Mint
SAILOR MOON COMIC (Mixx Publications LLC) #11 (Mixx Publications LLC) Very Fine
SAILOR MOON COMIC (Mixx Publications LLC) #12 (Mixx Publications LLC) Very Fine
SAILOR MOON COMIC (Mixx Publications LLC) #16 (Mixx Publications LLC) Very Fine
SAILOR MOON COMIC (Mixx Publications LLC) #17 (Mixx Publications LLC) Near Mint/Mint
SAILOR MOON COMIC (Mixx Publications LLC) #18 (Mixx Publications LLC) Very Fine
SAILOR MOON COMIC (Mixx Publications LLC) #19 (Mixx Publications LLC) Very Fine
SAILOR MOON COMIC (Mixx Publications LLC) #20 (Mixx Publications LLC) Near Mint/Mint
SAILOR MOON COMIC (Mixx Publications LLC) #21 (Mixx Publications LLC) Very Fine
SAILOR MOON COMIC (Mixx Publications LLC) #22 (Mixx Publications LLC) Near Mint/Mint
SAILOR MOON COMIC (Mixx Publications LLC) #23 (Mixx Publications LLC) Very Fine


SAILOR MOON COMIC (Mixx Publications LLC) #24

SAILOR MOON COMIC (Mixx Publications LLC) #24 (Mixx Publications LLC) Very Fine
SAILOR MOON COMIC (Mixx Publications LLC) #25 (Mixx Publications LLC) Near Mint/Mint
SAILOR MOON COMIC (Mixx Publications LLC) #26 (Mixx Publications LLC) Near Mint/Mint
SAILOR MOON COMIC (Mixx Publications LLC) #27 (Mixx Publications LLC) Near Mint/Mint
SAILOR MOON COMIC (Mixx Publications LLC) #28 (Mixx Publications LLC) Near Mint/Mint
SAILOR MOON COMIC (Mixx Publications LLC) #29 (Mixx Publications LLC) Near Mint/Mint
SAILOR MOON COMIC (Mixx Publications LLC) #30 (Mixx Publications LLC) Near Mint/Mint
SAILOR MOON COMIC (Mixx Publications LLC) #32 (Mixx Publications LLC) Near Mint/Mint
SAILOR MOON COMIC (Mixx Publications LLC) #34 (Mixx Publications LLC) Near Mint/Mint
SAILOR MOON COMIC (Mixx Publications LLC) #35 (Mixx Publications LLC) Very Fine

SECRET AGENT X: LEGION OF THE LIVING DEAD TPB (2007) #1 (Trade Items) Very Fine

SECRETS OF LOVE AND MARRIAGE (VOL. 2) (1956) #15 (Charlton) Good

SIMPSONS BIG BRATTY BOOK OF BART SIMPSON TPB (2004) #1 (Bongo Comics) Fine

STAR WARS: ALLEGIANCE NOVEL HC (2007) #1 (Del Rey Book) Very Good

TAROT: WITCH OF THE BLACK ROSE #27 SIGNED (Broadsword Comics) Near Mint/Mint
TAROT: WITCH OF THE BLACK ROSE #27 VARIANTSGN (Broadsword Comics) Near Mint/Mint

THIS MAGAZINE IS HAUNTED (1954) (#15-21) (CHARLTON) #16 (Charlton) Fair

TICK OMNIBUS #5 (New England Comics) Fine

TONTO (Dell Publishing) (1951) #12 (Dell Publishing) Good

TOP CAT (1970) #3 (Charlton) Very Good

WALKING DEAD NOVEL VOL. 3: FALL OF THE GOVERNOR HC (2013) #1 (St Martin's Press) Near Mint/Mint