Receive 60% Off Back Issues
50% Off Trades and Hardbacks
next email newsletter April 18, 2014
Howdy!
If you missed my announcement in Tuesday's newsletter, I am offering a special 60% off all back issues coupon on Saturday to anyone who will vote in this year's Imperial Court of the Rocky Mountain Empire election. Anyone over the age of 16, with a Colorado ID showing a home address north of Castle Rock, is eligible to vote. The election is being held this year in the community room of a large apartment building that is located next to Cheeseman Park, at 1077 Race St.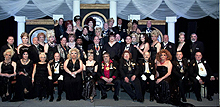 Imperial Court Rocky Mountain Empire


To receive your special 60% off discount coupon, all you need to do is look for the small table with the Mile High Comics logo. Jazmine James will be waiting for you there, and will give one 60% off coupon to each person who votes. This is a one-time coupon, but may be used by you at any time in the future to slash the prices on almost all of our back issues in the store (or on our website...) by a full 60% off. The coupon can also be used to purchase any of our in-stock trade paperbacks and/or comics hardbacks at 50% off. If you have been saving up for a particularly nice book, or a long run of a specific comics title, this one-time 60% off coupon can save you a considerable amount of money.
In case you are wondering, the ICRME is a charitable organization that began as a primarily GLBTQ group, but has broadened its membership considerably over the past few years to include members from all parts of the Denver community. I have been an "Ally" member of the ICRME for the past three years, during which time over $150,000.00 has been raised for scholarships, helping the homeless, teen suicide prevention, and many other worthy causes.
All of the above having been said, there is an annual election held each year which determines the leadership of the ICRME. I believe that the candidates whom I am supporting, Caeri Mancini and Melissa Roberts, will do an excellent job of helping ICRME to raise donations over the next twelve months. It is with thought in mind that I agreed to offer a special one-time 60% off discount to everyone who shops at our Jason St. Mega-Store who might be willing to vote for them. I have even arranged for the Hamburger Mary's bus to stop by the Mega-Store at 10:45 on Saturday, to quickly and easily transport people over to the polls. Voting takes no time at all, as Caeri is running unopposed (he just needs everyone to vote "yes"...), and only one other candidate is running against Melissa.
I will close this part of the newsletter by mentioning that we will also be making a $25 donation to RAINBOW ALLEY on behalf of each Mile High Comics patron who participates in Saturday's ICRME election. RAINBOW ALLEY is a safehouse for GLBTQ teens that operates out of The Center, on East Colfax. They provide help and refuge for GBLTQ kids who find themselves homeless, and also provide after school support for teens who are being bullied at school. Suicide is still shockingly prevalent amongst GLBTQ teens, which is precisely why I helped to organize a Mile High Comics benefit auction for RAINBOW ALLEY this past December. In this instance, the only thing it costs you for that $25 contribution to be made in your name is the few minutes that it takes to vote. Thank you.
In other news, the big STAR WARS wedding will be held this Sunday at our Mile High Comics Jason St. Mega-Store from Noon - 4 PM. Admission is free, and everyone is invited. There will be refreshments, as well as upwards of 100 people in STAR WARS regalia. Come in costume, and join the fun!
Finally, I want you to know that we have added at least 5,000 more hard-to-find back issue comics into our "newly arrived" files this week, and at least 500 more trade paperbacks and hardbacks. If you have not shopped at the Jason St. location in a while, I think that you will be amazed at how much our selections have grown. We have even added more toys and statues! I also continue to schedule buying trips, with my next journey (to Wisconsin) beginning on Tuesday. With your help, I will continue to work to make our Jason St. location even better for you, every single day.
Happy Collecting!
Chuck Rozanski,
President - Mile High Comics, Inc.
April 17, 2014





Past eMail NewsLetters:
April 17, 2014 - Receive 60% Off Back Issues - 50% Off Trades and Hardbacks... (Retail Store Event)
April 16, 2014 - 50% Off Comics Sale Continues...
April 15, 2014 - Star Wars Wedding Sunday - Earn 60% Off On Back Issues... (Retail Store Event)
April 14, 2014 - Free SUPERIOR SPIDER-MAN #31 Offer Ends Wednesday...
April 11, 2014 - Free SUPERIOR SPIDER-MAN Final Issue...
April 9, 2014 - Mile High Comics GUARDIANS OF THE GALAXY Variants...
April 8, 2014 - 500+ Silver Age Comics Auction This Saturday, Toys, Statues, Original Comics Art... (Retail Store Event)
April 7, 2014 - Private Comics Collection Arrives - 20,000+ Issues...
April 4, 2014 - Half Price Comics Sale - Marvel, DC, Dark Horse, Image...
April 3, 2014 - Huge Collection of Marvel and DC Comics At Jason St. ... (Retail Store Event)
April 2, 2014 - Marvel Comics Books On Sale...
March 31, 2014 - Amazing Spider-Man #1 Mile High Comics Variant Edition...
March 28, 2014 - 800 Silver Age Marvel Comics - SPM #1, X-Men #94, DD #1, more!...
March 27, 2014 - 800 Silver Age Marvel Comics Arrive - SPM #1, DD #1, X-Men #94... (Retail Store Event)
March 26, 2014 - Chuck Buys Nine Tons Of Comics!...
March 24, 2014 - Rare Comics - Hulk 181, SPM 129, X-Men 94, more...
March 21, 2014 - Comics Collections Wanted - We're Buying!...
March 20, 2014 - Comics Trade Paperbacks and Hardbacks Sale... (Retail Store Event)
March 19, 2014 - Free BATMAN Blank Cover Variant...