SILVER AGE Codeword Sale Begins Today
Howdy!
I want to begin today by thanking everyone who has placed an online order with us lately, or who has shopped in one of our three retail stores. We are well aware that we only continue to exist as a company because of your kindness and patronage, and that is a blessing for which we owe you our sincere gratitude. With that thought in mind, I promise you that we will continue to work diligently each day to continue growing for you the very best selection of comics available anywhere in the world.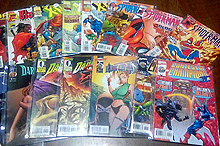 Some comics newly instock now!

Speaking of growing our selections, my assistant, Will Moulton, let me know yesterday that I have three more large private collections of comics to look at over the next couple of weeks. These three collections are scattered around the country, however, so I will need to be at the Denver airport multiple times. I really don't mind traveling however, as I greatly enjoy bringing back even more great comics to offer you.
All of the above having been said, I do also know that I will be needing additional working capital in order for me to buy these three collections, so I am initiating a 40% off SILVERAGE! codeword sale for you today on all of our existing comics. This new 40% discount includes ALL of the higher grade Silver Age and Bronze Age comics from the three major collections that I purchased during July. Only new comics, a few variants, and our CGC issues are excluded from the new SILVERAGE! codeword sale.
I will close today's newsletter with yet another listing of comics that Will and Pam have added into New-In-Stock for you this week. With anywhere from 1,000-3,000 more comics being added into New-In-Stock each day, we are expanding our website selections for you right now at all all-time record pace. Check out our overall Premium New-In-Stock link to see our amazingly diverse list of recent additions of Silver Age, Bronze Age, Variants, and choice newer comics.
Happy Collecting!
Chuck Rozanski,
President - Mile High Comics, Inc.
August 14, 2016

MARVEL
AMAZING SPIDER-MAN (1999) #512 Near Mint/Mint
AMAZING SPIDER-MAN (1999) #512 Very Fine

AMAZING X-MEN (1995) #2 Near Mint/Mint

ASTONISHING X-MEN (1995) #1 Near Mint/Mint

ASTONISHING X-MEN (1995) #2 Near Mint/Mint

AVENGERS (1963) (#1-402) (MARVEL) #361 Very Fine
AVENGERS (1963) (#1-402) (MARVEL) #364 Near Mint/Mint

AVENGERS WORLD (2014) #21 Near Mint/Mint

BILL & TED'S BOGUS JOURNEY (1991) #1 NEWSSTAND Fine

BULLSEYE: GREATEST HITS (2004) #5 Near Mint/Mint

CABLE (1993) #3 Near Mint/Mint

CAPTAIN AMERICA (1968) #201 Very Good
CAPTAIN AMERICA (1968) #202 Fine
CAPTAIN AMERICA (1968) #203 Very Good
CAPTAIN AMERICA (1968) #204 Fine
CAPTAIN AMERICA (1968) #350 Very Good
CAPTAIN AMERICA (1968) #361 Very Fine
CAPTAIN AMERICA (1968) #362 Fine
CAPTAIN AMERICA (1968) #363 Very Good
CAPTAIN AMERICA (1968) #367 Very Fine
CAPTAIN AMERICA (1968) #374 Near Mint/Mint
CAPTAIN AMERICA (1968) #377 Very Fine

CLASSIC X-MEN (1986) #59 NEWSSTAND Fine

CONAN (1970) #234 NEWSSTAND Fine

CONTEST OF CHAMPIONS II (1999) #3 Near Mint/Mint

DAREDEVIL: MAN WITHOUT FEAR (1993) #1 Near Mint/Mint

DARK AVENGERS (2009) #16 Near Mint/Mint

DARK TOWER: GUNSLINGER BORN (2006) #6 Fine
DARK TOWER: GUNSLINGER BORN (2006) #7 Fine

DEADPOOL (1993) (#1-4) (CIRCLE CHASE) (MARVEL) #4 Near Mint/Mint

DEADPOOL TEAM-UP (2009) #891 Near Mint/Mint
DEADPOOL TEAM-UP (2009) #893 Near Mint/Mint

ELEKTRA (2001) #21 Near Mint/Mint
ELEKTRA (2001) #22 Near Mint/Mint
ELEKTRA (2001) #27 Near Mint/Mint
ELEKTRA (2001) #30 Near Mint/Mint

ELEKTRA (2001) #31 Near Mint/Mint
ELEKTRA (2001) #34 Near Mint/Mint

EXCALIBUR (1988) #71 Near Mint/Mint

FACTOR-X (1995) #1 Fine
FACTOR-X (1995) #2 Near Mint/Mint

FALL OF THE HULKS: SAVAGE SHE-HULKS (2010) #3 Near Mint/Mint

FANTASTIC FOUR (1961) (#1-416) (MARVEL) #347 SIGNED Near Mint/Mint

GAMBIT & THE X-TERNALS (1995) #1 Fine

GENERATION NEXT (1995) #1 Fine
GENERATION NEXT (1995) #2 Fine

GHOST RIDER (1990) #1 NEWSSTAND Very Good

GUARDIANS OF THE GALAXY (1990) #17 NEWSSTAND Fine

HULK VS. WOLVERINE (1986) #1 Very Fine

INFINITY CRUSADE (1993) #2 Near Mint/Mint
INFINITY CRUSADE (1993) #2 S&N Good
INFINITY CRUSADE (1993) #4 Fine

IRON MAN (1968) (#1-332) (INVINCIBLE IRON MAN)(MARVEL) #98 Fine

JAMES BOND JR. (1992) #3 NEWSSTAND Near Mint/Mint

LA MASA (EL INCREIBLE HULK) (HULK SPANISH) (1984) #30 Fine
LA MASA (EL INCREIBLE HULK) (HULK SPANISH) (1984) #46 Fine
LA MASA (EL INCREIBLE HULK) (HULK SPANISH) (1984) #46 Very Fine

MARVEL COMICS PRESENTS (1988) #72 NEWSSTAND Very Good

MARVEL TEAM-UP (1972) #18 Fine

MAXIMUM SECURITY (2000) #1 Near Mint/Mint

NEW AVENGERS (2004) #61 Near Mint/Mint

NEW AVENGERS (2004) #63 Near Mint/Mint
NEW AVENGERS (2004) #63 Very Fine

NOMAD (1992) #4 NEWSSTAND Fine

PETER PARKER (SPECTACULAR SPIDER-MAN) (1976) #202 Very Fine
PETER PARKER (SPECTACULAR SPIDER-MAN) (1976) #203 Fine

PETER PARKER ANNUAL (1979) #13 NEWSSTAND Near Mint/Mint

PROTECTORS (MALIBU) (1992) #1 NEWS SIGN (Marvel Malibu/Ultraverse) Very Good

PUNISHER WAR JOURNAL (1988) #8 NEWSSTAND Very Fine

SHE-HULK (1989) #46 Near Mint/Mint
SHE-HULK (1989) #47 Near Mint/Mint
SHE-HULK (1989) #49 Near Mint/Mint
SHE-HULK (1989) #50 NEWSSTAND Very Fine
SHE-HULK (1989) #52 Near Mint/Mint
SHE-HULK (1989) #56 Near Mint/Mint
SHE-HULK (1989) #57 Near Mint/Mint
SHE-HULK (1989) #58 Near Mint/Mint
SHE-HULK (1989) #59 Near Mint/Mint
SHE-HULK (1989) #60 Near Mint/Mint

SHE-HULK (2004) #1 Near Mint/Mint

SHE-HULK 2 (2005) #1 Near Mint/Mint
SHE-HULK 2 (2005) #8 Fine
SHE-HULK 2 (2005) #8 2ND PRINT Near Mint/Mint
SHE-HULK 2 (2005) #22 VARIANT Near Mint/Mint
SHE-HULK 2 (2005) #36 Near Mint/Mint
SHE-HULK 2 (2005) #37 Near Mint/Mint
SHE-HULK 2 (2005) #38 Very Fine

SPIDER-GIRL (1998) #19 NEWSSTAND Near Mint/Mint

SPIDER-MAN (1963) (AMAZING SPIDER-MAN) (#1-441) #6 MINI COMIC Fine
SPIDER-MAN (1963) (AMAZING SPIDER-MAN) (#1-441) #253 Near Mint/Mint
SPIDER-MAN (1963) (AMAZING SPIDER-MAN) (#1-441) #253 Fine
SPIDER-MAN (1963) (AMAZING SPIDER-MAN) (#1-441) #253 Very Fine
SPIDER-MAN (1963) (AMAZING SPIDER-MAN) (#1-441) #255 Very Fine
SPIDER-MAN (1963) (AMAZING SPIDER-MAN) (#1-441) #256 Very Fine
SPIDER-MAN (1963) (AMAZING SPIDER-MAN) (#1-441) #257 Very Fine
SPIDER-MAN (1963) (AMAZING SPIDER-MAN) (#1-441) #258 NEWSSTAND Fine
SPIDER-MAN (1963) (AMAZING SPIDER-MAN) (#1-441) #259 Near Mint/Mint
SPIDER-MAN (1963) (AMAZING SPIDER-MAN) (#1-441) #259 Very Fine
SPIDER-MAN (1963) (AMAZING SPIDER-MAN) (#1-441) #260 Fine
SPIDER-MAN (1963) (AMAZING SPIDER-MAN) (#1-441) #260 Very Fine
SPIDER-MAN (1963) (AMAZING SPIDER-MAN) (#1-441) #262 Fine
SPIDER-MAN (1963) (AMAZING SPIDER-MAN) (#1-441) #262 NEWSSTAND Near Mint/Mint
SPIDER-MAN (1963) (AMAZING SPIDER-MAN) (#1-441) #262 NEWSSTAND Very Fine
SPIDER-MAN (1963) (AMAZING SPIDER-MAN) (#1-441) #262 NEWSSTAND Fine


SPIDER-MAN (1963) #262 NEWSSTAND

SPIDER-MAN (1963) (AMAZING SPIDER-MAN) (#1-441) #262 NEWSSTAND Very Good
SPIDER-MAN (1963) (AMAZING SPIDER-MAN) (#1-441) #262 Very Fine
SPIDER-MAN (1963) (AMAZING SPIDER-MAN) (#1-441) #263 NEWSSTAND Fine
SPIDER-MAN (1963) (AMAZING SPIDER-MAN) (#1-441) #263 NEWSSTAND Very Good
SPIDER-MAN (1963) (AMAZING SPIDER-MAN) (#1-441) #264 NEWSSTAND Fine
SPIDER-MAN (1963) (AMAZING SPIDER-MAN) (#1-441) #264 NEWSSTAND Very Good
SPIDER-MAN (1963) (AMAZING SPIDER-MAN) (#1-441) #265 Near Mint/Mint
SPIDER-MAN (1963) (AMAZING SPIDER-MAN) (#1-441) #265 Fine
SPIDER-MAN (1963) (AMAZING SPIDER-MAN) (#1-441) #265 Very Good
SPIDER-MAN (1963) (AMAZING SPIDER-MAN) (#1-441) #265 Very Fine
SPIDER-MAN (1963) (AMAZING SPIDER-MAN) (#1-441) #266 Very Fine
SPIDER-MAN (1963) (AMAZING SPIDER-MAN) (#1-441) #267 Near Mint/Mint
SPIDER-MAN (1963) (AMAZING SPIDER-MAN) (#1-441) #267 NEWSSTAND Fine
SPIDER-MAN (1963) (AMAZING SPIDER-MAN) (#1-441) #267 NEWSSTAND Very Good
SPIDER-MAN (1963) (AMAZING SPIDER-MAN) (#1-441) #267 Very Fine
SPIDER-MAN (1963) (AMAZING SPIDER-MAN) (#1-441) #268 Near Mint/Mint
SPIDER-MAN (1963) (AMAZING SPIDER-MAN) (#1-441) #268 NEWSSTAND Near Mint/Mint
SPIDER-MAN (1963) (AMAZING SPIDER-MAN) (#1-441) #268 NEWSSTAND Very Fine
SPIDER-MAN (1963) (AMAZING SPIDER-MAN) (#1-441) #268 NEWSSTAND Fine
SPIDER-MAN (1963) (AMAZING SPIDER-MAN) (#1-441) #268 Very Fine
SPIDER-MAN (1963) (AMAZING SPIDER-MAN) (#1-441) #271 Near Mint/Mint
SPIDER-MAN (1963) (AMAZING SPIDER-MAN) (#1-441) #271 Very Fine
SPIDER-MAN (1963) (AMAZING SPIDER-MAN) (#1-441) #272 Near Mint/Mint
SPIDER-MAN (1963) (AMAZING SPIDER-MAN) (#1-441) #272 Very Fine
SPIDER-MAN (1963) (AMAZING SPIDER-MAN) (#1-441) #274 Near Mint/Mint
SPIDER-MAN (1963) (AMAZING SPIDER-MAN) (#1-441) #274 Very Fine
SPIDER-MAN (1963) (AMAZING SPIDER-MAN) (#1-441) #283 Very Fine
SPIDER-MAN (1963) (AMAZING SPIDER-MAN) (#1-441) #285 Fine
SPIDER-MAN (1963) (AMAZING SPIDER-MAN) (#1-441) #285 Near Mint/Mint
SPIDER-MAN (1963) (AMAZING SPIDER-MAN) (#1-441) #286 Near Mint/Mint
SPIDER-MAN (1963) (AMAZING SPIDER-MAN) (#1-441) #287 Very Fine
SPIDER-MAN (1963) (AMAZING SPIDER-MAN) (#1-441) #292 Very Fine
SPIDER-MAN (1963) (AMAZING SPIDER-MAN) (#1-441) #295 Near Mint/Mint
SPIDER-MAN (1963) (AMAZING SPIDER-MAN) (#1-441) #295 Very Fine
SPIDER-MAN (1963) (AMAZING SPIDER-MAN) (#1-441) #319 Near Mint/Mint
SPIDER-MAN (1963) (AMAZING SPIDER-MAN) (#1-441) #320 Fine
SPIDER-MAN (1963) (AMAZING SPIDER-MAN) (#1-441) #320 Very Fine
SPIDER-MAN (1963) (AMAZING SPIDER-MAN) (#1-441) #321 Fine
SPIDER-MAN (1963) (AMAZING SPIDER-MAN) (#1-441) #321 Near Mint/Mint
SPIDER-MAN (1963) (AMAZING SPIDER-MAN) (#1-441) #321 NEWSSTAND Good
SPIDER-MAN (1963) (AMAZING SPIDER-MAN) (#1-441) #321 Very Fine
SPIDER-MAN (1963) (AMAZING SPIDER-MAN) (#1-441) #321 Very Good
SPIDER-MAN (1963) (AMAZING SPIDER-MAN) (#1-441) #322 Fine
SPIDER-MAN (1963) (AMAZING SPIDER-MAN) (#1-441) #322 Near Mint/Mint
SPIDER-MAN (1963) (AMAZING SPIDER-MAN) (#1-441) #322 NEWSSTAND Very Fine
SPIDER-MAN (1963) (AMAZING SPIDER-MAN) (#1-441) #322 NEWSSTAND Very Good
SPIDER-MAN (1963) (AMAZING SPIDER-MAN) (#1-441) #322 NEWSSTAND Good
SPIDER-MAN (1963) (AMAZING SPIDER-MAN) (#1-441) #322 Very Fine
SPIDER-MAN (1963) (AMAZING SPIDER-MAN) (#1-441) #323 Fine
SPIDER-MAN (1963) (AMAZING SPIDER-MAN) (#1-441) #323 Near Mint/Mint
SPIDER-MAN (1963) (AMAZING SPIDER-MAN) (#1-441) #323 NEWSSTAND Good
SPIDER-MAN (1963) (AMAZING SPIDER-MAN) (#1-441) #323 Very Fine

SPIDER-MAN (1963) (AMAZING SPIDER-MAN) (#1-441) #325 Fine
SPIDER-MAN (1963) (AMAZING SPIDER-MAN) (#1-441) #325 Very Fine
SPIDER-MAN (1963) (AMAZING SPIDER-MAN) (#1-441) #326 Near Mint/Mint
SPIDER-MAN (1963) (AMAZING SPIDER-MAN) (#1-441) #327 Near Mint/Mint
SPIDER-MAN (1963) (AMAZING SPIDER-MAN) (#1-441) #327 Fine
SPIDER-MAN (1963) (AMAZING SPIDER-MAN) (#1-441) #327 Very Fine
SPIDER-MAN (1963) (AMAZING SPIDER-MAN) (#1-441) #329 NEWSSTAND Very Fine
SPIDER-MAN (1963) (AMAZING SPIDER-MAN) (#1-441) #329 NEWSSTAND Fine
SPIDER-MAN (1963) (AMAZING SPIDER-MAN) (#1-441) #330 NEWSSTAND Near Mint/Mint
SPIDER-MAN (1963) (AMAZING SPIDER-MAN) (#1-441) #330 NEWSSTAND Very Fine
SPIDER-MAN (1963) (AMAZING SPIDER-MAN) (#1-441) #331 NEWSSTAND Very Fine
SPIDER-MAN (1963) (AMAZING SPIDER-MAN) (#1-441) #333 Fine
SPIDER-MAN (1963) (AMAZING SPIDER-MAN) (#1-441) #334 Near Mint/Mint
SPIDER-MAN (1963) (AMAZING SPIDER-MAN) (#1-441) #334 Very Fine
SPIDER-MAN (1963) (AMAZING SPIDER-MAN) (#1-441) #335 Near Mint/Mint
SPIDER-MAN (1963) (AMAZING SPIDER-MAN) (#1-441) #335 Very Fine
SPIDER-MAN (1963) (AMAZING SPIDER-MAN) (#1-441) #336 NEWSSTAND Fine
SPIDER-MAN (1963) (AMAZING SPIDER-MAN) (#1-441) #337 Near Mint/Mint
SPIDER-MAN (1963) (AMAZING SPIDER-MAN) (#1-441) #337 Very Fine
SPIDER-MAN (1963) (AMAZING SPIDER-MAN) (#1-441) #339 Near Mint/Mint
SPIDER-MAN (1963) (AMAZING SPIDER-MAN) (#1-441) #339 Very Fine
SPIDER-MAN (1963) (AMAZING SPIDER-MAN) (#1-441) #340 NEWSSTAND Very Fine
SPIDER-MAN (1963) (AMAZING SPIDER-MAN) (#1-441) #340 NEWSSTAND Very Good
SPIDER-MAN (1963) (AMAZING SPIDER-MAN) (#1-441) #341 Very Fine
SPIDER-MAN (1963) (AMAZING SPIDER-MAN) (#1-441) #344 Near Mint/Mint
SPIDER-MAN (1963) (AMAZING SPIDER-MAN) (#1-441) #344 Very Fine
SPIDER-MAN (1963) (AMAZING SPIDER-MAN) (#1-441) #348 Fine
SPIDER-MAN (1963) (AMAZING SPIDER-MAN) (#1-441) #349 NEWSSTAND Near Mint/Mint
SPIDER-MAN (1963) (AMAZING SPIDER-MAN) (#1-441) #349 NEWSSTAND Very Fine
SPIDER-MAN (1963) (AMAZING SPIDER-MAN) (#1-441) #349 NEWSSTAND Fine
SPIDER-MAN (1963) (AMAZING SPIDER-MAN) (#1-441) #350 NEWSSTAND Very Fine
SPIDER-MAN (1963) (AMAZING SPIDER-MAN) (#1-441) #350 NEWSSTAND Fine
SPIDER-MAN (1963) (AMAZING SPIDER-MAN) (#1-441) #359 NEWSSTAND Near Mint/Mint
SPIDER-MAN (1963) (AMAZING SPIDER-MAN) (#1-441) #360 NEWSSTAND Fine
SPIDER-MAN (1963) (AMAZING SPIDER-MAN) (#1-441) #362 Near Mint/Mint
SPIDER-MAN (1963) (AMAZING SPIDER-MAN) (#1-441) #362 Fine
SPIDER-MAN (1963) (AMAZING SPIDER-MAN) (#1-441) #362 NEWSSTAND Very Fine
SPIDER-MAN (1963) (AMAZING SPIDER-MAN) (#1-441) #362 NEWSSTAND Fine
SPIDER-MAN (1963) (AMAZING SPIDER-MAN) (#1-441) #362 NEWSSTAND Very Good
SPIDER-MAN (1963) (AMAZING SPIDER-MAN) (#1-441) #362 Very Good
SPIDER-MAN (1963) (AMAZING SPIDER-MAN) (#1-441) #362 Very Fine
SPIDER-MAN (1963) (AMAZING SPIDER-MAN) (#1-441) #363 NEWSSTAND Very Fine
SPIDER-MAN (1963) (AMAZING SPIDER-MAN) (#1-441) #363 NEWSSTAND Very Good
SPIDER-MAN (1963) (AMAZING SPIDER-MAN) (#1-441) #365 NEWSSTAND Very Fine
SPIDER-MAN (1963) (AMAZING SPIDER-MAN) (#1-441) #366 NEWSSTAND Very Fine
SPIDER-MAN (1963) (AMAZING SPIDER-MAN) (#1-441) #367 NEWSSTAND Very Fine
SPIDER-MAN (1963) (AMAZING SPIDER-MAN) (#1-441) #367 NEWSSTAND Fine
SPIDER-MAN (1963) (AMAZING SPIDER-MAN) (#1-441) #368 NEWSSTAND Near Mint/Mint
SPIDER-MAN (1963) (AMAZING SPIDER-MAN) (#1-441) #368 NEWSSTAND Very Fine
SPIDER-MAN (1963) (AMAZING SPIDER-MAN) (#1-441) #369 NEWSSTAND Near Mint/Mint
SPIDER-MAN (1963) (AMAZING SPIDER-MAN) (#1-441) #369 NEWSSTAND Very Fine
SPIDER-MAN (1963) (AMAZING SPIDER-MAN) (#1-441) #369 NEWSSTAND Fine
SPIDER-MAN (1963) (AMAZING SPIDER-MAN) (#1-441) #372 NEWSSTAND Very Fine
SPIDER-MAN (1963) (AMAZING SPIDER-MAN) (#1-441) #374 NEWSSTAND Fine
SPIDER-MAN (1963) (AMAZING SPIDER-MAN) (#1-441) #375 Near Mint/Mint
SPIDER-MAN (1963) (AMAZING SPIDER-MAN) (#1-441) #375 NEWSSTAND Fine
SPIDER-MAN (1963) (AMAZING SPIDER-MAN) (#1-441) #375 NEWSSTAND Very Good
SPIDER-MAN (1963) (AMAZING SPIDER-MAN) (#1-441) #375 Very Fine
SPIDER-MAN (1963) (AMAZING SPIDER-MAN) (#1-441) #376 NEWSSTAND Near Mint/Mint
SPIDER-MAN (1963) (AMAZING SPIDER-MAN) (#1-441) #376 NEWSSTAND Very Fine
SPIDER-MAN (1963) (AMAZING SPIDER-MAN) (#1-441) #377 NEWSSTAND Near Mint/Mint
SPIDER-MAN (1963) (AMAZING SPIDER-MAN) (#1-441) #377 NEWSSTAND Very Fine
SPIDER-MAN (1963) (AMAZING SPIDER-MAN) (#1-441) #377 NEWSSTAND Fine
SPIDER-MAN (1963) (AMAZING SPIDER-MAN) (#1-441) #378 Fine
SPIDER-MAN (1963) (AMAZING SPIDER-MAN) (#1-441) #378 NEWSSTAND Fine
SPIDER-MAN (1963) (AMAZING SPIDER-MAN) (#1-441) #378 Very Fine
SPIDER-MAN (1963) (AMAZING SPIDER-MAN) (#1-441) #379 Near Mint/Mint
SPIDER-MAN (1963) (AMAZING SPIDER-MAN) (#1-441) #379 NEWSSTAND Near Mint/Mint
SPIDER-MAN (1963) (AMAZING SPIDER-MAN) (#1-441) #379 NEWSSTAND Very Fine
SPIDER-MAN (1963) (AMAZING SPIDER-MAN) (#1-441) #379 NEWSSTAND Fine
SPIDER-MAN (1963) (AMAZING SPIDER-MAN) (#1-441) #379 Very Fine
SPIDER-MAN (1963) (AMAZING SPIDER-MAN) (#1-441) #380 Near Mint/Mint
SPIDER-MAN (1963) (AMAZING SPIDER-MAN) (#1-441) #380 Very Fine

SPIDER-MAN UNLIMITED (1993) #2 Near Mint/Mint

SPIDER-WOMAN (1978) #36 Near Mint/Mint

SPIDER-WOMAN (1978) #38 Fine
SPIDER-WOMAN (1978) #38 Near Mint/Mint
SPIDER-WOMAN (1978) #38 NEWSSTAND Near Mint/Mint
SPIDER-WOMAN (1978) #38 NEWSSTAND Fine
SPIDER-WOMAN (1978) #38 NEWSSTAND Very Good
SPIDER-WOMAN (1978) #38 Very Fine
SPIDER-WOMAN (1978) #39 Near Mint/Mint

STAR WARS (1977) #6 WHITMANREP Good
STAR WARS (1977) #52 NEWSSTAND Good

STAR WARS (2015) #1 QUESADA Very Fine
STAR WARS (2015) #2 2ND PRINT Near Mint/Mint
STAR WARS (2015) #2 3RD PRINT Near Mint/Mint
STAR WARS (2015) #2 4TH PRINT Near Mint/Mint
STAR WARS (2015) #3 Near Mint/Mint

TEAM AMERICA (1982) #7 VARIANT Very Good

THOR (1962) #344 NEWSSTAND Good

VENOM: FUNERAL PYRE (1993) #1 Near Mint/Mint

VENOM: LETHAL PROTECTOR (1993) #6 Near Mint/Mint

WEB OF SPIDER-MAN (1985) #101 Near Mint/Mint
WEB OF SPIDER-MAN (1985) #103 Near Mint/Mint

WEIRD WONDER TALES (1973) #3 Very Good
WEIRD WONDER TALES (1973) #5 Very Good
WEIRD WONDER TALES (1973) #6 Very Good
WEIRD WONDER TALES (1973) #7 Fine
WEIRD WONDER TALES (1973) #8 Fine
WEIRD WONDER TALES (1973) #11 Good
WEIRD WONDER TALES (1973) #12 Very Good
WEIRD WONDER TALES (1973) #14 Very Fine
WEIRD WONDER TALES (1973) #15 Very Good
WEIRD WONDER TALES (1973) #19 Good
WEIRD WONDER TALES (1973) #20 Good
WEIRD WONDER TALES (1973) #20 Very Good
WEIRD WONDER TALES (1973) #21 Very Good
WEIRD WONDER TALES (1973) #22 Fine

WEREWOLF BY NIGHT (1972) #7 Fine
WEREWOLF BY NIGHT (1972) #9 Good
WEREWOLF BY NIGHT (1972) #10 Good
WEREWOLF BY NIGHT (1972) #12 Very Fine
WEREWOLF BY NIGHT (1972) #16 Very Good
WEREWOLF BY NIGHT (1972) #17 Fine
WEREWOLF BY NIGHT (1972) #20 Fine
WEREWOLF BY NIGHT (1972) #22 Very Good
WEREWOLF BY NIGHT (1972) #26 Fine
WEREWOLF BY NIGHT (1972) #26 Very Good
WEREWOLF BY NIGHT (1972) #27 Very Good
WEREWOLF BY NIGHT (1972) #30 Very Good
WEREWOLF BY NIGHT (1972) #31 Very Good
WEREWOLF BY NIGHT (1972) #34 Very Good
WEREWOLF BY NIGHT (1972) #35 Good
WEREWOLF BY NIGHT (1972) #35 Very Good
WEREWOLF BY NIGHT (1972) #37 Very Good
WEREWOLF BY NIGHT (1972) #38 Fine
WEREWOLF BY NIGHT (1972) #41 Fine
WEREWOLF BY NIGHT (1972) #41 Very Good
WEREWOLF BY NIGHT (1972) #42 Fine
WEREWOLF BY NIGHT (1972) #43 Very Good

WEST COAST AVENGERS ANNUAL (1986) #1 Very Good
WEST COAST AVENGERS ANNUAL (1986) #3 Very Good

WESTERN GUNFIGHTERS (1970) #8 Fine
WESTERN GUNFIGHTERS (1970) #12 Fine
WESTERN GUNFIGHTERS (1970) #13 Fine
WESTERN GUNFIGHTERS (1970) #17 Fine
WESTERN GUNFIGHTERS (1970) #18 Fine
WESTERN GUNFIGHTERS (1970) #20 Near Mint/Mint
WESTERN GUNFIGHTERS (1970) #21 Very Good
WESTERN GUNFIGHTERS (1970) #24 Very Good


WESTERN GUNFIGHTERS (1970) #26

WESTERN GUNFIGHTERS (1970) #26 Very Good
WESTERN GUNFIGHTERS (1970) #27 Very Good
WESTERN GUNFIGHTERS (1970) #28 Very Good
WESTERN GUNFIGHTERS (1970) #29 Very Good
WESTERN GUNFIGHTERS (1970) #30 Very Good
WESTERN GUNFIGHTERS (1970) #31 Fine
WESTERN GUNFIGHTERS (1970) #32 Fine
WESTERN GUNFIGHTERS (1970) #32 Very Good

WESTERN KID (1971) #1 Fine
WESTERN KID (1971) #2 Fine
WESTERN KID (1971) #3 Fine
WESTERN KID (1971) #3 Very Good
WESTERN KID (1971) #4 Fine

WHAT IF... (1977) #2 Near Mint/Mint
WHAT IF... (1977) #4 Near Mint/Mint
WHAT IF... (1977) #5 Fine
WHAT IF... (1977) #15 NEWSSTAND Fine
WHAT IF... (1977) #19 NEWSSTAND Very Good
WHAT IF... (1977) #22 NEWSSTAND Fine
WHAT IF... (1977) #27 NEWSSTAND Fine
WHAT IF... (1977) #33 NEWSSTAND Fine

WHAT IF... (1989) #42 Very Fine
WHAT IF... (1989) #58 Very Fine

WHERE CREATURES ROAM (1970) #4 Fine

WHERE MONSTERS DWELL (1970) #4 Very Good
WHERE MONSTERS DWELL (1970) #5 Good
WHERE MONSTERS DWELL (1970) #11 Fine
WHERE MONSTERS DWELL (1970) #16 Good
WHERE MONSTERS DWELL (1970) #19 Good
WHERE MONSTERS DWELL (1970) #30 Very Fine
WHERE MONSTERS DWELL (1970) #31 Good
WHERE MONSTERS DWELL (1970) #32 Very Good
WHERE MONSTERS DWELL (1970) #34 Fine
WHERE MONSTERS DWELL (1970) #35 Very Fine
WHERE MONSTERS DWELL (1970) #37 Fine

WOLVERINE (1988) #126 Near Mint/Mint
WOLVERINE (1988) #138 Near Mint/Mint
WOLVERINE (1988) #143 Near Mint/Mint

WOLVERINE (2003) #43 Near Mint/Mint
WOLVERINE (2003) #86 Near Mint/Mint

WOLVERINE: ORIGINS (2006) #47 Near Mint/Mint
WOLVERINE: ORIGINS (2006) #48 Near Mint/Mint
WOLVERINE: ORIGINS (2006) #49 Near Mint/Mint

WOLVERINES (2015) #15 Near Mint/Mint
WOLVERINES (2015) #16 Near Mint/Mint

X-FORCE (2008) #1 Near Mint/Mint
X-FORCE (2008) #12 Very Fine
X-FORCE (2008) #13 Near Mint/Mint
X-FORCE (2008) #14 Fine
X-FORCE (2008) #15 VARIANT Near Mint/Mint
X-FORCE (2008) #26 Near Mint/Mint

X-FORCE: SEX & VIOLENCE (2010) #1 Near Mint/Mint

X-MEN: SECOND COMING (2010) #1 Fine
X-MEN: SECOND COMING (2010) #1 Near Mint/Mint

DC
A BIZARRO (1999) #1 NEWSSTAND Near Mint/Mint

AQUAMAN (1985) (#1-4) (DC) #2 NEWSSTAND Very Good

BATGIRL (DC) (2011) #12 Near Mint/Mint

BATMAN/JUDGE DREDD: VENDETTA IN GOTHAM (MIGNOLA COVER) (1993) #1 Near Mint/Mint

BATMAN: SHADOW OF THE BAT (1992) #14 Near Mint/Mint
BATMAN: SHADOW OF THE BAT (1992) #15 Very Fine

BATMAN: WIDENING GYRE (KEVIN SMITH) (2009) #6 Near Mint/Mint

BLACKEST NIGHT (2009) #7 Near Mint/Mint

DEADMAN (1986) #2 NEWSSTAND Fine
DEADMAN (1986) #3 NEWSSTAND Very Fine
DEADMAN (1986) #4 NEWSSTAND Very Fine

DEATHSTROKE: THE TERMINATOR (1991) #6 Near Mint/Mint
DEATHSTROKE: THE TERMINATOR (1991) #7 Near Mint/Mint

DETECTIVE COMICS (1937) (#1-881) (DC) #469 Good
DETECTIVE COMICS (1937) (#1-881) (DC) #572 NEWSSTAND Very Good
DETECTIVE COMICS (1937) (#1-881) (DC) #575 Near Mint/Mint
DETECTIVE COMICS (1937) (#1-881) (DC) #575 Fine
DETECTIVE COMICS (1937) (#1-881) (DC) #575 Very Fine
DETECTIVE COMICS (1937) (#1-881) (DC) #576 Near Mint/Mint
DETECTIVE COMICS (1937) (#1-881) (DC) #576 Very Fine
DETECTIVE COMICS (1937) (#1-881) (DC) #577 Fine
DETECTIVE COMICS (1937) (#1-881) (DC) #577 Very Fine
DETECTIVE COMICS (1937) (#1-881) (DC) #578 Near Mint/Mint
DETECTIVE COMICS (1937) (#1-881) (DC) #578 Fine
DETECTIVE COMICS (1937) (#1-881) (DC) #578 Very Fine
DETECTIVE COMICS (1937) (#1-881) (DC) #584 NEWSSTAND Fine
DETECTIVE COMICS (1937) (#1-881) (DC) #737 Very Fine

FLASH (1987) #53 NEWSSTAND Good

GREEN LANTERN (1960) #201 NEWSSTAND Near Mint/Mint
GREEN LANTERN (1990) #51 NEWSSTAND Very Fine

GREEN LANTERN: EMERALD WARRIORS (2010) #8 2ND PRINT Near Mint/Mint

IMPULSE (1995) #10 Near Mint/Mint

INFINITY INC. (1984) #45 Near Mint/Mint

LEGENDS OF THE DARK KNIGHT (BATMAN) (1989) #54 Near Mint/Mint
LEGENDS OF THE DARK KNIGHT (BATMAN) (1989) #59 Near Mint/Mint

LEGION OF SUPER-HEROES (1980) #351 NEWSSTAND Very Fine

NIGHTWING (1996) (#1-153) (DC) #4 NEWSSTAND Very Fine

NIGHTWING (2001) (#0-30) (DC NEW52) #30 Near Mint/Mint

SPACE GHOST (2004) #1 Very Fine

SUICIDE SQUAD (1987) #42 Near Mint/Mint
SUICIDE SQUAD (1987) #42 Very Fine

SUICIDE SQUAD (2011) #2 Near Mint/Mint

SUPER FRIENDS (2008) #26 Very Fine

SUPERGIRL: COSMIC ADVENTURES IN THE 8TH GRADE (2008) #5 Near Mint/Mint
SUPERGIRL: COSMIC ADVENTURES IN THE 8TH GRADE (2008) #6 Very Fine

SUPERMAN ADVENTURES (1996) #18 NEWSSTAND Near Mint/Mint

SUPERMAN FAMILY (1974) #217 Fine

SUPERMAN FOREVER (1998) #1 DELUXE Near Mint/Mint

WEIRD MYSTERY TALES (1972) #2 Very Good
WEIRD MYSTERY TALES (1972) #3 Good
WEIRD MYSTERY TALES (1972) #5 Fine

WEIRD MYSTERY TALES (1972) #5 Very Good
WEIRD MYSTERY TALES (1972) #17 Very Good
WEIRD MYSTERY TALES (1972) #19 Very Good
WEIRD MYSTERY TALES (1972) #21 Good
WEIRD MYSTERY TALES (1972) #21 Very Good

WEIRD WAR TALES (1971) #20 Fine
WEIRD WAR TALES (1971) #95 Near Mint/Mint
WEIRD WAR TALES (1971) #95 Fine
WEIRD WAR TALES (1971) #95 Very Fine

WEIRD WORLDS (1972) #2 Fine
WEIRD WORLDS (1972) #3 Fine
WEIRD WORLDS (1972) #3 Very Good
WEIRD WORLDS (1972) #5 Near Mint/Mint
WEIRD WORLDS (1972) #7 Fine

WELCOME BACK, KOTTER (1976) #1 Fine

WONDER WOMAN (1987) #10 NEWSSTAND Near Mint/Mint

DARK HORSE COMICS
CLASSIC STAR WARS: DEVILWORLDS #1 Very Good

DARK HORSE COMICS (1992) #25 Near Mint/Mint

STAR WARS: A NEW HOPE SPECIAL EDITION #1 Fine

STAR WARS: DARK TIMES (2006) #16 Near Mint/Mint

IMAGE COMICS
BACKLASH (IMAGE) (1994) #1 VARIANT Very Good

BADROCK/WOLVERINE (IMAGE) (MARVEL) (1996) #1 LIEFELD Near Mint/Mint

MAXX (1993) #15 Near Mint/Mint

SHELTERED (2013) #1 Near Mint/Mint
SHELTERED (2013) #5 Near Mint/Mint
SHELTERED (2013) #8 Near Mint/Mint

INDEPENDENTS
ARCHIE (2015) #1 CON A CVR (Archie Comics) Near Mint/Mint
ARCHIE (2015) #1 CON B CVR (Archie Comics) Near Mint/Mint

ARMAGEDDON (CHAOS) (BRIAN PULIDO) (1999) #1 (Chaos Comics) Fine


ARMAGEDDON (CHAOS) (BRIAN PULIDO) (1999) #2

ARMAGEDDON (CHAOS) (BRIAN PULIDO) (1999) #2 (Chaos Comics) Near Mint/Mint
ARMAGEDDON (CHAOS) (BRIAN PULIDO) (1999) #4 (Chaos Comics) Near Mint/Mint

ARMY OF DARKNESS (#5-UP) (DYNAMITE) (2006) #27 (DYNAMITE Entertainment) Near Mint/Mint

AVENGELYNE (AWESOME) (LIEFELD) (1999) #1 VARIANT (Awesome Entertainment) Near Mint/Mint

COMBAT (1961) #34 (Dell Publishing) Very Good

DREADSTAR (FIRST) (1986) #47 (First Comics) Very Good

FRIGHT NIGHT (1987) #9 (Now Comics) Fine
FRIGHT NIGHT (1987) #9 (Now Comics) Near Mint/Mint
FRIGHT NIGHT (1987) #9 (Now Comics) Very Fine

GAMEBOY (1990) #1 (Acclaim/Valiant) Very Fine

JUSTICE MACHINE (1987) #25 (Comico) Very Fine

LADY DEATH (2011) #20 LEOPARD (Boundless Comics) Near Mint/Mint

MAGNUS ROBOT FIGHTER (1963) #37 (Gold Key) Very Good

MIRACLEMAN (1985) #3 (Eclipse Enterprises) Near Mint/Mint
MIRACLEMAN (1985) #3 (Eclipse Enterprises) Fine
MIRACLEMAN (1985) #9 (Eclipse Enterprises) Near Mint/Mint
MIRACLEMAN (1985) #9 (Eclipse Enterprises) Fine

MR. LIZARD (ANNUAL) (1993) #1 (Now Comics) Very Fine

RED SONJA: BLACK TOWER (2014) #2 (DYNAMITE Entertainment) Near Mint/Mint
RED SONJA: BLACK TOWER (2014) #3 (DYNAMITE Entertainment) Very Fine

SHEEDEVA #1 (Eros Comix (Fantagraphics)) Very Fine
SHEEDEVA #3 (Eros Comix (Fantagraphics)) Very Fine

SHEENA (2007) #1 A (Devil's Due) Near Mint/Mint
SHEENA (2007) #3 SEELEY (Devil's Due) Near Mint/Mint
SHEENA (2007) #4 LINSNER (Devil's Due) Near Mint/Mint
SHEENA (2007) #5 NAKAYAMA (Devil's Due) Near Mint/Mint

SHEENA 3-D #1 (Blackthorne Publishing) Near Mint/Mint

SHEENA 3-D #1 (Blackthorne Publishing) Very Fine

SHEENA QUEEN OF THE JUNGLE (LONDON NIGHT) (1998) #0 LEOPARD (London Night Studios) Very Fine
SHEENA QUEEN OF THE JUNGLE (LONDON NIGHT) (1998) #2 (London Night Studios) Near Mint/Mint
SHEENA QUEEN OF THE JUNGLE (LONDON NIGHT) (1998) #2 (London Night Studios) Very Fine

SHEENA: DARK RISING (2008) #1 B (Devil's Due) Near Mint/Mint
SHEENA: DARK RISING (2008) #2 A (Devil's Due) Near Mint/Mint

SHEENA: TRAIL OF THE MAPINGUARI ONE-SHOT (2007) #1 A (Devil's Due) Near Mint/Mint

SHEILA TRENT: VAMPIRE HUNTER (1995) #1 (Draculina Publishing) Near Mint/Mint
SHEILA TRENT: VAMPIRE HUNTER (1995) #1 (Draculina Publishing) Very Fine
SHEILA TRENT: VAMPIRE HUNTER (1995) #2 (Draculina Publishing) Very Fine

SHERLOCK HOLMES (Eternity Comics (World/Imperial)) #1 (Eternity Comics (World/Imperial)) Very Fine
SHERLOCK HOLMES (Eternity Comics (World/Imperial)) #2 (Eternity Comics (World/Imperial)) Near Mint/Mint
SHERLOCK HOLMES (Eternity Comics (World/Imperial)) #2 (Eternity Comics (World/Imperial)) Very Fine

SOLAR, MAN OF THE ATOM (VOL. 2) (1997) #1 (Acclaim/Valiant) Near Mint/Mint
SOLAR, MAN OF THE ATOM (VOL. 2) (1997) #1 (Acclaim/Valiant) Very Fine

SONIC UNIVERSE (2009) #39 (Archie Comics) Very Fine

SPACE DREAMS #3 (Ironcat) Very Fine
SPACE DREAMS #4 (Ironcat) Very Fine

SPACE FAMILY ROBINSON (1962) (#1-54) (GOLD KEY) #53 WHITMAN (Gold Key) Fine
SPACE FAMILY ROBINSON (1981) (#55-59) (WHITMAN) #56 (Whitman Publishing) Very Good

SPACE GHOST (1987) #1 (Comico) Near Mint/Mint

SPEED RACER (Now Comics) (#1-38) (1987) #25 (Now Comics) Very Fine

SPOOF COMICS VOL.11: MABEL (CABLE) (1993) #1 (Spoof Cards & Comics (Div./Friendly) Fine

SPOOF COMICS VOL.12: DEATHLOCKS (DEATHLOK) (1993) #1 (Spoof Cards & Comics (Div./Friendly) Near Mint/Mint

STARSTREAM (WHITMAN) (1976) #3 MISPRINT (Whitman Publishing) Near Mint/Mint
STARSTREAM (WHITMAN) (1976) #3 MISPRINT (Whitman Publishing) Very Fine
STARSTREAM (WHITMAN) (1976) #3 MISPRINT (Whitman Publishing) Fine
STARSTREAM (WHITMAN) (1976) #3 MISPRINT (Whitman Publishing) Very Good

UNCLE SCROOGE (2009) (BOOM) (#384-UP) #385 A NEWS (Boom Studios Publishing) Near Mint/Mint
UNCLE SCROOGE (2009) (BOOM) (#384-UP) #390 A (Boom Studios Publishing) Near Mint/Mint

VELVET TALES OF THE ASSASSIN #1 (Mythic Comics) Very Fine

WALT DISNEY'S COMICS AND STORIES (2009) (#699-720) BOOM (2009) #700 A NEWS (Boom Studios Publishing) Very Fine
WALT DISNEY'S COMICS AND STORIES (2009) (#699-720) BOOM (2009) #701 A NEWS (Boom Studios Publishing) Very Fine
WALT DISNEY'S COMICS AND STORIES (2009) (#699-720) BOOM (2009) #702 A NEWS (Boom Studios Publishing) Near Mint/Mint
WALT DISNEY'S COMICS AND STORIES (2009) (#699-720) BOOM (2009) #702 A NEWS (Boom Studios Publishing) Very Fine
WALT DISNEY'S COMICS AND STORIES (2009) (#699-720) BOOM (2009) #702 A NEWS (Boom Studios Publishing) Good

WAR WINGS (1968) #1 (Charlton) Fine

WEIRD SUSPENSE (1975) #1 (Atlas/Seaboard) Near Mint/Mint
WEIRD SUSPENSE (1975) #1 (Atlas/Seaboard) Very Fine

WEIRD SUSPENSE (1975) #3 (Atlas/Seaboard) Fine
WEIRD SUSPENSE (1975) #3 (Atlas/Seaboard) Very Good

WENDY WITCH WORLD #2 (Harvey Comics) Fair

WESTERN ACTION (1975) #1 (Atlas/Seaboard) Near Mint/Mint
WESTERN ACTION (1975) #1 (Atlas/Seaboard) Fine
WESTERN ACTION (1975) #1 (Atlas/Seaboard) Very Good

ZOLASTRAYA AND THE BARD #1 (Twilight Twins Productions) Near Mint/Mint