New Silver Age Arrivals - Avengers, Capt. America, Captain Marvel, Defenders, Conan, more!
Howdy!
I am in an exceptionally good mood today, as I just did a survey of our currently available Silver Age Marvel issues, and I was very pleasantly surprised at the number that we have in stock for you. Truth be told, we have struggled over the past couple of years to keep older 1960's and 1970's Marvel comics in stock in any grade, but most especially in Fine/Very Fine/Near Mint. There are certainly still issues where we have none in stock, but compared to any other time in the past ten years, we are sitting pretty right now. Woo!
While having a decent selection of older Marvels is clearly quite important to me, the reality is that I am a complete generalist when it comes to appreciating the merits of all comic books. People here at the store sometimes leave with the impression that I am a bit odd, as I am forever going on about how I really don't want to sell my comics. My beloved wife, Nanette, wants me to sell some of my comics so that she can pay our company bills, and my staff wants me to sell some comics, too, as they (quite reasonably...) want their paychecks to clear. As far as I am personally concerned, however, my single most important goal each day is to end up with MORE! comic books in stock at the close of our business day, not less. Blessedly, on most days, we succeed...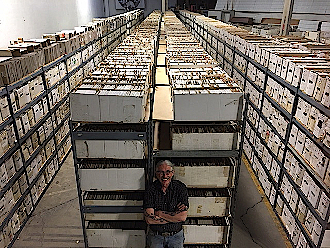 Chuck infront of his back issue racks

So what is my end game? I am, after all, 64 years old, and have already been selling comic books for 49 years. Thanks to my decades of accumulation (we politely do not call it hoarding around here...) I already own well over ten million comics, so why would I possibly feel so compelled to own even more? The answer comes down to wanting to enhance Jason St. even further as THE single most important comics repository in the world. As it stands, our immense building already contains more comic books than any other single spot in the world, but I am determined to stock any/all comics ever published so that whenever a fan visits us from anywhere in the world, that we have a possibility of pleasing them. Simply put, I view comics not as tangible objects, but rather as fun collectibles that have the potential to bring joy into the lives of people who share my passions.
Now, here's where it gets tricky. Water and fire are the enemies of comic books, and all other printed materials. I will absolutely guarantee you that every single day that passes some comics, somewhere, are destroyed. Basements flood, hurricanes happen, forest fires happen, idiot little cousins who get into your collection happen. I even had a good friend who lost all of his Jack Kirby FANTASTIC FOUR issues because he set them next to his hamster's cage, and she pulled them in, chewed them up, and made a delightful nest. Whatever the case may be, the harsh reality is that the total number of older comic books remaining in our world declines every single day. That is why even seemingly wretched titles begin rising in value in the secondary market after about 30 years. After 30 years of perils, most of the comics produced in those original print runs have long since been destroyed.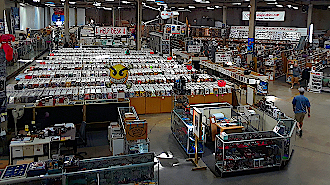 The front of the Jason Street Mega Store

Where my strategy fits into this drumbeat of destruction is that I try to provide refuge and to safeguard as many of the survivors as possible. That is why, even on our tightest cash flow days, we still buy whatever comics and book collections that might wander into Jason St. To my way of thinking, safeguarding as many comics as I can only makes sense, as every single day they all become scarcer, and that much harder to find. While that makes all the sense in the world to me, the truth of the matter is that I am the last major comic book dealer who has not only retained the core of his overall back issue comics inventory, but is also still actively seeking to expand. Everyone else has either already liquidated, or has switched over to a zero risk consignment model. I wish them the best, but will continue in my "old school" ways. I may not have much money, but I am blessed to own more comic books than anyone!
If you concur with my opinion that older comics are becoming scarcer by up the day, I imagine that you can well understand why I am A) so happy that our stock continues to grow, and B) so annoyed when Nanette and Will tell me that I need to put a 50% off sale in effect in order to pay pressing bills. Dammit! We were just getting ahead when the seam in that darn sprinkler pipe had to burst. Well, whatever... If you want to pick off some of my nicer treasures right now at half of list price, utilize the 50% off BIGDIG! codeword. It applies to all ten million of my back issues, excepting only new issues, a few variants, and our professionally-graded comics. Take advantage of these rock bottom prices while you still can, as the new Overstreet Comic Book Price Guide is releasing in just a few weeks. You know what that means...
Happy collecting!
Chuck Rozanski,
President - Mile High Comics, Inc.
May 15, 2019
P.S. Below are SA Marvel titles A-F from our Premium New-In-Stock link. Order quickly, as key issues tend to sell out almost immediately.
MARVEL

AMAZING ADVENTURES (1970) (#1-39) (MARVEL) #5

AMAZING ADVENTURES (1970) (#1-39) (MARVEL) #5 Near Mint/Mint
AMAZING ADVENTURES (1970) (#1-39) (MARVEL) #7 Near Mint/Mint
AMAZING ADVENTURES (1970) (#1-39) (MARVEL) #15 Near Mint/Mint
ASTONISHING TALES (MARVEL) (1970) #2 Very Fine
ASTONISHING TALES (MARVEL) (1970) #3 Near Mint/Mint
ASTONISHING TALES (MARVEL) (1970) #5 Fine
ASTONISHING TALES (MARVEL) (1970) #7 Near Mint/Mint
ASTONISHING TALES (MARVEL) (1970) #10 Very Fine
ASTONISHING TALES (MARVEL) (1970) #11 Very Fine
ASTONISHING TALES (MARVEL) (1970) #16 Very Fine
ASTONISHING TALES (MARVEL) (1970) #17 Very Fine
ASTONISHING TALES (MARVEL) (1970) #22 Very Fine
ASTONISHING TALES (MARVEL) (1970) #23 Very Fine
ASTONISHING TALES (MARVEL) (1970) #24 Near Mint/Mint
ASTONISHING TALES (MARVEL) (1970) #26 Near Mint/Mint
AVENGERS (1963) (#1-402) (MARVEL) #24 Very Good
AVENGERS (1963) (#1-402) (MARVEL) #109 Near Mint/Mint
AVENGERS (1963) (#1-402) (MARVEL) #110 Near Mint/Mint
AVENGERS (1963) (#1-402) (MARVEL) #116 Fine
AVENGERS (1963) (#1-402) (MARVEL) #116 Good
AVENGERS (1963) (#1-402) (MARVEL) #117 Very Good
AVENGERS (1963) (#1-402) (MARVEL) #118 Very Good
AVENGERS (1963) (#1-402) (MARVEL) #120 Near Mint/Mint
AVENGERS (1963) (#1-402) (MARVEL) #123 Near Mint/Mint
AVENGERS (1963) (#1-402) (MARVEL) #124 Near Mint/Mint
AVENGERS (1963) (#1-402) (MARVEL) #128 Near Mint/Mint


AVENGERS (1963) (#1-402) (MARVEL) #144

AVENGERS (1963) (#1-402) (MARVEL) #144 Good
AVENGERS (1963) (#1-402) (MARVEL) #154 Fine
AVENGERS (1963) (#1-402) (MARVEL) #157 Fine
AVENGERS (1963) (#1-402) (MARVEL) #159 WHITMAN Fine
AVENGERS (1963) (#1-402) (MARVEL) #164 Fine
AVENGERS (1963) (#1-402) (MARVEL) #166 Fine
AVENGERS (1963) (#1-402) (MARVEL) #167 Fine
AVENGERS (1963) (#1-402) (MARVEL) #171 Very Fine
AVENGERS ANNUAL (1967) #6 Very Good
BLACK PANTHER (1976) (#1-15) (MARVEL) #4 Near Mint/Mint
BLACK PANTHER (1976) (#1-15) (MARVEL) #7 Near Mint/Mint
CAPTAIN AMERICA (1968) (#100-454) (MARVEL) #100 Very Fine
CAPTAIN AMERICA (1968) (#100-454) (MARVEL) #114 Near Mint/Mint
CAPTAIN AMERICA (1968) (#100-454) (MARVEL) #115 Near Mint/Mint
CAPTAIN AMERICA (1968) (#100-454) (MARVEL) #118 Near Mint/Mint
CAPTAIN AMERICA (1968) (#100-454) (MARVEL) #120 Near Mint/Mint
CAPTAIN AMERICA (1968) (#100-454) (MARVEL) #121 Near Mint/Mint
CAPTAIN AMERICA (1968) (#100-454) (MARVEL) #122 Near Mint/Mint
CAPTAIN AMERICA (1968) (#100-454) (MARVEL) #123 Near Mint/Mint
CAPTAIN AMERICA (1968) (#100-454) (MARVEL) #124 Near Mint/Mint
CAPTAIN AMERICA (1968) (#100-454) (MARVEL) #125 Near Mint/Mint
CAPTAIN AMERICA (1968) (#100-454) (MARVEL) #126 Near Mint/Mint
CAPTAIN AMERICA (1968) (#100-454) (MARVEL) #127 Near Mint/Mint


CAPTAIN AMERICA (1968) (#100-454) (MARVEL) #128

CAPTAIN AMERICA (1968) (#100-454) (MARVEL) #128 Near Mint/Mint
CAPTAIN AMERICA (1968) (#100-454) (MARVEL) #131 Near Mint/Mint
CAPTAIN AMERICA (1968) (#100-454) (MARVEL) #132 Near Mint/Mint
CAPTAIN AMERICA (1968) (#100-454) (MARVEL) #133 Near Mint/Mint
CAPTAIN AMERICA (1968) (#100-454) (MARVEL) #148 Near Mint/Mint
CAPTAIN AMERICA (1968) (#100-454) (MARVEL) #161 Near Mint/Mint
CAPTAIN AMERICA (1968) (#100-454) (MARVEL) #162 Near Mint/Mint
CAPTAIN AMERICA (1968) (#100-454) (MARVEL) #173 Near Mint/Mint
CAPTAIN AMERICA (1968) (#100-454) (MARVEL) #176 Near Mint/Mint
CAPTAIN AMERICA (1968) (#100-454) (MARVEL) #178 Near Mint/Mint
CAPTAIN AMERICA (1968) (#100-454) (MARVEL) #193 Very Good
CAPTAIN AMERICA (1968) (#100-454) (MARVEL) #196 Near Mint/Mint
CAPTAIN AMERICA (1968) (#100-454) (MARVEL) #198 Near Mint/Mint
CAPTAIN AMERICA GIANT-SIZE (1975) #1 Good
CAPTAIN MARVEL (1968) (#1-62) (MARVEL) #2 Fine
CAPTAIN MARVEL (1968) (#1-62) (MARVEL) #3 Near Mint/Mint
CAPTAIN MARVEL (1968) (#1-62) (MARVEL) #5 Near Mint/Mint
CAPTAIN MARVEL (1968) (#1-62) (MARVEL) #6 Near Mint/Mint
CAPTAIN MARVEL (1968) (#1-62) (MARVEL) #7 Near Mint/Mint
CAPTAIN MARVEL (1968) (#1-62) (MARVEL) #9 Very Good
CAPTAIN MARVEL (1968) (#1-62) (MARVEL) #11 Near Mint/Mint
CAPTAIN MARVEL (1968) (#1-62) (MARVEL) #12 Near Mint/Mint


CAPTAIN MARVEL (1968) (#1-62) (MARVEL) #14

CAPTAIN MARVEL (1968) (#1-62) (MARVEL) #14 Near Mint/Mint
CAPTAIN MARVEL (1968) (#1-62) (MARVEL) #16 Near Mint/Mint
CAPTAIN MARVEL (1968) (#1-62) (MARVEL) #17 Near Mint/Mint
CAPTAIN MARVEL (1968) (#1-62) (MARVEL) #18 Near Mint/Mint
CAPTAIN MARVEL (1968) (#1-62) (MARVEL) #18 Good
CAPTAIN MARVEL (1968) (#1-62) (MARVEL) #19 Near Mint/Mint
CAPTAIN MARVEL (1968) (#1-62) (MARVEL) #25 Near Mint/Mint
CAPTAIN MARVEL (1968) (#1-62) (MARVEL) #31 Near Mint/Mint
CAPTAIN MARVEL (1968) (#1-62) (MARVEL) #62 Very Fine
CAT (1972) #1 Very Good
CHAMBER OF DARKNESS (1969) #5 Near Mint/Mint
CHAMBER OF DARKNESS (1969) #7 Near Mint/Mint
CONAN (1970) (#1-275) (CONAN THE BARBARIAN) (MARVEL) #4 Near Mint/Mint
CONAN (1970) (#1-275) (CONAN THE BARBARIAN) (MARVEL) #5 Near Mint/Mint
CONAN (1970) (#1-275) (CONAN THE BARBARIAN) (MARVEL) #6 Near Mint/Mint
CONAN (1970) (#1-275) (CONAN THE BARBARIAN) (MARVEL) #7 Near Mint/Mint
CONAN (1970) (#1-275) (CONAN THE BARBARIAN) (MARVEL) #8 Near Mint/Mint
CONAN (1970) (#1-275) (CONAN THE BARBARIAN) (MARVEL) #10 Near Mint/Mint
CONAN (1970) (#1-275) (CONAN THE BARBARIAN) (MARVEL) #16 Fine
CONAN (1970) (#1-275) (CONAN THE BARBARIAN) (MARVEL) #18 Fine
CONAN (1970) (#1-275) (CONAN THE BARBARIAN) (MARVEL) #26 Very Fine
CONAN (1970) (#1-275) (CONAN THE BARBARIAN) (MARVEL) #33 Very Fine


CONAN (1970) (#1-275) (CONAN THE BARBARIAN) (MARVEL) #35

CONAN (1970) (#1-275) (CONAN THE BARBARIAN) (MARVEL) #35 Fine
CONAN (1970) (#1-275) (CONAN THE BARBARIAN) (MARVEL) #39 Very Fine
CONAN (1970) (#1-275) (CONAN THE BARBARIAN) (MARVEL) #40 Near Mint/Mint
CONAN (1970) (#1-275) (CONAN THE BARBARIAN) (MARVEL) #41 Very Fine
CONAN (1970) (#1-275) (CONAN THE BARBARIAN) (MARVEL) #47 Fine
CONAN (1970) (#1-275) (CONAN THE BARBARIAN) (MARVEL) #48 Near Mint/Mint
CONAN (1970) (#1-275) (CONAN THE BARBARIAN) (MARVEL) #50 Fine
CONAN (1970) (#1-275) (CONAN THE BARBARIAN) (MARVEL) #57 Very Fine
CONAN (1970) (#1-275) (CONAN THE BARBARIAN) (MARVEL) #62 Near Mint/Mint
CONAN (1970) (#1-275) (CONAN THE BARBARIAN) (MARVEL) #82 Near Mint/Mint
CONAN GIANT-SIZE (1974) #1 Near Mint/Mint
CONAN GIANT-SIZE (1974) #2 Fine
CREATURES ON THE LOOSE (1971) #17 Near Mint/Mint
CREATURES ON THE LOOSE (1971) #21 Near Mint/Mint
CREATURES ON THE LOOSE (1971) #28 Near Mint/Mint
CRYPT OF SHADOWS (1973) (#1-21) (MARVEL) #9 Near Mint/Mint
CRYPT OF SHADOWS (1973) (#1-21) (MARVEL) #10 Near Mint/Mint
DAREDEVIL (1964) (#1-380) (MAN WITHOUT FEAR) (MARVEL) #131 Good
DAREDEVIL (1964) (#1-380) (MAN WITHOUT FEAR) (MARVEL) #132 Good
DAREDEVIL (1964) (#1-380) (MAN WITHOUT FEAR) (MARVEL) #137 Very Good
DAREDEVIL (1964) (#1-380) (MAN WITHOUT FEAR) (MARVEL) #140 Very Good
DAREDEVIL (1964) (#1-380) (MAN WITHOUT FEAR) (MARVEL) #141 Good
DAREDEVIL (1964) (#1-380) (MAN WITHOUT FEAR) (MARVEL) #149 Fine


DAREDEVIL (1964) (#1-380) (MAN WITHOUT FEAR) (MARVEL) #150

DAREDEVIL (1964) (#1-380) (MAN WITHOUT FEAR) (MARVEL) #150 Fine
DAREDEVIL (1964) (#1-380) (MAN WITHOUT FEAR) (MARVEL) #151 Very Fine
DAREDEVIL (1964) (#1-380) (MAN WITHOUT FEAR) (MARVEL) #154 Fine
DAREDEVIL (1964) (#1-380) (MAN WITHOUT FEAR) (MARVEL) #156 Very Good
DAREDEVIL (1964) (#1-380) (MAN WITHOUT FEAR) (MARVEL) #157 Very Good
DAREDEVIL (1964) (#1-380) (MAN WITHOUT FEAR) (MARVEL) #164 Fine
DAREDEVIL (1964) (#1-380) (MAN WITHOUT FEAR) (MARVEL) #171 NEWSSTAND Fine
DAREDEVIL (1964) (#1-380) (MAN WITHOUT FEAR) (MARVEL) #171 NEWSSTAND Good
DAREDEVIL (1964) (#1-380) (MAN WITHOUT FEAR) (MARVEL) #172 NEWSSTAND Fine
DAREDEVIL (1964) (#1-380) (MAN WITHOUT FEAR) (MARVEL) #173 NEWSSTAND Fine
DAREDEVIL (1964) (#1-380) (MAN WITHOUT FEAR) (MARVEL) #173 NEWSSTAND Very Good
DAREDEVIL (1964) (#1-380) (MAN WITHOUT FEAR) (MARVEL) #174 NEWSSTAND Very Fine
DAREDEVIL (1964) (#1-380) (MAN WITHOUT FEAR) (MARVEL) #174 NEWSSTAND Fine
DAREDEVIL (1964) (#1-380) (MAN WITHOUT FEAR) (MARVEL) #175 NEWSSTAND Good
DAREDEVIL ANNUAL (1967) #1 Good
DAREDEVIL ANNUAL (1967) #4 Very Good
DAREDEVIL GIANT-SIZE (1975) #1 Good
DEAD OF NIGHT (1973) #2 Near Mint/Mint
DEFENDERS (1972) (#1-152) (MARVEL) #1 Fair
DEFENDERS (1972) (#1-152) (MARVEL) #1 Good
DEFENDERS (1972) (#1-152) (MARVEL) #2 Very Good
DEFENDERS (1972) (#1-152) (MARVEL) #3 Good


DEFENDERS (1972) (#1-152) (MARVEL) #4

DEFENDERS (1972) (#1-152) (MARVEL) #4 Good
DEFENDERS (1972) (#1-152) (MARVEL) #5 Good
DEFENDERS (1972) (#1-152) (MARVEL) #6 Fine
DEFENDERS (1972) (#1-152) (MARVEL) #7 Good
DEFENDERS (1972) (#1-152) (MARVEL) #8 Near Mint/Mint
DEFENDERS (1972) (#1-152) (MARVEL) #8 Very Good
DEFENDERS (1972) (#1-152) (MARVEL) #9 Very Good
DEFENDERS (1972) (#1-152) (MARVEL) #10 Near Mint/Mint
DEFENDERS (1972) (#1-152) (MARVEL) #10 Very Good
DEFENDERS (1972) (#1-152) (MARVEL) #11 Fine
DEFENDERS (1972) (#1-152) (MARVEL) #11 Very Good
DEFENDERS (1972) (#1-152) (MARVEL) #12 Good
DEFENDERS (1972) (#1-152) (MARVEL) #12 Very Fine
DEFENDERS (1972) (#1-152) (MARVEL) #13 Very Fine
DEFENDERS (1972) (#1-152) (MARVEL) #13 Very Good
DEFENDERS (1972) (#1-152) (MARVEL) #14 Near Mint/Mint
DEFENDERS (1972) (#1-152) (MARVEL) #14 Good
DEFENDERS (1972) (#1-152) (MARVEL) #15 Near Mint/Mint
DEFENDERS (1972) (#1-152) (MARVEL) #15 Very Fine
DEFENDERS (1972) (#1-152) (MARVEL) #16 Fine
DEFENDERS (1972) (#1-152) (MARVEL) #16 Very Good
DEFENDERS (1972) (#1-152) (MARVEL) #17 Fine
DEFENDERS (1972) (#1-152) (MARVEL) #18 Very Good


DEFENDERS (1972) (#1-152) (MARVEL) #18

DEFENDERS (1972) (#1-152) (MARVEL) #18 Very Fine
DEFENDERS (1972) (#1-152) (MARVEL) #19 Fine
DEFENDERS (1972) (#1-152) (MARVEL) #20 Near Mint/Mint
DEFENDERS (1972) (#1-152) (MARVEL) #20 Very Good
DEFENDERS (1972) (#1-152) (MARVEL) #21 Very Fine
DEFENDERS (1972) (#1-152) (MARVEL) #21 Very Good
DEFENDERS (1972) (#1-152) (MARVEL) #22 Very Good
DEFENDERS (1972) (#1-152) (MARVEL) #24 Fine
DEFENDERS (1972) (#1-152) (MARVEL) #25 Fine
DEFENDERS (1972) (#1-152) (MARVEL) #25 Very Fine
DEFENDERS (1972) (#1-152) (MARVEL) #26 Very Fine
DEFENDERS (1972) (#1-152) (MARVEL) #26 Very Good
DEFENDERS (1972) (#1-152) (MARVEL) #27 Good
DEFENDERS (1972) (#1-152) (MARVEL) #27 Very Good
DEFENDERS (1972) (#1-152) (MARVEL) #28 Fine
DEFENDERS (1972) (#1-152) (MARVEL) #29 Very Good
DEFENDERS (1972) (#1-152) (MARVEL) #31 Fine
DEFENDERS (1972) (#1-152) (MARVEL) #32 Near Mint/Mint
DEFENDERS (1972) (#1-152) (MARVEL) #32 Fine
DEFENDERS (1972) (#1-152) (MARVEL) #33 Fine
DEFENDERS (1972) (#1-152) (MARVEL) #34 Fine
DEFENDERS (1972) (#1-152) (MARVEL) #34 Very Fine
DEFENDERS (1972) (#1-152) (MARVEL) #35 Fine
DEFENDERS (1972) (#1-152) (MARVEL) #35 Very Fine


DEFENDERS (1972) (#1-152) (MARVEL) #38

DEFENDERS (1972) (#1-152) (MARVEL) #38 Fine
DEFENDERS (1972) (#1-152) (MARVEL) #39 Fine
DEFENDERS (1972) (#1-152) (MARVEL) #41 Very Fine
DEFENDERS (1972) (#1-152) (MARVEL) #42 Near Mint/Mint
DEFENDERS (1972) (#1-152) (MARVEL) #43 Very Fine
DEFENDERS (1972) (#1-152) (MARVEL) #44 Very Fine
DEFENDERS (1972) (#1-152) (MARVEL) #45 Fine
DEFENDERS (1972) (#1-152) (MARVEL) #46 Fine
DEFENDERS (1972) (#1-152) (MARVEL) #47 Fine
DEFENDERS (1972) (#1-152) (MARVEL) #47 WHITMAN Fine
DEFENDERS (1972) (#1-152) (MARVEL) #48 Very Fine
DEFENDERS (1972) (#1-152) (MARVEL) #49 Very Fine
DEFENDERS (1972) (#1-152) (MARVEL) #50 Very Fine
DEFENDERS (1972) (#1-152) (MARVEL) #51 Very Fine
DEFENDERS (1972) (#1-152) (MARVEL) #52 Near Mint/Mint
DEFENDERS (1972) (#1-152) (MARVEL) #52 Very Fine
DEFENDERS (1972) (#1-152) (MARVEL) #53 Near Mint/Mint
DEFENDERS (1972) (#1-152) (MARVEL) #54 Very Fine
DEFENDERS (1972) (#1-152) (MARVEL) #55 Very Fine
DEFENDERS (1972) (#1-152) (MARVEL) #58 Near Mint/Mint
DEFENDERS (1972) (#1-152) (MARVEL) #59 Near Mint/Mint
DEFENDERS (1972) (#1-152) (MARVEL) #60 Fine
DEFENDERS ANNUAL (1976) #1 Fine


DEFENDERS GIANT-SIZE (1974) #1

DEFENDERS GIANT-SIZE (1974) #1 Fine
DEFENDERS GIANT-SIZE (1974) #1 Good
DEFENDERS GIANT-SIZE (1974) #2 Good
DEFENDERS GIANT-SIZE (1974) #3 Very Good
DEFENDERS GIANT-SIZE (1974) #4 Good
DEFENDERS GIANT-SIZE (1974) #5 Good
DOCTOR STRANGE (1974) (#1-81) (MARVEL) (DR. STRANGE) #6 Near Mint/Mint
DOCTOR STRANGE (1974) (#1-81) (MARVEL) (DR. STRANGE) #8 Very Good
DOCTOR STRANGE (1974) (#1-81) (MARVEL) (DR. STRANGE) #14 Very Fine
DOCTOR STRANGE (1974) (#1-81) (MARVEL) (DR. STRANGE) #15 Very Fine
DOCTOR STRANGE (1974) (#1-81) (MARVEL) (DR. STRANGE) #16 Very Fine
DOCTOR STRANGE (1974) (#1-81) (MARVEL) (DR. STRANGE) #17 Fine
DOCTOR STRANGE (1974) (#1-81) (MARVEL) (DR. STRANGE) #18 Very Fine
DOCTOR STRANGE (1974) (#1-81) (MARVEL) (DR. STRANGE) #27 Very Fine
DOCTOR STRANGE (1974) (#1-81) (MARVEL) (DR. STRANGE) #30 Very Fine
ETERNALS (1976) (#1-19) (MARVEL) (JACK KIRBY) #3 Near Mint/Mint
ETERNALS (1976) (#1-19) (MARVEL) (JACK KIRBY) #13 Very Fine
FANTASTIC FOUR (1961) (#1-416) (MARVEL) #100 Near Mint/Mint
FANTASTIC FOUR (1961) (#1-416) (MARVEL) #149 Near Mint/Mint
FANTASTIC FOUR (1961) (#1-416) (MARVEL) #152 Near Mint/Mint
FANTASY MASTERPIECES (1966) #1 Good
FEAR (ADVENTURE INTO...) (1970) #7 Near Mint/Mint
FEAR (ADVENTURE INTO...) (1970) #15 Near Mint/Mint

FRANKENSTEIN (1973) #11 Near Mint/Mint