60% Off Silver Age Fantastic Four + Batman and Harley Quinn
Howdy!
I am grabbing a quick bite of lunch today, before heading over to Costco to stock up our refreshments for tomorrow night's New Era wrestling event. If you have never treated your kids in to one of these fun wrestling evenings, you should give it a try! Above all else, these incredibly talented athletes are amazingly entertaining...
In other news, Bettie will be performing a number as a member of a charity show in the Gold Room in Colorado Springs tomorrow night. No big deal, but if you are in the area and have the time, please stop on by!
As regards comics news, my personal favorite is my wonderful new Captain Woodchuck Rainbow Flag figure that our awesome staff member, Tritia Rothe, created from a Funko Pop! Caddyshack Gopher. I love it!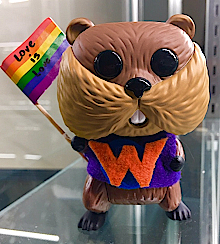 Captain Woodchuck Rainbow Flag figure by Tritia Rothe

That's it for today's news. So you know, I am going spend Sunday packing for next week's San Diego Comic-Con. That effort involves very careful planning, as I will be appearing at the convention in boy clothes every morning, switching to gowns and glitz for every afternoon and evening. I will mostly just be chatting with my friends in their booths around the convention, but if you are looking to find me, my home base will be the Prism Comics booth in the combined LGBTQ area. They will have my schedule. Thursday evening, I will be one of many featured guests at the Prism party at Pecs Bar, 2046 University. Love is love.
Happy collecting!
Chuck Rozanski/Bettie Pages,
President - Mile High Comics, Inc.
July 12, 2019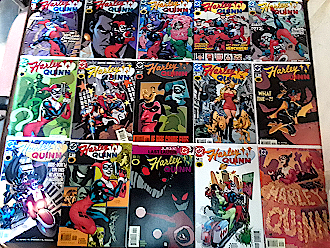 A few of the Harley Quinn Comics

P.S. Will Moulton has purchased at least another 5,000 back issue comics since Wednesday, including an amazing run of the highly desirable HARLEY QUINN (2000) series, and a slew of other great books. All are available to you at 60% off when you utilize the new 60% off SUMMER! codeword. Only new issues, a few variants, and our professionally- graded comics are exempt. Here are just a representative few of Will's amazing purchases:
MARVEL
ASTONISHING X-MEN (2004) (#1-68) (MARVEL)(JOSS WHENDON) #25 BIANCHISGN Near Mint/Mint


AVENGERS (1963) (#1-402) (MARVEL) #31

AVENGERS (1963) (#1-402) (MARVEL) #31 Good
AVENGERS (1963) (#1-402) (MARVEL) #33 Good

CAPTAIN AMERICA (1968) (#100-454) (MARVEL) #102 Very Good
CAPTAIN AMERICA (1968) (#100-454) (MARVEL) #104 Good
CAPTAIN AMERICA (1968) (#100-454) (MARVEL) #108 Fine
CAPTAIN AMERICA (1968) (#100-454) (MARVEL) #115 Very Good
CAPTAIN AMERICA (1968) (#100-454) (MARVEL) #121 Very Good
CAPTAIN AMERICA (1968) (#100-454) (MARVEL) #123 Very Good
CAPTAIN AMERICA (1968) (#100-454) (MARVEL) #128 Very Good
CAPTAIN AMERICA (1968) (#100-454) (MARVEL) #130 Very Good

CAPTAIN AMERICA ANNUAL (1971) #1 Very Good

CIVIL WAR II (2016) #1 FUNKO ED Near Mint/Mint

CONAN (1970) (#1-275) (CONAN THE BARBARIAN) (MARVEL) #4 Very Good

DAREDEVIL/BATMAN (1997) #1 Near Mint/Mint

DEATH OF WOLVERINE (2014) #1 SOULE SGN Near Mint/Mint

DISNEY AFTERNOON (1994) #10 Very Fine

DISNEY COMIC HITS (1995) #1 Fine
DISNEY COMIC HITS (1995) #8 Very Fine
DISNEY COMIC HITS (1995) #9 Very Fine

FALLEN SON: THE DEATH OF CAPTAIN AMERICA (2007) #4 FINCH SGN Near Mint/Mint

FANTASTIC FOUR (1961) (#1-416) (MARVEL) #19 Good
FANTASTIC FOUR (1961) (#1-416) (MARVEL) #21 Fair
FANTASTIC FOUR (1961) (#1-416) (MARVEL) #22 Good
FANTASTIC FOUR (1961) (#1-416) (MARVEL) #23 Good
FANTASTIC FOUR (1961) (#1-416) (MARVEL) #24 Good
FANTASTIC FOUR (1961) (#1-416) (MARVEL) #28 Good
FANTASTIC FOUR (1961) (#1-416) (MARVEL) #29 Good
FANTASTIC FOUR (1961) (#1-416) (MARVEL) #30 Fair
FANTASTIC FOUR (1961) (#1-416) (MARVEL) #31 Good
FANTASTIC FOUR (1961) (#1-416) (MARVEL) #32 Good
FANTASTIC FOUR (1961) (#1-416) (MARVEL) #33 Very Good
FANTASTIC FOUR (1961) (#1-416) (MARVEL) #34 Good


FANTASTIC FOUR (1961) (#1-416) (MARVEL) #35

FANTASTIC FOUR (1961) (#1-416) (MARVEL) #35 Good
FANTASTIC FOUR (1961) (#1-416) (MARVEL) #36 Good
FANTASTIC FOUR (1961) (#1-416) (MARVEL) #37 Good
FANTASTIC FOUR (1961) (#1-416) (MARVEL) #39 Good
FANTASTIC FOUR (1961) (#1-416) (MARVEL) #40 Fair
FANTASTIC FOUR (1961) (#1-416) (MARVEL) #41 Very Good
FANTASTIC FOUR (1961) (#1-416) (MARVEL) #42 Very Good
FANTASTIC FOUR (1961) (#1-416) (MARVEL) #43 Good
FANTASTIC FOUR (1961) (#1-416) (MARVEL) #44 Good
FANTASTIC FOUR (1961) (#1-416) (MARVEL) #45 Good
FANTASTIC FOUR (1961) (#1-416) (MARVEL) #46 Good
FANTASTIC FOUR (1961) (#1-416) (MARVEL) #47 Good
FANTASTIC FOUR (1961) (#1-416) (MARVEL) #48 Good
FANTASTIC FOUR (1961) (#1-416) (MARVEL) #50 Good
FANTASTIC FOUR (1961) (#1-416) (MARVEL) #51 Very Good
FANTASTIC FOUR (1961) (#1-416) (MARVEL) #52 Fine
FANTASTIC FOUR (1961) (#1-416) (MARVEL) #53 Good
FANTASTIC FOUR (1961) (#1-416) (MARVEL) #54 Good
FANTASTIC FOUR (1961) (#1-416) (MARVEL) #55 Very Good
FANTASTIC FOUR (1961) (#1-416) (MARVEL) #56 Fair
FANTASTIC FOUR (1961) (#1-416) (MARVEL) #57 Very Good
FANTASTIC FOUR (1961) (#1-416) (MARVEL) #58 Good
FANTASTIC FOUR (1961) (#1-416) (MARVEL) #59 Very Good
FANTASTIC FOUR (1961) (#1-416) (MARVEL) #60 Very Good
FANTASTIC FOUR (1961) (#1-416) (MARVEL) #61 Very Fine
FANTASTIC FOUR (1961) (#1-416) (MARVEL) #62 Good
FANTASTIC FOUR (1961) (#1-416) (MARVEL) #63 Fine
FANTASTIC FOUR (1961) (#1-416) (MARVEL) #64 Good
FANTASTIC FOUR (1961) (#1-416) (MARVEL) #65 Good
FANTASTIC FOUR (1961) (#1-416) (MARVEL) #66 Good
FANTASTIC FOUR (1961) (#1-416) (MARVEL) #67 Very Good
FANTASTIC FOUR (1961) (#1-416) (MARVEL) #68 Fine
FANTASTIC FOUR (1961) (#1-416) (MARVEL) #69 Fine
FANTASTIC FOUR (1961) (#1-416) (MARVEL) #70 Good
FANTASTIC FOUR (1961) (#1-416) (MARVEL) #71 Very Good
FANTASTIC FOUR (1961) (#1-416) (MARVEL) #72 Very Good
FANTASTIC FOUR (1961) (#1-416) (MARVEL) #73 Very Good
FANTASTIC FOUR (1961) (#1-416) (MARVEL) #74 Very Good
FANTASTIC FOUR (1961) (#1-416) (MARVEL) #75 Very Good
FANTASTIC FOUR (1961) (#1-416) (MARVEL) #76 Very Good
FANTASTIC FOUR (1961) (#1-416) (MARVEL) #77 Fine
FANTASTIC FOUR (1961) (#1-416) (MARVEL) #78 Very Good
FANTASTIC FOUR (1961) (#1-416) (MARVEL) #79 Good


FANTASTIC FOUR (1961) (#1-416) (MARVEL) #80

FANTASTIC FOUR (1961) (#1-416) (MARVEL) #80 Fine
FANTASTIC FOUR (1961) (#1-416) (MARVEL) #81 Very Fine
FANTASTIC FOUR (1961) (#1-416) (MARVEL) #82 Very Good
FANTASTIC FOUR (1961) (#1-416) (MARVEL) #83 Good
FANTASTIC FOUR (1961) (#1-416) (MARVEL) #84 Very Good
FANTASTIC FOUR (1961) (#1-416) (MARVEL) #85 Good
FANTASTIC FOUR (1961) (#1-416) (MARVEL) #86 Good
FANTASTIC FOUR (1961) (#1-416) (MARVEL) #88 Fine
FANTASTIC FOUR (1961) (#1-416) (MARVEL) #89 Very Good
FANTASTIC FOUR (1961) (#1-416) (MARVEL) #90 Very Good
FANTASTIC FOUR (1961) (#1-416) (MARVEL) #91 Very Fine
FANTASTIC FOUR (1961) (#1-416) (MARVEL) #92 Very Good
FANTASTIC FOUR (1961) (#1-416) (MARVEL) #93 Good
FANTASTIC FOUR (1961) (#1-416) (MARVEL) #94 Very Good
FANTASTIC FOUR (1961) (#1-416) (MARVEL) #95 Good
FANTASTIC FOUR (1961) (#1-416) (MARVEL) #96 Good
FANTASTIC FOUR (1961) (#1-416) (MARVEL) #97 Fine
FANTASTIC FOUR (1961) (#1-416) (MARVEL) #98 Very Good
FANTASTIC FOUR (1961) (#1-416) (MARVEL) #99 Good
FANTASTIC FOUR (1961) (#1-416) (MARVEL) #100 Very Good
FANTASTIC FOUR (1961) (#1-416) (MARVEL) #101 Very Good
FANTASTIC FOUR (1961) (#1-416) (MARVEL) #102 Very Good
FANTASTIC FOUR (1961) (#1-416) (MARVEL) #103 Very Good
FANTASTIC FOUR (1961) (#1-416) (MARVEL) #104 Good
FANTASTIC FOUR (1961) (#1-416) (MARVEL) #105 Very Fine
FANTASTIC FOUR (1961) (#1-416) (MARVEL) #106 Very Good
FANTASTIC FOUR (1961) (#1-416) (MARVEL) #107 Fine
FANTASTIC FOUR (1961) (#1-416) (MARVEL) #108 Fine
FANTASTIC FOUR (1961) (#1-416) (MARVEL) #109 Near Mint/Mint
FANTASTIC FOUR (1961) (#1-416) (MARVEL) #110 Fine
FANTASTIC FOUR (1961) (#1-416) (MARVEL) #111 Good
FANTASTIC FOUR (1961) (#1-416) (MARVEL) #112 Fine
FANTASTIC FOUR (1961) (#1-416) (MARVEL) #113 Good
FANTASTIC FOUR (1961) (#1-416) (MARVEL) #114 Good
FANTASTIC FOUR (1961) (#1-416) (MARVEL) #115 Good

FANTASTIC FOUR ANNUAL (1963) #3 Fine
FANTASTIC FOUR ANNUAL (1963) #4 Very Good
FANTASTIC FOUR ANNUAL (1963) #5 Good


FANTASTIC FOUR ANNUAL (1963) #6

FANTASTIC FOUR ANNUAL (1963) #6 Good

GAMBIT (1993) (#1-4) (MARVEL) #1 JANSON SGN Near Mint/Mint
GAMBIT (1993) (#1-4) (MARVEL) #2 JANSON SGN Near Mint/Mint
GAMBIT (1993) (#1-4) (MARVEL) #3 JANSON SGN Very Fine
GAMBIT (1993) (#1-4) (MARVEL) #4 JANSON SGN Near Mint/Mint

GAMBIT (2004) (#1-12) (MARVEL) #1 SIGNED Near Mint/Mint
GAMBIT (2004) (#1-12) (MARVEL) #2 SIGNED Fine
GAMBIT (2004) (#1-12) (MARVEL) #3 SIGNED Fine
GAMBIT (2004) (#1-12) (MARVEL) #4 SIGNED Very Fine

GHOST RIDER (2005) (#1-6) (MARVEL) #1 CRAIN SGN Fine
GHOST RIDER (2005) (#1-6) (MARVEL) #2 CRAIN SGN Very Fine

LOGAN'S RUN (1977) (#1-7) (MARVEL) #1 Very Fine

MARVEL TWO-IN-ONE (1974) (#1-100) (MARVEL) #30 Fine
MARVEL TWO-IN-ONE (2017) (#1-UP) (MARVEL LEGACY) #2 2ND PRINT Near Mint/Mint

MARVELS (1994) #1 Near Mint/Mint
MARVELS (1994) #2 Near Mint/Mint

MS. MARVEL (1977) (#1-23) (MARVEL) (CAROL DANVERS) #1 Near Mint/Mint

MYSTIQUE (2003) #19 SIGNED Near Mint/Mint
MYSTIQUE (2003) #21 SIGNED Near Mint/Mint
MYSTIQUE (2003) #22 SIGNED Near Mint/Mint

NEW AVENGERS (2004) (#1-64) (MARVEL) #27 Fine
NEW AVENGERS (2004) (#1-64) (MARVEL) #27 Near Mint/Mint
NEW AVENGERS (2004) (#1-64) (MARVEL) #27 Very Fine

NEW MUTANTS (1983) (#1-100) (MARVEL) #1 NEWSSTAND Very Fine
NEW MUTANTS (1983) (#1-100) (MARVEL) #1 Very Fine
NEW MUTANTS (1983) (#1-100) (MARVEL) #18 Fine

NOVA (1976) (#1-25) (RICHARD RIDER) (MARVEL) #1 Very Good

PETER PARKER (1976) (#1-263) (SPECTACULAR SPIDER-MAN) #259 ROMITA SGN Near Mint/Mint


PETER, THE LITTLE PEST (1969) #1

PETER, THE LITTLE PEST (1969) #1 Good

PUNISHER (2000) (#1-12) (MARVEL KNIGHTS) #1 SGN & REMK Near Mint/Mint

PUNISHER (2014) (#1-20) (ALL-NEW MARVEL NOW) #1 YOUNG SGN Near Mint/Mint

PUNISHER MAX (2004) #2 LAROSA SGN Near Mint/Mint
PUNISHER MAX (2004) #3 LAROSA SGN Very Good
PUNISHER MAX (2004) #4 LAROSA SGN Near Mint/Mint
PUNISHER MAX (2004) #5 LAROSA SGN Very Fine
PUNISHER MAX (2004) #6 LAROSA SGN Near Mint/Mint

PUNISHER WAR JOURNAL (1988) #30 NEWS SGN Near Mint/Mint
PUNISHER WAR JOURNAL (1988) #61 DFE 2XS&N Near Mint/Mint

SGT. FURY AND HIS HOWLING COMMANDOS (1963) #7 Good

SHIELD (1968) (#1-18) (MARVEL) #3 Very Fine
SHIELD (1968) (#1-18) (MARVEL) #5 Very Good
SHIELD (1968) (#1-18) (MARVEL) #7 Very Fine

SILVER SURFER (1987) (#1-146) (MARVEL) #132 NEWSSTAND Near Mint/Mint

SPIDER-MAN (1963) (AMAZING SPIDER-MAN) (#1-441) #63 Fair
SPIDER-MAN (1963) (AMAZING SPIDER-MAN) (#1-441) #69 Fair
SPIDER-MAN (1963) (AMAZING SPIDER-MAN) (#1-441) #76 Fair
SPIDER-MAN (1963) (AMAZING SPIDER-MAN) (#1-441) #94 Fine
SPIDER-MAN (1963) (AMAZING SPIDER-MAN) (#1-441) #375 MCKENNASGN Near Mint/Mint

SPIDER-MAN (1990) (#1-74, PETER PARKER SPIDEY #75-98) #30 SIGNED Very Fine
SPIDER-MAN (1990) (#1-74, PETER PARKER SPIDEY #75-98) #31 SIGNED Very Fine

STAR WARS (1977) (#1-107) (MARVEL) #1 WHITMAN Good
STAR WARS (1977) (#1-107) (MARVEL) #1 WHITMANREP Very Good

STRANGE TALES (1951) (#1-85 ATLAS, #86-188 MARVEL) #138 Good
STRANGE TALES (1951) (#1-85 ATLAS, #86-188 MARVEL) #146 Fine
STRANGE TALES (1951) (#1-85 ATLAS, #86-188 MARVEL) #150 Very Good
STRANGE TALES (1951) (#1-85 ATLAS, #86-188 MARVEL) #178 Good
STRANGE TALES (1951) (#1-85 ATLAS, #86-188 MARVEL) #178 Very Good

TALES TO ASTONISH (1959) (#1-21 ATLAS, #22-101 MARVEL) #83 Good


THOR (1962) (#83-125 JOURNEY INTO MYSTERY, 126-502) #120

THOR (1962) (#83-125 JOURNEY INTO MYSTERY, 126-502) #120 Good
THOR (1962) (#83-125 JOURNEY INTO MYSTERY, 126-502) #154 Good

WARLOCK (1972) (#1-15) (MARVEL) #10 Very Good

WEREWOLF BY NIGHT (STRANGE TALES) (1998) #1 JENKINSSGN Fine

WHERE MONSTERS DWELL (1970) (#1-38) #1 Good

X-FORCE (1991) (#1-129) (MARVEL) #3 SIGNED Near Mint/Mint

X-MEN (1963) (#1-113, UNCANNY X-MEN #114-544) (MARVEL) #135 NEWSSTAND Good
X-MEN (1963) (#1-113, UNCANNY X-MEN #114-544) (MARVEL) #136 Fine
X-MEN (1963) (#1-113, UNCANNY X-MEN #114-544) (MARVEL) #137 NEWSSTAND Very Good
X-MEN (1963) (#1-113, UNCANNY X-MEN #114-544) (MARVEL) #138 Near Mint/Mint
X-MEN (1963) (#1-113, UNCANNY X-MEN #114-544) (MARVEL) #256 Good
X-MEN (1963) (#1-113, UNCANNY X-MEN #114-544) (MARVEL) #267 Fine
X-MEN (1963) (#1-113, UNCANNY X-MEN #114-544) (MARVEL) #269 Very Fine
X-MEN (1963) (#1-113, UNCANNY X-MEN #114-544) (MARVEL) #346 Fine
X-MEN (1963) (#1-113, UNCANNY X-MEN #114-544) (MARVEL) #353 Near Mint/Mint
X-MEN (1963) (#1-113, UNCANNY X-MEN #114-544) (MARVEL) #383 Near Mint/Mint
X-MEN (1963) (#1-113, UNCANNY X-MEN #114-544) (MARVEL) #384 Fine
X-MEN (1963) (#1-113, UNCANNY X-MEN #114-544) (MARVEL) #386 Near Mint/Mint
X-MEN (1963) (#1-113, UNCANNY X-MEN #114-544) (MARVEL) #421 Near Mint/Mint
X-MEN (1963) (#1-113, UNCANNY X-MEN #114-544) (MARVEL) #474 Near Mint/Mint
X-MEN (1963) (#1-113, UNCANNY X-MEN #114-544) (MARVEL) #483 Near Mint/Mint
X-MEN (1963) (#1-113, UNCANNY X-MEN #114-544) (MARVEL) #489 Near Mint/Mint
X-MEN (1963) (#1-113, UNCANNY X-MEN #114-544) (MARVEL) #492 Near Mint/Mint
X-MEN (1963) (#1-113, UNCANNY X-MEN #114-544) (MARVEL) #498 Near Mint/Mint
X-MEN (1963) (#1-113, UNCANNY X-MEN #114-544) (MARVEL) #499 Near Mint/Mint

X-MEN (1991) (#1-275) (MARVEL) #4 Near Mint/Mint
X-MEN (1991) (#1-275) (MARVEL) #6 Near Mint/Mint
X-MEN (1991) (#1-275) (MARVEL) #8 Fine
X-MEN (1991) (#1-275) (MARVEL) #9 Near Mint/Mint
X-MEN (1991) (#1-275) (MARVEL) #10 Near Mint/Mint
X-MEN (1991) (#1-275) (MARVEL) #11 Near Mint/Mint
X-MEN (1991) (#1-275) (MARVEL) #24 Near Mint/Mint
X-MEN (1991) (#1-275) (MARVEL) #25 Near Mint/Mint
X-MEN (1991) (#1-275) (MARVEL) #30 Near Mint/Mint
X-MEN (1991) (#1-275) (MARVEL) #115 Fine

X-MEN (2013) (#1-26) (ALL FEMALE TEAM) (MARVEL) #21 Near Mint/Mint

X-MEN ANNUAL (1970) #10 Near Mint/Mint

X-MEN BLUE (2017) #7 LOPEZ Very Fine
X-MEN BLUE (2017) #17 Near Mint/Mint
X-MEN BLUE (2017) #20 Near Mint/Mint
X-MEN BLUE (2017) #27 Near Mint/Mint
X-MEN BLUE (2017) #32 Near Mint/Mint
X-MEN BLUE (2017) #35 Near Mint/Mint
X-MEN BLUE (2017) #36 Near Mint/Mint

X-MEN GOLD (2017) #29 Near Mint/Mint
X-MEN GOLD (2017) #34 Near Mint/Mint

X-MEN RED (2018) #2 Very Fine
X-MEN RED (2018) #5 Near Mint/Mint
X-MEN RED (2018) #6 Near Mint/Mint
X-MEN RED (2018) #7 Near Mint/Mint
X-MEN RED (2018) #8 Near Mint/Mint

X-MEN SPECIAL EDITION (1983) #1 NEWSSTAND Very Fine

X-MEN: MESSIAH COMPLEX ONE-SHOT (2007) #1 Near Mint/Mint

YEAR OF MARVELS: THE INCREDIBLE (2016) #1 Near Mint/Mint

YOU ARE DEADPOOL (2018) #3 Near Mint/Mint

DC
ADVENTURES IN THE DC UNIVERSE (1997) #13 Near Mint/Mint
ADVENTURES IN THE DC UNIVERSE (1997) #17 Very Fine

ALL-STAR BATMAN AND ROBIN THE BOY WONDER (2005) #2 VARIANT Very Fine

ANIMANIACS (DC) (1995) #1 Near Mint/Mint
ANIMANIACS (DC) (1995) #1 Very Fine
ANIMANIACS (DC) (1995) #2 Near Mint/Mint
ANIMANIACS (DC) (1995) #5 Near Mint/Mint
ANIMANIACS (DC) (1995) #6 Near Mint/Mint
ANIMANIACS (DC) (1995) #8 Near Mint/Mint
ANIMANIACS (DC) (1995) #9 Near Mint/Mint

ANIMANIACS (DC) (1995) #10 Near Mint/Mint
ANIMANIACS (DC) (1995) #11 Near Mint/Mint
ANIMANIACS (DC) (1995) #12 Near Mint/Mint
ANIMANIACS (DC) (1995) #16 Near Mint/Mint
ANIMANIACS (DC) (1995) #17 Near Mint/Mint
ANIMANIACS (DC) (1995) #18 UNBAGGED Near Mint/Mint
ANIMANIACS (DC) (1995) #19 Near Mint/Mint
ANIMANIACS (DC) (1995) #20 Near Mint/Mint
ANIMANIACS (DC) (1995) #21 Very Fine
ANIMANIACS (DC) (1995) #22 Near Mint/Mint
ANIMANIACS (DC) (1995) #23 Near Mint/Mint
ANIMANIACS (DC) (1995) #24 Near Mint/Mint
ANIMANIACS (DC) (1995) #26 Very Fine
ANIMANIACS (DC) (1995) #27 Near Mint/Mint
ANIMANIACS (DC) (1995) #28 Very Fine
ANIMANIACS (DC) (1995) #30 Very Fine
ANIMANIACS (DC) (1995) #31 Very Fine
ANIMANIACS (DC) (1995) #32 Very Fine
ANIMANIACS (DC) (1995) #33 Very Fine
ANIMANIACS (DC) (1995) #34 Near Mint/Mint
ANIMANIACS (DC) (1995) #35 Near Mint/Mint
ANIMANIACS (DC) (1995) #36 Near Mint/Mint
ANIMANIACS (DC) (1995) #37 Very Fine
ANIMANIACS (DC) (1995) #38 Near Mint/Mint
ANIMANIACS (DC) (1995) #39 Near Mint/Mint
ANIMANIACS (DC) (1995) #40 Very Fine
ANIMANIACS (DC) (1995) #41 Near Mint/Mint
ANIMANIACS (DC) (1995) #43 Very Fine
ANIMANIACS (DC) (1995) #44 Very Fine
ANIMANIACS (DC) (1995) #45 Very Fine
ANIMANIACS (DC) (1995) #48 Near Mint/Mint
ANIMANIACS (DC) (1995) #50 Near Mint/Mint
ANIMANIACS (DC) (1995) #53 Very Fine
ANIMANIACS (DC) (1995) #54 Very Fine
ANIMANIACS (DC) (1995) #59 Fine

ANIMANIACS: A CHRISTMAS SPECIAL (DC) (1994) #1 Very Fine

AZRAEL (1995) (#1-100) (DC) #15 Very Fine
AZRAEL (1995) (#1-100) (DC) #16 Near Mint/Mint
AZRAEL (1995) (#1-100) (DC) #36 Very Fine
AZRAEL (1995) (#1-100) (DC) #37 Near Mint/Mint
AZRAEL (1995) (#1-100) (DC) #39 Near Mint/Mint


AZRAEL (1995) (#1-100) (DC) #40

AZRAEL (1995) (#1-100) (DC) #40 Very Fine
AZRAEL (1995) (#1-100) (DC) #48 Very Fine
AZRAEL (1995) (#1-100) (DC) #49 Near Mint/Mint
AZRAEL (1995) (#1-100) (DC) #50 Fine
AZRAEL (1995) (#1-100) (DC) #51 Near Mint/Mint
AZRAEL (1995) (#1-100) (DC) #52 Very Fine
AZRAEL (1995) (#1-100) (DC) #54 Near Mint/Mint
AZRAEL (1995) (#1-100) (DC) #55 Near Mint/Mint
AZRAEL (1995) (#1-100) (DC) #59 Near Mint/Mint
AZRAEL (1995) (#1-100) (DC) #60 Near Mint/Mint
AZRAEL (1995) (#1-100) (DC) #61 Very Fine

BATMAN: MAN-BAT (JOHN BOLTON) (ELSEWORLDS) (PRESTIGE) (1995) #3 Fine

BATMAN: RIDDLER-THE RIDDLE FACTORY (1995) #1 BAGGEDW/CD Fine

BIRDS OF PREY (1999) (#1-127) (DC) #26 Near Mint/Mint
BIRDS OF PREY (1999) (#1-127) (DC) #32 Near Mint/Mint
BIRDS OF PREY (1999) (#1-127) (DC) #33 Near Mint/Mint
BIRDS OF PREY (1999) (#1-127) (DC) #34 Near Mint/Mint
BIRDS OF PREY (1999) (#1-127) (DC) #36 Very Fine
BIRDS OF PREY (1999) (#1-127) (DC) #37 Near Mint/Mint
BIRDS OF PREY (1999) (#1-127) (DC) #38 Near Mint/Mint
BIRDS OF PREY (1999) (#1-127) (DC) #41 Near Mint/Mint
BIRDS OF PREY (1999) (#1-127) (DC) #42 Near Mint/Mint
BIRDS OF PREY (1999) (#1-127) (DC) #72 Near Mint/Mint

BIRDS OF PREY: BATGIRL (1998) #1 Fine

BIRDS OF PREY: CATWOMAN (#1 BATGIRL/#2 ORACLE) (2003) #2 Near Mint/Mint

BLACK CANARY/ORACLE: BIRDS OF PREY (1996) #1 Very Fine

CATWOMAN (2002) (#1-83) (DC) #1 Very Fine
CATWOMAN (2002) (#1-83) (DC) #2 Fine
CATWOMAN (2002) (#1-83) (DC) #3 Very Fine
CATWOMAN (2002) (#1-83) (DC) #5 Very Fine
CATWOMAN (2002) (#1-83) (DC) #13 Very Fine
CATWOMAN (2002) (#1-83) (DC) #14 Near Mint/Mint
CATWOMAN (2002) (#1-83) (DC) #17 Near Mint/Mint


CATWOMAN (2002) (#1-83) (DC) #19

CATWOMAN (2002) (#1-83) (DC) #19 Near Mint/Mint

DARK KNIGHT RETURNS: LAST CRUSADE (2016) #1 JRJR SGN Near Mint/Mint

DC FIRST: BATGIRL/JOKER (2002) #1 Near Mint/Mint

DC VS. MARVEL (1996) #1 Near Mint/Mint
DC VS. MARVEL (1996) #4 Very Fine

DETECTIVE COMICS (1937) (#0-881) (DC) #566 Fine
DETECTIVE COMICS (1937) (#0-881) (DC) #653 Fine

DETECTIVE COMICS ANNUAL (1988) #8 Near Mint/Mint
DETECTIVE COMICS ANNUAL (1988) #10 Near Mint/Mint

FINAL NIGHT (1996) #1 Near Mint/Mint
FINAL NIGHT (1996) #4 Very Fine

FLASH (1987) (#0-247) (DC) #107 Near Mint/Mint

GOTHAM CENTRAL (2002) #11 Near Mint/Mint
GOTHAM CENTRAL (2002) #13 Near Mint/Mint
GOTHAM CENTRAL (2002) #15 Near Mint/Mint

GOTHAM GIRLS (2002) #1 Very Fine
GOTHAM GIRLS (2002) #2 Very Fine
GOTHAM GIRLS (2002) #3 Very Fine
GOTHAM GIRLS (2002) #5 Very Fine

HARLEY QUINN (2000) (#1-38) (DC) #1 Very Fine
HARLEY QUINN (2000) (#1-38) (DC) #3 Near Mint/Mint
HARLEY QUINN (2000) (#1-38) (DC) #4 Very Fine
HARLEY QUINN (2000) (#1-38) (DC) #5 Fine
HARLEY QUINN (2000) (#1-38) (DC) #6 Near Mint/Mint
HARLEY QUINN (2000) (#1-38) (DC) #7 Near Mint/Mint
HARLEY QUINN (2000) (#1-38) (DC) #8 Near Mint/Mint
HARLEY QUINN (2000) (#1-38) (DC) #9 Near Mint/Mint
HARLEY QUINN (2000) (#1-38) (DC) #14 Near Mint/Mint
HARLEY QUINN (2000) (#1-38) (DC) #16 Fine
HARLEY QUINN (2000) (#1-38) (DC) #21 Near Mint/Mint
HARLEY QUINN (2000) (#1-38) (DC) #22 Fine
HARLEY QUINN (2000) (#1-38) (DC) #29 Fine


HARLEY QUINN (2000) (#1-38) (DC) #30

HARLEY QUINN (2000) (#1-38) (DC) #30 Fine
HARLEY QUINN (2000) (#1-38) (DC) #31 Fine

HITMAN (1996) #1 Near Mint/Mint
HITMAN (1996) #2 Near Mint/Mint

NIGHTWING (1995) (#1-4) (DC) #1 Near Mint/Mint
NIGHTWING (1995) (#1-4) (DC) #3 Near Mint/Mint
NIGHTWING (1995) (#1-4) (DC) #4 Near Mint/Mint

NIGHTWING (1996) (#1-153) (DC) #1 Near Mint/Mint
NIGHTWING (1996) (#1-153) (DC) #4 Fine
NIGHTWING (1996) (#1-153) (DC) #5 Near Mint/Mint
NIGHTWING (1996) (#1-153) (DC) #6 Near Mint/Mint
NIGHTWING (1996) (#1-153) (DC) #7 Near Mint/Mint
NIGHTWING (1996) (#1-153) (DC) #8 Near Mint/Mint
NIGHTWING (1996) (#1-153) (DC) #9 Near Mint/Mint
NIGHTWING (1996) (#1-153) (DC) #10 Near Mint/Mint
NIGHTWING (1996) (#1-153) (DC) #11 Near Mint/Mint
NIGHTWING (1996) (#1-153) (DC) #12 Near Mint/Mint
NIGHTWING (1996) (#1-153) (DC) #13 Near Mint/Mint
NIGHTWING (1996) (#1-153) (DC) #18 Near Mint/Mint
NIGHTWING (1996) (#1-153) (DC) #19 Near Mint/Mint
NIGHTWING (1996) (#1-153) (DC) #20 Near Mint/Mint
NIGHTWING (1996) (#1-153) (DC) #36 Near Mint/Mint

NIGHTWING 80-PAGE GIANT (2000) #1 Near Mint/Mint

NIGHTWING ANNUAL (1996) (#1-2) (DC) #1 Near Mint/Mint

NIGHTWING: THE TARGET (2001) #1 Very Fine

SHAZAM! (1973) (#1-35) (WITH ONE MAGIC WORD...) #8 Very Good
SHAZAM! (1973) (#1-35) (WITH ONE MAGIC WORD...) #12 Very Good
SHAZAM! (1973) (#1-35) (WITH ONE MAGIC WORD...) #13 Very Good
SHAZAM! (1973) (#1-35) (WITH ONE MAGIC WORD...) #15 Good
SHAZAM! (1973) (#1-35) (WITH ONE MAGIC WORD...) #19 Fine

Y-THE LAST MAN (2002) #51 (DC: Vertigo Press) Near Mint/Mint

YOUNG JUSTICE (1998) (#1-55) (DC) #2 Near Mint/Mint


YOUNG JUSTICE (1998) (#1-55) (DC) #30

YOUNG JUSTICE (1998) (#1-55) (DC) #30 Near Mint/Mint

YOUNG MONSTERS IN LOVE (2018) #1 Near Mint/Mint

DARK HORSE COMICS
XERXES: FALL OF THE HOUSE OF DARIUS (FRANK MILLER) (2018) #1 Near Mint/Mint
XERXES: FALL OF THE HOUSE OF DARIUS (FRANK MILLER) (2018) #3 Near Mint/Mint

IMAGE COMICS
ANGELA (IMAGE) (1994) #2 NEWSSTAND Very Fine
ANGELA (IMAGE) (1994) #3 Fine

CRIMSON (1998) (#1-7) (IMAGE/CLIFFHANGER) #4 NEWSSTAND (Image Top Cow) Good

CURSE OF THE SPAWN (1996) #1 Fine

MEDIEVAL SPAWN/WITCHBLADE (1996) (#1-3) (IMAGE) #1 Near Mint/Mint

SPAWN (1992) #8 NEWSSTAND Very Good
SPAWN (1992) #9 NEWSSTAND Good
SPAWN (1992) #68 SIGNED Fine
SPAWN (1992) #77 2X SIGNED Near Mint/Mint

WALKING DEAD (2003) (#1-193) (IMAGE) #1 15THCOMICW Very Fine
WALKING DEAD (2003) (#1-193) (IMAGE) #1 15THCOMICW Fine

WEATHERMAN (2018) #1 2ND PRINT Near Mint/Mint

INDEPENDENTS
CATALYST PRIME: SUMMIT (2017) #6 (Lion Forge) Near Mint/Mint

CELLIES (2018) #6 (Lion Forge) Very Fine

DRAGONFLIGHT (1991) #2 (Eclipse Enterprises) Very Fine

EDWARD SCISSORHANDS (2014) #1 HOT TOPIC (IDW Publishing) Near Mint/Mint

FELIX THE CAT (1991) #1 NEWSSTAND (Harvey Comics) Very Fine

FUTURAMA COMICS (2000) #1 (Bongo Comics) Near Mint/Mint

LADY DEATH (1994) (#0-3) (CHAOS) #1 1/2VELVSGN (Chaos Comics) Near Mint/Mint


LADY DEATH (1994) (#0-3) (CHAOS) #1

LADY DEATH (1994) (#0-3) (CHAOS) #1 (Chaos Comics) Very Fine

MUSKETEERS (2018) #5 D MAINE (Zenescope Entertainment Inc) Near Mint/Mint

MY LITTLE PONY: FRIENDSHIP IS MAGIC (2012) #1 FLEECS (IDW Publishing) Near Mint/Mint
MY LITTLE PONY: FRIENDSHIP IS MAGIC (2012) #2 FLEECS (IDW Publishing) Near Mint/Mint
MY LITTLE PONY: FRIENDSHIP IS MAGIC (2012) #3 FLEECS (IDW Publishing) Near Mint/Mint
MY LITTLE PONY: FRIENDSHIP IS MAGIC (2012) #4 HASTINGS (IDW Publishing) Near Mint/Mint
MY LITTLE PONY: FRIENDSHIP IS MAGIC (2012) #4 HOT TOPIC (IDW Publishing) Near Mint/Mint
MY LITTLE PONY: FRIENDSHIP IS MAGIC (2012) #6 HOT TOPIC (IDW Publishing) Near Mint/Mint
MY LITTLE PONY: FRIENDSHIP IS MAGIC (2012) #7 HOT TOPIC (IDW Publishing) Near Mint/Mint
MY LITTLE PONY: FRIENDSHIP IS MAGIC (2012) #12 HOT TOPIC (IDW Publishing) Near Mint/Mint
MY LITTLE PONY: FRIENDSHIP IS MAGIC (2012) #13 HASTINGS (IDW Publishing) Near Mint/Mint
MY LITTLE PONY: FRIENDSHIP IS MAGIC (2012) #13 HOT TOPIC (IDW Publishing) Near Mint/Mint
MY LITTLE PONY: FRIENDSHIP IS MAGIC (2012) #14 HOT TOPIC (IDW Publishing) Near Mint/Mint
MY LITTLE PONY: FRIENDSHIP IS MAGIC (2012) #15 HOT TOPIC (IDW Publishing) Near Mint/Mint
MY LITTLE PONY: FRIENDSHIP IS MAGIC (2012) #16 HOT TOPIC (IDW Publishing) Near Mint/Mint

PENNY DREADFUL (2017) (#1-UP) (TITAN COMICS) #10 A SIMECKOV (Titan Distributing) Near Mint/Mint
PENNY DREADFUL (2017) (#1-UP) (TITAN COMICS) #10 A SIMECKOV (Titan Distributing) Fine

PLANET OF THE APES: URSUS (2017) #6 A RIVERA (Boom Studios Publishing) Fine

PUNKS NOT DEAD: LONDON CALLING (2019) #6 A SIMMONDS (IDW Publishing) Very Fine

TAROT: WITCH OF THE BLACK ROSE (2000) #105 STUDIO DLX (Broadsword Comics) Near Mint/Mint

TEENAGE MUTANT NINJA TURTLES/GHOSTBUSTERS (2014) #1 HOT TOPIC (IDW Publishing) Near Mint/Mint

WARHAMMER 40K: DEATHWATCH (2017) #2 A NAKAYAMA (Titan Distributing) Near Mint/Mint
WARHAMMER 40K: DEATHWATCH (2017) #2 B BETTIN (Titan Distributing) Near Mint/Mint

X-O MANOWAR (2012) (#0-50) (VALIANT) #28 VALIANT (Valiant Comics) Near Mint/Mint
X-O MANOWAR (2012) (#0-50) (VALIANT) #50 B RIVERA (Valiant Comics) Near Mint/Mint

X-O MANOWAR (2017) (#1-UP) (VALIANT) #11 B CAMUNCOL (Valiant Comics) Near Mint/Mint
X-O MANOWAR (2017) (#1-UP) (VALIANT) #13 B CAMUNCOL (Valiant Comics) Near Mint/Mint
X-O MANOWAR (2017) (#1-UP) (VALIANT) #15 A LAROSA (Valiant Comics) Near Mint/Mint
X-O MANOWAR (2017) (#1-UP) (VALIANT) #16 B MAHFOOD (Valiant Comics) Near Mint/Mint
X-O MANOWAR (2017) (#1-UP) (VALIANT) #18 B MAHFOOD (Valiant Comics) Near Mint/Mint