Near Riot At Mile High Comics Drag Show
Howdy!
One question that I am frequently asked is why I would get my business, Mile High Comics, deeply involved in social justice. It is, after all, almost a given that taking a stand on any issue in our polarized society is guaranteed to lose you some segment of your customer base. Yup, I get that very clearly. Quite frankly, however, I do not care. It is not that I wish to deliberately offend anyone (or lose their patronage), but rather that I now have an ability to speak on a national/international platform for the rights of transgender, non-binary, and gender-fluid people, many of whom are under constant attack. If I have to sacrifice in order to help them, then so be it.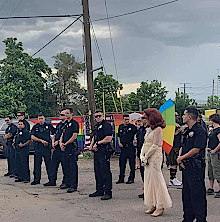 Bettie Pages on the front line with the Denver police officers.

The previous having been said, taking a stand in America today also requires an acceptance of some degree of personal risk. To be specific, we had a very raucous mob of 18-20 homophobic protestors at our All-Ages Drag Show last evening, with several of them seemingly quite determined to provoke a confrontation. We had 50 volunteers ffrom the "Parasol Patrol" on hand who carried rainbow umbrellas to shield the kids attending our show from the nasty vitriol that these bigots were spewing, as well as two off-duty Denver police officers that we had hired for security, but that seemed inadequate, to say the least. What happened next was nothing short of a miracle, as suddenly (just as we were seemingly about to be overrun) fifteen Denver police officers materialized out of nowhere. They set up a picket line between our families and those awful bigots, frustrating those nasty people beyond words.
While all this craziness went down, I had been upstairs getting into drag for my opening number. Just as soon as I was done dressing I went outside, and positioned myself front and center between two police officers so that the hatred that was being spewed would be directed toward me, rather than our kids. I then listened to an hour of some of the most irrational and ignorant BS that I have ever heard. Honestly, those people are dumber than rocks. They apparently watched some crazy YouTube video, and then just assumed that our show reflected the same extremes of behavior. Golly gee, wouldn't it make a little more sense to actually research about how we run our shows before making up a ridiculous sign and then screaming at total strangers? Or could it (possibly) be that they drank some of that alt/right hatred koolaide, and that facts now mean absolutely nothing to them? I think we all already know the answer to that question...
In any event, I had to leave my post in crazytown by 5:45 to get ready for my opening number, as we had already seated over 300 people. I have asked Will Moulton to provide you with a link to my number, as it is quite a different kind of drag than you have probably ever seen before. In and of itself, that is exactly why I think that you will enjoy watching. Drag is performance art, and in this instance in particular has absolutely no sexual connotation. My song is "Up to the Mountain" by Patty Griffen, which is based upon Dr. Martin Luther King's last sermon. It was given by him in Memphis the night before he was murdered. The lyrics are as follows: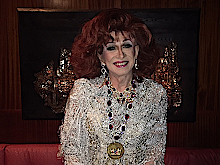 Bettie Pages drag performance"Up to the Mountain" by Patty Griffen

I went up to the mountain
Because you asked me to
Up over the clouds
To where the sky was blue
I could see all around me
Everywhere
I could see all around me
Everywhere

Sometimes I feel like I've never been nothing but tired
And I'll be walking Till the day I expire
Sometimes I lay down
No more can I do
But then I go on again
Because you ask me to

Some days I look down
Afraid I will fall
And though the sun shines
I see nothing at all
Then I hear your sweet voice, oh
Oh, come and then go, come and then go
Telling me softly
You love me so

The peaceful valley
Just over the mountain
The peaceful valley
Few come to know
I may never get there
Ever in this lifetime
But sooner or later
It's there I will go
Sooner or later
Every time I perform this song I cry, and last evening was especially hard on me because of all the little children who flocked around to tip me. Listen to my song, and then you'll understand the power of our medium. Drag is performance art. Nothing more.
Happy collecting!
Chuck Rozanski/Bettie Pages,
President - Mile High Comics, Inc.
July 8, 2019
P.S. WALKING DEAD #193 (the final issue) is selling briskly on eBay right now for $32-$35. Will managed to get us a small reorder that we can offer copies to you at $24.95. Supplies are, however, quite limited. Also, please note that because these are new issues, they do not qualify for our ongoing 60% off JULY4TH! codeword sale. All ten million of our back issues do qualify...
P.S. Here are a few of the items we added to our inventory this weekend:
MARVEL

AVENGERS (1963) (#1-402) (MARVEL) #35

AVENGERS (1963) (#1-402) (MARVEL) #35 Good
AVENGERS (1963) (#1-402) (MARVEL) #38 Good
AVENGERS (1963) (#1-402) (MARVEL) #43 Good
AVENGERS (1963) (#1-402) (MARVEL) #44 Good
AVENGERS (1963) (#1-402) (MARVEL) #52 Very Good
AVENGERS (1963) (#1-402) (MARVEL) #55 Very Good
AVENGERS (1963) (#1-402) (MARVEL) #60 Good
AVENGERS (1963) (#1-402) (MARVEL) #64 Very Good

AVENGERS (1998) (#0-84, 500-503) (MARVEL) #25 Very Fine
AVENGERS (1998) (#0-84, 500-503) (MARVEL) #27 Near Mint/Mint
AVENGERS (1998) (#0-84, 500-503) (MARVEL) #33 Near Mint/Mint
AVENGERS (1998) (#0-84, 500-503) (MARVEL) #34 Near Mint/Mint
AVENGERS (1998) (#0-84, 500-503) (MARVEL) #39 Near Mint/Mint
AVENGERS (1998) (#0-84, 500-503) (MARVEL) #40 Near Mint/Mint
AVENGERS (1998) (#0-84, 500-503) (MARVEL) #51 Near Mint/Mint
AVENGERS (1998) (#0-84, 500-503) (MARVEL) #52 Near Mint/Mint
AVENGERS (1998) (#0-84, 500-503) (MARVEL) #55 Near Mint/Mint
AVENGERS (1998) (#0-84, 500-503) (MARVEL) #58 Near Mint/Mint
AVENGERS (1998) (#0-84, 500-503) (MARVEL) #59 Near Mint/Mint

AVENGERS ANNUAL (1967) #2 Very Good

CLASSIC X-MEN (1986) #24 NEWSSTAND Very Fine

DAREDEVIL (1964) (#1-380) (MAN WITHOUT FEAR) (MARVEL) #10 Very Good
DAREDEVIL (1964) (#1-380) (MAN WITHOUT FEAR) (MARVEL) #19 Good
DAREDEVIL (1964) (#1-380) (MAN WITHOUT FEAR) (MARVEL) #23 Fine
DAREDEVIL (1964) (#1-380) (MAN WITHOUT FEAR) (MARVEL) #25 Very Fine
DAREDEVIL (1964) (#1-380) (MAN WITHOUT FEAR) (MARVEL) #27 Very Good
DAREDEVIL (1964) (#1-380) (MAN WITHOUT FEAR) (MARVEL) #35 Fine
DAREDEVIL (1964) (#1-380) (MAN WITHOUT FEAR) (MARVEL) #43 Fine
DAREDEVIL (1964) (#1-380) (MAN WITHOUT FEAR) (MARVEL) #44 Very Fine
DAREDEVIL (1964) (#1-380) (MAN WITHOUT FEAR) (MARVEL) #47 Fine
DAREDEVIL (1964) (#1-380) (MAN WITHOUT FEAR) (MARVEL) #52 Very Good
DAREDEVIL (1964) (#1-380) (MAN WITHOUT FEAR) (MARVEL) #184 Fine
DAREDEVIL (1964) (#1-380) (MAN WITHOUT FEAR) (MARVEL) #184 NEWSSTAND Fine
DAREDEVIL (1964) (#1-380) (MAN WITHOUT FEAR) (MARVEL) #184 NEWSSTAND Very Good
DAREDEVIL (1964) (#1-380) (MAN WITHOUT FEAR) (MARVEL) #221 NEWSSTAND Fine

DAREDEVIL (2017) (#595-612) (MARVEL LEAGCY) #597 Near Mint/Mint


DEADLY FOES OF SPIDER-MAN (1991) #1 NEWSSTAND

DEADLY FOES OF SPIDER-MAN (1991) #1 NEWSSTAND Near Mint/Mint
DEADLY FOES OF SPIDER-MAN (1991) #2 NEWSSTAND Near Mint/Mint

DEFENDERS (1972) (#1-152) (MARVEL) #119 Very Fine

DEVIL-DOG DUGAN (1956) #3 (Marvel Atlas Titles) Fair

DOCTOR STRANGE (1968) (#169-183) (MARVEL)(DR. STRANGE) #173 Very Good

FANTASTIC FOUR (1961) (#1-416) (MARVEL) #42 Good
FANTASTIC FOUR (1961) (#1-416) (MARVEL) #44 Good
FANTASTIC FOUR (1961) (#1-416) (MARVEL) #46 Good
FANTASTIC FOUR (1961) (#1-416) (MARVEL) #57 Very Good
FANTASTIC FOUR (1961) (#1-416) (MARVEL) #58 Very Good
FANTASTIC FOUR (1961) (#1-416) (MARVEL) #59 Very Good
FANTASTIC FOUR (1961) (#1-416) (MARVEL) #67 Very Good
FANTASTIC FOUR (1961) (#1-416) (MARVEL) #68 Very Good
FANTASTIC FOUR (1961) (#1-416) (MARVEL) #70 Very Fine
FANTASTIC FOUR (1961) (#1-416) (MARVEL) #78 Good
FANTASTIC FOUR (1961) (#1-416) (MARVEL) #79 Fine
FANTASTIC FOUR (1961) (#1-416) (MARVEL) #80 Very Good
FANTASTIC FOUR (1961) (#1-416) (MARVEL) #81 Very Good
FANTASTIC FOUR (1961) (#1-416) (MARVEL) #82 Fine

FANTASTIC FOUR ANNUAL (1963) #5 Very Good
FANTASTIC FOUR ANNUAL (1963) #6 Very Good

FANTASY MASTERPIECES (1966) #6 Very Good
FANTASY MASTERPIECES (1966) #7 Good

HULK (1962) (#1-6, #102-474, #600-635)(INCREDIBLE)(MV) #114 Very Good

HULK ANNUAL (1968) #1 Very Good

IRON MAN (1968) (#1-332) (INVINCIBLE IRON MAN)(MARVEL) #5 Fine
IRON MAN (1968) (#1-332) (INVINCIBLE IRON MAN)(MARVEL) #6 Fine
IRON MAN (1968) (#1-332) (INVINCIBLE IRON MAN)(MARVEL) #131 NEWSSTAND Fine

MARVEL COLLECTORS ITEM CLASSICS (1965) #6 Good
MARVEL COLLECTORS ITEM CLASSICS (1965) #7 Good
MARVEL COLLECTORS ITEM CLASSICS (1965) #8 Very Good


MARVEL SUPER-HEROES (1967) #18

MARVEL SUPER-HEROES (1967) #18 Very Good

MARVEL TWO-IN-ONE (1974) (#1-100) (MARVEL) #71 Very Fine

SILVER SURFER (1968) (#1-18) (MARVEL) #1 Good
SILVER SURFER (1968) (#1-18) (MARVEL) #3 Very Good
SILVER SURFER (1968) (#1-18) (MARVEL) #5 Very Good

SPIDER-MAN (1963) (AMAZING SPIDER-MAN) (#1-441) #43 Very Good
SPIDER-MAN (1963) (AMAZING SPIDER-MAN) (#1-441) #45 Very Good
SPIDER-MAN (1963) (AMAZING SPIDER-MAN) (#1-441) #46 Good
SPIDER-MAN (1963) (AMAZING SPIDER-MAN) (#1-441) #60 Very Good
SPIDER-MAN (1963) (AMAZING SPIDER-MAN) (#1-441) #65 Very Fine
SPIDER-MAN (1963) (AMAZING SPIDER-MAN) (#1-441) #67 Very Good

STRANGE TALES (1951) (#1-85 ATLAS, #86-188 MARVEL) #155 Fine

TALES OF SUSPENSE (1959) (#1-99) (ATLAS/MARVEL) #88 Very Good
TALES OF SUSPENSE (1959) (#1-99) (ATLAS/MARVEL) #94 Very Good
TALES OF SUSPENSE (1959) (#1-99) (ATLAS/MARVEL) #96 Very Good

TALES TO ASTONISH (1959) (#1-21 ATLAS, #22-101 MARVEL) #78 Fair
TALES TO ASTONISH (1959) (#1-21 ATLAS, #22-101 MARVEL) #79 Good
TALES TO ASTONISH (1959) (#1-21 ATLAS, #22-101 MARVEL) #87 Very Good
TALES TO ASTONISH (1959) (#1-21 ATLAS, #22-101 MARVEL) #89 Fine
TALES TO ASTONISH (1959) (#1-21 ATLAS, #22-101 MARVEL) #90 Good
TALES TO ASTONISH (1959) (#1-21 ATLAS, #22-101 MARVEL) #95 Very Good
TALES TO ASTONISH (1959) (#1-21 ATLAS, #22-101 MARVEL) #96 Good

THOR (1962) (#83-125 JOURNEY INTO MYSTERY, 126-502) #133 Good
THOR (1962) (#83-125 JOURNEY INTO MYSTERY, 126-502) #134 Fine
THOR (1962) (#83-125 JOURNEY INTO MYSTERY, 126-502) #144 Very Good
THOR (1962) (#83-125 JOURNEY INTO MYSTERY, 126-502) #145 Good
THOR (1962) (#83-125 JOURNEY INTO MYSTERY, 126-502) #146 Very Good
THOR (1962) (#83-125 JOURNEY INTO MYSTERY, 126-502) #155 Fine
THOR (1962) (#83-125 JOURNEY INTO MYSTERY, 126-502) #156 Very Fine
THOR (1962) (#83-125 JOURNEY INTO MYSTERY, 126-502) #157 Fine
THOR (1962) (#83-125 JOURNEY INTO MYSTERY, 126-502) #162 Good

VENOM: FUNERAL PYRE (1993) #1 Near Mint/Mint

WEB OF SPIDER-MAN (1985) (#1-129) (MARVEL) #53 NEWSSTAND Fine

WEREWOLF BY NIGHT (1972) #13 Very Good
WEREWOLF BY NIGHT (1972) #14 Very Fine
WEREWOLF BY NIGHT (1972) #18 Fine

WHAT IF... (1977) (#1-47) (MARVEL) #8 Very Fine

WHAT IF... (1989) (#1-114, & 200) (MARVEL) #2 Near Mint/Mint
WHAT IF... (1989) (#1-114, & 200) (MARVEL) #5 NEWSSTAND Very Fine
WHAT IF... (1989) (#1-114, & 200) (MARVEL) #20 NEWSSTAND Very Good

WHAT IF: X-MEN (2018) #1 Near Mint/Mint

WHAT THE..?! (1988) #5 Near Mint/Mint

X-MEN (1963) (#1-113, UNCANNY X-MEN #114-544) (MARVEL) #27 Very Good
X-MEN (1963) (#1-113, UNCANNY X-MEN #114-544) (MARVEL) #29 Fine
X-MEN (1963) (#1-113, UNCANNY X-MEN #114-544) (MARVEL) #47 Fine
X-MEN (1963) (#1-113, UNCANNY X-MEN #114-544) (MARVEL) #48 Very Good
X-MEN (1963) (#1-113, UNCANNY X-MEN #114-544) (MARVEL) #53 Fine
X-MEN (1963) (#1-113, UNCANNY X-MEN #114-544) (MARVEL) #56 Good
X-MEN (1963) (#1-113, UNCANNY X-MEN #114-544) (MARVEL) #235 NEWSSTAND Very Fine
X-MEN (1963) (#1-113, UNCANNY X-MEN #114-544) (MARVEL) #237 NEWSSTAND Very Fine
X-MEN (1963) (#1-113, UNCANNY X-MEN #114-544) (MARVEL) #238 NEWSSTAND Fine
X-MEN (1963) (#1-113, UNCANNY X-MEN #114-544) (MARVEL) #242 NEWSSTAND Near Mint/Mint
X-MEN (1963) (#1-113, UNCANNY X-MEN #114-544) (MARVEL) #243 Near Mint/Mint
X-MEN (1963) (#1-113, UNCANNY X-MEN #114-544) (MARVEL) #245 NEWSSTAND Near Mint/Mint
X-MEN (1963) (#1-113, UNCANNY X-MEN #114-544) (MARVEL) #246 NEWSSTAND Fine
X-MEN (1963) (#1-113, UNCANNY X-MEN #114-544) (MARVEL) #248 Near Mint/Mint
X-MEN (1963) (#1-113, UNCANNY X-MEN #114-544) (MARVEL) #250 Near Mint/Mint
X-MEN (1963) (#1-113, UNCANNY X-MEN #114-544) (MARVEL) #251 Fine
X-MEN (1963) (#1-113, UNCANNY X-MEN #114-544) (MARVEL) #252 Near Mint/Mint
X-MEN (1963) (#1-113, UNCANNY X-MEN #114-544) (MARVEL) #253 Near Mint/Mint
X-MEN (1963) (#1-113, UNCANNY X-MEN #114-544) (MARVEL) #254 Near Mint/Mint
X-MEN (1963) (#1-113, UNCANNY X-MEN #114-544) (MARVEL) #255 Near Mint/Mint
X-MEN (1963) (#1-113, UNCANNY X-MEN #114-544) (MARVEL) #256 Near Mint/Mint
X-MEN (1963) (#1-113, UNCANNY X-MEN #114-544) (MARVEL) #257 Near Mint/Mint
X-MEN (1963) (#1-113, UNCANNY X-MEN #114-544) (MARVEL) #258 Near Mint/Mint
X-MEN (1963) (#1-113, UNCANNY X-MEN #114-544) (MARVEL) #268 NEWSSTAND Very Fine
X-MEN (1963) (#1-113, UNCANNY X-MEN #114-544) (MARVEL) #274 Near Mint/Mint
X-MEN (1963) (#1-113, UNCANNY X-MEN #114-544) (MARVEL) #275 2NDPRT Very Good
X-MEN (1963) (#1-113, UNCANNY X-MEN #114-544) (MARVEL) #275 2NDPRT Good
X-MEN (1963) (#1-113, UNCANNY X-MEN #114-544) (MARVEL) #282 Fine
X-MEN (1963) (#1-113, UNCANNY X-MEN #114-544) (MARVEL) #322 Fine


X-MEN (1963) (#1-113, UNCANNY X-MEN #114-544) (MARVEL) #350

X-MEN (1963) (#1-113, UNCANNY X-MEN #114-544) (MARVEL) #350 Near Mint/Mint
X-MEN (1963) (#1-113, UNCANNY X-MEN #114-544) (MARVEL) #362 Near Mint/Mint
X-MEN (1963) (#1-113, UNCANNY X-MEN #114-544) (MARVEL) #363 Very Fine
X-MEN (1963) (#1-113, UNCANNY X-MEN #114-544) (MARVEL) #364 Near Mint/Mint
X-MEN (1963) (#1-113, UNCANNY X-MEN #114-544) (MARVEL) #375 Very Good
X-MEN (1963) (#1-113, UNCANNY X-MEN #114-544) (MARVEL) #376 Very Fine
X-MEN (1963) (#1-113, UNCANNY X-MEN #114-544) (MARVEL) #377 Near Mint/Mint
X-MEN (1963) (#1-113, UNCANNY X-MEN #114-544) (MARVEL) #379 Near Mint/Mint

DC
ACTION COMICS (1938) (#0-600, 643-904) (DC) #339 Good
ACTION COMICS (1938) (#0-600, 643-904) (DC) #342 Fine
ACTION COMICS (1938) (#0-600, 643-904) (DC) #343 Very Good
ACTION COMICS (1938) (#0-600, 643-904) (DC) #344 Very Good
ACTION COMICS (1938) (#0-600, 643-904) (DC) #345 Very Good
ACTION COMICS (1938) (#0-600, 643-904) (DC) #346 Good
ACTION COMICS (1938) (#0-600, 643-904) (DC) #365 Good
ACTION COMICS (1938) (#0-600, 643-904) (DC) #371 Very Good

ADVENTURE COMICS (1938) (#32-503) (DC) #346 Good
ADVENTURE COMICS (1938) (#32-503) (DC) #349 Good
ADVENTURE COMICS (1938) (#32-503) (DC) #350 Good
ADVENTURE COMICS (1938) (#32-503) (DC) #351 Good
ADVENTURE COMICS (1938) (#32-503) (DC) #352 Good
ADVENTURE COMICS (1938) (#32-503) (DC) #353 Good
ADVENTURE COMICS (1938) (#32-503) (DC) #355 Fine
ADVENTURE COMICS (1938) (#32-503) (DC) #376 Fine

BATMAN (1940) (#0-713) (DC) #183 Good
BATMAN (1940) (#0-713) (DC) #186 Very Good
BATMAN (1940) (#0-713) (DC) #187 Good
BATMAN (1940) (#0-713) (DC) #188 Very Good
BATMAN (1940) (#0-713) (DC) #189 Fine
BATMAN (1940) (#0-713) (DC) #583 Very Fine

BRAVE AND THE BOLD (1955) #68 Good

CRISIS ON INFINITE EARTHS (1985) #2 Near Mint/Mint

DC DIRECT CURRENTS (1988) #10 Very Fine


DETECTIVE COMICS (1937) (#0-881) (DC) #356

DETECTIVE COMICS (1937) (#0-881) (DC) #356 Good
DETECTIVE COMICS (1937) (#0-881) (DC) #357 Good
DETECTIVE COMICS (1937) (#0-881) (DC) #358 Very Good
DETECTIVE COMICS (1937) (#0-881) (DC) #359 Very Good
DETECTIVE COMICS (1937) (#0-881) (DC) #360 Very Good
DETECTIVE COMICS (1937) (#0-881) (DC) #406 Good
DETECTIVE COMICS (1937) (#0-881) (DC) #696 2ND PRINT Very Fine

DOOM PATROL (1964) (#86-124) (DC) #120 Fine

FLASH (1959) (#105-350) (DC) #172 Good
FLASH (1959) (#105-350) (DC) #184 Good
FLASH (1959) (#105-350) (DC) #187 Very Good

GEN-13 (1999) (#37-77) (DC/Wildstorm) #77 (DC/Wildstorm) Near Mint/Mint

GREEN LANTERN (1960) (#1-224) (DC) #48 Very Good
GREEN LANTERN (1960) (#1-224) (DC) #52 Good
GREEN LANTERN (1960) (#1-224) (DC) #67 Fine

HOUSE OF MYSTERY (1951) #160 Good

JIMMY OLSEN (1954) #95 Good
JIMMY OLSEN (1954) #97 Very Good
JIMMY OLSEN (1954) #98 Very Good
JIMMY OLSEN (1954) #99 Very Good

JUSTICE LEAGUE OF AMERICA (1960) (#1-261) (DC) #48 Very Good

LOIS LANE (1958) (#1-137) (SUPERMAN'S GIRL FRIEND) (DC) #70 Good
LOIS LANE (1958) (#1-137) (SUPERMAN'S GIRL FRIEND) (DC) #72 Very Good

METAL MEN (1963) #19 Fair
METAL MEN (1963) #22 Very Good
METAL MEN (1963) #37 Fine

STRANGE ADVENTURES (1950) (#1-244) (DC) #193 Very Good

SUPERBOY (1949) (#1-258) (DC) #134 Very Good
SUPERBOY (1949) (#1-258) (DC) #135 Very Good
SUPERBOY (1949) (#1-258) (DC) #136 Very Good


SUPERMAN (1939) (#1-423) (DC) #191

SUPERMAN (1939) (#1-423) (DC) #191 Good
SUPERMAN (1939) (#1-423) (DC) #192 Very Good
SUPERMAN (1939) (#1-423) (DC) #193 Good
SUPERMAN (1939) (#1-423) (DC) #194 Very Good
SUPERMAN (1939) (#1-423) (DC) #196 Good
SUPERMAN (1939) (#1-423) (DC) #211 Good
SUPERMAN (1939) (#1-423) (DC) #215 Good

THUNDERCATS (2002) (#0-5) (DC/WILDSTORM) #5 (DC/Wildstorm) Near Mint/Mint

THUNDERCATS: RETURN (2003) #2 (DC/Wildstorm) Near Mint/Mint
THUNDERCATS: RETURN (2003) #4 (DC/Wildstorm) Near Mint/Mint

WEIRD WAR TALES (1971) (#1-124) (DC) #114 NEWSSTAND Fine

WEIRD WESTERN TALES (1972) #29 Good

WILD STORM (DC) (WARREN ELLIS) (WILDSTORM) (2017) #9 Near Mint/Mint
WILD STORM (DC) (WARREN ELLIS) (WILDSTORM) (2017) #10 LEE Near Mint/Mint

WORLDS FINEST (1941) (#2-323) (DC) (WORLD'S FINEST) #159 Good
WORLDS FINEST (1941) (#2-323) (DC) (WORLD'S FINEST) #162 Good
WORLDS FINEST (1941) (#2-323) (DC) (WORLD'S FINEST) #163 Very Good
WORLDS FINEST (1941) (#2-323) (DC) (WORLD'S FINEST) #164 Good

DARK HORSE COMICS
DARK HORSE PRESENTS (1986) (#1-157) #2 Near Mint/Mint

WEIRD DETECTIVE (2016) #2 Near Mint/Mint

IMAGE COMICS
MOONSHINE (2016) #7 B BA Near Mint/Mint

SPAWN (1992) #1 Very Good

WICKED & DIVINE CHRISTMAS ANNUAL (2017) #1 A MCKELVIE Near Mint/Mint


WICKED + THE DIVINE (2014) #12 A

WICKED + THE DIVINE (2014) #12 A Near Mint/Mint
WICKED + THE DIVINE (2014) #32 B STEVENSO Near Mint/Mint
WICKED + THE DIVINE (2014) #32 C TRIBUTE Near Mint/Mint
WICKED + THE DIVINE (2014) #33 A MCKELVIE Near Mint/Mint

INDEPENDENTS
DAFFY DUCK (1962) (#31-127) (GOLD KEY) #74 WHITMAN (Gold Key) Fine

DAVY CROCKETT (1955) (DELL FOUR COLORS) #1 FC #639 (Dell Publishing) Fine

DESTRUCTOR (1975) #4 (Atlas/Seaboard) Fine

DONALD DUCK (1962) (GOLD KEY) (#85-216) #127 (Gold Key) Very Good
DONALD DUCK (1962) (GOLD KEY) (#85-216) #129 (Gold Key) Fine
DONALD DUCK (1962) (GOLD KEY) (#85-216) #132 (Gold Key) Very Good
DONALD DUCK (1962) (GOLD KEY) (#85-216) #133 (Gold Key) Very Good
DONALD DUCK (1962) (GOLD KEY) (#85-216) #136 (Gold Key) Fine
DONALD DUCK (1962) (GOLD KEY) (#85-216) #144 (Gold Key) Very Fine
DONALD DUCK (1962) (GOLD KEY) (#85-216) #145 (Gold Key) Fine
DONALD DUCK (1962) (GOLD KEY) (#85-216) #151 (Gold Key) Fine
DONALD DUCK (1962) (GOLD KEY) (#85-216) #152 (Gold Key) Fine
DONALD DUCK (1962) (GOLD KEY) (#85-216) #153 (Gold Key) Fine
DONALD DUCK (1962) (GOLD KEY) (#85-216) #155 (Gold Key) Fine
DONALD DUCK (1962) (GOLD KEY) (#85-216) #157 (Gold Key) Fine
DONALD DUCK (1962) (GOLD KEY) (#85-216) #158 (Gold Key) Fine
DONALD DUCK (1962) (GOLD KEY) (#85-216) #162 (Gold Key) Fine

DYNAMO (T.H.U.N.D.E.R. AGENT) (1966) #1 (Tower Comics) Good
DYNAMO (T.H.U.N.D.E.R. AGENT) (1966) #1 (Tower Comics) Very Good
DYNAMO (T.H.U.N.D.E.R. AGENT) (1966) #2 (Tower Comics) Fine
DYNAMO (T.H.U.N.D.E.R. AGENT) (1966) #3 (Tower Comics) Fine
DYNAMO (T.H.U.N.D.E.R. AGENT) (1966) #4 (Tower Comics) Fine

GOLD DIGGER ANNUAL (1995) #9 (Antarctic Press) Near Mint/Mint
GOLD DIGGER ANNUAL (1995) #10 (Antarctic Press) Near Mint/Mint

GOLD DIGGER SWIMSUIT SPECIAL (2000) #2 2001 (Antarctic Press) Very Fine
GOLD DIGGER SWIMSUIT SPECIAL (2000) #3 2002 (Antarctic Press) Very Fine
GOLD DIGGER SWIMSUIT SPECIAL (2000) #4 2002 (Antarctic Press) Near Mint/Mint
GOLD DIGGER SWIMSUIT SPECIAL (2000) #5 2003 (Antarctic Press) Near Mint/Mint
GOLD DIGGER SWIMSUIT SPECIAL (2000) #6 (Antarctic Press) Near Mint/Mint

GOLD DIGGER VOL. 2 (1999) #3 (Antarctic Press) Near Mint/Mint
GOLD DIGGER VOL. 2 (1999) #4 (Antarctic Press) Fine
GOLD DIGGER VOL. 2 (1999) #5 (Antarctic Press) Very Fine
GOLD DIGGER VOL. 2 (1999) #6 (Antarctic Press) Fine
GOLD DIGGER VOL. 2 (1999) #7 (Antarctic Press) Near Mint/Mint
GOLD DIGGER VOL. 2 (1999) #8 (Antarctic Press) Near Mint/Mint
GOLD DIGGER VOL. 2 (1999) #9 (Antarctic Press) Near Mint/Mint
GOLD DIGGER VOL. 2 (1999) #10 (Antarctic Press) Near Mint/Mint
GOLD DIGGER VOL. 2 (1999) #11 (Antarctic Press) Near Mint/Mint
GOLD DIGGER VOL. 2 (1999) #12 (Antarctic Press) Fine
GOLD DIGGER VOL. 2 (1999) #14 (Antarctic Press) Near Mint/Mint
GOLD DIGGER VOL. 2 (1999) #15 (Antarctic Press) Near Mint/Mint
GOLD DIGGER VOL. 2 (1999) #16 (Antarctic Press) Very Fine
GOLD DIGGER VOL. 2 (1999) #17 (Antarctic Press) Fine
GOLD DIGGER VOL. 2 (1999) #18 (Antarctic Press) Fine
GOLD DIGGER VOL. 2 (1999) #19 (Antarctic Press) Very Fine
GOLD DIGGER VOL. 2 (1999) #20 (Antarctic Press) Very Fine
GOLD DIGGER VOL. 2 (1999) #21 (Antarctic Press) Very Fine
GOLD DIGGER VOL. 2 (1999) #22 (Antarctic Press) Fine
GOLD DIGGER VOL. 2 (1999) #23 (Antarctic Press) Near Mint/Mint
GOLD DIGGER VOL. 2 (1999) #24 (Antarctic Press) Near Mint/Mint
GOLD DIGGER VOL. 2 (1999) #25 (Antarctic Press) Fine
GOLD DIGGER VOL. 2 (1999) #26 (Antarctic Press) Near Mint/Mint
GOLD DIGGER VOL. 2 (1999) #27 (Antarctic Press) Very Fine
GOLD DIGGER VOL. 2 (1999) #28 (Antarctic Press) Very Fine
GOLD DIGGER VOL. 2 (1999) #29 (Antarctic Press) Fine
GOLD DIGGER VOL. 2 (1999) #30 (Antarctic Press) Very Fine
GOLD DIGGER VOL. 2 (1999) #33 (Antarctic Press) Fine
GOLD DIGGER VOL. 2 (1999) #34 (Antarctic Press) Very Fine
GOLD DIGGER VOL. 2 (1999) #35 (Antarctic Press) Near Mint/Mint
GOLD DIGGER VOL. 2 (1999) #37 (Antarctic Press) Near Mint/Mint
GOLD DIGGER VOL. 2 (1999) #40 (Antarctic Press) Near Mint/Mint
GOLD DIGGER VOL. 2 (1999) #41 (Antarctic Press) Fine
GOLD DIGGER VOL. 2 (1999) #43 (Antarctic Press) Near Mint/Mint
GOLD DIGGER VOL. 2 (1999) #44 (Antarctic Press) Near Mint/Mint
GOLD DIGGER VOL. 2 (1999) #45 (Antarctic Press) Fine
GOLD DIGGER VOL. 2 (1999) #46 (Antarctic Press) Near Mint/Mint
GOLD DIGGER VOL. 2 (1999) #47 (Antarctic Press) Fine
GOLD DIGGER VOL. 2 (1999) #48 (Antarctic Press) Near Mint/Mint
GOLD DIGGER VOL. 2 (1999) #49 (Antarctic Press) Very Fine
GOLD DIGGER VOL. 2 (1999) #50 COVER B (Antarctic Press) Near Mint/Mint
GOLD DIGGER VOL. 2 (1999) #51 (Antarctic Press) Near Mint/Mint
GOLD DIGGER VOL. 2 (1999) #52 (Antarctic Press) Near Mint/Mint

GOLD DIGGER VOL. 2 (1999) #53 (Antarctic Press) Near Mint/Mint
GOLD DIGGER VOL. 2 (1999) #54 (Antarctic Press) Near Mint/Mint
GOLD DIGGER VOL. 2 (1999) #55 (Antarctic Press) Near Mint/Mint

MANGAZINE SUPER SPECIAL PRESENTS GOLD DIGGER (1994) #1 2ND PRINT (Antarctic Press) Near Mint/Mint

RED SONJA (2017) (#0-25) (DYNAMITE) #14 E BALTAZAR (DYNAMITE Entertainment) Near Mint/Mint

WEIRD LOVE (2014) #18 (IDW Publishing) Near Mint/Mint
WEIRD LOVE (2014) #19 (IDW Publishing) Near Mint/Mint

WELCOME BACK (2015) #2 (Boom Studios Publishing) Very Fine

WILD BLUE YONDER (2013) #1 (IDW Publishing) Fine