Jim Shooter Returning to Mile High Comics
Howdy!
I am in the office today, but not feeling 100%. As of today, I am still planning to perform in this Sunday's family-friendly All Ages Drag Show here at our Jason St. Mega-Store, but that will depend on my health. In all honesty, I thought that taking a month off and resting would help me to regain all of my vigor after my 3 West Nile encephalitis episodes in November and December, but that just has not happened. The good news is that in just 45 days I will be going on Medicare, and I will then be able to schedule some important diagnostic tests without breaking my budget. Maybe then we can figure out why I am so exhausted and queasy all the time.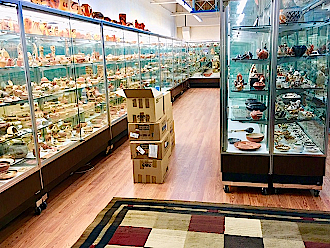 Chuck's Pueblo Pottery Museum (row #1 of 5)

In case you are wondering, even though I own all of Mile High Comics, on a personal basis I am pretty much perpetually broke. That isn't to say that I do not have access to money if I really need it, but rather that I built our wonderful company over the past 50 years by constantly reinvesting all of the proceeds into making the company even stronger. Even today, if it comes down to me getting a paycheck, or buying a nice collection, I will defer my own needs in order to buy that collection, every single time. I do set aside a little to fund Bettie's drag needs and my pottery purchasing, but in the greater scheme of things, I live on a pretty slim budget. That's no big deal, as I grew up very poor, so I'm quite used to doing without.
Speaking of my pottery, after our very successful benefit poker tournament and comics auction on Saturday (we raised $2,035.00 to help indigent AIDS sufferers with food and medicine...), I spent the rest of the weekend slowly refurbishing even more of my 80 glass showcases, and unpacking boxes filled with additional genres of my collection. While it sometimes seems to me like my efforts are glacially slow, the dozen (or so...) people who participated in my free tour of my collection over the weekend seemed genuinely impressed. I do have over 4,000 of my estimated 10,000 pieces on display now, so I am almost half way there. My next official tour will be after our no-minimum-bid comics and toys auction on February 29th. That will also be our 50th anniversary celebration. Save the date!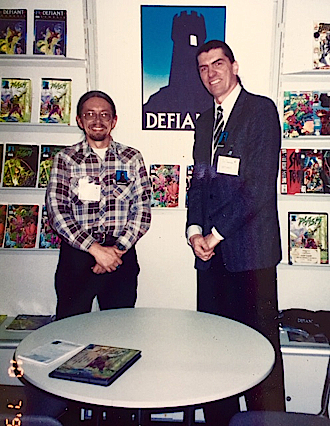 Chuck and Jim Shooter at the Frankfurt, Germany Buchmesse 10/7/93

My only other bit of news is to quickly mention that our truly awesome friend, Jim Shooter (former Editor-in-Chief of Marvel and the founder of Valiant, Defiant, and Broadway Comics), has agreed to return to Mile High Comics on Free Comic Book Day, May 2nd. Jim and I have been friends for over 40 years, so I am truly delighted that he will be returning for a visit. More FCBD news to follow...
OK, that's it for today, except for my usual mention that we still have a 50% off WINTER! codeword sale in effect for you on all of our back issue comics and magazines. Only new issues, a few variants, and our professionally-graded comics are exempt. I actually personally purchased a collection of about 4,000 very nice DC comics yesterday, so I can guarantee you that both our overall New-In-Stock and our more selective Premium New-In-Stock links are going to be filled with great new listings this week. If some of those newly-arrived comics would help you to fill in gaps in your collection, we would be honored to assist you.
Happy collecting!
Chuck Rozanski/Bettie Pages,
President - Mile High Comics, Inc.
January 20, 2020
Here are a few more new arrivals:
MARVEL

AMAZING SPIDER-MAN (1999) (#1-58, #500-700.5) (MARVEL) #36

AMAZING SPIDER-MAN (1999) (#1-58, #500-700.5) (MARVEL) #36 Fine

AMAZING SPIDER-MAN EPIC COLLECTION: GREAT POWER TPB (2014) #1 Near Mint/Mint

ANT-MAN/GIANT-MAN EPIC COLLECTION: MAN IN ANT HILL TPB (2015) #1 Very Good

AVENGERS FOREVER TPB (2001) #1 Very Good

CAPTAIN AMERICA EPIC COLLECTION: CAPT LIVES AGAIN TPB (2014) #1 Fine

CAPTAIN AMERICA EPIC COLLECTION: COMING OF FALCON TPB (2016) #1 Very Fine

CAPTAIN AMERICA EPIC COLLECTION: DAWN'S EARLY LIGHT TPB (2014) #1 Near Mint/Mint

DAREDEVIL EPIC COLLECTION: MAN WITHOUT FEAR TPB (2016) #1 Very Fine

DARK X-MEN HC (2010) #1 Near Mint/Mint

FANTASTIC FOUR EPIC COLLECTION: WORLDS GREATEST TPB (2014) #1 Near Mint/Mint

HERALDS TPB (2011) #1 Very Fine

HERCULES: PRINCE OF POWER TPB (1988) #1 Near Mint/Mint
HERCULES: PRINCE OF POWER TPB (1988) #1 Very Fine

HERCULES: TWILIGHT OF A GOD TPB (2010) #1 Very Fine


HEROES FOR HIRE: CIVIL WAR TPB (2007) #1

HEROES FOR HIRE: CIVIL WAR TPB (2007) #1 Fine

HEROES FOR HIRE: CONTROL TPB (2011) #1 Fine

HOOK TPB #1 Fine
HOOK TPB #1 Near Mint/Mint

HOUSE OF M: FANTASTIC FOUR/IRON MAN TPB (2006) #1 Very Good

HULK: SEASON ONE HC (2012) #1 Near Mint/Mint

IMPOSSIBLE MAN TPB (2011) #1 Fine

INCREDIBLE HERCULES: SACRED INVASION HC (2009) #1 Near Mint/Mint

INCREDIBLE HULK EPIC COLLECTION: MAN OR MONSTER TPB (2016) #1 Fine

IRON FIST EPIC COLLECTION: FURY OF IRON FIST TPB (2015) #1 Fine

IRON MAN EPIC COLLECTION: GOLDEN AVENGER TPB (2014) #1 Fine

ROLLING STONES: VOODOO LOUNGE #1 Near Mint/Mint

SPIDER-MAN/BATMAN (1995) #1 Near Mint/Mint


STAR WARS: JEDI OF THE REPUBLIC - MACE WINDU TPB (2018) #1

STAR WARS: JEDI OF THE REPUBLIC - MACE WINDU TPB (2018) #1 Very Fine

STAR WARS: LANDO - DOUBLE OR NOTHING TPB (2018) #1 Near Mint/Mint

STAR WARS: LANDO TPB (2015) #1 Fine

STAR WARS: OBI-WAN & ANAKIN TPB (2016) #1 Near Mint/Mint

STAR WARS: POE DAMERON VOL. 1: BLACK SQUADRON TPB (2016) #1 Very Fine

STAR WARS: POE DAMERON VOL. 2: GATHERING STORM TPB (2017) #1 Fine

STAR WARS: POE DAMERON VOL. 2: GATHERING STORM TPB (2017) #1 Very Fine

STAR WARS: POE DAMERON VOL. 3: LEGENDS LOST TPB (2017) #1 Very Fine

STAR WARS: POE DAMERON VOL. 4: LEGEND FOUND TPB (2018) #1 Near Mint/Mint

STAR WARS: POE DAMERON VOL. 5: SPARK FIRE TPB (2018) #1 Near Mint/Mint

DC
BATMAN/DEADMAN: DEATH & GLORY TPB (BATMAN AND DEADMAN) #1 Fine

BATMAN: BLOODSTORM SC (KELLY JONES) (ELSEWORLDS) (1994) #1 DIRECT Near Mint/Mint


BATMAN: BROKEN CITY COLLECTION (2004) #1 TPB

BATMAN: BROKEN CITY COLLECTION (2004) #1 TPB Near Mint/Mint

BATMAN: VENGEANCE OF BANE II-REDEMPTION (1995) #1 Very Fine

DARK KNIGHT (1986) #4 1ST PRT Fine

FIRST ISSUE SPECIAL (1975) #8 Good

GODDESS TPB (2002) #1 (DC: Vertigo Press) Very Fine

GREEN ARROW VOL. 3: HARROW TPB (NEW 52) (2013) #1 2ND PRINT Very Fine

GREEN LANTERN (1990) (#0-181) (DC) #48 DCUNIVERSE Very Fine
GREEN LANTERN (1990) (#0-181) (DC) #49 DCUNIVERSE Very Good
GREEN LANTERN (1990) (#0-181) (DC) #50 DCUNIVERSE Near Mint/Mint

HAL JORDAN & THE GREEN LANTERN CORPS TPB (REBIRTH) (2017) #2 Very Fine

HEROES HC (2007) #1 ROSS (DC/Wildstorm) Very Fine

HEROES TPB (2008) #1 2ND PRINT Fine

HIGHWAYMEN TPB (2008) #1 Very Fine

HOUSE OF MYSTERY (1951) #228 Good

HOUSE OF MYSTERY (1951) #229 Good

HOUSE OF MYSTERY VOL. 8: DESOLATION TPB (2012) #1 Very Fine

HUMAN TARGET TPB (2000) #1 (DC: Vertigo Press) Near Mint/Mint

JUSTICE LEAGUE OF AMERICA (1960) (#1-261) (DC) #99 Good
JUSTICE LEAGUE OF AMERICA (1960) (#1-261) (DC) #100 Fair
JUSTICE LEAGUE OF AMERICA (1960) (#1-261) (DC) #101 Fine
JUSTICE LEAGUE OF AMERICA (1960) (#1-261) (DC) #102 Good
JUSTICE LEAGUE OF AMERICA (1960) (#1-261) (DC) #103 Very Good
JUSTICE LEAGUE OF AMERICA (1960) (#1-261) (DC) #104 Good
JUSTICE LEAGUE OF AMERICA (1960) (#1-261) (DC) #105 Good
JUSTICE LEAGUE OF AMERICA (1960) (#1-261) (DC) #106 Very Good
JUSTICE LEAGUE OF AMERICA (1960) (#1-261) (DC) #107 Very Good
JUSTICE LEAGUE OF AMERICA (1960) (#1-261) (DC) #108 Good
JUSTICE LEAGUE OF AMERICA (1960) (#1-261) (DC) #109 Good
JUSTICE LEAGUE OF AMERICA (1960) (#1-261) (DC) #110 Good

JUSTICE SOCIETY OF AMERICA: THY KINGDOM COME TPB (2009) #1 Very Good

MISTER MIRACLE (1971) (#1-25) (DC) #9 Good

NEW GODS (1971) #4 Very Good
NEW GODS (1971) #5 Very Good

OTHER LIVES HC (2010) #1 Very Fine

OTHERWORLD TPB (2006) #1 (DC: Vertigo Press) Very Fine

OUR ARMY AT WAR TPB (2011) #1 Very Fine

SHADE (1977) (#1-8) (DC) (THE CHANGING MAN) #1 Very Good

UNEXPECTED (1956) (TALES OF THE UNEXPECTED #1-104) #161 Good
UNEXPECTED (1956) (TALES OF THE UNEXPECTED #1-104) #162 Good

WANTED (1972) #9 Very Good

WARLORD (1976) (#1-133) (DC) #35 NEWSSTAND Very Good

DARK HORSE COMICS
FINDER: TALISMAN HC (2012) #1 Very Fine

HELLBOY ANIMATED: BLACK WEDDING GN (VOL. 1) (2006) #1 Very Good

OTTO PORFIRI: DRAMA ON THE CLIFF TPB (2001) #1 Fine

SERENITY (2005) #1 CASSADAY Very Fine

STAR WARS: LEGACY II VOL. 4: EMPIRE OF ONE TPB (2014) #1 Very Good

STAR WARS: LEGACY TPB (2006) #2 Fine


STAR WARS: LEGACY TPB (2006) #3

STAR WARS: LEGACY TPB (2006) #3 Very Good
STAR WARS: LEGACY TPB (2006) #5 Fine

STAR WARS: LEGACY VOL. 7: STORMS TPB (2009) #1 Fine

STAR WARS: LEGACY VOL. 8: TATOOINE TPB (2010) #1 Very Good

STAR WARS: LEGACY VOL. 9: MONSTER TPB (2010) #1 Fine

STAR WARS: LEGACY VOL.11: WAR TPB (2012) #1 Fine

STAR WARS: LOST TRIBE OF THE SITH - SPIRAL TPB (2013) #1 Fine

STAR WARS: OLD REPUBLIC VOL. 2: THREAT OF PEACE TPB (2011) #1 2ND PRINT Very Fine
STAR WARS: OLD REPUBLIC VOL. 2: THREAT OF PEACE TPB (2011) #1 2ND PRINT Fine

IMAGE COMICS
ASTRO CITY (1995) (#1-6) (IMAGE) (KURT BUSIEK) #1 Near Mint/Mint
ASTRO CITY (1995) (#1-6) (IMAGE) (KURT BUSIEK) #1 Very Fine
ASTRO CITY (1995) (#1-6) (IMAGE) (KURT BUSIEK) #3 Very Fine
ASTRO CITY (1995) (#1-6) (IMAGE) (KURT BUSIEK) #4 Fine
ASTRO CITY (1995) (#1-6) (IMAGE) (KURT BUSIEK) #4 Near Mint/Mint
ASTRO CITY (1995) (#1-6) (IMAGE) (KURT BUSIEK) #4 Very Fine
ASTRO CITY (1995) (#1-6) (IMAGE) (KURT BUSIEK) #5 Near Mint/Mint
ASTRO CITY (1995) (#1-6) (IMAGE) (KURT BUSIEK) #5 Fine

ASTRO CITY (1996) (#1-15) (IMAGE/HOMAGE) #1 (Image Homage) Near Mint/Mint


ASTRO CITY (1996) (#1-15) (IMAGE/HOMAGE) #1 2ND PRINT

ASTRO CITY (1996) (#1-15) (IMAGE/HOMAGE) #1 2ND PRINT (Image Homage) Near Mint/Mint
ASTRO CITY (1996) (#1-15) (IMAGE/HOMAGE) #1 3-D (Image Homage) Near Mint/Mint
ASTRO CITY (1996) (#1-15) (IMAGE/HOMAGE) #1 2ND PRINT (Image Homage) Very Fine
ASTRO CITY (1996) (#1-15) (IMAGE/HOMAGE) #1 3-D (Image Homage) Very Fine
ASTRO CITY (1996) (#1-15) (IMAGE/HOMAGE) #1 1/2WIZ SGN (Image Homage) Near Mint/Mint
ASTRO CITY (1996) (#1-15) (IMAGE/HOMAGE) #1 1/2 (Image Homage) Near Mint/Mint
ASTRO CITY (1996) (#1-15) (IMAGE/HOMAGE) #1 1/2WIZ SGN (Image Homage) Very Fine
ASTRO CITY (1996) (#1-15) (IMAGE/HOMAGE) #1 VARIANT (Image Homage) Very Fine
ASTRO CITY (1996) (#1-15) (IMAGE/HOMAGE) #3 (Image Homage) Near Mint/Mint
ASTRO CITY (1996) (#1-15) (IMAGE/HOMAGE) #5 (Image Homage) Near Mint/Mint

DOUGLAS FREDRICKS & THE HOUSE OF THEY HC (2008) #1 Near Mint/Mint

HERO BY NIGHT TPB (2007) #1 HC (Image Top Cow) Near Mint/Mint

HIT-GIRL TPB (2018) #2 Near Mint/Mint

HOUDINI: MAN FROM BEYOND GN (2004) #1 Very Fine

INVINCIBLE VOL.13: GROWING PAINS TPB (2010) #1 Fine
INVINCIBLE VOL.13: GROWING PAINS TPB (2010) #1 Very Fine

INVINCIBLE: MY FAVORITE MARTIAN TPB (VOL. 8) (2007) #1 Fine

INVINCIBLE: OUT OF THIS WORLD TPB (VOL. 9) (2007) #1 Fine
INVINCIBLE: OUT OF THIS WORLD TPB (VOL. 9) (2007) #1 Very Fine


INVINCIBLE: WHO'S THE BOSS TPB (VOL. 10) (2009) #1

INVINCIBLE: WHO'S THE BOSS TPB (VOL. 10) (2009) #1 Fine
INVINCIBLE: WHO'S THE BOSS TPB (VOL. 10) (2009) #1 Very Fine

LIBERTY MEADOWS (#27-37) (IMAGE) (2002) #27 Near Mint/Mint
LIBERTY MEADOWS (#27-37) (IMAGE) (2002) #28 Near Mint/Mint
LIBERTY MEADOWS (#27-37) (IMAGE) (2002) #29 Very Fine
LIBERTY MEADOWS (#27-37) (IMAGE) (2002) #30 Near Mint/Mint
LIBERTY MEADOWS (#27-37) (IMAGE) (2002) #31 Near Mint/Mint
LIBERTY MEADOWS (#27-37) (IMAGE) (2002) #32 Very Fine
LIBERTY MEADOWS (#27-37) (IMAGE) (2002) #33 Near Mint/Mint
LIBERTY MEADOWS (#27-37) (IMAGE) (2002) #34 Very Fine
LIBERTY MEADOWS (#27-37) (IMAGE) (2002) #35 Near Mint/Mint
LIBERTY MEADOWS (#27-37) (IMAGE) (2002) #36 Near Mint/Mint

OUTCAST TPB (ROBERT KIRKMAN & PAUL AZACETA) (2015) #1 Very Fine
OUTCAST TPB (ROBERT KIRKMAN & PAUL AZACETA) (2015) #2 Near Mint/Mint
OUTCAST TPB (ROBERT KIRKMAN & PAUL AZACETA) (2015) #3 Very Fine
OUTCAST TPB (ROBERT KIRKMAN & PAUL AZACETA) (2015) #4 Near Mint/Mint
OUTCAST TPB (ROBERT KIRKMAN & PAUL AZACETA) (2015) #5 Very Fine
OUTCAST TPB (ROBERT KIRKMAN & PAUL AZACETA) (2015) #6 Near Mint/Mint

SPAWN (1992) #1 Very Fine

INDEPENDENTS
ASTRO BOY, THE ORIGINAL (NOW COMICS) (1987) #12 NEWSSTAND (Now Comics) Very Fine
ASTRO BOY, THE ORIGINAL (NOW COMICS) (1987) #20 (Now Comics) Very Fine


BARBARIANS (ATLAS SEABOARD) (1975) #1

BARBARIANS (ATLAS SEABOARD) (1975) #1 (Atlas/Seaboard) Very Good

FAMILY MATTER GN (1998) #1 (Kitchen Sink Publishing) Fine

FRATERNITY HC (2018) #1 (Lion Forge) Very Fine

GENE SIMMONS: HOUSE OF HORRORS TPB (2008) #1 (IDW Publishing) Fine

HAVE YOU SEEN THE HORIZON LATELY SC (2007) #1 (Oni Press Inc.) Fine

HEADSMASH TPB (2013) #1 (Arcana Studio) Fine

HIGHLANDER: THE COLDEST WAR TPB (VOL. 1) (2007) #1 VARIANT (DYNAMITE Entertainment) Fine

HOLIDAY WARS TPB (2013) #1 (Th3rd World Publishing) Very Fine

HOT SHOT & MIGHTY GIRL GN (2008) #1 (Platinum Editions) Very Fine

IRON JAW (1975) #1 (Atlas/Seaboard) Good
IRON JAW (1975) #1 (Atlas/Seaboard) Very Good
IRON JAW (1975) #2 (Atlas/Seaboard) Fine
IRON JAW (1975) #2 (Atlas/Seaboard) Very Good
IRON JAW (1975) #3 (Atlas/Seaboard) Very Good
IRON JAW (1975) #4 (Atlas/Seaboard) Good

LIBERTY MEADOWS (#1-26) (INSIGHT STUDIOS) (1999) #2 3RD PRINT (Insight Studios Group) Near Mint/Mint


LIBERTY MEADOWS (#1-26) (INSIGHT STUDIOS) (1999) #3

LIBERTY MEADOWS (#1-26) (INSIGHT STUDIOS) (1999) #3 (Insight Studios Group) Near Mint/Mint
LIBERTY MEADOWS (#1-26) (INSIGHT STUDIOS) (1999) #4 2ND PRINT (Insight Studios Group) Near Mint/Mint
LIBERTY MEADOWS (#1-26) (INSIGHT STUDIOS) (1999) #6 2ND PRINT (Insight Studios Group) Very Fine
LIBERTY MEADOWS (#1-26) (INSIGHT STUDIOS) (1999) #7 (Insight Studios Group) Very Fine
LIBERTY MEADOWS (#1-26) (INSIGHT STUDIOS) (1999) #8 (Insight Studios Group) Near Mint/Mint
LIBERTY MEADOWS (#1-26) (INSIGHT STUDIOS) (1999) #9 (Insight Studios Group) Very Fine
LIBERTY MEADOWS (#1-26) (INSIGHT STUDIOS) (1999) #11 (Insight Studios Group) Near Mint/Mint
LIBERTY MEADOWS (#1-26) (INSIGHT STUDIOS) (1999) #12 (Insight Studios Group) Near Mint/Mint
LIBERTY MEADOWS (#1-26) (INSIGHT STUDIOS) (1999) #13 (Insight Studios Group) Near Mint/Mint
LIBERTY MEADOWS (#1-26) (INSIGHT STUDIOS) (1999) #14 (Insight Studios Group) Very Fine
LIBERTY MEADOWS (#1-26) (INSIGHT STUDIOS) (1999) #15 (Insight Studios Group) Near Mint/Mint
LIBERTY MEADOWS (#1-26) (INSIGHT STUDIOS) (1999) #16 (Insight Studios Group) Near Mint/Mint
LIBERTY MEADOWS (#1-26) (INSIGHT STUDIOS) (1999) #17 (Insight Studios Group) Near Mint/Mint
LIBERTY MEADOWS (#1-26) (INSIGHT STUDIOS) (1999) #18 (Insight Studios Group) Near Mint/Mint
LIBERTY MEADOWS (#1-26) (INSIGHT STUDIOS) (1999) #19 (Insight Studios Group) Near Mint/Mint
LIBERTY MEADOWS (#1-26) (INSIGHT STUDIOS) (1999) #20 (Insight Studios Group) Near Mint/Mint
LIBERTY MEADOWS (#1-26) (INSIGHT STUDIOS) (1999) #21 (Insight Studios Group) Near Mint/Mint
LIBERTY MEADOWS (#1-26) (INSIGHT STUDIOS) (1999) #22 (Insight Studios Group) Near Mint/Mint
LIBERTY MEADOWS (#1-26) (INSIGHT STUDIOS) (1999) #23 (Insight Studios Group) Near Mint/Mint
LIBERTY MEADOWS (#1-26) (INSIGHT STUDIOS) (1999) #24 (Insight Studios Group) Near Mint/Mint
LIBERTY MEADOWS (#1-26) (INSIGHT STUDIOS) (1999) #25 (Insight Studios Group) Near Mint/Mint
LIBERTY MEADOWS (#1-26) (INSIGHT STUDIOS) (1999) #26 (Insight Studios Group) Near Mint/Mint

LIBERTY MEADOWS WEDDING ALBUM (2002) #1 (Insight Studios Group) Near Mint/Mint

MORLOCK 2001 (1975) #1 (Atlas/Seaboard) Fine

MORLOCK 2001 (1975) #1 (Atlas/Seaboard) Very Good
MORLOCK 2001 (1975) #2 (Atlas/Seaboard) Very Good
MORLOCK 2001 (1975) #3 (Atlas/Seaboard) Very Good

ORPHAN BLACK: HELSINKI TPB (2016) #1 (IDW Publishing) Near Mint/Mint

PLANET OF VAMPIRES (1975) #1 (Atlas/Seaboard) Fine
PLANET OF VAMPIRES (1975) #1 (Atlas/Seaboard) Very Good
PLANET OF VAMPIRES (1975) #2 (Atlas/Seaboard) Very Good
PLANET OF VAMPIRES (1975) #3 (Atlas/Seaboard) Fine

POLICE ACTION (ATLAS/SEABOARD) (1975) #1 (Atlas/Seaboard) Very Good

SAVAGE COMBAT TALES (1975) #1 (Atlas/Seaboard) Very Good

TALES OF EVIL (1975) #1 (Atlas/Seaboard) Fine
TALES OF EVIL (1975) #2 (Atlas/Seaboard) Fine
TALES OF EVIL (1975) #3 (Atlas/Seaboard) Fine

TICK & ARTHUR (1999) #6 (New England Big Foot Studio) Near Mint/Mint

TICK'S BIG TAX TIME TERROR #1 (New England Comics) Very Fine

TICK'S BIG YEAR 2000 SPECTACLE #1 (New England Comics) Near Mint/Mint

TICK'S BIG YULE LOG SPECIAL (1997) #2000 VARIANT (New England Comics) Near Mint/Mint

TICK: CIRCUS MAXIMUS #2 (New England Comics) Very Fine
TICK: CIRCUS MAXIMUS #3 (New England Comics) Near Mint/Mint

TIGER-MAN (1975) #1 (Atlas/Seaboard) Fine
TIGER-MAN (1975) #1 (Atlas/Seaboard) Very Good
TIGER-MAN (1975) #3 (Atlas/Seaboard) Very Good

WULF (1975) (#1-4) (ATLAS COMICS) (THE BARBARIAN) #1 (Atlas/Seaboard) Fine
WULF (1975) (#1-4) (ATLAS COMICS) (THE BARBARIAN) #1 (Atlas/Seaboard) Very Good
WULF (1975) (#1-4) (ATLAS COMICS) (THE BARBARIAN) #2 (Atlas/Seaboard) Fine
WULF (1975) (#1-4) (ATLAS COMICS) (THE BARBARIAN) #3 (Atlas/Seaboard) Very Good
WULF (1975) (#1-4) (ATLAS COMICS) (THE BARBARIAN) #4 (Atlas/Seaboard) Very Good