1,000 Marvel and Dark Horse Comics STAR WARS Arrive
Howdy!
Our second huge comic book cover banner is now mounted to the wall of Jason St., and I could not be more pleased. The sign manufacturers did a much better job of mitigating the seam line on this banner, and the colors came out just great! Our building decoration program for Jason St. has us all energized here at the company, as it totally changes the look and feel of the building from gritty industrial to art museum chic. This is fun!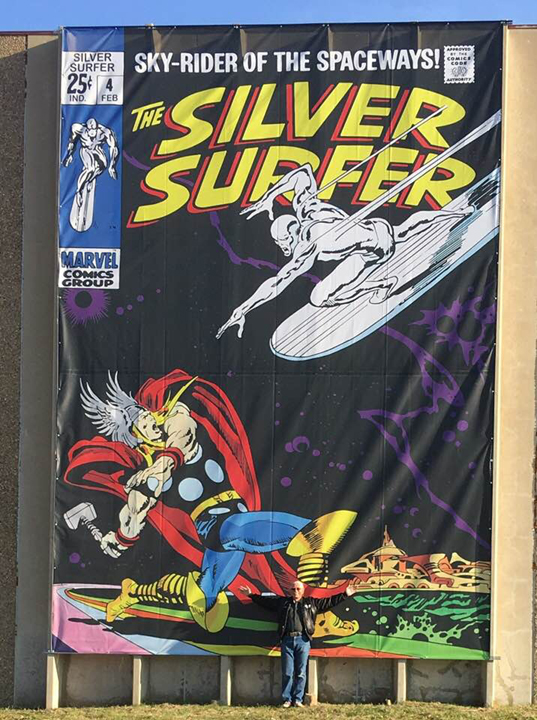 Chuck with the Silver Surfer Banner

Another bit of fun that we are having right now is in sorting through the great 5,000+ comics collection that arrived on Monday. Aside from those choice 200 high grade Silver Age issues that formed the core of this collection, there are proving to also be a remarkably high number of more recent back issues that we totally need for our website. I sorted through the DAREDEVIL box on Wednesday evening, and located about 60 different issues where we had none in stock. Jesse performed the same task with about 1,000 STAR WARS back issues, and the results were absolutely stunning. I knew that we have been selling them quite well, but I had no idea that we had completely sold out on so many of the early Marvel and Dark Horse STAR WARS titles.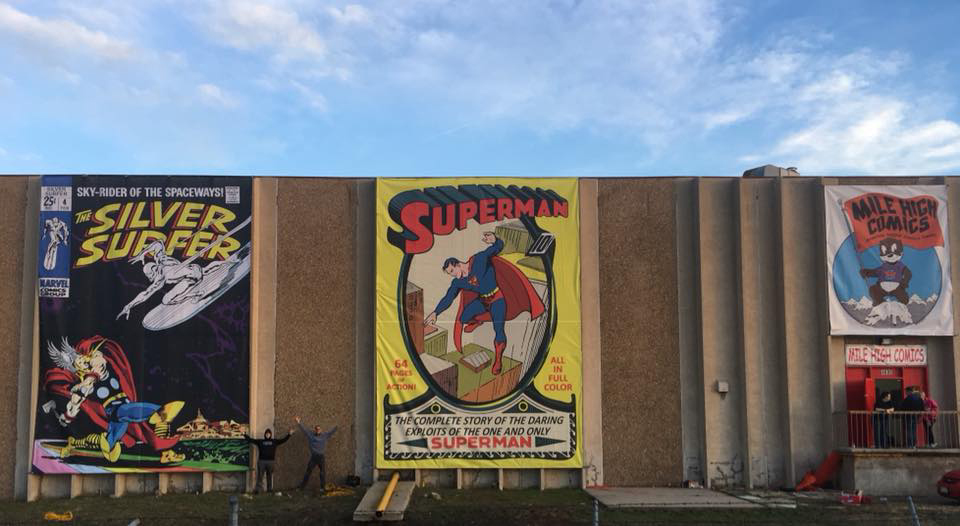 Front door with the Superman and Silver Surfer Banner

All of the above having been said, I am going to cut my verbiage in today's newsletter short, so that Will Moulton can provide you with a list of all the DAREDEVIL and STAR WARS back issues that we just added. Please note that all can be purchased at 40% off right now when you utilize our new SILVERSURFER! codeword. The codeword applies to all ten million of our back issue comics and magazines, excepting only new issues, a few variants, and our professionally-graded comics. Please do enjoy our new codeword sale with our sincere thanks and gratitude for your continuing support. We appreciate your patronage very much.
Happy collecting!
Chuck Rozanski,
President - Mile High Comics, Inc.
November 10, 2017

DAREDEVIL Comics just added
DAREDEVIL (1964) (#1-380) (MAN WITHOUT FEAR) (MARVEL) #18 Near Mint/Mint
DAREDEVIL (1964) (#1-380) (MAN WITHOUT FEAR) (MARVEL) #19 Near Mint/Mint
DAREDEVIL (1964) (#1-380) (MAN WITHOUT FEAR) (MARVEL) #20 Near Mint/Mint
DAREDEVIL (1964) (#1-380) (MAN WITHOUT FEAR) (MARVEL) #21 Near Mint/Mint
DAREDEVIL (1964) (#1-380) (MAN WITHOUT FEAR) (MARVEL) #22 Very Fine
DAREDEVIL (1964) (#1-380) (MAN WITHOUT FEAR) (MARVEL) #23 Very Fine
DAREDEVIL (1964) (#1-380) (MAN WITHOUT FEAR) (MARVEL) #24 Near Mint/Mint
DAREDEVIL (1964) (#1-380) (MAN WITHOUT FEAR) (MARVEL) #25 Very Fine
DAREDEVIL (1964) (#1-380) (MAN WITHOUT FEAR) (MARVEL) #27 Near Mint/Mint
DAREDEVIL (1964) (#1-380) (MAN WITHOUT FEAR) (MARVEL) #28 Near Mint/Mint
DAREDEVIL (1964) (#1-380) (MAN WITHOUT FEAR) (MARVEL) #30 Very Good
DAREDEVIL (1964) (#1-380) (MAN WITHOUT FEAR) (MARVEL) #31 Very Fine
DAREDEVIL (1964) (#1-380) (MAN WITHOUT FEAR) (MARVEL) #32 Near Mint/Mint
DAREDEVIL (1964) (#1-380) (MAN WITHOUT FEAR) (MARVEL) #33 Near Mint/Mint
DAREDEVIL (1964) (#1-380) (MAN WITHOUT FEAR) (MARVEL) #35 Near Mint/Mint
DAREDEVIL (1964) (#1-380) (MAN WITHOUT FEAR) (MARVEL) #36 Very Fine
DAREDEVIL (1964) (#1-380) (MAN WITHOUT FEAR) (MARVEL) #46 Very Fine
DAREDEVIL (1964) (#1-380) (MAN WITHOUT FEAR) (MARVEL) #52 Very Good
DAREDEVIL (1964) (#1-380) (MAN WITHOUT FEAR) (MARVEL) #55 Very Fine
DAREDEVIL (1964) (#1-380) (MAN WITHOUT FEAR) (MARVEL) #56 Very Fine

DAREDEVIL (1964) (#1-380) (MAN WITHOUT FEAR) (MARVEL) #57 Very Fine
DAREDEVIL (1964) (#1-380) (MAN WITHOUT FEAR) (MARVEL) #59 Very Fine
DAREDEVIL (1964) (#1-380) (MAN WITHOUT FEAR) (MARVEL) #60 Very Fine
DAREDEVIL (1964) (#1-380) (MAN WITHOUT FEAR) (MARVEL) #61 Near Mint/Mint
DAREDEVIL (1964) (#1-380) (MAN WITHOUT FEAR) (MARVEL) #62 Very Fine
DAREDEVIL (1964) (#1-380) (MAN WITHOUT FEAR) (MARVEL) #64 Near Mint/Mint
DAREDEVIL (1964) (#1-380) (MAN WITHOUT FEAR) (MARVEL) #66 Fine
DAREDEVIL (1964) (#1-380) (MAN WITHOUT FEAR) (MARVEL) #67 Very Fine
DAREDEVIL (1964) (#1-380) (MAN WITHOUT FEAR) (MARVEL) #68 Very Fine
DAREDEVIL (1964) (#1-380) (MAN WITHOUT FEAR) (MARVEL) #70 Fine
DAREDEVIL (1964) (#1-380) (MAN WITHOUT FEAR) (MARVEL) #71 Very Fine
DAREDEVIL (1964) (#1-380) (MAN WITHOUT FEAR) (MARVEL) #72 Very Fine
DAREDEVIL (1964) (#1-380) (MAN WITHOUT FEAR) (MARVEL) #73 Fine
DAREDEVIL (1964) (#1-380) (MAN WITHOUT FEAR) (MARVEL) #74 Fine
DAREDEVIL (1964) (#1-380) (MAN WITHOUT FEAR) (MARVEL) #76 Very Fine

DAREDEVIL (1964) (#1-380) (MAN WITHOUT FEAR) (MARVEL) #79 Very Fine
DAREDEVIL (1964) (#1-380) (MAN WITHOUT FEAR) (MARVEL) #80 Near Mint/Mint
DAREDEVIL (1964) (#1-380) (MAN WITHOUT FEAR) (MARVEL) #81 Fine
DAREDEVIL (1964) (#1-380) (MAN WITHOUT FEAR) (MARVEL) #82 Very Fine
DAREDEVIL (1964) (#1-380) (MAN WITHOUT FEAR) (MARVEL) #84 Very Fine
DAREDEVIL (1964) (#1-380) (MAN WITHOUT FEAR) (MARVEL) #86 Very Fine
DAREDEVIL (1964) (#1-380) (MAN WITHOUT FEAR) (MARVEL) #87 Very Fine
DAREDEVIL (1964) (#1-380) (MAN WITHOUT FEAR) (MARVEL) #88 Very Fine
DAREDEVIL (1964) (#1-380) (MAN WITHOUT FEAR) (MARVEL) #89 Very Fine
DAREDEVIL (1964) (#1-380) (MAN WITHOUT FEAR) (MARVEL) #92 Near Mint/Mint
DAREDEVIL (1964) (#1-380) (MAN WITHOUT FEAR) (MARVEL) #93 Very Fine
DAREDEVIL (1964) (#1-380) (MAN WITHOUT FEAR) (MARVEL) #94 Fine
DAREDEVIL (1964) (#1-380) (MAN WITHOUT FEAR) (MARVEL) #95 Very Fine
DAREDEVIL (1964) (#1-380) (MAN WITHOUT FEAR) (MARVEL) #96 Near Mint/Mint
DAREDEVIL (1964) (#1-380) (MAN WITHOUT FEAR) (MARVEL) #96 Very Fine
DAREDEVIL (1964) (#1-380) (MAN WITHOUT FEAR) (MARVEL) #97 Near Mint/Mint
DAREDEVIL (1964) (#1-380) (MAN WITHOUT FEAR) (MARVEL) #98 Fine
DAREDEVIL (1964) (#1-380) (MAN WITHOUT FEAR) (MARVEL) #99 Near Mint/Mint
DAREDEVIL (1964) (#1-380) (MAN WITHOUT FEAR) (MARVEL) #100 Fine
DAREDEVIL (1964) (#1-380) (MAN WITHOUT FEAR) (MARVEL) #101 Fine

DAREDEVIL (1964) (#1-380) (MAN WITHOUT FEAR) (MARVEL) #102 Very Fine
DAREDEVIL (1964) (#1-380) (MAN WITHOUT FEAR) (MARVEL) #103 Very Fine
DAREDEVIL (1964) (#1-380) (MAN WITHOUT FEAR) (MARVEL) #104 Very Fine
DAREDEVIL (1964) (#1-380) (MAN WITHOUT FEAR) (MARVEL) #105 Near Mint/Mint
DAREDEVIL (1964) (#1-380) (MAN WITHOUT FEAR) (MARVEL) #106 Near Mint/Mint
DAREDEVIL (1964) (#1-380) (MAN WITHOUT FEAR) (MARVEL) #107 Very Fine
DAREDEVIL (1964) (#1-380) (MAN WITHOUT FEAR) (MARVEL) #108 Very Fine
DAREDEVIL (1964) (#1-380) (MAN WITHOUT FEAR) (MARVEL) #109 Very Good
DAREDEVIL (1964) (#1-380) (MAN WITHOUT FEAR) (MARVEL) #110 Fine
DAREDEVIL (1964) (#1-380) (MAN WITHOUT FEAR) (MARVEL) #111 Very Fine
DAREDEVIL (1964) (#1-380) (MAN WITHOUT FEAR) (MARVEL) #112 Fine
DAREDEVIL (1964) (#1-380) (MAN WITHOUT FEAR) (MARVEL) #113 Very Fine
DAREDEVIL (1964) (#1-380) (MAN WITHOUT FEAR) (MARVEL) #114 Near Mint/Mint
DAREDEVIL (1964) (#1-380) (MAN WITHOUT FEAR) (MARVEL) #115 Near Mint/Mint
DAREDEVIL (1964) (#1-380) (MAN WITHOUT FEAR) (MARVEL) #116 Very Fine
DAREDEVIL (1964) (#1-380) (MAN WITHOUT FEAR) (MARVEL) #117 Very Fine
DAREDEVIL (1964) (#1-380) (MAN WITHOUT FEAR) (MARVEL) #118 Very Fine
DAREDEVIL (1964) (#1-380) (MAN WITHOUT FEAR) (MARVEL) #119 Very Good
DAREDEVIL (1964) (#1-380) (MAN WITHOUT FEAR) (MARVEL) #120 Very Fine

DAREDEVIL (1964) (#1-380) (MAN WITHOUT FEAR) (MARVEL) #121 Very Good
DAREDEVIL (1964) (#1-380) (MAN WITHOUT FEAR) (MARVEL) #122 Very Fine
DAREDEVIL (1964) (#1-380) (MAN WITHOUT FEAR) (MARVEL) #124 Very Fine
DAREDEVIL (1964) (#1-380) (MAN WITHOUT FEAR) (MARVEL) #126 Very Good
DAREDEVIL (1964) (#1-380) (MAN WITHOUT FEAR) (MARVEL) #127 Very Good
DAREDEVIL (1964) (#1-380) (MAN WITHOUT FEAR) (MARVEL) #128 Very Fine
DAREDEVIL (1964) (#1-380) (MAN WITHOUT FEAR) (MARVEL) #129 Fine
DAREDEVIL (1964) (#1-380) (MAN WITHOUT FEAR) (MARVEL) #130 Fine
DAREDEVIL (1964) (#1-380) (MAN WITHOUT FEAR) (MARVEL) #131 Very Fine
DAREDEVIL (1964) (#1-380) (MAN WITHOUT FEAR) (MARVEL) #132 Very Fine
DAREDEVIL (1964) (#1-380) (MAN WITHOUT FEAR) (MARVEL) #133 Very Fine
DAREDEVIL (1964) (#1-380) (MAN WITHOUT FEAR) (MARVEL) #134 Fine
DAREDEVIL (1964) (#1-380) (MAN WITHOUT FEAR) (MARVEL) #135 Fine
DAREDEVIL (1964) (#1-380) (MAN WITHOUT FEAR) (MARVEL) #136 Fine
DAREDEVIL (1964) (#1-380) (MAN WITHOUT FEAR) (MARVEL) #137 Very Good
DAREDEVIL (1964) (#1-380) (MAN WITHOUT FEAR) (MARVEL) #138 Very Fine
DAREDEVIL (1964) (#1-380) (MAN WITHOUT FEAR) (MARVEL) #139 Very Fine
DAREDEVIL (1964) (#1-380) (MAN WITHOUT FEAR) (MARVEL) #140 Near Mint/Mint
DAREDEVIL (1964) (#1-380) (MAN WITHOUT FEAR) (MARVEL) #141 Very Fine
DAREDEVIL (1964) (#1-380) (MAN WITHOUT FEAR) (MARVEL) #142 Very Fine
DAREDEVIL (1964) (#1-380) (MAN WITHOUT FEAR) (MARVEL) #143 Very Fine
DAREDEVIL (1964) (#1-380) (MAN WITHOUT FEAR) (MARVEL) #144 Fine
DAREDEVIL (1964) (#1-380) (MAN WITHOUT FEAR) (MARVEL) #145 Fine
DAREDEVIL (1964) (#1-380) (MAN WITHOUT FEAR) (MARVEL) #146 Near Mint/Mint

DAREDEVIL (1964) (#1-380) (MAN WITHOUT FEAR) (MARVEL) #147 Very Fine
DAREDEVIL (1964) (#1-380) (MAN WITHOUT FEAR) (MARVEL) #148 Very Fine
DAREDEVIL (1964) (#1-380) (MAN WITHOUT FEAR) (MARVEL) #149 Very Fine
DAREDEVIL (1964) (#1-380) (MAN WITHOUT FEAR) (MARVEL) #150 Fine
DAREDEVIL (1964) (#1-380) (MAN WITHOUT FEAR) (MARVEL) #151 Near Mint/Mint
DAREDEVIL (1964) (#1-380) (MAN WITHOUT FEAR) (MARVEL) #152 Very Good
DAREDEVIL (1964) (#1-380) (MAN WITHOUT FEAR) (MARVEL) #153 Very Fine
DAREDEVIL (1964) (#1-380) (MAN WITHOUT FEAR) (MARVEL) #154 Near Mint/Mint
DAREDEVIL (1964) (#1-380) (MAN WITHOUT FEAR) (MARVEL) #155 Very Fine
DAREDEVIL (1964) (#1-380) (MAN WITHOUT FEAR) (MARVEL) #156 Very Good
DAREDEVIL (1964) (#1-380) (MAN WITHOUT FEAR) (MARVEL) #157 Very Fine
DAREDEVIL (1964) (#1-380) (MAN WITHOUT FEAR) (MARVEL) #158 Fine
DAREDEVIL (1964) (#1-380) (MAN WITHOUT FEAR) (MARVEL) #159 NEWSSTAND Very Fine
DAREDEVIL (1964) (#1-380) (MAN WITHOUT FEAR) (MARVEL) #160 NEWSSTAND Very Fine
DAREDEVIL (1964) (#1-380) (MAN WITHOUT FEAR) (MARVEL) #161 Very Fine
DAREDEVIL (1964) (#1-380) (MAN WITHOUT FEAR) (MARVEL) #162 Very Fine
DAREDEVIL (1964) (#1-380) (MAN WITHOUT FEAR) (MARVEL) #163 Very Fine
DAREDEVIL (1964) (#1-380) (MAN WITHOUT FEAR) (MARVEL) #164 Near Mint/Mint
DAREDEVIL (1964) (#1-380) (MAN WITHOUT FEAR) (MARVEL) #165 Very Fine
DAREDEVIL (1964) (#1-380) (MAN WITHOUT FEAR) (MARVEL) #166 Near Mint/Mint
DAREDEVIL (1964) (#1-380) (MAN WITHOUT FEAR) (MARVEL) #167 Near Mint/Mint
DAREDEVIL (1964) (#1-380) (MAN WITHOUT FEAR) (MARVEL) #168 NEWSSTAND Fine
DAREDEVIL (1964) (#1-380) (MAN WITHOUT FEAR) (MARVEL) #169 Near Mint/Mint
DAREDEVIL (1964) (#1-380) (MAN WITHOUT FEAR) (MARVEL) #170 Near Mint/Mint


DAREDEVIL (1964) #172 NEWSSTAND

DAREDEVIL (1964) (#1-380) (MAN WITHOUT FEAR) (MARVEL) #172 NEWSSTAND Fine
DAREDEVIL (1964) (#1-380) (MAN WITHOUT FEAR) (MARVEL) #174 NEWSSTAND Very Fine
DAREDEVIL (1964) (#1-380) (MAN WITHOUT FEAR) (MARVEL) #175 Fine
DAREDEVIL (1964) (#1-380) (MAN WITHOUT FEAR) (MARVEL) #176 Fine
DAREDEVIL (1964) (#1-380) (MAN WITHOUT FEAR) (MARVEL) #181 NEWSSTAND Very Fine
DAREDEVIL (1964) (#1-380) (MAN WITHOUT FEAR) (MARVEL) #183 Very Fine
DAREDEVIL (1964) (#1-380) (MAN WITHOUT FEAR) (MARVEL) #227 Fine
DAREDEVIL (1964) (#1-380) (MAN WITHOUT FEAR) (MARVEL) #228 Near Mint/Mint
DAREDEVIL (1964) (#1-380) (MAN WITHOUT FEAR) (MARVEL) #229 Fine
DAREDEVIL (1964) (#1-380) (MAN WITHOUT FEAR) (MARVEL) #230 Near Mint/Mint
DAREDEVIL (1964) (#1-380) (MAN WITHOUT FEAR) (MARVEL) #231 Very Fine
DAREDEVIL (1964) (#1-380) (MAN WITHOUT FEAR) (MARVEL) #232 Very Fine
DAREDEVIL (1964) (#1-380) (MAN WITHOUT FEAR) (MARVEL) #233 Fine
DAREDEVIL (1964) (#1-380) (MAN WITHOUT FEAR) (MARVEL) #250 Very Fine
DAREDEVIL (1964) (#1-380) (MAN WITHOUT FEAR) (MARVEL) #254 Near Mint/Mint
DAREDEVIL (1964) (#1-380) (MAN WITHOUT FEAR) (MARVEL) #257 Fine
DAREDEVIL (1964) (#1-380) (MAN WITHOUT FEAR) (MARVEL) #258 Near Mint/Mint
DAREDEVIL (1964) (#1-380) (MAN WITHOUT FEAR) (MARVEL) #260 Near Mint/Mint
DAREDEVIL (1964) (#1-380) (MAN WITHOUT FEAR) (MARVEL) #269 Near Mint/Mint
DAREDEVIL (1964) (#1-380) (MAN WITHOUT FEAR) (MARVEL) #270 Near Mint/Mint
DAREDEVIL (1964) (#1-380) (MAN WITHOUT FEAR) (MARVEL) #274 Near Mint/Mint
DAREDEVIL (1964) (#1-380) (MAN WITHOUT FEAR) (MARVEL) #275 Near Mint/Mint
DAREDEVIL (1964) (#1-380) (MAN WITHOUT FEAR) (MARVEL) #276 Near Mint/Mint
DAREDEVIL (1964) (#1-380) (MAN WITHOUT FEAR) (MARVEL) #278 Near Mint/Mint

DAREDEVIL (1964) (#1-380) (MAN WITHOUT FEAR) (MARVEL) #281 Near Mint/Mint
DAREDEVIL (1964) (#1-380) (MAN WITHOUT FEAR) (MARVEL) #282 Near Mint/Mint
DAREDEVIL (1964) (#1-380) (MAN WITHOUT FEAR) (MARVEL) #283 Near Mint/Mint
DAREDEVIL (1964) (#1-380) (MAN WITHOUT FEAR) (MARVEL) #284 Near Mint/Mint
DAREDEVIL (1964) (#1-380) (MAN WITHOUT FEAR) (MARVEL) #285 Near Mint/Mint
DAREDEVIL (1964) (#1-380) (MAN WITHOUT FEAR) (MARVEL) #287 Near Mint/Mint
DAREDEVIL (1964) (#1-380) (MAN WITHOUT FEAR) (MARVEL) #288 Near Mint/Mint
DAREDEVIL (1964) (#1-380) (MAN WITHOUT FEAR) (MARVEL) #289 Near Mint/Mint
DAREDEVIL (1964) (#1-380) (MAN WITHOUT FEAR) (MARVEL) #290 Near Mint/Mint
DAREDEVIL (1964) (#1-380) (MAN WITHOUT FEAR) (MARVEL) #291 Near Mint/Mint
DAREDEVIL (1964) (#1-380) (MAN WITHOUT FEAR) (MARVEL) #293 Near Mint/Mint
DAREDEVIL (1964) (#1-380) (MAN WITHOUT FEAR) (MARVEL) #299 Near Mint/Mint
DAREDEVIL (1964) (#1-380) (MAN WITHOUT FEAR) (MARVEL) #344 Near Mint/Mint
DAREDEVIL (1964) (#1-380) (MAN WITHOUT FEAR) (MARVEL) #345 Near Mint/Mint
DAREDEVIL (1964) (#1-380) (MAN WITHOUT FEAR) (MARVEL) #354 Near Mint/Mint
DAREDEVIL (1964) (#1-380) (MAN WITHOUT FEAR) (MARVEL) #356 Near Mint/Mint
DAREDEVIL (1964) (#1-380) (MAN WITHOUT FEAR) (MARVEL) #368 Very Fine
DAREDEVIL (1964) (#1-380) (MAN WITHOUT FEAR) (MARVEL) #369 Near Mint/Mint
DAREDEVIL (1964) (#1-380) (MAN WITHOUT FEAR) (MARVEL) #371 Very Fine
DAREDEVIL (1964) (#1-380) (MAN WITHOUT FEAR) (MARVEL) #376 Near Mint/Mint
DAREDEVIL (1964) (#1-380) (MAN WITHOUT FEAR) (MARVEL) #378 Near Mint/Mint
DAREDEVIL (1964) (#1-380) (MAN WITHOUT FEAR) (MARVEL) #379 Near Mint/Mint
DAREDEVIL (1964) (#1-380) (MAN WITHOUT FEAR) (MARVEL) #380 Near Mint/Mint

DAREDEVIL (1998) (#1-119, 500-512) (MARVEL) #9 Near Mint/Mint
DAREDEVIL (1998) (#1-119, 500-512) (MARVEL) #107 Near Mint/Mint

STAR WARS Comics just added
CLASSIC STAR WARS (1992) #20 Near Mint/Mint

CLASSIC STAR WARS: A NEW HOPE (1994) #2 Near Mint/Mint

CLASSIC STAR WARS: RETURN OF THE JEDI (1994) #1 Near Mint/Mint

STAR WARS (1977) #48 NEWSSTAND Fine
STAR WARS (1977) #68 Fine
STAR WARS (1977) #80 Near Mint/Mint

STAR WARS (1998) #28 Near Mint/Mint
STAR WARS (1998) #29 Near Mint/Mint
STAR WARS (1998) #30 Fine
STAR WARS (1998) #31 Fine
STAR WARS (1998) #49 Near Mint/Mint
STAR WARS (1998) #50 Near Mint/Mint
STAR WARS (1998) #51 Near Mint/Mint
STAR WARS (1998) #52 Very Fine
STAR WARS (1998) #53 Near Mint/Mint
STAR WARS (1998) #54 Very Fine
STAR WARS (1998) #55 Near Mint/Mint
STAR WARS (1998) #56 Near Mint/Mint

STAR WARS (1998) #57 Near Mint/Mint
STAR WARS (1998) #58 Near Mint/Mint
STAR WARS (1998) #59 Near Mint/Mint
STAR WARS (1998) #60 Very Fine
STAR WARS (1998) #61 Very Fine
STAR WARS (1998) #62 Very Fine
STAR WARS (1998) #63 Fine
STAR WARS (1998) #64 Fine
STAR WARS (1998) #65 Very Fine
STAR WARS (1998) #66 Fine
STAR WARS (1998) #67 Fine
STAR WARS (1998) #68 Very Fine
STAR WARS (1998) #69 Very Fine
STAR WARS (1998) #70 Near Mint/Mint
STAR WARS (1998) #71 Near Mint/Mint
STAR WARS (1998) #72 Very Fine
STAR WARS (1998) #73 Near Mint/Mint
STAR WARS (1998) #76 Very Fine
STAR WARS (1998) #78 Near Mint/Mint
STAR WARS (1998) #80 Near Mint/Mint
STAR WARS (1998) #82 Near Mint/Mint
STAR WARS (1998) #83 Near Mint/Mint

STAR WARS (2013) #1 Near Mint/Mint


STAR WARS BOBA FETT: ENEMY OF THE EMPIRE #1

STAR WARS BOBA FETT: ENEMY OF THE EMPIRE #1 Fine
STAR WARS BOBA FETT: ENEMY OF THE EMPIRE #2 Near Mint/Mint
STAR WARS BOBA FETT: ENEMY OF THE EMPIRE #3 Fine
STAR WARS BOBA FETT: ENEMY OF THE EMPIRE #4 Very Good

STAR WARS BOBA FETT: MURDER MOST FOUL #3 Near Mint/Mint

STAR WARS BOUNTY HUNTERS: AURRA SING #1 Very Fine

STAR WARS EPISODE II: ATTACK OF THE CLONES (2002) #4 Near Mint/Mint

STAR WARS JEDI: MACE WINDU (2003) #1 Near Mint/Mint

STAR WARS JEDI: YODA ONE-SHOT (2004) #1 Very Fine

STAR WARS MARA JADE: BY THE EMPEROR'S HAND #1 Very Fine
STAR WARS MARA JADE: BY THE EMPEROR'S HAND #2 Very Fine
STAR WARS MARA JADE: BY THE EMPEROR'S HAND #3 Near Mint/Mint
STAR WARS MARA JADE: BY THE EMPEROR'S HAND #4 Near Mint/Mint
STAR WARS MARA JADE: BY THE EMPEROR'S HAND #5 Near Mint/Mint
STAR WARS MARA JADE: BY THE EMPEROR'S HAND #6 Near Mint/Mint

STAR WARS TALES #6 PHOTO Near Mint/Mint
STAR WARS TALES #7 Near Mint/Mint

STAR WARS TALES OF THE JEDI: FALL OF THE SITH EMPIRE #3 Near Mint/Mint


STAR WARS TALES OF THE JEDI: FALL OF THE SITH EMPIRE #4

STAR WARS TALES OF THE JEDI: FALL OF THE SITH EMPIRE #4 Near Mint/Mint

STAR WARS TALES OF THE JEDI: FREEDON NADD UPRISING (1994) #2 Fine

STAR WARS TALES OF THE JEDI: GOLDEN AGE OF THE SITH #4 Very Fine
STAR WARS TALES OF THE JEDI: GOLDEN AGE OF THE SITH #5 Very Fine

STAR WARS TALES OF THE JEDI: SITH WAR #5 Near Mint/Mint
STAR WARS TALES OF THE JEDI: SITH WAR #6 Near Mint/Mint

STAR WARS TALES: DARK LORDS OF THE SITH #3 Near Mint/Mint
STAR WARS TALES: DARK LORDS OF THE SITH #4 Very Fine

STAR WARS X-WING: ROGUE SQUADRON #3 Fine
STAR WARS X-WING: ROGUE SQUADRON #4 Fine

STAR WARS: BLOOD TIES - BOBA FETT IS DEAD (2012) #1 SCALF Near Mint/Mint
STAR WARS: BLOOD TIES - BOBA FETT IS DEAD (2012) #2 Near Mint/Mint
STAR WARS: BLOOD TIES - BOBA FETT IS DEAD (2012) #3 Near Mint/Mint
STAR WARS: BLOOD TIES - BOBA FETT IS DEAD (2012) #4 Near Mint/Mint

STAR WARS: BOBA FETT (1995) #1 Near Mint/Mint

STAR WARS: CHEWBACCA #1 Very Fine
STAR WARS: CHEWBACCA #4 Fine


STAR WARS: CLONE WARS (2008) #1

STAR WARS: CLONE WARS (2008) #1 Near Mint/Mint
STAR WARS: CLONE WARS (2008) #2 Near Mint/Mint
STAR WARS: CLONE WARS (2008) #3 Near Mint/Mint
STAR WARS: CLONE WARS (2008) #4 Near Mint/Mint

STAR WARS: CRIMSON EMPIRE #2 Near Mint/Mint
STAR WARS: CRIMSON EMPIRE #3 Near Mint/Mint
STAR WARS: CRIMSON EMPIRE #4 Near Mint/Mint
STAR WARS: CRIMSON EMPIRE #5 Near Mint/Mint
STAR WARS: CRIMSON EMPIRE #6 Near Mint/Mint

STAR WARS: CRIMSON EMPIRE II #2 Near Mint/Mint
STAR WARS: CRIMSON EMPIRE II #5 Near Mint/Mint
STAR WARS: CRIMSON EMPIRE II #6 Near Mint/Mint

STAR WARS: CRIMSON EMPIRE III - EMPIRE LOST (2011) #1 DORMAN Near Mint/Mint
STAR WARS: CRIMSON EMPIRE III - EMPIRE LOST (2011) #2 Very Fine
STAR WARS: CRIMSON EMPIRE III - EMPIRE LOST (2011) #3 Near Mint/Mint
STAR WARS: CRIMSON EMPIRE III - EMPIRE LOST (2011) #4 Near Mint/Mint
STAR WARS: CRIMSON EMPIRE III - EMPIRE LOST (2011) #5 Near Mint/Mint
STAR WARS: CRIMSON EMPIRE III - EMPIRE LOST (2011) #6 Very Fine

STAR WARS: DARK EMPIRE (1992) #1 Near Mint/Mint
STAR WARS: DARK EMPIRE (1992) #2 Near Mint/Mint
STAR WARS: DARK EMPIRE (1992) #5 Near Mint/Mint


STAR WARS: DARK EMPIRE II (1994) #2

STAR WARS: DARK EMPIRE II (1994) #2 Near Mint/Mint
STAR WARS: DARK EMPIRE II (1994) #5 Near Mint/Mint

STAR WARS: DARK FORCE RISING #6 Very Fine

STAR WARS: DARK TIMES (2006) #1 Near Mint/Mint
STAR WARS: DARK TIMES (2006) #11 Near Mint/Mint
STAR WARS: DARK TIMES (2006) #12 Near Mint/Mint
STAR WARS: DARK TIMES (2006) #13 Near Mint/Mint
STAR WARS: DARK TIMES (2006) #14 Near Mint/Mint

STAR WARS: DARK TIMES - FIRE CARRIER (2013) #1 Near Mint/Mint

STAR WARS: DARK TIMES - OUT OF THE WILDERNESS (2011) #1 NELSON Near Mint/Mint

STAR WARS: DARTH MAUL #2 Near Mint/Mint
STAR WARS: DARTH MAUL #3 Near Mint/Mint
STAR WARS: DARTH MAUL #4 Near Mint/Mint

STAR WARS: DARTH MAUL - DEATH SENTENCE (2012) #1 Near Mint/Mint
STAR WARS: DARTH MAUL - DEATH SENTENCE (2012) #4 Fine

STAR WARS: DAWN OF THE JEDI (2012) #0 Very Fine
STAR WARS: DAWN OF THE JEDI (2012) #1 DUURSEMA Very Fine
STAR WARS: DAWN OF THE JEDI (2012) #2 Fine


STAR WARS: DAWN OF THE JEDI (2012) #3

STAR WARS: DAWN OF THE JEDI (2012) #3 Very Fine
STAR WARS: DAWN OF THE JEDI (2012) #4 Very Fine
STAR WARS: DAWN OF THE JEDI (2012) #5 Fine

STAR WARS: EMPIRE (2002) #1 Near Mint/Mint
STAR WARS: EMPIRE (2002) #2 Very Fine
STAR WARS: EMPIRE (2002) #4 Fine
STAR WARS: EMPIRE (2002) #5 Very Fine
STAR WARS: EMPIRE (2002) #36 Fine
STAR WARS: EMPIRE (2002) #39 Near Mint/Mint
STAR WARS: EMPIRE (2002) #40 Very Fine

STAR WARS: GENERAL GRIEVOUS (2005) #1 Very Fine
STAR WARS: GENERAL GRIEVOUS (2005) #2 Near Mint/Mint

STAR WARS: HEIR TO THE EMPIRE (1995) #3 Near Mint/Mint
STAR WARS: HEIR TO THE EMPIRE (1995) #4 Near Mint/Mint
STAR WARS: HEIR TO THE EMPIRE (1995) #5 Near Mint/Mint
STAR WARS: HEIR TO THE EMPIRE (1995) #6 Near Mint/Mint

STAR WARS: INFINITIES-A NEW HOPE (2001) #1 Near Mint/Mint
STAR WARS: INFINITIES-A NEW HOPE (2001) #2 Near Mint/Mint

STAR WARS: INFINITIES-EMPIRE STRIKES BACK (2002) #4 Near Mint/Mint

STAR WARS: INFINITIES-RETURN OF THE JEDI (2003) #1 Near Mint/Mint


STAR WARS: INFINITIES-RETURN OF THE JEDI (2003) #2

STAR WARS: INFINITIES-RETURN OF THE JEDI (2003) #2 Near Mint/Mint
STAR WARS: INFINITIES-RETURN OF THE JEDI (2003) #3 Near Mint/Mint
STAR WARS: INFINITIES-RETURN OF THE JEDI (2003) #4 Near Mint/Mint

STAR WARS: INVASION (2009) #0 Very Fine
STAR WARS: INVASION (2009) #2 Near Mint/Mint
STAR WARS: INVASION (2009) #4 Very Fine
STAR WARS: INVASION (2009) #5 Very Fine

STAR WARS: INVASION - RESCUES (2010) #1 Very Fine
STAR WARS: INVASION - RESCUES (2010) #2 Near Mint/Mint
STAR WARS: INVASION - RESCUES (2010) #3 Very Fine
STAR WARS: INVASION - RESCUES (2010) #5 Very Fine

STAR WARS: INVASION - REVELATIONS (2011) #4 Near Mint/Mint

STAR WARS: JEDI - THE DARK SIDE (2011) #4 Near Mint/Mint
STAR WARS: JEDI - THE DARK SIDE (2011) #5 Near Mint/Mint

STAR WARS: JEDI COUNCIL #3 Near Mint/Mint
STAR WARS: JEDI COUNCIL #4 Near Mint/Mint

STAR WARS: JEDI QUEST (2001) #3 Near Mint/Mint
STAR WARS: JEDI QUEST (2001) #4 Fine


STAR WARS: KNIGHT ERRANT - AFLAME (2010) #1 A

STAR WARS: KNIGHT ERRANT - AFLAME (2010) #1 A Near Mint/Mint
STAR WARS: KNIGHT ERRANT - AFLAME (2010) #2 Near Mint/Mint
STAR WARS: KNIGHT ERRANT - AFLAME (2010) #3 Very Fine
STAR WARS: KNIGHT ERRANT - AFLAME (2010) #4 Very Fine
STAR WARS: KNIGHT ERRANT - AFLAME (2010) #5 Fine

STAR WARS: KNIGHTS OF THE OLD REPUBLIC (2005) #1 Near Mint/Mint
STAR WARS: KNIGHTS OF THE OLD REPUBLIC (2005) #2 Near Mint/Mint
STAR WARS: KNIGHTS OF THE OLD REPUBLIC (2005) #3 Near Mint/Mint
STAR WARS: KNIGHTS OF THE OLD REPUBLIC (2005) #4 Near Mint/Mint
STAR WARS: KNIGHTS OF THE OLD REPUBLIC (2005) #5 Near Mint/Mint
STAR WARS: KNIGHTS OF THE OLD REPUBLIC (2005) #6 Near Mint/Mint
STAR WARS: KNIGHTS OF THE OLD REPUBLIC (2005) #7 Near Mint/Mint
STAR WARS: KNIGHTS OF THE OLD REPUBLIC (2005) #8 Very Fine
STAR WARS: KNIGHTS OF THE OLD REPUBLIC (2005) #26 Near Mint/Mint
STAR WARS: KNIGHTS OF THE OLD REPUBLIC (2005) #28 Near Mint/Mint
STAR WARS: KNIGHTS OF THE OLD REPUBLIC (2005) #35 Near Mint/Mint

STAR WARS: LAST COMMAND #3 Near Mint/Mint
STAR WARS: LAST COMMAND #4 Near Mint/Mint
STAR WARS: LAST COMMAND #5 Near Mint/Mint
STAR WARS: LAST COMMAND #6 Near Mint/Mint

STAR WARS: LEGACY (2006) #0 1/2 Near Mint/Mint
STAR WARS: LEGACY (2006) #4 Near Mint/Mint

STAR WARS: LEGACY (2006) #5 Near Mint/Mint
STAR WARS: LEGACY (2006) #6 Near Mint/Mint
STAR WARS: LEGACY (2006) #7 Near Mint/Mint
STAR WARS: LEGACY (2006) #8 Near Mint/Mint
STAR WARS: LEGACY (2006) #9 Near Mint/Mint
STAR WARS: LEGACY (2006) #11 Near Mint/Mint
STAR WARS: LEGACY (2006) #12 Near Mint/Mint
STAR WARS: LEGACY (2006) #13 Near Mint/Mint
STAR WARS: LEGACY (2006) #14 Near Mint/Mint
STAR WARS: LEGACY (2006) #15 Very Fine
STAR WARS: LEGACY (2006) #16 Near Mint/Mint
STAR WARS: LEGACY (2006) #18 Near Mint/Mint
STAR WARS: LEGACY (2006) #19 Near Mint/Mint
STAR WARS: LEGACY (2006) #22 Very Fine
STAR WARS: LEGACY (2006) #23 Fine
STAR WARS: LEGACY (2006) #24 Very Fine
STAR WARS: LEGACY (2006) #25 Very Fine
STAR WARS: LEGACY (2006) #26 Fine
STAR WARS: LEGACY (2006) #27 Near Mint/Mint
STAR WARS: LEGACY (2006) #28 Near Mint/Mint
STAR WARS: LEGACY (2006) #29 Near Mint/Mint
STAR WARS: LEGACY (2006) #30 Very Fine
STAR WARS: LEGACY (2006) #31 Very Fine
STAR WARS: LEGACY (2006) #33 Fine

STAR WARS: LEGACY (2006) #34 Near Mint/Mint
STAR WARS: LEGACY (2006) #37 Near Mint/Mint
STAR WARS: LEGACY (2006) #38 Very Fine
STAR WARS: LEGACY (2006) #39 Near Mint/Mint
STAR WARS: LEGACY (2006) #50 Near Mint/Mint

STAR WARS: LEGACY (VOL. 2) (2013) #1 Very Fine
STAR WARS: LEGACY (VOL. 2) (2013) #2 Very Fine
STAR WARS: LEGACY (VOL. 2) (2013) #3 Very Fine
STAR WARS: LEGACY (VOL. 2) (2013) #4 Near Mint/Mint
STAR WARS: LEGACY (VOL. 2) (2013) #5 Near Mint/Mint

STAR WARS: OBSESSION (2004) #1 Near Mint/Mint
STAR WARS: OBSESSION (2004) #3 Near Mint/Mint
STAR WARS: OBSESSION (2004) #4 Near Mint/Mint

STAR WARS: PURGE - SECONDS TO DIE ONE-SHOT (2009) #1 Very Fine

STAR WARS: PURGE - THE HIDDEN BLADE (2010) #1 Near Mint/Mint


STAR WARS: QUI-GON & OBI-WAN - LSOOM #2

STAR WARS: QUI-GON & OBI-WAN - LSOOM #2 Near Mint/Mint
STAR WARS: QUI-GON & OBI-WAN - LSOOM #3 Near Mint/Mint

STAR WARS: REBELLION (2006) #3 Near Mint/Mint
STAR WARS: REBELLION (2006) #15 Near Mint/Mint
STAR WARS: REBELLION (2006) #16 Near Mint/Mint

STAR WARS: SHADOWS OF THE EMPIRE (1996) #2 Near Mint/Mint
STAR WARS: SHADOWS OF THE EMPIRE (1996) #3 Near Mint/Mint

STAR WARS: UNDERWORLD (2000) #1 Near Mint/Mint
STAR WARS: UNDERWORLD (2000) #2 Near Mint/Mint
STAR WARS: UNDERWORLD (2000) #5 PHOTO Near Mint/Mint