Half Price JULY4TH Comics Sale On Over Ten Million Comics
Hi!
This is William with Mile High Comics, Chuck is running around packing for his next East Coast trip. He leaves tomorrow (Tuesday) and is gone for almost a week.
Chuck got some great books and collections on his first trip to the East Coast so he is heading back again. He did bring back some of the comics he bought and we got those on the system for everyone already. Take a look at the list at the end of this newsletter to see some of awesome books on sale now!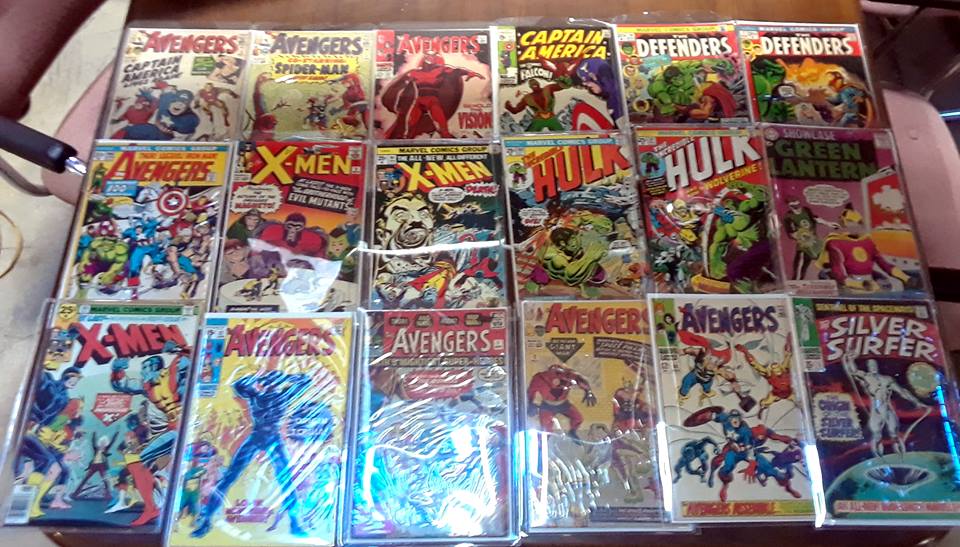 Some of the comics brought back from the East Coast

Chuck will be at the Garden State Comic Fest Friday (7/6) Afternoon and Saturday (7/7) Morning looking for even more comics and collections to buy. If you see him say Hi!
We do still have the 50% off JULY4TH! codeword sale running. The JULY4TH! codeword applies to all ten million of our back issue comics and magazines, excepting only new issues a few variants, and our professionally-graded comics.
Have a great week!
William Moulton,
Excutive Buyer - Mile High Comics, Inc.
July 2, 2018

P.S. Here is a list of some of the books for the first East Coast trip already on our system:
MARVEL

AMAZING ADVENTURES (MARVEL) (1970) #2

AMAZING ADVENTURES (MARVEL) (1970) #2 Very Fine
AMAZING ADVENTURES (MARVEL) (1970) #3 Fine
AMAZING ADVENTURES (MARVEL) (1970) #7 Very Fine
AMAZING ADVENTURES (MARVEL) (1970) #8 Good
AMAZING ADVENTURES (MARVEL) (1970) #9 Good
AMAZING ADVENTURES (MARVEL) (1970) #10 Good

AMAZING SPIDER-MAN (1999) (#1-700.5) (MARVEL) #36 Near Mint/Mint

ANT-MAN & WASP (MARVEL) (2010) #1 Near Mint/Mint
ANT-MAN & WASP (MARVEL) (2010) #2 Near Mint/Mint
ANT-MAN & WASP (MARVEL) (2010) #3 Near Mint/Mint

ANT-MAN & WASP: GROWING PAINS TPB (2018) #1 Near Mint/Mint

AVENGERS (1963) (#1-402) (MARVEL) #1 Good
AVENGERS (1963) (#1-402) (MARVEL) #2 Very Good
AVENGERS (1963) (#1-402) (MARVEL) #3 Very Good
AVENGERS (1963) (#1-402) (MARVEL) #4 Good
AVENGERS (1963) (#1-402) (MARVEL) #5 Good
AVENGERS (1963) (#1-402) (MARVEL) #6 Very Good
AVENGERS (1963) (#1-402) (MARVEL) #7 Good
AVENGERS (1963) (#1-402) (MARVEL) #8 Very Good
AVENGERS (1963) (#1-402) (MARVEL) #9 Good
AVENGERS (1963) (#1-402) (MARVEL) #10 Good
AVENGERS (1963) (#1-402) (MARVEL) #11 Good
AVENGERS (1963) (#1-402) (MARVEL) #12 Good
AVENGERS (1963) (#1-402) (MARVEL) #13 Good
AVENGERS (1963) (#1-402) (MARVEL) #14 Good
AVENGERS (1963) (#1-402) (MARVEL) #15 Good
AVENGERS (1963) (#1-402) (MARVEL) #16 Good
AVENGERS (1963) (#1-402) (MARVEL) #17 Good
AVENGERS (1963) (#1-402) (MARVEL) #18 Very Good
AVENGERS (1963) (#1-402) (MARVEL) #19 Very Good
AVENGERS (1963) (#1-402) (MARVEL) #20 Good
AVENGERS (1963) (#1-402) (MARVEL) #21 Very Good
AVENGERS (1963) (#1-402) (MARVEL) #22 Very Good
AVENGERS (1963) (#1-402) (MARVEL) #23 Good
AVENGERS (1963) (#1-402) (MARVEL) #24 Very Fine
AVENGERS (1963) (#1-402) (MARVEL) #25 Good
AVENGERS (1963) (#1-402) (MARVEL) #26 Very Good


AVENGERS (1963) (#1-402) (MARVEL) #27

AVENGERS (1963) (#1-402) (MARVEL) #27 Fine
AVENGERS (1963) (#1-402) (MARVEL) #28 Very Good
AVENGERS (1963) (#1-402) (MARVEL) #29 Very Good
AVENGERS (1963) (#1-402) (MARVEL) #30 Fine
AVENGERS (1963) (#1-402) (MARVEL) #30 Very Good
AVENGERS (1963) (#1-402) (MARVEL) #31 Fine
AVENGERS (1963) (#1-402) (MARVEL) #32 Near Mint/Mint
AVENGERS (1963) (#1-402) (MARVEL) #32 Very Good
AVENGERS (1963) (#1-402) (MARVEL) #33 Very Good
AVENGERS (1963) (#1-402) (MARVEL) #34 Very Good
AVENGERS (1963) (#1-402) (MARVEL) #35 Good
AVENGERS (1963) (#1-402) (MARVEL) #36 Fine
AVENGERS (1963) (#1-402) (MARVEL) #37 Very Fine
AVENGERS (1963) (#1-402) (MARVEL) #38 Very Good
AVENGERS (1963) (#1-402) (MARVEL) #39 Fine
AVENGERS (1963) (#1-402) (MARVEL) #40 Fine
AVENGERS (1963) (#1-402) (MARVEL) #41 Good
AVENGERS (1963) (#1-402) (MARVEL) #41 Fine
AVENGERS (1963) (#1-402) (MARVEL) #42 Very Good
AVENGERS (1963) (#1-402) (MARVEL) #43 Good
AVENGERS (1963) (#1-402) (MARVEL) #44 Fine
AVENGERS (1963) (#1-402) (MARVEL) #45 Fine
AVENGERS (1963) (#1-402) (MARVEL) #46 Fine
AVENGERS (1963) (#1-402) (MARVEL) #46 Fair
AVENGERS (1963) (#1-402) (MARVEL) #47 Fine
AVENGERS (1963) (#1-402) (MARVEL) #48 Fine
AVENGERS (1963) (#1-402) (MARVEL) #49 Very Fine
AVENGERS (1963) (#1-402) (MARVEL) #50 Very Good
AVENGERS (1963) (#1-402) (MARVEL) #51 Fine
AVENGERS (1963) (#1-402) (MARVEL) #52 Very Good
AVENGERS (1963) (#1-402) (MARVEL) #53 Good
AVENGERS (1963) (#1-402) (MARVEL) #54 Very Good
AVENGERS (1963) (#1-402) (MARVEL) #55 Fine
AVENGERS (1963) (#1-402) (MARVEL) #55 Fair
AVENGERS (1963) (#1-402) (MARVEL) #56 Very Good
AVENGERS (1963) (#1-402) (MARVEL) #57 Very Good
AVENGERS (1963) (#1-402) (MARVEL) #58 Very Good
AVENGERS (1963) (#1-402) (MARVEL) #59 Good
AVENGERS (1963) (#1-402) (MARVEL) #60 Good
AVENGERS (1963) (#1-402) (MARVEL) #61 Very Good


AVENGERS (1963) (#1-402) (MARVEL) #62

AVENGERS (1963) (#1-402) (MARVEL) #62 Fine
AVENGERS (1963) (#1-402) (MARVEL) #63 Good
AVENGERS (1963) (#1-402) (MARVEL) #64 Fine
AVENGERS (1963) (#1-402) (MARVEL) #64 Good
AVENGERS (1963) (#1-402) (MARVEL) #65 Good
AVENGERS (1963) (#1-402) (MARVEL) #65 Very Good
AVENGERS (1963) (#1-402) (MARVEL) #66 Very Good
AVENGERS (1963) (#1-402) (MARVEL) #67 Good
AVENGERS (1963) (#1-402) (MARVEL) #67 Very Good
AVENGERS (1963) (#1-402) (MARVEL) #68 Very Good
AVENGERS (1963) (#1-402) (MARVEL) #69 Fine
AVENGERS (1963) (#1-402) (MARVEL) #69 Very Good
AVENGERS (1963) (#1-402) (MARVEL) #70 Fine
AVENGERS (1963) (#1-402) (MARVEL) #70 Very Good
AVENGERS (1963) (#1-402) (MARVEL) #71 Good
AVENGERS (1963) (#1-402) (MARVEL) #71 Very Good
AVENGERS (1963) (#1-402) (MARVEL) #72 Very Good
AVENGERS (1963) (#1-402) (MARVEL) #73 Very Good
AVENGERS (1963) (#1-402) (MARVEL) #74 Very Good
AVENGERS (1963) (#1-402) (MARVEL) #75 Good
AVENGERS (1963) (#1-402) (MARVEL) #76 Very Good
AVENGERS (1963) (#1-402) (MARVEL) #77 Good
AVENGERS (1963) (#1-402) (MARVEL) #77 Very Good
AVENGERS (1963) (#1-402) (MARVEL) #78 Good
AVENGERS (1963) (#1-402) (MARVEL) #79 Very Good
AVENGERS (1963) (#1-402) (MARVEL) #80 Very Good
AVENGERS (1963) (#1-402) (MARVEL) #81 Very Good
AVENGERS (1963) (#1-402) (MARVEL) #82 Fine
AVENGERS (1963) (#1-402) (MARVEL) #82 Good
AVENGERS (1963) (#1-402) (MARVEL) #83 Good
AVENGERS (1963) (#1-402) (MARVEL) #84 Good
AVENGERS (1963) (#1-402) (MARVEL) #85 Very Good
AVENGERS (1963) (#1-402) (MARVEL) #86 Good
AVENGERS (1963) (#1-402) (MARVEL) #87 Good
AVENGERS (1963) (#1-402) (MARVEL) #88 Fine
AVENGERS (1963) (#1-402) (MARVEL) #89 Good
AVENGERS (1963) (#1-402) (MARVEL) #90 Fine
AVENGERS (1963) (#1-402) (MARVEL) #90 Very Good
AVENGERS (1963) (#1-402) (MARVEL) #91 Very Good
AVENGERS (1963) (#1-402) (MARVEL) #92 Good
AVENGERS (1963) (#1-402) (MARVEL) #93 Very Fine
AVENGERS (1963) (#1-402) (MARVEL) #94 Near Mint/Mint
AVENGERS (1963) (#1-402) (MARVEL) #95 Fine


AVENGERS (1963) (#1-402) (MARVEL) #95

AVENGERS (1963) (#1-402) (MARVEL) #95 Good
AVENGERS (1963) (#1-402) (MARVEL) #96 Near Mint/Mint
AVENGERS (1963) (#1-402) (MARVEL) #97 Very Fine
AVENGERS (1963) (#1-402) (MARVEL) #98 Near Mint/Mint
AVENGERS (1963) (#1-402) (MARVEL) #99 Near Mint/Mint
AVENGERS (1963) (#1-402) (MARVEL) #100 Very Fine

AVENGERS ANNUAL (1967) #1 Very Good
AVENGERS ANNUAL (1967) #2 Very Good
AVENGERS ANNUAL (1967) #3 Very Good
AVENGERS ANNUAL (1967) #7 Good
AVENGERS ANNUAL (1967) #7 Very Good
AVENGERS ANNUAL (1967) #8 Fine
AVENGERS ANNUAL (1967) #9 Very Fine

CAPTAIN AMERICA (1968) (#100-454) (MARVEL) #113 Very Good
CAPTAIN AMERICA (1968) (#100-454) (MARVEL) #115 Good
CAPTAIN AMERICA (1968) (#100-454) (MARVEL) #116 Fine
CAPTAIN AMERICA (1968) (#100-454) (MARVEL) #116 Very Good
CAPTAIN AMERICA (1968) (#100-454) (MARVEL) #117 Good
CAPTAIN AMERICA (1968) (#100-454) (MARVEL) #119 Very Fine
CAPTAIN AMERICA (1968) (#100-454) (MARVEL) #121 Very Good
CAPTAIN AMERICA (1968) (#100-454) (MARVEL) #129 Fine
CAPTAIN AMERICA (1968) (#100-454) (MARVEL) #139 Very Good
CAPTAIN AMERICA (1968) (#100-454) (MARVEL) #141 Very Good
CAPTAIN AMERICA (1968) (#100-454) (MARVEL) #142 Very Good
CAPTAIN AMERICA (1968) (#100-454) (MARVEL) #143 Very Good
CAPTAIN AMERICA (1968) (#100-454) (MARVEL) #144 Good
CAPTAIN AMERICA (1968) (#100-454) (MARVEL) #147 Very Good
CAPTAIN AMERICA (1968) (#100-454) (MARVEL) #148 Very Good
CAPTAIN AMERICA (1968) (#100-454) (MARVEL) #150 Very Good
CAPTAIN AMERICA (1968) (#100-454) (MARVEL) #160 Very Good

DEFENDERS (1972) (#1-152) (MARVEL) #1 Very Good
DEFENDERS (1972) (#1-152) (MARVEL) #2 Very Good
DEFENDERS (1972) (#1-152) (MARVEL) #3 Very Good
DEFENDERS (1972) (#1-152) (MARVEL) #4 Very Fine
DEFENDERS (1972) (#1-152) (MARVEL) #5 Very Good
DEFENDERS (1972) (#1-152) (MARVEL) #10 Very Fine

FANTASTIC FOUR (1961) (#1-416) (MARVEL) #98 Very Good


FANTASTIC FOUR (1961) (#1-416) (MARVEL) #106

FANTASTIC FOUR (1961) (#1-416) (MARVEL) #106 Very Good
FANTASTIC FOUR (1961) (#1-416) (MARVEL) #113 Very Good

HULK (1962) (#1-6, #102-474, #600-635)(INCREDIBLE)(MV) #177 Fine
HULK (1962) (#1-6, #102-474, #600-635)(INCREDIBLE)(MV) #178 Fine
HULK (1962) (#1-6, #102-474, #600-635)(INCREDIBLE)(MV) #180 Good
HULK (1962) (#1-6, #102-474, #600-635)(INCREDIBLE)(MV) #181 Very Good

INHUMANS (1975) (#1-12) (MARVEL) #4 Fine

IRON MAN (1968) (#1-332) (INVINCIBLE IRON MAN)(MARVEL) #2 Good
IRON MAN (1968) (#1-332) (INVINCIBLE IRON MAN)(MARVEL) #14 Very Good
IRON MAN (1968) (#1-332) (INVINCIBLE IRON MAN)(MARVEL) #15 Very Good
IRON MAN (1968) (#1-332) (INVINCIBLE IRON MAN)(MARVEL) #16 Fine
IRON MAN (1968) (#1-332) (INVINCIBLE IRON MAN)(MARVEL) #18 Very Good
IRON MAN (1968) (#1-332) (INVINCIBLE IRON MAN)(MARVEL) #25 Very Fine
IRON MAN (1968) (#1-332) (INVINCIBLE IRON MAN)(MARVEL) #39 Very Good
IRON MAN (1968) (#1-332) (INVINCIBLE IRON MAN)(MARVEL) #179 NEWSSTAND Fine
IRON MAN (1968) (#1-332) (INVINCIBLE IRON MAN)(MARVEL) #187 NEWSSTAND Fine
IRON MAN (1968) (#1-332) (INVINCIBLE IRON MAN)(MARVEL) #189 NEWSSTAND Fine
IRON MAN (1968) (#1-332) (INVINCIBLE IRON MAN)(MARVEL) #196 Near Mint/Mint
IRON MAN (1968) (#1-332) (INVINCIBLE IRON MAN)(MARVEL) #200 NEWSSTAND Fine
IRON MAN (1968) (#1-332) (INVINCIBLE IRON MAN)(MARVEL) #212 Near Mint/Mint
IRON MAN (1968) (#1-332) (INVINCIBLE IRON MAN)(MARVEL) #214 Near Mint/Mint
IRON MAN (1968) (#1-332) (INVINCIBLE IRON MAN)(MARVEL) #215 Near Mint/Mint
IRON MAN (1968) (#1-332) (INVINCIBLE IRON MAN)(MARVEL) #219 Very Fine
IRON MAN (1968) (#1-332) (INVINCIBLE IRON MAN)(MARVEL) #220 Near Mint/Mint
IRON MAN (1968) (#1-332) (INVINCIBLE IRON MAN)(MARVEL) #221 Near Mint/Mint
IRON MAN (1968) (#1-332) (INVINCIBLE IRON MAN)(MARVEL) #222 Near Mint/Mint
IRON MAN (1968) (#1-332) (INVINCIBLE IRON MAN)(MARVEL) #223 Near Mint/Mint
IRON MAN (1968) (#1-332) (INVINCIBLE IRON MAN)(MARVEL) #224 Near Mint/Mint
IRON MAN (1968) (#1-332) (INVINCIBLE IRON MAN)(MARVEL) #225 Near Mint/Mint
IRON MAN (1968) (#1-332) (INVINCIBLE IRON MAN)(MARVEL) #226 Near Mint/Mint
IRON MAN (1968) (#1-332) (INVINCIBLE IRON MAN)(MARVEL) #228 Near Mint/Mint
IRON MAN (1968) (#1-332) (INVINCIBLE IRON MAN)(MARVEL) #229 Near Mint/Mint
IRON MAN (1968) (#1-332) (INVINCIBLE IRON MAN)(MARVEL) #230 Near Mint/Mint
IRON MAN (1968) (#1-332) (INVINCIBLE IRON MAN)(MARVEL) #231 Near Mint/Mint
IRON MAN (1968) (#1-332) (INVINCIBLE IRON MAN)(MARVEL) #232 Near Mint/Mint
IRON MAN (1968) (#1-332) (INVINCIBLE IRON MAN)(MARVEL) #234 Near Mint/Mint
IRON MAN (1968) (#1-332) (INVINCIBLE IRON MAN)(MARVEL) #237 Near Mint/Mint
IRON MAN (1968) (#1-332) (INVINCIBLE IRON MAN)(MARVEL) #250 Near Mint/Mint
IRON MAN (1968) (#1-332) (INVINCIBLE IRON MAN)(MARVEL) #282 Fine


IRON MAN (1968) (#1-332) (INVINCIBLE IRON MAN)(MARVEL) #283 NEWSSTAND

IRON MAN (1968) (#1-332) (INVINCIBLE IRON MAN)(MARVEL) #283 NEWSSTAND Very Fine
IRON MAN (1968) (#1-332) (INVINCIBLE IRON MAN)(MARVEL) #304 NEWSSTAND Fine
IRON MAN (1968) (#1-332) (INVINCIBLE IRON MAN)(MARVEL) #325 NEWSSTAND Very Fine
IRON MAN (1968) (#1-332) (INVINCIBLE IRON MAN)(MARVEL) #327 NEWSSTAND Fine
IRON MAN (1968) (#1-332) (INVINCIBLE IRON MAN)(MARVEL) #328 NEWSSTAND Very Fine
IRON MAN (1968) (#1-332) (INVINCIBLE IRON MAN)(MARVEL) #329 NEWSSTAND Fine
IRON MAN (1968) (#1-332) (INVINCIBLE IRON MAN)(MARVEL) #331 NEWSSTAND Very Fine
IRON MAN (1968) (#1-332) (INVINCIBLE IRON MAN)(MARVEL) #332 NEWSSTAND Fine

IRON MAN ANNUAL (1970) #1 Near Mint/Mint
IRON MAN ANNUAL (1970) #2 Very Good
IRON MAN ANNUAL (1970) #3 Very Good
IRON MAN ANNUAL (1970) #4 Fine

PETER PARKER (1976) (#1-263) (SPECTACULAR SPIDER-MAN) #30 BLANK CODE Good
PETER PARKER (1976) (#1-263) (SPECTACULAR SPIDER-MAN) #148 Fine

POWER MAN/IRON FIST (LUKE CAGE, POWER MAN #1-49) (1972) #7 Very Good
POWER MAN/IRON FIST (LUKE CAGE, POWER MAN #1-49) (1972) #9 Very Good
POWER MAN/IRON FIST (LUKE CAGE, POWER MAN #1-49) (1972) #13 Very Good
POWER MAN/IRON FIST (LUKE CAGE, POWER MAN #1-49) (1972) #14 Very Good
POWER MAN/IRON FIST (LUKE CAGE, POWER MAN #1-49) (1972) #15 Fine
POWER MAN/IRON FIST (LUKE CAGE, POWER MAN #1-49) (1972) #16 Fine
,p> PUNISHER (1985) (#1-5) (MARVEL) #3 NEWSSTAND Fine
PUNISHER (1985) (#1-5) (MARVEL) #4 Fine
PUNISHER (1985) (#1-5) (MARVEL) #5 NEWSSTAND Very Good

SILVER SURFER (1968) (#1-18) (MARVEL) #1 Good
SILVER SURFER (1968) (#1-18) (MARVEL) #14 Good

SPIDER-MAN (1963) (AMAZING SPIDER-MAN) (#1-441) #101 Good
SPIDER-MAN (1963) (AMAZING SPIDER-MAN) (#1-441) #102 Very Good
SPIDER-MAN (1963) (AMAZING SPIDER-MAN) (#1-441) #116 BRITISH Good
SPIDER-MAN (1963) (AMAZING SPIDER-MAN) (#1-441) #137 Fine
SPIDER-MAN (1963) (AMAZING SPIDER-MAN) (#1-441) #147 Very Fine
SPIDER-MAN (1963) (AMAZING SPIDER-MAN) (#1-441) #148 Very Fine
SPIDER-MAN (1963) (AMAZING SPIDER-MAN) (#1-441) #156 Fine
SPIDER-MAN (1963) (AMAZING SPIDER-MAN) (#1-441) #159 Fine
SPIDER-MAN (1963) (AMAZING SPIDER-MAN) (#1-441) #160 Fine
SPIDER-MAN (1963) (AMAZING SPIDER-MAN) (#1-441) #161 Very Good

X-MEN (1963) (#1-113, UNCANNY X-MEN #114-544) (MARVEL) #4 Very Good


X-MEN (1963) (#1-113, UNCANNY X-MEN #114-544) (MARVEL) #30

X-MEN (1963) (#1-113, UNCANNY X-MEN #114-544) (MARVEL) #30 Fine
X-MEN (1963) (#1-113, UNCANNY X-MEN #114-544) (MARVEL) #32 Very Good
X-MEN (1963) (#1-113, UNCANNY X-MEN #114-544) (MARVEL) #43 Good
X-MEN (1963) (#1-113, UNCANNY X-MEN #114-544) (MARVEL) #44 Fine
X-MEN (1963) (#1-113, UNCANNY X-MEN #114-544) (MARVEL) #47 Fine
X-MEN (1963) (#1-113, UNCANNY X-MEN #114-544) (MARVEL) #48 Very Good
X-MEN (1963) (#1-113, UNCANNY X-MEN #114-544) (MARVEL) #67 Very Good
X-MEN (1963) (#1-113, UNCANNY X-MEN #114-544) (MARVEL) #68 Very Good
X-MEN (1963) (#1-113, UNCANNY X-MEN #114-544) (MARVEL) #69 Fine
X-MEN (1963) (#1-113, UNCANNY X-MEN #114-544) (MARVEL) #71 Very Good
X-MEN (1963) (#1-113, UNCANNY X-MEN #114-544) (MARVEL) #72 Very Good
X-MEN (1963) (#1-113, UNCANNY X-MEN #114-544) (MARVEL) #74 Fine
X-MEN (1963) (#1-113, UNCANNY X-MEN #114-544) (MARVEL) #77 Fine
X-MEN (1963) (#1-113, UNCANNY X-MEN #114-544) (MARVEL) #78 Very Good
X-MEN (1963) (#1-113, UNCANNY X-MEN #114-544) (MARVEL) #79 Very Good
X-MEN (1963) (#1-113, UNCANNY X-MEN #114-544) (MARVEL) #80 Very Good
X-MEN (1963) (#1-113, UNCANNY X-MEN #114-544) (MARVEL) #83 Good
X-MEN (1963) (#1-113, UNCANNY X-MEN #114-544) (MARVEL) #84 Good
X-MEN (1963) (#1-113, UNCANNY X-MEN #114-544) (MARVEL) #87 Fine
X-MEN (1963) (#1-113, UNCANNY X-MEN #114-544) (MARVEL) #90 Very Good
X-MEN (1963) (#1-113, UNCANNY X-MEN #114-544) (MARVEL) #94 Very Good
X-MEN (1963) (#1-113, UNCANNY X-MEN #114-544) (MARVEL) #95 Very Good
X-MEN (1963) (#1-113, UNCANNY X-MEN #114-544) (MARVEL) #100 Fine
X-MEN (1963) (#1-113, UNCANNY X-MEN #114-544) (MARVEL) #101 Very Fine

X-MEN ANNUAL (1970) #1 Very Good

DC
BATMAN (1940) (#0-713) (DC) #130 Fair


BATMAN (1940) (#0-713) (DC) #265

BATMAN (1940) (#0-713) (DC) #265 Good