New 60% Off Sale - Holiday Sales Records Broken
Howdy!
I am moving a bit slowly this morning, as I helped out (a little) in our Jason St. Mega-Store on Friday/Saturday/Sunday as our incredible Mile High Comics retail team set a new all-time 3-day record for pre-Christmas sales. There was no one area of our Mega-Store that dominated this massive surge in revenues, as we had record sales in just about every department. Suffice it to say that we had a very good pre-Christmas sales season last year, but we have more than doubled that success this year, with our Mega-Store sales now up 116% (!) during the first twelve days of December of this year, as compared with those same first twelve days of December last year. Yow!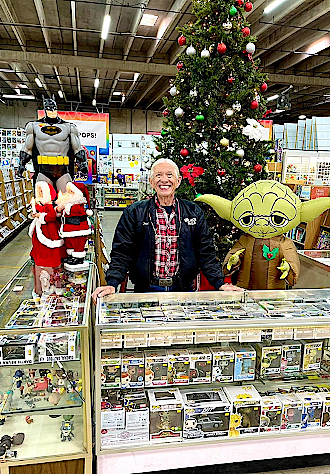 Chuck at one of Funko Pop displays

While I did very little in helping out on the sales floor this weekend (aside from stocking a few shelves and chatting briefly with a few clients), I do take credit for the strategic decision that I made for us to advertise to buy vast quantities of cool collectibles beginning in mid-November, a full two weeks prior to the Thanksgiving Day holiday. My beloved wife, Nanette, (who diligently pays our company bills…) was more than a bit tense with me during that time period as I piled expensive collection purchases, upon even more expensive collection purchases, throughout mid-November, and then took off like a maniacal bunny on the Friday after Thanksgiving on my epic 12-day (4,900 mile) comics and toys buying trip to the upper Midwest and East Coast. "Profligate" was one of her kinder attributions that she shared with me as regards my seeming financial madness…
Making matters even more crazy (in Nanette's eyes) was that at the same time as I was closing deal after deal on the road, Will and Pam were purchasing hundreds of smaller collections of comics, action figures, graphic novels, statues, and 3,000+ Funko Pop! figures in Jason St. Not only did their purchases entirely fill all of our retail shelving and showcases located within our vast Mega-Store, but they also totally overwhelmed every single one of our storage spaces. As a direct result, we now have amazing treasures piled everywhere! Thanks to Will and Pam's hard work, we have never (EVER!) been so well-stocked going into Christmas with awesome collectibles, many of which have truly great potential as great holiday gifts. It is great to realize that, even as the season progresses, that we will continue to be fully-stocked. Thanks to our awesome buying program, we have vast strategic reserves of great collectibles that are merely waiting for fresh shelf space to open up. This is fun!
Before I move on from the topic of our current Mega-Store retailing success, I do want to first sincerely thank everyone who placed a 60% off THANKSGIVING! codeword order with us via our website during November. Simply put, your online purchases helped me to directly pay for several of those 14 large private collections that I picked up during my road trip, and also to cover all of Will and Pam's in-store buying. Truth be told, without your kindness and support, our current massive sales gains in Jason St. would have been totally impossible for us to fund. I placed my faith in your support, and you absolutely came through for us. Thank you.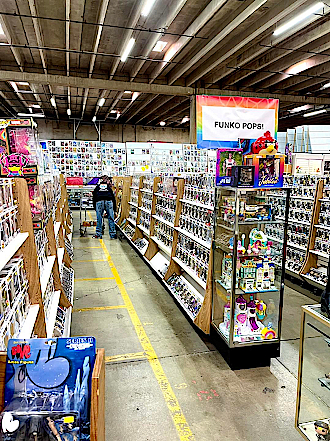 Refilling our Funko Pop Display

I will close today with a couple more quick points. First, my sincere condolences and best wishes for a speedy recovery are extended to all the people who were affected by the dreadful tornados in Illinois, Kentucky, and Tennessee. I purchased two collections in that area of the country early last week, and (by sheer happenstance) criss-crossed the future path of those horrible tornados, twice. It seems surreal to think of such utter devastation having occurred in that truly beautiful corner of America. I am sending you my very best thoughts.
Finally, I have decided (once again, without any prior consultation with my staff…) to launch a new 60% off THANKYOU! codeword sale today. Truthfully, we are killing it right now, so we really do not need the flood of added business that this very generous new codeword sale will inevitably stimulate. Given that all of our current stunning levels of success in our Jason St. Mega-Store are directly attributable to a legion of our clients who live far, far away from Denver (and who may never in their lives be able to visit our beautiful Mega-Store), however, it seems only fair for me to create an online way to give back to everyone who helped us. That is why the 60% off THANKYOU! discount applies to not only all ten million+ of our back issues comics and magazines listed on our website, but also to all of our most recent additions to our Premium New-In-Stock links. You helped me to pay for those wonderful back issue comics collections, so I am giving you your first pick at a full 60% off. That only seems fair…
Happy collecting!
Chuck Rozanski/Bettie Pages,
President - Mile High Comics, Inc.
December 13, 2021

P.S. Below are even more new arrivals that you can select from at 60% off savings. As per usual, my new codeword discount applies to all of the vast numbers of back issue comics and magazines that we offer on our website, excepting only new issues, a few variants, and our professionally-graded items. Enjoy!
MARVEL

AGENTS OF ATLAS (2006) (#1-6) (MARVEL) #1

AGENTS OF ATLAS (2006) (#1-6) (MARVEL) #1 Fine

ALIEN LEGION (1984) (#1-20) (MARVEL EPIC) #18 Near Mint/Mint
ALIEN LEGION (1984) (#1-20) (MARVEL EPIC) #18 Very Fine

ALIEN LEGION: ONE PLANET AT A TIME (1993) #3 Near Mint/Mint
ALIEN LEGION: ONE PLANET AT A TIME (1993) #3 Fine
ALIEN LEGION: ONE PLANET AT A TIME (1993) #3 Very Fine

AMAZING ADVENTURES (1970) (#1-39) (MARVEL) #7 Very Fine

AMAZING FANTASY (2004) (#1-20) (MARVEL) #2 Fine

AVENGERS (1963) (#1-402) (MARVEL) #280 Fine

AVENGERS (1998) (#0-84, 500-503) (MARVEL) #49 Near Mint/Mint

CHAMBER OF DARKNESS (1969) #1 Fine
CHAMBER OF DARKNESS (1969) #1 Very Fine
CHAMBER OF DARKNESS (1969) #3 Very Fine

CONAN (1970) (#1-275) (CONAN THE BARBARIAN) (MARVEL) #10 Fine
CONAN (1970) (#1-275) (CONAN THE BARBARIAN) (MARVEL) #11 Very Good
CONAN (1970) (#1-275) (CONAN THE BARBARIAN) (MARVEL) #16 Very Fine

CRYSTAR (1983) (#1-11)(SAGA OF CRYSTAR CRYSTAL WARRIOR) #1 Fine
CRYSTAR (1983) (#1-11)(SAGA OF CRYSTAR CRYSTAL WARRIOR) #1 NEWSSTAND Very Good
CRYSTAR (1983) (#1-11)(SAGA OF CRYSTAR CRYSTAL WARRIOR) #1 NEWSSTAND Good
CRYSTAR (1983) (#1-11)(SAGA OF CRYSTAR CRYSTAL WARRIOR) #1 Very Fine
CRYSTAR (1983) (#1-11)(SAGA OF CRYSTAR CRYSTAL WARRIOR) #1 Very Good
CRYSTAR (1983) (#1-11)(SAGA OF CRYSTAR CRYSTAL WARRIOR) #2 Near Mint/Mint


CRYSTAR (1983) (#1-11)(SAGA OF CRYSTAR CRYSTAL WARRIOR) #2

CRYSTAR (1983) (#1-11)(SAGA OF CRYSTAR CRYSTAL WARRIOR) #2 Fine
CRYSTAR (1983) (#1-11)(SAGA OF CRYSTAR CRYSTAL WARRIOR) #2 NEWSSTAND Fine
CRYSTAR (1983) (#1-11)(SAGA OF CRYSTAR CRYSTAL WARRIOR) #2 NEWSSTAND Very Good
CRYSTAR (1983) (#1-11)(SAGA OF CRYSTAR CRYSTAL WARRIOR) #2 NEWSSTAND Good
CRYSTAR (1983) (#1-11)(SAGA OF CRYSTAR CRYSTAL WARRIOR) #2 Very Fine
CRYSTAR (1983) (#1-11)(SAGA OF CRYSTAR CRYSTAL WARRIOR) #3 Near Mint/Mint
CRYSTAR (1983) (#1-11)(SAGA OF CRYSTAR CRYSTAL WARRIOR) #3 Fine
CRYSTAR (1983) (#1-11)(SAGA OF CRYSTAR CRYSTAL WARRIOR) #3 NEWSSTAND Very Fine
CRYSTAR (1983) (#1-11)(SAGA OF CRYSTAR CRYSTAL WARRIOR) #3 NEWSSTAND Fine
CRYSTAR (1983) (#1-11)(SAGA OF CRYSTAR CRYSTAL WARRIOR) #3 NEWSSTAND Very Good
CRYSTAR (1983) (#1-11)(SAGA OF CRYSTAR CRYSTAL WARRIOR) #3 NEWSSTAND Good
CRYSTAR (1983) (#1-11)(SAGA OF CRYSTAR CRYSTAL WARRIOR) #3 Very Fine
CRYSTAR (1983) (#1-11)(SAGA OF CRYSTAR CRYSTAL WARRIOR) #4 Near Mint/Mint
CRYSTAR (1983) (#1-11)(SAGA OF CRYSTAR CRYSTAL WARRIOR) #4 Fine
CRYSTAR (1983) (#1-11)(SAGA OF CRYSTAR CRYSTAL WARRIOR) #4 NEWSSTAND Very Fine
CRYSTAR (1983) (#1-11)(SAGA OF CRYSTAR CRYSTAL WARRIOR) #4 NEWSSTAND Fine
CRYSTAR (1983) (#1-11)(SAGA OF CRYSTAR CRYSTAL WARRIOR) #4 NEWSSTAND Very Good
CRYSTAR (1983) (#1-11)(SAGA OF CRYSTAR CRYSTAL WARRIOR) #4 NEWSSTAND Good
CRYSTAR (1983) (#1-11)(SAGA OF CRYSTAR CRYSTAL WARRIOR) #4 Very Fine
CRYSTAR (1983) (#1-11)(SAGA OF CRYSTAR CRYSTAL WARRIOR) #5 Fine
CRYSTAR (1983) (#1-11)(SAGA OF CRYSTAR CRYSTAL WARRIOR) #5 Near Mint/Mint
CRYSTAR (1983) (#1-11)(SAGA OF CRYSTAR CRYSTAL WARRIOR) #5 NEWSSTAND Very Fine
CRYSTAR (1983) (#1-11)(SAGA OF CRYSTAR CRYSTAL WARRIOR) #5 NEWSSTAND Good
CRYSTAR (1983) (#1-11)(SAGA OF CRYSTAR CRYSTAL WARRIOR) #5 Very Fine
CRYSTAR (1983) (#1-11)(SAGA OF CRYSTAR CRYSTAL WARRIOR) #6 Near Mint/Mint
CRYSTAR (1983) (#1-11)(SAGA OF CRYSTAR CRYSTAL WARRIOR) #6 NEWSSTAND Very Fine
CRYSTAR (1983) (#1-11)(SAGA OF CRYSTAR CRYSTAL WARRIOR) #6 Very Fine
CRYSTAR (1983) (#1-11)(SAGA OF CRYSTAR CRYSTAL WARRIOR) #7 NEWSSTAND Very Fine
CRYSTAR (1983) (#1-11)(SAGA OF CRYSTAR CRYSTAL WARRIOR) #7 NEWSSTAND Fine
CRYSTAR (1983) (#1-11)(SAGA OF CRYSTAR CRYSTAL WARRIOR) #7 Very Fine
CRYSTAR (1983) (#1-11)(SAGA OF CRYSTAR CRYSTAL WARRIOR) #9 Near Mint/Mint


CRYSTAR (1983) (#1-11)(SAGA OF CRYSTAR CRYSTAL WARRIOR) #9 NEWSSTAND

CRYSTAR (1983) (#1-11)(SAGA OF CRYSTAR CRYSTAL WARRIOR) #9 NEWSSTAND Near Mint/Mint
CRYSTAR (1983) (#1-11)(SAGA OF CRYSTAR CRYSTAL WARRIOR) #9 NEWSSTAND Very Fine
CRYSTAR (1983) (#1-11)(SAGA OF CRYSTAR CRYSTAL WARRIOR) #9 Very Fine
CRYSTAR (1983) (#1-11)(SAGA OF CRYSTAR CRYSTAL WARRIOR) #10 Near Mint/Mint
CRYSTAR (1983) (#1-11)(SAGA OF CRYSTAR CRYSTAL WARRIOR) #10 NEWSSTAND Very Fine
CRYSTAR (1983) (#1-11)(SAGA OF CRYSTAR CRYSTAL WARRIOR) #10 Very Fine
CRYSTAR (1983) (#1-11)(SAGA OF CRYSTAR CRYSTAL WARRIOR) #11 Near Mint/Mint
CRYSTAR (1983) (#1-11)(SAGA OF CRYSTAR CRYSTAL WARRIOR) #11 Fine
CRYSTAR (1983) (#1-11)(SAGA OF CRYSTAR CRYSTAL WARRIOR) #11 NEWSSTAND Very Fine
CRYSTAR (1983) (#1-11)(SAGA OF CRYSTAR CRYSTAL WARRIOR) #11 Very Good
CRYSTAR (1983) (#1-11)(SAGA OF CRYSTAR CRYSTAL WARRIOR) #11 Very Fine

CURSE OF THE WEIRD (1993) #2 Near Mint/Mint
CURSE OF THE WEIRD (1993) #2 Very Fine
CURSE OF THE WEIRD (1993) #4 Fine
CURSE OF THE WEIRD (1993) #4 Near Mint/Mint
CURSE OF THE WEIRD (1993) #4 Very Fine

DAREDEVIL (2019) (#1-UP) (MARVEL) #1 Near Mint/Mint
DAREDEVIL (2019) (#1-UP) (MARVEL) #1 2ND PRINT Near Mint/Mint
DAREDEVIL (2019) (#1-UP) (MARVEL) #1 3RD PRINT Near Mint/Mint
DAREDEVIL (2019) (#1-UP) (MARVEL) #1 DELL OTTO Near Mint/Mint
DAREDEVIL (2019) (#1-UP) (MARVEL) #2 Near Mint/Mint
DAREDEVIL (2019) (#1-UP) (MARVEL) #2 2ND PRINT Near Mint/Mint
DAREDEVIL (2019) (#1-UP) (MARVEL) #3 Near Mint/Mint
DAREDEVIL (2019) (#1-UP) (MARVEL) #3 2ND PRINT Near Mint/Mint
DAREDEVIL (2019) (#1-UP) (MARVEL) #3 FUJI CAT Near Mint/Mint
DAREDEVIL (2019) (#1-UP) (MARVEL) #4 Near Mint/Mint
DAREDEVIL (2019) (#1-UP) (MARVEL) #4 2ND PRINT Near Mint/Mint
DAREDEVIL (2019) (#1-UP) (MARVEL) #5 Near Mint/Mint
DAREDEVIL (2019) (#1-UP) (MARVEL) #6 Near Mint/Mint


DAREDEVIL (2019) (#1-UP) (MARVEL) #7

DAREDEVIL (2019) (#1-UP) (MARVEL) #7 Fine
DAREDEVIL (2019) (#1-UP) (MARVEL) #8 GARBETT Near Mint/Mint
DAREDEVIL (2019) (#1-UP) (MARVEL) #8 Very Fine
DAREDEVIL (2019) (#1-UP) (MARVEL) #9 Near Mint/Mint
DAREDEVIL (2019) (#1-UP) (MARVEL) #10 Near Mint/Mint

DAREDEVIL ANNUAL (2020) #1 Near Mint/Mint

DEAD OF NIGHT (1973) #11 Fine
DEAD OF NIGHT (1973) #11 Very Good

DRACULA GIANT-SIZE (1974) #5 Fine

FANTASTIC FOUR (1961) (#1-416) (MARVEL) #80 Very Good

GHOST RIDER (1973) (#1-81) (MARVEL) #2 Fine

GI JOE AND THE TRANSFORMERS (1987) #1 Very Fine

GI JOE DIGEST #1 Very Fine

GROOVY (1968) #1 Fine

MICRONAUTS (1984) (#1-20) (MARVEL) (THE NEW VOYAGES) #8 Near Mint/Mint

NOMAD (1990) (#1-4) (CAPTAIN AMERICA) #1 NEWSSTAND Near Mint/Mint

PETER PARKER (1976) (#1-263) (SPECTACULAR SPIDER-MAN) #90 NEWSSTAND Fine
PETER PARKER (1976) (#1-263) (SPECTACULAR SPIDER-MAN) #90 NEWSSTAND Very Good
PETER PARKER (1976) (#1-263) (SPECTACULAR SPIDER-MAN) #116 Fine
PETER PARKER (1976) (#1-263) (SPECTACULAR SPIDER-MAN) #116 Near Mint/Mint


PETER PARKER (1976) (#1-263) (SPECTACULAR SPIDER-MAN) #116 NEWSSTAND

PETER PARKER (1976) (#1-263) (SPECTACULAR SPIDER-MAN) #116 NEWSSTAND Very Fine

SGT. FURY AND HIS HOWLING COMMANDOS (1963) #58 Good

SILVER SABLE & THE WILD PACK (1992) (#1-35) (MARVEL) #23 Fine

SPIDER-MAN (1963) (AMAZING SPIDER-MAN) (#1-441) #273 NEWSSTAND Very Fine
SPIDER-MAN (1963) (AMAZING SPIDER-MAN) (#1-441) #274 NEWSSTAND Very Fine
SPIDER-MAN (1963) (AMAZING SPIDER-MAN) (#1-441) #275 NEWSSTAND Fine
SPIDER-MAN (1963) (AMAZING SPIDER-MAN) (#1-441) #276 NEWSSTAND Fine
SPIDER-MAN (1963) (AMAZING SPIDER-MAN) (#1-441) #277 NEWSSTAND Very Fine
SPIDER-MAN (1963) (AMAZING SPIDER-MAN) (#1-441) #278 NEWSSTAND Near Mint/Mint
SPIDER-MAN (1963) (AMAZING SPIDER-MAN) (#1-441) #279 NEWSSTAND Very Fine
SPIDER-MAN (1963) (AMAZING SPIDER-MAN) (#1-441) #280 NEWSSTAND Very Fine
SPIDER-MAN (1963) (AMAZING SPIDER-MAN) (#1-441) #281 NEWSSTAND Fine
SPIDER-MAN (1963) (AMAZING SPIDER-MAN) (#1-441) #283 NEWSSTAND Very Fine
SPIDER-MAN (1963) (AMAZING SPIDER-MAN) (#1-441) #283 NEWSSTAND Fine
SPIDER-MAN (1963) (AMAZING SPIDER-MAN) (#1-441) #284 NEWSSTAND Very Fine
SPIDER-MAN (1963) (AMAZING SPIDER-MAN) (#1-441) #285 NEWSSTAND Near Mint/Mint
SPIDER-MAN (1963) (AMAZING SPIDER-MAN) (#1-441) #286 NEWSSTAND Fine
SPIDER-MAN (1963) (AMAZING SPIDER-MAN) (#1-441) #286 NEWSSTAND Very Good
SPIDER-MAN (1963) (AMAZING SPIDER-MAN) (#1-441) #287 NEWSSTAND Fine
SPIDER-MAN (1963) (AMAZING SPIDER-MAN) (#1-441) #288 NEWSSTAND Fine
SPIDER-MAN (1963) (AMAZING SPIDER-MAN) (#1-441) #290 NEWSSTAND Very Fine
SPIDER-MAN (1963) (AMAZING SPIDER-MAN) (#1-441) #292 Very Fine
SPIDER-MAN (1963) (AMAZING SPIDER-MAN) (#1-441) #293 Very Fine
SPIDER-MAN (1963) (AMAZING SPIDER-MAN) (#1-441) #294 Near Mint/Mint
SPIDER-MAN (1963) (AMAZING SPIDER-MAN) (#1-441) #295 Very Fine
SPIDER-MAN (1963) (AMAZING SPIDER-MAN) (#1-441) #296 Near Mint/Mint
SPIDER-MAN (1963) (AMAZING SPIDER-MAN) (#1-441) #297 Very Fine
SPIDER-MAN (1963) (AMAZING SPIDER-MAN) (#1-441) #302 Fine


SPIDER-MAN (1963) (AMAZING SPIDER-MAN) (#1-441) #303

SPIDER-MAN (1963) (AMAZING SPIDER-MAN) (#1-441) #303 Very Fine
SPIDER-MAN (1963) (AMAZING SPIDER-MAN) (#1-441) #304 Near Mint/Mint
SPIDER-MAN (1963) (AMAZING SPIDER-MAN) (#1-441) #305 Near Mint/Mint
SPIDER-MAN (1963) (AMAZING SPIDER-MAN) (#1-441) #306 Near Mint/Mint
SPIDER-MAN (1963) (AMAZING SPIDER-MAN) (#1-441) #307 Near Mint/Mint
SPIDER-MAN (1963) (AMAZING SPIDER-MAN) (#1-441) #308 Very Fine
SPIDER-MAN (1963) (AMAZING SPIDER-MAN) (#1-441) #309 Very Fine
SPIDER-MAN (1963) (AMAZING SPIDER-MAN) (#1-441) #310 Near Mint/Mint
SPIDER-MAN (1963) (AMAZING SPIDER-MAN) (#1-441) #311 Near Mint/Mint
SPIDER-MAN (1963) (AMAZING SPIDER-MAN) (#1-441) #312 Near Mint/Mint
SPIDER-MAN (1963) (AMAZING SPIDER-MAN) (#1-441) #313 Near Mint/Mint
SPIDER-MAN (1963) (AMAZING SPIDER-MAN) (#1-441) #314 Near Mint/Mint
SPIDER-MAN (1963) (AMAZING SPIDER-MAN) (#1-441) #315 Very Fine
SPIDER-MAN (1963) (AMAZING SPIDER-MAN) (#1-441) #317 Very Fine
SPIDER-MAN (1963) (AMAZING SPIDER-MAN) (#1-441) #318 Very Fine
SPIDER-MAN (1963) (AMAZING SPIDER-MAN) (#1-441) #319 Very Fine
SPIDER-MAN (1963) (AMAZING SPIDER-MAN) (#1-441) #320 Near Mint/Mint
SPIDER-MAN (1963) (AMAZING SPIDER-MAN) (#1-441) #345 Near Mint/Mint
SPIDER-MAN (1963) (AMAZING SPIDER-MAN) (#1-441) #346 Near Mint/Mint
SPIDER-MAN (1963) (AMAZING SPIDER-MAN) (#1-441) #347 Very Fine

SPIDER-MAN ANNUAL (1964) (#1-28) (MARVEL) #3 Good
SPIDER-MAN ANNUAL (1964) (#1-28) (MARVEL) #19 NEWSSTAND Very Good
SPIDER-MAN ANNUAL (1964) (#1-28) (MARVEL) #20 NEWSSTAND Fine

SPIDER-MAN/X-FACTOR: SHADOWGAMES (1994) #1 Near Mint/Mint

STAR WARS (2015) (#1-75) (MARVEL) #6 2ND PRINT Fine

STRANGE ACADEMY (2020) #2 Near Mint/Mint
STRANGE ACADEMY (2020) #3 Near Mint/Mint


STRANGE TALES (1951) (#1-85 ATLAS, #86-188 MARVEL) #128

STRANGE TALES (1951) (#1-85 ATLAS, #86-188 MARVEL) #128 Fine
STRANGE TALES (1951) (#1-85 ATLAS, #86-188 MARVEL) #128 Very Good

TALES TO ASTONISH (1959) (#1-21 ATLAS, #22-101 MARVEL) #99 Fine

THOR (1962) (#83-125 JOURNEY INTO MYSTERY, 126-502) #411 NEWSSTAND Very Fine
THOR (1962) (#83-125 JOURNEY INTO MYSTERY, 126-502) #411 NEWSSTAND Fine
THOR (1962) (#83-125 JOURNEY INTO MYSTERY, 126-502) #412 NEWSSTAND Fine

TOXIC AVENGER (1991) #2 NEWSSTAND Very Fine

ULTIMATE SPIDER-MAN (2000) #66 Fine

X-MEN (1963) (#1-113, UNCANNY X-MEN #114-544) (MARVEL) #138 Fine
X-MEN (1963) (#1-113, UNCANNY X-MEN #114-544) (MARVEL) #160 NEWSSTAND Fine
X-MEN (1963) (#1-113, UNCANNY X-MEN #114-544) (MARVEL) #165 Fine
X-MEN (1963) (#1-113, UNCANNY X-MEN #114-544) (MARVEL) #166 Near Mint/Mint
X-MEN (1963) (#1-113, UNCANNY X-MEN #114-544) (MARVEL) #180 Fine
X-MEN (1963) (#1-113, UNCANNY X-MEN #114-544) (MARVEL) #210 Very Fine
X-MEN (1963) (#1-113, UNCANNY X-MEN #114-544) (MARVEL) #211 Near Mint/Mint
X-MEN (1963) (#1-113, UNCANNY X-MEN #114-544) (MARVEL) #212 NEWSSTAND Very Fine
X-MEN (1963) (#1-113, UNCANNY X-MEN #114-544) (MARVEL) #244 NEWSSTAND Fine
X-MEN (1963) (#1-113, UNCANNY X-MEN #114-544) (MARVEL) #256 Near Mint/Mint
X-MEN (1963) (#1-113, UNCANNY X-MEN #114-544) (MARVEL) #282 NEWSSTAND Very Fine
X-MEN (1963) (#1-113, UNCANNY X-MEN #114-544) (MARVEL) #282 NEWSSTAND Very Good
X-MEN (1963) (#1-113, UNCANNY X-MEN #114-544) (MARVEL) #283 NEWSSTAND Very Good
X-MEN (1963) (#1-113, UNCANNY X-MEN #114-544) (MARVEL) #312 Very Fine

DC
ACTION COMICS (1938) (#0-600, 643-904) (DC) #251 Fine


ACTION COMICS (1938) (#0-600, 643-904) (DC) #351

ACTION COMICS (1938) (#0-600, 643-904) (DC) #351 Very Good

BATMAN (1940) (#0-713) (DC) #300 Very Good
BATMAN (1940) (#0-713) (DC) #397 Fine
BATMAN (1940) (#0-713) (DC) #401 NEWSSTAND Fine
BATMAN (1940) (#0-713) (DC) #402 Fine
BATMAN (1940) (#0-713) (DC) #403 NO MONTH Fine
BATMAN (1940) (#0-713) (DC) #404 Fine
BATMAN (1940) (#0-713) (DC) #405 Near Mint/Mint
BATMAN (1940) (#0-713) (DC) #406 Fine
BATMAN (1940) (#0-713) (DC) #407 Near Mint/Mint
BATMAN (1940) (#0-713) (DC) #409 Fine
BATMAN (1940) (#0-713) (DC) #409 Very Fine
BATMAN (1940) (#0-713) (DC) #410 Fine
BATMAN (1940) (#0-713) (DC) #414 Fine
BATMAN (1940) (#0-713) (DC) #418 NEWSSTAND Very Good
BATMAN (1940) (#0-713) (DC) #418 NEWSSTAND Good
BATMAN (1940) (#0-713) (DC) #419 Fine
BATMAN (1940) (#0-713) (DC) #420 Fine
BATMAN (1940) (#0-713) (DC) #420 NEWSSTAND Very Good
BATMAN (1940) (#0-713) (DC) #421 Fine
BATMAN (1940) (#0-713) (DC) #444 NEWSSTAND Very Fine
BATMAN (1940) (#0-713) (DC) #457 Fine
BATMAN (1940) (#0-713) (DC) #497 Near Mint/Mint
BATMAN (1940) (#0-713) (DC) #608 Fine
BATMAN (1940) (#0-713) (DC) #608 Very Fine
BATMAN (1940) (#0-713) (DC) #609 Fine
BATMAN (1940) (#0-713) (DC) #610 Very Good
BATMAN (1940) (#0-713) (DC) #611 Near Mint/Mint
BATMAN (1940) (#0-713) (DC) #612 Very Fine
BATMAN (1940) (#0-713) (DC) #613 Near Mint/Mint


BATMAN (1940) (#0-713) (DC) #614

BATMAN (1940) (#0-713) (DC) #614 Near Mint/Mint
BATMAN (1940) (#0-713) (DC) #615 Near Mint/Mint
BATMAN (1940) (#0-713) (DC) #616 Very Fine
BATMAN (1940) (#0-713) (DC) #617 Fine
BATMAN (1940) (#0-713) (DC) #618 Near Mint/Mint
BATMAN (1940) (#0-713) (DC) #619 VILLIANS Fine
BATMAN (1940) (#0-713) (DC) #636 Near Mint/Mint
BATMAN (1940) (#0-713) (DC) #638 Near Mint/Mint
BATMAN (1940) (#0-713) (DC) #638 2ND PRINT Very Fine
BATMAN (1940) (#0-713) (DC) #655 Very Fine
BATMAN (1940) (#0-713) (DC) #656 Near Mint/Mint
BATMAN (1940) (#0-713) (DC) #666 Fine
BATMAN (1940) (#0-713) (DC) #681 Fine
BATMAN (1940) (#0-713) (DC) #686 Fine

BATMAN: THE KILLING JOKE (ALAN MOORE) (1988) #1 Fine

BRAVE AND THE BOLD (1955) #59 Fine
BRAVE AND THE BOLD (1955) #60 Fair

CURSE OF THE BRIMSTONE (2018) #7 FOIL COVER Near Mint/Mint

DC SPECIAL (1968) #6 Fine

FLASH (1959) (#105-350) (DC) #138 Fine
FLASH (1959) (#105-350) (DC) #167 Very Fine
FLASH (1959) (#105-350) (DC) #201 Near Mint/Mint

GREEN LANTERN (1960) (#1-224) (DC) #8 Very Good

HAWKMAN (1964) (#1-27) (DC) #22 Good

HOUSE OF MYSTERY (1951) #185 Near Mint/Mint
HOUSE OF MYSTERY (1951) #186 Very Fine
HOUSE OF MYSTERY (1951) #191 Very Fine
HOUSE OF MYSTERY (1951) #196 Near Mint/Mint
HOUSE OF MYSTERY (1951) #197 Near Mint/Mint

HOUSE OF SECRETS (1956) #89 Very Fine

JUSTICE LEAGUE OF AMERICA (1960) (#1-261) (DC) #47 Good
JUSTICE LEAGUE OF AMERICA (1960) (#1-261) (DC) #79 Very Good
JUSTICE LEAGUE OF AMERICA (1960) (#1-261) (DC) #92 Near Mint/Mint

LOIS LANE (1958) (#1-137) (SUPERMAN'S GIRL FRIEND) (DC) #102 Near Mint/Mint

PHANTOM STRANGER (1969) (#1-42) #10 Very Fine
PHANTOM STRANGER (1969) (#1-42) #13 Very Fine

REAL FACT COMICS (1946) #1 Fair

SUPERBOY (1949) (#1-258) (DC) #113 Good
SUPERMAN (1939) (#1-423) (DC) #134 Very Good
SUPERMAN (1939) (#1-423) (DC) #179 Good
SUPERMAN (1939) (#1-423) (DC) #226 Very Good
SUPERMAN (1939) (#1-423) (DC) #231 Good

SUPERMAN FAMILY (1974) #168 Very Good

SUPERMAN: WHATEVER HAPPENED TO THE MAN OF TOMORROW? (1997) #1 Near Mint/Mint


WORLDS FINEST (1941) (#2-323) (DC) (WORLD'S FINEST) #172

WORLDS FINEST (1941) (#2-323) (DC) (WORLD'S FINEST) #172 Fine

DARK HORSE COMICS
ALIENS (1988) (#1-6) (DARK HORSE) (BLACK & WHITE) #3 Fine

CUD COMICS (1995) (#1-8) (DARK HORSE) (TERRY LABAN) #4 Very Fine

CURSE OF DRACULA (1998) #2 Near Mint/Mint
CURSE OF DRACULA (1998) #3 Near Mint/Mint

SHADOWS ON THE GRAVE (RICHARD CORBEN) (2016) #1 Fine
SHADOWS ON THE GRAVE (RICHARD CORBEN) (2016) #2 Very Fine
SHADOWS ON THE GRAVE (RICHARD CORBEN) (2016) #3 Very Fine
SHADOWS ON THE GRAVE (RICHARD CORBEN) (2016) #4 Fine
SHADOWS ON THE GRAVE (RICHARD CORBEN) (2016) #5 Very Fine
SHADOWS ON THE GRAVE (RICHARD CORBEN) (2016) #6 Fine
SHADOWS ON THE GRAVE (RICHARD CORBEN) (2016) #7 Very Fine
SHADOWS ON THE GRAVE (RICHARD CORBEN) (2016) #8 Very Fine

IMAGE COMICS
CURSE OF THE SPAWN (1996) #1 Fine
CURSE OF THE SPAWN (1996) #1 NEWSSTAND Very Good
CURSE OF THE SPAWN (1996) #1 Very Fine
CURSE OF THE SPAWN (1996) #1 Very Good
CURSE OF THE SPAWN (1996) #2 Near Mint/Mint
CURSE OF THE SPAWN (1996) #2 Very Fine
CURSE OF THE SPAWN (1996) #7 Near Mint/Mint
CURSE OF THE SPAWN (1996) #8 Near Mint/Mint
CURSE OF THE SPAWN (1996) #8 NEWSSTAND Fine

CURSE OF THE SPAWN (1996) #8 Very Fine
CURSE OF THE SPAWN (1996) #9 NEWSSTAND Very Fine
CURSE OF THE SPAWN (1996) #9 NEWSSTAND Fine
CURSE OF THE SPAWN (1996) #10 NEWSSTAND Very Fine
CURSE OF THE SPAWN (1996) #11 NEWSSTAND Near Mint/Mint
CURSE OF THE SPAWN (1996) #11 NEWSSTAND Fine
CURSE OF THE SPAWN (1996) #12 NEWSSTAND Very Good
CURSE OF THE SPAWN (1996) #12 NEWSSTAND Good
CURSE OF THE SPAWN (1996) #15 NEWSSTAND Good
CURSE OF THE SPAWN (1996) #21 Near Mint/Mint
CURSE OF THE SPAWN (1996) #21 Very Fine
CURSE OF THE SPAWN (1996) #22 Very Fine
CURSE OF THE SPAWN (1996) #23 Near Mint/Mint
CURSE OF THE SPAWN (1996) #23 NEWSSTAND Very Fine
CURSE OF THE SPAWN (1996) #23 Very Fine
CURSE OF THE SPAWN (1996) #26 Near Mint/Mint
CURSE OF THE SPAWN (1996) #26 Very Fine
CURSE OF THE SPAWN (1996) #27 Very Fine
CURSE OF THE SPAWN (1996) #29 Very Fine

CURSE WORDS (2017) #1 B YOUNG Very Fine
CURSE WORDS (2017) #2 B ZDARKSY Near Mint/Mint
CURSE WORDS (2017) #2 C TRIBUTE Very Fine
CURSE WORDS (2017) #3 A BROWNE Very Fine
CURSE WORDS (2017) #4 A BROWNE Near Mint/Mint
CURSE WORDS (2017) #4 A BROWNE Very Fine
CURSE WORDS (2017) #5 A BROWNE Very Fine

INDEPENDENTS

ARCHIE GIANT SERIES (1954) #140

ARCHIE GIANT SERIES (1954) #140 (Archie Comics) Very Good

ARCHIE'S PALS 'N' GALS (1952) #34 (Archie Comics) Very Fine

BETTY AND VERONICA (1950) #125 (Archie Comics) Very Good
BETTY AND VERONICA (1950) #161 (Archie Comics) Very Fine

CRYSIS (2011) #2 (IDW Publishing) Near Mint/Mint

CSI MIAMI: THOU SHALT NOT (2004) #1 (IDW Publishing) Near Mint/Mint

CSI NEW YORK: BLOODY MURDER (2005) #1 (IDW Publishing) Near Mint/Mint
CSI NEW YORK: BLOODY MURDER (2005) #2 (IDW Publishing) Near Mint/Mint
CSI NEW YORK: BLOODY MURDER (2005) #3 (IDW Publishing) Near Mint/Mint

CSI: BAD RAP (2003) #3 VARIANT (IDW Publishing) Very Fine
CSI: BAD RAP (2003) #5 VARIANT (IDW Publishing) Very Fine

CSI: CRIME SCENE INVESTIGATION (2003) #5 (IDW Publishing) Near Mint/Mint
CSI: CRIME SCENE INVESTIGATION (2003) #5 PHOTO (IDW Publishing) Near Mint/Mint

CSI: DEMON HOUSE (2004) #1 (IDW Publishing) Near Mint/Mint
CSI: DEMON HOUSE (2004) #4 (IDW Publishing) Near Mint/Mint
CSI: DEMON HOUSE (2004) #5 (IDW Publishing) Near Mint/Mint

CSI: SECRET IDENTITY (2005) #5 (IDW Publishing) Near Mint/Mint

CTHULHU TALES (2006) #1 2ND PRINT (Boom Productions) Near Mint/Mint
CTHULHU TALES (2008) #4 A (Boom Studios Publishing) Near Mint/Mint
CTHULHU TALES (2008) #6 B (Boom Studios Publishing) Very Fine
CTHULHU TALES (2008) #8 A (Boom Studios Publishing) Near Mint/Mint
CTHULHU TALES (2008) #8 B (Boom Studios Publishing) Very Fine


CTHULHU TALES: TAINTED (2007) #1

CTHULHU TALES: TAINTED (2007) #1 (Boom Studios Publishing) Near Mint/Mint

CUD (1992) (#1-8) (FANTAGRAPHICS) (TERRY LABAN) #4 (Fantagraphics) Fine
CUD (1992) (#1-8) (FANTAGRAPHICS) (TERRY LABAN) #4 (Fantagraphics) Very Fine
CUD (1992) (#1-8) (FANTAGRAPHICS) (TERRY LABAN) #4 (Fantagraphics) Very Good
CUD (1992) (#1-8) (FANTAGRAPHICS) (TERRY LABAN) #8 (Fantagraphics) Fine
CUD (1992) (#1-8) (FANTAGRAPHICS) (TERRY LABAN) #8 (Fantagraphics) Very Good

CUDA (1998) #2 (Avatar Comics) Near Mint/Mint
CUDA (1998) #2 (Avatar Comics) Very Fine
CUDA (1998) #4 (Avatar Comics) Very Fine

CUDA B.C. (1995) #1 (Rebel Creations) Very Fine

CULTURAL JETLAG (1991) #1 (Fantagraphics) Fine

CURSE OF RUNE (1995) #3 (Marvel Malibu/Ultraverse) Near Mint/Mint
CURSE OF RUNE (1995) #3 (Marvel Malibu/Ultraverse) Very Fine

CURSE OF THE BLOOD CLAN (2005) #2 (Dead Dog) Very Fine

CURSE OF THE SHE-CAT (1989) #1 (Americomics) Very Fine

CURSED WORLDS SOURCEBOOK (1994) #1 (Blue Comet Comics) Very Fine

DOC SAVAGE COMICS (VOL. 2) (1942) #3 (Street & Smith Publications) Good

LAUGH (1946) #188 (Archie Comics) Very Fine


PEP COMICS (1946) (#56-411) (ARCHIE) #194

PEP COMICS (1946) (#56-411) (ARCHIE) #194 (Archie Comics) Very Good

ROADKILL: A CHRONICLE OF THE DEADWORLD (1993) #1 (Caliber Press) Very Fine

TEENAGE MUTANT NINJA TURTLES (1984) (#1-62) (MIRAGE) #7 (Mirage Studios) Fine

VONPYRE (1996) #1 (Cry For Dawn Productions) Near Mint/Mint