Chuck Buys Even More Great Comics!
Howdy!
What I love the most about my job is the opportunity to meet truly amazing people who share my interests in comic books, graphic storytelling, and pop culture. These affinities are not as rare these days as they once were, but when I am out on the road buying comic book and toys collections, those transactions are most often with people who have been immersing themselves for decades in the same transcendent magic that has so enriched my own journey through life. We have never met before I drive up to their homes, but we have been fellow travelers in our lifelong journeys, nonetheless.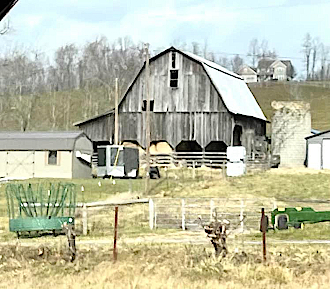 A farm in Blue Ridge Mountains

The past couple of days have felt particularly warm and fuzzy for me, as I was able to meet four couples who have been readers of my newsletter for decades. They have followed my life and career vicariously through my prose, and they all enjoyed happily chatting with me about my beloved wife, Nanette, our farm in Boulder, my various bouts of illness and recovery, and (of course!) my awesome new puppy, Nicky. Being able to meet in person such intimate friends is both an honor, and very humbling. The fact that so many people care about me is oftentimes a wonderment, but I assure you that their love spurs me to work even harder to deserve the kindness and respect these my long-lost friends so willingly share so freely on my behalf. It has truly been an honor to meet them. Nuff said.
That's all that I can write today, as I am struggling to get home to Denver by Wednesday evening. During just the past 36 hours, I have already driven through New York, New Jersey, Delaware, and Maryland. I am now mid-way through western Virginia, heading as fast as I can toward Tennessee. There are two more excellent collections waiting for me there, which (if I do end up purchasing both of them) will fill my already overloaded cargo van to the ceiling. I might even have to (somehow) stack a few comic book boxes into my passenger seat. Whew!
Below, I am sharing photos of a just a very few of the 15,000+ comics that I purchased during these latest stops. Will has even more photos for you, his being of some of the ultra-rare key issues that I purchased earlier during this latest of my epic cross-country comic book buying trips. Those key issues arrived home on Friday, and are now immediately available to you on our website at 50% off via our annual HOLIDAY! codeword sale. As always, the 50% off HOLIDAY! codeword discount applies to all ten million+ of our back issue comics and magazines, excepting only new issues, a few variants, and our professionally-graded items.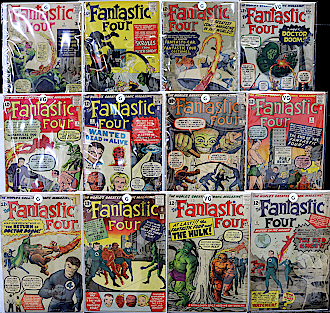 Some the of early FANTASTIC FOUR issues just added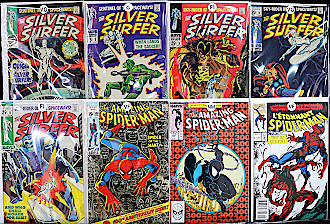 Some the of early SILVER SURFER & SPIDER-MAN issues just added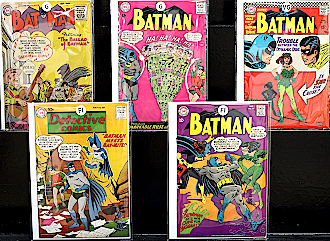 Some the of early BATMAN issues just added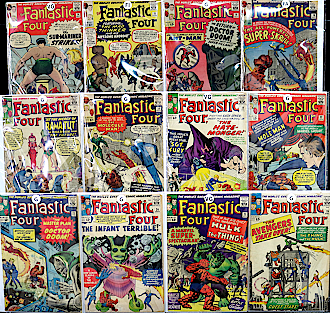 Some more the of early FANTASTIC FOUR issues just added

Happy collecting!
Chuck Rozanski/Bettie Pages,
President - Mile High Comics, Inc.
December 6, 2021

P.S. Here are a few more of the items just listed:
MARVEL

AMAZING SPIDER-MAN (1999) (#1-58, #500-700.5) (MARVEL) #544 VARIANT

AMAZING SPIDER-MAN (1999) (#1-58, #500-700.5) (MARVEL) #544 VARIANT Near Mint/Mint

AMERICA (2017) (#1-UP) (MARVEL) (AMERICA CHAVEZ) #1 Very Fine

BATTLEFRONT (1952) #20 (Marvel Atlas Titles) Good

CHAMBER OF DARKNESS (1969) #4 Very Good

CLOAK AND DAGGER (1983) (#1-4) (MARVEL) #1 Near Mint/Mint
CLOAK AND DAGGER (1983) (#1-4) (MARVEL) #1 NEWSSTAND Very Good
CLOAK AND DAGGER (1983) (#1-4) (MARVEL) #1 Very Fine

CLOAK AND DAGGER (1985) (#1-11) (MARVEL) #1 NEWSSTAND Near Mint/Mint
CLOAK AND DAGGER (1985) (#1-11) (MARVEL) #1 Very Fine
CLOAK AND DAGGER (1985) (#1-11) (MARVEL) #2 Very Fine

CONAN (1970) (#1-275) (CONAN THE BARBARIAN) (MARVEL) #23 Very Good

CRYPT OF SHADOWS (1973) (#1-21) (MARVEL) #1 Very Good

DAREDEVIL (1964) (#1-380) (MAN WITHOUT FEAR) (MARVEL) #8 Fine
DAREDEVIL (1964) (#1-380) (MAN WITHOUT FEAR) (MARVEL) #9 Very Fine
DAREDEVIL (1964) (#1-380) (MAN WITHOUT FEAR) (MARVEL) #17 Fine

DAREDEVIL (1998) (#1-119, 500-512) (MARVEL) #9 Very Fine

DAREDEVIL (2019) (#1-UP) (MARVEL) #25 LASHLEY Near Mint/Mint

DEFENDERS (1972) (#1-152) (MARVEL) #28 Fine

DOCTOR STRANGE (2015) (#1-26) (MARVEL) (DR. STRANGE) #1 Very Fine


DOCTOR STRANGE: SORCERERS SUPREME (MARVEL NOW) (2016) #3

DOCTOR STRANGE: SORCERERS SUPREME (MARVEL NOW) (2016) #3 Fine
DOCTOR STRANGE: SORCERERS SUPREME (MARVEL NOW) (2016) #3 Very Fine

EMPRESS (2016) #1 Near Mint/Mint
EMPRESS (2016) #2 Near Mint/Mint
EMPRESS (2016) #2 2ND PRINT Fine
EMPRESS (2016) #3 Near Mint/Mint
EMPRESS (2016) #4 Near Mint/Mint
EMPRESS (2016) #5 IMMONEN Near Mint/Mint
EMPRESS (2016) #6 VARIANT Near Mint/Mint
EMPRESS (2016) #7 IMMONEN Very Fine

FANTASTIC FOUR (1961) (#1-416) (MARVEL) #1 Good
FANTASTIC FOUR (1961) (#1-416) (MARVEL) #2 Very Good
FANTASTIC FOUR (1961) (#1-416) (MARVEL) #3 Good
FANTASTIC FOUR (1961) (#1-416) (MARVEL) #5 Very Good
FANTASTIC FOUR (1961) (#1-416) (MARVEL) #6 Very Good
FANTASTIC FOUR (1961) (#1-416) (MARVEL) #7 Good
FANTASTIC FOUR (1961) (#1-416) (MARVEL) #8 Good
FANTASTIC FOUR (1961) (#1-416) (MARVEL) #9 Very Good
FANTASTIC FOUR (1961) (#1-416) (MARVEL) #10 Good
FANTASTIC FOUR (1961) (#1-416) (MARVEL) #11 Good
FANTASTIC FOUR (1961) (#1-416) (MARVEL) #12 Very Good
FANTASTIC FOUR (1961) (#1-416) (MARVEL) #13 Good
FANTASTIC FOUR (1961) (#1-416) (MARVEL) #14 Very Good
FANTASTIC FOUR (1961) (#1-416) (MARVEL) #15 Fine
FANTASTIC FOUR (1961) (#1-416) (MARVEL) #16 Good
FANTASTIC FOUR (1961) (#1-416) (MARVEL) #18 Fair
FANTASTIC FOUR (1961) (#1-416) (MARVEL) #19 Good
FANTASTIC FOUR (1961) (#1-416) (MARVEL) #20 Good
FANTASTIC FOUR (1961) (#1-416) (MARVEL) #21 Very Good


FANTASTIC FOUR (1961) (#1-416) (MARVEL) #22

FANTASTIC FOUR (1961) (#1-416) (MARVEL) #22 Good
FANTASTIC FOUR (1961) (#1-416) (MARVEL) #23 Good
FANTASTIC FOUR (1961) (#1-416) (MARVEL) #24 Good
FANTASTIC FOUR (1961) (#1-416) (MARVEL) #25 Very Good
FANTASTIC FOUR (1961) (#1-416) (MARVEL) #26 Good
FANTASTIC FOUR (1961) (#1-416) (MARVEL) #27 Very Good
FANTASTIC FOUR (1961) (#1-416) (MARVEL) #28 Very Good
FANTASTIC FOUR (1961) (#1-416) (MARVEL) #29 Very Good
FANTASTIC FOUR (1961) (#1-416) (MARVEL) #30 Good
FANTASTIC FOUR (1961) (#1-416) (MARVEL) #31 Good
FANTASTIC FOUR (1961) (#1-416) (MARVEL) #32 Good
FANTASTIC FOUR (1961) (#1-416) (MARVEL) #33 Good
FANTASTIC FOUR (1961) (#1-416) (MARVEL) #34 Very Good
FANTASTIC FOUR (1961) (#1-416) (MARVEL) #35 Good
FANTASTIC FOUR (1961) (#1-416) (MARVEL) #36 Fine
FANTASTIC FOUR (1961) (#1-416) (MARVEL) #37 Good
FANTASTIC FOUR (1961) (#1-416) (MARVEL) #37 Very Good
FANTASTIC FOUR (1961) (#1-416) (MARVEL) #38 Good
FANTASTIC FOUR (1961) (#1-416) (MARVEL) #39 Very Good
FANTASTIC FOUR (1961) (#1-416) (MARVEL) #40 Good
FANTASTIC FOUR (1961) (#1-416) (MARVEL) #41 Very Good
FANTASTIC FOUR (1961) (#1-416) (MARVEL) #42 Good
FANTASTIC FOUR (1961) (#1-416) (MARVEL) #43 Good
FANTASTIC FOUR (1961) (#1-416) (MARVEL) #44 Good
FANTASTIC FOUR (1961) (#1-416) (MARVEL) #45 Good
FANTASTIC FOUR (1961) (#1-416) (MARVEL) #46 Very Good
FANTASTIC FOUR (1961) (#1-416) (MARVEL) #47 Good
FANTASTIC FOUR (1961) (#1-416) (MARVEL) #48 Fine
FANTASTIC FOUR (1961) (#1-416) (MARVEL) #49 Very Good
FANTASTIC FOUR (1961) (#1-416) (MARVEL) #50 Good
FANTASTIC FOUR (1961) (#1-416) (MARVEL) #51 Good


FANTASTIC FOUR (1961) (#1-416) (MARVEL) #52

FANTASTIC FOUR (1961) (#1-416) (MARVEL) #52 Very Good
FANTASTIC FOUR (1961) (#1-416) (MARVEL) #53 Good
FANTASTIC FOUR (1961) (#1-416) (MARVEL) #54 Good
FANTASTIC FOUR (1961) (#1-416) (MARVEL) #54 Very Good
FANTASTIC FOUR (1961) (#1-416) (MARVEL) #55 Good
FANTASTIC FOUR (1961) (#1-416) (MARVEL) #83 Fine
FANTASTIC FOUR (1961) (#1-416) (MARVEL) #107 Very Good
FANTASTIC FOUR (1961) (#1-416) (MARVEL) #108 Very Good
FANTASTIC FOUR (1961) (#1-416) (MARVEL) #318 Very Fine
FANTASTIC FOUR (1961) (#1-416) (MARVEL) #319 Fine
FANTASTIC FOUR (1961) (#1-416) (MARVEL) #321 Fine
FANTASTIC FOUR (1961) (#1-416) (MARVEL) #322 Fine
FANTASTIC FOUR (1961) (#1-416) (MARVEL) #323 Fine
FANTASTIC FOUR (1961) (#1-416) (MARVEL) #324 Fine
FANTASTIC FOUR (1961) (#1-416) (MARVEL) #325 Very Fine
FANTASTIC FOUR (1961) (#1-416) (MARVEL) #326 Fine
FANTASTIC FOUR (1961) (#1-416) (MARVEL) #327 Fine
FANTASTIC FOUR (1961) (#1-416) (MARVEL) #328 Fine
FANTASTIC FOUR (1961) (#1-416) (MARVEL) #329 Very Fine
FANTASTIC FOUR (1961) (#1-416) (MARVEL) #330 Very Fine
FANTASTIC FOUR (1961) (#1-416) (MARVEL) #331 Fine
FANTASTIC FOUR (1961) (#1-416) (MARVEL) #332 Very Fine
FANTASTIC FOUR (1961) (#1-416) (MARVEL) #333 Very Fine
FANTASTIC FOUR (1961) (#1-416) (MARVEL) #334 Fine
FANTASTIC FOUR (1961) (#1-416) (MARVEL) #335 Fine
FANTASTIC FOUR (1961) (#1-416) (MARVEL) #336 Fine
FANTASTIC FOUR (1961) (#1-416) (MARVEL) #337 Fine
FANTASTIC FOUR (1961) (#1-416) (MARVEL) #338 Fine
FANTASTIC FOUR (1961) (#1-416) (MARVEL) #339 Fine
FANTASTIC FOUR (1961) (#1-416) (MARVEL) #340 Fine


FANTASTIC FOUR ANNUAL (1963) #1

FANTASTIC FOUR ANNUAL (1963) #1 Good

HAWKEYE (2012) (#1-22) (MARVEL) (MATT FRACTION) #1 50TH ANN Near Mint/Mint
HAWKEYE (2012) (#1-22) (MARVEL) (MATT FRACTION) #11 Fine
HAWKEYE (2012) (#1-22) (MARVEL) (MATT FRACTION) #12 Very Good

HOWARD THE DUCK (1976) (#1-33) #3 Near Mint/Mint
HOWARD THE DUCK (1976) (#1-33) #4 30 CENT CV Fine

HULK (1962) (#1-6, #102-474, #600-635)(INCREDIBLE)(MV) #104 Very Good
HULK (1962) (#1-6, #102-474, #600-635)(INCREDIBLE)(MV) #124 Good
HULK (1962) (#1-6, #102-474, #600-635)(INCREDIBLE)(MV) #130 Very Good
HULK (1962) (#1-6, #102-474, #600-635)(INCREDIBLE)(MV) #132 Very Good

MARVEL'S GREATEST COMICS: FANTASTIC FOUR (2006) #52 Very Good

NEW MUTANTS (1983) (#1-100) (MARVEL) #1 Fine
NEW MUTANTS (1983) (#1-100) (MARVEL) #1 Very Good
NEW MUTANTS (1983) (#1-100) (MARVEL) #1 Very Fine

SHURI (2018) #1 Fine
SHURI (2018) #1 Very Fine

SILVER SURFER (1968) (#1-18) (MARVEL) #1 Very Good
SILVER SURFER (1968) (#1-18) (MARVEL) #2 Good
SILVER SURFER (1968) (#1-18) (MARVEL) #3 Fine
SILVER SURFER (1968) (#1-18) (MARVEL) #4 Very Good
SILVER SURFER (1968) (#1-18) (MARVEL) #5 Fine

SPIDER-MAN (1963) (AMAZING SPIDER-MAN) (#1-441) #100 Very Fine
SPIDER-MAN (1963) (AMAZING SPIDER-MAN) (#1-441) #252 NEWSSTAND Very Good


SPIDER-MAN (1963) (AMAZING SPIDER-MAN) (#1-441) #300

SPIDER-MAN (1963) (AMAZING SPIDER-MAN) (#1-441) #300 Near Mint/Mint
SPIDER-MAN (1963) (AMAZING SPIDER-MAN) (#1-441) #361 NEWSFRENCH Very Fine

STAR WARS: AGE OF REBELLION - BOBA FETT (2019) #1 MOVIEPHOTO Near Mint/Mint

STAR WARS: AGE OF REBELLION - HAN SOLO (2019) #1 MOVIEPHOTO Near Mint/Mint

STAR WARS: AGE OF REBELLION - JABBA THE HUTT (2019) #1 PAREL Very Fine

STAR WARS: AGE OF REBELLION - LUKE SKYWALKER (2019) #1 MOVIEPHOTO Very Fine

STAR WARS: AGE OF REBELLION SPECIAL (2019) #1 CHECCHETTO Near Mint/Mint

TRUE BELIEVERS: AVENGERS - ENDGAME (2019) #1 Near Mint/Mint

TRUE BELIEVERS: AVENGERS - NEBULA (2019) #1 Near Mint/Mint

TRUE BELIEVERS: AVENGERS - RONIN (2019) #1 Near Mint/Mint

TRUE BELIEVERS: AVENGERS - THANOS VS. MARVEL UNIVERSE (2019) #1 Near Mint/Mint

TRUE BELIEVERS: CAPTAIN MARVEL - AVENGER (2019) #1 Near Mint/Mint

TRUE BELIEVERS: CAPTAIN MARVEL - BINARY (2019) #1 Very Fine

TRUE BELIEVERS: CAPTAIN MARVEL - NEW MS. MARVEL (2019) #1 Near Mint/Mint

TRUE BELIEVERS: CAPTAIN MARVEL BETRAYED (2019) #1 Near Mint/Mint


TRUE BELIEVERS: DAREDEVIL - PRACTICE TO DECEIVE (2016) #1

TRUE BELIEVERS: DAREDEVIL - PRACTICE TO DECEIVE (2016) #1 Near Mint/Mint

TRUE BELIEVERS: DARTH VADER (2016) #1 Very Fine

TRUE BELIEVERS: KIRBY 100TH - BLACK PANTHER (2017) #1 Near Mint/Mint

TRUE BELIEVERS: KIRBY 100TH - CAPTAIN AMERICA (2017) #1 Near Mint/Mint

TRUE BELIEVERS: KIRBY 100TH - CAPTAIN AMERICA LIVES (2017) #1 Near Mint/Mint

TRUE BELIEVERS: KIRBY 100TH - INTRODUCING MIGHTY THOR (2017) #1 Near Mint/Mint

TRUE BELIEVERS: KIRBY 100TH - THOR VS. HULK (2017) #1 Near Mint/Mint

TRUE BELIEVERS: STAR WARS CLASSIC (2016) #1 Very Fine

VADER: DARK VISIONS (STAR WARS) (2019) #1 Near Mint/Mint
VADER: DARK VISIONS (STAR WARS) (2019) #1 2ND PRINT Near Mint/Mint
VADER: DARK VISIONS (STAR WARS) (2019) #2 Near Mint/Mint
VADER: DARK VISIONS (STAR WARS) (2019) #3 Near Mint/Mint
VADER: DARK VISIONS (STAR WARS) (2019) #3 PUTRI Near Mint/Mint

DC
ACTION COMICS (1938) (#0-600, 643-904) (DC) #267 Good
ACTION COMICS (1938) (#0-600, 643-904) (DC) #276 Fair

ALL-STAR (1976) (#58-74) (ALL-STAR COMICS) (DC) #59 Near Mint/Mint

AMETHYST (1983) (#1-12) (DC) #1 Near Mint/Mint
AMETHYST (1983) (#1-12) (DC) #1 NEWSSTAND Fine


BATMAN (1940) (#0-713) (DC) #95

BATMAN (1940) (#0-713) (DC) #95 Good
BATMAN (1940) (#0-713) (DC) #171 Good
BATMAN (1940) (#0-713) (DC) #181 Very Good
BATMAN (1940) (#0-713) (DC) #197 Fine

BATMAN (2016) (#1-UP) (DC REBIRTH) #89 3RD PRINT Near Mint/Mint
BATMAN (2016) (#1-UP) (DC REBIRTH) #89 VARIANT Near Mint/Mint
BATMAN (2016) (#1-UP) (DC REBIRTH) #96 JIMENEZ Near Mint/Mint

BATMAN ADVENTURES (1992) #12 Near Mint/Mint

BATMAN ADVENTURES: MAD LOVE (1994) #1 Very Fine

BATMAN SECRET FILES (2018) #1 FOIL COVER Fine
BATMAN SECRET FILES (2018) #2 Fine
BATMAN SECRET FILES (2018) #3 Very Fine

BATMAN UNIVERSE (2019) #1 Near Mint/Mint
BATMAN UNIVERSE (2019) #2 Near Mint/Mint
BATMAN UNIVERSE (2019) #3 Near Mint/Mint
BATMAN UNIVERSE (2019) #4 Near Mint/Mint
BATMAN UNIVERSE (2019) #5 Near Mint/Mint
BATMAN UNIVERSE (2019) #6 Near Mint/Mint

BATMAN VS. RAS AL GHUL (2019) #1 Near Mint/Mint
BATMAN VS. RAS AL GHUL (2019) #2 Very Fine
BATMAN VS. RAS AL GHUL (2019) #3 Near Mint/Mint
BATMAN VS. RAS AL GHUL (2019) #3 Very Fine
BATMAN VS. RAS AL GHUL (2019) #4 Near Mint/Mint

BATMAN: CURSE OF THE WHITE KNIGHT (2019) #1 Near Mint/Mint


BATMAN: CURSE OF THE WHITE KNIGHT (2019) #1 VARIANT

BATMAN: CURSE OF THE WHITE KNIGHT (2019) #1 VARIANT Near Mint/Mint
BATMAN: CURSE OF THE WHITE KNIGHT (2019) #2 Near Mint/Mint
BATMAN: CURSE OF THE WHITE KNIGHT (2019) #2 VARIANT Very Fine
BATMAN: CURSE OF THE WHITE KNIGHT (2019) #3 VARIANT Near Mint/Mint
BATMAN: CURSE OF THE WHITE KNIGHT (2019) #4 VARIANT Near Mint/Mint
BATMAN: CURSE OF THE WHITE KNIGHT (2019) #5 Near Mint/Mint
BATMAN: CURSE OF THE WHITE KNIGHT (2019) #6 VARIANT Near Mint/Mint
BATMAN: CURSE OF THE WHITE KNIGHT (2019) #7 VARIANT Near Mint/Mint
BATMAN: CURSE OF THE WHITE KNIGHT (2019) #8 Near Mint/Mint

BATMAN: KINGS OF FEAR (2018) #1 SIENKIEWIC Fine
BATMAN: KINGS OF FEAR (2018) #2 Very Fine
BATMAN: KINGS OF FEAR (2018) #3 Near Mint/Mint
BATMAN: KINGS OF FEAR (2018) #4 Near Mint/Mint
BATMAN: KINGS OF FEAR (2018) #5 Near Mint/Mint
BATMAN: KINGS OF FEAR (2018) #6 Near Mint/Mint

BATMAN: PENNYWORTH RIP (2020) #1 Near Mint/Mint

BATMAN: WHITE KNIGHT PRESENTS VON FREEZE (2019) #1 Near Mint/Mint

BRAVE AND THE BOLD (1955) #128 Very Good

DETECTIVE COMICS (1937) (#0-881) (DC) #267 Fine

DOOM PATROL (1987) (#1-87) (DC) (DC VERTIGO) #36 (DC: Vertigo Press) Near Mint/Mint
DOOM PATROL (1987) (#1-87) (DC) (DC VERTIGO) #42 (DC: Vertigo Press) Near Mint/Mint

FLASH (1959) (#105-350) (DC) #109 Good
FLASH (1959) (#105-350) (DC) #116 Fine
FLASH (1959) (#105-350) (DC) #123 Good


FLASH (2016) (#1-88, #750-UP) (DC REBIRTH) #1

FLASH (2016) (#1-88, #750-UP) (DC REBIRTH) #1 Near Mint/Mint
FLASH (2016) (#1-88, #750-UP) (DC REBIRTH) #1 2ND PRINT Near Mint/Mint
FLASH (2016) (#1-88, #750-UP) (DC REBIRTH) #1 VARIANT Near Mint/Mint
FLASH (2016) (#1-88, #750-UP) (DC REBIRTH) #2 Fine
FLASH (2016) (#1-88, #750-UP) (DC REBIRTH) #2 VARIANT Fine
FLASH (2016) (#1-88, #750-UP) (DC REBIRTH) #3 VARIANT Very Fine
FLASH (2016) (#1-88, #750-UP) (DC REBIRTH) #3 Very Fine
FLASH (2016) (#1-88, #750-UP) (DC REBIRTH) #4 Near Mint/Mint
FLASH (2016) (#1-88, #750-UP) (DC REBIRTH) #4 VARIANT Very Fine
FLASH (2016) (#1-88, #750-UP) (DC REBIRTH) #5 Near Mint/Mint
FLASH (2016) (#1-88, #750-UP) (DC REBIRTH) #6 Near Mint/Mint
FLASH (2016) (#1-88, #750-UP) (DC REBIRTH) #17 VARIANT Near Mint/Mint
FLASH (2016) (#1-88, #750-UP) (DC REBIRTH) #18 VARIANT Very Fine
FLASH (2016) (#1-88, #750-UP) (DC REBIRTH) #19 Very Fine
FLASH (2016) (#1-88, #750-UP) (DC REBIRTH) #20 Very Fine
FLASH (2016) (#1-88, #750-UP) (DC REBIRTH) #21 INTERNATIO Fine
FLASH (2016) (#1-88, #750-UP) (DC REBIRTH) #21 LENTICULAR Near Mint/Mint
FLASH (2016) (#1-88, #750-UP) (DC REBIRTH) #21 VARIANT Very Fine
FLASH (2016) (#1-88, #750-UP) (DC REBIRTH) #23 Near Mint/Mint
FLASH (2016) (#1-88, #750-UP) (DC REBIRTH) #24 Very Fine
FLASH (2016) (#1-88, #750-UP) (DC REBIRTH) #25 VARIANT Very Fine
FLASH (2016) (#1-88, #750-UP) (DC REBIRTH) #32 VARIANT Near Mint/Mint
FLASH (2016) (#1-88, #750-UP) (DC REBIRTH) #33 Near Mint/Mint
FLASH (2016) (#1-88, #750-UP) (DC REBIRTH) #34 Very Fine
FLASH (2016) (#1-88, #750-UP) (DC REBIRTH) #36 Very Fine
FLASH (2016) (#1-88, #750-UP) (DC REBIRTH) #37 Very Fine
FLASH (2016) (#1-88, #750-UP) (DC REBIRTH) #38 Very Fine
FLASH (2016) (#1-88, #750-UP) (DC REBIRTH) #39 VARIANT Very Fine
FLASH (2016) (#1-88, #750-UP) (DC REBIRTH) #40 Near Mint/Mint
FLASH (2016) (#1-88, #750-UP) (DC REBIRTH) #41 Very Fine
FLASH (2016) (#1-88, #750-UP) (DC REBIRTH) #42 Fine


FLASH (2016) (#1-88, #750-UP) (DC REBIRTH) #43 VARIANT

FLASH (2016) (#1-88, #750-UP) (DC REBIRTH) #43 VARIANT Near Mint/Mint
FLASH (2016) (#1-88, #750-UP) (DC REBIRTH) #43 Very Fine
FLASH (2016) (#1-88, #750-UP) (DC REBIRTH) #44 Near Mint/Mint
FLASH (2016) (#1-88, #750-UP) (DC REBIRTH) #44 VARIANT Near Mint/Mint
FLASH (2016) (#1-88, #750-UP) (DC REBIRTH) #45 VARIANT Very Fine
FLASH (2016) (#1-88, #750-UP) (DC REBIRTH) #46 VARIANT Near Mint/Mint
FLASH (2016) (#1-88, #750-UP) (DC REBIRTH) #47 Near Mint/Mint
FLASH (2016) (#1-88, #750-UP) (DC REBIRTH) #48 Near Mint/Mint
FLASH (2016) (#1-88, #750-UP) (DC REBIRTH) #49 VARIANT Very Fine
FLASH (2016) (#1-88, #750-UP) (DC REBIRTH) #50 VARIANT Near Mint/Mint
FLASH (2016) (#1-88, #750-UP) (DC REBIRTH) #51 VARIANT Near Mint/Mint
FLASH (2016) (#1-88, #750-UP) (DC REBIRTH) #51 VARIANT Fine
FLASH (2016) (#1-88, #750-UP) (DC REBIRTH) #52 VARIANT Near Mint/Mint
FLASH (2016) (#1-88, #750-UP) (DC REBIRTH) #53 VARIANT Very Fine
FLASH (2016) (#1-88, #750-UP) (DC REBIRTH) #54 Fine
FLASH (2016) (#1-88, #750-UP) (DC REBIRTH) #55 Near Mint/Mint
FLASH (2016) (#1-88, #750-UP) (DC REBIRTH) #56 FOIL COVER Near Mint/Mint
FLASH (2016) (#1-88, #750-UP) (DC REBIRTH) #57 Fine
FLASH (2016) (#1-88, #750-UP) (DC REBIRTH) #58 VARIANT Very Fine
FLASH (2016) (#1-88, #750-UP) (DC REBIRTH) #59 Fine
FLASH (2016) (#1-88, #750-UP) (DC REBIRTH) #60 Fine
FLASH (2016) (#1-88, #750-UP) (DC REBIRTH) #61 Fine
FLASH (2016) (#1-88, #750-UP) (DC REBIRTH) #62 VARIANT Very Fine
FLASH (2016) (#1-88, #750-UP) (DC REBIRTH) #63 Very Fine
FLASH (2016) (#1-88, #750-UP) (DC REBIRTH) #64 VARIANT Near Mint/Mint
FLASH (2016) (#1-88, #750-UP) (DC REBIRTH) #65 VARIANT Near Mint/Mint
FLASH (2016) (#1-88, #750-UP) (DC REBIRTH) #66 VARIANT Very Fine
FLASH (2016) (#1-88, #750-UP) (DC REBIRTH) #67 Very Fine
FLASH (2016) (#1-88, #750-UP) (DC REBIRTH) #68 VARIANT Near Mint/Mint
FLASH (2016) (#1-88, #750-UP) (DC REBIRTH) #69 VARIANT Near Mint/Mint
FLASH (2016) (#1-88, #750-UP) (DC REBIRTH) #70 Near Mint/Mint
FLASH (2016) (#1-88, #750-UP) (DC REBIRTH) #70 VARIANT Very Fine


FLASH (2016) (#1-88, #750-UP) (DC REBIRTH) #71

FLASH (2016) (#1-88, #750-UP) (DC REBIRTH) #71 Fine
FLASH (2016) (#1-88, #750-UP) (DC REBIRTH) #71 VARIANT Near Mint/Mint
FLASH (2016) (#1-88, #750-UP) (DC REBIRTH) #72 VARIANT Near Mint/Mint
FLASH (2016) (#1-88, #750-UP) (DC REBIRTH) #73 Fine
FLASH (2016) (#1-88, #750-UP) (DC REBIRTH) #74 Near Mint/Mint
FLASH (2016) (#1-88, #750-UP) (DC REBIRTH) #75 Near Mint/Mint
FLASH (2016) (#1-88, #750-UP) (DC REBIRTH) #76 Near Mint/Mint
FLASH (2016) (#1-88, #750-UP) (DC REBIRTH) #77 Near Mint/Mint
FLASH (2016) (#1-88, #750-UP) (DC REBIRTH) #78 VARIANT Near Mint/Mint
FLASH (2016) (#1-88, #750-UP) (DC REBIRTH) #79 Very Fine
FLASH (2016) (#1-88, #750-UP) (DC REBIRTH) #80 Very Fine
FLASH (2016) (#1-88, #750-UP) (DC REBIRTH) #81 VARIANT Near Mint/Mint
FLASH (2016) (#1-88, #750-UP) (DC REBIRTH) #82 VARIANT Near Mint/Mint
FLASH (2016) (#1-88, #750-UP) (DC REBIRTH) #83 VARIANT Very Fine
FLASH (2016) (#1-88, #750-UP) (DC REBIRTH) #84 Very Fine
FLASH (2016) (#1-88, #750-UP) (DC REBIRTH) #85 VARIANT Near Mint/Mint
FLASH (2016) (#1-88, #750-UP) (DC REBIRTH) #86 VARIANT Near Mint/Mint
FLASH (2016) (#1-88, #750-UP) (DC REBIRTH) #87 VARIANT Near Mint/Mint

FLASH (2016) (#1-88, #750-UP) (DC REBIRTH) #88 VARIANT Near Mint/Mint

FLASH ANNUAL (2018) #1 Very Fine
FLASH ANNUAL (2018) #2 Fine

FLASH FORWARD (2019) #4 VARIANT Very Fine
FLASH FORWARD (2019) #5 Near Mint/Mint
FLASH FORWARD (2019) #6 Near Mint/Mint

FLASH REBIRTH (2016) #1 Near Mint/Mint
FLASH REBIRTH (2016) #1 VARIANT Near Mint/Mint


FLASH/SPEED BUGGY SPECIAL (2018) #1

FLASH/SPEED BUGGY SPECIAL (2018) #1 Near Mint/Mint

JOKER 80TH ANNIVERSARY 100-PAGE SUPER SPECIAL (2020) #1 Near Mint/Mint

PEARL (2018) #1 VARIANT Very Fine
PEARL (2018) #2 Fine
PEARL (2018) #3 Very Fine
PEARL (2018) #4 Near Mint/Mint
PEARL (2018) #5 Near Mint/Mint
PEARL (2018) #6 Very Fine
PEARL (2018) #7 VARIANT Near Mint/Mint
PEARL (2018) #8 Near Mint/Mint
PEARL (2018) #8 VARIANT Near Mint/Mint
PEARL (2018) #9 Very Fine
PEARL (2018) #10 Very Fine
PEARL (2018) #11 Near Mint/Mint

SUPERMAN (1939) (#1-423) (DC) #7 Good

TALES FROM THE DARK MULTIVERSE: BATMAN KNIGHTFALL (2019) #1 Very Fine

WONDER WOMAN (2011) (#0-52) (DC NEW52) #0 Near Mint/Mint
WONDER WOMAN (2011) (#0-52) (DC NEW52) #1 Fine
WONDER WOMAN (2011) (#0-52) (DC NEW52) #1 Near Mint/Mint
WONDER WOMAN (2011) (#0-52) (DC NEW52) #2 Near Mint/Mint
WONDER WOMAN (2011) (#0-52) (DC NEW52) #4 Very Fine
WONDER WOMAN (2011) (#0-52) (DC NEW52) #5 Fine
WONDER WOMAN (2011) (#0-52) (DC NEW52) #6 Very Fine
WONDER WOMAN (2011) (#0-52) (DC NEW52) #7 Fine
WONDER WOMAN (2011) (#0-52) (DC NEW52) #8 Very Fine
WONDER WOMAN (2011) (#0-52) (DC NEW52) #9 Fine


WONDER WOMAN (2011) (#0-52) (DC NEW52) #10

WONDER WOMAN (2011) (#0-52) (DC NEW52) #10 Near Mint/Mint
WONDER WOMAN (2011) (#0-52) (DC NEW52) #15 Very Fine
WONDER WOMAN (2011) (#0-52) (DC NEW52) #19 MAD COVER Very Fine
WONDER WOMAN (2011) (#0-52) (DC NEW52) #19 Very Fine
WONDER WOMAN (2011) (#0-52) (DC NEW52) #20 Very Fine
WONDER WOMAN (2011) (#0-52) (DC NEW52) #22 Very Fine
WONDER WOMAN (2011) (#0-52) (DC NEW52) #23 .1 Fine
WONDER WOMAN (2011) (#0-52) (DC NEW52) #23 Very Fine
WONDER WOMAN (2011) (#0-52) (DC NEW52) #28 Very Fine
WONDER WOMAN (2011) (#0-52) (DC NEW52) #32 BOMBSHELL Near Mint/Mint
WONDER WOMAN (2011) (#0-52) (DC NEW52) #33 BATMAN Very Fine
WONDER WOMAN (2011) (#0-52) (DC NEW52) #34 Fine
WONDER WOMAN (2011) (#0-52) (DC NEW52) #35 MONSTERS Fine
WONDER WOMAN (2011) (#0-52) (DC NEW52) #36 Very Fine
WONDER WOMAN (2011) (#0-52) (DC NEW52) #37 Very Fine
WONDER WOMAN (2011) (#0-52) (DC NEW52) #38 Very Fine
WONDER WOMAN (2011) (#0-52) (DC NEW52) #39 Very Fine
WONDER WOMAN (2011) (#0-52) (DC NEW52) #40 Very Fine
WONDER WOMAN (2011) (#0-52) (DC NEW52) #41 Near Mint/Mint
WONDER WOMAN (2011) (#0-52) (DC NEW52) #42 Very Fine
WONDER WOMAN (2011) (#0-52) (DC NEW52) #43 Near Mint/Mint
WONDER WOMAN (2011) (#0-52) (DC NEW52) #44 Very Fine
WONDER WOMAN (2011) (#0-52) (DC NEW52) #46 Near Mint/Mint
WONDER WOMAN (2011) (#0-52) (DC NEW52) #47 Fine
WONDER WOMAN (2011) (#0-52) (DC NEW52) #48 Near Mint/Mint
WONDER WOMAN (2011) (#0-52) (DC NEW52) #49 Near Mint/Mint
WONDER WOMAN (2011) (#0-52) (DC NEW52) #49 JUNG Near Mint/Mint
WONDER WOMAN (2011) (#0-52) (DC NEW52) #50 Very Fine
WONDER WOMAN (2011) (#0-52) (DC NEW52) #51 Very Fine
WONDER WOMAN (2011) (#0-52) (DC NEW52) #52 VARIANT Near Mint/Mint


WONDER WOMAN (2016) (#1-83, #750-UP) (DC REBIRTH) #1 VARIANT

WONDER WOMAN (2016) (#1-83, #750-UP) (DC REBIRTH) #1 VARIANT Near Mint/Mint
WONDER WOMAN (2016) (#1-83, #750-UP) (DC REBIRTH) #1 Very Fine
WONDER WOMAN (2016) (#1-83, #750-UP) (DC REBIRTH) #2 Fine
WONDER WOMAN (2016) (#1-83, #750-UP) (DC REBIRTH) #2 VARIANT Fine
WONDER WOMAN (2016) (#1-83, #750-UP) (DC REBIRTH) #3 Near Mint/Mint
WONDER WOMAN (2016) (#1-83, #750-UP) (DC REBIRTH) #3 VARIANT Very Fine
WONDER WOMAN (2016) (#1-83, #750-UP) (DC REBIRTH) #4 VARIANT Very Fine
WONDER WOMAN (2016) (#1-83, #750-UP) (DC REBIRTH) #6 Very Fine
WONDER WOMAN (2016) (#1-83, #750-UP) (DC REBIRTH) #8 Near Mint/Mint
WONDER WOMAN (2016) (#1-83, #750-UP) (DC REBIRTH) #13 Very Fine
WONDER WOMAN (2016) (#1-83, #750-UP) (DC REBIRTH) #15 Very Fine
WONDER WOMAN (2016) (#1-83, #750-UP) (DC REBIRTH) #17 VARIANT Near Mint/Mint
WONDER WOMAN (2016) (#1-83, #750-UP) (DC REBIRTH) #18 VARIANT Very Fine
WONDER WOMAN (2016) (#1-83, #750-UP) (DC REBIRTH) #19 VARIANT Near Mint/Mint
WONDER WOMAN (2016) (#1-83, #750-UP) (DC REBIRTH) #20 VARIANT Near Mint/Mint
WONDER WOMAN (2016) (#1-83, #750-UP) (DC REBIRTH) #21 VARIANT Near Mint/Mint
WONDER WOMAN (2016) (#1-83, #750-UP) (DC REBIRTH) #22 VARIANT Near Mint/Mint
WONDER WOMAN (2016) (#1-83, #750-UP) (DC REBIRTH) #23 VARIANT Very Fine
WONDER WOMAN (2016) (#1-83, #750-UP) (DC REBIRTH) #24 VARIANT Very Fine
WONDER WOMAN (2016) (#1-83, #750-UP) (DC REBIRTH) #25 VARIANT Very Fine
WONDER WOMAN (2016) (#1-83, #750-UP) (DC REBIRTH) #26 VARIANT Very Fine
WONDER WOMAN (2016) (#1-83, #750-UP) (DC REBIRTH) #27 VARIANT Very Fine
WONDER WOMAN (2016) (#1-83, #750-UP) (DC REBIRTH) #28 VARIANT Very Fine
WONDER WOMAN (2016) (#1-83, #750-UP) (DC REBIRTH) #30 VARIANT Near Mint/Mint
WONDER WOMAN (2016) (#1-83, #750-UP) (DC REBIRTH) #31 VARIANT Near Mint/Mint
WONDER WOMAN (2016) (#1-83, #750-UP) (DC REBIRTH) #32 VARIANT Near Mint/Mint
WONDER WOMAN (2016) (#1-83, #750-UP) (DC REBIRTH) #33 VARIANT Near Mint/Mint
WONDER WOMAN (2016) (#1-83, #750-UP) (DC REBIRTH) #34 Near Mint/Mint
WONDER WOMAN (2016) (#1-83, #750-UP) (DC REBIRTH) #35 VARIANT Very Fine
WONDER WOMAN (2016) (#1-83, #750-UP) (DC REBIRTH) #36 VARIANT Near Mint/Mint
WONDER WOMAN (2016) (#1-83, #750-UP) (DC REBIRTH) #37 VARIANT Very Fine


WONDER WOMAN (2016) (#1-83, #750-UP) (DC REBIRTH) #38 VARIANT

WONDER WOMAN (2016) (#1-83, #750-UP) (DC REBIRTH) #38 VARIANT Near Mint/Mint
WONDER WOMAN (2016) (#1-83, #750-UP) (DC REBIRTH) #39 VARIANT Near Mint/Mint
WONDER WOMAN (2016) (#1-83, #750-UP) (DC REBIRTH) #40 VARIANT Near Mint/Mint
WONDER WOMAN (2016) (#1-83, #750-UP) (DC REBIRTH) #41 VARIANT Near Mint/Mint
WONDER WOMAN (2016) (#1-83, #750-UP) (DC REBIRTH) #42 VARIANT Near Mint/Mint
WONDER WOMAN (2016) (#1-83, #750-UP) (DC REBIRTH) #43 VARIANT Very Fine
WONDER WOMAN (2016) (#1-83, #750-UP) (DC REBIRTH) #44 VARIANT Fine
WONDER WOMAN (2016) (#1-83, #750-UP) (DC REBIRTH) #45 VARIANT Fine
WONDER WOMAN (2016) (#1-83, #750-UP) (DC REBIRTH) #46 VARIANT Near Mint/Mint
WONDER WOMAN (2016) (#1-83, #750-UP) (DC REBIRTH) #47 VARIANT Near Mint/Mint
WONDER WOMAN (2016) (#1-83, #750-UP) (DC REBIRTH) #48 VARIANT Near Mint/Mint
WONDER WOMAN (2016) (#1-83, #750-UP) (DC REBIRTH) #49 VARIANT Near Mint/Mint
WONDER WOMAN (2016) (#1-83, #750-UP) (DC REBIRTH) #50 VARIANT Near Mint/Mint
WONDER WOMAN (2016) (#1-83, #750-UP) (DC REBIRTH) #51 Fine
WONDER WOMAN (2016) (#1-83, #750-UP) (DC REBIRTH) #52 VARIANT Near Mint/Mint
WONDER WOMAN (2016) (#1-83, #750-UP) (DC REBIRTH) #53 VARIANT Near Mint/Mint
WONDER WOMAN (2016) (#1-83, #750-UP) (DC REBIRTH) #54 VARIANT Near Mint/Mint
WONDER WOMAN (2016) (#1-83, #750-UP) (DC REBIRTH) #55 VARIANT Near Mint/Mint
WONDER WOMAN (2016) (#1-83, #750-UP) (DC REBIRTH) #56 FOIL COVER Near Mint/Mint
WONDER WOMAN (2016) (#1-83, #750-UP) (DC REBIRTH) #56 VARIANT Near Mint/Mint
WONDER WOMAN (2016) (#1-83, #750-UP) (DC REBIRTH) #57 VARIANT Near Mint/Mint
WONDER WOMAN (2016) (#1-83, #750-UP) (DC REBIRTH) #58 VARIANT Near Mint/Mint
WONDER WOMAN (2016) (#1-83, #750-UP) (DC REBIRTH) #59 VARIANT Near Mint/Mint
WONDER WOMAN (2016) (#1-83, #750-UP) (DC REBIRTH) #60 VARIANT Very Fine
WONDER WOMAN (2016) (#1-83, #750-UP) (DC REBIRTH) #61 VARIANT Very Fine
WONDER WOMAN (2016) (#1-83, #750-UP) (DC REBIRTH) #62 Very Fine
WONDER WOMAN (2016) (#1-83, #750-UP) (DC REBIRTH) #63 Near Mint/Mint
WONDER WOMAN (2016) (#1-83, #750-UP) (DC REBIRTH) #64 VARIANT Near Mint/Mint
WONDER WOMAN (2016) (#1-83, #750-UP) (DC REBIRTH) #65 VARIANT Near Mint/Mint
WONDER WOMAN (2016) (#1-83, #750-UP) (DC REBIRTH) #66 VARIANT Near Mint/Mint
WONDER WOMAN (2016) (#1-83, #750-UP) (DC REBIRTH) #67 VARIANT Near Mint/Mint


WONDER WOMAN (2016) (#1-83, #750-UP) (DC REBIRTH) #68 VARIANT

WONDER WOMAN (2016) (#1-83, #750-UP) (DC REBIRTH) #68 VARIANT Very Fine
WONDER WOMAN (2016) (#1-83, #750-UP) (DC REBIRTH) #69 VARIANT Near Mint/Mint
WONDER WOMAN (2016) (#1-83, #750-UP) (DC REBIRTH) #70 VARIANT Near Mint/Mint
WONDER WOMAN (2016) (#1-83, #750-UP) (DC REBIRTH) #71 VARIANT Near Mint/Mint
WONDER WOMAN (2016) (#1-83, #750-UP) (DC REBIRTH) #72 VARIANT Near Mint/Mint
WONDER WOMAN (2016) (#1-83, #750-UP) (DC REBIRTH) #73 VARIANT Very Fine
WONDER WOMAN (2016) (#1-83, #750-UP) (DC REBIRTH) #74 VARIANT Fine
WONDER WOMAN (2016) (#1-83, #750-UP) (DC REBIRTH) #75 VARIANT Very Fine
WONDER WOMAN (2016) (#1-83, #750-UP) (DC REBIRTH) #76 VARIANT Near Mint/Mint
WONDER WOMAN (2016) (#1-83, #750-UP) (DC REBIRTH) #77 VARIANT Near Mint/Mint
WONDER WOMAN (2016) (#1-83, #750-UP) (DC REBIRTH) #78 VARIANT Near Mint/Mint
WONDER WOMAN (2016) (#1-83, #750-UP) (DC REBIRTH) #79 VARIANT Near Mint/Mint
WONDER WOMAN (2016) (#1-83, #750-UP) (DC REBIRTH) #80 Very Fine
WONDER WOMAN (2016) (#1-83, #750-UP) (DC REBIRTH) #81 VARIANT Near Mint/Mint
WONDER WOMAN (2016) (#1-83, #750-UP) (DC REBIRTH) #82 VARIANT Near Mint/Mint
WONDER WOMAN (2016) (#1-83, #750-UP) (DC REBIRTH) #83 VARIANT Near Mint/Mint

WONDER WOMAN REBIRTH (2016) #1 Near Mint/Mint
WONDER WOMAN REBIRTH (2016) #1 2ND PRINT Near Mint/Mint
WONDER WOMAN REBIRTH (2016) #1 VARIANT Near Mint/Mint

DARK HORSE COMICS
HELLBOY: SEED OF DESTRUCTION (1994) #1 25TH ANN Near Mint/Mint
HELLBOY: SEED OF DESTRUCTION (1994) #1 25TH ANN Very Fine

STAR WARS: BOBA FETT OVERKILL ONE-SHOT (2006) #1 Near Mint/Mint

IMAGE COMICS
DESCENDER (2015) #2 Near Mint/Mint
DESCENDER (2015) #3 Very Fine
DESCENDER (2015) #4 Very Fine
DESCENDER (2015) #5 Near Mint/Mint
DESCENDER (2015) #7 A Near Mint/Mint
DESCENDER (2015) #8 Near Mint/Mint
DESCENDER (2015) #9 Very Fine
DESCENDER (2015) #10 Very Fine
DESCENDER (2015) #11 Very Fine
DESCENDER (2015) #13 Near Mint/Mint
DESCENDER (2015) #14 Near Mint/Mint
DESCENDER (2015) #15 Near Mint/Mint
DESCENDER (2015) #16 Near Mint/Mint
DESCENDER (2015) #17 Near Mint/Mint
DESCENDER (2015) #18 Near Mint/Mint
DESCENDER (2015) #19 B TRIBUTE Very Fine
DESCENDER (2015) #20 Near Mint/Mint
DESCENDER (2015) #21 Near Mint/Mint
DESCENDER (2015) #22 B LEMIRE Near Mint/Mint
DESCENDER (2015) #23 B LEMIRE Near Mint/Mint
DESCENDER (2015) #24 A NGUYEN Near Mint/Mint
DESCENDER (2015) #25 C TRIBUTE Near Mint/Mint
DESCENDER (2015) #26 A NGUYEN Near Mint/Mint
DESCENDER (2015) #27 A NGUYEN Near Mint/Mint
DESCENDER (2015) #28 A NGUYEN Near Mint/Mint
DESCENDER (2015) #29 A NGUYEN Near Mint/Mint
DESCENDER (2015) #30 C VIRGIN Near Mint/Mint
DESCENDER (2015) #31 B NGUYEN Near Mint/Mint
DESCENDER (2015) #32 B NGUYEN Near Mint/Mint

HUCK (2015) #1 A Very Fine

HUCK (2015) #2 B Fine
HUCK (2015) #3 A Near Mint/Mint
HUCK (2015) #4 A Near Mint/Mint
HUCK (2015) #5 A Very Fine
HUCK (2015) #6 A Near Mint/Mint

MIDDLEWEST (2018) #1 A HUDDLEST Near Mint/Mint
MIDDLEWEST (2018) #2 Near Mint/Mint
MIDDLEWEST (2018) #3 Near Mint/Mint
MIDDLEWEST (2018) #4 Near Mint/Mint
MIDDLEWEST (2018) #5 Near Mint/Mint
MIDDLEWEST (2018) #6 Near Mint/Mint
MIDDLEWEST (2018) #7 Near Mint/Mint
MIDDLEWEST (2018) #8 Very Fine
MIDDLEWEST (2018) #9 Very Fine
MIDDLEWEST (2018) #10 Near Mint/Mint
MIDDLEWEST (2018) #11 Near Mint/Mint
MIDDLEWEST (2018) #12 Near Mint/Mint
MIDDLEWEST (2018) #13 Near Mint/Mint
MIDDLEWEST (2018) #14 Near Mint/Mint
MIDDLEWEST (2018) #15 Near Mint/Mint
MIDDLEWEST (2018) #16 Near Mint/Mint
MIDDLEWEST (2018) #17 Near Mint/Mint
MIDDLEWEST (2018) #18 A CORONA Near Mint/Mint

NAILBITER (2014) #1 Good
NAILBITER (2014) #2 Very Fine
NAILBITER (2014) #3 Near Mint/Mint
NAILBITER (2014) #5 Near Mint/Mint
NAILBITER (2014) #6 Near Mint/Mint
NAILBITER (2014) #7 Near Mint/Mint

NAILBITER (2014) #8 Near Mint/Mint
NAILBITER (2014) #9 Near Mint/Mint
NAILBITER (2014) #10 Near Mint/Mint
NAILBITER (2014) #11 A HENDERSO Near Mint/Mint
NAILBITER (2014) #12 Near Mint/Mint
NAILBITER (2014) #13 Near Mint/Mint
NAILBITER (2014) #14 Near Mint/Mint
NAILBITER (2014) #15 Near Mint/Mint
NAILBITER (2014) #16 Near Mint/Mint
NAILBITER (2014) #17 Near Mint/Mint
NAILBITER (2014) #18 Near Mint/Mint
NAILBITER (2014) #19 Near Mint/Mint
NAILBITER (2014) #20 Near Mint/Mint
NAILBITER (2014) #21 Near Mint/Mint
NAILBITER (2014) #22 Near Mint/Mint
NAILBITER (2014) #23 Near Mint/Mint
NAILBITER (2014) #24 Near Mint/Mint
NAILBITER (2014) #25 Near Mint/Mint
NAILBITER (2014) #26 Near Mint/Mint
NAILBITER (2014) #27 Near Mint/Mint
NAILBITER (2014) #28 Near Mint/Mint
NAILBITER (2014) #29 Near Mint/Mint
NAILBITER (2014) #30 Near Mint/Mint

INDEPENDENTS
ADVENTURE TIME: FIONNA & CAKE (2013) #1 2ND PRINT (Boom Studios Publishing) Near Mint/Mint
ADVENTURE TIME: FIONNA & CAKE (2013) #1 2ND PRINT (Boom Studios Publishing) Very Fine

AMAZING HEROES SWIMSUIT SPECIAL (FANTAGRAPHICS) #1 1991 (Fantagraphics) Fine


ARCHIE (1942) (#1-666) (ARCHIE MJL) #249

ARCHIE (1942) (#1-666) (ARCHIE MJL) #249 (Archie Comics) Fine
ARCHIE (1942) (#1-666) (ARCHIE MJL) #293 (Archie Comics) Very Good

ARCHIE & ME (1964) #87 (Archie Comics) Very Good
ARCHIE & ME (1964) #161 (Archie Comics) Fine

ARCHIE ANNUAL (1950) #18 (Archie Comics) Very Good

ARCHIE AT RIVERDALE HIGH (1972) #47 (Archie Comics) Very Good
ARCHIE AT RIVERDALE HIGH (1972) #73 (Archie Comics) Fine
ARCHIE AT RIVERDALE HIGH (1972) #113 (Archie Comics) Very Good

ARCHIE'S FESTIVAL (ARCHIE CHRISTIAN SPIRE) (1980) #1 (Archie Comics) Very Fine

ARCHIE'S JOKE BOOK (1953) #27 (Archie Comics) Very Good

ARCHIE'S PALS 'N' GALS (1952) #196 (Archie Comics) Fine

BEETLE BAILEY (1969) (#67-119) (CHARLTON) #106 (Charlton) Very Good
BEETLE BAILEY (1969) (#67-119) (CHARLTON) #113 (Charlton) Very Good
BEETLE BAILEY (1969) (#67-119) (CHARLTON) #114 (Charlton) Very Good
BEETLE BAILEY (1969) (#67-119) (CHARLTON) #115 (Charlton) Fine
BEETLE BAILEY (1969) (#67-119) (CHARLTON) #117 (Charlton) Fine

BEETLE BAILEY (1978) (#120-131) (GOLD KEY) #124 (Gold Key) Very Good
BEETLE BAILEY (1978) (#120-131) (GOLD KEY) #126 (Gold Key) Very Good
BEETLE BAILEY (1978) (#120-131) (GOLD KEY) #126 WHITMAN (Gold Key) Very Good
BEETLE BAILEY (1978) (#120-131) (GOLD KEY) #129 (Gold Key) Good


BETTY AND VERONICA (1950) #251

BETTY AND VERONICA (1950) #251 (Archie Comics) Very Good

BETTY AND VERONICA (1987) #76 NEWSSTAND (Archie Comics) Very Good

CROSSFIRE & RAINBOW (1986) #4 (Eclipse Enterprises) Very Fine

DUCK TALES (1988) (#1-13) (GLADSTONE) #2 (Gladstone) Very Fine

GAMEBOY (1990) #3 (Acclaim/Valiant) Very Fine

HEROIC COMICS (1940) #64 (FAMOUS FUNNIES PUBLICATION) Very Good
HEROIC COMICS (1940) #65 (FAMOUS FUNNIES PUBLICATION) Very Good

KLAUS (2015) (#1-7) (BOOM) #1 10TH ANN (Boom Studios Publishing) Very Fine
KLAUS (2015) (#1-7) (BOOM) #2 (Boom Studios Publishing) Near Mint/Mint
KLAUS (2015) (#1-7) (BOOM) #3 (Boom Studios Publishing) Very Fine
KLAUS (2015) (#1-7) (BOOM) #4 (Boom Studios Publishing) Near Mint/Mint
KLAUS (2015) (#1-7) (BOOM) #5 (Boom Studios Publishing) Near Mint/Mint

KLAUS & THE CRYING SNOWMAN (2018) #1 A MORA (Boom Studios Publishing) Near Mint/Mint

NEW ARCHIES (1987) #4 NEWSSTAND (Archie Comics) Very Good
NEW ARCHIES (1987) #5 NEWSSTAND (Archie Comics) Very Good

NINTENDO COMICS SYSTEM #8 (Acclaim/Valiant) Near Mint/Mint
NINTENDO COMICS SYSTEM #8 (Acclaim/Valiant) Fine
NINTENDO COMICS SYSTEM #8 (Acclaim/Valiant) Very Good

WRATH OF THE ETERNAL WARRIOR (2015) #1 LAFUENTE (Valiant Comics) Near Mint/Mint
WRATH OF THE ETERNAL WARRIOR (2015) #2 LAFUENTE (Valiant Comics) Near Mint/Mint
WRATH OF THE ETERNAL WARRIOR (2015) #3 LAFUENTE (Valiant Comics) Near Mint/Mint
WRATH OF THE ETERNAL WARRIOR (2015) #4 LAFUENTE (Valiant Comics) Very Fine
WRATH OF THE ETERNAL WARRIOR (2015) #5 JIMENEZ (Valiant Comics) Very Fine


WRATH OF THE ETERNAL WARRIOR (2015) #6 A JIMENEZ

WRATH OF THE ETERNAL WARRIOR (2015) #6 A JIMENEZ (Valiant Comics) Near Mint/Mint
WRATH OF THE ETERNAL WARRIOR (2015) #9 C GIORELLO (Valiant Comics) Near Mint/Mint
WRATH OF THE ETERNAL WARRIOR (2015) #10 A ALLEN (Valiant Comics) Near Mint/Mint
WRATH OF THE ETERNAL WARRIOR (2015) #11 B RYP (Valiant Comics) Near Mint/Mint
WRATH OF THE ETERNAL WARRIOR (2015) #12 A RYP (Valiant Comics) Near Mint/Mint
WRATH OF THE ETERNAL WARRIOR (2015) #13 A BARRIONU (Valiant Comics) Near Mint/Mint
WRATH OF THE ETERNAL WARRIOR (2015) #14 A SEGOVIA (Valiant Comics) Near Mint/Mint