Safe Holiday Shopping At Mile High Comics
Howdy!
We had a longtime client waiting for us to open the Jason St. Mega-Store on Friday, eager to load up on our traditional "Black Friday" specials on our vast inventory books, toys, and statues. He left sorely disappointed, as we had no special store discounts in place on that day (or throughout the weekend), despite our having stocked up vast quantities of new material both through purchases from our distributors and publishers, and also by purchasing hundreds of private collections during the past 90 days.
The reason that I decided to avoid steep discounting in Jason St. this year is quite simple: I prioritized safeguarding the health of our staff and clients over the annual surge in cash flow provided by our traditionally lucrative holiday sales events. We could certainly have used that additional funding right now, as the number of collections being offered to us in Jason St. is surging as an ever-increasing number of people are being forced to leave Denver due to our high rents, or because of financial distress. Hardly a day goes by without at least one collection being offered to us, and sometimes as many as 6-10 are carried in to our store from overloaded cars and vans that are about to hit the road to places unknown. To help these people out, we do our best to buy whatever they might be offering, even if we know that their material might take years for us to sell. It is just the right thing to do.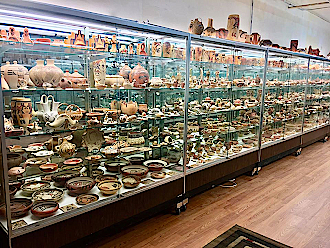 Pueblo Indian pottery collection

That having been said, I stretched our finances a little by avoiding any possible holiday crowding in Jason St. over this past weekend. We did have reasonably good sales Friday-Saturday-Sunday, but nothing like years past, when it would be hard to find a parking space near the store. At the same time, however, we kept total occupancy in our wonderful Mega-Store to fewer than 30 clients pretty much for the entire weekend, with a typical moment having 10-15 people shopping in our 40,000 square feet of retail space. In these days of elevated COVID risk, when social distancing is key to keeping everyone safe, I think that we did a really good job. 'Nuff said.
As regards our online 50% off BLACKFRIDAY! codeword sale, it will be ending (promptly) tomorrow (Tuesday) at noon, a victim of its own success. Based upon the limited staffing we have right now in our back issues department, I am projecting that we have about a one-week backlog of orders to fill. In these tenuous times when even our Colorado governor has contracted COVID, I don't want to extend us out any further than a week, so I am putting the brakes on our sales until the pandemic subsides.
If you wish to receive a 50% discount on your order for back issue comics or magazines from our vast inventory of 10,000,000+ items, please submit your BLACKFRIDAY! order right away. Only new issues, a few variants, and our professionally-graded items are excluded from this huge half price sale. As of noon tomorrow, a new 40% off DECEMBER codeword will go into effect, but just for a week. I will then decide next Monday as to whether to keep that 40% codeword for the rest of the month, or whether to make further adjustments. I will let you know.
Please be careful, and stay safe.
Happy collecting!
Chuck Rozanski/Bettie Pages,
President - Mile High Comics, Inc.
November 30, 2020
P.S. Below is another list of new back issue arrivals. We are buying so much right now that we cannot possibly keep up with all the sorting and grading. I even personally helped out a young couple yesterday who were downsizing in anticipation of moving, by purchasing their collection from them on a day when I was supposed to be isolated upstairs at Jason St., working only on adding displays in my Pueblo pottery gallery. I just cannot allow those in distress to suffer, however, so I keep us buying, no matter what may come.
MARVEL

AGE OF APOCALYPSE (2012) (#1-14) (FROM THE PAGES...) #2

AGE OF APOCALYPSE (2012) (#1-14) (FROM THE PAGES...) #2 Near Mint/Mint
AGE OF APOCALYPSE (2012) (#1-14) (FROM THE PAGES...) #3 Fine
AGE OF APOCALYPSE (2012) (#1-14) (FROM THE PAGES...) #4 Fine

ALL-NEW X-MEN (2012) (#1-41) #15 Near Mint/Mint

AMAZING FANTASY (2004) (#1-20) (MARVEL) #10 Fine
AMAZING FANTASY (2004) (#1-20) (MARVEL) #10 Very Fine
AMAZING FANTASY (2004) (#1-20) (MARVEL) #13 Near Mint/Mint

AMAZING SPIDER-MAN (1999) (#1-58, #500-700.5) (MARVEL) #549 Near Mint/Mint
AMAZING SPIDER-MAN (1999) (#1-58, #500-700.5) (MARVEL) #683 Near Mint/Mint
AMAZING SPIDER-MAN (1999) (#1-58, #500-700.5) (MARVEL) #684 Near Mint/Mint
AMAZING SPIDER-MAN (1999) (#1-58, #500-700.5) (MARVEL) #685 Very Fine
AMAZING SPIDER-MAN (1999) (#1-58, #500-700.5) (MARVEL) #686 Near Mint/Mint
AMAZING SPIDER-MAN (1999) (#1-58, #500-700.5) (MARVEL) #687 Near Mint/Mint

AMAZING SPIDER-MAN: ENDS OF THE EARTH (BIG HERO 6) (2012) #1 Near Mint/Mint

ANNIE (1982) #1 Very Fine
ANNIE (1982) #2 Near Mint/Mint

AVENGERS (1963) (#1-402) (MARVEL) #272 Near Mint/Mint
AVENGERS (1963) (#1-402) (MARVEL) #286 Near Mint/Mint
AVENGERS (1963) (#1-402) (MARVEL) #293 Near Mint/Mint


AVENGERS (1963) (#1-402) (MARVEL) #295

AVENGERS (1963) (#1-402) (MARVEL) #295 Near Mint/Mint
AVENGERS (1963) (#1-402) (MARVEL) #296 Near Mint/Mint
AVENGERS (1963) (#1-402) (MARVEL) #310 Near Mint/Mint

AVENGERS (2010) (#1-34) (MARVEL) #24 .1 Fine

AVENGERS ACADEMY (2010) #28 Near Mint/Mint
AVENGERS ACADEMY (2010) #29 Very Fine
AVENGERS ACADEMY (2010) #30 Near Mint/Mint

AVENGERS ASSEMBLE (#1-25) (2012) #3 Very Fine
AVENGERS ASSEMBLE (#1-25) (2012) #4 Near Mint/Mint

AVENGERS VS. X-MEN (AVX) (2012) #0 Near Mint/Mint
AVENGERS VS. X-MEN (AVX) (2012) #1 Very Fine
AVENGERS VS. X-MEN (AVX) (2012) #2 Fine
AVENGERS VS. X-MEN (AVX) (2012) #3 Fine
AVENGERS VS. X-MEN (AVX) (2012) #5 Near Mint/Mint

AVENGERS: AGE OF ULTRON FCBD (2012) #0 .1 Near Mint/Mint

AVENGERS: BLACK WIDOW STRIKES (2012) #1 Near Mint/Mint
AVENGERS: BLACK WIDOW STRIKES (2012) #2 Near Mint/Mint

AVENGING SPIDER-MAN (2011) #5 Near Mint/Mint

AVENGING SPIDER-MAN (2011) #6 Near Mint/Mint
AVENGING SPIDER-MAN (2011) #7 Near Mint/Mint

BATTLE SCARS (2011) #6 Near Mint/Mint

BLACK PANTHER (2005) (#1-41) (MARVEL) #33 Near Mint/Mint
BLACK PANTHER (2005) (#1-41) (MARVEL) #34 Near Mint/Mint
BLACK PANTHER (2005) (#1-41) (MARVEL) #37 Near Mint/Mint

BLACK PANTHER (2009) (#1-12 & #513-529) (MARVEL) #6 Near Mint/Mint

BLACK PANTHER ANNUAL (2008) #1 Fine
BLACK PANTHER ANNUAL (2008) #1 Near Mint/Mint
BLACK PANTHER ANNUAL (2008) #1 Very Fine

BLACK WIDOW (2010) (#1-8) (MARVEL) #1 Near Mint/Mint

BLADE RUNNER (1982) #1 Very Fine
BLADE RUNNER (1982) #2 Near Mint/Mint

CAPTAIN AMERICA & .. (#620-640) (2011) #629 Very Fine

DAREDEVIL (2011) (#1-36) (MARVEL) #10 Near Mint/Mint
DAREDEVIL (2011) (#1-36) (MARVEL) #11 Near Mint/Mint

DEADPOOL (2008) (#1-63, 900, 1000) (MARVEL) #53 Very Fine


DEADPOOL (2008) (#1-63, 900, 1000) (MARVEL) #54

DEADPOOL (2008) (#1-63, 900, 1000) (MARVEL) #54 Near Mint/Mint
DEADPOOL (2008) (#1-63, 900, 1000) (MARVEL) #55 Very Fine
DEADPOOL (2008) (#1-63, 900, 1000) (MARVEL) #56 Near Mint/Mint

DEADPOOL MAX (VOL. 2) (2011) #6 Fine

DEATH'S HEAD II (1991) (#1-4) (MARVEL UK) #1 2ND PRT (Marvel United Kingdom Publishings) Very Fine

DRAGONSLAYER (1981) #1 Near Mint/Mint
DRAGONSLAYER (1981) #2 Near Mint/Mint

ETERNALS (1985) (#1-12) (MARVEL LIMITED SERIES) #1 Near Mint/Mint
ETERNALS (1985) (#1-12) (MARVEL LIMITED SERIES) #2 Near Mint/Mint
ETERNALS (1985) (#1-12) (MARVEL LIMITED SERIES) #3 Very Fine
ETERNALS (1985) (#1-12) (MARVEL LIMITED SERIES) #4 Near Mint/Mint
ETERNALS (1985) (#1-12) (MARVEL LIMITED SERIES) #5 Fine
ETERNALS (1985) (#1-12) (MARVEL LIMITED SERIES) #6 Near Mint/Mint
ETERNALS (1985) (#1-12) (MARVEL LIMITED SERIES) #7 Very Fine
ETERNALS (1985) (#1-12) (MARVEL LIMITED SERIES) #8 Near Mint/Mint
ETERNALS (1985) (#1-12) (MARVEL LIMITED SERIES) #9 Near Mint/Mint
ETERNALS (1985) (#1-12) (MARVEL LIMITED SERIES) #10 Near Mint/Mint
ETERNALS (1985) (#1-12) (MARVEL LIMITED SERIES) #11 Near Mint/Mint
ETERNALS (1985) (#1-12) (MARVEL LIMITED SERIES) #12 Near Mint/Mint

FRANCIS, BROTHER OF THE UNIVERSE (1980) #1 Near Mint/Mint

HERCULES (1982) (#1-4) (MARVEL) #1 Near Mint/Mint

HULK (2008) (#1-57) (RED HULK) (MARVEL) #50 Fine


HULK (2008) (#1-57) (RED HULK) (MARVEL) #51

HULK (2008) (#1-57) (RED HULK) (MARVEL) #51 Fine
HULK (2008) (#1-57) (RED HULK) (MARVEL) #52 Near Mint/Mint
HULK (2008) (#1-57) (RED HULK) (MARVEL) #53 Near Mint/Mint

IRON MAN (1968) (#1-332) (INVINCIBLE IRON MAN)(MARVEL) #328 Near Mint/Mint

IRON MAN (2005) (#1-35) (MARVEL) #13 Near Mint/Mint
IRON MAN (2005) (#1-35) (MARVEL) #25 Near Mint/Mint

JAMES BOND (FOR YOUR EYES ONLY) (1981) #1 Near Mint/Mint
JAMES BOND (FOR YOUR EYES ONLY) (1981) #2 Near Mint/Mint

KICK ASS VOL. 2 (2010) #2 Near Mint/Mint

LIFE OF POPE JOHN PAUL II (1983) #1 Near Mint/Mint

LONGSHOT (1985) (#1-6) (MARVEL LIMITED SERIES) #1 Very Fine
LONGSHOT (1985) (#1-6) (MARVEL LIMITED SERIES) #2 Very Fine
LONGSHOT (1985) (#1-6) (MARVEL LIMITED SERIES) #3 Near Mint/Mint
LONGSHOT (1985) (#1-6) (MARVEL LIMITED SERIES) #4 Near Mint/Mint
LONGSHOT (1985) (#1-6) (MARVEL LIMITED SERIES) #5 Very Fine
LONGSHOT (1985) (#1-6) (MARVEL LIMITED SERIES) #6 Very Fine

MARVEL SUPER-HERO CONTEST OF CHAMPIONS (1982) #1 Very Fine
MARVEL SUPER-HERO CONTEST OF CHAMPIONS (1982) #2 Near Mint/Mint
MARVEL SUPER-HERO CONTEST OF CHAMPIONS (1982) #3 Very Fine

MARVEL UNIVERSE (1983) #1 Very Fine

MARVEL UNIVERSE (1983) #2 Very Fine
MARVEL UNIVERSE (1983) #3 Near Mint/Mint
MARVEL UNIVERSE (1983) #4 Near Mint/Mint
MARVEL UNIVERSE (1983) #5 Near Mint/Mint
MARVEL UNIVERSE (1983) #6 Very Fine
MARVEL UNIVERSE (1983) #7 Near Mint/Mint
MARVEL UNIVERSE (1983) #8 Very Fine
MARVEL UNIVERSE (1983) #9 Very Fine
MARVEL UNIVERSE (1983) #10 Very Fine
MARVEL UNIVERSE (1983) #11 Near Mint/Mint
MARVEL UNIVERSE (1983) #12 Near Mint/Mint
MARVEL UNIVERSE (1983) #13 Near Mint/Mint
MARVEL UNIVERSE (1983) #14 Near Mint/Mint
MARVEL UNIVERSE (1983) #15 Near Mint/Mint

MARVEL UNIVERSE UPDATE '89 #1 Near Mint/Mint
MARVEL UNIVERSE UPDATE '89 #2 Near Mint/Mint
MARVEL UNIVERSE UPDATE '89 #3 Very Fine
MARVEL UNIVERSE UPDATE '89 #4 Very Fine
MARVEL UNIVERSE UPDATE '89 #5 Near Mint/Mint
MARVEL UNIVERSE UPDATE '89 #6 Near Mint/Mint
MARVEL UNIVERSE UPDATE '89 #7 Near Mint/Mint

MARVEL UNIVERSE, DELUXE EDITION #1 Very Fine
MARVEL UNIVERSE, DELUXE EDITION #2 Near Mint/Mint
MARVEL UNIVERSE, DELUXE EDITION #3 Near Mint/Mint


MARVEL UNIVERSE, DELUXE EDITION #4

MARVEL UNIVERSE, DELUXE EDITION #4 Near Mint/Mint
MARVEL UNIVERSE, DELUXE EDITION #5 Near Mint/Mint
MARVEL UNIVERSE, DELUXE EDITION #6 Near Mint/Mint
MARVEL UNIVERSE, DELUXE EDITION #7 Near Mint/Mint
MARVEL UNIVERSE, DELUXE EDITION #8 Near Mint/Mint
MARVEL UNIVERSE, DELUXE EDITION #9 Near Mint/Mint
MARVEL UNIVERSE, DELUXE EDITION #10 Near Mint/Mint
MARVEL UNIVERSE, DELUXE EDITION #11 Near Mint/Mint
MARVEL UNIVERSE, DELUXE EDITION #12 Near Mint/Mint
MARVEL UNIVERSE, DELUXE EDITION #13 Near Mint/Mint
MARVEL UNIVERSE, DELUXE EDITION #14 Near Mint/Mint
MARVEL UNIVERSE, DELUXE EDITION #15 Very Fine
MARVEL UNIVERSE, DELUXE EDITION #16 Very Fine
MARVEL UNIVERSE, DELUXE EDITION #17 Near Mint/Mint
MARVEL UNIVERSE, DELUXE EDITION #18 Near Mint/Mint
MARVEL UNIVERSE, DELUXE EDITION #19 Near Mint/Mint
MARVEL UNIVERSE, DELUXE EDITION #20 Fine

MARVEL ZOMBIES: DESTROY (2012) #1 Very Fine
MARVEL ZOMBIES: DESTROY (2012) #2 Very Fine

MARVILLE (2002) #4 Near Mint/Mint

MAXIMUM SECURITY (2000) #1 Near Mint/Mint

MICRONAUTS (1979) (#1-59) (MARVEL) #1 Very Fine
MICRONAUTS (1979) (#1-59) (MARVEL) #2 Near Mint/Mint


MICRONAUTS (1979) (#1-59) (MARVEL) #3

MICRONAUTS (1979) (#1-59) (MARVEL) #3 Very Fine
MICRONAUTS (1979) (#1-59) (MARVEL) #4 Very Fine
MICRONAUTS (1979) (#1-59) (MARVEL) #5 Near Mint/Mint
MICRONAUTS (1979) (#1-59) (MARVEL) #6 Near Mint/Mint
MICRONAUTS (1979) (#1-59) (MARVEL) #7 Near Mint/Mint
MICRONAUTS (1979) (#1-59) (MARVEL) #8 Fine
MICRONAUTS (1979) (#1-59) (MARVEL) #9 Near Mint/Mint
MICRONAUTS (1979) (#1-59) (MARVEL) #10 Near Mint/Mint
MICRONAUTS (1979) (#1-59) (MARVEL) #11 Near Mint/Mint
MICRONAUTS (1979) (#1-59) (MARVEL) #12 Near Mint/Mint
MICRONAUTS (1979) (#1-59) (MARVEL) #13 Very Fine
MICRONAUTS (1979) (#1-59) (MARVEL) #14 Near Mint/Mint
MICRONAUTS (1979) (#1-59) (MARVEL) #15 Near Mint/Mint
MICRONAUTS (1979) (#1-59) (MARVEL) #16 Near Mint/Mint
MICRONAUTS (1979) (#1-59) (MARVEL) #17 Near Mint/Mint
MICRONAUTS (1979) (#1-59) (MARVEL) #18 Near Mint/Mint
MICRONAUTS (1979) (#1-59) (MARVEL) #19 Near Mint/Mint
MICRONAUTS (1979) (#1-59) (MARVEL) #20 Near Mint/Mint
MICRONAUTS (1979) (#1-59) (MARVEL) #21 Near Mint/Mint
MICRONAUTS (1979) (#1-59) (MARVEL) #22 Near Mint/Mint
MICRONAUTS (1979) (#1-59) (MARVEL) #23 Very Fine
MICRONAUTS (1979) (#1-59) (MARVEL) #24 Near Mint/Mint
MICRONAUTS (1979) (#1-59) (MARVEL) #25 Near Mint/Mint
MICRONAUTS (1979) (#1-59) (MARVEL) #26 Very Fine
MICRONAUTS (1979) (#1-59) (MARVEL) #27 Near Mint/Mint
MICRONAUTS (1979) (#1-59) (MARVEL) #28 Very Fine
MICRONAUTS (1979) (#1-59) (MARVEL) #29 Very Fine


MICRONAUTS (1979) (#1-59) (MARVEL) #30

MICRONAUTS (1979) (#1-59) (MARVEL) #30 Near Mint/Mint
MICRONAUTS (1979) (#1-59) (MARVEL) #31 Near Mint/Mint
MICRONAUTS (1979) (#1-59) (MARVEL) #32 Near Mint/Mint
MICRONAUTS (1979) (#1-59) (MARVEL) #33 Near Mint/Mint
MICRONAUTS (1979) (#1-59) (MARVEL) #34 Near Mint/Mint
MICRONAUTS (1979) (#1-59) (MARVEL) #35 Near Mint/Mint
MICRONAUTS (1979) (#1-59) (MARVEL) #36 Near Mint/Mint
MICRONAUTS (1979) (#1-59) (MARVEL) #37 Very Fine
MICRONAUTS (1979) (#1-59) (MARVEL) #38 Very Fine
MICRONAUTS (1979) (#1-59) (MARVEL) #39 Near Mint/Mint
MICRONAUTS (1979) (#1-59) (MARVEL) #40 Near Mint/Mint
MICRONAUTS (1979) (#1-59) (MARVEL) #41 Fine
MICRONAUTS (1979) (#1-59) (MARVEL) #42 Very Fine
MICRONAUTS (1979) (#1-59) (MARVEL) #43 Near Mint/Mint
MICRONAUTS (1979) (#1-59) (MARVEL) #44 Very Fine
MICRONAUTS (1979) (#1-59) (MARVEL) #45 Very Fine
MICRONAUTS (1979) (#1-59) (MARVEL) #46 Near Mint/Mint
MICRONAUTS (1979) (#1-59) (MARVEL) #47 Near Mint/Mint
MICRONAUTS (1979) (#1-59) (MARVEL) #48 Near Mint/Mint
MICRONAUTS (1979) (#1-59) (MARVEL) #49 Very Fine
MICRONAUTS (1979) (#1-59) (MARVEL) #50 Near Mint/Mint
MICRONAUTS (1979) (#1-59) (MARVEL) #51 Near Mint/Mint
MICRONAUTS (1979) (#1-59) (MARVEL) #52 Near Mint/Mint
MICRONAUTS (1979) (#1-59) (MARVEL) #53 Very Fine
MICRONAUTS (1979) (#1-59) (MARVEL) #54 Near Mint/Mint
MICRONAUTS (1979) (#1-59) (MARVEL) #55 Very Fine


MICRONAUTS (1979) (#1-59) (MARVEL) #56

MICRONAUTS (1979) (#1-59) (MARVEL) #56 Near Mint/Mint
MICRONAUTS (1979) (#1-59) (MARVEL) #57 Very Fine
MICRONAUTS (1979) (#1-59) (MARVEL) #58 Near Mint/Mint
MICRONAUTS (1979) (#1-59) (MARVEL) #59 Very Fine

MICRONAUTS (1984) (#1-20) (MARVEL) (THE NEW VOYAGES) #1 Near Mint/Mint
MICRONAUTS (1984) (#1-20) (MARVEL) (THE NEW VOYAGES) #2 Near Mint/Mint
MICRONAUTS (1984) (#1-20) (MARVEL) (THE NEW VOYAGES) #3 Near Mint/Mint
MICRONAUTS (1984) (#1-20) (MARVEL) (THE NEW VOYAGES) #4 Near Mint/Mint
MICRONAUTS (1984) (#1-20) (MARVEL) (THE NEW VOYAGES) #5 Near Mint/Mint
MICRONAUTS (1984) (#1-20) (MARVEL) (THE NEW VOYAGES) #6 Near Mint/Mint
MICRONAUTS (1984) (#1-20) (MARVEL) (THE NEW VOYAGES) #7 Near Mint/Mint
MICRONAUTS (1984) (#1-20) (MARVEL) (THE NEW VOYAGES) #8 Very Fine
MICRONAUTS (1984) (#1-20) (MARVEL) (THE NEW VOYAGES) #9 Very Fine
MICRONAUTS (1984) (#1-20) (MARVEL) (THE NEW VOYAGES) #10 Near Mint/Mint
MICRONAUTS (1984) (#1-20) (MARVEL) (THE NEW VOYAGES) #11 Near Mint/Mint
MICRONAUTS (1984) (#1-20) (MARVEL) (THE NEW VOYAGES) #12 Near Mint/Mint
MICRONAUTS (1984) (#1-20) (MARVEL) (THE NEW VOYAGES) #13 Very Fine
MICRONAUTS (1984) (#1-20) (MARVEL) (THE NEW VOYAGES) #14 Near Mint/Mint
MICRONAUTS (1984) (#1-20) (MARVEL) (THE NEW VOYAGES) #15 Near Mint/Mint
MICRONAUTS (1984) (#1-20) (MARVEL) (THE NEW VOYAGES) #16 Near Mint/Mint
MICRONAUTS (1984) (#1-20) (MARVEL) (THE NEW VOYAGES) #17 Near Mint/Mint
MICRONAUTS (1984) (#1-20) (MARVEL) (THE NEW VOYAGES) #18 Near Mint/Mint
MICRONAUTS (1984) (#1-20) (MARVEL) (THE NEW VOYAGES) #19 Near Mint/Mint
MICRONAUTS (1984) (#1-20) (MARVEL) (THE NEW VOYAGES) #20 Near Mint/Mint

MICRONAUTS ANNUAL #2 Very Fine


MICRONAUTS SPECIAL EDITION (1983) #1

MICRONAUTS SPECIAL EDITION (1983) #1 Very Fine
MICRONAUTS SPECIAL EDITION (1983) #2 Near Mint/Mint
MICRONAUTS SPECIAL EDITION (1983) #3 Near Mint/Mint
MICRONAUTS SPECIAL EDITION (1983) #4 Near Mint/Mint
MICRONAUTS SPECIAL EDITION (1983) #5 Near Mint/Mint

MIGHTY THOR (2011) (#1-23) (MARVEL) #12 Very Fine

MOON KNIGHT (2011) (#1-12) (MARVEL) #12 Near Mint/Mint

MOONSHADOW (1985) #1 Near Mint/Mint

MOTHER TERESA OF CALCUTTA (1984) #1 Near Mint/Mint

NO PRIZE BOOK (MARVEL) (1983) #1 Near Mint/Mint

POWERS (2009) (#1-11) (MARVEL/ICON) #7 Near Mint/Mint

RAIDERS OF THE LOST ARK (1981) #1 Very Fine
RAIDERS OF THE LOST ARK (1981) #2 Very Fine
RAIDERS OF THE LOST ARK (1981) #3 Very Fine

ROBOTIX (1986) #1 Near Mint/Mint

SQUADRON SUPREME (1985) (#1-12) (LIMITED SERIES) #1 Very Fine
SQUADRON SUPREME (1985) (#1-12) (LIMITED SERIES) #2 Near Mint/Mint
SQUADRON SUPREME (1985) (#1-12) (LIMITED SERIES) #3 Near Mint/Mint
SQUADRON SUPREME (1985) (#1-12) (LIMITED SERIES) #4 Near Mint/Mint


SQUADRON SUPREME (1985) (#1-12) (LIMITED SERIES) #5

SQUADRON SUPREME (1985) (#1-12) (LIMITED SERIES) #5 Near Mint/Mint
SQUADRON SUPREME (1985) (#1-12) (LIMITED SERIES) #6 Very Fine
SQUADRON SUPREME (1985) (#1-12) (LIMITED SERIES) #7 Near Mint/Mint
SQUADRON SUPREME (1985) (#1-12) (LIMITED SERIES) #8 Very Fine
SQUADRON SUPREME (1985) (#1-12) (LIMITED SERIES) #9 Near Mint/Mint
SQUADRON SUPREME (1985) (#1-12) (LIMITED SERIES) #10 Near Mint/Mint
SQUADRON SUPREME (1985) (#1-12) (LIMITED SERIES) #11 Near Mint/Mint
SQUADRON SUPREME (1985) (#1-12) (LIMITED SERIES) #12 Very Fine

STAR WARS (1977) (#1-107) (MARVEL) #39 Fine
STAR WARS (1977) (#1-107) (MARVEL) #39 Very Fine
STAR WARS (1977) (#1-107) (MARVEL) #40 Fine
STAR WARS (1977) (#1-107) (MARVEL) #40 Very Fine
STAR WARS (1977) (#1-107) (MARVEL) #41 Fine
STAR WARS (1977) (#1-107) (MARVEL) #41 Very Fine

STAR WARS (2015) (#1-75) (MARVEL) #3 3RD PRINT Near Mint/Mint
STAR WARS (2015) (#1-75) (MARVEL) #4 2ND PRINT Near Mint/Mint
STAR WARS (2015) (#1-75) (MARVEL) #6 2ND PRINT Near Mint/Mint

STAR WARS: DOCTOR APHRA (2020) (#1-UP) (MARVEL) #6 BARTEL Near Mint/Mint

SUPERHERO BOOK OF GOODIES (1977) #2 Very Fine

SUPERHERO CATALOG OF GAMES, BOOKS, TOYS, PUZZLES (1976) #5 Very Good
SUPERHERO CATALOG OF GAMES, BOOKS, TOYS, PUZZLES (1976) #6 Very Fine

THUNDERBOLTS (2012) (#1-32) (MARVEL) #31 Near Mint/Mint

ULTIMATE SPIDER-MAN TPB #12 Very Fine

WEB OF SPIDER-MAN (1985) (#1-129) (MARVEL) #118 Very Fine
WEB OF SPIDER-MAN (1985) (#1-129) (MARVEL) #119 Very Fine

WHO FRAMED ROGER RABBIT GN (1988) #1 Near Mint/Mint

DC
CHECKMATE (1988) #25 Near Mint/Mint

CONVERGENCE: SUICIDE SQUAD (2015) #1 Near Mint/Mint

DC UNIVERSE: TRINITY (1993) #2 Near Mint/Mint

DESTINY: A CHRONICLE OF DEATHS FORETOLD (1997) #2 (DC: Vertigo Press) Near Mint/Mint

EX MACHINA (2004) #46 (DC/Wildstorm) Near Mint/Mint
EX MACHINA (2004) #47 (DC/Wildstorm) Near Mint/Mint

HAWKWORLD (1989) (#1-3) (PRESTIGE) (DC) #1 Near Mint/Mint
HAWKWORLD (1989) (#1-3) (PRESTIGE) (DC) #3 Near Mint/Mint

HAWKWORLD (1990) (#1-32) (DC) #1 Near Mint/Mint
HAWKWORLD (1990) (#1-32) (DC) #2 Near Mint/Mint
HAWKWORLD (1990) (#1-32) (DC) #3 Near Mint/Mint
HAWKWORLD (1990) (#1-32) (DC) #16 Near Mint/Mint
HAWKWORLD (1990) (#1-32) (DC) #26 Near Mint/Mint


HELLBLAZER (1988) (#1-300) (DC VERTIGO) #1

HELLBLAZER (1988) (#1-300) (DC VERTIGO) #1 (DC: Vertigo Press) Very Fine

HEX (1985) #3 Near Mint/Mint

JOE THE BARBARIAN (2010) #1 Near Mint/Mint

LEGENDS OF THE DARK KNIGHT (BATMAN) (1989) #4 Near Mint/Mint
LEGENDS OF THE DARK KNIGHT (BATMAN) (1989) #5 Near Mint/Mint

LEGENDS OF THE WORLD'S FINEST (1994) #1 Near Mint/Mint
LEGENDS OF THE WORLD'S FINEST (1994) #2 Near Mint/Mint
LEGENDS OF THE WORLD'S FINEST (1994) #3 Near Mint/Mint

LEGION '89 (1990) #49 Near Mint/Mint

LEGION OF SUPER-HEROES (1984) (#1-63) (DC) #4 Near Mint/Mint

LEGION OF SUPER-HEROES ANNUAL (1982) #3 Near Mint/Mint

LEGION OF SUPER-HEROES ANNUAL (1985) #1 Near Mint/Mint
LEGION OF SUPER-HEROES ANNUAL (1985) #4 Near Mint/Mint

LEGION OF SUPER-HEROES ANNUAL (1990) #2 Near Mint/Mint

SCALPED (2006) #32 Near Mint/Mint
SCALPED (2006) #33 Near Mint/Mint
SCALPED (2006) #34 Near Mint/Mint

TWILIGHT (1990) #1 Very Fine
TWILIGHT (1990) #2 Very Fine
TWILIGHT (1990) #3 Near Mint/Mint

UNDERWORLD (1987) (#1-4) (DC) #1 Near Mint/Mint
UNDERWORLD (1987) (#1-4) (DC) #2 Very Fine
UNDERWORLD (1987) (#1-4) (DC) #3 Near Mint/Mint
UNDERWORLD (1987) (#1-4) (DC) #4 Near Mint/Mint

WAR OF THE GODS (1991) #1 Near Mint/Mint
WAR OF THE GODS (1991) #2 Near Mint/Mint
WAR OF THE GODS (1991) #3 DELUXE Very Fine
WAR OF THE GODS (1991) #3 Very Fine
WAR OF THE GODS (1991) #4 DELUXE Very Fine

WARLORD (1991) (#1-6) (MINI-SERIES) (DC) #1 Very Fine
WARLORD (1991) (#1-6) (MINI-SERIES) (DC) #2 Near Mint/Mint
WARLORD (1991) (#1-6) (MINI-SERIES) (DC) #3 Near Mint/Mint
WARLORD (1991) (#1-6) (MINI-SERIES) (DC) #4 Near Mint/Mint
WARLORD (1991) (#1-6) (MINI-SERIES) (DC) #5 Near Mint/Mint
WARLORD (1991) (#1-6) (MINI-SERIES) (DC) #6 Very Fine

WEIRD (1988) #1 Very Fine
WEIRD (1988) #2 Near Mint/Mint
WEIRD (1988) #3 Near Mint/Mint
WEIRD (1988) #4 Very Fine

WORLD WITHOUT END (1990) #1 Near Mint/Mint
WORLD WITHOUT END (1990) #2 Near Mint/Mint
WORLD WITHOUT END (1990) #3 Near Mint/Mint
WORLD WITHOUT END (1990) #4 Near Mint/Mint
WORLD WITHOUT END (1990) #5 Near Mint/Mint
WORLD WITHOUT END (1990) #6 Near Mint/Mint

ZATANNA (1993) #1 Fine
ZATANNA (1993) #2 Very Fine
ZATANNA (1993) #3 Very Fine
ZATANNA (1993) #4 Near Mint/Mint

ZERO HOUR: CRISIS IN TIME (1994) #0 Near Mint/Mint
ZERO HOUR: CRISIS IN TIME (1994) #1 Near Mint/Mint

ZERO HOUR: CRISIS IN TIME PREVIEW BOOK (1994) #1 Near Mint/Mint

DARK HORSE COMICS
GRENDEL TALES: FOUR DEVILS,ONE HELL (1993) #1 Near Mint/Mint

GRENDEL: DEVIL'S LEGACY (2000) #3 Near Mint/Mint

IMAGE COMICS
HAUNT (2009) #1 Near Mint/Mint
HAUNT (2009) #2 MCFARLANE Near Mint/Mint
HAUNT (2009) #3 MCFARLANE Near Mint/Mint

HAUNT (2009) #4 MCFARLANE Near Mint/Mint

IMAGE UNITED (2009) #1 C Near Mint/Mint
IMAGE UNITED (2009) #2 C Near Mint/Mint

LIBERTY COMICS: A CBLDF BENEFIT BOOK (2008) #1 MIGNOLA Near Mint/Mint

MAXX (1993) #7 Near Mint/Mint
MAXX (1993) #7 NEWSSTAND Very Fine
MAXX (1993) #7 NEWSSTAND Fine

PILOT SEASON DECLASSIFIED (2009) #1 Near Mint/Mint

INDEPENDENTS
DESTROYER DUCK (1982) #1 (Eclipse Enterprises) Very Fine

DOC MACABRE (2010) #1 (IDW Publishing) Near Mint/Mint
DOC MACABRE (2010) #2 (IDW Publishing) Near Mint/Mint
DOC MACABRE (2010) #3 (IDW Publishing) Near Mint/Mint

DOCTOR WHO ANNUAL (2010) #2011 (IDW Publishing) Near Mint/Mint

DUCK TALES (1990) (#1-18) (WALT DISNEY) #6 (Walt Disney Company) Near Mint/Mint
DUCK TALES (1990) (#1-18) (WALT DISNEY) #7 (Walt Disney Company) Near Mint/Mint

GRIMJACK (1984) #65 (First Comics) Near Mint/Mint
GRIMJACK (1984) #66 (First Comics) Near Mint/Mint

GRIMJACK (1984) #68 (First Comics) Near Mint/Mint
GRIMJACK (1984) #71 (First Comics) Near Mint/Mint
GRIMJACK (1984) #78 (First Comics) Near Mint/Mint

HERO ALLIANCE (INNOVATION) (1989) #6 (Innovation Publishing) Near Mint/Mint
HERO ALLIANCE (INNOVATION) (1989) #7 (Innovation Publishing) Near Mint/Mint

HERO ALLIANCE ANNUAL (1990) #1 (Innovation Publishing) Near Mint/Mint

INTRUDER (1990) #1 (TSR Games) Near Mint/Mint

JANE'S WORLD (2003) #1 (Girl Twirl Comics) Near Mint/Mint

JASON GOES TO HELL MOVIE ADAPTATION #2 (Topps Publishing) Near Mint/Mint

JUDGE DREDD (1986) (#1-77) (FLEETWAY/QUALITY) #43 (Fleetway-Quality Comics) Near Mint/Mint
JUDGE DREDD (1986) (#1-77) (FLEETWAY/QUALITY) #44 (Fleetway-Quality Comics) Near Mint/Mint

JUDGE DREDD'S CRIME FILE #6 (Eagle Comics) Near Mint/Mint

KNIGHTS OF THE DINNER TABLE: HACKMASTERS OF EVERKNIGHT #9 (Kenzer & Company) Near Mint/Mint

LONE RANGER & ZORRO: DEATH OF ZORRO (2011) #5 (DYNAMITE Entertainment) Near Mint/Mint

LONE RANGER (2006) #25 (DYNAMITE Entertainment) Near Mint/Mint

LONE RANGER AND TONTO (2007) #4 (DYNAMITE Entertainment) Near Mint/Mint


MASTERS OF THE UNIVERSE: RISE OF THE SNAKE MEN (2003) #1

MASTERS OF THE UNIVERSE: RISE OF THE SNAKE MEN (2003) #1 (Crossgen Comics) Near Mint/Mint

MR. CREAM PUFF #1 (Blackthorne Publishing) Near Mint/Mint

MR. MONSTER'S TRUE CRIME (1987) #1 (Eclipse Enterprises) Near Mint/Mint
MR. MONSTER'S TRUE CRIME (1987) #2 (Eclipse Enterprises) Near Mint/Mint

MS. TREE (1983) #4 (Eclipse Enterprises) Near Mint/Mint
MS. TREE (1983) #23 (Eclipse Enterprises) Near Mint/Mint
MS. TREE (1983) #24 (Eclipse Enterprises) Near Mint/Mint
MS. TREE (1983) #26 (Eclipse Enterprises) Near Mint/Mint
MS. TREE (1983) #33 (Eclipse Enterprises) Near Mint/Mint

PRIMORTALS (1995) (#1-15) (TEKNO) (LEONARD NIMOY) #1 NIMOY SGN (Tekno Comix) Very Fine
PRIMORTALS (1995) (#1-15) (TEKNO) (LEONARD NIMOY) #2 NIMOY SGN (Tekno Comix) Very Fine
PRIMORTALS (1995) (#1-15) (TEKNO) (LEONARD NIMOY) #3 NEWSSTAND (Tekno Comix) Near Mint/Mint

PROJECT SUPERPOWERS: X-MAS CAROL (2010) #1 (DYNAMITE Entertainment) Near Mint/Mint

SNAKE EYES (GI JOE) (2011) #7 B (IDW Publishing) Very Fine
SNAKE EYES (GI JOE) (2011) #8 A (IDW Publishing) Fine

STAR TREK CAPTAIN'S LOG: SULU (2010) #1 (IDW Publishing) Near Mint/Mint

STAR TREK: NERO (2009) #3 (IDW Publishing) Near Mint/Mint
STAR TREK: NERO (2009) #4 (IDW Publishing) Near Mint/Mint


STAR TREK: ROMULANS - SCHISM (2009) #2

STAR TREK: ROMULANS - SCHISM (2009) #2 (IDW Publishing) Near Mint/Mint
STAR TREK: ROMULANS - SCHISM (2009) #3 (IDW Publishing) Near Mint/Mint

STAR TREK: SPOCK - REFLECTIONS (2009) #4 (IDW Publishing) Near Mint/Mint

WAREHOUSE 13 (2011) #1 PHOTO (DYNAMITE Entertainment) Fine
WAREHOUSE 13 (2011) #2 PHOTO (DYNAMITE Entertainment) Fine
WAREHOUSE 13 (2011) #3 (DYNAMITE Entertainment) Near Mint/Mint

WARLORD OF MARS (2010) #2 CAMPBELL (DYNAMITE Entertainment) Fine
WARLORD OF MARS (2010) #3 JUSKO (DYNAMITE Entertainment) Very Fine

WARLORD OF MARS: DEJAH THORIS (2011) #3 GARZA (DYNAMITE Entertainment) Very Fine
WARLORD OF MARS: DEJAH THORIS (2011) #6 GARZA (DYNAMITE Entertainment) Near Mint/Mint
WARLORD OF MARS: DEJAH THORIS (2011) #8 JUSKO (DYNAMITE Entertainment) Near Mint/Mint