New Collection Listing - Prices Lowered
Howdy!
I am headed out to the Food Bank of the Rockies this morning, to help Jim Scharper pick up several pallets of donated food. Jim's pickup will hold two giant pallets, but I have to truck our loaves of bread and cookies in my old minivan, along with as many cases of granola bars as I can fit. We are hoping to be able to make another 800 lunches tomorrow, so we are picking up a lot...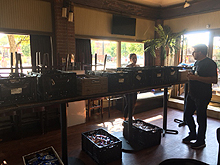 Getting the assembly line ready to make meals

As regards Mile High Comics, life is going very well here. We have that small backlog in our back issues now completely caught up, and are providing extra assistance to Mario in bringing our new comics subscription area back to completely current. In the meantime, Will and Pam have been doing quite a good job of adding even more very nice comics into our website inventory. The collection that Will purchased here at Jason St. on Saturday had a very broad spectrum of nice titles, ranging from AVENGERS (1963) #2, right up through issues only a few months old. Life is good!
I will stop writing now, and head out to the Food Bank. if you haven't already, please remember that we are offering to donate $25 to helping the homeless through Snow Ball charities for every $25 gift certificate that you purchase from us through November 19th. You can use your gift certificate with your next order, so this contribution essentially costs you nothing.
Purchasing a gift certificate also gets you an entry into a drawing for a $1,000 Mile High Comics shopping spree. We only have about 80 entries thus far, so your odds of winning that $1,000 shopping spree are rather decent. FYI, your $25 contribution will also purchase $500 in food, as non-profits get a huge discount from original retail price out at the Food Bank.
Happy Collecting!
Chuck Rozanski,
President - Mile High Comics, Inc.
November 9, 2016

P.S. Below is a listing of the Premium New-In-Stock issues from this past week. More than a few have already sold, however, as our drastically reduced prices are causing key issues to sell very rapidly.
MARVEL
AMAZING SPIDER-MAN (1999) (#1-700.5) (MARVEL) #666 TRADESMART Fine
AMAZING SPIDER-MAN (1999) (#1-700.5) (MARVEL) #698 3RD PRINT Very Fine
AMAZING SPIDER-MAN (1999) (#1-700.5) (MARVEL) #699 .1 Near Mint/Mint
AMAZING SPIDER-MAN (1999) (#1-700.5) (MARVEL) #700 MARTIN Near Mint/Mint
AMAZING SPIDER-MAN (2015) (#1-UP) (MARVEL) #20 BIANCHI Near Mint/Mint
AVENGERS (1963) (#1-402) (MARVEL) #2 Good

AVENGERS (1963) (#1-402) (MARVEL) #8 Fair
AVENGERS (1963) (#1-402) (MARVEL) #20 Good
AVENGERS (1963) (#1-402) (MARVEL) #37 Good
AVENGERS (1963) (#1-402) (MARVEL) #41 Good
AVENGERS (1963) (#1-402) (MARVEL) #42 Good
AVENGERS (1963) (#1-402) (MARVEL) #44 Very Good
AVENGERS (1963) (#1-402) (MARVEL) #45 Good
AVENGERS (1963) (#1-402) (MARVEL) #64 Fine
AVENGERS (1963) (#1-402) (MARVEL) #121 Fine
AVENGERS (1963) (#1-402) (MARVEL) #122 Fine
AVENGERS (1963) (#1-402) (MARVEL) #158 Very Fine
AVENGERS (2013) (#1-44) (MARVEL) #24 HASTINGS Near Mint/Mint
AVENGERS (2016) (#1-UP) (MARVEL NOW) #1 KUBERT Near Mint/Mint
AVENGERS ANNUAL (1967) #9 NEWSSTAND Fine
AVENGERS: CHILDREN'S CRUSADE (2010) #9 Near Mint/Mint
BLACK PANTHER (1976) (#1-15) (MARVEL) #1 Fine
BLACK PANTHER (1976) (#1-15) (MARVEL) #2 Very Fine
BLACK PANTHER (1976) (#1-15) (MARVEL) #3 Fine
BLACK PANTHER (2016) (#1-UP) (MARVEL) #7 COSPLAY Near Mint/Mint
BLACK PANTHER (2016) (#1-UP) (MARVEL) #7 SAUVAGE Very Fine
BLACK WIDOW (2016) (#1-UP) (MARVEL) #7 BRIGMAN Near Mint/Mint
CABLE AND DEADPOOL (2003) #50 Fine
CAGE (2016) (#1-UP) (MARVEL NOW) (LUKE CAGE) #1 VON Near Mint/Mint
CAPTAIN AMERICA (1968) #124 Fine
CAPTAIN AMERICA (1968) #272 NEWSSTAND Fine
CAPTAIN AMERICA (1968) #274 NEWSSTAND Fine
CAPTAIN AMERICA (1968) #317 NEWSSTAND Near Mint/Mint
CAPTAIN AMERICA (1968) #341 Fine
CAPTAIN AMERICA (1968) #341 Very Fine
CAPTAIN AMERICA (1968) #350 Very Fine
CAPTAIN AMERICA (1968) #359 Fine
CAPTAIN AMERICA (1968) #359 Near Mint/Mint
CAPTAIN AMERICA (1968) #360 Near Mint/Mint
CAPTAIN AMERICA (1968) #360 Fine
CAPTAIN AMERICA (1968) #360 NEWSSTAND Very Good
CAPTAIN AMERICA (1968) #361 NEWSSTAND Fine
CAPTAIN AMERICA (1968) #363 Near Mint/Mint
CAPTAIN AMERICA (1968) #363 NEWSSTAND Very Fine
CAPTAIN AMERICA (1968) #364 Near Mint/Mint
CAPTAIN AMERICA (1968) #364 NEWSSTAND Near Mint/Mint
CAPTAIN AMERICA (1968) #372 NEWSSTAND Near Mint/Mint
CAPTAIN AMERICA (1968) #438 NEWSSTAND Near Mint/Mint
CAPTAIN AMERICA (1968) #452 NEWSSTAND Fine
CAPTAIN AMERICA ANNUAL (1971) #8 NEWSSTAND Fine
CAPTAIN AMERICA: SAM WILSON (2015) #14 BRODERICK Near Mint/Mint
CAPTAIN MARVEL (1968) (#1-62) (MARVEL) #8 Fine
CAPTAIN MARVEL (1968) (#1-62) (MARVEL) #33 Good
CARNAGE VOL. 2: WORLD TOUR TPB (2016) #1 Near Mint/Mint
CARNAGE: IT'S A WONDERFUL LIFE (1996) #1 Near Mint/Mint
CHAMPIONS (2016) (#1-UP) (MARVEL NOW) #1 FOSGITTB&W Near Mint/Mint
CHAMPIONS (2016) (#1-UP) (MARVEL NOW) #2 CHOI Near Mint/Mint
CIVIL WAR II (2016) #1 BATTLE Near Mint/Mint
CIVIL WAR II (2016) #1 CHO Near Mint/Mint
CIVIL WAR II (2016) #1 MCNIVEN Near Mint/Mint
CIVIL WAR II (2016) #1 MCNIVENSKT Near Mint/Mint
CIVIL WAR II (2016) #1 PUTRI B&W Near Mint/Mint
CIVIL WAR II (2016) #2 NOTO Near Mint/Mint
CIVIL WAR II: AMAZING SPIDER-MAN TPB (2016) #1 Near Mint/Mint
CLIVE BARKER'S HELLRAISER (1989) #1 NEWSSTAND Very Fine
CLIVE BARKER'S HELLRAISER (1989) #2 NEWSSTAND Near Mint/Mint
CLIVE BARKER'S HELLRAISER (1989) #3 NEWSSTAND Near Mint/Mint
CLIVE BARKER'S HELLRAISER (1989) #4 NEWSSTAND Near Mint/Mint
CLIVE BARKER'S HELLRAISER (1989) #5 NEWSSTAND Near Mint/Mint
CLIVE BARKER'S HELLRAISER (1989) #6 NEWSSTAND Near Mint/Mint
CLIVE BARKER'S HELLRAISER (1989) #7 Near Mint/Mint
CLIVE BARKER'S HELLRAISER (1989) #8 NEWSSTAND Near Mint/Mint
CLIVE BARKER'S HELLRAISER (1989) #9 NEWSSTAND Near Mint/Mint
CLIVE BARKER'S HELLRAISER (1989) #10 NEWSSTAND Near Mint/Mint
CLIVE BARKER'S HELLRAISER (1989) #18 NEWSSTAND Near Mint/Mint
CLIVE BARKER'S HELLRAISER (1989) #20 Near Mint/Mint
CREATURES ON THE LOOSE (1971) #30 Very Fine
DAKEN & X-23: COLLISION HC (2011) #1 Near Mint/Mint
DAKEN & X-23: COLLISION TPB (2012) #1 Near Mint/Mint
DAREDEVIL (1964) (#1-380) (MAN WITHOUT FEAR) (MARVEL) #14 Good
DAREDEVIL (1964) (#1-380) (MAN WITHOUT FEAR) (MARVEL) #44 Very Good
DAREDEVIL (1964) (#1-380) (MAN WITHOUT FEAR) (MARVEL) #52 Very Good
DAREDEVIL (1964) (#1-380) (MAN WITHOUT FEAR) (MARVEL) #158 Good
DAREDEVIL (1964) (#1-380) (MAN WITHOUT FEAR) (MARVEL) #161 NEWSSTAND Very Good


DAREDEVIL (1964) #169 NEWSSTAND

DAREDEVIL (1964) (#1-380) (MAN WITHOUT FEAR) (MARVEL) #169 NEWSSTAND Very Fine
DARTH VADER (STAR WARS) (2015) #25 CHIANG Near Mint/Mint
DARTH VADER (STAR WARS) (2015) #25 CHO Near Mint/Mint
DARTH VADER (STAR WARS) (2015) #25 PICHELLI Near Mint/Mint
DARTH VADER (STAR WARS) (2015) #25 QUESADA Near Mint/Mint
DARTH VADER (STAR WARS) (2015) #25 SAMNEE Near Mint/Mint
DEADLY HANDS OF KUNG-FU OMNIBUS HC (2016) #1 DELL OTTO Near Mint/Mint
DEADPOOL (2012) (#1-45, 250) (MARVEL) #29 HASTINGS Near Mint/Mint
DEADPOOL (2012) (#1-45, 250) (MARVEL) #36 VARIANT Very Fine
DEADPOOL (2016) (#1-UP) (MARVEL) #21 LEE Near Mint/Mint
DEADPOOL VS. GAMBIT: V IS FOR VERSUS TPB (2016) #1 Near Mint/Mint
DEADPOOL WORLD'S GREATEST VOL. 4: TEMPORARY INSANIT TPB (2016) #1 Near Mint/Mint
DOCTOR STRANGE & THE SECRET DEFENDERS TPB (2016) #1 Near Mint/Mint
DOCTOR STRANGE EPIC COLLECTION: SEPARATE REALITY TPB (2016) #1 Near Mint/Mint
DOCTOR STRANGE: DON'T PAY THE FERRYMAN TPB (2015) #1 Near Mint/Mint
DOCTOR STRANGE: FLIGHT OF BONES TPB (2016) #1 Near Mint/Mint
DOCTOR STRANGE: SORCERERS SUPREME (MARVEL NOW) (2016) #1 DESIGN Near Mint/Mint
DOCTOR STRANGE: SORCERERS SUPREME (MARVEL NOW) (2016) #1 RODRIGUEZ Near Mint/Mint
DOCTOR STRANGE: STRANGE ORIGIN TPB (2016) #1 Near Mint/Mint
DOCTOR STRANGE: WHAT IS IT THAT DISTURBS YOU TPB (2016) #1 Near Mint/Mint
DR. STRANGE: OATH TPB (2ND EDITION) (2013) #1 3RD PRINT Near Mint/Mint
DREADSTAR (1982) #16 Near Mint/Mint
FANTASTIC FOUR (1961) (#1-416) (MARVEL) #31 Fair
FANTASTIC FOUR (1961) (#1-416) (MARVEL) #32 Fair
FANTASTIC FOUR (1961) (#1-416) (MARVEL) #33 Fair
FANTASTIC FOUR (1961) (#1-416) (MARVEL) #34 Fair
FANTASTIC FOUR (1961) (#1-416) (MARVEL) #37 Fair
FANTASTIC FOUR (1961) (#1-416) (MARVEL) #42 Fair
FANTASTIC FOUR (1961) (#1-416) (MARVEL) #44 Good
FANTASTIC FOUR (1961) (#1-416) (MARVEL) #77 Good
FANTASTIC FOUR (1961) (#1-416) (MARVEL) #112 Fair
FANTASTIC FOUR (1961) (#1-416) (MARVEL) #260 NEWSSTAND Fine
FANTASTIC FOUR (1961) (#1-416) (MARVEL) #279 NEWSSTAND Near Mint/Mint
FANTASTIC FOUR (2014) (#1-14, #642-645) (MARVEL) #1 HASTINGS Near Mint/Mint
FANTASTIC FOUR ANNUAL (1963) #4 Good
FANTASTIC FOUR ANNUAL (1963) #5 Good
FEAR (ADVENTURE INTO...) (1970) #20 Fine
FEAR (ADVENTURE INTO...) (1970) #24 Fine
GI JOE #1 Fine
GUARDIANS OF THE GALAXY (2013) #5 HASTINGS Very Fine
GWENPOOL (2016) #7 MONARDO Near Mint/Mint
HOWARD THE DUCK (1976) #1 Very Good
HOWARD THE DUCK (1976) #13 Fine
HOWARD THE DUCK (1976) #13 Very Good
HOWARD THE DUCK (1976) #13 WHITMAN Fine
HULK (1962) (#1-6, #102-635) (INCREDIBLE) (MARVEL) #122 Good
HULK (1962) (#1-6, #102-635) (INCREDIBLE) (MARVEL) #250 NEWSSTAND Fine
HULK (1962) (#1-6, #102-635) (INCREDIBLE) (MARVEL) #340 Very Fine
HULK VS. VENOM (1994) #1 Near Mint/Mint
INFAMOUS IRON MAN (MARVEL NOW) (2016) #1 RIBIC Near Mint/Mint
INFINITY CRUSADE (1993) #4 Near Mint/Mint
INFINITY GAUNTLET (1991) #1 Near Mint/Mint
INFINITY GAUNTLET (1991) #1 Very Fine
INFINITY GAUNTLET (1991) #2 Near Mint/Mint
INFINITY GAUNTLET (1991) #3 Near Mint/Mint
INFINITY GAUNTLET (1991) #4 Near Mint/Mint
INFINITY GAUNTLET (1991) #4 Fine
INFINITY GAUNTLET (1991) #4 Very Fine
INFINITY GAUNTLET (1991) #5 Fine

INFINITY GAUNTLET (1991) #5 Very Fine
INFINITY GAUNTLET (1991) #6 Fine
INFINITY GAUNTLET (1991) #6 Very Fine
INFINITY WAR (1992) #5 Near Mint/Mint
INFINITY WAR (1992) #6 Near Mint/Mint
INHUMANS (1975) #1 Fine
INHUMANS (1975) #2 Fine
INHUMANS (1975) #5 Very Fine
INHUMANS (1975) #8 Very Fine
INHUMANS (1975) #9 Very Fine
INHUMANS (1975) #10 Very Fine
INHUMANS (1975) #11 Very Fine
INVINCIBLE IRON MAN (2016) (#1-UP) (RIRI WILLIAMS) #1 DEKAL Near Mint/Mint
IRON MAN (1968) (#1-332) (INVINCIBLE IRON MAN)(MARVEL) #55 Fine
IRON MAN (1968) (#1-332) (INVINCIBLE IRON MAN)(MARVEL) #55 Very Good
IRON MAN (1968) (#1-332) (INVINCIBLE IRON MAN)(MARVEL) #56 BRITISH Fair
IRON MAN (1968) (#1-332) (INVINCIBLE IRON MAN)(MARVEL) #66 Very Good
IRON MAN (1968) (#1-332) (INVINCIBLE IRON MAN)(MARVEL) #91 BRITISH Fine
IRON MAN (1968) (#1-332) (INVINCIBLE IRON MAN)(MARVEL) #95 Fine
IRON MAN (1968) (#1-332) (INVINCIBLE IRON MAN)(MARVEL) #128 Fine
IRON MAN (1968) (#1-332) (INVINCIBLE IRON MAN)(MARVEL) #137 Very Fine
IRON MAN (1968) (#1-332) (INVINCIBLE IRON MAN)(MARVEL) #282 Fine
IRON MAN (1968) (#1-332) (INVINCIBLE IRON MAN)(MARVEL) #282 Very Fine
IRON MAN (1968) (#1-332) (INVINCIBLE IRON MAN)(MARVEL) #304 Near Mint/Mint
JOHN CARTER ANNUAL (1977) #2 Near Mint/Mint
KRAZY KROW (1945) #7 IW REPRINT Good
MACHINE MAN (1984) #3 NEWSSTAND Very Fine
MARVEL AGE (1983) #41 Near Mint/Mint
MARVEL CHILLERS (1975) #3 BRITISH Fine
MARVEL COLLECTORS ITEM CLASSICS (1965) #2 Very Good
MARVEL COLLECTORS ITEM CLASSICS (1965) #21 Very Fine
MARVEL FEATURE (1971) #11 Very Good
MARVEL MASTERWORKS NEW EDITION: DOCTOR STRANGE (2003) #7 Near Mint/Mint
MARVEL MASTERWORKS NEW EDITION: DOCTOR STRANGE (2003) #7 GOLD FOIL Near Mint/Mint
MARVEL MASTERWORKS: BLACK PANTHER HC (2010) #2 DELUXE Near Mint/Mint
MARVEL PREMIERE (1972) #12 Very Fine
MARVEL PREMIERE (1972) #16 Very Good
MARVEL PREMIERE (1972) #17 Very Fine
MARVEL PREMIERE (1972) #47 Good
MARVEL SUPER ACTION (1977) #1 WHITMAN Very Good
MARVEL SUPER SPECIAL (1977) #22 NEWSSTAND Very Fine
MARVEL TALES (1964) #1 Fair
MARVEL TALES (1964) #1 Good
MARVEL TALES (1964) #9 Fine
MARVEL TEAM-UP (1972) #10 Fine
MARVEL TEAM-UP (1972) #53 Fine
MARVEL VS. DC #3 Near Mint/Mint
MARVEL'S GREATEST COMICS (1969) #26 Fine
MASTER OF KUNG FU (1974) #15 Good
MASTER OF KUNG FU ANNUAL (1976) #1 Very Fine
MIGHTY THOR (FEMALE THOR) (JANE FOSTER) (2015) #8 HILDEBRANT Near Mint/Mint
MILLIE THE MODEL (1945) #149 Fine
MOCKINGBIRD (2016) #8 COSPLAY Near Mint/Mint
MS. MARVEL (2015) (#1-UP) (MARVEL) (KAMALA KHAN) #12 TAINI Near Mint/Mint
MS. MARVEL (2015) (#1-UP) (MARVEL) (KAMALA KHAN) #12 JONES Near Mint/Mint
MS. MARVEL (2015) (#1-UP) (MARVEL) (KAMALA KHAN) #12 TAINI Very Fine

NEW MUTANTS (1983) #16 Near Mint/Mint
NEW MUTANTS (1983) #17 Near Mint/Mint
NEW MUTANTS (1983) #25 Near Mint/Mint
NEW MUTANTS (1983) #26 Near Mint/Mint
NEW MUTANTS (1983) #27 Near Mint/Mint
NEW MUTANTS (1983) #28 Fine
NEW MUTANTS (1983) #38 Near Mint/Mint
NEW MUTANTS (1983) #39 Near Mint/Mint
NEW MUTANTS (1983) #41 Near Mint/Mint
NEW MUTANTS (1983) #43 Near Mint/Mint
NEW MUTANTS (1983) #46 Near Mint/Mint
NEW MUTANTS (1983) #49 Near Mint/Mint
NEW MUTANTS (1983) #50 Near Mint/Mint
NEW MUTANTS (1983) #58 Near Mint/Mint
NEW MUTANTS (1983) #59 Near Mint/Mint
NEW MUTANTS (1983) #60 Near Mint/Mint
NEW MUTANTS (1983) #72 Near Mint/Mint
NEW MUTANTS (1983) #73 Near Mint/Mint
NEW MUTANTS (1983) #74 Near Mint/Mint
NEW MUTANTS (1983) #75 Near Mint/Mint
NEW MUTANTS (1983) #94 NEWSSTAND Fine
NEW MUTANTS (1983) #95 Fine
NEW MUTANTS (1983) #96 Very Fine
NEW MUTANTS (1983) #97 Very Fine
NEW MUTANTS (1983) #100 NEWSSTAND Very Fine
NEW MUTANTS ANNUAL (1983) #2 Near Mint/Mint
NIGHTBREED (CLIVE BARKER'S) (1990) #7 Very Fine
NIGHTBREED (CLIVE BARKER'S) (1990) #8 Very Fine
NIGHTBREED (CLIVE BARKER'S) (1990) #9 Very Fine
NIGHTBREED (CLIVE BARKER'S) (1990) #10 Near Mint/Mint
NIGHTBREED (CLIVE BARKER'S) (1990) #11 Fine
NIGHTBREED (CLIVE BARKER'S) (1990) #12 Near Mint/Mint
NIGHTBREED (CLIVE BARKER'S) (1990) #13 Near Mint/Mint
NIGHTBREED (CLIVE BARKER'S) (1990) #14 Near Mint/Mint
NIGHTBREED (CLIVE BARKER'S) (1990) #15 Very Fine
NIGHTBREED (CLIVE BARKER'S) (1990) #16 Very Fine
NIGHTBREED (CLIVE BARKER'S) (1990) #17 Near Mint/Mint
NIGHTBREED (CLIVE BARKER'S) (1990) #18 Fine
NIGHTBREED (CLIVE BARKER'S) (1990) #19 Fine
NIGHTBREED (CLIVE BARKER'S) (1990) #20 Very Fine
NIGHTBREED (CLIVE BARKER'S) (1990) #24 Near Mint/Mint
NIGHTBREED (CLIVE BARKER'S) (1990) #25 Near Mint/Mint
ORIGIN 2 (WOLVERINE) (2013) #1 HASTINGS Near Mint/Mint
ORIGINAL SIN (2014) #1 HASTINGS Near Mint/Mint
PATSY WALKER, AKA HELLCAT (2015) #11 COSPLAY Near Mint/Mint
PATSY WALKER, AKA HELLCAT (2015) #11 JARRELL Near Mint/Mint
PETER PARKER (SPECTACULAR SPIDER-MAN) (1976) #1 Fine
PETER PARKER (SPECTACULAR SPIDER-MAN) (1976) #64 NEWSSTAND Fine
POWER MAN & IRON FIST (2016) (#1-UP)(MARVEL)(LUKE CAGE) #1 HIP HOP Near Mint/Mint
POWER MAN/IRON FIST (LUKE CAGE, POWER MAN #1-49) (1972) #125 NEWSSTAND Very Fine
PROWLER (2016) (#1-UP) (MARVEL NOW) #1 HALL Near Mint/Mint
PUNISHER (1987) (#1-104) (MARVEL) #1 Fine
PUNISHER (2016) (#1-UP) (MARVEL) #6 COSPLAY Near Mint/Mint
RAWHIDE KID TPB (2003) #1 Very Fine
ROCKET RACCOON & GROOT VOL. 00: BITE & BARK TPB (2016) #1 Fine
SECRET WARS (1984) #8 NEWSSTAND Very Good
SECRET WARS (2015) #7 HASTINGS Near Mint/Mint
SHIELD (1968) #3 Fine
SHIELD (1968) #11 Fine
SPIDER-GWEN (DECEMBER) (2015) #1 HASTINGS Near Mint/Mint
SPIDER-MAN (1963) (AMAZING SPIDER-MAN) (#1-441) #30 Fair
SPIDER-MAN (1963) (AMAZING SPIDER-MAN) (#1-441) #91 Good
SPIDER-MAN (1963) (AMAZING SPIDER-MAN) (#1-441) #102 Good

SPIDER-MAN (1963) (AMAZING SPIDER-MAN) (#1-441) #166 Very Fine
SPIDER-MAN (1963) (AMAZING SPIDER-MAN) (#1-441) #167 Near Mint/Mint
SPIDER-MAN (1963) (AMAZING SPIDER-MAN) (#1-441) #168 Very Fine
SPIDER-MAN (1963) (AMAZING SPIDER-MAN) (#1-441) #171 Very Fine
SPIDER-MAN (1963) (AMAZING SPIDER-MAN) (#1-441) #186 Very Fine
SPIDER-MAN (1963) (AMAZING SPIDER-MAN) (#1-441) #190 Near Mint/Mint
SPIDER-MAN (1963) (AMAZING SPIDER-MAN) (#1-441) #191 Near Mint/Mint
SPIDER-MAN (1963) (AMAZING SPIDER-MAN) (#1-441) #192 Near Mint/Mint
SPIDER-MAN (1963) (AMAZING SPIDER-MAN) (#1-441) #204 NEWSSTAND Near Mint/Mint
SPIDER-MAN (1963) (AMAZING SPIDER-MAN) (#1-441) #206 NEWSSTAND Very Fine
SPIDER-MAN (1963) (AMAZING SPIDER-MAN) (#1-441) #248 Near Mint/Mint
SPIDER-MAN (1963) (AMAZING SPIDER-MAN) (#1-441) #253 Near Mint/Mint
SPIDER-MAN (1963) (AMAZING SPIDER-MAN) (#1-441) #259 Near Mint/Mint
SPIDER-MAN (1963) (AMAZING SPIDER-MAN) (#1-441) #260 NEWSSTAND Fine
SPIDER-MAN (1963) (AMAZING SPIDER-MAN) (#1-441) #299 Very Fine
SPIDER-MAN (1963) (AMAZING SPIDER-MAN) (#1-441) #300 Fine
SPIDER-MAN (1963) (AMAZING SPIDER-MAN) (#1-441) #361 2ND PRT Very Fine
SPIDER-MAN (1963) (AMAZING SPIDER-MAN) (#1-441) #431 Near Mint/Mint
SPIDER-MAN (1990) (#1-74, PETER PARKER SPIDEY #75-98) #1 SILVBAG Near Mint/Mint
SPIDER-MAN (1990) (#1-74, PETER PARKER SPIDEY #75-98) #5 Near Mint/Mint
SPIDER-MAN & THE X-MEN (2014) #1 HASTINGS Very Fine
SPIDER-MAN ANNUAL (1964) #4 Fair
SPIDER-MAN ANNUAL (1964) #7 Very Fine
SPIDER-MAN ANNUAL (1964) #14 NEWSSTAND Very Fine
SPIDER-MAN ANNUAL (1964) #15 Near Mint/Mint
SPIDER-MAN ANNUAL (1964) #16 Near Mint/Mint
SPIDER-MAN ANNUAL (1964) #17 Near Mint/Mint
SPIDER-MAN VS. WOLVERINE (1987) #1 Near Mint/Mint
SPIDER-MAN/BATMAN #1 Very Fine
SPIDER-WOMAN (1978) (#1-50) (JESSICA DREW) (MARVEL) #1 Fine
STAR WARS (1977) #3 Very Fine
STAR WARS (1977) #6 Very Fine
STAR WARS (1977) #7 Fine
STAR WARS (1977) #7 Very Fine
STAR WARS (1977) #8 Very Fine
STAR WARS (1977) #9 Fine
STAR WARS (1977) #11 Very Fine
STAR WARS (1977) #12 Very Fine
STAR WARS (1977) #13 Very Fine
STAR WARS (1977) #15 WHITMAN Fine
STAR WARS (1977) #19 Very Fine
STAR WARS (1977) #62 NEWSSTAND Very Fine
STAR WARS (1977) #80 Fine
STAR WARS (1977) #87 Fine
STAR WARS (1977) #95 Fine
STAR WARS (1977) #95 Very Fine
STAR WARS (1977) #97 Very Fine
STAR WARS (2015) #24 MILE HIGH Near Mint/Mint
STAR WARS (2015) #24 SKETCH CV Near Mint/Mint

STAR WARS ANNUAL (1979) #1 Near Mint/Mint
STAR WARS LEGENDS EPIC COLL: ORIGINAL MARVEL YEARS TPB (2016) #1 Near Mint/Mint
STAR WARS: FORCE AWAKENS ADAPTATION (2016) #1 CASSADAY Near Mint/Mint
STAR WARS: FORCE AWAKENS ADAPTATION (2016) #1 MOVIE VAR Near Mint/Mint
STAR WARS: FORCE AWAKENS ADAPTATION (2016) #1 NOTO Near Mint/Mint
STAR WARS: FORCE AWAKENS ADAPTATION (2016) #1 RIBIC Near Mint/Mint
STAR WARS: FORCE AWAKENS ADAPTATION (2016) #6 PHOTO Near Mint/Mint
STAR WARS: FORCE AWAKENS ADAPTATION (2016) #6 RIBIC Near Mint/Mint
STAR WARS: FORCE AWAKENS ADAPTATION (2016) #6 SKETCH CV Near Mint/Mint
STAR WARS: HAN SOLO (2016) #4 FAGAN Near Mint/Mint
STAR WARS: HEROES FOR A NEW HOPE HC (2016) #1 Near Mint/Mint
STAR WARS: POE DAMERON (2016) #2 SHALVEY Fine
STAR WARS: POE DAMERON (2016) #7 DODSON Near Mint/Mint
STAR WARS: POE DAMERON (2016) #8 REIS Near Mint/Mint
STRANGE TALES (1951) #113 Fair
STRANGE TALES (1951) #121 Fair
STRANGE TALES (1951) #127 Good
STRANGE TALES (1951) #141 Very Good
STRANGE TALES (1951) #145 Very Good
STRANGE TALES (1951) #147 Very Good
SUB-MARINER (1968) #6 Fine
SUB-MARINER (1968) #17 Fine
SUB-MARINER (1968) #34 Good
SUNFIRE & BIG HERO 6 (1998) #1 Near Mint/Mint
SUNFIRE & BIG HERO 6 (1998) #1 Very Fine
SUNFIRE & BIG HERO 6 (1998) #3 Fine
SUNFIRE & BIG HERO 6 (1998) #3 Very Fine
SUPER-HEROES GIANT-SIZE (1974) #1 Very Good
SUPERNATURAL THRILLERS (1972) #7 Fine
TALES OF SUSPENSE (1959) #68 Very Good
TALES OF SUSPENSE (1959) #70 Good
TALES OF SUSPENSE (1959) #71 Near Mint/Mint
TALES OF SUSPENSE (1959) #73 Good
TALES OF SUSPENSE (1959) #77 Very Fine
TALES OF SUSPENSE (1959) #85 Very Fine
TALES OF SUSPENSE (1959) #91 Very Fine
TALES TO ASTONISH (1959) #57 Good
TALES TO ASTONISH (1959) #59 Fine
TALES TO ASTONISH (1959) #68 Fair
TALES TO ASTONISH (1959) #68 Good
TALES TO ASTONISH (1959) #69 Fair
TALES TO ASTONISH (1959) #76 Very Fine
TALES TO ASTONISH (1959) #77 Good
TALES TO ASTONISH (1959) #79 Very Fine
TALES TO ASTONISH (1959) #88 Very Fine
TALES TO ASTONISH (1959) #92 Good
TALES TO ASTONISH (1959) #98 Very Fine
THANOS (2003) #3 Near Mint/Mint
THANOS (2003) #4 Very Fine
THANOS (2003) #5 Fine
THANOS (2003) #11 Fine
THANOS (2003) #12 Very Fine
THANOS QUEST #1 2ND NEWS Near Mint/Mint
THANOS QUEST #2 2ND PRINT Very Fine
THOR (1962) #98 Fair
THOR (1962) #106 Fair
THOR (1962) #119 Fair
THOR (1962) #120 Good

THOR (1962) #123 Fair
THOR (1962) #128 Very Good
THOR (1962) #132 Good
THOR (1962) #133 Good
THOR (1962) #135 Good
THOR (1962) #139 Good
THOR (1962) #141 Good
THOR (1962) #143 Good
THOR (1962) #144 Good
THOR (1962) #145 Good
THOR (1962) #146 Good
THOR (1962) #155 Good
THOR (1962) #156 Good
TOMB OF DARKNESS (1974) #11 Fine
TOMB OF DRACULA (1972) #5 Very Good
TOMB OF DRACULA (1972) #39 Fine
TOMB OF DRACULA (1972) #42 Fine
TOMB OF DRACULA (1972) #43 Very Good
TOTALLY AWESOME HULK (2015) #10 JIMENEZ Fine
TWO-GUN KID (1948) #77 Fine
TWO-GUN KID (1948) #87 Very Good
TWO-GUN KID (1948) #88 Fine
UNBEATABLE SQUIRREL GIRL HC (2016) #1 Near Mint/Mint
UNBELIEVABLE GWENPOOL VOL. 1: BELIEVE IT TPB (2016) #1 Near Mint/Mint
UNCANNY AVENGERS (DECEMBER) (2015) #15 PORTACIO Near Mint/Mint
UNCANNY TALES (UNCANNY TALES FROM THE GRAVE #3-12) (1973) #2 Fine
UNCANNY TALES (UNCANNY TALES FROM THE GRAVE #3-12) (1973) #3 Fine
UNCANNY TALES (UNCANNY TALES FROM THE GRAVE #3-12) (1973) #5 Fine
UNWORTHY THOR (MARVEL NOW) (2016) #1 CASSADAY Near Mint/Mint
UNWORTHY THOR (MARVEL NOW) (2016) #1 HITCH Near Mint/Mint
VAULT OF EVIL #2 Fine
WAR IS HELL (1973) #10 Fine
WARLOCK (1972) #5 Fine
WARLOCK (1972) #10 Very Good
WOLVERINE (1982) #2 NEWSSTAND Fine
WOLVERINE (1982) #3 NEWSSTAND Very Fine
WOLVERINE (1982) #4 NEWSSTAND Fine
WOLVERINE (1988) #1 Near Mint/Mint
WOLVERINES (2015) #1 HASTINGS Near Mint/Mint
X-23 COMPLETE COLLECTION TPB (2016) #1 Near Mint/Mint
X-FACTOR (1986) #6 NEWSSTAND Good
X-MEN (1963) (#1-113, UNCANNY X-MEN #114-544) (MARVEL) #7 CGC 7.5 Fine
X-MEN (1963) (#1-113, UNCANNY X-MEN #114-544) (MARVEL) #96 CGC 9.0 Very Fine
X-MEN (1963) (#1-113, UNCANNY X-MEN #114-544) (MARVEL) #191 Near Mint/Mint
X-MEN (1963) (#1-113, UNCANNY X-MEN #114-544) (MARVEL) #266 Fine
X-MEN (1991) (#1-275) (MARVEL) #8 Near Mint/Mint
X-MEN (1991) (#1-275) (MARVEL) #115 Very Fine
X-MEN ANNUAL (1970) #1 Fine
X-MEN ANNUAL (1970) #2 Fine
X-MEN ANNUAL (1970) #3 Fine
X-MEN ANNUAL (1970) #4 Very Fine

DC
ACTION COMICS (2011) (#0-52) (DC NEW52) #10 SKETCH CV Very Fine
ACTION COMICS (2011) (#0-52) (DC NEW52) #11 SKETCH CV Near Mint/Mint
ARKHAM ASYLUM HC (DC) (1989) #1 Near Mint/Mint
BAT-MITE TPB (2016) #1 Very Fine

BATMAN (1940) (#0-713) (DC) #322 Very Fine
BATMAN (1940) (#0-713) (DC) #361 NEWSSTAND Very Good
BATMAN (1940) (#0-713) (DC) #526 Near Mint/Mint
BATMAN (1940) (#0-713) (DC) #532 DELUXE Near Mint/Mint
BATMAN (1940) (#0-713) (DC) #608 2ND PRINT Near Mint/Mint
BATMAN: HUSH DOUBLE FEATURE (JIM LEE) (JEPH LOEB) (2003) #1 Near Mint/Mint
BATMAN: THE CULT (JIM STARLIN) (BERNI WRIGHTSON) (1988) #4 Near Mint/Mint
BATMAN: THE DARK KNIGHT (2011) #1 Near Mint/Mint
BATMAN: THE DARK KNIGHT (2011) #23 .1 DELUXE Near Mint/Mint
BATMAN: THE DARK KNIGHT (2011) #23 .4 DELUXE Near Mint/Mint
BATMAN: THE KILLING JOKE (ALAN MOORE) (1988) #1 3RD PRINT Very Fine
BATMAN: THE MAN WHO LAUGHS TPB (ED BRUBAKER) (2009) #1 9TH PRINT Very Fine
BRAVE AND THE BOLD (1955) #194 NEWSSTAND Very Fine
BRAVE AND THE BOLD (1955) #200 NEWSSTAND Very Fine
CONVERGENCE (2015) #7 CONNER Near Mint/Mint
DARK KNIGHT III: THE MASTER RACE (2015) #4 MILLER Near Mint/Mint
DARK KNIGHT III: THE MASTER RACE (2015) #6 JANSON Near Mint/Mint
DARK KNIGHT III: THE MASTER RACE (2015) #6 TOCCHINI Near Mint/Mint
DARK KNIGHT RETURNS COLLECTOR'S EDITION BOX SET (2016) #1 Near Mint/Mint
DARK KNIGHT RETURNS MILLENNIUM EDITION #1 Near Mint/Mint
DARK KNIGHT RETURNS: LAST CRUSADE (2016) #1 MILLER Near Mint/Mint
DARK KNIGHT RETURNS: LAST CRUSADE (2016) #1 SIENKIEWIC Near Mint/Mint
DC COMICS PRESENTS (1978) #92 Near Mint/Mint
DC UNIVERSE REBIRTH (DC REBIRTH) (2016) #1 WRAPAROUND Near Mint/Mint
DEMON (1972) #3 Very Good
DEMON (1972) #4 Good
DEMON (1972) #5 Fine
DEMON (1972) #8 Very Fine
ENEMY ACE: WAR IDYLL HARDCOVER (1990) #1 Near Mint/Mint
FLASH (1959) (#105-350) (DC) #127 Fair
GI COMBAT (1957) (#44-288) (DC) #94 Fair
GREEN LANTERN (1941) (#1-38) (DC) #22 Good
GREEN LANTERN (1960) (#1-224) (DC) #60 Very Good
GREEN LANTERN (1960) (#1-224) (DC) #175 NO NUMBER Fine
GREEN LANTERN/SILVER SURFER (1995) #1 Near Mint/Mint
HARLEY QUINN (2013) (#0-30) (DC NEW52) #26 VARIANT Near Mint/Mint
HARLEY QUINN VOL. 4: A CALL TO ARMS TPB (2016) #1 Near Mint/Mint
JOKER: DEATH OF THE FAMILY TPB (2014) #1 Very Fine
JONAH HEX (1977) #92 Fine
JUSTICE LEAGUE OF AMERICA (1960) #108 Very Fine
KINGDOM COME (1996) #1 Very Fine
KINGDOM COME (1996) #2 Near Mint/Mint
KINGDOM COME (1996) #3 Very Fine
KINGDOM COME (1996) #4 Near Mint/Mint
KINGDOM COME 20TH ANNIVERSARY DELUXE HC (2016) #1 Near Mint/Mint
LEGENDS OF THE DARK KNIGHT HALLOWEEN SPECIAL (1993) #1 Near Mint/Mint
NIGHTWING VOL. 5: HUNT FOR ORACLE TPB (2016) #1 Near Mint/Mint
OUR FIGHTING FORCES (1954) #82 Very Good
OUR FIGHTING FORCES (1954) #120 Very Good


OUR FIGHTING FORCES (1954) #137

OUR FIGHTING FORCES (1954) #137 Very Good
OUR FIGHTING FORCES (1954) #141 Fine
STAR SPANGLED WAR STORIES (1952) #130 Fair
STAR SPANGLED WAR STORIES (1952) #136 Fair
STAR SPANGLED WAR STORIES (1952) #151 Fair
STRANGE ADVENTURES (1950) #205 Fair
SUICIDE SQUAD (1987) (#1-67) (DC) #2 Fine
SUICIDE SQUAD (1987) (#1-67) (DC) #2 Near Mint/Mint
SUICIDE SQUAD (1987) (#1-67) (DC) #3 Fine
SUICIDE SQUAD (1987) (#1-67) (DC) #3 Near Mint/Mint
SUICIDE SQUAD (1987) (#1-67) (DC) #3 NEWSSTAND Near Mint/Mint
SUICIDE SQUAD (1987) (#1-67) (DC) #3 NEWSSTAND Very Fine
SUICIDE SQUAD (1987) (#1-67) (DC) #4 NEWSSTAND Fine
SUICIDE SQUAD (1987) (#1-67) (DC) #5 Very Fine
SUICIDE SQUAD (1987) (#1-67) (DC) #6 NEWSSTAND Fine
SUICIDE SQUAD (1987) (#1-67) (DC) #9 NEWSSTAND Very Fine
SUICIDE SQUAD (1987) (#1-67) (DC) #11 Near Mint/Mint
SUICIDE SQUAD (1987) (#1-67) (DC) #18 NEWSSTAND Near Mint/Mint
SUICIDE SQUAD (1987) (#1-67) (DC) #22 Near Mint/Mint
SUICIDE SQUAD (1987) (#1-67) (DC) #24 Near Mint/Mint
SUICIDE SQUAD (1987) (#1-67) (DC) #24 NEWSSTAND Very Fine
SUICIDE SQUAD (1987) (#1-67) (DC) #25 Near Mint/Mint
SUICIDE SQUAD (1987) (#1-67) (DC) #26 NEWSSTAND Very Fine
SUICIDE SQUAD (1987) (#1-67) (DC) #27 Near Mint/Mint
SUICIDE SQUAD (1987) (#1-67) (DC) #27 NEWSSTAND Very Fine
SUICIDE SQUAD (1987) (#1-67) (DC) #28 Near Mint/Mint
SUICIDE SQUAD (1987) (#1-67) (DC) #29 NEWSSTAND Very Fine
SUICIDE SQUAD (1987) (#1-67) (DC) #29 NEWSSTAND Fine
SUICIDE SQUAD (1987) (#1-67) (DC) #30 NEWSSTAND Near Mint/Mint
SUICIDE SQUAD (1987) (#1-67) (DC) #30 NEWSSTAND Very Fine
SUICIDE SQUAD (1987) (#1-67) (DC) #35 Near Mint/Mint
SUICIDE SQUAD (1987) (#1-67) (DC) #36 Near Mint/Mint
SUICIDE SQUAD (1987) (#1-67) (DC) #37 Near Mint/Mint
SUICIDE SQUAD (1987) (#1-67) (DC) #38 Near Mint/Mint
SUICIDE SQUAD (1987) (#1-67) (DC) #39 Near Mint/Mint
SUICIDE SQUAD (1987) (#1-67) (DC) #50 Near Mint/Mint
SUICIDE SQUAD (1987) (#1-67) (DC) #51 Near Mint/Mint
SUICIDE SQUAD (1987) (#1-67) (DC) #55 Near Mint/Mint
SUICIDE SQUAD (1987) (#1-67) (DC) #56 Near Mint/Mint
SUICIDE SQUAD (1987) (#1-67) (DC) #57 Near Mint/Mint
SUICIDE SQUAD (1987) (#1-67) (DC) #58 Near Mint/Mint
SUICIDE SQUAD (1987) (#1-67) (DC) #58 Very Fine
SUICIDE SQUAD (1987) (#1-67) (DC) #59 Near Mint/Mint
SUICIDE SQUAD (1987) (#1-67) (DC) #60 Near Mint/Mint
SUICIDE SQUAD (1987) (#1-67) (DC) #61 Near Mint/Mint
SUICIDE SQUAD (1987) (#1-67) (DC) #63 Near Mint/Mint
SUICIDE SQUAD (1987) (#1-67) (DC) #64 Near Mint/Mint
SUICIDE SQUAD (1987) (#1-67) (DC) #64 Very Fine
SUICIDE SQUAD (1987) (#1-67) (DC) #65 Near Mint/Mint
SUICIDE SQUAD (1987) (#1-67) (DC) #66 Fine
SUICIDE SQUAD (1987) (#1-67) (DC) #66 Near Mint/Mint
SUICIDE SQUAD (1987) (#1-67) (DC) #66 Very Fine
SUICIDE SQUAD (1987) (#1-67) (DC) #67 Near Mint/Mint
SUICIDE SQUAD (1987) (#1-67) (DC) #67 Very Fine
SUPER SOLDIER (1996) #1 BLANK CODE Near Mint/Mint
SUPER-TEAM FAMILY (1975) #9 Near Mint/Mint
SUPER-TEAM FAMILY (1975) #10 Near Mint/Mint
SUPERBOY (1949) #147 FACSIMILE Near Mint/Mint
SUPERBOY (1993) #0 NEWSSTAND Near Mint/Mint
SUPERBOY (1993) #0 NEWSSTAND Very Fine
SUPERBOY (1993) #0 0HOUR LOGO Fine
SUPERBOY (1993) #8 DCUNIVERSE Near Mint/Mint
SUPERGIRL (1996) (#1-80) (DC) #1 NEWSSTAND Near Mint/Mint
SUPERGIRL (1996) (#1-80) (DC) #1 NEWSSTAND Very Fine
SUPERGIRL (1996) (#1-80) (DC) #1 NEWSSTAND Fine
SUPERGIRL (2005) (#0-67) (DC) #11 NEWSSTAND Near Mint/Mint
SUPERGIRL (2005) (#0-67) (DC) #52 NEWSSTAND Near Mint/Mint
SUPERGIRL (2011) (#0-40) (DC NEW52) #7 NEWSSTAND Near Mint/Mint
SUPERGIRL (2011) (#0-40) (DC NEW52) #7 NEWSSTAND Very Fine
SUPERGIRL (2016) (#1-UP) (DC REBIRTH) #1 DFE S&N Near Mint/Mint
SUPERMAN (1939) (#1-423) (DC) #276 Very Good

SUPERMAN (1939) (#1-423) (DC) #367 Near Mint/Mint
SUPERMAN (1939) (#1-423) (DC) #369 NEWSSTAND Very Fine
SUPERMAN (1939) (#1-423) (DC) #370 NEWSSTAND Very Fine
SUPERMAN (1939) (#1-423) (DC) #372 NEWSSTAND Very Fine
SUPERMAN (1939) (#1-423) (DC) #373 Near Mint/Mint
SUPERMAN (1939) (#1-423) (DC) #378 Near Mint/Mint
SUPERMAN (1939) (#1-423) (DC) #379 Near Mint/Mint
SUPERMAN (1939) (#1-423) (DC) #380 Near Mint/Mint
SUPERMAN (1939) (#1-423) (DC) #381 NEWSSTAND Near Mint/Mint
SUPERMAN (1939) (#1-423) (DC) #383 Near Mint/Mint
SUPERMAN (1939) (#1-423) (DC) #385 NEWSSTAND Very Fine
SUPERMAN (1939) (#1-423) (DC) #386 Near Mint/Mint
SUPERMAN (1939) (#1-423) (DC) #386 NEWSSTAND Very Fine
SUPERMAN (1939) (#1-423) (DC) #388 Near Mint/Mint
SUPERMAN (1939) (#1-423) (DC) #389 Near Mint/Mint
SUPERMAN (1939) (#1-423) (DC) #390 Near Mint/Mint
SUPERMAN (1939) (#1-423) (DC) #391 Near Mint/Mint
SUPERMAN (1939) (#1-423) (DC) #393 Near Mint/Mint
SUPERMAN (1939) (#1-423) (DC) #394 Near Mint/Mint
SUPERMAN (1939) (#1-423) (DC) #395 Near Mint/Mint
SUPERMAN (1939) (#1-423) (DC) #395 NEWSSTAND Very Fine
SUPERMAN (1939) (#1-423) (DC) #397 NEWSSTAND Very Fine
SUPERMAN: EMPEROR JOKER TPB (2016) #1 Near Mint/Mint
SUPERMAN: FINAL DAYS OF SUPERMAN HC (2016) #1 Near Mint/Mint
SUPERMAN: MAN OF STEEL (1991) #18 Near Mint/Mint
SUPERMAN: MAN OF STEEL (1991) #18 Very Fine
TEEN TITANS (1966) (#1-53) (DC) #7 Good
TEEN TITANS (1966) (#1-53) (DC) #8 Good
TEEN TITANS (1966) (#1-53) (DC) #9 Good
TEEN TITANS (1966) (#1-53) (DC) #9 Very Good
TEEN TITANS (1966) (#1-53) (DC) #10 Good
TEEN TITANS (1966) (#1-53) (DC) #10 Fine
TEEN TITANS (1966) (#1-53) (DC) #18 Very Good
TEEN TITANS (1966) (#1-53) (DC) #20 Very Good
TEEN TITANS (1966) (#1-53) (DC) #24 Very Good
UNEXPECTED (TALES OF THE UNEXPECTED #1-104) (1956) #109 Very Good
WATCHMEN (1986) #1 Fine
WEIRD MYSTERY TALES (1972) #1 Very Good
WEIRD MYSTERY TALES (1972) #3 Fine
WEIRD WAR TALES (1971) #23 Fine
WEIRD WORLDS (1972) #1 Fine
WEIRD WORLDS (1972) #3 Very Fine
WITCHING HOUR (1969) #10 Very Good
WITCHING HOUR (1969) #12 Very Good
WITCHING HOUR (1969) #38 Very Good
WORLDS FINEST (1941) #109 Good
WORLDS FINEST (1941) #159 Fine
WORLDS FINEST (1941) #166 Fine
WORLDS FINEST (1941) #174 Fine

DARK HORSE COMICS
ALIENS VS. PREDATOR VS. TERMINATOR (DARK HORSE) (AVP) (2000) #1 Near Mint/Mint
EVIL DEAD: ARMY OF DARKNESS (1992) #2 Near Mint/Mint
EVIL DEAD: ARMY OF DARKNESS (1992) #3 Near Mint/Mint
VAMPIRE HUNTER D SC NOVEL (2005) #1 Near Mint/Mint
VAMPIRE HUNTER D SC NOVEL (2005) #2 Very Fine

IMAGE COMICS
JUPITER'S LEGACY (VOL. 2) (2016) #4 B QUITEB&W Near Mint/Mint
OUTCAST HC (ROBERT KIRKMAN & PAUL AZACETA) (2016) #1 Near Mint/Mint

RAT QUEENS (2013) #1 Near Mint/Mint
SPAWN (1992) #9 NEWSSTAND Fine
TOOTH & CLAW (AUTUMNLANDS) (2014) #1 Near Mint/Mint
VELVET (2013) #1 Near Mint/Mint
WILDC.A.T.S. #24 Near Mint/Mint

INDEPENDENTS
ARMY OF DARKNESS/XENA: FOREVER & A DAY (2016) #1 F BROWNVIR (DYNAMITE Entertainment) Near Mint/Mint
ATTACK ON TITAN ANTHOLOGY HC (2016) #1 BOOKMARKET (Kodansha) Near Mint/Mint
BART SIMPSON'S TREEHOUSE OF HORROR (BONGO) (1995) #4 (Bongo Comics) Very Fine
BARTMAN (BONGO) (SIMPSONS) (1993) #3 (Bongo Comics) Very Fine
BARTMAN (BONGO) (SIMPSONS) (1993) #4 (Bongo Comics) Near Mint/Mint
BASTARD TPB (Viz Comics) (MANGA) (ADULT) (2002) #2 (Viz Comics) Fine
BEATLES EXPERIENCE #3 (Revolutionary Comics) Near Mint/Mint
BEATLES EXPERIENCE #4 (Revolutionary Comics) Near Mint/Mint
BEATLES EXPERIENCE #5 (Revolutionary Comics) Near Mint/Mint
BEATLES VOL. 1: JOHN LENNON (1991) #1 (Personality) Near Mint/Mint
BEATLES VOL. 2: PAUL MCCARTNEY (1991) #1 (Personality) Near Mint/Mint
BEATLES VOL. 4: RINGO STARR (1991) #1 (Personality) Near Mint/Mint
BEST OF JOSIE AND THE PUSSYCATS TPB (2001) #1 (Archie Comics) Near Mint/Mint
BLEACH GN (2004) #5 (Viz Comics) Very Fine
BLEACH GN (2004) #6 (Viz Comics) Very Fine
BLEACH GN (2004) #7 (Viz Comics) Near Mint/Mint
BLEACH GN (2004) #8 (Viz Comics) Very Fine
BLEACH GN (2004) #9 (Viz Comics) Near Mint/Mint
BLEACH GN (2004) #10 (Viz Comics) Near Mint/Mint
BLEACH GN (2004) #11 (Viz Comics) Near Mint/Mint
BLOODSHOT (1993) #30 2.50 COVER (Acclaim/Valiant) Very Fine
BLOODSHOT (1993) #30 2.50 COVER (Acclaim/Valiant) Fine
BLOODSHOT (1993) #30 2.50 COVER (Acclaim/Valiant) Very Good
BONE #2 2ND PRINT (Cartoon Books) Near Mint/Mint
BONE: EYES OF THE STORM #1 TPB (Cartoon Books) Fine
BOOKS OF MAGIC TPB (1993) #1 2ND PRINT (DC: Vertigo Press) Very Fine
CEREBUS (1977) #35 (Aardvark-Vanaheim) Very Fine
CHERRY #1 2ND PRT (Kitchen Sink Publishing) Fine
CHERRY #2 (Kitchen Sink Publishing) Very Fine
CHILD'S PLAY #3 (Innovation Publishing) Near Mint/Mint
CHILD'S PLAY 2 #2 (Innovation Publishing) Near Mint/Mint
COLLECTED STRANGERS IN PARADISE TPB (1994) #1 4TH SIGNED (Abstract Studio) Near Mint/Mint
COMPLETE BONE ADVENTURES VOLUME TPB #1 (Cartoon Books) Near Mint/Mint
COMPLETE BONE ADVENTURES VOLUME TPB #2 (Cartoon Books) Near Mint/Mint
DANGER GIRL DANGER SIZED TREASURY (2012) #1 (IDW Publishing) Near Mint/Mint
DC COMICS: WONDER WOMAN COLORING BOOK SC (2016) #1 (Insight Studios Group) Near Mint/Mint
DC SUPER-HEROES: BIG BOOK OF GIRL POWER HC (2016) #1 (Downtown Bookworks) Near Mint/Mint
DC SUPER-HEROES: BIG BOOK OF SUPERPOWERS HC (2016) #1 (Downtown Bookworks) Near Mint/Mint
DEADPOOL: DRAWING THE MERC WITH A MOUTH HC (2016) #1 (Insight Studios Group) Near Mint/Mint
DEATH RATTLE (1985) #2 (Kitchen Sink Publishing) Very Fine
DEATH RATTLE (1985) #9 (Kitchen Sink Publishing) Fine
DEATH RATTLE (1985) #12 (Kitchen Sink Publishing) Fine
DEATH RATTLE (1985) #13 (Kitchen Sink Publishing) Fine
DEATH RATTLE (1985) #17 (Kitchen Sink Publishing) Fine
DEATHDEALER (FRANK FRAZETTA) #1 (Verotik) Near Mint/Mint
DUCK AVENGER (2016) #1 INCENTIVE (IDW Publishing) Near Mint/Mint
FAITH VOL. 2: CALIFORNIA SCHEMING TPB (2016) #1 (Valiant Comics) Near Mint/Mint

GRIMM FAIRY TALES (2005) #5 (Zenescope Entertainment Inc) Fine
HANNA-BARBERA SUPER TV HEROES #1 (Gold Key) Good
HENRY ALDRICH (1950) #12 (Dell Publishing) Near Mint/Mint
HOMIES (2016) #2 D HUERTB&W (DYNAMITE Entertainment) Near Mint/Mint
INCREDIBLE SCIENCE FICTION (1955) #32 (EC Comics) Good
JAMES BOND: HAMMERHEAD (2016) #1 E FRANCVIR (DYNAMITE Entertainment) Near Mint/Mint
JUDO MASTER (1966) #90 (Charlton) Fine
JUDO MASTER (1966) #94 (Charlton) Fine
JUDO MASTER (1966) #95 (Charlton) Fine
JUDO MASTER (1966) #96 (Charlton) Fine
JUNGLE TALES OF TARZAN (CHARLTON) (1964) #2 (Charlton) Very Fine
JUNGLE TALES OF TARZAN (CHARLTON) (1964) #3 (Charlton) Very Fine
KORAK, SON OF TARZAN (1964) (#1-45) (GOLD KEY) #2 (Gold Key) Very Fine
LABYRINTH ARTIST TRIBUTE HC (2016) #1 (Boom Studios Publishing) Near Mint/Mint
LADY DEATH: SACRILEGE (2006) #1 LOPEZ (Avatar Comics) Near Mint/Mint
LADY DEATH: SACRILEGE (2006) #1 MARTIN (Avatar Comics) Near Mint/Mint
LADY DEATH: SACRILEGE (2006) #1 WRAPAROUND (Avatar Comics) Near Mint/Mint
LEGEND OF ZELDA VOL. 1: OCARINA OF TIME SC (LEGENDARY) (2016) #1 (Viz Comics) Near Mint/Mint
LUMBERJANES/GOTHAM ACADEMY (2016) #5 TRUNGLES (Boom Studios Publishing) Near Mint/Mint
MELVIN MONSTER (1965) #2 (Dell Publishing) Very Fine
MELVIN MONSTER (1965) #3 (Dell Publishing) Near Mint/Mint
MELVIN MONSTER (1965) #4 (Dell Publishing) Very Fine
MICKEY MOUSE (1941) (#1-84) (Dell Publishing) #71 (Dell Publishing) Fine
MIRACLEMAN (1985) #23 (Eclipse Enterprises) Fine
MIRACLEMAN (1985) #24 (Eclipse Enterprises) Very Fine
MIRACLEMAN 3-D (1985) #1 W/O (Eclipse Enterprises) Very Fine
MIRACLEMAN BOOK HARDCOVER #4 (Eclipse Enterprises) Near Mint/Mint
MIRACLEMAN BOOK TPB #3 (Eclipse Enterprises) Very Fine
NIGHT OF THE LIVING DEAD (1991) #2 (Fantaco Enterprises) Near Mint/Mint
NIGHT OF THE LIVING DEAD (1991) #3 (Fantaco Enterprises) Near Mint/Mint
NIGHT OF THE LIVING DEAD: LONDON-BLOODLINE #2 (Fantaco Enterprises) Near Mint/Mint
OUR LOVE (1949) #1 (Marvel Timely Comics) Fair
PROPOSITION PLAYER TPB (2003) #1 (DC: Vertigo Press) Near Mint/Mint
RAGNAROK (2014) #1 (IDW Publishing) Near Mint/Mint
RAI (1992) #0 (Acclaim/Valiant) Near Mint/Mint
RANMA 1/2 2-IN-1 TPB (2014) #17 (Viz Comics) Near Mint/Mint
RE-ANIMATOR (1991) #1 (Adventure Comics) Near Mint/Mint
RE-ANIMATOR (1991) #2 (Adventure Comics) Fine
RE-ANIMATOR (1991) #3 (Adventure Comics) Near Mint/Mint
REVOLUTION (2016) #3 INC B (IDW Publishing) Near Mint/Mint
REVOLUTION (2016) #3 INC C (IDW Publishing) Near Mint/Mint
RICHIE RICH DOLLARS AND CENTS (1963) #38 (Harvey Comics) Very Good
SLEEPING BEAUTY (DELL GIANT) (1959) #1 (Dell Publishing) Fair
SONIC THE HEDGEHOG-THE SERIES (1993) #28 (Archie Comics) Fine
SPARTACUS (1960) #1 1139BRITIS (Dell Publishing) Good
STRANGERS IN PARADISE (1993) (#1-3) (ANTARCTIC) #1 (Antarctic Press) Near Mint/Mint
STRANGERS IN PARADISE (1993) (#1-3) (ANTARCTIC) #1 2ND PRINT (Antarctic Press) Near Mint/Mint
STRANGERS IN PARADISE (1993) (#1-3) (ANTARCTIC) #1 WIZARD ACE (Antarctic Press) Near Mint/Mint
STRANGERS IN PARADISE (1998) (#9-90) (ABSTRACT) #90 INCENTIVE (Abstract Studio) Near Mint/Mint
STRANGERS IN PARADISE: I DREAM OF YOU TPB #1 (Abstract Studio) Near Mint/Mint
STRANGERS IN PARADISE: IT'S A GOOD LIFE TPB #1 (Abstract Studio) Very Fine
SUBMISSIVE SUZANNE (1991) #1 (Eros Comix (Fantagraphics)) Very Fine
SUNGLASSES AFTER DARK SAN DIEGO #1/2 #1 (Verotik) Fine
SUNGLASSES AFTER DARK SAN DIEGO #1/2 #1 (Verotik) Very Fine
SUPER MARIO ADVENTURES TPB (2016) #1 (Viz Comics) Near Mint/Mint
SUPER MARIO BROS. (1991) #1 (Acclaim/Valiant) Fine
SUPER MARIO BROS. (1991) #1 (Acclaim/Valiant) Near Mint/Mint
SUPER MARIO BROS. (1991) #3 (Acclaim/Valiant) Near Mint/Mint
SUPER MARIO BROS. (1991) #3 (Acclaim/Valiant) Fine

SUPER MARIO BROS. (1991) #3 (Acclaim/Valiant) Very Fine
SUPER MARIO BROS. (1991) #5 (Acclaim/Valiant) Near Mint/Mint
SUPER MARIO BROS. (1991) #5 (Acclaim/Valiant) Very Fine
SUPER MARIO BROS. (VOL. 2) (1991) #1 (Acclaim/Valiant) Fine
SUPER MARIO BROS. (VOL. 2) (1991) #1 (Acclaim/Valiant) Very Fine
SUPER MARIO BROS. (VOL. 2) (1991) #5 (Acclaim/Valiant) Good
SUPER TABOO XXX (2006) #1 (Eros Comix (Fantagraphics)) Near Mint/Mint
SWAMP THING, SAGA OF (1982) #37 (DC: Vertigo Press) Fine
TAROT: WITCH OF THE BLACK ROSE #100 BRIDEPHOTO (Broadsword Comics) Near Mint/Mint
TAROT: WITCH OF THE BLACK ROSE #100 DELUXE (Broadsword Comics) Near Mint/Mint
TAROT: WITCH OF THE BLACK ROSE #100 DLX VAR (Broadsword Comics) Near Mint/Mint
TROLLS HC (2016) #1 (Papercutz) Near Mint/Mint
TRUE DETECTIVE MYSTERIES (1924) #3307 (MACFADDEN PUBLICATIONS) Good
UFO & OUTER SPACE (GOLD KEY) #17 (Gold Key) Fine
UNICORN VS. GOBLINS HC (PHOEBE & HER UNICORN ADVENTURE) (2016) #1 (Amp) Near Mint/Mint
WALT DISNEY'S COMICS AND STORIES (1940) (#1-263) (Dell Publishing) #125 (Dell Publishing) Good
WALT DISNEY'S COMICS AND STORIES (1940) (#1-263) (Dell Publishing) #132 (Dell Publishing) Very Good
WALT DISNEY'S COMICS AND STORIES (1940) (#1-263) (Dell Publishing) #156 (Dell Publishing) Very Good
WALT DISNEY'S COMICS AND STORIES (1940) (#1-263) (Dell Publishing) #160 (Dell Publishing) Very Good
WALT DISNEY'S COMICS AND STORIES (1940) (#1-263) (Dell Publishing) #177 (Dell Publishing) Very Good
WALT DISNEY'S COMICS AND STORIES (1940) (#1-263) (Dell Publishing) #180 (Dell Publishing) Very Good
WALT DISNEY'S COMICS AND STORIES (1940) (#1-263) (Dell Publishing) #190 (Dell Publishing) Very Good
WALT KELLY'S SANTA CLAUS ADVENTURES #1 (Innovation Publishing) Fine
WHO KILLED KURT COBAIN: STORY OF BODDAH HC (2016) #1 (IDW Publishing) Near Mint/Mint
WWE: THEN, NOW & FOREVER (2016) #1 G IRVING (Boom Studios Publishing) Near Mint/Mint
X-O MANOWAR (2012) #47 G LEMIRE (Valiant Comics) Fine
ZOMBIE TRAMP: YEAR ONE HC (2016) #1 (Action Lab Entertainment) Near Mint/Mint
ZOMBIE TRAMP: YEAR ONE HC (2016) #1 RISQUE (Action Lab Entertainment) Near Mint/Mint