40% Off All Comics and Magazines
Howdy!
Like most Americans, I am watching closely the projected path of hurricane Florence as it threatens the US East Coast. If it comes in as a category 4, no matter where it lands there will be massive flooding from both storm surge, and also from torrential rains. I send my very best wishes to those of you who live in low lying areas, as not only are your homes at risk, but also your comics. After Superstorm Sandy hit New Jersey and New York I was sent innumerable photos of ruined collections, all of which made me very sad.
I mention this imminent flooding because a relatively easy and expensive way to way to protect your comics from water is to seal your long boxes in heavy duty plastic bags. I prefer the large 50-gallon drum liners from Costco, but pretty much anything is better than nothing. I suggest this precaution to everyone living in the path of the storm, even if you live on high ground. My own bitter experience with flooding happened five years ago, when an extremely wet Gulf weather system stalled up against the foothills outside of Boulder, and dumped over 22 inches of rain on my farm in just three days. Our house is built on top of a small hill, but the ground became so saturated that we had flooding inside the house, and also throughout my exterior comics vault. I lost all my rugs, as well as $10,000+ in comics and other collectibles. If I would have had my boxes sitting on plastic bags, rather than bare concrete, I would have prevented much of my loss. Live, and learn...
In other news, as I mentioned in Friday, I will be hosting a big charity poker tournament at our Jason St. Mega-Store on the morning of the 15th (this Saturday) as well as conducting one of our awesome benefit auctions of comics, toys, statues, and other collectibles that same morning. If you will be anywhere near Denver on the 15th, I urge you to stop by and join us.
I also want everyone to know that I am traveling to San Francisco from 9/27-9/30 for the Coronation ceremony of their Ducal Court. If you live in the Bay area, and have a collection that you are considering selling, please contact Pam Brandle via pamb@milehighcomics.com to set up a possible visit by me to your home. I will also be in Cincinnati 10/5-10/7, Portland 10/18-10/20, and Colorado Springs 11/1-11/4. In each instance, I will be attending their local Coronation events in the evenings, and can look at collections during the day.
One question that I am frequently asked is what do we do at our Coronations? Simply put, the International Court System was founded in 1965 in San Francisco by Jose Sarria, a world-renowned female impersonator/drag queen who was fed up with being arrested for performing in drag. He formed the first Imperial Court as a mutual protection society for all local drag performers, with the intent being that the Court members would then put on events for local charities in order to legitimize and validate their place in mainstream America.
Jose's idea caught on quickly in other cities, and there are now 70 local Imperial Courts in the United States, Canada, and Mexico. Each local Court elects their own Emperor and Empress, who then are entrusted with leading their local group for one year. The retiring Monarchs thus "step down" at a celebratory Coronation, while the newly-elected Monarchs for the following year are crowned in an elaborate "step up" ceremony at the very end of each Coronation. While originally founded exclusively by gay men who performed in drag, our organization has now become much more inclusive, with numerous Transgender, Lesbian, Bisexual, and Straight people serving as Emperors and Empresses.
In addition to the 70 local organizations, we now have an umbrella organization called the International Court System, which is governed by Jose's successor the Queen Mother I of the Americas, Nicole the Great. I currently serve our Queen Mother directly, as her Deputy Lord Chancellor. Whenever she appears at a local Coronation, I try to be there to personally assist her. In a nutshell, that is a primary reason for why I travel so much. My other reason for traveling is that I am now sometimes invited to perform in drag in other cities as Bettie Pages. Bettie has been a part of my life for the past eight years, but has recently taken a much bigger role. If you are at all interested, I have dozens of my Bettie photos on my personal Charles Rozanski Facebook page.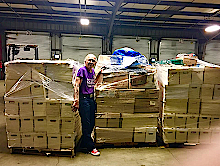 Collection from Washington, D.C.

I will close today's newsletter by quickly mentioning that our new 40% off codeword is SEPTEMBER! This new code word applies to all ten million+ of our back issue comics and magazines, excepting only new issues, a few variants, and our professionally-graded comics. Included in the 40% off sale are the vast majority of the huge number great comics that Will and Pam just purchased here at Jason St., and also the initial parts of the massive single-owner collection of 25,000 comics that I purchased on Friday in Washington, D.C. Enjoy!
Happy collecting!
Chuck Rozanski,
President - Mile High Comics, Inc.
September 11, 2018

P.S. Below are some of our wonderful recent acquisitions!
MARVEL

ALIAS (2001) (#1-28) (MARVEL) (BRIAN MICHAEL BENDIS) #1

ALIAS (2001) (#1-28) (MARVEL) (BRIAN MICHAEL BENDIS) #1 Near Mint/Mint
ALIAS (2001) (#1-28) (MARVEL) (BRIAN MICHAEL BENDIS) #24 Fine

ALPHA FLIGHT (2004) (#1-12) (ALL-NEW, ALL-DIFFERENT) #12 Near Mint/Mint

AMAZING SPIDER-MAN (1999) (#1-700.5) (MARVEL) #506 Near Mint/Mint

ANNIHILATION (MARVEL) (2006) #6 Near Mint/Mint

ANNIHILATION: SILVER SURFER (MARVEL) (2006) #2 Near Mint/Mint

ARES (GOD OF WAR) (MARVEL) (2005) #4 Very Fine

AVENGERS (1963) (#1-402) (MARVEL) #367 NEWSSTAND Fine

AVENGERS: CELESTIAL QUEST (2001) #8 Very Fine

BLACK PANTHER (1998) (#1-62) (MARVEL) #41 Fine
BLACK PANTHER (1998) (#1-62) (MARVEL) #44 Very Fine
BLACK PANTHER (1998) (#1-62) (MARVEL) #62 Fine

BLACK PANTHER (2005) (#1-41) (MARVEL) #1 Fine
BLACK PANTHER (2005) (#1-41) (MARVEL) #1 Very Good
BLACK PANTHER (2005) (#1-41) (MARVEL) #2 Near Mint/Mint

CABLE AND DEADPOOL (2003) #11 Very Fine
CABLE AND DEADPOOL (2003) #12 Very Fine
CABLE AND DEADPOOL (2003) #13 Near Mint/Mint
CABLE AND DEADPOOL (2003) #28 Near Mint/Mint
CABLE AND DEADPOOL (2003) #36 Near Mint/Mint

CAPTAIN AMERICA (2004) (#1-50, 600-619) (MARVEL) #3 Very Fine
CAPTAIN AMERICA (2004) (#1-50, 600-619) (MARVEL) #4 Near Mint/Mint
CAPTAIN AMERICA (2004) (#1-50, 600-619) (MARVEL) #18 Very Fine

CAPTAIN UNIVERSE: X-23 (2005) #1 Near Mint/Mint

CIVIL WAR (2006) (#1-7) #1 Near Mint/Mint
CIVIL WAR (2006) (#1-7) #6 Near Mint/Mint

DARK AVENGERS (2009) #15 Near Mint/Mint
DARK AVENGERS (2009) #190 Near Mint/Mint

DEADPOOL (1994) (#1-4) (MARVEL) #2 Very Good


DEADPOOL (1994) (#1-4) (MARVEL) #3

DEADPOOL (1994) (#1-4) (MARVEL) #3 Fine
DEADPOOL (1994) (#1-4) (MARVEL) #4 Very Good

DEADPOOL (1997) (#0-69) (MARVEL) #1 Very Fine
DEADPOOL (1997) (#0-69) (MARVEL) #2 Very Good
DEADPOOL (1997) (#0-69) (MARVEL) #3 Fine
DEADPOOL (1997) (#0-69) (MARVEL) #4 Near Mint/Mint
DEADPOOL (1997) (#0-69) (MARVEL) #5 Near Mint/Mint
DEADPOOL (1997) (#0-69) (MARVEL) #7 Very Fine
DEADPOOL (1997) (#0-69) (MARVEL) #8 Very Fine
DEADPOOL (1997) (#0-69) (MARVEL) #9 Very Fine
DEADPOOL (1997) (#0-69) (MARVEL) #11 Very Fine
DEADPOOL (1997) (#0-69) (MARVEL) #12 VARIANT Near Mint/Mint
DEADPOOL (1997) (#0-69) (MARVEL) #13 Very Fine
DEADPOOL (1997) (#0-69) (MARVEL) #14 Very Fine
DEADPOOL (1997) (#0-69) (MARVEL) #15 Near Mint/Mint
DEADPOOL (1997) (#0-69) (MARVEL) #16 Very Fine
DEADPOOL (1997) (#0-69) (MARVEL) #17 Near Mint/Mint
DEADPOOL (1997) (#0-69) (MARVEL) #18 Very Fine
DEADPOOL (1997) (#0-69) (MARVEL) #19 Very Fine
DEADPOOL (1997) (#0-69) (MARVEL) #20 Very Fine
DEADPOOL (1997) (#0-69) (MARVEL) #21 Near Mint/Mint
DEADPOOL (1997) (#0-69) (MARVEL) #22 Very Fine
DEADPOOL (1997) (#0-69) (MARVEL) #23 Fine
DEADPOOL (1997) (#0-69) (MARVEL) #24 Very Fine
DEADPOOL (1997) (#0-69) (MARVEL) #25 Fine
DEADPOOL (1997) (#0-69) (MARVEL) #26 Fine
DEADPOOL (1997) (#0-69) (MARVEL) #27 Very Fine
DEADPOOL (1997) (#0-69) (MARVEL) #28 Very Fine
DEADPOOL (1997) (#0-69) (MARVEL) #29 Near Mint/Mint
DEADPOOL (1997) (#0-69) (MARVEL) #30 Near Mint/Mint
DEADPOOL (1997) (#0-69) (MARVEL) #31 Very Fine
DEADPOOL (1997) (#0-69) (MARVEL) #32 Near Mint/Mint
DEADPOOL (1997) (#0-69) (MARVEL) #33 Very Fine
DEADPOOL (1997) (#0-69) (MARVEL) #34 Very Fine
DEADPOOL (1997) (#0-69) (MARVEL) #35 Very Fine
DEADPOOL (1997) (#0-69) (MARVEL) #36 Very Fine
DEADPOOL (1997) (#0-69) (MARVEL) #37 Very Fine
DEADPOOL (1997) (#0-69) (MARVEL) #38 Very Fine
DEADPOOL (1997) (#0-69) (MARVEL) #39 Near Mint/Mint
DEADPOOL (1997) (#0-69) (MARVEL) #40 Fine
DEADPOOL (1997) (#0-69) (MARVEL) #41 Very Fine
DEADPOOL (1997) (#0-69) (MARVEL) #42 Fine


DEADPOOL (1997) (#0-69) (MARVEL) #43

DEADPOOL (1997) (#0-69) (MARVEL) #43 Fine
DEADPOOL (1997) (#0-69) (MARVEL) #44 Very Fine
DEADPOOL (1997) (#0-69) (MARVEL) #45 Very Fine
DEADPOOL (1997) (#0-69) (MARVEL) #46 Very Fine
DEADPOOL (1997) (#0-69) (MARVEL) #47 Near Mint/Mint
DEADPOOL (1997) (#0-69) (MARVEL) #48 Fine
DEADPOOL (1997) (#0-69) (MARVEL) #49 Fine
DEADPOOL (1997) (#0-69) (MARVEL) #50 Very Fine
DEADPOOL (1997) (#0-69) (MARVEL) #51 Very Fine
DEADPOOL (1997) (#0-69) (MARVEL) #52 Near Mint/Mint
DEADPOOL (1997) (#0-69) (MARVEL) #53 Very Fine
DEADPOOL (1997) (#0-69) (MARVEL) #54 Near Mint/Mint
DEADPOOL (1997) (#0-69) (MARVEL) #54 Very Fine
DEADPOOL (1997) (#0-69) (MARVEL) #55 Near Mint/Mint
DEADPOOL (1997) (#0-69) (MARVEL) #56 Near Mint/Mint
DEADPOOL (1997) (#0-69) (MARVEL) #57 Very Fine
DEADPOOL (1997) (#0-69) (MARVEL) #58 Very Fine
DEADPOOL (1997) (#0-69) (MARVEL) #59 Very Fine
DEADPOOL (1997) (#0-69) (MARVEL) #60 Very Fine
DEADPOOL (1997) (#0-69) (MARVEL) #61 Fine
DEADPOOL (1997) (#0-69) (MARVEL) #62 Very Fine
DEADPOOL (1997) (#0-69) (MARVEL) #63 Very Fine
DEADPOOL (1997) (#0-69) (MARVEL) #64 Very Fine
DEADPOOL (1997) (#0-69) (MARVEL) #65 Fine
DEADPOOL (1997) (#0-69) (MARVEL) #66 Very Fine
DEADPOOL (1997) (#0-69) (MARVEL) #67 Very Fine
DEADPOOL (1997) (#0-69) (MARVEL) #68 Very Fine
DEADPOOL (1997) (#0-69) (MARVEL) #69 Near Mint/Mint

DEADPOOL (2008) (#1-63, 900) (MARVEL) #2 Fine
DEADPOOL (2008) (#1-63, 900) (MARVEL) #3 Near Mint/Mint
DEADPOOL (2008) (#1-63, 900) (MARVEL) #4 Very Fine
DEADPOOL (2008) (#1-63, 900) (MARVEL) #5 Very Fine
DEADPOOL (2008) (#1-63, 900) (MARVEL) #6 Very Fine
DEADPOOL (2008) (#1-63, 900) (MARVEL) #7 Near Mint/Mint
DEADPOOL (2008) (#1-63, 900) (MARVEL) #8 Very Fine
DEADPOOL (2008) (#1-63, 900) (MARVEL) #9 Very Fine
DEADPOOL (2008) (#1-63, 900) (MARVEL) #10 Very Fine
DEADPOOL (2008) (#1-63, 900) (MARVEL) #11 Very Fine
DEADPOOL (2008) (#1-63, 900) (MARVEL) #13 Fine
DEADPOOL (2008) (#1-63, 900) (MARVEL) #14 Fine
DEADPOOL (2008) (#1-63, 900) (MARVEL) #15 Fine
DEADPOOL (2008) (#1-63, 900) (MARVEL) #16 Very Fine


DEADPOOL (2008) (#1-63, 900) (MARVEL) #17

DEADPOOL (2008) (#1-63, 900) (MARVEL) #17 Very Fine
DEADPOOL (2008) (#1-63, 900) (MARVEL) #18 Very Fine
DEADPOOL (2008) (#1-63, 900) (MARVEL) #19 Near Mint/Mint
DEADPOOL (2008) (#1-63, 900) (MARVEL) #20 Very Fine
DEADPOOL (2008) (#1-63, 900) (MARVEL) #21 Near Mint/Mint
DEADPOOL (2008) (#1-63, 900) (MARVEL) #22 Very Fine
DEADPOOL (2008) (#1-63, 900) (MARVEL) #23 Very Fine
DEADPOOL (2008) (#1-63, 900) (MARVEL) #24 Very Fine
DEADPOOL (2008) (#1-63, 900) (MARVEL) #25 Fine
DEADPOOL (2008) (#1-63, 900) (MARVEL) #27 Very Fine
DEADPOOL (2008) (#1-63, 900) (MARVEL) #28 Very Fine
DEADPOOL (2008) (#1-63, 900) (MARVEL) #29 Near Mint/Mint
DEADPOOL (2008) (#1-63, 900) (MARVEL) #30 Near Mint/Mint
DEADPOOL (2008) (#1-63, 900) (MARVEL) #31 Fine
DEADPOOL (2008) (#1-63, 900) (MARVEL) #32 Very Fine
DEADPOOL (2008) (#1-63, 900) (MARVEL) #33 .1 Fine
DEADPOOL (2008) (#1-63, 900) (MARVEL) #33 Very Fine
DEADPOOL (2008) (#1-63, 900) (MARVEL) #34 Very Fine
DEADPOOL (2008) (#1-63, 900) (MARVEL) #35 Near Mint/Mint
DEADPOOL (2008) (#1-63, 900) (MARVEL) #36 Very Fine
DEADPOOL (2008) (#1-63, 900) (MARVEL) #37 Fine
DEADPOOL (2008) (#1-63, 900) (MARVEL) #38 Near Mint/Mint
DEADPOOL (2008) (#1-63, 900) (MARVEL) #39 Near Mint/Mint
DEADPOOL (2008) (#1-63, 900) (MARVEL) #40 Very Fine
DEADPOOL (2008) (#1-63, 900) (MARVEL) #41 Near Mint/Mint
DEADPOOL (2008) (#1-63, 900) (MARVEL) #42 Very Fine
DEADPOOL (2008) (#1-63, 900) (MARVEL) #43 Near Mint/Mint
DEADPOOL (2008) (#1-63, 900) (MARVEL) #44 Near Mint/Mint
DEADPOOL (2008) (#1-63, 900) (MARVEL) #45 Very Fine
DEADPOOL (2008) (#1-63, 900) (MARVEL) #46 Very Fine
DEADPOOL (2008) (#1-63, 900) (MARVEL) #47 Very Fine
DEADPOOL (2008) (#1-63, 900) (MARVEL) #48 Near Mint/Mint
DEADPOOL (2008) (#1-63, 900) (MARVEL) #49 .1 Very Fine
DEADPOOL (2008) (#1-63, 900) (MARVEL) #49 Very Fine
DEADPOOL (2008) (#1-63, 900) (MARVEL) #50 Near Mint/Mint
DEADPOOL (2008) (#1-63, 900) (MARVEL) #51 Near Mint/Mint
DEADPOOL (2008) (#1-63, 900) (MARVEL) #52 Very Fine
DEADPOOL (2008) (#1-63, 900) (MARVEL) #54 Near Mint/Mint
DEADPOOL (2008) (#1-63, 900) (MARVEL) #55 Very Fine
DEADPOOL (2008) (#1-63, 900) (MARVEL) #63 Very Fine

DEADPOOL (2013) (#1-45, 250) (MARVEL) #1 Near Mint/Mint
DEADPOOL (2013) (#1-45, 250) (MARVEL) #2 Very Good


DEADPOOL (2013) (#1-45, 250) (MARVEL) #3

DEADPOOL (2013) (#1-45, 250) (MARVEL) #3 Very Good
DEADPOOL (2013) (#1-45, 250) (MARVEL) #4 Fine
DEADPOOL (2013) (#1-45, 250) (MARVEL) #5 Very Fine
DEADPOOL (2013) (#1-45, 250) (MARVEL) #6 Very Fine
DEADPOOL (2013) (#1-45, 250) (MARVEL) #7 Very Fine
DEADPOOL (2013) (#1-45, 250) (MARVEL) #9 Very Fine
DEADPOOL (2013) (#1-45, 250) (MARVEL) #10 Near Mint/Mint
DEADPOOL (2013) (#1-45, 250) (MARVEL) #11 Near Mint/Mint
DEADPOOL (2013) (#1-45, 250) (MARVEL) #12 Fine
DEADPOOL (2013) (#1-45, 250) (MARVEL) #13 Near Mint/Mint
DEADPOOL (2013) (#1-45, 250) (MARVEL) #14 Fine
DEADPOOL (2013) (#1-45, 250) (MARVEL) #15 Fine
DEADPOOL (2013) (#1-45, 250) (MARVEL) #16 Near Mint/Mint
DEADPOOL (2013) (#1-45, 250) (MARVEL) #17 Very Fine
DEADPOOL (2013) (#1-45, 250) (MARVEL) #18 Near Mint/Mint
DEADPOOL (2013) (#1-45, 250) (MARVEL) #19 Very Fine
DEADPOOL (2013) (#1-45, 250) (MARVEL) #20 Very Fine
DEADPOOL (2013) (#1-45, 250) (MARVEL) #21 Near Mint/Mint
DEADPOOL (2013) (#1-45, 250) (MARVEL) #22 Fine
DEADPOOL (2013) (#1-45, 250) (MARVEL) #23 Near Mint/Mint
DEADPOOL (2013) (#1-45, 250) (MARVEL) #24 Very Fine
DEADPOOL (2013) (#1-45, 250) (MARVEL) #26 Near Mint/Mint
DEADPOOL (2013) (#1-45, 250) (MARVEL) #27 Near Mint/Mint
DEADPOOL (2013) (#1-45, 250) (MARVEL) #29 Fine
DEADPOOL (2013) (#1-45, 250) (MARVEL) #30 Very Fine
DEADPOOL (2013) (#1-45, 250) (MARVEL) #31 Very Fine
DEADPOOL (2013) (#1-45, 250) (MARVEL) #32 Very Fine

DEADPOOL ANNUAL (2011) #1 Very Fine

DEADPOOL BI-ANNUAL (2014) #1 Very Fine

DEADPOOL KILLS DEADPOOL (2013) #1 Fine
DEADPOOL KILLS DEADPOOL (2013) #2 Near Mint/Mint
DEADPOOL KILLS DEADPOOL (2013) #3 Very Fine
DEADPOOL KILLS DEADPOOL (2013) #4 Near Mint/Mint

DEADPOOL KILLS THE MARVEL UNIVERSE (2012) #1 Very Fine
DEADPOOL KILLS THE MARVEL UNIVERSE (2012) #2 Near Mint/Mint
DEADPOOL KILLS THE MARVEL UNIVERSE (2012) #3 Very Fine
DEADPOOL KILLS THE MARVEL UNIVERSE (2012) #4 Near Mint/Mint

DEADPOOL KILLUSTRATED (2013) #1 Very Fine


DEADPOOL KILLUSTRATED (2013) #2

DEADPOOL KILLUSTRATED (2013) #2 Very Fine
DEADPOOL KILLUSTRATED (2013) #4 Fine

DEADPOOL MINUS (1997) #1 Very Fine

DEADPOOL/DEATH 1998 MARVEL ANNUAL (1998) #1 Very Fine

FANTASTIC FOUR (1961) (#1-416) (MARVEL) #51 Good
FANTASTIC FOUR (1961) (#1-416) (MARVEL) #60 Fair
FANTASTIC FOUR (1961) (#1-416) (MARVEL) #69 Good
FANTASTIC FOUR (1961) (#1-416) (MARVEL) #81 Good
FANTASTIC FOUR (1961) (#1-416) (MARVEL) #90 Very Good
FANTASTIC FOUR (1961) (#1-416) (MARVEL) #91 Good
FANTASTIC FOUR (1961) (#1-416) (MARVEL) #93 Very Good

HULK (1962) (#1-6, #102-474, #600-635)(INCREDIBLE)(MV) #156 Very Good
HULK (1962) (#1-6, #102-474, #600-635)(INCREDIBLE)(MV) #368 NEWSSTAND Very Fine

IRON MAN (1968) (#1-332) (INVINCIBLE IRON MAN)(MARVEL) #219 Fine

JLA/AVENGERS (AVENGERS/JLA) (2003) #4 Near Mint/Mint

JUNGLE ACTION (1972) (#1-24) (MARVEL) #24 Good

MARVEL PREMIERE (1972) #51 Fine
MARVEL PREMIERE (1972) #52 Very Good
MARVEL PREMIERE (1972) #53 Fine

MARVEL SUPER SPECIAL (1977) #22 NEWSSTAND Good

NEW AVENGERS (2004) (#1-64) (MARVEL) #4 Fine
NEW AVENGERS (2004) (#1-64) (MARVEL) #11 Fine
NEW AVENGERS (2004) (#1-64) (MARVEL) #35 Near Mint/Mint
NEW AVENGERS (2004) (#1-64) (MARVEL) #63 Near Mint/Mint

NEW AVENGERS (2010) (#1-34) (MARVEL) #15 Near Mint/Mint

NEW AVENGERS (2013) (#1-33) (MARVEL) #8 Near Mint/Mint
NEW AVENGERS (2013) (#1-33) (MARVEL) #9 Near Mint/Mint
NEW AVENGERS (2013) (#1-33) (MARVEL) #10 Very Fine
NEW AVENGERS (2013) (#1-33) (MARVEL) #24 Near Mint/Mint
NEW AVENGERS (2013) (#1-33) (MARVEL) #28 Near Mint/Mint
NEW AVENGERS (2013) (#1-33) (MARVEL) #29 Very Fine


NEW AVENGERS (2013) (#1-33) (MARVEL) #32

NEW AVENGERS (2013) (#1-33) (MARVEL) #32 Near Mint/Mint

NEW AVENGERS (2015) (#1-UP) (MARVEL) #5 Very Fine

NEW AVENGERS ANNUAL (2006) #3 Near Mint/Mint

NEW AVENGERS: ILLUMINATI (2006) #1 Fine
NEW AVENGERS: ILLUMINATI (2006) #2 Near Mint/Mint

NEW MUTANTS (1983) (#1-100) (MARVEL) #98 Near Mint/Mint

OLD MAN LOGAN (2015) (#1-5) (MARVEL SECRET WARS) #2 Near Mint/Mint
OLD MAN LOGAN (2015) (#1-5) (MARVEL SECRET WARS) #3 Near Mint/Mint
OLD MAN LOGAN (2015) (#1-5) (MARVEL SECRET WARS) #4 Near Mint/Mint
OLD MAN LOGAN (2015) (#1-5) (MARVEL SECRET WARS) #5 Near Mint/Mint

OLD MAN LOGAN (2016) (#1-UP) (MARVEL) #1 Near Mint/Mint
OLD MAN LOGAN (2016) (#1-UP) (MARVEL) #2 Near Mint/Mint
OLD MAN LOGAN (2016) (#1-UP) (MARVEL) #3 Very Fine
OLD MAN LOGAN (2016) (#1-UP) (MARVEL) #4 Near Mint/Mint
OLD MAN LOGAN (2016) (#1-UP) (MARVEL) #7 Near Mint/Mint

ONSLAUGHT REBORN (2006) #1 LIEFELD Near Mint/Mint
ONSLAUGHT REBORN (2006) #4 CAMPBELL Very Fine

ORIGIN OF GALACTUS (1996) #1 Very Fine

ORIGINAL SIN (2014) (#0-8) (MARVEL) #0 Near Mint/Mint
ORIGINAL SIN (2014) (#0-8) (MARVEL) #1 Very Fine
ORIGINAL SIN (2014) (#0-8) (MARVEL) #3 .2 Very Fine
ORIGINAL SIN (2014) (#0-8) (MARVEL) #3 .4 Very Fine
ORIGINAL SIN (2014) (#0-8) (MARVEL) #3 Very Fine
ORIGINAL SIN (2014) (#0-8) (MARVEL) #5 .2 Very Fine
ORIGINAL SIN (2014) (#0-8) (MARVEL) #5 .3 Very Fine
ORIGINAL SIN (2014) (#0-8) (MARVEL) #5 .4 Very Fine

RETURN OF THE JEDI (1983) #2 Very Fine

SILVER SURFER (1987) (#1-146) (MARVEL) #50 3RD PRT Fine

SPIDER-MAN (1963) (AMAZING SPIDER-MAN) (#1-441) #293 Near Mint/Mint
SPIDER-MAN (1963) (AMAZING SPIDER-MAN) (#1-441) #299 Very Fine
SPIDER-MAN (1963) (AMAZING SPIDER-MAN) (#1-441) #300 Near Mint/Mint


WOLVERINE: THE ORIGIN (2001) #1

WOLVERINE: THE ORIGIN (2001) #1 Near Mint/Mint
WOLVERINE: THE ORIGIN (2001) #2 Near Mint/Mint

X-MEN: AGE OF APOCALYPSE (2005) (#1-6) (10TH ANNIVER) #3 Very Fine

YOUNG AVENGERS (2005) (#1-12) #1 DIRECT CUT Very Fine
YOUNG AVENGERS (2005) (#1-12) #1 Very Fine

DC
ACTION COMICS ANNUAL (1987) #10 Near Mint/Mint

ADVENTURES OF JERRY LEWIS (1957) #77 Good

ALL-STAR BATMAN AND ROBIN THE BOY WONDER (2005) #4 Near Mint/Mint

ASTRO CITY: DARK AGE BOOK II (DC WILDSTORM) (2006) #2 (DC/Wildstorm) Near Mint/Mint

AZRAEL (1995) (#1-100) (DC) #89 Near Mint/Mint
AZRAEL (1995) (#1-100) (DC) #90 Near Mint/Mint

BATGIRL: YEAR ONE (2002) #9 Fine

BATMAN (1940) (#0-713) (DC) #602 Near Mint/Mint
BATMAN (1940) (#0-713) (DC) #636 Very Fine
BATMAN (1940) (#0-713) (DC) #637 Fine

BATMAN ADVENTURES (1992) #12 Near Mint/Mint

BATMAN INCORPORATED (2012) (#1-13) (DC) (NEW 52) #8 2ND PRINT Very Good

BATMAN/DEATHBLOW: AFTER THE FIRE (BATMAN AND DEATHBLOW) (2002) #2 Very Fine

BATMAN: BLUE, GRAY, & THE BAT (PRESTIGE) (1992) #1 Near Mint/Mint

BATMAN: GOTHAM ADVENTURES (1998) #49 Near Mint/Mint

BATMAN: TENSES (JOE CASEY) (PRESTIGE) (2003) #1 Fine

BATMAN: YEAR ONE HUNDRED (PAUL POPE) (PRESTIGE) (2006) #4 Very Fine

BIRDS OF PREY (1998) (#1-127) (DC) #56 Near Mint/Mint
BIRDS OF PREY (1998) (#1-127) (DC) #79 Fine


BIRDS OF PREY SECRET FILES (2003) #1

BIRDS OF PREY SECRET FILES (2003) #1 Near Mint/Mint

DARK KNIGHT III: THE MASTER RACE (2015) #2 Very Fine
DARK KNIGHT III: THE MASTER RACE (2015) #3 Near Mint/Mint

DARK KNIGHT STRIKES AGAIN (2001) #2 Very Fine
DARK KNIGHT STRIKES AGAIN (2001) #3 Near Mint/Mint

DC SUPER-STARS (1976) #11 Fine

DOOMSDAY CLOCK (2017) #1 FRANK Near Mint/Mint
DOOMSDAY CLOCK (2017) #1 LENTICULAR Near Mint/Mint
DOOMSDAY CLOCK (2017) #2 Near Mint/Mint

HITMAN (1996) #34 Near Mint/Mint

PREACHER (1995) #1 (DC: Vertigo Press) Near Mint/Mint
PREACHER (1995) #2 (DC: Vertigo Press) Near Mint/Mint
PREACHER (1995) #5 (DC: Vertigo Press) Near Mint/Mint
PREACHER (1995) #7 (DC: Vertigo Press) Very Fine

SANDMAN (1988) (#1-75) (DC/VERTIGO) #1 (DC: Vertigo Press) Near Mint/Mint
SANDMAN (1988) (#1-75) (DC/VERTIGO) #2 (DC: Vertigo Press) Near Mint/Mint
SANDMAN (1988) (#1-75) (DC/VERTIGO) #3 (DC: Vertigo Press) Near Mint/Mint
SANDMAN (1988) (#1-75) (DC/VERTIGO) #4 (DC: Vertigo Press) Near Mint/Mint
SANDMAN (1988) (#1-75) (DC/VERTIGO) #5 (DC: Vertigo Press) Near Mint/Mint
SANDMAN (1988) (#1-75) (DC/VERTIGO) #6 (DC: Vertigo Press) Near Mint/Mint
SANDMAN (1988) (#1-75) (DC/VERTIGO) #7 (DC: Vertigo Press) Near Mint/Mint
SANDMAN (1988) (#1-75) (DC/VERTIGO) #8 (DC: Vertigo Press) Near Mint/Mint
SANDMAN (1988) (#1-75) (DC/VERTIGO) #9 (DC: Vertigo Press) Fine
SANDMAN (1988) (#1-75) (DC/VERTIGO) #10 (DC: Vertigo Press) Fine
SANDMAN (1988) (#1-75) (DC/VERTIGO) #11 (DC: Vertigo Press) Very Fine
SANDMAN (1988) (#1-75) (DC/VERTIGO) #12 (DC: Vertigo Press) Near Mint/Mint
SANDMAN (1988) (#1-75) (DC/VERTIGO) #13 (DC: Vertigo Press) Near Mint/Mint
SANDMAN (1988) (#1-75) (DC/VERTIGO) #14 (DC: Vertigo Press) Near Mint/Mint
SANDMAN (1988) (#1-75) (DC/VERTIGO) #15 (DC: Vertigo Press) Near Mint/Mint
SANDMAN (1988) (#1-75) (DC/VERTIGO) #16 (DC: Vertigo Press) Very Fine
SANDMAN (1988) (#1-75) (DC/VERTIGO) #17 (DC: Vertigo Press) Near Mint/Mint
SANDMAN (1988) (#1-75) (DC/VERTIGO) #18 (DC: Vertigo Press) Very Fine

Y-THE LAST MAN (2002) #31 (DC: Vertigo Press) Near Mint/Mint

IMAGE COMICS
68 ONE-SHOT (2006) #1 A Near Mint/Mint

ANT (2005) (#1-11) (IMAGE) #1 Near Mint/Mint
ANT (2005) (#1-11) (IMAGE) #2 Near Mint/Mint

ASTRO CITY (1996) (#1-15) (IMAGE/HOMAGE) #3 (Image Homage) Very Fine

BOMB QUEEN (2006) #4 Near Mint/Mint

SPAWN (1992) #1 Near Mint/Mint
SPAWN (1992) #4 Near Mint/Mint

INDEPENDENTS
ANTHEM (HEROIC PUB.) (ROY THOMAS) (2005) #4 (Heroic Publishing) Near Mint/Mint

ARMY OF DARKNESS VS. RE-ANIMATOR (DYNAMITE) (2005) #1 JONES (DYNAMITE Entertainment) Very Fine

ARTESIA BESIEGED (SIRIUS) (2006) #1 (Archaia Studios Press) Near Mint/Mint

BANANA SUNDAYS (Oni Press Inc.) (2005) #1 (Oni Press Inc.) Very Fine

CRITTERS (1986) #1 (Fantagraphics) Very Fine

CTHULHU TALES: RISING ONE-SHOT (2007) #1 (Boom Productions) Near Mint/Mint

HOT STUF' #3 (Sal Quartuccio) Very Fine
HOT STUF' #4 (Sal Quartuccio) Very Fine

SCIENCE FAIR STORY OF ELECTRONICS (1971) #1 (TANDY CORPORATION) Very Fine

SPIRIT (1966) (#1-2) (HARVEY) #1 (Harvey Comics) Good

ZOMBIE TALES: DEAD (2006) #1 (Boom Productions) Very Fine