Free Marvel Comics Variant Editions
Howdy,
I am dragging today, as I spent 15 hours yesterday helping Jim Scharper with his Feeding Denver's Hungry charity. We began at 8 AM by making up 200 lunches to give away at Urban Peak (which helps homeless teens) and the St. Frances Center, which provides places for homeless folks a place to shower and computers for job searches. Neither center provides meals, however, so the free lunches prepared by Jim's awesome team of volunteers are always greatly appreciated.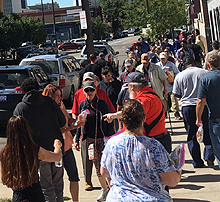 The St. Francis Center services many of the elderly and infirm among Denver's homeless

After giving away the last of our free meals at noon, we then headed over to Mile High Stadium at 1 PM for last night's Denver Broncos home opener. We did not go there to watch the game, but rather to operate a very large beer, tacos, and nachos stand on the third level. We had never done anything like this before, so it was quite a challenge to coordinate our 14 volunteers into a cohesive team. After a bit of a rough start, we all began to get the hang of what we were doing, and had it completely nailed by the end of the game. After cleaning up, we finally left the stadium at midnight, and I got to bed at 1 AM. Whew!
I mention all this effort that I personally put into helping Feeding Denver's Hungry because I am still offering everyone who reads this newsletter the opportunity to enter a drawing for a $1,000 shopping spree. All that you need do to enter this drawing is to request a $25 gift certificate. We will charge you $25 for this certificate, and the $25 you give us for the certificate will be donated to Feeding Denver's Hungry. You are entered into the drawing one time for each $25 gift certificate you purchase.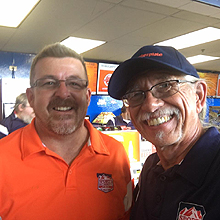 Chuck and Jim Scharper dressed for serving at the Broncos game!

So you know, we have had only about 50 fans enter our drawing thus far, so your odds of winning the $1,000 shopping spree remain quite good. You do not, by the way, need to have your gift certificate mailed to you. We can actually just send you the number printed on the certificate, which you can then apply via the "notes" section of your next order. Feeding Denver's Hungry is a great organization, with an amazingly positive mission. They truly deserve our help and support.
Moving on to other news, we have been continuing to purchase awesome comics collections with amazing regularity. Yesterday's major purchase was over 1,000 VF/NM recent issues, including a near-complete DC 52 collection. Pam has been grading those issues for you all day, so they should all be appearing for you in our New-in-Stock link at noon, tomorrow (Saturday). Those 1,000 issues will be joining 3,000 other titles and issue numbers that Will Moulton and Josh added for you today. Thursday's New-in-Stock was also quite incredible...
As regards codewords, we do have a 40% off GREATDEAL! codeword in effect for you right now on all of our back issue comics and magazines, excepting only new issues, a few variants, and our CGC-graded comics. All ten million of our back issues, including the vast majority of our New-in-Stock issues, qualify for the 40% off savings.

ALL-NEW INHUMANS #5 HIP HOP COVER 1:100

My final items for today are two awesome Marvel Comics variant editions. The first, ALL-NEW INHUMANS #5 Hip Hop cover, is a 1:100 limited edition that is quite hard to obtain. We have just a few copies available at $25, or you can obtain a copy for free as a reward for placing a minimum $100 order with us over this upcoming weekend. Just ask for your free copy in "notes." The second variant that I can offer you today is the 1:200 STAR WARS: POE DAMERON #1 Cassady Sketch cover. Your cost on this extremely scarce Marvel variant is only $50, or you can request a copy for free as a reward for placing a $200 order with us by Monday. Our supplies on both of these variants are quite limited, so we may run out. Please limit 1 of each per person. Also, please be aware that this offer needs to be null and void as of Monday, at noon.

STAR WARS" POE DAMERON #1 CASSADAY SKETCH COVER 1:200

Happy Collecting!
Chuck Rozanski,
President - Mile High Comics, Inc.
September 9, 2016

P.S. Below are a few of the comics from Thursdays New-in-Stock link. Enjoy!
MARVEL
DEADLINE (2002) #1 Near Mint/Mint
DEADLINE (2002) #2 Fine

DEADLINE (2002) #3 Very Good
DEADLINE (2002) #4 Near Mint/Mint

DEADPOOL (1993) (#1-4) (CIRCLE CHASE) (MARVEL) #1 Near Mint/Mint
DEADPOOL (1993) (#1-4) (CIRCLE CHASE) (MARVEL) #2 Near Mint/Mint
DEADPOOL (1993) (#1-4) (CIRCLE CHASE) (MARVEL) #3 Near Mint/Mint
DEADPOOL (1993) (#1-4) (CIRCLE CHASE) (MARVEL) #4 Fine

DEADPOOL (1994) (#1-4) (MARVEL) #1 Near Mint/Mint
DEADPOOL (1994) (#1-4) (MARVEL) #2 Near Mint/Mint
DEADPOOL (1994) (#1-4) (MARVEL) #3 Near Mint/Mint
DEADPOOL (1994) (#1-4) (MARVEL) #4 Near Mint/Mint

DEADPOOL (1997) (#0-69) (MARVEL) #1 Very Fine
DEADPOOL (1997) (#0-69) (MARVEL) #2 Near Mint/Mint
DEADPOOL (1997) (#0-69) (MARVEL) #3 Near Mint/Mint
DEADPOOL (1997) (#0-69) (MARVEL) #4 Very Fine
DEADPOOL (1997) (#0-69) (MARVEL) #5 Near Mint/Mint
DEADPOOL (1997) (#0-69) (MARVEL) #6 Near Mint/Mint
DEADPOOL (1997) (#0-69) (MARVEL) #7 Near Mint/Mint
DEADPOOL (1997) (#0-69) (MARVEL) #8 Near Mint/Mint
DEADPOOL (1997) (#0-69) (MARVEL) #9 Near Mint/Mint
DEADPOOL (1997) (#0-69) (MARVEL) #10 Fine
DEADPOOL (1997) (#0-69) (MARVEL) #11 Very Fine
DEADPOOL (1997) (#0-69) (MARVEL) #12 Near Mint/Mint
DEADPOOL (1997) (#0-69) (MARVEL) #12 VARIANT Near Mint/Mint
DEADPOOL (1997) (#0-69) (MARVEL) #13 Near Mint/Mint
DEADPOOL (1997) (#0-69) (MARVEL) #14 Near Mint/Mint
DEADPOOL (1997) (#0-69) (MARVEL) #15 Near Mint/Mint
DEADPOOL (1997) (#0-69) (MARVEL) #16 Near Mint/Mint
DEADPOOL (1997) (#0-69) (MARVEL) #17 Near Mint/Mint
DEADPOOL (1997) (#0-69) (MARVEL) #18 Near Mint/Mint
DEADPOOL (1997) (#0-69) (MARVEL) #19 Near Mint/Mint
DEADPOOL (1997) (#0-69) (MARVEL) #20 Near Mint/Mint
DEADPOOL (1997) (#0-69) (MARVEL) #21 Fine
DEADPOOL (1997) (#0-69) (MARVEL) #22 Fine
DEADPOOL (1997) (#0-69) (MARVEL) #23 Near Mint/Mint
DEADPOOL (1997) (#0-69) (MARVEL) #24 Near Mint/Mint
DEADPOOL (1997) (#0-69) (MARVEL) #25 Near Mint/Mint
DEADPOOL (1997) (#0-69) (MARVEL) #26 Fine

DEADPOOL (1997) (#0-69) (MARVEL) #27 Near Mint/Mint
DEADPOOL (1997) (#0-69) (MARVEL) #28 Near Mint/Mint
DEADPOOL (1997) (#0-69) (MARVEL) #29 Near Mint/Mint
DEADPOOL (1997) (#0-69) (MARVEL) #30 Near Mint/Mint
DEADPOOL (1997) (#0-69) (MARVEL) #31 Near Mint/Mint
DEADPOOL (1997) (#0-69) (MARVEL) #32 Near Mint/Mint
DEADPOOL (1997) (#0-69) (MARVEL) #33 Near Mint/Mint
DEADPOOL (1997) (#0-69) (MARVEL) #34 Near Mint/Mint
DEADPOOL (1997) (#0-69) (MARVEL) #35 Near Mint/Mint
DEADPOOL (1997) (#0-69) (MARVEL) #36 Near Mint/Mint
DEADPOOL (1997) (#0-69) (MARVEL) #37 Near Mint/Mint
DEADPOOL (1997) (#0-69) (MARVEL) #38 Near Mint/Mint
DEADPOOL (1997) (#0-69) (MARVEL) #39 Near Mint/Mint
DEADPOOL (1997) (#0-69) (MARVEL) #40 Near Mint/Mint
DEADPOOL (1997) (#0-69) (MARVEL) #41 Fine
DEADPOOL (1997) (#0-69) (MARVEL) #42 Near Mint/Mint
DEADPOOL (1997) (#0-69) (MARVEL) #43 Near Mint/Mint
DEADPOOL (1997) (#0-69) (MARVEL) #44 Near Mint/Mint
DEADPOOL (1997) (#0-69) (MARVEL) #45 Near Mint/Mint
DEADPOOL (1997) (#0-69) (MARVEL) #46 Near Mint/Mint
DEADPOOL (1997) (#0-69) (MARVEL) #47 Near Mint/Mint
DEADPOOL (1997) (#0-69) (MARVEL) #48 Near Mint/Mint
DEADPOOL (1997) (#0-69) (MARVEL) #49 Very Fine
DEADPOOL (1997) (#0-69) (MARVEL) #50 Near Mint/Mint
DEADPOOL (1997) (#0-69) (MARVEL) #51 Near Mint/Mint
DEADPOOL (1997) (#0-69) (MARVEL) #52 Near Mint/Mint
DEADPOOL (1997) (#0-69) (MARVEL) #53 Near Mint/Mint
DEADPOOL (1997) (#0-69) (MARVEL) #56 Near Mint/Mint
DEADPOOL (1997) (#0-69) (MARVEL) #57 Near Mint/Mint
DEADPOOL (1997) (#0-69) (MARVEL) #58 Near Mint/Mint
DEADPOOL (1997) (#0-69) (MARVEL) #59 Near Mint/Mint
DEADPOOL (1997) (#0-69) (MARVEL) #60 Near Mint/Mint
DEADPOOL (1997) (#0-69) (MARVEL) #61 Near Mint/Mint
DEADPOOL (1997) (#0-69) (MARVEL) #62 Near Mint/Mint
DEADPOOL (1997) (#0-69) (MARVEL) #63 Near Mint/Mint
DEADPOOL (1997) (#0-69) (MARVEL) #64 Near Mint/Mint
DEADPOOL (1997) (#0-69) (MARVEL) #65 Near Mint/Mint
DEADPOOL (1997) (#0-69) (MARVEL) #66 Near Mint/Mint
DEADPOOL (1997) (#0-69) (MARVEL) #67 Near Mint/Mint
DEADPOOL (1997) (#0-69) (MARVEL) #68 Near Mint/Mint
DEADPOOL (1997) (#0-69) (MARVEL) #69 Near Mint/Mint

DEADPOOL (2008) (#1-63, 900) (MARVEL) #1 Very Fine
DEADPOOL (2008) (#1-63, 900) (MARVEL) #2 Near Mint/Mint
DEADPOOL (2008) (#1-63, 900) (MARVEL) #3 Near Mint/Mint
DEADPOOL (2008) (#1-63, 900) (MARVEL) #4 Near Mint/Mint
DEADPOOL (2008) (#1-63, 900) (MARVEL) #5 Near Mint/Mint
DEADPOOL (2008) (#1-63, 900) (MARVEL) #6 Near Mint/Mint
DEADPOOL (2008) (#1-63, 900) (MARVEL) #7 Near Mint/Mint
DEADPOOL (2008) (#1-63, 900) (MARVEL) #8 Near Mint/Mint
DEADPOOL (2008) (#1-63, 900) (MARVEL) #9 Near Mint/Mint
DEADPOOL (2008) (#1-63, 900) (MARVEL) #10 Near Mint/Mint
DEADPOOL (2008) (#1-63, 900) (MARVEL) #11 Near Mint/Mint
DEADPOOL (2008) (#1-63, 900) (MARVEL) #12 Near Mint/Mint
DEADPOOL (2008) (#1-63, 900) (MARVEL) #15 Near Mint/Mint

DEADPOOL (2008) (#1-63, 900) (MARVEL) #16 Near Mint/Mint
DEADPOOL (2008) (#1-63, 900) (MARVEL) #17 Near Mint/Mint
DEADPOOL (2008) (#1-63, 900) (MARVEL) #18 Near Mint/Mint
DEADPOOL (2008) (#1-63, 900) (MARVEL) #23 Near Mint/Mint
DEADPOOL (2008) (#1-63, 900) (MARVEL) #900 Fine

DEADPOOL (2012) (#1-45, 250) (MARVEL) #3 2ND PRINT Very Fine
DEADPOOL (2012) (#1-45, 250) (MARVEL) #18 VARIANT Near Mint/Mint

DEADPOOL ANNUAL (2011) #1 Near Mint/Mint

DEADPOOL CORPS (2010) #1 Very Good
DEADPOOL CORPS (2010) #2 Fine

DEADPOOL MINUS (1997) #1 Very Fine

DEADPOOL TEAM-UP (2009) #894 Near Mint/Mint

DEADPOOL/DEATH 1998 MARVEL ANNUAL (1998) #1 Near Mint/Mint

DOCTOR STRANGE (1988) #11 NEWSSTAND Near Mint/Mint
DOCTOR STRANGE (1988) #12 NEWSSTAND Fine
DOCTOR STRANGE (1988) #13 NEWSSTAND Near Mint/Mint

FEARLESS DEFENDERS (2013) #6 Near Mint/Mint

MARVEL VS. DC #2 Near Mint/Mint
MARVEL VS. DC #3 Near Mint/Mint

X-FACTOR (1986) #5 Near Mint/Mint
X-FACTOR (1986) #15 Near Mint/Mint
X-FACTOR (1986) #19 Near Mint/Mint
X-FACTOR (1986) #25 Near Mint/Mint
X-FACTOR (1986) #52 Near Mint/Mint
X-FACTOR (1986) #67 Very Fine
X-FACTOR (1986) #68 Near Mint/Mint
X-FACTOR (1986) #85 Near Mint/Mint
X-FACTOR (1986) #106 Near Mint/Mint
X-FACTOR (1986) #148 Near Mint/Mint
X-FACTOR (1986) #149 Near Mint/Mint

X-FACTOR (2005) #1 Near Mint/Mint
X-FACTOR (2005) #9 Near Mint/Mint
X-FACTOR (2005) #13 VARIANT Near Mint/Mint
X-FACTOR (2005) #25 Near Mint/Mint
X-FACTOR (2005) #27 Near Mint/Mint
X-FACTOR (2005) #44 Near Mint/Mint

X-FACTOR ANNUAL (1986) #6 Near Mint/Mint

X-FORCE (1991) #95 Near Mint/Mint
X-FORCE (1991) #96 Near Mint/Mint
X-FORCE (1991) #100 Near Mint/Mint

X-FORCE (1991) #107 Near Mint/Mint
X-FORCE (1991) #108 Near Mint/Mint
X-FORCE (1991) #116 NO CODE Near Mint/Mint

X-FORCE (2008) #1 Near Mint/Mint
X-FORCE (2008) #1 BLOODY Near Mint/Mint
X-FORCE (2008) #2 Near Mint/Mint
X-FORCE (2008) #5 BLOODY Near Mint/Mint
X-FORCE (2008) #6 Near Mint/Mint
X-FORCE (2008) #6 VARIANT Near Mint/Mint
X-FORCE (2008) #8 Near Mint/Mint
X-FORCE (2008) #9 Near Mint/Mint
X-FORCE (2008) #10 Near Mint/Mint
X-FORCE (2008) #11 Near Mint/Mint
X-FORCE (2008) #12 Near Mint/Mint
X-FORCE (2008) #13 Near Mint/Mint
X-FORCE (2008) #14 Near Mint/Mint
X-FORCE (2008) #14 VARIANT Near Mint/Mint
X-FORCE (2008) #15 Near Mint/Mint
X-FORCE (2008) #15 VARIANT Near Mint/Mint
X-FORCE (2008) #16 Near Mint/Mint
X-FORCE (2008) #16 VARIANT Near Mint/Mint
X-FORCE (2008) #18 Near Mint/Mint

X-INFERNUS (2008) #2 Near Mint/Mint
X-INFERNUS (2008) #3 Near Mint/Mint

X-MAN (1995) #1 Near Mint/Mint
X-MAN (1995) #2 Near Mint/Mint
X-MAN (1995) #3 Near Mint/Mint
X-MAN (1995) #4 Near Mint/Mint
X-MAN (1995) #5 Near Mint/Mint
X-MAN (1995) #15 Near Mint/Mint

X-MAN (1995) #20 Near Mint/Mint
X-MAN (1995) #60 Near Mint/Mint

X-STATIX PRESENTS DEAD GIRL (2005) #1 Near Mint/Mint
X-STATIX PRESENTS DEAD GIRL (2005) #2 Near Mint/Mint
X-STATIX PRESENTS DEAD GIRL (2005) #3 Near Mint/Mint
X-STATIX PRESENTS DEAD GIRL (2005) #4 Near Mint/Mint
X-STATIX PRESENTS DEAD GIRL (2005) #5 Near Mint/Mint

DC
DC VS. MARVEL (1996) #1 Near Mint/Mint
DC VS. MARVEL (1996) #4 Near Mint/Mint

DEAD BOY DETECTIVES (2013) #8 Near Mint/Mint
DEAD BOY DETECTIVES (2013) #9 Near Mint/Mint
DEAD BOY DETECTIVES (2013) #11 Near Mint/Mint
DEAD BOY DETECTIVES (2013) #12 Near Mint/Mint

DEATH: THE TIME OF YOUR LIFE (1996) #2 (DC: Vertigo Press) Near Mint/Mint

DEATHSTROKE: THE TERMINATOR (1991) #1 Very Fine
DEATHSTROKE: THE TERMINATOR (1991) #2 Very Fine
DEATHSTROKE: THE TERMINATOR (1991) #4 Fine
DEATHSTROKE: THE TERMINATOR (1991) #6 Near Mint/Mint
DEATHSTROKE: THE TERMINATOR (1991) #7 Near Mint/Mint
DEATHSTROKE: THE TERMINATOR (1991) #8 Near Mint/Mint
DEATHSTROKE: THE TERMINATOR (1991) #9 Near Mint/Mint
DEATHSTROKE: THE TERMINATOR (1991) #10 Near Mint/Mint
DEATHSTROKE: THE TERMINATOR (1991) #15 Near Mint/Mint


DEATHSTROKE: THE TERMINATOR (1991) #39

DEATHSTROKE: THE TERMINATOR (1991) #39 Near Mint/Mint
DEATHSTROKE: THE TERMINATOR (1991) #50 Near Mint/Mint

DIVINE RIGHT (DC/Wildstorm) #11 (DC/Wildstorm) Near Mint/Mint

DMZ (2005) #1 (DC: Vertigo Press) Near Mint/Mint
DMZ (2005) #2 (DC: Vertigo Press) Near Mint/Mint
DMZ (2005) #29 (DC: Vertigo Press) Near Mint/Mint
DMZ (2005) #30 (DC: Vertigo Press) Near Mint/Mint
DMZ (2005) #31 (DC: Vertigo Press) Near Mint/Mint
DMZ (2005) #32 (DC: Vertigo Press) Near Mint/Mint
DMZ (2005) #33 (DC: Vertigo Press) Near Mint/Mint
DMZ (2005) #34 (DC: Vertigo Press) Near Mint/Mint
DMZ (2005) #46 (DC: Vertigo Press) Near Mint/Mint
DMZ (2005) #47 (DC: Vertigo Press) Near Mint/Mint
DMZ (2005) #48 (DC: Vertigo Press) Fine
DMZ (2005) #49 (DC: Vertigo Press) Very Fine
DMZ (2005) #60 (DC: Vertigo Press) Near Mint/Mint
DMZ (2005) #64 (DC: Vertigo Press) Fine
DMZ (2005) #65 (DC: Vertigo Press) Near Mint/Mint

LEGENDS OF THE DARK KNIGHT (BATMAN) (1989) #11 Near Mint/Mint
LEGENDS OF THE DARK KNIGHT (BATMAN) (1989) #17 Near Mint/Mint
LEGENDS OF THE DARK KNIGHT (BATMAN) (1989) #18 Near Mint/Mint
LEGENDS OF THE DARK KNIGHT (BATMAN) (1989) #29 Near Mint/Mint
LEGENDS OF THE DARK KNIGHT (BATMAN) (1989) #30 Near Mint/Mint

SANDMAN (1988) #43 (DC: Vertigo Press) Near Mint/Mint

SANDMAN PRESENTS: DEAD BOY DETECTIVES (2001) #4 (DC: Vertigo Press) Near Mint/Mint

X-FILES (2008) #2 Near Mint/Mint

IMAGE COMICS
CLONE (2012) #9 Near Mint/Mint
CLONE (2012) #13 Near Mint/Mint
CLONE (2012) #19 Near Mint/Mint

CLONE (2012) #19 Very Fine
CLONE (2012) #20 Near Mint/Mint

COVENANT (2015) #1 A LIEFELD Near Mint/Mint
COVENANT (2015) #1 B LIEFELD Near Mint/Mint

COWL: CHICAGO ORGANIZED WORKERS LEAGUE (2014) #2 Near Mint/Mint
COWL: CHICAGO ORGANIZED WORKERS LEAGUE (2014) #3 Near Mint/Mint
COWL: CHICAGO ORGANIZED WORKERS LEAGUE (2014) #4 Near Mint/Mint
COWL: CHICAGO ORGANIZED WORKERS LEAGUE (2014) #5 Near Mint/Mint
COWL: CHICAGO ORGANIZED WORKERS LEAGUE (2014) #6 Near Mint/Mint
COWL: CHICAGO ORGANIZED WORKERS LEAGUE (2014) #7 Near Mint/Mint
COWL: CHICAGO ORGANIZED WORKERS LEAGUE (2014) #8 Near Mint/Mint

DANGER CLUB (2012) #7 Near Mint/Mint

DARK ENGINE (2014) #2 Very Fine
DARK ENGINE (2014) #3 Near Mint/Mint
DARK ENGINE (2014) #4 Near Mint/Mint
DARK ENGINE (2014) #4 Very Fine
DARK ENGINE (2014) #5 Near Mint/Mint

DEAD AT 17: BLASPHEMY THRONE (2014) #3 Near Mint/Mint
DEAD AT 17: BLASPHEMY THRONE (2014) #4 Very Fine
DEAD AT 17: BLASPHEMY THRONE (2014) #7 Near Mint/Mint

DREAM MERCHANT (2013) #4 Near Mint/Mint
DREAM MERCHANT (2013) #5 Very Fine
DREAM MERCHANT (2013) #6 Near Mint/Mint

DRUMHELLAR (2013) #7 Near Mint/Mint
DRUMHELLAR (2013) #8 Near Mint/Mint

FIELD (2014) #2 Near Mint/Mint
FIELD (2014) #3 Near Mint/Mint
FIELD (2014) #4 Near Mint/Mint
FIELD (2014) #4 Very Fine

FIVE WEAPONS (2013) #5 Near Mint/Mint
FIVE WEAPONS (2013) #9 Near Mint/Mint
FIVE WEAPONS (2013) #10 Very Fine

GENIUS (2014) #2 Near Mint/Mint
GENIUS (2014) #2 Very Fine
GENIUS (2014) #3 Near Mint/Mint
GENIUS (2014) #4 Near Mint/Mint

GENIUS (2014) #4 Very Fine
GENIUS (2014) #5 Near Mint/Mint
GENIUS (2014) #5 Very Fine

GHOSTED (2013) #11 Near Mint/Mint
GHOSTED (2013) #12 Near Mint/Mint
GHOSTED (2013) #13 Near Mint/Mint
GHOSTED (2013) #14 Near Mint/Mint
GHOSTED (2013) #15 Near Mint/Mint
GHOSTED (2013) #16 Near Mint/Mint
GHOSTED (2013) #17 Near Mint/Mint

GOD HATES ASTRONAUTS (2014) #1 A Near Mint/Mint
GOD HATES ASTRONAUTS (2014) #1 B Near Mint/Mint

GONERS (2014) #2 Near Mint/Mint
GONERS (2014) #3 Near Mint/Mint
GONERS (2014) #6 Near Mint/Mint

GRAVEYARD SHIFT (2014) #1 Near Mint/Mint
GRAVEYARD SHIFT (2014) #1 Very Fine
GRAVEYARD SHIFT (2014) #4 Near Mint/Mint

GREAT PACIFIC (2012) #2 Near Mint/Mint
GREAT PACIFIC (2012) #15 B Near Mint/Mint
GREAT PACIFIC (2012) #16 A Near Mint/Mint
GREAT PACIFIC (2012) #18 Near Mint/Mint

LIBERTY COMICS: A CBLDF BENEFIT BOOK (2008) #2013 A Near Mint/Mint
LIBERTY COMICS: A CBLDF BENEFIT BOOK (2008) #2013 B Very Fine
LIBERTY COMICS: A CBLDF BENEFIT BOOK (2008) #2014 B Near Mint/Mint
LIBERTY COMICS: A CBLDF BENEFIT BOOK (2008) #2014 C Near Mint/Mint

PETER PANZERFAUST (2012) #21 A Near Mint/Mint
PETER PANZERFAUST (2012) #22 Near Mint/Mint
PETER PANZERFAUST (2012) #22 Very Fine

SAGA (2012) #5 Near Mint/Mint

WALKING DEAD (2003) #41 Very Fine
WALKING DEAD (2003) #42 Very Fine

WEAPON ZERO/SILVER SURFER #1 SILVESTRI (Image Top Cow) Near Mint/Mint

INDEPENDENTS
ALBEDO (1985) #5 (Thoughts and Images) Fine
ALBEDO (1985) #7 (Thoughts and Images) Near Mint/Mint
ALBEDO (1985) #7 (Thoughts and Images) Very Good
ALBEDO (1985) #8 (Thoughts and Images) Near Mint/Mint
ALBEDO (1985) #9 (Thoughts and Images) Near Mint/Mint

ALBEDO (1985) #10 (Thoughts and Images) Near Mint/Mint
ALBEDO (1985) #11 (Thoughts and Images) Near Mint/Mint

ALTERED STATES: RED SONJA (2015) #1 (DYNAMITE Entertainment) Near Mint/Mint

BATTLE BEASTS (IDW Publishing) (2012) #4 (IDW Publishing) Near Mint/Mint

BLACK DYNAMITE (2014) #3 (IDW Publishing) Near Mint/Mint
BLACK DYNAMITE (2014) #3 SUBSCRIPT (IDW Publishing) Near Mint/Mint
BLACK DYNAMITE (2014) #4 (IDW Publishing) Near Mint/Mint

BORDERLANDS: FALL OF FYRESTONE (2014) #3 (IDW Publishing) Near Mint/Mint
BORDERLANDS: FALL OF FYRESTONE (2014) #4 (IDW Publishing) Near Mint/Mint
BORDERLANDS: FALL OF FYRESTONE (2014) #4 SUBSCRIPT (IDW Publishing) Near Mint/Mint
BORDERLANDS: FALL OF FYRESTONE (2014) #5 BLANK CVR (IDW Publishing) Near Mint/Mint
BORDERLANDS: FALL OF FYRESTONE (2014) #7 SUBSCRIPT (IDW Publishing) Near Mint/Mint
BORDERLANDS: FALL OF FYRESTONE (2014) #7 (IDW Publishing) Very Fine
BORDERLANDS: FALL OF FYRESTONE (2014) #8 SUBSCRIPT (IDW Publishing) Near Mint/Mint

DEAD DROP (2015) #1 ALLEN (Valiant Comics) Fine
DEAD DROP (2015) #2 SANDOVAL (Valiant Comics) Near Mint/Mint
DEAD DROP (2015) #3 ALLEN (Valiant Comics) Near Mint/Mint

DEEP STATE (2014) #1 (Boom Studios Publishing) Near Mint/Mint

DO ANDROIDS DREAM OF ELECTRONIC SHEEP (2009) #1 C (Boom Studios Publishing) Near Mint/Mint

DUNGEONS & DRAGONS: LEGENDS OF BALDUR'S GATE (2014) #2 SUBSCRIPT (IDW Publishing) Very Fine
DUNGEONS & DRAGONS: LEGENDS OF BALDUR'S GATE (2014) #5 SUBSCRIPT (IDW Publishing) Very Fine

FLASH GORDON (2014) #2 CASTRO (DYNAMITE Entertainment) Near Mint/Mint
FLASH GORDON (2014) #4 HAESER (DYNAMITE Entertainment) Very Fine
FLASH GORDON (2014) #6 LAMING (DYNAMITE Entertainment) Near Mint/Mint

FLASH GORDON ANNUAL (2014) #1 (DYNAMITE Entertainment) Near Mint/Mint

FLASH GORDON: ZEITGEIST (2011) #7 FRANCAVILL (DYNAMITE Entertainment) Very Fine

LI'L VAMPI (2013) #1 GARBOWSKA (DYNAMITE Entertainment) Very Fine

Q2: RETURN OF QUANTUM & WOODY (2014) #1 BRIGHT (Valiant Comics) Near Mint/Mint
Q2: RETURN OF QUANTUM & WOODY (2014) #2 BRIGHT (Valiant Comics) Near Mint/Mint


Q2: RETURN OF QUANTUM & WOODY (2014) #2 BRIGHT

Q2: RETURN OF QUANTUM & WOODY (2014) #2 BRIGHT (Valiant Comics) Very Fine
Q2: RETURN OF QUANTUM & WOODY (2014) #3 BRIGHT (Valiant Comics) Near Mint/Mint
Q2: RETURN OF QUANTUM & WOODY (2014) #3 BRIGHT (Valiant Comics) Very Fine

QUANTUM & WOODY (2013) #9 FOWLER (Valiant Comics) Near Mint/Mint
QUANTUM & WOODY (2013) #10 DAUTERMAN (Valiant Comics) Near Mint/Mint
QUANTUM & WOODY (2013) #12 FOWLER (Valiant Comics) Near Mint/Mint
QUANTUM & WOODY (2013) #12 FOWLER (Valiant Comics) Very Fine

QUANTUM & WOODY MUST DIE (2015) #1 HAWTHORNE (Valiant Comics) Near Mint/Mint

RALPH SNART ADVENTURES 3-D SPECIAL #1 (Now Comics) Near Mint/Mint

RALPH SNART ADVENTURES 3-D SPECIAL #1 NEWSSTAND (Now Comics) Near Mint/Mint

RALPH SNART ADVENTURES VOL. 3 #17 (Now Comics) Near Mint/Mint
RALPH SNART ADVENTURES VOL. 3 #19 (Now Comics) Very Fine
RALPH SNART ADVENTURES VOL. 3 #20 (Now Comics) Near Mint/Mint
RALPH SNART ADVENTURES VOL. 3 #21 (Now Comics) Near Mint/Mint
RALPH SNART ADVENTURES VOL. 3 #22 (Now Comics) Near Mint/Mint
RALPH SNART ADVENTURES VOL. 3 #23 (Now Comics) Very Fine
RALPH SNART ADVENTURES VOL. 3 #24 (Now Comics) Very Fine
RALPH SNART ADVENTURES VOL. 3 #25 (Now Comics) Near Mint/Mint
RALPH SNART ADVENTURES VOL. 3 #26 (Now Comics) Near Mint/Mint

RALPH SNART: THE LOST ISSUES (1993) #1 W/O CARD (Now Comics) Near Mint/Mint
RALPH SNART: THE LOST ISSUES (1993) #2 (Now Comics) Near Mint/Mint
RALPH SNART: THE LOST ISSUES (1993) #3 W/O CARD (Now Comics) Near Mint/Mint

RAPHAEL #1 2ND PR (Mirage Studios) Very Fine

RAVENOUS (2015) #1 (Creature Entertainment, Llc) Near Mint/Mint

REAL GHOSTBUSTERS (1988) #17 (Now Comics) Near Mint/Mint
REAL GHOSTBUSTERS (1988) #18 (Now Comics) Near Mint/Mint
REAL GHOSTBUSTERS (1988) #19 (Now Comics) Near Mint/Mint
REAL GHOSTBUSTERS (1988) #20 (Now Comics) Near Mint/Mint
REAL GHOSTBUSTERS (1988) #21 (Now Comics) Near Mint/Mint

REAL GHOSTBUSTERS (VOL.2) #2 (Now Comics) Near Mint/Mint
REAL GHOSTBUSTERS (VOL.2) #3 (Now Comics) Near Mint/Mint
REAL GHOSTBUSTERS (VOL.2) #4 (Now Comics) Near Mint/Mint

REAL GHOSTBUSTERS ANNUAL #1 NEWSSTAND (Now Comics) Very Fine

REANIMATOR (2015) #3 FRANCAVILL (DYNAMITE Entertainment) Near Mint/Mint

RED SONJA (2013) #11 BUSCEMA (DYNAMITE Entertainment) Near Mint/Mint
RED SONJA (2013) #12 FRISON (DYNAMITE Entertainment) Very Fine
RED SONJA (2013) #15 FRISON (DYNAMITE Entertainment) Near Mint/Mint
RED SONJA (2013) #16 STAGGS (DYNAMITE Entertainment) Near Mint/Mint

RED SONJA: VULTURE'S CIRCLE (2015) #1 GEOVANI (DYNAMITE Entertainment) Near Mint/Mint
RED SONJA: VULTURE'S CIRCLE (2015) #2 GEOVANI (DYNAMITE Entertainment) Near Mint/Mint
RED SONJA: VULTURE'S CIRCLE (2015) #4 ANACLETO (DYNAMITE Entertainment) Near Mint/Mint

RED TEN (2012) #7 (COMIXTRIBE) Near Mint/Mint

ROBOCOP 2014 (2014) #1 MONTES (Boom Studios Publishing) Near Mint/Mint
ROBOCOP 2014 (2014) #1 MONTES (Boom Studios Publishing) Very Fine
ROBOCOP 2014 (2014) #2 (Boom Studios Publishing) Near Mint/Mint

ROBOCOP 2014 (2014) #2 (Boom Studios Publishing) Very Fine
ROBOCOP 2014 (2014) #3 (Boom Studios Publishing) Near Mint/Mint
ROBOCOP 2014 (2014) #4 (Boom Studios Publishing) Near Mint/Mint
ROBOCOP 2014 (2014) #7 (Boom Studios Publishing) Near Mint/Mint
ROBOCOP 2014 (2014) #9 (Boom Studios Publishing) Near Mint/Mint
ROBOCOP 2014 (2014) #10 (Boom Studios Publishing) Near Mint/Mint
ROBOCOP 2014 (2014) #11 (Boom Studios Publishing) Near Mint/Mint
ROBOCOP 2014 (2014) #12 (Boom Studios Publishing) Near Mint/Mint

ROCKET SALVAGE (2014) #1 (Boom Studios Publishing) Near Mint/Mint
ROCKET SALVAGE (2014) #1 (Boom Studios Publishing) Very Fine
ROCKET SALVAGE (2014) #2 (Boom Studios Publishing) Near Mint/Mint
ROCKET SALVAGE (2014) #3 (Boom Studios Publishing) Near Mint/Mint
ROCKET SALVAGE (2014) #4 (Boom Studios Publishing) Near Mint/Mint
ROCKET SALVAGE (2014) #5 (Boom Studios Publishing) Near Mint/Mint

SALLY OF THE WASTELAND (2014) #5 (Titan Distributing) Near Mint/Mint

SCARLETT COUTURE (2015) #3 (Titan Distributing) Near Mint/Mint
SCARLETT COUTURE (2015) #3 SUBSCRIPT (Titan Distributing) Near Mint/Mint
SCARLETT COUTURE (2015) #4 (Titan Distributing) Near Mint/Mint

SHERLOCK HOLMES VS. HARRY HOUDINI (2014) #1 CAMPBELL (DYNAMITE Entertainment) Near Mint/Mint
SHERLOCK HOLMES VS. HARRY HOUDINI (2014) #1 WORLEY (DYNAMITE Entertainment) Very Fine
SHERLOCK HOLMES VS. HARRY HOUDINI (2014) #3 CAMPBELL (DYNAMITE Entertainment) Near Mint/Mint
SHERLOCK HOLMES VS. HARRY HOUDINI (2014) #3 WORLEY (DYNAMITE Entertainment) Near Mint/Mint
SHERLOCK HOLMES VS. HARRY HOUDINI (2014) #4 CAMPBELL (DYNAMITE Entertainment) Near Mint/Mint
SHERLOCK HOLMES VS. HARRY HOUDINI (2014) #4 WORLEY (DYNAMITE Entertainment) Near Mint/Mint
SHERLOCK HOLMES VS. HARRY HOUDINI (2014) #5 CAMPBELL (DYNAMITE Entertainment) Near Mint/Mint

SHERLOCK HOLMES: MORIARTY LIVES (2013) #1 FRANCAVILL (DYNAMITE Entertainment) Near Mint/Mint
SHERLOCK HOLMES: MORIARTY LIVES (2013) #1 FRANCAVILL (DYNAMITE Entertainment) Very Fine
SHERLOCK HOLMES: MORIARTY LIVES (2013) #1 INDRO (DYNAMITE Entertainment) Near Mint/Mint
SHERLOCK HOLMES: MORIARTY LIVES (2013) #2 (DYNAMITE Entertainment) Near Mint/Mint
SHERLOCK HOLMES: MORIARTY LIVES (2013) #5 (DYNAMITE Entertainment) Near Mint/Mint

SKYWARD (2013) #8 (Action Lab Entertainment) Near Mint/Mint
SKYWARD (2013) #9 (Action Lab Entertainment) Near Mint/Mint

SOLAR: MAN OF THE ATOM (2014) #2 DOE (DYNAMITE Entertainment) Near Mint/Mint
SOLAR: MAN OF THE ATOM (2014) #5 LAU (DYNAMITE Entertainment) Near Mint/Mint
SOLAR: MAN OF THE ATOM (2014) #5 LAU (DYNAMITE Entertainment) Very Fine
SOLAR: MAN OF THE ATOM (2014) #6 DOE (DYNAMITE Entertainment) Near Mint/Mint
SOLAR: MAN OF THE ATOM (2014) #7 DOE (DYNAMITE Entertainment) Near Mint/Mint
SOLAR: MAN OF THE ATOM (2014) #7 LAU (DYNAMITE Entertainment) Near Mint/Mint
SOLAR: MAN OF THE ATOM (2014) #8 DOE (DYNAMITE Entertainment) Near Mint/Mint

STEAMPUNK BATTLESTAR GALACTICA 1880 (2014) #4 SYAF (DYNAMITE Entertainment) Near Mint/Mint

STEAMPUNK: SNOW QUEEN (2015) #1 (Antarctic Press) Near Mint/Mint


STEAMPUNK: SNOW QUEEN (2015) #2

STEAMPUNK: SNOW QUEEN (2015) #2 (Antarctic Press) Near Mint/Mint

SUICIDE RISK (2013) #24 (Boom Studios Publishing) Near Mint/Mint

SURFACE TENSION (2015) #1 (Titan Distributing) Near Mint/Mint
SURFACE TENSION (2015) #1 SUBSCRIPT (Titan Distributing) Near Mint/Mint
SURFACE TENSION (2015) #2 (Titan Distributing) Near Mint/Mint
SURFACE TENSION (2015) #4 (Titan Distributing) Near Mint/Mint

SWORDS OF SORROW: DEJAH THORIS & IRENE ADLER (2015) #1 (DYNAMITE Entertainment) Near Mint/Mint

SWORDS OF SORROW: VAMPIRELLA & JENNIFER BLOOD (2015) #2 (DYNAMITE Entertainment) Near Mint/Mint

TEEN DOG (2014) #1 (Boom Studios Publishing) Near Mint/Mint
TEEN DOG (2014) #1 (Boom Studios Publishing) Very Fine

THOMAS ALSOP (2014) #3 (Boom Studios Publishing) Near Mint/Mint

TOWER CHRONICLES: DREADSTALKER (2014) #1 (Legendary Comics) Near Mint/Mint
TOWER CHRONICLES: DREADSTALKER (2014) #3 (Legendary Comics) Near Mint/Mint
TOWER CHRONICLES: DREADSTALKER (2014) #4 (Legendary Comics) Near Mint/Mint
TOWER CHRONICLES: DREADSTALKER (2014) #4 (Legendary Comics) Very Fine
TOWER CHRONICLES: DREADSTALKER (2014) #5 (Legendary Comics) Very Fine

TRANSFORMERS (2009) #40 (IDW Publishing) Near Mint/Mint

TRISH OUT OF WATER (2013) #4 A (Aspen) Near Mint/Mint
TRISH OUT OF WATER (2013) #5 A (Aspen) Near Mint/Mint

TWELVE REASONS TO DIE (2013) #3 (Black Mask) Near Mint/Mint
TWELVE REASONS TO DIE (2013) #4 (Black Mask) Near Mint/Mint

TWILIGHT ZONE (2013) #4 (DYNAMITE Entertainment) Near Mint/Mint
TWILIGHT ZONE (2013) #5 (DYNAMITE Entertainment) Near Mint/Mint
TWILIGHT ZONE (2013) #8 (DYNAMITE Entertainment) Near Mint/Mint
TWILIGHT ZONE (2013) #8 (DYNAMITE Entertainment) Very Fine
TWILIGHT ZONE (2013) #9 (DYNAMITE Entertainment) Near Mint/Mint
TWILIGHT ZONE (2013) #10 (DYNAMITE Entertainment) Near Mint/Mint
TWILIGHT ZONE (2013) #10 (DYNAMITE Entertainment) Very Fine
TWILIGHT ZONE (2013) #11 (DYNAMITE Entertainment) Near Mint/Mint

TWILIGHT ZONE: SHADOW & SUBSTANCE (2015) #2 VILANOVA (DYNAMITE Entertainment) Near Mint/Mint

UBER (2013) #18 (Avatar Comics) Near Mint/Mint
UBER (2013) #18 PROPAGANDA (Avatar Comics) Near Mint/Mint
UBER (2013) #19 PROPAGANDA (Avatar Comics) Near Mint/Mint
UBER (2013) #19 WAR CRIMES (Avatar Comics) Very Fine
UBER (2013) #19 WRAPAROUND (Avatar Comics) Near Mint/Mint
UBER (2013) #20 PROPAGANDA (Avatar Comics) Near Mint/Mint
UBER (2013) #20 PROPAGANDA (Avatar Comics) Very Fine
UBER (2013) #20 WRAPAROUND (Avatar Comics) Very Fine
UBER (2013) #21 PROPAGANDA (Avatar Comics) Near Mint/Mint
UBER (2013) #21 WAR CRIMES (Avatar Comics) Near Mint/Mint
UBER (2013) #21 WRAPAROUND (Avatar Comics) Near Mint/Mint
UBER (2013) #22 WAR CRIMES (Avatar Comics) Near Mint/Mint
UBER (2013) #22 WRAPAROUND (Avatar Comics) Near Mint/Mint

USAGI YOJIMBO (1987) #1 (Fantagraphics) Very Fine
USAGI YOJIMBO (1987) #2 (Fantagraphics) Very Fine

USAGI YOJIMBO (1987) #3 (Fantagraphics) Near Mint/Mint
USAGI YOJIMBO (1987) #4 (Fantagraphics) Near Mint/Mint
USAGI YOJIMBO (1987) #4 (Fantagraphics) Very Fine
USAGI YOJIMBO (1987) #5 (Fantagraphics) Near Mint/Mint
USAGI YOJIMBO (1987) #6 (Fantagraphics) Near Mint/Mint
USAGI YOJIMBO (1987) #7 (Fantagraphics) Near Mint/Mint
USAGI YOJIMBO (1987) #7 (Fantagraphics) Very Fine
USAGI YOJIMBO (1987) #8 (Fantagraphics) Near Mint/Mint
USAGI YOJIMBO (1987) #9 (Fantagraphics) Near Mint/Mint
USAGI YOJIMBO (1987) #10 (Fantagraphics) Near Mint/Mint
USAGI YOJIMBO (1987) #11 (Fantagraphics) Near Mint/Mint
USAGI YOJIMBO (1987) #12 (Fantagraphics) Near Mint/Mint
USAGI YOJIMBO (1987) #13 (Fantagraphics) Near Mint/Mint
USAGI YOJIMBO (1987) #14 (Fantagraphics) Near Mint/Mint
USAGI YOJIMBO (1987) #15 (Fantagraphics) Very Fine
USAGI YOJIMBO (1987) #16 (Fantagraphics) Near Mint/Mint
USAGI YOJIMBO (1987) #17 (Fantagraphics) Near Mint/Mint
USAGI YOJIMBO (1987) #18 (Fantagraphics) Near Mint/Mint
USAGI YOJIMBO (1987) #19 (Fantagraphics) Near Mint/Mint
USAGI YOJIMBO (1987) #20 (Fantagraphics) Near Mint/Mint
USAGI YOJIMBO (1987) #21 (Fantagraphics) Near Mint/Mint
USAGI YOJIMBO (1987) #22 (Fantagraphics) Near Mint/Mint
USAGI YOJIMBO (1987) #23 (Fantagraphics) Near Mint/Mint
USAGI YOJIMBO (1987) #24 (Fantagraphics) Near Mint/Mint
USAGI YOJIMBO (1987) #25 (Fantagraphics) Near Mint/Mint
USAGI YOJIMBO (1987) #26 (Fantagraphics) Near Mint/Mint
USAGI YOJIMBO (1987) #27 (Fantagraphics) Near Mint/Mint
USAGI YOJIMBO (1987) #28 (Fantagraphics) Near Mint/Mint
USAGI YOJIMBO (1987) #29 (Fantagraphics) Near Mint/Mint
USAGI YOJIMBO (1987) #30 (Fantagraphics) Near Mint/Mint
USAGI YOJIMBO (1987) #31 (Fantagraphics) Near Mint/Mint
USAGI YOJIMBO (1987) #32 (Fantagraphics) Near Mint/Mint
USAGI YOJIMBO (1987) #33 (Fantagraphics) Near Mint/Mint
USAGI YOJIMBO (1987) #34 (Fantagraphics) Near Mint/Mint
USAGI YOJIMBO (1987) #35 (Fantagraphics) Very Fine
USAGI YOJIMBO (1987) #36 (Fantagraphics) Near Mint/Mint
USAGI YOJIMBO (1987) #37 (Fantagraphics) Near Mint/Mint
USAGI YOJIMBO (1987) #38 (Fantagraphics) Near Mint/Mint

USAGI YOJIMBO COLOR SPECIAL #1 (Fantagraphics) Near Mint/Mint
USAGI YOJIMBO COLOR SPECIAL #2 (Fantagraphics) Near Mint/Mint
USAGI YOJIMBO COLOR SPECIAL #3 (Fantagraphics) Near Mint/Mint

USAGI YOJIMBO SUMMER SPECIAL #1 (Fantagraphics) Near Mint/Mint

USAGI YOJIMBO VOL. 2 (1993) #1 (Mirage Studios) Near Mint/Mint
USAGI YOJIMBO VOL. 2 (1993) #2 (Mirage Studios) Near Mint/Mint
USAGI YOJIMBO VOL. 2 (1993) #3 (Mirage Studios) Near Mint/Mint

VALIANT SIZED QUANTUM & WOODY (2014) #1 ZDARSKY (Valiant Comics) Fine

VAMPIRELLA (2014) #6 BUSCEMA (DYNAMITE Entertainment) Near Mint/Mint
VAMPIRELLA (2014) #100 FLEECS (DYNAMITE Entertainment) Near Mint/Mint
VAMPIRELLA (2014) #100 POULAT (DYNAMITE Entertainment) Near Mint/Mint

VAMPIRELLA: FEARY TALES (2014) #1 ADAMS (DYNAMITE Entertainment) Very Fine
VAMPIRELLA: FEARY TALES (2014) #3 ROACH (DYNAMITE Entertainment) Very Fine


WOMEN OF GOLD DIGGER SUMMER VACATION SPECIAL (2014) #1

WOMEN OF GOLD DIGGER SUMMER VACATION SPECIAL (2014) #1 (Antarctic Press) Near Mint/Mint

X-FILES SEASON 10 (2013) #1 A (IDW Publishing) Near Mint/Mint
X-FILES SEASON 10 (2013) #2 A (IDW Publishing) Very Fine
X-FILES SEASON 10 (2013) #3 A (IDW Publishing) Near Mint/Mint
X-FILES SEASON 10 (2013) #21 (IDW Publishing) Near Mint/Mint