60% Off LABORDAY! Comics Sale - 7 Days Only
Howdy!
After my quick trip to my hometown in Germany to attend my beloved uncle's funeral, I am finally back home in Denver. While I have been away from Mile High Comics quite a bit over the past two months, things have actually been running quite well in my absence. Numbers vary slightly from day-to-day, but our Jason Street Mega-StoreJ is becoming so popular that our sales are up 50%+! over August of last year. We are also being inundated with awesome collections containing great back issues, books, toys, statues, and much more. In all honesty, we cannot realistically ask for anything to be better...
As regards our online sales, business is also quite brisk. We were getting so many back issue comics orders last week that we fell a little bit behind, but that has now been resolved. That allows me the freedom to offer you a (brief) window of opportunity to order comics at 60% off via our annual LABORDAY! codeword sale. Unlike some of our past sales, however, this codeword will not be extended, and will run through next Tuesday, September 2nd, only.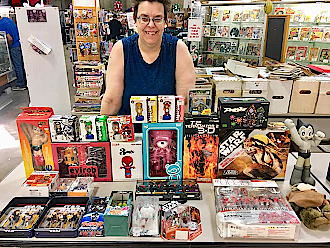 Lisa with some of the figures she just purchased

Please do allow us a little extra time to ship your LABORDAY! order, however, as at 60% off we do expect to be a little overwhelmed. As per usual, the 60% off sale applies to all ten million of our back issue comics and magazines, excluding only new issues, a few variants, and our professionally-graded comics. Please enjoy this wonderful opportunity to add to your collection at nominal cost with our sincere thanks for your continuing support of our family-owned company.
Happy collecting!
Chuck Rozanski/Bettie Pages,
President - Mile High Comics, Inc.
August 26, 2019
P.S. Here are even more great back issues that just arrived:
MARVEL

AMAZING SPIDER-MAN (2014) (#1-20.1) (MARVEL) #9

AMAZING SPIDER-MAN (2014) (#1-20.1) (MARVEL) #9 Near Mint/Mint

ANGELA: ASGARD'S ASSASSIN (MARVEL) (2014) #1 JIMENEZ Fine

AVENGERS PRIME HC (2011) #1 Very Fine

CAPTAIN AMERICA (1968) (#100-454) (MARVEL) #270 NEWSSTAND Near Mint/Mint
CAPTAIN AMERICA (1968) (#100-454) (MARVEL) #359 NEWSSTAND Very Fine
CAPTAIN AMERICA (1968) (#100-454) (MARVEL) #360 NEWSSTAND Fine
CAPTAIN AMERICA (1968) (#100-454) (MARVEL) #362 NEWSSTAND Fine
CAPTAIN AMERICA (1968) (#100-454) (MARVEL) #364 Near Mint/Mint

CHAMPIONS (2016) (#1-27) (MARVEL NOW) #25 Near Mint/Mint

CONAN (1970) (#1-275) (CONAN THE BARBARIAN) (MARVEL) #210 Very Fine

COSMIC GHOST RIDER (2018) #4 Very Fine

DAKEN: DARK WOLVERINE - NO MORE HEROES HC (2012) #1 Near Mint/Mint

DEADPOOL (2018) (#1-UP) (MARVEL) #5 Near Mint/Mint
DEADPOOL (2018) (#1-UP) (MARVEL) #5 Fine

DEATH OF THE INHUMANS (2018) #4 Near Mint/Mint

DRACULA GIANT-SIZE (1974) #2 Fine
DRACULA GIANT-SIZE (1974) #3 Very Good

ETERNALS (1976) (#1-19) (MARVEL) (JACK KIRBY) #5 Fine

EXTERMINATION (2018) (#1-5) (MARVEL) #4 CASSADAY Near Mint/Mint

GAMBIT (2004) (#1-12) (MARVEL) #9 Near Mint/Mint

IMMORTAL HULK (2018) #9 ADAMS Very Fine

INCREDIBLE HERCULES: AGAINST THE WORLD HC (2008) #1 Near Mint/Mint

INCREDIBLE HERCULES: ASSAULT ON NEW OLYMPUS PREMIERE HC (2010) #1 Near Mint/Mint

INCREDIBLE HERCULES: SECRET INVASION PREMIERE HC (2008) #1 Fine

INFINITY COUNTDOWN (2018) #1 Near Mint/Mint
INFINITY COUNTDOWN (2018) #5 Very Fine

INFINITY GAUNTLET (2015) #2 Near Mint/Mint

LAST DEFENDERS TPB (2008) #1 Fine

LAST HERO STANDING TPB (2005) #1 Near Mint/Mint

LONGSHOT TPB (1989) #1 Very Good

MARVEL ILLUSTRATED BOOKS: DAREDEVIL PB (1982) #1 Very Good

MOON KNIGHT (2017) (#188-UP) (MARVEL LEGACY) #200 TAN Near Mint/Mint

NEW MUTANTS (1983) (#1-100) (MARVEL) #87 2ND PRT Very Fine

NEW X-MEN: E IS FOR EXTINCTION TPB (2001) #1 Very Good

PUNISHER (2018) (#1-UP) (MARVEL) #3 SORRENTINO Fine

PUNISHER: ARMY OF ONE TPB (2002) #1 Fine

PUNISHER: WELCOME BACK FRANK TPB (2001) #1 Very Good

RETURN OF WOLVERINE (2018) #2 MARQUEZ Near Mint/Mint

SECRET WARS (1984) (#1-12) (LIMTED SERIES) (MARVEL) #5 Fine
SECRET WARS (1984) (#1-12) (LIMTED SERIES) (MARVEL) #5 Near Mint/Mint
SECRET WARS (1984) (#1-12) (LIMTED SERIES) (MARVEL) #5 Very Fine
SECRET WARS (1984) (#1-12) (LIMTED SERIES) (MARVEL) #6 Near Mint/Mint
SECRET WARS (1984) (#1-12) (LIMTED SERIES) (MARVEL) #6 Fine
SECRET WARS (1984) (#1-12) (LIMTED SERIES) (MARVEL) #6 Very Fine
SECRET WARS (1984) (#1-12) (LIMTED SERIES) (MARVEL) #9 Fine
SECRET WARS (1984) (#1-12) (LIMTED SERIES) (MARVEL) #9 Near Mint/Mint
SECRET WARS (1984) (#1-12) (LIMTED SERIES) (MARVEL) #9 Very Fine

SECRET WARS II (1985) #1 Near Mint/Mint
SECRET WARS II (1985) #1 Very Fine

SENSATIONAL SPIDER-MAN (1996) #3 NEWSSTAND Very Fine

SHADOWLAND: BLOOD ON THE STREETS HC (2011) #1 Near Mint/Mint


SHADOWLAND: BLOOD ON THE STREETS TPB (2011) #1

SHADOWLAND: BLOOD ON THE STREETS TPB (2011) #1 Near Mint/Mint
SHADOWLAND: BLOOD ON THE STREETS TPB (2011) #1 Very Fine

SHADOWLAND: MOON KNIGHT HC (2011) #1 Near Mint/Mint

SHADOWLAND: POWER MAN (2010) #1 Near Mint/Mint
SHADOWLAND: POWER MAN (2010) #1 Very Fine

SHADOWLAND: POWER MAN HC (2011) #1 Near Mint/Mint

SHADOWLAND: POWER MAN TPB (2011) #1 Near Mint/Mint

SHADOWLAND: STREET HEROES PREMIERE HC (2011) #1 Near Mint/Mint

SHADOWLAND: THUNDERBOLTS PREMIERE HC (2011) #1 Near Mint/Mint

SHATTERSTAR (2018) #1 Near Mint/Mint

SHE-HULK (2005) (#1-38) (MARVEL) #24 NEWSSTAND Near Mint/Mint

SHURI (2018) #1 PACHECO Near Mint/Mint
SHURI (2018) #1 PACHECO Very Fine
SHURI (2018) #1 PACHECO Fine

SIEGE: X-MEN HC (2010) #1 Near Mint/Mint

SILVER SURFER (1987) (#1-146) (MARVEL) #4 Near Mint/Mint
SILVER SURFER (1987) (#1-146) (MARVEL) #4 Fine
SILVER SURFER (1987) (#1-146) (MARVEL) #4 Very Fine
SILVER SURFER (1987) (#1-146) (MARVEL) #63 NEWSSTAND Near Mint/Mint
SILVER SURFER (1987) (#1-146) (MARVEL) #63 NEWSSTAND Very Fine
SILVER SURFER (1987) (#1-146) (MARVEL) #63 NEWSSTAND Fine
SILVER SURFER (1987) (#1-146) (MARVEL) #64 Fine
SILVER SURFER (1987) (#1-146) (MARVEL) #64 Very Fine
SILVER SURFER (1987) (#1-146) (MARVEL) #113 Near Mint/Mint
SILVER SURFER (1987) (#1-146) (MARVEL) #113 Very Fine

SPELLBOUND (1988) (#1-6) (BI-WEEKLY SERIES) (MARVEL) #5 Near Mint/Mint

SPIDER-FORCE (2018) #1 ROBSON Near Mint/Mint

SPIDER-GIRLS (2018) #1 REEDER Near Mint/Mint
SPIDER-GIRLS (2018) #1 REEDER Fine


SPIDER-GWEN (2015) (#0-5) (MARVEL) #1

SPIDER-GWEN (2015) (#0-5) (MARVEL) #1 Near Mint/Mint
SPIDER-GWEN (2015) (#0-5) (MARVEL) #1 PHANTOM2ND Near Mint/Mint
SPIDER-GWEN (2015) (#0-5) (MARVEL) #1 Very Fine
SPIDER-GWEN (2015) (#0-5) (MARVEL) #4 Near Mint/Mint

SPIDER-GWEN: GHOST-SPIDER (2018) #1 ANIMATION Near Mint/Mint

SPIDER-MAN (1963) (AMAZING SPIDER-MAN) (#1-441) #166 Very Fine
SPIDER-MAN (1963) (AMAZING SPIDER-MAN) (#1-441) #295 NEWSSTAND Fine
SPIDER-MAN (1963) (AMAZING SPIDER-MAN) (#1-441) #334 Near Mint/Mint
SPIDER-MAN (1963) (AMAZING SPIDER-MAN) (#1-441) #355 NEWSSTAND Near Mint/Mint

SPIDER-MAN (1990) (#1-74, PETER PARKER SPIDEY #75-98) #6 Near Mint/Mint
SPIDER-MAN (1990) (#1-74, PETER PARKER SPIDEY #75-98) #37 Near Mint/Mint
SPIDER-MAN (1990) (#1-74, PETER PARKER SPIDEY #75-98) #37 Very Fine
SPIDER-MAN (1990) (#1-74, PETER PARKER SPIDEY #75-98) #65 NEWSSTAND Near Mint/Mint
SPIDER-MAN (1990) (#1-74, PETER PARKER SPIDEY #75-98) #91 VARIANT Near Mint/Mint

SPIDER-MAN TOGETHER WITH THOR, HAVOK, & MAN-THING PB (1982) #2 Very Good

STAR WARS (2015) (#1-UP) (MARVEL) #1 ROSS Near Mint/Mint
STAR WARS (2015) (#1-UP) (MARVEL) #1 ROSS Fine
STAR WARS (2015) (#1-UP) (MARVEL) #7 FIGURE VAR Near Mint/Mint
STAR WARS (2015) (#1-UP) (MARVEL) #7 FIGURE VAR Very Fine
STAR WARS (2015) (#1-UP) (MARVEL) #8 FIGURE VAR Near Mint/Mint
STAR WARS (2015) (#1-UP) (MARVEL) #8 FIGURE VAR Very Fine
STAR WARS (2015) (#1-UP) (MARVEL) #29 MILE HIGH Near Mint/Mint
STAR WARS (2015) (#1-UP) (MARVEL) #32 MILE HIGH Near Mint/Mint
STAR WARS (2015) (#1-UP) (MARVEL) #35 MILE HIGH Near Mint/Mint
STAR WARS (2015) (#1-UP) (MARVEL) #35 MILE HIGH Very Fine
STAR WARS (2015) (#1-UP) (MARVEL) #36 MILE HIGH Near Mint/Mint
STAR WARS (2015) (#1-UP) (MARVEL) #36 MILE HIGH Very Fine
STAR WARS (2015) (#1-UP) (MARVEL) #37 MILE HIGH Near Mint/Mint
STAR WARS (2015) (#1-UP) (MARVEL) #38 MILE HIGH Near Mint/Mint
STAR WARS (2015) (#1-UP) (MARVEL) #38 MILE HIGH Very Fine
STAR WARS (2015) (#1-UP) (MARVEL) #39 MILE HIGH Near Mint/Mint
STAR WARS (2015) (#1-UP) (MARVEL) #40 MILE HIGH Near Mint/Mint
STAR WARS (2015) (#1-UP) (MARVEL) #41 MILE HIGH Near Mint/Mint
STAR WARS (2015) (#1-UP) (MARVEL) #42 MILE HIGH Near Mint/Mint

STAR WARS: DARTH VADER (2017) #2 2ND PRINT Near Mint/Mint
STAR WARS: DARTH VADER (2017) #4 Near Mint/Mint
STAR WARS: DARTH VADER (2017) #4 Very Fine


STAR WARS: DARTH VADER (2017) #5

STAR WARS: DARTH VADER (2017) #5 Near Mint/Mint
STAR WARS: DARTH VADER (2017) #6 Near Mint/Mint

STRANGE TALES (1951) (#1-85 ATLAS, #86-188 MARVEL) #138 Fine
STRANGE TALES (1951) (#1-85 ATLAS, #86-188 MARVEL) #156 Good

SUPERIOR SPIDER-MAN (2013) (#1-33) (MARVEL) #1 Near Mint/Mint

THOR (2014) (#1-8) (MARVEL) (FEMALE THOR) #1 MILE HIGH Fine

THUNDERBOLTS: JUSTICE LIKE LIGHTNING TPB (2001) #1 Very Good

UNCANNY X-MEN MASTERWORKS TPB (1993) #1 Good

WOLVERINE LEGENDS: LAW OF THE JUNGLE TPB (VOL. 3) (2003) #1 Fine

WOLVERINE: THE ORIGIN COLLECTION (2002) #1 HC Very Good

X-FORCE VOL. 3: ENDS/MEANS TPB (2015) #1 Near Mint/Mint

X-FORCE: CHILD'S PLAY HC (MV CLASSIC #100) (2012) #1 BLACK FOIL Near Mint/Mint

X-FORCE: SHATTERSTAR TPB (2005) #1 Fine

X-FORCE: TOY SOLDIERS HC (MV CLASSIC #88) (2012) #1 BLACK FOIL Fine

X-FORCE: UNDER THE GUN HC (MV CLASSIC #61) (2010) #1 BLACK FOIL Near Mint/Mint

X-MEN MASTERWORKS TPB (ALL-NEW, ALL-DIFFERENT) (1993) #1 Very Good

X-MEN VISIONARIES: WRITING OF CHRIS CLAREMONT TPB #1 Good

X-MEN: COMPLETE AGE OF APOCALYPSE EPIC TPB (2005) #1 7TH PRINT Fine

X-MEN: MAGIK - STORM & ILLYANA HC (MV CLASSIC #16) (2008) #1 Near Mint/Mint

X-MEN: X-CLUB TPB (2012) #1 Near Mint/Mint

DC
100 BULLETS: SAMURAI TPB (VOL. 7) (2004) #1 2ND PRINT (DC: Vertigo Press) Fine

100 BULLETS: SIX FEET UNDER THE GUN TPB (VOL. 6) (2003) #1 (DC: Vertigo Press) Very Fine


ACTION COMICS (1938) (#0-600, 643-904) (DC) #265

ACTION COMICS (1938) (#0-600, 643-904) (DC) #265 Good
ACTION COMICS (1938) (#0-600, 643-904) (DC) #292 Fair
ACTION COMICS (1938) (#0-600, 643-904) (DC) #302 Fair
ACTION COMICS (1938) (#0-600, 643-904) (DC) #307 Fair
ACTION COMICS (1938) (#0-600, 643-904) (DC) #308 Good
ACTION COMICS (1938) (#0-600, 643-904) (DC) #310 Good
ACTION COMICS (1938) (#0-600, 643-904) (DC) #313 Good
ACTION COMICS (1938) (#0-600, 643-904) (DC) #314 Fair
ACTION COMICS (1938) (#0-600, 643-904) (DC) #315 Good
ACTION COMICS (1938) (#0-600, 643-904) (DC) #316 Fair
ACTION COMICS (1938) (#0-600, 643-904) (DC) #317 Good
ACTION COMICS (1938) (#0-600, 643-904) (DC) #318 Good
ACTION COMICS (1938) (#0-600, 643-904) (DC) #319 Fair
ACTION COMICS (1938) (#0-600, 643-904) (DC) #320 Good
ACTION COMICS (1938) (#0-600, 643-904) (DC) #321 Good
ACTION COMICS (1938) (#0-600, 643-904) (DC) #322 Good
ACTION COMICS (1938) (#0-600, 643-904) (DC) #323 Fair
ACTION COMICS (1938) (#0-600, 643-904) (DC) #324 Good
ACTION COMICS (1938) (#0-600, 643-904) (DC) #325 Fair
ACTION COMICS (1938) (#0-600, 643-904) (DC) #326 Good
ACTION COMICS (1938) (#0-600, 643-904) (DC) #327 Good
ACTION COMICS (1938) (#0-600, 643-904) (DC) #328 Good
ACTION COMICS (1938) (#0-600, 643-904) (DC) #329 Good
ACTION COMICS (1938) (#0-600, 643-904) (DC) #330 Good
ACTION COMICS (1938) (#0-600, 643-904) (DC) #331 Good
ACTION COMICS (1938) (#0-600, 643-904) (DC) #332 Good
ACTION COMICS (1938) (#0-600, 643-904) (DC) #333 Good
ACTION COMICS (1938) (#0-600, 643-904) (DC) #334 Good
ACTION COMICS (1938) (#0-600, 643-904) (DC) #335 Good
ACTION COMICS (1938) (#0-600, 643-904) (DC) #336 Good
ACTION COMICS (1938) (#0-600, 643-904) (DC) #337 Good
ACTION COMICS (1938) (#0-600, 643-904) (DC) #338 Very Good
ACTION COMICS (1938) (#0-600, 643-904) (DC) #339 Very Good
ACTION COMICS (1938) (#0-600, 643-904) (DC) #340 Very Good
ACTION COMICS (1938) (#0-600, 643-904) (DC) #341 Good
ACTION COMICS (1938) (#0-600, 643-904) (DC) #342 Good
ACTION COMICS (1938) (#0-600, 643-904) (DC) #343 Very Good
ACTION COMICS (1938) (#0-600, 643-904) (DC) #344 Very Good
ACTION COMICS (1938) (#0-600, 643-904) (DC) #345 Good
ACTION COMICS (1938) (#0-600, 643-904) (DC) #346 Very Good
ACTION COMICS (1938) (#0-600, 643-904) (DC) #347 Good
ACTION COMICS (1938) (#0-600, 643-904) (DC) #348 Very Good
ACTION COMICS (1938) (#0-600, 643-904) (DC) #349 Very Good


ACTION COMICS (1938) (#0-600, 643-904) (DC) #350

ACTION COMICS (1938) (#0-600, 643-904) (DC) #350 Good
ACTION COMICS (1938) (#0-600, 643-904) (DC) #351 Very Good
ACTION COMICS (1938) (#0-600, 643-904) (DC) #352 Very Good
ACTION COMICS (1938) (#0-600, 643-904) (DC) #353 Very Good
ACTION COMICS (1938) (#0-600, 643-904) (DC) #354 Very Good
ACTION COMICS (1938) (#0-600, 643-904) (DC) #355 Very Good
ACTION COMICS (1938) (#0-600, 643-904) (DC) #356 Very Good
ACTION COMICS (1938) (#0-600, 643-904) (DC) #357 Good
ACTION COMICS (1938) (#0-600, 643-904) (DC) #358 Very Good
ACTION COMICS (1938) (#0-600, 643-904) (DC) #359 Very Good
ACTION COMICS (1938) (#0-600, 643-904) (DC) #360 Very Good
ACTION COMICS (1938) (#0-600, 643-904) (DC) #361 Fine

ADVENTURE COMICS (1938) (#32-503) (DC) #299 Good
ADVENTURE COMICS (1938) (#32-503) (DC) #307 Fair
ADVENTURE COMICS (1938) (#32-503) (DC) #308 Fair
ADVENTURE COMICS (1938) (#32-503) (DC) #312 Fair
ADVENTURE COMICS (1938) (#32-503) (DC) #323 Fair
ADVENTURE COMICS (1938) (#32-503) (DC) #324 Good
ADVENTURE COMICS (1938) (#32-503) (DC) #326 Good
ADVENTURE COMICS (1938) (#32-503) (DC) #327 Good
ADVENTURE COMICS (1938) (#32-503) (DC) #328 Good
ADVENTURE COMICS (1938) (#32-503) (DC) #329 Good
ADVENTURE COMICS (1938) (#32-503) (DC) #330 Good
ADVENTURE COMICS (1938) (#32-503) (DC) #331 Good
ADVENTURE COMICS (1938) (#32-503) (DC) #332 Good
ADVENTURE COMICS (1938) (#32-503) (DC) #333 Fair
ADVENTURE COMICS (1938) (#32-503) (DC) #334 Good
ADVENTURE COMICS (1938) (#32-503) (DC) #335 Good
ADVENTURE COMICS (1938) (#32-503) (DC) #336 Good
ADVENTURE COMICS (1938) (#32-503) (DC) #337 Good
ADVENTURE COMICS (1938) (#32-503) (DC) #339 Good
ADVENTURE COMICS (1938) (#32-503) (DC) #340 Very Good
ADVENTURE COMICS (1938) (#32-503) (DC) #341 Very Good
ADVENTURE COMICS (1938) (#32-503) (DC) #342 Good
ADVENTURE COMICS (1938) (#32-503) (DC) #343 Very Good
ADVENTURE COMICS (1938) (#32-503) (DC) #345 Good
ADVENTURE COMICS (1938) (#32-503) (DC) #346 Good
ADVENTURE COMICS (1938) (#32-503) (DC) #347 Good
ADVENTURE COMICS (1938) (#32-503) (DC) #348 Good
ADVENTURE COMICS (1938) (#32-503) (DC) #349 Very Good
ADVENTURE COMICS (1938) (#32-503) (DC) #350 Good
ADVENTURE COMICS (1938) (#32-503) (DC) #351 Good


ADVENTURE COMICS (1938) (#32-503) (DC) #352

ADVENTURE COMICS (1938) (#32-503) (DC) #352 Good
ADVENTURE COMICS (1938) (#32-503) (DC) #353 Good
ADVENTURE COMICS (1938) (#32-503) (DC) #354 Good
ADVENTURE COMICS (1938) (#32-503) (DC) #355 Good
ADVENTURE COMICS (1938) (#32-503) (DC) #356 Very Good
ADVENTURE COMICS (1938) (#32-503) (DC) #357 Good
ADVENTURE COMICS (1938) (#32-503) (DC) #358 Good
ADVENTURE COMICS (1938) (#32-503) (DC) #359 Very Good
ADVENTURE COMICS (1938) (#32-503) (DC) #360 Good
ADVENTURE COMICS (1938) (#32-503) (DC) #361 Very Good
ADVENTURE COMICS (1938) (#32-503) (DC) #362 Very Good
ADVENTURE COMICS (1938) (#32-503) (DC) #363 Good
ADVENTURE COMICS (1938) (#32-503) (DC) #364 Very Good
ADVENTURE COMICS (1938) (#32-503) (DC) #365 Very Good
ADVENTURE COMICS (1938) (#32-503) (DC) #366 Very Good

ALL-AMERICAN MEN OF WAR (1952) #81 Good
ALL-AMERICAN MEN OF WAR (1952) #90 Good
ALL-AMERICAN MEN OF WAR (1952) #103 Good
ALL-AMERICAN MEN OF WAR (1952) #110 Good

BATMAN (1940) (#0-713) (DC) #159 Fair
BATMAN (1940) (#0-713) (DC) #163 Good
BATMAN (1940) (#0-713) (DC) #165 Fair
BATMAN (1940) (#0-713) (DC) #166 Good
BATMAN (1940) (#0-713) (DC) #170 Good
BATMAN (1940) (#0-713) (DC) #172 Good
BATMAN (1940) (#0-713) (DC) #175 Good
BATMAN (1940) (#0-713) (DC) #176 Good
BATMAN (1940) (#0-713) (DC) #177 Good
BATMAN (1940) (#0-713) (DC) #178 Good
BATMAN (1940) (#0-713) (DC) #179 Fair
BATMAN (1940) (#0-713) (DC) #180 Fair
BATMAN (1940) (#0-713) (DC) #182 Fair
BATMAN (1940) (#0-713) (DC) #185 Very Good
BATMAN (1940) (#0-713) (DC) #187 Very Good
BATMAN (1940) (#0-713) (DC) #193 Very Good
BATMAN (1940) (#0-713) (DC) #198 Very Good

BATMAN ANNUAL (1961) (#1-28) (DC) #5 Good

BATMAN: EUROPA (2016) #1 Near Mint/Mint
BATMAN: EUROPA (2016) #4 Near Mint/Mint


BLACKHAWK (1957) (#108-273) (DC) #174

BLACKHAWK (1957) (#108-273) (DC) #174 Good
BLACKHAWK (1957) (#108-273) (DC) #175 Good
BLACKHAWK (1957) (#108-273) (DC) #177 Good
BLACKHAWK (1957) (#108-273) (DC) #192 Good
BLACKHAWK (1957) (#108-273) (DC) #194 Good
BLACKHAWK (1957) (#108-273) (DC) #197 Good
BLACKHAWK (1957) (#108-273) (DC) #199 Very Good
BLACKHAWK (1957) (#108-273) (DC) #200 Good
BLACKHAWK (1957) (#108-273) (DC) #203 Very Good
BLACKHAWK (1957) (#108-273) (DC) #205 Very Good
BLACKHAWK (1957) (#108-273) (DC) #206 Very Good
BLACKHAWK (1957) (#108-273) (DC) #211 Very Good
BLACKHAWK (1957) (#108-273) (DC) #213 Very Good
BLACKHAWK (1957) (#108-273) (DC) #218 Very Good
BLACKHAWK (1957) (#108-273) (DC) #229 Very Good
BLACKHAWK (1957) (#108-273) (DC) #231 Very Good

CAPTAIN STORM (1964) #2 Good
CAPTAIN STORM (1964) #4 Good
CAPTAIN STORM (1964) #9 Good

CURSED COMICS CAVALCADE (2018) #1 Near Mint/Mint

DETECTIVE COMICS (1937) (#0-881) (DC) #317 Good
DETECTIVE COMICS (1937) (#0-881) (DC) #320 Good
DETECTIVE COMICS (1937) (#0-881) (DC) #321 Fair
DETECTIVE COMICS (1937) (#0-881) (DC) #325 Good
DETECTIVE COMICS (1937) (#0-881) (DC) #326 Fair
DETECTIVE COMICS (1937) (#0-881) (DC) #332 Good
DETECTIVE COMICS (1937) (#0-881) (DC) #336 Good
DETECTIVE COMICS (1937) (#0-881) (DC) #340 Fair
DETECTIVE COMICS (1937) (#0-881) (DC) #572 Near Mint/Mint
DETECTIVE COMICS (1937) (#0-881) (DC) #605 Near Mint/Mint
DETECTIVE COMICS (1937) (#0-881) (DC) #606 Near Mint/Mint

EIGHTY-PAGE GIANT (1964) #7 Good
EIGHTY-PAGE GIANT (1964) #10 Good
EIGHTY-PAGE GIANT (1964) #12 Good
EIGHTY-PAGE GIANT (1964) #14 Good
EIGHTY-PAGE GIANT (1964) #15 Good

GI COMBAT (1957) (#44-288) (DC) #108 Good
GI COMBAT (1957) (#44-288) (DC) #109 Good


GI COMBAT (1957) (#44-288) (DC) #110

GI COMBAT (1957) (#44-288) (DC) #110 Fair
GI COMBAT (1957) (#44-288) (DC) #112 Good
GI COMBAT (1957) (#44-288) (DC) #114 Good

HELLBLAZER: FEAR MACHINE TPB (2008) #1 2ND PRINT Near Mint/Mint

HUMAN TARGET TPB (2000) #1 (DC: Vertigo Press) Fine

I, PAPARAZZI HC (2001) #1 (DC: Vertigo Press) Near Mint/Mint

JIMMY OLSEN (1954) #79 Good
JIMMY OLSEN (1954) #81 Good
JIMMY OLSEN (1954) #82 Good
JIMMY OLSEN (1954) #83 Good
JIMMY OLSEN (1954) #84 Good
JIMMY OLSEN (1954) #86 Good
JIMMY OLSEN (1954) #87 Good
JIMMY OLSEN (1954) #88 Good
JIMMY OLSEN (1954) #89 Good
JIMMY OLSEN (1954) #90 Good
JIMMY OLSEN (1954) #95 Good
JIMMY OLSEN (1954) #99 Very Good
JIMMY OLSEN (1954) #100 Very Good
JIMMY OLSEN (1954) #104 Good

JUSTICE RIDERS (1997) #1 Near Mint/Mint

LEAGUE OF EXTRAORDINARY GENTLEMEN: BLACK DOSSIER TPB (2007) #1 Near Mint/Mint

LEAGUE OF EXTRAORDINARY GENTLEMEN: CENTURY #2 1969 (2011) #1 Near Mint/Mint

LEAVE IT TO CHANCE TPB #1 (DC/Wildstorm) Very Good

LOIS LANE (1958) (#1-137) (SUPERMAN'S GIRL FRIEND) (DC) #35 Good
LOIS LANE (1958) (#1-137) (SUPERMAN'S GIRL FRIEND) (DC) #40 Fair
LOIS LANE (1958) (#1-137) (SUPERMAN'S GIRL FRIEND) (DC) #44 Fair
LOIS LANE (1958) (#1-137) (SUPERMAN'S GIRL FRIEND) (DC) #45 Fair
LOIS LANE (1958) (#1-137) (SUPERMAN'S GIRL FRIEND) (DC) #46 Fair
LOIS LANE (1958) (#1-137) (SUPERMAN'S GIRL FRIEND) (DC) #47 Good
LOIS LANE (1958) (#1-137) (SUPERMAN'S GIRL FRIEND) (DC) #49 Fair
LOIS LANE (1958) (#1-137) (SUPERMAN'S GIRL FRIEND) (DC) #50 Fair
LOIS LANE (1958) (#1-137) (SUPERMAN'S GIRL FRIEND) (DC) #51 Good
LOIS LANE (1958) (#1-137) (SUPERMAN'S GIRL FRIEND) (DC) #52 Good


LOIS LANE (1958) (#1-137) (SUPERMAN'S GIRL FRIEND) (DC) #53

LOIS LANE (1958) (#1-137) (SUPERMAN'S GIRL FRIEND) (DC) #53 Good
LOIS LANE (1958) (#1-137) (SUPERMAN'S GIRL FRIEND) (DC) #54 Good
LOIS LANE (1958) (#1-137) (SUPERMAN'S GIRL FRIEND) (DC) #55 Fair
LOIS LANE (1958) (#1-137) (SUPERMAN'S GIRL FRIEND) (DC) #56 Good
LOIS LANE (1958) (#1-137) (SUPERMAN'S GIRL FRIEND) (DC) #57 Good
LOIS LANE (1958) (#1-137) (SUPERMAN'S GIRL FRIEND) (DC) #58 Good
LOIS LANE (1958) (#1-137) (SUPERMAN'S GIRL FRIEND) (DC) #59 Good
LOIS LANE (1958) (#1-137) (SUPERMAN'S GIRL FRIEND) (DC) #60 Good
LOIS LANE (1958) (#1-137) (SUPERMAN'S GIRL FRIEND) (DC) #61 Good
LOIS LANE (1958) (#1-137) (SUPERMAN'S GIRL FRIEND) (DC) #62 Very Good
LOIS LANE (1958) (#1-137) (SUPERMAN'S GIRL FRIEND) (DC) #63 Fair
LOIS LANE (1958) (#1-137) (SUPERMAN'S GIRL FRIEND) (DC) #64 Good
LOIS LANE (1958) (#1-137) (SUPERMAN'S GIRL FRIEND) (DC) #65 Good
LOIS LANE (1958) (#1-137) (SUPERMAN'S GIRL FRIEND) (DC) #66 Good
LOIS LANE (1958) (#1-137) (SUPERMAN'S GIRL FRIEND) (DC) #67 Good
LOIS LANE (1958) (#1-137) (SUPERMAN'S GIRL FRIEND) (DC) #68 Fair
LOIS LANE (1958) (#1-137) (SUPERMAN'S GIRL FRIEND) (DC) #69 Very Good
LOIS LANE (1958) (#1-137) (SUPERMAN'S GIRL FRIEND) (DC) #70 Good
LOIS LANE (1958) (#1-137) (SUPERMAN'S GIRL FRIEND) (DC) #71 Good
LOIS LANE (1958) (#1-137) (SUPERMAN'S GIRL FRIEND) (DC) #72 Very Good
LOIS LANE (1958) (#1-137) (SUPERMAN'S GIRL FRIEND) (DC) #73 Good
LOIS LANE (1958) (#1-137) (SUPERMAN'S GIRL FRIEND) (DC) #74 Very Good
LOIS LANE (1958) (#1-137) (SUPERMAN'S GIRL FRIEND) (DC) #75 Very Good
LOIS LANE (1958) (#1-137) (SUPERMAN'S GIRL FRIEND) (DC) #76 Good
LOIS LANE (1958) (#1-137) (SUPERMAN'S GIRL FRIEND) (DC) #77 Very Good
LOIS LANE (1958) (#1-137) (SUPERMAN'S GIRL FRIEND) (DC) #78 Fine
LOIS LANE (1958) (#1-137) (SUPERMAN'S GIRL FRIEND) (DC) #79 Fine
LOIS LANE (1958) (#1-137) (SUPERMAN'S GIRL FRIEND) (DC) #80 Fine
LOIS LANE (1958) (#1-137) (SUPERMAN'S GIRL FRIEND) (DC) #81 Very Good

LOST BOYS TPB (2017) #1 Near Mint/Mint

LOST BOYS: REIGN OF FROGS TPB (2009) #1 Near Mint/Mint

LOVELESS: A KIN OF HOMECOMING TPB (VOL. 1) (2006) #1 (DC: Vertigo Press) Fine

LUCIFER: A DALLIANCE WITH THE DAMNED TPB (VOL. 3) (2002) #1 2ND PRINT (DC: Vertigo Press) Very Good
LUCIFER: A DALLIANCE WITH THE DAMNED TPB (VOL. 3) (2002) #1 4TH PRINT (DC: Vertigo Press) Near Mint/Mint

LUCIFER: MANSIONS OF THE SILENCE TPB (VOL. 6) (2004) #1 2ND PRINT (DC: Vertigo Press) Near Mint/Mint

OUR ARMY AT WAR (1952) #109 Good
OUR ARMY AT WAR (1952) #114 Fair

OUR ARMY AT WAR (1952) #115 Fair
OUR ARMY AT WAR (1952) #124 Fair
OUR ARMY AT WAR (1952) #126 Fair
OUR ARMY AT WAR (1952) #143 Fair
OUR ARMY AT WAR (1952) #144 Good
OUR ARMY AT WAR (1952) #149 Fair
OUR ARMY AT WAR (1952) #150 Good
OUR ARMY AT WAR (1952) #151 Good
OUR ARMY AT WAR (1952) #152 Good
OUR ARMY AT WAR (1952) #153 Good
OUR ARMY AT WAR (1952) #155 Good
OUR ARMY AT WAR (1952) #156 Good
OUR ARMY AT WAR (1952) #157 Fair
OUR ARMY AT WAR (1952) #158 Good
OUR ARMY AT WAR (1952) #159 Fair
OUR ARMY AT WAR (1952) #160 Good
OUR ARMY AT WAR (1952) #161 Very Good
OUR ARMY AT WAR (1952) #162 Good
OUR ARMY AT WAR (1952) #164 Good
OUR ARMY AT WAR (1952) #177 Good
OUR ARMY AT WAR (1952) #180 Good

OUR FIGHTING FORCES (1954) #58 Fair
OUR FIGHTING FORCES (1954) #75 Fair
OUR FIGHTING FORCES (1954) #77 Good
OUR FIGHTING FORCES (1954) #79 Good
OUR FIGHTING FORCES (1954) #82 Good
OUR FIGHTING FORCES (1954) #83 Good
OUR FIGHTING FORCES (1954) #86 Good
OUR FIGHTING FORCES (1954) #87 Good
OUR FIGHTING FORCES (1954) #88 Good
OUR FIGHTING FORCES (1954) #89 Good
OUR FIGHTING FORCES (1954) #90 Good
OUR FIGHTING FORCES (1954) #91 Good
OUR FIGHTING FORCES (1954) #92 Very Good
OUR FIGHTING FORCES (1954) #93 Good
OUR FIGHTING FORCES (1954) #94 Good
OUR FIGHTING FORCES (1954) #95 Good
OUR FIGHTING FORCES (1954) #96 Good

RIP HUNTER TIME MASTER (1961) #20 Fair
RIP HUNTER TIME MASTER (1961) #23 Good


SECRET ORIGINS (1986) (#1-50) (DC) #45

SECRET ORIGINS (1986) (#1-50) (DC) #45 Near Mint/Mint

SHADOW (1987) (#1-19) (DC) #16 Near Mint/Mint

SHOWCASE '94 #2 Near Mint/Mint

SPECTRE: CRIMES & PUNISHMENT TPB (1993) #1 Fine

STAR TREK: THE NEXT GENERATION (1989) (#1-80) (DC) #57 Near Mint/Mint

STRANGE ADVENTURES (1950) (#1-244) (DC) #161 Fair
STRANGE ADVENTURES (1950) (#1-244) (DC) #163 Good

SUPERBOY (1949) (#1-258) (DC) #84 Fair
SUPERBOY (1949) (#1-258) (DC) #99 Fair
SUPERBOY (1949) (#1-258) (DC) #106 Good
SUPERBOY (1949) (#1-258) (DC) #107 Fair
SUPERBOY (1949) (#1-258) (DC) #108 Good
SUPERBOY (1949) (#1-258) (DC) #111 Good
SUPERBOY (1949) (#1-258) (DC) #112 Fair
SUPERBOY (1949) (#1-258) (DC) #113 Fair
SUPERBOY (1949) (#1-258) (DC) #114 Fair
SUPERBOY (1949) (#1-258) (DC) #115 Fair
SUPERBOY (1949) (#1-258) (DC) #116 Fair
SUPERBOY (1949) (#1-258) (DC) #118 Good
SUPERBOY (1949) (#1-258) (DC) #119 Fair
SUPERBOY (1949) (#1-258) (DC) #122 Good
SUPERBOY (1949) (#1-258) (DC) #124 Good
SUPERBOY (1949) (#1-258) (DC) #125 Good
SUPERBOY (1949) (#1-258) (DC) #126 Good
SUPERBOY (1949) (#1-258) (DC) #127 Good
SUPERBOY (1949) (#1-258) (DC) #128 Very Good
SUPERBOY (1949) (#1-258) (DC) #129 Good
SUPERBOY (1949) (#1-258) (DC) #130 Good
SUPERBOY (1949) (#1-258) (DC) #131 Good
SUPERBOY (1949) (#1-258) (DC) #132 Good
SUPERBOY (1949) (#1-258) (DC) #133 Good
SUPERBOY (1949) (#1-258) (DC) #134 Good
SUPERBOY (1949) (#1-258) (DC) #135 Good
SUPERBOY (1949) (#1-258) (DC) #136 Good
SUPERBOY (1949) (#1-258) (DC) #137 Good
SUPERBOY (1949) (#1-258) (DC) #138 Good
SUPERBOY (1949) (#1-258) (DC) #139 Very Good


SUPERBOY (1949) (#1-258) (DC) #140

SUPERBOY (1949) (#1-258) (DC) #140 Good
SUPERBOY (1949) (#1-258) (DC) #141 Very Good
SUPERBOY (1949) (#1-258) (DC) #142 Very Good
SUPERBOY (1949) (#1-258) (DC) #143 Very Good
SUPERBOY (1949) (#1-258) (DC) #144 Good
SUPERBOY (1949) (#1-258) (DC) #145 Very Good
SUPERBOY (1949) (#1-258) (DC) #146 Very Good

SUPERBOY (1994) (#0-100) (DC) #0 Fine
SUPERBOY (1994) (#0-100) (DC) #0 NEWSSTAND Fine

SUPERGIRL (2005) (#0-67) (DC) #21 Near Mint/Mint
SUPERGIRL (2005) (#0-67) (DC) #21 Fine
SUPERGIRL (2005) (#0-67) (DC) #21 Very Fine

SUPERMAN (1939) (#1-423) (DC) #135 Good
SUPERMAN (1939) (#1-423) (DC) #148 Fair
SUPERMAN (1939) (#1-423) (DC) #155 Good
SUPERMAN (1939) (#1-423) (DC) #165 Fair
SUPERMAN (1939) (#1-423) (DC) #169 Good
SUPERMAN (1939) (#1-423) (DC) #171 Good
SUPERMAN (1939) (#1-423) (DC) #172 Fair
SUPERMAN (1939) (#1-423) (DC) #173 Good
SUPERMAN (1939) (#1-423) (DC) #174 Good
SUPERMAN (1939) (#1-423) (DC) #175 Good
SUPERMAN (1939) (#1-423) (DC) #176 Good
SUPERMAN (1939) (#1-423) (DC) #177 Good
SUPERMAN (1939) (#1-423) (DC) #178 Good
SUPERMAN (1939) (#1-423) (DC) #179 Fair
SUPERMAN (1939) (#1-423) (DC) #180 Fair
SUPERMAN (1939) (#1-423) (DC) #181 Good
SUPERMAN (1939) (#1-423) (DC) #182 Good
SUPERMAN (1939) (#1-423) (DC) #183 Good
SUPERMAN (1939) (#1-423) (DC) #184 Good
SUPERMAN (1939) (#1-423) (DC) #185 Good
SUPERMAN (1939) (#1-423) (DC) #186 Good
SUPERMAN (1939) (#1-423) (DC) #187 Good
SUPERMAN (1939) (#1-423) (DC) #188 Good
SUPERMAN (1939) (#1-423) (DC) #189 Good
SUPERMAN (1939) (#1-423) (DC) #190 Good
SUPERMAN (1939) (#1-423) (DC) #191 Good
SUPERMAN (1939) (#1-423) (DC) #192 Good
SUPERMAN (1939) (#1-423) (DC) #193 Very Good


SUPERMAN (1939) (#1-423) (DC) #194

SUPERMAN (1939) (#1-423) (DC) #194 Very Good
SUPERMAN (1939) (#1-423) (DC) #195 Very Good
SUPERMAN (1939) (#1-423) (DC) #196 Very Good
SUPERMAN (1939) (#1-423) (DC) #197 Good
SUPERMAN (1939) (#1-423) (DC) #198 Good
SUPERMAN (1939) (#1-423) (DC) #199 Very Good
SUPERMAN (1939) (#1-423) (DC) #200 Very Good
SUPERMAN (1939) (#1-423) (DC) #201 Good
SUPERMAN (1939) (#1-423) (DC) #202 Very Good
SUPERMAN (1939) (#1-423) (DC) #203 Very Good
SUPERMAN (1939) (#1-423) (DC) #204 Very Good
SUPERMAN (1939) (#1-423) (DC) #205 Very Good

SUPERMAN ANNUAL (1960) #6 Fair
SUPERMAN ANNUAL (1960) #7 Fair

SUPERMAN REBIRTH (2016) #1 Near Mint/Mint
SUPERMAN REBIRTH (2016) #1 Very Fine

SWAMP THING, SAGA OF (1982) #66 (DC: Vertigo Press) Near Mint/Mint

TEEN TITANS (1980) (#1-91) (DC) #21 Near Mint/Mint
TEEN TITANS (1980) (#1-91) (DC) #21 Fine

WORLDS FINEST (1941) (#2-323) (DC) (WORLD'S FINEST) #119 Fair
WORLDS FINEST (1941) (#2-323) (DC) (WORLD'S FINEST) #120 Fair
WORLDS FINEST (1941) (#2-323) (DC) (WORLD'S FINEST) #121 Fair
WORLDS FINEST (1941) (#2-323) (DC) (WORLD'S FINEST) #126 Fair
WORLDS FINEST (1941) (#2-323) (DC) (WORLD'S FINEST) #135 Good
WORLDS FINEST (1941) (#2-323) (DC) (WORLD'S FINEST) #140 Fair
WORLDS FINEST (1941) (#2-323) (DC) (WORLD'S FINEST) #141 Good
WORLDS FINEST (1941) (#2-323) (DC) (WORLD'S FINEST) #142 Fair
WORLDS FINEST (1941) (#2-323) (DC) (WORLD'S FINEST) #145 Good
WORLDS FINEST (1941) (#2-323) (DC) (WORLD'S FINEST) #146 Good
WORLDS FINEST (1941) (#2-323) (DC) (WORLD'S FINEST) #147 Good
WORLDS FINEST (1941) (#2-323) (DC) (WORLD'S FINEST) #148 Good
WORLDS FINEST (1941) (#2-323) (DC) (WORLD'S FINEST) #150 Good
WORLDS FINEST (1941) (#2-323) (DC) (WORLD'S FINEST) #151 Good
WORLDS FINEST (1941) (#2-323) (DC) (WORLD'S FINEST) #152 Good
WORLDS FINEST (1941) (#2-323) (DC) (WORLD'S FINEST) #153 Good
WORLDS FINEST (1941) (#2-323) (DC) (WORLD'S FINEST) #154 Good
WORLDS FINEST (1941) (#2-323) (DC) (WORLD'S FINEST) #155 Good
WORLDS FINEST (1941) (#2-323) (DC) (WORLD'S FINEST) #156 Good


WORLDS FINEST (1941) (#2-323) (DC) (WORLD'S FINEST) #158

WORLDS FINEST (1941) (#2-323) (DC) (WORLD'S FINEST) #158 Good
WORLDS FINEST (1941) (#2-323) (DC) (WORLD'S FINEST) #159 Good
WORLDS FINEST (1941) (#2-323) (DC) (WORLD'S FINEST) #160 Good
WORLDS FINEST (1941) (#2-323) (DC) (WORLD'S FINEST) #161 Very Good
WORLDS FINEST (1941) (#2-323) (DC) (WORLD'S FINEST) #162 Good
WORLDS FINEST (1941) (#2-323) (DC) (WORLD'S FINEST) #163 Good
WORLDS FINEST (1941) (#2-323) (DC) (WORLD'S FINEST) #164 Good
WORLDS FINEST (1941) (#2-323) (DC) (WORLD'S FINEST) #165 Very Good
WORLDS FINEST (1941) (#2-323) (DC) (WORLD'S FINEST) #166 Good
WORLDS FINEST (1941) (#2-323) (DC) (WORLD'S FINEST) #167 Very Good
WORLDS FINEST (1941) (#2-323) (DC) (WORLD'S FINEST) #168 Good
WORLDS FINEST (1941) (#2-323) (DC) (WORLD'S FINEST) #169 Very Good
WORLDS FINEST (1941) (#2-323) (DC) (WORLD'S FINEST) #170 Very Good
WORLDS FINEST (1941) (#2-323) (DC) (WORLD'S FINEST) #171 Very Good
WORLDS FINEST (1941) (#2-323) (DC) (WORLD'S FINEST) #172 Good
WORLDS FINEST (1941) (#2-323) (DC) (WORLD'S FINEST) #173 Fine
WORLDS FINEST (1941) (#2-323) (DC) (WORLD'S FINEST) #174 Fine

DARK HORSE COMICS
BMW FILMS: HIRE TPB (2006) #1 Near Mint/Mint

BPRD: HOLLOW EARTH & OTHER STORIES GN (2004) #1 TPB Very Good

COMPLETE CONCRETE TPB #1 Very Good

GOON VOL. 1: NOTHIN' BUT MISERY TPB (2004) #1 6TH PRINT Very Good

GOON VOL. 3: HEAPS OF RUINATION TPB (2005) #1 2ND PRINT Very Good

GOON VOL. 4: VIRTUE AND THE GRIM CONSEQUENCES TPB (2005) #1 Very Good

GOON: MY MURDEROUS CHILDHOOD TPB (VOL. 2) (2004) #1 2ND PRINT Very Good

HELLBOY: CONQUEROR WORM TPB (VOL. 5) (2002) #1 Good

HELLBOY: RIGHT HAND OF DOOM TPB (VOL. 4) (2000) #1 2ND PRINT Good

HELLBOY: SEED OF DESTRUCTION TPB (VOL. 1) (1994) #1 2ND PRINT Fair

HELLBOY: THE CHAINED COFFIN & OTHERS TPB (1998) #1 4TH PRINT Fine

HELLBOY: WAKE THE DEVIL TPB (VOL. 2) (1997) #1 4TH PRINT Fine

KISS ME, SATAN TPB (2014) #1 Near Mint/Mint

LAST TRAIN TO DEADSVILLE: CAL MCDONALD MYSTERY TPB (2005) #1 Fine

LOST IN SPACE TPB #1 Very Good

SIN CITY TPB (1992) #1 10TH PRINT Very Good

STAR WARS/AVATAR: LAST AIRBENDER FLIPBOOK FCBD (2013) #1 Near Mint/Mint
STAR WARS/AVATAR: LAST AIRBENDER FLIPBOOK FCBD (2013) #1 Very Fine

IMAGE COMICS
BASTARD SAMURAI: SAMURAI NOIR TPB (VOL. 1) (IMAGE) (2002) #1 Fine

BLACKBIRD (2018) #1 B STAPLES Near Mint/Mint
BLACKBIRD (2018) #1 A BARTEL Near Mint/Mint
BLACKBIRD (2018) #1 B STAPLES Very Fine

COLD SPOTS (2018) #2 A TORRES Near Mint/Mint

KABUKI: SKIN DEEP TPB (IMAG) #1 2ND PRINT Very Fine

LADY RAWHIDE: IT CAN'T HAPPEN HERE TPB (1999) #1 Fine

LAST CHRISTMAS HC (2013) #1 Very Fine

LAST CHRISTMAS TPB (2006) #1 Fine

LAST OF THE GREATS TPB (2012) #1 Very Fine

LEGEND OF LUTHER STRODE TPB (2013) #2 Near Mint/Mint

MAGE: HERO DEFINED TPB (IMAGE) (1998) #1 Very Good

SAGA TPB (2012) #2 2ND PRINT Near Mint/Mint

SPAWN (1992) #9 Near Mint/Mint

INDEPENDENTS
3 LITTLE KITTENS (2002) #2 (Broadsword Comics) Near Mint/Mint

ARCHIE SUPERTEENS VS. CRUSADERS (2018) #2 B WILLIB&W (Archie Comics) Near Mint/Mint

BALLAD OF SANG (2018) #5 (Oni Press Inc.) Near Mint/Mint

BARBARELLA (2017) #10 A CHIANG (DYNAMITE Entertainment) Near Mint/Mint
BARBARELLA (2017) #10 E YARAR (DYNAMITE Entertainment) Near Mint/Mint

BATMAN/THE MAXX (2018) #1 A KIETH (IDW Publishing) Near Mint/Mint
BATMAN/THE MAXX (2018) #1 B KIETH (IDW Publishing) Near Mint/Mint

BELLADONNA: FIRE & FURY (2017) #9 WRAP ADULT (Boundless Comics) Near Mint/Mint

BENEATH DARK CRYSTAL (2018) #3 A DEWEY (Boom Studios Publishing) Near Mint/Mint
BENEATH DARK CRYSTAL (2018) #3 B PETERSON (Boom Studios Publishing) Near Mint/Mint

CATALYST PRIME: NOBLE (2017) #12 (Lion Forge) Near Mint/Mint

CELLIES (2018) #5 (Lion Forge) Near Mint/Mint

DEEP ROOTS (2018) #4 B RODRIGUE (Vault Comics) Near Mint/Mint

FLYING SAUCERS (1967) #1 (Dell Publishing) Good
FLYING SAUCERS (1967) #3 (Dell Publishing) Very Good

GENE SIMMONS: HOUSE OF HORRORS TPB (2008) #1 (IDW Publishing) Near Mint/Mint

HAWKEN TPB (2012) #1 (IDW Publishing) Near Mint/Mint

KISSING CHAOS TPB (2002) #1 2ND PRINT (Oni Press Inc.) Near Mint/Mint

LADY MECHANIKA VOL. 2: TABLET OF DESTINIES TPB (2016) #1 (Benitez Productions) Very Fine

LAND OF NOD TREASURY TPB (2001) #1 (Oni Press Inc.) Fine

LANTERN CITY HC (2016) #2 (Boom Studios Publishing) Very Fine


LAST EXIT BEFORE TOLL GN (2003) #1

LAST EXIT BEFORE TOLL GN (2003) #1 (Oni Press Inc.) Fine

LAST GIRL STANDING TPB (2017) #1 (Fantagraphics) Near Mint/Mint

LAST MORTAL TPB (2016) #1 (Boom Studios Publishing) Very Fine

LAST MUSKETEER SC (2007) #1 (Fantagraphics) Very Fine

LAST OF THE MOHICANS HC (2013) #1 (Picturebox) Near Mint/Mint

LAST OF THE VIKING HEROES TRADE PAPERBACK #1 LTD S&N (Genesis West) Very Good

LAST ONE HC (IDW Publishing) (2016) #1 (IDW Publishing) Fine

LAST PHANTOM VOL. 2: JUNGLE RULES TPB (2012) #1 (DYNAMITE Entertainment) Fine

LAST SANE COWBOY & OTHER STORIES GN (2007) #1 (Ait/Planet Lar) Very Fine

LEATHER TALES TPB (2001) #1 (Antipodes Publishing) Near Mint/Mint

LEG TPB (2014) #1 (Top Shelf Productions) Near Mint/Mint

LEGACY GN (2008) #1 (Graphic Novel Literature) Very Fine

LEGEND OF THE FIVE RINGS: DEATH AT KOTEN GN (2009) #1 (Alderac Entertainment) Near Mint/Mint

LEGENDS OF PERCEVAN: REALM OF ASLOR HC (2008) #1 (Fantasy Flight Publishing) Fine

LIFER GN (2006) #1 (Cassandra Comics) Very Fine

LONE RANGER OMNIBUS TPB (2013) #1 (DYNAMITE Entertainment) Very Fine

LONG DISTANCE TPB (2015) #1 (IDW Publishing) Very Fine

LORELEI: SECTS & THE CITY TPB (2013) #1 (Starwarp Concepts) Very Fine

LOVE AND CAPES TPB (2008) #1 (IDW Publishing) Very Fine

LOVE THE WAY YOU LOVE DIGEST TPB (2006) #1 (Oni Press Inc.) Near Mint/Mint
LOVE THE WAY YOU LOVE DIGEST TPB (2006) #2 (Oni Press Inc.) Near Mint/Mint

SECTION 8 (NOIR PRESS) (1995) #1 (Noir Press) Near Mint/Mint


SHADOWMAN (1992) (#0-43) (VALIANT) #38

SHADOWMAN (1992) (#0-43) (VALIANT) #38 (Acclaim/Valiant) Near Mint/Mint
SHADOWMAN (1992) (#0-43) (VALIANT) #38 (Acclaim/Valiant) Very Fine

SHOCK SUSPENSTORIES (1992) #1 (Gemstone) Near Mint/Mint
SHOCK SUSPENSTORIES (1992) #1 (Gemstone) Very Fine

SOLSON CHRISTMAS SPECIAL: SAMURAI SANTA (JIM LEE) (1986) #1 (Solson Publications) Fine
SOLSON CHRISTMAS SPECIAL: SAMURAI SANTA (JIM LEE) (1986) #1 (Solson Publications) Very Fine

SONIC X (2005) #14 (Archie Comics) Near Mint/Mint
SONIC X (2005) #14 (Archie Comics) Very Fine

STAR WARS ADVENTURES (2017) #4 A JONES (IDW Publishing) Near Mint/Mint

STARSLAYER (1982) #2 (First Comics) Very Good

TEENAGE MUTANT NINJA TURTLES MARTIAL ARTS TRAINING #2 (Solson Publications) Near Mint/Mint
TEENAGE MUTANT NINJA TURTLES MARTIAL ARTS TRAINING #2 (Solson Publications) Very Fine

TEENAGE MUTANT NINJA TURTLES: NEW ANIMATED ADVENTURES (2013) #1 INCENTIVE (IDW Publishing) Near Mint/Mint
TEENAGE MUTANT NINJA TURTLES: NEW ANIMATED ADVENTURES (2013) #1 INCENTIVE (IDW Publishing) Very Fine

THEATER (2011) #1 A (Zenescope Entertainment Inc) Near Mint/Mint