Mile High Comics is Buying and Hiring!
Howdy!
Today has been especially fun, as I have been able to make more than a little bit of progress in sorting out the tens of thousands of comics and books that we have purchased since the beginning of this year. As the accompanying photographs illustrate, our 5,000 square foot performance area where we previously hosted poker tournaments, wrestling matches, and our All-Ages drag shows has been (of necessity) converted into a massive sorting area for new arrivals.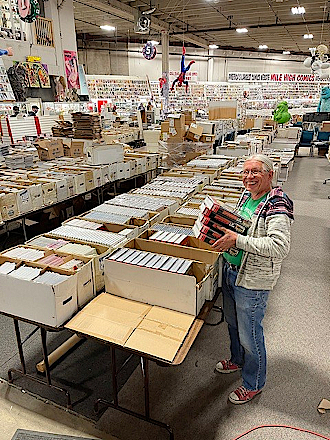 Chucks sorting the 30,000 books

With even more collections being purchased every day by our buyers, Will Moulton and Pam Brandle, it is critical that I sort through some of these new arrivals and to stash our excess on our pallet racking in the back of the Mega-Store. I stayed late last night, and managed to put over 6,000 comics into storage. I hope to double that number before I finally go home tonight...
One area requiring particularly strenuous effort is our newly arrived graphic novels, comics trade paperback collections, and comics hardbacks. We purchased 30,000 (!) books from the publishers during the 4th quarter of last year, and it is going to take a Herculean effort to get them all bagged and shelved. In a nutshell, that is why I have decided to go ahead and advertise for more staff. We need one person to work in our books area, and another to help with grading new arrivals and assisting clients at our back issue "help desk." Both positions are full time, and are slated for Saturday-Wednesday of each week. Starting pay is $14.77/hour. Priority will be given to candidates with comics knowledge.

Chucks sorting through some of last years buys

On a side note, I want to mention that we own outright all ten million+ of the comics and collectibles on display in our Jason St. Mega-Store. Unlike some of our less well-funded brethren, we have never had to rely on consignments in order to capitalize our inventory. It is true that we did go deeply in debt several times during the 51 years that we have been in business in order to (very slowly) build our inventory into becoming the largest in the world, but all of our bank debt was totally paid off soon after we sold our 56th Ave. warehouse building, in 2017. After decades of struggle, finally being free of our banks is a true joy!
While owning ten million+ comics and collectibles might provide an excuse to some people to finally slow down, I am just not that kind of person. I truly love (love!) buying old comics, books, and toys, so I am leaving on Sunday morning on yet another out-of-state buying trip. Pam has a couple more trips already in the planning stages, so it is looking as though I will be all over the country during the next couple of months.
If you have a collection you are considering letting go, please write to Pam Brandle pamb@milehighcomics.com. She can send me your way, or send you pre-paid shipping labels. Either way, we will work very hard to find your beloved comics a new home.
I will close with a reminder that our 40% off JANUARY! codeword sale is still in effect for you on all of our back issue comics and magazines listed on our website, excepting only new issues, a few variants, and our professionally-graded items. Enjoy!
Happy collecting!
Chuck Rozanski/Bettie Pages,
President - Mile High Comics, Inc.
January 22, 2021
P.S. My daughter, Tanith, had to go to the pharmacy this morning, so I had nearly an hour to quietly discuss the future with my beautiful new granddaughter, Felicity. Aside from talking about her upcoming high school prom (and going shopping together for gowns in New York City) we had an earnest discussion about her future plans for expanding my comic book empire even further. I think that Felicity is going to have some great ideas for the next 50 years of Mile High Comics! Love is love...
Today's New Arrivals:
MARVEL

AMAZING SPIDER-MAN (2014) (#1-20.1) (MARVEL) #1 MILE HIGH

AMAZING SPIDER-MAN (2014) (#1-20.1) (MARVEL) #1 MILE HIGH Near Mint/Mint

DAYDREAMERS (MV1997) #1 NEWSSTAND Very Fine
DAYDREAMERS (MV1997) #2 Near Mint/Mint
DAYDREAMERS (MV1997) #3 Near Mint/Mint

DEATH'S HEAD II (1991) (#1-4) (MARVEL UK) #1 (Marvel United Kingdom Publishings) Very Fine
DEATH'S HEAD II (1991) (#1-4) (MARVEL UK) #2 (Marvel United Kingdom Publishings) Near Mint/Mint
DEATH'S HEAD II (1991) (#1-4) (MARVEL UK) #3 (Marvel United Kingdom Publishings) Near Mint/Mint
DEATH'S HEAD II (1991) (#1-4) (MARVEL UK) #4 (Marvel United Kingdom Publishings) Very Fine

DEFENDERS (1972) (#1-152) (MARVEL) #120 Very Good
DEFENDERS (1972) (#1-152) (MARVEL) #121 Near Mint/Mint
DEFENDERS (1972) (#1-152) (MARVEL) #122 Very Good
DEFENDERS (1972) (#1-152) (MARVEL) #123 Near Mint/Mint
DEFENDERS (1972) (#1-152) (MARVEL) #124 Fine
DEFENDERS (1972) (#1-152) (MARVEL) #125 Near Mint/Mint
DEFENDERS (1972) (#1-152) (MARVEL) #126 Near Mint/Mint
DEFENDERS (1972) (#1-152) (MARVEL) #127 Near Mint/Mint
DEFENDERS (1972) (#1-152) (MARVEL) #128 Near Mint/Mint
DEFENDERS (1972) (#1-152) (MARVEL) #129 Near Mint/Mint
DEFENDERS (1972) (#1-152) (MARVEL) #130 Very Good
DEFENDERS (1972) (#1-152) (MARVEL) #131 Near Mint/Mint
DEFENDERS (1972) (#1-152) (MARVEL) #132 Near Mint/Mint
DEFENDERS (1972) (#1-152) (MARVEL) #133 Near Mint/Mint
DEFENDERS (1972) (#1-152) (MARVEL) #134 Near Mint/Mint
DEFENDERS (1972) (#1-152) (MARVEL) #135 Near Mint/Mint
DEFENDERS (1972) (#1-152) (MARVEL) #136 Near Mint/Mint
DEFENDERS (1972) (#1-152) (MARVEL) #137 Near Mint/Mint
DEFENDERS (1972) (#1-152) (MARVEL) #138 Near Mint/Mint


DEFENDERS (1972) (#1-152) (MARVEL) #139

DEFENDERS (1972) (#1-152) (MARVEL) #139 Near Mint/Mint
DEFENDERS (1972) (#1-152) (MARVEL) #140 NEWSSTAND Fine
DEFENDERS (1972) (#1-152) (MARVEL) #141 NEWSSTAND Fine
DEFENDERS (1972) (#1-152) (MARVEL) #142 Fine
DEFENDERS (1972) (#1-152) (MARVEL) #143 Fine
DEFENDERS (1972) (#1-152) (MARVEL) #145 Fine
DEFENDERS (1972) (#1-152) (MARVEL) #146 Very Fine
DEFENDERS (1972) (#1-152) (MARVEL) #147 Fine
DEFENDERS (1972) (#1-152) (MARVEL) #148 Fine
DEFENDERS (1972) (#1-152) (MARVEL) #149 Very Good
DEFENDERS (1972) (#1-152) (MARVEL) #150 Very Good
DEFENDERS (1972) (#1-152) (MARVEL) #151 Fine
DEFENDERS (1972) (#1-152) (MARVEL) #152 NEWSSTAND Very Good

DEFENDERS ANNUAL (1976) #1 Very Good

DOCTOR STRANGE (1974) (#1-81) (MARVEL) (DR. STRANGE) #14 Very Good
DOCTOR STRANGE (1974) (#1-81) (MARVEL) (DR. STRANGE) #57 Fine
DOCTOR STRANGE (1974) (#1-81) (MARVEL) (DR. STRANGE) #59 Near Mint/Mint
DOCTOR STRANGE (1974) (#1-81) (MARVEL) (DR. STRANGE) #60 Near Mint/Mint
DOCTOR STRANGE (1974) (#1-81) (MARVEL) (DR. STRANGE) #61 Near Mint/Mint
DOCTOR STRANGE (1974) (#1-81) (MARVEL) (DR. STRANGE) #62 Near Mint/Mint
DOCTOR STRANGE (1974) (#1-81) (MARVEL) (DR. STRANGE) #63 Near Mint/Mint
DOCTOR STRANGE (1974) (#1-81) (MARVEL) (DR. STRANGE) #64 Near Mint/Mint
DOCTOR STRANGE (1974) (#1-81) (MARVEL) (DR. STRANGE) #66 Near Mint/Mint
DOCTOR STRANGE (1974) (#1-81) (MARVEL) (DR. STRANGE) #67 Near Mint/Mint
DOCTOR STRANGE (1974) (#1-81) (MARVEL) (DR. STRANGE) #68 Near Mint/Mint
DOCTOR STRANGE (1974) (#1-81) (MARVEL) (DR. STRANGE) #69 Near Mint/Mint
DOCTOR STRANGE (1974) (#1-81) (MARVEL) (DR. STRANGE) #70 Near Mint/Mint
DOCTOR STRANGE (1974) (#1-81) (MARVEL) (DR. STRANGE) #71 Near Mint/Mint
DOCTOR STRANGE (1974) (#1-81) (MARVEL) (DR. STRANGE) #72 Near Mint/Mint


DOCTOR STRANGE (1974) (#1-81) (MARVEL) (DR. STRANGE) #73

DOCTOR STRANGE (1974) (#1-81) (MARVEL) (DR. STRANGE) #73 Near Mint/Mint
DOCTOR STRANGE (1974) (#1-81) (MARVEL) (DR. STRANGE) #75 Near Mint/Mint
DOCTOR STRANGE (1974) (#1-81) (MARVEL) (DR. STRANGE) #76 Near Mint/Mint

DOCTOR STRANGE (1998) (#1-4) (FLIGHT OF BONES)(MARVEL) #1 Near Mint/Mint
DOCTOR STRANGE (1998) (#1-4) (FLIGHT OF BONES)(MARVEL) #2 Near Mint/Mint
DOCTOR STRANGE (1998) (#1-4) (FLIGHT OF BONES)(MARVEL) #4 Very Fine

DOCTOR STRANGE ANNUAL (1976) #2 Near Mint/Mint

ELEKTRA (1996) (#1-19) (MARVEL) #5 Near Mint/Mint
ELEKTRA (1996) (#1-19) (MARVEL) #9 Near Mint/Mint
ELEKTRA (1996) (#1-19) (MARVEL) #10 Near Mint/Mint
ELEKTRA (1996) (#1-19) (MARVEL) #12 Near Mint/Mint
ELEKTRA (1996) (#1-19) (MARVEL) #13 Near Mint/Mint
ELEKTRA (1996) (#1-19) (MARVEL) #16 Near Mint/Mint
ELEKTRA (1996) (#1-19) (MARVEL) #17 Near Mint/Mint
ELEKTRA (1996) (#1-19) (MARVEL) #18 Near Mint/Mint
ELEKTRA (1996) (#1-19) (MARVEL) #19 Near Mint/Mint

ELEKTRA: ROOT OF EVIL #2 Very Fine

GHOST RIDER/WOLVERINE/PUNISHER: DARK DESIGN (1994) #1 Near Mint/Mint

GLADIATOR/SUPREME #1 Near Mint/Mint

HAVOK AND WOLVERINE (1989) #4 NEWSSTAND Fine

HELL'S ANGEL (DARK ANGEL #6-16) (1992) #3 (Marvel United Kingdom Publishings) Near Mint/Mint

ICEMAN (1984) (#1-4) (MARVEL) #1 Near Mint/Mint


ICEMAN (1984) (#1-4) (MARVEL) #2

ICEMAN (1984) (#1-4) (MARVEL) #2 Near Mint/Mint
ICEMAN (1984) (#1-4) (MARVEL) #3 Near Mint/Mint
ICEMAN (1984) (#1-4) (MARVEL) #4 Near Mint/Mint

KA-ZAR (1997) (#1-20) (MARVEL) #8 W/O CD Near Mint/Mint

KITTY PRYDE AND WOLVERINE (1984) #1 Near Mint/Mint
KITTY PRYDE AND WOLVERINE (1984) #2 Near Mint/Mint
KITTY PRYDE AND WOLVERINE (1984) #2 Very Fine
KITTY PRYDE AND WOLVERINE (1984) #3 Near Mint/Mint
KITTY PRYDE AND WOLVERINE (1984) #4 Near Mint/Mint
KITTY PRYDE AND WOLVERINE (1984) #4 Very Fine
KITTY PRYDE AND WOLVERINE (1984) #5 Near Mint/Mint
KITTY PRYDE AND WOLVERINE (1984) #6 Near Mint/Mint

LOGAN: PATH OF THE WARLORD (1996) #1 Near Mint/Mint

MAGNETO (1996) (#1-4) (MARVEL) #4 Near Mint/Mint

MARVEL HOLIDAY SPECIAL (1991) #2 1993 Near Mint/Mint
MARVEL HOLIDAY SPECIAL (1991) #1996 Near Mint/Mint
MARVEL HOLIDAY SPECIAL (2005) #1 Near Mint/Mint

MARVEL KNIGHTS (#1-15) (2000) #1 Near Mint/Mint
MARVEL KNIGHTS (#1-15) (2000) #2 COVER B Near Mint/Mint
MARVEL KNIGHTS (#1-15) (2000) #3 Near Mint/Mint
MARVEL KNIGHTS (#1-15) (2000) #5 Very Fine
MARVEL KNIGHTS (#1-15) (2000) #6 Near Mint/Mint
MARVEL KNIGHTS (#1-15) (2000) #7 Very Fine
MARVEL KNIGHTS (#1-15) (2000) #8 Very Fine


MARVEL KNIGHTS (#1-15) (2000) #9

MARVEL KNIGHTS (#1-15) (2000) #9 Near Mint/Mint
MARVEL KNIGHTS (#1-15) (2000) #11 UNBAGGED Very Fine
MARVEL KNIGHTS (#1-15) (2000) #12 Near Mint/Mint
MARVEL KNIGHTS (#1-15) (2000) #13 Near Mint/Mint
MARVEL KNIGHTS (#1-15) (2000) #15 Near Mint/Mint

MARVEL SAGA (1985) #2 Near Mint/Mint

MARVEL SPOTLIGHT (1979) (#1-11) (MARVEL) #1 Very Good
MARVEL SPOTLIGHT (1979) (#1-11) (MARVEL) #6 NEWSSTAND Good
MARVEL SPOTLIGHT (1979) (#1-11) (MARVEL) #7 NEWSSTAND Good
MARVEL SPOTLIGHT (1979) (#1-11) (MARVEL) #8 Very Good

MARVEL SUPER-HEROES (1967) #14 Fine

MARVEL SUPER-HEROES SPECIAL EDITION (1990) #4 Fine
MARVEL SUPER-HEROES SPECIAL EDITION (1990) #6 Near Mint/Mint
MARVEL SUPER-HEROES SPECIAL EDITION (1990) #10 Very Fine
MARVEL SUPER-HEROES SPECIAL EDITION (1990) #11 Near Mint/Mint

MARVEL TEAM-UP (1972) (#1-150) (MARVEL) #25 Very Good
MARVEL TEAM-UP (1972) (#1-150) (MARVEL) #51 JEWELERS Very Good

MARVEL UNIVERSE: THE END (2003) #1 Near Mint/Mint
MARVEL UNIVERSE: THE END (2003) #2 Near Mint/Mint
MARVEL UNIVERSE: THE END (2003) #3 Near Mint/Mint
MARVEL UNIVERSE: THE END (2003) #4 Near Mint/Mint
MARVEL UNIVERSE: THE END (2003) #5 Near Mint/Mint
MARVEL UNIVERSE: THE END (2003) #6 Very Fine

MARVEL: LOST GENERATION #1 Near Mint/Mint

MARVEL: LOST GENERATION #2 Near Mint/Mint
MARVEL: LOST GENERATION #5 Near Mint/Mint
MARVEL: LOST GENERATION #8 Near Mint/Mint
MARVEL: LOST GENERATION #10 Near Mint/Mint

NIGHTMAN VS. WOLVERINE (1995) #0 (Marvel Malibu/Ultraverse) Very Fine

PETER PARKER: SPIDER-MAN (1999) (#1-57, & 156.1) #13 NEWSSTAND Very Good

PHOENIX RESURRECTION SAGA: GENESIS (1995) #1 (Marvel Malibu/Ultraverse) Near Mint/Mint

PHOENIX RESURRECTION SAGA: REVELATIONS (1995) #1 (Marvel Malibu/Ultraverse) Near Mint/Mint

PSYLOCKE & ARCHANGEL: CRIMSON DAWN (1997) #1 Near Mint/Mint
PSYLOCKE & ARCHANGEL: CRIMSON DAWN (1997) #4 Fine

ROGUE (1994) (#1-4) (MARVEL) #1 Near Mint/Mint
ROGUE (1994) (#1-4) (MARVEL) #3 Near Mint/Mint

SABRETOOTH (1993) (#1-4) (MARVEL) (DEATH HUNT) #4 Near Mint/Mint

SABRETOOTH ONE-SHOT: BACK TO NATURE (1997) #1 Near Mint/Mint

STAR WARS (1977) (#1-107) (MARVEL) #78 Near Mint/Mint

STARJAMMERS (1995) #4 Near Mint/Mint

STORM (1996) (#1-4) (MARVEL) (X-MEN LIMITED SERIES) #1 Near Mint/Mint
STORM (1996) (#1-4) (MARVEL) (X-MEN LIMITED SERIES) #2 Near Mint/Mint

TALES FROM THE AGE OF APOCALYPSE: SINISTER BLOODLINES (1997) #1 Near Mint/Mint


TALES OF THE AGE OF APOCALYPSE (STARRING THE X-MEN) #1

TALES OF THE AGE OF APOCALYPSE (STARRING THE X-MEN) #1 Near Mint/Mint

WOLVERINE ENCYCLOPEDIA #1 Near Mint/Mint

WOLVERINE/PUNISHER: REVELATION (1999) #2 Near Mint/Mint
WOLVERINE/PUNISHER: REVELATION (1999) #4 Near Mint/Mint

WOLVERINE: THE ORIGIN (2001) #1 Very Fine
WOLVERINE: THE ORIGIN (2001) #2 Near Mint/Mint
WOLVERINE: THE ORIGIN (2001) #3 Near Mint/Mint
WOLVERINE: THE ORIGIN (2001) #5 Very Fine
WOLVERINE: THE ORIGIN (2001) #6 Very Fine

X-FACTOR (1986) (#1-149) (ORIGINAL X-MEN) #143 Very Fine
X-FACTOR (1986) (#1-149) (ORIGINAL X-MEN) #144 Near Mint/Mint
X-FACTOR (1986) (#1-149) (ORIGINAL X-MEN) #146 Near Mint/Mint
X-FACTOR (1986) (#1-149) (ORIGINAL X-MEN) #148 Near Mint/Mint
X-FACTOR (1986) (#1-149) (ORIGINAL X-MEN) #149 Very Good

X-MEN (1991) (#1-275) (MARVEL) #3 Very Fine
X-MEN (1991) (#1-275) (MARVEL) #5 NEWSSTAND Fine
X-MEN (1991) (#1-275) (MARVEL) #14 NEWSUNBAGD Very Good
X-MEN (1991) (#1-275) (MARVEL) #17 NEWSSTAND Very Fine
X-MEN (1991) (#1-275) (MARVEL) #94 Near Mint/Mint
X-MEN (1991) (#1-275) (MARVEL) #97 Near Mint/Mint
X-MEN (1991) (#1-275) (MARVEL) #104 Very Fine

X-MEN AND THE MICRONAUTS (1984) #4 Near Mint/Mint

X-MEN UNIVERSE: PAST, PRESENT, & FUTURE (1999) #1 Near Mint/Mint

X-MEN/WILDC.A.T.S.: DARK AGE (1998) #1 Near Mint/Mint

X-MEN: MAGNETO WAR (1999) #1 Near Mint/Mint

X-MEN: RISE OF APOCALYPSE (1996) #1 Very Fine
X-MEN: RISE OF APOCALYPSE (1996) #2 Near Mint/Mint
X-MEN: RISE OF APOCALYPSE (1996) #3 Near Mint/Mint
X-MEN: RISE OF APOCALYPSE (1996) #4 Near Mint/Mint

X-UNIVERSE (1995) #1 Fine
X-UNIVERSE (1995) #2 Fine

DC
52 (2006) #3 Near Mint/Mint

ABSOLUTE VERTIGO (1995) #1 CGC 9.0 (DC: Vertigo Press) Very Fine

ACTION COMICS (1938) (#0-600, 643-904) (DC) #403 Very Good
ACTION COMICS (1938) (#0-600, 643-904) (DC) #404 Good
ACTION COMICS (1938) (#0-600, 643-904) (DC) #405 Very Good
ACTION COMICS (1938) (#0-600, 643-904) (DC) #406 Very Good
ACTION COMICS (1938) (#0-600, 643-904) (DC) #407 Good
ACTION COMICS (1938) (#0-600, 643-904) (DC) #408 Good
ACTION COMICS (1938) (#0-600, 643-904) (DC) #409 Very Good


ACTION COMICS (1938) (#0-600, 643-904) (DC) #410

ACTION COMICS (1938) (#0-600, 643-904) (DC) #410 Good
ACTION COMICS (1938) (#0-600, 643-904) (DC) #411 Good
ACTION COMICS (1938) (#0-600, 643-904) (DC) #412 Very Good
ACTION COMICS (1938) (#0-600, 643-904) (DC) #413 Good
ACTION COMICS (1938) (#0-600, 643-904) (DC) #415 Fine
ACTION COMICS (1938) (#0-600, 643-904) (DC) #416 Very Good
ACTION COMICS (1938) (#0-600, 643-904) (DC) #418 Good
ACTION COMICS (1938) (#0-600, 643-904) (DC) #419 Very Good
ACTION COMICS (1938) (#0-600, 643-904) (DC) #420 Good
ACTION COMICS (1938) (#0-600, 643-904) (DC) #422 Good
ACTION COMICS (1938) (#0-600, 643-904) (DC) #424 Fair
ACTION COMICS (1938) (#0-600, 643-904) (DC) #425 Good
ACTION COMICS (1938) (#0-600, 643-904) (DC) #426 Good
ACTION COMICS (1938) (#0-600, 643-904) (DC) #427 Good
ACTION COMICS (1938) (#0-600, 643-904) (DC) #436 Good
ACTION COMICS (1938) (#0-600, 643-904) (DC) #438 Fine
ACTION COMICS (1938) (#0-600, 643-904) (DC) #441 Good
ACTION COMICS (1938) (#0-600, 643-904) (DC) #444 Very Good
ACTION COMICS (1938) (#0-600, 643-904) (DC) #457 Good
ACTION COMICS (1938) (#0-600, 643-904) (DC) #458 Good
ACTION COMICS (1938) (#0-600, 643-904) (DC) #459 Very Good
ACTION COMICS (1938) (#0-600, 643-904) (DC) #460 Very Good
ACTION COMICS (1938) (#0-600, 643-904) (DC) #461 Good
ACTION COMICS (1938) (#0-600, 643-904) (DC) #462 Good
ACTION COMICS (1938) (#0-600, 643-904) (DC) #466 Good
ACTION COMICS (1938) (#0-600, 643-904) (DC) #474 Good
ACTION COMICS (1938) (#0-600, 643-904) (DC) #486 Very Good
ACTION COMICS (1938) (#0-600, 643-904) (DC) #493 Very Good
ACTION COMICS (1938) (#0-600, 643-904) (DC) #495 WHITMAN Good
ACTION COMICS (1938) (#0-600, 643-904) (DC) #583 Very Fine
ACTION COMICS (1938) (#0-600, 643-904) (DC) #590 NEWSSTAND Near Mint/Mint


ACTION COMICS (1938) (#0-600, 643-904) (DC) #591

ACTION COMICS (1938) (#0-600, 643-904) (DC) #591 Fine
ACTION COMICS (1938) (#0-600, 643-904) (DC) #592 Near Mint/Mint
ACTION COMICS (1938) (#0-600, 643-904) (DC) #598 Very Fine
ACTION COMICS (1938) (#0-600, 643-904) (DC) #600 Very Fine
ACTION COMICS (1938) (#0-600, 643-904) (DC) #643 Fine
ACTION COMICS (1938) (#0-600, 643-904) (DC) #644 Very Fine
ACTION COMICS (1938) (#0-600, 643-904) (DC) #645 Very Fine
ACTION COMICS (1938) (#0-600, 643-904) (DC) #650 Very Good
ACTION COMICS (1938) (#0-600, 643-904) (DC) #662 Fine
ACTION COMICS (1938) (#0-600, 643-904) (DC) #683 2ND PRT Very Fine

ACTION COMICS WEEKLY (1988) (#601-642) (DC) #641 Near Mint/Mint
ACTION COMICS WEEKLY (1988) (#601-642) (DC) #642 Very Fine

BATMAN (1940) (#0-713) (DC) #457 2ND PRT Very Fine
BATMAN (1940) (#0-713) (DC) #457 2ND PRT Fair

BATMAN: BEYOND (1999) (#1-6) (BATMAN BEYOND) (DC) #1 SIX FLAGS Good

BLACK LIGHTNING (1994) #4 Very Fine

JUSTICE LEAGUE (2011) (#0-52) (DC NEW52) #41 Fine
JUSTICE LEAGUE (2011) (#0-52) (DC NEW52) #44 Near Mint/Mint
JUSTICE LEAGUE (2011) (#0-52) (DC NEW52) #46 Near Mint/Mint
JUSTICE LEAGUE (2018) (#1-UP) (DC UNIVERSE) #1 Fine
JUSTICE LEAGUE (2018) (#1-UP) (DC UNIVERSE) #2 Fine
JUSTICE LEAGUE (2018) (#1-UP) (DC UNIVERSE) #4 Near Mint/Mint
JUSTICE LEAGUE (2018) (#1-UP) (DC UNIVERSE) #5 Near Mint/Mint
JUSTICE LEAGUE (2018) (#1-UP) (DC UNIVERSE) #8 Near Mint/Mint
JUSTICE LEAGUE (2018) (#1-UP) (DC UNIVERSE) #10 FOIL COVER Near Mint/Mint
JUSTICE LEAGUE (2018) (#1-UP) (DC UNIVERSE) #11 Near Mint/Mint
JUSTICE LEAGUE (2018) (#1-UP) (DC UNIVERSE) #12 Near Mint/Mint


JUSTICE LEAGUE (2018) (#1-UP) (DC UNIVERSE) #15

JUSTICE LEAGUE (2018) (#1-UP) (DC UNIVERSE) #15 Near Mint/Mint

JUSTICE LEAGUE ANNUAL (2019) #1 Fine

JUSTICE LEAGUE OF AMERICA (2006) (#0-60) #1 A Near Mint/Mint
JUSTICE LEAGUE OF AMERICA (2006) (#0-60) #1 VARIANT Near Mint/Mint
JUSTICE LEAGUE OF AMERICA (2015) (#1-10) (DC) #2 Near Mint/Mint

JUSTICE LEAGUE: AQUAMAN - DROWNED EARTH (2018) #1 Very Fine

LOBO (2014) (#1-13) (DC NEW52) #1 Very Fine
LOBO (2014) (#1-13) (DC NEW52) #6 Near Mint/Mint

LOVELESS (2005) #2 (DC: Vertigo Press) Near Mint/Mint
LOVELESS (2005) #5 (DC: Vertigo Press) Near Mint/Mint
LOVELESS (2005) #17 (DC: Vertigo Press) Near Mint/Mint
LOVELESS (2005) #18 (DC: Vertigo Press) Near Mint/Mint
LOVELESS (2005) #20 (DC: Vertigo Press) Near Mint/Mint
LOVELESS (2005) #21 (DC: Vertigo Press) Very Fine
LOVELESS (2005) #22 (DC: Vertigo Press) Near Mint/Mint
LOVELESS (2005) #23 (DC: Vertigo Press) Near Mint/Mint
LOVELESS (2005) #24 (DC: Vertigo Press) Near Mint/Mint

MAD MAX: FURY ROAD - FURIOSA (2015) #1 Near Mint/Mint

MAD MAX: FURY ROAD - MAD MAX (2015) #1 Near Mint/Mint
MAD MAX: FURY ROAD - MAD MAX (2015) #2 Near Mint/Mint

MAD MAX: FURY ROAD - NUX & IMMORTAL JOE (2015) #1 Near Mint/Mint

MEN OF WAR (2011) #1 Near Mint/Mint

MISTER MIRACLE (2017) (#1-12) (DC) #9 Near Mint/Mint

NIGHTWING (1996) (#1-153) (DC) #97 Near Mint/Mint

NIGHTWING (2011) (#0-30) (DC NEW52) #2 Fine
NIGHTWING (2011) (#0-30) (DC NEW52) #3 Near Mint/Mint
NIGHTWING (2011) (#0-30) (DC NEW52) #4 Fine
NIGHTWING (2011) (#0-30) (DC NEW52) #5 Very Fine
NIGHTWING (2011) (#0-30) (DC NEW52) #6 Near Mint/Mint

NORTHLANDERS (2007) #1 Near Mint/Mint
NORTHLANDERS (2007) #10 Near Mint/Mint
NORTHLANDERS (2007) #28 Near Mint/Mint
NORTHLANDERS (2007) #29 Near Mint/Mint
NORTHLANDERS (2007) #35 Near Mint/Mint
NORTHLANDERS (2007) #36 Near Mint/Mint
NORTHLANDERS (2007) #37 Near Mint/Mint
NORTHLANDERS (2007) #38 Near Mint/Mint
NORTHLANDERS (2007) #39 Near Mint/Mint
NORTHLANDERS (2007) #40 Near Mint/Mint
NORTHLANDERS (2007) #41 Fine
NORTHLANDERS (2007) #42 Near Mint/Mint
NORTHLANDERS (2007) #43 Very Fine
NORTHLANDERS (2007) #44 Near Mint/Mint
NORTHLANDERS (2007) #45 Near Mint/Mint
NORTHLANDERS (2007) #46 Near Mint/Mint
NORTHLANDERS (2007) #47 Very Fine
NORTHLANDERS (2007) #48 Near Mint/Mint

NORTHLANDERS (2007) #49 Very Fine
NORTHLANDERS (2007) #50 Near Mint/Mint

OMEGA MEN (1982) (#1-38) (DC) #3 Fine
OMEGA MEN (1982) (#1-38) (DC) #37 Near Mint/Mint

ORACLE (2009) (THE CURE) (BATTLE FOR THE COWL) #2 Very Fine

OUTSIDERS (2009) (#15-39) #15 Near Mint/Mint
OUTSIDERS (2009) (#15-39) #16 Near Mint/Mint
OUTSIDERS (2009) (#15-39) #17 Near Mint/Mint
OUTSIDERS (2009) (#15-39) #18 Near Mint/Mint
OUTSIDERS (2009) (#15-39) #20 Near Mint/Mint
OUTSIDERS (2009) (#15-39) #25 Fine
OUTSIDERS (2009) (#15-39) #28 Fine
OUTSIDERS (2009) (#15-39) #29 Fine
OUTSIDERS (2009) (#15-39) #30 Fine
OUTSIDERS (2009) (#15-39) #31 Fine
OUTSIDERS (2009) (#15-39) #32 Fine
OUTSIDERS (2009) (#15-39) #33 Very Fine

PREACHER (1995) #1 CGC 9.4 SS (DC: Vertigo Press) Near Mint/Mint
PREACHER (1995) #2 CGC 9.6 (DC: Vertigo Press) Near Mint/Mint
PREACHER (1995) #3 CGC 9.6 (DC: Vertigo Press) Near Mint/Mint
PREACHER (1995) #4 CGC 9.6 SS (DC: Vertigo Press) Near Mint/Mint
PREACHER (1995) #5 CGC 9.2 (DC: Vertigo Press) Near Mint/Mint
PREACHER (1995) #6 CGC 9.4 (DC: Vertigo Press) Near Mint/Mint
PREACHER (1995) #7 CGC 9.2 (DC: Vertigo Press) Near Mint/Mint
PREACHER (1995) #8 CGC 9.4 (DC: Vertigo Press) Near Mint/Mint
PREACHER (1995) #9 CGC 9.4 (DC: Vertigo Press) Near Mint/Mint
PREACHER (1995) #10 CGC 9.8 (DC: Vertigo Press) Near Mint/Mint

PREACHER (1995) #11 CGC 9.2 (DC: Vertigo Press) Near Mint/Mint
PREACHER (1995) #12 CGC 9.8 (DC: Vertigo Press) Near Mint/Mint
PREACHER (1995) #13 CGC 9.6 (DC: Vertigo Press) Near Mint/Mint
PREACHER (1995) #14 CGC 9.4 (DC: Vertigo Press) Near Mint/Mint
PREACHER (1995) #15 CGC 9.6 (DC: Vertigo Press) Near Mint/Mint
PREACHER (1995) #16 CGC 9.8 (DC: Vertigo Press) Near Mint/Mint
PREACHER (1995) #17 CGC 9.6 (DC: Vertigo Press) Near Mint/Mint
PREACHER (1995) #18 CGC 9.6 (DC: Vertigo Press) Near Mint/Mint
PREACHER (1995) #19 CGC 9.2 (DC: Vertigo Press) Near Mint/Mint
PREACHER (1995) #20 CGC 9.6 (DC: Vertigo Press) Near Mint/Mint

PUNK ROCK JESUS (2012) #1 Very Fine
PUNK ROCK JESUS (2012) #6 Near Mint/Mint

QUESTION QUARTERLY (1990) #3 Near Mint/Mint

RED HOOD & THE OUTLAWS (2011) (#0-40) (DC NEW52) #1 Near Mint/Mint
RED HOOD & THE OUTLAWS (2011) (#0-40) (DC NEW52) #2 Near Mint/Mint

RED ROBIN (2009) #1 Very Fine
RED ROBIN (2009) #2 Very Fine
RED ROBIN (2009) #10 Near Mint/Mint
RED ROBIN (2009) #11 Near Mint/Mint
RED ROBIN (2009) #14 Near Mint/Mint
RED ROBIN (2009) #17 Near Mint/Mint
RED ROBIN (2009) #19 Near Mint/Mint
RED ROBIN (2009) #20 Near Mint/Mint
RED ROBIN (2009) #25 Near Mint/Mint
RED ROBIN (2009) #26 Near Mint/Mint

ROBIN RISES: ALPHA (2014) #1 Near Mint/Mint

ROBIN RISES: OMEGA (2014) #1 Near Mint/Mint

SECRET ORIGINS GIANT REPLICA ANNUAL (1997) #1 Fine

SIDEWAYS (2018) #1 Fine
SIDEWAYS (2018) #4 Very Fine
SIDEWAYS (2018) #7 Near Mint/Mint
SIDEWAYS (2018) #8 Near Mint/Mint
SIDEWAYS (2018) #9 FOIL COVER Near Mint/Mint
SIDEWAYS (2018) #10 Near Mint/Mint
SIDEWAYS (2018) #11 Near Mint/Mint

SIDEWAYS ANNUAL (2018) #1 Near Mint/Mint

SUPERMAN (1939) (#1-423) (DC) #139 Good
SUPERMAN (1939) (#1-423) (DC) #221 Fair
SUPERMAN (1939) (#1-423) (DC) #227 Good
SUPERMAN (1939) (#1-423) (DC) #239 Good
SUPERMAN (1939) (#1-423) (DC) #242 Good
SUPERMAN (1939) (#1-423) (DC) #267 Fine
SUPERMAN (1939) (#1-423) (DC) #276 Fine
SUPERMAN (1939) (#1-423) (DC) #278 Very Good
SUPERMAN (1939) (#1-423) (DC) #285 Fine
SUPERMAN (1939) (#1-423) (DC) #297 Fine
SUPERMAN (1939) (#1-423) (DC) #423 NEWSSTAND Good

SUPERMAN (1986) (#0-226, #650-714) (DC) #75 BAGGED Near Mint/Mint

IMAGE COMICS
WILDC.A.T.S./X-MEN: GOLDEN AGE #1 Near Mint/Mint


WILDC.A.T.S./X-MEN: MODERN AGE #1

WILDC.A.T.S./X-MEN: MODERN AGE #1 Near Mint/Mint

WILDC.A.T.S./X-MEN: SILVER AGE #1 Near Mint/Mint

YOUNGBLOOD/X-FORCE #1 BLACK CV Fine

INDEPENDENTS
13 ASSASSIN COMICS MODULE #5 (TSR Games) Fine
13 ASSASSIN COMICS MODULE #5 (TSR Games) Very Fine

BADGER (1983) (#1-70) (CAPITAL/FIRST) (MIKE BARON) #5 (First Comics) Near Mint/Mint
BADGER (1983) (#1-70) (CAPITAL/FIRST) (MIKE BARON) #5 (First Comics) Very Fine

BARBARIC TALES (PYRAMIND COMICS) (1986) #1 (Pyramid Comics) Fine

BREAKING BAD: ALL BAD THINGS (2013) #1 CGC 9.8 (Amc Television) Near Mint/Mint

VAMPIRELLA/RED SONJA (2019) #1 A DODSON (DYNAMITE Entertainment) Near Mint/Mint