1990's Enhanced Covers Spike in Value
Howdy!
I want to begin today by thanking everyone who responded with kind feedback after my last column. I really do appreciate knowing that my thoughts resonate with so many people. It was also very interesting to note that so many agreed with my analysis that most back issue comics begin an upward trend in market prices after 30 years have passed. That circumstance certainly is not always true, but as an overall trend, is generally valid.

AMAZING SPIDER-MAN (1963) #365

I want now to expand briefly on my earlier comments. First, my own fervent belief in the future of comics collecting, combined with my realization that older comics tend to be destroyed regularly by all sorts of environmental hazards, is why I encourage our three staff members who buy for us to keep right on with buying as many collections as they possibly can, even when demand momentarily tapers off. As I have done for 50 years now, I then stash all the comics that we don't immediately need from those collections in special bulk storage areas in the back of Jason St. This practice makes me very happy, but drives my long-suffering wife, Nanette, more than a little crazy, as she always needs cash flow to cover our company bills. Sigh...
Truth be told, while Nanette would prefer that we were able to resell all of our purchases immediately, she has been with the company almost as long as me, and is well aware of the 30-year paradigm. It helps that certain 30-year comics are now (finally) blowing up in demand, such as AMAZING SPIDER-MAN (1963) #365. That issue number of that very popular title was printed in such vast oversupply that I was once offered 1,000 copies for only 25 cents each. For many years my purchase of those five long boxes seemed foolhardy, as other comics dealers continued to flood their $1 boxes with their own ASM #365 overstock copies. Just like magic, however, that trend suddenly reversed a couple years ago, when we shockingly sold 30 copies in a single week at $5 each. Since then, the market price on this spiffy enhanced cover edition has continued to rise steadily. Nice!
Speaking of enhanced covers, darn near all of those early 1990's "glut" titles are in high demand these days, especially if they have any sort of cover enhancement. Many of the Marvel enhanced issues, such as SHE-HULK #50, AVENGERS (1963) #363 and #366, and GHOST RIDER (1990) #15 are selling so quickly for us that even our vast stashes are dwindling rapidly, despite our implementing several recent price increases. Just saying...
OK, that it from me for today, as I need to go to Lowe's now to pick up some more lights for newly-restored showcases in my new Pueblo pottery museum. My health is still fragile from my 3 West Nile encephalitis episodes in November and December, so I am passing the time while I recover by quietly cleaning showcase glass, and building new displays out if some of my 10,000 pieces of pottery. If you live in Denver (and can navigate two flights of stairs...) I will be offering a free pottery tour of my 2nd floor private museum tomorrow (Saturday) at the conclusion of this month's awesome no-minimum-bid comics and toys auction. We start the auction at 11:30, and I should finish and be able to start the tour at about 1:30. My collection is the largest private assemblage of Pueblo pottery in the world...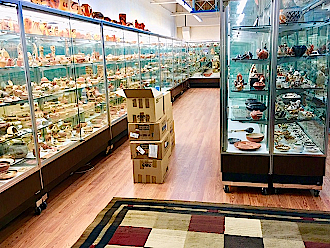 Chuck's Pueblo Pottery Museum (row #1 of 5)

Happy collecting!
Chuck Rozanski/Bettie Pages,
President - Mile High Comics, Inc.
January 17, 2020
P.S. Nanette just reminded me that I am supposed to mention that all ten million+ of the back issue comics and magazines listed on our website are available to you right now at half off when you utilize the 50% off WINTER! codeword. Only new issues, a few variants, and our professionally-graded items are excluded. Will, Pam and Lisa have purchased at least a dozen more great collections this week, including the following comics that just made it into our daily Premium New-In-Stock link this morning:
MARVEL
AMAZING SPIDER-MAN (2018) (#1-UP) (MARVEL) #11 Near Mint/Mint

AVENGERS (2018) (#1-UP) (MARVEL) #2 Very Fine


DAREDEVIL (2017) (#595-612) (MARVEL LEAGCY) #610

DAREDEVIL (2017) (#595-612) (MARVEL LEAGCY) #610 Near Mint/Mint

DOCTOR STRANGE: THE BEST DEFENSE (2018) #1 Near Mint/Mint

ESSENTIAL PETER PARKER SPECTACULAR SPIDER-MAN TPB (2005) #2 Near Mint/Mint

EXCALIBUR: WEIRD WAR III GN (1990) #1 Very Fine

EXTERMINATION (2018) (#1-5) (MARVEL) #5 Near Mint/Mint
EXTERMINATION (2018) (#1-5) (MARVEL) #5 Very Fine

FANTASTIC FOUR (2018) (#1-UP) (MARVEL) #4 Near Mint/Mint
FANTASTIC FOUR (2018) (#1-UP) (MARVEL) #4 Very Fine

FANTASTIC FOUR WEDDING SPECIAL (2018) #1 ARTGERM Near Mint/Mint

KILLMONGER (2018) #1 Near Mint/Mint
KILLMONGER (2018) #1 Very Fine

NAMOR: THE BEST DEFENSE (2018) #1 Near Mint/Mint

SHURI (2018) #3 Near Mint/Mint


SILVER SURFER (1968) (#1-18) (MARVEL) #17

SILVER SURFER (1968) (#1-18) (MARVEL) #17 Good

SILVER SURFER: JUDGEMENT DAY #1 HB Fine

SPIDER-MAN (1963) (AMAZING SPIDER-MAN) (#1-441) #76 Good
SPIDER-MAN (1963) (AMAZING SPIDER-MAN) (#1-441) #151 Good

SPIDER-MAN: PARALLEL LIVES GN (1989) #1 Very Fine

STAR WARS: DARTH VADER (2017) #25 Near Mint/Mint

STRANGE TALES (1951) (#1-85 ATLAS, #86-188 MARVEL) #101 Fair
STRANGE TALES (1951) (#1-85 ATLAS, #86-188 MARVEL) #164 Very Good

TALES TO ASTONISH (1959) (#1-21 ATLAS, #22-101 MARVEL) #101 Good

THOR (2018) (#1-16) (MARVEL) #8 Near Mint/Mint

TIMELY 70TH ANNIVERSARY COLLECTION HC (2009) #1 Fine
TIMELY 70TH ANNIVERSARY COLLECTION HC (2009) #1 Near Mint/Mint

TROUBLE PREMIERE HC (2011) #1 Fine

TYPHOID FEVER: IRON FIST (2018) #1 Near Mint/Mint


ULTIMATE ANNUALS TPB (2005) #2

ULTIMATE ANNUALS TPB (2005) #2 Fine

ULTIMATE COMICS DOOMSDAY HC (2011) #1 Near Mint/Mint

ULTIMATE COMICS: AVENGERS VS. NEW ULTIMATES - DEATH TPB (2012) #1 Near Mint/Mint
ULTIMATE COMICS: AVENGERS VS. NEW ULTIMATES - DEATH TPB (2012) #1 Fine
ULTIMATE COMICS: AVENGERS VS. NEW ULTIMATES - DEATH TPB (2012) #1 Very Fine

ULTIMATE COMICS: CAPTAIN AMERICA PREMIERE HC (2011) #1 Near Mint/Mint

ULTIMATE COMICS: IRON MAN - ARMOR WARS HC (2010) #1 Near Mint/Mint

ULTIMATE COMICS: NEW ULTIMATES - THOR REBORN TPB (2011) #1 Near Mint/Mint

ULTIMATE SIX PREMIERE HC (2011) #1 Near Mint/Mint

ULTIMATE X-MEN HC (2002) #8 Near Mint/Mint

ULTIMATE X-MEN: ULTIMATE COLLECTION TPB (2006) #2 Fine
ULTIMATE X-MEN: ULTIMATE COLLECTION TPB (2006) #2 Very Fine

UNCANNY X-MEN (2019) (#1-UP) (MARVEL) #6 Near Mint/Mint
UNCANNY X-MEN (2019) (#1-UP) (MARVEL) #6 FIGURE VAR Near Mint/Mint

VENOM (2018) (#1-UP) (MARVEL) #9 Near Mint/Mint


VENOM: LETHAL PROTECTOR (1993) #1

VENOM: LETHAL PROTECTOR (1993) #1 Near Mint/Mint

DC
ABSOLUTE PROMETHEA HC (2009) #2 Near Mint/Mint

ATOM (DC) (JUSTICE LEAGUE) (1962) #9 Very Good
ATOM (DC) (JUSTICE LEAGUE) (1962) #17 Fair
ATOM (DC) (JUSTICE LEAGUE) (1962) #24 Very Good
ATOM (DC) (JUSTICE LEAGUE) (1962) #33 Fair
ATOM (DC) (JUSTICE LEAGUE) (1962) #40 Very Good
ATOM (DC) (JUSTICE LEAGUE) (1962) #42 Fair
ATOM (DC) (JUSTICE LEAGUE) (1962) #43 Fair
ATOM (DC) (JUSTICE LEAGUE) (1962) #45 Fair

BATMAN ANNUAL (2016) (#1-UP) (DC REBIRTH) #2 Fine

BATMAN: SON OF THE DEMON SC (1987) #1 4TH PRT Fine

CATWOMAN (2018) (#1-UP) (DC UNIVERSE) #6 VARIANT Near Mint/Mint

GREGORY #1 (DC: Piranha Press) Near Mint/Mint

HAWKMAN (1964) (#1-27) (DC) #2 Good
HAWKMAN (1964) (#1-27) (DC) #12 Fair
HAWKMAN (1964) (#1-27) (DC) #13 Good


HAWKMAN (1964) (#1-27) (DC) #15

HAWKMAN (1964) (#1-27) (DC) #15 Fair
HAWKMAN (1964) (#1-27) (DC) #16 Good
HAWKMAN (1964) (#1-27) (DC) #17 Good
HAWKMAN (1964) (#1-27) (DC) #18 Very Good
HAWKMAN (1964) (#1-27) (DC) #20 Very Good
HAWKMAN (1964) (#1-27) (DC) #22 Good
HAWKMAN (1964) (#1-27) (DC) #24 Very Good
HAWKMAN (1964) (#1-27) (DC) #25 Good
HAWKMAN (1964) (#1-27) (DC) #26 Very Good
HAWKMAN (1964) (#1-27) (DC) #27 Good

HEROES IN CRISIS (2018) #3 Near Mint/Mint

JUSTICE LEAGUE OF AMERICA (1960) (#1-261) (DC) #21 Fair
JUSTICE LEAGUE OF AMERICA (1960) (#1-261) (DC) #23 Fair
JUSTICE LEAGUE OF AMERICA (1960) (#1-261) (DC) #27 Very Good
JUSTICE LEAGUE OF AMERICA (1960) (#1-261) (DC) #29 Good
JUSTICE LEAGUE OF AMERICA (1960) (#1-261) (DC) #30 Fair
JUSTICE LEAGUE OF AMERICA (1960) (#1-261) (DC) #35 Very Good
JUSTICE LEAGUE OF AMERICA (1960) (#1-261) (DC) #47 Good
JUSTICE LEAGUE OF AMERICA (1960) (#1-261) (DC) #51 Good
JUSTICE LEAGUE OF AMERICA (1960) (#1-261) (DC) #54 Fair
JUSTICE LEAGUE OF AMERICA (1960) (#1-261) (DC) #56 Very Good
JUSTICE LEAGUE OF AMERICA (1960) (#1-261) (DC) #57 Fair
JUSTICE LEAGUE OF AMERICA (1960) (#1-261) (DC) #60 Fair
JUSTICE LEAGUE OF AMERICA (1960) (#1-261) (DC) #61 Fine
JUSTICE LEAGUE OF AMERICA (1960) (#1-261) (DC) #62 Very Good


JUSTICE LEAGUE OF AMERICA (1960) (#1-261) (DC) #63

JUSTICE LEAGUE OF AMERICA (1960) (#1-261) (DC) #63 Very Good
JUSTICE LEAGUE OF AMERICA (1960) (#1-261) (DC) #64 Fine
JUSTICE LEAGUE OF AMERICA (1960) (#1-261) (DC) #65 Fine
JUSTICE LEAGUE OF AMERICA (1960) (#1-261) (DC) #66 Good
JUSTICE LEAGUE OF AMERICA (1960) (#1-261) (DC) #69 Very Good
JUSTICE LEAGUE OF AMERICA (1960) (#1-261) (DC) #71 Very Good
JUSTICE LEAGUE OF AMERICA (1960) (#1-261) (DC) #73 Very Good
JUSTICE LEAGUE OF AMERICA (1960) (#1-261) (DC) #74 Fair
JUSTICE LEAGUE OF AMERICA (1960) (#1-261) (DC) #75 Good
JUSTICE LEAGUE OF AMERICA (1960) (#1-261) (DC) #77 Good
JUSTICE LEAGUE OF AMERICA (1960) (#1-261) (DC) #78 Fine
JUSTICE LEAGUE OF AMERICA (1960) (#1-261) (DC) #79 Fine
JUSTICE LEAGUE OF AMERICA (1960) (#1-261) (DC) #80 Fine
JUSTICE LEAGUE OF AMERICA (1960) (#1-261) (DC) #81 Very Good
JUSTICE LEAGUE OF AMERICA (1960) (#1-261) (DC) #82 Very Good
JUSTICE LEAGUE OF AMERICA (1960) (#1-261) (DC) #83 Very Good
JUSTICE LEAGUE OF AMERICA (1960) (#1-261) (DC) #84 Very Good
JUSTICE LEAGUE OF AMERICA (1960) (#1-261) (DC) #85 Very Good
JUSTICE LEAGUE OF AMERICA (1960) (#1-261) (DC) #86 Good
JUSTICE LEAGUE OF AMERICA (1960) (#1-261) (DC) #87 Good
JUSTICE LEAGUE OF AMERICA (1960) (#1-261) (DC) #88 Fine
JUSTICE LEAGUE OF AMERICA (1960) (#1-261) (DC) #89 Very Good
JUSTICE LEAGUE OF AMERICA (1960) (#1-261) (DC) #90 Fine


JUSTICE LEAGUE OF AMERICA (1960) (#1-261) (DC) #91

JUSTICE LEAGUE OF AMERICA (1960) (#1-261) (DC) #91 Very Good
JUSTICE LEAGUE OF AMERICA (1960) (#1-261) (DC) #92 Fine
JUSTICE LEAGUE OF AMERICA (1960) (#1-261) (DC) #93 Fine
JUSTICE LEAGUE OF AMERICA (1960) (#1-261) (DC) #95 Fine
JUSTICE LEAGUE OF AMERICA (1960) (#1-261) (DC) #96 Fine
JUSTICE LEAGUE OF AMERICA (1960) (#1-261) (DC) #97 Very Fine
JUSTICE LEAGUE OF AMERICA (1960) (#1-261) (DC) #98 Fine
JUSTICE LEAGUE OF AMERICA (1960) (#1-261) (DC) #99 Fine
JUSTICE LEAGUE OF AMERICA (1960) (#1-261) (DC) #100 Very Good
JUSTICE LEAGUE OF AMERICA (1960) (#1-261) (DC) #101 Fine
JUSTICE LEAGUE OF AMERICA (1960) (#1-261) (DC) #102 Very Good
JUSTICE LEAGUE OF AMERICA (1960) (#1-261) (DC) #103 Very Good
JUSTICE LEAGUE OF AMERICA (1960) (#1-261) (DC) #106 Very Good
JUSTICE LEAGUE OF AMERICA (1960) (#1-261) (DC) #109 Good

SPECTRE (2001) (#1-27) (HAL JORDAN) (DC) #22 Fine
SPECTRE (2001) (#1-27) (HAL JORDAN) (DC) #23 Fine
SPECTRE (2001) (#1-27) (HAL JORDAN) (DC) #26 Fine

SWAMP THING, SAGA OF MILLENNIUM EDITION (2000) #21 (DC: Vertigo Press) Very Fine

SWAMP THING, SAGA OF TPB (WARNER) (VOL. 1) (1987) #1 (DC: Vertigo Press) Fine

TOM STRONG COLLECTION (2000) #6 (DC/America's Best) Near Mint/Mint

DARK HORSE COMICS
CONAN: FROST GIANT'S DAUGHTER HC (VOL. 1) (2005) #1 SIGNED Near Mint/Mint


CONAN: FROST GIANT'S DAUGHTER TPB (VOL. 1) (2005) #1

CONAN: FROST GIANT'S DAUGHTER TPB (VOL. 1) (2005) #1 Near Mint/Mint

LAGUARDIA (2018) #1 Near Mint/Mint
LAGUARDIA (2018) #2 Near Mint/Mint

PETE VON SHOLLY'S: MORBID TPB (2003) #2 Near Mint/Mint

PLAYBOY INTERVIEWS: MOVER AND SHAKERS HC (2006) #1 Very Fine

IMAGE COMICS
ASTOUNDING WOLF-MAN (IMAGE) (ROBERT KIRKMAN) (2007) #6 Near Mint/Mint
ASTOUNDING WOLF-MAN (IMAGE) (ROBERT KIRKMAN) (2007) #8 Near Mint/Mint
ASTOUNDING WOLF-MAN (IMAGE) (ROBERT KIRKMAN) (2007) #9 Near Mint/Mint
ASTOUNDING WOLF-MAN (IMAGE) (ROBERT KIRKMAN) (2007) #10 Near Mint/Mint
ASTOUNDING WOLF-MAN (IMAGE) (ROBERT KIRKMAN) (2007) #13 Near Mint/Mint
ASTOUNDING WOLF-MAN (IMAGE) (ROBERT KIRKMAN) (2007) #22 Very Fine
ASTOUNDING WOLF-MAN (IMAGE) (ROBERT KIRKMAN) (2007) #25 Near Mint/Mint

NEW WORLD (2018) #1 B MOORE Near Mint/Mint
NEW WORLD (2018) #1 C BERTRAM Near Mint/Mint

WICKED + THE DIVINE (2014) #36 B TARR Near Mint/Mint

INDEPENDENTS

APACHE DICK TPB (MALIBU) (1991) #1

APACHE DICK TPB (MALIBU) (1991) #1 (Malibu) Fine

ARCHIE MEETS BATMAN '66 (2018) #1 A ALLRED (Archie Comics) Near Mint/Mint

ASTRIDER HUGO (RADIO COMIX) (MANGA) (2000) #1 (Radio Comix) Near Mint/Mint
ASTRIDER HUGO (RADIO COMIX) (MANGA) (2000) #2 (Radio Comix) Near Mint/Mint

BLOOM COUNTY: NIGHT OF THE MARY KAY COMMANDOS #1 (Trade Items) Fine

BLOOM COUNTY: PENGUIN DREAMS #1 (Trade Items) Very Good

CARNOSAUR CARNAGE #1 (Atomeka Press) Near Mint/Mint

CEREBUS: CHURCH & STATE TPB (1987) #1 (Aardvark-Vanaheim) Very Fine
CEREBUS: CHURCH & STATE TPB (1987) #2 2ND PRINT (Aardvark-Vanaheim) Very Fine

CEREBUS: FORM AND VOID TPB (VOL. 14) (2001) #1 2ND PRINT (Aardvark-Vanaheim) Fine

CEREBUS: GOING HOME TPB (VOL. 13) #1 2ND PRINT (Aardvark-Vanaheim) Very Good

CEREBUS: GUYS TPB #1 2ND PRINT (Aardvark-Vanaheim) Fine

CEREBUS: HIGH SOCIETY TPB (1986) #1 2ND PRINT (Aardvark-Vanaheim) Fine


CEREBUS: LAST DAY TPB (VOL. 16) (2004) #1 2ND PRINT

CEREBUS: LAST DAY TPB (VOL. 16) (2004) #1 2ND PRINT (Aardvark-Vanaheim) Very Good

CEREBUS: LATTER DAYS TPB (2003) #1 3RD PRINT (Aardvark-Vanaheim) Fine

CEREBUS: MINDS TPB #1 2ND PRINT (Aardvark One International) Fine

CEREBUS: READS TPB (VOL. 9) #1 2ND PRINT (Aardvark-Vanaheim) Very Fine

CEREBUS: RICK'S STORY TPB (VOL. 12) #1 2ND PRINT (Aardvark-Vanaheim) Fine

CEREBUS: WOMEN TPB (VOL. 8) (1994) #1 3RD PRINT (Aardvark-Vanaheim) Near Mint/Mint

COMPLETE DICK TRACY HC (2006) #4 (IDW Publishing) Near Mint/Mint
COMPLETE DICK TRACY HC (2006) #4 (IDW Publishing) Very Fine

DICK TRACY: PURPLE CROSS GANG GN (2003) #1 (Tony Raiola) Very Fine

DIE, MONSTER, DIE (MOVIE CLASSICS) (1966) #1 (Dell Publishing) Very Good

DOCTOR WHO: 13TH DOCTOR (2018) #2 B BROOKS (Titan Distributing) Near Mint/Mint
DOCTOR WHO: 13TH DOCTOR (2018) #2 C STOTT (Titan Distributing) Near Mint/Mint

DUCK TALES (1990) (#1-18) (WALT DISNEY) #17 (Walt Disney Company) Near Mint/Mint

FASTNER & LARSON: ARCHITECTS OF FANTASY GN (1994) #1 (SQP, Inc.) Very Fine

FIREFLY (2018) #2 3RD PRINT (Boom Studios Publishing) Near Mint/Mint

LABYRINTH: UNDER THE SPELL (2018) #1 A ISAACS (Boom Studios Publishing) Near Mint/Mint

LI'L ABNER VOLUME #8 (Kitchen Sink Publishing) Very Good

MAGEBOOK (1985) #1 (Comico) Near Mint/Mint
MAGEBOOK (1985) #1 (Comico) Fine
MAGEBOOK (1985) #1 (Comico) Very Good
MAGEBOOK (1985) #1 (Comico) Very Fine

MAZINGER: GO NAGAI GN #1 (First Comics) Very Fine

PLAYBOY INTERVIEWS: DIRECTORS HC (2006) #1 (M Press Books Milwaukie) Very Fine

RIP KIRBY DAILIES TPB (1989) #1 (Pioneer Comics) Very Fine

STARGATE UNIVERSE: BACK TO DESTINY (2017) #4 PHOTO (American Mythology) Near Mint/Mint

SWORDS OF CEREBUS #1 2ND PRINT (Aardvark-Vanaheim) Very Good
SWORDS OF CEREBUS #2 2ND PRINT (Aardvark-Vanaheim) Very Good
SWORDS OF CEREBUS #3 4TH PRINT (Aardvark-Vanaheim) Very Good
SWORDS OF CEREBUS #4 3RD PRINT (Aardvark-Vanaheim) Very Good
SWORDS OF CEREBUS #5 (Aardvark-Vanaheim) Very Good
SWORDS OF CEREBUS #6 (Aardvark-Vanaheim) Very Good

TABOO (SPIDERBABY GRAFIX) (1988) #1 (Spiderbaby Graphix) Very Good
TABOO (SPIDERBABY GRAFIX) (1988) #2 (Spiderbaby Graphix) Fine


TABOO (SPIDERBABY GRAFIX) (1988) #3

TABOO (SPIDERBABY GRAFIX) (1988) #3 (Spiderbaby Graphix) Fine
TABOO (SPIDERBABY GRAFIX) (1988) #4 (Spiderbaby Graphix) Very Fine
TABOO (SPIDERBABY GRAFIX) (1988) #5 (Spiderbaby Graphix) Very Fine
TABOO (SPIDERBABY GRAFIX) (1988) #6 (Spiderbaby Graphix) Fine
TABOO (SPIDERBABY GRAFIX) (1988) #7 (Spiderbaby Graphix) Very Good

TABOO ESPECIAL #1 (Tundra Publishing) Fine

TRANSFORMERS: UNICRON (2018) #3 B RAIZ (IDW Publishing) Near Mint/Mint
TRANSFORMERS: UNICRON (2018) #4 B RAIZ (IDW Publishing) Near Mint/Mint

TROUBLE WITH GIRLS TPB (2006) #2 (CHECKER COMICS) Fine
TROUBLE WITH GIRLS TPB (2006) #2 (CHECKER COMICS) Very Fine

WHITEOUT: MELT TPB (2000) #1 2ND PRINT (Oni Press Inc.) Fair

ZOMBIE TRAMP (2014) #54 E MENDOZA (Danger Zone) Near Mint/Mint
ZOMBIE TRAMP (2014) #55 E MENDOZA (Danger Zone) Near Mint/Mint