Free BATMAN #2 VARIANT -
30% Off TPB and HB Extended to Friday!
Howdy!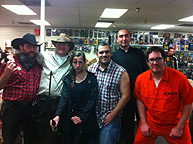 Halloween Party at our
Retail Store in Glendale
(click on image for larger view)

It's Halloween morning, and I am more excited about this year's holiday than in any time in memory. It's not that I am going out in costume tonight, as I will instead spend a quiet evening passing out candy at a friend's house. I did go out dressed on Saturday evening, however, and after an incredible professional makeover, and had the best costume experience of my life. Sadly, my outfit was not at all PC, so I cannot provide you with photos. I can give you a hint, however, by mentioning that my beard and mustache are now gone, at least for the moment. While not having my mustache seems pretty weird when I look in the mirror, what I gained by shaving are some wonderful memories that will make me smile for the rest of my life. Halloween can be really, really fun if you decide to simply throw all convention aside, and take some risks...


While the holiday is certainly turning out well this year, I do want to take a moment to express my condolences to those of you living in the NorthEast who were hammered by last week's snowstorm. I know the area that was hardest hit quite well, as I travel from central New Jersey up through Connecticut, and then into western Massachusetts and New Hampshire, all the time on my comics buying trips. Some of my best friends in the comics world live along that route. To them I send my personal best wishes and hugs. That area was already devastated by the hurricane this summer, so cleaning up from this freak storm is going to be exceptionally hard. If you can read this, please do stay as warm as you can, and try to keep your comics dry.




Batman #2 Variant
(click on image
to order)

Moving on to news about comics, I have a special giveaway offer for you today. Place any order with us over $20 for the next three days, and you can ask in the "notes" section of our order form for a free copy of the variant edition of BATMAN #2 VARIANT. These are very limited edition issues, and we have fewer than 100 copies to give away. Please place your order right away, as we will be allocating these issues based on the first orders that arrive. Also, there is a limit of one copy per customer.


So you know, our free BATMAN #2 VARIANT offer is in addition to the 30% off codeword sale that we presently have in effect on all of our back issue comics, magazines, trade paperbacks, and hardbacks. The book portion of the 30% off HALLOWEEN codeword sale was supposed to end on Tuesday (tomorrow) at noon, but response to the sale was less than I expected, at least in part because so many people were at parties over the weekend. That being the case, I am going to extend the entire 30% off HALLOWEEN codeword sale by three days, to this upcoming Friday, at noon.


Aide from extending the codeword sale by a few days, the only other big news for today is that we just doubled the size of our comics grading team. What this means for you is that the number of hard-to-find back issue comics being entered into our online inventory for you on a daily basis has doubled. I highly recommend that you check out our New-In-Stock and Premium New-In-Stock links for this past week, as we added nearly 12,000 great back issues into our selection during just the past five working days. Will and Pam are reporting to me that we are filling in an exceptionally large number of out-of-stocks right now, so comics that might not have been available for you on our website even as recently as last week, may be back in stock for you today. Please be aware that many of these issue numbers are stocked with but a single copy, however, so if you see something that you want, be sure and place your order with us right away!


Happy Collecting!

Chuck Rozanski,
President - Mile High Comics, Inc.
October 31, 2011
Advance Previews
of next weeks comics from
Archie Comics

P.S. Here is a sampling of some trade paperbacks and hardbacks that were just added into our website inventory during the past week. All the backlist books are listed for you at a minimum of 30% off, while new books (from the past 90 days) are at cover price. Don't forget that the 30% off HALLOWEEN codeword can also be applied to all backlist books and comics, to multiply your discount to a net 51% off. New comics and books, oversize items, and supplies are the only exceptions to the 30% off codeword discount. Being able to select from a huge selection of 250,000+ books for only 49% of retail is pretty amazing, especially with the Christmas/Holiday gift-giving season just around the corner. Enjoy!

30 DAYS OF NIGHT: BEYOND BARROW TPB (2008) #1
30 DAYS OF NIGHT: BLOODSUCKERS TALES VOL (2005) #1 3RD PRINT
30 DAYS OF NIGHT: EBEN & STELLA TPB (2007) #1
52: THE COMPANION TPB (2007) #1
100 BULLETS: COUNTERFIFTH DETECTIVE TPB (VOL. 5) (2003) #1 4TH PRINT
100 BULLETS: FOREGONE TOMORROW TPB (VOL. 4) (2002) #1 5TH PRINT
100 BULLETS: HANG UP ON THE HANG LOW TPB (VOL. 3) (2001) #1
100 BULLETS: SPLIT SECOND CHANCE TPB (VOL. 2) #1

ADVENTURES IN THE RIFLE BRIGADE TPB (2004) #1
ADVENTURES OF PROFESSOR THINTWHISTLE GN (1991) #1
ADVENTURES OF THE FLY TPB (2004) #1
ADVENTURES OF TINTIN HC (2004) #6 9TH PRINT
ADVENTURES OF TINTIN HC (2004) #7 8TH PRINT
AFTER THE CAPE TPB (2007) #1
AGE OF BRONZE: A THOUSAND SHIPS COLLECTION (VOL. 1) (2001) #1 3RD PRINT
AGENTS OF ATLAS TPB (2009) #1
AGENTS OF ATLAS VS. TPB (2010) #1
AGENTS OF ATLAS: DARK REIGN TPB (2009) #1
ALIAS VOL. 2: COME HOME TPB (2003) #1 2ND 2004
ALIAS VOL. 3: UNDERNEATH TPB (2003) #1 3RD 2005
ALICE IN SUNDERLAND HC (2006) #1 2ND PRINT
ALIENS BOOK I TPB (1990) #1
ALIENS OMNIBUS TPB (2007) #6
ALIENS: EARTH WAR TPB (1991) #1
ALIENS: GENOCIDE TPB (1992) #1
ALL-STAR SUPERMAN HC (2006) #2
AMAZING SPIDER-MAN VOL. 1: COMING HOME TPB (2001) #1 2ND 2002
AMERICAN VAMPIRE HC (2010) #1
AMERICAN VIRGIN TPB (2006) #2
ANGEL: AFTER THE FALL VOL. 5: AFTERMATH HC (2009) #1
ANGEL: HOLLOWER TPB (2000) #1
ANGEL: JOHN BYRNE COLLECTION HC (2011) #1
ANGELUS TPB (2011) #1
ANGRY CHRIST COMIX TPB (2006) #1
ANIBAL CINQ: THE LAST TEN WOMEN I'VE KNOWN GN (1994) #1
ANIMAL MAN: DEUS EX MACHINA TPB (VOL. 3) (2003) #1 2ND PRINT
ANIMAL MYSTIC TPB #1
ANIMAL MYSTIC WATER WARS TPB #1
ANITA BLAKE: FIRST DEATH HC (2008) #1 BLACK HAIR
ANNIHILATION CONQUEST HC (2008) #1
ANT: DAYS LIKE THESE TPB (2004) #1
APE GN (1986) #1
ARMY OF DARKNESS MOVIE ADAPTATION COLLECTED (2006) #1 TPB
ARNOLD ROTH: FREE LANCE GN (2001) #1
ARSENIC LULLABY PULP EDITION (2007) #0
ART OF BONE HC (2007) #1
ART OF DAVE NESTLER: WICKED INTENTIONS TPB (2003) #1
ART OF FAERY HC (2008) #1
ART OF GREG HILDEBRANDT: FROM TOLKIEN TO OZ #1
ART OF GREG HORN HC (2004) #1
ART OF GREG HORN TPB (2005) #1
ART OF IRVIN BOMB SC (2001) #1
ART OF JAY ANACLETO GN (2002) #1 SC
ART OF JOE JUSKO HC (2007) #1
ART OF JOSEPH MICHAEL LINSNER SC (2003) #1
ART OF LORENZO SPERLONGA GN (2003) #1
ART OF MONTE MOORE: MYSTICA GN (2004) #1
ART OF PELAEZ TPB (2006) #1
ART OF ROWENA TPB (2000) #1
ART OF STEVE WORON #1
ART OF USAGI YOJIMBO TPB (2005) #1
ARTHUR SUYDAM: ART OF THE BARBARIAN (2005) #1 HC SIGNED
ARTIST WITHIN HC (2007) #1
ASTHMA GN (2007) #1
ASTONISHING X-MEN VOL. 1: GIFTED TPB (2004) #1
ASTONISHING X-MEN VOL. 2: DANGEROUS TPB (2005) #1
ASTONISHING X-MEN VOL. 3: TORN TPB (2006) #1
ATLAS: MARVEL BOY TPB (2010) #1
ATLAS: RETURN OF THE THREE DIMENSIONAL MAN TPB (2010) #1
AUSCHWITZ HC (2004) #1
AUTHORITY: UNDER NEW MANAGEMENT TPB #1
AVATAR GN (2003) #1
AVENGERS ASSEMBLE HC (2004) #4
AVENGERS WEST COAST: DARKER THAN SCARLET TPB (2008) #1
AVENGERS WEST COAST: VISION QUEST TPB (2005) #1
AVENGERS/DEFENDERS WAR TPB (2002) #1
AVENGERS/X-MEN: BLOODTIES TPB (1995) #1
AVENGERS: KREE/SKRULL WAR TPB (2000) #1
AVENGERS: VISION & SCARLET WITCH - YEAR IN THE LIFE TPB (2010) #1

BARRY WINDSOR SMITH'S OPUS #1
BATMAN & DRACULA: RED RAIN TPB (1992) #1 5TH PRINT
BATMAN & DRACULA: RED RAIN TPB (1992) #1
BATMAN & DRACULA: RED RAIN TPB (1992) #1 WARNER ED
BATMAN CHRONICLES TPB (2005) #8
BATMAN: BLOODSTORM SC (1994) #1 DIRECT
BATMAN: DETECTIVE #27 HC (2003) #1
BATMAN: GOTHIC TRADE PAPERBACK (1992) #1 2ND PRT
BATMAN: LONG SHADOWNS HC (2010) #1
BATWOMAN VOL. 1: ELEGY TPB (2011) #1
BAYBA: LADY BROWN TPB (2008) #1
BEANWORLD HC (2008) #1
BEAST WITHIN: ART OF KEN BARR TPB (2007) #1
BEOWULF GN (1984) #1
BEOWULF TPB (IDW) (2007) #1
BERLIN: CITY OF STONES GN (2001) #1 3RD PRINT
BEST COMICS OF THE DECADE TPB #2
BEST OF CLARA HC (2006) #1
BEST OF SPIDER-MAN COLLECTION HC (2002) #2
BEST OF STEVEN TPB #1
BETA RAY BILL: GODHUNTER TPB (2009) #1
BETSY'S BUDDIES GN #1 HC
BETTIE PAGE RULES TPB (2007) #1
BETTIE PAGE: QUEEN OF HEARTS SC (1995) #1
BIGFOOT TPB (2005) #1
BILL & TED'S MOST EXCELLENT ADVENTURES TPB (2004) #2
BILL SIENKIEWICZ PRECURSOR GN (2002) #1 SC
BIRD THE TATTOO GN (2001) #1 HC
BIRD: THE MASK TPB (VOL. 2) (2003) #1
BIRDS OF PREY: BETWEEN DARK AND DAWN TPB (2006) #1
BIZARRO COMICS TPB (2003) #1
BLAB! GN (2000) #16
BLAB! GN (2000) #18
BLACK COAT: OR GIVE ME DEATH TPB (2010) #1
BLACK MAGIC TPB (1998) #1 2ND PRINT
BLACKSAD: SKETCH FILES TPB (2005) #1
BLOOD & DISHONOR TPB (2008) #1
BLOOM COUNTY: LOOSE TAILS #1
BONE & BEYOND HC (2008) #1
BONE: OUT FROM BONEVILLE #1 HC W/PLATE
BONEYARD TPB (2002) #2
BOOK OF NIGHT COLLECTION (1991) #1 S&N LTD HC
BOOKS OF FAERIE: AUBRON'S TALE TPB #1
BOYS OF SUMMER GN (2006) #1
BOYS VOL. 1: NAME OF THE GAME TPB #1 4TH PRINT
BOYS VOL. 1: NAME OF THE GAME TPB #1 4TH PRINT
BPRD: A PLAGUE OF FROGS TPB (VOL. 3) (2004) #1 2ND PRINT
BPRD: BLACK FLAME TPB (VOL. 5) (2006) #1
BPRD: GARDEN OF SOULS TPB (VOL. 7) (2007) #1
BPRD: HOLLOW EARTH & OTHER STORIES GN (2004) #1 TPB 2NDPRT
BPRD: SOUL OF VENICE AND OTHER STORIES TPB (VOL. 2) (2004) #1
BPRD: THE DEAD TPB (VOL. 4) (2005) #1
BPRD: UNIVERSAL MACHINE TPB (VOL. 6) (2006) #1
BRING ON THE BAD GUYS TPB (FIRESIDE) (MARVEL VILLAINS) (1976) #1 2ND PRINT
BUFFY THE VAMPIRE SLAYER: BAD BLOOD TPB #1
BUFFY THE VAMPIRE SLAYER: BLOOD OF CARTHAGE TPB (2001) #1
BUFFY THE VAMPIRE SLAYER: CRASH TEST DEMONS TPB #1
BUFFY THE VAMPIRE SLAYER: DEATH OF BUFFY TPB (2002) #1
BUFFY THE VAMPIRE SLAYER: DUST WALTZ TPB (VOL. 1) (1998) #1
BUFFY THE VAMPIRE SLAYER: FALSE MEMORIES TPB (2002) #1
BUFFY THE VAMPIRE SLAYER: FOOD CHAIN TPB (2001) #1
BUFFY THE VAMPIRE SLAYER: LONG WAY HOME HC (2007) #1 2ND PRINT
BUFFY THE VAMPIRE SLAYER: LONG WAY HOME TPB (2007) #1 2ND PRINT
BUFFY THE VAMPIRE SLAYER: LONG WAY HOME TPB (2007) #1
BUFFY THE VAMPIRE SLAYER: ORIGIN TPB #1 2ND PRINT
BUFFY THE VAMPIRE SLAYER: PALE REFLECTIONS TPB #1
BUFFY THE VAMPIRE SLAYER: PANEL TO PANEL GN (2007) #1
BUFFY THE VAMPIRE SLAYER: REMAINING SUNLIGHT TPB #1
BUFFY THE VAMPIRE SLAYER: RING OF FIRE GN #1
BUFFY THE VAMPIRE SLAYER: SPIKE & DRU TPB (2001) #1
BUFFY THE VAMPIRE SLAYER: UNINVITED GUESTS TPB #1 2ND PRINT

CABLE/DEADPOOL VOL. 1: IF LOOKS COULD KILL TPB (2004) #1
CABLE/DEADPOOL VOL. 2: BURNT OFFERING TPB (2005) #1
CABLE/DEADPOOL VOL. 3: HUMAN RACE TPB (2005) #1
CABLE/DEADPOOL VOL. 4: BOSOM BUDDIES TPB (2006) #1
CABLE/DEADPOOL VOL. 5: LIVING LEGENDS TPB (2006) #1
CAPOTE IN KANSAS GN (2005) #1
CAPTAIN AMERICA BY ED BRUBAKER OMNIBUS HC (2007) #1 4TH PRINT
CAPTAIN AMERICA/BLACK PANTHER: FLAGS OF OUR FATHERS TPB (2010) #1
CAPTAIN AMERICA: AMERICA FIRST TPB (2010) #1
CAPTAIN AMERICA: CAPTAIN TPB (2011) #1
CAPTAIN AMERICA: FIGHTING CHANCE VOL. 2: ACCEPTANCE TPB (2009) #1
CAPTAIN AMERICA: PATRIOT TPB (2011) #1
CAPTAIN AMERICA: REBORN TPB (2010) #1 QUESADA
CAPTAIN AMERICA: REBORN TPB (2010) #1 QUESADA
CAPTAIN AMERICA: RED, WHITE & BLUE HC (2002) #1 W/O JACKET
CAPTAIN AMERICA: THEATER OF WAR TPB (2010) #1
CAPTAIN AMERICA: TRIAL OF CAPTAIN AMERICA PREMIERE HC (2011) #1
CAPTAIN AMERICA: WAR & REMEMBRANCE TPB (2ND EDITION) (2007) #1
CASPER THE FRIENDLY GHOST 60TH ANNIVERSARY HC (2009) #1
CATHY: A HAND TO HOLD, AN OPINION TO REJECT #1 5TH PRINT
CHANNEL ZERO: JENNIE ONE GN (2003) #1 TPB 2NDPRT
CHICKS & MONSTERS GN (2004) #1
CHILL TPB (2011) #1 ADVANCED
CLANDESTINE: BLOOD RELATIVE PREMIERE HC (2008) #1
CLASH TPB (2008) #1
CLASSIC BATTLESTAR GALACTICA TPB (2007) #1 PX EDITION
CLASSIC GI JOE TPB (2009) #12
CLIVE BARKER'S HELLRAISER LTD. HC #2
CLIVE BARKER'S HELLRAISER LTD. HC #3
CLOAK & DAGGER: CHILD OF DARKNESS PREMIERE HC (2009) #1 BLACK FOIL
COBBLERS MONSTER GN (2006) #1
COLLECTED STRANGERS IN PARADISE TPB (1994) #1 4TH SIGNED
COMIC BOOK ARTIST COLLECTION #3
COMPLETE CRUMB COMICS GN #2 S&N HC
COMPLETE NORMALMAN TPB (2007) #1
COMPLETE OMAHA THE CAT DANCER TPB (2005) #2
CONAN THE PHENOMENON HC (2007) #1 2ND PRINT
CONAN THE REAVER GN (1987) #1
CONAN: GOD IN THE BOWL & OTHER STORIES TPB (VOL. 2) (2005) #1 5TH PRINT
CRACKED GUIDE TO MOVIES TPB (2001) #1
CREEPY ARCHIVES HC (2008) #4 W/O JACKET
CROW TPB #2
CUT: THE UNSEEN CINEMA TPB (1975) #1

D ALPHA GN (1990) #1
DAILY DELIRIUM (2003) #1
DAREDEVIL LEGENDS VOL. 4: TYPHOID MARY TPB (2003) #1
DAREDEVIL VISIONARIES: FRANK MILLER TPB (2000) #2
DAREDEVIL VISIONARIES: FRANK MILLER TPB (2000) #3
DARK DREAMS: A PSYCHOLOGICAL HISTORY OF MODERN HORROR (1977) #1
DARK X-MEN HC (2010) #1
DARKCHYLDE TPB (2007) #1 2ND PRINT
DAVE SIM: COLLECTED LETTERS TPB (2004) #1
DAWN OF THE DEAD TPB (2004) #1
DAWN: THREE TIERS HC (VOL. 3) (2005) #1
DC CLASSICS LIBRARY: FLASH OF TWO WORLDS HC (2009) #1
DC CLASSICS LIBRARY: SUPERMAN - KRYPTONITE NEVERMORE HC (2009) #1
DC COMICS COVERGIRLS HC (2007) #1 VARIANT
DC UNIVERSE: THE STORIES OF ALAN MOORE (2005) #1 2ND PRINT
DC: NEW FRONTIER TPB (2004) #2 3RD PRINT
DEAD AT 17 TPB (2004) #1 SPECIAL ED
DEAD AT 17: BLOOD OF SAINTS TPB (VOL. 2) (2004) #1
DEATH OF SUPERMAN TPB #1
DEATH OF THE NEW GODS HC (2008) #1
DEATH'S HEAD 3.0 UNNATURAL SELECTION TPB (2006) #1
DEATH: HIGH COST OF LIVING TPB (1994) #1 2ND PRINT
DECIMATION X-MEN: DAY AFTER TPB (2006) #1
DEFENDERS: INDEFENSIBLE PREMIERE HC (2006) #1
DESPERATE MEASURES HC (2002) #3
DIANA PRINCE: WONDER WOMAN TPB (2008) #2
DIANA PRINCE: WONDER WOMAN TPB (2008) #3
DIARY OF MOLLY FREDRICKSON GN (2003) #1
DIARY OF MOLLY FREDRICKSON GN (2003) #3
DICKS & DEEDEES HC (LOVE & ROCKETS) (2003) #1
DIEU, SA FILLE ET L'HOMME HC #1
DIRTY WORKS: ART OF LORENZO SPERLONGA (2006) #1 DLX HC
DISTANT SOIL: CODA TPB (VOL. 4) (2005) #1
DISTANT SOIL: GATHERING TPB #1 2ND PRINT
DOC SAVAGE DOUBLE NOVEL (2006) #16
DON MARTIN'S DROLL BOOK (1992) #1 TPB
DOWN/WARREN ELLIS TPB (2006) #1
DR. GRAVE TPB (2009) #1
DR. STRANGE: OATH TPB (2007) #1
DRAGON EYE GN (2007) #7
DRAGONLANCE LEGENDS: TIME OF THE TWINS TPB (2008) #1
DRAWING & PAINTING: HANDS & FEET TPB (2000) #1
DREAMER COLLECTION (1986) #1 HC S&N
DRINK & DRAW HC (2006) #1
DROWNERS TPB (2006) #1
DRUUNA MORIBUS GRAVIS #2
DUETTO: FEMALE EROTICA HC (1988) #1

EAST TEXAS: TALES/BEHIND PINE CURTAIN #1
ECHOES: DRAWINGS OF MICHAEL WM. KALUTA COLLECTION (2000) #1 HC
EDGAR ALLEN POE (CATALAN GN) #1
EMILY'S SECRET TPB #1
EMMA FROST ULTIMATE COLLECTION TPB (2011) #1
EMMANUELLE #2
ERMA JAGUAR #2
EROTIC ART OF REED WALLER GRAPHIC NOVEL #1
ESCAPE OF THE LIVING DEAD: RESURRECTED TPB (2007) #1
ESSENTIAL FANTASTIC FOUR TPB (1998) #4
ESSENTIAL FANTASTIC FOUR TPB (1998) #5
ESSENTIAL FANTASTIC FOUR TPB (1998) #6
ESSENTIAL FANTASTIC FOUR TPB (2ND EDITION) (2005) #3
ESSENTIAL FRANKENSTEIN: DEFINITIVE CLASSIC NOVEL TPB (1993) #1
ESSENTIAL MARVEL TWO-IN-ONE TPB (2005) #1
ESSENTIAL NOVA TPB (2006) #1
ESSENTIAL OFFICIAL HANDBOOK OF THE MARVEL UNIVERSE TPB (2005) #1
ESSENTIAL PETER PARKER SPECTACULAR SPIDER-MAN TPB (2005) #5
ESSENTIAL SILVER SURFER TPB (1997) #1
ESSENTIAL SPIDER-MAN TPB (1996) #8
ESSENTIAL SPIDER-MAN TPB (1996) #10
ESSENTIAL SPIDER-MAN TPB (2ND EDITION) (2005) #5
ESSENTIAL TALES OF ZOMBIE TPB (2006) #1
ESSENTIAL WOLVERINE TPB #4
ESSENTIAL X-FACTOR TPB (2ND EDITION) (2011) #1
ESSENTIAL X-MEN TPB (1996) #3 3RD PRINT
ESSENTIAL X-MEN TPB (1996) #6
ESSENTIAL X-MEN TPB (1996) #7
ESSENTIAL X-MEN TPB 2ND EDITION (2005) #2
ESSEX COUNTY TPB (2007) #1
ETERNAL TEMPTATION: A GALLERY GIRLS BOOK #1
ETERNALS BY NEIL GAIMAN HC (2007) #1 VARIANT
EVA MEDUSA TPB (1993) #1
EX MACHINA VOL.10: TERM LIMITS TPB (2010) #1
EXCALIBUR VISIONARIES: WARREN ELLIS TPB (2010) #3
EXCALIBUR: WEIRD WAR III GN (1990) #1
EXILES: A WORLD APART TPB (2002) #1 2ND PRINT
EXILES: AGE OF APOCALYPSE TPB (VOL. 10) (2005) #1
EXILES: BLINK IN TIME TPB (VOL. 7) (2004) #1
EXILES: BUMP IN THE NIGHT TPB (VOL. 9) (2005) #1
EXILES: DOWN THE RABBIT HOLE TPB (VOL. 1) (2002) #1
EXILES: EARN YOUR WINGS TPB (VOL. 8) (2004) #1
EXILES: ENEMY OF THE STARS TPB (VOL. 15) (2007) #1
EXILES: FANTASTIC VOYAGE TPB (VOL. 6) (2004) #1
EXILES: LEGACY TPB (VOL. 4) (2003) #1
EXILES: NEW EXILES TPB (VOL. 14) (2006) #1
EXILES: OUT OF TIME TPB (VOL. 3) (2003) #1 2ND PRINT
EXILES: STARTING OVER TPB (VOL. 16) (2008) #1
EXILES: TIME BREAKERS TPB (VOL. 11) (2005) #1
EXILES: UNNATURAL INSTINCT TPB (VOL. 5) (2003) #1
EXILES: WORLD TOUR BOOK 2 TPB (VOL.13) (2006) #1
EXILES: WORLD TOUR BOOK TPB (VOL. 12) (2006) #1

FABLES HC (2009) #3
FABLES: ANIMAL FARM TPB (VOL. 2) (2003) #1 2ND PRINT
FABLES: ARABIAN NIGHTS AND DAYS TPB (VOL. 7) (2006) #1
FABLES: ARABIAN NIGHTS AND DAYS TPB (VOL. 7) (2006) #1 3RD PRINT
FABLES: LEGENDS IN EXILE TPB (2002) #1 3RD PRINT
FABLES: STORYBOOK LOVE TPB (VOL. 3) (2004) #1 5TH PRINT
FABLES: STORYBOOK LOVE TPB (VOL. 3) (2004) #1
FAFHRD & THE GRAY MOUSER TPB (2006) #1
FAIRIES OF BLADDERWHACK POND HC (2003) #1
FAIRY TAILS TPB (2005) #1
FAKER TPB (2008) #1
FALL OF CTHULHU: THE FUGUE TPB (VOL. 1) (2007) #1
FALL OF THE HULKS: RED HULK TPB (2010) #1
FALLEN SON: DEATH OF CAPTAIN AMERICA PREMIERE HC (2007) #1
FALLEN SON: DEATH OF CAPTAIN AMERICA TPB (2008) #1
FAMOUS MONSTER MOVIE ART OF BASIL GOGOS TPB (2005) #1
FANDOM DIRECTORY TPB #8
FANTASTIC ART OF ARTHUR SUYDAM SC (2005) #1
FANTASTIC FOUR LEGENDS VOL. 1: UNSTABLE MOLECULES TPB (2003) #1 2ND PRINT
FANTASTIC FOUR/IRON MAN: BIG IN JAPAN TPB (2006) #1
FANTASTIC FOUR: EXTENDED FAMILY TPB (2011) #1
FANTASTIC VISIONS: ART OF MATT BUSCH HC (2001) #1 W/SKETCH
FARSCAPE UNCHARTED TALES VOL. 3: D'ARGO'S QUEST TPB (2011) #1
FARSCAPE: SCORPIUS TPB (2010) #2
FASTNER & LARSON'S LITTLE BLACK BOOK TPB (2003) #2
FEMMES MASTERPIECES OF EROTIC PHOTOGRAPHY TPB (2007) #1
FIELD ON THE EDGE OF THE WOODS TPB #1
FIENDS OF THE EASTERN FRONT TPB (2010) #1
FILMATION'S GHOSTBUSTERS ANNUAL HC (UK) (1987) #1
FISH POLICE TPB (2011) #1
FISHTOWN HC (2008) #1
FLASH: DASTARDLY DEATH OF THE ROGUES HC (2010) #1
FLASH: SECRET OF BARRY ALLEN TPB (2005) #1 2ND PRINT
FLIRT!: ART OF NAUGHTY TPB #2
FORGOTTEN REALMS: LEGEND OF DRIZZIT OMNIBUS TPB (2008) #2
FOUR WOMEN TPB (2002) #1
FRANKENSTEIN: PRODIGAL SON HC (2008) #1
FRAZETTA INDEX BONANZA TPB (2002) #1
FREAKANGELS TPB (2008) #5
FREDDY VS. JASON VS. ASH: NIGHTMARE WARRIORS TPB (2010) #1
FREEBOOTERS HC (BARRY WINDSOR-SMITH) (2005) #1
FROLLO MONASTREET: SECRET BOOKS OF GLAMOUR TPB (1991) #1
FROLLO: BOUND TO PLEASE HC (2003) #1
FUTURIANS GN (1983) #1 3RD PRINT
FVZA: FEDERAL VAMPIRE AND ZOMBIE AGENCY TPB (2010) #1

GHITA OF ALIZARR GN (SECOND EDITION) (1991) #2
GHOST RIDER: TRAIL OF TEARS TPB (2008) #1
GI JOE SPECIAL MISSIONS TPB (2007) #2
GI JOE TPB (2002) #3
GI JOE: BEST OF COBRA COMMANDER TPB (2009) #1
GI JOE: HEARTS & MINDS HC (2010) #1
GIANT KILLER TPB (2005) #1
GLOOM COOKIE TPB #3
GON COLOR SPECTACULAR #1
GORGEOUS AND HUNG TPB (2009) #1
GOTHAM CITY SIRENS: SONG OF THE SIRENS HC (2010) #1
GRAPHIC CLASSICS: HORROR CLASSICS (2004) #1
GRATEFUL DEAD COMIX TPB (1992) #1
GREAT COMIC BOOK HEROES HC (1965) #1 W/O JACKET
GREATEST BATTLES OF THE X-MEN TPB #1
GREATEST JOKER STORIES EVER TOLD TRADE PAPERBACK (1988) #1 2ND PRT
GREEK STREET VOL. 2: CASSANDRA COMPLEX TPB (2010) #1
GREEN ARROW/BLACK CANARY: WEDDING ALBUM HC (2008) #1
GREEN HORNET COLLECTOR'S EDITION HC (1990) #1
GREEN HORNET VOL. 2: WEARING GREEN HC (2010) #1
GREEN HORNET: BLOOD TIES TPB (2011) #1
GREEN LANTERN CORPS TPB (2007) #1
GREEN LANTERN: LEGACY-LAST WILL/TESTAMENT HAL JORDAN HC (2001) #1
GREEN LANTERN: PAPER MODELS - POWER OF THE LANTERN GN (2011) #1
GREEN LANTERN: REBIRTH TPB NEW EDITION (2010) #1
GREEN LANTERN: THE SINESTRO CORPS WAR COLLECTION (2008) #1 SC 2ND PRT
GREENDALE HC (2010) #1
GREMLINS HC (2006) #1
GRENDEL: ART OF MATT WAGNER'S GRENDEL HC (2007) #1
GRENDEL: DEVIL BY THE DEED GN (1986) #1
GRENDEL: WAR CHILD COLLECTION (1993) #1 HC LTD.
GRIMMY TALES: RETURN TO WONDERLAND TPB (2009) #1
GROUNDED TPB (2006) #1
GUARDIAN ANGEL GETTEN TPB (2003) #4 2ND PRINT
GUARDIANS OF THE GALAXY: POWER OF STARHAWK PREMIERE HC (2009) #1 VARIANT
GUARDIANS OF THE GALAXY: WAR OF KINGS HC (VOL. 2) (2009) #1

H.R. GIGER'S RETROSPECTIVE: 1964-1984 TPB (1997) #1
HACK SLASH VOL. 8: SUPER SIDEKICK SLEEPOVER SLAUGHTER (2010) #1
HACK SLASH: REANIMATION GAMES TPB (VOL.5) (2009) #1
HACK SLASH: REVENGE OF THE RETURN TPB (VOL. 4) (2008) #1
HAL FOSTER: PRINCE OF ILLUSTRATORS COLLECTION (2001) #1 HC
HALF DEAD TPB (2007) #1
HALLOWEEN: NIGHTDANCE TPB (2008) #1
HAWKEYE & MOCKINGBIRD: GHOSTS TPB (2011) #1
HAWKGIRL: THE MAW TPB (2007) #1
HAWKMAN VOL. 3: WINGS OF FURY TPB (2005) #1
HAWKS OF OUTREMER TPB (2010) #1
HEAVY METAL: ART OF THE MOVIE TPB (1981) #1
HEAVY METAL: DESPERADOES TPB (1992) #1 HC
HEAVY METAL: MAN WHO LAUGHS HC (1994) #1
HELLBLAZER: DANGEROUS HABITS TPB #1 6TH PRINT
HELLBLAZER: INDIA TPB (2010) #1
HELLBLAZER: PANDEMONIUM TPB (2011) #1
HELLBLAZER: SON OF MAN TPB (2004) #1
HELLRAISER CHRONICLES TP #1
HELMUT NEWTON: WHITE WOMEN PORTFOLIO HC (1976) #1
HERCULES: TWILIGHT OF A GOD TPB (2010) #1
HERE COMES THE LOVEJOYS: SECOND COMING GN (2008) #1
HEROES FOR HIRE: CONTROL TPB (2011) #1
HITMAN VOL. 3: LOCAL HEROES (2ND EDITION) (2010) #1
HITMAN VOL. 4: ACE OF KILLERS TPB (2011) #1
HOBBIT HC (LIMITED EDITION) (1990) #1 SIGN/NUMBR
HORNS OF ELFLAND TPB (2001) #1
HORROR OF COLLIER COUNTY TPB (2001) #1
HOUSE OF M: UNCANNY X-MEN TPB (2006) #1
HULK VISIONARIES: PETER DAVID TPB (2005) #1
HULK VISIONARIES: PETER DAVID TPB (2005) #3
HULK: FIRESIDE EDITION (1978) #1 SC
HULK: PLANET HULK PRELUDE TPB (2010) #1
HULK: RED HULK TPB (2009) #1 2ND PRINT
HULK: SPLIT DECISIONS TPB (VOL. 6) (2004) #1
HUMAN TARGET: SECOND CHANCES TPB (2011) #1
HYPOCRITES GN (1998) #1

I AM LEGION SC (2011) #1
IDW TALES OF TERROR HC (2004) #1
IGNITION CITY TPB (2010) #1
ILLUSTRATED ROGER ZELAZNY TPB (1978) #1
IMAGES OF DAVID LYNCH HC (1994) #1
IMPULSE: RECKLESS YOUTH TPB #1
IN MY SKIN: EMINEM GN (2004) #1
INANNA'S TEARS HC (2009) #1 W/ JACKET
INDISPENSABLE CALVIN & HOBBES TP #1
INES THE PNEUMATIC GIRL (2003) #1
INFERNO TPB #1
INFINITE CRISIS COMPANION TPB (2006) #1
INFINITY CRUSADE TPB (2008) #1
INFINITY INC. VOL. 1: GENERATIONS SAGA HC (2011) #1
INFINITY WAR TPB (2006) #1
INHUMANS GN (1988) #1
INNOCENT IMAGES HC (2002) #1
INTERVIEWS ABOARD THE ENTERPRISE #1
INVASION TPB (2008) #1
INVINCIBLE: WHO'S THE BOSS TPB (VOL. 10) (2009) #1
INVISIBLE DIRTY OLD MAN GN #1
ION VOL. 2: THE DYING FLAME TPB (2007) #1
IRON MAN: THE POWER OF IRON MAN TPB #1 2ND PRINT
IRONWOLF: FIRES OF THE REVOLUTION HARDCOVER #1


Click here to view all of the recently added Trade Paperbacks and HardCovers


Click here to view all of the New In Stock


Click here to view all of the Premium New-In-Stock


Click here to view the Free Bonus Book Giveaways