Fire Report/Jim Shooter Signing News
Howdy!
I stopped at the Costco store in Superior, Colorado (3 miles outside of Boulder) at 9:30 yesterday morning to pick up some supplies for Saturday's Jim Shooter signing at our Jason St. Mega-Store. Minutes after I left, an immense prairie fire raced up the vast City of Boulder "Open Space" land on the hillside slope behind the Costco, fanned by savage winds that were a steady 75 miles an hour, with recorded gusts to 115 miles per hour. I have yet to see a confirmation that our Costco actually burned, but the nearby Super Target store is definitely gone, as are (at a minimum) 580 adjacent homes. This is truly a disaster of epic scale.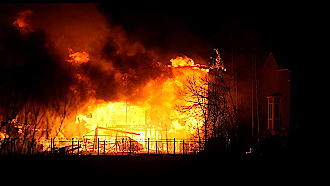 Photo from the Associated Press

Sadly, this is not our first destructive wildfire in the Boulder area, nor our first epic disaster. The massive drought that has made our entire region tinder-dry began five years ago, right after 21 inches of rain fell in a single day at our farm. The incredibly destructive flooding from that unprecedented rain event destroyed hundreds of homes in businesses in Lyons, and throughout the canyon leading up to Estes Park. Several wildfires have since ravaged the nearby foothills, also destroying hundreds of homes. The worst was last year up by Fort Collins, which turned tens of thousands of acres of forest (and structures) to blacked ash.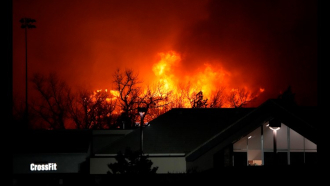 Photo from the Associated Press

Of greatest importance to me personally is that a second wildfire (also sparked by power lines downed by the winds) started yesterday morning due west of our farm on Jay Road. Through a sheer miracle of good fortune, that fire was suppressed by Boulder firefighters almost immediately. Had it burned across the wide open public lands to the west of our property, it is almost a certainty that we would have lost our home, and maybe even some of our cherished pets. Whew.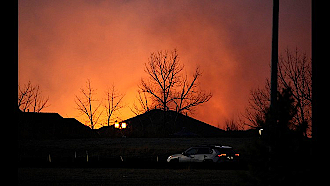 Photo from the Associated Press

Sadly, we do not yet have any clue about the scale of this latest catastrophe. As Jim Shooter and I detoured 30 miles north last evening to get from the Denver airport to our farm, we could see the eerie glow of multiple houses burning in the blackness of the southern sky. I turned on the TV livestream for Jim to watch on my iPhone, and they kept repeatedly announcing further destruction, long after the "580 homes lost" figure had been provided by the Boulder Country Sheriff. I have at least two close friends who suffered catastrophic losses, and expect to hear about many more today. Really and truly, this all makes me very sad.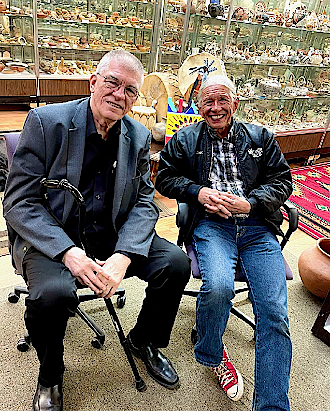 Jim Shooter and Chuck Rozanski

That having been said, I will be driving Jim Shooter into Denver this morning, to shoot a video about our adventures together during the 40+ years that we have been friends. That video/interview should be available to you to view on Monday, and we plan to also post it to our YouTube channel. After chatting with me for a while, Jim is going to be signing all of the comics that have been ordered by our online clients, and then taking a personal tour of my Pueblo Treasures pottery museum. We will then be returning home to our farm in Boulder a bit early, as (ironically) a snowstorm is predicted for our region this evening that is expected to dump 3-6 inches. That is our first measurable snow since last March.
While tonight's drought-breaking snowstorm is greatly appreciated to reduce further fire danger, the fact that it may still be snowing on Saturday morning will probably reduce our attendance at the Jim Shooter signing by about half. That's OK by us, as the explosive growth of COVID infections now makes any public event a potential super-spreader. That having been said, we are going to be very careful in implementing our safety protocols during Jim's signing, requiring masks by all attendees, and only allowing ten people at a time to enter the line to meet Jim. With the vastness of our Mega-Store (and excellent airflow provided by large fans) to protect us, we think everything is going to work out fine.
Jim is also planning to sign autographs for seven full hours (10 AM - 5 PM) on Saturday, so we expect there to be lulls in the action where you can ask questions of this incredibly knowledgeable icon of comics publishing, without feeling at all rushed. Truthfully, after witnessing so much misery this week, I do think that hosting Jim's signing going to be a blessed relief for us all.
My only other news for today is a quick mention that (during the course of looking for comics for Jim Shooter to sign for us), I made the staggeringly cool discovery that a collection of Bronze Age (1977-1983) comics that Will Moulton purchased for us in the Mega-Store a few weeks ago consists almost entirely of the ultra-rare "Jewelers" variants, that were only shipped (in very limited quantities) to US military bases. We are used to finding an occasional "Jewelers" variant (usually in low grade) when we buy large collections, but to discover 750+ in a single deal, with so many in VF/NM, is totally unprecedented.
To give you an idea of just how rare "Jewelers" variants are, Will Moulton had to "create" entirely new listings in our website database for over 100 of these rare gems, as we had never (in 52 years in business) previously encountered even a single copy. Some of the covers to the "Jewelers" editions still need to be scanned and added into our online database, but that task should be completed soon. This amazing "Jewelers" discovery is beyond awesome!

AVENGERS (1963) (#1-402) (MARVEL) #232 NEWS JEWEL

So you know, thanks to Will and Pam's hard work, about 200 of my newly-discovered "Jewelers" variants are now available for you to order in today's New-In-Stock list posted at the end of this newsletter, with the rest scheduled for next Monday and Wednesday's newsletters. All are available to you at 60% off when you utilize our ongoing THANKYOU! codeword at checkout. As per usual, only new issues, a few variants, and our professionally-graded items are exempt. It is also important that I mention that, prior to working on the "Jewelers," Will and Pam first graded and entered a slew of other highly-desirable Silver and Bronze Age titles, including many key issues. Those other awesome new arrivals are also posted for you in the list below…
Happy collecting!
Chuck Rozanski/Bettie Pages,
President - Mile High Comics, Inc.
December 31, 2021

MARVEL

ALPHA FLIGHT (1983) (#1-130) #3 NEWS JEWEL

ALPHA FLIGHT (1983) (#1-130) #3 NEWS JEWEL Very Fine
ALPHA FLIGHT (1983) (#1-130) #4 NEWS JEWEL Very Fine
ALPHA FLIGHT (1983) (#1-130) #5 NEWS JEWEL Very Fine
ALPHA FLIGHT (1983) (#1-130) #6 NEWS JEWEL Very Fine
ALPHA FLIGHT (1983) (#1-130) #7 NEWS JEWEL Near Mint/Mint
ALPHA FLIGHT (1983) (#1-130) #8 NEWS JEWEL Near Mint/Mint
ALPHA FLIGHT (1983) (#1-130) #9 NEWS JEWEL Near Mint/Mint
ALPHA FLIGHT (1983) (#1-130) #10 NEWS JEWEL Very Fine
ALPHA FLIGHT (1983) (#1-130) #11 NEWS JEWEL Very Fine
ALPHA FLIGHT (1983) (#1-130) #13 NEWS JEWEL Near Mint/Mint
ALPHA FLIGHT (1983) (#1-130) #14 NEWS JEWEL Very Fine
ALPHA FLIGHT (1983) (#1-130) #15 NEWS JEWEL Very Fine
ALPHA FLIGHT (1983) (#1-130) #16 NEWS JEWEL Very Fine
ALPHA FLIGHT (1983) (#1-130) #17 NEWS JEWEL Very Fine
ALPHA FLIGHT (1983) (#1-130) #18 NEWS JEWEL Near Mint/Mint
ALPHA FLIGHT (1983) (#1-130) #19 NEWS JEWEL Near Mint/Mint
ALPHA FLIGHT (1983) (#1-130) #20 NEWS JEWEL Near Mint/Mint
ALPHA FLIGHT (1983) (#1-130) #21 NEWS JEWEL Very Fine
ALPHA FLIGHT (1983) (#1-130) #21 NEWS JEWEL Fine

AMAZING SPIDER-MAN (1999) (#1-58, #500-700.5) (MARVEL) #597 Very Fine
AMAZING SPIDER-MAN (1999) (#1-58, #500-700.5) (MARVEL) #598 Very Fine
AMAZING SPIDER-MAN (1999) (#1-58, #500-700.5) (MARVEL) #599 Near Mint/Mint
AMAZING SPIDER-MAN (1999) (#1-58, #500-700.5) (MARVEL) #602 Fine
AMAZING SPIDER-MAN (1999) (#1-58, #500-700.5) (MARVEL) #605 Fine
AMAZING SPIDER-MAN (1999) (#1-58, #500-700.5) (MARVEL) #609 Fine
AMAZING SPIDER-MAN (1999) (#1-58, #500-700.5) (MARVEL) #610 Very Fine
AMAZING SPIDER-MAN (1999) (#1-58, #500-700.5) (MARVEL) #613 Near Mint/Mint
AMAZING SPIDER-MAN (1999) (#1-58, #500-700.5) (MARVEL) #614 Fine
AMAZING SPIDER-MAN (1999) (#1-58, #500-700.5) (MARVEL) #615 Very Fine
AMAZING SPIDER-MAN (1999) (#1-58, #500-700.5) (MARVEL) #616 Very Fine


AMAZING SPIDER-MAN (1999) (#1-58, #500-700.5) (MARVEL) #617

AMAZING SPIDER-MAN (1999) (#1-58, #500-700.5) (MARVEL) #617 Very Fine
AMAZING SPIDER-MAN (1999) (#1-58, #500-700.5) (MARVEL) #618 Very Fine
AMAZING SPIDER-MAN (1999) (#1-58, #500-700.5) (MARVEL) #619 Fine
AMAZING SPIDER-MAN (1999) (#1-58, #500-700.5) (MARVEL) #620 Fine
AMAZING SPIDER-MAN (1999) (#1-58, #500-700.5) (MARVEL) #621 Very Fine
AMAZING SPIDER-MAN (1999) (#1-58, #500-700.5) (MARVEL) #622 Very Fine
AMAZING SPIDER-MAN (1999) (#1-58, #500-700.5) (MARVEL) #623 Very Fine
AMAZING SPIDER-MAN (1999) (#1-58, #500-700.5) (MARVEL) #655 2ND PRINT Very Fine
AMAZING SPIDER-MAN (1999) (#1-58, #500-700.5) (MARVEL) #656 2ND PRINT Very Fine
AMAZING SPIDER-MAN (1999) (#1-58, #500-700.5) (MARVEL) #657 2ND PRINT Near Mint/Mint
AMAZING SPIDER-MAN (1999) (#1-58, #500-700.5) (MARVEL) #658 2ND PRINT Very Fine
AMAZING SPIDER-MAN (1999) (#1-58, #500-700.5) (MARVEL) #659 2ND PRINT Very Fine
AMAZING SPIDER-MAN (1999) (#1-58, #500-700.5) (MARVEL) #662 Fine
AMAZING SPIDER-MAN (1999) (#1-58, #500-700.5) (MARVEL) #663 Fine
AMAZING SPIDER-MAN (1999) (#1-58, #500-700.5) (MARVEL) #664 Fine
AMAZING SPIDER-MAN (1999) (#1-58, #500-700.5) (MARVEL) #665 Fine

AMAZING SPIDER-MAN: RENEW YOUR VOWS (2017) (MARVEL NOW) #1 2ND PRINT Fine

AVENGERS (1963) (#1-402) (MARVEL) #196 NEWS JEWEL Good
AVENGERS (1963) (#1-402) (MARVEL) #227 NEWS JEWEL Near Mint/Mint
AVENGERS (1963) (#1-402) (MARVEL) #228 NEWS JEWEL Near Mint/Mint
AVENGERS (1963) (#1-402) (MARVEL) #228 NEWS JEWEL Very Fine
AVENGERS (1963) (#1-402) (MARVEL) #229 NEWS JEWEL Near Mint/Mint
AVENGERS (1963) (#1-402) (MARVEL) #229 NEWS JEWEL Very Fine
AVENGERS (1963) (#1-402) (MARVEL) #230 NEWS JEWEL Very Fine
AVENGERS (1963) (#1-402) (MARVEL) #231 NEWS JEWEL Near Mint/Mint
AVENGERS (1963) (#1-402) (MARVEL) #231 NEWS JEWEL Very Fine
AVENGERS (1963) (#1-402) (MARVEL) #232 NEWS JEWEL Near Mint/Mint
AVENGERS (1963) (#1-402) (MARVEL) #233 NEWS JEWEL Near Mint/Mint
AVENGERS (1963) (#1-402) (MARVEL) #233 NEWS JEWEL Very Fine


AVENGERS (1963) (#1-402) (MARVEL) #234 NEWS JEWEL

AVENGERS (1963) (#1-402) (MARVEL) #234 NEWS JEWEL Very Fine
AVENGERS (1963) (#1-402) (MARVEL) #235 NEWS JEWEL Very Fine
AVENGERS (1963) (#1-402) (MARVEL) #236 NEWS JEWEL Very Fine
AVENGERS (1963) (#1-402) (MARVEL) #237 NEWS JEWEL Near Mint/Mint
AVENGERS (1963) (#1-402) (MARVEL) #238 NEWS JEWEL Near Mint/Mint
AVENGERS (1963) (#1-402) (MARVEL) #239 NEWS JEWEL Near Mint/Mint
AVENGERS (1963) (#1-402) (MARVEL) #239 NEWS JEWEL Very Fine
AVENGERS (1963) (#1-402) (MARVEL) #240 NEWS JEWEL Fine
AVENGERS (1963) (#1-402) (MARVEL) #241 NEWS JEWEL Fine
AVENGERS (1963) (#1-402) (MARVEL) #242 NEWS JEWEL Very Fine
AVENGERS (1963) (#1-402) (MARVEL) #243 NEWS JEWEL Very Fine
AVENGERS (1963) (#1-402) (MARVEL) #244 NEWS JEWEL Fine
AVENGERS (1963) (#1-402) (MARVEL) #245 NEWS JEWEL Near Mint/Mint
AVENGERS (1963) (#1-402) (MARVEL) #246 NEWS JEWEL Very Fine
AVENGERS (1963) (#1-402) (MARVEL) #247 NEWS JEWEL Very Fine
AVENGERS (1963) (#1-402) (MARVEL) #248 NEWS JEWEL Very Fine
AVENGERS (1963) (#1-402) (MARVEL) #249 NEWS JEWEL Near Mint/Mint
AVENGERS (1963) (#1-402) (MARVEL) #251 NEWS JEWEL Very Fine
AVENGERS (1963) (#1-402) (MARVEL) #252 NEWS JEWEL Near Mint/Mint
AVENGERS (1963) (#1-402) (MARVEL) #253 NEWS JEWEL Very Fine
AVENGERS (1963) (#1-402) (MARVEL) #254 NEWS JEWEL Near Mint/Mint
AVENGERS (1963) (#1-402) (MARVEL) #255 NEWS JEWEL Near Mint/Mint

BATTLESTAR GALACTICA (1979) #4 NEWSSTAND Near Mint/Mint
BATTLESTAR GALACTICA (1979) #6 NEWSSTAND Near Mint/Mint

BEAST (1997) (#1-3) (X-MEN) #3 Near Mint/Mint

BLACK PANTHER (1976) (#1-15) (MARVEL) #1 Good
BLACK PANTHER (1976) (#1-15) (MARVEL) #2 Very Good
BLACK PANTHER (1976) (#1-15) (MARVEL) #3 Fine


BLACK PANTHER (1976) (#1-15) (MARVEL) #4

BLACK PANTHER (1976) (#1-15) (MARVEL) #4 Fine
BLACK PANTHER (1976) (#1-15) (MARVEL) #5 Fine
BLACK PANTHER (1976) (#1-15) (MARVEL) #6 Very Good
BLACK PANTHER (1976) (#1-15) (MARVEL) #7 Good
BLACK PANTHER (1976) (#1-15) (MARVEL) #8 Very Fine
BLACK PANTHER (1976) (#1-15) (MARVEL) #9 Very Good
BLACK PANTHER (1976) (#1-15) (MARVEL) #10 Very Good
BLACK PANTHER (1976) (#1-15) (MARVEL) #11 Good
BLACK PANTHER (1976) (#1-15) (MARVEL) #12 Good
BLACK PANTHER (1976) (#1-15) (MARVEL) #14 Very Good
BLACK PANTHER (1976) (#1-15) (MARVEL) #15 Fine

CAPTAIN AMERICA (1968) (#100-454) (MARVEL) #193 Very Good
CAPTAIN AMERICA (1968) (#100-454) (MARVEL) #195 Very Good
CAPTAIN AMERICA (1968) (#100-454) (MARVEL) #247 Near Mint/Mint
CAPTAIN AMERICA (1968) (#100-454) (MARVEL) #248 Near Mint/Mint
CAPTAIN AMERICA (1968) (#100-454) (MARVEL) #249 Near Mint/Mint
CAPTAIN AMERICA (1968) (#100-454) (MARVEL) #250 NEWSSTAND Very Fine
CAPTAIN AMERICA (1968) (#100-454) (MARVEL) #251 Very Fine
CAPTAIN AMERICA (1968) (#100-454) (MARVEL) #252 Near Mint/Mint
CAPTAIN AMERICA (1968) (#100-454) (MARVEL) #253 NEWSSTAND Fine
CAPTAIN AMERICA (1968) (#100-454) (MARVEL) #254 NEWSSTAND Near Mint/Mint
CAPTAIN AMERICA (1968) (#100-454) (MARVEL) #255 NEWSSTAND Fine
CAPTAIN AMERICA (1968) (#100-454) (MARVEL) #267 NEWSSTAND Fine

CARNAGE: IT'S A WONDERFUL LIFE (1996) #1 Near Mint/Mint

CONAN (1970) (#1-275) (CONAN THE BARBARIAN) (MARVEL) #4 Good
CONAN (1970) (#1-275) (CONAN THE BARBARIAN) (MARVEL) #7 Good
CONAN (1970) (#1-275) (CONAN THE BARBARIAN) (MARVEL) #16 Good
CONAN (1970) (#1-275) (CONAN THE BARBARIAN) (MARVEL) #17 Very Good


CONAN (1970) (#1-275) (CONAN THE BARBARIAN) (MARVEL) #18

CONAN (1970) (#1-275) (CONAN THE BARBARIAN) (MARVEL) #18 Good
CONAN (1970) (#1-275) (CONAN THE BARBARIAN) (MARVEL) #19 Good
CONAN (1970) (#1-275) (CONAN THE BARBARIAN) (MARVEL) #20 Fair
CONAN (1970) (#1-275) (CONAN THE BARBARIAN) (MARVEL) #21 Very Good
CONAN (1970) (#1-275) (CONAN THE BARBARIAN) (MARVEL) #22 Good
CONAN (1970) (#1-275) (CONAN THE BARBARIAN) (MARVEL) #23 Good
CONAN (1970) (#1-275) (CONAN THE BARBARIAN) (MARVEL) #265 Fine
CONAN (1970) (#1-275) (CONAN THE BARBARIAN) (MARVEL) #266 Good
CONAN (1970) (#1-275) (CONAN THE BARBARIAN) (MARVEL) #267 Very Fine
CONAN (1970) (#1-275) (CONAN THE BARBARIAN) (MARVEL) #268 Fine
CONAN (1970) (#1-275) (CONAN THE BARBARIAN) (MARVEL) #269 Very Fine
CONAN (1970) (#1-275) (CONAN THE BARBARIAN) (MARVEL) #270 Very Fine
CONAN (1970) (#1-275) (CONAN THE BARBARIAN) (MARVEL) #271 Very Fine
CONAN (1970) (#1-275) (CONAN THE BARBARIAN) (MARVEL) #272 Very Fine
CONAN (1970) (#1-275) (CONAN THE BARBARIAN) (MARVEL) #273 Very Fine
CONAN (1970) (#1-275) (CONAN THE BARBARIAN) (MARVEL) #274 Very Fine
CONAN (1970) (#1-275) (CONAN THE BARBARIAN) (MARVEL) #275 Fine

CONAN ANNUAL (1973) #1 Good
CONAN ANNUAL (1973) #2 Very Good

CONAN GIANT-SIZE (1974) #2 Very Fine

CONAN SPECIAL: RED NAILS (1982) #1 Very Fine

DAREDEVIL (1964) (#1-380) (MAN WITHOUT FEAR) (MARVEL) #23 Very Good
DAREDEVIL (1964) (#1-380) (MAN WITHOUT FEAR) (MARVEL) #30 Very Good
DAREDEVIL (1964) (#1-380) (MAN WITHOUT FEAR) (MARVEL) #41 Fine
DAREDEVIL (1964) (#1-380) (MAN WITHOUT FEAR) (MARVEL) #46 Very Good
DAREDEVIL (1964) (#1-380) (MAN WITHOUT FEAR) (MARVEL) #47 Very Good
DAREDEVIL (1964) (#1-380) (MAN WITHOUT FEAR) (MARVEL) #49 Very Fine


DAREDEVIL (1964) (#1-380) (MAN WITHOUT FEAR) (MARVEL) #52

DAREDEVIL (1964) (#1-380) (MAN WITHOUT FEAR) (MARVEL) #52 Near Mint/Mint
DAREDEVIL (1964) (#1-380) (MAN WITHOUT FEAR) (MARVEL) #56 Very Fine
DAREDEVIL (1964) (#1-380) (MAN WITHOUT FEAR) (MARVEL) #59 Fine
DAREDEVIL (1964) (#1-380) (MAN WITHOUT FEAR) (MARVEL) #60 Very Fine
DAREDEVIL (1964) (#1-380) (MAN WITHOUT FEAR) (MARVEL) #61 Very Good
DAREDEVIL (1964) (#1-380) (MAN WITHOUT FEAR) (MARVEL) #73 Fine
DAREDEVIL (1964) (#1-380) (MAN WITHOUT FEAR) (MARVEL) #74 Very Good
DAREDEVIL (1964) (#1-380) (MAN WITHOUT FEAR) (MARVEL) #75 Good
DAREDEVIL (1964) (#1-380) (MAN WITHOUT FEAR) (MARVEL) #76 Very Good
DAREDEVIL (1964) (#1-380) (MAN WITHOUT FEAR) (MARVEL) #80 Very Fine
DAREDEVIL (1964) (#1-380) (MAN WITHOUT FEAR) (MARVEL) #82 Good
DAREDEVIL (1964) (#1-380) (MAN WITHOUT FEAR) (MARVEL) #83 Good
DAREDEVIL (1964) (#1-380) (MAN WITHOUT FEAR) (MARVEL) #84 Very Good
DAREDEVIL (1964) (#1-380) (MAN WITHOUT FEAR) (MARVEL) #85 Good
DAREDEVIL (1964) (#1-380) (MAN WITHOUT FEAR) (MARVEL) #87 Good
DAREDEVIL (1964) (#1-380) (MAN WITHOUT FEAR) (MARVEL) #88 Good
DAREDEVIL (1964) (#1-380) (MAN WITHOUT FEAR) (MARVEL) #90 Very Good
DAREDEVIL (1964) (#1-380) (MAN WITHOUT FEAR) (MARVEL) #91 Fine
DAREDEVIL (1964) (#1-380) (MAN WITHOUT FEAR) (MARVEL) #93 Good
DAREDEVIL (1964) (#1-380) (MAN WITHOUT FEAR) (MARVEL) #94 Very Good
DAREDEVIL (1964) (#1-380) (MAN WITHOUT FEAR) (MARVEL) #95 Good
DAREDEVIL (1964) (#1-380) (MAN WITHOUT FEAR) (MARVEL) #96 Good
DAREDEVIL (1964) (#1-380) (MAN WITHOUT FEAR) (MARVEL) #97 Very Good
DAREDEVIL (1964) (#1-380) (MAN WITHOUT FEAR) (MARVEL) #99 Good
DAREDEVIL (1964) (#1-380) (MAN WITHOUT FEAR) (MARVEL) #100 Good
DAREDEVIL (1964) (#1-380) (MAN WITHOUT FEAR) (MARVEL) #102 Very Good
DAREDEVIL (1964) (#1-380) (MAN WITHOUT FEAR) (MARVEL) #104 Fine
DAREDEVIL (1964) (#1-380) (MAN WITHOUT FEAR) (MARVEL) #108 Fine
DAREDEVIL (1964) (#1-380) (MAN WITHOUT FEAR) (MARVEL) #109 Very Fine
DAREDEVIL (1964) (#1-380) (MAN WITHOUT FEAR) (MARVEL) #113 Very Good
DAREDEVIL (1964) (#1-380) (MAN WITHOUT FEAR) (MARVEL) #117 Fine


DAREDEVIL (1964) (#1-380) (MAN WITHOUT FEAR) (MARVEL) #120

DAREDEVIL (1964) (#1-380) (MAN WITHOUT FEAR) (MARVEL) #120 Very Good
DAREDEVIL (1964) (#1-380) (MAN WITHOUT FEAR) (MARVEL) #121 Good
DAREDEVIL (1964) (#1-380) (MAN WITHOUT FEAR) (MARVEL) #122 Fine
DAREDEVIL (1964) (#1-380) (MAN WITHOUT FEAR) (MARVEL) #124 Good
DAREDEVIL (1964) (#1-380) (MAN WITHOUT FEAR) (MARVEL) #126 Fine
DAREDEVIL (1964) (#1-380) (MAN WITHOUT FEAR) (MARVEL) #127 Fine
DAREDEVIL (1964) (#1-380) (MAN WITHOUT FEAR) (MARVEL) #128 Fine
DAREDEVIL (1964) (#1-380) (MAN WITHOUT FEAR) (MARVEL) #129 Good
DAREDEVIL (1964) (#1-380) (MAN WITHOUT FEAR) (MARVEL) #130 Very Fine
DAREDEVIL (1964) (#1-380) (MAN WITHOUT FEAR) (MARVEL) #133 Very Fine
DAREDEVIL (1964) (#1-380) (MAN WITHOUT FEAR) (MARVEL) #135 Very Good
DAREDEVIL (1964) (#1-380) (MAN WITHOUT FEAR) (MARVEL) #137 Good
DAREDEVIL (1964) (#1-380) (MAN WITHOUT FEAR) (MARVEL) #142 Very Fine
DAREDEVIL (1964) (#1-380) (MAN WITHOUT FEAR) (MARVEL) #147 Very Good
DAREDEVIL (1964) (#1-380) (MAN WITHOUT FEAR) (MARVEL) #158 Fine
DAREDEVIL (1964) (#1-380) (MAN WITHOUT FEAR) (MARVEL) #159 NEWSSTAND Very Good
DAREDEVIL (1964) (#1-380) (MAN WITHOUT FEAR) (MARVEL) #160 NEWSSTAND Very Good
DAREDEVIL (1964) (#1-380) (MAN WITHOUT FEAR) (MARVEL) #161 Fine
DAREDEVIL (1964) (#1-380) (MAN WITHOUT FEAR) (MARVEL) #162 Very Good
DAREDEVIL (1964) (#1-380) (MAN WITHOUT FEAR) (MARVEL) #163 NEWSSTAND Very Good
DAREDEVIL (1964) (#1-380) (MAN WITHOUT FEAR) (MARVEL) #165 NEWSSTAND Very Good
DAREDEVIL (1964) (#1-380) (MAN WITHOUT FEAR) (MARVEL) #166 NEWSSTAND Very Good
DAREDEVIL (1964) (#1-380) (MAN WITHOUT FEAR) (MARVEL) #167 NEWSSTAND Very Good
DAREDEVIL (1964) (#1-380) (MAN WITHOUT FEAR) (MARVEL) #168 NEWSSTAND Fine
DAREDEVIL (1964) (#1-380) (MAN WITHOUT FEAR) (MARVEL) #170 NEWSSTAND Very Good
DAREDEVIL (1964) (#1-380) (MAN WITHOUT FEAR) (MARVEL) #171 NEWSSTAND Very Good
DAREDEVIL (1964) (#1-380) (MAN WITHOUT FEAR) (MARVEL) #172 NEWSSTAND Fine
DAREDEVIL (1964) (#1-380) (MAN WITHOUT FEAR) (MARVEL) #173 NEWSSTAND Fine
DAREDEVIL (1964) (#1-380) (MAN WITHOUT FEAR) (MARVEL) #191 NEWS JEWEL Very Fine
DAREDEVIL (1964) (#1-380) (MAN WITHOUT FEAR) (MARVEL) #191 NEWS JEWEL Fine
DAREDEVIL (1964) (#1-380) (MAN WITHOUT FEAR) (MARVEL) #191 NEWS JEWEL Very Good


DAREDEVIL (1964) (#1-380) (MAN WITHOUT FEAR) (MARVEL) #192 NEWS JEWEL

DAREDEVIL (1964) (#1-380) (MAN WITHOUT FEAR) (MARVEL) #192 NEWS JEWEL Near Mint/Mint
DAREDEVIL (1964) (#1-380) (MAN WITHOUT FEAR) (MARVEL) #192 NEWS JEWEL Very Fine
DAREDEVIL (1964) (#1-380) (MAN WITHOUT FEAR) (MARVEL) #192 NEWS JEWEL Fine
DAREDEVIL (1964) (#1-380) (MAN WITHOUT FEAR) (MARVEL) #193 NEWS JEWEL Very Fine
DAREDEVIL (1964) (#1-380) (MAN WITHOUT FEAR) (MARVEL) #194 NEWS JEWEL Near Mint/Mint
DAREDEVIL (1964) (#1-380) (MAN WITHOUT FEAR) (MARVEL) #194 NEWS JEWEL Very Fine
DAREDEVIL (1964) (#1-380) (MAN WITHOUT FEAR) (MARVEL) #195 NEWS JEWEL Very Fine
DAREDEVIL (1964) (#1-380) (MAN WITHOUT FEAR) (MARVEL) #197 NEWS JEWEL Very Fine
DAREDEVIL (1964) (#1-380) (MAN WITHOUT FEAR) (MARVEL) #198 NEWS JEWEL Very Fine
DAREDEVIL (1964) (#1-380) (MAN WITHOUT FEAR) (MARVEL) #199 NEWS JEWEL Near Mint/Mint
DAREDEVIL (1964) (#1-380) (MAN WITHOUT FEAR) (MARVEL) #200 NEWS JEWEL Near Mint/Mint
DAREDEVIL (1964) (#1-380) (MAN WITHOUT FEAR) (MARVEL) #200 NEWS JEWEL Very Fine
DAREDEVIL (1964) (#1-380) (MAN WITHOUT FEAR) (MARVEL) #201 NEWS JEWEL Near Mint/Mint
DAREDEVIL (1964) (#1-380) (MAN WITHOUT FEAR) (MARVEL) #202 NEWS JEWEL Very Fine
DAREDEVIL (1964) (#1-380) (MAN WITHOUT FEAR) (MARVEL) #206 NEWS JEWEL Fine
DAREDEVIL (1964) (#1-380) (MAN WITHOUT FEAR) (MARVEL) #207 NEWS JEWEL Very Fine
DAREDEVIL (1964) (#1-380) (MAN WITHOUT FEAR) (MARVEL) #211 NEWS JEWEL Near Mint/Mint
DAREDEVIL (1964) (#1-380) (MAN WITHOUT FEAR) (MARVEL) #212 NEWS JEWEL Near Mint/Mint
DAREDEVIL (1964) (#1-380) (MAN WITHOUT FEAR) (MARVEL) #213 NEWS JEWEL Very Fine
DAREDEVIL (1964) (#1-380) (MAN WITHOUT FEAR) (MARVEL) #214 NEWS JEWEL Near Mint/Mint

DAREDEVIL GIANT-SIZE (1975) #1 Good

DOCTOR STRANGE (1968) (#169-183) (MARVEL)(DR. STRANGE) #177 Good

DOCTOR STRANGE (1974) (#1-81) (MARVEL) (DR. STRANGE) #1 Very Fine
DOCTOR STRANGE (1974) (#1-81) (MARVEL) (DR. STRANGE) #2 Good
DOCTOR STRANGE (1974) (#1-81) (MARVEL) (DR. STRANGE) #3 Very Good
DOCTOR STRANGE (1974) (#1-81) (MARVEL) (DR. STRANGE) #4 JEWELERS Very Good
DOCTOR STRANGE (1974) (#1-81) (MARVEL) (DR. STRANGE) #5 Very Good
DOCTOR STRANGE (1974) (#1-81) (MARVEL) (DR. STRANGE) #6 Fine


DOCTOR STRANGE (1974) (#1-81) (MARVEL) (DR. STRANGE) #7

DOCTOR STRANGE (1974) (#1-81) (MARVEL) (DR. STRANGE) #7 Very Fine
DOCTOR STRANGE (1974) (#1-81) (MARVEL) (DR. STRANGE) #8 Very Fine
DOCTOR STRANGE (1974) (#1-81) (MARVEL) (DR. STRANGE) #9 Good
DOCTOR STRANGE (1974) (#1-81) (MARVEL) (DR. STRANGE) #10 Very Good
DOCTOR STRANGE (1974) (#1-81) (MARVEL) (DR. STRANGE) #68 NEWS JEWEL Near Mint/Mint

DOCTOR STRANGE ANNUAL (1976) #1 Very Good

DOCTOR STRANGE GIANT-SIZE (1975) #1 Good

DRACULA GIANT-SIZE (1974) #4 Fine

FANTASTIC FOUR (1961) (#1-416) (MARVEL) #145 Very Good
FANTASTIC FOUR (1961) (#1-416) (MARVEL) #146 Fine
FANTASTIC FOUR (1961) (#1-416) (MARVEL) #149 Very Fine
FANTASTIC FOUR (1961) (#1-416) (MARVEL) #152 Fine

HULK (1962) (#1-6, #102-474, #600-635)(INCREDIBLE)(MV) #114 Very Fine
HULK (1962) (#1-6, #102-474, #600-635)(INCREDIBLE)(MV) #115 Very Good
HULK (1962) (#1-6, #102-474, #600-635)(INCREDIBLE)(MV) #124 Fine
HULK (1962) (#1-6, #102-474, #600-635)(INCREDIBLE)(MV) #127 Very Good
HULK (1962) (#1-6, #102-474, #600-635)(INCREDIBLE)(MV) #137 Very Good
HULK (1962) (#1-6, #102-474, #600-635)(INCREDIBLE)(MV) #155 Fine
HULK (1962) (#1-6, #102-474, #600-635)(INCREDIBLE)(MV) #156 Very Fine
HULK (1962) (#1-6, #102-474, #600-635)(INCREDIBLE)(MV) #159 Fine
HULK (1962) (#1-6, #102-474, #600-635)(INCREDIBLE)(MV) #160 Fine
HULK (1962) (#1-6, #102-474, #600-635)(INCREDIBLE)(MV) #163 Very Fine
HULK (1962) (#1-6, #102-474, #600-635)(INCREDIBLE)(MV) #164 Fine
HULK (1962) (#1-6, #102-474, #600-635)(INCREDIBLE)(MV) #165 Good
HULK (1962) (#1-6, #102-474, #600-635)(INCREDIBLE)(MV) #167 Fine
HULK (1962) (#1-6, #102-474, #600-635)(INCREDIBLE)(MV) #169 Very Fine


HULK (1962) (#1-6, #102-474, #600-635)(INCREDIBLE)(MV) #170

HULK (1962) (#1-6, #102-474, #600-635)(INCREDIBLE)(MV) #170 Fine
HULK (1962) (#1-6, #102-474, #600-635)(INCREDIBLE)(MV) #170 Very Good
HULK (1962) (#1-6, #102-474, #600-635)(INCREDIBLE)(MV) #340 Fine

HULK ANNUAL (1968) #11 Very Fine

IRON MAN (1968) (#1-332) (INVINCIBLE IRON MAN)(MARVEL) #5 Fine
IRON MAN (1968) (#1-332) (INVINCIBLE IRON MAN)(MARVEL) #6 Very Good
IRON MAN (1968) (#1-332) (INVINCIBLE IRON MAN)(MARVEL) #7 Fine
IRON MAN (1968) (#1-332) (INVINCIBLE IRON MAN)(MARVEL) #8 Fine
IRON MAN (1968) (#1-332) (INVINCIBLE IRON MAN)(MARVEL) #10 Very Good
IRON MAN (1968) (#1-332) (INVINCIBLE IRON MAN)(MARVEL) #20 Very Fine
IRON MAN (1968) (#1-332) (INVINCIBLE IRON MAN)(MARVEL) #21 Very Fine
IRON MAN (1968) (#1-332) (INVINCIBLE IRON MAN)(MARVEL) #28 Fine
IRON MAN (1968) (#1-332) (INVINCIBLE IRON MAN)(MARVEL) #29 Fine
IRON MAN (1968) (#1-332) (INVINCIBLE IRON MAN)(MARVEL) #30 Fine
IRON MAN (1968) (#1-332) (INVINCIBLE IRON MAN)(MARVEL) #34 Very Fine
IRON MAN (1968) (#1-332) (INVINCIBLE IRON MAN)(MARVEL) #35 Good
IRON MAN (1968) (#1-332) (INVINCIBLE IRON MAN)(MARVEL) #41 Very Fine
IRON MAN (1968) (#1-332) (INVINCIBLE IRON MAN)(MARVEL) #48 Very Fine
IRON MAN (1968) (#1-332) (INVINCIBLE IRON MAN)(MARVEL) #53 Fine
IRON MAN (1968) (#1-332) (INVINCIBLE IRON MAN)(MARVEL) #56 Very Fine
IRON MAN (1968) (#1-332) (INVINCIBLE IRON MAN)(MARVEL) #71 Good
IRON MAN (1968) (#1-332) (INVINCIBLE IRON MAN)(MARVEL) #72 Good

JLA/AVENGERS (AVENGERS/JLA) (2003) #1 NEWSSTAND Near Mint/Mint
JLA/AVENGERS (AVENGERS/JLA) (2003) #2 Near Mint/Mint
JLA/AVENGERS (AVENGERS/JLA) (2003) #3 NEWSSTAND Near Mint/Mint
JLA/AVENGERS (AVENGERS/JLA) (2003) #4 Near Mint/Mint

MARVEL PREMIERE (1972) #3 Good

MARVEL PREMIERE (1972) #5 Good
MARVEL PREMIERE (1972) #6 Fair
MARVEL PREMIERE (1972) #7 Good
MARVEL PREMIERE (1972) #8 Very Good
MARVEL PREMIERE (1972) #9 Fair
MARVEL PREMIERE (1972) #10 Good
MARVEL PREMIERE (1972) #11 Good
MARVEL PREMIERE (1972) #12 Good
MARVEL PREMIERE (1972) #13 Good
MARVEL PREMIERE (1972) #14 Good
MARVEL PREMIERE (1972) #51 NEWSSTAND Very Good
MARVEL PREMIERE (1972) #52 NEWSSTAND Fine
MARVEL PREMIERE (1972) #53 NEWSSTAND Very Fine

MARVEL SPOTLIGHT (1971) (#1-33) (MARVEL) #23 Fine

MARVEL UNIVERSE (1983) #11 NEWS JEWEL Fine
MARVEL UNIVERSE (1983) #12 NEWS JEWEL Near Mint/Mint
MARVEL UNIVERSE (1983) #13 NEWS JEWEL Very Fine
MARVEL UNIVERSE (1983) #15 NEWS JEWEL Very Fine

MASTER OF KUNG FU (1974) (#15-125) (MARVEL) (SHANG-CHI) #104 NEWS JEWEL Very Good
MASTER OF KUNG FU (1974) (#15-125) (MARVEL) (SHANG-CHI) #108 NEWS JEWEL Very Good
MASTER OF KUNG FU (1974) (#15-125) (MARVEL) (SHANG-CHI) #117 NEWS JEWEL Good
MASTER OF KUNG FU (1974) (#15-125) (MARVEL) (SHANG-CHI) #120 NEWS JEWEL Very Fine
MASTER OF KUNG FU (1974) (#15-125) (MARVEL) (SHANG-CHI) #120 NEWS JEWEL Fine
MASTER OF KUNG FU (1974) (#15-125) (MARVEL) (SHANG-CHI) #120 NEWS JEWEL Very Good
MASTER OF KUNG FU (1974) (#15-125) (MARVEL) (SHANG-CHI) #121 NEWS JEWEL Fine
MASTER OF KUNG FU (1974) (#15-125) (MARVEL) (SHANG-CHI) #122 NEWS JEWEL Very Fine
MASTER OF KUNG FU (1974) (#15-125) (MARVEL) (SHANG-CHI) #123 NEWS JEWEL Very Fine
MASTER OF KUNG FU (1974) (#15-125) (MARVEL) (SHANG-CHI) #124 NEWS JEWEL Very Fine


MASTER OF KUNG FU (1974) (#15-125) (MARVEL) (SHANG-CHI) #124 NEWS JEWEL

MASTER OF KUNG FU (1974) (#15-125) (MARVEL) (SHANG-CHI) #124 NEWS JEWEL Very Good

MASTER OF KUNG FU GIANT-SIZE (1974) #1 Very Good

PETER PARKER (1976) (#1-263) (SPECTACULAR SPIDER-MAN) #1 Fine

SHE-HULK (1980) (#1-25) (SAVAGE SHE-HULK) (MARVEL) #1 NEWSSTAND Fine

SPIDER-GWEN (2015) (#0-5) (MARVEL) #1 2ND PRINT Very Fine

SPIDER-MAN (1963) (AMAZING SPIDER-MAN) (#1-441) #32 Very Good
SPIDER-MAN (1963) (AMAZING SPIDER-MAN) (#1-441) #33 Very Good
SPIDER-MAN (1963) (AMAZING SPIDER-MAN) (#1-441) #40 Very Good
SPIDER-MAN (1963) (AMAZING SPIDER-MAN) (#1-441) #46 Fair
SPIDER-MAN (1963) (AMAZING SPIDER-MAN) (#1-441) #48 Fair
SPIDER-MAN (1963) (AMAZING SPIDER-MAN) (#1-441) #51 Fair
SPIDER-MAN (1963) (AMAZING SPIDER-MAN) (#1-441) #52 Good
SPIDER-MAN (1963) (AMAZING SPIDER-MAN) (#1-441) #57 Good
SPIDER-MAN (1963) (AMAZING SPIDER-MAN) (#1-441) #60 Good
SPIDER-MAN (1963) (AMAZING SPIDER-MAN) (#1-441) #61 Fair
SPIDER-MAN (1963) (AMAZING SPIDER-MAN) (#1-441) #63 Fair
SPIDER-MAN (1963) (AMAZING SPIDER-MAN) (#1-441) #66 Very Good
SPIDER-MAN (1963) (AMAZING SPIDER-MAN) (#1-441) #67 Fine
SPIDER-MAN (1963) (AMAZING SPIDER-MAN) (#1-441) #69 Fine
SPIDER-MAN (1963) (AMAZING SPIDER-MAN) (#1-441) #73 Very Good
SPIDER-MAN (1963) (AMAZING SPIDER-MAN) (#1-441) #77 Very Fine
SPIDER-MAN (1963) (AMAZING SPIDER-MAN) (#1-441) #78 Fine
SPIDER-MAN (1963) (AMAZING SPIDER-MAN) (#1-441) #79 Good
SPIDER-MAN (1963) (AMAZING SPIDER-MAN) (#1-441) #81 Fine
SPIDER-MAN (1963) (AMAZING SPIDER-MAN) (#1-441) #86 Fine
SPIDER-MAN (1963) (AMAZING SPIDER-MAN) (#1-441) #89 Fine


SPIDER-MAN (1963) (AMAZING SPIDER-MAN) (#1-441) #94

SPIDER-MAN (1963) (AMAZING SPIDER-MAN) (#1-441) #94 Very Good
SPIDER-MAN (1963) (AMAZING SPIDER-MAN) (#1-441) #98 Fine
SPIDER-MAN (1963) (AMAZING SPIDER-MAN) (#1-441) #99 Good
SPIDER-MAN (1963) (AMAZING SPIDER-MAN) (#1-441) #99 Fine
SPIDER-MAN (1963) (AMAZING SPIDER-MAN) (#1-441) #102 Fine
SPIDER-MAN (1963) (AMAZING SPIDER-MAN) (#1-441) #103 Fine
SPIDER-MAN (1963) (AMAZING SPIDER-MAN) (#1-441) #104 Fine
SPIDER-MAN (1963) (AMAZING SPIDER-MAN) (#1-441) #105 Good
SPIDER-MAN (1963) (AMAZING SPIDER-MAN) (#1-441) #106 Fine
SPIDER-MAN (1963) (AMAZING SPIDER-MAN) (#1-441) #107 Very Good
SPIDER-MAN (1963) (AMAZING SPIDER-MAN) (#1-441) #108 Fine
SPIDER-MAN (1963) (AMAZING SPIDER-MAN) (#1-441) #109 Fine
SPIDER-MAN (1963) (AMAZING SPIDER-MAN) (#1-441) #110 Good
SPIDER-MAN (1963) (AMAZING SPIDER-MAN) (#1-441) #112 Very Good
SPIDER-MAN (1963) (AMAZING SPIDER-MAN) (#1-441) #114 Fine
SPIDER-MAN (1963) (AMAZING SPIDER-MAN) (#1-441) #116 Very Good
SPIDER-MAN (1963) (AMAZING SPIDER-MAN) (#1-441) #118 Fine
SPIDER-MAN (1963) (AMAZING SPIDER-MAN) (#1-441) #119 Fine
SPIDER-MAN (1963) (AMAZING SPIDER-MAN) (#1-441) #120 Very Good
SPIDER-MAN (1963) (AMAZING SPIDER-MAN) (#1-441) #123 Very Good
SPIDER-MAN (1963) (AMAZING SPIDER-MAN) (#1-441) #124 Good
SPIDER-MAN (1963) (AMAZING SPIDER-MAN) (#1-441) #125 Fine
SPIDER-MAN (1963) (AMAZING SPIDER-MAN) (#1-441) #126 Very Good
SPIDER-MAN (1963) (AMAZING SPIDER-MAN) (#1-441) #127 Fine
SPIDER-MAN (1963) (AMAZING SPIDER-MAN) (#1-441) #128 Very Fine
SPIDER-MAN (1963) (AMAZING SPIDER-MAN) (#1-441) #130 Fine
SPIDER-MAN (1963) (AMAZING SPIDER-MAN) (#1-441) #133 Fine
SPIDER-MAN (1963) (AMAZING SPIDER-MAN) (#1-441) #134 Good
SPIDER-MAN (1963) (AMAZING SPIDER-MAN) (#1-441) #134 Very Fine
SPIDER-MAN (1963) (AMAZING SPIDER-MAN) (#1-441) #135 Good
SPIDER-MAN (1963) (AMAZING SPIDER-MAN) (#1-441) #138 Very Good


SPIDER-MAN (1963) (AMAZING SPIDER-MAN) (#1-441) #139

SPIDER-MAN (1963) (AMAZING SPIDER-MAN) (#1-441) #139 Fine
SPIDER-MAN (1963) (AMAZING SPIDER-MAN) (#1-441) #140 Fine
SPIDER-MAN (1963) (AMAZING SPIDER-MAN) (#1-441) #141 Fine
SPIDER-MAN (1963) (AMAZING SPIDER-MAN) (#1-441) #142 Very Fine
SPIDER-MAN (1963) (AMAZING SPIDER-MAN) (#1-441) #143 Good
SPIDER-MAN (1963) (AMAZING SPIDER-MAN) (#1-441) #144 Very Good
SPIDER-MAN (1963) (AMAZING SPIDER-MAN) (#1-441) #145 Fair
SPIDER-MAN (1963) (AMAZING SPIDER-MAN) (#1-441) #145 Fine
SPIDER-MAN (1963) (AMAZING SPIDER-MAN) (#1-441) #148 Fine
SPIDER-MAN (1963) (AMAZING SPIDER-MAN) (#1-441) #149 Good
SPIDER-MAN (1963) (AMAZING SPIDER-MAN) (#1-441) #149 Very Good
SPIDER-MAN (1963) (AMAZING SPIDER-MAN) (#1-441) #151 Fine
SPIDER-MAN (1963) (AMAZING SPIDER-MAN) (#1-441) #152 Fine
SPIDER-MAN (1963) (AMAZING SPIDER-MAN) (#1-441) #153 Very Good
SPIDER-MAN (1963) (AMAZING SPIDER-MAN) (#1-441) #154 Very Fine
SPIDER-MAN (1963) (AMAZING SPIDER-MAN) (#1-441) #155 Very Good
SPIDER-MAN (1963) (AMAZING SPIDER-MAN) (#1-441) #157 Fine
SPIDER-MAN (1963) (AMAZING SPIDER-MAN) (#1-441) #159 Fine
SPIDER-MAN (1963) (AMAZING SPIDER-MAN) (#1-441) #160 Very Fine
SPIDER-MAN (1963) (AMAZING SPIDER-MAN) (#1-441) #160 Very Good
SPIDER-MAN (1963) (AMAZING SPIDER-MAN) (#1-441) #161 Good
SPIDER-MAN (1963) (AMAZING SPIDER-MAN) (#1-441) #161 Very Good
SPIDER-MAN (1963) (AMAZING SPIDER-MAN) (#1-441) #162 Good
SPIDER-MAN (1963) (AMAZING SPIDER-MAN) (#1-441) #162 Very Good
SPIDER-MAN (1963) (AMAZING SPIDER-MAN) (#1-441) #163 Fine
SPIDER-MAN (1963) (AMAZING SPIDER-MAN) (#1-441) #163 Very Good
SPIDER-MAN (1963) (AMAZING SPIDER-MAN) (#1-441) #164 Fine
SPIDER-MAN (1963) (AMAZING SPIDER-MAN) (#1-441) #165 Fine
SPIDER-MAN (1963) (AMAZING SPIDER-MAN) (#1-441) #166 Fine
SPIDER-MAN (1963) (AMAZING SPIDER-MAN) (#1-441) #167 Good
SPIDER-MAN (1963) (AMAZING SPIDER-MAN) (#1-441) #167 Very Good


SPIDER-MAN (1963) (AMAZING SPIDER-MAN) (#1-441) #168

SPIDER-MAN (1963) (AMAZING SPIDER-MAN) (#1-441) #168 Very Good
SPIDER-MAN (1963) (AMAZING SPIDER-MAN) (#1-441) #170 Very Good
SPIDER-MAN (1963) (AMAZING SPIDER-MAN) (#1-441) #171 Very Good
SPIDER-MAN (1963) (AMAZING SPIDER-MAN) (#1-441) #172 Very Good
SPIDER-MAN (1963) (AMAZING SPIDER-MAN) (#1-441) #173 Very Good
SPIDER-MAN (1963) (AMAZING SPIDER-MAN) (#1-441) #174 Fine
SPIDER-MAN (1963) (AMAZING SPIDER-MAN) (#1-441) #175 Good
SPIDER-MAN (1963) (AMAZING SPIDER-MAN) (#1-441) #175 Very Good
SPIDER-MAN (1963) (AMAZING SPIDER-MAN) (#1-441) #176 Fine
SPIDER-MAN (1963) (AMAZING SPIDER-MAN) (#1-441) #176 Very Good
SPIDER-MAN (1963) (AMAZING SPIDER-MAN) (#1-441) #177 Fine
SPIDER-MAN (1963) (AMAZING SPIDER-MAN) (#1-441) #177 Very Good
SPIDER-MAN (1963) (AMAZING SPIDER-MAN) (#1-441) #178 Fine
SPIDER-MAN (1963) (AMAZING SPIDER-MAN) (#1-441) #179 WHITMAN Very Good
SPIDER-MAN (1963) (AMAZING SPIDER-MAN) (#1-441) #180 Fine
SPIDER-MAN (1963) (AMAZING SPIDER-MAN) (#1-441) #181 Good
SPIDER-MAN (1963) (AMAZING SPIDER-MAN) (#1-441) #181 Very Good
SPIDER-MAN (1963) (AMAZING SPIDER-MAN) (#1-441) #182 Fine
SPIDER-MAN (1963) (AMAZING SPIDER-MAN) (#1-441) #182 Very Good
SPIDER-MAN (1963) (AMAZING SPIDER-MAN) (#1-441) #183 Fine
SPIDER-MAN (1963) (AMAZING SPIDER-MAN) (#1-441) #183 Very Good
SPIDER-MAN (1963) (AMAZING SPIDER-MAN) (#1-441) #184 Very Good
SPIDER-MAN (1963) (AMAZING SPIDER-MAN) (#1-441) #186 Good
SPIDER-MAN (1963) (AMAZING SPIDER-MAN) (#1-441) #186 Very Fine
SPIDER-MAN (1963) (AMAZING SPIDER-MAN) (#1-441) #187 Good
SPIDER-MAN (1963) (AMAZING SPIDER-MAN) (#1-441) #188 Fine
SPIDER-MAN (1963) (AMAZING SPIDER-MAN) (#1-441) #189 Fine
SPIDER-MAN (1963) (AMAZING SPIDER-MAN) (#1-441) #189 Very Good
SPIDER-MAN (1963) (AMAZING SPIDER-MAN) (#1-441) #190 Fine
SPIDER-MAN (1963) (AMAZING SPIDER-MAN) (#1-441) #190 Good
SPIDER-MAN (1963) (AMAZING SPIDER-MAN) (#1-441) #191 Good


SPIDER-MAN (1963) (AMAZING SPIDER-MAN) (#1-441) #191

SPIDER-MAN (1963) (AMAZING SPIDER-MAN) (#1-441) #191 Fine
SPIDER-MAN (1963) (AMAZING SPIDER-MAN) (#1-441) #192 Good
SPIDER-MAN (1963) (AMAZING SPIDER-MAN) (#1-441) #193 NEWSSTAND Fine
SPIDER-MAN (1963) (AMAZING SPIDER-MAN) (#1-441) #193 NEWSSTAND Good
SPIDER-MAN (1963) (AMAZING SPIDER-MAN) (#1-441) #194 Very Good
SPIDER-MAN (1963) (AMAZING SPIDER-MAN) (#1-441) #195 Fine
SPIDER-MAN (1963) (AMAZING SPIDER-MAN) (#1-441) #195 NEWSSTAND Fine
SPIDER-MAN (1963) (AMAZING SPIDER-MAN) (#1-441) #196 NEWSSTAND Good
SPIDER-MAN (1963) (AMAZING SPIDER-MAN) (#1-441) #197 NEWSSTAND Fine
SPIDER-MAN (1963) (AMAZING SPIDER-MAN) (#1-441) #198 NEWSSTAND Fine
SPIDER-MAN (1963) (AMAZING SPIDER-MAN) (#1-441) #199 NEWSSTAND Fine
SPIDER-MAN (1963) (AMAZING SPIDER-MAN) (#1-441) #199 NEWSSTAND Good
SPIDER-MAN (1963) (AMAZING SPIDER-MAN) (#1-441) #200 NEWSSTAND Fine
SPIDER-MAN (1963) (AMAZING SPIDER-MAN) (#1-441) #202 Fine
SPIDER-MAN (1963) (AMAZING SPIDER-MAN) (#1-441) #203 Fine
SPIDER-MAN (1963) (AMAZING SPIDER-MAN) (#1-441) #204 NEWSSTAND Very Good
SPIDER-MAN (1963) (AMAZING SPIDER-MAN) (#1-441) #205 Very Good
SPIDER-MAN (1963) (AMAZING SPIDER-MAN) (#1-441) #206 NEWSSTAND Very Good
SPIDER-MAN (1963) (AMAZING SPIDER-MAN) (#1-441) #207 Very Good
SPIDER-MAN (1963) (AMAZING SPIDER-MAN) (#1-441) #210 NEWSSTAND Fine
SPIDER-MAN (1963) (AMAZING SPIDER-MAN) (#1-441) #211 NEWSSTAND Good
SPIDER-MAN (1963) (AMAZING SPIDER-MAN) (#1-441) #212 NEWSSTAND Very Good
SPIDER-MAN (1963) (AMAZING SPIDER-MAN) (#1-441) #213 Fine
SPIDER-MAN (1963) (AMAZING SPIDER-MAN) (#1-441) #215 NEWSSTAND Fine
SPIDER-MAN (1963) (AMAZING SPIDER-MAN) (#1-441) #216 Very Good
SPIDER-MAN (1963) (AMAZING SPIDER-MAN) (#1-441) #217 Fine
SPIDER-MAN (1963) (AMAZING SPIDER-MAN) (#1-441) #218 NEWSSTAND Very Good
SPIDER-MAN (1963) (AMAZING SPIDER-MAN) (#1-441) #219 Fine
SPIDER-MAN (1963) (AMAZING SPIDER-MAN) (#1-441) #220 NEWSSTAND Fine
SPIDER-MAN (1963) (AMAZING SPIDER-MAN) (#1-441) #221 NEWSSTAND Very Good
SPIDER-MAN (1963) (AMAZING SPIDER-MAN) (#1-441) #222 Very Good


SPIDER-MAN (1963) (AMAZING SPIDER-MAN) (#1-441) #223 NEWSSTAND

SPIDER-MAN (1963) (AMAZING SPIDER-MAN) (#1-441) #223 NEWSSTAND Very Good
SPIDER-MAN (1963) (AMAZING SPIDER-MAN) (#1-441) #224 Fine
SPIDER-MAN (1963) (AMAZING SPIDER-MAN) (#1-441) #225 NEWSSTAND Good
SPIDER-MAN (1963) (AMAZING SPIDER-MAN) (#1-441) #226 NEWSSTAND Very Good
SPIDER-MAN (1963) (AMAZING SPIDER-MAN) (#1-441) #227 NEWSSTAND Very Good
SPIDER-MAN (1963) (AMAZING SPIDER-MAN) (#1-441) #228 NEWSSTAND Good
SPIDER-MAN (1963) (AMAZING SPIDER-MAN) (#1-441) #229 NEWSSTAND Very Good
SPIDER-MAN (1963) (AMAZING SPIDER-MAN) (#1-441) #230 NEWSSTAND Very Good
SPIDER-MAN (1963) (AMAZING SPIDER-MAN) (#1-441) #231 NEWSSTAND Fine
SPIDER-MAN (1963) (AMAZING SPIDER-MAN) (#1-441) #232 NEWSSTAND Good
SPIDER-MAN (1963) (AMAZING SPIDER-MAN) (#1-441) #233 NEWSSTAND Very Good
SPIDER-MAN (1963) (AMAZING SPIDER-MAN) (#1-441) #234 NEWSSTAND Very Good
SPIDER-MAN (1963) (AMAZING SPIDER-MAN) (#1-441) #235 NEWSSTAND Good
SPIDER-MAN (1963) (AMAZING SPIDER-MAN) (#1-441) #236 NEWSSTAND Very Good
SPIDER-MAN (1963) (AMAZING SPIDER-MAN) (#1-441) #237 NEWSSTAND Very Good
SPIDER-MAN (1963) (AMAZING SPIDER-MAN) (#1-441) #238 W/O TATTOS Fine
SPIDER-MAN (1963) (AMAZING SPIDER-MAN) (#1-441) #240 NEWSSTAND Very Good
SPIDER-MAN (1963) (AMAZING SPIDER-MAN) (#1-441) #241 NEWSSTAND Fine
SPIDER-MAN (1963) (AMAZING SPIDER-MAN) (#1-441) #242 NEWSSTAND Very Good
SPIDER-MAN (1963) (AMAZING SPIDER-MAN) (#1-441) #243 NEWSSTAND Very Good
SPIDER-MAN (1963) (AMAZING SPIDER-MAN) (#1-441) #245 NEWSSTAND Very Good
SPIDER-MAN (1963) (AMAZING SPIDER-MAN) (#1-441) #246 NEWSSTAND Very Good
SPIDER-MAN (1963) (AMAZING SPIDER-MAN) (#1-441) #247 Fine
SPIDER-MAN (1963) (AMAZING SPIDER-MAN) (#1-441) #248 NEWSSTAND Very Good
SPIDER-MAN (1963) (AMAZING SPIDER-MAN) (#1-441) #249 NEWSSTAND Fine
SPIDER-MAN (1963) (AMAZING SPIDER-MAN) (#1-441) #250 Fine
SPIDER-MAN (1963) (AMAZING SPIDER-MAN) (#1-441) #251 NEWSSTAND Very Good
SPIDER-MAN (1963) (AMAZING SPIDER-MAN) (#1-441) #252 Fine
SPIDER-MAN (1963) (AMAZING SPIDER-MAN) (#1-441) #253 NEWSSTAND Good
SPIDER-MAN (1963) (AMAZING SPIDER-MAN) (#1-441) #256 Fine
SPIDER-MAN (1963) (AMAZING SPIDER-MAN) (#1-441) #257 Fine


SPIDER-MAN (1963) (AMAZING SPIDER-MAN) (#1-441) #258

SPIDER-MAN (1963) (AMAZING SPIDER-MAN) (#1-441) #258 Very Good
SPIDER-MAN (1963) (AMAZING SPIDER-MAN) (#1-441) #260 Good
SPIDER-MAN (1963) (AMAZING SPIDER-MAN) (#1-441) #261 Very Good
SPIDER-MAN (1963) (AMAZING SPIDER-MAN) (#1-441) #262 Fine
SPIDER-MAN (1963) (AMAZING SPIDER-MAN) (#1-441) #263 Fine
SPIDER-MAN (1963) (AMAZING SPIDER-MAN) (#1-441) #264 Fine
SPIDER-MAN (1963) (AMAZING SPIDER-MAN) (#1-441) #265 Very Good
SPIDER-MAN (1963) (AMAZING SPIDER-MAN) (#1-441) #266 Fine
SPIDER-MAN (1963) (AMAZING SPIDER-MAN) (#1-441) #267 NEWSSTAND Very Good
SPIDER-MAN (1963) (AMAZING SPIDER-MAN) (#1-441) #269 NEWSSTAND Very Good
SPIDER-MAN (1963) (AMAZING SPIDER-MAN) (#1-441) #271 NEWSSTAND Good
SPIDER-MAN (1963) (AMAZING SPIDER-MAN) (#1-441) #272 Fine
SPIDER-MAN (1963) (AMAZING SPIDER-MAN) (#1-441) #274 Fine
SPIDER-MAN (1963) (AMAZING SPIDER-MAN) (#1-441) #275 Fine
SPIDER-MAN (1963) (AMAZING SPIDER-MAN) (#1-441) #277 NEWSSTAND Very Good
SPIDER-MAN (1963) (AMAZING SPIDER-MAN) (#1-441) #280 NEWSSTAND Good
SPIDER-MAN (1963) (AMAZING SPIDER-MAN) (#1-441) #281 NEWSSTAND Good
SPIDER-MAN (1963) (AMAZING SPIDER-MAN) (#1-441) #282 Very Good
SPIDER-MAN (1963) (AMAZING SPIDER-MAN) (#1-441) #283 Very Good
SPIDER-MAN (1963) (AMAZING SPIDER-MAN) (#1-441) #284 Fine
SPIDER-MAN (1963) (AMAZING SPIDER-MAN) (#1-441) #285 Fine
SPIDER-MAN (1963) (AMAZING SPIDER-MAN) (#1-441) #286 Fine
SPIDER-MAN (1963) (AMAZING SPIDER-MAN) (#1-441) #288 Fine
SPIDER-MAN (1963) (AMAZING SPIDER-MAN) (#1-441) #290 NEWSSTAND Very Good
SPIDER-MAN (1963) (AMAZING SPIDER-MAN) (#1-441) #292 Fine
SPIDER-MAN (1963) (AMAZING SPIDER-MAN) (#1-441) #293 Fine
SPIDER-MAN (1963) (AMAZING SPIDER-MAN) (#1-441) #294 Fine
SPIDER-MAN (1963) (AMAZING SPIDER-MAN) (#1-441) #296 Fine
SPIDER-MAN (1963) (AMAZING SPIDER-MAN) (#1-441) #297 NEWSSTAND Fine
SPIDER-MAN (1963) (AMAZING SPIDER-MAN) (#1-441) #298 NEWSSTAND Fine
SPIDER-MAN (1963) (AMAZING SPIDER-MAN) (#1-441) #299 NEWSSTAND Near Mint/Mint


SPIDER-MAN (1963) (AMAZING SPIDER-MAN) (#1-441) #299

SPIDER-MAN (1963) (AMAZING SPIDER-MAN) (#1-441) #299 Very Fine
SPIDER-MAN (1963) (AMAZING SPIDER-MAN) (#1-441) #300 NEWSSTAND Fine
SPIDER-MAN (1963) (AMAZING SPIDER-MAN) (#1-441) #301 Fine
SPIDER-MAN (1963) (AMAZING SPIDER-MAN) (#1-441) #301 NEWSSTAND Fine
SPIDER-MAN (1963) (AMAZING SPIDER-MAN) (#1-441) #308 Very Fine
SPIDER-MAN (1963) (AMAZING SPIDER-MAN) (#1-441) #312 Very Good
SPIDER-MAN (1963) (AMAZING SPIDER-MAN) (#1-441) #315 Fine
SPIDER-MAN (1963) (AMAZING SPIDER-MAN) (#1-441) #316 NEWSSTAND Fine
SPIDER-MAN (1963) (AMAZING SPIDER-MAN) (#1-441) #317 Very Fine
SPIDER-MAN (1963) (AMAZING SPIDER-MAN) (#1-441) #318 Fine
SPIDER-MAN (1963) (AMAZING SPIDER-MAN) (#1-441) #320 NEWSSTAND Very Good
SPIDER-MAN (1963) (AMAZING SPIDER-MAN) (#1-441) #321 Fine
SPIDER-MAN (1963) (AMAZING SPIDER-MAN) (#1-441) #322 Very Good
SPIDER-MAN (1963) (AMAZING SPIDER-MAN) (#1-441) #323 Fine
SPIDER-MAN (1963) (AMAZING SPIDER-MAN) (#1-441) #324 Very Good
SPIDER-MAN (1963) (AMAZING SPIDER-MAN) (#1-441) #325 Good
SPIDER-MAN (1963) (AMAZING SPIDER-MAN) (#1-441) #325 Very Good
SPIDER-MAN (1963) (AMAZING SPIDER-MAN) (#1-441) #327 Fine
SPIDER-MAN (1963) (AMAZING SPIDER-MAN) (#1-441) #328 Fine
SPIDER-MAN (1963) (AMAZING SPIDER-MAN) (#1-441) #332 NEWSSTAND Good
SPIDER-MAN (1963) (AMAZING SPIDER-MAN) (#1-441) #333 Fine
SPIDER-MAN (1963) (AMAZING SPIDER-MAN) (#1-441) #334 Fine
SPIDER-MAN (1963) (AMAZING SPIDER-MAN) (#1-441) #335 Fine
SPIDER-MAN (1963) (AMAZING SPIDER-MAN) (#1-441) #337 Very Good
SPIDER-MAN (1963) (AMAZING SPIDER-MAN) (#1-441) #339 Fine
SPIDER-MAN (1963) (AMAZING SPIDER-MAN) (#1-441) #340 NEWSSTAND Fine
SPIDER-MAN (1963) (AMAZING SPIDER-MAN) (#1-441) #341 NEWSSTAND Fine
SPIDER-MAN (1963) (AMAZING SPIDER-MAN) (#1-441) #342 Very Fine
SPIDER-MAN (1963) (AMAZING SPIDER-MAN) (#1-441) #343 INSERT Fine
SPIDER-MAN (1963) (AMAZING SPIDER-MAN) (#1-441) #345 Very Fine
SPIDER-MAN (1963) (AMAZING SPIDER-MAN) (#1-441) #346 Fine
SPIDER-MAN (1963) (AMAZING SPIDER-MAN) (#1-441) #348 INSERT Fine


SPIDER-MAN (1963) (AMAZING SPIDER-MAN) (#1-441) #357

SPIDER-MAN (1963) (AMAZING SPIDER-MAN) (#1-441) #357 Very Fine
SPIDER-MAN (1963) (AMAZING SPIDER-MAN) (#1-441) #358 Near Mint/Mint
SPIDER-MAN (1963) (AMAZING SPIDER-MAN) (#1-441) #359 Fine
SPIDER-MAN (1963) (AMAZING SPIDER-MAN) (#1-441) #360 NEWSSTAND Fine
SPIDER-MAN (1963) (AMAZING SPIDER-MAN) (#1-441) #361 Fine
SPIDER-MAN (1963) (AMAZING SPIDER-MAN) (#1-441) #361 2ND PRT Very Fine
SPIDER-MAN (1963) (AMAZING SPIDER-MAN) (#1-441) #363 Fine
SPIDER-MAN (1963) (AMAZING SPIDER-MAN) (#1-441) #373 Very Fine
SPIDER-MAN (1963) (AMAZING SPIDER-MAN) (#1-441) #374 Near Mint/Mint
SPIDER-MAN (1963) (AMAZING SPIDER-MAN) (#1-441) #375 Near Mint/Mint
SPIDER-MAN (1963) (AMAZING SPIDER-MAN) (#1-441) #379 Very Fine
SPIDER-MAN (1963) (AMAZING SPIDER-MAN) (#1-441) #380 NEWSSTAND Very Fine
SPIDER-MAN (1963) (AMAZING SPIDER-MAN) (#1-441) #387 Fine
SPIDER-MAN (1963) (AMAZING SPIDER-MAN) (#1-441) #388 DELUXE Near Mint/Mint
SPIDER-MAN (1963) (AMAZING SPIDER-MAN) (#1-441) #389 Very Good
SPIDER-MAN (1963) (AMAZING SPIDER-MAN) (#1-441) #390 BAGGED Fine
SPIDER-MAN (1963) (AMAZING SPIDER-MAN) (#1-441) #391 Fine
SPIDER-MAN (1963) (AMAZING SPIDER-MAN) (#1-441) #392 Very Fine
SPIDER-MAN (1963) (AMAZING SPIDER-MAN) (#1-441) #393 Near Mint/Mint
SPIDER-MAN (1963) (AMAZING SPIDER-MAN) (#1-441) #394 DELUXENEWS Very Fine
SPIDER-MAN (1963) (AMAZING SPIDER-MAN) (#1-441) #395 Fine
SPIDER-MAN (1963) (AMAZING SPIDER-MAN) (#1-441) #397 Fine
SPIDER-MAN (1963) (AMAZING SPIDER-MAN) (#1-441) #398 NEWSSTAND Very Fine
SPIDER-MAN (1963) (AMAZING SPIDER-MAN) (#1-441) #399 Fine
SPIDER-MAN (1963) (AMAZING SPIDER-MAN) (#1-441) #400 DELUXE Very Fine
SPIDER-MAN (1963) (AMAZING SPIDER-MAN) (#1-441) #402 Very Fine
SPIDER-MAN (1963) (AMAZING SPIDER-MAN) (#1-441) #404 Very Good
SPIDER-MAN (1963) (AMAZING SPIDER-MAN) (#1-441) #406 Fine
SPIDER-MAN (1963) (AMAZING SPIDER-MAN) (#1-441) #406 Very Fine
SPIDER-MAN (1963) (AMAZING SPIDER-MAN) (#1-441) #408 Fine


SPIDER-MAN (1963) (AMAZING SPIDER-MAN) (#1-441) #411

SPIDER-MAN (1963) (AMAZING SPIDER-MAN) (#1-441) #411 Fine
SPIDER-MAN (1963) (AMAZING SPIDER-MAN) (#1-441) #414 NEWSSTAND Fine
SPIDER-MAN (1963) (AMAZING SPIDER-MAN) (#1-441) #417 Fine

SPIDER-MAN/BATMAN (1995) #1 Near Mint/Mint

SPIDER-MAN ANNUAL (1964) (#1-28) (MARVEL) #2 Good
SPIDER-MAN ANNUAL (1964) (#1-28) (MARVEL) #3 Very Good
SPIDER-MAN ANNUAL (1964) (#1-28) (MARVEL) #4 Very Good
SPIDER-MAN ANNUAL (1964) (#1-28) (MARVEL) #5 Very Good
SPIDER-MAN ANNUAL (1964) (#1-28) (MARVEL) #6 Very Good
SPIDER-MAN ANNUAL (1964) (#1-28) (MARVEL) #7 Good
SPIDER-MAN ANNUAL (1964) (#1-28) (MARVEL) #8 Very Good
SPIDER-MAN ANNUAL (1964) (#1-28) (MARVEL) #9 Very Good
SPIDER-MAN ANNUAL (1964) (#1-28) (MARVEL) #10 Very Fine
SPIDER-MAN ANNUAL (1964) (#1-28) (MARVEL) #11 Good
SPIDER-MAN ANNUAL (1964) (#1-28) (MARVEL) #11 Fine
SPIDER-MAN ANNUAL (1964) (#1-28) (MARVEL) #12 Very Good
SPIDER-MAN ANNUAL (1964) (#1-28) (MARVEL) #13 NEWSSTAND Fine
SPIDER-MAN ANNUAL (1964) (#1-28) (MARVEL) #14 NEWSSTAND Good
SPIDER-MAN ANNUAL (1964) (#1-28) (MARVEL) #15 NEWSSTAND Fine
SPIDER-MAN ANNUAL (1964) (#1-28) (MARVEL) #15 NEWSSTAND Very Good
SPIDER-MAN ANNUAL (1964) (#1-28) (MARVEL) #16 Fine
SPIDER-MAN ANNUAL (1964) (#1-28) (MARVEL) #16 Very Good

SPIDER-MAN GIANT-SIZE (1974) #1 Very Fine

THOR (1962) (#83-125 JOURNEY INTO MYSTERY, 126-502) #128 Fine
THOR (1962) (#83-125 JOURNEY INTO MYSTERY, 126-502) #136 Fine
THOR (1962) (#83-125 JOURNEY INTO MYSTERY, 126-502) #137 Fine
THOR (1962) (#83-125 JOURNEY INTO MYSTERY, 126-502) #148 Fine


THOR (1962) (#83-125 JOURNEY INTO MYSTERY, 126-502) #162

THOR (1962) (#83-125 JOURNEY INTO MYSTERY, 126-502) #162 Very Good
THOR (1962) (#83-125 JOURNEY INTO MYSTERY, 126-502) #174 Very Fine
THOR (1962) (#83-125 JOURNEY INTO MYSTERY, 126-502) #175 Fine
THOR (1962) (#83-125 JOURNEY INTO MYSTERY, 126-502) #175 Very Good
THOR (1962) (#83-125 JOURNEY INTO MYSTERY, 126-502) #192 Fine
THOR (1962) (#83-125 JOURNEY INTO MYSTERY, 126-502) #194 Very Good
THOR (1962) (#83-125 JOURNEY INTO MYSTERY, 126-502) #197 Very Good
THOR (1962) (#83-125 JOURNEY INTO MYSTERY, 126-502) #199 Good
THOR (1962) (#83-125 JOURNEY INTO MYSTERY, 126-502) #204 Very Good
THOR (1962) (#83-125 JOURNEY INTO MYSTERY, 126-502) #211 Very Good
THOR (1962) (#83-125 JOURNEY INTO MYSTERY, 126-502) #214 Very Fine
THOR (1962) (#83-125 JOURNEY INTO MYSTERY, 126-502) #225 Fine
THOR (1962) (#83-125 JOURNEY INTO MYSTERY, 126-502) #412 Fine

TOMB OF DRACULA (1972) (#1-70) (MARVEL) #1 Good
TOMB OF DRACULA (1972) (#1-70) (MARVEL) #2 Very Good
TOMB OF DRACULA (1972) (#1-70) (MARVEL) #10 Very Good
TOMB OF DRACULA (1972) (#1-70) (MARVEL) #70 Very Good

ULTIMATE FALLOUT (2011) #4 Very Fine

WALLY THE WIZARD (1985) #1 NEWS JEWEL (Marvel Star) Near Mint/Mint

WHAT IF... (1989) (#1-114, & 200) (MARVEL) #89 NEWSSTAND Very Fine
WHAT IF... (1989) (#1-114, & 200) (MARVEL) #90 Fine
WHAT IF... (1989) (#1-114, & 200) (MARVEL) #91 Near Mint/Mint
WHAT IF... (1989) (#1-114, & 200) (MARVEL) #98 NEWSSTAND Very Fine

X-MEN (1963) (#1-113, UNCANNY X-MEN #114-544) (MARVEL) #119 Very Fine
X-MEN (1963) (#1-113, UNCANNY X-MEN #114-544) (MARVEL) #170 NEWS JEWEL Near Mint/Mint
X-MEN (1963) (#1-113, UNCANNY X-MEN #114-544) (MARVEL) #170 NEWS JEWEL Very Fine


X-MEN (1963) (#1-113, UNCANNY X-MEN #114-544) (MARVEL) #171 NEWS JEWEL

X-MEN (1963) (#1-113, UNCANNY X-MEN #114-544) (MARVEL) #171 NEWS JEWEL Near Mint/Mint
X-MEN (1963) (#1-113, UNCANNY X-MEN #114-544) (MARVEL) #171 NEWS JEWEL Very Fine
X-MEN (1963) (#1-113, UNCANNY X-MEN #114-544) (MARVEL) #171 NEWS JEWEL Very Good
X-MEN (1963) (#1-113, UNCANNY X-MEN #114-544) (MARVEL) #172 NEWS JEWEL Near Mint/Mint
X-MEN (1963) (#1-113, UNCANNY X-MEN #114-544) (MARVEL) #172 NEWS JEWEL Very Fine
X-MEN (1963) (#1-113, UNCANNY X-MEN #114-544) (MARVEL) #173 NEWS JEWEL Very Fine
X-MEN (1963) (#1-113, UNCANNY X-MEN #114-544) (MARVEL) #173 NEWS JEWEL Fine
X-MEN (1963) (#1-113, UNCANNY X-MEN #114-544) (MARVEL) #174 NEWS JEWEL Near Mint/Mint
X-MEN (1963) (#1-113, UNCANNY X-MEN #114-544) (MARVEL) #174 NEWS JEWEL Very Fine
X-MEN (1963) (#1-113, UNCANNY X-MEN #114-544) (MARVEL) #176 NEWS JEWEL Near Mint/Mint
X-MEN (1963) (#1-113, UNCANNY X-MEN #114-544) (MARVEL) #177 NEWS JEWEL Near Mint/Mint
X-MEN (1963) (#1-113, UNCANNY X-MEN #114-544) (MARVEL) #177 NEWS JEWEL Very Fine
X-MEN (1963) (#1-113, UNCANNY X-MEN #114-544) (MARVEL) #178 NEWS JEWEL Near Mint/Mint
X-MEN (1963) (#1-113, UNCANNY X-MEN #114-544) (MARVEL) #179 NEWS JEWEL Very Fine
X-MEN (1963) (#1-113, UNCANNY X-MEN #114-544) (MARVEL) #180 NEWS JEWEL Very Fine
X-MEN (1963) (#1-113, UNCANNY X-MEN #114-544) (MARVEL) #181 NEWS JEWEL Fine
X-MEN (1963) (#1-113, UNCANNY X-MEN #114-544) (MARVEL) #187 NEWS JEWEL Near Mint/Mint

X-MEN CLASSICS (1983) #1 Near Mint/Mint

DC
ACTION COMICS (1938) (#0-600, 643-904) (DC) #1 88 REPRINT Very Good
ACTION COMICS (1938) (#0-600, 643-904) (DC) #539 NEWS JEWEL Very Good
ACTION COMICS (1938) (#0-600, 643-904) (DC) #540 NEWS JEWEL Fine
ACTION COMICS (1938) (#0-600, 643-904) (DC) #541 NEWS JEWEL Very Fine
ACTION COMICS (1938) (#0-600, 643-904) (DC) #542 NEWS JEWEL Near Mint/Mint
ACTION COMICS (1938) (#0-600, 643-904) (DC) #543 NEWS JEWEL Very Fine
ACTION COMICS (1938) (#0-600, 643-904) (DC) #546 NEWS JEWEL Very Fine

ACTION COMICS (2016) (#957-UP) (DC REBIRTH) #1017 Very Fine
ACTION COMICS (2016) (#957-UP) (DC REBIRTH) #1018 Very Fine
ACTION COMICS (2016) (#957-UP) (DC REBIRTH) #1019 Fine


ACTION COMICS (2016) (#957-UP) (DC REBIRTH) #1020

ACTION COMICS (2016) (#957-UP) (DC REBIRTH) #1020 Very Fine
ACTION COMICS (2016) (#957-UP) (DC REBIRTH) #1021 Fine
ACTION COMICS (2016) (#957-UP) (DC REBIRTH) #1022 Fine
ACTION COMICS (2016) (#957-UP) (DC REBIRTH) #1023 VARIANT Fine
ACTION COMICS (2016) (#957-UP) (DC REBIRTH) #1024 Very Fine
ACTION COMICS (2016) (#957-UP) (DC REBIRTH) #1025 Fine

ALL-STAR (1976) (#58-74) (ALL-STAR COMICS) (DC) #74 Fine

ALL-STAR SQUADRON (1981) #15 NEWSSTAND Fine
ALL-STAR SQUADRON (1981) #17 NEWS JEWEL Near Mint/Mint
ALL-STAR SQUADRON (1981) #17 NEWS JEWEL Very Fine
ALL-STAR SQUADRON (1981) #18 NEWS JEWEL Near Mint/Mint
ALL-STAR SQUADRON (1981) #19 NEWS JEWEL Near Mint/Mint
ALL-STAR SQUADRON (1981) #19 NEWS JEWEL Very Fine
ALL-STAR SQUADRON (1981) #20 NEWS JEWEL Near Mint/Mint
ALL-STAR SQUADRON (1981) #20 NEWS JEWEL Very Fine
ALL-STAR SQUADRON (1981) #21 NEWS JEWEL Very Fine
ALL-STAR SQUADRON (1981) #21 NEWS JEWEL Fine
ALL-STAR SQUADRON (1981) #22 NEWS JEWEL Near Mint/Mint
ALL-STAR SQUADRON (1981) #23 NEWS JEWEL Near Mint/Mint
ALL-STAR SQUADRON (1981) #24 NEWS JEWEL Near Mint/Mint
ALL-STAR SQUADRON (1981) #25 NEWS JEWEL Very Fine
ALL-STAR SQUADRON (1981) #26 NEWS JEWEL Very Fine
ALL-STAR SQUADRON (1981) #27 NEWS JEWEL Very Fine
ALL-STAR SQUADRON (1981) #28 NEWS JEWEL Near Mint/Mint
ALL-STAR SQUADRON (1981) #28 NEWS JEWEL Very Fine
ALL-STAR SQUADRON (1981) #29 NEWS JEWEL Near Mint/Mint
ALL-STAR SQUADRON (1981) #30 NEWS JEWEL Very Fine


ALL-STAR SQUADRON (1981) #31 NEWS JEWEL

ALL-STAR SQUADRON (1981) #31 NEWS JEWEL Very Fine
ALL-STAR SQUADRON (1981) #32 NEWS JEWEL Near Mint/Mint
ALL-STAR SQUADRON (1981) #33 NEWS JEWEL Near Mint/Mint
ALL-STAR SQUADRON (1981) #34 NEWS JEWEL Near Mint/Mint
ALL-STAR SQUADRON (1981) #35 NEWS JEWEL Near Mint/Mint
ALL-STAR SQUADRON (1981) #37 NEWS JEWEL Very Fine
ALL-STAR SQUADRON (1981) #39 NEWS JEWEL Near Mint/Mint
ALL-STAR SQUADRON (1981) #40 NEWS JEWEL Near Mint/Mint
ALL-STAR SQUADRON (1981) #42 NEWS JEWEL Near Mint/Mint
ALL-STAR SQUADRON (1981) #43 NEWS JEWEL Good

ALL-STAR SQUADRON ANNUAL (1982) #1 NEWS JEWEL Very Fine
ALL-STAR SQUADRON ANNUAL (1982) #1 NEWS JEWEL Fine

AMETHYST (1983) (#1-12) (DC) #4 NEWS JEWEL Fine
AMETHYST (1983) (#1-12) (DC) #5 NEWS JEWEL Very Fine
AMETHYST (1983) (#1-12) (DC) #6 NEWS JEWEL Very Fine
AMETHYST (1983) (#1-12) (DC) #7 NEWS JEWEL Very Fine
AMETHYST (1983) (#1-12) (DC) #8 NEWS JEWEL Near Mint/Mint
AMETHYST (1983) (#1-12) (DC) #9 NEWS JEWEL Near Mint/Mint
AMETHYST (1983) (#1-12) (DC) #10 NEWS JEWEL Near Mint/Mint
AMETHYST (1983) (#1-12) (DC) #11 NEWS JEWEL Near Mint/Mint
AMETHYST (1983) (#1-12) (DC) #12 NEWS JEWEL Very Fine

AMETHYST (1984) (#1-16) (DC) #1 NEWS JEWEL Near Mint/Mint

AQUAMAN (2016) (#1-UP) (DC REBRITH) #60 VARIANT Fine

ARION (LORD OF ATLANTIS) (DC) (1982) #19 NEWS JEWEL Very Fine
ARION (LORD OF ATLANTIS) (DC) (1982) #20 NEWS JEWEL Near Mint/Mint
ARION (LORD OF ATLANTIS) (DC) (1982) #22 NEWS JEWEL Fine


ARION (LORD OF ATLANTIS) (DC) (1982) #24 NEWS JEWEL

ARION (LORD OF ATLANTIS) (DC) (1982) #24 NEWS JEWEL Near Mint/Mint
ARION (LORD OF ATLANTIS) (DC) (1982) #25 NEWS JEWEL Near Mint/Mint
ARION (LORD OF ATLANTIS) (DC) (1982) #26 NEWS JEWEL Very Fine
ARION (LORD OF ATLANTIS) (DC) (1982) #27 NEWS JEWEL Near Mint/Mint
ARION (LORD OF ATLANTIS) (DC) (1982) #28 NEWS JEWEL Near Mint/Mint
ARION (LORD OF ATLANTIS) (DC) (1982) #29 NEWS JEWEL Near Mint/Mint
ARION (LORD OF ATLANTIS) (DC) (1982) #30 NEWS JEWEL Near Mint/Mint

ATARI FORCE (1984) #3 NEWS JEWEL Near Mint/Mint
ATARI FORCE (1984) #4 NEWS JEWEL Fine
ATARI FORCE (1984) #5 NEWS JEWEL Very Fine
ATARI FORCE (1984) #6 NEWS JEWEL Near Mint/Mint
ATARI FORCE (1984) #6 NEWS JEWEL Very Fine
ATARI FORCE (1984) #7 NEWS JEWEL Near Mint/Mint
ATARI FORCE (1984) #9 NEWS JEWEL Fine
ATARI FORCE (1984) #10 NEWS JEWEL Very Fine
ATARI FORCE (1984) #11 NEWS JEWEL Very Fine
ATARI FORCE (1984) #12 NEWS JEWEL Very Fine
ATARI FORCE (1984) #13 NEWS JEWEL Very Fine
ATARI FORCE (1984) #14 NEWS JEWEL Very Fine
ATARI FORCE (1984) #15 NEWS JEWEL Very Good
ATARI FORCE (1984) #16 NEWS JEWEL Near Mint/Mint
ATARI FORCE (1984) #17 NEWS JEWEL Very Fine

BATGIRL (2016) (#1-UP) (DC REBIRTH) #41 Near Mint/Mint
BATGIRL (2016) (#1-UP) (DC REBIRTH) #46 VARIANT Fine
BATGIRL (2016) (#1-UP) (DC REBIRTH) #47 VARIANT Fine
BATGIRL (2016) (#1-UP) (DC REBIRTH) #49 Near Mint/Mint

BATGIRL SPECIAL (1988) #1 Fine


BATMAN (1940) (#0-713) (DC) #354 NEWSSTAND

BATMAN (1940) (#0-713) (DC) #354 NEWSSTAND Fine
BATMAN (1940) (#0-713) (DC) #358 NEWSSTAND Fine
BATMAN (1940) (#0-713) (DC) #359 Very Fine
BATMAN (1940) (#0-713) (DC) #360 Fine
BATMAN (1940) (#0-713) (DC) #361 Fine
BATMAN (1940) (#0-713) (DC) #362 Very Fine
BATMAN (1940) (#0-713) (DC) #363 Very Fine
BATMAN (1940) (#0-713) (DC) #364 Fine
BATMAN (1940) (#0-713) (DC) #365 Fine
BATMAN (1940) (#0-713) (DC) #366 Near Mint/Mint
BATMAN (1940) (#0-713) (DC) #400 Very Good
BATMAN (1940) (#0-713) (DC) #401 Very Good
BATMAN (1940) (#0-713) (DC) #402 Very Fine
BATMAN (1940) (#0-713) (DC) #403 Very Fine
BATMAN (1940) (#0-713) (DC) #404 Very Fine
BATMAN (1940) (#0-713) (DC) #405 Very Fine
BATMAN (1940) (#0-713) (DC) #406 Near Mint/Mint
BATMAN (1940) (#0-713) (DC) #407 Fine
BATMAN (1940) (#0-713) (DC) #417 Fine
BATMAN (1940) (#0-713) (DC) #418 Fine
BATMAN (1940) (#0-713) (DC) #419 Fine
BATMAN (1940) (#0-713) (DC) #420 Very Fine
BATMAN (1940) (#0-713) (DC) #426 Fine
BATMAN (1940) (#0-713) (DC) #427 Fine
BATMAN (1940) (#0-713) (DC) #428 Very Fine
BATMAN (1940) (#0-713) (DC) #429 NEWSSTAND Very Fine
BATMAN (1940) (#0-713) (DC) #611 Very Fine
BATMAN (1940) (#0-713) (DC) #612 Near Mint/Mint
BATMAN (1940) (#0-713) (DC) #613 Near Mint/Mint
BATMAN (1940) (#0-713) (DC) #614 Fine
BATMAN (1940) (#0-713) (DC) #615 Very Fine


BATMAN (1940) (#0-713) (DC) #616

BATMAN (1940) (#0-713) (DC) #616 Very Fine
BATMAN (1940) (#0-713) (DC) #617 Very Fine
BATMAN (1940) (#0-713) (DC) #618 Fine
BATMAN (1940) (#0-713) (DC) #619 HEROES Fine
BATMAN (1940) (#0-713) (DC) #629 Near Mint/Mint
BATMAN (1940) (#0-713) (DC) #630 Fine

BATMAN (2016) (#1-UP) (DC REBIRTH) #65 Near Mint/Mint
BATMAN (2016) (#1-UP) (DC REBIRTH) #70 Fine
BATMAN (2016) (#1-UP) (DC REBIRTH) #76 2ND PRINT Fine
BATMAN (2016) (#1-UP) (DC REBIRTH) #77 2ND PRINT Fine
BATMAN (2016) (#1-UP) (DC REBIRTH) #78 2ND PRINT Near Mint/Mint
BATMAN (2016) (#1-UP) (DC REBIRTH) #82 Near Mint/Mint
BATMAN (2016) (#1-UP) (DC REBIRTH) #83 Fine
BATMAN (2016) (#1-UP) (DC REBIRTH) #83 VARIANT Fine
BATMAN (2016) (#1-UP) (DC REBIRTH) #84 Fine
BATMAN (2016) (#1-UP) (DC REBIRTH) #91 Fine
BATMAN (2016) (#1-UP) (DC REBIRTH) #92 Fine
BATMAN (2016) (#1-UP) (DC REBIRTH) #93 Fine
BATMAN (2016) (#1-UP) (DC REBIRTH) #94 Fine
BATMAN (2016) (#1-UP) (DC REBIRTH) #95 Very Good
BATMAN (2016) (#1-UP) (DC REBIRTH) #96 Very Fine
BATMAN (2016) (#1-UP) (DC REBIRTH) #97 Fine
BATMAN (2016) (#1-UP) (DC REBIRTH) #98 Very Fine
BATMAN (2016) (#1-UP) (DC REBIRTH) #99 Near Mint/Mint

BATMAN & ROBIN (2011) (#0-40) (NEW 52) #0 Fine
BATMAN & ROBIN (2011) (#0-40) (NEW 52) #1 Fine
BATMAN & ROBIN (2011) (#0-40) (NEW 52) #2 Near Mint/Mint
BATMAN & ROBIN (2011) (#0-40) (NEW 52) #3 Near Mint/Mint
BATMAN & ROBIN (2011) (#0-40) (NEW 52) #4 Very Fine


BATMAN & ROBIN (2011) (#0-40) (NEW 52) #5

BATMAN & ROBIN (2011) (#0-40) (NEW 52) #5 Fine
BATMAN & ROBIN (2011) (#0-40) (NEW 52) #6 Near Mint/Mint
BATMAN & ROBIN (2011) (#0-40) (NEW 52) #7 Very Fine
BATMAN & ROBIN (2011) (#0-40) (NEW 52) #8 Fine
BATMAN & ROBIN (2011) (#0-40) (NEW 52) #9 Near Mint/Mint
BATMAN & ROBIN (2011) (#0-40) (NEW 52) #10 Fine
BATMAN & ROBIN (2011) (#0-40) (NEW 52) #11 Very Fine
BATMAN & ROBIN (2011) (#0-40) (NEW 52) #12 Fine
BATMAN & ROBIN (2011) (#0-40) (NEW 52) #13 Fine

BATMAN & ROBIN ANNUAL (2013) #1 Near Mint/Mint

BATMAN AND ROBIN (2009) (#1-26) #8 Very Fine
BATMAN AND ROBIN (2009) (#1-26) #9 Near Mint/Mint
BATMAN AND ROBIN (2009) (#1-26) #10 Near Mint/Mint
BATMAN AND ROBIN (2009) (#1-26) #11 Near Mint/Mint
BATMAN AND ROBIN (2009) (#1-26) #12 Near Mint/Mint
BATMAN AND ROBIN (2009) (#1-26) #13 Fine
BATMAN AND ROBIN (2009) (#1-26) #15 Near Mint/Mint
BATMAN AND ROBIN (2009) (#1-26) #18 Near Mint/Mint
BATMAN AND ROBIN (2009) (#1-26) #19 Near Mint/Mint
BATMAN AND ROBIN (2009) (#1-26) #20 Very Fine
BATMAN AND ROBIN (2009) (#1-26) #21 Very Fine
BATMAN AND ROBIN (2009) (#1-26) #24 Fine
BATMAN AND ROBIN (2009) (#1-26) #25 Very Fine
BATMAN AND ROBIN (2009) (#1-26) #26 Fine

BATMAN AND THE OUTSIDERS (1983) (#1-32) (DC) #1 Fine
BATMAN AND THE OUTSIDERS (1983) (#1-32) (DC) #1 NEWS JEWEL Near Mint/Mint
BATMAN AND THE OUTSIDERS (1983) (#1-32) (DC) #1 NEWS JEWEL Very Fine
BATMAN AND THE OUTSIDERS (1983) (#1-32) (DC) #2 Very Fine


BATMAN AND THE OUTSIDERS (1983) (#1-32) (DC) #2 NEWS JEWEL

BATMAN AND THE OUTSIDERS (1983) (#1-32) (DC) #2 NEWS JEWEL Very Fine
BATMAN AND THE OUTSIDERS (1983) (#1-32) (DC) #3 Very Fine
BATMAN AND THE OUTSIDERS (1983) (#1-32) (DC) #3 NEWS JEWEL Near Mint/Mint
BATMAN AND THE OUTSIDERS (1983) (#1-32) (DC) #3 NEWS JEWEL Very Fine
BATMAN AND THE OUTSIDERS (1983) (#1-32) (DC) #4 Near Mint/Mint
BATMAN AND THE OUTSIDERS (1983) (#1-32) (DC) #4 NEWS JEWEL Very Fine
BATMAN AND THE OUTSIDERS (1983) (#1-32) (DC) #5 Fine
BATMAN AND THE OUTSIDERS (1983) (#1-32) (DC) #5 NEWS JEWEL Near Mint/Mint
BATMAN AND THE OUTSIDERS (1983) (#1-32) (DC) #6 NEWS JEWEL Near Mint/Mint
BATMAN AND THE OUTSIDERS (1983) (#1-32) (DC) #7 NEWS JEWEL Very Fine
BATMAN AND THE OUTSIDERS (1983) (#1-32) (DC) #8 NEWS JEWEL Near Mint/Mint
BATMAN AND THE OUTSIDERS (1983) (#1-32) (DC) #9 NEWS JEWEL Very Fine
BATMAN AND THE OUTSIDERS (1983) (#1-32) (DC) #11 NEWS JEWEL Very Fine
BATMAN AND THE OUTSIDERS (1983) (#1-32) (DC) #12 NEWS JEWEL Fine
BATMAN AND THE OUTSIDERS (1983) (#1-32) (DC) #13 NEWS JEWEL Fine
BATMAN AND THE OUTSIDERS (1983) (#1-32) (DC) #14 NEWS JEWEL Fine
BATMAN AND THE OUTSIDERS (1983) (#1-32) (DC) #15 NEWS JEWEL Very Fine
BATMAN AND THE OUTSIDERS (1983) (#1-32) (DC) #16 NEWS JEWEL Very Fine
BATMAN AND THE OUTSIDERS (1983) (#1-32) (DC) #17 NEWS JEWEL Very Fine
BATMAN AND THE OUTSIDERS (1983) (#1-32) (DC) #18 NEWS JEWEL Very Good
BATMAN AND THE OUTSIDERS (1983) (#1-32) (DC) #19 NEWS JEWEL Very Fine
BATMAN AND THE OUTSIDERS (1983) (#1-32) (DC) #20 NEWS JEWEL Near Mint/Mint
BATMAN AND THE OUTSIDERS (1983) (#1-32) (DC) #21 NEWS JEWEL Near Mint/Mint
BATMAN AND THE OUTSIDERS (1983) (#1-32) (DC) #32 Fine

BATMAN ANNUAL (1961) (#1-28) (DC) #9 Very Fine
BATMAN ANNUAL (1961) (#1-28) (DC) #10 Very Fine
BATMAN ANNUAL (1961) (#1-28) (DC) #12 Very Fine

BATMAN D.O.A. PRESTIGE (BOB HALL) (1999) #1 Fine


BATMAN SPECIAL (MICHAEL GOLDEN) (1984) #1

BATMAN SPECIAL (MICHAEL GOLDEN) (1984) #1 Near Mint/Mint

BATMAN/SPAWN: WAR DEVIL (DC) (IMAGE) (PRESTIGE) (1994) #1 Very Good

BATMAN/SPIDER-MAN (DC) (MARVEL) (BATMAN AND SPIDER-MAN) #1 Very Fine

BATMAN: DEATH & THE MAIDENS (2003) #5 Fine
BATMAN: DEATH & THE MAIDENS (2003) #6 Very Fine
BATMAN: DEATH & THE MAIDENS (2003) #7 Very Fine
BATMAN: DEATH & THE MAIDENS (2003) #8 Near Mint/Mint
BATMAN: DEATH & THE MAIDENS (2003) #9 Fine

BATMAN: HUSH DOUBLE FEATURE (JIM LEE) (JEPH LOEB) (2003) #1 Fine

BATMAN: NEVERMORE (ELSEWORLDS) (2003) #1 Fine
BATMAN: NEVERMORE (ELSEWORLDS) (2003) #2 Very Good
BATMAN: NEVERMORE (ELSEWORLDS) (2003) #3 Very Fine
BATMAN: NEVERMORE (ELSEWORLDS) (2003) #4 Very Fine
BATMAN: NEVERMORE (ELSEWORLDS) (2003) #5 Very Fine

BATMAN: THE CULT (JIM STARLIN) (BERNI WRIGHTSON) (1988) #1 Fine
BATMAN: THE CULT (JIM STARLIN) (BERNI WRIGHTSON) (1988) #2 Fine
BATMAN: THE CULT (JIM STARLIN) (BERNI WRIGHTSON) (1988) #4 Near Mint/Mint

BATMAN: THE KILLING JOKE (ALAN MOORE) (1988) #1 Near Mint/Mint
BATMAN: THE KILLING JOKE (ALAN MOORE) (1988) #1 5TH PRINT Near Mint/Mint

BEST OF THE BRAVE AND THE BOLD (1988) #1 Near Mint/Mint
BEST OF THE BRAVE AND THE BOLD (1988) #2 Fine
BEST OF THE BRAVE AND THE BOLD (1988) #3 Very Fine
BEST OF THE BRAVE AND THE BOLD (1988) #4 Very Fine


BEST OF THE BRAVE AND THE BOLD (1988) #5

BEST OF THE BRAVE AND THE BOLD (1988) #5 Near Mint/Mint
BEST OF THE BRAVE AND THE BOLD (1988) #6 Very Fine

BEWARE THE CREEPER (1968) #1 Good
BEWARE THE CREEPER (1968) #2 Very Good
BEWARE THE CREEPER (1968) #3 Good
BEWARE THE CREEPER (1968) #4 Good
BEWARE THE CREEPER (1968) #5 Very Good
BEWARE THE CREEPER (1968) #6 Very Good

BLUE DEVIL (1984) #2 NEWS JEWEL Near Mint/Mint
BLUE DEVIL (1984) #3 NEWS JEWEL Near Mint/Mint
BLUE DEVIL (1984) #4 NEWS JEWEL Fine
BLUE DEVIL (1984) #5 NEWS JEWEL Near Mint/Mint
BLUE DEVIL (1984) #6 NEWS JEWEL Near Mint/Mint
BLUE DEVIL (1984) #7 NEWS JEWEL Near Mint/Mint
BLUE DEVIL (1984) #8 NEWS JEWEL Very Fine
BLUE DEVIL (1984) #9 NEWS JEWEL Near Mint/Mint
BLUE DEVIL (1984) #10 NEWS JEWEL Very Fine
BLUE DEVIL (1984) #11 NEWS JEWEL Near Mint/Mint
BLUE DEVIL (1984) #13 NEWS JEWEL Very Fine

BRAVE AND THE BOLD (1955) #195 NEWS JEWEL Very Fine

BRAVE AND THE BOLD (#1-35) (2007) #7 Fine
BRAVE AND THE BOLD (#1-35) (2007) #28 Very Fine
BRAVE AND THE BOLD (#1-35) (2007) #29 Near Mint/Mint
BRAVE AND THE BOLD (#1-35) (2007) #30 Fine
BRAVE AND THE BOLD (#1-35) (2007) #31 Near Mint/Mint
BRAVE AND THE BOLD (#1-35) (2007) #33 Very Fine
BRAVE AND THE BOLD (#1-35) (2007) #34 Fine


BRAVE AND THE BOLD (#1-35) (2007) #35

BRAVE AND THE BOLD (#1-35) (2007) #35 Fine

BRAVE AND THE BOLD (1955) #199 NEWSSTAND Fine
BRAVE AND THE BOLD (1955) #200 Very Fine

BRAVE AND THE BOLD MILLENNIUM EDITION #85 Fine

DARK KNIGHT (1986) #1 2ND PRT Near Mint/Mint
DARK KNIGHT (1986) #1 2ND PRT Fine
DARK KNIGHT (1986) #2 1ST PRT Very Fine

DARK NIGHTS: DEATH METAL (2020) #1 Fine
DARK NIGHTS: DEATH METAL (2020) #2 FINCH Fine
DARK NIGHTS: DEATH METAL (2020) #3 Fine

DARK NIGHTS: DEATH METAL - LEGENDS OF THE DARK KNIGHTS (2020) #1 2ND PRINT Very Fine

DARK NIGHTS: DEATH METAL - MULTIVERSES END (2020) #1 Very Fine

DARK NIGHTS: DEATH METAL - SPEED METAL (2020) #1 Near Mint/Mint
DARK NIGHTS: DEATH METAL - SPEED METAL (2020) #1 Very Fine

DARK NIGHTS: DEATH METAL - TRINITY CRISIS (2020) #1 Fine
DARK NIGHTS: DEATH METAL - TRINITY CRISIS (2020) #1 Very Fine

DARK NIGHTS: DEATH METAL GUIDEBOOK (2020) #1 Near Mint/Mint

DARK NIGHTS: METAL (2017) #1 Fine
DARK NIGHTS: METAL (2017) #2 ROMITA Very Fine
DARK NIGHTS: METAL (2017) #3 KUBERT Near Mint/Mint
DARK NIGHTS: METAL (2017) #4 Near Mint/Mint

DARK NIGHTS: METAL (2017) #5 Fine

DC SPECIAL (1968) #8 Good

DC SPECIAL SERIES (1977) #16 Fine
DC SPECIAL SERIES (1977) #21 Good

DC VS. MARVEL (1996) #4 NEWSSTAND Near Mint/Mint

DETECTIVE COMICS (1937) (#0-881) (DC) #524 NEWSSTAND Very Good
DETECTIVE COMICS (1937) (#0-881) (DC) #525 NEWSSTAND Fine
DETECTIVE COMICS (1937) (#0-881) (DC) #526 Fine
DETECTIVE COMICS (1937) (#0-881) (DC) #526 Very Good
DETECTIVE COMICS (1937) (#0-881) (DC) #527 Very Fine
DETECTIVE COMICS (1937) (#0-881) (DC) #528 Fine
DETECTIVE COMICS (1937) (#0-881) (DC) #529 Very Fine
DETECTIVE COMICS (1937) (#0-881) (DC) #531 Very Fine
DETECTIVE COMICS (1937) (#0-881) (DC) #532 Fine
DETECTIVE COMICS (1937) (#0-881) (DC) #567 Very Fine
DETECTIVE COMICS (1937) (#0-881) (DC) #568 Near Mint/Mint
DETECTIVE COMICS (1937) (#0-881) (DC) #572 Near Mint/Mint
DETECTIVE COMICS (1937) (#0-881) (DC) #575 Very Fine
DETECTIVE COMICS (1937) (#0-881) (DC) #576 Fine
DETECTIVE COMICS (1937) (#0-881) (DC) #577 Fine
DETECTIVE COMICS (1937) (#0-881) (DC) #578 Very Fine

DETECTIVE COMICS (2016) (#934-UP) (DC REBIRTH) #1000 1960S Fine

DETECTIVE COMICS ANNUAL (1988) #1 Very Fine

FIRESTORM (1982) (#1-100) #8 NEWS JEWEL Near Mint/Mint


FIRESTORM (1982) (#1-100) #9 NEWS JEWEL

FIRESTORM (1982) (#1-100) #9 NEWS JEWEL Near Mint/Mint
FIRESTORM (1982) (#1-100) #10 NEWS JEWEL Near Mint/Mint
FIRESTORM (1982) (#1-100) #10 NEWS JEWEL Very Fine
FIRESTORM (1982) (#1-100) #11 NEWS JEWEL Near Mint/Mint
FIRESTORM (1982) (#1-100) #11 NEWS JEWEL Very Fine
FIRESTORM (1982) (#1-100) #12 NEWS JEWEL Near Mint/Mint
FIRESTORM (1982) (#1-100) #12 NEWS JEWEL Very Fine
FIRESTORM (1982) (#1-100) #13 NEWS JEWEL Near Mint/Mint
FIRESTORM (1982) (#1-100) #13 NEWS JEWEL Very Fine
FIRESTORM (1982) (#1-100) #14 NEWS JEWEL Near Mint/Mint
FIRESTORM (1982) (#1-100) #15 NEWS JEWEL Near Mint/Mint
FIRESTORM (1982) (#1-100) #16 NEWS JEWEL Near Mint/Mint
FIRESTORM (1982) (#1-100) #16 NEWS JEWEL Very Fine
FIRESTORM (1982) (#1-100) #16 NEWS JEWEL Fine
FIRESTORM (1982) (#1-100) #17 NEWS JEWEL Near Mint/Mint
FIRESTORM (1982) (#1-100) #17 NEWS JEWEL Very Fine
FIRESTORM (1982) (#1-100) #18 NEWS JEWEL Near Mint/Mint
FIRESTORM (1982) (#1-100) #18 NEWS JEWEL Fine
FIRESTORM (1982) (#1-100) #19 NEWS JEWEL Near Mint/Mint
FIRESTORM (1982) (#1-100) #19 NEWS JEWEL Very Fine
FIRESTORM (1982) (#1-100) #20 NEWS JEWEL Near Mint/Mint
FIRESTORM (1982) (#1-100) #21 NEWS JEWEL Near Mint/Mint
FIRESTORM (1982) (#1-100) #22 NEWS JEWEL Near Mint/Mint
FIRESTORM (1982) (#1-100) #23 NEWS JEWEL Near Mint/Mint
FIRESTORM (1982) (#1-100) #23 NEWS JEWEL Very Fine
FIRESTORM (1982) (#1-100) #24 NEWS JEWEL Near Mint/Mint
FIRESTORM (1982) (#1-100) #24 NEWS JEWEL Very Fine
FIRESTORM (1982) (#1-100) #25 NEWS JEWEL Near Mint/Mint
FIRESTORM (1982) (#1-100) #25 NEWS JEWEL Very Fine
FIRESTORM (1982) (#1-100) #26 NEWS JEWEL Near Mint/Mint
FIRESTORM (1982) (#1-100) #26 NEWS JEWEL Very Good


FIRESTORM (1982) (#1-100) #27 NEWS JEWEL

FIRESTORM (1982) (#1-100) #27 NEWS JEWEL Near Mint/Mint
FIRESTORM (1982) (#1-100) #28 NEWS JEWEL Near Mint/Mint
FIRESTORM (1982) (#1-100) #29 NEWS JEWEL Near Mint/Mint
FIRESTORM (1982) (#1-100) #30 NEWS JEWEL Near Mint/Mint
FIRESTORM (1982) (#1-100) #30 NEWS JEWEL Very Fine
FIRESTORM (1982) (#1-100) #31 NEWS JEWEL Very Fine
FIRESTORM (1982) (#1-100) #33 NEWS JEWEL Fine
FIRESTORM (1982) (#1-100) #34 NEWS JEWEL Near Mint/Mint

FUTURE STATE: SWAMP THING (2021) #1 Very Good
FUTURE STATE: SWAMP THING (2021) #1 Very Fine

GREEN ARROW ANNUAL (1988) (#1-7) (DC) #1 Fine

JOKER (2021) (#1-UP) (DC INFINITE FRONTIER) #2 Near Mint/Mint

LEGENDS OF THE DARK CLAW (1996) #1 NEWSSTAND Near Mint/Mint

LEGENDS OF THE DARK KNIGHT (BATMAN) (1989) #44 Fine
LEGENDS OF THE DARK KNIGHT (BATMAN) (1989) #45 Fine
LEGENDS OF THE DARK KNIGHT (BATMAN) (1989) #52 Fine
LEGENDS OF THE DARK KNIGHT (BATMAN) (1989) #53 Fine

LEGION OF SUPER-HEROES (1980) (#259-354) (DC) #313 NEWS JEWEL Very Fine
LEGION OF SUPER-HEROES (1980) (#259-354) (DC) #314 NEWS JEWEL Very Good
LEGION OF SUPER-HEROES (1980) (#259-354) (DC) #315 NEWS JEWEL Good
LEGION OF SUPER-HEROES (1980) (#259-354) (DC) #317 NEWS JEWEL Fine
LEGION OF SUPER-HEROES (1980) (#259-354) (DC) #318 NEWS JEWEL Very Fine
LEGION OF SUPER-HEROES (1980) (#259-354) (DC) #319 NEWS JEWEL Very Fine
LEGION OF SUPER-HEROES (1980) (#259-354) (DC) #320 NEWS JEWEL Near Mint/Mint
LEGION OF SUPER-HEROES (1980) (#259-354) (DC) #323 NEWS JEWEL Near Mint/Mint

QUESTION ANNUAL (1988) #1 Very Good

SAGA OF RA'S AL GHUL (1988) #1 Very Fine
SAGA OF RA'S AL GHUL (1988) #2 Fine
SAGA OF RA'S AL GHUL (1988) #3 Fine
SAGA OF RA'S AL GHUL (1988) #4 Fine

SHADOW OF THE BATMAN (1985) #1 Near Mint/Mint
SHADOW OF THE BATMAN (1985) #2 Very Fine
SHADOW OF THE BATMAN (1985) #3 Near Mint/Mint
SHADOW OF THE BATMAN (1985) #4 Fine
SHADOW OF THE BATMAN (1985) #5 Very Fine

SHOWCASE (1956) (#1-104) (SHOWCASE PRESENTS...) (DC) #60 Good
SHOWCASE (1956) (#1-104) (SHOWCASE PRESENTS...) (DC) #73 Very Good
SHOWCASE (1956) (#1-104) (SHOWCASE PRESENTS...) (DC) #98 Very Good
SHOWCASE (1956) (#1-104) (SHOWCASE PRESENTS...) (DC) #99 Good

SUPERBOY ANNUAL (1964) #1 Fair

SUPERMAN (1939) (#1-423) (DC) #183 Good
SUPERMAN (1939) (#1-423) (DC) #233 Very Good
SUPERMAN (1939) (#1-423) (DC) #234 Fine
SUPERMAN (1939) (#1-423) (DC) #238 Good
SUPERMAN (1939) (#1-423) (DC) #240 Very Good
SUPERMAN (1939) (#1-423) (DC) #241 Very Good
SUPERMAN (1939) (#1-423) (DC) #242 Good
SUPERMAN (1939) (#1-423) (DC) #243 Fair
SUPERMAN (1939) (#1-423) (DC) #321 WHITMAN Good
SUPERMAN (1939) (#1-423) (DC) #322 WHITMAN Good
SUPERMAN (1939) (#1-423) (DC) #400 Very Fine


SUPERMAN/BATMAN (2003) #1 3RD PRINT

SUPERMAN/BATMAN (2003) #1 3RD PRINT Near Mint/Mint
SUPERMAN/BATMAN (2003) #2 Fine
SUPERMAN/BATMAN (2003) #4 Very Fine
SUPERMAN/BATMAN (2003) #5 Near Mint/Mint
SUPERMAN/BATMAN (2003) #6 Near Mint/Mint
SUPERMAN/BATMAN (2003) #7 Near Mint/Mint
SUPERMAN/BATMAN (2003) #10 JIM LEE Very Fine
SUPERMAN/BATMAN (2003) #11 Fine
SUPERMAN/BATMAN (2003) #13 Near Mint/Mint
SUPERMAN/BATMAN (2003) #26 Fine
SUPERMAN/BATMAN (2003) #41 Near Mint/Mint

SUPERMAN/BATMAN SECRET FILES 2003 (2003) #1 Fine

SWORD OF THE ATOM (1983) #3 NEWS JEWEL Good

TEEN TITANS (1980) (#1-91) (DC) #41 NEWS JEWEL Near Mint/Mint
TEEN TITANS (1980) (#1-91) (DC) #42 NEWS JEWEL Very Fine
TEEN TITANS (1980) (#1-91) (DC) #43 NEWS JEWEL Very Fine
TEEN TITANS (1980) (#1-91) (DC) #44 NEWS JEWEL Near Mint/Mint
TEEN TITANS (1980) (#1-91) (DC) #44 NEWS JEWEL Very Fine
TEEN TITANS (1980) (#1-91) (DC) #45 NEWS JEWEL Very Fine

WATCHMEN (1986) #1 Very Fine

WONDER WOMAN (1942) (#1-329) (DC) #301 NEWS JEWEL Fine
WONDER WOMAN (1942) (#1-329) (DC) #302 NEWS JEWEL Very Fine
WONDER WOMAN (1942) (#1-329) (DC) #304 NEWS JEWEL Very Good
WONDER WOMAN (1942) (#1-329) (DC) #305 NEWS JEWEL Very Fine
WONDER WOMAN (1942) (#1-329) (DC) #306 NEWS JEWEL Near Mint/Mint
WONDER WOMAN (1942) (#1-329) (DC) #308 NEWS JEWEL Near Mint/Mint


WORLD'S FINEST COMICS MILLENNIUM EDITION (2000) #71

WORLD'S FINEST COMICS MILLENNIUM EDITION (2000) #71 Fine

WORLDS FINEST (1941) (#2-323) (DC) (WORLD'S FINEST) #161 Good
WORLDS FINEST (1941) (#2-323) (DC) (WORLD'S FINEST) #289 Fine
WORLDS FINEST (1941) (#2-323) (DC) (WORLD'S FINEST) #290 Fine

IMAGE COMICS
INDEPENDENTS
CHARLTON BULLSEYE (1981) #3 (Charlton) Fine

DRAGONBALL/RUROUNI KENSHIN FLIPBOOK FCBD (2013) #1 (Viz Comics) Near Mint/Mint

HAUNTED (HAUNTED LIBRARY #21 ON) (1971) #38 (Charlton) Fine

INDIAN CHIEF (1951) #29 (Dell Publishing) Good