50% Off All Comics BLACKFRIDAY Sale Begins
Howdy!
A brief newsletter today, as I just finished another 6-hour stint of sorting through the catastrophe of our pillaged storage trailer that once was filled with comics. As the accompanying photo illustrates, I am about halfway back into this 53' steel box, and I am finding that a great deal is missing. There were once 6' high pallets loaded with 48 long boxes each, packed cubicly in this space. There are now barely enough full boxes to fill one row along the walls, and about half of the remaining contents In those boxes are damaged. Sigh...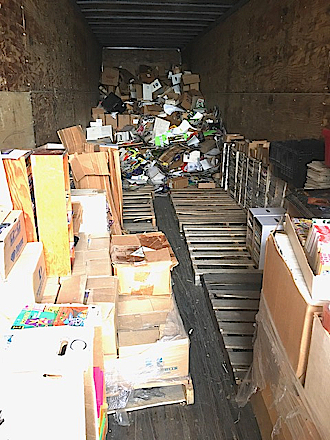 Chuck Is Half Done With Fixing The Trailer!

What makes this theft sting all the more is that back issue comics and magazines of all kinds are selling like hot cakes right now. I will give you some specific titles next week, but suffice it to say that all titles associated with Star Wars, TMNT, and Milestone Media are extremely popular, and are selling every day. Without a doubt, we lost some of those titles from our trailer, which really sucks.
At the end of the day, however, the estimated 100,000 comics that we lost constitute just 1% of our immense inventory of ten million+ back issues, so our overall operations have not been materially affected. That is precisely why I decided to go ahead with beginning today this year's annual 50% off BLACKFRIDAY! codeword sale. Pam is still buying comics collections for us every day, so I am certain that we will recover our missing issues. As per usual, the 50% off codeword applies to all of our back issues comics and magazines listed on our website, excluding only new issues, a few variants, and our professionally-graded items.
Please enjoy this wonderful annual sale with our sincere thanks for your kindness in patronizing our company all during 2020. It has been a rough year for us all, but at long last it appears to be heading in the right direction. Please do be safe during this coming week, and be sure to treasure those you love.
Happy collecting!
Chuck Rozanski/Bettie Pages,
President - Mile High Comics, Inc.
November 20, 2020

Here are more new arrivals:
MARVEL

AGE OF X-MAN: ALPHA (2019) #1 Near Mint/Mint

AVENGERS PRIME (2010) #3 Near Mint/Mint

BATTLE SCARS (2011) #1 Near Mint/Mint

BATTLEBOOKS STORM #1 Very Fine

BATTLEBOOKS: WOLVERINE #1 Very Fine

BATTLESTAR GALACTICA (1979) #10 NEWSSTAND Fine

DRACULA LIVES! (MAGAZINE) (1973) #5 Fine
DRACULA LIVES! (MAGAZINE) (1973) #5 Very Fine
DRACULA LIVES! (MAGAZINE) (1973) #8 Fine
DRACULA LIVES! (MAGAZINE) (1973) #12 Fine
DRACULA LIVES! (MAGAZINE) (1973) #12 Very Fine

HAUNT OF HORROR (1974) #4 Good
HAUNT OF HORROR (1974) #4 Fine
HAUNT OF HORROR (1974) #4 Very Fine
HAUNT OF HORROR (1974) #4 Very Good
HAUNT OF HORROR (1974) #5 Very Good

MARVEL FANFARE (1982) #25 Near Mint/Mint

MARVEL KNIGHTS (#1-15) (2000) #7 Near Mint/Mint
MARVEL KNIGHTS (#1-15) (2000) #8 Near Mint/Mint

MARVEL TEAM-UP (1972) (#1-150) (MARVEL) #115 Near Mint/Mint

MONSTERS UNLEASHED (1973) (#1-11) (MARVEL MAGAZINE) #4 Fine
MONSTERS UNLEASHED (1973) (#1-11) (MARVEL MAGAZINE) #4 Very Fine
MONSTERS UNLEASHED (1973) (#1-11) (MARVEL MAGAZINE) #6 Very Fine
MONSTERS UNLEASHED (1973) (#1-11) (MARVEL MAGAZINE) #7 Fine

NEW MUTANTS (1983) (#1-100) (MARVEL) #27 Near Mint/Mint
NEW MUTANTS (1983) (#1-100) (MARVEL) #79 Near Mint/Mint

NEW X-MEN: ACADEMY X (2004) #7 Near Mint/Mint


NICK FURY AGENT OF S.H.I.E.L.D. (1989) #36 Near Mint/Mint
NICK FURY VS. S.H.I.E.L.D. (1988) #4 Near Mint/Mint
NICK FURY VS. S.H.I.E.L.D. (1988) #5 Near Mint/Mint
NICK FURY VS. S.H.I.E.L.D. (1988) #6 Near Mint/Mint

ONSLAUGHT REBORN (2006) #4 CAMPBELL Near Mint/Mint

PUNISHER: THE PRIZE (1990) #1 NEWSSTAND Near Mint/Mint

SAVAGE SWORD OF CONAN (MAGAZINE) (1974) #151 NEWSSTAND Very Good
SAVAGE SWORD OF CONAN (MAGAZINE) (1974) #152 NEWSSTAND Very Fine
SAVAGE SWORD OF CONAN (MAGAZINE) (1974) #153 NEWSSTAND Very Good
SAVAGE SWORD OF CONAN (MAGAZINE) (1974) #154 NEWSSTAND Very Good
SAVAGE SWORD OF CONAN (MAGAZINE) (1974) #155 NEWSSTAND Very Fine
SAVAGE SWORD OF CONAN (MAGAZINE) (1974) #156 NEWSSTAND Near Mint/Mint
SAVAGE SWORD OF CONAN (MAGAZINE) (1974) #157 NEWSSTAND Fine
SAVAGE SWORD OF CONAN (MAGAZINE) (1974) #158 NEWSSTAND Fine
SAVAGE SWORD OF CONAN (MAGAZINE) (1974) #159 NEWSSTAND Very Fine
SAVAGE SWORD OF CONAN (MAGAZINE) (1974) #160 Very Good
SAVAGE SWORD OF CONAN (MAGAZINE) (1974) #161 NEWSSTAND Very Fine
SAVAGE SWORD OF CONAN (MAGAZINE) (1974) #162 NEWSSTAND Fine
SAVAGE SWORD OF CONAN (MAGAZINE) (1974) #163 NEWSSTAND Fine
SAVAGE SWORD OF CONAN (MAGAZINE) (1974) #165 NEWSSTAND Fine
SAVAGE SWORD OF CONAN (MAGAZINE) (1974) #166 NEWSSTAND Fine

SAVAGE TALES (1971) (#1-13) (MARVEL/CURTIS) (CONAN) #8 Very Fine
SAVAGE TALES (1971) (#1-13) (MARVEL/CURTIS) (CONAN) #8 Very Good

SPIDER-MAN ANNUAL (1964) (#1-28) (MARVEL) #23 Near Mint/Mint

VAMPIRE TALES (1973) #5 Good
VAMPIRE TALES (1973) #7 Fine
VAMPIRE TALES (1973) #7 Very Fine

X-STATIX (2002) #4 Near Mint/Mint

DC

ACTION COMICS (1938) (#0-600, 643-904) (DC) #587 Near Mint/Mint
ACTION COMICS (1938) (#0-600, 643-904) (DC) #646 Near Mint/Mint
ACTION COMICS (1938) (#0-600, 643-904) (DC) #663 Near Mint/Mint
ACTION COMICS (1938) (#0-600, 643-904) (DC) #668 Near Mint/Mint
ACTION COMICS (1938) (#0-600, 643-904) (DC) #669 Near Mint/Mint

ADVENTURES OF SUPERMAN ANNUAL (1987) #5 Near Mint/Mint

AMERICAN VAMPIRE (DC VERTIGO) (2010) #10 Near Mint/Mint
AMERICAN VAMPIRE (DC VERTIGO) (2010) #11 Near Mint/Mint
AMERICAN VAMPIRE (DC VERTIGO) (2010) #12 Near Mint/Mint
AMERICAN VAMPIRE (DC VERTIGO) (2010) #13 Near Mint/Mint
AMERICAN VAMPIRE (DC VERTIGO) (2010) #14 Near Mint/Mint
AMERICAN VAMPIRE (DC VERTIGO) (2010) #15 Near Mint/Mint
AMERICAN VAMPIRE (DC VERTIGO) (2010) #16 Near Mint/Mint
AMERICAN VAMPIRE (DC VERTIGO) (2010) #17 Near Mint/Mint
AMERICAN VAMPIRE (DC VERTIGO) (2010) #18 Near Mint/Mint

AMERICAN VAMPIRE: SURVIVAL OF THE FITTEST (DC VERTIGO) (2011) #1 Near Mint/Mint
AMERICAN VAMPIRE: SURVIVAL OF THE FITTEST (DC VERTIGO) (2011) #2 Near Mint/Mint
AMERICAN VAMPIRE: SURVIVAL OF THE FITTEST (DC VERTIGO) (2011) #3 Near Mint/Mint
AMERICAN VAMPIRE: SURVIVAL OF THE FITTEST (DC VERTIGO) (2011) #4 Near Mint/Mint
AMERICAN VAMPIRE: SURVIVAL OF THE FITTEST (DC VERTIGO) (2011) #5 Near Mint/Mint

BATMAN (1940) (#0-713) (DC) #175 Fair
BATMAN (1940) (#0-713) (DC) #226 Good
BATMAN (1940) (#0-713) (DC) #352 Very Fine

BLACKHAWK (1957) (#108-273) (DC) #251 Near Mint/Mint
BLACKHAWK (1957) (#108-273) (DC) #253 Near Mint/Mint

BLACKHAWK (1989) (#1-16) (DC) #1 Near Mint/Mint
BLACKHAWK (1989) (#1-16) (DC) #3 Near Mint/Mint
BLACKHAWK (1989) (#1-16) (DC) #4 Near Mint/Mint
BLACKHAWK (1989) (#1-16) (DC) #6 Near Mint/Mint
BLACKHAWK (1989) (#1-16) (DC) #7 Near Mint/Mint
BLACKHAWK (1989) (#1-16) (DC) #8 Near Mint/Mint
BLACKHAWK (1989) (#1-16) (DC) #10 Near Mint/Mint
BLACKHAWK (1989) (#1-16) (DC) #12 Near Mint/Mint


BLACKHAWK (1989) (#1-16) (DC) #15 Near Mint/Mint

CINDERELLA: FROM FABLETOWN WITH LOVE (2009) #1 Near Mint/Mint

HAWK AND DOVE (#1-28) (1989) #1 Near Mint/Mint
HAWK AND DOVE (#1-28) (1989) #5 Near Mint/Mint
HAWK AND DOVE (#1-28) (1989) #6 Near Mint/Mint
HAWK AND DOVE (#1-28) (1989) #10 Near Mint/Mint

HOUSE OF MYSTERY (2008) #39 Very Fine
HOUSE OF MYSTERY (2008) #41 Near Mint/Mint
HOUSE OF MYSTERY (2008) #42 Very Fine

JUSTICE LEAGUE (2011) (#0-52) (DC NEW52) #2 COMBO Near Mint/Mint

MAN OF STEEL (1986) (#1-6) (DC) #1 DIRECT Near Mint/Mint
MAN OF STEEL (1986) (#1-6) (DC) #5 Near Mint/Mint
MAN OF STEEL (1986) (#1-6) (DC) #6 Near Mint/Mint

MANHUNTER (1988) (#1-24) #1 Near Mint/Mint

NAZZ #2 Near Mint/Mint

NIGHT FORCE (1982) #4 Near Mint/Mint

TEEN TITANS (1980) (#1-91) (DC) #34 Near Mint/Mint
TEEN TITANS (1980) (#1-91) (DC) #36 Near Mint/Mint
TEEN TITANS (1980) (#1-91) (DC) #37 Near Mint/Mint

DARK HORSE COMICS
GRENDEL: WAR CHILD (1992) #3 Near Mint/Mint
GRENDEL: WAR CHILD (1992) #6 Near Mint/Mint
GRENDEL: WAR CHILD (1992) #8 Near Mint/Mint


GRENDEL: WAR CHILD (1992) #10 Near Mint/Mint

IMAGE COMICS
BATTLE CHASERS (1998) (#1-4) (IMAGE/CLIFFHANGER) #2 Near Mint/Mint
BATTLE CHASERS (1998) (#1-4) (IMAGE/CLIFFHANGER) #2 NEWSSTAND Fine
BATTLE CHASERS (1998) (#1-4) (IMAGE/CLIFFHANGER) #2 Very Fine
BATTLE CHASERS (1998) (#1-4) (IMAGE/CLIFFHANGER) #3 Very Fine
BATTLE CHASERS (1998) (#1-4) (IMAGE/CLIFFHANGER) #4 ROBOT Near Mint/Mint

BATTLE CHASERS (2001) (#9-UP) (IMAGE) #9 Very Fine

BATTLE CHASERS PRELUDE (IMAGE) (1998) #1 Near Mint/Mint
BATTLE CHASERS PRELUDE (IMAGE) (1998) #1 Very Fine

BATTLE OF THE PLANETS BATTLE BOOK (2003) #1 Near Mint/Mint
BATTLE OF THE PLANETS BATTLE BOOK (2003) #1 Very Fine

BATTLE OF THE PLANETS/THUNDERCATS (2003) #1 Fine
BATTLE OF THE PLANETS/THUNDERCATS (2003) #1 VARIANT Fine
BATTLE OF THE PLANETS/THUNDERCATS (2003) #1 Very Fine

BATTLESTAR GALACTICA (MAXIMUM) #1 PAINTED Near Mint/Mint
BATTLESTAR GALACTICA (MAXIMUM) #3 Near Mint/Mint

BATTLESTAR GALACTICA: APOLLO'S JOURNEY #3 Near Mint/Mint

EXTREME TOUR BOOK #1 10X SIGNED Near Mint/Mint

SCIENCE DOG SPECIAL (2010) #2 Near Mint/Mint

SUPER DINOSAUR (2011) #1 Near Mint/Mint
SUPER DINOSAUR (2011) #2 Fine
SUPER DINOSAUR (2011) #3 Fine
SUPER DINOSAUR (2011) #4 Very Fine
SUPER DINOSAUR (2011) #5 Near Mint/Mint


SUPER DINOSAUR (2011) #6 Fine

INDEPENDENTS
ALIEN NATION: THE SPARTANS (ADVENTURE) (1990) #2 (Adventure Comics) Near Mint/Mint

AMERICAN FLAGG! (FIRST COMICS) (HOWARD CHAYKIN) (1983) #6 (First Comics) Near Mint/Mint

ARCHER & ARMSTRONG (VALIANT ACCLAIM) (1992) #1 (Acclaim/Valiant) Near Mint/Mint
ARCHER & ARMSTRONG (VALIANT ACCLAIM) (1992) #24 (Acclaim/Valiant) Near Mint/Mint

ARTIFACTS (IMAGE TOPCOW) (2010) #4 A (Image Top Cow) Near Mint/Mint
ARTIFACTS (IMAGE TOPCOW) (2010) #5 C (Image Top Cow) Near Mint/Mint
ARTIFACTS (IMAGE TOPCOW) (2010) #6 B (Image Top Cow) Near Mint/Mint
ARTIFACTS (IMAGE TOPCOW) (2010) #7 B (Image Top Cow) Near Mint/Mint
ARTIFACTS (IMAGE TOPCOW) (2010) #8 B (Image Top Cow) Near Mint/Mint
ARTIFACTS (IMAGE TOPCOW) (2010) #9 C (Image Top Cow) Near Mint/Mint
ARTIFACTS (IMAGE TOPCOW) (2010) #10 A (Image Top Cow) Near Mint/Mint
ARTIFACTS (IMAGE TOPCOW) (2010) #11 B (Image Top Cow) Near Mint/Mint

BATTLE AMONGST THE STARS (BLUE WATER) (ROGER CORMAN) (2010) #1 (Blue Water Comics) Very Fine

BATTLE ANGEL ALITA (Viz Comics) (MANGA) (1992) #1 (Viz Comics) Fine
BATTLE ANGEL ALITA (Viz Comics) (MANGA) (1992) #1 (Viz Comics) Very Good
BATTLE ANGEL ALITA (Viz Comics) (MANGA) (1992) #2 (Viz Comics) Fine
BATTLE ANGEL ALITA (Viz Comics) (MANGA) (1992) #2 (Viz Comics) Very Good
BATTLE ANGEL ALITA (Viz Comics) (MANGA) (1992) #3 (Viz Comics) Fine
BATTLE ANGEL ALITA (Viz Comics) (MANGA) (1992) #3 (Viz Comics) Very Good
BATTLE ANGEL ALITA (Viz Comics) (MANGA) (1992) #4 (Viz Comics) Fine
BATTLE ANGEL ALITA (Viz Comics) (MANGA) (1992) #5 (Viz Comics) Fine
BATTLE ANGEL ALITA (Viz Comics) (MANGA) (1992) #5 (Viz Comics) Very Fine
BATTLE ANGEL ALITA (Viz Comics) (MANGA) (1992) #6 (Viz Comics) Very Fine
BATTLE ANGEL ALITA (Viz Comics) (MANGA) (1992) #7 (Viz Comics) Fine
BATTLE ANGEL ALITA (Viz Comics) (MANGA) (1992) #7 (Viz Comics) Good
BATTLE ANGEL ALITA (Viz Comics) (MANGA) (1992) #7 (Viz Comics) Very Good
BATTLE ANGEL ALITA (Viz Comics) (MANGA) (1992) #8 (Viz Comics) Fine
BATTLE ANGEL ALITA (Viz Comics) (MANGA) (1992) #8 (Viz Comics) Good


BATTLE ANGEL ALITA (Viz Comics) (MANGA) (1992) #9 (Viz Comics) Very Good

BATTLE ANGEL ALITA BOOK 2 (Viz Comics) (MANGA) (1993) #1 (Viz Comics) Fine
BATTLE ANGEL ALITA BOOK 2 (Viz Comics) (MANGA) (1993) #1 (Viz Comics) Very Good
BATTLE ANGEL ALITA BOOK 2 (Viz Comics) (MANGA) (1993) #2 (Viz Comics) Very Good
BATTLE ANGEL ALITA BOOK 2 (Viz Comics) (MANGA) (1993) #3 (Viz Comics) Fine
BATTLE ANGEL ALITA BOOK 2 (Viz Comics) (MANGA) (1993) #3 (Viz Comics) Good
BATTLE ANGEL ALITA BOOK 2 (Viz Comics) (MANGA) (1993) #3 (Viz Comics) Very Good
BATTLE ANGEL ALITA BOOK 2 (Viz Comics) (MANGA) (1993) #5 (Viz Comics) Fine
BATTLE ANGEL ALITA BOOK 2 (Viz Comics) (MANGA) (1993) #5 (Viz Comics) Very Fine
BATTLE ANGEL ALITA BOOK 2 (Viz Comics) (MANGA) (1993) #5 (Viz Comics) Very Good
BATTLE ANGEL ALITA BOOK 2 (Viz Comics) (MANGA) (1993) #6 (Viz Comics) Fine
BATTLE ANGEL ALITA BOOK 2 (Viz Comics) (MANGA) (1993) #6 (Viz Comics) Good
BATTLE ANGEL ALITA BOOK 2 (Viz Comics) (MANGA) (1993) #6 (Viz Comics) Near Mint/Mint
BATTLE ANGEL ALITA BOOK 2 (Viz Comics) (MANGA) (1993) #6 (Viz Comics) Very Good
BATTLE ANGEL ALITA BOOK 2 (Viz Comics) (MANGA) (1993) #7 (Viz Comics) Fine
BATTLE ANGEL ALITA BOOK 2 (Viz Comics) (MANGA) (1993) #7 (Viz Comics) Good
BATTLE ANGEL ALITA BOOK 2 (Viz Comics) (MANGA) (1993) #7 (Viz Comics) Very Good

BATTLE ANGEL ALITA BOOK 3 (Viz Comics) (MANGA) (1993) #1 (Viz Comics) Fine
BATTLE ANGEL ALITA BOOK 3 (Viz Comics) (MANGA) (1993) #1 (Viz Comics) Near Mint/Mint
BATTLE ANGEL ALITA BOOK 3 (Viz Comics) (MANGA) (1993) #1 (Viz Comics) Very Fine
BATTLE ANGEL ALITA BOOK 3 (Viz Comics) (MANGA) (1993) #2 (Viz Comics) Fine
BATTLE ANGEL ALITA BOOK 3 (Viz Comics) (MANGA) (1993) #3 (Viz Comics) Near Mint/Mint
BATTLE ANGEL ALITA BOOK 3 (Viz Comics) (MANGA) (1993) #3 (Viz Comics) Very Fine
BATTLE ANGEL ALITA BOOK 3 (Viz Comics) (MANGA) (1993) #4 (Viz Comics) Good
BATTLE ANGEL ALITA BOOK 3 (Viz Comics) (MANGA) (1993) #4 (Viz Comics) Very Good
BATTLE ANGEL ALITA BOOK 3 (Viz Comics) (MANGA) (1993) #5 (Viz Comics) Near Mint/Mint
BATTLE ANGEL ALITA BOOK 3 (Viz Comics) (MANGA) (1993) #5 (Viz Comics) Very Fine
BATTLE ANGEL ALITA BOOK 3 (Viz Comics) (MANGA) (1993) #6 (Viz Comics) Near Mint/Mint
BATTLE ANGEL ALITA BOOK 3 (Viz Comics) (MANGA) (1993) #6 (Viz Comics) Very Fine
BATTLE ANGEL ALITA BOOK 3 (Viz Comics) (MANGA) (1993) #7 (Viz Comics) Fine
BATTLE ANGEL ALITA BOOK 3 (Viz Comics) (MANGA) (1993) #7 (Viz Comics) Very Good
BATTLE ANGEL ALITA BOOK 3 (Viz Comics) (MANGA) (1993) #8 (Viz Comics) Fine
BATTLE ANGEL ALITA BOOK 3 (Viz Comics) (MANGA) (1993) #8 (Viz Comics) Very Fine
BATTLE ANGEL ALITA BOOK 3 (Viz Comics) (MANGA) (1993) #8 (Viz Comics) Very Good
BATTLE ANGEL ALITA BOOK 3 (Viz Comics) (MANGA) (1993) #9 (Viz Comics) Very Fine
BATTLE ANGEL ALITA BOOK 3 (Viz Comics) (MANGA) (1993) #10 (Viz Comics) Fine
BATTLE ANGEL ALITA BOOK 3 (Viz Comics) (MANGA) (1993) #11 (Viz Comics) Fine
BATTLE ANGEL ALITA BOOK 3 (Viz Comics) (MANGA) (1993) #11 (Viz Comics) Very Fine
BATTLE ANGEL ALITA BOOK 3 (Viz Comics) (MANGA) (1993) #12 (Viz Comics) Near Mint/Mint
BATTLE ANGEL ALITA BOOK 3 (Viz Comics) (MANGA) (1993) #12 (Viz Comics) Very Fine
BATTLE ANGEL ALITA BOOK 3 (Viz Comics) (MANGA) (1993) #13 (Viz Comics) Fine
BATTLE ANGEL ALITA BOOK 3 (Viz Comics) (MANGA) (1993) #13 (Viz Comics) Very Good


BATTLE ANGEL ALITA BOOK 3 (Viz Comics) (MANGA) (1993) #13 (Viz Comics) Very Fine

BATTLE ANGEL ALITA BOOK 4 (Viz Comics) (MANGA) (1994) #1 (Viz Comics) Near Mint/Mint
BATTLE ANGEL ALITA BOOK 4 (Viz Comics) (MANGA) (1994) #1 (Viz Comics) Fine
BATTLE ANGEL ALITA BOOK 4 (Viz Comics) (MANGA) (1994) #3 (Viz Comics) Fine
BATTLE ANGEL ALITA BOOK 4 (Viz Comics) (MANGA) (1994) #5 (Viz Comics) Near Mint/Mint
BATTLE ANGEL ALITA BOOK 4 (Viz Comics) (MANGA) (1994) #5 (Viz Comics) Fine
BATTLE ANGEL ALITA BOOK 4 (Viz Comics) (MANGA) (1994) #5 (Viz Comics) Very Fine
BATTLE ANGEL ALITA BOOK 4 (Viz Comics) (MANGA) (1994) #6 (Viz Comics) Near Mint/Mint
BATTLE ANGEL ALITA BOOK 4 (Viz Comics) (MANGA) (1994) #7 (Viz Comics) Fine
BATTLE ANGEL ALITA BOOK 4 (Viz Comics) (MANGA) (1994) #7 (Viz Comics) Very Fine

BATTLE ANGEL ALITA BOOK 5 (Viz Comics) (MANGA) (1995) #1 (Viz Comics) Near Mint/Mint
BATTLE ANGEL ALITA BOOK 5 (Viz Comics) (MANGA) (1995) #1 (Viz Comics) Good
BATTLE ANGEL ALITA BOOK 5 (Viz Comics) (MANGA) (1995) #1 (Viz Comics) Very Fine
BATTLE ANGEL ALITA BOOK 5 (Viz Comics) (MANGA) (1995) #2 (Viz Comics) Very Good
BATTLE ANGEL ALITA BOOK 5 (Viz Comics) (MANGA) (1995) #2 (Viz Comics) Very Fine
BATTLE ANGEL ALITA BOOK 5 (Viz Comics) (MANGA) (1995) #3 (Viz Comics) Good
BATTLE ANGEL ALITA BOOK 5 (Viz Comics) (MANGA) (1995) #4 (Viz Comics) Good
BATTLE ANGEL ALITA BOOK 5 (Viz Comics) (MANGA) (1995) #4 (Viz Comics) Fine
BATTLE ANGEL ALITA BOOK 5 (Viz Comics) (MANGA) (1995) #4 (Viz Comics) Very Good
BATTLE ANGEL ALITA BOOK 5 (Viz Comics) (MANGA) (1995) #5 (Viz Comics) Fine
BATTLE ANGEL ALITA BOOK 5 (Viz Comics) (MANGA) (1995) #5 (Viz Comics) Very Good

BATTLE ANGEL ALITA BOOK 6 (Viz Comics) (MANGA) (1996) #1 (Viz Comics) Good
BATTLE ANGEL ALITA BOOK 6 (Viz Comics) (MANGA) (1996) #1 (Viz Comics) Near Mint/Mint
BATTLE ANGEL ALITA BOOK 6 (Viz Comics) (MANGA) (1996) #1 (Viz Comics) Very Good
BATTLE ANGEL ALITA BOOK 6 (Viz Comics) (MANGA) (1996) #2 (Viz Comics) Very Fine
BATTLE ANGEL ALITA BOOK 6 (Viz Comics) (MANGA) (1996) #3 (Viz Comics) Fine
BATTLE ANGEL ALITA BOOK 6 (Viz Comics) (MANGA) (1996) #3 (Viz Comics) Very Fine
BATTLE ANGEL ALITA BOOK 6 (Viz Comics) (MANGA) (1996) #5 (Viz Comics) Near Mint/Mint
BATTLE ANGEL ALITA BOOK 6 (Viz Comics) (MANGA) (1996) #5 (Viz Comics) Very Fine

BATTLE ANGEL ALITA BOOK 7 (Viz Comics) (MANGA) (1996) #1 (Viz Comics) Near Mint/Mint
BATTLE ANGEL ALITA BOOK 7 (Viz Comics) (MANGA) (1996) #1 (Viz Comics) Very Fine
BATTLE ANGEL ALITA BOOK 7 (Viz Comics) (MANGA) (1996) #4 (Viz Comics) Fine
BATTLE ANGEL ALITA BOOK 7 (Viz Comics) (MANGA) (1996) #4 (Viz Comics) Near Mint/Mint
BATTLE ANGEL ALITA BOOK 7 (Viz Comics) (MANGA) (1996) #4 (Viz Comics) Very Fine
BATTLE ANGEL ALITA BOOK 7 (Viz Comics) (MANGA) (1996) #4 (Viz Comics) Very Good
BATTLE ANGEL ALITA BOOK 7 (Viz Comics) (MANGA) (1996) #5 (Viz Comics) Near Mint/Mint
BATTLE ANGEL ALITA BOOK 7 (Viz Comics) (MANGA) (1996) #5 (Viz Comics) Fine
BATTLE ANGEL ALITA BOOK 7 (Viz Comics) (MANGA) (1996) #5 (Viz Comics) Very Fine
BATTLE ANGEL ALITA BOOK 7 (Viz Comics) (MANGA) (1996) #5 (Viz Comics) Very Good
BATTLE ANGEL ALITA BOOK 7 (Viz Comics) (MANGA) (1996) #6 (Viz Comics) Fine
BATTLE ANGEL ALITA BOOK 7 (Viz Comics) (MANGA) (1996) #6 (Viz Comics) Very Good


BATTLE ANGEL ALITA BOOK 7 (Viz Comics) (MANGA) (1996) #6 (Viz Comics) Very Fine
BATTLE ANGEL ALITA BOOK 7 (Viz Comics) (MANGA) (1996) #7 (Viz Comics) Near Mint/Mint
BATTLE ANGEL ALITA BOOK 7 (Viz Comics) (MANGA) (1996) #7 (Viz Comics) Very Fine
BATTLE ANGEL ALITA BOOK 7 (Viz Comics) (MANGA) (1996) #8 (Viz Comics) Near Mint/Mint
BATTLE ANGEL ALITA BOOK 7 (Viz Comics) (MANGA) (1996) #8 (Viz Comics) Fine
BATTLE ANGEL ALITA BOOK 7 (Viz Comics) (MANGA) (1996) #8 (Viz Comics) Very Fine

BATTLE ANGEL ALITA BOOK 8 (Viz Comics) (MANGA) (1997) #1 (Viz Comics) Fine
BATTLE ANGEL ALITA BOOK 8 (Viz Comics) (MANGA) (1997) #1 (Viz Comics) Near Mint/Mint
BATTLE ANGEL ALITA BOOK 8 (Viz Comics) (MANGA) (1997) #1 (Viz Comics) Very Fine
BATTLE ANGEL ALITA BOOK 8 (Viz Comics) (MANGA) (1997) #2 (Viz Comics) Very Fine
BATTLE ANGEL ALITA BOOK 8 (Viz Comics) (MANGA) (1997) #3 (Viz Comics) Fine
BATTLE ANGEL ALITA BOOK 8 (Viz Comics) (MANGA) (1997) #4 (Viz Comics) Fine
BATTLE ANGEL ALITA BOOK 8 (Viz Comics) (MANGA) (1997) #4 (Viz Comics) Good
BATTLE ANGEL ALITA BOOK 8 (Viz Comics) (MANGA) (1997) #5 (Viz Comics) Near Mint/Mint
BATTLE ANGEL ALITA BOOK 8 (Viz Comics) (MANGA) (1997) #5 (Viz Comics) Good
BATTLE ANGEL ALITA BOOK 8 (Viz Comics) (MANGA) (1997) #5 (Viz Comics) Fine
BATTLE ANGEL ALITA BOOK 8 (Viz Comics) (MANGA) (1997) #5 (Viz Comics) Very Fine
BATTLE ANGEL ALITA BOOK 8 (Viz Comics) (MANGA) (1997) #7 (Viz Comics) Very Good

BATTLE ANGEL ALITA: LAST ORDER (Viz Comics) (MANGA) (2002) #1 (Viz Comics) Good
BATTLE ANGEL ALITA: LAST ORDER (Viz Comics) (MANGA) (2002) #2 (Viz Comics) Fine
BATTLE ANGEL ALITA: LAST ORDER (Viz Comics) (MANGA) (2002) #4 (Viz Comics) Very Fine

BATTLE BINDER PLUS (ANTARCTIC) (VENUS) (ADULT) (1994) #4 (Antarctic Press) Fine
BATTLE BINDER PLUS (ANTARCTIC) (VENUS) (ADULT) (1994) #5 (Antarctic Press) Very Good
BATTLE BINDER PLUS (ANTARCTIC) (VENUS) (ADULT) (1994) #6 (Antarctic Press) Very Good

BATTLE CHASERS (1999) (#5-8) (DC WILDSTORM) #6 (DC/Wildstorm) Near Mint/Mint
BATTLE CHASERS (1999) (#5-8) (DC WILDSTORM) #6 VARIANT (DC/Wildstorm) Very Fine
BATTLE CHASERS (1999) (#5-8) (DC WILDSTORM) #6 VARIANT (DC/Wildstorm) Fine
BATTLE CHASERS (1999) (#5-8) (DC WILDSTORM) #7 CAMPBELL (DC/Wildstorm) Very Fine
BATTLE CHASERS (1999) (#5-8) (DC WILDSTORM) #7 MADUREIRA (DC/Wildstorm) Fine

BATTLE OF THE PLANETS (2002) (IMAGE) (TOP COW) #1 1/2 DELUXE (Image Top Cow) Near Mint/Mint
BATTLE OF THE PLANETS (2002) (IMAGE) (TOP COW) #1 DFE1/2BLUE (Image Top Cow) Near Mint/Mint
BATTLE OF THE PLANETS (2002) (IMAGE) (TOP COW) #1 VIRGIN CVR (Image Top Cow) Near Mint/Mint

BATTLE OF THE PLANETS: PRINCESS (2004) #2 (Image Top Cow) Near Mint/Mint


BATTLE POPE (2000) (#1-4) (FUNK-O-TRON) #3 (Funk-O-Tron, LLC) Very Fine

BATTLE POPE SHORTS (2001) #3 (Funk-O-Tron, LLC) Very Fine

BATTLEFIELD ACTION (VOL. 2) (1957) #71 (Charlton) Very Fine
BATTLEFIELD ACTION (VOL. 2) (1957) #72 (Charlton) Fine

BATTLEFIELDS: DEAR BILLY (2009) #3 (DYNAMITE Entertainment) Very Fine

BATTLEFIELDS: GREEN FIELDS BEYOND (2012) #1 (DYNAMITE Entertainment) Near Mint/Mint
BATTLEFIELDS: GREEN FIELDS BEYOND (2012) #2 (DYNAMITE Entertainment) Near Mint/Mint
BATTLEFIELDS: GREEN FIELDS BEYOND (2012) #3 (DYNAMITE Entertainment) Near Mint/Mint
BATTLEFIELDS: GREEN FIELDS BEYOND (2012) #5 (DYNAMITE Entertainment) Near Mint/Mint

BATTLEFIELDS: HAPPY VALLEY (2009) #2 (DYNAMITE Entertainment) Near Mint/Mint

BATTLER BRITTON (2006) #5 (DC/Wildstorm) Near Mint/Mint

BATTLESTAR GALACTICA (2006) #1 (DYNAMITE Entertainment) Near Mint/Mint
BATTLESTAR GALACTICA (2006) #1 RAYNOR (DYNAMITE Entertainment) Near Mint/Mint
BATTLESTAR GALACTICA (2006) #2 SKETCH INC (DYNAMITE Entertainment) Fine
BATTLESTAR GALACTICA (2006) #4 PHOTO (DYNAMITE Entertainment) Near Mint/Mint
BATTLESTAR GALACTICA (2006) #5 RAYNOR (DYNAMITE Entertainment) Near Mint/Mint
BATTLESTAR GALACTICA (2006) #6 RAYNOR (DYNAMITE Entertainment) Near Mint/Mint
BATTLESTAR GALACTICA (2006) #8 LAU COVER (DYNAMITE Entertainment) Near Mint/Mint
BATTLESTAR GALACTICA (2006) #9 SEGOVIA (DYNAMITE Entertainment) Near Mint/Mint
BATTLESTAR GALACTICA (2006) #9 RAYNOR (DYNAMITE Entertainment) Near Mint/Mint

BATTLESTAR GALACTICA (REALM PRESS) (1997) #1 VARIANT (Realm Press) Near Mint/Mint
BATTLESTAR GALACTICA (REALM PRESS) (1997) #1 VARIANT (Realm Press) Very Fine
BATTLESTAR GALACTICA (REALM PRESS) (1997) #1 VARIANT (Realm Press) Fine
BATTLESTAR GALACTICA (REALM PRESS) (1997) #1 (Realm Press) Very Fine
BATTLESTAR GALACTICA (REALM PRESS) (1997) #3 VARIANT (Realm Press) Very Fine
BATTLESTAR GALACTICA (REALM PRESS) (1997) #3 VARIANT (Realm Press) Fine
BATTLESTAR GALACTICA (REALM PRESS) (1997) #3 (Realm Press) Very Fine
BATTLESTAR GALACTICA (REALM PRESS) (1997) #4 (Realm Press) Very Fine
BATTLESTAR GALACTICA (REALM PRESS) (1997) #5 (Realm Press) Near Mint/Mint
BATTLESTAR GALACTICA (REALM PRESS) (1997) #5 (Realm Press) Fine
BATTLESTAR GALACTICA (REALM PRESS) (1997) #5 (Realm Press) Very Fine


BATTLESTAR GALACTICA 1999 TOURBOOK #1 (Realm Press) Very Fine

BATTLESTAR GALACTICA GALLERY #1 (Realm Press) Near Mint/Mint
BATTLESTAR GALACTICA GALLERY #1 (Realm Press) Very Fine

BATTLESTAR GALACTICA SEASON 3 #1 (Realm Press) Very Fine
BATTLESTAR GALACTICA SEASON 3 #2 (Realm Press) Very Fine
BATTLESTAR GALACTICA SEASON 3 #3 (Realm Press) Near Mint/Mint
BATTLESTAR GALACTICA SEASON 3 #3 (Realm Press) Very Fine

BATTLESTAR GALACTICA SPECIAL: CENTURION PRIME (1999) #1 (Realm Press) Near Mint/Mint

BATTLESTAR GALACTICA: CYLON APOCALYPSE (2006) #4 GOLDEN (DYNAMITE Entertainment) Near Mint/Mint

BATTLESTAR GALACTICA: CYLON WAR (2009) #3 SEGOVIA (DYNAMITE Entertainment) Near Mint/Mint

BATTLESTAR GALACTICA: EVE OF DESTRUCTION PRELUDE #1 (Realm Press) Fine
BATTLESTAR GALACTICA: EVE OF DESTRUCTION PRELUDE #1 (Realm Press) Very Fine

BATTLESTAR GALACTICA: FINAL FIVE (2009) #1 RUBI (DYNAMITE Entertainment) Very Fine
BATTLESTAR GALACTICA: FINAL FIVE (2009) #2 RUBI (DYNAMITE Entertainment) Near Mint/Mint
BATTLESTAR GALACTICA: FINAL FIVE (2009) #3 RUBI (DYNAMITE Entertainment) Near Mint/Mint
BATTLESTAR GALACTICA: FINAL FIVE (2009) #3 RAYNOR (DYNAMITE Entertainment) Near Mint/Mint
BATTLESTAR GALACTICA: FINAL FIVE (2009) #3 RUBI (DYNAMITE Entertainment) Very Fine
BATTLESTAR GALACTICA: FINAL FIVE (2009) #4 RUBI (DYNAMITE Entertainment) Near Mint/Mint

BATTLESTAR GALACTICA: GHOSTS (2008) #2 (DYNAMITE Entertainment) Near Mint/Mint
BATTLESTAR GALACTICA: GHOSTS (2008) #4 (DYNAMITE Entertainment) Near Mint/Mint

BATTLESTAR GALACTICA: ORIGINS (2007) #1 PHOTO (DYNAMITE Entertainment) Very Fine

BATTLESTAR GALACTICA: ORIGINS (2007) #2 (DYNAMITE Entertainment) Very Fine
BATTLESTAR GALACTICA: ORIGINS (2007) #3 PHOTO (DYNAMITE Entertainment) Very Fine
BATTLESTAR GALACTICA: ORIGINS (2007) #4 PHOTO (DYNAMITE Entertainment) Near Mint/Mint
BATTLESTAR GALACTICA: ORIGINS (2007) #6 PHOTO (DYNAMITE Entertainment) Very Fine
BATTLESTAR GALACTICA: ORIGINS (2007) #6 (DYNAMITE Entertainment) Very Fine
BATTLESTAR GALACTICA: ORIGINS (2007) #9 (DYNAMITE Entertainment) Very Fine
BATTLESTAR GALACTICA: ORIGINS (2007) #10 (DYNAMITE Entertainment) Near Mint/Mint
BATTLESTAR GALACTICA: ORIGINS (2007) #10 PHOTO (DYNAMITE Entertainment) Very Fine
BATTLESTAR GALACTICA: ORIGINS (2007) #11 PHOTO (DYNAMITE Entertainment) Near Mint/Mint


BATTLESTAR GALACTICA: PEGASUS ONE-SHOT (2007) #1 PHOTO (DYNAMITE Entertainment) Very Fine

BATTLESTAR GALACTICA: PEGASUS ONE-SHOT (2007) #1 (DYNAMITE Entertainment) Very Fine

BATTLESTAR GALACTICA: SEARCH FOR SANCTUARY #1 (Realm Press) Near Mint/Mint
BATTLESTAR GALACTICA: SEARCH FOR SANCTUARY #1 (Realm Press) Fine
BATTLESTAR GALACTICA: SEARCH FOR SANCTUARY #1 (Realm Press) Very Fine

BATTLESTAR GALACTICA: SEARCH FOR SANCTUARY SPECIAL #1 (Realm Press) Near Mint/Mint
BATTLESTAR GALACTICA: SEARCH FOR SANCTUARY SPECIAL #1 (Realm Press) Very Fine

BATTLESTAR GALACTICA: SEASON ZERO (2007) #2 BATISTA (DYNAMITE Entertainment) Near Mint/Mint
BATTLESTAR GALACTICA: SEASON ZERO (2007) #2 SEGOVIA (DYNAMITE Entertainment) Very Fine
BATTLESTAR GALACTICA: SEASON ZERO (2007) #2 SEJIC (DYNAMITE Entertainment) Very Fine
BATTLESTAR GALACTICA: SEASON ZERO (2007) #4 HERBERT (DYNAMITE Entertainment) Very Fine
BATTLESTAR GALACTICA: SEASON ZERO (2007) #4 PHOTO (DYNAMITE Entertainment) Very Fine
BATTLESTAR GALACTICA: SEASON ZERO (2007) #8 PHOTO (DYNAMITE Entertainment) Near Mint/Mint
BATTLESTAR GALACTICA: SEASON ZERO (2007) #8 HERBERT (DYNAMITE Entertainment) Very Fine
BATTLESTAR GALACTICA: SEASON ZERO (2007) #8 PHOTO (DYNAMITE Entertainment) Very Fine
BATTLESTAR GALACTICA: SEASON ZERO (2007) #9 PHOTO (DYNAMITE Entertainment) Very Fine
BATTLESTAR GALACTICA: SEASON ZERO (2007) #10 PHOTO (DYNAMITE Entertainment) Near Mint/Mint
BATTLESTAR GALACTICA: SEASON ZERO (2007) #12 (DYNAMITE Entertainment) Very Fine

BONE (1991) (#1-55) (CARTOON BOOKS) #15 (Cartoon Books) Near Mint/Mint

DMZ (2005) #60 (DC: Vertigo Press) Near Mint/Mint
DMZ (2005) #61 (DC: Vertigo Press) Near Mint/Mint
DMZ (2005) #62 (DC: Vertigo Press) Near Mint/Mint
DMZ (2005) #63 (DC: Vertigo Press) Near Mint/Mint
DMZ (2005) #64 (DC: Vertigo Press) Near Mint/Mint
DMZ (2005) #65 (DC: Vertigo Press) Fine
DMZ (2005) #66 (DC: Vertigo Press) Very Fine
DMZ (2005) #68 (DC: Vertigo Press) Very Fine
DMZ (2005) #70 (DC: Vertigo Press) Very Fine
DMZ (2005) #71 (DC: Vertigo Press) Near Mint/Mint


DREADSTAR (1986) (#27-64) (FIRST) #51 (First Comics) Near Mint/Mint
DREADSTAR (1986) (#27-64) (FIRST) #52 (First Comics) Near Mint/Mint

EERIE MAGAZINE (1965) (#1-139) (WARREN) #30 (Warren Publishing Company) Very Good

FABLES (2002) #100 (DC: Vertigo Press) Near Mint/Mint
FABLES (2002) #101 (DC: Vertigo Press) Near Mint/Mint
FABLES (2002) #102 (DC: Vertigo Press) Very Fine
FABLES (2002) #103 (DC: Vertigo Press) Fine
FABLES (2002) #104 (DC: Vertigo Press) Very Fine
FABLES (2002) #105 (DC: Vertigo Press) Near Mint/Mint
FABLES (2002) #106 (DC: Vertigo Press) Fine
FABLES (2002) #107 (DC: Vertigo Press) Very Fine
FABLES (2002) #108 (DC: Vertigo Press) Fine
FABLES (2002) #109 (DC: Vertigo Press) Near Mint/Mint
FABLES (2002) #110 (DC: Vertigo Press) Near Mint/Mint
FABLES (2002) #111 (DC: Vertigo Press) Very Fine
FABLES (2002) #112 (DC: Vertigo Press) Very Fine

GRENDEL (1986) (#1-40) (COMICO) #6 (Comico) Near Mint/Mint

GRIMJACK (1984) #48 (First Comics) Near Mint/Mint
GRIMJACK (1984) #49 (First Comics) Near Mint/Mint
GRIMJACK (1984) #51 (First Comics) Near Mint/Mint
GRIMJACK (1984) #64 (First Comics) Near Mint/Mint
GRIMJACK (1984) #75 (First Comics) Near Mint/Mint

HORROR STORIES (MAG) (1971) #4 (Stanley Publications) Fine
HORROR STORIES (MAG) (1971) #4 (Stanley Publications) Very Good
HORROR STORIES (MAG) (1971) #7 (Stanley Publications) Very Good

IRON JAW (1975) #1 (Atlas/Seaboard) Fine

JUST IMAGINE COMICS & STORIES (1982) #10 (Just Imagine Graphics) Near Mint/Mint

KNIGHTS OF THE DINNER TABLE #60 (Kenzer & Company) Near Mint/Mint

MIAMI MICE (1985) #2 (Rip Off Press) Near Mint/Mint
MIAMI MICE (1985) #3 (Rip Off Press) Near Mint/Mint

MONSTER FANTASY (VOL. 1) MAGAZINE (1975) #1 (Mayfair) Fine
MONSTER FANTASY (VOL. 1) MAGAZINE (1975) #2 (Mayfair) Fine


MONSTER FANTASY (VOL. 1) MAGAZINE (1975) #2 (Mayfair) Very Good

MS. MYSTIC (1982) (#1-2) (PACIFIC) #1 (Pacific Comics) Near Mint/Mint

NERVOUS REX #7 (Blackthorne Publishing) Near Mint/Mint

TALES FROM THE TOMB (VOL. 3) MAGAZINE (1971) #2 (Eerie Publishing) Fair
TALES FROM THE TOMB (VOL. 3) MAGAZINE (1971) #2 (Eerie Publishing) Fine

TALES OF THE KILLERS (CRIME DOES NOT PAY) (MAG) (1970) #11 (World Famous Periodicals) Fine
TALES OF THE KILLERS (CRIME DOES NOT PAY) (MAG) (1970) #11 (World Famous Periodicals) Good
TALES OF THE KILLERS (CRIME DOES NOT PAY) (MAG) (1970) #11 (World Famous Periodicals) Very Fine
TALES OF THE KILLERS (CRIME DOES NOT PAY) (MAG) (1970) #11 (World Famous Periodicals) Very Good

TALES OF VOODOO (VOL. 4) MAGAZINE (1971) #1 (Eerie Publishing) Very Fine
TALES OF VOODOO (VOL. 4) MAGAZINE (1971) #2 (Eerie Publishing) Fine
TALES OF VOODOO (VOL. 4) MAGAZINE (1971) #2 (Eerie Publishing) Very Good
TALES OF VOODOO (VOL. 4) MAGAZINE (1971) #3 (Eerie Publishing) Fair
TALES OF VOODOO (VOL. 4) MAGAZINE (1971) #3 (Eerie Publishing) Fine
TALES OF VOODOO (VOL. 5) MAGAZINE (1972) #3 (Eerie Publishing) Fine
TALES OF VOODOO (VOL. 5) MAGAZINE (1972) #4 (Eerie Publishing) Fine

THUMP'N GUTS (EASTMAN/BISLEY) (1993) #1 (Kitchen Sink Publishing) Near Mint/Mint
THUMP'N GUTS (EASTMAN/BISLEY) (1993) #1 VARIANT (Kitchen Sink Publishing) Near Mint/Mint
THUMP'N GUTS (EASTMAN/BISLEY) (1993) #1 VARIANT B (Kitchen Sink Publishing) Near Mint/Mint
THUMP'N GUTS (EASTMAN/BISLEY) (1993) #1 VARIANT (Kitchen Sink Publishing) Very Fine
THUMP'N GUTS (EASTMAN/BISLEY) (1993) #1 VARIANT (Kitchen Sink Publishing) Fine
THUMP'N GUTS (EASTMAN/BISLEY) (1993) #1 VARIANT B (Kitchen Sink Publishing) Very Fine
THUMP'N GUTS (EASTMAN/BISLEY) (1993) #1 (Kitchen Sink Publishing) Very Fine

ULTRAMAN CLASSIC: BATTLE OF THE ULTRA BROTHERS #4 (Viz Comics) Fine
ULTRAMAN CLASSIC: BATTLE OF THE ULTRA BROTHERS #4 (Viz Comics) Very Fine
ULTRAMAN CLASSIC: BATTLE OF THE ULTRA BROTHERS #5 (Viz Comics) Fine
ULTRAMAN CLASSIC: BATTLE OF THE ULTRA BROTHERS #5 (Viz Comics) Near Mint/Mint

VELOCITY (2010) #3 (Image Top Cow) Near Mint/Mint
VELOCITY (2010) #4 (Image Top Cow) Very Fine


Y-THE LAST MAN (2002) #22 (DC: Vertigo Press) Near Mint/Mint