Even More Great Comic Books and Magazines 60% Off
Howdy!
I am back from my journey to Portland, Oregon. Aside from participating in the wonderful 60th anniversary Coronation of the Rose Court, I also worked on an awesome deal this weekend to purchase half a semi-trailer of great collectibles from a long time friend of mine who lives in Oregon. We closed the deal on Saturday, and I will be heading back to Portland in November to pack and load. As a part of closing the deal my friend gave me a wonderful Jim Silke original painting of Bettie Page (my drag name is Bettie Pages...) that I will be hanging in my drag room. I love my job!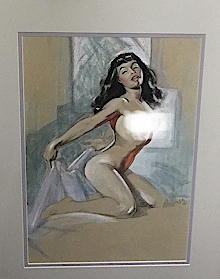 Bettie Page Original Art by Jim Silke

In addition to all of the above, I was also invited to participate in a special ceremony at Portland's The Roxy cafe for the unveiling of a beautiful painting of Harvey Milk. This painting was specially made for The Roxy proprietor the Lovely Suzanne Hale, in gratitude for her having been instrumental in having the name of the street in front of her cafe renamed for Harvey Milk. Very cool...
I will have more news for you on Wednesday, presuming that I can write. I have exploratory surgery scheduled for that day by a plastic surgeon on a skin cancer that was discovered on my upper lip. They are going to start cutting on me, and just keep going until they run out of cancer cells. My fingers are crossed that this doesn't turn out too badly. Wish me luck.
At the end of this newsletter are even more great comics that Will and Pam have been adding from the collections that we just purchased. Most are available to you right now at a staggering 60% off! when you utilize our ongoing HALLOWEEN! codeword sale. All ten million of our back issue comics and magazines are included in the 60% off sale. Only new issues, a few variants, and our professionally-graded comics are excluded. Please enjoy this awesome annual steep discount sale with our sincere thanks and gratitude for supporting our company.
Happy collecting!
Chuck Rozanski,
President - Mile High Comics, Inc.
October 22, 2018

P.S. Some of the comics just added:
MARVEL
ALL-NEW X-FACTOR (2014) #1 BLANK CVR Very Fine


ALL-NEW X-MEN (2012) (#1-41) #11

ALL-NEW X-MEN (2012) (#1-41) #11 Very Fine

AMAZING SPIDER-MAN (2018) (#1-UP) (MARVEL #1 OPENA Near Mint/Mint

ANGELA: QUEEN OF HEL (2015) #6 Near Mint/Mint

ANT-MAN (MARVEL) (2015) #5 MARVEL BOX Near Mint/Mint

BLACK PANTHER (2009) (#1-12 & #513-529) (MARVEL) #10 Very Fine

CAPTAIN MARVEL (2012) (#1-17) (MARVEL) #1 Very Fine
CAPTAIN MARVEL (2012) (#1-17) (MARVEL) #4 Near Mint/Mint
CAPTAIN MARVEL (2012) (#1-17) (MARVEL) #8 Very Fine
CAPTAIN MARVEL (2012) (#1-17) (MARVEL) #9 Very Fine

CAPTAIN MARVEL (2016) (#1-10) (MARVEL) #1 Near Mint/Mint
CAPTAIN MARVEL (2016) (#1-10) (MARVEL) #2 Very Fine

CARNAGE (2010) (#1-5) (MARVEL) #4 Fine

DOCTOR STRANGE (2015) (#1-26) (MARVEL) (DR. STRANGE) #4 Very Fine
DOCTOR STRANGE (2015) (#1-26) (MARVEL) (DR. STRANGE) #5 Near Mint/Mint

DR. STRANGE: WHAT IS IT THAT DISTURBS YOU, STEPHEN? #1 Near Mint/Mint

DRAX THE DESTROYER (2005) #4 Near Mint/Mint

GUARDIANS OF THE GALAXY (2013) (#0.1-27) (MARVEL) #24 NOTO Near Mint/Mint

HOWARD THE DUCK (2015) (MAY) (#1-5) #2 ASRAR B&W Very Fine

INVINCIBLE IRON MAN (2008) (#1-33 & 500-527) (MARVEL) #25 FOIL COVER Fine

SHE-HULK (1989) (#1-60) (SENSATIONAL SHE-HULK)(MARVEL) #40 Very Fine

SPIDER-MAN (1963) (AMAZING SPIDER-MAN) (#1-441) #425 Very Fine
SPIDER-MAN (1963) (AMAZING SPIDER-MAN) (#1-441) #426 Near Mint/Mint
SPIDER-MAN (1963) (AMAZING SPIDER-MAN) (#1-441) #430 Near Mint/Mint
SPIDER-MAN (1963) (AMAZING SPIDER-MAN) (#1-441) #431 Very Fine
SPIDER-MAN (1963) (AMAZING SPIDER-MAN) (#1-441) #432 VARIANT Very Fine

SPIDER-MAN/BLACK CAT: EVIL THAT MEN DO (2002) #5 Near Mint/Mint

ULTIMATE FANTASTIC FOUR (2003) #22 Very Fine
ULTIMATE FANTASTIC FOUR (2003) #23 Near Mint/Mint

WARLOCK (2004) (#1-4) (MARVEL) #4 Near Mint/Mint

WHAT IF DOCTOR DOOM HAD BECOME THE THING (2004) #1 Near Mint/Mint

WHAT IF MAGNETO FORMED THE X-MEN WITH PROFESSOR X (2004) #1 Near Mint/Mint


WOLVERINE (2003) (#1-90 & 900) (MARVEL) #68

WOLVERINE (2003) (#1-90 & 900) (MARVEL) #68 Fine

X 23 (2005) (#1-6) (MARVEL NEXT) #2 LIMITED ED Fine
X 23 (2005) (#1-6) (MARVEL NEXT) #4 Very Good

X-FORCE (2008) (#1-28) (MARVEL) #6 VARIANT Fine

X-MEN (1963) (#1-113, UNCANNY X-MEN #114-544) (MARVEL) #94 Very Good
X-MEN (1963) (#1-113, UNCANNY X-MEN #114-544) (MARVEL) #465 Near Mint/Mint
X-MEN (1963) (#1-113, UNCANNY X-MEN #114-544) (MARVEL) #466 NEWSSTAND Very Good
X-MEN (1963) (#1-113, UNCANNY X-MEN #114-544) (MARVEL) #494 Near Mint/Mint
X-MEN (1963) (#1-113, UNCANNY X-MEN #114-544) (MARVEL) #501 Near Mint/Mint
X-MEN (1963) (#1-113, UNCANNY X-MEN #114-544) (MARVEL) #502 Near Mint/Mint

X-MEN (1991) (#1-275) (MARVEL) #206 Very Fine
X-MEN (1991) (#1-275) (MARVEL) #214 Fine

X-MEN COLOSSUS: BLOODLINE (2005) #5 Very Fine

X-MEN ORIGINS: JEAN GREY (2008) #1 Near Mint/Mint

X-MEN: EMPEROR VULCAN (2007) #4 Near Mint/Mint

X-MEN: PHOENIX ENDSONG (2005) #3 VARIANT Near Mint/Mint

DC

BATGIRL (2011) (#0-52) (DC NEW52) #1

BATGIRL (2011) (#0-52) (DC NEW52) #1 Fine

BATMAN (2011) (#0-52) (DC NEW52) #18 SKETCH CV Very Fine
BATMAN (2011) (#0-52) (DC NEW52) #43 BOMBSHELL Near Mint/Mint

BATMAN & ROBIN ADVENTURES: SUB-ZERO (1998) #1 Fine

BATMAN: GOTHAM ADVENTURES (1998) #12 Fine
BATMAN: GOTHAM ADVENTURES (1998) #21 Fine

BATMAN: SHADOW OF THE BAT (1992) #83 Very Fine
BATMAN: SHADOW OF THE BAT (1992) #93 Very Fine

BATMAN: THE LONG HALLOWEEN (JEPH LOEB) (TIM SALE) (1996) #2 Fine

BEFORE WATCHMEN: SILK SPECTRE (2012) #1 Very Fine

DANGER GIRL: BACK IN BLACK (2005) #1 (DC/Wildstorm) Near Mint/Mint

DC: NEW FRONTIER (2004) #5 Near Mint/Mint

DMZ (2005) #1 (DC: Vertigo Press) Near Mint/Mint
DMZ (2005) #1 (DC: Vertigo Press) Fine
DMZ (2005) #14 (DC: Vertigo Press) Very Fine
DMZ (2005) #25 (DC: Vertigo Press) Near Mint/Mint

SCALPED (2006) #13 Near Mint/Mint

SUPERMAN/BATMAN (2003) #11 Near Mint/Mint
SUPERMAN/BATMAN (2003) #11 NEWSSTAND Fine

WE 3 (2004) #1 (DC: Vertigo Press) Fine
WE 3 (2004) #1 (DC: Vertigo Press) Very Good

WONDER WOMAN (1987) (#0-226) (DC) #205 Very Fine

Y-THE LAST MAN (2002) #1 (DC: Vertigo Press) Very Fine
Y-THE LAST MAN (2002) #2 (DC: Vertigo Press) Very Fine
Y-THE LAST MAN (2002) #3 (DC: Vertigo Press) Very Fine
Y-THE LAST MAN (2002) #4 (DC: Vertigo Press) Very Fine
Y-THE LAST MAN (2002) #5 (DC: Vertigo Press) Fine
Y-THE LAST MAN (2002) #7 (DC: Vertigo Press) Fine
Y-THE LAST MAN (2002) #8 (DC: Vertigo Press) Fine
Y-THE LAST MAN (2002) #39 (DC: Vertigo Press) Very Fine

DARK HORSE COMICS
EVIL DEAD (2008) #1 Near Mint/Mint

FEAR AGENT (2007) (#17-32) (DARK HORSE) #17 Near Mint/Mint

SERGIO ARAGONES' LOUDER THAN WORDS #5 Near Mint/Mint
SERGIO ARAGONES' LOUDER THAN WORDS #6 Near Mint/Mint

IMAGE COMICS

SAVAGE DRAGON-THE SERIES (1993) (#1-UP) #134

SAVAGE DRAGON-THE SERIES (1993) (#1-UP) #134 Near Mint/Mint

WALKING DEAD (#1-UP) (IMAGE) (2003) #9 Near Mint/Mint
WALKING DEAD (#1-UP) (IMAGE) (2003) #14 Near Mint/Mint
WALKING DEAD (#1-UP) (IMAGE) (2003) #23 Very Fine

WITCHBLADE (1995) #81 (Image Top Cow) Very Fine
WITCHBLADE (1995) #93 (Image Top Cow) Near Mint/Mint
WITCHBLADE (1995) #121 (Image Top Cow) Fine

INDEPENDENTS
ARMY OF DARKNESS: HITCHED (DYNAMITE) (2014) #3 FRANCA VIR (DYNAMITE Entertainment) Very Fine

EVIL ERNIE VS. THE SUPERHEROES (1995) #2 (Chaos Comics) Very Fine

OZ THE MANGA (2005) #5 (Antarctic Press) Very Fine

SHADOWPLAY (2005) #4 WOOD (IDW Publishing) Near Mint/Mint

TRANSFORMERS: GENERATION ONE (2002) #1 CHROME (Dreamwave) Very Fine


VAMPI VICIOUS: RAMPAGE (2004) #1

VAMPI VICIOUS: RAMPAGE (2004) #1 (Harris Comics) Near Mint/Mint
VAMPI VICIOUS: RAMPAGE (2004) #1 (Harris Comics) Very Fine