50% Off All Comics and Magazines
Howdy!
After an incredibly busy weekend spent in Washington, D.C., I am back in Colorado today. The good news is that all seems to be running quite well at Mile High Comics, with a record number of fans visiting our Jason St. Mega-Store, and our online traffic also being quite vigorous. That is really excellent news, as September is typically a time of year when our business drops significantly. If we can minimize the diminishment effect this year of our annual September - November slowdown, then we will be in great shape heading into our extremely busy holiday season. Woo!
In case you are wondering, our current strong operating results directly benefit you because we reinvest pretty much everything that we earn. Simply put, I started off in life very poor, and have never desired an ostentatious lifestyle. As long as my old minivan runs, and I can afford to buy Bettie's makeup, I'm good. Where all of our money goes every day is into buying even more collections of old comics and books, and the shelving and/or showcases to display them. That is why our website inventory becomes even better for you every day, and also why Jason St. has evolved into such an absolute wonderland of awesome comics, books, toys, statues, and other collectibles. I may never be rich, but I do have the pleasure of making an incredibly large and diverse number of people very happy. I can live with that...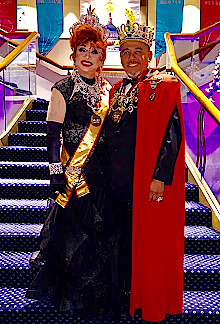 Bettie Pages and Emperor Henry Harrington of New York

Speaking of Bettie, I had a formal presentation on this past Saturday evening to all the guests attending this year's Imperial Court of Washington, D.C. Coronation Ball. My dear friend, Emperor Henry Harrington of New York, helped me to prepare the ball, and it all went beautifully. Thanks to his kindness, I received many positive comments about both my makeup, and my gown. I will be returning to Washington, D.C. on September 28th, for the National Transgender March on Washington. Then, I immediately fly back home for our next monthly Family-Friendly All-Ages Drag Show, on the 29th. Whew.
I will close by quickly mentioning that my beloved wife, Nanette, will be celebrating her birthday on Saturday. She willingly takes on the thankless task of paying our bills at Mile High Comics, so if you want to help to make her smile a little on her birthday, just place an order with us this week utilizing our new 50% off NANETTE! codeword. The NANETTE! codeword applies to all ten million+ of our back issue comics and magazines listed on our huge website, excepting only new issues, a few variants, and our professionally-graded issues.
Happy collecting!
Chuck Rozanski/Bettie Pages,
President - Mile High Comics, Inc.
September 9, 2019

P.S. Will Moulton was on vacation this past week, but Pam and Gordon were able to add a nice batch of comics from new collections for you into New-In-Stock and Premium New-In-Stock. Most are half of list price when you utilize the NANETTE! codeword at checkout. Enjoy!
MARVEL
AMAZING SPIDER-MAN (1999) (#1-58, #500-700.5) (MARVEL) #533 Near Mint/Mint
AMAZING SPIDER-MAN (1999) (#1-58, #500-700.5) (MARVEL) #534 Near Mint/Mint
AMAZING SPIDER-MAN (1999) (#1-58, #500-700.5) (MARVEL) #537 Near Mint/Mint


AVENGING SPIDER-MAN (2011) #1 RAMOS CVR Very Fine
AVENGING SPIDER-MAN (2011) #1 RAMOS CVR Fine

CAPTAIN AMERICA (2004) (#1-50, 600-619) (MARVEL) #25 Very Fine

CAPTAIN AMERICA (2013) (#1-25) (MARVEL) #25 HUGHES Near Mint/Mint

CIVIL WAR (2006) (#1-7) #1 Fine
CIVIL WAR (2006) (#1-7) #2 Near Mint/Mint
CIVIL WAR (2006) (#1-7) #5 Near Mint/Mint
CIVIL WAR (2006) (#1-7) #6 TURNER Near Mint/Mint
CIVIL WAR (2006) (#1-7) #7 TURNER Near Mint/Mint

CIVIL WAR: THE CONFESSION (2006) #1 2ND PRINT Near Mint/Mint

DAREDEVIL (1964) (#1-380) (MAN WITHOUT FEAR) (MARVEL) #1 WIZARD ACE Fine

DAREDEVIL (1998) (#1-119, 500-512) (MARVEL) #1 DFE VAR. Very Fine
DAREDEVIL (1998) (#1-119, 500-512) (MARVEL) #1 WIZARD 1/2 Near Mint/Mint
DAREDEVIL (1998) (#1-119, 500-512) (MARVEL) #2 VARIANT Fine
DAREDEVIL (1998) (#1-119, 500-512) (MARVEL) #2 Very Fine
DAREDEVIL (1998) (#1-119, 500-512) (MARVEL) #3 Near Mint/Mint
DAREDEVIL (1998) (#1-119, 500-512) (MARVEL) #5 Near Mint/Mint
DAREDEVIL (1998) (#1-119, 500-512) (MARVEL) #5 VARIANT Very Fine
DAREDEVIL (1998) (#1-119, 500-512) (MARVEL) #6 Near Mint/Mint
DAREDEVIL (1998) (#1-119, 500-512) (MARVEL) #8 Near Mint/Mint
DAREDEVIL (1998) (#1-119, 500-512) (MARVEL) #9 Fine
DAREDEVIL (1998) (#1-119, 500-512) (MARVEL) #15 Near Mint/Mint
DAREDEVIL (1998) (#1-119, 500-512) (MARVEL) #28 Near Mint/Mint
DAREDEVIL (1998) (#1-119, 500-512) (MARVEL) #30 Very Fine
DAREDEVIL (1998) (#1-119, 500-512) (MARVEL) #34 Near Mint/Mint
DAREDEVIL (1998) (#1-119, 500-512) (MARVEL) #35 Near Mint/Mint
DAREDEVIL (1998) (#1-119, 500-512) (MARVEL) #36 Near Mint/Mint
DAREDEVIL (1998) (#1-119, 500-512) (MARVEL) #49 Near Mint/Mint
DAREDEVIL (1998) (#1-119, 500-512) (MARVEL) #58 Very Fine
DAREDEVIL (1998) (#1-119, 500-512) (MARVEL) #71 Near Mint/Mint
DAREDEVIL (1998) (#1-119, 500-512) (MARVEL) #79 Near Mint/Mint
DAREDEVIL (1998) (#1-119, 500-512) (MARVEL) #83 Near Mint/Mint
DAREDEVIL (1998) (#1-119, 500-512) (MARVEL) #84 Near Mint/Mint
DAREDEVIL (1998) (#1-119, 500-512) (MARVEL) #86 Near Mint/Mint


DAREDEVIL (1998) (#1-119, 500-512) (MARVEL) #100 BERMEJO Near Mint/Mint
DAREDEVIL (1998) (#1-119, 500-512) (MARVEL) #100 TURNER Near Mint/Mint
DAREDEVIL (1998) (#1-119, 500-512) (MARVEL) #100 WRAPAROUND Near Mint/Mint
DAREDEVIL (1998) (#1-119, 500-512) (MARVEL) #105 Near Mint/Mint
DAREDEVIL (1998) (#1-119, 500-512) (MARVEL) #111 Fine
DAREDEVIL (1998) (#1-119, 500-512) (MARVEL) #111 2ND PRINT Fine
DAREDEVIL (1998) (#1-119, 500-512) (MARVEL) #111 AJA Very Fine
DAREDEVIL (1998) (#1-119, 500-512) (MARVEL) #111 VARIANT Fine
DAREDEVIL (1998) (#1-119, 500-512) (MARVEL) #112 Very Fine
DAREDEVIL (1998) (#1-119, 500-512) (MARVEL) #112 ZOMBIE Fine
DAREDEVIL (1998) (#1-119, 500-512) (MARVEL) #113 Near Mint/Mint
DAREDEVIL (1998) (#1-119, 500-512) (MARVEL) #114 VARIANT Very Fine
DAREDEVIL (1998) (#1-119, 500-512) (MARVEL) #116 Near Mint/Mint
DAREDEVIL (1998) (#1-119, 500-512) (MARVEL) #117 Near Mint/Mint
DAREDEVIL (1998) (#1-119, 500-512) (MARVEL) #500 Near Mint/Mint
DAREDEVIL (1998) (#1-119, 500-512) (MARVEL) #500 70TH ANN Near Mint/Mint
DAREDEVIL (1998) (#1-119, 500-512) (MARVEL) #500 DARROW Fine
DAREDEVIL (1998) (#1-119, 500-512) (MARVEL) #500 DELL OTTO Fine
DAREDEVIL (1998) (#1-119, 500-512) (MARVEL) #505 Very Fine
DAREDEVIL (1998) (#1-119, 500-512) (MARVEL) #506 Very Fine
DAREDEVIL (1998) (#1-119, 500-512) (MARVEL) #509 2ND PRINT Near Mint/Mint

DAREDEVIL (2011) (#1-36) (MARVEL) #1 MARTIN Very Fine
DAREDEVIL (2011) (#1-36) (MARVEL) #1 Very Fine
DAREDEVIL (2011) (#1-36) (MARVEL) #3 Near Mint/Mint
DAREDEVIL (2011) (#1-36) (MARVEL) #4 Near Mint/Mint
DAREDEVIL (2011) (#1-36) (MARVEL) #5 Near Mint/Mint
DAREDEVIL (2011) (#1-36) (MARVEL) #7 Near Mint/Mint
DAREDEVIL (2011) (#1-36) (MARVEL) #9 Near Mint/Mint
DAREDEVIL (2011) (#1-36) (MARVEL) #10 Near Mint/Mint
DAREDEVIL (2011) (#1-36) (MARVEL) #11 Near Mint/Mint
DAREDEVIL (2011) (#1-36) (MARVEL) #15 Near Mint/Mint
DAREDEVIL (2011) (#1-36) (MARVEL) #21 Fine


DAREDEVIL: BLACK & WHITE (2010) #1 Fine

DAREDEVIL: END OF DAYS (2012) #2 Near Mint/Mint

DAREDEVIL: FATHER (2004) #6 Near Mint/Mint

DEATH OF WOLVERINE: DEADPOOL & CAPTAIN AMERICA (2014) #1 2ND PRINT Near Mint/Mint

DRAX (2015) #2 LIM Very Fine
DRAX (2015) #2 STOKOE Near Mint/Mint

ESSENTIAL DEFENDERS TPB (2005) #4 Near Mint/Mint
ESSENTIAL DEFENDERS TPB (2005) #7 Near Mint/Mint

ESSENTIAL PUNISHER TPB (2004) #3 Near Mint/Mint

ESSENTIAL WOLVERINE TPB #6 Near Mint/Mint

GHOST RIDER (1990) (#1-94) (MARVEL) #50 DELUXENEWS Very Good

GHOST RIDER: RESURRECTED TPB (1997) #1 Very Fine

GUARDIANS 3000 (2014) #1 SANDOVAL Near Mint/Mint

GUARDIANS OF THE GALAXY (2013) (#0.1-27) (MARVEL) #1 DEADPOOL Near Mint/Mint
GUARDIANS OF THE GALAXY (2013) (#0.1-27) (MARVEL) #2 RIVERA Very Fine
GUARDIANS OF THE GALAXY (2013) (#0.1-27) (MARVEL) #2 RIVERA Fine
GUARDIANS OF THE GALAXY (2013) (#0.1-27) (MARVEL) #4 GRANOV Very Fine
GUARDIANS OF THE GALAXY (2013) (#0.1-27) (MARVEL) #7 RIVERA Fine
GUARDIANS OF THE GALAXY (2013) (#0.1-27) (MARVEL) #25 HENDERSON Near Mint/Mint

GUARDIANS OF THE GALAXY (2015) (#1-19) (MARVEL) #1 SCHITI Near Mint/Mint
GUARDIANS OF THE GALAXY (2015) (#1-19) (MARVEL) #1 SKETCH CV Very Fine

GUARDIANS OF THE GALAXY & X-MEN: BLACK VORTEX ALPHA (2015) #1 LOZANO Near Mint/Mint
GUARDIANS OF THE GALAXY & X-MEN: BLACK VORTEX ALPHA (2015) #1 SORRENTINO Near Mint/Mint

GUARDIANS OF THE GALAXY: GALAXY'S MOST WANTED (2014) #1 SKETCH CV Fine


HOWARD THE DUCK (2015) (MAY) (#1-5) #1 MOVIE CVR Near Mint/Mint

HULK (1962) (#1-6, #102-474, #600-635)(INCREDIBLE)(MV) #105 Fine

HULK (1999) (#1-112) (MARVEL) #34 Near Mint/Mint

IMPOSSIBLE MAN TPB (2011) #1 Very Fine

INFINITY CRUSADE (1993) #1 NEWSSTAND Very Good
INFINITY CRUSADE (1993) #2 NEWSSTAND Fine
INFINITY CRUSADE (1993) #5 NEWSSTAND Very Fine
INFINITY CRUSADE (1993) #6 Fine

INVINCIBLE IRON MAN (2015) (#1-14) (MARVEL) #1 MARQUEZ Near Mint/Mint
INVINCIBLE IRON MAN (2015) (#1-14) (MARVEL) #1 PUTRI B&W Near Mint/Mint
INVINCIBLE IRON MAN (2015) (#1-14) (MARVEL) #1 TIMM Near Mint/Mint

KILLRAVEN GN (1983) #1 Fine
KILLRAVEN GN (1983) #1 Very Good

LIST TPB (2010) #1 Fine

MARVEL MILESTONE EDITION: GIANT SIZE X-MEN (1991) #1 Fine

MARVEL MILESTONE EDITION: HULK (1992) #1 Very Good

MARVEL UNIVERSE ROLEPLAYING GAME: GUIDE TO HULK & HC (2003) #1 Fine

NEW AVENGERS (2015) (#1-UP) (MARVEL) #1 CHO Near Mint/Mint

OZ: MARVELOUS LAND OF OZ TPB (2ND EDITION) (2012) #1 Near Mint/Mint

PUNISHER: ASSASSIN'S GUILD GN (1988) #1 Very Good

RED SKULL: INCARNATE TPB (2012) #1 Very Fine

SHADOWLAND (2010) (#1-5) (MARVEL) #2 2ND PRINT Near Mint/Mint

SIEGE: EMBEDDED TPB (2010) #1 Near Mint/Mint


SILVER SURFER (1982) (#1) (MARVEL) #1 Fine

SILVER SURFER (1987) (#1-146) (MARVEL) #1 Fine

SPIDER-MAN/DEADPOOL (2015) #1 SLINEY Fine

SPIDER-MAN: GAUNTLET VOL. 4: JUGGERNAUT HC (2010) #1 Near Mint/Mint

SPIDER-WOMAN (2009) (#1-7) (JESSICA DREW) (MARVEL) #1 2ND PRINT Very Fine
SPIDER-WOMAN (2009) (#1-7) (JESSICA DREW) (MARVEL) #1 2ND PRINT Fine
SPIDER-WOMAN (2009) (#1-7) (JESSICA DREW) (MARVEL) #3 Near Mint/Mint
SPIDER-WOMAN (2009) (#1-7) (JESSICA DREW) (MARVEL) #5 Near Mint/Mint
SPIDER-WOMAN (2009) (#1-7) (JESSICA DREW) (MARVEL) #7 Very Fine

STAR COMICS: ALL-STAR COLLECTION TPB (2009) #2 Near Mint/Mint
STAR COMICS: ALL-STAR COLLECTION TPB (2009) #3 Near Mint/Mint

STEVE ROGERS: SUPER SOLDIER PREMIERE HC (2011) #1 Near Mint/Mint

THANOS: INFINITY RELATIVITY HC (2015) #1 Near Mint/Mint

THOR: RESURRECTION TPB #1 Fine

THOR: SIEGE AFTERMATH TPB (2010) #1 Near Mint/Mint

THOR: SUNLIGHT & SHADOWS TPB (2013) #1 Near Mint/Mint

ULTIMATES (2002) #5 Near Mint/Mint
ULTIMATES (2002) #9 Near Mint/Mint


VENOM: ENEMY WITHIN (1994) #1 Very Good

VENOM: LETHAL PROTECTOR (1993) #1 NEWSSTAND Very Fine
VENOM: LETHAL PROTECTOR (1993) #2 Fine
VENOM: LETHAL PROTECTOR (1993) #5 Fine
VENOM: LETHAL PROTECTOR (1993) #6 Fine

VENOM: THE MACE (1994) #1 Fine
VENOM: THE MACE (1994) #2 Very Good
VENOM: THE MACE (1994) #3 Very Good

WAR OF KINGS TPB (2010) #1 Near Mint/Mint

WARRIORS THREE: DOG DAY AFTERNOON TPB (2011) #1 Near Mint/Mint

WEAPON X VOL. 3: MODERN WARFARE TPB (2018) #1 Near Mint/Mint

WEAPON X VOL. 5: WEAPON X-FORCE TPB (2019) #1 Near Mint/Mint

WOLVERINE (2010) (#1-20, 300-317, & 1000) (MARVEL) #1000 VARIANT Near Mint/Mint

WOLVERINE: COVENANT TPB (2013) #1 Near Mint/Mint

WOLVERINE: WEAPON X VOL. 3: TOMORROW DIES TODAY TPB (2011) #1 Near Mint/Mint

X-MEN: DEADLY GENESIS TPB (2006) #1 Near Mint/Mint

DC
ACTION COMICS (1938) (#0-600, 643-904) (DC) #1 88 REPRINT Very Fine

BATMAN (1940) (#0-713) (DC) #182 Good

ELVIRA'S HOUSE OF MYSTERY (1986) #11 NEWSSTAND Very Good

JLA: TENTH CIRCLE TPB (VOL. 15) (2004) #1 Very Fine

JLA: WORLD WITHOUT A JUSTICE LEAGUE TPB (VOL. 19) (2006) #1 Fine


JOKER (1975) #2 Fine

JSA: BLACK VENGEANCE TPB (VOL. 10) (2006) #1 Very Fine

JUSTICE LEAGUE BEYOND: KONSTRICTION TPB (2013) #1 Fine

LOONEY TUNES (1994) (#1-UP) (DC) #1 NEWSSTAND Good
LOONEY TUNES (1994) (#1-UP) (DC) #2 NEWSSTAND Very Good

NIGHTWING (1995) (#1-4) (DC) #2 Very Fine

NIGHTWING (1996) (#1-153) (DC) #6 NEWSSTAND Very Good

RED MENACE TPB (2007) #1 Near Mint/Mint

RED TORNADO: FAMILY REUNION TPB (2010) #1 Very Fine

ROBIN VOL. 2: TRIUMPHANT TPB (2016) #1 Fine

SENTENCES: LIFE OF M.F. GRIMM HC (2007) #1 Near Mint/Mint

SUPERGIRL VOL. 6: CRUCIBLE TPB (2015) #1 Near Mint/Mint


SUPERGIRL: BEYOND GOOD AND EVIL TPB (2008) #1 Very Fine

SUPERMAN VOL. 5: UNDER FIRE HC (2015) #1 Near Mint/Mint

TAZ'S 40TH BIRTHDAY BLOWOUT (LOONEY TUNES) GIVEAWAY (1994) #1 Very Good

V FOR VENDETTA (1988) #2 Near Mint/Mint
V FOR VENDETTA (1988) #3 Fine
V FOR VENDETTA (1988) #9 Very Fine

WARLORD: THE SAGA TPB (2010) #1 Near Mint/Mint

WORLDS FINEST (1941) (#2-323) (DC) (WORLD'S FINEST) #179 REPLICA ED Fine

DARK HORSE COMICS
PREDATOR: HUNTERS TPB (2018) #1 Very Fine

RECESS PIECES HC (2006) #1 Fine

RING OF THE NIBELUNG TPB (2002) #1 Very Fine

TARZAN VS. PREDATOR: AT EARTH'S CORE TPB #1 Near Mint/Mint

IMAGE COMICS
BLACK SCIENCE (2013) (#1-UP) (IMAGE) #2 B Near Mint/Mint
BLACK SCIENCE (2013) (#1-UP) (IMAGE) #4 Near Mint/Mint

CHEW (2009) #1 4TH PRINT Very Good
CHEW (2009) #4 Very Good
CHEW (2009) #5 Near Mint/Mint
CHEW (2009) #5 Very Fine
CHEW (2009) #8 Fine
CHEW (2009) #9 Fine
CHEW (2009) #22 Near Mint/Mint
CHEW (2009) #24 Near Mint/Mint
CHEW (2009) #25 Near Mint/Mint
CHEW (2009) #26 Near Mint/Mint


CHEW (2009) #28 Near Mint/Mint
CHEW (2009) #29 Near Mint/Mint
CHEW (2009) #30 Near Mint/Mint
CHEW (2009) #46 Near Mint/Mint
CHEW (2009) #47 Near Mint/Mint
CHEW (2009) #48 Near Mint/Mint

CHEW: WARRIOR CHICKEN POYO (2014) #1 Near Mint/Mint

CHRONONAUTS (2015) #1 C SHALVEY Near Mint/Mint
CHRONONAUTS (2015) #2 A Near Mint/Mint
CHRONONAUTS (2015) #4 A Near Mint/Mint

EAST OF WEST (2013) #1 Near Mint/Mint
EAST OF WEST (2013) #2 Near Mint/Mint
EAST OF WEST (2013) #4 Near Mint/Mint
EAST OF WEST (2013) #5 Near Mint/Mint
EAST OF WEST (2013) #6 Near Mint/Mint
EAST OF WEST (2013) #8 Near Mint/Mint
EAST OF WEST (2013) #9 Near Mint/Mint
EAST OF WEST (2013) #10 Near Mint/Mint
EAST OF WEST (2013) #12 Near Mint/Mint
EAST OF WEST (2013) #14 Near Mint/Mint
EAST OF WEST (2013) #15 Near Mint/Mint
EAST OF WEST (2013) #16 D Near Mint/Mint
EAST OF WEST (2013) #17 Near Mint/Mint
EAST OF WEST (2013) #18 Near Mint/Mint

INVINCIBLE (2003) #33 Near Mint/Mint
INVINCIBLE (2003) #38 Near Mint/Mint
INVINCIBLE (2003) #38 Very Fine
INVINCIBLE (2003) #39 Near Mint/Mint
INVINCIBLE (2003) #40 Near Mint/Mint
INVINCIBLE (2003) #47 Near Mint/Mint
INVINCIBLE (2003) #51 Fine
INVINCIBLE (2003) #89 Near Mint/Mint
INVINCIBLE (2003) #100 CHROMIUM Very Fine
INVINCIBLE (2003) #129 Very Fine


LOADED BIBLE BOOK 1: JESUS VS. VAMPIRES GOSPELS TPB (2010) #1 2ND PRINT Near Mint/Mint

NOWHERESVILLE TPB (2002) #1 Near Mint/Mint

ONE TRICK RIP-OFF/DEEP-CUTS TPB (2013) #1 Near Mint/Mint

POSEURS TPB (2011) #1 Near Mint/Mint

RED DIARIES TPB (2006) #1 Near Mint/Mint

ROCHE LIMIT TPB (2015) #1 Near Mint/Mint

SPAWN (1992) #1 Fine

SPAWN/BATMAN (1994) #1 Very Fine

WALKING DEAD (2003) (#1-193) (IMAGE) #76 Fine
WALKING DEAD (2003) (#1-193) (IMAGE) #77 Fine
WALKING DEAD (2003) (#1-193) (IMAGE) #78 Very Fine
WALKING DEAD (2003) (#1-193) (IMAGE) #79 Very Good
WALKING DEAD (2003) (#1-193) (IMAGE) #100 A Near Mint/Mint
WALKING DEAD (2003) (#1-193) (IMAGE) #100 D Near Mint/Mint
WALKING DEAD (2003) (#1-193) (IMAGE) #100 E Very Fine
WALKING DEAD (2003) (#1-193) (IMAGE) #148 Very Fine
WALKING DEAD (2003) (#1-193) (IMAGE) #150 A ADLARD Very Fine
WALKING DEAD (2003) (#1-193) (IMAGE) #156 Near Mint/Mint
WALKING DEAD (2003) (#1-193) (IMAGE) #160 B ADAMS Near Mint/Mint
WALKING DEAD (2003) (#1-193) (IMAGE) #176 A ADLARD Near Mint/Mint

WICKED + THE DIVINE (2014) #1 A Fine

INDEPENDENTS
FANTASTIC FOUR: SECRET STORY TPB (IDEALS) #1 (IDEALS) Very Fine

FREELANCERS (2012) #6 C (Boom Studios Publishing) Fine

GEN-13: MEANWHILE TPB (2003) #1 (DC/Wildstorm) Near Mint/Mint

GOLDEN LEGACY (1966) #2 (Fitzgerald Publishing Co.) Good
GOLDEN LEGACY (1966) #3 (Fitzgerald Publishing Co.) Good

MAISON IKKOKU: FAMILY AFFAIRS GN (VOL. 2) (1995) #1 6TH PRINT (Viz Comics) Near Mint/Mint


ONE BAD DAY GN (2003) #1 (Oni Press Inc.) Very Fine

ONE SMALL VOICE TPB (2008) #1 (IDW Publishing) Near Mint/Mint

ONYX TPB (2016) #1 (IDW Publishing) Near Mint/Mint

OPERATION NEMESIS TPB (2015) #1 (Devil's Due) Very Fine

PLANETARY BRIGADE TPB (2007) #1 (Boom Studios Publishing) Near Mint/Mint

PLAY BALL HC (2012) #1 (Oni Press Inc.) Very Fine

POSSESSIONS VOL. 3: BETTER HOUSE TRAP TPB (2012) #1 (Oni Press Inc.) Near Mint/Mint

POTTER'S FIELD TPB (2011) #1 (Boom Studios Publishing) Near Mint/Mint

POUND VOL. 2: GHOULS NIGHT OUT TPB (2013) #1 (IDW Publishing) Very Fine

RE-ANIMATOR TPB (2016) #1 (DYNAMITE Entertainment) Near Mint/Mint

RECONCILERS TPB (2010) #1 (Viking Press) Near Mint/Mint

RED MONKEY: DOUBLE HAPPINESS BOOK HC (2009) #1 (Fantagraphics) Very Fine

REVELATIONS TPB (2015) #1 (Boom Studios Publishing) Very Fine

SONIC THE HEDGEHOG-THE SERIES (1993) (#1-290) (ARCHIE) #137 NEWSSTAND (Archie Comics) Good

TILTING AT WINDMILLS SC (2003) #2 (IDW Publishing) Near Mint/Mint

TRANSMETROPOLITAN: BACK ON THE STREET TPB (VOL.1) (2009) #1 2ND PRINT (DC: Vertigo Press) Near Mint/Mint

VAMPIRES: DRACULA AND THE UNDEAD LEGIONS SC (2009) #1 (Moonstone) Fine

WAMPUS TPB (2006) #1 (BLACK COAT PRESS) Near Mint/Mint
WAMPUS TPB (2006) #1 (BLACK COAT PRESS) Very Fine

WASTELAND TPB (1990) #1 (DC: Piranha Press) Very Fine


WASTELAND VOL. 5: TALES OF THE UNINVITED TPB (2009) #1 (Oni Press Inc.) Very Fine

WASTELAND VOL. 6: ENEMY WITHIN TPB (2011) #1 (Oni Press Inc.) Very Fine

WASTELAND VOL. 7: UNDER THE GOD TPB (2012) #1 (Oni Press Inc.) Near Mint/Mint

WASTELAND: BLACK STEEL IN THE HOUR OF CHAOS TPB (VOL. 3 (2008) #1 (Oni Press Inc.) Near Mint/Mint

WASTELAND: DOG TRIBE TPB (VOL. 4) (2009) #1 (Oni Press Inc.) Very Fine

WATERWISE GN (2004) #1 (Alternative Press) Very Fine

Y-THE LAST MAN (2002) #59 (DC: Vertigo Press) Very Fine

ZORRO RIDES AGAIN TPB (2012) #1 (DYNAMITE Entertainment) Near Mint/Mint

ZORRO RIDES AGAIN VOL. 2: WRAITH OF LADY ZORRO TPB (2014) #1 (DYNAMITE Entertainment) Near Mint/Mint

ZORRO VOL. 2: CLASHING BLADES TPB (2010) #1 (DYNAMITE Entertainment) Very Fine

ZORRO VOL. 3: TALES OF THE FOX TPB (2011) #1 (DYNAMITE Entertainment) Near Mint/Mint

ZORRO: YEAR ONE HC (2008) #1 VARIANT (DYNAMITE Entertainment) Fine