1,500 More Silver Age Comics Just Arrived - 60% Off
Howdy!
I returned home from New Mexico late last evening, after driving my little minivan 920 miles (round trip) to deliver a load of 1,400 lbs much-needed food for Albuquerque's homeless and disabled citizens. My awesome friend, Twotone Grant, runs a onderful volunteer organization in ABQ called "A Light In the Night," which helps those who are most in need. She has no easy access to food supplies, however, and thus has to rely entirely upon donations. If you live in NM and have some extra canned goods or used clothes that you can spare, please get in contact with her. She is on FB under Twotone Grant, as is "A Light In the Night." While very small, ALITN is a registered 501 C3 charity...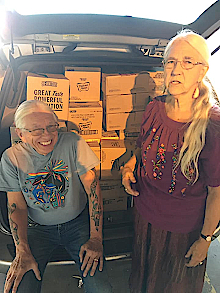 Van full of food for the "A Light In the Night"

In other news, our ongoing efforts to support the Transgender and gender-questioning young people of Denver by hosting monthly family-friendly drag shows has begun to garner both increased protests, and also national media attention. The Comic Book Legal Defense Fund just published a very well-researched article, which you can read here: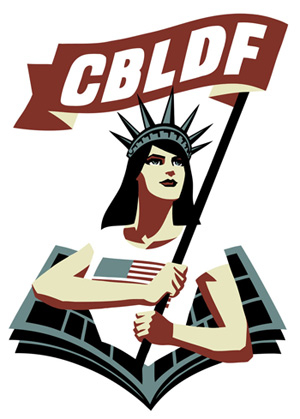 Comic Book Legal Defense Fund article

In case you did not know, I was awarded the prestigious CBLDF "Defender of Liberty" award 16 years ago for my decades of advocacy of free speech in comics publishing. Other annual winners include Jim Lee, Alan Moore, and Denis Kitchen. It drips with irony that I am now supporting the rights of homophobic bigots to spew vile nonsense about our shows (which they've never even seen...), but that's the way that freedom of speech works. Everyone is entitled to their opinion, and as long as it doesn't specifically advocate harm, it can be as provocative as they want.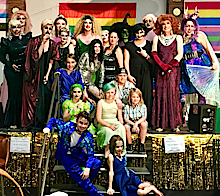 Performers from our 6th All-Ages Family-Friendly Drag Show

Just so you know, I have received numerous thinly-veiled death threats, and euphemistically expressed wishes that our store would burn down, since we began hosting shows for the kids. The folks that are actively trying to shut our shows down are not kind, but the ones that live in the anonymity of Cyberspace are even more ominous. There's not a thing I can do about their prejudice and hatred except to continue to host our shows, and to protect our performers and their families as best that I can. At the end of the day, there can be no giving in to fear or intimidation. 'Nuff said.
In other news, Will Moulton and Pam Brandle have continue to buy great collections of awesome comics at a pace that is (literally) unprecedented in our history. Just this morning, for example, Will purchased 1,500+ 1950's-1970's comics from the estate of a longtime collector. DAREDEVIL #1, X-MEN #3, and a slew of other Marvel and DC Silver Age issues were among the highlights. In addition, Will purchased a huge collection yesterday that included CHEW #1-up, and an amazing spectrum of other scarce modern issues. This is just wonderful!
I will close by mentioning that our 60% off LABORDAY! codeword sale is in effect for you only through next Tuesday. Our online has picked up considerably over the past 60 days, so we will ratcheting down our discounts this fall so as to not fall behind in our shipping. For the next four days, however, you can still shop through all ten million+ of our back issue comics and magazines at 60% off. Only new issues, a few variants, and our professionally-graded comics are exempt.
Happy collecting!
Chuck Rozanski/Bettie Pages,
President - Mile High Comics, Inc.
August 30, 2019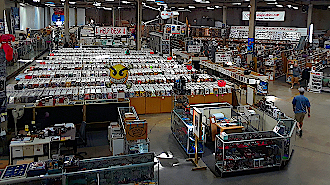 The front of our 65,000 square foot Jason Street Mega Store

P.S. If you live in Colorado, or are passing through over this weekend, you absolutely need to stop by the Jason St. Mega-Store before we close on Monday. We are having a huge end of the summer 40-50% off sale on all of our books, Funko Pop! figures, statues, posters, action figures, and much more. This sale is purely intended as a "Thank you!" to all of our local customers, so you do need to stop by the store (only) to take advantage of these incredible deals.
Here are some newly-arrived issues for you. The 60% off LABORDAY! codeword applies to all:
MARVEL
ABSOLUTE CARNAGE VS. DEADPOOL (2019) #1 FERRY VIR Near Mint/Mint


ALL-NEW X-MEN (2012) (#1-41) #1 MILE HIGH

ALL-NEW X-MEN (2012) (#1-41) #1 MILE HIGH Very Fine

AMAZING SPIDER-MAN (1999) (#1-58, #500-700.5) (MARVEL) #529 Fine

AMAZING SPIDER-MAN (2015) (#1-32) (MARVEL) #15 Very Fine

AMAZING SPIDER-MAN (2018) (#1-UP) (MARVEL) #25 STEGMAN Very Fine

AMAZING SPIDER-MAN SUPER SPECIAL: PLANET OF THE SYMBIOT (1995) #1 Very Fine

ANNIHILATION CLASSIC HC (MARVEL) (2008) #1 Very Fine

AVENGERS: THE CROSSING OMNIBUS HC (2012) #1 SCHERBERGR Very Fine

AXIS: CARNAGE (MARVEL) (SPIDER-MAN) (2014) #1 Near Mint/Mint

BLACK CAT (2019) (#1-UP) (MARVEL) #2 VIRGIN CVR Near Mint/Mint

BLACK PANTHER (1976) (#1-15) (MARVEL) #1 Fine

CABLE AND DEADPOOL (2003) #24 Very Fine

CAPTAIN AMERICA (1968) (#100-454) (MARVEL) #104 Good

CAPTAIN AMERICA: STEVE ROGERS (2016) #1 Near Mint/Mint

CARNAGE (2010) (#1-5) (MARVEL) #1 Near Mint/Mint
CARNAGE (2010) (#1-5) (MARVEL) #2 Near Mint/Mint
CARNAGE (2010) (#1-5) (MARVEL) #3 Near Mint/Mint

CARNAGE: USA (2011) #1 Near Mint/Mint

DAREDEVIL (1964) (#1-380) (MAN WITHOUT FEAR) (MARVEL) #71 Very Good
DAREDEVIL (1964) (#1-380) (MAN WITHOUT FEAR) (MARVEL) #176 Fine
DAREDEVIL (1964) (#1-380) (MAN WITHOUT FEAR) (MARVEL) #178 Very Good
DAREDEVIL (1964) (#1-380) (MAN WITHOUT FEAR) (MARVEL) #179 Very Good
DAREDEVIL (1964) (#1-380) (MAN WITHOUT FEAR) (MARVEL) #180 NEWSSTAND Good
DAREDEVIL (1964) (#1-380) (MAN WITHOUT FEAR) (MARVEL) #181 NEWSSTAND Good
DAREDEVIL (1964) (#1-380) (MAN WITHOUT FEAR) (MARVEL) #183 NEWSSTAND Very Good
DAREDEVIL (1964) (#1-380) (MAN WITHOUT FEAR) (MARVEL) #228 Fine
DAREDEVIL (1964) (#1-380) (MAN WITHOUT FEAR) (MARVEL) #229 NEWSSTAND Very Good


DAREDEVIL (1964) (#1-380) (MAN WITHOUT FEAR) (MARVEL) #232

DAREDEVIL (1964) (#1-380) (MAN WITHOUT FEAR) (MARVEL) #232 Fine
DAREDEVIL (1964) (#1-380) (MAN WITHOUT FEAR) (MARVEL) #238 NEWSSTAND Very Fine
DAREDEVIL (1964) (#1-380) (MAN WITHOUT FEAR) (MARVEL) #240 NEWSSTAND Very Fine
DAREDEVIL (1964) (#1-380) (MAN WITHOUT FEAR) (MARVEL) #250 Very Fine
DAREDEVIL (1964) (#1-380) (MAN WITHOUT FEAR) (MARVEL) #254 Fine
DAREDEVIL (1964) (#1-380) (MAN WITHOUT FEAR) (MARVEL) #255 NEWSSTAND Fine
DAREDEVIL (1964) (#1-380) (MAN WITHOUT FEAR) (MARVEL) #257 Fine
DAREDEVIL (1964) (#1-380) (MAN WITHOUT FEAR) (MARVEL) #259 NEWSSTAND Very Fine
DAREDEVIL (1964) (#1-380) (MAN WITHOUT FEAR) (MARVEL) #270 Very Fine
DAREDEVIL (1964) (#1-380) (MAN WITHOUT FEAR) (MARVEL) #286 Near Mint/Mint
DAREDEVIL (1964) (#1-380) (MAN WITHOUT FEAR) (MARVEL) #287 Near Mint/Mint
DAREDEVIL (1964) (#1-380) (MAN WITHOUT FEAR) (MARVEL) #289 Very Fine
DAREDEVIL (1964) (#1-380) (MAN WITHOUT FEAR) (MARVEL) #290 Fine
DAREDEVIL (1964) (#1-380) (MAN WITHOUT FEAR) (MARVEL) #323 NEWSSTAND Very Good
DAREDEVIL (1964) (#1-380) (MAN WITHOUT FEAR) (MARVEL) #344 Near Mint/Mint
DAREDEVIL (1964) (#1-380) (MAN WITHOUT FEAR) (MARVEL) #347 Very Fine
DAREDEVIL (1964) (#1-380) (MAN WITHOUT FEAR) (MARVEL) #348 NEWSSTAND Very Good
DAREDEVIL (1964) (#1-380) (MAN WITHOUT FEAR) (MARVEL) #349 Near Mint/Mint
DAREDEVIL (1964) (#1-380) (MAN WITHOUT FEAR) (MARVEL) #352 Very Fine
DAREDEVIL (1964) (#1-380) (MAN WITHOUT FEAR) (MARVEL) #354 Very Fine
DAREDEVIL (1964) (#1-380) (MAN WITHOUT FEAR) (MARVEL) #356 Very Fine
DAREDEVIL (1964) (#1-380) (MAN WITHOUT FEAR) (MARVEL) #357 Near Mint/Mint
DAREDEVIL (1964) (#1-380) (MAN WITHOUT FEAR) (MARVEL) #367 Very Fine
DAREDEVIL (1964) (#1-380) (MAN WITHOUT FEAR) (MARVEL) #371 Fine
DAREDEVIL (1964) (#1-380) (MAN WITHOUT FEAR) (MARVEL) #373 Fine
DAREDEVIL (1964) (#1-380) (MAN WITHOUT FEAR) (MARVEL) #374 Very Fine
DAREDEVIL (1964) (#1-380) (MAN WITHOUT FEAR) (MARVEL) #379 Very Fine
DAREDEVIL (1964) (#1-380) (MAN WITHOUT FEAR) (MARVEL) #380 Very Fine

DAREDEVIL (2016) (#1-28) (MARVEL) #1 QUESADA Near Mint/Mint

DAREDEVIL (2019) (#1-UP) (MARVEL) #1 QUESADA Near Mint/Mint

DAREDEVIL ANNUAL (2012) #1 VARIANT Very Fine

DAREDEVIL/BATMAN (1997) #1 Near Mint/Mint

DAREDEVIL: MAN WITHOUT FEAR (1993) #1 Near Mint/Mint
DAREDEVIL: MAN WITHOUT FEAR (1993) #2 Near Mint/Mint
DAREDEVIL: MAN WITHOUT FEAR (1993) #3 Near Mint/Mint

DAREDEVIL: YELLOW (2001) #1 Fine
DAREDEVIL: YELLOW (2001) #3 Near Mint/Mint
DAREDEVIL: YELLOW (2001) #4 Near Mint/Mint

DARTH VADER (STAR WARS) (2015) #3 Near Mint/Mint
DARTH VADER (STAR WARS) (2015) #3 LARROCA Near Mint/Mint

DEADPOOL (1993) (#1-4) (CIRCLE CHASE) (MARVEL) #1 NEWSSTAND Very Fine
DEADPOOL (1993) (#1-4) (CIRCLE CHASE) (MARVEL) #2 Very Good
DEADPOOL (1993) (#1-4) (CIRCLE CHASE) (MARVEL) #3 Near Mint/Mint
DEADPOOL (1993) (#1-4) (CIRCLE CHASE) (MARVEL) #4 Fine

DEADPOOL (1994) (#1-4) (MARVEL) #1 Near Mint/Mint
DEADPOOL (1994) (#1-4) (MARVEL) #2 Near Mint/Mint
DEADPOOL (1994) (#1-4) (MARVEL) #3 Very Fine
DEADPOOL (1994) (#1-4) (MARVEL) #4 Near Mint/Mint

DEADPOOL (1997) (#0-69) (MARVEL) #1 Very Good

DEADPOOL (2008) (#1-63, 900, 1000) (MARVEL) #13 Very Fine

DEADPOOL (2013) (#1-45, 250) (MARVEL) #45 250AVENGER Near Mint/Mint

DEADPOOL (2016) (#1-36) (MARVEL) #1 SHIRAHAMA Near Mint/Mint
DEADPOOL (2016) (#1-36) (MARVEL) #3 LIEFELD Near Mint/Mint

DEADPOOL VS. THANOS (2015) #4 LIM Near Mint/Mint

DEADPOOL'S SECRET SECRET WARS (2015) #2 RUBIO Near Mint/Mint

DOCTOR STRANGE (2015) (#1-26) (MARVEL) (DR. STRANGE) #1 QUESADAB&W Near Mint/Mint
DOCTOR STRANGE (2015) (#1-26) (MARVEL) (DR. STRANGE) #2 ROSS Near Mint/Mint

ESSENTIAL DEFENDERS TPB (2005) #3 Fine
ESSENTIAL DEFENDERS TPB (2005) #6 Very Fine

ESSENTIAL FANTASTIC FOUR TPB (1998) #7 Very Fine

FANTASTIC FOUR (1961) (#1-416) (MARVEL) #92 Good


GUARDIANS OF KNOWHERE (2015) #1 GWEN

GUARDIANS OF KNOWHERE (2015) #1 GWEN Near Mint/Mint
GUARDIANS OF KNOWHERE (2015) #1 GWEN Very Fine

GUARDIANS OF THE GALAXY (2013) (#0.1-27) (MARVEL) #7 Very Fine

GWENPOOL SPECIAL (HOLIDAY SPECIAL) (2015) #1 HARREN Near Mint/Mint

HAWKEYE VS. DEADPOOL (2014) #1 DFE ALTS&N Near Mint/Mint

HOUSE OF X (2019) #1 PACHECOVIR Near Mint/Mint
HOUSE OF X (2019) #2 LARRAZ VIR Near Mint/Mint

HULK: TRANSFORMATIONS TPB (1996) #1 2ND PRINT Fine

INCREDIBLE HULK BY JASON AARON HC (2012) #1 Very Fine

INFINITY GAUNTLET (1991) #1 Near Mint/Mint
INFINITY GAUNTLET (1991) #2 Very Fine
INFINITY GAUNTLET (1991) #3 Very Fine
INFINITY GAUNTLET (1991) #4 Fine
INFINITY GAUNTLET (1991) #5 Near Mint/Mint
INFINITY GAUNTLET (1991) #5 NEWSSTAND Very Fine
INFINITY GAUNTLET (1991) #6 Near Mint/Mint

IRON FIST (2017) (#1-7) (MARVEL) #1 Near Mint/Mint

IRON MAN (1968) (#1-332) (INVINCIBLE IRON MAN)(MARVEL) #4 Fair

IRON MAN VOL. 5: RINGS OF THE MANDARIN PREMIERE HC (2014) #1 Near Mint/Mint

IRON MAN: HAUNTED TPB (2008) #1 Fine

IRON MAN: MANY ARMORS OF IRON MAN TPB (2008) #1 Very Fine

MARVEL ENCYCLOPEDIA: HULK HC (VOL. 3) (2003) #1 Near Mint/Mint

MARVEL KNIGHTS 4: IMPOSSIBLE THINGS HAPPEN TPB (VOL. 4) (2005) #1 Fine

MARVEL KNIGHTS 4: WOLF AT THE DOOR TPB (VOL. 1) (2004) #1 Very Fine

MARVEL MANGAVERSE COMPLETE COLLECTION TPB (2017) #1 Near Mint/Mint


MARVEL UNIVERSE ROLEPLAYING GAME: GUIDE TO HULK & HC (2003) #1

MARVEL UNIVERSE ROLEPLAYING GAME: GUIDE TO HULK & HC (2003) #1 Very Fine

MARVELS EPILOGUE (2019) #1 COCKRUM Very Fine

MIGHTY AVENGERS: SECRET INVASION BOOK I TPB (VOL.3) (2009) #1 Very Fine

MOON KNIGHT (1980) (#1-38) (MARVEL) #1 Near Mint/Mint
MOON KNIGHT (1980) (#1-38) (MARVEL) #1 Fine
MOON KNIGHT (1980) (#1-38) (MARVEL) #1 Very Fine

MOON KNIGHT: DEATH OF MARC SPECTOR HC (VOL. 4) (2009) #1 Fine

MRS. DEADPOOL & THE HOWLING COMMANDOS (2015) #1 Near Mint/Mint
MRS. DEADPOOL & THE HOWLING COMMANDOS (2015) #2 VARIANT Very Fine

NEW AVENGERS VOL.12: POWERLOSS HC (2010) #1 Very Fine

NEW AVENGERS: CIVIL WAR PREMIERE HC (VOL. 5) (2006) #1 Fine

NEW AVENGERS: CIVIL WAR TPB (VOL. 5) (2007) #1 Very Fine

NEW AVENGERS: SECRET INVASION BOOK ONE HC (VOL. 8) (2008) #1 Very Fine

NEW MUTANTS: BACK TO SCHOOL TPB (VOL. 1) (2003) #1 Fine

NEW WARRIORS: DEFIANT TPB (VOL. 1) (2008) #1 Very Fine

NEW WARRIORS: THRASHED TPB (VOL. 2) (2008) #1 Very Fine

OLD MAN QUILL (2019) #1 STARLINVIR Near Mint/Mint

ONSLAUGHT REBORN HC (2008) #1 Very Fine

ORIGINAL SIN: HULK VS. IRON MAN TPB (2014) #1 Near Mint/Mint

OZ: WONDERFUL WIZARD OF OZ TPB (2011) #1 Very Fine

PETER PARKER (1976) (#1-263) (SPECTACULAR SPIDER-MAN) #203 Very Fine

PETER PARKER: SPIDER-MAN (1999) (#1-57, & 156.1) #9 Near Mint/Mint
PETER PARKER: SPIDER-MAN (1999) (#1-57, & 156.1) #9 NEWSSTAND Very Fine
PETER PARKER: SPIDER-MAN (1999) (#1-57, & 156.1) #13 Near Mint/Mint


PETER PORKER, THE SPECTACULAR SPIDER-HAM (1985) #2

PETER PORKER, THE SPECTACULAR SPIDER-HAM (1985) #2 Very Fine

POWERS OF X (2019) #2 SILVAVIRGI Near Mint/Mint
POWERS OF X (2019) #3 SILVAVIRGI Near Mint/Mint

PUNISHER: DARK REIGN HC (2009) #1 Near Mint/Mint

RETURN OF WOLVERINE (2018) #1 FANGVIRGIN Very Fine
RETURN OF WOLVERINE (2018) #1 VIRGIN CVR Near Mint/Mint

SECRET INVASION: FANTASTIC FOUR TPB (2009) #1 Near Mint/Mint

SILK (2015) (#1-7) (APRIL) #1 LEE Near Mint/Mint

SPECTACULAR SPIDER-MAN: SUPER SIZE SPECIAL #1 Very Good

SPIDER-GWEN (2015) (#0-5) (MARVEL) #1 HUGHES Near Mint/Mint
SPIDER-GWEN (2015) (#0-5) (MARVEL) #2 DFE ALT CV Near Mint/Mint

SPIDER-GWEN (2015) (#1-UP) (MARVEL)(RADIOACTIVE) #1 TIMM Near Mint/Mint

SPIDER-ISLAND (2015) #1 Near Mint/Mint
SPIDER-ISLAND (2015) #2 DELL OTTO Very Fine

SPIDER-MAN (1963) (AMAZING SPIDER-MAN) (#1-441) #100 Very Good
SPIDER-MAN (1963) (AMAZING SPIDER-MAN) (#1-441) #141 Very Fine
SPIDER-MAN (1963) (AMAZING SPIDER-MAN) (#1-441) #275 Very Fine
SPIDER-MAN (1963) (AMAZING SPIDER-MAN) (#1-441) #298 Very Fine
SPIDER-MAN (1963) (AMAZING SPIDER-MAN) (#1-441) #299 Near Mint/Mint
SPIDER-MAN (1963) (AMAZING SPIDER-MAN) (#1-441) #300 Fine
SPIDER-MAN (1963) (AMAZING SPIDER-MAN) (#1-441) #311 NEWSSTAND Very Good
SPIDER-MAN (1963) (AMAZING SPIDER-MAN) (#1-441) #315 Near Mint/Mint
SPIDER-MAN (1963) (AMAZING SPIDER-MAN) (#1-441) #316 Very Fine
SPIDER-MAN (1963) (AMAZING SPIDER-MAN) (#1-441) #317 Very Fine
SPIDER-MAN (1963) (AMAZING SPIDER-MAN) (#1-441) #332 Fine
SPIDER-MAN (1963) (AMAZING SPIDER-MAN) (#1-441) #333 NEWSSTAND Fine
SPIDER-MAN (1963) (AMAZING SPIDER-MAN) (#1-441) #345 NEWSSTAND Near Mint/Mint
SPIDER-MAN (1963) (AMAZING SPIDER-MAN) (#1-441) #346 NEWSSTAND Fine
SPIDER-MAN (1963) (AMAZING SPIDER-MAN) (#1-441) #361 Near Mint/Mint
SPIDER-MAN (1963) (AMAZING SPIDER-MAN) (#1-441) #361 NEWSSTAND Very Fine
SPIDER-MAN (1963) (AMAZING SPIDER-MAN) (#1-441) #362 Near Mint/Mint
SPIDER-MAN (1963) (AMAZING SPIDER-MAN) (#1-441) #362 Fine
SPIDER-MAN (1963) (AMAZING SPIDER-MAN) (#1-441) #362 Very Fine


SPIDER-MAN (1963) (AMAZING SPIDER-MAN) (#1-441) #363

SPIDER-MAN (1963) (AMAZING SPIDER-MAN) (#1-441) #363 Fine
SPIDER-MAN (1963) (AMAZING SPIDER-MAN) (#1-441) #363 Near Mint/Mint
SPIDER-MAN (1963) (AMAZING SPIDER-MAN) (#1-441) #363 Very Fine
SPIDER-MAN (1963) (AMAZING SPIDER-MAN) (#1-441) #365 Near Mint/Mint
SPIDER-MAN (1963) (AMAZING SPIDER-MAN) (#1-441) #378 Near Mint/Mint
SPIDER-MAN (1963) (AMAZING SPIDER-MAN) (#1-441) #379 Very Fine
SPIDER-MAN (1963) (AMAZING SPIDER-MAN) (#1-441) #410 Near Mint/Mint
SPIDER-MAN (1963) (AMAZING SPIDER-MAN) (#1-441) #430 NEWSSTAND Very Fine
SPIDER-MAN (1963) (AMAZING SPIDER-MAN) (#1-441) #431 Very Fine

SPIDER-MAN (1990) (#1-74, PETER PARKER SPIDEY #75-98) #1 SILVER Near Mint/Mint
SPIDER-MAN (1990) (#1-74, PETER PARKER SPIDEY #75-98) #13 Very Fine
SPIDER-MAN (1990) (#1-74, PETER PARKER SPIDEY #75-98) #26 Very Fine
SPIDER-MAN (1990) (#1-74, PETER PARKER SPIDEY #75-98) #52 Fine
SPIDER-MAN (1990) (#1-74, PETER PARKER SPIDEY #75-98) #53 Very Fine

SPIDER-MAN ADVENTURES (1994) #5 Near Mint/Mint

SPIDER-MAN ANNUAL (1964) (#1-28) (MARVEL) #22 Fine
SPIDER-MAN ANNUAL (1964) (#1-28) (MARVEL) #28 Near Mint/Mint

SPIDER-MAN SUPER SPECIAL: PLANET OF THE SYMBIOTES (1995) #1 Very Fine

SPIDER-MAN UNLIMITED (1993) (#1-22) #1 Near Mint/Mint
SPIDER-MAN UNLIMITED (1993) (#1-22) #1 Very Fine
SPIDER-MAN UNLIMITED (1993) (#1-22) #2 Near Mint/Mint

SPIDER-MAN VISIONARIES: JOHN ROMITA, SR. TPB (2001) #1 Fine

SPIDER-MAN/BATMAN #1 Very Fine

SPIDER-MAN/DEADPOOL (2015) #1 HASTINGS Near Mint/Mint

SPIDER-MAN: CITY AT WAR (GAMERVERSE) (2019) #1 GRANOV Near Mint/Mint

SPIDER-MAN: MAXIMUM CLONAGE (1995) #1 OMEGA Near Mint/Mint

SPIDER-VERSE (2014) (#1-2) #1 Very Fine

SPIDER-VERSE (2015) (#1-5) (SECRET WARS) #2 Near Mint/Mint
SPIDER-VERSE (2015) (#1-5) (SECRET WARS) #4 MAYHEW Fine


SPIDER-VERSE (2015) (#1-5) (SECRET WARS) #5 CAMPBELL

SPIDER-VERSE (2015) (#1-5) (SECRET WARS) #5 CAMPBELL Fine

SQUADRON SUPREME TPB (2ND EDITION) (2013) #1 Near Mint/Mint

STAR WARS (2015) (#1-UP) (MARVEL) #50 DODSON VIR Near Mint/Mint
STAR WARS (2015) (#1-UP) (MARVEL) #54 Near Mint/Mint
STAR WARS (2015) (#1-UP) (MARVEL) #55 Near Mint/Mint

STAR WARS: DARTH VADER (2017) #20 Near Mint/Mint

THOR: GOD OF THUNDER (2012) #20 Near Mint/Mint

TOXIN (2005) #2 Very Fine
TOXIN (2005) #3 Fine
TOXIN (2005) #4 Very Fine
TOXIN (2005) #5 Fine

ULTIMATE COMICS: SPIDER-MAN (2011) #13 VARIANT Near Mint/Mint

ULTIMATE VISION TPB (2007) #1 Very Fine

ULTIMATE X-MEN TPB (2001) #2 4TH PRINT Very Fine
ULTIMATE X-MEN TPB (2001) #3 3RD PRINT Very Fine
ULTIMATE X-MEN TPB (2001) #4 3RD PRINT Very Fine
ULTIMATE X-MEN TPB (2001) #7 2ND PRINT Very Fine
ULTIMATE X-MEN TPB (2001) #8 2ND PRINT Fine
ULTIMATE X-MEN TPB (2001) #13 Very Fine
ULTIMATE X-MEN TPB (2001) #15 Very Fine
ULTIMATE X-MEN TPB (2001) #16 Very Fine
ULTIMATE X-MEN TPB (2001) #18 Fine

UNBEATABLE SQUIRREL GIRL (2015) (#1-UP) (MARVEL) #1 CALDWELL Near Mint/Mint

UNCANNY X-FORCE (2010) (#1-35) (MARVEL) #1 Near Mint/Mint

UNCANNY X-FORCE VOL. 5: OTHERWORLD TPB (2012) #1 Very Fine

UNCANNY X-MEN (2018) (#1-UP) (MARVEL) #1 FINCHVIRGN Near Mint/Mint

UNCANNY X-MEN VOL. 1: X-MEN DISASSEMBLED TPB (2019) #1 Near Mint/Mint

VALKYRIE - JANE FOSTER (2019) #1 CAFU Very Fine

VENOM (2011) (#1-42) (MARVEL) #19 VARIANT Near Mint/Mint


VENOM ON TRIAL (1997) #3 NEWSSTAND

VENOM ON TRIAL (1997) #3 NEWSSTAND Very Good

VENOM SUPER SIZE SPECIAL (PLANET OF SYMBIOTES) (1995) #1 Fine

VENOM VS. CARNAGE (2004) #1 Fine
VENOM VS. CARNAGE (2004) #3 Near Mint/Mint

VENOM: ALONG CAME A SPIDER (1996) #4 Near Mint/Mint

VENOM: CARNAGE UNLEASHED (1995) #1 Very Fine
VENOM: CARNAGE UNLEASHED (1995) #2 Near Mint/Mint
VENOM: CARNAGE UNLEASHED (1995) #3 Near Mint/Mint
VENOM: CARNAGE UNLEASHED (1995) #4 Near Mint/Mint

VENOM: LETHAL PROTECTOR (1993) #2 NEWSSTAND Very Fine

VENOM: SINNER TAKES ALL (1995) #2 Very Fine

VENOM: SPACE KNIGHT (2015) #1 DEODATO Near Mint/Mint

VENOM: THE MADNESS (1993) #3 NEWSSTAND Fine

VENOM: TOOTH & CLAW (1996) #2 NEWSSTAND Very Fine

WAR IS HELL: FIRST FLIGHT OF THE PHANTOM EAGLE HC (2008) #1 Very Fine

WAR OF KINGS TPB (2ND EDITION) (2014) #1 Very Fine

WAR OF REALMS (2019) #1 QUESADAVIR Near Mint/Mint
WAR OF REALMS (2019) #1 SIMONSON Near Mint/Mint
WAR OF REALMS (2019) #5 ADAMS B&W Near Mint/Mint
WAR OF REALMS (2019) #6 ADAMS B&W Near Mint/Mint

WEB OF SPIDER-MAN SUPER SPECIAL: PLANET OF SYMBIOTES (1995) #1 Very Fine

WEB WARRIORS (2015) #2 DELL OTTO Very Fine

WEREWOLF BY NIGHT COMPLETE COLLECTION TPB (2017) #2 Very Fine

WOLVERINE BY DANIEL WAY TPB (2017) #1 Very Fine
WOLVERINE BY DANIEL WAY TPB (2017) #2 Near Mint/Mint
WOLVERINE BY DANIEL WAY TPB (2017) #3 Near Mint/Mint

WOLVERINE: EXIT WOUNDS (2019) #1 CLOONAN Very Good


WOLVERINES VOL. 2: CLAW, BLADE AND FANG TPB (2015) #1

WOLVERINES VOL. 2: CLAW, BLADE AND FANG TPB (2015) #1 Near Mint/Mint

WOLVERINES VOL. 3: LIVING & THE DEAD TPB (2015) #1 Near Mint/Mint

WOLVERINES VOL. 4: DESTINY TPB (2015) #1 Near Mint/Mint

X-FACTOR EPIC COLLECTION: ALL-NEW X-FACTOR TPB (2018) #1 Near Mint/Mint

X-FACTOR VOL. 8: OVERTIME TPB (2010) #1 Near Mint/Mint

X-FACTOR: SCAR TISSUE PREMIERE HC (2011) #1 Very Fine

X-FORCE (1991) (#1-129) (MARVEL) #11 NEWSSTAND Near Mint/Mint
X-FORCE (1991) (#1-129) (MARVEL) #15 Fine
X-FORCE (1991) (#1-129) (MARVEL) #23 Fine
X-FORCE (1991) (#1-129) (MARVEL) #47 Near Mint/Mint
X-FORCE (1991) (#1-129) (MARVEL) #47 Very Fine

X-MEN (1963) (#1-113, UNCANNY X-MEN #114-544) (MARVEL) #312 NEWSSTAND Very Fine

X-MEN: AGE OF APOCALYPSE PRELUDE TPB (2011) #1 Fine

DC
ACTION COMICS (1938) (#0-600, 643-904) (DC) #323 Fair

AQUAMAN (1962) (#1-63) (DC) #12 Fair
AQUAMAN (1962) (#1-63) (DC) #15 Good

ATOM (DC) (JUSTICE LEAGUE) (1962) #14 Fair

BATMAN (1940) (#0-713) (DC) #174 Good
BATMAN (1940) (#0-713) (DC) #666 Near Mint/Mint

BATMAN (2011) (#0-52) (DC NEW52) #39 Near Mint/Mint

BATMAN (2016) (#1-UP) (DC REBIRTH) #21 LENTICULAR Very Fine

BATMAN/TEENAGE MUTANT NINJA TURTLES (2015) #1 BLANK CVR Near Mint/Mint
BATMAN/TEENAGE MUTANT NINJA TURTLES (2015) #1 VARIANT Near Mint/Mint

BATMAN: EUROPA (2016) #4 Near Mint/Mint

BOYS (2006) (#1-6) (DC/WILDSTORM) #3 (DC/Wildstorm) Very Fine

BRAVE AND THE BOLD (1955) #52 Good
BRAVE AND THE BOLD (1955) #60 Good
BRAVE AND THE BOLD (1955) #63 Fair
BRAVE AND THE BOLD (1955) #65 Good

CATWOMAN-THE SERIES (1993) (#1-94) (DC) #6 DCUNIVERSE Fine
CATWOMAN-THE SERIES (1993) (#1-94) (DC) #7 DCUNIVERSE Very Good

DETECTIVE COMICS (1937) (#0-881) (DC) #350 Fair
DETECTIVE COMICS (1937) (#0-881) (DC) #354 Good
DETECTIVE COMICS (1937) (#0-881) (DC) #361 Good
DETECTIVE COMICS (1937) (#0-881) (DC) #364 Fair

DOOM PATROL (1964) (#86-124) (DC) #86 Good
DOOM PATROL (1964) (#86-124) (DC) #87 Good

FAIREST (2012) #1 Very Fine

FIRESTORM (1978) (#1-5) #3 Fine

FLASH (1959) (#105-350) (DC) #152 Fair
FLASH (1959) (#105-350) (DC) #175 Very Good

GOTHAM CITY SIRENS (2009) #4 Very Fine

GREEN ARROW (1988) (#0-137) (DC) #100 DELUXE Near Mint/Mint

GREEN LANTERN (1990) (#0-181) (DC) #50 Fine

HARLEY QUINN (2013) (#0-30) (DC NEW52) #4 Near Mint/Mint
HARLEY QUINN (2013) (#0-30) (DC NEW52) #5 Very Fine
HARLEY QUINN (2013) (#0-30) (DC NEW52) #8 BATMAN Fine
HARLEY QUINN (2013) (#0-30) (DC NEW52) #9 SELFIE Near Mint/Mint
HARLEY QUINN (2013) (#0-30) (DC NEW52) #15 Near Mint/Mint
HARLEY QUINN (2013) (#0-30) (DC NEW52) #16 Near Mint/Mint
HARLEY QUINN (2013) (#0-30) (DC NEW52) #17 Near Mint/Mint
HARLEY QUINN (2013) (#0-30) (DC NEW52) #19 BOMBSHELL Very Fine
HARLEY QUINN (2013) (#0-30) (DC NEW52) #21 Near Mint/Mint


HARLEY QUINN (2013) (#0-30) (DC NEW52) #22 LOONEY

HARLEY QUINN (2013) (#0-30) (DC NEW52) #22 LOONEY Near Mint/Mint
HARLEY QUINN (2013) (#0-30) (DC NEW52) #22 VARIANT Near Mint/Mint
HARLEY QUINN (2013) (#0-30) (DC NEW52) #23 VAR PENCIL Near Mint/Mint

HARLEY QUINN ANNUAL (2014) #1 Near Mint/Mint
HARLEY QUINN ANNUAL (2014) #1 INTL Near Mint/Mint

HARLEY QUINN HOLIDAY SPECIAL (2014) #1 Near Mint/Mint

HARLEY QUINN INVADES COMIC-CON INTERNATIONAL SAN DIEGO (2014) #1 Near Mint/Mint
HARLEY QUINN INVADES COMIC-CON INTERNATIONAL SAN DIEGO (2014) #1 Very Fine

HARLEY'S LITTLE BLACK BOOK (2015) #1 VAR PENCIL Near Mint/Mint
HARLEY'S LITTLE BLACK BOOK (2015) #2 Near Mint/Mint

HOT WHEELS (1970) #4 Good

JACK OF FABLES VOL. 6: THE BIG BOOK OF WAR TPB (2009) #1 (DC: Vertigo Press) Near Mint/Mint

JACK OF FABLES VOL. 7: NEW ADV. OF JACK & JACK TPB (2010) #1 Near Mint/Mint

JACK OF FABLES VOL. 9: THE END TPB (2011) #1 Near Mint/Mint

JACK OF FABLES: AMERICANA TPB (VOL. 4) (2008) #1 Near Mint/Mint
JACK OF FABLES: AMERICANA TPB (VOL. 4) (2008) #1 2ND PRINT Very Fine

JACK OF FABLES: THE BAD PRINCE TPB (VOL. 3) (2008) #1 Near Mint/Mint

JACK OF FABLES: TURNING PAGES TPB (VOL. 5) (2009) #1 2ND PRINT Near Mint/Mint

JIMMY OLSEN ADVENTURES BY JACK KIRBY TPB (2003) #2 Fine

JUSTICE LEAGUE (2011) (#0-52) (DC NEW52) #0 SKETCH CV Very Fine
JUSTICE LEAGUE (2011) (#0-52) (DC NEW52) #40 MOVIESTYLE Near Mint/Mint

KINGDOM COME (1996) #1 Near Mint/Mint
KINGDOM COME (1996) #2 Near Mint/Mint
KINGDOM COME (1996) #3 Near Mint/Mint
KINGDOM COME (1996) #4 Near Mint/Mint

LEGION LOST VOL. 2: CULLING TPB (2013) #1 Very Fine


LEGION OF SUPER-HEROES IN THE 31ST CENTURY TPB (2008) #1

LEGION OF SUPER-HEROES IN THE 31ST CENTURY TPB (2008) #1 Near Mint/Mint

LEGION OF SUPER-HEROES VOL. 1: THE CHOICE HC (2011) #1 Fine

LEGION OF SUPER-HEROES VOL. 2: CONSEQUENCES HC (2011) #1 Fine

LEGION OF SUPER-HEROES: 1,050 YEARS IN THE FUTURE TPB (2008) #1 Very Good

LEGION OF SUPER-HEROES: AN EYE FOR AN EYE TPB (2007) #1 Very Fine

LEGION OF SUPER-HEROES: CURSE HC (2011) #1 Very Fine

LEGION OF SUPER-HEROES: DEATH OF A DREAM TPB (VOL. 2) (2006) #1 Fine

LEGION OF SUPER-HEROES: ENEMY MANIFEST HC (2009) #1 Near Mint/Mint

LEGION OF SUPER-HEROES: ENEMY RISING HC (2008) #1 Near Mint/Mint

LOIS LANE (1958) (#1-137) (SUPERMAN'S GIRL FRIEND) (DC) #56 Fair

MARTIAN MANHUNTER (2015) (#1-12) #1 VARIANT Very Fine

NEW SUICIDE SQUAD (DC NEW52) #1 Very Fine

NIGHTWING (2011) (#0-30) (DC NEW52) #1 Near Mint/Mint
NIGHTWING (2011) (#0-30) (DC NEW52) #2 Near Mint/Mint

NINJA BOY: FADED DREAMS TPB (2003) #1 (DC/Wildstorm) Fine

PREACHER (1995) #2 (DC: Vertigo Press) Very Fine
PREACHER (1995) #3 (DC: Vertigo Press) Near Mint/Mint
PREACHER (1995) #4 (DC: Vertigo Press) Fine
PREACHER (1995) #5 (DC: Vertigo Press) Fine
PREACHER (1995) #6 (DC: Vertigo Press) Good
PREACHER (1995) #7 (DC: Vertigo Press) Very Fine
PREACHER (1995) #9 (DC: Vertigo Press) Very Fine
PREACHER (1995) #45 (DC: Vertigo Press) Very Fine

PREACHER SPECIAL: STORY OF YOU-KNOW-WHO (1996) #1 (DC: Vertigo Press) Very Fine

PROPOSITION PLAYER TPB (2003) #1 (DC: Vertigo Press) Near Mint/Mint


QUITTER HC (HARVEY PEKAR) (2005) #1

QUITTER HC (HARVEY PEKAR) (2005) #1 (DC: Vertigo Press) Near Mint/Mint

RED LANTERNS (2011) #1 Near Mint/Mint

ROBIN: TEENAGE WASTELAND TPB (2007) #1 Near Mint/Mint

SPIRIT ARCHIVES HC #27 Near Mint/Mint

STAR SPANGLED WAR STORIES (1952) #127 Fair

STARFIRE (2015) #1 Near Mint/Mint

STUCK RUBBER BABY TPB (2011) #1 (DC: Vertigo Press) Very Fine

SUICIDERS (2015) #1 JOCK Near Mint/Mint
SUICIDERS (2015) #3 Near Mint/Mint
SUICIDERS (2015) #4 Near Mint/Mint
SUICIDERS (2015) #5 Near Mint/Mint

SUPERBOY (1949) (#1-258) (DC) #183 Very Fine

SUPERBOY & THE LEGION OF SUPER-HEROES HC (2017) #1 Near Mint/Mint

SUPERGIRL (2011) (#0-40) (DC NEW52) #1 Near Mint/Mint
SUPERGIRL (2011) (#0-40) (DC NEW52) #2 Near Mint/Mint

SUPERGIRL & THE LEGION: STRANGE VISITOR TPB (2006) #1 Near Mint/Mint

SUPERMAN (1939) (#1-423) (DC) #220 Good

SUPERMAN (2011) (#0-52) (DC NEW52) #39 DAVIS Fine

SUPERMAN VOL. 1: WHAT PRICE TOMORROW? HC (2012) #1 Very Fine

SUPERMAN VOL. 2: TRIAL OF THE SUPER SONS TPB DC REBIRTH (2017) #1 Near Mint/Mint

SUPERMAN/BATMAN (2003) #1 BATMAN Very Good
SUPERMAN/BATMAN (2003) #1 SUPERMAN Very Fine
SUPERMAN/BATMAN (2003) #13 Near Mint/Mint

SUPERMAN/BATMAN: BIG NOISE TPB (2010) #1 Very Fine

SUPERMAN/BATMAN: PUBLIC ENEMIES COLLECTION (VOL. 1) (2004) #1 TPB 9THPRT Very Fine


SUPERMAN/BATMAN: WORSHIP TPB (2011) #1

SUPERMAN/BATMAN: WORSHIP TPB (2011) #1 Very Fine

SUPERMAN: ADVENTURES OF NIGHTWING & FLAMEBIRD TPB (2009) #1 Very Fine

SUPERMAN: LOIS & CLARK (2015) #1 VARIANT Very Fine

SUPERMAN: REBIRTH HC (2017) #1 Near Mint/Mint

SUPERMAN: TALES OF THE BIZARRO WORLD TPB (2000) #1 Good

SWING WITH SCOOTER (1966) #4 Good

TEEN TITANS (1966) (#1-53) (DC) #16 Very Good
TEEN TITANS (1966) (#1-53) (DC) #24 Very Good

TEEN TITANS: GO (2003) #1 Fine

TIME MASTERS: VANISHING POINT TPB (2011) #1 Near Mint/Mint

TITANS BOOK VOL. 1: TOGETHER FOREVER TPB (2018) #1 Very Fine

TITANS: OLD FRIENDS HC (2009) #1 Near Mint/Mint

TOKYO DAYS, BANGKOK NIGHTS TPB (2008) #1 Very Fine

TOM STRONG COLLECTION (2000) #2 HC (DC/America's Best) Near Mint/Mint
TOM STRONG COLLECTION (2000) #4 HC (DC/America's Best) Near Mint/Mint
TOM STRONG COLLECTION (2000) #4 TPB (DC/America's Best) Near Mint/Mint
TOM STRONG COLLECTION (2000) #5 TPB (DC/America's Best) Very Good
TOM STRONG COLLECTION (2000) #6 (DC/America's Best) Near Mint/Mint

TOM STRONG'S TERIFIC TALES HC (2004) #2 (DC/Wildstorm) Near Mint/Mint

WATCHMEN (1986) #1 Fine

WONDER WOMAN (1942) (#1-329) (DC) #166 Good

WONDER WOMAN (1987) (#0-226) (DC) #4 Near Mint/Mint

WONDER WOMAN (2011) (#0-52) (DC NEW52) #1 Near Mint/Mint
WONDER WOMAN (2011) (#0-52) (DC NEW52) #2 Near Mint/Mint


WORLD OF WARCRAFT TPB (2009) #3

WORLD OF WARCRAFT TPB (2009) #3 (DC/Wildstorm) Very Fine
WORLD OF WARCRAFT TPB (2009) #4 (DC/Wildstorm) Very Fine

DARK HORSE COMICS
DARK HORSE HEROES OMNIBUS TPB (2007) #1 Fine

HELLBOY: SEED OF DESTRUCTION (1994) #1 Very Fine
HELLBOY: SEED OF DESTRUCTION (1994) #3 Fine
HELLBOY: SEED OF DESTRUCTION (1994) #4 Very Fine

LEONARD MALTIN'S MOVIE CRAZY NOVEL TPB (2007) #1 Very Good

LOST IN SPACE TPB #1 Very Good

MYSPACE DARK HORSE PRESENTS TPB (2008) #1 Very Fine

NATHAN NEVER DIGEST TPB (DARK HORSE/BONELLI COMICS) (1999) #3 Very Fine

NEXT MEN (1992) #21 Near Mint/Mint

SAN DIEGO COMICS CON COMICS #2 Very Fine

STAR WARS TALES #14 PHOTO Very Fine

IMAGE COMICS
I HATE FAIRYLAND (2015) #1 VARIANT Near Mint/Mint
I HATE FAIRYLAND (2015) #2 VARIANT Near Mint/Mint
I HATE FAIRYLAND (2015) #3 Near Mint/Mint
I HATE FAIRYLAND (2015) #4 VARIANT Near Mint/Mint
I HATE FAIRYLAND (2015) #5 VARIANT Near Mint/Mint

MADAME MIRAGE (2007) #1 SKETCH INC Near Mint/Mint

NOBLE CAUSES ARCHIVES (2008) #1 Very Fine

ODYC (2014) #1 Near Mint/Mint

OUTCAST (2014) (ROBERT KIRKMAN & PAUL AZACETA) #1 Near Mint/Mint
OUTCAST (2014) (ROBERT KIRKMAN & PAUL AZACETA) #2 Fine


OUTCAST (2014) (ROBERT KIRKMAN & PAUL AZACETA) #2

OUTCAST (2014) (ROBERT KIRKMAN & PAUL AZACETA) #2 Near Mint/Mint
OUTCAST (2014) (ROBERT KIRKMAN & PAUL AZACETA) #3 Near Mint/Mint
OUTCAST (2014) (ROBERT KIRKMAN & PAUL AZACETA) #4 Very Fine
OUTCAST (2014) (ROBERT KIRKMAN & PAUL AZACETA) #5 Near Mint/Mint

PAPER GIRLS (2015) #1 Near Mint/Mint
PAPER GIRLS (2015) #2 Near Mint/Mint
PAPER GIRLS (2015) #3 Near Mint/Mint
PAPER GIRLS (2015) #4 Near Mint/Mint
PAPER GIRLS (2015) #5 Near Mint/Mint

PERHAPANAUTS VOL. 0: DARK DAYS TPB (2010) #1 Near Mint/Mint

PUG GN (2009) #1 Very Fine

RAT QUEENS VOL. 1: SASS & SORCERY TPB (2014) #1 3RD PRINT Near Mint/Mint

SPAWN (1992) #1 Very Fine
SPAWN (1992) #2 NEWSSTAND Very Fine
SPAWN (1992) #2 Very Good
SPAWN (1992) #3 Very Fine
SPAWN (1992) #4 Near Mint/Mint
SPAWN (1992) #4 W/O COUPON Very Fine
SPAWN (1992) #5 Near Mint/Mint
SPAWN (1992) #5 Fine
SPAWN (1992) #6 Fine
SPAWN (1992) #6 Very Fine
SPAWN (1992) #7 Very Fine
SPAWN (1992) #9 Near Mint/Mint
SPAWN (1992) #11 Near Mint/Mint
SPAWN (1992) #12 Near Mint/Mint
SPAWN (1992) #13 NEWSSTAND Fine
SPAWN (1992) #14 Near Mint/Mint
SPAWN (1992) #15 NEWSSTAND Very Good
SPAWN (1992) #16 Near Mint/Mint
SPAWN (1992) #17 Near Mint/Mint
SPAWN (1992) #18 Very Fine
SPAWN (1992) #19 Very Fine
SPAWN (1992) #20 Near Mint/Mint
SPAWN (1992) #22 Very Fine
SPAWN (1992) #24 Near Mint/Mint
SPAWN (1992) #25 Fine
SPAWN (1992) #26 Near Mint/Mint

SPAWN (1992) #27 Very Fine
SPAWN (1992) #29 Near Mint/Mint
SPAWN (1992) #50 Near Mint/Mint
SPAWN (1992) #55 Fine
SPAWN (1992) #250 YOUNG Near Mint/Mint
SPAWN (1992) #293 C MATTIB&W Very Fine

SPAWN/BATMAN (1994) #1 Near Mint/Mint

STARVE (2015) #1 Near Mint/Mint

TALES OF HONOR TPB (2014) #2 Fine

WALKING DEAD (2003) (#1-193) (IMAGE) #48 Very Fine
WALKING DEAD (2003) (#1-193) (IMAGE) #79 Fine
WALKING DEAD (2003) (#1-193) (IMAGE) #80 Near Mint/Mint
WALKING DEAD (2003) (#1-193) (IMAGE) #81 Fine
WALKING DEAD (2003) (#1-193) (IMAGE) #82 Near Mint/Mint
WALKING DEAD (2003) (#1-193) (IMAGE) #83 Near Mint/Mint
WALKING DEAD (2003) (#1-193) (IMAGE) #84 Fine
WALKING DEAD (2003) (#1-193) (IMAGE) #85 Near Mint/Mint
WALKING DEAD (2003) (#1-193) (IMAGE) #86 Near Mint/Mint
WALKING DEAD (2003) (#1-193) (IMAGE) #87 Fine
WALKING DEAD (2003) (#1-193) (IMAGE) #88 Fine
WALKING DEAD (2003) (#1-193) (IMAGE) #89 Near Mint/Mint
WALKING DEAD (2003) (#1-193) (IMAGE) #90 Near Mint/Mint
WALKING DEAD (2003) (#1-193) (IMAGE) #91 Near Mint/Mint
WALKING DEAD (2003) (#1-193) (IMAGE) #91 Very Fine
WALKING DEAD (2003) (#1-193) (IMAGE) #93 Near Mint/Mint
WALKING DEAD (2003) (#1-193) (IMAGE) #95 Near Mint/Mint
WALKING DEAD (2003) (#1-193) (IMAGE) #96 Fine
WALKING DEAD (2003) (#1-193) (IMAGE) #99 Fine
WALKING DEAD (2003) (#1-193) (IMAGE) #100 3RD PRINT Near Mint/Mint
WALKING DEAD (2003) (#1-193) (IMAGE) #100 2ND PRINT Near Mint/Mint
WALKING DEAD (2003) (#1-193) (IMAGE) #100 3RD PRINT Very Fine
WALKING DEAD (2003) (#1-193) (IMAGE) #100 E Very Fine
WALKING DEAD (2003) (#1-193) (IMAGE) #100 G Near Mint/Mint
WALKING DEAD (2003) (#1-193) (IMAGE) #102 Near Mint/Mint
WALKING DEAD (2003) (#1-193) (IMAGE) #102 Fine
WALKING DEAD (2003) (#1-193) (IMAGE) #102 2ND PRINT Very Fine
WALKING DEAD (2003) (#1-193) (IMAGE) #102 Very Good
WALKING DEAD (2003) (#1-193) (IMAGE) #103 Very Fine
WALKING DEAD (2003) (#1-193) (IMAGE) #104 Near Mint/Mint


WALKING DEAD (2003) (#1-193) (IMAGE) #105

WALKING DEAD (2003) (#1-193) (IMAGE) #105 Near Mint/Mint
WALKING DEAD (2003) (#1-193) (IMAGE) #106 A Near Mint/Mint
WALKING DEAD (2003) (#1-193) (IMAGE) #107 Fine
WALKING DEAD (2003) (#1-193) (IMAGE) #107 Near Mint/Mint

WALKING DEAD: HERE'S NEGAN HC (2017) #1 Near Mint/Mint

WOLF (2015) (#1-9) (IMAGE) #1 Near Mint/Mint

INDEPENDENTS
BONANZA (1962) #5 (Gold Key) Good

CRUMB COMPENDIUM TPB (2018) #1 (Fantagraphics) Fine

ELEPHANTMEN: MORITAT SKETCHBOOK (2007) #1 (Active Images) Fine

FLIGHT GN (2007) #7 (Villard) Very Fine

FLIPPER (1966) #1 (Gold Key) Good

GHOSTBUSTERS (2013) #10 INCENTIVE (IDW Publishing) Near Mint/Mint

INSEXTS (2015) #1 (After-Shock Comics) Very Fine
INSEXTS (2015) #2 (After-Shock Comics) Near Mint/Mint

INVADER ZIM (2015) #1 (Oni Press Inc.) Very Fine

INVASION 55 GN (2002) #1 (IDW Publishing) Very Fine

KELLY GREEN VOL. #1 (Trade Items) Near Mint/Mint

KIRBY: GENESIS - SILVER STAR TPB (2012) #1 (DYNAMITE Entertainment) Very Fine

LIGHTER THAN MY SHADOW TPB (2017) #1 (Lion Forge) Very Fine

LOVE SONG HC (2017) #1 (IDW Publishing) Very Fine

MAGIC WHISTLE: BODY ARMOR FOR DIGNITY (VOL. 2 #11) (2008) #1 (Alternate Concepts) Very Fine

MAGNUS ROBOT FIGHTER (1963) (#1-46) (GOLD KEY) #11 (Gold Key) Good

MIDDLEMAN TPB (2005) #2 (Viper Comics) Near Mint/Mint

MORE FUND COMICS GN (2003) #1 (Comic Book Legal Defense Fund) Very Fine

NOID IN 3-D (1989) #1 (Blackthorne Publishing) Fine

POISON ELVES: GUILD WAR (VOL. 6) (2003) #1 2ND PRINT (Sirius) Near Mint/Mint

POWERPUFF GIRLS (2013) (#1-10) (IDW Publishing) #1 INCENTIVE (IDW Publishing) Very Fine

PRINCELESS VOL. 2: GET OVER YOURSELF TPB (2013) #1 (Action Lab Entertainment) Near Mint/Mint

Q2: RETURN OF QUANTUM & WOODY DELUXE HC (2015) #1 (Valiant Comics) Near Mint/Mint

RED SONJA (2013) (#0-18, 100, & 1973) (DYNAMITE) #100 MARCOS (DYNAMITE Entertainment) Near Mint/Mint

REVENGE OF THE EVIL DEAD 2 TPB (2017) #1 (Space Goat Productions) Fine

SONS OF ANARCHY (2013) #1 LIMITED ED (Boom Studios Publishing) Fine

STRANGERS IN PARADISE: BRAVE NEW WORLD TPB (2002) #1 2ND PRINT (Abstract Studio) Very Fine

STRANGERS IN PARADISE: EVER AFTER TPB (VOL. 19) (2007) #1 (Abstract Studio) Very Fine

STRANGERS IN PARADISE: IT'S A GOOD LIFE TPB (1996) #1 6TH PRINT (Abstract Studio) Very Fine

TEENAGE MUTANT NINJA TURTLES (1984) (#1-62) (MIRAGE) #7 2ND PRINT (Mirage Studios) Very Fine

TEENAGE MUTANT NINJA TURTLES (2011) (#1-UP) (IDW Publishing) #34 B (IDW Publishing) Fine
TEENAGE MUTANT NINJA TURTLES (2011) (#1-UP) (IDW Publishing) #44 A (IDW Publishing) Near Mint/Mint
TEENAGE MUTANT NINJA TURTLES (2011) (#1-UP) (IDW Publishing) #49 INCENTIVE (IDW Publishing) Near Mint/Mint
TEENAGE MUTANT NINJA TURTLES (2011) (#1-UP) (IDW Publishing) #50 SUBSCRIPT (IDW Publishing) Near Mint/Mint
TEENAGE MUTANT NINJA TURTLES (2011) (#1-UP) (IDW Publishing) #51 INCENTIVE (IDW Publishing) Near Mint/Mint

TEENAGE MUTANT NINJA TURTLES: DIMENSION X (2017) #1 A PITARRA (IDW Publishing) Near Mint/Mint

THREE STOOGES (1962) (#10-55) (GOLD KEY) #26 (Gold Key) Good

TRANSFORMERS: ALL HAIL MEGATRON (2008) #1 B (IDW Publishing) Fine

TRANSFORMERS: MORE THAN MEETS THE EYE (2011) #46 INCENTIVE (IDW Publishing) Near Mint/Mint

TRIPLE HELIX TPB (2014) #1 (IDW Publishing) Near Mint/Mint

TUROK, SON OF STONE (1962) (#30-125) (GOLD KEY) #55 (Gold Key) Good


TUROK, SON OF STONE GIANT-SIZE (GOLD KEY) #1

TUROK, SON OF STONE GIANT-SIZE (GOLD KEY) #1 (Gold Key) Good

VAMPIRELLA MASTERS SERIES VOL. 7: PANTHA TPB (2012) #1 (DYNAMITE Entertainment) Near Mint/Mint

VAMPIRELLA VOL. 5: MOTHERS, SONS, & A HOLY GHOST TPB (2014) #1 (DYNAMITE Entertainment) Near Mint/Mint

VEROTIKA #9 (Verotik) Very Good

WAR BROTHERS TPB (2013) #1 (ANNICK PRESS) Near Mint/Mint

ZOMBIES VS. ROBOTS (2015) (#1-10) (IDW Publishing) #5 (IDW Publishing) Near Mint/Mint