Half Price Codeword Sale On All Comics Ends Saturday
Howdy,
The last couple of days have been extraordinarily successful here at Mile High Comics! To reel off the good news quickly, business has been great, we had yet another very nice collection walk into Jason St., and the number of scarce back issues that Pam's team added into our online inventory on Monday and Tuesday was nothing short of awesome.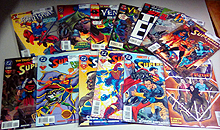 Some comics newly instock now!

All of the above having been said, I have to admit that I have an odd criteria of what constitutes "success." To me, nothing much matters in any given day beyond adding greater diversity and quality into our website offerings of comics and books. That perspective drives our accountant a little crazy, as he wants us to always show a cash profit, which we seldom do. What we do accomplish quite well, however, is to always have far more comics sorted and graded at the end of any given year, as what we had in the beginning.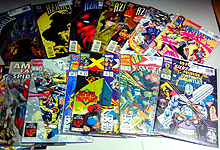 Some more comics newly instock now!

In case you are wondering about my rationale for continually expanding our stock of comics and books, I believe that each title and issue number (and even each different grade...) that we add increases the odds that we will be able to please you on that day when you decide that it is time to once again place an order with us. That is precisely why, when Pam's team stocks well over 1,000 scarce items in our listings in just two working days, that I am delighted. Thanks to Pam's hard work, the odds that we now have in stock highly desirable comics that you have been seeking just increased exponentially. Thanks, Pam!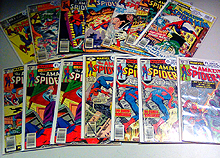 Even more comics newly instock now!

I am going to stop waxing poetic about all of our inventory additions now, and leave room to let you see a sampling from today's New-In-Stock. Aside from all of the Premium New-In-Stock titles we added, Pam's team was working on a remarkable number of titles beginning with SI, SL, and SO yesterday ( SILVER SURFER, SIMPSONS, SLEEPWALKER, SOLO AVENGERS, SOLAR, etc.) We are steadily munching through the alphabet, so SP ( SPIDER-MAN) is next!
Happy Collecting!
Chuck Rozanski,
President - Mile High Comics, Inc.
August 10, 2016

P.S. Don't forget that that we have a 50% off FEASTDAY sale in effect for you on most of our back issues right now. Only new comics, a few variants, and our CGC's are excluded. This very short term sale is ending on Saturday (August 13), at noon.
Here are some of the comics Pam added for you:
MARVEL
AVENGERS (1963) (#1-402) (MARVEL) #18 Very Good
AVENGERS (1963) (#1-402) (MARVEL) #363 Near Mint/Mint

AVENGERS: X-SANCTION (2011) #1 DCBS Near Mint/Mint

BLACK PANTHER (2016) (#1-UP) (MARVEL) #5 HILDEBRANT Near Mint/Mint

BLACK PANTHER BY CHRISTOPHER PRIEST COMPLETE TPB (2015) #4 Near Mint/Mint

CAPTAIN AMERICA (1968) #146 Very Good
CAPTAIN AMERICA (1968) #183 Near Mint/Mint
CAPTAIN AMERICA (1968) #185 Fine

CAPTAIN AMERICA (1968) #450 Near Mint/Mint
CAPTAIN AMERICA (1968) #451 Near Mint/Mint
CAPTAIN AMERICA (1968) #454 Near Mint/Mint

CIVIL WAR: X-MEN (2006) #1 Fine
CIVIL WAR: X-MEN (2006) #2 Very Good
CIVIL WAR: X-MEN (2006) #3 Fine
CIVIL WAR: X-MEN (2006) #4 Very Good

CONAN (1970) #141 NEWSSTAND Fine

CONAN ANNUAL (1973) #11 NEWSSTAND Good
CONAN ANNUAL (1973) #12 NEWSSTAND Good

CONAN SAGA (1987) #12 NEWSSTAND Very Good

DAREDEVIL (1964) (#1-380) (MAN WITHOUT FEAR) (MARVEL) #185 NEWSSTAND Very Good
DAREDEVIL (1964) (#1-380) (MAN WITHOUT FEAR) (MARVEL) #186 NEWSSTAND Very Good
DAREDEVIL (1964) (#1-380) (MAN WITHOUT FEAR) (MARVEL) #187 NEWSSTAND Good

DAREDEVIL (1998) (#1-119, 500-512) (MARVEL) #8 Near Mint/Mint

DARTH VADER VOL. 3: SHU TORUN WAR TPB (2016) #1 Near Mint/Mint

DEADPOOL (1993) (#1-4) (CIRCLE CHASE) (MARVEL) #2 Near Mint/Mint

DEADPOOL & THE MERCS FOR MONEY (VOL. 2) (2016) #2 SLINEY Near Mint/Mint

DOCTOR WHO MAGAZINE #193 Very Good

EMPIRE OF THE DEAD: ACT ONE (GEORGE A. ROMERO) (2013) #5 VARIANT Near Mint/Mint

ETERNALS (1976) #3 Near Mint/Mint

FANTASTIC FOUR (1961) (#1-416) (MARVEL) #41 Very Good

FANTASTIC FOUR (2013) (#1-16) (MARVEL) #5 VARIANT Near Mint/Mint
FANTASTIC FOUR (2013) (#1-16) (MARVEL) #5 VARIANT Very Fine

GUARDIANS OF THE GALAXY (2013) #9 PHOTO Near Mint/Mint
GUARDIANS OF THE GALAXY (2013) #9 PHOTO Very Fine

HIT-GIRL (2012) #5 SKETCH CV Near Mint/Mint

HULK (1962) (#1-6, #102-635) (INCREDIBLE) (MARVEL) #285 NEWSSTAND Very Good

INFINITY GAUNTLET (1991) #1 Very Fine
INFINITY GAUNTLET (1991) #5 Fine

INFINITY WAR (1992) #1 Near Mint/Mint
INFINITY WAR (1992) #2 Near Mint/Mint
INFINITY WAR (1992) #3 Near Mint/Mint
INFINITY WAR (1992) #4 Very Fine
INFINITY WAR (1992) #5 Near Mint/Mint
INFINITY WAR (1992) #6 Near Mint/Mint

IRON MAN (1968) (#1-332) (INVINCIBLE IRON MAN)(MARVEL) #305 Near Mint/Mint

JOURNEY INTO MYSTERY (2011) (#622-UP) #639 VARIANT Near Mint/Mint

MARVEL MILESTONE EDITION: AMAZING SPIDER-MAN (1992) #1 Fine

MARVEL PREVIEW (1975) #21 Very Good

MARVEL TALES (1964) #144 NEWSSTAND Very Good
MARVEL TALES (1964) #146 NEWSSTAND Very Good
MARVEL TALES (1964) #156 NEWSSTAND Very Good
MARVEL TALES (1964) #159 NEWSSTAND Very Good
MARVEL TALES (1964) #161 NEWSSTAND Very Good

MARVEL TEAM-UP (1972) #120 NEWSSTAND Very Good
MARVEL TEAM-UP (1972) #123 NEWSSTAND Fine
MARVEL TEAM-UP (1972) #124 NEWSSTAND Fine

PETER PARKER (SPECTACULAR SPIDER-MAN) (1976) #72 NEWSSTAND Very Good
PETER PARKER (SPECTACULAR SPIDER-MAN) (1976) #83 JEWELERS Very Good

PETER PARKER (SPECTACULAR SPIDER-MAN) (1976) #201 Near Mint/Mint

POWER MAN/IRON FIST (LUKE CAGE, POWER MAN #1-49) (1972) #84 NEWSSTAND Good

SILVER SURFER (1987) #45 Near Mint/Mint
SILVER SURFER (1987) #45 Fine
SILVER SURFER (1987) #46 Near Mint/Mint
SILVER SURFER (1987) #47 Near Mint/Mint
SILVER SURFER (1987) #47 Very Fine
SILVER SURFER (1987) #48 Near Mint/Mint
SILVER SURFER (1987) #48 Fine
SILVER SURFER (1987) #48 Very Fine
SILVER SURFER (1987) #49 Near Mint/Mint
SILVER SURFER (1987) #50 Near Mint/Mint
SILVER SURFER (1987) #50 2ND PRT Near Mint/Mint
SILVER SURFER (1987) #50 3RD PRT Near Mint/Mint
SILVER SURFER (1987) #55 Near Mint/Mint
SILVER SURFER (1987) #55 Very Fine
SILVER SURFER (1987) #56 Near Mint/Mint
SILVER SURFER (1987) #56 Very Fine
SILVER SURFER (1987) #58 Near Mint/Mint
SILVER SURFER (1987) #59 Near Mint/Mint
SILVER SURFER (1987) #59 Fine
SILVER SURFER (1987) #59 W/INSERT Near Mint/Mint
SILVER SURFER (1987) #64 Near Mint/Mint
SILVER SURFER (1987) #98 Near Mint/Mint
SILVER SURFER (1987) #100 DELUXENEWS Very Fine
SILVER SURFER (1987) #128 Fine
SILVER SURFER (1987) #136 Fine
SILVER SURFER (1987) #136 Very Fine
SILVER SURFER (1987) #146 Near Mint/Mint

SILVER SURFER (1988) #1 Fine
SILVER SURFER (1988) #1 Near Mint/Mint
SILVER SURFER (1988) #1 Very Fine
SILVER SURFER (1988) #2 Near Mint/Mint
SILVER SURFER (1988) #2 Fine
SILVER SURFER (1988) #2 Very Fine

SILVER SURFER (2003) #1 Near Mint/Mint

SIX FROM SIRIUS II #2 Near Mint/Mint
SIX FROM SIRIUS II #2 Fine
SIX FROM SIRIUS II #2 Very Fine
SIX FROM SIRIUS II #3 Near Mint/Mint
SIX FROM SIRIUS II #3 Fine
SIX FROM SIRIUS II #4 Fine
SIX FROM SIRIUS II #4 Very Fine

SKAAR: SON OF HULK (2008) #1 Near Mint/Mint
SKAAR: SON OF HULK (2008) #1 Very Fine
SKAAR: SON OF HULK (2008) #8 Near Mint/Mint
SKAAR: SON OF HULK (2008) #9 Near Mint/Mint
SKAAR: SON OF HULK (2008) #12 Near Mint/Mint

SKY DOLL (2008) #1 Very Fine
SKY DOLL (2008) #2 Near Mint/Mint
SKY DOLL (2008) #2 Very Fine

SKY DOLL: LACRIMA CHRISTI (2010) #2 Near Mint/Mint

SKY DOLL: SPACE SHIP (2010) #1 Very Fine
SKY DOLL: SPACE SHIP (2010) #2 Near Mint/Mint

SLEEPWALKER (1991) #1 Near Mint/Mint
SLEEPWALKER (1991) #1 NEWSSTAND Fine
SLEEPWALKER (1991) #2 NEWSSTAND Very Fine
SLEEPWALKER (1991) #3 NEWSSTAND Near Mint/Mint
SLEEPWALKER (1991) #3 NEWSSTAND Very Fine
SLEEPWALKER (1991) #3 NEWSSTAND Fine
SLEEPWALKER (1991) #4 NEWSSTAND Near Mint/Mint
SLEEPWALKER (1991) #4 NEWSSTAND Very Fine
SLEEPWALKER (1991) #4 NEWSSTAND Fine
SLEEPWALKER (1991) #5 NEWSSTAND Near Mint/Mint
SLEEPWALKER (1991) #6 NEWSSTAND Very Fine
SLEEPWALKER (1991) #8 NEWSSTAND Near Mint/Mint
SLEEPWALKER (1991) #8 2ND PRINT Near Mint/Mint
SLEEPWALKER (1991) #8 NEWSSTAND Very Fine
SLEEPWALKER (1991) #8 2ND PRINT Very Fine
SLEEPWALKER (1991) #8 NEWSSTAND Fine
SLEEPWALKER (1991) #9 2ND PRINT Near Mint/Mint
SLEEPWALKER (1991) #9 2ND PRINT Very Fine
SLEEPWALKER (1991) #10 NEWSSTAND Very Fine
SLEEPWALKER (1991) #10 NEWSSTAND Fine
SLEEPWALKER (1991) #11 NEWSSTAND Very Fine
SLEEPWALKER (1991) #12 NEWSSTAND Very Fine
SLEEPWALKER (1991) #13 NEWSSTAND Fine

SLEEPWALKER (1991) #26 Near Mint/Mint
SLEEPWALKER (1991) #26 Very Fine
SLEEPWALKER (1991) #30 Near Mint/Mint
SLEEPWALKER (1991) #30 Very Fine
SLEEPWALKER (1991) #31 Near Mint/Mint
SLEEPWALKER (1991) #31 Very Fine
SLEEPWALKER (1991) #32 Near Mint/Mint
SLEEPWALKER (1991) #32 Very Fine
SLEEPWALKER (1991) #33 Near Mint/Mint
SLEEPWALKER (1991) #33 Very Fine

SLEEPWALKER HOLIDAY SPECIAL (1993) #1 NEWSSTAND Fine

SNOW WHITE & THE SEVEN DWARFS OFFICIAL ADAPTATION (1995) #1 Near Mint/Mint
SNOW WHITE & THE SEVEN DWARFS OFFICIAL ADAPTATION (1995) #1 Very Fine

SOLO AVENGERS (AVENGERS SPOTLIGHT #21-40) (1987) #1 NEWSSTAND Near Mint/Mint
SOLO AVENGERS (AVENGERS SPOTLIGHT #21-40) (1987) #1 NEWSSTAND Very Fine
SOLO AVENGERS (AVENGERS SPOTLIGHT #21-40) (1987) #1 NEWSSTAND Fine
SOLO AVENGERS (AVENGERS SPOTLIGHT #21-40) (1987) #3 NEWSSTAND Near Mint/Mint
SOLO AVENGERS (AVENGERS SPOTLIGHT #21-40) (1987) #4 NEWSSTAND Near Mint/Mint
SOLO AVENGERS (AVENGERS SPOTLIGHT #21-40) (1987) #5 NEWSSTAND Near Mint/Mint
SOLO AVENGERS (AVENGERS SPOTLIGHT #21-40) (1987) #7 NEWSSTAND Very Fine
SOLO AVENGERS (AVENGERS SPOTLIGHT #21-40) (1987) #12 Fine
SOLO AVENGERS (AVENGERS SPOTLIGHT #21-40) (1987) #12 Near Mint/Mint
SOLO AVENGERS (AVENGERS SPOTLIGHT #21-40) (1987) #12 NEWSSTAND Fine
SOLO AVENGERS (AVENGERS SPOTLIGHT #21-40) (1987) #12 NEWSSTAND Good
SOLO AVENGERS (AVENGERS SPOTLIGHT #21-40) (1987) #12 Very Good
SOLO AVENGERS (AVENGERS SPOTLIGHT #21-40) (1987) #14 Fine
SOLO AVENGERS (AVENGERS SPOTLIGHT #21-40) (1987) #14 Near Mint/Mint
SOLO AVENGERS (AVENGERS SPOTLIGHT #21-40) (1987) #14 Very Fine
SOLO AVENGERS (AVENGERS SPOTLIGHT #21-40) (1987) #17 NEWSSTAND Very Fine
SOLO AVENGERS (AVENGERS SPOTLIGHT #21-40) (1987) #18 NEWSSTAND Very Fine
SOLO AVENGERS (AVENGERS SPOTLIGHT #21-40) (1987) #19 NEWSSTAND Very Fine
SOLO AVENGERS (AVENGERS SPOTLIGHT #21-40) (1987) #20 NEWSSTAND Fine
SOLO AVENGERS (AVENGERS SPOTLIGHT #21-40) (1987) #22 NEWSSTAND Near Mint/Mint
SOLO AVENGERS (AVENGERS SPOTLIGHT #21-40) (1987) #26 Near Mint/Mint
SOLO AVENGERS (AVENGERS SPOTLIGHT #21-40) (1987) #26 NEWSSTAND Fine
SOLO AVENGERS (AVENGERS SPOTLIGHT #21-40) (1987) #33 Near Mint/Mint
SOLO AVENGERS (AVENGERS SPOTLIGHT #21-40) (1987) #34 Near Mint/Mint
SOLO AVENGERS (AVENGERS SPOTLIGHT #21-40) (1987) #35 Near Mint/Mint

SOLOMON KANE #4 NEWSSTAND Near Mint/Mint

SON OF M (2005) #5 Near Mint/Mint
SON OF M (2005) #5 Very Fine

SPECTACULAR SPIDER-MAN MAGAZINE #2 Fine
SPECTACULAR SPIDER-MAN MAGAZINE #2 Very Good

SPIDER-MAN (1963) (AMAZING SPIDER-MAN) (#1-441) #184 WHITMAN Good
SPIDER-MAN (1963) (AMAZING SPIDER-MAN) (#1-441) #186 WHITMAN Good
SPIDER-MAN (1963) (AMAZING SPIDER-MAN) (#1-441) #190 Good
SPIDER-MAN (1963) (AMAZING SPIDER-MAN) (#1-441) #191 Fine
SPIDER-MAN (1963) (AMAZING SPIDER-MAN) (#1-441) #192 Very Fine
SPIDER-MAN (1963) (AMAZING SPIDER-MAN) (#1-441) #197 NEWSSTAND Fine
SPIDER-MAN (1963) (AMAZING SPIDER-MAN) (#1-441) #197 NEWSSTAND Good
SPIDER-MAN (1963) (AMAZING SPIDER-MAN) (#1-441) #199 NEWSSTAND Good
SPIDER-MAN (1963) (AMAZING SPIDER-MAN) (#1-441) #212 NEWSSTAND Very Good
SPIDER-MAN (1963) (AMAZING SPIDER-MAN) (#1-441) #216 NEWSSTAND Good
SPIDER-MAN (1963) (AMAZING SPIDER-MAN) (#1-441) #217 NEWSSTAND Good
SPIDER-MAN (1963) (AMAZING SPIDER-MAN) (#1-441) #218 NEWSSTAND Good
SPIDER-MAN (1963) (AMAZING SPIDER-MAN) (#1-441) #225 NEWSSTAND Good
SPIDER-MAN (1963) (AMAZING SPIDER-MAN) (#1-441) #227 NEWSSTAND Good
SPIDER-MAN (1963) (AMAZING SPIDER-MAN) (#1-441) #231 NEWSSTAND Very Good
SPIDER-MAN (1963) (AMAZING SPIDER-MAN) (#1-441) #231 NEWSSTAND Good
SPIDER-MAN (1963) (AMAZING SPIDER-MAN) (#1-441) #234 NEWSSTAND Very Good
SPIDER-MAN (1963) (AMAZING SPIDER-MAN) (#1-441) #235 NEWSSTAND Fine
SPIDER-MAN (1963) (AMAZING SPIDER-MAN) (#1-441) #236 NEWSSTAND Fine
SPIDER-MAN (1963) (AMAZING SPIDER-MAN) (#1-441) #237 NEWSSTAND Fine
SPIDER-MAN (1963) (AMAZING SPIDER-MAN) (#1-441) #237 NEWSSTAND Very Good
SPIDER-MAN (1963) (AMAZING SPIDER-MAN) (#1-441) #240 NEWSSTAND Fine
SPIDER-MAN (1963) (AMAZING SPIDER-MAN) (#1-441) #241 NEWSSTAND Very Good
SPIDER-MAN (1963) (AMAZING SPIDER-MAN) (#1-441) #243 NEWSSTAND Very Good
SPIDER-MAN (1963) (AMAZING SPIDER-MAN) (#1-441) #244 NEWSSTAND Good
SPIDER-MAN (1963) (AMAZING SPIDER-MAN) (#1-441) #249 NEWSSTAND Very Good
SPIDER-MAN (1963) (AMAZING SPIDER-MAN) (#1-441) #250 NEWSSTAND Fine
SPIDER-MAN (1963) (AMAZING SPIDER-MAN) (#1-441) #251 NEWSSTAND Fine
SPIDER-MAN (1963) (AMAZING SPIDER-MAN) (#1-441) #253 NEWSSTAND Fine
SPIDER-MAN (1963) (AMAZING SPIDER-MAN) (#1-441) #258 NEWSSTAND Very Good
SPIDER-MAN (1963) (AMAZING SPIDER-MAN) (#1-441) #280 NEWSSTAND Very Good
SPIDER-MAN (1963) (AMAZING SPIDER-MAN) (#1-441) #304 Very Fine
SPIDER-MAN (1963) (AMAZING SPIDER-MAN) (#1-441) #305 NEWSSTAND Fine
SPIDER-MAN (1963) (AMAZING SPIDER-MAN) (#1-441) #307 NEWSSTAND Very Good
SPIDER-MAN (1963) (AMAZING SPIDER-MAN) (#1-441) #310 NEWSSTAND Very Fine
SPIDER-MAN (1963) (AMAZING SPIDER-MAN) (#1-441) #311 Very Fine
SPIDER-MAN (1963) (AMAZING SPIDER-MAN) (#1-441) #313 Very Fine
SPIDER-MAN (1963) (AMAZING SPIDER-MAN) (#1-441) #314 Fine
SPIDER-MAN (1963) (AMAZING SPIDER-MAN) (#1-441) #315 NEWSSTAND Good
SPIDER-MAN (1963) (AMAZING SPIDER-MAN) (#1-441) #316 NEWSSTAND Good
SPIDER-MAN (1963) (AMAZING SPIDER-MAN) (#1-441) #317 Fine
SPIDER-MAN (1963) (AMAZING SPIDER-MAN) (#1-441) #318 Very Fine
SPIDER-MAN (1963) (AMAZING SPIDER-MAN) (#1-441) #319 NEWSSTAND Very Good
SPIDER-MAN (1963) (AMAZING SPIDER-MAN) (#1-441) #320 Very Fine
SPIDER-MAN (1963) (AMAZING SPIDER-MAN) (#1-441) #321 Near Mint/Mint
SPIDER-MAN (1963) (AMAZING SPIDER-MAN) (#1-441) #321 NEWSSTAND Very Good
SPIDER-MAN (1963) (AMAZING SPIDER-MAN) (#1-441) #322 NEWSSTAND Good
SPIDER-MAN (1963) (AMAZING SPIDER-MAN) (#1-441) #323 Fine
SPIDER-MAN (1963) (AMAZING SPIDER-MAN) (#1-441) #324 Very Fine
SPIDER-MAN (1963) (AMAZING SPIDER-MAN) (#1-441) #325 NEWSSTAND Good
SPIDER-MAN (1963) (AMAZING SPIDER-MAN) (#1-441) #325 Very Fine

SPIDER-MAN (1963) (AMAZING SPIDER-MAN) (#1-441) #326 Near Mint/Mint
SPIDER-MAN (1963) (AMAZING SPIDER-MAN) (#1-441) #327 NEWSSTAND Very Good
SPIDER-MAN (1963) (AMAZING SPIDER-MAN) (#1-441) #328 NEWSSTAND Very Good
SPIDER-MAN (1963) (AMAZING SPIDER-MAN) (#1-441) #329 NEWSSTAND Very Good
SPIDER-MAN (1963) (AMAZING SPIDER-MAN) (#1-441) #331 NEWSSTAND Very Good
SPIDER-MAN (1963) (AMAZING SPIDER-MAN) (#1-441) #332 Fine
SPIDER-MAN (1963) (AMAZING SPIDER-MAN) (#1-441) #333 Very Good
SPIDER-MAN (1963) (AMAZING SPIDER-MAN) (#1-441) #334 NEWSSTAND Good
SPIDER-MAN (1963) (AMAZING SPIDER-MAN) (#1-441) #334 Very Fine
SPIDER-MAN (1963) (AMAZING SPIDER-MAN) (#1-441) #335 NEWSSTAND Fine
SPIDER-MAN (1963) (AMAZING SPIDER-MAN) (#1-441) #336 NEWSSTAND Fine
SPIDER-MAN (1963) (AMAZING SPIDER-MAN) (#1-441) #336 Very Fine
SPIDER-MAN (1963) (AMAZING SPIDER-MAN) (#1-441) #338 NEWSSTAND Good
SPIDER-MAN (1963) (AMAZING SPIDER-MAN) (#1-441) #339 NEWSSTAND Fine
SPIDER-MAN (1963) (AMAZING SPIDER-MAN) (#1-441) #340 NEWSSTAND Very Good
SPIDER-MAN (1963) (AMAZING SPIDER-MAN) (#1-441) #341 NEWSSTAND Very Fine
SPIDER-MAN (1963) (AMAZING SPIDER-MAN) (#1-441) #341 NEWSSTAND Very Good
SPIDER-MAN (1963) (AMAZING SPIDER-MAN) (#1-441) #343 NEWSSTAND Very Good
SPIDER-MAN (1963) (AMAZING SPIDER-MAN) (#1-441) #344 Very Fine
SPIDER-MAN (1963) (AMAZING SPIDER-MAN) (#1-441) #345 Very Fine
SPIDER-MAN (1963) (AMAZING SPIDER-MAN) (#1-441) #346 NEWSSTAND Very Fine
SPIDER-MAN (1963) (AMAZING SPIDER-MAN) (#1-441) #347 Very Fine
SPIDER-MAN (1963) (AMAZING SPIDER-MAN) (#1-441) #348 NEWSSTAND Very Good
SPIDER-MAN (1963) (AMAZING SPIDER-MAN) (#1-441) #349 Near Mint/Mint
SPIDER-MAN (1963) (AMAZING SPIDER-MAN) (#1-441) #362 Very Fine
SPIDER-MAN (1963) (AMAZING SPIDER-MAN) (#1-441) #363 Fine
SPIDER-MAN (1963) (AMAZING SPIDER-MAN) (#1-441) #363 Near Mint/Mint
SPIDER-MAN (1963) (AMAZING SPIDER-MAN) (#1-441) #365 Near Mint/Mint
SPIDER-MAN (1963) (AMAZING SPIDER-MAN) (#1-441) #365 Fine
SPIDER-MAN (1963) (AMAZING SPIDER-MAN) (#1-441) #365 Very Fine
SPIDER-MAN (1963) (AMAZING SPIDER-MAN) (#1-441) #374 NEWSSTAND Near Mint/Mint
SPIDER-MAN (1963) (AMAZING SPIDER-MAN) (#1-441) #375 Near Mint/Mint
SPIDER-MAN (1963) (AMAZING SPIDER-MAN) (#1-441) #403 Near Mint/Mint
SPIDER-MAN (1963) (AMAZING SPIDER-MAN) (#1-441) #404 Near Mint/Mint
SPIDER-MAN (1963) (AMAZING SPIDER-MAN) (#1-441) #406 Near Mint/Mint
SPIDER-MAN (1963) (AMAZING SPIDER-MAN) (#1-441) #425 Very Fine
SPIDER-MAN (1963) (AMAZING SPIDER-MAN) (#1-441) #426 Near Mint/Mint

SPIDER-MAN ANNUAL (1964) #16 NEWSSTAND Very Good
SPIDER-MAN ANNUAL (1964) #28 Near Mint/Mint

STAR WARS (2015) #1 MIDTOWNB&W Near Mint/Mint

THUNDERSTRIKE (1993) #24 Near Mint/Mint

TOMB OF DARKNESS (1974) #10 Good

VENOM ON TRIAL (1997) #1 Near Mint/Mint

VENOM: ENEMY WITHIN (1994) #1 Near Mint/Mint

VENOM: FUNERAL PYRE (1993) #1 Very Fine

VENOM: NIGHTS OF VENGEANCE (1994) #4 Near Mint/Mint

VENOM: SEPARATION ANXIETY (1994) #1 Near Mint/Mint
VENOM: SEPARATION ANXIETY (1994) #2 Near Mint/Mint
VENOM: SEPARATION ANXIETY (1994) #3 Near Mint/Mint
VENOM: SEPARATION ANXIETY (1994) #4 Near Mint/Mint

VENOM: SINNER TAKES ALL (1995) #3 Very Fine

VENOM: TOOTH & CLAW (1996) #1 Very Fine

WEAPON X (1995) #4 Near Mint/Mint

WOLVERINE (1982) #4 NEWSSTAND Very Good

WOLVERINE (1988) #100 DELUXE Near Mint/Mint
WOLVERINE (1988) #146 Near Mint/Mint

X-FACTOR (1986) #5 Near Mint/Mint
X-FACTOR (1986) #5 NEWSSTAND Good

X-FORCE (1991) #11 Near Mint/Mint
X-FORCE (1991) #20 Very Fine
X-FORCE (1991) #23 Fine

X-MEN (1963) (#1-113, UNCANNY X-MEN #114-544) (MARVEL) #147 NEWSSTAND Fine
X-MEN (1963) (#1-113, UNCANNY X-MEN #114-544) (MARVEL) #268 Fine
X-MEN (1963) (#1-113, UNCANNY X-MEN #114-544) (MARVEL) #268 NEWSSTAND Very Good
X-MEN (1963) (#1-113, UNCANNY X-MEN #114-544) (MARVEL) #325 Near Mint/Mint
X-MEN (1963) (#1-113, UNCANNY X-MEN #114-544) (MARVEL) #331 NEWSSTAND Near Mint/Mint

X-MEN (1963) (#1-113, UNCANNY X-MEN #114-544) (MARVEL) #350 Near Mint/Mint
X-MEN (1963) (#1-113, UNCANNY X-MEN #114-544) (MARVEL) #365 NEWSSTAND Fine
X-MEN (1963) (#1-113, UNCANNY X-MEN #114-544) (MARVEL) #374 NEWSSTAND Fine
X-MEN (1963) (#1-113, UNCANNY X-MEN #114-544) (MARVEL) #376 Near Mint/Mint
X-MEN (1963) (#1-113, UNCANNY X-MEN #114-544) (MARVEL) #377 VARIANT Very Good
X-MEN (1963) (#1-113, UNCANNY X-MEN #114-544) (MARVEL) #378 Near Mint/Mint
X-MEN (1963) (#1-113, UNCANNY X-MEN #114-544) (MARVEL) #415 Near Mint/Mint
X-MEN (1963) (#1-113, UNCANNY X-MEN #114-544) (MARVEL) #510 Very Fine

X-MEN (1991) (#1-275) (MARVEL) #95 Very Fine
X-MEN (1991) (#1-275) (MARVEL) #96 Near Mint/Mint

X-MEN: MESSIAH COMPLEX ONE-SHOT (2007) #1 Near Mint/Mint
X-MEN: REGENESIS (2011) #1 Very Fine

X-TREME X-MEN (2012) #1 VARIANT Near Mint/Mint
X-TREME X-MEN (2012) #1 VARIANT Very Fine

DC
ACTION COMICS (1938) #713 Near Mint/Mint

AZRAEL (DC) (1995) #10 Near Mint/Mint

BATMAN AND THE OUTSIDERS (1983) #11 NEWSSTAND Near Mint/Mint

BATMAN: BIRTH OF THE DEMON PROMOTIONAL COPY (1992) #1 Very Good

BATMAN: SHADOW OF THE BAT (1992) #83 Near Mint/Mint

DARK KNIGHT III: THE MASTER RACE (2015) #2 MIDTOWN ED Near Mint/Mint

DEATHSTROKE VOL. 3: SUICIDE RUN TPB (2016) #1 Near Mint/Mint

DETECTIVE COMICS ANNUAL (1988) #8 Near Mint/Mint

JONAH HEX (1977) #68 NEWSSTAND Fine
JONAH HEX (1977) #72 NEWSSTAND Fine
JONAH HEX (1977) #75 NEWSSTAND Very Good

LEGENDS OF THE DARK KNIGHT (BATMAN) (1989) #18 Near Mint/Mint
LEGENDS OF THE DARK KNIGHT (BATMAN) (1989) #50 Very Fine

NIGHTWING (1995) (#1-4) (DC) #1 Near Mint/Mint

NIGHTWING (2001) (#0-30) (DC NEW52) #28 VARIANT Near Mint/Mint

NIGHTWING: ALFRED'S RETURN (1995) #1 Near Mint/Mint

SECRET ORIGINS (1986) #50 Near Mint/Mint
SECRET ORIGINS (1986) #50 Very Good

SINESTRO (2014) #8 Near Mint/Mint

SKYE RUNNER (2006) #2 (DC/Wildstorm) Near Mint/Mint
SKYE RUNNER (2006) #4 GIRL (DC/Wildstorm) Near Mint/Mint

SLEEPER (2003) #1 (DC/Wildstorm) Near Mint/Mint
SLEEPER (2003) #2 (DC/Wildstorm) Near Mint/Mint
SLEEPER (2003) #4 (DC/Wildstorm) Near Mint/Mint
SLEEPER (2003) #6 (DC/Wildstorm) Near Mint/Mint
SLEEPER (2003) #7 (DC/Wildstorm) Near Mint/Mint
SLEEPER (2003) #7 (DC/Wildstorm) Very Fine
SLEEPER (2003) #8 (DC/Wildstorm) Near Mint/Mint
SLEEPER (2003) #8 (DC/Wildstorm) Very Fine
SLEEPER (2003) #9 (DC/Wildstorm) Near Mint/Mint
SLEEPER (2003) #10 (DC/Wildstorm) Near Mint/Mint
SLEEPER (2003) #12 (DC/Wildstorm) Near Mint/Mint

SLEEPER SEASON TWO (2004) #9 (DC/Wildstorm) Near Mint/Mint

SLEEPY HOLLOW MOVIE ADAPTATION (2000) #1 Near Mint/Mint

SMALLVILLE SEASON 11 (2012) #3 Near Mint/Mint
SMALLVILLE SEASON 11 (2012) #10 Near Mint/Mint
SMALLVILLE SEASON 11 (2012) #13 Near Mint/Mint
SMALLVILLE SEASON 11 SPECIAL (2013) #1 Near Mint/Mint
SMALLVILLE SEASON 11 SPECIAL (2013) #2 Near Mint/Mint
SMALLVILLE SEASON 11: ALIEN (2013) #3 Near Mint/Mint
SMALLVILLE SEASON 11: CHAOS (2014) #1 Near Mint/Mint
SMALLVILLE SEASON 11: CHAOS (2014) #3 Near Mint/Mint
SMALLVILLE SEASON 11: CHAOS (2014) #4 Near Mint/Mint
SMALLVILLE SEASON 11: CONTINUITY (2014) #2 Near Mint/Mint

SOLO (2004) #1 Near Mint/Mint
SOLO (2004) #2 Near Mint/Mint
SOLO (2004) #7 Near Mint/Mint
SOLO (2004) #10 Near Mint/Mint
SOLO (2004) #11 Near Mint/Mint

SUPERGIRL VOL. 2: BREAKING THE CHAIN TPB (2016) #1 Near Mint/Mint

SUPERMAN & BATMAN MAGAZINE #1 Very Fine

TEEN TITANS: EARTH ONE HC (2014) #2 Near Mint/Mint

Y-THE LAST MAN TPB (2014) #5 (DC: Vertigo Press) Near Mint/Mint

DARK HORSE COMICS
BETTIE PAGE COMICS (1996) #1 Near Mint/Mint

BETTIE PAGE: QUEEN OF THE NILE (1999) #1 Near Mint/Mint


BETTIE PAGE: QUEEN OF THE NILE (1999) #2

BETTIE PAGE: QUEEN OF THE NILE (1999) #2 Near Mint/Mint

SLEDGEHAMMER 44: LIGHTNING WAR (2013) #2 Near Mint/Mint

IMAGE COMICS
CYBERFORCE (1993) #25 (Image Top Cow) Near Mint/Mint

DANGER GIRL: THE DANGEROUS COLLECTION #1 2ND PRINT Very Fine
DANGER GIRL: THE DANGEROUS COLLECTION #2 Near Mint/Mint

DARKNESS/BATMAN #1 (Image Top Cow) Near Mint/Mint

INVINCIBLE: OUT OF THIS WORLD TPB (VOL. 9) (2007) #1 Near Mint/Mint

LAZARUS (2013) #2 SDCC2013 Near Mint/Mint

REVIVAL (2012) #1 SAN DIEGO Near Mint/Mint
REVIVAL (2012) #1 SAN DIEGO Fine

SAVAGE DRAGON-THE SERIES #22 Near Mint/Mint

SINERGY (2014) #4 B Near Mint/Mint
SINERGY (2014) #4 A Near Mint/Mint

SKULLKICKERS (2010) #10 Near Mint/Mint
SKULLKICKERS (2010) #11 Near Mint/Mint
SKULLKICKERS (2010) #31 Near Mint/Mint
SKULLKICKERS (2010) #32 Near Mint/Mint
SKULLKICKERS (2010) #32 Very Fine
SKULLKICKERS (2010) #33 Near Mint/Mint

SNAPSHOT (2013) #1 Near Mint/Mint
SNAPSHOT (2013) #1 Very Fine

SOUL SAGA #1 AU VARIANT (Image Top Cow) Near Mint/Mint
SOUL SAGA #1 TURNER (Image Top Cow) Near Mint/Mint
SOUL SAGA #1 MADUREIRA (Image Top Cow) Near Mint/Mint
SOUL SAGA #1 TURNER (Image Top Cow) Very Fine

SOUL SAGA COLLECTED EDITION (2000) #1 Very Fine

SPAWN (1992) #1 Fine
SPAWN (1992) #1 Very Fine
SPAWN (1992) #28 Near Mint/Mint
SPAWN (1992) #31 Near Mint/Mint

SPAWN/BATMAN #1 Near Mint/Mint

WILDC.A.T.S. #24 Very Fine

INDEPENDENTS
BETTY PAGE IN JUNGLELAND #0 (Conquest Press) Very Fine

BETTY PAGE: THE 50'S RAGE #1 TAME (Illustration Studios) Fine
BETTY PAGE: THE 50'S RAGE ANNUAL (1992) #1 (Illustration Studios) Fine

BETTY PAGES #2 (Pure Imagination) Fine

BETTY PAGES #5 (Pure Imagination) Very Fine

BIG TROUBLE IN LITTLE CHINA (2014) #1 DODSON (Boom Studios Publishing) Near Mint/Mint

BLOOD QUEEN (2014) #2 ANACLETB&W (DYNAMITE Entertainment) Near Mint/Mint

CAVEWOMAN: FREAKIN' YETIS (2016) #1 F MOORE (Amryl Entertainment) Near Mint/Mint

COSPLAYERS HC (2016) #1 (Fantagraphics) Near Mint/Mint

CURB STOMP (2015) #1 10TH ANN (Boom Studios Publishing) Near Mint/Mint

CYBERRAD (1991) #2 NEWSSTAND (Continuity Publishing) Near Mint/Mint

DAMSELS IN EXCESS (2014) #1 D (Aspen) Very Fine

ELEGANTLY BOUND (MAG) (1994) #2 (Glamourcon Inc.) Near Mint/Mint

ENTITY #1/2 (1996) #1 SNOWMANCVR (Avatar Comics) Near Mint/Mint
ENTITY #1/2 (1996) #1 SNOWPLTSGN (Avatar Comics) Near Mint/Mint

FEMME FATALES (VOL. 6) #10 (Cinefantastique) Very Fine

FOND MEMORIES #0 (Nafc) Fine
FOND MEMORIES #1 T (Nafc) Near Mint/Mint

HEAVY METAL (MAG) #9801 (Heavy Metal) Very Fine

I FEEL SICK (1999) #1 (Amaze Ink) Very Fine

KING: PRINCE VALIANT (2015) #1 COOKE B&W (DYNAMITE Entertainment) Near Mint/Mint
KING: PRINCE VALIANT (2015) #1 LIEFELD (DYNAMITE Entertainment) Near Mint/Mint

LABYRINTH 30TH ANNIVERSARY SPECIAL (2016) #1 ALLRED (Boom Studios Publishing) Near Mint/Mint

LADY DEATH: APOCALYPSE (2015) #2 PURE ART (Boundless Comics) Near Mint/Mint
LADY DEATH: APOCALYPSE (2015) #2 SULTRY (Boundless Comics) Near Mint/Mint

LUMBERJANES/GOTHAM ACADEMY (2016) #3 NG (Boom Studios Publishing) Near Mint/Mint

MARIE ANTOINETTE: PHANTOM QUEEN HC (2016) #1 (NBM) Near Mint/Mint

MASTERS OF FANTASY: JUST BETTIE PAGE (2004) #1 (Illustration Studios) Fine

MEGALITH (1989) #3 NEWSSTAND (Continuity Publishing) Near Mint/Mint

OUT THERE TPB (2016) #2 (Boom Studios Publishing) Near Mint/Mint

RAT FINK (1990) #3 (World of Fandom Magazine) Very Good

RICK & MORTY TPB (2015) #1 5TH PRINT (Oni Press Inc.) Near Mint/Mint

ROCKETEER ADVENTURES (2011) #1 B (IDW Publishing) Near Mint/Mint
ROCKETEER ADVENTURES (2011) #2 A (IDW Publishing) Near Mint/Mint
ROCKETEER ADVENTURES (2011) #2 B (IDW Publishing) Near Mint/Mint
ROCKETEER ADVENTURES (2011) #3 B (IDW Publishing) Very Fine
ROCKETEER ADVENTURES (2011) #4 B (IDW Publishing) Near Mint/Mint

ROCKETEER POSTCARDS SET #1 (Pacific Comics) Near Mint/Mint
ROCKETEER POSTCARDS SET #2 (Pacific Comics) Near Mint/Mint

SINISTER ROMANCE #2 (Harrier) Near Mint/Mint
SINISTER ROMANCE #2 (Harrier) Very Fine

SINJA: DEADLY SINS #1 COMMEM (Lightning Comics) Near Mint/Mint

SINNAMON #2 (Catfish Comics) Very Fine
SINNAMON #3 (Catfish Comics) Near Mint/Mint
SINNAMON #5 (Catfish Comics) Very Fine
SINNAMON #7 (Catfish Comics) Near Mint/Mint
SINNAMON #7 (Catfish Comics) Very Fine
SINNAMON #8 (Catfish Comics) Very Fine
SINNAMON #9 (Catfish Comics) Near Mint/Mint

SINNAMON #9 FOIL COVER (Catfish Comics) Near Mint/Mint
SINNAMON #9 FOIL COVER (Catfish Comics) Very Fine
SINNAMON #10 (Catfish Comics) Very Fine

SINNAMON #11 (Catfish Comics) Very Fine

SINNAMON SAGA #1 (Catfish Comics) Fine
SINNAMON SAGA #1 (Catfish Comics) Near Mint/Mint

SINS OF THE FALLEN: NIGHTSTALKER (2005) #3 (Zenescope Entertainment Inc) Near Mint/Mint

SINTHIA #2 COVER B (Lightning Comics) Near Mint/Mint
SINTHIA #2 COVER B (Lightning Comics) Very Fine

SIP KIDS (STRANGERS IN PARADISE) (2014) #2 (Abstract Studio) Near Mint/Mint

SIRENS #1 (Caliber Press) Fine
SIRENS #1 (Caliber Press) Near Mint/Mint
SIRENS #1 (Caliber Press) Very Fine
SIRENS #2 (Caliber Press) Fine
SIRENS #2 (Caliber Press) Very Fine

SIRENS (GEORGE PEREZ) (2014) #1 B (Boom Studios Publishing) Near Mint/Mint
SIRENS (GEORGE PEREZ) (2014) #3 A (Boom Studios Publishing) Near Mint/Mint

SIRENS OF DARKNESS 1995 CALENDAR (1995) #1 (Cry For Dawn Productions) Near Mint/Mint

SIRENS OF THE LOST WORLD #1 (Comax Productions (f. Burcham Studi) Very Good

SISTER ARMAGEDDON (1995) #4 (Draculina Publishing) Near Mint/Mint

SISTER ARMAGEDDON VOL. 2 (1996) #1 (Catacomb Publications) Near Mint/Mint
SISTER ARMAGEDDON VOL. 2 (1996) #2 (Catacomb Publications) Near Mint/Mint

SISTER VANESSA #1 (Angel Entertainment) Fine
SISTER VANESSA #1 (Angel Entertainment) Near Mint/Mint
SISTER VANESSA #1 NUDE (Angel Entertainment) Very Fine
SISTER VANESSA #1 (Angel Entertainment) Very Fine

SISTERS OF DARKNESS (ADULT) #3 (Illustration Studios) Very Fine

SISTERS OF MERCY: PARADISE LOST (#3-4) (NO MERCY) (1997) #3 (No Mercy Comics) Near Mint/Mint

SISTERS OF MERCY: WHEN RAZORS CRY CRIMSON TEARS #1 (No Mercy Comics) Near Mint/Mint

SISTERS OF SIN #1 (Double Edge Publishing) Fine
SISTERS OF SIN #1 (Double Edge Publishing) Very Fine
SISTERS OF SIN #1 (Double Edge Publishing) Very Good

SIX MILLION DOLLAR MAN - SEASON 6 (2014) #3 HAESER (DYNAMITE Entertainment) Near Mint/Mint
SIX MILLION DOLLAR MAN - SEASON 6 (2014) #3 ROSS (DYNAMITE Entertainment) Very Fine
SIX MILLION DOLLAR MAN - SEASON 6 (2014) #6 HAESER (DYNAMITE Entertainment) Very Fine
SIX MILLION DOLLAR MAN - SEASON 6 (2014) #6 PHOTO (DYNAMITE Entertainment) Near Mint/Mint
SIX MILLION DOLLAR MAN - SEASON 6 (2014) #6 ROSS (DYNAMITE Entertainment) Near Mint/Mint

SIX STRING SAMURAI #1 (Awesome Entertainment) Near Mint/Mint
SIX STRING SAMURAI #1 (Awesome Entertainment) Very Fine

SIX STRING SAMURAI/COVEN FLIPBOOK PREVIEW #1 (Awesome Entertainment) Very Fine

SIX-GUN GORILLA (2013) #2 (Boom Studios Publishing) Near Mint/Mint
SIX-GUN GORILLA (2013) #2 (Boom Studios Publishing) Very Fine
SIX-GUN GORILLA (2013) #3 (Boom Studios Publishing) Near Mint/Mint

SIX-GUN GORILLA (2013) #3 (Boom Studios Publishing) Very Fine
SIX-GUN GORILLA (2013) #6 (Boom Studios Publishing) Near Mint/Mint

SIXTH GUN (2010) #1 FCBD10 (Oni Press Inc.) Near Mint/Mint
SIXTH GUN (2010) #1 FCBD10 (Oni Press Inc.) Very Fine
SIXTH GUN (2010) #27 (Oni Press Inc.) Near Mint/Mint
SIXTH GUN (2010) #45 (Oni Press Inc.) Near Mint/Mint

SIXTH GUN: DAYS OF THE DEAD (2014) #3 (Oni Press Inc.) Near Mint/Mint
SIXTH GUN: DAYS OF THE DEAD (2014) #3 (Oni Press Inc.) Very Fine
SIXTH GUN: DAYS OF THE DEAD (2014) #5 (Oni Press Inc.) Near Mint/Mint

SIXTH GUN: DUST TO DUST (2015) #1 (Oni Press Inc.) Near Mint/Mint

SIXTH GUN: SONS OF THE GUN (2013) #5 (Oni Press Inc.) Near Mint/Mint

SIXTY-NINE #4 (Eros Comix (Fantagraphics)) Very Good
SIXTY-NINE #6 (Eros Comix (Fantagraphics)) Fine
SIXTY-NINE #6 (Eros Comix (Fantagraphics)) Very Fine

SIXX #1 (Zygotic Studios) Near Mint/Mint
SIXX #1 (Zygotic Studios) Fine
SIXX #1 (Zygotic Studios) Very Fine
SIXX #2 (Zygotic Studios) Near Mint/Mint
SIXX #2 (Zygotic Studios) Very Fine
SIXX #3 (Zygotic Studios) Fine
SIXX #3 (Zygotic Studios) Very Fine

SIZZLE THEATRE #1 (Slave Labor Graphics) Fine

SKUNK (1996) #1 (Entity Comics (Express Comics)) Near Mint/Mint
SKUNK (1996) #2 (Entity Comics (Express Comics)) Near Mint/Mint
SKUNK (1996) #5 (Entity Comics (Express Comics)) Near Mint/Mint

SKUNK (MU PRESS) #1 (Mu Press) Very Fine

SKY BETWEEN BRANCHES (2002) #0 (Com X) Near Mint/Mint

SKY GAL #1 W/CARD (Americomics) Near Mint/Mint
SKY GAL #2 (Americomics) Near Mint/Mint

SKY SHARKS (2007) #4 (Antarctic Press) Near Mint/Mint

SKYE BLUE #2 (Mu Press) Near Mint/Mint

SKYLANDERS (2014) #1 (IDW Publishing) Near Mint/Mint

SKYNN & BONES (1995) #1 (Brainstorm Comics) Near Mint/Mint

SKYNN & BONES: DEADLY ANGELS #1 (Brainstorm Comics) Near Mint/Mint
SKYNN & BONES: DEADLY ANGELS #1 (Brainstorm Comics) Very Fine

SKYNN & BONES: FLESH FOR FANTASY #2 NUDE (Brainstorm Comics) Very Fine
SKYNN & BONES: FLESH FOR FANTASY #2 (Brainstorm Comics) Very Fine

SKYSCRAPERS OF THE MIDWEST (2004) #3 (ADHOUSE BOOKS) Near Mint/Mint
SKYSCRAPERS OF THE MIDWEST (2004) #4 (ADHOUSE BOOKS) Near Mint/Mint

SKYWARD (2013) #1 (Action Lab Entertainment) Near Mint/Mint
SKYWARD (2013) #8 (Action Lab Entertainment) Near Mint/Mint

SLACKER COMICS (SLAVE LABOR) (1994) #2 (Slave Labor Graphics) Near Mint/Mint
SLACKER COMICS (SLAVE LABOR) (1994) #2 (Slave Labor Graphics) Very Fine

SLAINE THE BERSERKER (BERSERKER #1-20, THE KING #21-28) (1987) #7 (Fleetway-Quality Comics) Near Mint/Mint
SLAINE THE BERSERKER (BERSERKER #1-20, THE KING #21-28) (1987) #7 (Fleetway-Quality Comics) Very Fine
SLAINE THE BERSERKER (BERSERKER #1-20, THE KING #21-28) (1987) #8 (Fleetway-Quality Comics) Very Fine
SLAINE THE BERSERKER (BERSERKER #1-20, THE KING #21-28) (1987) #9 (Fleetway-Quality Comics) Very Fine
SLAINE THE BERSERKER (BERSERKER #1-20, THE KING #21-28) (1987) #10 (Fleetway-Quality Comics) Near Mint/Mint
SLAINE THE BERSERKER (BERSERKER #1-20, THE KING #21-28) (1987) #10 (Fleetway-Quality Comics) Very Fine
SLAINE THE BERSERKER (BERSERKER #1-20, THE KING #21-28) (1987) #11 (Fleetway-Quality Comics) Near Mint/Mint
SLAINE THE BERSERKER (BERSERKER #1-20, THE KING #21-28) (1987) #11 (Fleetway-Quality Comics) Very Good


SLAINE THE BERSERKER (1987) #11

SLAINE THE BERSERKER (BERSERKER #1-20, THE KING #21-28) (1987) #11 (Fleetway-Quality Comics) Very Fine
SLAINE THE BERSERKER (BERSERKER #1-20, THE KING #21-28) (1987) #12 (Fleetway-Quality Comics) Very Fine
SLAINE THE BERSERKER (BERSERKER #1-20, THE KING #21-28) (1987) #13 (Fleetway-Quality Comics) Near Mint/Mint
SLAINE THE BERSERKER (BERSERKER #1-20, THE KING #21-28) (1987) #16 (Fleetway-Quality Comics) Very Fine
SLAINE THE BERSERKER (BERSERKER #1-20, THE KING #21-28) (1987) #19 (Fleetway-Quality Comics) Near Mint/Mint
SLAINE THE BERSERKER (BERSERKER #1-20, THE KING #21-28) (1987) #19 (Fleetway-Quality Comics) Fine
SLAINE THE BERSERKER (BERSERKER #1-20, THE KING #21-28) (1987) #19 (Fleetway-Quality Comics) Very Fine
SLAINE THE BERSERKER (BERSERKER #1-20, THE KING #21-28) (1987) #20 (Fleetway-Quality Comics) Near Mint/Mint
SLAINE THE BERSERKER (BERSERKER #1-20, THE KING #21-28) (1987) #20 (Fleetway-Quality Comics) Very Fine
SLAINE THE BERSERKER (BERSERKER #1-20, THE KING #21-28) (1987) #21 (Fleetway-Quality Comics) Very Fine
SLAINE THE BERSERKER (BERSERKER #1-20, THE KING #21-28) (1987) #23 (Fleetway-Quality Comics) Very Fine
SLAINE THE BERSERKER (BERSERKER #1-20, THE KING #21-28) (1987) #24 (Fleetway-Quality Comics) Very Fine
SLAINE THE BERSERKER (BERSERKER #1-20, THE KING #21-28) (1987) #25 (Fleetway-Quality Comics) Near Mint/Mint
SLAINE THE BERSERKER (BERSERKER #1-20, THE KING #21-28) (1987) #26 (Fleetway-Quality Comics) Near Mint/Mint
SLAINE THE BERSERKER (BERSERKER #1-20, THE KING #21-28) (1987) #26 (Fleetway-Quality Comics) Very Fine
SLAINE THE BERSERKER (BERSERKER #1-20, THE KING #21-28) (1987) #27 (Fleetway-Quality Comics) Near Mint/Mint
SLAINE THE BERSERKER (BERSERKER #1-20, THE KING #21-28) (1987) #27 (Fleetway-Quality Comics) Very Fine

SLAINE THE HORNED GOD #1 (Fleetway-Quality Comics) Near Mint/Mint
SLAINE THE HORNED GOD #2 (Fleetway-Quality Comics) Near Mint/Mint
SLAINE THE HORNED GOD #4 (Fleetway-Quality Comics) Near Mint/Mint
SLAINE THE HORNED GOD #5 (Fleetway-Quality Comics) Near Mint/Mint
SLAINE THE HORNED GOD #5 (Fleetway-Quality Comics) Very Fine
SLAINE THE HORNED GOD #6 (Fleetway-Quality Comics) Near Mint/Mint
SLAINE THE HORNED GOD #6 (Fleetway-Quality Comics) Very Fine

SLASH #1 (Northstar Publications) Near Mint/Mint
SLASH #1 (Northstar Publications) Fine
SLASH #1 (Northstar Publications) Very Fine
SLASH #2 (Northstar Publications) Near Mint/Mint
SLASH #2 (Northstar Publications) Very Fine
SLASH #3 (Northstar Publications) Near Mint/Mint
SLASH #3 (Northstar Publications) Very Fine
SLASH #5 (Northstar Publications) Fine
SLASH #5 (Northstar Publications) Very Fine

SLASH (DELUXE) #1 (Northstar Publications) Near Mint/Mint
SLASH (DELUXE) #1 (Northstar Publications) Fine
SLASH (DELUXE) #1 (Northstar Publications) Very Fine

SLAVE PIT FUNNIES FEATURING GWAR #2 (Slave Pit) Very Fine
SLAVE PIT FUNNIES FEATURING GWAR #3 (Slave Pit) Very Fine

SLEAZE CASTLE (1998) #7 (Gratuitous Bunny Comix) Near Mint/Mint
SLEAZE CASTLE (1998) #9 (Gratuitous Bunny Comix) Near Mint/Mint

SLEEPY HOLLOW: PROVIDENCE (2015) #4 SAMMELIN (Boom Studios Publishing) Very Fine

SLIDERS (1996) #2 (Acclaim/Valiant) Near Mint/Mint

SLIME: SECRET SEX LIFE OF J. EDGAR HOOVER #1 (Eros Comix (Fantagraphics)) Fine

SLIMER (1989) #1 (Now Comics) Near Mint/Mint
SLIMER (1989) #18 (Now Comics) Near Mint/Mint
SLIMER (1989) #19 (Now Comics) Near Mint/Mint

SLOTH PARK: SUMOBALL #1 (Blatant Comics) Near Mint/Mint
SLOTH PARK: SUMOBALL #1 COVER B (Blatant Comics) Near Mint/Mint

SLOW BURN #1 (Eros Comix (Fantagraphics)) Very Fine

SLUTBURGER STORIES #1 (Drawn & Quarterly) Near Mint/Mint
SLUTBURGER STORIES #1 2ND PRINT (Drawn & Quarterly) Near Mint/Mint
SLUTBURGER STORIES #2 (Drawn & Quarterly) Near Mint/Mint
SLUTBURGER STORIES #3 (Drawn & Quarterly) Near Mint/Mint
SLUTBURGER STORIES #3 (Drawn & Quarterly) Fine

SMALL BODIED NINJA HIGH SCHOOL COLLECTION #1 (Antarctic Press) Near Mint/Mint
SMALL BODIED NINJA HIGH SCHOOL COLLECTION #1 (Antarctic Press) Very Fine

SMALL PRESS SWIMSUIT SPECTACULAR #1 (Allied Comics) Near Mint/Mint


SMALL PRESS SWIMSUIT SPECTACULAR #1

SMALL PRESS SWIMSUIT SPECTACULAR #1 (Allied Comics) Very Fine

SMALL-BODIED NINJA HIGH SCHOOL #3 (Antarctic Press) Near Mint/Mint
SMALL-BODIED NINJA HIGH SCHOOL #4 (Antarctic Press) Near Mint/Mint
SMALL-BODIED NINJA HIGH SCHOOL #5 (Antarctic Press) Near Mint/Mint

SMITH BROWN JONES HALLOWEEN SPECIAL #1 (Amaze Ink) Near Mint/Mint

SMITH'S ADVENTURES IN THE SUPERMUNDANE #1 (Cryptic Press) Near Mint/Mint

SMURFS/DISNEY FAIRIES: TINKER BELL FLIPBOOK FCBD (2012) #1 (Papercutz) Near Mint/Mint

SNAKE PLISSKEN CHRONICLES (2003) #1 COVER A (Crossgen Comics) Very Fine
SNAKE PLISSKEN CHRONICLES (2003) #1 COVER B (Crossgen Comics) Near Mint/Mint
SNAKE PLISSKEN CHRONICLES (2003) #1 COVER B (Crossgen Comics) Very Fine
SNAKE PLISSKEN CHRONICLES (2003) #1 COVER C (Crossgen Comics) Very Fine
SNAKE PLISSKEN CHRONICLES (2003) #3 COVER B (Crossgen Comics) Very Fine
SNAKE PLISSKEN CHRONICLES (2003) #4 COVER B (Crossgen Comics) Near Mint/Mint
SNAKE PLISSKEN CHRONICLES (2003) #4 COVER A (Crossgen Comics) Near Mint/Mint
SNAKE PLISSKEN CHRONICLES (2003) #4 COVER B (Crossgen Comics) Very Fine

SNAKE PLISSKEN CHRONICLES PREVIEW (2002) #1 (Crossgen Comics) Near Mint/Mint

SNARF #10 (Kitchen Sink Publishing) Near Mint/Mint
SNARF #10 (Kitchen Sink Publishing) Fine
SNARF #11 (Kitchen Sink Publishing) Very Fine
SNARF #14 (Kitchen Sink Publishing) Near Mint/Mint
SNARF #14 (Kitchen Sink Publishing) Fine
SNARF #15 (Kitchen Sink Publishing) Near Mint/Mint
SNARF #15 (Kitchen Sink Publishing) Very Fine

SNARKED (2011) #2 (Boom Studios Publishing) Near Mint/Mint

SNOID COMICS (R. CRUMB) #1 2ND PRINT (Kitchen Sink Publishing) Near Mint/Mint

SNOWBUNI #1 (Mu Press) Very Fine

SNOWMAN (1996) #1 (Hall Of Heroes) Near Mint/Mint
SNOWMAN (1996) #1 CON 2NDPRT (Hall Of Heroes) Very Fine
SNOWMAN (1996) #1 (Hall Of Heroes) Very Fine

SNOWMAN (1997) #0 VARIANT (Avatar Comics) Near Mint/Mint
SNOWMAN (1997) #0 VARIANT (Avatar Comics) Very Fine

SNOWMAN FLURRIES #1 (Avatar Comics) Near Mint/Mint

SNOWMAN: DEAD & DYING #1 (Avatar Comics) Near Mint/Mint
SNOWMAN: DEAD & DYING #2 (Avatar Comics) Near Mint/Mint
SNOWMAN: DEAD & DYING #3 (Avatar Comics) Near Mint/Mint
SNOWMAN: DEAD & DYING #3 VARIANT (Avatar Comics) Near Mint/Mint

SNOWMAN: HORROR SHOW #1 (Avatar Comics) Near Mint/Mint
SNOWMAN: HORROR SHOW #1 VARIANT (Avatar Comics) Near Mint/Mint
SNOWMAN: HORROR SHOW #1 COMM. ED (Avatar Comics) Near Mint/Mint

SOFT CORPS (H.A.R.D. CORPS) (1993) #1 (Spoof Cards & Comics (Div./Friendly) Fine
SOFT CORPS (H.A.R.D. CORPS) (1993) #1 (Spoof Cards & Comics (Div./Friendly) Near Mint/Mint
SOFT CORPS (H.A.R.D. CORPS) (1993) #1 (Spoof Cards & Comics (Div./Friendly) Very Fine

SOJOURN (2001) #1 (Crossgen Comics) Near Mint/Mint
SOJOURN (2001) #30 (Crossgen Comics) Near Mint/Mint
SOJOURN (2001) #31 (Crossgen Comics) Near Mint/Mint
SOJOURN (2001) #32 (Crossgen Comics) Near Mint/Mint
SOJOURN (2001) #34 (Crossgen Comics) Very Fine

SOLAR, MAN OF THE ATOM (1991) #1 (Acclaim/Valiant) Near Mint/Mint
SOLAR, MAN OF THE ATOM (1991) #2 (Acclaim/Valiant) Near Mint/Mint
SOLAR, MAN OF THE ATOM (1991) #2 (Acclaim/Valiant) Fine
SOLAR, MAN OF THE ATOM (1991) #2 (Acclaim/Valiant) Very Fine
SOLAR, MAN OF THE ATOM (1991) #4 (Acclaim/Valiant) Near Mint/Mint
SOLAR, MAN OF THE ATOM (1991) #5 (Acclaim/Valiant) Near Mint/Mint
SOLAR, MAN OF THE ATOM (1991) #6 (Acclaim/Valiant) Near Mint/Mint
SOLAR, MAN OF THE ATOM (1991) #7 (Acclaim/Valiant) Near Mint/Mint
SOLAR, MAN OF THE ATOM (1991) #7 (Acclaim/Valiant) Very Fine
SOLAR, MAN OF THE ATOM (1991) #8 (Acclaim/Valiant) Near Mint/Mint
SOLAR, MAN OF THE ATOM (1991) #8 (Acclaim/Valiant) Very Fine


SOLAR, MAN OF THE ATOM (1991) #9

SOLAR, MAN OF THE ATOM (1991) #9 (Acclaim/Valiant) Near Mint/Mint
SOLAR, MAN OF THE ATOM (1991) #9 (Acclaim/Valiant) Very Fine
SOLAR, MAN OF THE ATOM (1991) #10 (Acclaim/Valiant) Near Mint/Mint
SOLAR, MAN OF THE ATOM (1991) #10 2ND PRT (Acclaim/Valiant) Near Mint/Mint
SOLAR, MAN OF THE ATOM (1991) #11 (Acclaim/Valiant) Very Fine
SOLAR, MAN OF THE ATOM (1991) #14 (Acclaim/Valiant) Near Mint/Mint
SOLAR, MAN OF THE ATOM (1991) #14 (Acclaim/Valiant) Very Fine
SOLAR, MAN OF THE ATOM (1991) #47 (Acclaim/Valiant) Near Mint/Mint
SOLAR, MAN OF THE ATOM (1991) #47 (Acclaim/Valiant) Very Fine
SOLAR, MAN OF THE ATOM (1991) #48 (Acclaim/Valiant) Near Mint/Mint
SOLAR, MAN OF THE ATOM (1991) #55 (Acclaim/Valiant) Near Mint/Mint
SOLAR, MAN OF THE ATOM (1991) #57 (Acclaim/Valiant) Near Mint/Mint
SOLAR, MAN OF THE ATOM (1991) #58 (Acclaim/Valiant) Near Mint/Mint
SOLAR, MAN OF THE ATOM (1991) #58 (Acclaim/Valiant) Very Fine
SOLAR, MAN OF THE ATOM (1991) #59 (Acclaim/Valiant) Fine
SOLAR, MAN OF THE ATOM (1991) #59 (Acclaim/Valiant) Very Fine
SOLAR, MAN OF THE ATOM (1991) #60 (Acclaim/Valiant) Very Fine

SOLAR, MAN OF THE ATOM (VOL. 2) (1997) #1 (Acclaim/Valiant) Fine
SOLAR, MAN OF THE ATOM (VOL. 2) (1997) #1 (Acclaim/Valiant) Near Mint/Mint
SOLAR, MAN OF THE ATOM (VOL. 2) (1997) #1 REVIEW (Acclaim/Valiant) Near Mint/Mint
SOLAR, MAN OF THE ATOM (VOL. 2) (1997) #1 (Acclaim/Valiant) Very Fine

SOLAR: HELL ON EARTH (1998) #3 (Acclaim/Valiant) Near Mint/Mint
SOLAR: HELL ON EARTH (1998) #4 (Acclaim/Valiant) Near Mint/Mint
SOLAR: HELL ON EARTH (1998) #4 (Acclaim/Valiant) Very Fine

SOLAR: MAN OF THE ATOM (2014) #3 DOE (DYNAMITE Entertainment) Near Mint/Mint
SOLAR: MAN OF THE ATOM (2014) #7 DOE (DYNAMITE Entertainment) Near Mint/Mint
SOLAR: MAN OF THE ATOM (2014) #8 DOE (DYNAMITE Entertainment) Near Mint/Mint
SOLAR: MAN OF THE ATOM (2014) #8 LAU (DYNAMITE Entertainment) Near Mint/Mint
SOLAR: MAN OF THE ATOM (2014) #11 LAMING (DYNAMITE Entertainment) Near Mint/Mint

SOLITARY (2014) #4 (Devil's Due) Near Mint/Mint

SOLOMON KANE 3-D #1 (Blackthorne Publishing) Near Mint/Mint
SOLOMON KANE 3-D #1 (Blackthorne Publishing) Very Fine

SOLSON CHRISTMAS SPECIAL (1986) #1 (Solson Publications) Fine
SOLSON CHRISTMAS SPECIAL (1986) #1 (Solson Publications) Very Good

SOLUS (2003) #8 (Crossgen Comics) Near Mint/Mint
SOLUS (2003) #8 (Crossgen Comics) Very Fine

SOME TROUBLE OF A SERRIOUS NATURE VOL. 1 (2001) #1 HILDEBRANT (Crusade) Near Mint/Mint

SOMERSET HOLMES (1983) #4 (Pacific Comics) Near Mint/Mint

SOMETHING DIFFERENT #1 (Wooga Central) Very Fine

SON OF MUTANT WORLD (RICHARD CORBEN) (1990) #1 (Fantagor Press) Fine
SON OF MUTANT WORLD (RICHARD CORBEN) (1990) #1 (Fantagor Press) Near Mint/Mint
SON OF MUTANT WORLD (RICHARD CORBEN) (1990) #2 (Fantagor Press) Fine
SON OF MUTANT WORLD (RICHARD CORBEN) (1990) #2 (Fantagor Press) Near Mint/Mint
SON OF MUTANT WORLD (RICHARD CORBEN) (1990) #3 (Fantagor Press) Near Mint/Mint
SON OF MUTANT WORLD (RICHARD CORBEN) (1990) #5 (Fantagor Press) Good

SONAMBULO: GHOST OF A CHANCE (2002) #1 (Ninth Circle Studios) Near Mint/Mint

SONIC & KNUCKLES SPECIAL (1995) #1 (Archie Comics) Fine
SONIC & KNUCKLES SPECIAL (1995) #1 (Archie Comics) Good
SONIC & KNUCKLES SPECIAL (1995) #1 (Archie Comics) Very Good

SONIC BOOM (2014) #1 CONNECT D (Archie Comics) Near Mint/Mint
SONIC BOOM (2014) #1 CONNECT B (Archie Comics) Very Fine
SONIC BOOM (2014) #1 CONNECT C (Archie Comics) Near Mint/Mint
SONIC BOOM (2014) #1 CONNECT D (Archie Comics) Very Fine
SONIC BOOM (2014) #2 (Archie Comics) Very Fine

SONIC SUPER SPECIAL (1997) #7 (Archie Comics) Near Mint/Mint
SONIC SUPER SPECIAL (1997) #13 (Archie Comics) Near Mint/Mint

SONIC THE HEDGEHOG-THE SERIES (1993) #19 (Archie Comics) Near Mint/Mint
SONIC THE HEDGEHOG-THE SERIES (1993) #22 (Archie Comics) Near Mint/Mint
SONIC THE HEDGEHOG-THE SERIES (1993) #22 (Archie Comics) Very Fine
SONIC THE HEDGEHOG-THE SERIES (1993) #23 (Archie Comics) Near Mint/Mint


SONIC THE HEDGEHOG-THE SERIES (1993) #23

SONIC THE HEDGEHOG-THE SERIES (1993) #23 (Archie Comics) Very Fine
SONIC THE HEDGEHOG-THE SERIES (1993) #41 NEWSSTAND (Archie Comics) Near Mint/Mint
SONIC THE HEDGEHOG-THE SERIES (1993) #43 (Archie Comics) Fine
SONIC THE HEDGEHOG-THE SERIES (1993) #46 NEWSSTAND (Archie Comics) Fine
SONIC THE HEDGEHOG-THE SERIES (1993) #52 NEWSSTAND (Archie Comics) Very Fine
SONIC THE HEDGEHOG-THE SERIES (1993) #56 (Archie Comics) Near Mint/Mint
SONIC THE HEDGEHOG-THE SERIES (1993) #56 NEWSSTAND (Archie Comics) Very Fine
SONIC THE HEDGEHOG-THE SERIES (1993) #56 NEWSSTAND (Archie Comics) Fine
SONIC THE HEDGEHOG-THE SERIES (1993) #59 (Archie Comics) Near Mint/Mint
SONIC THE HEDGEHOG-THE SERIES (1993) #64 (Archie Comics) Near Mint/Mint
SONIC THE HEDGEHOG-THE SERIES (1993) #66 (Archie Comics) Near Mint/Mint
SONIC THE HEDGEHOG-THE SERIES (1993) #66 (Archie Comics) Very Fine
SONIC THE HEDGEHOG-THE SERIES (1993) #69 (Archie Comics) Near Mint/Mint
SONIC THE HEDGEHOG-THE SERIES (1993) #91 (Archie Comics) Near Mint/Mint
SONIC THE HEDGEHOG-THE SERIES (1993) #94 (Archie Comics) Near Mint/Mint
SONIC THE HEDGEHOG-THE SERIES (1993) #112 (Archie Comics) Near Mint/Mint
SONIC THE HEDGEHOG-THE SERIES (1993) #114 (Archie Comics) Very Fine
SONIC THE HEDGEHOG-THE SERIES (1993) #142 (Archie Comics) Very Good
SONIC THE HEDGEHOG-THE SERIES (1993) #142 (Archie Comics) Very Fine
SONIC THE HEDGEHOG-THE SERIES (1993) #147 (Archie Comics) Very Fine
SONIC THE HEDGEHOG-THE SERIES (1993) #159 (Archie Comics) Fine
SONIC THE HEDGEHOG-THE SERIES (1993) #168 (Archie Comics) Near Mint/Mint
SONIC THE HEDGEHOG-THE SERIES (1993) #171 (Archie Comics) Near Mint/Mint
SONIC THE HEDGEHOG-THE SERIES (1993) #232 (Archie Comics) Near Mint/Mint
SONIC THE HEDGEHOG-THE SERIES (1993) #232 (Archie Comics) Very Fine
SONIC THE HEDGEHOG-THE SERIES (1993) #237 (Archie Comics) Near Mint/Mint
SONIC THE HEDGEHOG-THE SERIES (1993) #239 (Archie Comics) Near Mint/Mint
SONIC THE HEDGEHOG-THE SERIES (1993) #239 (Archie Comics) Very Fine
SONIC THE HEDGEHOG-THE SERIES (1993) #240 HORN (Archie Comics) Near Mint/Mint
SONIC THE HEDGEHOG-THE SERIES (1993) #244 (Archie Comics) Near Mint/Mint
SONIC THE HEDGEHOG-THE SERIES (1993) #245 (Archie Comics) Near Mint/Mint
SONIC THE HEDGEHOG-THE SERIES (1993) #248 (Archie Comics) Near Mint/Mint
SONIC THE HEDGEHOG-THE SERIES (1993) #249 (Archie Comics) Near Mint/Mint
SONIC THE HEDGEHOG-THE SERIES (1993) #264 (Archie Comics) Very Fine
SONIC THE HEDGEHOG-THE SERIES (1993) #266 VARIANT (Archie Comics) Near Mint/Mint

SONIC UNIVERSE (2009) #1 (Archie Comics) Fine
SONIC UNIVERSE (2009) #1 (Archie Comics) Very Fine
SONIC UNIVERSE (2009) #2 (Archie Comics) Very Fine
SONIC UNIVERSE (2009) #3 (Archie Comics) Very Fine
SONIC UNIVERSE (2009) #5 (Archie Comics) Very Fine
SONIC UNIVERSE (2009) #17 (Archie Comics) Near Mint/Mint
SONIC UNIVERSE (2009) #22 (Archie Comics) Fine
SONIC UNIVERSE (2009) #32 (Archie Comics) Near Mint/Mint
SONIC UNIVERSE (2009) #34 (Archie Comics) Near Mint/Mint
SONIC UNIVERSE (2009) #37 (Archie Comics) Very Fine
SONIC UNIVERSE (2009) #39 (Archie Comics) Near Mint/Mint
SONIC UNIVERSE (2009) #39 (Archie Comics) Very Fine
SONIC UNIVERSE (2009) #40 (Archie Comics) Near Mint/Mint
SONIC UNIVERSE (2009) #41 (Archie Comics) Near Mint/Mint
SONIC UNIVERSE (2009) #42 (Archie Comics) Near Mint/Mint
SONIC UNIVERSE (2009) #43 (Archie Comics) Near Mint/Mint
SONIC UNIVERSE (2009) #47 (Archie Comics) Near Mint/Mint
SONIC UNIVERSE (2009) #48 (Archie Comics) Near Mint/Mint
SONIC UNIVERSE (2009) #49 (Archie Comics) Near Mint/Mint
SONIC UNIVERSE (2009) #50 (Archie Comics) Near Mint/Mint
SONIC UNIVERSE (2009) #64 (Archie Comics) Near Mint/Mint

SONIC X (2005) #2 (Archie Comics) Very Fine
SONIC X (2005) #3 (Archie Comics) Near Mint/Mint
SONIC X (2005) #4 (Archie Comics) Near Mint/Mint
SONIC X (2005) #8 (Archie Comics) Fine

SONIC X (2005) #16 (Archie Comics) Very Fine
SONIC X (2005) #19 (Archie Comics) Near Mint/Mint

SONIC: WORLDS UNITE - BATTLES (2015) #1 ROBINSON (Archie Comics) Near Mint/Mint
SONIC: WORLDS UNITE - BATTLES (2015) #1 SKETCH CV (Archie Comics) Near Mint/Mint

SONICQUEST: DEATH EGG SAGA (1996) #1 (Archie Comics) Near Mint/Mint
SONICQUEST: DEATH EGG SAGA (1996) #2 (Archie Comics) Near Mint/Mint
SONICQUEST: DEATH EGG SAGA (1996) #3 (Archie Comics) Near Mint/Mint

SONS OF ANARCHY (2013) #2 (Boom Studios Publishing) Near Mint/Mint
SONS OF ANARCHY (2013) #16 (Boom Studios Publishing) Near Mint/Mint
SONS OF ANARCHY (2013) #19 (Boom Studios Publishing) Near Mint/Mint
SONS OF ANARCHY (2013) #20 (Boom Studios Publishing) Near Mint/Mint
SONS OF ANARCHY (2013) #22 (Boom Studios Publishing) Near Mint/Mint

SONS OF ANARCHY: REDWOOD ORIGINAL (2016) #1 TATTOO (Boom Studios Publishing) Near Mint/Mint

SOUL ASSASSIN (2003) #1 B (AEROSOL PRESS) Near Mint/Mint

SOUL TREK (STAR TREK) (1992) #1 (Spoof Cards & Comics (Div./Friendly) Very Fine
SOUL TREK (STAR TREK) (1992) #2 (Spoof Cards & Comics (Div./Friendly) Near Mint/Mint

SOULFIRE (2003) #1 COVER C (Aspen) Near Mint/Mint
SOULFIRE (2003) #2 RUPPSWORLD (Aspen) Very Fine

SOULFIRE (VOL. 2) (2009) #2 C (Aspen) Near Mint/Mint

SOULFIRE (VOL. 4) (2012) #1 C (Aspen) Near Mint/Mint

SOULFIRE 2 (2008) #10 D (Aspen) Near Mint/Mint

SOULFIRE: CHAOS REIGN (2006) #1 C (Aspen) Near Mint/Mint

SOULFIRE: DYING OF THE LIGHT (2005) #5 (Aspen) Near Mint/Mint

SOULFIRE: GRACE (2012) #1 A (Aspen) Near Mint/Mint

STAR TREK (2011) #21 HASTINGS (IDW Publishing) Near Mint/Mint

STAR WARS: LITTLE GOLDEN BOOK COLLECTION (2016) #1 (Little Golden Books) Near Mint/Mint

TEENAGE MUTANT NINJA TURTLES ADULT COLORING BOOK (TV) (2016) #1 (Random House) Near Mint/Mint

TOYBOY (1986) #1 NEWSSTAND (Continuity Publishing) Near Mint/Mint
TOYBOY (1986) #3 NEWSSTAND (Continuity Publishing) Very Fine
TOYBOY (1986) #5 NEWSSTAND (Continuity Publishing) Very Fine

VALIANT (2014) #2 FRANCAVILL (Valiant Comics) Near Mint/Mint
VALIANT (2014) #3 FRANCAVILL (Valiant Comics) Near Mint/Mint

WHO KILLED BETTIE? (1998) #1 B VARIANT (Lennoxx) Near Mint/Mint
WHO KILLED BETTIE? (1998) #1 D NEON (Lennoxx) Near Mint/Mint

X-O MANOWAR (2012) #3 SUAYAN (Valiant Comics) Near Mint/Mint