More Great Comics + Chuck's Near Death Experience, Part Two
Howdy!
Today will continue with part two of my retelling of the history of our beautiful farm in Boulder, Colorado, and how it almost killed me. I will begin by stating unequivocally that you should try to avoid (whenever possible) placing all of your faith in healthcare providers. I say this only because, while most of the people I have dealt with in the healthcare world are extremely bright and also quite well-intentioned, the reality is that they simply cannot have all the answers as to what might be afflicting you at any given point in time. They can evaluate your symptoms, and then give their very best opinion, but as I proved beyond any doubt in 2008, even the most seasoned of them can sometimes be dead wrong.
To recap what I covered in my last newsletter, on August 12th, 2003, I came down with a virulent case of West Nile Fever after being bitten by an infected mosquito at my farm. I suffered severe cognitive impairment from that brain illness, which then required three years of rehabilitation (2003-2006).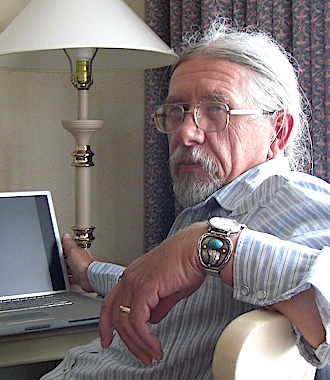 Chuck ill with West Nile Fever - September 2003

For the initial two years after I recovered from WNF, all seemed fine. At the beginning of July, 2008, however, I started to once again feel the same sense of mental blurriness and disorientation as what I had felt in 2003. I scheduled an appointment with the same General Practitioner who had been treating everyone in my family for over 20 years, and explained to him that I believed that I was going down for a second time. To my extreme dismay, he told me that contracting WNF a second time was impossible, and that my perceived symptoms were nothing more than a delusion.
In his defense, our doctor was simply repeating what he had read on the National Center For Disease Control (CDC) website. Those esteemed scientists in Atlanta stated quite clearly in their public forum that WNF was a one-and-done illness. In their opinion, once a person had the antibodies for ether of the two recognized WNV strains in their bloodstream (I had antibodies for both strains...), then it was impossible for them to represent. Boy howdy, did I ever prove them wrong.
To explain how my misdiagnosis occurred, it is important to first know that WNF only immigrated to America (from Israel) in 1999. It had previously been known to exist in a huge region from East Africa through Southeastern Europe, but with minimal affect on locals, who seemed relatively immune. Once it crossed the ocean in 1999, however, it immediately began infecting people in the New York City area, sometimes with fatal result. It then spread like wildfire, being carried westward by infected birds into Pennsylvania in 2000, Ohio in 2001, eastern Nebraska in 2002, and Colorado in 2003.
When the virus hit Colorado in 2003, we had just endured the "Perfect Storm." We had a huge, very wet snowstorm dump nearly 30 inches of snow at the end of March. The weather then turned blazing hot, which created perfect growing conditions for Culex mosquito larvae, a great many of which feasted on diseased birds flying in from Nebraska. So many mosquitoes survived that spring that the largest outbreak of West Nile Fever resulted, with over 6,000! people in Northern Colorado requiring medical attention, and 60+ of them dying. After that first illness I joined a WNV support group, getting to see firsthand the paralysis and other permanent debilitations that afflicted my fellow travelers. It was not pretty.
After my initial visit with my doctor in July, 2008, I began each subsequent day by asking myself "Am I feeling better today than yesterday, or worse?" The answer every single day was that I was quickly getting much, much worse. This peaked, oddly enough, on Santa Clara Feast Day (August 12th), the exact same day as the onset of my first illness, five years prior.
I wish that I could finish my story for you today, but I'm afraid that I have to stop now and leave some room for Will to include listings of some of the amazing back issues that he has been purchasing since last week. All comics and magazines are still available to you at 60% off while our SUMMER! codeword sale is still in effect for you. Only new issues, a few variants, and our professionally-graded comics are excluded from this incredible 60% off bonanza. On most of the issues listed below we received but a single copy in stock, so order quickly if you would like to add some if these gems into your collection.
Happy collecting!
Chuck Rozanski/Bettie Pages,
President - Mile High Comics, Inc.
July 29, 2019
MARVEL

2099: MANIFEST DESTINY (1998) #1

2099: MANIFEST DESTINY (1998) #1 Near Mint/Mint

A-FORCE (2016) (#1-10) (MARVEL) #5 HETRICK Near Mint/Mint

A-TEAM (1984) #3 Near Mint/Mint

ABRAHAM STONE (JOE KUBERT) (1995) #1 Near Mint/Mint

AMAZING SPIDER-MAN (1999) (#1-58, #500-700.5) (MARVEL) #500 CGC 8.0 SS Very Fine

AVENGERS (1963) (#1-402) (MARVEL) #12 Very Good

CONAN (1970) (#1-275) (CONAN THE BARBARIAN) (MARVEL) #1 Fine
CONAN (1970) (#1-275) (CONAN THE BARBARIAN) (MARVEL) #2 Fine
CONAN (1970) (#1-275) (CONAN THE BARBARIAN) (MARVEL) #3 Fine
CONAN (1970) (#1-275) (CONAN THE BARBARIAN) (MARVEL) #4 Very Good
CONAN (1970) (#1-275) (CONAN THE BARBARIAN) (MARVEL) #5 Very Good
CONAN (1970) (#1-275) (CONAN THE BARBARIAN) (MARVEL) #6 Fine
CONAN (1970) (#1-275) (CONAN THE BARBARIAN) (MARVEL) #7 Fine
CONAN (1970) (#1-275) (CONAN THE BARBARIAN) (MARVEL) #8 Fine
CONAN (1970) (#1-275) (CONAN THE BARBARIAN) (MARVEL) #9 Very Fine
CONAN (1970) (#1-275) (CONAN THE BARBARIAN) (MARVEL) #11 Fine

DAREDEVIL (1964) (#1-380) (MAN WITHOUT FEAR) (MARVEL) #16 Very Good
DAREDEVIL (1964) (#1-380) (MAN WITHOUT FEAR) (MARVEL) #17 Fine
DAREDEVIL (1964) (#1-380) (MAN WITHOUT FEAR) (MARVEL) #131 Fine

DEFENDERS (1972) (#1-152) (MARVEL) #12 Good
DEFENDERS (1972) (#1-152) (MARVEL) #16 Good
DEFENDERS (1972) (#1-152) (MARVEL) #18 Very Good
DEFENDERS (1972) (#1-152) (MARVEL) #92 NEWSSTAND Very Good
DEFENDERS (1972) (#1-152) (MARVEL) #94 Fine
DEFENDERS (1972) (#1-152) (MARVEL) #103 NEWSSTAND Fine

DEFENDERS GIANT-SIZE (1974) #1 Fair
DEFENDERS GIANT-SIZE (1974) #1 Good
DEFENDERS GIANT-SIZE (1974) #2 Good

DOC SAMSON (1996) #3 Very Fine

DOCTOR STRANGE (2015) (#1-26) (MARVEL) (DR. STRANGE) #22 Near Mint/Mint

DOCTOR STRANGE/PUNISHER: MAGIC BULLETS (2017) #2 LOPEZ Near Mint/Mint

DOOMWAR (2010) #2 Near Mint/Mint
DOOMWAR (2010) #5 Near Mint/Mint

ETERNALS (1985) (#1-12) (MARVEL LIMITED SERIES) #7 Near Mint/Mint

INFINITY GAUNTLET (1991) #2 Very Fine
INFINITY GAUNTLET (1991) #6 Very Fine

IRON MAN (1968) (#1-332) (INVINCIBLE IRON MAN)(MARVEL) #1 Very Good

MARVEL MASTERWORKS #29 Near Mint/Mint

MARVEL MILESTONE EDITION: X-MEN (1991) #1 2ND PRINT Very Fine

MARVEL SUPER-HEROES ANNUAL (1966) #1 Very Fine

MARVEL TEAM-UP (1972) (#1-150) (MARVEL) #150 NEWSSTAND Very Fine

MARVEL UNIVERSE HC (1996) #1 Very Fine

MARVEL UNIVERSE TPB (1986) #2 Fine
MARVEL UNIVERSE TPB (1986) #3 Fine
MARVEL UNIVERSE TPB (1986) #4 4TH PRINT Fine
MARVEL UNIVERSE TPB (1986) #7 Very Good

MARVEL ZOMBIES COMPLETE COLLECTION TPB (2013) #2 Near Mint/Mint

MARVEL ZOMBIES: CHRISTMAS CAROL HC (2011) #1 Near Mint/Mint

MASTERS OF THE UNIVERSE MOTION PICTURE (1987) #1 NEWSSTAND Good

MIGHTY AVENGERS HC (2007) #3 Near Mint/Mint

MIGHTY AVENGERS: EARTH'S MIGHTIEST HC (2009) #1 Near Mint/Mint

MIGHTY AVENGERS: SECRET INVASION BOOK II TPB (VOL. 4) (2009) #1 VARIANT Very Fine

MIGHTY AVENGERS: UNSPOKEN TPB (2010) #1 Very Fine

MS. MARVEL: CIVIL WAR PREMIERE HC (VOL. 2) (2006) #1 Fine


NEW MUTANTS (1983) (#1-100) (MARVEL) #93

NEW MUTANTS (1983) (#1-100) (MARVEL) #93 Near Mint/Mint

NYX (2003) #4 Very Fine

ORIGIN OF GALACTUS (1996) #1 Fine

SECRET WARS (1984) (#1-12) (LIMTED SERIES) (MARVEL) #8 NEWSSTAND Very Fine

SPIDER-MAN (1963) (AMAZING SPIDER-MAN) (#1-441) #122 CGC 9.4 SS Near Mint/Mint
SPIDER-MAN (1963) (AMAZING SPIDER-MAN) (#1-441) #129 CGC 9.2 SS Near Mint/Mint
SPIDER-MAN (1963) (AMAZING SPIDER-MAN) (#1-441) #252 NEWSSTAND Very Good

STAR WARS (1977) (#1-107) (MARVEL) #1 Fine
STAR WARS (1977) (#1-107) (MARVEL) #42 Near Mint/Mint
STAR WARS (1977) (#1-107) (MARVEL) #107 Very Fine

STRANGE TALES (1951) (#1-85 ATLAS, #86-188 MARVEL) #116 Fair

THOR (1962) (#83-125 JOURNEY INTO MYSTERY, 126-502) #97 Very Fine
THOR (1962) (#83-125 JOURNEY INTO MYSTERY, 126-502) #141 Fair
THOR (1962) (#83-125 JOURNEY INTO MYSTERY, 126-502) #146 Good
THOR (1962) (#83-125 JOURNEY INTO MYSTERY, 126-502) #148 Good
THOR (1962) (#83-125 JOURNEY INTO MYSTERY, 126-502) #149 Good
THOR (1962) (#83-125 JOURNEY INTO MYSTERY, 126-502) #150 Good
THOR (1962) (#83-125 JOURNEY INTO MYSTERY, 126-502) #151 Good
THOR (1962) (#83-125 JOURNEY INTO MYSTERY, 126-502) #152 Good
THOR (1962) (#83-125 JOURNEY INTO MYSTERY, 126-502) #154 Good
THOR (1962) (#83-125 JOURNEY INTO MYSTERY, 126-502) #156 Good
THOR (1962) (#83-125 JOURNEY INTO MYSTERY, 126-502) #158 Fair
THOR (1962) (#83-125 JOURNEY INTO MYSTERY, 126-502) #159 Good
THOR (1962) (#83-125 JOURNEY INTO MYSTERY, 126-502) #160 Good
THOR (1962) (#83-125 JOURNEY INTO MYSTERY, 126-502) #161 Very Good
THOR (1962) (#83-125 JOURNEY INTO MYSTERY, 126-502) #162 Good
THOR (1962) (#83-125 JOURNEY INTO MYSTERY, 126-502) #163 Good
THOR (1962) (#83-125 JOURNEY INTO MYSTERY, 126-502) #164 Good
THOR (1962) (#83-125 JOURNEY INTO MYSTERY, 126-502) #166 Good
THOR (1962) (#83-125 JOURNEY INTO MYSTERY, 126-502) #167 Good
THOR (1962) (#83-125 JOURNEY INTO MYSTERY, 126-502) #168 Very Good
THOR (1962) (#83-125 JOURNEY INTO MYSTERY, 126-502) #169 Good
THOR (1962) (#83-125 JOURNEY INTO MYSTERY, 126-502) #170 Good
THOR (1962) (#83-125 JOURNEY INTO MYSTERY, 126-502) #171 Very Good
THOR (1962) (#83-125 JOURNEY INTO MYSTERY, 126-502) #172 Very Good
THOR (1962) (#83-125 JOURNEY INTO MYSTERY, 126-502) #173 Good


THOR (1962) (#83-125 JOURNEY INTO MYSTERY, 126-502) #174

THOR (1962) (#83-125 JOURNEY INTO MYSTERY, 126-502) #174 Good
THOR (1962) (#83-125 JOURNEY INTO MYSTERY, 126-502) #175 Good
THOR (1962) (#83-125 JOURNEY INTO MYSTERY, 126-502) #176 Good
THOR (1962) (#83-125 JOURNEY INTO MYSTERY, 126-502) #177 Good
THOR (1962) (#83-125 JOURNEY INTO MYSTERY, 126-502) #178 Good
THOR (1962) (#83-125 JOURNEY INTO MYSTERY, 126-502) #225 Very Good
THOR (1962) (#83-125 JOURNEY INTO MYSTERY, 126-502) #227 Fine
THOR (1962) (#83-125 JOURNEY INTO MYSTERY, 126-502) #288 NEWSSTAND Fine
THOR (1962) (#83-125 JOURNEY INTO MYSTERY, 126-502) #289 NEWSSTAND Fine
THOR (1962) (#83-125 JOURNEY INTO MYSTERY, 126-502) #291 NEWSSTAND Fine
THOR (1962) (#83-125 JOURNEY INTO MYSTERY, 126-502) #292 NEWSSTAND Very Fine
THOR (1962) (#83-125 JOURNEY INTO MYSTERY, 126-502) #293 NEWSSTAND Very Fine
THOR (1962) (#83-125 JOURNEY INTO MYSTERY, 126-502) #300 Fine
THOR (1962) (#83-125 JOURNEY INTO MYSTERY, 126-502) #300 NEWSSTAND Fine
THOR (1962) (#83-125 JOURNEY INTO MYSTERY, 126-502) #303 NEWSSTAND Very Fine
THOR (1962) (#83-125 JOURNEY INTO MYSTERY, 126-502) #305 NEWSSTAND Very Fine
THOR (1962) (#83-125 JOURNEY INTO MYSTERY, 126-502) #336 NEWSSTAND Fine
THOR (1962) (#83-125 JOURNEY INTO MYSTERY, 126-502) #338 NEWSSTAND Fine
THOR (1962) (#83-125 JOURNEY INTO MYSTERY, 126-502) #349 NEWSSTAND Fine
THOR (1962) (#83-125 JOURNEY INTO MYSTERY, 126-502) #350 NEWSSTAND Near Mint/Mint
THOR (1962) (#83-125 JOURNEY INTO MYSTERY, 126-502) #351 NEWSSTAND Fine
THOR (1962) (#83-125 JOURNEY INTO MYSTERY, 126-502) #358 Near Mint/Mint
THOR (1962) (#83-125 JOURNEY INTO MYSTERY, 126-502) #374 NEWSSTAND Fine
THOR (1962) (#83-125 JOURNEY INTO MYSTERY, 126-502) #375 Near Mint/Mint
THOR (1962) (#83-125 JOURNEY INTO MYSTERY, 126-502) #379 Near Mint/Mint
THOR (1962) (#83-125 JOURNEY INTO MYSTERY, 126-502) #380 Very Fine
THOR (1962) (#83-125 JOURNEY INTO MYSTERY, 126-502) #381 NEWSSTAND Fine
THOR (1962) (#83-125 JOURNEY INTO MYSTERY, 126-502) #383 NEWSSTAND Fine
THOR (1962) (#83-125 JOURNEY INTO MYSTERY, 126-502) #384 Near Mint/Mint
THOR (1962) (#83-125 JOURNEY INTO MYSTERY, 126-502) #385 Near Mint/Mint
THOR (1962) (#83-125 JOURNEY INTO MYSTERY, 126-502) #387 Near Mint/Mint
THOR (1962) (#83-125 JOURNEY INTO MYSTERY, 126-502) #388 Fine
THOR (1962) (#83-125 JOURNEY INTO MYSTERY, 126-502) #390 Very Fine
THOR (1962) (#83-125 JOURNEY INTO MYSTERY, 126-502) #411 NEWSSTAND Fine

THOR (2007) (#1-12, 600-621) (MARVEL) #4 Near Mint/Mint
THOR (2007) (#1-12, 600-621) (MARVEL) #5 VARIANT Fine

THOR GIANT-SIZE (1975) #1 Very Good

VAULT OF EVIL #1 Good

WHAT IF... (1977) (#1-47) (MARVEL) #19 NEWSSTAND Fine


WHAT IF... (1977) (#1-47) (MARVEL) #20

WHAT IF... (1977) (#1-47) (MARVEL) #20 Very Fine
WHAT IF... (1977) (#1-47) (MARVEL) #39 NEWSSTAND Fine
WHAT IF... (1977) (#1-47) (MARVEL) #46 NEWSSTAND Fine

WHAT IF... (1989) (#1-114, & 200) (MARVEL) #50 NEWSSTAND Near Mint/Mint
WHAT IF... (1989) (#1-114, & 200) (MARVEL) #59 NEWSSTAND Very Fine

WHERE CREATURES ROAM (1970) #1 Good

WOLVERINE (1988) (#1/2-189) (MARVEL) #1 Very Fine

X-MEN (1963) (#1-113, UNCANNY X-MEN #114-544) (MARVEL) #10 Good
X-MEN (1963) (#1-113, UNCANNY X-MEN #114-544) (MARVEL) #55 Fine
X-MEN (1963) (#1-113, UNCANNY X-MEN #114-544) (MARVEL) #94 Fine
X-MEN (1963) (#1-113, UNCANNY X-MEN #114-544) (MARVEL) #154 Near Mint/Mint
X-MEN (1963) (#1-113, UNCANNY X-MEN #114-544) (MARVEL) #156 Fine
X-MEN (1963) (#1-113, UNCANNY X-MEN #114-544) (MARVEL) #157 Very Fine
X-MEN (1963) (#1-113, UNCANNY X-MEN #114-544) (MARVEL) #157 Very Good
X-MEN (1963) (#1-113, UNCANNY X-MEN #114-544) (MARVEL) #158 NEWSSTAND Very Good
X-MEN (1963) (#1-113, UNCANNY X-MEN #114-544) (MARVEL) #160 Very Fine
X-MEN (1963) (#1-113, UNCANNY X-MEN #114-544) (MARVEL) #162 Fine
X-MEN (1963) (#1-113, UNCANNY X-MEN #114-544) (MARVEL) #164 Fine
X-MEN (1963) (#1-113, UNCANNY X-MEN #114-544) (MARVEL) #168 NEWSSTAND Very Fine
X-MEN (1963) (#1-113, UNCANNY X-MEN #114-544) (MARVEL) #171 Fine
X-MEN (1963) (#1-113, UNCANNY X-MEN #114-544) (MARVEL) #173 Fine
X-MEN (1963) (#1-113, UNCANNY X-MEN #114-544) (MARVEL) #177 NEWSSTAND Near Mint/Mint
X-MEN (1963) (#1-113, UNCANNY X-MEN #114-544) (MARVEL) #183 Fine
X-MEN (1963) (#1-113, UNCANNY X-MEN #114-544) (MARVEL) #184 Near Mint/Mint
X-MEN (1963) (#1-113, UNCANNY X-MEN #114-544) (MARVEL) #185 Near Mint/Mint
X-MEN (1963) (#1-113, UNCANNY X-MEN #114-544) (MARVEL) #205 Fine
X-MEN (1963) (#1-113, UNCANNY X-MEN #114-544) (MARVEL) #207 NEWSSTAND Very Good
X-MEN (1963) (#1-113, UNCANNY X-MEN #114-544) (MARVEL) #210 Fine
X-MEN (1963) (#1-113, UNCANNY X-MEN #114-544) (MARVEL) #211 Fine
X-MEN (1963) (#1-113, UNCANNY X-MEN #114-544) (MARVEL) #212 Fine
X-MEN (1963) (#1-113, UNCANNY X-MEN #114-544) (MARVEL) #213 Fine
X-MEN (1963) (#1-113, UNCANNY X-MEN #114-544) (MARVEL) #219 Near Mint/Mint
X-MEN (1963) (#1-113, UNCANNY X-MEN #114-544) (MARVEL) #222 Fine
X-MEN (1963) (#1-113, UNCANNY X-MEN #114-544) (MARVEL) #232 Near Mint/Mint
X-MEN (1963) (#1-113, UNCANNY X-MEN #114-544) (MARVEL) #234 Fine
X-MEN (1963) (#1-113, UNCANNY X-MEN #114-544) (MARVEL) #244 Very Good
X-MEN (1963) (#1-113, UNCANNY X-MEN #114-544) (MARVEL) #248 Very Good
X-MEN (1963) (#1-113, UNCANNY X-MEN #114-544) (MARVEL) #251 Fine


X-MEN (1963) (#1-113, UNCANNY X-MEN #114-544) (MARVEL) #264

X-MEN (1963) (#1-113, UNCANNY X-MEN #114-544) (MARVEL) #264 Near Mint/Mint
X-MEN (1963) (#1-113, UNCANNY X-MEN #114-544) (MARVEL) #267 NEWSSTAND Fine
X-MEN (1963) (#1-113, UNCANNY X-MEN #114-544) (MARVEL) #268 Fine
X-MEN (1963) (#1-113, UNCANNY X-MEN #114-544) (MARVEL) #270 2ND PRT Near Mint/Mint
X-MEN (1963) (#1-113, UNCANNY X-MEN #114-544) (MARVEL) #275 2NDPRT Fine
X-MEN (1963) (#1-113, UNCANNY X-MEN #114-544) (MARVEL) #280 Near Mint/Mint
X-MEN (1963) (#1-113, UNCANNY X-MEN #114-544) (MARVEL) #312 Near Mint/Mint
X-MEN (1963) (#1-113, UNCANNY X-MEN #114-544) (MARVEL) #322 Near Mint/Mint
X-MEN (1963) (#1-113, UNCANNY X-MEN #114-544) (MARVEL) #325 Near Mint/Mint
X-MEN (1963) (#1-113, UNCANNY X-MEN #114-544) (MARVEL) #326 Near Mint/Mint

DC
ABC A-Z: TERRA OBSCURA AND SPLASH BRANNIGAN (2005) #1 (DC/America's Best) Near Mint/Mint

ACTION COMICS (1938) (#0-600, 643-904) (DC) #315 Very Good
ACTION COMICS (1938) (#0-600, 643-904) (DC) #560 NEWSSTAND Fine
ACTION COMICS (1938) (#0-600, 643-904) (DC) #566 NEWSSTAND Near Mint/Mint
ACTION COMICS (1938) (#0-600, 643-904) (DC) #583 NEWSSTAND Fine
ACTION COMICS (1938) (#0-600, 643-904) (DC) #589 Near Mint/Mint
ACTION COMICS (1938) (#0-600, 643-904) (DC) #590 Near Mint/Mint
ACTION COMICS (1938) (#0-600, 643-904) (DC) #591 Near Mint/Mint
ACTION COMICS (1938) (#0-600, 643-904) (DC) #592 NEWSSTAND Near Mint/Mint
ACTION COMICS (1938) (#0-600, 643-904) (DC) #593 Fine
ACTION COMICS (1938) (#0-600, 643-904) (DC) #595 Fine
ACTION COMICS (1938) (#0-600, 643-904) (DC) #595 NEWSSTAND Fine
ACTION COMICS (1938) (#0-600, 643-904) (DC) #660 Near Mint/Mint
ACTION COMICS (1938) (#0-600, 643-904) (DC) #800 Very Fine
ACTION COMICS (1938) (#0-600, 643-904) (DC) #808 Near Mint/Mint
ACTION COMICS (1938) (#0-600, 643-904) (DC) #844 VARIANT Near Mint/Mint
ACTION COMICS (1938) (#0-600, 643-904) (DC) #844 VARIANT Very Fine
ACTION COMICS (1938) (#0-600, 643-904) (DC) #859 VARIANT Near Mint/Mint
ACTION COMICS (1938) (#0-600, 643-904) (DC) #866 Near Mint/Mint
ACTION COMICS (1938) (#0-600, 643-904) (DC) #886 Near Mint/Mint
ACTION COMICS (1938) (#0-600, 643-904) (DC) #902 Very Fine

ACTION COMICS (2011) (#0-52) (DC NEW52) #1 Near Mint/Mint
ACTION COMICS (2011) (#0-52) (DC NEW52) #5 COMBO Very Fine
ACTION COMICS (2011) (#0-52) (DC NEW52) #10 COMBO Very Fine
ACTION COMICS (2011) (#0-52) (DC NEW52) #16 VARIANT Near Mint/Mint
ACTION COMICS (2011) (#0-52) (DC NEW52) #20 COMBO Near Mint/Mint
ACTION COMICS (2011) (#0-52) (DC NEW52) #32 BOMBSHELL Very Fine


ACTION COMICS (2011) (#0-52) (DC NEW52) #49 NEAL ADAMS

ACTION COMICS (2011) (#0-52) (DC NEW52) #49 NEAL ADAMS Fine

ACTION COMICS (2016) (#957-UP) (DC REBIRTH) #958 VARIANT Near Mint/Mint
ACTION COMICS (2016) (#957-UP) (DC REBIRTH) #958 Very Fine
ACTION COMICS (2016) (#957-UP) (DC REBIRTH) #987 Near Mint/Mint

ACTION COMICS 1,000,000 #1 Very Fine

ADVENTURE COMICS (1938) (#32-503) (DC) #381 Good
ADVENTURE COMICS (1938) (#32-503) (DC) #431 Good

ADVENTURE COMICS (2009) (#0-12, #516-529) (DC) #1 504VARIANT Near Mint/Mint
ADVENTURE COMICS (2009) (#0-12, #516-529) (DC) #2 505VARIANT Near Mint/Mint
ADVENTURE COMICS (2009) (#0-12, #516-529) (DC) #7 510VARIANT Near Mint/Mint
ADVENTURE COMICS (2009) (#0-12, #516-529) (DC) #8 Near Mint/Mint
ADVENTURE COMICS (2009) (#0-12, #516-529) (DC) #12 Near Mint/Mint
ADVENTURE COMICS (2009) (#0-12, #516-529) (DC) #526 Near Mint/Mint

DC 100 PAGE SUPER SPECTACULAR (1971) #18 Very Good

DC COMICS PRESENTS (1978) #1 WHITMAN Good
DC COMICS PRESENTS (1978) #71 NEWSSTAND Very Fine
DC COMICS PRESENTS (1978) #87 Near Mint/Mint

DETECTIVE COMICS (1937) (#0-881) (DC) #379 Very Good

DOOM PATROL (1964) (#86-124) (DC) #109 Fine
DOOM PATROL (1964) (#86-124) (DC) #110 Very Good

DOOM PATROL (1987) (#1-87) (DC) (DC VERTIGO) #36 (DC: Vertigo Press) Fine
DOOM PATROL (1987) (#1-87) (DC) (DC VERTIGO) #85 (DC: Vertigo Press) Fine
DOOM PATROL (1987) (#1-87) (DC) (DC VERTIGO) #86 (DC: Vertigo Press) Very Fine

DOOM PATROL (2016) (#1-UP) (DC YOUNG ANIMAL) #1 Near Mint/Mint
DOOM PATROL (2016) (#1-UP) (DC YOUNG ANIMAL) #1 BOLLAND Near Mint/Mint
DOOM PATROL (2016) (#1-UP) (DC YOUNG ANIMAL) #1 TARR Near Mint/Mint
DOOM PATROL (2016) (#1-UP) (DC YOUNG ANIMAL) #1 BOLLAND Very Fine
DOOM PATROL (2016) (#1-UP) (DC YOUNG ANIMAL) #1 CHIPPENDAL Very Fine
DOOM PATROL (2016) (#1-UP) (DC YOUNG ANIMAL) #1 GREENE Near Mint/Mint
DOOM PATROL (2016) (#1-UP) (DC YOUNG ANIMAL) #1 HERNANDEZ Near Mint/Mint
DOOM PATROL (2016) (#1-UP) (DC YOUNG ANIMAL) #1 TARR Very Fine
DOOM PATROL (2016) (#1-UP) (DC YOUNG ANIMAL) #1 Very Fine


DREAMING (1996) (#1-60) (DC VERTIGO) #60

DREAMING (1996) (#1-60) (DC VERTIGO) #60 (DC: Vertigo Press) Very Fine

DREAMING: TRIAL & ERROR SPECIAL #1 (DC: Vertigo Press) Very Fine

FLASH (1959) (#105-350) (DC) #267 Very Fine
FLASH (1959) (#105-350) (DC) #276 Fine

FROM BEYOND THE UNKNOWN (1969) #1 Very Good

GREEN ARROW (1988) (#0-137) (DC) #137 Very Fine

GREEN LANTERN (1960) (#1-224) (DC) #41 Fine

HAWKMAN (1964) (#1-27) (DC) #16 Fine

HELLBLAZER (1988) (#1-300) (DC VERTIGO) #2 (DC: Vertigo Press) Very Fine

HOUSE OF MYSTERY (1951) #290 NEWSSTAND Fine
HOUSE OF MYSTERY (1951) #291 Fine
HOUSE OF MYSTERY (1951) #294 Fine
HOUSE OF MYSTERY (1951) #295 Fine
HOUSE OF MYSTERY (1951) #297 Fine
HOUSE OF MYSTERY (1951) #299 Near Mint/Mint
HOUSE OF MYSTERY (1951) #300 NEWSSTAND Fine
HOUSE OF MYSTERY (1951) #301 Fine
HOUSE OF MYSTERY (1951) #302 Fine
HOUSE OF MYSTERY (1951) #303 Fine
HOUSE OF MYSTERY (1951) #305 NEWSSTAND Very Good
HOUSE OF MYSTERY (1951) #307 Fine
HOUSE OF MYSTERY (1951) #308 NEWSSTAND Very Good
HOUSE OF MYSTERY (1951) #311 Fine

JOKER (1975) #1 Very Fine
JOKER (1975) #2 Near Mint/Mint
JOKER (1975) #3 Very Good
JOKER (1975) #4 Fine
JOKER (1975) #5 Very Fine
JOKER (1975) #6 Very Fine
JOKER (1975) #7 Very Fine
JOKER (1975) #8 Very Fine

JOKER (1975) #9 Fine

MAXX TPB (2003) #3 2ND PRINT (DC/Wildstorm) Very Fine
MAXX TPB (2003) #4 2ND PRINT (DC/Wildstorm) Near Mint/Mint

METAMORPHO: YEAR ONE TPB (2008) #1 Near Mint/Mint

MIDNIGHTER: ANTHEM TPB (VOL. 2) (2008) #1 Very Fine

MIDNIGHTER: KILLING MACHINE TPB (VOL. 1) (2007) #1 Near Mint/Mint

MILLENNIUM TPB (2008) #1 Near Mint/Mint
MILLENNIUM TPB (2008) #1 Very Fine

MR. MAJESTIC TPB (2001) #1 (DC/Wildstorm) Near Mint/Mint

SECRET ORIGINS (1973) (#1-7) (DC) #6 Very Good

SUPERMAN (1939) (#1-423) (DC) #396 NEWSSTAND Very Fine
SUPERMAN (1939) (#1-423) (DC) #414 NEWSSTAND Fine

SUPERMAN (1986) (#0-226, #650-714) (DC) #21 Very Fine

SWAMP THING, SAGA OF (1982) #52 NEWSSTAND (DC: Vertigo Press) Fine
SWAMP THING, SAGA OF (1982) #53 (DC: Vertigo Press) Good
SWAMP THING, SAGA OF (1982) #55 (DC: Vertigo Press) Very Fine
SWAMP THING, SAGA OF (1982) #57 NEWSSTAND (DC: Vertigo Press) Fine
SWAMP THING, SAGA OF (1982) #58 (DC: Vertigo Press) Very Fine
SWAMP THING, SAGA OF (1982) #60 (DC: Vertigo Press) Fine
SWAMP THING, SAGA OF (1982) #61 (DC: Vertigo Press) Near Mint/Mint
SWAMP THING, SAGA OF (1982) #63 (DC: Vertigo Press) Near Mint/Mint
SWAMP THING, SAGA OF (1982) #67 (DC: Vertigo Press) Fine
SWAMP THING, SAGA OF (1982) #70 (DC: Vertigo Press) Very Fine
SWAMP THING, SAGA OF (1982) #72 (DC: Vertigo Press) Near Mint/Mint
SWAMP THING, SAGA OF (1982) #73 (DC: Vertigo Press) Near Mint/Mint
SWAMP THING, SAGA OF (1982) #74 (DC: Vertigo Press) Near Mint/Mint
SWAMP THING, SAGA OF (1982) #76 (DC: Vertigo Press) Very Fine
SWAMP THING, SAGA OF (1982) #78 (DC: Vertigo Press) Very Fine
SWAMP THING, SAGA OF (1982) #79 (DC: Vertigo Press) Fine
SWAMP THING, SAGA OF (1982) #81 (DC: Vertigo Press) Near Mint/Mint
SWAMP THING, SAGA OF (1982) #100 (DC: Vertigo Press) Fine

SWAMP THING, SAGA OF ANNUAL (1982) #6 (DC: Vertigo Press) Very Fine


WONDER WOMAN (1987) (#0-226) (DC) #4

WONDER WOMAN (1987) (#0-226) (DC) #4 Very Fine
WONDER WOMAN (1987) (#0-226) (DC) #6 Near Mint/Mint
WONDER WOMAN (1987) (#0-226) (DC) #7 Very Fine
WONDER WOMAN (1987) (#0-226) (DC) #9 Fine
WONDER WOMAN (1987) (#0-226) (DC) #18 Near Mint/Mint
WONDER WOMAN (1987) (#0-226) (DC) #19 Near Mint/Mint
WONDER WOMAN (1987) (#0-226) (DC) #28 NEWSSTAND Very Fine
WONDER WOMAN (1987) (#0-226) (DC) #29 NEWSSTAND Fine
WONDER WOMAN (1987) (#0-226) (DC) #30 NEWSSTAND Very Fine
WONDER WOMAN (1987) (#0-226) (DC) #31 NEWSSTAND Fine
WONDER WOMAN (1987) (#0-226) (DC) #33 NEWSSTAND Fine
WONDER WOMAN (1987) (#0-226) (DC) #34 NEWSSTAND Fine
WONDER WOMAN (1987) (#0-226) (DC) #36 Near Mint/Mint
WONDER WOMAN (1987) (#0-226) (DC) #39 Near Mint/Mint
WONDER WOMAN (1987) (#0-226) (DC) #42 Near Mint/Mint
WONDER WOMAN (1987) (#0-226) (DC) #43 Near Mint/Mint
WONDER WOMAN (1987) (#0-226) (DC) #45 Fine
WONDER WOMAN (1987) (#0-226) (DC) #46 Very Fine
WONDER WOMAN (1987) (#0-226) (DC) #48 Very Fine
WONDER WOMAN (1987) (#0-226) (DC) #50 Near Mint/Mint
WONDER WOMAN (1987) (#0-226) (DC) #51 Very Fine
WONDER WOMAN (1987) (#0-226) (DC) #52 Very Fine
WONDER WOMAN (1987) (#0-226) (DC) #53 Near Mint/Mint
WONDER WOMAN (1987) (#0-226) (DC) #54 Very Fine
WONDER WOMAN (1987) (#0-226) (DC) #55 Near Mint/Mint
WONDER WOMAN (1987) (#0-226) (DC) #57 Very Fine
WONDER WOMAN (1987) (#0-226) (DC) #60 Very Fine
WONDER WOMAN (1987) (#0-226) (DC) #74 Very Fine

WONDER WOMAN: WAR OF THE GODS TPB (2016) #1 Very Fine

WORLD'S FINEST TPB (2010) #1 Near Mint/Mint

WORLDS FINEST (1941) (#2-323) (DC) (WORLD'S FINEST) #223 Good
WORLDS FINEST (1941) (#2-323) (DC) (WORLD'S FINEST) #226 Very Good
WORLDS FINEST (1941) (#2-323) (DC) (WORLD'S FINEST) #314 NEWSSTAND Very Fine

DARK HORSE COMICS
FACTS IN THE CASE OF THE DEPARTURE OF MISS FINCH HC (2006) #1 Very Fine

LITTLE ANNIE FANNY TPB (2000) #1 Near Mint/Mint


MASK RETURNS TPB (1994) #1 2ND PRINT

MASK RETURNS TPB (1994) #1 2ND PRINT Fine

MIDNIGHT SOCIETY: BLACK LAKE TPB (2015) #1 Very Fine

PIN-UP: ILLEGITIMATE ART TPB (2004) #1 Fine

WORLD OF TANKS TPB (2017) #1 Very Fine

IMAGE COMICS
LIBERTY MEADOWS: EDEN GN (2002) #1 SC Near Mint/Mint

MASKS & MOBSTERS HC (2013) #1 Very Fine

MELTDOWN TPB (2007) #1 Near Mint/Mint

MICE TEMPLAR VOL. 2: DESTINY PART 2 TPB (2010) #1 Very Fine

MICE TEMPLAR VOL. 4: .1 LEGEND HC (2013) #1 Fine

MICE TEMPLAR VOL. 4: .1 LEGEND TPB (2014) #1 Near Mint/Mint

MISSING THE BOAT GN (2008) #1 Near Mint/Mint

MISSION TPB (2011) #1 Very Fine

INDEPENDENTS
A 1 (A1) (A-1) (ATOMEKA) (1989) #1 (Atomeka Press) Very Good
A 1 (A1) (A-1) (ATOMEKA) (1989) #2 (Atomeka Press) Near Mint/Mint
A 1 (A1) (A-1) (ATOMEKA) (1989) #3 (Atomeka Press) Near Mint/Mint
A 1 (A1) (A-1) (ATOMEKA) (1989) #4 (Atomeka Press) Very Good

A*K*Q*J: CAPTAIN JACK SPECIAL #1 (Fantagraphics) Very Fine

A1: BIG ISSUE (A 1) #0 PARKHOUSE (Atomeka Press) Very Fine
A1: BIG ISSUE (A 1) #0 VARIANT (Atomeka Press) Near Mint/Mint

ABC WARRIORS (1990) #1 (Fleetway-Quality Comics) Very Fine

ABIGAIL & THE SNOWMAN (2014) #2 (Boom Studios Publishing) Near Mint/Mint
ABIGAIL & THE SNOWMAN (2014) #3 (Boom Studios Publishing) Near Mint/Mint
ABIGAIL & THE SNOWMAN (2014) #4 (Boom Studios Publishing) Very Fine

ABSOLUTION (AVATAR) (2009) #1 (Avatar Comics) Near Mint/Mint
ABSOLUTION (AVATAR) (2009) #1 CHICAGO (Avatar Comics) Near Mint/Mint
ABSOLUTION (AVATAR) (2009) #2 AUXILIARY (Avatar Comics) Near Mint/Mint
ABSOLUTION (AVATAR) (2009) #2 VIGILANTE (Avatar Comics) Fine
ABSOLUTION (AVATAR) (2009) #3 (Avatar Comics) Near Mint/Mint
ABSOLUTION (AVATAR) (2009) #4 (Avatar Comics) Near Mint/Mint

ABSOLUTION: RUBICON (2013) #1 (Avatar Comics) Near Mint/Mint
ABSOLUTION: RUBICON (2013) #1 ELECTRIC (Avatar Comics) Near Mint/Mint
ABSOLUTION: RUBICON (2013) #1 WRAPAROUND (Avatar Comics) Very Fine
ABSOLUTION: RUBICON (2013) #2 FINALJUSTI (Avatar Comics) Near Mint/Mint
ABSOLUTION: RUBICON (2013) #2 HAPPYKITTY (Avatar Comics) Very Fine
ABSOLUTION: RUBICON (2013) #2 WRAPAROUND (Avatar Comics) Near Mint/Mint
ABSOLUTION: RUBICON (2013) #3 WRAPAROUND (Avatar Comics) Near Mint/Mint
ABSOLUTION: RUBICON (2013) #4 FINALJUSTI (Avatar Comics) Near Mint/Mint
ABSOLUTION: RUBICON (2013) #4 WRAPAROUND (Avatar Comics) Near Mint/Mint
ABSOLUTION: RUBICON (2013) #5 FINALJUSTI (Avatar Comics) Near Mint/Mint
ABSOLUTION: RUBICON (2013) #5 WRAPAROUND (Avatar Comics) Near Mint/Mint

ABYSS (2007) #3 (Red 5 Comics) Near Mint/Mint
ABYSS (2007) #4 (Red 5 Comics) Near Mint/Mint

ADVENTURE TIME (2012) #5 C (Boom Studios Publishing) Very Fine
ADVENTURE TIME (2012) #11 B (Boom Studios Publishing) Very Fine
ADVENTURE TIME (2012) #12 B (Boom Studios Publishing) Very Fine

ADVENTURE TIME: CANDY CAPERS (2013) #1 D (Boom Studios Publishing) Very Fine
ADVENTURE TIME: CANDY CAPERS (2013) #2 C (Boom Studios Publishing) Very Fine

ADVENTURE TIME: MARCELINE SCREAM QUEENS (2012) #1 SAN DIEGO (Boom Studios Publishing) Near Mint/Mint
ADVENTURE TIME: MARCELINE SCREAM QUEENS (2012) #1 SAN DIEGO (Boom Studios Publishing) Very Fine

AMAZING HEROES (FANTAGRAPHICS) (1981) #29 (Fantagraphics) Near Mint/Mint

ANIMA: DRUUNA O HC (2016) #1 (Lo Scarabeo) Near Mint/Mint

BONE (1991) (#1-55) (CARTOON BOOKS) #53 (Cartoon Books) Very Fine

CAPTAIN STERNN: RUNNING OUT OF TIME #1 ADVANCE ED (Kitchen Sink Publishing) Very Fine

CHERRY (1982) #1 (Kitchen Sink Publishing) Near Mint/Mint
CHERRY (1982) #2 (Kitchen Sink Publishing) Fine
CHERRY (1982) #3 (Kitchen Sink Publishing) Fine

CHERRY (1982) #4 (Kitchen Sink Publishing) Near Mint/Mint
CHERRY (1982) #5 (Kitchen Sink Publishing) Very Fine
CHERRY (1982) #6 (Kitchen Sink Publishing) Near Mint/Mint
CHERRY (1982) #8 (Kitchen Sink Publishing) Near Mint/Mint
CHERRY (1982) #9 (Kitchen Sink Publishing) Fine

COMIC READER #97 (STREET ENTERPRISES) Fine
COMIC READER #104 (STREET ENTERPRISES) Very Good
COMIC READER #108 (STREET ENTERPRISES) Fine
COMIC READER #109 (STREET ENTERPRISES) Fine
COMIC READER #130 (STREET ENTERPRISES) Good
COMIC READER #137 (STREET ENTERPRISES) Very Good
COMIC READER #140 (STREET ENTERPRISES) Very Good
COMIC READER #141 (STREET ENTERPRISES) Very Good
COMIC READER #144 (STREET ENTERPRISES) Fine
COMIC READER #147 (STREET ENTERPRISES) Fine
COMIC READER #158 (STREET ENTERPRISES) Very Good
COMIC READER #159 (STREET ENTERPRISES) Good
COMIC READER #160 (STREET ENTERPRISES) Fine
COMIC READER #163 (STREET ENTERPRISES) Fine
COMIC READER #170 (STREET ENTERPRISES) Fine

DC COMICS ENCYCLOPEDIA HC (2004) #1 (D.K. PUBLISHING) Fine

DELICATE CREATURES HC (2001) #1 (Image Top Cow) Very Fine

DOC SAVAGE ANNUAL (2014) #1 (DYNAMITE Entertainment) Very Fine

DOCTOR WHO: 11TH DOCTOR (2014) #3 GLASS (TITAN BOOKS) Very Fine

DOCTOR WHO: 12TH DOCTOR (2014) #5 PHOTO (TITAN BOOKS) Near Mint/Mint
DOCTOR WHO: 12TH DOCTOR (2014) #8 PHOTO (TITAN BOOKS) Near Mint/Mint

DOCTOR WHO: GHOST STORIES (2017) #3 B PHOTO (Titan Distributing) Near Mint/Mint

DOODLE JUMP (2014) #3 BENNINGTON (DYNAMITE Entertainment) Near Mint/Mint

JUMBO COMICS (1938) #113 (Fiction House Magazines) Very Good

LEGEND OF ZELDA (1990) #4 (Acclaim/Valiant) Near Mint/Mint

LOST GIRLS HC SLIPCASED (2006) #1 2ND PRINT (Top Shelf Productions) Very Good


MANY ADVENTURES OF MIRANDA MERCURY HC (2011) #1

MANY ADVENTURES OF MIRANDA MERCURY HC (2011) #1 (Archaia Studios Press) Very Fine

MARIA'S WEDDING GN (2003) #1 (Oni Press Inc.) Very Fine

MARVEL COMICS ENCYCLOPEDIA HC (2006) #1 (Trade Items) Very Good

MARY WEPT OVER THE FEET OF JESUS HC (2016) #1 (Drawn & Quarterly) Near Mint/Mint

MASQUE OF THE RED DEATH GN (2009) #1 (GO! COMI) Fine

MAXX: MAXXED OUT TPB (2016) #2 (IDW Publishing) Very Fine
MAXX: MAXXED OUT TPB (2016) #3 (IDW Publishing) Very Fine

MEAN MACHINE: REAL MEAN TPB (2011) #1 (Rebellion) Near Mint/Mint

MEMORIAL HC (2012) #1 (IDW Publishing) Fine

MERCURY HEAT TPB (2016) #1 (Avatar Comics) Near Mint/Mint

MERIDIAN: GOING TO GROUND TPB (VOL. 2) (2002) #1 (Crossgen Comics) Fine

MERRY MEN COMPLETE TPB (2018) #1 (Oni Press Inc.) Near Mint/Mint

METH, COLAN, & OTHER THEOLOGIANS SC (2008) #1 (AARDWOLF PUBLISHING) Very Fine

MIDNIGHT MOVER TPB (2004) #1 (Oni Press Inc.) Near Mint/Mint

MINE: CELEBRATION OF LIBERTY & FREEDOM TPB (2018) #1 (Comicmix) Very Fine

MIRROR WORLD NOVEL HC (1998) #1 (HARPER COLLINS PUBLISHERS) Very Fine

MISS FURY VOL. 1: ANGER IS AN ENERGY TPB (2013) #1 (DYNAMITE Entertainment) Near Mint/Mint

MISTER X: DEFINITIVE COLLECTION TPB (2005) #2 (Ibooks Inc.) Very Good

MR. NIGHTMARE'S WONDERFUL WORLD: GODS MUST BE CRAZY TPB (2002) #1 (Moonstone) Very Fine

MYTHOLOGY: ART OF ALEX ROSS TRADE ED HC (2003) #1 (Trade Items) Fine

SERPIERI COLLECTION HC (2015) #1 (Lo Scarabeo) Near Mint/Mint
SERPIERI COLLECTION HC (2015) #2 (Lo Scarabeo) Very Fine
SERPIERI COLLECTION HC (2015) #3 (Lo Scarabeo) Near Mint/Mint
SERPIERI COLLECTION HC (2015) #4 (Lo Scarabeo) Very Fine

SIGNAL FROM SPACE HC #1 (Kitchen Sink Publishing) Very Fine

STRAIGHT ARROW (1950) #13 (MAGAZINE ENTERPRISES) Very Good
STRAIGHT ARROW (1950) #14 (MAGAZINE ENTERPRISES) Very Good

THUMBPRINT (JOE HILL) (2013) #2 (IDW Publishing) Near Mint/Mint

WWE TPB (2017) #1 (Boom Studios Publishing) Near Mint/Mint