New Silver Age Collection 60% Off!
Hi
This is William with Mile High Comics, Chuck is out running errands before he leaves for the 50th Anniversary of the Stone Wall Inn next week. So I will be writing this newsletter.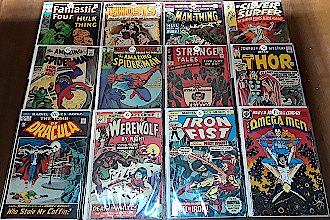 Some of the Silver/Bronze comics that just came in

First I wanted to let you know that Pam and I have been buying great collections all this week. We just got in a couple collections of Silver Age and Bronze Age comics. We started adding these to our inventory this week. Just check our Premium New-In-Stock and the New-In-Stock and you will see some great "key" issues added.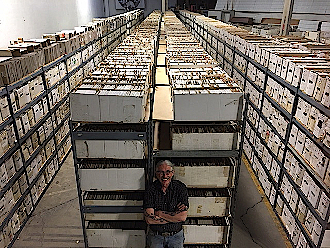 Chuck in front of our back issue racks

Second we will also have the 60% off COMIC-CON codeword sale running this weekend. This sale is good on all ten million+ back issue comics and magazines. This also includes all the Silver Age and Bronze Age comics we just added. Only new issues, a few variants, and our professionally-graded issues are excluded from this huge 60% off event.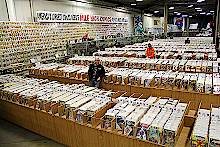 Chuck in the Ocean of Comics in our Jason Street Mega Store

Also the 60% off COMIC-CON sale will be running at our huge Jason Street Mega Store all this weekend. So if you are visiting the store, now is the chance to find some of the missing back issues from your collection at only 40% of retail price. How can you lose!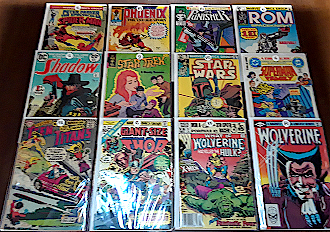 Some more of the Silver/Bronze comics that just came in

And lastly I wanted to remind everyone that we do offer FREE SHIPPING on back issue orders, your order just needs to be a minimum of $60 (after all discounts) Domestic and International orders just needs to be over $150.00 (after all discounts). If you order oversized or trade items there is a small surcharge to offset some of the extra weight.
That's it for today, hope everyone has a great weekend!
William Moulton,
Operations Manager - Mile High Comics, Inc.
June 21, 2019
P.S. Here are just some of the cool items we just added today:
MARVEL
BIZARRE ADVENTURES (1981) #25 Very Good
BIZARRE ADVENTURES (1981) #30 Very Good
BIZARRE ADVENTURES (1981) #32 Very Good

CAPTAIN AMERICA (1968) (#100-454) (MARVEL) #101 Very Good
CAPTAIN AMERICA (1968) (#100-454) (MARVEL) #245 Very Fine
CAPTAIN AMERICA (1968) (#100-454) (MARVEL) #248 Fine
CAPTAIN AMERICA (1968) (#100-454) (MARVEL) #249 NEWSSTAND Very Fine
CAPTAIN AMERICA (1968) (#100-454) (MARVEL) #250 NEWSSTAND Very Good
CAPTAIN AMERICA (1968) (#100-454) (MARVEL) #251 NEWSSTAND Fine
CAPTAIN AMERICA (1968) (#100-454) (MARVEL) #252 NEWSSTAND Fine
CAPTAIN AMERICA (1968) (#100-454) (MARVEL) #253 Fine
CAPTAIN AMERICA (1968) (#100-454) (MARVEL) #254 NEWSSTAND Very Fine
CAPTAIN AMERICA (1968) (#100-454) (MARVEL) #257 NEWSSTAND Fine
CAPTAIN AMERICA (1968) (#100-454) (MARVEL) #259 Very Fine
CAPTAIN AMERICA (1968) (#100-454) (MARVEL) #261 Near Mint/Mint
CAPTAIN AMERICA (1968) (#100-454) (MARVEL) #262 Very Fine
CAPTAIN AMERICA (1968) (#100-454) (MARVEL) #264 Near Mint/Mint
CAPTAIN AMERICA (1968) (#100-454) (MARVEL) #268 Very Fine
CAPTAIN AMERICA (1968) (#100-454) (MARVEL) #270 Near Mint/Mint
CAPTAIN AMERICA (1968) (#100-454) (MARVEL) #271 Near Mint/Mint
CAPTAIN AMERICA (1968) (#100-454) (MARVEL) #273 Near Mint/Mint
CAPTAIN AMERICA (1968) (#100-454) (MARVEL) #274 Very Fine


CAPTAIN AMERICA (1968) (#100-454) (MARVEL) #275

CAPTAIN AMERICA (1968) (#100-454) (MARVEL) #275 Near Mint/Mint
CAPTAIN AMERICA (1968) (#100-454) (MARVEL) #278 Near Mint/Mint
CAPTAIN AMERICA (1968) (#100-454) (MARVEL) #280 Near Mint/Mint
CAPTAIN AMERICA (1968) (#100-454) (MARVEL) #281 Near Mint/Mint
CAPTAIN AMERICA (1968) (#100-454) (MARVEL) #282 Near Mint/Mint
CAPTAIN AMERICA (1968) (#100-454) (MARVEL) #283 Near Mint/Mint
CAPTAIN AMERICA (1968) (#100-454) (MARVEL) #284 Near Mint/Mint
CAPTAIN AMERICA (1968) (#100-454) (MARVEL) #285 Near Mint/Mint
CAPTAIN AMERICA (1968) (#100-454) (MARVEL) #286 Near Mint/Mint
CAPTAIN AMERICA (1968) (#100-454) (MARVEL) #287 Near Mint/Mint
CAPTAIN AMERICA (1968) (#100-454) (MARVEL) #288 NEWSSTAND Near Mint/Mint
CAPTAIN AMERICA (1968) (#100-454) (MARVEL) #289 Near Mint/Mint
CAPTAIN AMERICA (1968) (#100-454) (MARVEL) #292 Near Mint/Mint
CAPTAIN AMERICA (1968) (#100-454) (MARVEL) #293 Near Mint/Mint
CAPTAIN AMERICA (1968) (#100-454) (MARVEL) #295 Very Fine
CAPTAIN AMERICA (1968) (#100-454) (MARVEL) #296 Near Mint/Mint
CAPTAIN AMERICA (1968) (#100-454) (MARVEL) #297 Near Mint/Mint
CAPTAIN AMERICA (1968) (#100-454) (MARVEL) #298 Near Mint/Mint
CAPTAIN AMERICA (1968) (#100-454) (MARVEL) #299 Near Mint/Mint
CAPTAIN AMERICA (1968) (#100-454) (MARVEL) #300 Very Fine
CAPTAIN AMERICA (1968) (#100-454) (MARVEL) #301 Near Mint/Mint
CAPTAIN AMERICA (1968) (#100-454) (MARVEL) #302 Near Mint/Mint
CAPTAIN AMERICA (1968) (#100-454) (MARVEL) #303 Near Mint/Mint


CAPTAIN AMERICA (1968) (#100-454) (MARVEL) #305

CAPTAIN AMERICA (1968) (#100-454) (MARVEL) #305 Near Mint/Mint
CAPTAIN AMERICA (1968) (#100-454) (MARVEL) #306 Near Mint/Mint
CAPTAIN AMERICA (1968) (#100-454) (MARVEL) #307 Near Mint/Mint
CAPTAIN AMERICA (1968) (#100-454) (MARVEL) #308 Near Mint/Mint
CAPTAIN AMERICA (1968) (#100-454) (MARVEL) #310 Near Mint/Mint
CAPTAIN AMERICA (1968) (#100-454) (MARVEL) #311 Near Mint/Mint
CAPTAIN AMERICA (1968) (#100-454) (MARVEL) #314 Near Mint/Mint
CAPTAIN AMERICA (1968) (#100-454) (MARVEL) #315 Near Mint/Mint
CAPTAIN AMERICA (1968) (#100-454) (MARVEL) #316 NEWSSTAND Near Mint/Mint
CAPTAIN AMERICA (1968) (#100-454) (MARVEL) #318 Near Mint/Mint
CAPTAIN AMERICA (1968) (#100-454) (MARVEL) #319 Very Fine
CAPTAIN AMERICA (1968) (#100-454) (MARVEL) #320 Near Mint/Mint
CAPTAIN AMERICA (1968) (#100-454) (MARVEL) #321 Near Mint/Mint
CAPTAIN AMERICA (1968) (#100-454) (MARVEL) #322 Near Mint/Mint
CAPTAIN AMERICA (1968) (#100-454) (MARVEL) #323 Near Mint/Mint
CAPTAIN AMERICA (1968) (#100-454) (MARVEL) #325 Near Mint/Mint
CAPTAIN AMERICA (1968) (#100-454) (MARVEL) #326 Near Mint/Mint

CAPTAIN AMERICA ANNUAL (1971) #5 Near Mint/Mint
CAPTAIN AMERICA ANNUAL (1971) #8 Very Fine

CAPTAIN MARVEL (1968) (#1-62) (MARVEL) #3 Very Fine

DEFENDERS (1972) (#1-152) (MARVEL) #4 Fair


DEFENDERS (1972) (#1-152) (MARVEL) #75

DEFENDERS (1972) (#1-152) (MARVEL) #75 Near Mint/Mint
DEFENDERS (1972) (#1-152) (MARVEL) #78 Near Mint/Mint
DEFENDERS (1972) (#1-152) (MARVEL) #82 Near Mint/Mint
DEFENDERS (1972) (#1-152) (MARVEL) #83 Near Mint/Mint
DEFENDERS (1972) (#1-152) (MARVEL) #89 NEWSSTAND Fine
DEFENDERS (1972) (#1-152) (MARVEL) #90 Very Fine
DEFENDERS (1972) (#1-152) (MARVEL) #91 Very Fine
DEFENDERS (1972) (#1-152) (MARVEL) #92 NEWSSTAND Fine
DEFENDERS (1972) (#1-152) (MARVEL) #94 NEWSSTAND Very Fine
DEFENDERS (1972) (#1-152) (MARVEL) #95 Fine
DEFENDERS (1972) (#1-152) (MARVEL) #96 NEWSSTAND Very Fine
DEFENDERS (1972) (#1-152) (MARVEL) #97 Fine
DEFENDERS (1972) (#1-152) (MARVEL) #98 Very Fine
DEFENDERS (1972) (#1-152) (MARVEL) #99 Fine
DEFENDERS (1972) (#1-152) (MARVEL) #100 Near Mint/Mint
DEFENDERS (1972) (#1-152) (MARVEL) #101 Fine
DEFENDERS (1972) (#1-152) (MARVEL) #102 Fine
DEFENDERS (1972) (#1-152) (MARVEL) #103 Fine
DEFENDERS (1972) (#1-152) (MARVEL) #105 Fine
DEFENDERS (1972) (#1-152) (MARVEL) #106 Fine
DEFENDERS (1972) (#1-152) (MARVEL) #107 Fine
DEFENDERS (1972) (#1-152) (MARVEL) #108 Fine
DEFENDERS (1972) (#1-152) (MARVEL) #109 Fine
DEFENDERS (1972) (#1-152) (MARVEL) #110 Fine
DEFENDERS (1972) (#1-152) (MARVEL) #111 Fine


DEFENDERS (1972) (#1-152) (MARVEL) #112

DEFENDERS (1972) (#1-152) (MARVEL) #112 Fine
DEFENDERS (1972) (#1-152) (MARVEL) #114 NEWSSTAND Very Good
DEFENDERS (1972) (#1-152) (MARVEL) #116 Fine
DEFENDERS (1972) (#1-152) (MARVEL) #118 Near Mint/Mint
DEFENDERS (1972) (#1-152) (MARVEL) #119 Fine
DEFENDERS (1972) (#1-152) (MARVEL) #121 Near Mint/Mint
DEFENDERS (1972) (#1-152) (MARVEL) #122 Near Mint/Mint
DEFENDERS (1972) (#1-152) (MARVEL) #123 Fine
DEFENDERS (1972) (#1-152) (MARVEL) #124 Fine
DEFENDERS (1972) (#1-152) (MARVEL) #125 Near Mint/Mint
DEFENDERS (1972) (#1-152) (MARVEL) #126 Near Mint/Mint
DEFENDERS (1972) (#1-152) (MARVEL) #127 Near Mint/Mint
DEFENDERS (1972) (#1-152) (MARVEL) #128 Near Mint/Mint
DEFENDERS (1972) (#1-152) (MARVEL) #129 Near Mint/Mint
DEFENDERS (1972) (#1-152) (MARVEL) #130 Near Mint/Mint
DEFENDERS (1972) (#1-152) (MARVEL) #131 Very Fine
DEFENDERS (1972) (#1-152) (MARVEL) #132 Near Mint/Mint
DEFENDERS (1972) (#1-152) (MARVEL) #133 Near Mint/Mint
DEFENDERS (1972) (#1-152) (MARVEL) #135 Near Mint/Mint
DEFENDERS (1972) (#1-152) (MARVEL) #136 Near Mint/Mint
DEFENDERS (1972) (#1-152) (MARVEL) #137 Near Mint/Mint
DEFENDERS (1972) (#1-152) (MARVEL) #138 Fine
DEFENDERS (1972) (#1-152) (MARVEL) #139 Near Mint/Mint


DEFENDERS (1972) (#1-152) (MARVEL) #144

DEFENDERS (1972) (#1-152) (MARVEL) #144 Near Mint/Mint
DEFENDERS (1972) (#1-152) (MARVEL) #145 Near Mint/Mint
DEFENDERS (1972) (#1-152) (MARVEL) #147 Fine
DEFENDERS (1972) (#1-152) (MARVEL) #148 Fine
DEFENDERS (1972) (#1-152) (MARVEL) #149 Fine
DEFENDERS (1972) (#1-152) (MARVEL) #151 Very Fine

DOCTOR STRANGE (1974) (#1-81) (MARVEL) (DR. STRANGE) #2 Good
DOCTOR STRANGE (1974) (#1-81) (MARVEL) (DR. STRANGE) #32 Very Fine

DOCTOR STRANGE ANNUAL (1976) #1 Fine

EPIC ILLUSTRATED (1980) #14 Fine
EPIC ILLUSTRATED (1980) #15 Fine
EPIC ILLUSTRATED (1980) #16 Fine

FANTASTIC FOUR (1961) (#1-416) (MARVEL) #112 Fine
FANTASTIC FOUR (1961) (#1-416) (MARVEL) #281 Near Mint/Mint
FANTASTIC FOUR (1961) (#1-416) (MARVEL) #286 Near Mint/Mint

FANTASTIC FOUR ANNUAL (1963) #8 Very Good
FANTASTIC FOUR ANNUAL (1963) #16 NEWSSTAND Fine
FANTASTIC FOUR ANNUAL (1963) #18 Near Mint/Mint


FEAR (ADVENTURE INTO...) (1970) #10

FEAR (ADVENTURE INTO...) (1970) #10 Good

HULK (1962) (#1-6, #102-474, #600-635)(INCREDIBLE)(MV) #200 Very Good

IRON FIST (1975) (#1-15) (MARVEL) #1 Good

MAN-THING (1974) (#1-22) (MARVEL) #1 Good
MAN-THING (1974) (#1-22) (MARVEL) #2 Very Fine
MAN-THING (1974) (#1-22) (MARVEL) #3 Fine
MAN-THING (1974) (#1-22) (MARVEL) #4 Very Good
MAN-THING (1974) (#1-22) (MARVEL) #5 Very Good
MAN-THING (1974) (#1-22) (MARVEL) #6 Very Good
MAN-THING (1974) (#1-22) (MARVEL) #7 Very Good
MAN-THING (1974) (#1-22) (MARVEL) #8 Very Fine
MAN-THING (1974) (#1-22) (MARVEL) #16 Very Good

MARVEL COMICS INDEX VOL. 6: DOCTOR STRANGE #1 Very Good

MARVEL ILLUSTRATED SWIMSUIT SPECIAL #1991 Very Good

MARVEL POSTER BOOK FEATURING SPIDER-MAN (MAG) (1991) #1 Fine
MARVEL POSTER BOOK FEATURING SPIDER-MAN (MAG) (1991) #1 Very Good

MARVEL TEAM-UP (1972) (#1-150) (MARVEL) #141 Fine


MICRONAUTS (1979) (#1-59) (MARVEL) #8

MICRONAUTS (1979) (#1-59) (MARVEL) #8 Very Good
MICRONAUTS (1979) (#1-59) (MARVEL) #30 Near Mint/Mint
MICRONAUTS (1979) (#1-59) (MARVEL) #31 Near Mint/Mint
MICRONAUTS (1979) (#1-59) (MARVEL) #32 NEWSSTAND Near Mint/Mint
MICRONAUTS (1979) (#1-59) (MARVEL) #33 Near Mint/Mint
MICRONAUTS (1979) (#1-59) (MARVEL) #34 Near Mint/Mint
MICRONAUTS (1979) (#1-59) (MARVEL) #35 NEWSSTAND Near Mint/Mint
MICRONAUTS (1979) (#1-59) (MARVEL) #36 Near Mint/Mint
MICRONAUTS (1979) (#1-59) (MARVEL) #39 Near Mint/Mint
MICRONAUTS (1979) (#1-59) (MARVEL) #41 Near Mint/Mint
MICRONAUTS (1979) (#1-59) (MARVEL) #42 Near Mint/Mint
MICRONAUTS (1979) (#1-59) (MARVEL) #44 Near Mint/Mint
MICRONAUTS (1979) (#1-59) (MARVEL) #45 Near Mint/Mint
MICRONAUTS (1979) (#1-59) (MARVEL) #52 Near Mint/Mint
MICRONAUTS (1979) (#1-59) (MARVEL) #53 Near Mint/Mint
MICRONAUTS (1979) (#1-59) (MARVEL) #54 Near Mint/Mint
MICRONAUTS (1979) (#1-59) (MARVEL) #55 Near Mint/Mint
MICRONAUTS (1979) (#1-59) (MARVEL) #56 Near Mint/Mint
MICRONAUTS (1979) (#1-59) (MARVEL) #58 Near Mint/Mint
MICRONAUTS (1979) (#1-59) (MARVEL) #59 Near Mint/Mint

MICRONAUTS (1984) (#1-20) (MARVEL) (THE NEW VOYAGES) #20 Near Mint/Mint

MOON KNIGHT (1980) (#1-38) (MARVEL) #1 Very Good
MOON KNIGHT (1980) (#1-38) (MARVEL) #38 Good


NEW MUTANTS (1983) (#1-100) (MARVEL) #18

NEW MUTANTS (1983) (#1-100) (MARVEL) #18 Very Fine

NIGHTMARE ON ELM STREET MAGAZINE (1989) #2 Very Good

NOVA (1976) (#1-25) (RICHARD RIDER) (MARVEL) #1 Fine

PETER PARKER (1976) (#1-263) (SPECTACULAR SPIDER-MAN) #1 Good
PETER PARKER (1976) (#1-263) (SPECTACULAR SPIDER-MAN) #6 Fine
PETER PARKER (1976) (#1-263) (SPECTACULAR SPIDER-MAN) #7 Fine
PETER PARKER (1976) (#1-263) (SPECTACULAR SPIDER-MAN) #8 Fine
PETER PARKER (1976) (#1-263) (SPECTACULAR SPIDER-MAN) #21 Fine
PETER PARKER (1976) (#1-263) (SPECTACULAR SPIDER-MAN) #47 Near Mint/Mint
PETER PARKER (1976) (#1-263) (SPECTACULAR SPIDER-MAN) #48 Near Mint/Mint
PETER PARKER (1976) (#1-263) (SPECTACULAR SPIDER-MAN) #49 Near Mint/Mint
PETER PARKER (1976) (#1-263) (SPECTACULAR SPIDER-MAN) #50 Very Fine
PETER PARKER (1976) (#1-263) (SPECTACULAR SPIDER-MAN) #51 Very Fine
PETER PARKER (1976) (#1-263) (SPECTACULAR SPIDER-MAN) #53 Near Mint/Mint
PETER PARKER (1976) (#1-263) (SPECTACULAR SPIDER-MAN) #54 Near Mint/Mint
PETER PARKER (1976) (#1-263) (SPECTACULAR SPIDER-MAN) #55 NEWSSTAND Near Mint/Mint
PETER PARKER (1976) (#1-263) (SPECTACULAR SPIDER-MAN) #56 Near Mint/Mint
PETER PARKER (1976) (#1-263) (SPECTACULAR SPIDER-MAN) #57 Near Mint/Mint
PETER PARKER (1976) (#1-263) (SPECTACULAR SPIDER-MAN) #58 Near Mint/Mint
PETER PARKER (1976) (#1-263) (SPECTACULAR SPIDER-MAN) #59 Near Mint/Mint
PETER PARKER (1976) (#1-263) (SPECTACULAR SPIDER-MAN) #60 Near Mint/Mint
PETER PARKER (1976) (#1-263) (SPECTACULAR SPIDER-MAN) #61 Very Fine


PETER PARKER (1976) (#1-263) (SPECTACULAR SPIDER-MAN) #62

PETER PARKER (1976) (#1-263) (SPECTACULAR SPIDER-MAN) #62 Near Mint/Mint
PETER PARKER (1976) (#1-263) (SPECTACULAR SPIDER-MAN) #64 Very Fine
PETER PARKER (1976) (#1-263) (SPECTACULAR SPIDER-MAN) #68 Very Fine
PETER PARKER (1976) (#1-263) (SPECTACULAR SPIDER-MAN) #69 Very Fine
PETER PARKER (1976) (#1-263) (SPECTACULAR SPIDER-MAN) #70 Very Fine
PETER PARKER (1976) (#1-263) (SPECTACULAR SPIDER-MAN) #71 Near Mint/Mint
PETER PARKER (1976) (#1-263) (SPECTACULAR SPIDER-MAN) #72 Near Mint/Mint
PETER PARKER (1976) (#1-263) (SPECTACULAR SPIDER-MAN) #76 Very Fine
PETER PARKER (1976) (#1-263) (SPECTACULAR SPIDER-MAN) #78 Near Mint/Mint
PETER PARKER (1976) (#1-263) (SPECTACULAR SPIDER-MAN) #79 Near Mint/Mint
PETER PARKER (1976) (#1-263) (SPECTACULAR SPIDER-MAN) #80 Near Mint/Mint
PETER PARKER (1976) (#1-263) (SPECTACULAR SPIDER-MAN) #81 Near Mint/Mint
PETER PARKER (1976) (#1-263) (SPECTACULAR SPIDER-MAN) #82 Very Fine

PHOENIX, THE UNTOLD STORY (1983) #1 NEWSSTAND Fine

PUNISHER (1987) (#1-104) (MARVEL) #1 Fine

PUNISHER WAR JOURNAL (1988) #1 Very Fine

ROM (1979) (#1-75) (MARVEL) #1 NEWSSTAND Good

SILVER SURFER (1968) (#1-18) (MARVEL) #18 Good

SPIDER-MAN (1963) (AMAZING SPIDER-MAN) (#1-441) #53 Very Good


SPIDER-MAN (1963) (AMAZING SPIDER-MAN) (#1-441) #76

SPIDER-MAN (1963) (AMAZING SPIDER-MAN) (#1-441) #76 Very Good
SPIDER-MAN (1963) (AMAZING SPIDER-MAN) (#1-441) #145 Fine
SPIDER-MAN (1963) (AMAZING SPIDER-MAN) (#1-441) #200 NEWSSTAND Very Good
SPIDER-MAN (1963) (AMAZING SPIDER-MAN) (#1-441) #238 NEWSSTAND Good
SPIDER-MAN (1963) (AMAZING SPIDER-MAN) (#1-441) #252 NEWSSTAND Very Fine
SPIDER-MAN (1963) (AMAZING SPIDER-MAN) (#1-441) #350 Near Mint/Mint
SPIDER-MAN (1963) (AMAZING SPIDER-MAN) (#1-441) #437 Near Mint/Mint
SPIDER-MAN (1963) (AMAZING SPIDER-MAN) (#1-441) #439 Very Fine
SPIDER-MAN (1963) (AMAZING SPIDER-MAN) (#1-441) #440 Very Fine

SPIDER-MAN ANNUAL (1964) (#1-28) (MARVEL) #10 Very Good
SPIDER-MAN ANNUAL (1964) (#1-28) (MARVEL) #12 Fine

STAR WARS (1977) (#1-107) (MARVEL) #68 NEWSSTAND Very Good

STRANGE TALES (1951) (#1-85 ATLAS, #86-188 MARVEL) #136 Good
STRANGE TALES (1951) (#1-85 ATLAS, #86-188 MARVEL) #156 Very Good

SUPER-VILLAIN CLASSICS (1983) #1 Very Fine

TALES OF SUSPENSE (1959) (#1-99) (ATLAS/MARVEL) #68 Fair

THOR (1962) (#83-125 JOURNEY INTO MYSTERY, 126-502) #113 Good

THOR GIANT-SIZE (1975) #1 Good


TOMB OF DRACULA (1972) (#1-70) (MARVEL) #1

TOMB OF DRACULA (1972) (#1-70) (MARVEL) #1 Very Good
TOMB OF DRACULA (1972) (#1-70) (MARVEL) #2 Fine
TOMB OF DRACULA (1972) (#1-70) (MARVEL) #2 Very Good
TOMB OF DRACULA (1972) (#1-70) (MARVEL) #9 Good
TOMB OF DRACULA (1972) (#1-70) (MARVEL) #35 Very Good
TOMB OF DRACULA (1972) (#1-70) (MARVEL) #41 Very Fine
TOMB OF DRACULA (1972) (#1-70) (MARVEL) #43 Very Good
TOMB OF DRACULA (1972) (#1-70) (MARVEL) #48 Very Fine
TOMB OF DRACULA (1972) (#1-70) (MARVEL) #58 Good

WHAT IF... (1977) (#1-47) (MARVEL) #31 NEWSSTAND Very Fine

WOLVERINE (1982) (#1-4) (MARVEL LIMITED SERIES) #1 Fine
WOLVERINE (1982) (#1-4) (MARVEL LIMITED SERIES) #2 Fine
WOLVERINE (1982) (#1-4) (MARVEL LIMITED SERIES) #3 Very Good
WOLVERINE (1982) (#1-4) (MARVEL LIMITED SERIES) #4 Very Fine

X-MEN (1963) (#1-113, UNCANNY X-MEN #114-544) (MARVEL) #17 Very Good
X-MEN (1963) (#1-113, UNCANNY X-MEN #114-544) (MARVEL) #80 Fine
X-MEN (1963) (#1-113, UNCANNY X-MEN #114-544) (MARVEL) #82 Very Good
X-MEN (1963) (#1-113, UNCANNY X-MEN #114-544) (MARVEL) #86 Very Good
X-MEN (1963) (#1-113, UNCANNY X-MEN #114-544) (MARVEL) #87 Very Good
X-MEN (1963) (#1-113, UNCANNY X-MEN #114-544) (MARVEL) #114 Very Good
X-MEN (1963) (#1-113, UNCANNY X-MEN #114-544) (MARVEL) #119 Good


X-MEN (1963) (#1-113, UNCANNY X-MEN #114-544) (MARVEL) #120

X-MEN (1963) (#1-113, UNCANNY X-MEN #114-544) (MARVEL) #120 Very Good
X-MEN (1963) (#1-113, UNCANNY X-MEN #114-544) (MARVEL) #131 NEWSSTAND Good
X-MEN (1963) (#1-113, UNCANNY X-MEN #114-544) (MARVEL) #132 NEWSSTAND Fair
X-MEN (1963) (#1-113, UNCANNY X-MEN #114-544) (MARVEL) #135 NEWSSTAND Good
X-MEN (1963) (#1-113, UNCANNY X-MEN #114-544) (MARVEL) #136 NEWSSTAND Good
X-MEN (1963) (#1-113, UNCANNY X-MEN #114-544) (MARVEL) #137 Very Good
X-MEN (1963) (#1-113, UNCANNY X-MEN #114-544) (MARVEL) #138 Fine
X-MEN (1963) (#1-113, UNCANNY X-MEN #114-544) (MARVEL) #138 NEWSSTAND Very Good
X-MEN (1963) (#1-113, UNCANNY X-MEN #114-544) (MARVEL) #139 Fine
X-MEN (1963) (#1-113, UNCANNY X-MEN #114-544) (MARVEL) #140 NEWSSTAND Very Good
X-MEN (1963) (#1-113, UNCANNY X-MEN #114-544) (MARVEL) #140 Very Good
X-MEN (1963) (#1-113, UNCANNY X-MEN #114-544) (MARVEL) #141 Fine
X-MEN (1963) (#1-113, UNCANNY X-MEN #114-544) (MARVEL) #142 Fine
X-MEN (1963) (#1-113, UNCANNY X-MEN #114-544) (MARVEL) #143 NEWSSTAND Fine
X-MEN (1963) (#1-113, UNCANNY X-MEN #114-544) (MARVEL) #143 Very Fine
X-MEN (1963) (#1-113, UNCANNY X-MEN #114-544) (MARVEL) #147 Very Fine
X-MEN (1963) (#1-113, UNCANNY X-MEN #114-544) (MARVEL) #148 NEWSSTAND Very Good
X-MEN (1963) (#1-113, UNCANNY X-MEN #114-544) (MARVEL) #151 Very Fine
X-MEN (1963) (#1-113, UNCANNY X-MEN #114-544) (MARVEL) #152 Very Fine
X-MEN (1963) (#1-113, UNCANNY X-MEN #114-544) (MARVEL) #157 Fine

DC
ACTION COMICS (1938) (#0-600, 643-904) (DC) #262 Fair

ADVENTURE COMICS (1938) (#32-503) (DC) #311 Fair

GHOSTS (1971) #1 Very Good

OMEGA MEN (1982) (#1-38) (DC) #3 Fine

SHADOW (1973) (#1-12) (DC) #1 Good

SUPERBOY (1949) (#1-258) (DC) #130 Good

TEEN TITANS (1966) (#1-53) (DC) #3 Fair

TEEN TITANS (1980) (#1-91) (DC) #44 NEWSSTAND Fine
TEEN TITANS (1980) (#1-91) (DC) #44 Very Fine

WONDER WOMAN (1942) (#1-329) (DC) #162 Good

IMAGE COMICS
SPAWN (1992) #1 Very Fine

INDEPENDENTS
HEAVY METAL (MAG) #7706 (Heavy Metal) Very Good
HEAVY METAL (MAG) #9207 (Heavy Metal) Very Good
HEAVY METAL (MAG) #9705 (Heavy Metal) Fine

HEAVY METAL 2000 (MAG) #209 (Heavy Metal) Fine
HEAVY METAL 2000 (MAG) #259 UNBAGGED (Heavy Metal) Very Fine
HEAVY METAL 2000 (MAG) #260 (Heavy Metal) Fine
HEAVY METAL 2000 (MAG) #261 (Heavy Metal) Fine
HEAVY METAL 2000 (MAG) #262 (Heavy Metal) Very Fine
HEAVY METAL 2000 (MAG) #263 (Heavy Metal) Very Fine
HEAVY METAL 2000 (MAG) #264 (Heavy Metal) Fine
HEAVY METAL 2000 (MAG) #268 (Heavy Metal) Fine
HEAVY METAL 2000 (MAG) #271 (Heavy Metal) Very Fine
HEAVY METAL 2000 (MAG) #272 (Heavy Metal) Near Mint/Mint
HEAVY METAL 2000 (MAG) #609 (Heavy Metal) Fine
HEAVY METAL 2000 (MAG) #803 (Heavy Metal) Fine
HEAVY METAL 2000 (MAG) #809 (Heavy Metal) Near Mint/Mint
HEAVY METAL 2000 (MAG) #903 (Heavy Metal) Near Mint/Mint
HEAVY METAL 2000 (MAG) #905 (Heavy Metal) Near Mint/Mint
HEAVY METAL 2000 (MAG) #907 (Heavy Metal) Near Mint/Mint
HEAVY METAL 2000 (MAG) #909 (Heavy Metal) Near Mint/Mint
HEAVY METAL 2000 (MAG) #1001 (Heavy Metal) Very Fine
HEAVY METAL 2000 (MAG) #1005 (Heavy Metal) Fine
HEAVY METAL 2000 (MAG) #1009 (Heavy Metal) Fine
HEAVY METAL 2000 (MAG) #1109 (Heavy Metal) Very Fine

HEAVY METAL FALL SPECIAL #1996 (Magazine) Fine
HEAVY METAL FALL SPECIAL #1998 (Magazine) Very Good
HEAVY METAL FALL SPECIAL #2009 (Magazine) Near Mint/Mint

HEAVY METAL HORROR SPECIAL (1997) #1 (Magazine) Fine


HEAVY METAL SPRING SPECIAL #2008

HEAVY METAL SPRING SPECIAL #2008 (Heavy Metal) Very Good
HEAVY METAL SPRING SPECIAL #2009 (Heavy Metal) Near Mint/Mint
HEAVY METAL SPRING SPECIAL #2010 (Heavy Metal) Fine
HEAVY METAL SPRING SPECIAL #2011 (Heavy Metal) Near Mint/Mint

HEAVY METAL SUMMER SPECIAL #2001 (Heavy Metal) Very Fine
HEAVY METAL SUMMER SPECIAL #2008 (Heavy Metal) Fine
HEAVY METAL SUMMER SPECIAL #2009 (Heavy Metal) Very Fine

WALKING DEAD MAGAZINE (2012) #1 (Titan Distributing) Near Mint/Mint
WALKING DEAD MAGAZINE (2012) #2 (Titan Distributing) Very Fine
WALKING DEAD MAGAZINE (2012) #3 (Titan Distributing) Near Mint/Mint
WALKING DEAD MAGAZINE (2012) #4 (Titan Distributing) Near Mint/Mint
WALKING DEAD MAGAZINE (2012) #5 (Titan Distributing) Near Mint/Mint
WALKING DEAD MAGAZINE (2012) #6 (Titan Distributing) Fine
WALKING DEAD MAGAZINE (2012) #7 (Titan Distributing) Near Mint/Mint
WALKING DEAD MAGAZINE (2012) #8 (Titan Distributing) Very Fine
WALKING DEAD MAGAZINE (2012) #9 (Titan Distributing) Near Mint/Mint
WALKING DEAD MAGAZINE (2012) #10 (Titan Distributing) Near Mint/Mint
WALKING DEAD MAGAZINE (2012) #11 (Titan Distributing) Near Mint/Mint
WALKING DEAD MAGAZINE (2012) #12 (Titan Distributing) Near Mint/Mint
WALKING DEAD MAGAZINE (2012) #13 (Titan Distributing) Near Mint/Mint