50% Off DCSUCKS! Codeword Sale Ending Wednesday
Howdy!
As I am sure that you can well imagine, I had an interesting weekend after writing my DC SUCKS column last Friday. As I fully expected, a slew of DC Comics fans took profound offense to my calling DC's business management on the carpet for unilaterally deciding to abandon their 25-year relationship with Diamond Comic Distributors.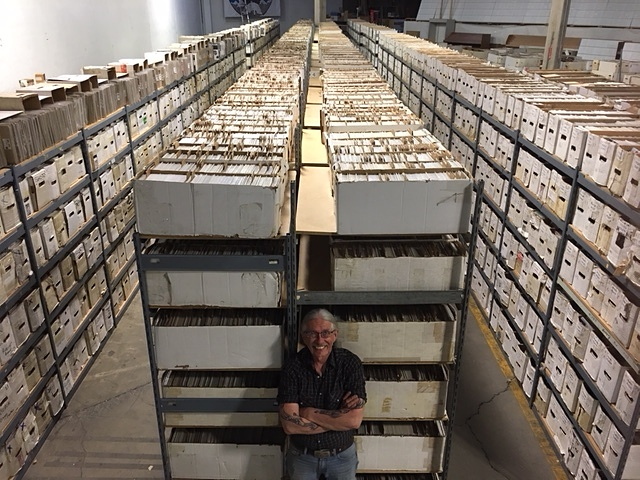 Chuck with some of his ten million+ comics.

What surprised me (a little...) was just how many of the folks who took offense seemed totally unable to differentiate between my being critical of the DC business/financial managers, and DC's editorial team. Never once in my column did I ever question the quality or value of DC editorial production, nor would I, as I think that they have been doing a good job of late. Anyone assuming otherwise, simply did not actually understand the entire point of my column.
On the flip side, what did surprise me quite a bit was the degree of truly visceral hatred toward Diamond was out there in the world. I am well aware that the management at Diamond has abused many comics retailers for years, but the dozens of comments that I received suggesting that people would be delighted if Diamond folded were chilling in their ferocity. We have had our own deep-seated resentments of Diamond's monopoly power, but the fact that they kept shipping product to us despite our owing them huge sums at times requires some degree of loyalty, which is exactly what I expressed. My primary concern in all this, however, was and remains the outcomes that are being forced upon all of the Direct Market retailers.
I have to tell you that being forced to order our DC's from two shell companies owned by Midtown Comics is not anyone's idea of a good time, but the added costs entailed with receiving separate shipments from Diamond and the Midtown fronts are truly discouraging, especially if DC forces Tuesday deliveries, and Diamond/Marvel sticks with Wednesday. Aside from the added freight charges eating away at our margins, here at Mile High Comics we will have to invoice all of our weekly subscribers twice, which will be a complete pain in the tush.
All of the above having been said, I waited all weekend for some denial of my basic hypothesis by DC, or revelations from other sources that DC had some sort of concrete (or reasonable) rationale of which I was unaware. None materialized. Instead, a brief column was written by Peter David in which he suggested that DC was trying to cripple Marvel by putting Diamond out of business. That seems extreme to me, but in the absence of anything from DC about how (exactly) their rash decision was going to "help Direct Market retailers," I have to at least give Peter's hypothesis at least some measure of credence.
As regards Diamond, CEO Steve Geppi has been whistling up a storm in the dark, claiming in interviews that losing the $100,000,000.00+ a year in sales of DC product is an absorbable loss. I am sure that on some levels that is true, but it still has to sting, especially since DC effectively created the Diamond that exists today through some extremely beneficial (for Diamond...) discount structures that they set up, starting in 1981.
I am eventually going to write an entire long column about my own bitter experiences with DC during those seminal years (1981-2003) of the Direct Market, but that is far too much for today's column. Suffice it to say, however, when you have a distribution company that has all of its costs pegged to a given level of volume, and then you lose $100,000,000.00 of that volume, changes have to be made. Either discounts have to go down, fees have to go up, or overhead costs and/or staff have to be reduced. Diamond may have to resort to some combination of all of the above. None of this bodes well for the embattled small retailers who form the core of the Direct Market.
As I stated on Friday, none of this could come at a worse time for our 2,000+ independent comics retailing businesses that comprise the Direct Market. Many were already on tenuous financial ground prior to the pandemic, and their being shut down for 8-10 weeks was simply an impossible financial loss for many to bear. Not a day goes by that I do not read about yet another longtime comics retailer giving up, and closing their doors. That is why this decision by the DC business managers is so godawful in it's timing. If I didn't know better, it would be hard for me to not think that DC management was doing this on purpose. Just saying...
In any event, while I did catch lots of heat over the weekend for calling out the DC business managers for their bush league handling of this entire sordid affair, I had far more people send me messages of support and encouragement. That was very nice, and I extend my sincere thanks to everyone who wrote to me. I am also grateful to everyone who placed an online back issue comics order with us utilizing our 50% off DCSUCKS! codeword. Response was huge!
So you know, that 50% off DCSUCKS! codeword is still in effect for you right now, but we will need to end it on Wednesday morning at noon, as we are being totally overwhelmed. Simply put, we are a smaller organization today than we were prior to the pandemic, and we are about to lose another key back issue fulfillment staff member to paternity leave. That's why I'm going to put the brakes on now, before we get so far behind that some people get really upset with us for not turning orders around quickly enough. As it is, please allow our team a week to get your order shipped. Thank you in advance for your understanding.
Well, that's it for today. I will try to write another column for you on Wednesday, that goes into detail about some of my other epic online battles, such as when I flew to Washington, D.C. in about 1998 (?), and met with senior officials of the Justice Department to request a Federal investigation of Diamond's monopoly. Or, when I raised such hell about Diamond trying to screw all of the Direct Market retailers through their sweetheart deal with Internet start-up NextPlanetOver.com that Paul Levitz finally slammed their pernicious scheme into the ground.
I may even write about that famous moment when I called out Marvel Comics President, Terry Stewart, for bald face lying to me, and made him so damn mad that he banned me from the Marvel offices for nearly three years. Whatever. He's now gone away to rock 'n' roll heaven. After fifty years of calling BS on damn near everyone working on the business side of comics publishing and distributing at one time, or another, I am (somehow) still here...
Happy collecting!
Chuck Rozanski/Bettie Pages,
President - Mile High Comics, Inc.
June 8, 2020
P.S. Our 50% off DCSUCKS! codeword discount applies to all ten million+ of our back issue comics and magazines, excepting only a few variants, new issues, and our professionally-graded issues. Below is a listing of even more new arrivals from private collections being sold to us in Jason St. most qualify for the 50% discount. Enjoy!
MARVEL

ADVENTURES OF SPIDER-MAN (1996) #4

ADVENTURES OF SPIDER-MAN (1996) #4 Fine

AMAZING SPIDER-MAN (1999) (#1-58, #500-700.5) (MARVEL) #537 Very Fine

CAPTAIN MARVEL (1968) (#1-62) (MARVEL) #14 Fine

ETERNALS (1976) (#1-19) (MARVEL) (JACK KIRBY) #4 Good

ETERNALS (2008) (#1-9) (MARVEL) #7 Very Fine
ETERNALS (2008) (#1-9) (MARVEL) #9 Near Mint/Mint

FALLEN ANGELS (2019) (#1-UP) (MARVEL) #1 LIEFELD Near Mint/Mint

FANTASTIC FOUR (1961) (#1-416) (MARVEL) #330 Near Mint/Mint

FANTASTIC FOUR (2018) (#1-UP) (MARVEL) #5 Very Fine

FANTASTIC FOUR: 4 YANCY STREET (2019) #1 KIRBY Near Mint/Mint

GHOST RIDER (1990) (#1-94) (MARVEL) #28 Near Mint/Mint

KICK ASS (2008) (#1-8) (MARVEL ICON) #1 Fine
KICK ASS (2008) (#1-8) (MARVEL ICON) #1 DIRECT CUT Fine
KICK ASS (2008) (#1-8) (MARVEL ICON) #2 Near Mint/Mint


KICK ASS (2008) (#1-8) (MARVEL ICON) #3

KICK ASS (2008) (#1-8) (MARVEL ICON) #3 Fine
KICK ASS (2008) (#1-8) (MARVEL ICON) #4 Fine
KICK ASS (2008) (#1-8) (MARVEL ICON) #5 Near Mint/Mint
KICK ASS (2008) (#1-8) (MARVEL ICON) #6 Near Mint/Mint

LIFE OF POPE JOHN PAUL II (1983) #1 NEWSSTAND Very Fine

MAN-THING (1974) (#1-22) (MARVEL) #7 Good

MARVEL COMICS (2019) #1000 DITKO Near Mint/Mint
MARVEL COMICS (2019) #1000 PEREZ Near Mint/Mint

MOON KNIGHT (1980) (#1-38) (MARVEL) #1 Fine

NEW MUTANTS (1983) (#1-100) (MARVEL) #98 Near Mint/Mint

POWERS OF X (2019) #5 SILVAVIRGI Near Mint/Mint
POWERS OF X (2019) #5 SILVAVIRGI Very Fine
POWERS OF X (2019) #6 SILVAVIRGI Near Mint/Mint

ROCKET RACCOON (1985) (#1-4) (MARVEL) #1 Fine

ROM (1979) (#1-75) (MARVEL) #31 Fine

SECRET WARS (1984) (#1-12) (LIMTED SERIES) (MARVEL) #4 Fine


SECRET WARS (1984) (#1-12) (LIMTED SERIES) (MARVEL) #7 NEWSSTAND

SECRET WARS (1984) (#1-12) (LIMTED SERIES) (MARVEL) #7 NEWSSTAND Very Fine
SECRET WARS (1984) (#1-12) (LIMTED SERIES) (MARVEL) #8 Fine
SECRET WARS (1984) (#1-12) (LIMTED SERIES) (MARVEL) #10 Near Mint/Mint
SECRET WARS (1984) (#1-12) (LIMTED SERIES) (MARVEL) #10 NEWSSTAND Near Mint/Mint
SECRET WARS (1984) (#1-12) (LIMTED SERIES) (MARVEL) #12 NEWSSTAND Near Mint/Mint

SILVER SURFER (1987) (#1-146) (MARVEL) #18 NEWSSTAND Fine

SPIDER-MAN (1963) (AMAZING SPIDER-MAN) (#1-441) #194 Very Good
SPIDER-MAN (1963) (AMAZING SPIDER-MAN) (#1-441) #219 NEWSSTAND Very Good
SPIDER-MAN (1963) (AMAZING SPIDER-MAN) (#1-441) #252 Fine
SPIDER-MAN (1963) (AMAZING SPIDER-MAN) (#1-441) #265 Very Good
SPIDER-MAN (1963) (AMAZING SPIDER-MAN) (#1-441) #278 NEWSSTAND Very Fine
SPIDER-MAN (1963) (AMAZING SPIDER-MAN) (#1-441) #289 Very Good
SPIDER-MAN (1963) (AMAZING SPIDER-MAN) (#1-441) #362 Very Fine

SPIDER-MAN (2019) (#1-5) (MARVEL) (J J ABRAMS) #1 MCGUINNESS Near Mint/Mint

SPIDER-MAN: BLUE (2002) #6 Near Mint/Mint

STRANGE (2004) (#1-6) (DOCTOR STRANGE) (STRACZYNSKI) #4 Near Mint/Mint
STRANGE (2004) (#1-6) (DOCTOR STRANGE) (STRACZYNSKI) #5 Near Mint/Mint
STRANGE (2004) (#1-6) (DOCTOR STRANGE) (STRACZYNSKI) #6 Near Mint/Mint

STRIKEFORCE (2019) #1 QUESADA Near Mint/Mint

ULTIMATE SPIDER-MAN TPB #17 Very Fine


WEB OF SPIDER-MAN (1985) (#1-129) (MARVEL) #57 NEWSSTAND

WEB OF SPIDER-MAN (1985) (#1-129) (MARVEL) #57 NEWSSTAND Near Mint/Mint
WEB OF SPIDER-MAN (1985) (#1-129) (MARVEL) #57 NEWSSTAND Very Fine

WEREWOLF BY NIGHT (1972) #32 Fine

WHAT IF... (1989) (#1-114, & 200) (MARVEL) #4 NEWSSTAND Very Good
WHAT IF... (1989) (#1-114, & 200) (MARVEL) #31 Near Mint/Mint

WOLVERINE (1988) (#1/2-189) (MARVEL) #1 Fine
WOLVERINE (1988) (#1/2-189) (MARVEL) #10 Near Mint/Mint
WOLVERINE (1988) (#1/2-189) (MARVEL) #88 DELUXE Near Mint/Mint

WOLVERINE: SAVAGE (2010) #1 Very Fine

X-MEN (1963) (#1-113, UNCANNY X-MEN #114-544) (MARVEL) #10 Fair
X-MEN (1963) (#1-113, UNCANNY X-MEN #114-544) (MARVEL) #244 Near Mint/Mint
X-MEN (1963) (#1-113, UNCANNY X-MEN #114-544) (MARVEL) #266 Fine

X-MEN (2019) (#1-UP) (MARVEL) #1 BACHALO Near Mint/Mint

X-MEN ANNUAL (1970) #14 Near Mint/Mint

DC
BALL AND CHAIN (DC) (SCOTT LOBDELL) (1999) #3 Very Good

BATMAN (1940) (#0-713) (DC) #400 Near Mint/Mint
BATMAN (1940) (#0-713) (DC) #404 Fine


BATMAN (1940) (#0-713) (DC) #426

BATMAN (1940) (#0-713) (DC) #426 Very Fine
BATMAN (1940) (#0-713) (DC) #428 Near Mint/Mint

FLASH (1987) (#0-247) (DC) #207 Near Mint/Mint

FLASH (2016) (#1-88, #750-UP) (DC REBIRTH) #1 Near Mint/Mint

FLASH REBIRTH (2016) #1 Near Mint/Mint

JUSTICE LEAGUE/SUICIDE SQUAD (2017) #3 MADUREIRA Near Mint/Mint

SEVEN SOLDIERS: ZATANNA (2005) #2 Near Mint/Mint
SEVEN SOLDIERS: ZATANNA (2005) #3 Near Mint/Mint

SHAZAM! (1973) (#1-35) (WITH ONE MAGIC WORD...) #1 Very Good

SMALLVILLE (2003) #1 Near Mint/Mint

SMALLVILLE THE COMIC (64-PAGE SPECIAL) (2002) #1 Near Mint/Mint

SUPERBOY (1949) (#1-258) (DC) #202 Good

SUPERMAN FAMILY (1974) #165 Good

SUPERMAN/BATMAN (2003) #13 Near Mint/Mint


TEEN TITANS (2016) (#1-UP) (DC REBIRTH) #2 VARIANT

TEEN TITANS (2016) (#1-UP) (DC REBIRTH) #2 VARIANT Near Mint/Mint
TEEN TITANS (2016) (#1-UP) (DC REBIRTH) #4 VARIANT Near Mint/Mint

WATCHMEN (1986) #1 2ND PRINT Fine
WATCHMEN (1986) #1 Very Fine

DARK HORSE COMICS
NEW TWO-FISTED TALES (1993) #2 Near Mint/Mint

SAVAGE SWORD (ROBERT E. HOWARD) (2010) #1 Near Mint/Mint
SAVAGE SWORD (ROBERT E. HOWARD) (2010) #2 Near Mint/Mint
SAVAGE SWORD (ROBERT E. HOWARD) (2010) #3 Near Mint/Mint
SAVAGE SWORD (ROBERT E. HOWARD) (2010) #4 Near Mint/Mint
SAVAGE SWORD (ROBERT E. HOWARD) (2010) #5 Very Fine
SAVAGE SWORD (ROBERT E. HOWARD) (2010) #6 Near Mint/Mint
SAVAGE SWORD (ROBERT E. HOWARD) (2010) #7 Near Mint/Mint
SAVAGE SWORD (ROBERT E. HOWARD) (2010) #8 Near Mint/Mint
SAVAGE SWORD (ROBERT E. HOWARD) (2010) #9 Near Mint/Mint
SAVAGE SWORD (ROBERT E. HOWARD) (2010) #10 Near Mint/Mint

IMAGE COMICS
BADROCK & COMPANY (IMAGE EXTREME) (1994) #1 SAN DIEGO Near Mint/Mint

GEN-13 (1994) (#0-5) (IMAGE) #1 Very Fine


LAZARUS (2013) (#1-28) (IMAGE) #1

LAZARUS (2013) (#1-28) (IMAGE) #1 Very Fine

ROSE (2017) (#1-UP) (IMAGE) #1 A GUARA Very Fine

SPAWN (1992) #30 NEWSSTAND Fine

SPAWN BIBLE (1996) #1 Near Mint/Mint

WITCHBLADE (1995) (#1-185, #500) (IMAGE) #126 B (Image Top Cow) Near Mint/Mint
WITCHBLADE (1995) (#1-185, #500) (IMAGE) #127 A (Image Top Cow) Near Mint/Mint
WITCHBLADE (1995) (#1-185, #500) (IMAGE) #127 B (Image Top Cow) Near Mint/Mint
WITCHBLADE (1995) (#1-185, #500) (IMAGE) #128 A (Image Top Cow) Near Mint/Mint
WITCHBLADE (1995) (#1-185, #500) (IMAGE) #129 A (Image Top Cow) Very Fine
WITCHBLADE (1995) (#1-185, #500) (IMAGE) #129 B (Image Top Cow) Near Mint/Mint
WITCHBLADE (1995) (#1-185, #500) (IMAGE) #130 C (Image Top Cow) Near Mint/Mint
WITCHBLADE (1995) (#1-185, #500) (IMAGE) #131 C (Image Top Cow) Near Mint/Mint
WITCHBLADE (1995) (#1-185, #500) (IMAGE) #132 A (Image Top Cow) Near Mint/Mint
WITCHBLADE (1995) (#1-185, #500) (IMAGE) #132 B (Image Top Cow) Near Mint/Mint
WITCHBLADE (1995) (#1-185, #500) (IMAGE) #133 A (Image Top Cow) Near Mint/Mint
WITCHBLADE (1995) (#1-185, #500) (IMAGE) #133 B (Image Top Cow) Near Mint/Mint
WITCHBLADE (1995) (#1-185, #500) (IMAGE) #134 A (Image Top Cow) Near Mint/Mint
WITCHBLADE (1995) (#1-185, #500) (IMAGE) #134 B (Image Top Cow) Near Mint/Mint
WITCHBLADE (1995) (#1-185, #500) (IMAGE) #135 A (Image Top Cow) Near Mint/Mint
WITCHBLADE (1995) (#1-185, #500) (IMAGE) #135 B (Image Top Cow) Near Mint/Mint

INDEPENDENTS
ARCHIE'S SOMETHING ELSE (ARCHIE CHRISTIAN SPIRE) (1975) #1 49 CENT CV (Archie Comics) Good

BALLAD OF SLEEPING BEAUTY (BECKETT ENT.) (2004) #4 (Beckett Entertainment) Near Mint/Mint


HAUNT OF FEAR (RUSS COCHRAN) (1991) #2

HAUNT OF FEAR (RUSS COCHRAN) (1991) #2 (EC Comics) Near Mint/Mint
HAUNT OF FEAR (RUSS COCHRAN) (1991) #3 (EC Comics) Near Mint/Mint

LIGHT PRINCESS (GEORGE MCDONALD'S) (2019) #1 (Cave Pictures Publishing) Near Mint/Mint

LUMBERJANES (2014) #1 A (Boom Studios Publishing) Very Fine

MEGA MAN (2011) #49 NEWSSTAND (Archie Comics) Very Good

PANIC (1997) #1 (Gemstone) Near Mint/Mint
PANIC (1997) #2 (Gemstone) Very Fine

SHERLOCK HOLMES (Eternity Comics (World/Imperial)) #16 (Eternity Comics (World/Imperial)) Near Mint/Mint
SHERLOCK HOLMES (Eternity Comics (World/Imperial)) #20 (Eternity Comics (World/Imperial)) Near Mint/Mint
SHERLOCK HOLMES (Eternity Comics (World/Imperial)) #23 (Eternity Comics (World/Imperial)) Very Fine

SHERLOCK HOLMES IN THE CASE OF THE MISSING MARTIAN #1 (Eternity Comics (World/Imperial)) Near Mint/Mint
SHERLOCK HOLMES IN THE CASE OF THE MISSING MARTIAN #3 (Eternity Comics (World/Imperial)) Near Mint/Mint
SHERLOCK HOLMES IN THE CASE OF THE MISSING MARTIAN #4 (Eternity Comics (World/Imperial)) Near Mint/Mint

SHERLOCK HOLMES OF THE 1930'S (ETERNITY COMICS) (1990) #1 (Eternity Comics (World/Imperial)) Near Mint/Mint
SHERLOCK HOLMES OF THE 1930'S (ETERNITY COMICS) (1990) #1 (Eternity Comics (World/Imperial)) Very Fine
SHERLOCK HOLMES OF THE 1930'S (ETERNITY COMICS) (1990) #2 (Eternity Comics (World/Imperial)) Near Mint/Mint
SHERLOCK HOLMES OF THE 1930'S (ETERNITY COMICS) (1990) #4 (Eternity Comics (World/Imperial)) Very Fine

SHERLOCK HOLMES TALES OF MYSTERY & SUSPENSE (1992) #1 (Northstar Publications) Near Mint/Mint
SHERLOCK HOLMES TALES OF MYSTERY & SUSPENSE (1992) #2 (Northstar Publications) Near Mint/Mint

SHERLOCK HOLMES: ADVENTURE OF THE MUSGRAVE RITUAL #1 (Caliber Press) Near Mint/Mint


SHERLOCK HOLMES: ADVENTURE OF THE OPERA GHOST (CALIBER) (1994) #1

SHERLOCK HOLMES: ADVENTURE OF THE OPERA GHOST (CALIBER) (1994) #1 (Caliber Press) Near Mint/Mint
SHERLOCK HOLMES: ADVENTURE OF THE OPERA GHOST (CALIBER) (1994) #2 (Caliber Press) Near Mint/Mint
SHERLOCK HOLMES: ADVENTURE OF THE OPERA GHOST (CALIBER) (1994) #2 (Caliber Press) Very Fine

SHERLOCK HOLMES: CURIOUS CASE OF THE VANISHING VILLAIN #1 (Tundra Publishing) Near Mint/Mint

SHERLOCK HOLMES: RETURN OF THE DEVIL (1992) #1 (Adventure Comics) Near Mint/Mint

SHERLOCK HOLMES: SCANDAL IN BOHEMIA #1 (Caliber Press) Near Mint/Mint

STAR TREK: THE NEXT GENERATION - TERRA INCOGNITA (2018) #1 INC B (IDW Publishing) Near Mint/Mint
STAR TREK: THE NEXT GENERATION - TERRA INCOGNITA (2018) #2 INC A (IDW Publishing) Near Mint/Mint
STAR TREK: THE NEXT GENERATION - TERRA INCOGNITA (2018) #2 INC B (IDW Publishing) Near Mint/Mint

STAR TREK: THE NEXT GENERATION - THROUGH THE MIRROR (2018) #1 INC A (IDW Publishing) Near Mint/Mint
STAR TREK: THE NEXT GENERATION - THROUGH THE MIRROR (2018) #1 INC B (IDW Publishing) Near Mint/Mint
STAR TREK: THE NEXT GENERATION - THROUGH THE MIRROR (2018) #1 INC C (IDW Publishing) Near Mint/Mint
STAR TREK: THE NEXT GENERATION - THROUGH THE MIRROR (2018) #2 INC A (IDW Publishing) Near Mint/Mint
STAR TREK: THE NEXT GENERATION - THROUGH THE MIRROR (2018) #2 INC B (IDW Publishing) Near Mint/Mint
STAR TREK: THE NEXT GENERATION - THROUGH THE MIRROR (2018) #3 INC B (IDW Publishing) Near Mint/Mint
STAR TREK: THE NEXT GENERATION - THROUGH THE MIRROR (2018) #4 INC B (IDW Publishing) Near Mint/Mint

STING OF THE GREEN HORNET #1 NEWSSTAND (Now Comics) Near Mint/Mint

TALES FROM THE CRYPT (1990) (#1-6) (GLADSTONE) #2 (Gladstone) Very Fine
TALES FROM THE CRYPT (1990) (#1-6) (GLADSTONE) #3 (Gladstone) Near Mint/Mint


TALES FROM THE CRYPT (1990) (#1-6) (GLADSTONE) #4

TALES FROM THE CRYPT (1990) (#1-6) (GLADSTONE) #4 (Gladstone) Near Mint/Mint
TALES FROM THE CRYPT (1990) (#1-6) (GLADSTONE) #6 (Gladstone) Very Fine

TALES FROM THE CRYPT (64 PAGES OF VINTAGE EC HORROR) (R.COCH) #1 (Russ Cochran) Near Mint/Mint
TALES FROM THE CRYPT (64 PAGES OF VINTAGE EC HORROR) (R.COCH) #2 (Russ Cochran) Near Mint/Mint

TALES OF THE TEENAGE MUTANT NINJA TURTLES (1987) #1 (Mirage Studios) Very Good

TEENAGE MUTANT NINJA TURTLES (2011) (#1-UP) (IDW Publishing) #9 A (IDW Publishing) Very Fine
TEENAGE MUTANT NINJA TURTLES (2011) (#1-UP) (IDW Publishing) #10 A (IDW Publishing) Very Fine

TEENAGE MUTANT NINJA TURTLES: DEVIATIONS (2016) #1 (IDW Publishing) Very Fine

VALKYRIE (1987) #1 (Eclipse Enterprises) Near Mint/Mint
VALKYRIE (1987) #2 (Eclipse Enterprises) Near Mint/Mint
VALKYRIE (1988) #1 (Eclipse Enterprises) Near Mint/Mint
VALKYRIE (1988) #2 (Eclipse Enterprises) Near Mint/Mint

VAULT OF HORROR (64 PAGES OF VINTAGE EC HORROR) (R.COCH) #1 (Russ Cochran) Near Mint/Mint

WARLORD OF MARS (2010) #100 LUPACCHINO (DYNAMITE Entertainment) Very Fine

WARLORD OF MARS: DEJAH THORIS (2011) #5 ADAMS (DYNAMITE Entertainment) Very Fine
WARLORD OF MARS: DEJAH THORIS (2011) #8 GARZA (DYNAMITE Entertainment) Near Mint/Mint
WARLORD OF MARS: DEJAH THORIS (2011) #10 JUSKO (DYNAMITE Entertainment) Near Mint/Mint
WARLORD OF MARS: DEJAH THORIS (2011) #11 GARZA (DYNAMITE Entertainment) Near Mint/Mint


WARLORD OF MARS: DEJAH THORIS (2011) #12 NEVES

WARLORD OF MARS: DEJAH THORIS (2011) #12 NEVES (DYNAMITE Entertainment) Near Mint/Mint
WARLORD OF MARS: DEJAH THORIS (2011) #13 RENAUD (DYNAMITE Entertainment) Near Mint/Mint
WARLORD OF MARS: DEJAH THORIS (2011) #15 NEVES (DYNAMITE Entertainment) Near Mint/Mint
WARLORD OF MARS: DEJAH THORIS (2011) #15 RENAUD (DYNAMITE Entertainment) Near Mint/Mint

WEIRD SCIENCE (1990) (#1-4) (GLADESTONE/EC COMICS) #2 (Gladstone) Near Mint/Mint
WEIRD SCIENCE (1990) (#1-4) (GLADESTONE/EC COMICS) #3 (Gladstone) Near Mint/Mint
WEIRD SCIENCE (1990) (#1-4) (GLADESTONE/EC COMICS) #4 (Gladstone) Near Mint/Mint

XENOZOIC TALES (1987) #1 (Kitchen Sink Publishing) Very Fine
XENOZOIC TALES (1987) #3 2ND PRT (Kitchen Sink Publishing) Near Mint/Mint