50% Off All Comics Sale Ends Monday
Howdy!
I am not dealing with life very well today, as one of my dearest friends died from Covid-19 this morning. Corky Blankenship was a man of diminutive physical stature, but was he was blessed to have the most giving hearts of anyone that I have ever known. He worked with me continuously over the past five years in distributing food to the poor here in Denver, volunteering to show up and help even on the coldest of days. The Colorado LGBTQ Community has lost a respected elder, and also a kind and gentle man who was universally loved by all. Rest in Peace.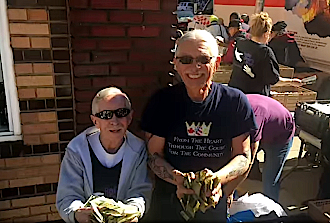 Chuck and Corky
(Clink on photo to see a short video honoring Corky Blankenship)

To honor Corky's memory, I am going out in the streets this afternoon to distribute socks, gloves, handwarmers, blankets, and food to the poor. It is supposed to get down to -6 tomorrow night, so I am going to distribute everything that I have stashed in the warehouse in order to help our poorest people (who live in the tent colonies of lower downtown) to avoid losing fingers and toes to frostbite. I ordered another $500 in handwarmers from Amazon this morning, which will allow me to go back out to help again on Monday. The City of Denver is doing nothing to help these poorest of our urban poor, so I am doing my best purely as a private individual. Better me, than no one...
While I am out in the streets helping the poor, Will Moulton and Pam Brandle here at Mile High comics are continuing to grade hundreds of great back issues from our recent collection purchases, and then adding them into our online inventory for you. Today's list is (again) excellent, so I will let it form the bulk of this newsletter. Enjoy!

Pam & Will with some of the comics that just came in.

I will close with a quick reminder that our annual 50% off SWEETHEART! back issues sale ends on Monday. For this entire weekend, however, almost all of our ten million+ back issues (including most of those listed for you at the end of this newsletter) are available at half price. Only new issues, a few variants, and our professionally-graded items are exempt.
Happy collecting!
Chuck Rozanski/Bettie Pages,
President - Mile High Comics, Inc.
February 12, 2021
P.S. Here are just a few of the finds we put on yesterday:
MARVEL
A NEXT (1998) #1 Fine
A NEXT (1998) #2 VARIANT Fine
A NEXT (1998) #3 Very Fine
A NEXT (1998) #4 Near Mint/Mint
A NEXT (1998) #5 Fine
A NEXT (1998) #6 Fine
A NEXT (1998) #7 Very Fine
A NEXT (1998) #8 Near Mint/Mint
A NEXT (1998) #9 Fine
A NEXT (1998) #10 Fine
A NEXT (1998) #11 Fine
A NEXT (1998) #12 Very Fine

ALIAS (2001) (#1-28) (MARVEL) (BRIAN MICHAEL BENDIS) #3 Near Mint/Mint
ALIAS (2001) (#1-28) (MARVEL) (BRIAN MICHAEL BENDIS) #4 Very Fine
ALIAS (2001) (#1-28) (MARVEL) (BRIAN MICHAEL BENDIS) #6 Fine
ALIAS (2001) (#1-28) (MARVEL) (BRIAN MICHAEL BENDIS) #10 Near Mint/Mint
ALIAS (2001) (#1-28) (MARVEL) (BRIAN MICHAEL BENDIS) #14 Near Mint/Mint
ALIAS (2001) (#1-28) (MARVEL) (BRIAN MICHAEL BENDIS) #15 Near Mint/Mint
ALIAS (2001) (#1-28) (MARVEL) (BRIAN MICHAEL BENDIS) #16 Fine
ALIAS (2001) (#1-28) (MARVEL) (BRIAN MICHAEL BENDIS) #17 Near Mint/Mint
ALIAS (2001) (#1-28) (MARVEL) (BRIAN MICHAEL BENDIS) #18 Near Mint/Mint
ALIAS (2001) (#1-28) (MARVEL) (BRIAN MICHAEL BENDIS) #19 Near Mint/Mint
ALIAS (2001) (#1-28) (MARVEL) (BRIAN MICHAEL BENDIS) #20 Near Mint/Mint
ALIAS (2001) (#1-28) (MARVEL) (BRIAN MICHAEL BENDIS) #21 Near Mint/Mint
ALIAS (2001) (#1-28) (MARVEL) (BRIAN MICHAEL BENDIS) #22 Near Mint/Mint
ALIAS (2001) (#1-28) (MARVEL) (BRIAN MICHAEL BENDIS) #23 Near Mint/Mint
ALIAS (2001) (#1-28) (MARVEL) (BRIAN MICHAEL BENDIS) #24 Fine
ALIAS (2001) (#1-28) (MARVEL) (BRIAN MICHAEL BENDIS) #25 Near Mint/Mint
ALIAS (2001) (#1-28) (MARVEL) (BRIAN MICHAEL BENDIS) #26 Very Fine

AMAZING FANTASY (1962) (MARVEL) #15 FACSIMILE Near Mint/Mint

AMAZING FANTASY (2004) (#1-20) (MARVEL) #3 Very Fine
AMAZING FANTASY (2004) (#1-20) (MARVEL) #5 Near Mint/Mint
AMAZING FANTASY (2004) (#1-20) (MARVEL) #11 Fine


AMAZING FANTASY (2004) (#1-20) (MARVEL) #12

AMAZING FANTASY (2004) (#1-20) (MARVEL) #12 Near Mint/Mint
AMAZING FANTASY (2004) (#1-20) (MARVEL) #13 Near Mint/Mint
AMAZING FANTASY (2004) (#1-20) (MARVEL) #18 Very Fine
AMAZING FANTASY (2004) (#1-20) (MARVEL) #19 Near Mint/Mint
AMAZING FANTASY (2004) (#1-20) (MARVEL) #20 Fine

ANNIHILATION (MARVEL) (2006) #2 Fine
ANNIHILATION (MARVEL) (2006) #3 Near Mint/Mint
ANNIHILATION (MARVEL) (2006) #4 Near Mint/Mint

ANNIHILATION: NOVA (MARVEL) (2006) #1 Near Mint/Mint
ANNIHILATION: NOVA (MARVEL) (2006) #2 Near Mint/Mint
ANNIHILATION: NOVA (MARVEL) (2006) #3 Near Mint/Mint
ANNIHILATION: NOVA (MARVEL) (2006) #4 Near Mint/Mint

ANNIHILATION: RONAN THE ACCUSER (MARVEL) (2006) #2 Near Mint/Mint
ANNIHILATION: RONAN THE ACCUSER (MARVEL) (2006) #3 Near Mint/Mint
ANNIHILATION: RONAN THE ACCUSER (MARVEL) (2006) #4 Fine

ANNIHILATION: SILVER SURFER (MARVEL) (2006) #1 Near Mint/Mint
ANNIHILATION: SILVER SURFER (MARVEL) (2006) #2 Near Mint/Mint
ANNIHILATION: SILVER SURFER (MARVEL) (2006) #3 Near Mint/Mint
ANNIHILATION: SILVER SURFER (MARVEL) (2006) #4 Near Mint/Mint

ANT-MAN'S BIG CHRISTMAS (MARVEL) (2000) #1 Near Mint/Mint

ARANA: HEART OF THE SPIDER (MARVEL NEXT) (2005) #10 Fine
ARANA: HEART OF THE SPIDER (MARVEL NEXT) (2005) #12 Fine

ARES (GOD OF WAR) (MARVEL) (2005) #1 Near Mint/Mint
ARES (GOD OF WAR) (MARVEL) (2005) #2 Near Mint/Mint
ARES (GOD OF WAR) (MARVEL) (2005) #4 Very Fine

AVENGERS (1963) (#1-402) (MARVEL) #1 1/2 Near Mint/Mint

AVENGERS (1996) (#1-13) (HEROES REBORN) (MARVEL) #4 Near Mint/Mint
AVENGERS (1996) (#1-13) (HEROES REBORN) (MARVEL) #5 Near Mint/Mint


AVENGERS (1996) (#1-13) (HEROES REBORN) (MARVEL) #12

AVENGERS (1996) (#1-13) (HEROES REBORN) (MARVEL) #12 Fine

AVENGERS (1998) (#0-84, 500-503) (MARVEL) #0 Near Mint/Mint
AVENGERS (1998) (#0-84, 500-503) (MARVEL) #1 Near Mint/Mint
AVENGERS (1998) (#0-84, 500-503) (MARVEL) #2 Near Mint/Mint
AVENGERS (1998) (#0-84, 500-503) (MARVEL) #3 Near Mint/Mint
AVENGERS (1998) (#0-84, 500-503) (MARVEL) #4 Near Mint/Mint
AVENGERS (1998) (#0-84, 500-503) (MARVEL) #5 Very Fine
AVENGERS (1998) (#0-84, 500-503) (MARVEL) #6 Very Fine
AVENGERS (1998) (#0-84, 500-503) (MARVEL) #7 Near Mint/Mint
AVENGERS (1998) (#0-84, 500-503) (MARVEL) #10 Very Fine
AVENGERS (1998) (#0-84, 500-503) (MARVEL) #11 Fine
AVENGERS (1998) (#0-84, 500-503) (MARVEL) #12 Near Mint/Mint
AVENGERS (1998) (#0-84, 500-503) (MARVEL) #16 Near Mint/Mint
AVENGERS (1998) (#0-84, 500-503) (MARVEL) #19 Very Fine
AVENGERS (1998) (#0-84, 500-503) (MARVEL) #20 Near Mint/Mint
AVENGERS (1998) (#0-84, 500-503) (MARVEL) #21 Near Mint/Mint
AVENGERS (1998) (#0-84, 500-503) (MARVEL) #22 Near Mint/Mint
AVENGERS (1998) (#0-84, 500-503) (MARVEL) #24 Near Mint/Mint
AVENGERS (1998) (#0-84, 500-503) (MARVEL) #25 Fine
AVENGERS (1998) (#0-84, 500-503) (MARVEL) #27 Near Mint/Mint
AVENGERS (1998) (#0-84, 500-503) (MARVEL) #31 Near Mint/Mint
AVENGERS (1998) (#0-84, 500-503) (MARVEL) #33 Near Mint/Mint
AVENGERS (1998) (#0-84, 500-503) (MARVEL) #34 Near Mint/Mint
AVENGERS (1998) (#0-84, 500-503) (MARVEL) #36 Near Mint/Mint
AVENGERS (1998) (#0-84, 500-503) (MARVEL) #38 Near Mint/Mint
AVENGERS (1998) (#0-84, 500-503) (MARVEL) #39 Near Mint/Mint
AVENGERS (1998) (#0-84, 500-503) (MARVEL) #40 Near Mint/Mint
AVENGERS (1998) (#0-84, 500-503) (MARVEL) #44 Near Mint/Mint
AVENGERS (1998) (#0-84, 500-503) (MARVEL) #45 Near Mint/Mint
AVENGERS (1998) (#0-84, 500-503) (MARVEL) #46 Near Mint/Mint
AVENGERS (1998) (#0-84, 500-503) (MARVEL) #47 Near Mint/Mint
AVENGERS (1998) (#0-84, 500-503) (MARVEL) #50 Near Mint/Mint
AVENGERS (1998) (#0-84, 500-503) (MARVEL) #51 Fine
AVENGERS (1998) (#0-84, 500-503) (MARVEL) #52 Very Fine
AVENGERS (1998) (#0-84, 500-503) (MARVEL) #53 Near Mint/Mint
AVENGERS (1998) (#0-84, 500-503) (MARVEL) #54 Near Mint/Mint


AVENGERS (1998) (#0-84, 500-503) (MARVEL) #55

AVENGERS (1998) (#0-84, 500-503) (MARVEL) #55 Near Mint/Mint
AVENGERS (1998) (#0-84, 500-503) (MARVEL) #56 Very Fine
AVENGERS (1998) (#0-84, 500-503) (MARVEL) #57 Near Mint/Mint
AVENGERS (1998) (#0-84, 500-503) (MARVEL) #58 Near Mint/Mint
AVENGERS (1998) (#0-84, 500-503) (MARVEL) #59 Near Mint/Mint
AVENGERS (1998) (#0-84, 500-503) (MARVEL) #60 Fine
AVENGERS (1998) (#0-84, 500-503) (MARVEL) #61 Fine
AVENGERS (1998) (#0-84, 500-503) (MARVEL) #62 Fine
AVENGERS (1998) (#0-84, 500-503) (MARVEL) #63 Near Mint/Mint
AVENGERS (1998) (#0-84, 500-503) (MARVEL) #65 Near Mint/Mint
AVENGERS (1998) (#0-84, 500-503) (MARVEL) #66 Near Mint/Mint
AVENGERS (1998) (#0-84, 500-503) (MARVEL) #67 Fine
AVENGERS (1998) (#0-84, 500-503) (MARVEL) #68 Near Mint/Mint
AVENGERS (1998) (#0-84, 500-503) (MARVEL) #69 Fine
AVENGERS (1998) (#0-84, 500-503) (MARVEL) #70 Fine
AVENGERS (1998) (#0-84, 500-503) (MARVEL) #72 Near Mint/Mint
AVENGERS (1998) (#0-84, 500-503) (MARVEL) #73 Near Mint/Mint
AVENGERS (1998) (#0-84, 500-503) (MARVEL) #75 Near Mint/Mint
AVENGERS (1998) (#0-84, 500-503) (MARVEL) #78 Fine
AVENGERS (1998) (#0-84, 500-503) (MARVEL) #79 Near Mint/Mint
AVENGERS (1998) (#0-84, 500-503) (MARVEL) #80 Near Mint/Mint
AVENGERS (1998) (#0-84, 500-503) (MARVEL) #81 Fine
AVENGERS (1998) (#0-84, 500-503) (MARVEL) #83 Near Mint/Mint
AVENGERS (1998) (#0-84, 500-503) (MARVEL) #500 Near Mint/Mint
AVENGERS (1998) (#0-84, 500-503) (MARVEL) #501 Very Fine
AVENGERS (1998) (#0-84, 500-503) (MARVEL) #502 Near Mint/Mint
AVENGERS (1998) (#0-84, 500-503) (MARVEL) #503 Near Mint/Mint

AVENGERS & POWER PACK ASSEMBLE (2006) #2 Near Mint/Mint
AVENGERS & POWER PACK ASSEMBLE (2006) #3 Very Fine
AVENGERS & POWER PACK ASSEMBLE (2006) #4 Near Mint/Mint

AVENGERS 1999 ANNUAL (ONSLAUGHT EPILOG) #1 Near Mint/Mint

AVENGERS 2000 ANNUAL (HELLCAT) #1 Fine

AVENGERS 2001 ANNUAL #1 Near Mint/Mint


AVENGERS/SQUADRON SUPREME 1998 MARVEL ANNUAL (1998) #1

AVENGERS/SQUADRON SUPREME 1998 MARVEL ANNUAL (1998) #1 Near Mint/Mint

DEFENDERS (1972) (#1-152) (MARVEL) #71 Near Mint/Mint
DEFENDERS (1972) (#1-152) (MARVEL) #75 Near Mint/Mint
DEFENDERS (1972) (#1-152) (MARVEL) #76 Near Mint/Mint
DEFENDERS (1972) (#1-152) (MARVEL) #77 Very Fine
DEFENDERS (1972) (#1-152) (MARVEL) #78 Near Mint/Mint
DEFENDERS (1972) (#1-152) (MARVEL) #81 Very Fine
DEFENDERS (1972) (#1-152) (MARVEL) #94 Very Fine
DEFENDERS (1972) (#1-152) (MARVEL) #113 Near Mint/Mint

DEFENDERS ANNUAL (1976) #1 Very Fine

DEFENDERS GIANT-SIZE (1974) #1 Fine
DEFENDERS GIANT-SIZE (1974) #1 Very Fine
DEFENDERS GIANT-SIZE (1974) #3 Fine
DEFENDERS GIANT-SIZE (1974) #4 Very Fine
DEFENDERS GIANT-SIZE (1974) #5 Very Fine

DOC SAVAGE (1972) (#1-8) (MARVEL) #4 Very Fine
DOC SAVAGE (1972) (#1-8) (MARVEL) #5 Very Fine
DOC SAVAGE (1972) (#1-8) (MARVEL) #6 Fine
DOC SAVAGE (1972) (#1-8) (MARVEL) #7 Very Good
DOC SAVAGE (1972) (#1-8) (MARVEL) #8 Very Fine

DOCTOR STRANGE (1974) (#1-81) (MARVEL) (DR. STRANGE) #9 Very Good
DOCTOR STRANGE (1974) (#1-81) (MARVEL) (DR. STRANGE) #10 Near Mint/Mint
DOCTOR STRANGE (1974) (#1-81) (MARVEL) (DR. STRANGE) #11 Very Fine
DOCTOR STRANGE (1974) (#1-81) (MARVEL) (DR. STRANGE) #12 Near Mint/Mint
DOCTOR STRANGE (1974) (#1-81) (MARVEL) (DR. STRANGE) #13 Near Mint/Mint
DOCTOR STRANGE (1974) (#1-81) (MARVEL) (DR. STRANGE) #14 Near Mint/Mint
DOCTOR STRANGE (1974) (#1-81) (MARVEL) (DR. STRANGE) #15 Very Fine
DOCTOR STRANGE (1974) (#1-81) (MARVEL) (DR. STRANGE) #17 Near Mint/Mint
DOCTOR STRANGE (1974) (#1-81) (MARVEL) (DR. STRANGE) #18 Near Mint/Mint
DOCTOR STRANGE (1974) (#1-81) (MARVEL) (DR. STRANGE) #19 Near Mint/Mint
DOCTOR STRANGE (1974) (#1-81) (MARVEL) (DR. STRANGE) #20 Very Fine
DOCTOR STRANGE (1974) (#1-81) (MARVEL) (DR. STRANGE) #21 Near Mint/Mint


DOCTOR STRANGE (1974) (#1-81) (MARVEL) (DR. STRANGE) #22

DOCTOR STRANGE (1974) (#1-81) (MARVEL) (DR. STRANGE) #22 Near Mint/Mint
DOCTOR STRANGE (1974) (#1-81) (MARVEL) (DR. STRANGE) #23 Very Fine
DOCTOR STRANGE (1974) (#1-81) (MARVEL) (DR. STRANGE) #24 Near Mint/Mint
DOCTOR STRANGE (1974) (#1-81) (MARVEL) (DR. STRANGE) #25 Fine
DOCTOR STRANGE (1974) (#1-81) (MARVEL) (DR. STRANGE) #26 Very Fine
DOCTOR STRANGE (1974) (#1-81) (MARVEL) (DR. STRANGE) #27 Near Mint/Mint
DOCTOR STRANGE (1974) (#1-81) (MARVEL) (DR. STRANGE) #28 Near Mint/Mint
DOCTOR STRANGE (1974) (#1-81) (MARVEL) (DR. STRANGE) #29 Near Mint/Mint
DOCTOR STRANGE (1974) (#1-81) (MARVEL) (DR. STRANGE) #30 Near Mint/Mint
DOCTOR STRANGE (1974) (#1-81) (MARVEL) (DR. STRANGE) #31 Very Fine
DOCTOR STRANGE (1974) (#1-81) (MARVEL) (DR. STRANGE) #32 Very Fine
DOCTOR STRANGE (1974) (#1-81) (MARVEL) (DR. STRANGE) #34 Fine
DOCTOR STRANGE (1974) (#1-81) (MARVEL) (DR. STRANGE) #36 Near Mint/Mint
DOCTOR STRANGE (1974) (#1-81) (MARVEL) (DR. STRANGE) #37 Near Mint/Mint
DOCTOR STRANGE (1974) (#1-81) (MARVEL) (DR. STRANGE) #39 Near Mint/Mint
DOCTOR STRANGE (1974) (#1-81) (MARVEL) (DR. STRANGE) #40 Near Mint/Mint
DOCTOR STRANGE (1974) (#1-81) (MARVEL) (DR. STRANGE) #43 Near Mint/Mint
DOCTOR STRANGE (1974) (#1-81) (MARVEL) (DR. STRANGE) #46 Very Fine
DOCTOR STRANGE (1974) (#1-81) (MARVEL) (DR. STRANGE) #47 Fine
DOCTOR STRANGE (1974) (#1-81) (MARVEL) (DR. STRANGE) #48 Near Mint/Mint
DOCTOR STRANGE (1974) (#1-81) (MARVEL) (DR. STRANGE) #49 Near Mint/Mint
DOCTOR STRANGE (1974) (#1-81) (MARVEL) (DR. STRANGE) #50 Near Mint/Mint
DOCTOR STRANGE (1974) (#1-81) (MARVEL) (DR. STRANGE) #51 Very Fine
DOCTOR STRANGE (1974) (#1-81) (MARVEL) (DR. STRANGE) #52 Near Mint/Mint
DOCTOR STRANGE (1974) (#1-81) (MARVEL) (DR. STRANGE) #53 Near Mint/Mint
DOCTOR STRANGE (1974) (#1-81) (MARVEL) (DR. STRANGE) #54 Near Mint/Mint
DOCTOR STRANGE (1974) (#1-81) (MARVEL) (DR. STRANGE) #55 Near Mint/Mint
DOCTOR STRANGE (1974) (#1-81) (MARVEL) (DR. STRANGE) #57 Very Fine
DOCTOR STRANGE (1974) (#1-81) (MARVEL) (DR. STRANGE) #77 Near Mint/Mint
DOCTOR STRANGE (1974) (#1-81) (MARVEL) (DR. STRANGE) #81 Fine

DOCTOR STRANGE (1998) (#1-4) (FLIGHT OF BONES)(MARVEL) #4 Near Mint/Mint

DOMINIC FORTUNE (2009) #3 Near Mint/Mint

EARTH X (1999) #8 Near Mint/Mint

ELEKTRA: ASSASSIN (1986) #4 Very Fine

ENDER'S GAME: MAZER IN PRISON SPECIAL (2010) #1 Near Mint/Mint

ETERNALS (2006) (#1-7) (MARVEL) (GAIMAN & ROMITA JR.) #4 Fine

ETERNALS ANNUAL (1977) #1 Near Mint/Mint

EXCALIBUR (1988) (#1-125) (MARVEL) #1 Very Fine
EXCALIBUR (1988) (#1-125) (MARVEL) #7 Near Mint/Mint
EXCALIBUR (1988) (#1-125) (MARVEL) #48 Very Fine
EXCALIBUR (1988) (#1-125) (MARVEL) #57 Fine
EXCALIBUR (1988) (#1-125) (MARVEL) #59 Very Fine
EXCALIBUR (1988) (#1-125) (MARVEL) #62 Fine
EXCALIBUR (1988) (#1-125) (MARVEL) #68 Very Fine

EXILES (2001) (#1-100) (MARVEL) #1 Near Mint/Mint
EXILES (2001) (#1-100) (MARVEL) #2 Very Fine
EXILES (2001) (#1-100) (MARVEL) #5 Very Fine
EXILES (2001) (#1-100) (MARVEL) #6 Fine
EXILES (2001) (#1-100) (MARVEL) #10 Fine
EXILES (2001) (#1-100) (MARVEL) #11 Near Mint/Mint
EXILES (2001) (#1-100) (MARVEL) #12 Very Fine
EXILES (2001) (#1-100) (MARVEL) #13 Near Mint/Mint
EXILES (2001) (#1-100) (MARVEL) #14 Fine
EXILES (2001) (#1-100) (MARVEL) #15 Near Mint/Mint
EXILES (2001) (#1-100) (MARVEL) #16 Near Mint/Mint
EXILES (2001) (#1-100) (MARVEL) #17 Near Mint/Mint
EXILES (2001) (#1-100) (MARVEL) #18 Near Mint/Mint
EXILES (2001) (#1-100) (MARVEL) #19 Near Mint/Mint
EXILES (2001) (#1-100) (MARVEL) #20 Near Mint/Mint
EXILES (2001) (#1-100) (MARVEL) #21 Near Mint/Mint
EXILES (2001) (#1-100) (MARVEL) #22 Near Mint/Mint
EXILES (2001) (#1-100) (MARVEL) #23 Very Fine
EXILES (2001) (#1-100) (MARVEL) #24 Near Mint/Mint
EXILES (2001) (#1-100) (MARVEL) #25 Near Mint/Mint
EXILES (2001) (#1-100) (MARVEL) #26 Near Mint/Mint


EXILES (2001) (#1-100) (MARVEL) #27

EXILES (2001) (#1-100) (MARVEL) #27 Near Mint/Mint
EXILES (2001) (#1-100) (MARVEL) #28 Near Mint/Mint
EXILES (2001) (#1-100) (MARVEL) #29 Near Mint/Mint
EXILES (2001) (#1-100) (MARVEL) #30 Near Mint/Mint
EXILES (2001) (#1-100) (MARVEL) #32 Near Mint/Mint
EXILES (2001) (#1-100) (MARVEL) #33 Near Mint/Mint
EXILES (2001) (#1-100) (MARVEL) #34 Near Mint/Mint
EXILES (2001) (#1-100) (MARVEL) #35 Near Mint/Mint
EXILES (2001) (#1-100) (MARVEL) #36 Near Mint/Mint
EXILES (2001) (#1-100) (MARVEL) #37 Near Mint/Mint
EXILES (2001) (#1-100) (MARVEL) #38 Very Fine
EXILES (2001) (#1-100) (MARVEL) #40 Near Mint/Mint
EXILES (2001) (#1-100) (MARVEL) #42 Very Fine
EXILES (2001) (#1-100) (MARVEL) #43 Near Mint/Mint
EXILES (2001) (#1-100) (MARVEL) #44 Fine
EXILES (2001) (#1-100) (MARVEL) #45 Fine
EXILES (2001) (#1-100) (MARVEL) #74 Near Mint/Mint
EXILES (2001) (#1-100) (MARVEL) #75 Near Mint/Mint
EXILES (2001) (#1-100) (MARVEL) #76 Near Mint/Mint
EXILES (2001) (#1-100) (MARVEL) #77 Near Mint/Mint
EXILES (2001) (#1-100) (MARVEL) #78 Near Mint/Mint
EXILES (2001) (#1-100) (MARVEL) #79 Near Mint/Mint
EXILES (2001) (#1-100) (MARVEL) #81 Near Mint/Mint
EXILES (2001) (#1-100) (MARVEL) #82 Near Mint/Mint
EXILES (2001) (#1-100) (MARVEL) #86 Near Mint/Mint
EXILES (2001) (#1-100) (MARVEL) #87 Near Mint/Mint
EXILES (2001) (#1-100) (MARVEL) #88 Near Mint/Mint
EXILES (2001) (#1-100) (MARVEL) #89 Near Mint/Mint
EXILES (2001) (#1-100) (MARVEL) #90 Near Mint/Mint
EXILES (2001) (#1-100) (MARVEL) #91 Near Mint/Mint
EXILES (2001) (#1-100) (MARVEL) #92 Near Mint/Mint
EXILES (2001) (#1-100) (MARVEL) #93 Near Mint/Mint
EXILES (2001) (#1-100) (MARVEL) #96 Near Mint/Mint
EXILES (2001) (#1-100) (MARVEL) #97 Near Mint/Mint
EXILES (2001) (#1-100) (MARVEL) #100 Fine

EXILES (2009) (#1-6) (MARVEL) #2 Very Fine

EXILES ANNUAL (2006) #1 Near Mint/Mint

FAFHRD AND THE GRAY MOUSER (1990) #2 NEWSSTAND Near Mint/Mint
FAFHRD AND THE GRAY MOUSER (1990) #4 NEWSSTAND Near Mint/Mint

FALLEN ANGELS (1987) (#1-8) (MARVEL) #1 Near Mint/Mint

FALLEN SON: THE DEATH OF CAPTAIN AMERICA (2007) #1 Very Fine
FALLEN SON: THE DEATH OF CAPTAIN AMERICA (2007) #2 Near Mint/Mint
FALLEN SON: THE DEATH OF CAPTAIN AMERICA (2007) #4 TURNER Near Mint/Mint

FANTASTIC FOUR (1998) (#1-79, 509-611) (MARVEL) #558 Very Fine
FANTASTIC FOUR (1998) (#1-79, 509-611) (MARVEL) #571 Near Mint/Mint

FEAR (ADVENTURE INTO...) (1970) #10 Fine
FEAR (ADVENTURE INTO...) (1970) #11 Very Good
FEAR (ADVENTURE INTO...) (1970) #12 Fine
FEAR (ADVENTURE INTO...) (1970) #13 Fine
FEAR (ADVENTURE INTO...) (1970) #14 Fine
FEAR (ADVENTURE INTO...) (1970) #15 Fine
FEAR (ADVENTURE INTO...) (1970) #16 Fine
FEAR (ADVENTURE INTO...) (1970) #17 Fine
FEAR (ADVENTURE INTO...) (1970) #18 Very Good
FEAR (ADVENTURE INTO...) (1970) #19 Fine
FEAR (ADVENTURE INTO...) (1970) #20 Fine
FEAR (ADVENTURE INTO...) (1970) #24 Fine
FEAR (ADVENTURE INTO...) (1970) #26 Very Fine
FEAR (ADVENTURE INTO...) (1970) #27 Fine
FEAR (ADVENTURE INTO...) (1970) #28 Fine
FEAR (ADVENTURE INTO...) (1970) #29 Fine
FEAR (ADVENTURE INTO...) (1970) #30 Fine
FEAR (ADVENTURE INTO...) (1970) #31 Fine

FOOLKILLER (1990) (#1-10) (MARVEL) #8 Near Mint/Mint

FRANKENSTEIN (1973) (#1-18) (FRANKENSTEIN MONSTER) (MV) #1 Fine


FRANKENSTEIN (1973) (#1-18) (FRANKENSTEIN MONSTER) (MV) #2

FRANKENSTEIN (1973) (#1-18) (FRANKENSTEIN MONSTER) (MV) #2 Fine
FRANKENSTEIN (1973) (#1-18) (FRANKENSTEIN MONSTER) (MV) #3 Fine
FRANKENSTEIN (1973) (#1-18) (FRANKENSTEIN MONSTER) (MV) #4 Fine
FRANKENSTEIN (1973) (#1-18) (FRANKENSTEIN MONSTER) (MV) #5 Fine
FRANKENSTEIN (1973) (#1-18) (FRANKENSTEIN MONSTER) (MV) #6 Fine
FRANKENSTEIN (1973) (#1-18) (FRANKENSTEIN MONSTER) (MV) #7 Very Good
FRANKENSTEIN (1973) (#1-18) (FRANKENSTEIN MONSTER) (MV) #12 Very Good
FRANKENSTEIN (1973) (#1-18) (FRANKENSTEIN MONSTER) (MV) #14 Very Good
FRANKENSTEIN (1973) (#1-18) (FRANKENSTEIN MONSTER) (MV) #15 Fine
FRANKENSTEIN (1973) (#1-18) (FRANKENSTEIN MONSTER) (MV) #16 Very Good
FRANKENSTEIN (1973) (#1-18) (FRANKENSTEIN MONSTER) (MV) #17 Fine
FRANKENSTEIN (1973) (#1-18) (FRANKENSTEIN MONSTER) (MV) #18 Very Fine

FURY MAX (2012) (#1-13) (MARVEL) (MY WAR GONE BY) #1 Very Fine
FURY MAX (2012) (#1-13) (MARVEL) (MY WAR GONE BY) #3 Fine

GARGOYLES (1995) (#1-11) (MARVEL) #1 Near Mint/Mint
GARGOYLES (1995) (#1-11) (MARVEL) #2 Very Fine
GARGOYLES (1995) (#1-11) (MARVEL) #3 Near Mint/Mint

GHOST RIDER (1990) (#1-94) (MARVEL) #26 Near Mint/Mint

GHOST RIDER/CABLE SPECIAL (1992) #1 Near Mint/Mint

GI JOE #1 Near Mint/Mint

GIRL COMICS (2010) #2 Near Mint/Mint
GIRL COMICS (2010) #3 Very Fine

GORILLA MAN (2010) #3 Very Fine

GROO THE WANDERER (1985) #7 Near Mint/Mint

GUNHAWKS (1972) (#1-7) (MARVEL) #1 Very Good
GUNHAWKS (1972) (#1-7) (MARVEL) #2 Fine
GUNHAWKS (1972) (#1-7) (MARVEL) #3 Very Fine
GUNHAWKS (1972) (#1-7) (MARVEL) #4 Very Fine


GUNHAWKS (1972) (#1-7) (MARVEL) #5

GUNHAWKS (1972) (#1-7) (MARVEL) #5 Very Fine
GUNHAWKS (1972) (#1-7) (MARVEL) #6 Fine

GWENPOOL (UNBELIEVABLE GWENPOOL) (2016) #1 Near Mint/Mint
GWENPOOL (UNBELIEVABLE GWENPOOL) (2016) #1 2ND PRINT Near Mint/Mint
GWENPOOL (UNBELIEVABLE GWENPOOL) (2016) #1 2ND PRINT Very Fine
GWENPOOL (UNBELIEVABLE GWENPOOL) (2016) #1 2ND PRINT Fine
GWENPOOL (UNBELIEVABLE GWENPOOL) (2016) #16 Very Fine

HAWKEYE (1983) (#1-4) (MARVEL) #1 Near Mint/Mint
HAWKEYE (2012) (#1-22) (MARVEL) (MATT FRACTION) #1 Fine
HAWKEYE (2012) (#1-22) (MARVEL) (MATT FRACTION) #2 Near Mint/Mint
HAWKEYE (2012) (#1-22) (MARVEL) (MATT FRACTION) #3 Near Mint/Mint
HAWKEYE (2012) (#1-22) (MARVEL) (MATT FRACTION) #4 Fine
HAWKEYE (2012) (#1-22) (MARVEL) (MATT FRACTION) #5 Fine
HAWKEYE (2012) (#1-22) (MARVEL) (MATT FRACTION) #6 Very Fine

HAWKEYE & MOCKINGBIRD (2010) #6 Very Fine

HELLCAT (MARVEL) (2000) #1 Near Mint/Mint

HOOD (2002) (#1-6) (MARVEL MAX) #1 Near Mint/Mint

HOWARD THE DUCK (1976) (#1-33) #1 Very Fine
HOWARD THE DUCK (1976) (#1-33) #2 Near Mint/Mint
HOWARD THE DUCK (1976) (#1-33) #2 Fine
HOWARD THE DUCK (1976) (#1-33) #3 Near Mint/Mint
HOWARD THE DUCK (1976) (#1-33) #14 Near Mint/Mint
HOWARD THE DUCK (1976) (#1-33) #15 Near Mint/Mint
HOWARD THE DUCK (1976) (#1-33) #17 Near Mint/Mint
HOWARD THE DUCK (1976) (#1-33) #19 Near Mint/Mint
HOWARD THE DUCK (1976) (#1-33) #25 Very Fine
HOWARD THE DUCK (1976) (#1-33) #33 Very Fine

HULK (1962) (#1-6, #102-474, #600-635)(INCREDIBLE)(MV) #389 Near Mint/Mint
HULK (1962) (#1-6, #102-474, #600-635)(INCREDIBLE)(MV) #390 NEWSSTAND Very Fine
HULK (1962) (#1-6, #102-474, #600-635)(INCREDIBLE)(MV) #391 NEWSSTAND Near Mint/Mint


HULK (1962) (#1-6, #102-474, #600-635)(INCREDIBLE)(MV) #392

HULK (1962) (#1-6, #102-474, #600-635)(INCREDIBLE)(MV) #392 Near Mint/Mint
HULK (1962) (#1-6, #102-474, #600-635)(INCREDIBLE)(MV) #403 Near Mint/Mint
HULK (1962) (#1-6, #102-474, #600-635)(INCREDIBLE)(MV) #404 Very Fine
HULK (1962) (#1-6, #102-474, #600-635)(INCREDIBLE)(MV) #415 Near Mint/Mint
HULK (1962) (#1-6, #102-474, #600-635)(INCREDIBLE)(MV) #416 Near Mint/Mint
HULK (1962) (#1-6, #102-474, #600-635)(INCREDIBLE)(MV) #418 SPECIAL Near Mint/Mint
HULK (1962) (#1-6, #102-474, #600-635)(INCREDIBLE)(MV) #422 Near Mint/Mint
HULK (1962) (#1-6, #102-474, #600-635)(INCREDIBLE)(MV) #424 Very Fine
HULK (1962) (#1-6, #102-474, #600-635)(INCREDIBLE)(MV) #425 Very Fine
HULK (1962) (#1-6, #102-474, #600-635)(INCREDIBLE)(MV) #428 DELUXE Near Mint/Mint
HULK (1962) (#1-6, #102-474, #600-635)(INCREDIBLE)(MV) #431 Near Mint/Mint
HULK (1962) (#1-6, #102-474, #600-635)(INCREDIBLE)(MV) #434 Very Fine

HULK VS. SUPERMAN (1999) #1 Near Mint/Mint

HULK: FUTURE IMPERFECT (1993) #1 Near Mint/Mint
HULK: FUTURE IMPERFECT (1993) #2 Near Mint/Mint

HUMAN FLY (1977) (#1-19) (MARVEL) #1 Very Fine
HUMAN FLY (1977) (#1-19) (MARVEL) #3 Very Fine
HUMAN FLY (1977) (#1-19) (MARVEL) #4 Near Mint/Mint
HUMAN FLY (1977) (#1-19) (MARVEL) #5 Near Mint/Mint
HUMAN FLY (1977) (#1-19) (MARVEL) #8 Very Fine
HUMAN FLY (1977) (#1-19) (MARVEL) #9 Near Mint/Mint
HUMAN FLY (1977) (#1-19) (MARVEL) #10 Near Mint/Mint
HUMAN FLY (1977) (#1-19) (MARVEL) #11 Near Mint/Mint
HUMAN FLY (1977) (#1-19) (MARVEL) #13 Very Fine
HUMAN FLY (1977) (#1-19) (MARVEL) #14 Near Mint/Mint
HUMAN FLY (1977) (#1-19) (MARVEL) #15 Very Fine
HUMAN FLY (1977) (#1-19) (MARVEL) #16 Near Mint/Mint
HUMAN FLY (1977) (#1-19) (MARVEL) #17 Near Mint/Mint
HUMAN FLY (1977) (#1-19) (MARVEL) #18 Near Mint/Mint
HUMAN FLY (1977) (#1-19) (MARVEL) #19 Near Mint/Mint

HUMAN TORCH (1974) #1 Near Mint/Mint
HUMAN TORCH (1974) #2 Very Fine

IMMORTAL IRON FIST (2006) #1 Near Mint/Mint
IMMORTAL IRON FIST (2006) #4 Near Mint/Mint
IMMORTAL IRON FIST (2006) #8 Near Mint/Mint
IMMORTAL IRON FIST (2006) #12 Near Mint/Mint
IMMORTAL IRON FIST (2006) #25 Near Mint/Mint

IMMORTAL WEAPONS (2009) #2 Near Mint/Mint
IMMORTAL WEAPONS (2009) #4 Very Fine

INHUMANS (1975) (#1-12) (MARVEL) #2 Very Fine
INHUMANS (1975) (#1-12) (MARVEL) #3 Very Fine
INHUMANS (1975) (#1-12) (MARVEL) #4 Very Fine
INHUMANS (1975) (#1-12) (MARVEL) #5 Near Mint/Mint
INHUMANS (1975) (#1-12) (MARVEL) #6 Very Fine
INHUMANS (1975) (#1-12) (MARVEL) #7 Very Good
INHUMANS (1975) (#1-12) (MARVEL) #8 Fine
INHUMANS (1975) (#1-12) (MARVEL) #9 Very Fine
INHUMANS (1975) (#1-12) (MARVEL) #10 Very Fine
INHUMANS (1975) (#1-12) (MARVEL) #12 Very Fine
INHUMANS (1998) (#1-12) (MARVEL KNIGHTS) #1 Very Fine
INHUMANS (1998) (#1-12) (MARVEL KNIGHTS) #2 Near Mint/Mint
INHUMANS (1998) (#1-12) (MARVEL KNIGHTS) #3 Very Fine
INHUMANS (1998) (#1-12) (MARVEL KNIGHTS) #4 Fine
INHUMANS (1998) (#1-12) (MARVEL KNIGHTS) #5 Very Fine
INHUMANS (1998) (#1-12) (MARVEL KNIGHTS) #6 Near Mint/Mint

JOURNEY INTO MYSTERY (1972) (#1-19) #1 Very Good
JOURNEY INTO MYSTERY (1972) (#1-19) #2 Very Good
JOURNEY INTO MYSTERY (1972) (#1-19) #3 Very Good

JUNGLE ACTION (1972) (#1-24) (MARVEL) #1 Fine
JUNGLE ACTION (1972) (#1-24) (MARVEL) #2 Fine
JUNGLE ACTION (1972) (#1-24) (MARVEL) #3 Fine
JUNGLE ACTION (1972) (#1-24) (MARVEL) #5 Fine
JUNGLE ACTION (1972) (#1-24) (MARVEL) #6 Fine


JUNGLE ACTION (1972) (#1-24) (MARVEL) #7

JUNGLE ACTION (1972) (#1-24) (MARVEL) #7 Fine
JUNGLE ACTION (1972) (#1-24) (MARVEL) #8 Fine
JUNGLE ACTION (1972) (#1-24) (MARVEL) #12 Fine
JUNGLE ACTION (1972) (#1-24) (MARVEL) #13 Very Fine
JUNGLE ACTION (1972) (#1-24) (MARVEL) #14 Very Fine
JUNGLE ACTION (1972) (#1-24) (MARVEL) #15 Very Fine
JUNGLE ACTION (1972) (#1-24) (MARVEL) #16 Very Fine
JUNGLE ACTION (1972) (#1-24) (MARVEL) #17 Fine
JUNGLE ACTION (1972) (#1-24) (MARVEL) #18 Very Fine
JUNGLE ACTION (1972) (#1-24) (MARVEL) #19 Fine
JUNGLE ACTION (1972) (#1-24) (MARVEL) #20 Fine
JUNGLE ACTION (1972) (#1-24) (MARVEL) #21 Fine
JUNGLE ACTION (1972) (#1-24) (MARVEL) #22 Very Fine
JUNGLE ACTION (1972) (#1-24) (MARVEL) #23 Fine
JUNGLE ACTION (1972) (#1-24) (MARVEL) #24 Fine

LONERS (2007) #1 Near Mint/Mint

MANDRAKE (MANDRAKE THE MAGICIAN) (MARVEL SELECT) (1995) #1 Near Mint/Mint
MANDRAKE (MANDRAKE THE MAGICIAN) (MARVEL SELECT) (1995) #2 Near Mint/Mint

MARVEL APES (2008) #1 Very Fine
MARVEL APES (2008) #2 Near Mint/Mint
MARVEL APES (2008) #3 Very Fine
MARVEL APES (2008) #4 Very Fine

MARVEL HEROES & LEGENDS #1 1997 Near Mint/Mint

MARVEL UNIVERSE VS. PUNISHER (2010) #2 Very Fine

MILES MORALES: ULTIMATE SPIDER-MAN (2014) #1 Very Fine

MOON KNIGHT (1980) (#1-38) (MARVEL) #6 Near Mint/Mint
MOON KNIGHT (1980) (#1-38) (MARVEL) #7 Very Fine
MOON KNIGHT (1980) (#1-38) (MARVEL) #8 Fine
MOON KNIGHT (1980) (#1-38) (MARVEL) #9 Very Fine


MOON KNIGHT (1980) (#1-38) (MARVEL) #10

MOON KNIGHT (1980) (#1-38) (MARVEL) #10 Fine
MOON KNIGHT (1980) (#1-38) (MARVEL) #11 Near Mint/Mint
MOON KNIGHT (1980) (#1-38) (MARVEL) #12 Near Mint/Mint
MOON KNIGHT (1980) (#1-38) (MARVEL) #13 Fine
MOON KNIGHT (1980) (#1-38) (MARVEL) #14 Very Fine
MOON KNIGHT (1980) (#1-38) (MARVEL) #15 Fine
MOON KNIGHT (1980) (#1-38) (MARVEL) #16 Fine
MOON KNIGHT (1980) (#1-38) (MARVEL) #17 Near Mint/Mint
MOON KNIGHT (1980) (#1-38) (MARVEL) #18 Near Mint/Mint
MOON KNIGHT (1980) (#1-38) (MARVEL) #19 Fine
MOON KNIGHT (1980) (#1-38) (MARVEL) #20 Near Mint/Mint
MOON KNIGHT (1980) (#1-38) (MARVEL) #21 Very Fine
MOON KNIGHT (1980) (#1-38) (MARVEL) #22 Very Fine
MOON KNIGHT (1980) (#1-38) (MARVEL) #23 Near Mint/Mint
MOON KNIGHT (1980) (#1-38) (MARVEL) #24 Fine
MOON KNIGHT (1980) (#1-38) (MARVEL) #25 Very Fine
MOON KNIGHT (1980) (#1-38) (MARVEL) #27 Fine
MOON KNIGHT (1980) (#1-38) (MARVEL) #29 Very Fine
MOON KNIGHT (1980) (#1-38) (MARVEL) #30 Near Mint/Mint
MOON KNIGHT (1980) (#1-38) (MARVEL) #31 Near Mint/Mint
MOON KNIGHT (1980) (#1-38) (MARVEL) #32 Near Mint/Mint
MOON KNIGHT (1980) (#1-38) (MARVEL) #36 Fine
MOON KNIGHT (1980) (#1-38) (MARVEL) #37 Very Fine
MOON KNIGHT (1980) (#1-38) (MARVEL) #38 Near Mint/Mint

MOON KNIGHT (2006) (#1-30) (MARVEL) #1 Fine
MOON KNIGHT (2006) (#1-30) (MARVEL) #2 Fine
MOON KNIGHT (2006) (#1-30) (MARVEL) #3 Fine
MOON KNIGHT (2006) (#1-30) (MARVEL) #4 Fine
MOON KNIGHT (2006) (#1-30) (MARVEL) #5 Very Fine
MOON KNIGHT (2006) (#1-30) (MARVEL) #6 Near Mint/Mint
MOON KNIGHT (2006) (#1-30) (MARVEL) #7 Near Mint/Mint

MOON KNIGHT (1985) (#1-6) (MARVEL) (FIST OF KHONSHU) #3 Near Mint/Mint
MOON KNIGHT (1985) (#1-6) (MARVEL) (FIST OF KHONSHU) #6 Very Fine
MOON KNIGHT (1999) (#1-4) (MARVEL) (HIGH STRANGERS) #1 Very Fine


MOON KNIGHT (1999) (#1-4) (MARVEL) (HIGH STRANGERS) #2

MOON KNIGHT (1999) (#1-4) (MARVEL) (HIGH STRANGERS) #2 Near Mint/Mint
MOON KNIGHT (1999) (#1-4) (MARVEL) (HIGH STRANGERS) #3 Near Mint/Mint
MOON KNIGHT (1999) (#1-4) (MARVEL) (HIGH STRANGERS) #4 Very Fine

MUTANT 2099 (2004) #1 Near Mint/Mint

MYSTIQUE (2003) #6 Very Fine
MYSTIQUE (2003) #9 Near Mint/Mint
MYSTIQUE (2003) #12 Very Fine
MYSTIQUE (2003) #13 Very Fine

NEW AVENGERS (2004) (#1-64) (MARVEL) #1 Near Mint/Mint
NEW AVENGERS (2004) (#1-64) (MARVEL) #2 Near Mint/Mint
NEW AVENGERS (2004) (#1-64) (MARVEL) #4 Near Mint/Mint
NEW AVENGERS (2004) (#1-64) (MARVEL) #7 Near Mint/Mint
NEW AVENGERS (2004) (#1-64) (MARVEL) #11 Near Mint/Mint
NEW AVENGERS (2004) (#1-64) (MARVEL) #13 Near Mint/Mint
NEW AVENGERS (2004) (#1-64) (MARVEL) #16 Near Mint/Mint
NEW AVENGERS (2004) (#1-64) (MARVEL) #17 Near Mint/Mint
NEW AVENGERS (2004) (#1-64) (MARVEL) #18 Near Mint/Mint
NEW AVENGERS (2004) (#1-64) (MARVEL) #19 Near Mint/Mint
NEW AVENGERS (2004) (#1-64) (MARVEL) #20 Near Mint/Mint

NEW AVENGERS ILLUMINATI SPECIAL (ROAD TO CIVIL WAR) (2006) #1 Near Mint/Mint

NEW X-MEN BY GRANT MORRISON TPB (2011) #3 Very Fine

PUNISHER 2099 (2004) (#1) (MARVEL KNIGHTS) #1 Very Fine

RUNAWAYS VOL. 1: PRIDE & JOY TPB (2ND EDITION) (2011) #1 Very Fine

SCARLET SPIDER (2012) (#1-25) (MARVEL) #20 Near Mint/Mint

SPIDER-GWEN (2015) (#1-UP) (MARVEL)(RADIOACTIVE) #18 Near Mint/Mint
SPIDER-GWEN (2015) (#1-UP) (MARVEL)(RADIOACTIVE) #19 Near Mint/Mint
SPIDER-GWEN (2015) (#1-UP) (MARVEL)(RADIOACTIVE) #20 Near Mint/Mint


SPIDER-MAN (1963) (AMAZING SPIDER-MAN) (#1-441) #31

SPIDER-MAN (1963) (AMAZING SPIDER-MAN) (#1-441) #31 Fair
SPIDER-MAN (1963) (AMAZING SPIDER-MAN) (#1-441) #37 Very Good
SPIDER-MAN (1963) (AMAZING SPIDER-MAN) (#1-441) #52 Very Good
SPIDER-MAN (1963) (AMAZING SPIDER-MAN) (#1-441) #59 Fair
SPIDER-MAN (1963) (AMAZING SPIDER-MAN) (#1-441) #63 Very Good
SPIDER-MAN (1963) (AMAZING SPIDER-MAN) (#1-441) #65 Very Good
SPIDER-MAN (1963) (AMAZING SPIDER-MAN) (#1-441) #66 Very Good
SPIDER-MAN (1963) (AMAZING SPIDER-MAN) (#1-441) #67 Very Fine
SPIDER-MAN (1963) (AMAZING SPIDER-MAN) (#1-441) #68 Good
SPIDER-MAN (1963) (AMAZING SPIDER-MAN) (#1-441) #90 Fine
SPIDER-MAN (1963) (AMAZING SPIDER-MAN) (#1-441) #91 Good
SPIDER-MAN (1963) (AMAZING SPIDER-MAN) (#1-441) #100 Good
SPIDER-MAN (1963) (AMAZING SPIDER-MAN) (#1-441) #101 2ND PRT Very Good
SPIDER-MAN (1963) (AMAZING SPIDER-MAN) (#1-441) #109 Very Good
SPIDER-MAN (1963) (AMAZING SPIDER-MAN) (#1-441) #112 Very Good
SPIDER-MAN (1963) (AMAZING SPIDER-MAN) (#1-441) #113 Very Good
SPIDER-MAN (1963) (AMAZING SPIDER-MAN) (#1-441) #117 Very Fine
SPIDER-MAN (1963) (AMAZING SPIDER-MAN) (#1-441) #142 Very Good
SPIDER-MAN (1963) (AMAZING SPIDER-MAN) (#1-441) #164 Good
SPIDER-MAN (1963) (AMAZING SPIDER-MAN) (#1-441) #173 Very Good
SPIDER-MAN (1963) (AMAZING SPIDER-MAN) (#1-441) #176 Very Good
SPIDER-MAN (1963) (AMAZING SPIDER-MAN) (#1-441) #180 Good
SPIDER-MAN (1963) (AMAZING SPIDER-MAN) (#1-441) #192 BLANK CODE Fine
SPIDER-MAN (1963) (AMAZING SPIDER-MAN) (#1-441) #193 NEWSSTAND Very Good
SPIDER-MAN (1963) (AMAZING SPIDER-MAN) (#1-441) #200 NEWSSTAND Good
SPIDER-MAN (1963) (AMAZING SPIDER-MAN) (#1-441) #252 FACSIMILE Near Mint/Mint
SPIDER-MAN (1963) (AMAZING SPIDER-MAN) (#1-441) #252 NEWSSTAND Good
SPIDER-MAN (1963) (AMAZING SPIDER-MAN) (#1-441) #258 NEWSSTAND Very Fine
SPIDER-MAN (1963) (AMAZING SPIDER-MAN) (#1-441) #261 Very Fine
SPIDER-MAN (1963) (AMAZING SPIDER-MAN) (#1-441) #282 Very Good
SPIDER-MAN (1963) (AMAZING SPIDER-MAN) (#1-441) #293 Near Mint/Mint
SPIDER-MAN (1963) (AMAZING SPIDER-MAN) (#1-441) #294 Very Fine
SPIDER-MAN (1963) (AMAZING SPIDER-MAN) (#1-441) #309 Fine
SPIDER-MAN (1963) (AMAZING SPIDER-MAN) (#1-441) #312 Very Good
SPIDER-MAN (1963) (AMAZING SPIDER-MAN) (#1-441) #319 NEWSSTAND Fine
SPIDER-MAN (1963) (AMAZING SPIDER-MAN) (#1-441) #342 Near Mint/Mint


SPIDER-MAN (1963) (AMAZING SPIDER-MAN) (#1-441) #342

SPIDER-MAN (1963) (AMAZING SPIDER-MAN) (#1-441) #342 Very Fine
SPIDER-MAN (1963) (AMAZING SPIDER-MAN) (#1-441) #350 Near Mint/Mint
SPIDER-MAN (1963) (AMAZING SPIDER-MAN) (#1-441) #363 Near Mint/Mint
SPIDER-MAN (1963) (AMAZING SPIDER-MAN) (#1-441) #388 Fine
SPIDER-MAN (1963) (AMAZING SPIDER-MAN) (#1-441) #389 Fine
SPIDER-MAN (1963) (AMAZING SPIDER-MAN) (#1-441) #390 UNBAGGED Near Mint/Mint
SPIDER-MAN (1963) (AMAZING SPIDER-MAN) (#1-441) #391 Near Mint/Mint
SPIDER-MAN (1963) (AMAZING SPIDER-MAN) (#1-441) #392 NEWSSTAND Very Fine
SPIDER-MAN (1963) (AMAZING SPIDER-MAN) (#1-441) #394 Very Fine
SPIDER-MAN (1963) (AMAZING SPIDER-MAN) (#1-441) #397 Fine
SPIDER-MAN (1963) (AMAZING SPIDER-MAN) (#1-441) #400 LIMITED Near Mint/Mint
SPIDER-MAN (1963) (AMAZING SPIDER-MAN) (#1-441) #425 Fine
SPIDER-MAN (1963) (AMAZING SPIDER-MAN) (#1-441) #440 Fine

STAR WARS (2015) (#1-75) (MARVEL) #27 STEGMAN Near Mint/Mint

STAR WARS: DARTH VADER (2017) #13 REIS Near Mint/Mint

STAR WARS: DOCTOR APHRA (2016) (#1-40) (MARVEL) #16 Near Mint/Mint

STAR WARS: RISE OF KYLO REN (2019) #2 Near Mint/Mint
STAR WARS: RISE OF KYLO REN (2019) #3 Near Mint/Mint
STAR WARS: RISE OF KYLO REN (2019) #4 Near Mint/Mint

STAR WARS: THE LAST JEDI - DJ: MOST WANTED (2017) #1 Near Mint/Mint

THOR (2020) (#1-UP) (MARVEL) #1 Near Mint/Mint
THOR (2020) (#1-UP) (MARVEL) #2 Near Mint/Mint
THOR (2020) (#1-UP) (MARVEL) #3 Near Mint/Mint
THOR (2020) (#1-UP) (MARVEL) #4 Near Mint/Mint
THOR (2020) (#1-UP) (MARVEL) #5 Near Mint/Mint

ULTIMATE COMICS: SPIDER-MAN (2009) #15 Near Mint/Mint

VAULT OF EVIL #1 Very Fine


VISION/SCARLET WITCH (1985) #1

VISION/SCARLET WITCH (1985) #1 Very Good
VISION/SCARLET WITCH (1985) #2 Near Mint/Mint
VISION/SCARLET WITCH (1985) #3 Near Mint/Mint
VISION/SCARLET WITCH (1985) #4 Fine
VISION/SCARLET WITCH (1985) #7 Near Mint/Mint
VISION/SCARLET WITCH (1985) #8 Near Mint/Mint
VISION/SCARLET WITCH (1985) #9 Near Mint/Mint
VISION/SCARLET WITCH (1985) #10 Fine
VISION/SCARLET WITCH (1985) #11 Near Mint/Mint
VISION/SCARLET WITCH (1985) #12 Near Mint/Mint

VOTE LOKI (2016) #1 Near Mint/Mint

WAR IS HELL (1973) (#1-15) (MARVEL) #1 Fine
WAR IS HELL (1973) (#1-15) (MARVEL) #9 Fine
WAR IS HELL (1973) (#1-15) (MARVEL) #10 Fine

WARLOCK (1972) (#1-15) (MARVEL) #1 Fine
WARLOCK (1972) (#1-15) (MARVEL) #2 Fine
WARLOCK (1972) (#1-15) (MARVEL) #3 Very Good
WARLOCK (1972) (#1-15) (MARVEL) #4 Near Mint/Mint
WARLOCK (1972) (#1-15) (MARVEL) #5 Very Fine
WARLOCK (1972) (#1-15) (MARVEL) #6 Very Fine
WARLOCK (1972) (#1-15) (MARVEL) #7 Fine
WARLOCK (1972) (#1-15) (MARVEL) #8 Very Fine
WARLOCK (1972) (#1-15) (MARVEL) #9 Very Fine
WARLOCK (1972) (#1-15) (MARVEL) #10 Fine
WARLOCK (1972) (#1-15) (MARVEL) #10 Good
WARLOCK (1972) (#1-15) (MARVEL) #11 Fine
WARLOCK (1972) (#1-15) (MARVEL) #12 Near Mint/Mint
WARLOCK (1972) (#1-15) (MARVEL) #15 Very Good

DC COMICS
BATMAN: THREE JOKERS (2020) #1 Near Mint/Mint
BATMAN: THREE JOKERS (2020) #1 FABOK Near Mint/Mint
BATMAN: THREE JOKERS (2020) #1 FABOK BOMB Near Mint/Mint
BATMAN: THREE JOKERS (2020) #1 FABOK FISH Near Mint/Mint
BATMAN: THREE JOKERS (2020) #1 FABOK HOOD Near Mint/Mint
BATMAN: THREE JOKERS (2020) #2 Near Mint/Mint
BATMAN: THREE JOKERS (2020) #3 Near Mint/Mint


CATWOMAN (2011) (#0-52) (DC NEW52) #36

CATWOMAN (2011) (#0-52) (DC NEW52) #36 Very Fine

DEADMAN: DARK MANSION OF FORBIDDEN LOVE (2016) #2 Very Fine

FLASH (1959) (#105-350) (DC) #213 Good
FLASH (1959) (#105-350) (DC) #217 Fine
FLASH (1959) (#105-350) (DC) #218 Very Good
FLASH (1959) (#105-350) (DC) #219 Very Good
FLASH (1959) (#105-350) (DC) #222 Fine
FLASH (1959) (#105-350) (DC) #226 Very Good

FLASH (1987) (#0-247) (DC) #1 Near Mint/Mint
FLASH (1987) (#0-247) (DC) #2 Near Mint/Mint
FLASH (1987) (#0-247) (DC) #3 Near Mint/Mint
FLASH (1987) (#0-247) (DC) #4 Near Mint/Mint

FLASHPOINT (2011) (#1-5) (DC) #3 Fine

GREEN LANTERN (1960) (#1-224) (DC) #55 Good
GREEN LANTERN (1960) (#1-224) (DC) #69 Very Good
GREEN LANTERN (1960) (#1-224) (DC) #83 Good
GREEN LANTERN (1960) (#1-224) (DC) #86 Very Good
GREEN LANTERN (1960) (#1-224) (DC) #87 Very Good
GREEN LANTERN (1960) (#1-224) (DC) #88 Fair
GREEN LANTERN (1960) (#1-224) (DC) #89 Very Good
GREEN LANTERN (1960) (#1-224) (DC) #90 Fine
GREEN LANTERN (1960) (#1-224) (DC) #91 Fine
GREEN LANTERN (1960) (#1-224) (DC) #92 Very Fine
GREEN LANTERN (1960) (#1-224) (DC) #93 Fine
GREEN LANTERN (1960) (#1-224) (DC) #94 Fine
GREEN LANTERN (1960) (#1-224) (DC) #95 Fine
GREEN LANTERN (1960) (#1-224) (DC) #96 Very Good
GREEN LANTERN (1960) (#1-224) (DC) #97 Fine
GREEN LANTERN (1960) (#1-224) (DC) #98 Very Fine
GREEN LANTERN (1960) (#1-224) (DC) #99 Fine


GREEN LANTERN (1960) (#1-224) (DC) #100

GREEN LANTERN (1960) (#1-224) (DC) #100 Near Mint/Mint
GREEN LANTERN (1960) (#1-224) (DC) #101 Fine
GREEN LANTERN (1960) (#1-224) (DC) #102 Fine
GREEN LANTERN (1960) (#1-224) (DC) #103 Very Fine

GREEN LANTERN (1990) (#0-181) (DC) #19 Very Fine
GREEN LANTERN (1990) (#0-181) (DC) #20 Fine

HARLEY QUINN (2016) (#1-UP) (DC REBIRTH) #1 ASPEN Near Mint/Mint

HELLBLAZER (1988) (#1-300) (DC VERTIGO) #1 (DC: Vertigo Press) Fine
HELLBLAZER (1988) (#1-300) (DC VERTIGO) #2 (DC: Vertigo Press) Near Mint/Mint
HELLBLAZER (1988) (#1-300) (DC VERTIGO) #3 (DC: Vertigo Press) Fine
HELLBLAZER (1988) (#1-300) (DC VERTIGO) #4 (DC: Vertigo Press) Near Mint/Mint
HELLBLAZER (1988) (#1-300) (DC VERTIGO) #5 (DC: Vertigo Press) Fine
HELLBLAZER (1988) (#1-300) (DC VERTIGO) #6 (DC: Vertigo Press) Very Fine

HOUSE OF MYSTERY (1951) #204 Good

JOKER (1975) #1 Fine

MADAME XANADU (2008) #2 (DC: Vertigo Press) Near Mint/Mint
MADAME XANADU (2008) #3 (DC: Vertigo Press) Near Mint/Mint
MADAME XANADU (2008) #6 A (DC: Vertigo Press) Near Mint/Mint
MADAME XANADU (2008) #11 (DC: Vertigo Press) Near Mint/Mint
MADAME XANADU (2008) #12 (DC: Vertigo Press) Near Mint/Mint
MADAME XANADU (2008) #13 (DC: Vertigo Press) Near Mint/Mint
MADAME XANADU (2008) #15 (DC: Vertigo Press) Near Mint/Mint
MADAME XANADU (2008) #16 (DC: Vertigo Press) Near Mint/Mint
MADAME XANADU (2008) #17 (DC: Vertigo Press) Near Mint/Mint
MADAME XANADU (2008) #19 (DC: Vertigo Press) Near Mint/Mint
MADAME XANADU (2008) #26 (DC: Vertigo Press) Near Mint/Mint
MADAME XANADU (2008) #28 (DC: Vertigo Press) Near Mint/Mint
MADAME XANADU (2008) #29 (DC: Vertigo Press) Near Mint/Mint

PREACHER (1995) #1 (DC: Vertigo Press) Near Mint/Mint
PREACHER (1995) #2 (DC: Vertigo Press) Near Mint/Mint
PREACHER (1995) #3 (DC: Vertigo Press) Near Mint/Mint
PREACHER (1995) #4 (DC: Vertigo Press) Near Mint/Mint
PREACHER (1995) #5 (DC: Vertigo Press) Near Mint/Mint

TEEN TITANS (1980) (#1-91) (DC) #21 Fine
TEEN TITANS (1980) (#1-91) (DC) #21 NEWSSTAND Fine
TEEN TITANS (1980) (#1-91) (DC) #21 Very Fine

WONDER WOMAN (2016) (#1-83, #750-UP) (DC REBIRTH) #2 Very Fine

DARK HORSE COMICS
HELLBOY SUPPLEMENT TO COMICS BUYER'S GUIDE (1994) #1 Very Fine

HELLBOY: SEED OF DESTRUCTION (1994) #1 Fine
HELLBOY: SEED OF DESTRUCTION (1994) #2 Near Mint/Mint
HELLBOY: SEED OF DESTRUCTION (1994) #3 Near Mint/Mint
HELLBOY: SEED OF DESTRUCTION (1994) #4 Near Mint/Mint

HELLBOY: THE CORPSE & THE IRON SHOES (1993) #1 Very Fine

HELLBOY: THE WOLVES OF ST. AUGUST (1995) #1 Very Fine

HELLBOY: WAKE THE DEVIL (1996) #1 Near Mint/Mint
HELLBOY: WAKE THE DEVIL (1996) #2 Near Mint/Mint
HELLBOY: WAKE THE DEVIL (1996) #3 Fine
HELLBOY: WAKE THE DEVIL (1996) #4 Near Mint/Mint
HELLBOY: WAKE THE DEVIL (1996) #5 Near Mint/Mint

MASK (1995) (#1-17) (DARK HORSE) #4 Near Mint/Mint

NEXT MEN (1992) #23 Near Mint/Mint

PREDATOR VS. JUDGE DREDD VS. ALIENS (2016) #3 Near Mint/Mint


STAR WARS: BOBA FETT - BOUNTY ON BAR-KOODA (1995) #1

STAR WARS: BOBA FETT - BOUNTY ON BAR-KOODA (1995) #1 Near Mint/Mint

STAR WARS: GENERAL GRIEVOUS (2005) #2 Fine

STAR WARS: SPLINTER OF THE MINDS EYE (1995) #1 Fine

IMAGE COMICS
AGENCY (IMAGE TOPCOW) (2001) #1 TURNER (Image Top Cow) Near Mint/Mint

APHRODITE IX (IMAGE TOP COW) (2000) #0 WIZARD ED. (Image Top Cow) Very Fine
APHRODITE IX (IMAGE TOP COW) (2000) #1 TURNER (Image Top Cow) Near Mint/Mint
APHRODITE IX (IMAGE TOP COW) (2000) #2 (Image Top Cow) Near Mint/Mint
APHRODITE IX (IMAGE TOP COW) (2000) #3 (Image Top Cow) Fine
APHRODITE IX (IMAGE TOP COW) (2000) #4 (Image Top Cow) Fine

ASCENSION (IMAGE TOPCOW) (1997) #0 (Image Top Cow) Fine
ASCENSION (IMAGE TOPCOW) (1997) #1 1/2 (Image Top Cow) Near Mint/Mint
ASCENSION (IMAGE TOPCOW) (1997) #1 1/2 (Image Top Cow) Fine
ASCENSION (IMAGE TOPCOW) (1997) #5 (Image Top Cow) Fine
ASCENSION (IMAGE TOPCOW) (1997) #13 (Image Top Cow) Near Mint/Mint
ASCENSION (IMAGE TOPCOW) (1997) #16 (Image Top Cow) Very Fine
ASCENSION (IMAGE TOPCOW) (1997) #19 (Image Top Cow) Near Mint/Mint
ASCENSION (IMAGE TOPCOW) (1997) #20 (Image Top Cow) Near Mint/Mint
ASCENSION (IMAGE TOPCOW) (1997) #21 (Image Top Cow) Fine
ASCENSION (IMAGE TOPCOW) (1997) #22 (Image Top Cow) Fine

ASCENSION PREVIEW EDITION (IMAGE TOPCOW) (1997) #1 (Image Top Cow) Good

BALLISTIC (IMAGE TOPCOW) (MICHAEL TURNER) (1995) #2 (Image Top Cow) Fine
BALLISTIC (IMAGE TOPCOW) (MICHAEL TURNER) (1995) #3 (Image Top Cow) Fine

BLOOD LEGACY #4 (Image Top Cow) Near Mint/Mint

BLOOD LEGACY: YOUNG ONES ONE-SHOT (2003) #1 (Image Top Cow) Very Fine


CODENAME: STRYKE FORCE (IMAGE) #14

CODENAME: STRYKE FORCE (IMAGE) #14 (Image Top Cow) Near Mint/Mint

CYBERFORCE (1993) (#1-35) (IMAGE) #10 (Image Top Cow) Very Fine
CYBERFORCE (1993) (#1-35) (IMAGE) #12 (Image Top Cow) Near Mint/Mint
CYBERFORCE (1993) (#1-35) (IMAGE) #25 (Image Top Cow) Near Mint/Mint
CYBERFORCE (1993) (#1-35) (IMAGE) #30 (Image Top Cow) Near Mint/Mint
CYBERFORCE (1993) (#1-35) (IMAGE) #31 (Image Top Cow) Near Mint/Mint
CYBERFORCE (1993) (#1-35) (IMAGE) #34 (Image Top Cow) Near Mint/Mint
CYBERFORCE (1993) (#1-35) (IMAGE) #35 (Image Top Cow) Very Fine

CYBERFORCE ORIGINS SPECIAL: CYBLADE #1 (Image Top Cow) Very Fine

CYBERFORCE UNIVERSE SOURCEBOOK #2 (Image Top Cow) Very Fine

CYBERFORCE/X-MEN (2006) #1 LEE (Image Top Cow) Near Mint/Mint

DARK CROSSINGS SPECIAL #1 (Image Top Cow) Fine

INVINCIBLE (2003) #0 Very Fine
INVINCIBLE (2003) #1 Fine
INVINCIBLE (2003) #2 Fine
INVINCIBLE (2003) #3 Very Fine
INVINCIBLE (2003) #4 Near Mint/Mint
INVINCIBLE (2003) #5 Very Fine
INVINCIBLE (2003) #6 Very Fine
INVINCIBLE (2003) #7 Fine
INVINCIBLE (2003) #8 Fine
INVINCIBLE (2003) #9 Very Fine
INVINCIBLE (2003) #10 Fine
INVINCIBLE (2003) #11 Near Mint/Mint
INVINCIBLE (2003) #12 Very Fine
INVINCIBLE (2003) #13 Near Mint/Mint
INVINCIBLE (2003) #14 Near Mint/Mint
INVINCIBLE (2003) #15 Fine
INVINCIBLE (2003) #16 Near Mint/Mint
INVINCIBLE (2003) #17 Near Mint/Mint
INVINCIBLE (2003) #18 Near Mint/Mint

INVINCIBLE (2003) #19 Near Mint/Mint
INVINCIBLE (2003) #20 Very Fine
INVINCIBLE (2003) #21 Fine
INVINCIBLE (2003) #22 Fine
INVINCIBLE (2003) #23 Fine
INVINCIBLE (2003) #24 Fine
INVINCIBLE (2003) #25 Fine
INVINCIBLE (2003) #26 Near Mint/Mint
INVINCIBLE (2003) #27 Very Fine
INVINCIBLE (2003) #28 Fine
INVINCIBLE (2003) #29 Fine
INVINCIBLE (2003) #30 Fine

IT GIRL & THE ATOMICS (2012) #1 Very Fine
IT GIRL & THE ATOMICS (2012) #2 Near Mint/Mint

MARS ATTACKS THE IMAGE UNIVERSE (1996) #1 Near Mint/Mint
MARS ATTACKS THE IMAGE UNIVERSE (1996) #2 Very Fine
MARS ATTACKS THE IMAGE UNIVERSE (1996) #3 Near Mint/Mint
MARS ATTACKS THE IMAGE UNIVERSE (1996) #4 Near Mint/Mint

SPAWN (1992) #280 A ALEXANDE Near Mint/Mint
SPAWN (1992) #297 A MATTINA Near Mint/Mint

SPAWN KILLS EVERYONE 2 (2018) #2 A MCFARLAN Near Mint/Mint
SPAWN KILLS EVERYONE 2 (2018) #4 A MCFARLAN Near Mint/Mint

INDEPENDENTS
BONE (1991) (#1-55) (CARTOON BOOKS) #23 (Cartoon Books) Near Mint/Mint

DANGER GIRL: MAY DAY (2014) #1 (IDW Publishing) Near Mint/Mint
DANGER GIRL: MAY DAY (2014) #2 (IDW Publishing) Near Mint/Mint
DANGER GIRL: MAY DAY (2014) #3 (IDW Publishing) Near Mint/Mint
DANGER GIRL: MAY DAY (2014) #4 (IDW Publishing) Near Mint/Mint

DANGER GIRL: RENEGADE (2015) #1 (IDW Publishing) Near Mint/Mint


DANGER GIRL: RENEGADE (2015) #2

DANGER GIRL: RENEGADE (2015) #2 (IDW Publishing) Near Mint/Mint

DREDD: UPRISE (2014) #1 (Rebellion) Near Mint/Mint

EMPIRE: UPRISING (2015) #1 (IDW Publishing) Near Mint/Mint
EMPIRE: UPRISING (2015) #2 (IDW Publishing) Near Mint/Mint
EMPIRE: UPRISING (2015) #3 (IDW Publishing) Near Mint/Mint
EMPIRE: UPRISING (2015) #4 (IDW Publishing) Near Mint/Mint

FIREARM (1993) #17 (Marvel Malibu/Ultraverse) Very Fine

FRANKENSTEIN ALIVE, ALIVE (2012) #3 (IDW Publishing) Near Mint/Mint

GI JOE (2013) (#1-15) (VOL.3) (IDW Publishing) #13 (IDW Publishing) Near Mint/Mint
GI JOE (2013) (#1-15) (VOL.3) (IDW Publishing) #14 (IDW Publishing) Near Mint/Mint
GI JOE (2013) (#1-15) (VOL.3) (IDW Publishing) #15 (IDW Publishing) Near Mint/Mint

GI JOE (2014) (#1-8) (VOL. 4) (IDW Publishing) #1 (IDW Publishing) Near Mint/Mint
GI JOE (2014) (#1-8) (VOL. 4) (IDW Publishing) #2 (IDW Publishing) Near Mint/Mint
GI JOE (2014) (#1-8) (VOL. 4) (IDW Publishing) #3 (IDW Publishing) Near Mint/Mint
GI JOE (2014) (#1-8) (VOL. 4) (IDW Publishing) #4 (IDW Publishing) Near Mint/Mint
GI JOE (2014) (#1-8) (VOL. 4) (IDW Publishing) #5 (IDW Publishing) Near Mint/Mint
GI JOE (2014) (#1-8) (VOL. 4) (IDW Publishing) #6 (IDW Publishing) Near Mint/Mint
GI JOE (2014) (#1-8) (VOL. 4) (IDW Publishing) #7 (IDW Publishing) Near Mint/Mint
GI JOE (2014) (#1-8) (VOL. 4) (IDW Publishing) #8 (IDW Publishing) Near Mint/Mint

GI JOE: COBRA WORLD ORDER PRELUDE (2015) #1 (IDW Publishing) Near Mint/Mint

GI JOE: SNAKE EYES - AGENT OF COBRA (2015) #1 (IDW Publishing) Very Fine
GI JOE: SNAKE EYES - AGENT OF COBRA (2015) #2 (IDW Publishing) Near Mint/Mint
GI JOE: SNAKE EYES - AGENT OF COBRA (2015) #3 (IDW Publishing) Near Mint/Mint
GI JOE: SNAKE EYES - AGENT OF COBRA (2015) #4 SUBSCRIPT (IDW Publishing) Near Mint/Mint
GI JOE: SNAKE EYES - AGENT OF COBRA (2015) #5 SUBSCRIPT (IDW Publishing) Near Mint/Mint

GI JOE: SPECIAL MISSIONS (2013) #11 A (IDW Publishing) Near Mint/Mint
GI JOE: SPECIAL MISSIONS (2013) #12 A (IDW Publishing) Very Fine


GI JOE: SPECIAL MISSIONS (2013) #13 A

GI JOE: SPECIAL MISSIONS (2013) #13 A (IDW Publishing) Near Mint/Mint
GI JOE: SPECIAL MISSIONS (2013) #14 B (IDW Publishing) Very Fine

GODWHEEL (1994) #1 (Marvel Malibu/Ultraverse) Near Mint/Mint

HARDCASE (1993) #24 (Marvel Malibu/Ultraverse) Near Mint/Mint
HARDCASE (1993) #25 (Marvel Malibu/Ultraverse) Near Mint/Mint

INDEPENDENT VOICES (1998) #3 (Peregrine Arts & Entertainment) Very Fine

INSUFFERABLE (2015) #1 (IDW Publishing) Very Fine
INSUFFERABLE (2015) #2 (IDW Publishing) Near Mint/Mint
INSUFFERABLE (2015) #3 SUBSCRIPT (IDW Publishing) Near Mint/Mint
INSUFFERABLE (2015) #4 (IDW Publishing) Near Mint/Mint
INSUFFERABLE (2015) #5 (IDW Publishing) Near Mint/Mint
INSUFFERABLE (2015) #8 (IDW Publishing) Near Mint/Mint

JERICHO: SEASON 4 (2012) #5 B (IDW Publishing) Near Mint/Mint

JONTAR (1986) #3 (MATURE MAGIC PUBLICATIONS) Fine
JONTAR (1986) #3 (MATURE MAGIC PUBLICATIONS) Very Fine

JUDGE DREDD (2012) (#1-30) (IDW Publishing) #15 (IDW Publishing) Near Mint/Mint
JUDGE DREDD (2012) (#1-30) (IDW Publishing) #16 SUBSCRIPT (IDW Publishing) Very Fine
JUDGE DREDD (2012) (#1-30) (IDW Publishing) #17 SUBSCRIPT (IDW Publishing) Very Fine
JUDGE DREDD (2012) (#1-30) (IDW Publishing) #18 (IDW Publishing) Near Mint/Mint
JUDGE DREDD (2012) (#1-30) (IDW Publishing) #19 SUBSCRIPT (IDW Publishing) Near Mint/Mint
JUDGE DREDD (2012) (#1-30) (IDW Publishing) #20 SUBSCRIPT (IDW Publishing) Very Fine
JUDGE DREDD (2012) (#1-30) (IDW Publishing) #21 (IDW Publishing) Near Mint/Mint
JUDGE DREDD (2012) (#1-30) (IDW Publishing) #22 (IDW Publishing) Near Mint/Mint
JUDGE DREDD (2012) (#1-30) (IDW Publishing) #23 (IDW Publishing) Near Mint/Mint
JUDGE DREDD (2012) (#1-30) (IDW Publishing) #24 SUBSCRIPT (IDW Publishing) Near Mint/Mint
JUDGE DREDD (2012) (#1-30) (IDW Publishing) #25 (IDW Publishing) Near Mint/Mint
JUDGE DREDD (2012) (#1-30) (IDW Publishing) #26 SUBSCRIPT (IDW Publishing) Near Mint/Mint
JUDGE DREDD (2012) (#1-30) (IDW Publishing) #27 (IDW Publishing) Near Mint/Mint


JUDGE DREDD (2012) (#1-30) (IDW Publishing) #28

JUDGE DREDD (2012) (#1-30) (IDW Publishing) #28 (IDW Publishing) Near Mint/Mint
JUDGE DREDD (2012) (#1-30) (IDW Publishing) #29 SUBSCRIPT (IDW Publishing) Near Mint/Mint
JUDGE DREDD (2012) (#1-30) (IDW Publishing) #30 SUBSCRIPT (IDW Publishing) Near Mint/Mint

JUDGE DREDD (IDW Publishing) (2015) #1 (IDW Publishing) Near Mint/Mint

JUDGE DREDD: ANDERSON, PSI-DIVISION (2014) #1 SUBSCRIPT (IDW Publishing) Near Mint/Mint
JUDGE DREDD: ANDERSON, PSI-DIVISION (2014) #2 (IDW Publishing) Very Fine
JUDGE DREDD: ANDERSON, PSI-DIVISION (2014) #4 (IDW Publishing) Near Mint/Mint

JUDGE DREDD: MEGA-CITY TWO (2013) #2 SUBSCRIPT (IDW Publishing) Near Mint/Mint
JUDGE DREDD: MEGA-CITY TWO (2013) #3 SUBSCRIPT (IDW Publishing) Near Mint/Mint
JUDGE DREDD: MEGA-CITY TWO (2013) #4 (IDW Publishing) Near Mint/Mint
JUDGE DREDD: MEGA-CITY TWO (2013) #5 (IDW Publishing) Very Fine

KONG ON THE PLANET OF THE APES (2017) #5 (Boom Studios Publishing) Near Mint/Mint

LEGEND OF THE SAGE (2001) #2 LIMITED (Chaos Comics) Near Mint/Mint

MARS ATTACKS (1995) (#1-7) (TOPPS) #1 (Topps Publishing) Near Mint/Mint
MARS ATTACKS (1995) (#1-7) (TOPPS) #2 (Topps Publishing) Near Mint/Mint
MARS ATTACKS (1995) (#1-7) (TOPPS) #3 (Topps Publishing) Very Fine
MARS ATTACKS (1995) (#1-7) (TOPPS) #4 (Topps Publishing) Near Mint/Mint
MARS ATTACKS (1995) (#1-7) (TOPPS) #5 (Topps Publishing) Near Mint/Mint
MARS ATTACKS (1995) (#1-7) (TOPPS) #6 (Topps Publishing) Near Mint/Mint
MARS ATTACKS (1995) (#1-7) (TOPPS) #7 (Topps Publishing) Near Mint/Mint

MARS ATTACKS JUDGE DREDD (2013) #3 (IDW Publishing) Near Mint/Mint
MARS ATTACKS JUDGE DREDD (2013) #4 (IDW Publishing) Near Mint/Mint

NEW ADVENTURES OF SPEED RACER #0 (Now Comics) Very Fine

NEXT MEN (2010) #2 (IDW Publishing) Near Mint/Mint
NEXT MEN (2010) #7 (IDW Publishing) Near Mint/Mint
NEXT MEN (2010) #40 (IDW Publishing) Near Mint/Mint
NEXT MEN (2010) #43 (IDW Publishing) Near Mint/Mint

NEXT MEN (2010) #43 (IDW Publishing) Fine

ORPHAN BLACK (2015) #1 SUBSCRIPT (IDW Publishing) Near Mint/Mint
ORPHAN BLACK (2015) #2 SUBSCRIPT (IDW Publishing) Near Mint/Mint
ORPHAN BLACK (2015) #3 SUBSCRIPT (IDW Publishing) Near Mint/Mint
ORPHAN BLACK (2015) #4 (IDW Publishing) Near Mint/Mint
ORPHAN BLACK (2015) #5 SUBSCRIPT (IDW Publishing) Near Mint/Mint

ORPHAN BLACK: HELSINKI (2015) #1 (IDW Publishing) Near Mint/Mint

RAGNAROK (2014) #1 (IDW Publishing) Near Mint/Mint
RAGNAROK (2014) #2 (IDW Publishing) Near Mint/Mint
RAGNAROK (2014) #3 (IDW Publishing) Near Mint/Mint
RAGNAROK (2014) #4 SUBSCRIPT (IDW Publishing) Near Mint/Mint
RAGNAROK (2014) #5 (IDW Publishing) Near Mint/Mint
RAGNAROK (2014) #6 SUBSCRIPT (IDW Publishing) Near Mint/Mint

RICK & MORTY (2015) #39 (Oni Press Inc.) Near Mint/Mint

RICK & MORTY PRESENTS KROMBOPULOUS MICHAEL (2018) #1 A FILARDI (Oni Press Inc.) Near Mint/Mint
RICK & MORTY PRESENTS KROMBOPULOUS MICHAEL (2018) #1 B MACLEAN (Oni Press Inc.) Near Mint/Mint

ROGUE TROOPER (IDW Publishing) (2014) #1 SUBSCRIPT (IDW Publishing) Near Mint/Mint
ROGUE TROOPER (IDW Publishing) (2014) #2 (IDW Publishing) Near Mint/Mint
ROGUE TROOPER (IDW Publishing) (2014) #4 (IDW Publishing) Very Fine

SIMPSONS COMICS (BONGO) (1993) #244 (Bongo Comics) Near Mint/Mint

STAR TREK (2011) (#1-60) (IDW Publishing) #29 SUBSCRIPT (IDW Publishing) Near Mint/Mint
STAR TREK (2011) (#1-60) (IDW Publishing) #30 SUBSCRIPT (IDW Publishing) Near Mint/Mint
STAR TREK (2011) (#1-60) (IDW Publishing) #31 (IDW Publishing) Near Mint/Mint
STAR TREK (2011) (#1-60) (IDW Publishing) #32 (IDW Publishing) Near Mint/Mint
STAR TREK (2011) (#1-60) (IDW Publishing) #33 (IDW Publishing) Near Mint/Mint
STAR TREK (2011) (#1-60) (IDW Publishing) #34 (IDW Publishing) Near Mint/Mint
STAR TREK (2011) (#1-60) (IDW Publishing) #35 (IDW Publishing) Near Mint/Mint
STAR TREK (2011) (#1-60) (IDW Publishing) #36 (IDW Publishing) Near Mint/Mint


STAR TREK (2011) (#1-60) (IDW Publishing) #37

STAR TREK (2011) (#1-60) (IDW Publishing) #37 (IDW Publishing) Near Mint/Mint
STAR TREK (2011) (#1-60) (IDW Publishing) #38 (IDW Publishing) Near Mint/Mint
STAR TREK (2011) (#1-60) (IDW Publishing) #39 (IDW Publishing) Near Mint/Mint
STAR TREK (2011) (#1-60) (IDW Publishing) #40 (IDW Publishing) Near Mint/Mint
STAR TREK (2011) (#1-60) (IDW Publishing) #41 (IDW Publishing) Near Mint/Mint
STAR TREK (2011) (#1-60) (IDW Publishing) #42 (IDW Publishing) Near Mint/Mint
STAR TREK (2011) (#1-60) (IDW Publishing) #43 (IDW Publishing) Near Mint/Mint
STAR TREK (2011) (#1-60) (IDW Publishing) #44 (IDW Publishing) Near Mint/Mint
STAR TREK (2011) (#1-60) (IDW Publishing) #45 (IDW Publishing) Near Mint/Mint
STAR TREK (2011) (#1-60) (IDW Publishing) #46 (IDW Publishing) Near Mint/Mint
STAR TREK (2011) (#1-60) (IDW Publishing) #47 (IDW Publishing) Near Mint/Mint
STAR TREK (2011) (#1-60) (IDW Publishing) #48 (IDW Publishing) Near Mint/Mint
STAR TREK (2011) (#1-60) (IDW Publishing) #49 SUBSCRIPT (IDW Publishing) Near Mint/Mint
STAR TREK (2011) (#1-60) (IDW Publishing) #50 (IDW Publishing) Near Mint/Mint

STAR VS. THE FORCES OF EVIL (2016) #3 (Joe Books) Near Mint/Mint

STEAM WARS: BOUNTY HUNTERS - HELL FOR HIRE ONE-SHOT (2016) #1 (Antarctic Press) Very Fine

STRANGERS IN PARADISE POCKET TPB (2004) #2 (Abstract Studio) Near Mint/Mint

UNCLE SCROOGE (2015) #37 A ALVAREZ (IDW Publishing) Near Mint/Mint

VAMPRESS LUXURA (1996) #1 GOLD SIGN (Brainstorm Comics) Near Mint/Mint