Local News - 50% Off Back Issue Comics and Magazines + Poker + Auction
Howdy!
I want to begin today by thanking everyone who responded so positively to my announcement in Tuesday's newsletter that we are creating huge comics cover reproductions for the outside of our Jason St. Mega-Store. This is my personal project, so I am very grateful for your kind support of my effort to beautify our store. Our first huge cover (SUPERMAN #1) is on already on order, and if all goes well, will be installed next Friday.
The reason why I am shooting to get our first cover up by next Friday is that the Saturday following, October 28th, will be an incredibly fun-filled day at Jason St. We will start off that day at 10 AM by giving away free HALLOWEENFEST! comics to everyone who visits the store. At 11 AM, our monthly Texas Hold'em poker tournament begins, and at noon, I will commence an auction of 500+ comics, toys, statues, posters, and other collectibles. No matter what your interests, we will have fun waiting for you!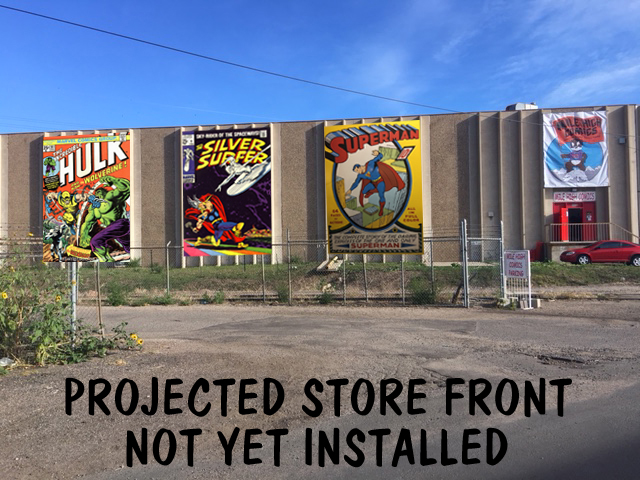 Projected Store Front
NOT YET INSTALLED

So you know, all of the proceeds from our comics and toy auction on the 28th will be dedicated to helping us to pay for those huge comic book covers that we have planned for the outside of Jason St. While the photoshopped image above helps to illustrate what the outside of our building will look like with three covers installed, the front wall is actually long enough for eight covers, so it will look beyond incredible when all eight are in place. My wife, Nanette, (who pays our company bills...) has made it clear to me, however, that I will need to generate the cost of this project outside of her usual cash flows, so that is why I am going to be extremely generous during next Saturday's auction. Just saying...
I will close by quickly mentioning that we currently have a 50% off HALLOWEEN back issues sale in effect for you at all of our stores, but most especially Jason St. This annual sale does not apply to new issues, a few variants and blue sticker comics, and to our professionally graded issues. It does, however, apply to all ten million back issue comics and magazines that are listed for you on our website, including almost any back issue you might be seeking from our Jason St. "Help Desk."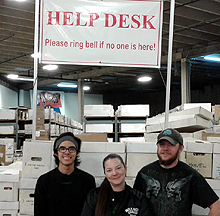 Some of our Help Desk helpers
Nico, Kandis, and Josh.

On a side note, we have been purchasing tens of thousands of great back issues over the last 90 days, so our comics and magazine selection at Jason St. has simply never been better. Many of these scarce back issues are one-of-a-kind, however, so if you are working to fill in some holes in your collection, this weekend might be a good time to visit. The sale will continue through Halloween, but I have a feeling that the actual holiday weekend will be insanely busy. Stop by this weekend, and things should be far more mellow.
Happy collecting!
Chuck Rozanski,
President - Mile High Comics, Inc.
October 19, 2017

P.S. Below are cover images of the limited edition 2017 HALLOWEENFEST! variants. We will be giving three free to anyone who visits our stores, plus another 3 free to anyone visiting in costume. Free HALLOWEENFEST varaints will be availabe at all three of our stores.