60% Off Comics Sale Ending
Howdy!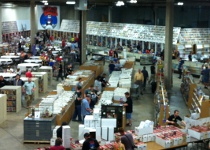 Jason St. Mega-Store
expanded comics area

I want to start off today by letting you know that our 60% off HELPHEAL benefit sale for the Aurora, Colorado shooting victims will be ending this Friday, at noon. Another codeword sale will be starting on Friday, but I have yet to determine the parameters. Suffice it to say, however, that if you wish for us to donate 10% of the net of any back comics order that you place with us to the GivingFirst.org Fund, you only have a couple of days left to contribute. The 60% off HELPHEAL sale applies to all back issue comics and magazines listed on our website, excepting only new issues and CGG-graded issues. Our trade paperbacks and books are also on sale for you right on the website, but the codeword does not apply. We will, however, also donate 10% of the net of book purchases to the GivingFirst.org Fund if you mention HELPHEAL in the "notes" section of our online order form.


In other news, the milehighcomics.com website is available to you today, and running just fine! That seemingly mundane announcement actually allows all of us who work here to breathe a sigh of relief this morning. To explain, we had a massive program run over the weekend that renumbered all of the million+ comics, books, and magazines that we offer you in our immense database. We had to do this upgrade because we have been doing such a good job of expanding the diversity of what we offer you, that we actually exceeded the internal design specifications of our primary software coding. We had this same issue arise several years ago, at which time our entire system crashed during the renumbering. Thanks to our successfully having renumbered over this past weekend, however, we now have room in our database to add many more titles, issue numbers, and rare variant editions for you. Hooray!


Our renumbering program was not the only effort that went well for us this weekend, as our 5-hour Jason St. Mega-Store sale that we held on Saturday was our most successful, ever. Today marks the one year anniversary of our having begun moving into our incredible new 65,000 square foot building, and I have to confess that my perception of our facility has completely changed over the past twelve months. What was originally intended to be primarily a huge warehouse meant to hold all of our overstock comics and our books (with a small retail component), has instead evolved into what is now the single largest comic book store in the world.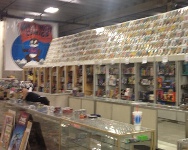 Statues and Action Figures

This change in focus at Jason St. is critically important for everyone who shops with Mile High Comics, as it has allowed us to accomplish goals for all of you that we never even considered when we first purchased that building. As a case in point, we now have over 100,000 near mint Marvel, DC, Dark Horse, Image, and Small Press/Independent comics for sale in Jason St. that are not included as apart of our website inventory. Our keeping an incredible offline comics inventory at Jason St. may seem at first to be detrimental to the interests of our online shoppers, but it actually helps us a great deal in providing those of you who shop on our website with better service.


To explain, we are buying huge collections of great older comics and magazines right now at unprecedented pace, specifically to help to expand our Mega-Store inventory. Since we do, however, periodically strip Jason of any issues that are completely out-of-stock on our website, our seeking to expand the diversity of what we can offer our visitors at Jason St., also helps us greatly in improving what we can offer you on our website. As a case in point, we will be stripping from Jason St. this week thousands of comics that we originally sorted and graded for our annual San Diego Comic-Con exhibition. Those comics will flood our New-In-Stock and Premium New-In Stock listings with thousands of previously out-of-stock issues! We will follow up that San Diego effort with our grading yet another gigantic collection for you next week, many thousands of which will also end up adding to what we can offer you on our website.


The second great benefit of our having a massive inventory of high grade back issue comics available at Jason St., is that we now have a back-up for those instances where we are out-of-stock on any given back issue, either due to an internal error, or because two fans request the same scarce back issue comic, magazine, or book, on the exact same day. Only by our now having a gigantic duplicate stock available to us that is not online, have we now been able to (mostly) resolve what was previously an infrequent, but still quite vexing, customer service issue.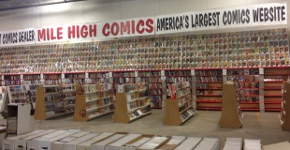 Books and Graphic Novels

What is critical to this discussion of Jason St. is that none of these added benefits that we can now offer to those of you who shop with us online would ever have been possible without our having been fortunate enough to have purchased this wonderful building a year ago today. Simply put, it requires so much physical room to stock such a massive back issue comics inventory, that it can no longer be done in a traditional comics shop. By operating our new Mega-Store out of a vast warehouse facility that we already very much needed for our online business, however, we have the luxury of having 35,000 square feet of space available to us. Recognizing that amazing opportunity is specifically why we evolved our Jason St. business plan in mid-stream, with our ending up building the largest comics retail shop in the world, in just nine months.


So where are we headed now? First off, I am encouraging our staff to redouble our efforts to offer all of you as many great back issue comics, magazines, and books, at the lowest possible prices. Aside from harvesting as many rare issues as possible from Jason St., I have Pam (pamb@milehighcomics.com) seeking to buy more collections via fans who shop with us online, while my assistant, Ashley is looking for collections for us on the West Coast (she is currently visiting San Francisco...). I am also personally available to travel to purchase private comics collections anywhere in the country, if you have a collection of substantial size, or quality. So you know, I am especially seeking pre-1980 comics and magazines, of any kind. If you have a great collection you want to offer me, you can contact me directly at chuck@milehighcomics.com. I will be attending several Pueblo Indian dances and pottery events during early August, but I can always work around those events to view great comics.


I wish that I could provide you with even more insights today, but this newsletter is already too long, so I will defer covering other topics until Wednesday's newsletter. Please do keep in mind, however, that the 60% off HELPHEAL codeword ends in just four days. 'Nuff said.


Happy Collecting!

Chuck Rozanski,
President - Mile High Comics, Inc.
July 30, 2012
Advance Previews
of next weeks comics from
Archie Comics

Click here to view all of the Premium New-In-Stock


Click here to view all of the New In Stock


Click here to view all of the recently added Trade Paperbacks and HardCovers