40% Off SUMMERTIME! All Back Issue Comics and Magazines
Howdy!
I am back in Denver today, overseeing our fulfillment team that is working to ship all of the orders that we have received. With a full week in front of us, and the addition of a couple of staff members from our inventory department, I think that we are going to make some excellent progress this week in reducing our order backlog. I truly like it when everything is clicking along so smoothly...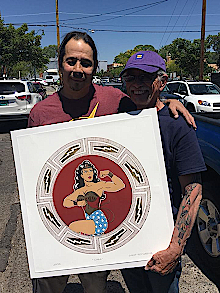 Diego Romero and Chuck with Wonder Woman Litho.

In other news, I received a very cool Golden Age WONDER WOMAN lithograph as a gift while I was in Santa Fe. Drawn by my dear friend Diego Romero, he exhibits an incredible level of energy. If you look closely, I hope that you can see in the image some of the abundant gold ink that was applied in order to make the image even more dynamic. Diego will have a couple of these lithos for sale at this year's Indian Market in Santa Fe at $1,000 each. That may seem a bit pricy, but Diego is the only living Pueblo artist with work on display at both the British Museum and the Smithsonian. Diego's WONDER WOMAN bowls sell for $10,000 - $15,000 each!
My only other topic today is a reminder that our annual 40% off SUMMERTIME! back issues sale is in full swing for you right now. You can purchase any of our ten million back issue comics and magazines right now at 40% off, excepting only new issues, a few variants, and our professionally-graded issues. You can also receive free shipping on Domestic comics orders over $50, and International orders over $125. Please do note, however, that our free shipping minimums will be rising next week to $60/$150. Orders placed this week, however, are still at the old minimums.
Happy collecting!
Chuck Rozanski,
President - Mile High Comics, Inc.
June 4, 2018

P.S. An amazing breadth of great older comics continue to walk into Jason St. Below is a listing of just a few of our recent acquisitions. Go to Premium New-In-Stock to see the complete listing...
MARVEL

AKIRA (MARVEL) (1988) #1 NEWSSTAND

AKIRA (MARVEL) (1988) #1 NEWSSTAND Near Mint/Mint

AMAZING SPIDER-MAN (2017) (#789-UP) (MARVEL LEGACY) (2017) #794 Near Mint/Mint

CIVIL WAR: X-MEN (2006) #4 Near Mint/Mint

CLASSIC X-MEN (1986) #97 Near Mint/Mint
CLASSIC X-MEN (1986) #97 Very Fine

HOUSE OF M: AVENGERS (2007) #3 Near Mint/Mint

JLA/AVENGERS (AVENGERS/JLA) (2003) #2 Near Mint/Mint

SECRET WARRIORS (2009) (#1-28) (MARVEL) #11 Very Fine

STAR WARS (2015) (#1-UP) (MARVEL) #1 FAN EXPO Near Mint/Mint

THOR (2007) (#1-12, 600-621) (MARVEL) #5 VARIANT Near Mint/Mint
THOR (2007) (#1-12, 600-621) (MARVEL) #5 VARIANT Fine

X-MEN (1963) (#1-113, UNCANNY X-MEN #114-544) (MARVEL) #345 Near Mint/Mint
X-MEN (1963) (#1-113, UNCANNY X-MEN #114-544) (MARVEL) #360 Near Mint/Mint

X-MEN (1991) (#1-275) (MARVEL) #40 DELUXE Fine
X-MEN (1991) (#1-275) (MARVEL) #196 Near Mint/Mint
X-MEN (1991) (#1-275) (MARVEL) #196 Very Fine
X-MEN (1991) (#1-275) (MARVEL) #197 Near Mint/Mint


X-MEN (1991) (#1-275) (MARVEL) #197

X-MEN (1991) (#1-275) (MARVEL) #197 Very Fine

DC
BATMAN: I, JOKER (BOB HALL) (ELSEWORLDS) (PRESTIGE) (1998) #1 Near Mint/Mint

BLOOD OF THE DEMON (2005) #17 Near Mint/Mint

DARK NIGHTS: METAL (2017) #2 Very Fine

DETECTIVE COMICS (1937) (#0-881) (DC) #575 Fine
DETECTIVE COMICS (1937) (#0-881) (DC) #576 Very Fine
DETECTIVE COMICS (1937) (#0-881) (DC) #577 Very Fine
DETECTIVE COMICS (1937) (#0-881) (DC) #578 Very Fine
DETECTIVE COMICS (1937) (#0-881) (DC) #604 NEWSSTAND Very Fine

DOOMSDAY CLOCK (2017) #1 Near Mint/Mint

GREEN LANTERN (1960) (#1-224) (DC) #108 Fine
GREEN LANTERN (1960) (#1-224) (DC) #110 Fine

HELLBLAZER (1988) (#1-300) (DC VERTIGO) #146 (DC: Vertigo Press) Near Mint/Mint
HELLBLAZER (1988) (#1-300) (DC VERTIGO) #147 (DC: Vertigo Press) Near Mint/Mint
HELLBLAZER (1988) (#1-300) (DC VERTIGO) #148 (DC: Vertigo Press) Near Mint/Mint
HELLBLAZER (1988) (#1-300) (DC VERTIGO) #149 (DC: Vertigo Press) Fine
HELLBLAZER (1988) (#1-300) (DC VERTIGO) #150 (DC: Vertigo Press) Near Mint/Mint

KAMANDI (1972) #2 JEWELERS Good

NIGHTWING (2016) (#1-UP) (DC REBIRTH) #29 VARIANT Very Fine

NIGHTWING ANNUAL (2013) #1 Near Mint/Mint

RED ROBIN (2009) #2 Near Mint/Mint

SUPERMAN (1986) (#0-226, #650-714) (DC) #189 Fine
SUPERMAN (1986) (#0-226, #650-714) (DC) #189 Near Mint/Mint

Y-THE LAST MAN (2002) #50 (DC: Vertigo Press) Near Mint/Mint

DARK HORSE COMICS
ALIENS: ALCHEMY (DARK HORSE) (CORBEN) (1997) #3 Near Mint/Mint

STAR WARS: DARK TIMES (2006) #8 Near Mint/Mint

STAR WARS: KNIGHTS OF THE OLD REPUBLIC (2005) #26 Near Mint/Mint
STAR WARS: KNIGHTS OF THE OLD REPUBLIC (2005) #26 Fine
STAR WARS: KNIGHTS OF THE OLD REPUBLIC (2005) #26 Very Fine
STAR WARS: KNIGHTS OF THE OLD REPUBLIC (2005) #28 Fine

STAR WARS: LEGACY (2006) #21 Near Mint/Mint
STAR WARS: LEGACY (2006) #23 Fine
STAR WARS: LEGACY (2006) #25 Fine
STAR WARS: LEGACY (2006) #25 Near Mint/Mint
STAR WARS: LEGACY (2006) #25 Very Fine

STAR WARS: LEGACY (2006) #28 Fine
STAR WARS: LEGACY (2006) #28 Near Mint/Mint

IMAGE COMICS
AMORY WARS (IMAGE) (2007) #1 Near Mint/Mint

OBLIVION SONG (KIRKMAN & DE FELICI) (2018) #1 PINK Near Mint/Mint

SPAWN (1992) #266 C LARSEB&W Near Mint/Mint

SPAWN KILLS EVERYONE ONE-SHOT (2016) #1 A MCFARLAN Near Mint/Mint

INDEPENDENTS
AP CHILLERS (ANTARCTIC) (2003) #1 (Antarctic Press) Near Mint/Mint

ARMY OF DARKNESS: LONG ROAD HOME (DYNAMITE) (2008) #10 SEJIC (DYNAMITE Entertainment) Fine

BARTMAN (BONGO) (SIMPSONS) (1993) #1 (Bongo Comics) Near Mint/Mint

CHEETA POP (1995) #1 (Eros Comix (Fantagraphics)) Near Mint/Mint
CHEETA POP (1995) #1 (Eros Comix (Fantagraphics)) Very Fine
CHEETA POP (1995) #2 (Eros Comix (Fantagraphics)) Near Mint/Mint
CHEETA POP (1995) #2 (Eros Comix (Fantagraphics)) Very Fine
CHEETA POP (1995) #3 (Eros Comix (Fantagraphics)) Very Fine

FUTURAMA COMICS (2000) #1 (Bongo Comics) Near Mint/Mint

HI-HORSE (2002) #2 (Hi Horse) Fine
HI-HORSE (2002) #2 (Hi Horse) Very Fine
HI-HORSE (2002) #4 (Hi Horse) Fine


HOT NIGHTS IN RANGOON (1994) #2

HOT NIGHTS IN RANGOON (1994) #2 (Eros Comix (Fantagraphics)) Fine
HOT NIGHTS IN RANGOON (1994) #3 (Eros Comix (Fantagraphics)) Fine

HOUSE OF TWELVE VER. 2.0 (2003) #1 (House Of Twelve) Near Mint/Mint

INFAMOUS CHARLIE SHEEN ONE-SHOT (2011) #1 (Blue Water Comics) Near Mint/Mint

ODDGOD ANTHOLOGY (2002) #1 (ODDGOD PRESS) Near Mint/Mint
ODDGOD ANTHOLOGY (2002) #1 (ODDGOD PRESS) Fine
ODDGOD ANTHOLOGY (2002) #1 (ODDGOD PRESS) Very Fine

OH MY (2002) #1 (Ironcat) Near Mint/Mint
OH MY (2002) #1 (Ironcat) Very Fine

ORIENT SEXPRESS (2002) #1 (Eros Comix (Fantagraphics)) Near Mint/Mint
ORIENT SEXPRESS (2002) #1 (Eros Comix (Fantagraphics)) Very Fine

ORIGINAL MAN #1 (Omega 7 Comics) Fine

STAR TREK: NEW FRONTIER (2008) #1 INC A (IDW Publishing) Near Mint/Mint

STAR TREK: NEW VISIONS - A SCENT OF GHOSTS (2015) #1 (IDW Publishing) Near Mint/Mint


TALES OF TEENAGE MUTANT NINJA TURTLES (#1-70) (MIRAGE) (2004) #43

TALES OF TEENAGE MUTANT NINJA TURTLES (#1-70) (MIRAGE) (2004) #43 (Mirage Studios) Near Mint/Mint
TALES OF TEENAGE MUTANT NINJA TURTLES (#1-70) (MIRAGE) (2004) #44 (Mirage Studios) Near Mint/Mint
TALES OF TEENAGE MUTANT NINJA TURTLES (#1-70) (MIRAGE) (2004) #46 (Mirage Studios) Very Fine