10,000+ Comics Trade Paperbacks and Hardbacks Arriving From Lakewood
Howdy!
I do not mean to be repetitious, but life is really going rather well here at Mile High Comics. That is not to say that we are not crazy busy, as almost all of us feel like we are pinballs rocketing from one task to another from pretty much the minute we arrive in the morning, until we finally turn off the lights. While our frenetic pace is sometimes difficult to handle, the vast progress that we are making is clearly evident to everyone visiting Jason St., and most especially to fans who have not been here for a couple of months. If you have yet to visit us, you really need to put a stop at Jason St. on your personal bucket list. You'll be glad that you did!
In case you are wondering, my biggest effort for the next week is going to be moving fifty tons of books, comics, and fixtures out of our Lakewood, Colorado retail store. Our pernicious new landlords (who raised our rent to over $10,000.00 per month...) offered us a deal to escape our crushing lease obligations 15 months early, and we jumped at that opportunity to finally escape their clutches. So you know, our Lakewood store had been actually been our most successful store for over 20 years, but times have changed in the comics biz, and definitely not for the better. Declining sales, coupled with rising rents, meant that the time had finally come to pull the plug on the Lakewood store. I'm definitely not happy about it, but my survival for 49 years in the comics world has been predicated upon my willingness to be pragmatic, and to let go when necessary. Our last day in Lakewood will be Sunday, the 31st.
With the Lakewood location shut down, only our online operations and our gigantic Jason St. Mega-Store will remain. That is fine by me, as it will mark the first time in over 30 years that our entire Mile High Comics staff will be working under the same roof. The addition of Lakewood's remarkably large inventory of old comics and their 10,000+ new trades and hardbacks will also help us to prepare for this year's incredible Free Comic Book Day, which is coming up on May 4th. If life gives you lemons, make lemonade!
On a side note, I did want you to see a little project that I am working in right now to put away the approximately 500,000 back issues that have accumulated in the back of Jason St. just since last year. The shelf units that I am working on filling in this photo hold approximately 100,000 comics per side...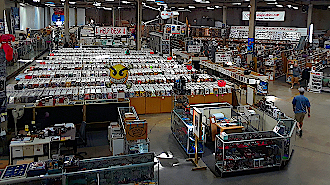 Inside the Jason Street Mega Store

My only other news note for today is a reminder that our annual 60% off SPRINGBREAK! codeword sale is still in effect for you on all ten million+ of our back issue comics and magazines. Only our new issues, a few variants, and our professionally-graded comics are excluded from this ridiculously generous sale. Please take advantage of these great 60% off discounts while you still can, as we are about to enter our busiest season of the year...
Happy collecting!
Chuck Rozanski,
President - Mile High Comics, Inc.
March 18, 2019
P.S. Below are even more new acquisitions. All are available to you right now at 60% when you use the SPRINGBREAK! codeword. We are buying truly remarkable numbers of great comics these days...
MARVEL

AVENGERS (1963) (#1-402) (MARVEL) #51

AVENGERS (1963) (#1-402) (MARVEL) #51 Fair
AVENGERS (1963) (#1-402) (MARVEL) #56 Very Good
AVENGERS (1963) (#1-402) (MARVEL) #61 Very Good
AVENGERS (1963) (#1-402) (MARVEL) #63 Good
AVENGERS (1963) (#1-402) (MARVEL) #67 Good
AVENGERS (1963) (#1-402) (MARVEL) #68 Fine
AVENGERS (1963) (#1-402) (MARVEL) #70 Very Good
AVENGERS (1963) (#1-402) (MARVEL) #78 Fine
AVENGERS (1963) (#1-402) (MARVEL) #79 Fine
AVENGERS (1963) (#1-402) (MARVEL) #80 Very Good
AVENGERS (1963) (#1-402) (MARVEL) #84 Good
AVENGERS (1963) (#1-402) (MARVEL) #86 Very Good

DAREDEVIL (1964) (#1-380) (MAN WITHOUT FEAR) (MARVEL) #159 Very Good
DAREDEVIL (1964) (#1-380) (MAN WITHOUT FEAR) (MARVEL) #160 NEWSSTAND Very Good
DAREDEVIL (1964) (#1-380) (MAN WITHOUT FEAR) (MARVEL) #161 NEWSSTAND Good
DAREDEVIL (1964) (#1-380) (MAN WITHOUT FEAR) (MARVEL) #162 Fine
DAREDEVIL (1964) (#1-380) (MAN WITHOUT FEAR) (MARVEL) #163 NEWSSTAND Very Good
DAREDEVIL (1964) (#1-380) (MAN WITHOUT FEAR) (MARVEL) #164 NEWSSTAND Very Good
DAREDEVIL (1964) (#1-380) (MAN WITHOUT FEAR) (MARVEL) #165 NEWSSTAND Very Good
DAREDEVIL (1964) (#1-380) (MAN WITHOUT FEAR) (MARVEL) #166 NEWSSTAND Very Good
DAREDEVIL (1964) (#1-380) (MAN WITHOUT FEAR) (MARVEL) #169 NEWSSTAND Fine


DAREDEVIL (1964) (#1-380) (MAN WITHOUT FEAR) (MARVEL) #170 NEWSSTAND

DAREDEVIL (1964) (#1-380) (MAN WITHOUT FEAR) (MARVEL) #170 NEWSSTAND Fine
DAREDEVIL (1964) (#1-380) (MAN WITHOUT FEAR) (MARVEL) #171 NEWSSTAND Very Good
DAREDEVIL (1964) (#1-380) (MAN WITHOUT FEAR) (MARVEL) #172 NEWSSTAND Good
DAREDEVIL (1964) (#1-380) (MAN WITHOUT FEAR) (MARVEL) #173 NEWSSTAND Very Good
DAREDEVIL (1964) (#1-380) (MAN WITHOUT FEAR) (MARVEL) #174 Fine
DAREDEVIL (1964) (#1-380) (MAN WITHOUT FEAR) (MARVEL) #175 NEWSSTAND Very Good
DAREDEVIL (1964) (#1-380) (MAN WITHOUT FEAR) (MARVEL) #176 NEWSSTAND Very Good
DAREDEVIL (1964) (#1-380) (MAN WITHOUT FEAR) (MARVEL) #177 NEWSSTAND Good
DAREDEVIL (1964) (#1-380) (MAN WITHOUT FEAR) (MARVEL) #178 NEWSSTAND Good
DAREDEVIL (1964) (#1-380) (MAN WITHOUT FEAR) (MARVEL) #179 NEWSSTAND Very Good
DAREDEVIL (1964) (#1-380) (MAN WITHOUT FEAR) (MARVEL) #180 Very Good
DAREDEVIL (1964) (#1-380) (MAN WITHOUT FEAR) (MARVEL) #182 Near Mint/Mint
DAREDEVIL (1964) (#1-380) (MAN WITHOUT FEAR) (MARVEL) #183 Near Mint/Mint
DAREDEVIL (1964) (#1-380) (MAN WITHOUT FEAR) (MARVEL) #228 Fine
DAREDEVIL (1964) (#1-380) (MAN WITHOUT FEAR) (MARVEL) #229 Fine
DAREDEVIL (1964) (#1-380) (MAN WITHOUT FEAR) (MARVEL) #230 Very Fine
DAREDEVIL (1964) (#1-380) (MAN WITHOUT FEAR) (MARVEL) #231 Fine
DAREDEVIL (1964) (#1-380) (MAN WITHOUT FEAR) (MARVEL) #232 Fine

DAREDEVIL: FATHER (2004) #5 Near Mint/Mint

DOCTOR STRANGE (1968) (#169-183) (MARVEL)(DR. STRANGE) #178 Fine

ELEKTRA: ASSASSIN (1986) #7 Near Mint/Mint

EXILES (2018) (#1-UP) (MARVEL) #1 Near Mint/Mint

FALCON (2017) (#1-UP) (MARVEL LEGACY) #6 Near Mint/Mint


FANTASTIC FOUR (1961) (#1-416) (MARVEL) #94

FANTASTIC FOUR (1961) (#1-416) (MARVEL) #94 Very Good
FANTASTIC FOUR (1961) (#1-416) (MARVEL) #97 Fine

FANTASTIC FOUR (1997) (#1-79, 509-611) (MARVEL) #586 Near Mint/Mint
FANTASTIC FOUR (1997) (#1-79, 509-611) (MARVEL) #587 UNBAGGED Near Mint/Mint

HULK (1962) (#1-6, #102-474, #600-635)(INCREDIBLE)(MV) #604 Very Fine

SHIELD (1968) (#1-18) (MARVEL) #5 Fine

X-MEN (1963) (#1-113, UNCANNY X-MEN #114-544) (MARVEL) #52 Good
X-MEN (1963) (#1-113, UNCANNY X-MEN #114-544) (MARVEL) #114 Very Good
X-MEN (1963) (#1-113, UNCANNY X-MEN #114-544) (MARVEL) #118 Fine
X-MEN (1963) (#1-113, UNCANNY X-MEN #114-544) (MARVEL) #119 Very Good
X-MEN (1963) (#1-113, UNCANNY X-MEN #114-544) (MARVEL) #122 NEWSSTAND Fine
X-MEN (1963) (#1-113, UNCANNY X-MEN #114-544) (MARVEL) #123 NEWSSTAND Very Good
X-MEN (1963) (#1-113, UNCANNY X-MEN #114-544) (MARVEL) #127 NEWSSTAND Good
X-MEN (1963) (#1-113, UNCANNY X-MEN #114-544) (MARVEL) #128 Fine
X-MEN (1963) (#1-113, UNCANNY X-MEN #114-544) (MARVEL) #130 BRITISH Fine
X-MEN (1963) (#1-113, UNCANNY X-MEN #114-544) (MARVEL) #133 NEWSSTAND Very Good
X-MEN (1963) (#1-113, UNCANNY X-MEN #114-544) (MARVEL) #138 NEWSSTAND Very Good
X-MEN (1963) (#1-113, UNCANNY X-MEN #114-544) (MARVEL) #139 NEWSSTAND Fine
X-MEN (1963) (#1-113, UNCANNY X-MEN #114-544) (MARVEL) #140 NEWSSTAND Very Good
X-MEN (1963) (#1-113, UNCANNY X-MEN #114-544) (MARVEL) #143 Very Fine
X-MEN (1963) (#1-113, UNCANNY X-MEN #114-544) (MARVEL) #484 NEWSSTAND Fine
X-MEN (1963) (#1-113, UNCANNY X-MEN #114-544) (MARVEL) #488 Near Mint/Mint
X-MEN (1963) (#1-113, UNCANNY X-MEN #114-544) (MARVEL) #491 Near Mint/Mint
X-MEN (1963) (#1-113, UNCANNY X-MEN #114-544) (MARVEL) #493 Very Fine


X-MEN (1991) (#1-275) (MARVEL) #201

X-MEN (1991) (#1-275) (MARVEL) #201 Near Mint/Mint
X-MEN (1991) (#1-275) (MARVEL) #205 Near Mint/Mint

X-MEN AND THE TEEN TITANS (1982) #1 Fine

DC
ADVENTURE COMICS (2009) (#0-12, #516-529) (DC) #8 Near Mint/Mint
ADVENTURE COMICS (2009) (#0-12, #516-529) (DC) #12 Near Mint/Mint
ADVENTURE COMICS (2009) (#0-12, #516-529) (DC) #523 Near Mint/Mint
ADVENTURE COMICS (2009) (#0-12, #516-529) (DC) #524 Near Mint/Mint
ADVENTURE COMICS (2009) (#0-12, #516-529) (DC) #525 Near Mint/Mint
ADVENTURE COMICS (2009) (#0-12, #516-529) (DC) #526 Near Mint/Mint

ALL-STAR SQUADRON (1981) #19 Very Fine
ALL-STAR SQUADRON (1981) #20 Near Mint/Mint
ALL-STAR SQUADRON (1981) #22 Very Fine
ALL-STAR SQUADRON (1981) #24 Near Mint/Mint
ALL-STAR SQUADRON (1981) #25 NEWSSTAND Very Fine
ALL-STAR SQUADRON (1981) #26 Very Fine
ALL-STAR SQUADRON (1981) #27 Very Fine

BATMAN: DARK VICTORY (JEPH LOEB) (TIM SALE) (1999) #0 Near Mint/Mint

BATMAN: DREAMLAND (NORM BREYFOGLE) (PRESTIGE) (2000) #1 Near Mint/Mint


BATMAN: GOTHAM KNIGHTS (2000) #73

BATMAN: GOTHAM KNIGHTS (2000) #73 Near Mint/Mint
BATMAN: GOTHAM KNIGHTS (2000) #74 Near Mint/Mint

BATMAN: HARLEY & IVY (2004) #1 Near Mint/Mint
BATMAN: HARLEY & IVY (2004) #2 Very Fine
BATMAN: HARLEY & IVY (2004) #3 Near Mint/Mint

BATMAN: SECRETS (SAM KIETH) (2006) #1 Near Mint/Mint
BATMAN: SECRETS (SAM KIETH) (2006) #2 Near Mint/Mint

BATMAN: THE DARK KNIGHT (2011) (#0-29) (DC NEW52) #19 Near Mint/Mint
BATMAN: THE DARK KNIGHT (2011) (#0-29) (DC NEW52) #23 .1 DELUXE Near Mint/Mint
BATMAN: THE DARK KNIGHT (2011) (#0-29) (DC NEW52) #23 .2 DELUXE Very Fine
BATMAN: THE DARK KNIGHT (2011) (#0-29) (DC NEW52) #23 .3 DELUXE Very Fine

BIRDS OF PREY (1998) (#1-127) (DC) #1 Near Mint/Mint
BIRDS OF PREY (1998) (#1-127) (DC) #57 Near Mint/Mint
BIRDS OF PREY (1998) (#1-127) (DC) #59 Near Mint/Mint
BIRDS OF PREY (1998) (#1-127) (DC) #76 Near Mint/Mint

BIRDS OF PREY (2010) (#1-15) (DC) #5 Very Fine
BIRDS OF PREY (2010) (#1-15) (DC) #7 Near Mint/Mint
BIRDS OF PREY (2010) (#1-15) (DC) #8 Near Mint/Mint
BIRDS OF PREY (2010) (#1-15) (DC) #9 Near Mint/Mint
BIRDS OF PREY (2010) (#1-15) (DC) #10 Near Mint/Mint
BIRDS OF PREY (2010) (#1-15) (DC) #11 Very Fine


BIRDS OF PREY (2010) (#1-15) (DC) #14

BIRDS OF PREY (2010) (#1-15) (DC) #14 Very Fine

BIRDS OF PREY SECRET FILES (2003) #1 Near Mint/Mint

BIRDS OF PREY: BATGIRL (1998) #1 Near Mint/Mint

BLACK CANARY/ORACLE: BIRDS OF PREY (1996) #1 Very Fine

BLACKHAWK (1957) (#108-273) (DC) #197 Fine

BRAVE AND THE BOLD (2006) #10 Near Mint/Mint
BRAVE AND THE BOLD (2006) #12 Near Mint/Mint

CATWOMAN (2002) (#1-83) (DC) #25 Near Mint/Mint
CATWOMAN (2002) (#1-83) (DC) #35 Near Mint/Mint
CATWOMAN (2002) (#1-83) (DC) #36 Near Mint/Mint
CATWOMAN (2002) (#1-83) (DC) #50 Fine
CATWOMAN (2002) (#1-83) (DC) #51 Near Mint/Mint
CATWOMAN (2002) (#1-83) (DC) #52 Near Mint/Mint
CATWOMAN (2002) (#1-83) (DC) #53 Near Mint/Mint

CATWOMAN: WHEN IN ROME (2004) #6 Near Mint/Mint

CHALLENGERS OF THE UNKNOWN (1958) (#1-87) (DC) #74 Good


DETECTIVE COMICS (1937) (#0-881) (DC) #737

DETECTIVE COMICS (1937) (#0-881) (DC) #737 Near Mint/Mint

ETERNITY GIRL (2018) #3 Near Mint/Mint
ETERNITY GIRL (2018) #4 Near Mint/Mint

FINAL CRISIS: SUPERMAN BEYOND 3-D (2008) #2 VARIANT Near Mint/Mint

HAWKMAN (2002) (#1-49) (DC) #9 Near Mint/Mint
HAWKMAN (2002) (#1-49) (DC) #13 Near Mint/Mint
HAWKMAN (2002) (#1-49) (DC) #16 Near Mint/Mint

HAWKWORLD (1990) (#1-32) (DC) #22 Near Mint/Mint
HAWKWORLD (1990) (#1-32) (DC) #30 Near Mint/Mint
HAWKWORLD (1990) (#1-32) (DC) #31 Near Mint/Mint
HAWKWORLD (1990) (#1-32) (DC) #32 Very Fine

HUNTRESS (1989) (#1-19) (DC) #1 Very Fine
HUNTRESS (1989) (#1-19) (DC) #12 Very Fine
HUNTRESS (1989) (#1-19) (DC) #13 Near Mint/Mint
HUNTRESS (1989) (#1-19) (DC) #14 Near Mint/Mint
HUNTRESS (1989) (#1-19) (DC) #15 Near Mint/Mint
HUNTRESS (1989) (#1-19) (DC) #16 Near Mint/Mint
HUNTRESS (1989) (#1-19) (DC) #18 Near Mint/Mint
HUNTRESS (1989) (#1-19) (DC) #19 Near Mint/Mint


JUSTICE LEAGUE OF AMERICA (1960) (#1-261) (DC) #57

JUSTICE LEAGUE OF AMERICA (1960) (#1-261) (DC) #57 Fine
JUSTICE LEAGUE OF AMERICA (1960) (#1-261) (DC) #65 Good
JUSTICE LEAGUE OF AMERICA (1960) (#1-261) (DC) #69 Fine
JUSTICE LEAGUE OF AMERICA (1960) (#1-261) (DC) #70 Fine
JUSTICE LEAGUE OF AMERICA (1960) (#1-261) (DC) #71 Very Good
JUSTICE LEAGUE OF AMERICA (1960) (#1-261) (DC) #72 Very Good
JUSTICE LEAGUE OF AMERICA (1960) (#1-261) (DC) #73 Good
JUSTICE LEAGUE OF AMERICA (1960) (#1-261) (DC) #74 Very Good
JUSTICE LEAGUE OF AMERICA (1960) (#1-261) (DC) #77 Very Good
JUSTICE LEAGUE OF AMERICA (1960) (#1-261) (DC) #80 Fine
JUSTICE LEAGUE OF AMERICA (1960) (#1-261) (DC) #81 Fine
JUSTICE LEAGUE OF AMERICA (1960) (#1-261) (DC) #82 Very Good
JUSTICE LEAGUE OF AMERICA (1960) (#1-261) (DC) #83 Fine
JUSTICE LEAGUE OF AMERICA (1960) (#1-261) (DC) #84 Fine

LEGION '89 (1990) #24 Very Fine
LEGION '89 (1990) #57 Near Mint/Mint

LEGION '89 ANNUAL #1 Near Mint/Mint

OUTSIDERS (2003) (#1-50) #1 Near Mint/Mint

SHOWCASE (1956) (#1-104) (SHOWCASE PRESENTS...) (DC) #83 Good
SHOWCASE (1956) (#1-104) (SHOWCASE PRESENTS...) (DC) #84 Very Good

SPECTRE (1967) (#1-10) (DC) #9 Fine


SUPERGIRL (2005) (#0-67) (DC) #2

SUPERGIRL (2005) (#0-67) (DC) #2 Near Mint/Mint
SUPERGIRL (2005) (#0-67) (DC) #3 Near Mint/Mint
SUPERGIRL (2005) (#0-67) (DC) #14 Near Mint/Mint
SUPERGIRL (2005) (#0-67) (DC) #18 Near Mint/Mint
SUPERGIRL (2005) (#0-67) (DC) #19 Fine
SUPERGIRL (2005) (#0-67) (DC) #22 Fine
SUPERGIRL (2005) (#0-67) (DC) #24 Near Mint/Mint

SWAMP THING (1972) (#1-24) #5 Fine
SWAMP THING (1972) (#1-24) #6 Very Fine
SWAMP THING (1972) (#1-24) #8 Very Fine
SWAMP THING (1972) (#1-24) #10 Very Fine

SWAMP THING, SAGA OF (1982) #21 (DC: Vertigo Press) Near Mint/Mint
SWAMP THING, SAGA OF (1982) #25 (DC: Vertigo Press) Fine
SWAMP THING, SAGA OF (1982) #49 (DC: Vertigo Press) Fine
SWAMP THING, SAGA OF (1982) #50 (DC: Vertigo Press) Fine

TEEN TITANS: GO (2003) #47 Near Mint/Mint

TITANS/YOUNG JUSTICE: GRADUATION DAY (2003) #1 Near Mint/Mint

ZATANNA (1993) #2 Near Mint/Mint
ZATANNA (1993) #3 Near Mint/Mint
ZATANNA (1993) #4 Near Mint/Mint

ZATANNA SPECIAL (1987) #1 Fine

DARK HORSE COMICS
ALIEN VS. PREDATOR: FIRE & STONE (DARK HORSE) (AVP) (2014) #1 GIST Near Mint/Mint

ELFQUEST: FINAL QUEST (2014) (#1-UP) (DARK HORSE) #24 Near Mint/Mint

EMPOWERED & SISTAH SPOOKY'S HIGH SCHOOL HELL (2017) #5 Near Mint/Mint

IMAGE COMICS
EAST OF WEST (2013) #1 Near Mint/Mint
EAST OF WEST (2013) #12 Near Mint/Mint
EAST OF WEST (2013) #17 Near Mint/Mint
EAST OF WEST (2013) #36 A DRAGOTTA Near Mint/Mint

ELSEWHERE (2017) (#1-UP) (IMAGE) #5 A KESGIN Near Mint/Mint
ELSEWHERE (2017) (#1-UP) (IMAGE) #7 A KESGIN Near Mint/Mint

ETERNAL EMPIRE (2017) #7 Near Mint/Mint
ETERNAL EMPIRE (2017) #9 Near Mint/Mint

EVOLUTION (2017) (#1-UP) (IMAGE/SKYBOUND) #4 Near Mint/Mint
EVOLUTION (2017) (#1-UP) (IMAGE/SKYBOUND) #5 Near Mint/Mint
EVOLUTION (2017) (#1-UP) (IMAGE/SKYBOUND) #6 Near Mint/Mint

FAMILY TRADE (2017) #5 Near Mint/Mint

FATHOM COLLECTED #2 (Image Top Cow) Near Mint/Mint

SPAWN (1992) #169 Very Fine
SPAWN (1992) #171 Near Mint/Mint
SPAWN (1992) #173 Very Fine
SPAWN (1992) #224 Very Fine

WITCHBLADE (1995) #107 (Image Top Cow) Near Mint/Mint
WITCHBLADE (1995) #109 (Image Top Cow) Near Mint/Mint

INDEPENDENTS
ARMY WAR HEROES (1963) #22 (Charlton) Very Good

ATTACK AT SEA (CHARLTON) (1968) #5 (Charlton) Very Good

ATTACK! (CHARLTON) (1971) #1 (Charlton) Very Good

BATTLE STORIES (1963) #16 (SUPER COMICS. INC.) Good

BATTLEFIELD ACTION (VOL. 2) (1957) #58 (Charlton) Fine

BLOOD CHROME & TEARS #1 (Eyefull Press) Near Mint/Mint

BLOODSHED: M #1 (Damage Press) Near Mint/Mint

BRINKE OF DESTRUCTION (1995) (#1-3) (HIGH-TOP) #3 (High Top) Near Mint/Mint

CALIBER PRESENTS: ROMANTIC TALES (1995) #1 (Caliber Press) Near Mint/Mint


CFD/BONEYARD STRAIGHT TO HELL TOUR BOOK #1 2X SIGNED

CFD/BONEYARD STRAIGHT TO HELL TOUR BOOK #1 2X SIGNED (Cry For Dawn Productions) Very Fine

COLOUR OF MAGIC #1 (Innovation Publishing) Fine
COLOUR OF MAGIC #2 (Innovation Publishing) Very Fine

CROW (#0) (KITCHEN SINK) (1998) #0 (Kitchen Sink Publishing) Near Mint/Mint

CROW: WAKING NIGHTMARES (1997) #2 (Kitchen Sink Publishing) Near Mint/Mint
CROW: WAKING NIGHTMARES (1997) #3 (Kitchen Sink Publishing) Near Mint/Mint
CROW: WAKING NIGHTMARES (1997) #4 (Kitchen Sink Publishing) Near Mint/Mint

CUTIE HONEY (1997) #1 (Ironcat) Near Mint/Mint
CUTIE HONEY (1997) #2 (Ironcat) Near Mint/Mint
CUTIE HONEY (1997) #3 (Ironcat) Near Mint/Mint

CUTIE HONEY VOL. 2 (1998) #1 (Ironcat) Near Mint/Mint

CYNDER (SERIES II) (1996) #1 GOLD S&N (Immortal Comics) Near Mint/Mint
CYNDER (SERIES II) (1996) #1 A. HUGHES (Immortal Comics) Near Mint/Mint
CYNDER (SERIES II) (1996) #1 GOLD S&N (Immortal Comics) Very Fine
CYNDER (SERIES II) (1996) #2 VARIANT (Immortal Comics) Very Fine

CYNDER/HELLINA SPECIAL #1 (Immortelle Studios) Near Mint/Mint
CYNDER/HELLINA SPECIAL #1 (Immortelle Studios) Very Fine


DARK FANTASIES (1994) #0 FOIL DONNA

DARK FANTASIES (1994) #0 FOIL DONNA (Dark Fantasy Productions) Near Mint/Mint
DARK FANTASIES (1994) #0 NUDE DONNA (Dark Fantasy Productions) Very Fine
DARK FANTASIES (1994) #0 PHOTO DONN (Dark Fantasy Productions) Near Mint/Mint
DARK FANTASIES (1994) #1 TESTRUNSGN (Dark Fantasy Productions) Near Mint/Mint
DARK FANTASIES (1994) #3 (Dark Fantasy Productions) Near Mint/Mint
DARK FANTASIES (1994) #8 (Dark Fantasy Productions) Near Mint/Mint

DARK MUSE (1994) #2 LIMITED ED (Dark Muse Productions) Near Mint/Mint

DEAD CHICKS IN LACE BLOODLETTING LINGERIE SPECIAL #1 (Fantaco Enterprises) Near Mint/Mint
DEAD CHICKS IN LACE BLOODLETTING LINGERIE SPECIAL #1 (Fantaco Enterprises) Very Fine

DEATH RATTLE (1995) #1 (Kitchen Sink Publishing) Near Mint/Mint
DEATH RATTLE (1995) #1 (Kitchen Sink Publishing) Fine
DEATH RATTLE (1995) #2 (Kitchen Sink Publishing) Near Mint/Mint
DEATH RATTLE (1995) #3 (Kitchen Sink Publishing) Fine
DEATH RATTLE (1995) #4 (Kitchen Sink Publishing) Near Mint/Mint
DEATH RATTLE (1995) #5 (Kitchen Sink Publishing) Near Mint/Mint

DEITY (1998) #1 DIRECTSWIM (Hyperactive Comics) Near Mint/Mint

DONNA MIA (1995) (#1-2) (DARK FANTASY) #1 SPECIAL ED (Dark Fantasy Productions) Near Mint/Mint
DONNA MIA (1995) (#1-2) (DARK FANTASY) #2 FOIL LOGO (Dark Fantasy Productions) Near Mint/Mint

DOUBLE IMPACT 1999 BIKINI SPECIAL (1999) #1 (High Impact) Near Mint/Mint

DREAM WOLVES SWIMSUIT SPECIAL (1995) #1 SIGNED (Dramenon Studios) Near Mint/Mint

DUNGEONS & DRAGONS: LEGENDS OF BALDUR'S GATE (2014) #4 SUBSCRIPT (IDW Publishing) Near Mint/Mint


DUNGEONS & DRAGONS: LEGENDS OF BALDUR'S GATE (2014) #5

DUNGEONS & DRAGONS: LEGENDS OF BALDUR'S GATE (2014) #5 (IDW Publishing) Near Mint/Mint

EDWARD SCISSORHANDS (2014) #6 (IDW Publishing) Near Mint/Mint

ELEANOR & THE EGRET (2017) #1 (After-Shock Comics) Near Mint/Mint
ELEANOR & THE EGRET (2017) #3 (After-Shock Comics) Near Mint/Mint

ESCAPE FROM NEW YORK (2014) #3 SHALVEY (Boom Studios Publishing) Near Mint/Mint
ESCAPE FROM NEW YORK (2014) #6 SAMMELIN (Boom Studios Publishing) Near Mint/Mint

EVIL DEAD 2: CRADLE OF THE DAMNED (2016) #3 TEMPLETON (Space Goat Productions) Near Mint/Mint

EVIL ERNIE (2014) #4 CHIN (DYNAMITE Entertainment) Near Mint/Mint

FACTORY (2018) #1 A BISLEY (Titan Distributing) Near Mint/Mint

FATAL BEAUTY PREVIEW SPECIAL TAME COVER #1 (Illustration Studios) Near Mint/Mint
FATAL BEAUTY PREVIEW SPECIAL TAME COVER #1 (Illustration Studios) Very Fine

FORBIDDEN VAMPIRE TALES (1997) #0 B EROTIC (Forbidden) Near Mint/Mint
FORBIDDEN VAMPIRE TALES (1997) #0 (Forbidden) Very Fine

FULL CIRKLE (2004) #3 COVER B (FULL CIRCLE) Near Mint/Mint

FUTURAMA COMICS (2000) #19 (Bongo Comics) Near Mint/Mint
FUTURAMA COMICS (2000) #23 (Bongo Comics) Near Mint/Mint
FUTURAMA COMICS (2000) #67 (Bongo Comics) Very Fine


JONNY QUEST (1986) (#1-31) (COMICO) #22

JONNY QUEST (1986) (#1-31) (COMICO) #22 (Comico) Very Fine
JONNY QUEST (1986) (#1-31) (COMICO) #23 (Comico) Near Mint/Mint
JONNY QUEST (1986) (#1-31) (COMICO) #25 (Comico) Near Mint/Mint
JONNY QUEST (1986) (#1-31) (COMICO) #26 (Comico) Near Mint/Mint
JONNY QUEST (1986) (#1-31) (COMICO) #30 (Comico) Near Mint/Mint
JONNY QUEST (1986) (#1-31) (COMICO) #31 (Comico) Near Mint/Mint

JONNY QUEST SPECIAL (1988) #1 (Comico) Near Mint/Mint
JONNY QUEST SPECIAL (1988) #2 (Comico) Near Mint/Mint

PETER PAN TREASURE CHEST (1953) #1 (Dell Publishing) Very Good

PRACTICE IN PAIN (1995) (#1) (DRAMENON STUDIOS) #1 (Dramenon Studios) Near Mint/Mint

SAD SACK LAUGH SPECIAL (1958) #25 (Harvey Comics) Very Good
SAD SACK LAUGH SPECIAL (1958) #28 (Harvey Comics) Very Good

SAD SACK WITH SARGE & SADIE (1972) #1 (Harvey Comics) Very Good

SAD SACK'S ARMY LIFE (1963) #8 (Harvey Comics) Very Good

SAD SAD SACK WORLD (1964) #1 (Harvey Comics) Good
SAD SAD SACK WORLD (1964) #5 (Harvey Comics) Very Good
SAD SAD SACK WORLD (1964) #9 (Harvey Comics) Very Good

SILLY SYMPHONIES (1952) #1 (Dell Publishing) Very Good
SILLY SYMPHONIES (1952) #2 (Dell Publishing) Fine
SILLY SYMPHONIES (1952) #5 (Dell Publishing) Very Good
SILLY SYMPHONIES (1952) #7 (Dell Publishing) Very Good

SILLY SYMPHONIES (1952) #8 (Dell Publishing) Very Good
SILLY SYMPHONIES (1952) #9 (Dell Publishing) Fine

SINNAMON #9 (Catfish Comics) Near Mint/Mint
SINNAMON #10 (Catfish Comics) Near Mint/Mint
SINNAMON #11 (Catfish Comics) Near Mint/Mint

SNOWMAN 2 #2 VARIANT (Avatar Comics) Near Mint/Mint

SNOWMAN: DEAD & DYING #2 VARIANT (Avatar Comics) Near Mint/Mint

SNOWMAN: HORROR SHOW #1 VARIANT (Avatar Comics) Near Mint/Mint

STARGODS #1 COMM. ED (Antarctic Press) Near Mint/Mint

TAROT: WITCH OF THE BLACK ROSE (2000) #46 (Broadsword Comics) Near Mint/Mint
TAROT: WITCH OF THE BLACK ROSE (2000) #114 COSPLAY (Broadsword Comics) Near Mint/Mint

TEARS (BONEYARD PRESS) (#1-2) (1992) #2 (Boneyard Press) Very Fine

THRESHOLD (1998) (#1-54) (AVATAR) #1 CYBER NUDE (Avatar Comics) Near Mint/Mint
THRESHOLD (1998) (#1-54) (AVATAR) #1 CYBERANGEL (Avatar Comics) Very Fine
THRESHOLD (1998) (#1-54) (AVATAR) #1 FURIES (Avatar Comics) Near Mint/Mint
THRESHOLD (1998) (#1-54) (AVATAR) #1 FURIESNUDE (Avatar Comics) Near Mint/Mint
THRESHOLD (1998) (#1-54) (AVATAR) #1 FUZZY DICE (Avatar Comics) Near Mint/Mint
THRESHOLD (1998) (#1-54) (AVATAR) #3 PANDORA (Avatar Comics) Near Mint/Mint
THRESHOLD (1998) (#1-54) (AVATAR) #3 CALICO (Avatar Comics) Near Mint/Mint


THRESHOLD (1998) (#1-54) (AVATAR) #3 CYBERANGEL

THRESHOLD (1998) (#1-54) (AVATAR) #3 CYBERANGEL (Avatar Comics) Near Mint/Mint
THRESHOLD (1998) (#1-54) (AVATAR) #3 PANDORNUDE (Avatar Comics) Near Mint/Mint
THRESHOLD (1998) (#1-54) (AVATAR) #3 RAVEN NUDE (Avatar Comics) Near Mint/Mint
THRESHOLD (1998) (#1-54) (AVATAR) #3 RAVENING (Avatar Comics) Near Mint/Mint

TOUCH OF SILK, TASTE OF LEATHER (1994) #1 (Boneyard Press) Fine
TOUCH OF SILK, TASTE OF LEATHER (1994) #1 (Boneyard Press) Near Mint/Mint

TWILIGHT (AVATAR PRESS) (1997) #1 (Avatar Comics) Near Mint/Mint
TWILIGHT (AVATAR PRESS) (1997) #1 NUDE (Avatar Comics) Near Mint/Mint
TWILIGHT (AVATAR PRESS) (1997) #2 (Avatar Comics) Near Mint/Mint

VAMPIRE VERSES (1996) (#1-4) (CRY FOR DAWN) #3 (Cry For Dawn Productions) Very Fine

VARLA VORTEX: BABES OF BLOOD #1 (Boneyard Press) Near Mint/Mint

VIXENS TWIN PACK CALENDAR (1997) #1 1997 (Cry For Dawn Productions) Near Mint/Mint

VORTEX SPECIAL: CYBERSIN #1 NUDE (Avatar Comics) Near Mint/Mint

WARRIOR NUN AREALA (1994) (#1-3) #1 2ND PRINT (Antarctic Press) Fine
WARRIOR NUN AREALA (1994) (#1-3) #1 ASHCAN (Antarctic Press) Near Mint/Mint
WARRIOR NUN AREALA (1994) (#1-3) #1 SILVER SGN (Antarctic Press) Near Mint/Mint
WARRIOR NUN AREALA (1994) (#1-3) #1 (Antarctic Press) Very Fine

WARRIOR NUN AREALA VS. RAZOR (1996) #1 CD SOUNDTR (Antarctic Press) Very Fine

WARRIOR NUN AREALA/AVENGELYNE #1 POSTER ED (Antarctic Press) Near Mint/Mint

WARRIOR NUN AREALA/GLORY #1 POSTER ED (Antarctic Press) Near Mint/Mint


WARRIOR NUN AREALA: PORTRAITS (1996) #1 COMM. ED

WARRIOR NUN AREALA: PORTRAITS (1996) #1 COMM. ED (Antarctic Press) Near Mint/Mint

WARRIOR NUN AREALA: RESURRECTION (1998) #1 SPECIAL ED (Antarctic Press) Near Mint/Mint

WARRIOR NUN AREALA: SCORPIO ROSE #1 COMM. ED (Antarctic Press) Near Mint/Mint

WEBWITCH (AVATAR) (#0-2) (1997) #0 (Avatar Comics) Near Mint/Mint
WEBWITCH (AVATAR) (#0-2) (1997) #0 VARIANT (Avatar Comics) Near Mint/Mint
WEBWITCH (AVATAR) (#0-2) (1997) #0 VARIANT (Avatar Comics) Fine
WEBWITCH (AVATAR) (#0-2) (1997) #1 (Avatar Comics) Near Mint/Mint
WEBWITCH (AVATAR) (#0-2) (1997) #1 VARIANT (Avatar Comics) Near Mint/Mint
WEBWITCH (AVATAR) (#0-2) (1997) #2 (Avatar Comics) Near Mint/Mint
WEBWITCH (AVATAR) (#0-2) (1997) #2 NUDE (Avatar Comics) Near Mint/Mint
WEBWITCH (AVATAR) (#0-2) (1997) #2 (Avatar Comics) Very Fine
WEBWITCH WAR #1 (Avatar Comics) Near Mint/Mint
WEBWITCH WAR #1 VARIANT (Avatar Comics) Near Mint/Mint
WEBWITCH WAR #2 (Avatar Comics) Near Mint/Mint
WEBWITCH WAR #2 VARIANT (Avatar Comics) Very Fine

WEBWITCH: PRELUDE TO WAR #1 (Avatar Comics) Near Mint/Mint
WEBWITCH: PRELUDE TO WAR #1 NUDE (Avatar Comics) Near Mint/Mint

WIDOW: ORIGIN #1 (Avatar Comics) Near Mint/Mint
WIDOW: ORIGIN #1 NUDE (Avatar Comics) Near Mint/Mint
WIDOW: ORIGIN #2 (Avatar Comics) Near Mint/Mint
WIDOW: ORIGIN #2 VARIANT (Avatar Comics) Near Mint/Mint

WRATH OF THE FURIES #1 (Avatar Comics) Near Mint/Mint
WRATH OF THE FURIES #1 NUDE COVER (Avatar Comics) Near Mint/Mint
WRATH OF THE FURIES #1 NUDE COVER (Avatar Comics) Very Fine
WRATH OF THE FURIES #1 (Avatar Comics) Very Fine
WRATH OF THE FURIES #2 (Avatar Comics) Near Mint/Mint