Art From Chuck's Graphic Novel - GREATDEAL Codeword Sale
Howdy!
I am writing today's newsletter while tucked into a warm diner this morning on Market St. in San Francisco. I arrived in this beautiful city late yesterday afternoon on a flight from Denver. Yesterday was a day filled with incongruence, as my morning was spent distributing food on the brick-cold streets of Denver with the wonderful volunteers of "Feeding Denver's Hungry," while my evening was spent in a hip San Francisco nightclub, that in a previous incarnation was a 1920's speakeasy.
In case you were wondering, I was at the nightclub attending a party hosted by the Emperors and Empresses of the San Francisco Imperial Council, the Mother Court of our entire 70-chapter International Court System. The highlight of the evening was a screening of a segment of an upcoming documentary based upon the life of our founder, Jose' Sarria. In the film he expounds from beyond the grave not only upon the importance of our battles for civil rights for all LGBT people, but also about how the Imperial Court System should always seek to serve the needs of all of the poor and disadvantaged in our Communities, both straight and gay. My biggest surprise during the screening was to see that I ended up in one minor background scene of the movie due to my membership on the Imperial Court Council. The life that I lead is so busy as to be overwhelming at times, but also rather filled with interesting experiences.
While I am in San Francisco today, our grand agenda at Mile High Comics continues to advance unabated. Collections filled with great comics and books continue to be purchased at a frenetic pace, and everyone on our staff who has a spare minute is helping to sort and grade these new acquisitions for you. As a direct result, not a single day goes by that we do not in some incremental fashion improve upon the overall selection of comics, books, and magazines that we are able to offer to you on our website.

AVENGERS (1963) (#1-402) (MARVEL) #82

In all honesty, improving our backlist selection for you every single day is my only remaining goal in the comics world. I realize that it may be hard for you to see how our efforts are directed toward specifically helping you as an individual, as it is quite possible that whatever titles and issue numbers that we are posting into our daily New-In-Stock and Premium New-In-Stock links may have absolutely no applicability to what you personally read and/or collect. That omission results not from a lack of desire or willingness on our part, however, but rather from the randomness of the contents of collections that are offered at our Jason St. Mega-Store. With as many as 10 collections being offered to us daily, we just have no way of knowing what we might be adding into New-In-Stock on any given day...

DETECTIVE COMICS (1937) (#0-881) (DC) #377

On a side note, you may have seen me in the past out shopping for comics at conventions on the East Coast. In point of fact, I used to spend 100+ days on the road each year seeking specific comics titles and issue numbers for our website clients. Ever since I opened the largest comics store in the world in Denver, however, we have developed a nationwide reputation as being a great place to sell and/or trade collectible back issues at fair prices. That having been said, our awesome success at buying collections locally (and also from fans who ship their collections to us from other cities) has truly maxed out our ability to sort/grade. That is why I now spend so much of my personal time advancing civil rights for all, and toward helping the poor. As much as I may have the ability to find even more great comics, what is the point if we can (barely) keep up with what we already are purchasing? I think it a much better use of my time that I spend my dotage giving back to a world that has blessed me with so much good fortune. Just saying...
I am going to leave you with a few news notes. First, our 30% off GREATDEAL! codeword sale is in effect for you right now on all ten million of the back issue comics and magazines that we list for you on our website. Only new comics, a few variants, and our professionally-graded issues are excluded. Second, we have a huge benefit Texas Hold'em poker tournament scheduled for Saturday morning, March 3rd, beginning at 11 AM. You can pre-register at any of our locations, or by phone. Third, on the same morning as our poker tournament we will also be hosting a huge comics and collectibles auction. It will begin at 11:30. No one ever leaves one of our auctions without having scored some amazing bargains!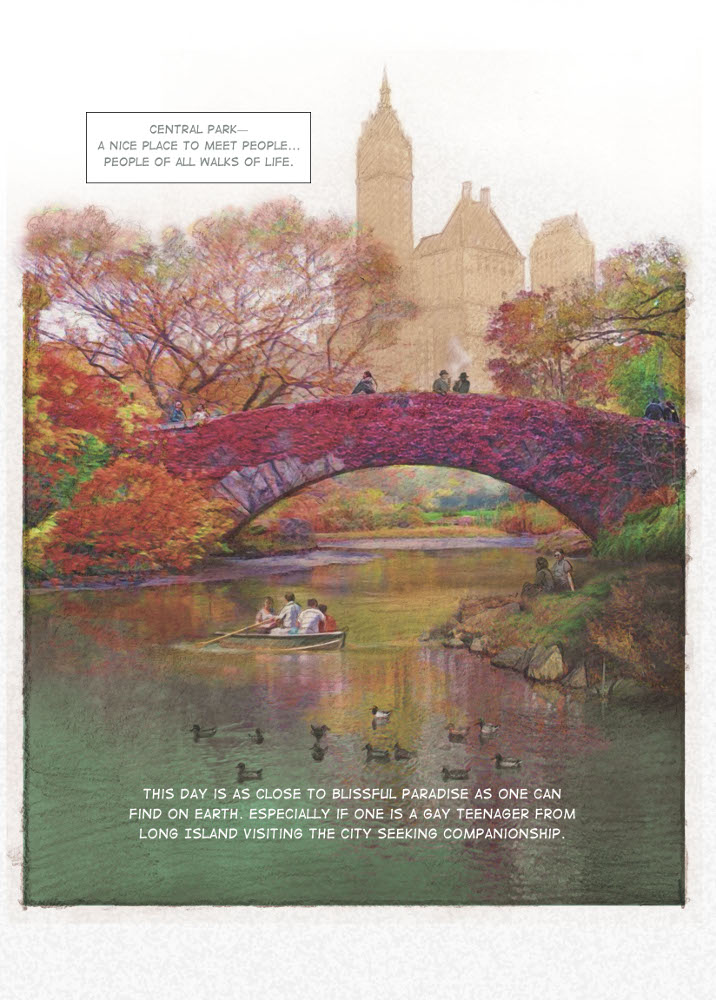 Image from the upcoming Harvey Milk graphic novel by Thomas Haller Buchanan

My final item for you today is a single image from the upcoming graphic novel that I am writing about LGBTQ martyr, Harvey Milk's, life, and impact of his legacy upon the lives of others. The incredibly talented Thomas Haller Buchanan of Denver is the artist working with me to craft a series of books that we hope will enlighten the world a bit more about Harvey's legacy. This beautiful pastel image is part of the preamble to a very dark story about Harvey's first encounter with the police and institutional homophobia. This November will mark the 40th anniversary of Harvey's assassination in San Francisco's beautiful City Hall, so I am going there this morning to take photos for Thomas to use in his art, and will also travel to the site of Castro Camera, Harvey's small business and campaign headquarters. Knowing as much about Harvey's life as I do now, my pilgrimage this morning will definitely be a bittersweet journey.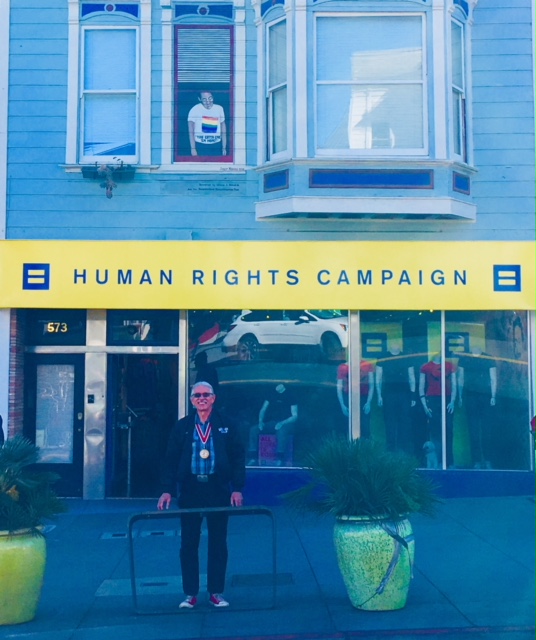 Castro Camera now! They have graciously offered to host the release of the Harvey Milk Graphic Novel!

Happy collecting!
Chuck Rozanski,
President - Mile High Comics, Inc.
February 23, 2018

P.S. Here are just a few of the comics that Will and Pam added to our website for you over the past few days. Visit our New-In-Stock and Premium New-In-Stock links for the entire list.
MARVEL

AVENGERS (1963) (#1-402) (MARVEL) #63

AVENGERS (1963) (#1-402) (MARVEL) #63 Good
AVENGERS (1963) (#1-402) (MARVEL) #67 Fine
AVENGERS (1963) (#1-402) (MARVEL) #69 Very Good
AVENGERS (1963) (#1-402) (MARVEL) #70 Good
AVENGERS (1963) (#1-402) (MARVEL) #72 Good
AVENGERS (1963) (#1-402) (MARVEL) #73 Fine
AVENGERS (1963) (#1-402) (MARVEL) #75 Very Good
AVENGERS (1963) (#1-402) (MARVEL) #77 Very Good
AVENGERS (1963) (#1-402) (MARVEL) #79 Fine
AVENGERS (1963) (#1-402) (MARVEL) #82 Very Good
AVENGERS (1963) (#1-402) (MARVEL) #86 Very Good

CAPTAIN AMERICA (1968) (#100-454) (MARVEL) #100 Fine
CAPTAIN AMERICA (1968) (#100-454) (MARVEL) #133 Fine
CAPTAIN AMERICA (1968) (#100-454) (MARVEL) #170 Fine
CAPTAIN AMERICA (1968) (#100-454) (MARVEL) #217 Good
CAPTAIN AMERICA (1968) (#100-454) (MARVEL) #241 NEWSSTAND Good
CAPTAIN AMERICA (1968) (#100-454) (MARVEL) #270 NEWSSTAND Very Good
CAPTAIN AMERICA (1968) (#100-454) (MARVEL) #275 NEWSSTAND Good
CAPTAIN AMERICA (1968) (#100-454) (MARVEL) #279 NEWSSTAND Good

CIVIL WAR II (2016) #2 Very Fine

HULK (1962) (#1-6, #102-474, #600-635)(INCREDIBLE)(MV) #325 NEWSSTAND Very Good
HULK (1962) (#1-6, #102-474, #600-635)(INCREDIBLE)(MV) #393 NEWSSTAND Very Good


SUB-MARINER (1968) (#1-72) (PRINCE NAMOR SUB-MARINER) #1

SUB-MARINER (1968) (#1-72) (PRINCE NAMOR SUB-MARINER) #1 Very Good

SUPERIOR (2010) #1 Fine
SUPERIOR (2010) #2 Fine

X-MEN (1963) (#1-113, UNCANNY X-MEN #114-544) (MARVEL) #14 Fair
X-MEN (1963) (#1-113, UNCANNY X-MEN #114-544) (MARVEL) #164 NEWSSTAND Very Fine
X-MEN (1963) (#1-113, UNCANNY X-MEN #114-544) (MARVEL) #165 NEWSSTAND Fine
X-MEN (1963) (#1-113, UNCANNY X-MEN #114-544) (MARVEL) #167 Near Mint/Mint
X-MEN (1963) (#1-113, UNCANNY X-MEN #114-544) (MARVEL) #171 Near Mint/Mint
X-MEN (1963) (#1-113, UNCANNY X-MEN #114-544) (MARVEL) #177 Near Mint/Mint
X-MEN (1963) (#1-113, UNCANNY X-MEN #114-544) (MARVEL) #181 Near Mint/Mint

DC
ALL-STAR WESTERN (1970) #1 Very Good
ALL-STAR WESTERN (1970) #3 Good
ALL-STAR WESTERN (1970) #7 Very Good

BATGIRL (2011) (#0-52) (DC NEW52) #0 Fine
BATGIRL (2011) (#0-52) (DC NEW52) #13 Very Fine

BATMAN (1940) (#0-713) (DC) #194 Fair
BATMAN (1940) (#0-713) (DC) #216 Good
BATMAN (1940) (#0-713) (DC) #296 Very Good
BATMAN (1940) (#0-713) (DC) #308 Very Good


BATMAN (1940) (#0-713) (DC) #321

BATMAN (1940) (#0-713) (DC) #321 Fine
BATMAN (1940) (#0-713) (DC) #340 NEWS ATARI Fine
BATMAN (1940) (#0-713) (DC) #341 NEWSSTAND Very Fine
BATMAN (1940) (#0-713) (DC) #342 NEWSHOSTES Fine
BATMAN (1940) (#0-713) (DC) #345 NEWSSTAND Fine
BATMAN (1940) (#0-713) (DC) #350 NEWSSTAND Fine
BATMAN (1940) (#0-713) (DC) #353 NO MONTH Fine
BATMAN (1940) (#0-713) (DC) #366 NEWSSTAND Fine
BATMAN (1940) (#0-713) (DC) #397 Fine
BATMAN (1940) (#0-713) (DC) #398 2ND PRINT Fine
BATMAN (1940) (#0-713) (DC) #399 PACK REPRT Fine

BATMAN INCORPORATED (2012) #8 2ND PRINT Fine

DETECTIVE COMICS (1937) (#0-881) (DC) #377 Good
DETECTIVE COMICS (1937) (#0-881) (DC) #481 Very Good
DETECTIVE COMICS (1937) (#0-881) (DC) #482 Very Good
DETECTIVE COMICS (1937) (#0-881) (DC) #505 Fine
DETECTIVE COMICS (1937) (#0-881) (DC) #553 NEWSSTAND Very Good

FLASH (1959) (#105-350) (DC) #146 Very Good

FOREVER PEOPLE (1971) #3 Fine
FOREVER PEOPLE (1971) #4 Fine
FOREVER PEOPLE (1971) #7 Fine
FOREVER PEOPLE (1971) #8 Fine
FOREVER PEOPLE (1971) #8 Very Fine


GREEN LANTERN (1960) (#1-224) (DC) #68

GREEN LANTERN (1960) (#1-224) (DC) #68 Very Good
GREEN LANTERN (1960) (#1-224) (DC) #77 Fair

LOIS LANE (1958) #91 Very Good
LOIS LANE (1958) #94 Very Fine
LOIS LANE (1958) #94 Very Good
LOIS LANE (1958) #96 Fine
LOIS LANE (1958) #98 Fine
LOIS LANE (1958) #98 Very Good
LOIS LANE (1958) #101 Very Good
LOIS LANE (1958) #103 Very Good
LOIS LANE (1958) #104 Fine
LOIS LANE (1958) #104 Very Good
LOIS LANE (1958) #105 Fine
LOIS LANE (1958) #105 Very Good
LOIS LANE (1958) #107 Fine
LOIS LANE (1958) #107 Very Good
LOIS LANE (1958) #108 Fine
LOIS LANE (1958) #108 Very Good
LOIS LANE (1958) #109 Fine
LOIS LANE (1958) #109 Very Good
LOIS LANE (1958) #109 Very Fine
LOIS LANE (1958) #110 Fine
LOIS LANE (1958) #110 Very Good
LOIS LANE (1958) #110 Very Fine

LOIS LANE (1958) #112 Fine
LOIS LANE (1958) #112 Very Fine
LOIS LANE (1958) #115 Fine
LOIS LANE (1958) #115 Very Fine
LOIS LANE (1958) #115 Very Good
LOIS LANE (1958) #116 Fine
LOIS LANE (1958) #116 Very Fine
LOIS LANE (1958) #117 Fine
LOIS LANE (1958) #117 Very Fine
LOIS LANE (1958) #117 Very Good
LOIS LANE (1958) #118 Very Fine
LOIS LANE (1958) #119 Fine
LOIS LANE (1958) #120 Very Fine
LOIS LANE (1958) #121 Fine
LOIS LANE (1958) #121 Very Fine
LOIS LANE (1958) #123 Fine
LOIS LANE (1958) #123 Very Fine

METAL MEN (1963) #22 Good
METAL MEN (1963) #22 Very Good
METAL MEN (1963) #23 Very Good
METAL MEN (1963) #26 Fine
METAL MEN (1963) #28 Very Good
METAL MEN (1963) #29 Very Good
METAL MEN (1963) #32 Very Good
METAL MEN (1963) #38 Fine
METAL MEN (1963) #38 Very Good

METAMORPHO (1965) #4 Fine
METAMORPHO (1965) #4 Fair
METAMORPHO (1965) #4 Good
METAMORPHO (1965) #4 Very Good
METAMORPHO (1965) #5 Good
METAMORPHO (1965) #5 Fair
METAMORPHO (1965) #5 Very Good
METAMORPHO (1965) #6 Fair
METAMORPHO (1965) #6 Fine
METAMORPHO (1965) #6 Good
METAMORPHO (1965) #6 Very Good
METAMORPHO (1965) #7 Fine
METAMORPHO (1965) #7 Good
METAMORPHO (1965) #7 Very Good
METAMORPHO (1965) #8 Good
METAMORPHO (1965) #9 Good
METAMORPHO (1965) #9 Fine
METAMORPHO (1965) #9 Very Good
METAMORPHO (1965) #10 Good
METAMORPHO (1965) #10 Fair
METAMORPHO (1965) #10 Very Good
METAMORPHO (1965) #11 Fine
METAMORPHO (1965) #11 Very Good
METAMORPHO (1965) #12 Very Good
METAMORPHO (1965) #13 Very Good

METAMORPHO (1965) #14 Good
METAMORPHO (1965) #14 Very Good
METAMORPHO (1965) #15 Good
METAMORPHO (1965) #15 Very Good
METAMORPHO (1965) #16 Very Good
METAMORPHO (1965) #17 Fine

MISTER MIRACLE (1971) (#1-25) (DC) #2 Fine
MISTER MIRACLE (1971) (#1-25) (DC) #3 Very Good
MISTER MIRACLE (1971) (#1-25) (DC) #3 Very Fine
MISTER MIRACLE (1971) (#1-25) (DC) #6 Fine
MISTER MIRACLE (1971) (#1-25) (DC) #7 Very Fine
MISTER MIRACLE (1971) (#1-25) (DC) #17 JEWELERS Very Fine

MOVIE TOWN'S ANIMAL ANTICS (1950) #28 Fine
MOVIE TOWN'S ANIMAL ANTICS (1950) #35 Fine

MUTT & JEFF (1939) (#1-103) (DC) #25 Very Good
MUTT & JEFF (1939) (#1-103) (DC) #26 Good
MUTT & JEFF (1939) (#1-103) (DC) #28 Good
MUTT & JEFF (1939) (#1-103) (DC) #28 Very Good
MUTT & JEFF (1939) (#1-103) (DC) #53 Very Good
MUTT & JEFF (1939) (#1-103) (DC) #54 Fine
MUTT & JEFF (1939) (#1-103) (DC) #55 Very Good
MUTT & JEFF (1939) (#1-103) (DC) #58 Fine


MUTT & JEFF (1939) (#1-103) (DC) #59

MUTT & JEFF (1939) (#1-103) (DC) #59 Fine
MUTT & JEFF (1939) (#1-103) (DC) #60 Good
MUTT & JEFF (1939) (#1-103) (DC) #63 Fine
MUTT & JEFF (1939) (#1-103) (DC) #63 Very Good
MUTT & JEFF (1939) (#1-103) (DC) #65 Very Good
MUTT & JEFF (1939) (#1-103) (DC) #68 Very Good
MUTT & JEFF (1939) (#1-103) (DC) #69 Very Good
MUTT & JEFF (1939) (#1-103) (DC) #71 Very Good
MUTT & JEFF (1939) (#1-103) (DC) #73 Very Good
MUTT & JEFF (1939) (#1-103) (DC) #74 Very Good
MUTT & JEFF (1939) (#1-103) (DC) #80 Fine
MUTT & JEFF (1939) (#1-103) (DC) #83 Fine
MUTT & JEFF (1939) (#1-103) (DC) #85 Fine
MUTT & JEFF (1939) (#1-103) (DC) #101 Good

MY GREATEST ADVENTURE (1955) #47 Good
MY GREATEST ADVENTURE (1955) #48 Very Good
MY GREATEST ADVENTURE (1955) #50 Fine
MY GREATEST ADVENTURE (1955) #51 Fine
MY GREATEST ADVENTURE (1955) #52 Very Good
MY GREATEST ADVENTURE (1955) #53 Good
MY GREATEST ADVENTURE (1955) #54 Very Good
MY GREATEST ADVENTURE (1955) #60 Very Good
MY GREATEST ADVENTURE (1955) #61 Good
MY GREATEST ADVENTURE (1955) #61 Very Good


MY GREATEST ADVENTURE (1955) #62

MY GREATEST ADVENTURE (1955) #62 Fine
MY GREATEST ADVENTURE (1955) #75 Good

MYSTERY IN SPACE (1951) #84 Fine
MYSTERY IN SPACE (1951) #85 Fine
MYSTERY IN SPACE (1951) #86 Fine
MYSTERY IN SPACE (1951) #86 Very Good
MYSTERY IN SPACE (1951) #91 Good
MYSTERY IN SPACE (1951) #92 Fine
MYSTERY IN SPACE (1951) #93 Fine
MYSTERY IN SPACE (1951) #93 Very Good
MYSTERY IN SPACE (1951) #94 Fine
MYSTERY IN SPACE (1951) #94 Good
MYSTERY IN SPACE (1951) #94 Very Good
MYSTERY IN SPACE (1951) #95 Good
MYSTERY IN SPACE (1951) #95 Very Good
MYSTERY IN SPACE (1951) #97 Fine
MYSTERY IN SPACE (1951) #97 Good
MYSTERY IN SPACE (1951) #97 Very Good
MYSTERY IN SPACE (1951) #97 Very Fine
MYSTERY IN SPACE (1951) #98 Fine
MYSTERY IN SPACE (1951) #98 Good
MYSTERY IN SPACE (1951) #98 Very Good
MYSTERY IN SPACE (1951) #99 Very Good
MYSTERY IN SPACE (1951) #102 Fine
MYSTERY IN SPACE (1951) #102 Very Good
MYSTERY IN SPACE (1951) #107 Very Good

MYSTERY IN SPACE (2006) #1 DFE SIGNED Near Mint/Mint

NEW GODS (1971) #8 Fine
NEW GODS (1971) #8 Very Fine
NEW GODS (1971) #8 Very Good
NEW GODS (1971) #9 Fine
NEW GODS (1971) #9 Very Fine
NEW GODS (1971) #9 Very Good

NUTSY SQUIRREL (1954) #72 Good

OMAC (#1-8) (ONE MAN ARMY CORPS) (JACK KIRBY) (1974) #1 Good
OMAC (#1-8) (ONE MAN ARMY CORPS) (JACK KIRBY) (1974) #1 Fine
OMAC (#1-8) (ONE MAN ARMY CORPS) (JACK KIRBY) (1974) #1 Very Good
OMAC (#1-8) (ONE MAN ARMY CORPS) (JACK KIRBY) (1974) #1 Very Fine

OUR ARMY AT WAR (1952) #163 Very Good
OUR ARMY AT WAR (1952) #164 Good
OUR ARMY AT WAR (1952) #165 Very Good
OUR ARMY AT WAR (1952) #167 Good
OUR ARMY AT WAR (1952) #169 Very Good
OUR ARMY AT WAR (1952) #170 Fine
OUR ARMY AT WAR (1952) #170 Very Fine
OUR ARMY AT WAR (1952) #171 Good
OUR ARMY AT WAR (1952) #172 Very Good
OUR ARMY AT WAR (1952) #173 Good
OUR ARMY AT WAR (1952) #173 Very Good
OUR ARMY AT WAR (1952) #174 Fine

OUR ARMY AT WAR (1952) #174 Very Fine
OUR ARMY AT WAR (1952) #176 Fair
OUR ARMY AT WAR (1952) #178 Very Good
OUR ARMY AT WAR (1952) #179 Good
OUR ARMY AT WAR (1952) #180 Good
OUR ARMY AT WAR (1952) #180 Very Good
OUR ARMY AT WAR (1952) #181 Very Good
OUR ARMY AT WAR (1952) #184 Fine
OUR ARMY AT WAR (1952) #184 Good
OUR ARMY AT WAR (1952) #184 Very Good
OUR ARMY AT WAR (1952) #185 Fine
OUR ARMY AT WAR (1952) #185 Good
OUR ARMY AT WAR (1952) #185 Very Good
OUR ARMY AT WAR (1952) #188 Fine
OUR ARMY AT WAR (1952) #188 Very Good
OUR ARMY AT WAR (1952) #189 Fine
OUR ARMY AT WAR (1952) #192 Good
OUR ARMY AT WAR (1952) #192 Very Good
OUR ARMY AT WAR (1952) #194 Fine
OUR ARMY AT WAR (1952) #194 Very Good
OUR ARMY AT WAR (1952) #195 Fine
OUR ARMY AT WAR (1952) #195 Very Good
OUR ARMY AT WAR (1952) #197 Fine
OUR ARMY AT WAR (1952) #198 Good

OUR ARMY AT WAR (1952) #198 Fine
OUR ARMY AT WAR (1952) #198 Very Good
OUR ARMY AT WAR (1952) #200 Very Good
OUR ARMY AT WAR (1952) #206 Very Good
OUR ARMY AT WAR (1952) #243 Fine
OUR ARMY AT WAR (1952) #269 Very Fine
OUR ARMY AT WAR (1952) #280 Fine
OUR ARMY AT WAR (1952) #280 Very Good

OUR FIGHTING FORCES (1954) #73 Good
OUR FIGHTING FORCES (1954) #73 Very Good
OUR FIGHTING FORCES (1954) #75 Very Good
OUR FIGHTING FORCES (1954) #76 Good
OUR FIGHTING FORCES (1954) #76 Very Good
OUR FIGHTING FORCES (1954) #77 Good
OUR FIGHTING FORCES (1954) #77 Very Good
OUR FIGHTING FORCES (1954) #78 Good
OUR FIGHTING FORCES (1954) #78 Very Good
OUR FIGHTING FORCES (1954) #79 Good
OUR FIGHTING FORCES (1954) #79 Very Good
OUR FIGHTING FORCES (1954) #80 Good
OUR FIGHTING FORCES (1954) #80 Very Good
OUR FIGHTING FORCES (1954) #81 Fair
OUR FIGHTING FORCES (1954) #81 Good
OUR FIGHTING FORCES (1954) #81 Very Good


OUR FIGHTING FORCES (1954) #82

OUR FIGHTING FORCES (1954) #82 Good
OUR FIGHTING FORCES (1954) #82 Fair
OUR FIGHTING FORCES (1954) #82 Very Good
OUR FIGHTING FORCES (1954) #83 Good
OUR FIGHTING FORCES (1954) #83 Very Good
OUR FIGHTING FORCES (1954) #84 Fine
OUR FIGHTING FORCES (1954) #84 Fair
OUR FIGHTING FORCES (1954) #84 Good
OUR FIGHTING FORCES (1954) #84 Very Good
OUR FIGHTING FORCES (1954) #85 Fine
OUR FIGHTING FORCES (1954) #85 Good
OUR FIGHTING FORCES (1954) #85 Very Good
OUR FIGHTING FORCES (1954) #86 Good
OUR FIGHTING FORCES (1954) #86 Very Good
OUR FIGHTING FORCES (1954) #87 Good
OUR FIGHTING FORCES (1954) #87 Fair
OUR FIGHTING FORCES (1954) #87 Very Good

DARK HORSE COMICS
BALTIMORE: PLAGUE SHIPS (DARK HORSE) (MIGNOLA) (2010) #5 Very Fine

IMAGE COMICS
68 (2011) #1 B Fine
68 (2011) #2 A Fine

INDEPENDENTS
ASYLUM OF HORRORS (2008) #2 (Asylum Graphics) Fine

HAUNTED HORROR (2012) #1 (IDW Publishing) Near Mint/Mint