Special PRINCESS LEIA Comics Offer
Howdy!
I am continuing to work on my twin agendas of assisting comics fans with their collections, and helping those in our Denver community who find themselves homeless, and oftentimes desperate. Melding my two goals into one concerted effort has proven far easier than I first thought, as the outpouring of support for my efforts to help the poor that I have been receiving from the readers of this newsletter has been simply amazing.
To explain, not a day goes by during which we do not receive multiple requests for the $25 gift certificates that I have been offering to benefit "Feeding Denver's Hungry." Part of the reason for their popularity has been the fact that, while those donation certificates have a $25 initial cost to the buyer, they also come with near-immediate reimbursement via $25 in merchandise from our website.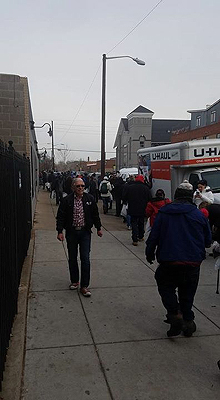 Chuck's job at the St. Francis Center Food Distribution is to make sure that all goes smoothly

So you know, I am then personally absorbing all of the cost of the comics, magazines, trade paperbacks, and comics hardbacks we give out to redeem the certificates. This clearly costs me quite a bit, but I have been blessed with a lifetime of support from comics fans, and this is my way of giving back. In the end, this is an absolutely wonderful win-win situation for everyone, but most especially those living on the streets. The fact that the purchase of a $25 certificate also gets you a free entry into an exclusive drawing for a $1,000 shopping spree! at Mile High Comics is clearly also a plus. Our drawing for this $1,000 shopping spree will be held next Monday, so you have only five days left to purchase your $25 certificate(s).

STAR WARS: PRINCESS LEIA #1 MILE HIGH

Combining my goals in a slightly different way, I want to create a completely new positive synergy today. To explain, to our collective dismay, we learned yesterday that Carrie Fisher had unexpectedly passed away. Carrie gained most of her fame as Princess Leia in STAR WARS, but later in life she was also known to be a courageous advocate for the mentally ill. That having been said, it should come as no surprise that a significant percentage of the people that we serve through Feeding Denver's Hungry are living on the streets because they are afflicted with some manifestation of mental illness. These are folks who can clearly function on their own, but have a very hard time dealing in structured social environments. We judge them not at all, but seek only to help them to survive outdoors in Denver's harsh winter.

STAR WARS: PRINCESS LEIA #2 MILE HIGH

With that thought in mind, I am going to break one of my own rules, and offer you today copies of our exclusive Mile High Comics variant editions of STAR WARS: PRINCESS LEIA #1, #2, #3, #4, and #5 at their original release price of $25 each. Will Moulton had taken note of the fact that our remaining supplies on these very low print run variants (3,000 copies) had diminished over the year since they were first published, and raised them up to $34.95 each about 90 days ago. What I want to do now, however, is to reverse course, and to drop the price back down to only $25 per copy, but only for the next ten days.

STAR WARS: PRINCESS LEIA #3 MILE HIGH

My reasoning in instituting this temporary price decrease is that I want to treat the purchase of any of these issues of our STAR WARS: PRINCESS LEIA #1, #2, #3, #4, and #5 variants as the same as your purchasing a $25 gift certificate. Simply put, we will donate 100% of the proceeds from the sale of these variants for the next ten days to "Feeding Denver's Hungry," and the purchase of one of our STAR WARS: PRINCESS LEIA #1, #2, #3, #4, and #5 variants will also gain you an entry into the drawing for the $1,000 shopping spree. But only through Monday's drawing for the shopping spree. We can do nothing about the dreadful sadness of Carrie Fisher's passing, but at the very least this 10-day period of donations to "Feeding Denver's Hungry" will help some of the very people for whom she most vigorously advocated. Thank you.

STAR WARS: PRINCESS LEIA #4 MILE HIGH

One quick note that I do have to make about my offer of $25 STAR WARS: PRINCESS LEIA #1, #2, #3, #4, and #5 variants is that they do not qualify for the 30% HOLIDAY! codeword discount that currently applies to our ten million back issue comics and magazines that we offer through our website. This is actually nothing new, as our Mile High Comics variants have always been excluded from our codeword sales, as have new issues, and our CGC's. Our books also do not qualify for the HOLIDAY! codeword discount, but that is because we have already slashed almost all of our trade paperback and comics hardback prices for you right on our website by 30%-40% off.

STAR WARS: PRINCESS LEIA #5 MILE HIGH

I will close by mentioning that we have been adding thousands more old comics for you into our inventory this week. Visit our New-In-Stock and Premium New-In-Stock links from this past week to see the amazing spectrum of new items that we've just added. In all honesty, our website selections have simply never been better. If you are looking for any back issue comics, magazines, or books, you really should spend some time browsing through our site. With all of our comics, book and magazine prices already slashed to rock bottom, our additional 30% off HOLIDAY! codeword will now allow you to build your collection for mere pennies on the dollar.
Please do enjoy the waning days of our awesome HOLIDAY! codeword sale with our sincere thanks for your support of Mile High Comics.
Happy collecting!
Chuck Rozanski,
President - Mile High Comics, Inc.
December 28, 2016

P.S. Here are some photo arrays of comics that we have added recently. I love old comic books!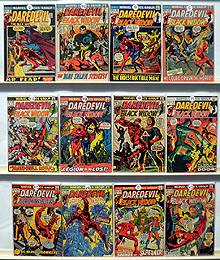 Some of the Daredevil comics that just came in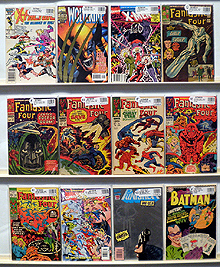 Some more comics that just came in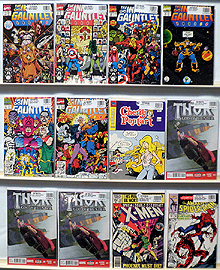 Even more comics that just came in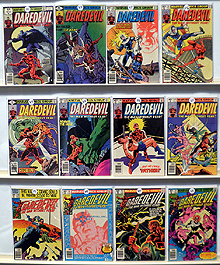 Some more of the Daredevil comics that just came in