Local News - Comics Auction News and Photos
Howdy!
A short newsletter today, as I am scheduled to film a small segment with 9NEWS in a few minutes. I do need to cover a couple of news topics, however, so I will try to be concise.
First, many thanks to those of you who turned out and supported our Christmas Eve benefit auction. Your combined generosity allowed us to contribute over $1,500 to "Feeding Denver's Hungry." That donation will help to purchase food, toiletries, and warm clothes for those who have no choice but to live on Denver's frigid streets. Thank you.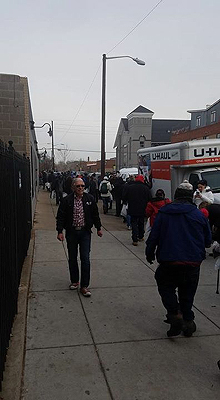 Chuck's job at the St. Francis Center Food Distribution is to make sure that all goes smoothly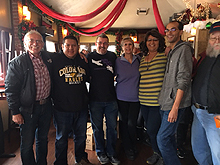 Preparing for the largest food giveaway in the history of "Feeding Denver's Hungry!"

On a related note, if you might have some warm clothes (new or used) that you might be willing to donate, please bring them by to any of our stores. I will be hitting the streets on Thursday morning along with the rest of Jim Scharper's volunteers at "Feeding Denver's Hungry" to pass out toiletries, gloves, scarves, socks, and hats. We could very much use donations of any of the above, as we are stretched to the limit, and will definitely run out of everything. If you have nothing at home that you can contribute, might I suggest stopping by a Dollar Tree store? They are starting to receive their after-Christmas shipments, and have many great toiletries priced at only $1...

PRINCESS LEIA (2015) #1 PHOTO COVER


PRINCESS LEIA (2015) #3 MILE HIGH

In other news, we are being bombarded with calls this afternoon about comics featuring Carrie Fisher, and/or Princess Leia. That is very sad given her passing, but not unexpected. So everyone knows, the only Leia-specific title published was STAR WARS: PRINCESS LEIA (2015). There were five issues of that title, and we have all of the regular issues in stock, and also all five of our Mile High Comics variants. 'Nuff said.
Finally, tomorrow is a huge week for new comics, with DARK KNIGHT III #7 and CIVIL WAR II #8 releasing, among many others. If I might, I would ask you to also take a look at LOVE IS LOVE, a wonderful anthology title that was created as a benefit for the survivors of the Orlando Pulse nightclub shooting. I have been flipping through my advance copy, and it looks great. I especially like the "Pop's Chock'Lit Shoppe" segment by Roberto Aguirre-Sacasa, featuring Archie, Betty, Veronica, talking with Kevin about being gay in Orlando. Addition stories and artwork by Paul Dini, Jim Lee, P. Craig Russell, Matt Wagner, Brian Michael Bendis, Judd Winick, Mark Millar, Phil Jimenez, Gail Simone, and many more. LOVE IS LOVE is highly recommended, but please note that our supplies are limited.
Happy collecting!
Chuck Rozanski,
President - Mile High Comics, Inc.
December 27, 2016

Mile High Comics - Jason Street Mega-Store


Mile High Comics Retail Store Locations