Comics Sale - Ten Million Comics, Marvel, DC, Dark Horse, Image, more
Howdy!
After weeks of preparation and effort, it is hard to believe that Christmas has now come, and gone. Here at Mile High Comics our biggest effort this year was in staging our annual holiday benefit auction, which is typically held the weekend before Christmas. That schedule had to be altered this year, however, as a week ago Saturday was right after a major snowstorm hit Denver, shutting down many roads.
Blessedly, I anticipated that storm's arrival, and moved our auction date at the last-minute to this past Saturday. While that avoided the ice, snow, and freezing cold, the 24th was both Christmas Eve, and the beginning of Hanukkah. All worked out just fine, however, as we had a wonderfully enthusiastic crowd that helped us to make our auction a complete success. We not only helped to cover some of our own costs, but also raised over $1,500 for "Feeding Denver's Hungry." I also made certain that all of the young collectors in attendance received some great old comics for only $1 each. It was an awesome day...
After Saturday's auction ended, I went out in the early twilight by myself to pass out bags of donated food to some of the estimated 9,000 people who are currently living on the streets of Denver. I went out again last night, and will probably go out again tonight. Over the course of having done this for the past three months, I have slowly become adept at cruising the dark alleys and back streets of lower downtown, and finding those hidden spots where our most destitute people are sheltering. This is not a job for the timid, however, as there are more than enough meth heads and mentally ill folks out there to make cruising alone after dark viscerally dangerous.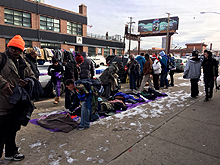 The donated used clothes we offered were greatly appreciated!
At the end of the day, however, it is the terrible fate of many of our poorest citizens to be forced to live among the deranged and the predacious. Life on the streets is incredibly harsh, and no one cares even one whit if you once had a comfortable life. Once you hit the streets, you become locked into a daily scramble just to survive. When that happens, the only way for me to get assistance to the good people who have fallen on hard times is to take the risk, and just go looking for them. Blessedly, I lived on the streets for a while as a teen, so I have an acute awareness of risks that you simply do not take. That heighten sense of paranoia has kept me out of trouble more than a few times. I harbor no illusions, however, and fully expect that this will not always end well. If I can bring assistance to those hopeless souls, and help them to stay alive through Denver's brutal winter, I think it is well worth my risk. Otherwise, they have no one.
On a more cheery note, our wonderful daughter, Tanith Rozanski, got up at the crack of dawn today and went shopping for fleece jackets and hoodies at Old Navy. They closed out these awesome jackets for only $6 each, so Tanith picked up 35 specifically to help the girls and women living on the streets. I will distribute those awesome jackets among the homeless in early January along with "Feeding Denver's Hungry" founder, Jim Scharper, and the rest of our dedicated volunteers. This Thursday, we will concentrate on passing out hygiene kits (soap, shampoo, toothpaste, deodorant, etc.), socks, and gloves...
If you would like to assist me in my mission to help Denver's poorest citizens, you can do so by purchasing a $25 Mile High Comics gift certificate. You can use this certificate at full value, so your cost is completely reimbursed. In the meantime, however, I am donating all the proceeds from these certificates into a fund that we are using to pay for the gloves, socks, hoodies, soap, etc. that we are distributing each week. If you do purchase a certificate, you can either have it mailed to you (free of charge), or you can simply ask for a registration number be e-mailed to you that you can use with your next order.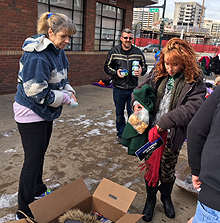 Feeding Denver's Hungry founder, Jim Scharper, and Empress 43 Norrie Reynolds, helping a young girl who arrived in stocking feet because someone stole her shoes while she was sleeping. We had donated boots in exactly her size!
No matter what you decide, I will be personally donating all of the comics, magazines, and books that you pick up with your certificate(s). In addition, I have put up a $1,000 Mile High Comics shopping spree as a prize in a drawing that you can only enter if you purchase a gift certificate. You are entered once for each $25 certificate you purchase. The drawing will be held on January 1st, and we will e-mail the winner immediately after. There are relatively few entrants, so your odds of winning are far better than most drawings.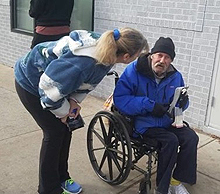 Imperial Court Empress 43 Norrie Reynolds handed out 500 pairs of thermal socks
Another way that you can assist me in my efforts is by simply placing an online order with us, or by visiting one of our stores. As I am sure that you can well imagine, all of my efforts to help the homeless have cost me considerably both in time, and in money. Mile High Comics is the mainstay of my life, so it is critically important that our company maintain its vitality so that I can continue to be able to afford to help those in need. This is not a request for charity, however, as I can assure you that we have done an incredible job over this past year of purchasing huge private collections of comics, books, and magazines. Those collections have added tens of thousands of new items into our website listings, most of which are available to you right now at 30% off via our annual codeword sale. Please take a glance at your collection this evening and see if there are some holes that we might be able to help you fill. We have 380,000 unique item listings on our website right now, so it seems only logical that we have a slew of great collectibles in stock that you would love to own... Thank you!
Happy collecting!
Chuck Rozanski,
President - Mile High Comics, Inc.
December 26, 2016

P.S. Our 30% off HOLIDAY! Codeword sale discounts apply to all ten million of our back issue comics and magazines, including all of our Golden Age, Silver Age, Bronze Age, Copper Age, and Modern Age comics. Only new issues, a few variants, and our CGC's are exempt. All 250,000+ of our trade paperbacks and hardbacks are on sale for you right now, too, with those 30%-40% off reduced prices posted for you right on our website. Please enjoy these great HOLIDAY! savings with our sincere thanks for your continuing support of Mile High Comics.