Local News - Comics and Toys Auction This Saturday Morning
Howdy!
The countdown has begun to our huge Pre-Christmas Auction! Starting at 11:30 AM on Saturday morning at our Jason St. Mega-Store we will have over 1,000 comics, toys, statues, and other cool collectibles that we will be offering for sale with no minimum bids. If you are looking for some awesome last-minute gifts for that comics or toy fan you know, this Saturday morning will be your golden opportunity! Photos of our core auction items are at the end of this newsletter, but there will also be a slew of unannounced items....
As a part of our Saturday auction we will also be selling donated items to help out people who have no choice but to live on the streets of Denver. If you have any unwanted comics, toys, or collectibles that you might be willing to donate to this truly worthy cause, your items would be very much appreciated. I can assure you that every cent we raise by selling our donated items will be used to buy either food, or warm clothing, for the homeless. I personally deliver many of the items into the hands of the needy, either by myself, or in partnership with the awesome volunteers from Feeding Denver's Hungry.
So you know, I regularly cruise the streets of lower downtown Denver looking for people who need help. I was passing gloves and hand warmers at 10 PM on Saturday evening, when I saw a man collapse from the cold on the sidewalk at 21st and Lawrence. He was in really bad shape, nearly incoherent, and shaking badly from advanced hypothermia. I called 911, and then stayed with him until help arrived about ten minutes later. It turns out that he had just been discharged from a hospital, and had tried to make his way on foot to the shelters on Park Ave. It was well below zero that night, so he just couldn't make it.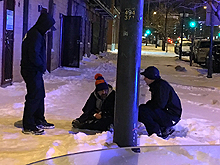 Denver Paramedics helping nearly Frozen man

I'm telling you about my rescuing this man because those of you who have donated warm clothes, bid in our benefit auctions, or played in our benefit poker games are the very people who have provided me with the means and the ability to be out on that frigid evening. I thank you very sincerely, as even just the socks, gloves, and hand warmers that I was passing out on Saturday evening were very gratefully received. Thank you for all your kindness, and your help.
Happy collecting!
Chuck Rozanski,
President - Mile High Comics, Inc.
December 20, 2016

P. S. Aside from our Saturday auction, we also have stocked up all three of our stores with thousands of great gift items, including huge deliveries of new trade paperbacks and comics hardbacks. Enjoy!
Mile High Comics - Jason Street Mega-Store


Mile High Comics Retail Store Locations