Comics Donations Save Homeless Man From Near Death
Howdy!
Many thanks to everyone who took advantage of our annual 30% off HOLIDAY! codeword sale over this past weekend. With the new STAR WARS movie being released at the same time we were a bit concerned that our sale might be overshadowed, but things actually worked out quite well. It doesn't hurt that we offer the largest selection of STAR WARS comics variants available anywhere in the world...

STAR WARS #1 Mile High Exclusive

While we sold a boatload of comics over the weekend, Lynne thinks that she can keep orders flowing smoothly for everyone. She has been blessed to have two longtime Mile High staff members return to work, which means that we can provide you with an enhanced shipping experience for this holiday season. If you need an order rushed for Christmas, please write to lynne@milehighcomics.com, and she can quote you how much express shipping will cost. Our cool Mile High Comics gift certificates are your least expensive option for a last-minute gift.
Speaking of gift certificates, I want to send out a special "Thank You!" to those of you who sent in $25 as a part of my gift certificates for the homeless program. Thanks to your contributions I had warm gloves to hand out on the streets last Saturday night, when temperatures in Denver hit a bone-chilling -17 degrees (-27 Celsius). I also had some of those awesome chemical hand-warmers to give to those huddled on the streets thanks to John Paul, of New Jersey's Pug Productions. The combination of gloves, and John's hand warming packs, was essential for those poor people to avoid frostbite.
One man who directly benefitted from my help is shown in the photo below. He was crossing at the 21st and Larimer intersection at 10PM on Saturday evening, when he collapsed on the sidewalk, and could not get up. I pulled my minivan to the curb, turned on my flashers, and ran over to help him. It turned out that he had just been released from a hospital 20 blocks away, and was trying to walk to a nearby shelter. Hypothermia overcame him, however, and he was shaking, incoherent, and nearly unconscious when I reached him.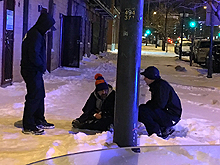 Denver Paramedics helping nearly Frozen man

I immediately called the 911 emergency operator, and then followed her instructions to get the man back up into a sitting position, and then stayed with him for the ten minutes it took for the paramedics to arrive. Even in that brief span of time, however, I was left shaking from the cold, as it was well below zero. I was quite relieved when the ambulance finally arrived, and took the man back to the hospital. Several people had walked past this man before I came to his aid, and I have to assume that they thought that he was just drunk. But if you look closely in the photograph, you can actually see that he was still wearing his hospital ID bracelets.
If you would like to help me in my mission to serve the poor, please purchase a $25 Mile High Comics gift certificate. I will reimburse your $25 donation in comics or books from our inventory, the cost of which I will personally bear. In the meantime, I will utilize your $25 to purchase thermal socks, gloves, scarves, and hats for those who have no option but to sleep outdoors in Denver's bitter cold. Each $25 donation also gets you an entry into a drawing for a $1,000 Mile High Comics shopping spree, the winner of which will be drawn on January 1st. This work is something that I do to personally give back to our community, and any help you might be able to provide me is very much appreciated. We can either mail (regular mail) you your gift certificate (with no shipping charge), or e-mail you a registration number. Thank you.
I will close today's newsletter with a request that you please place an order with us before Christmas or stop by one of our stores. With the weather having been so darn cold this past Saturday, we had almost no business in our 3 Denver-area stores. Losing sales on any Saturday is bad news, but our losing the Saturday before Christmas really stings. Our 30% off HOLIDAY codeword makes an incredible number of comics listed for sale on our website intensely good deals for you. 'Nuff said...
Happy collecting!
Chuck Rozanski,
President - Mile High Comics, Inc.
December 19, 2016

P.S. Below are some photo arrays of comics that either appeared in Premium New-In-Stock today, or will be added tomorrow. I have been working late in Jason St. darn near every night sorting comics, so I can assure you that New-In-Stock and Premium New-In-Stock will contain awesome selections of newly-arrived comics all this week. Enjoy!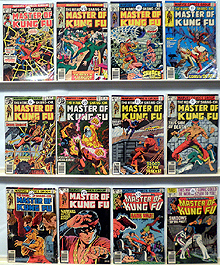 Some MASTER OF KUNG-FU comics.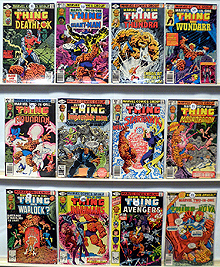 Some MARVEL TWO-IN-ONE comics.