Local News - Kevin Smith Video of Mile High Comics Visit
Howdy!
The big news for this week is that we received a surprise visit on Tuesday from noted filmmaker, Kevin Smith, and on Wednesday from his partner in crime, Jason Mewes! The two of them are in Colorado for a ten-city Jay and Silent Bob tour of comedy clubs, so they each grabbed an Uber, and popped in completely unannounced. As the Facebook Live video that Kevin filmed while touring the store clearly shows, he absolutely fell in love our Jason St. location. Kevin's video has also gone viral over the past 18 hours, with over 360,000 views. Amazing!
In other news, our annual Jason St. Christmas gifts auction has been moved to Christmas Eve, December 24th, starting at 11:30 AM. This huge no-minimum-bid auction will feature nearly 1,000 old comics, toys, trade paperbacks, and collectible stocking stuffers. There will also be a charity element to our auction, as I am still working to buy more warm clothing and food for Denver's homeless. If you might own a collectible or comic book that no long fits in your collection, we would be grateful to have you donate it to our auction. We will sell your item during the auction, and use 100% of the proceeds to help those in need. Please do plan to support our December 24th auction!
My final item for today is a few photographs from today's Feeding Denver's Hungry clothing giveaway in lower downtown. Over a four-hour period six of us volunteers gave away more than a ton of donated used clothing, as well as 500 pairs of thermal socks, 400 pairs of gloves, 300 scarves, and 300 knit hats. With the temperature predicted to drop below zero Saturday night, this warm clothing is critical for the survival of many who are less fortunate. I sincerely thank those of you who donated to our clothing drive. Our next clothing giveaway will be on December 29th. If you have any surplus jackets, sweaters, etc. that you could spare, please drop them off at any Mile High Comics location.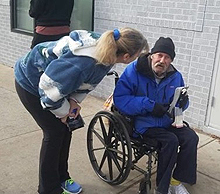 Imperial Court Empress 43 Norrie Reynolds handed out 500 pairs of thermal socks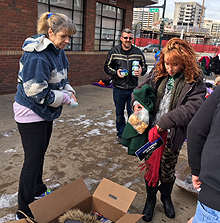 Feeding Denver's Hungry founder, Jim Scharper, and Empress 43 Norrie Reynolds, helping a young girl who arrived in stocking feet because someone stole her shoes while she was sleeping. We had donated boots in exactly her size!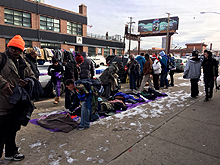 The donated used clothes we offered were greatly appreciated!
Happy collecting!
Chuck Rozanski,
President - Mile High Comics, Inc.
December 15, 2016

P.S. Below are just a few photos of auction lots from our December 24th auction. It will be awesome...
Mile High Comics - Jason Street Mega-Store


Mile High Comics Retail Store Locations