Local News - 30% Off Comics and Toy Sale This Saturday - Auction Dec. 24th
Howdy!
I need to begin today by letting you know that our annual Christmas auction of comics and toys will not be held this Saturday (December 17th) as planned, as the weather is projected to be below zero that day. Instead, we will be moving the auction date to Christmas Eve, December 24th. That Christmas Eve auction will begin at 11:30 AM at our Jason St. Mega-Store, and will conclude by 2:00 PM. This auction will be HUGE, with hundreds of toys, comics, and other collectibles, including an excellent selection of last-minute stocking stuffers. We hope that you can attend this fun family event, as it is frequently the case that our auction lots sell for as low as $1 each! See the photos of auction items at the end of this newsletter for more details.
In other news, we will be offering a 30% off Pre-Christmas sale in all of our retail stores on this Saturday and Sunday. We already know it is going to be cold that day, so we want to provide you with an added incentive to support us. Your 30% off discount will apply to back issue comics and magazines, toys, statues, books, games, apparel, etc. Only new issues, a few variant editions, and net price (blue sticker) items are excluded from the sale.
As an aside, I will mention quickly that supporting all smaller retailers is extremely important during the holiday season. While the big mass market retailers, such as Wal-Mart, Target, and Amazon, will almost certainly garner the mass of consumer spending during this holiday season, those of us who provide you with shopping diversity and personal service oftentimes find ourselves forgotten. That is ironic, because we have been receiving shipments of cool merchandise almost daily, much of which will never be offered by the mass retailers. Please do go out of your way to shop with smaller retailers, as we truly need your support. You'll be glad you did! Thank you.
My final item for today is a request for socks. As you are probably already aware, I have been working with Jim Scharper's Feeding Denver's Hungry organization for the past four months, helping them to feed and clothe some of the 9,000+ homeless people living in lower downtown Denver. One area of critical need as this weekend's subzero weather approaches is for thermal socks. I have searched the Internet, and (surprisingly) have not come up with any more cost-effective option than the awesome thermal men's socks sold for only $1 in the Dollar Tree stores.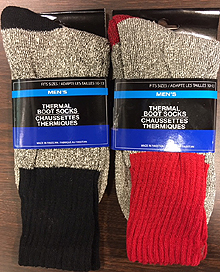 The thermal socks we are looking for.

That having been said, each Dollar Tree store only receives 30 pairs at a time, and restocking is intermittent. Where I need your help is in visiting different Dollar Tree locations for me to try to find these socks. If you can then bring the socks in to any of our three locations we will immediately reimburse you, either in cash, or merchandise of your choice. Frostbite will be a real concern during this weekend for those forced to sleep outside, so I am quite serious about needing your help. Please do visit a Dollar Tree location near you, and see if they have any of their thermal socks left. You may help to save someone's toes on Saturday night. Thank you!
Happy collecting!
Chuck Rozanski,
President - Mile High Comics, Inc.
December 13, 2016

P.S. We are also seeking donations of any extra comics, toys, or other collectibles that you might be willing to let us auction next Saturday for the benefit of Feeding Denver's Hungry. Thank you....
Mile High Comics - Jason Street Mega-Store


Mile High Comics Retail Store Locations