Special 3-Day 50% Off All Comics
Howdy!
At 8:57 last evening, our very first grandbaby, Felicity Luciana Rozanski-Palmer, blessed us with her presence. Her arrival ended a period of great anxiety for my wife Nanette, and myself, as our daughter, Tanith, had a very difficult delivery. Felicity's birth was induced three days ago because Tanith experienced the symptoms of preeclampsia, a condition which is potentially life-threatening for young mothers. The past 72 hours were filled with genuine concern for the well-being of both Felicity and her mom-to-be, but at long last the call came to us that she had been born, and that they were both doing OK. Woo!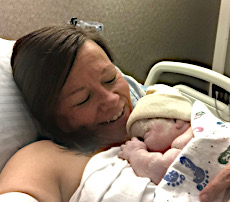 Felicity Luciana Rozanski-Palmer & Tanith

I am so overjoyed at Felicity's arrival that I have decided (totally on my own) to celebrate by initiating a very brief 50% off sale on all ten million+ of our back issue comics and magazines. We are already pretty busy around here, but hosting a 3-day FELICITY! codeword is a truly fun way for me to share my joy with you, no matter where you may be.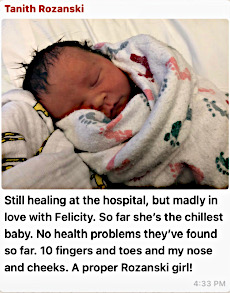 Felicity Luciana Rozanski-Palmer

As with all of our sales, our FELICITY! half price event applies to all of our back issue comics and magazines listed on our website, excepting only new issues, a few variants, and our professionally-graded issues. It will also apply in our Jason St. Mega-Store, but in the store it will end on Sunday afternoon, at closing. For our online friends, you may avail yourself of the FELICITY! savings until Monday, at noon. Please do enjoy this joyous milestone in our lives with our most sincere thanks for all of your kindness and support of our family-owned company. Life is good!
Happy collecting!
Chuck/Bettie, Nanette, Tanith, Rowan, Aleta, & Elsbeth Rozanski
December 10, 2020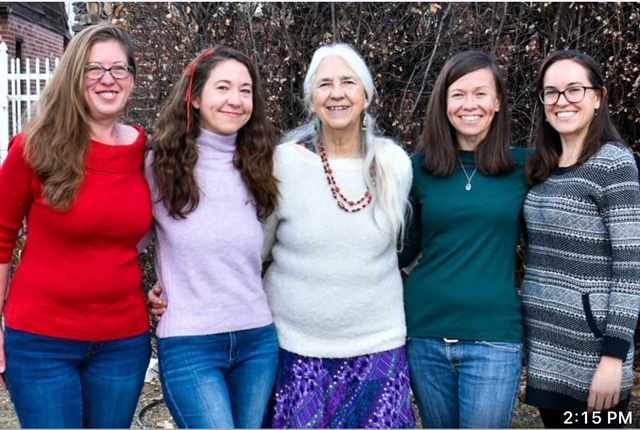 Rowan, Aleta, Nanette, Tanith, & Elsbeth Rozanski

P.S. No listing of new arrivals today, as we want this announcement to be sent out as quickly as possible. I would be remiss, however, if I did not mention that Pam purchased a delightful collection of 1980's BATMAN and DETECTIVE comics this morning. She graded them this afternoon, specifically so that they will appear in our Premium New-In-Stock link tomorrow morning. We sell out of these issues all of the time, so availability of this new collection is first come, first served. Enjoy!