Local News - 30% Off Codeword Sale - No Auction This Saturday
Howdy!
I want to start today by quickly mentioning that we have postponed this weekend's Jason St. no-minimum-bid auction until December 17th. There were several reason for us choosing to delay this auction, not the least of which was our desire to have it be our very best auction of the year. Our mid-December auction has always been filled with hundreds of potential presents and stocking stuffers, but we are going all-out this year to provide everyone who attends an awesome selection of great gifts to choose from, at nominal prices. The December 17th auction will begin at 11:30 AM, at our Jason St. location. Bring the kids, as we will have several groups of auction items just for them, as well as free refreshments and Christmas cookies.
In other news, my beloved wife, Nanette, is going in for hip-replacement on Tuesday. Aside from her personal concerns, Nanette expressed to me earlier this week that she wanted me to make certain that we had plenty of orders coming in from our online business while she was laid up, so she would not have to worry about the company bills getting paid. With that thought in mind, I went ahead yesterday and announced a special 30% off NANETTE3 codeword sale on all of our back issue comics and magazines to our worldwide fan base. That sale has absolutely blown up, with more orders being received via our website during the past twelve hours, as during the past twelve days!
All of the above having been said, I am often asked if our online discounts can apply in our retail stores. The answer (this time) is Yes! But, and I really have to emphasize this BUT, it is totally your responsibility to ask for the 30% off NANETTE3 codeword discount before we ring up your purchase. If you do not ask our clerk for your discount at the time of purchase, you will not receive the discount, even if you remember later. The reason for this firm policy is that this codeword discount is a reward to you specifically for being a member of this newsletter group. Given that you take the time to read my weekly messages, I am perfectly happy to allow you the same 30% off on our back issues as our online clients. I cannot afford to extend that same courtesy to everyone walking in the door, however, so please do remember to ask for your NANETTE3 discount when checking out.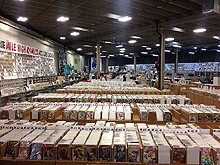 The beginning of the Ocean of comics at Jason St.

I do want to also mention that the 30% off NANETTE3 codeword discount applies to all of our back issue comics and magazines excluding only new issues, our CGC's, and a few variants. There are also a handful of comics in our showcases at Jason St. that are "net price only," which cannot be discounted. On the flip side, however, most of the back issue comics currently on sale in Jason St. have incorrect prices, as they were stickered before our massive price decrease went into effect in early October. What we are currently doing to solve this mismatch is to first reprice all back issues at the front counter to current pricing, and then providing the 30% off NANETTE codeword discount as an additional benefit. Simply put, our prices on back issue comics have not been this low in years.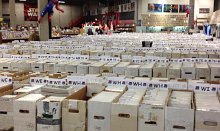 The end of the Ocean of comics at Jason St.

I will close by mentioning that the initial online response to the NANETTE3 codeword sale has been so robust that I am already contemplating ending this sale early. If you want to receive 30% off on back issues, I encourage you to visit your favorite Mile High Comics location as soon as possible, by this weekend if you can. Nuff said.
Happy collecting!
Chuck Rozanski,
President - Mile High Comics, Inc.
December 1, 2016

P.S. I was out this morning helping Jim Scharper's "Feeding Denver's Hungry" volunteers distribute $2,500 in donated corporate gift cards to the homeless in lower downtown. I personally contributed 175 brand new pairs of gloves to this effort, which were also very well received. If you would like to help those in need prepare for the bitter weather to come, please drop off your donations of warm weather clothing to any of our Mile High Comics locations. We especially need new socks, and used coats, sweaters, blankets, hats, boots, scarves, etc. I will personally be helping to distribute these much-needed items to homeless teens and disabled adults on Christmas Day...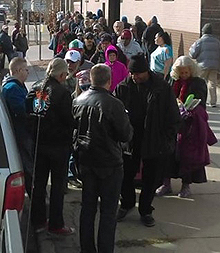 Passing out gift cards to a huge crowd!

Mile High Comics - Jason Street Mega-Store


Mile High Comics Retail Store Locations