Black Friday Book Sale Ending
Howdy!
I am writing today's newsletter on a break from sorting comics in the back of Jason St. I have to admit that I am feeling quite relaxed today, as I have delayed my comics buying trip to the East coast until early January. I was originally supposed to leave for New York/LaGuardia this evening, but with 120 long boxes of comics already on their way from the big purchase that I made in Dallas on Tuesday, our sorting staff simply do not need any more to do right now. That means that I can actually pitch in on sorting comics, which is a task that I enjoy very much. Life is good!
In case you are wondering, the comics that we are sorting right now run the gamut of every collecting genre that you can possibly imagine. Just this morning, for example, I have handled rare Golden Age, Silver Age, Bronze Age comics, as well as scarce modern issues. If you are interested in keeping track of our progress, I encourage you to keep an eye on our daily New-In-stock and Premium New-In-Stock links. I think that you will be quite impressed by the diversity of material that we are adding right now. Just yesterday, for example, we added FANTASTIC FOUR (1961) #2 in Good, and TALES TO ASTONISH (1959) #27 (1st Ant-Man) in Good, among many others. Those key issues are just the beginning, as we have well over 300 long boxes filled with better material waiting to be sorted. In a nutshell, that's why I decided to stay here and sort, rather than heading out n another buying trip.
In other news, our Black Friday sale on our Trade Paperbacks and Hardbacks has spurred an immediate surge in our book sales. If you have not already taken a look at our newly updated listings, it might be very worthwhile for you. All of our trade paperbacks are 40% off this weekend, while all of our comics hardback collections are 30% off. This Black Friday book sale will end on Wednesday, at noon.
I will close today's newsletter by thanking those of you who have already purchased $25 gift certificates toward our December clothing drive for "Feeding Denver's Hungry." I worked eight hours yesterday (Thanksgiving) helping to create meals, and then passing them out to people who have found themselves homeless on the streets of Denver. It was a heart-warming experience, but interspersed with sadness at the sheer magnitude of need. With our nights now dropping below freezing almost every night the 150 pairs of gloves that I brought were gone in under an hour, with many people have to go without.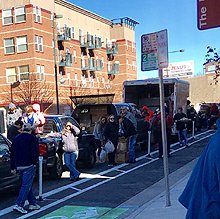 Some of our 30+ volunteers preparing to hand out lunches at Urban Peak on Thanksgiving.

The good news is that I do already have another 600 pairs of gloves on order (paid for by those of you who contributed last month!), and I will order 600 more pairs when I pick up my first order. My goal for this month is to have 52 members of this mailing list chip in $25 each so that I can also order 1,000 pairs of thermal socks. The Army and Navy Surplus store just up the street from Jason St. has offered them to us for $1.30/pair, which is the least I have been able to find on heavy duty polyester, even after searching online. If you order a $25 gift certificates, I will put your donation toward this sock order, and give you your entire donation back in comics that I will personally contribute. You can either have us mail you your certificate (free of shipping cost), or we can send you the registration number. Mile High Comics gift certificates can also make great presents for your friends...
Happy collecting!
Chuck Rozanski,
President - Mile High Comics, Inc.
November 25, 2016

P.S. Below are cover images of a few more of our awesome Mile High Comics variant editions. Print runs for our exclusive variants are tiny!

STEAM ENGINES OF OZ (2013) #1 MILE HIGH


SUPERMAN: LAST SON OF KRYPTON FCBD (2013) #1 MILE HIGH


THANOS RISING (2013) #1 MILE HIGH


TRANSFORMERS VS. G.I. JOE (2014) #1 MILE HIGH


TRISH OUT OF WATER (2013) #1 MILE HIGH


TUROK: DINOSAUR HUNTER (2014) #1 MILE HIGH


VADER DOWN (2015) #1 MILE HIGH


VAMPIRELLA (2014) #1 MILE HIGH


X-O MANOWAR (2012) #25 MILE HIGH


ZOMBIE TRAMP (2014) #1 MILE HIGH


ZOMBIE TRAMP (2014) #11 MILE HIGH